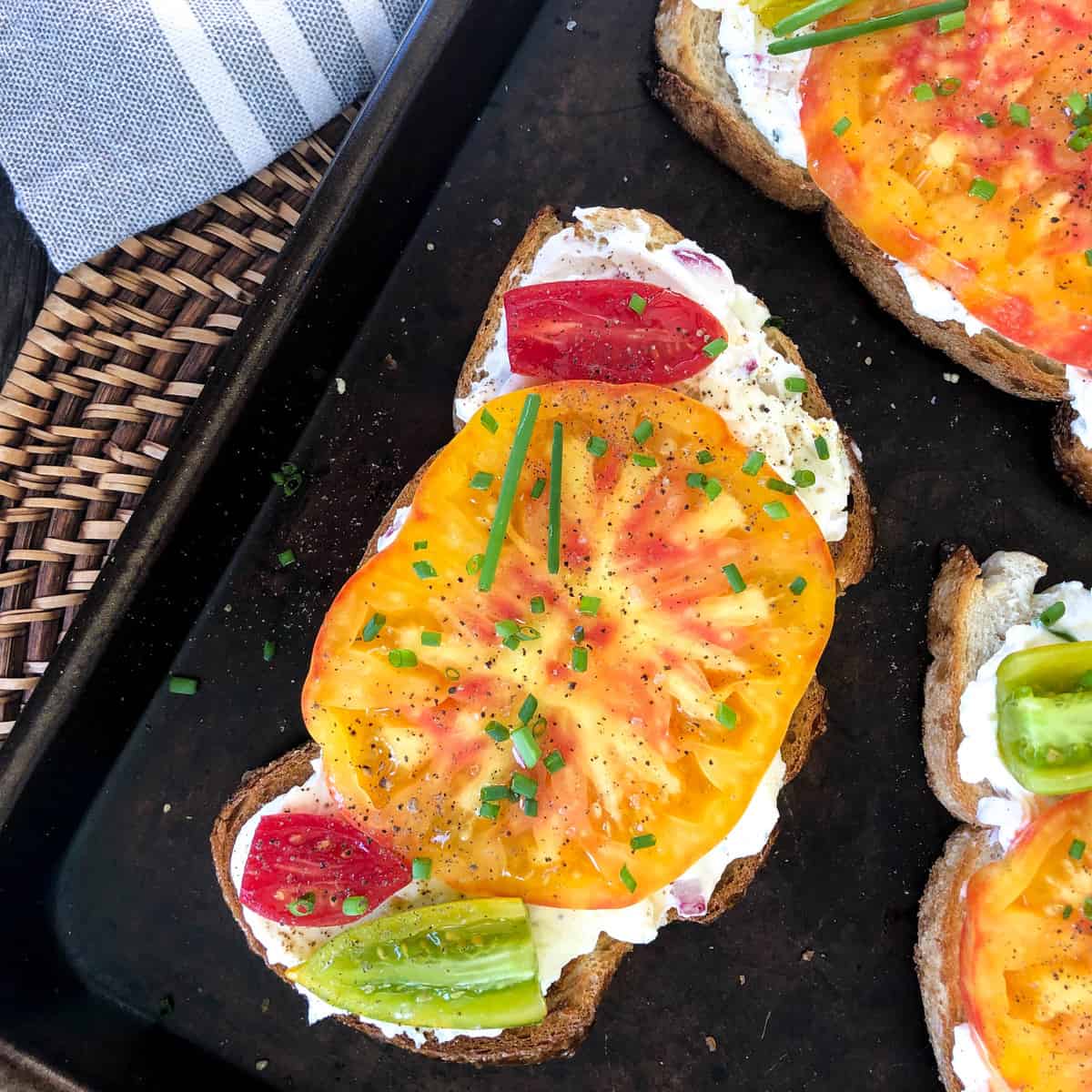 CA GROWN Blog
Discover. Learn. Connect.
Heirloom Tomato Toast
August 28, 2019
Eat the Season!
Sign Up For Weekly Recipes
« Back to Recipes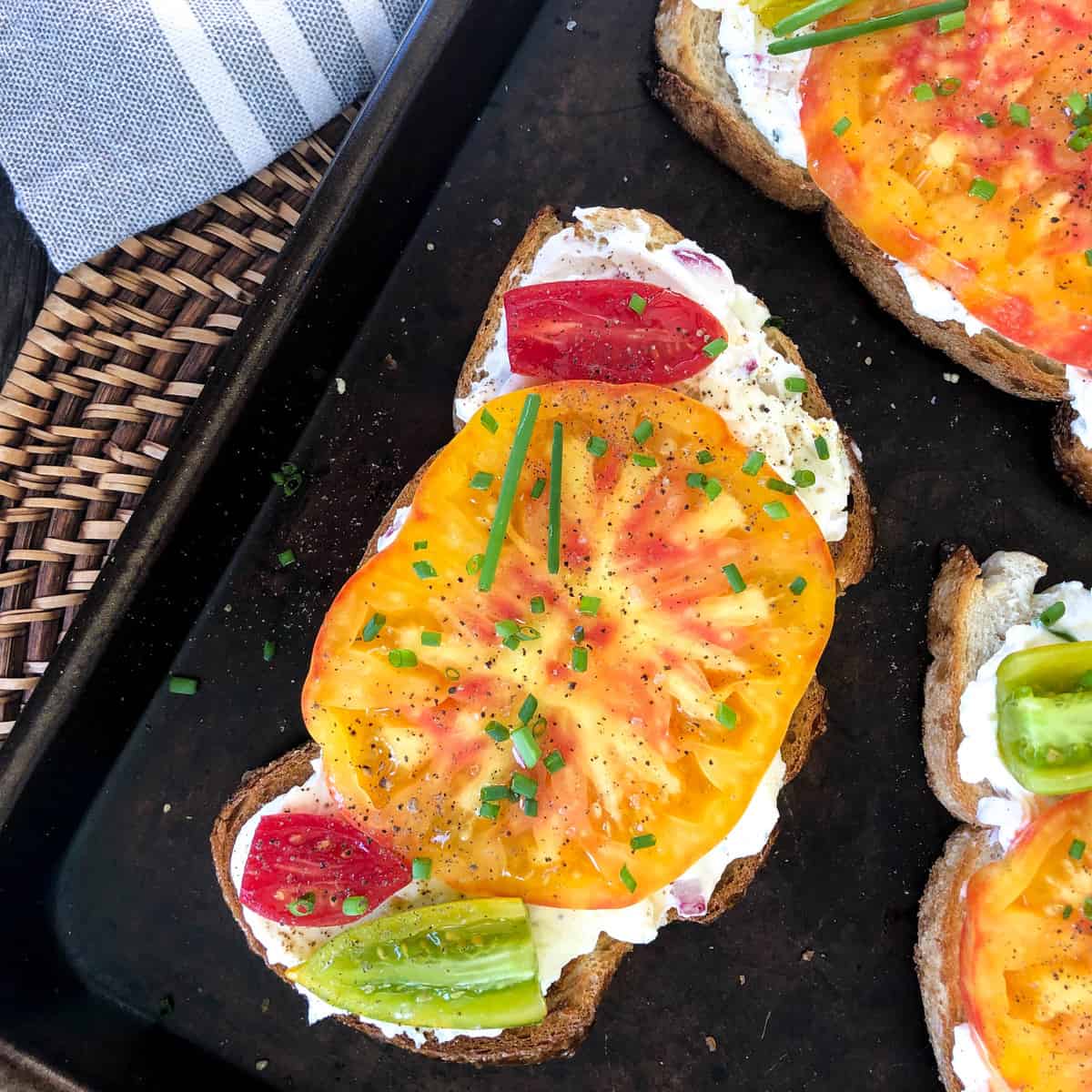 Heirloom Tomato Toast
Here we are again…. my favorite month of the year!
Hot weather, poolside drinks and fresh tomatoes!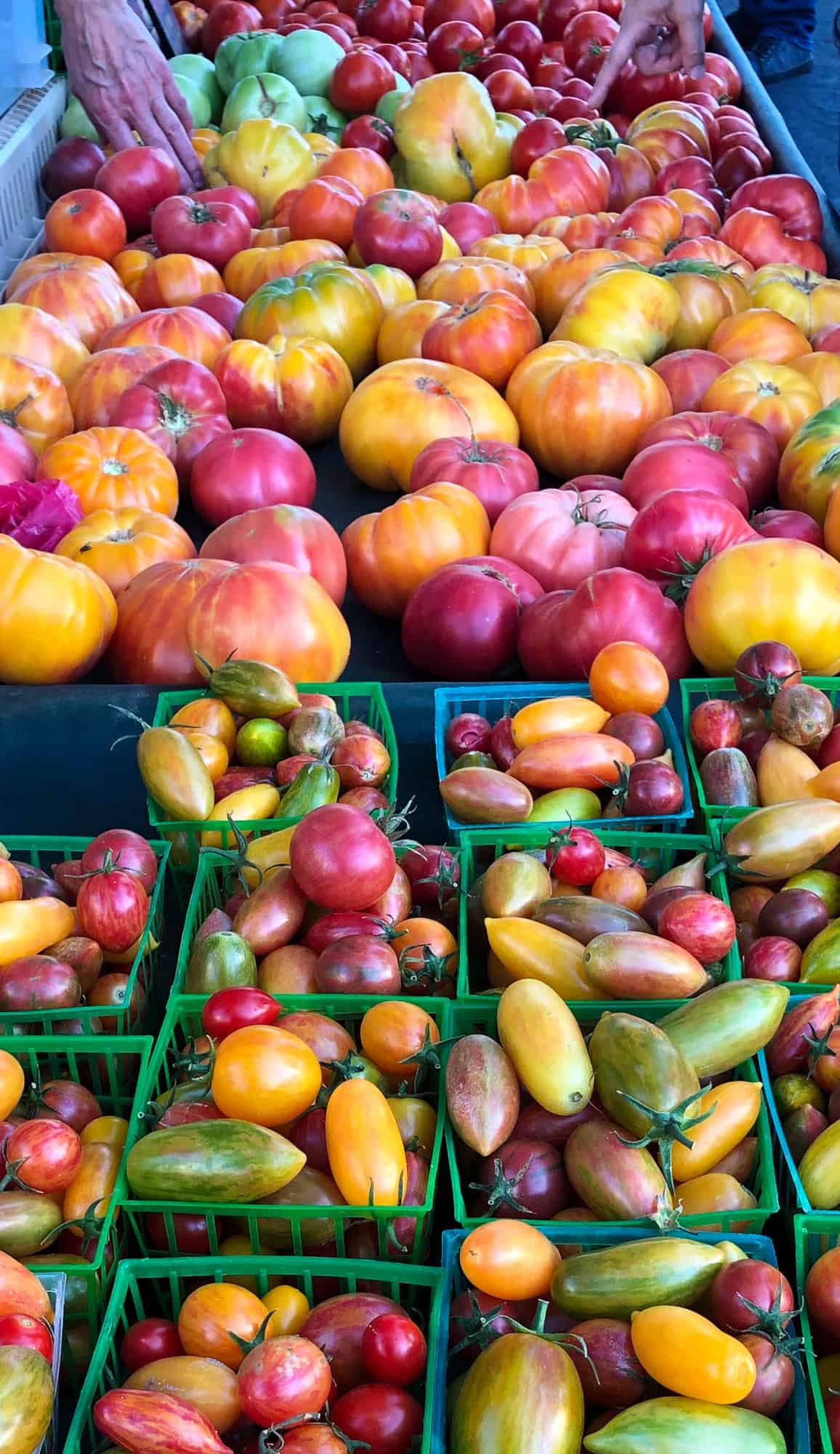 I found these beauties at my local Farmer's Market! I especially loved the baby variegated specialty tomatoes… they are so colorful and exploding with flavor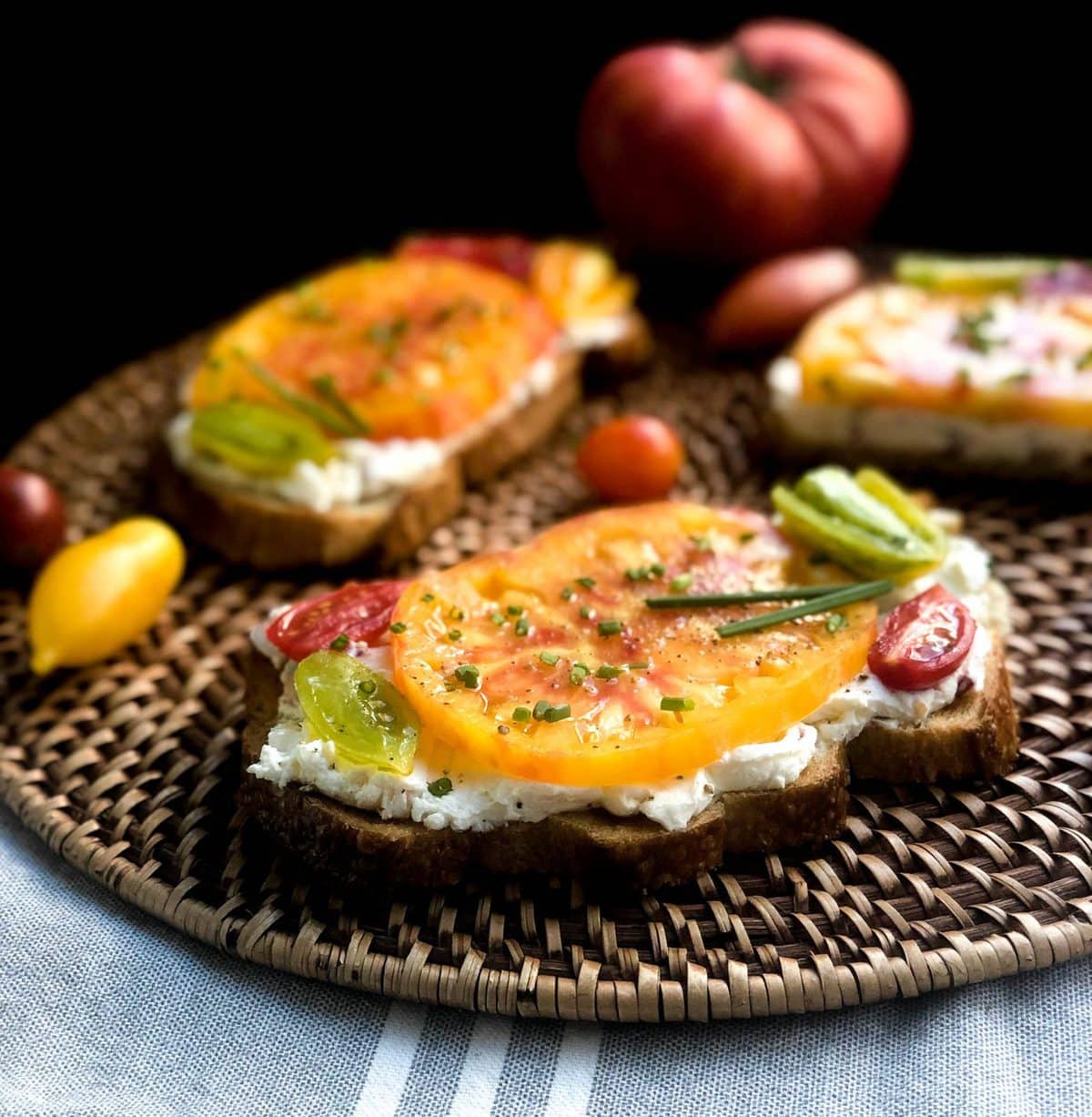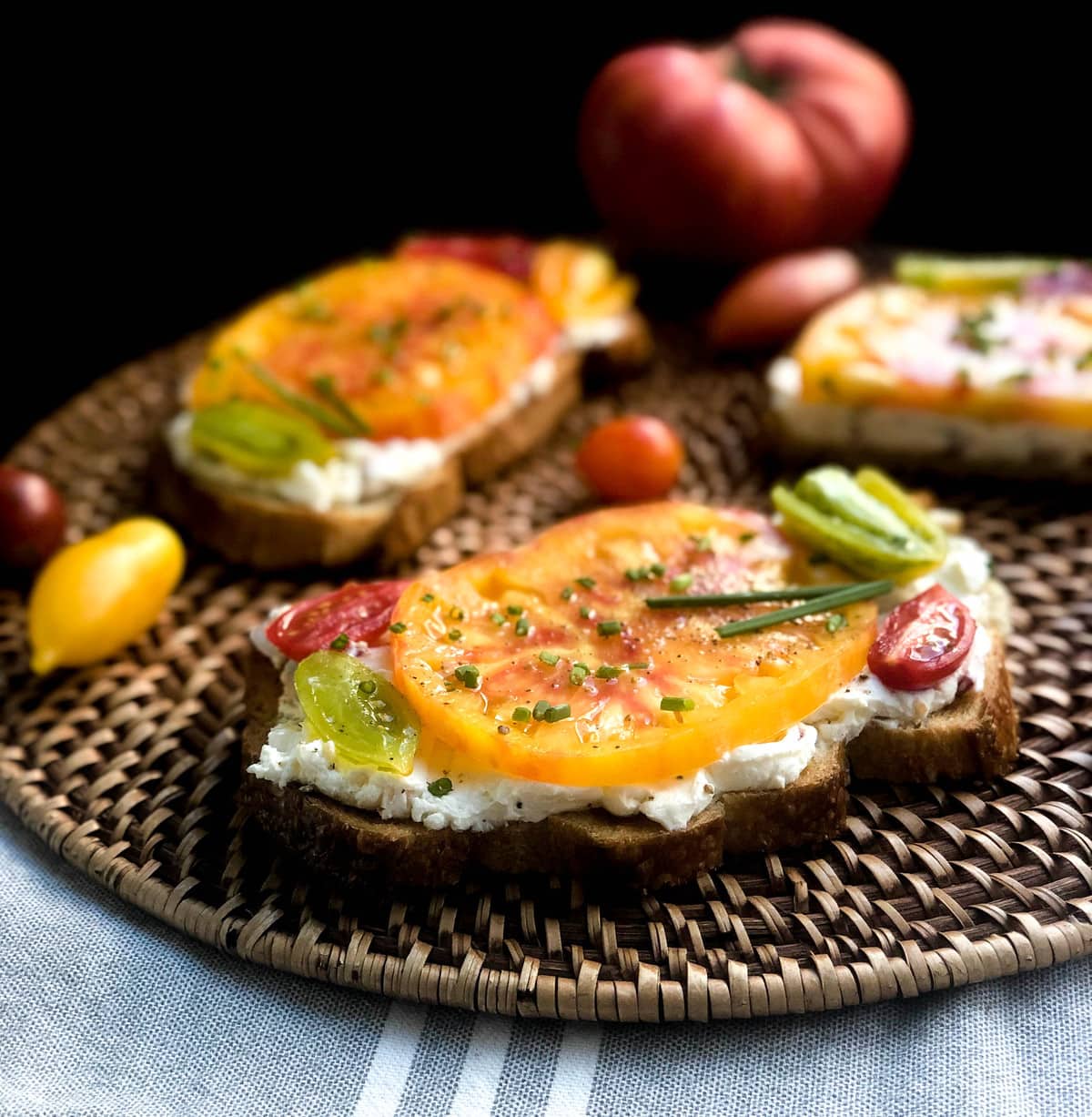 We've all heard of Avocado Toast, right? We've even made a version or two HERE. Well, we are kicking that theme up a notch and using fresh, juicy tomatoes instead!
SUMMA TIME!
Let's get this party started…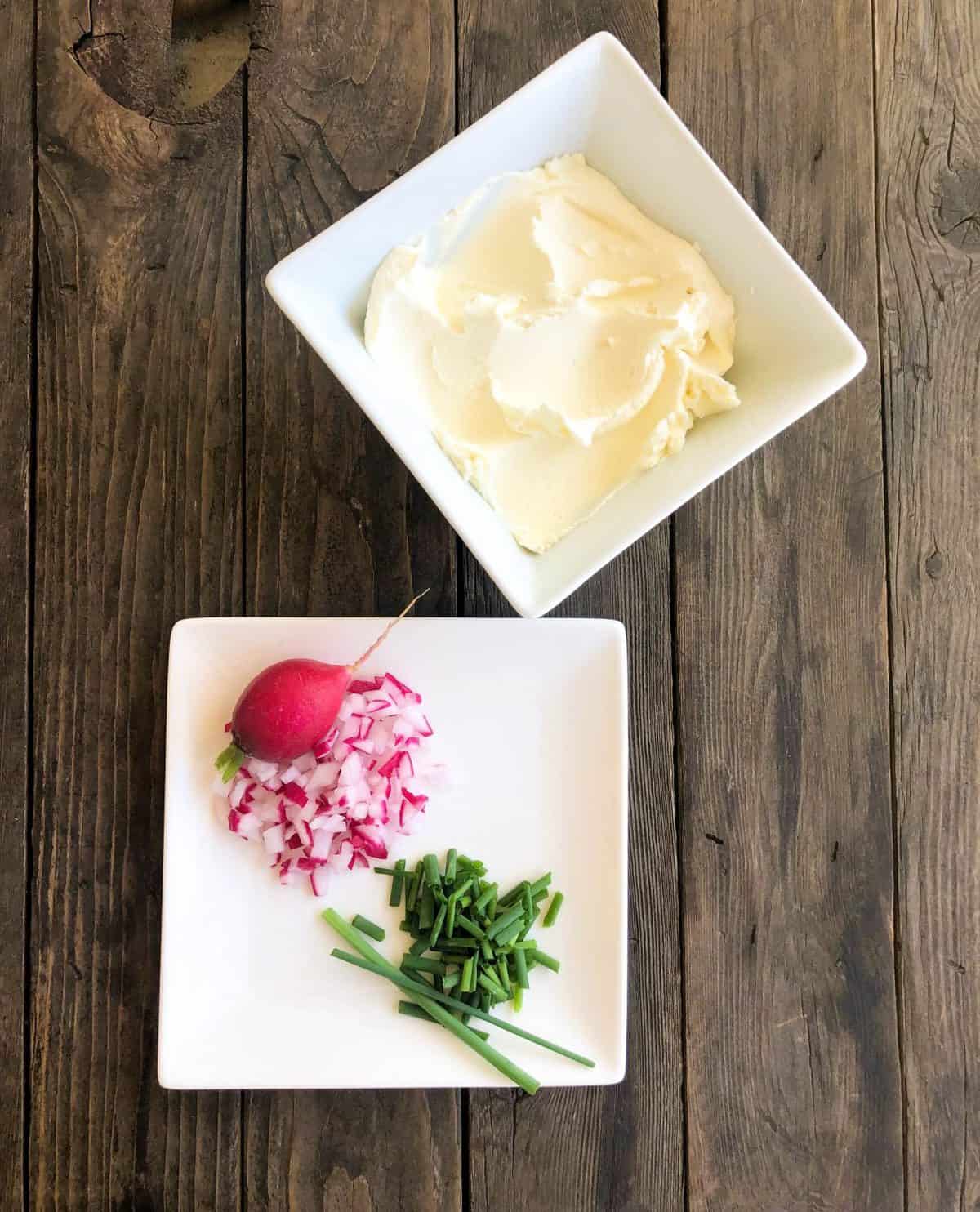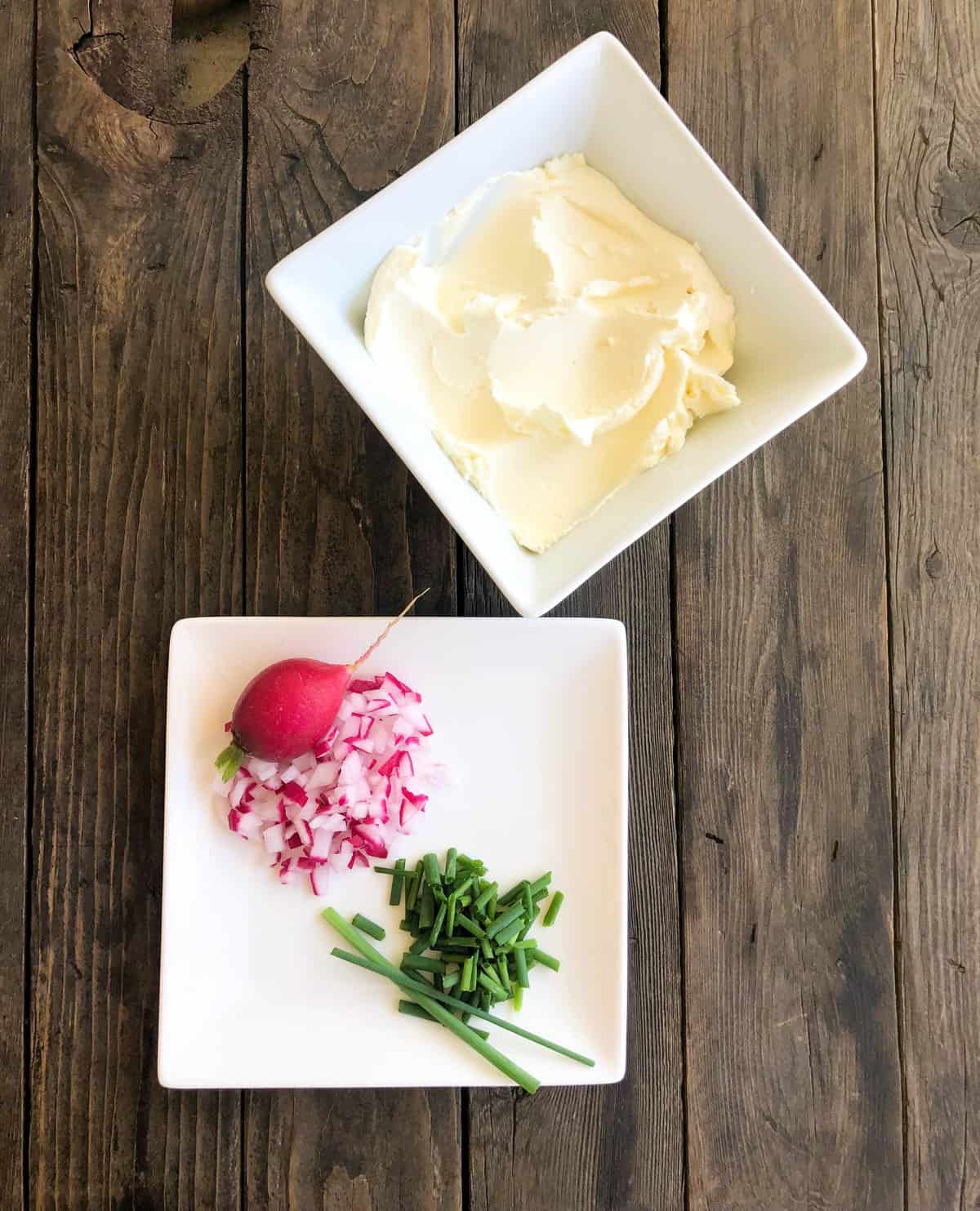 First, we are going to make the flavor-packed spread for the toast. Begin by putting 8 oz. softened cream cheese in a bowl. I'm using 1 diced radish and 2 T. chopped chives, but feel free to use any other herb or veggie you think would be great!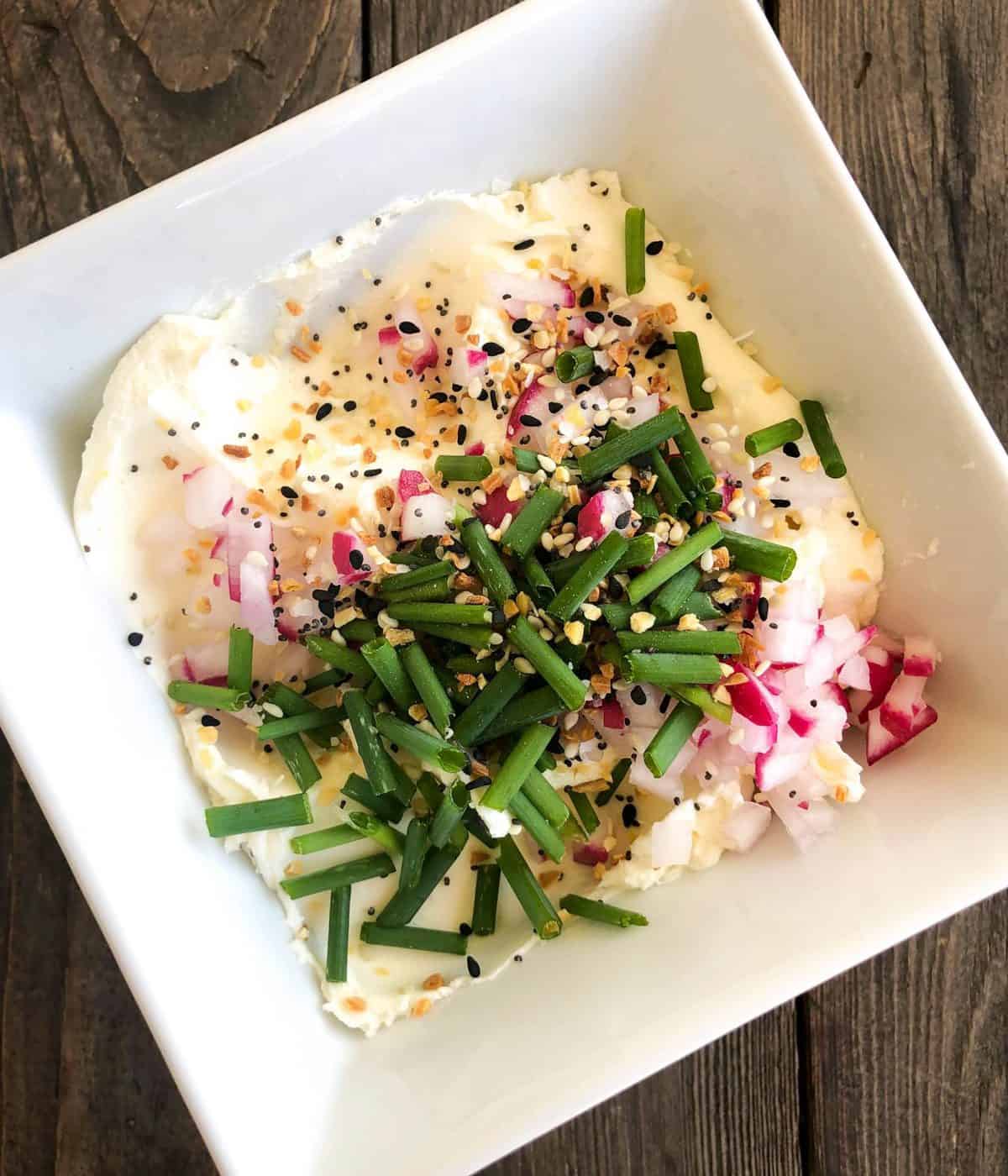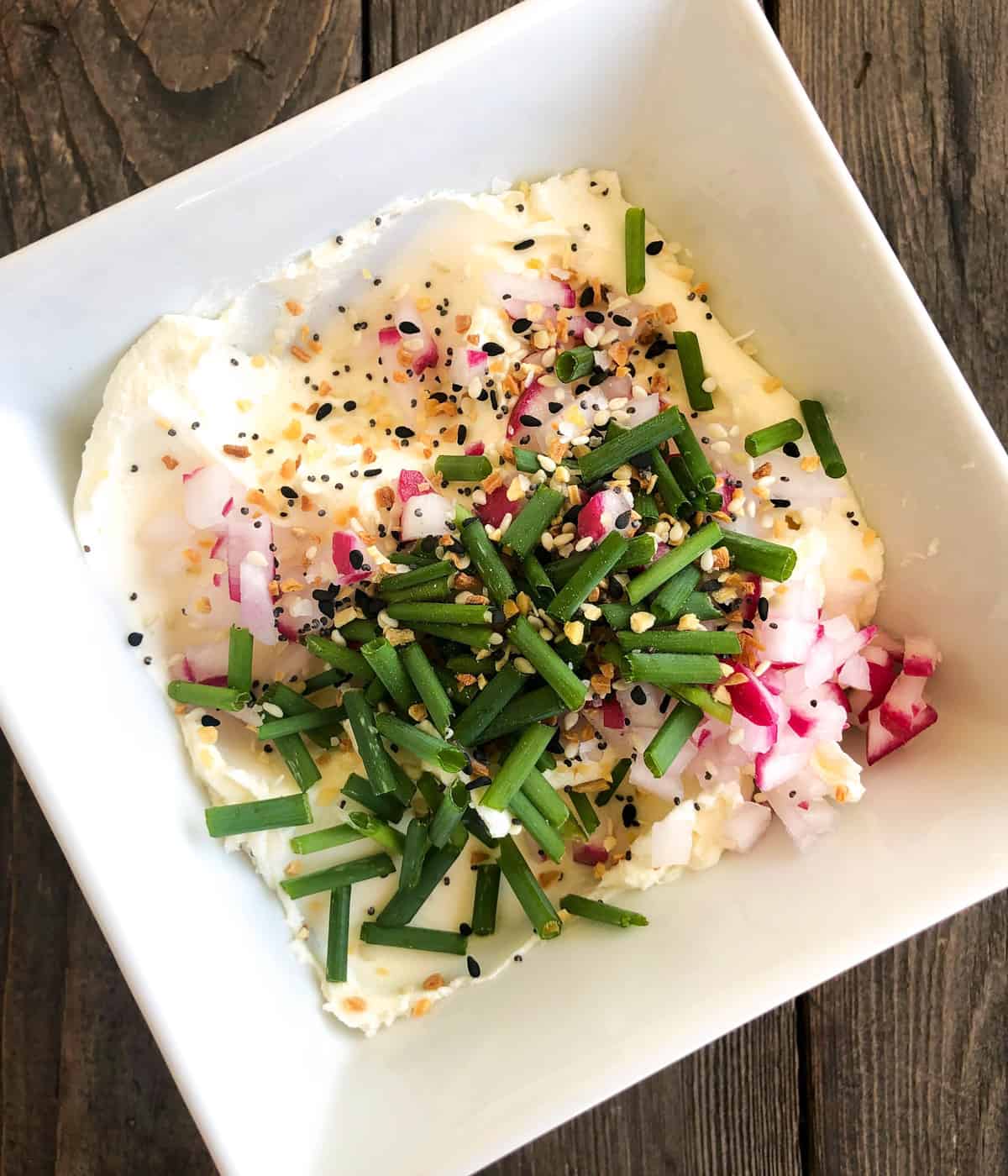 Stir the mixture until well combined. I also used a few dashes of my Everything But The Bagel seasoning… love that stuff!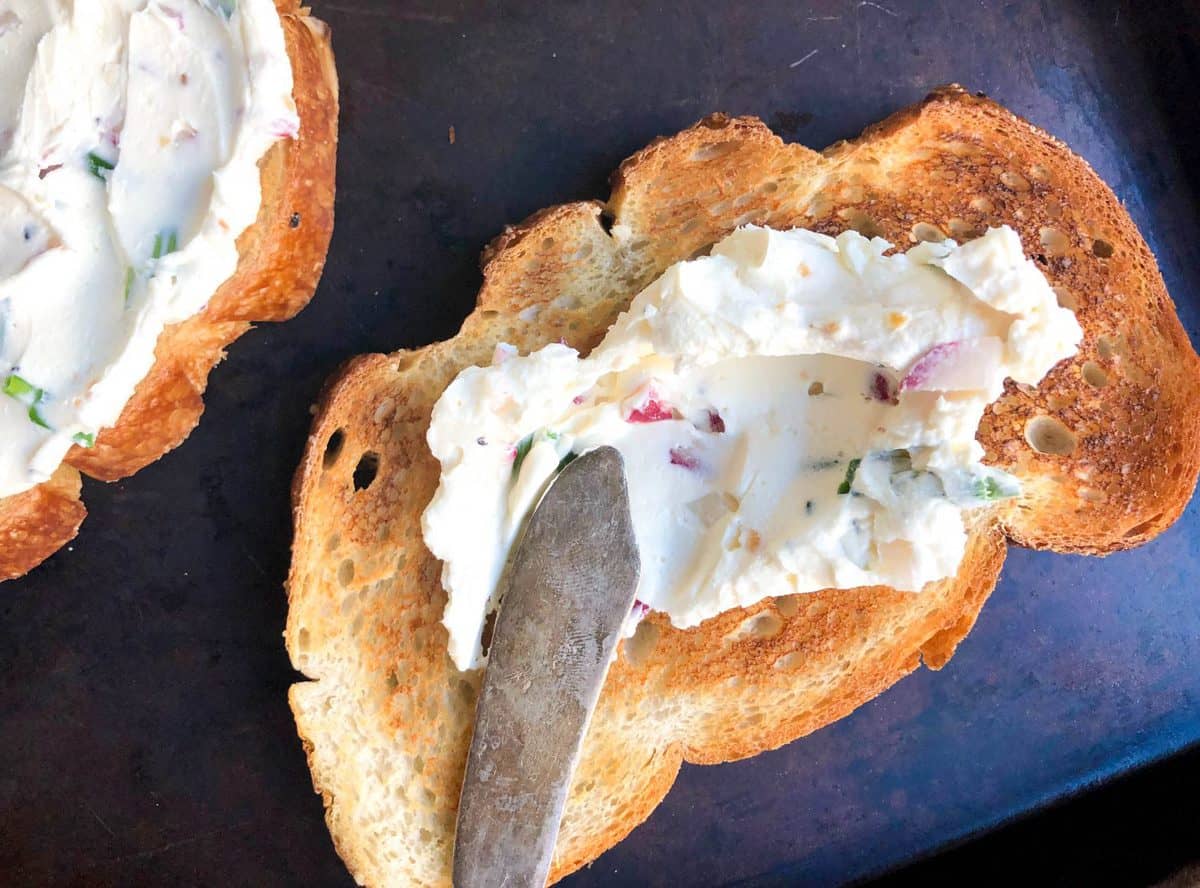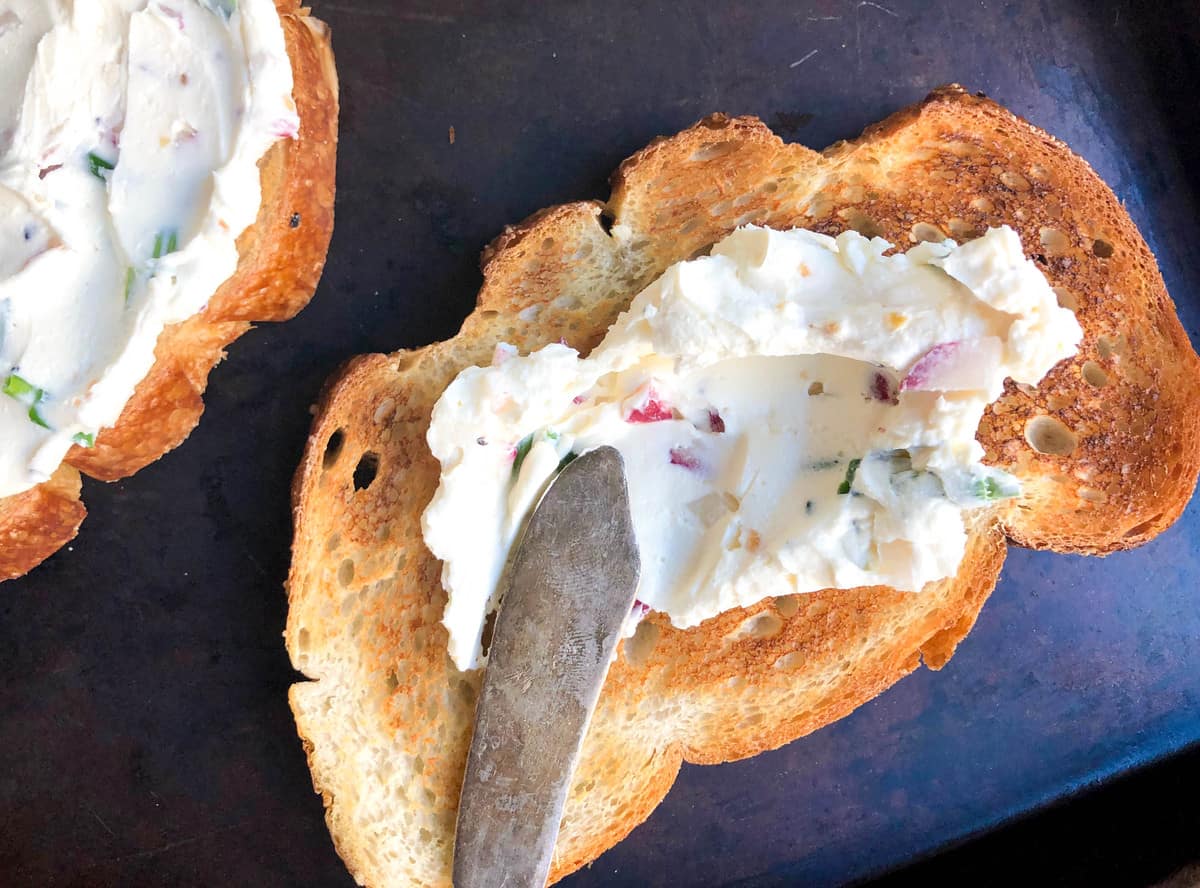 Toast your bread (I just used packaged sourdough) and allow it to cool. Spread the cream cheese mixture liberally over the toast.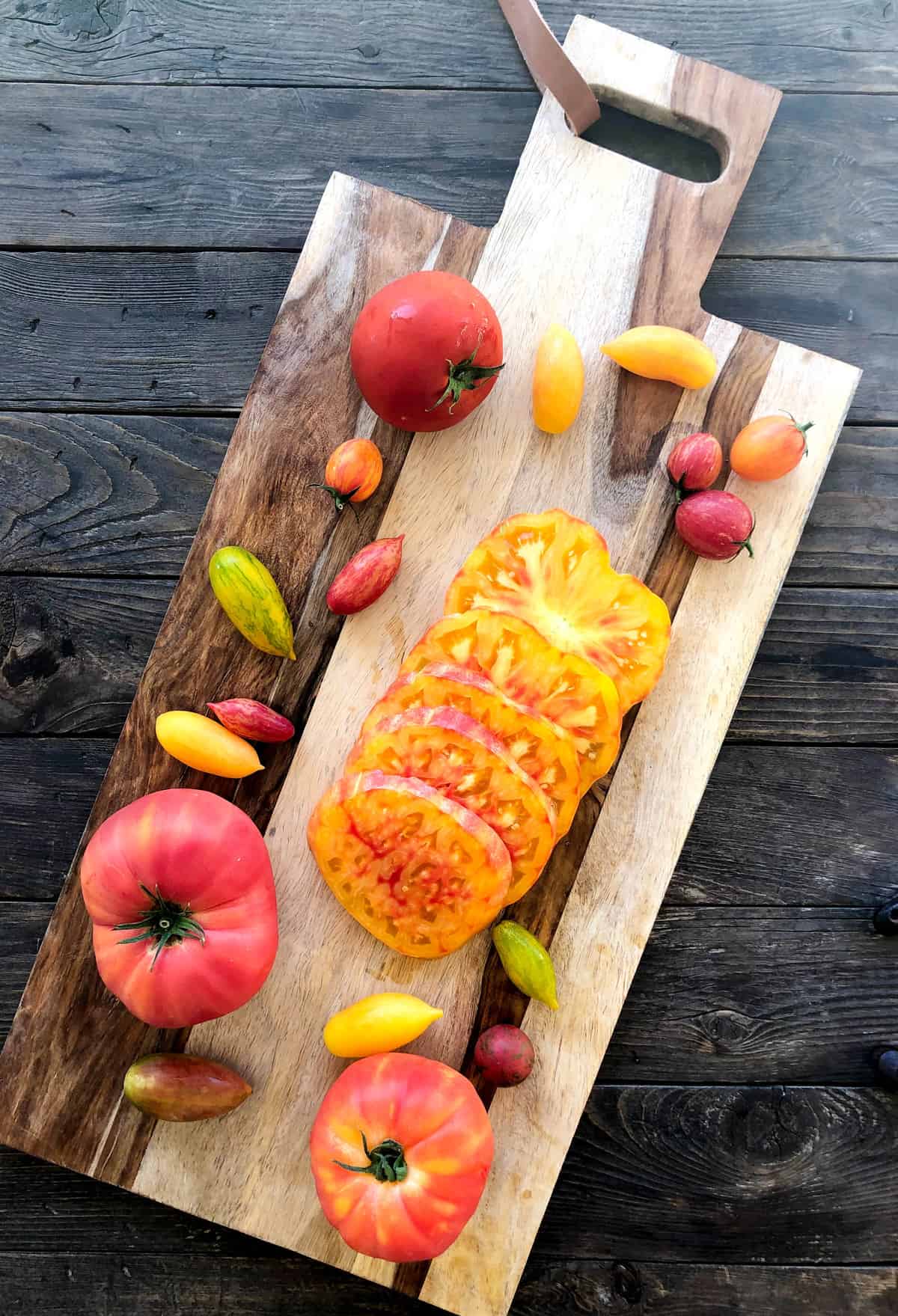 Next, cut your tomatoes. Again, I have a slightly crazy love for tomatoes, so I sliced mine thick, but feel free to keep them thinner…. whatever is to your liking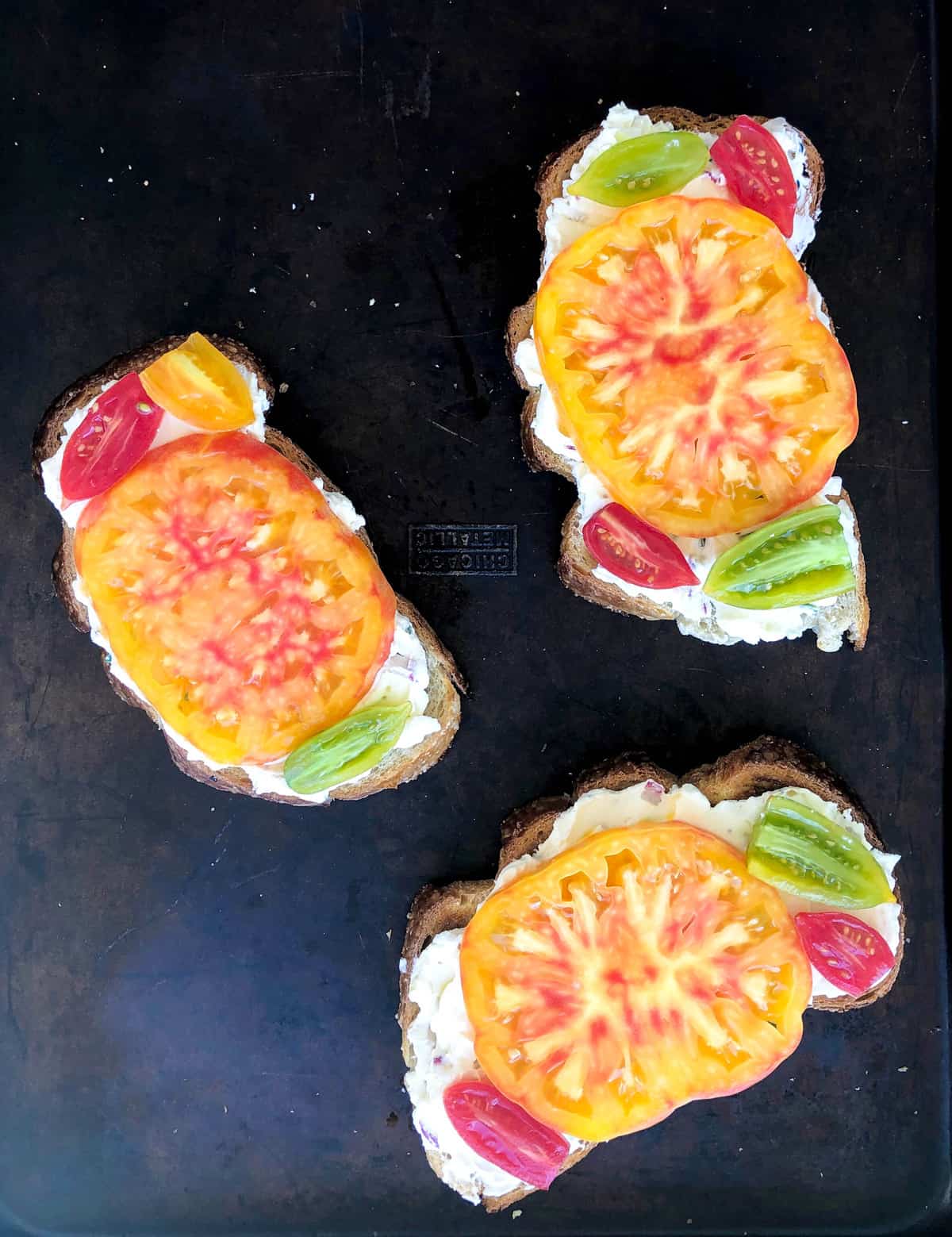 Top the cream cheese mixture with the tomato and fill in with the smaller tomatoes for size, shape and taste variety. You seriously can't go wrong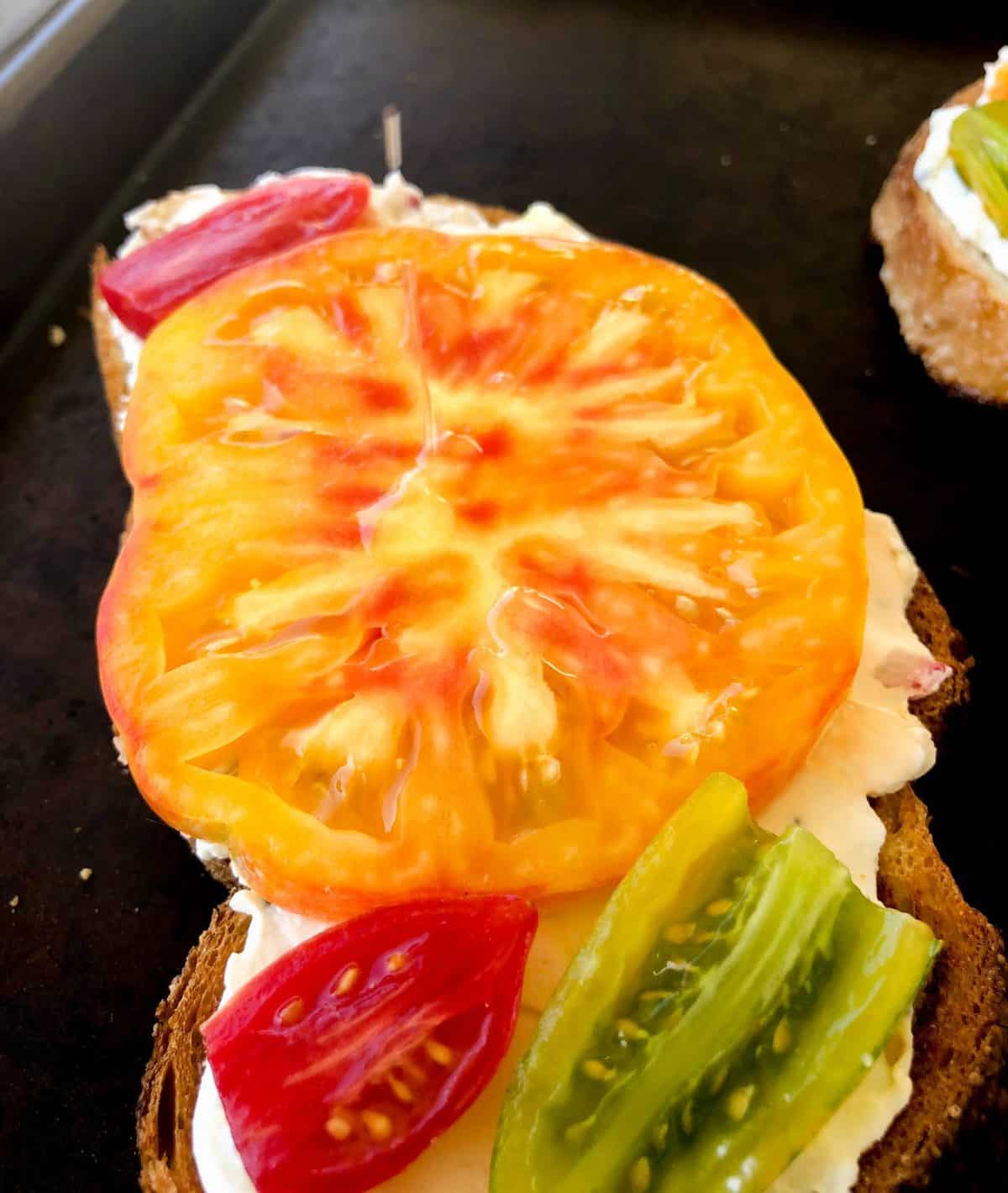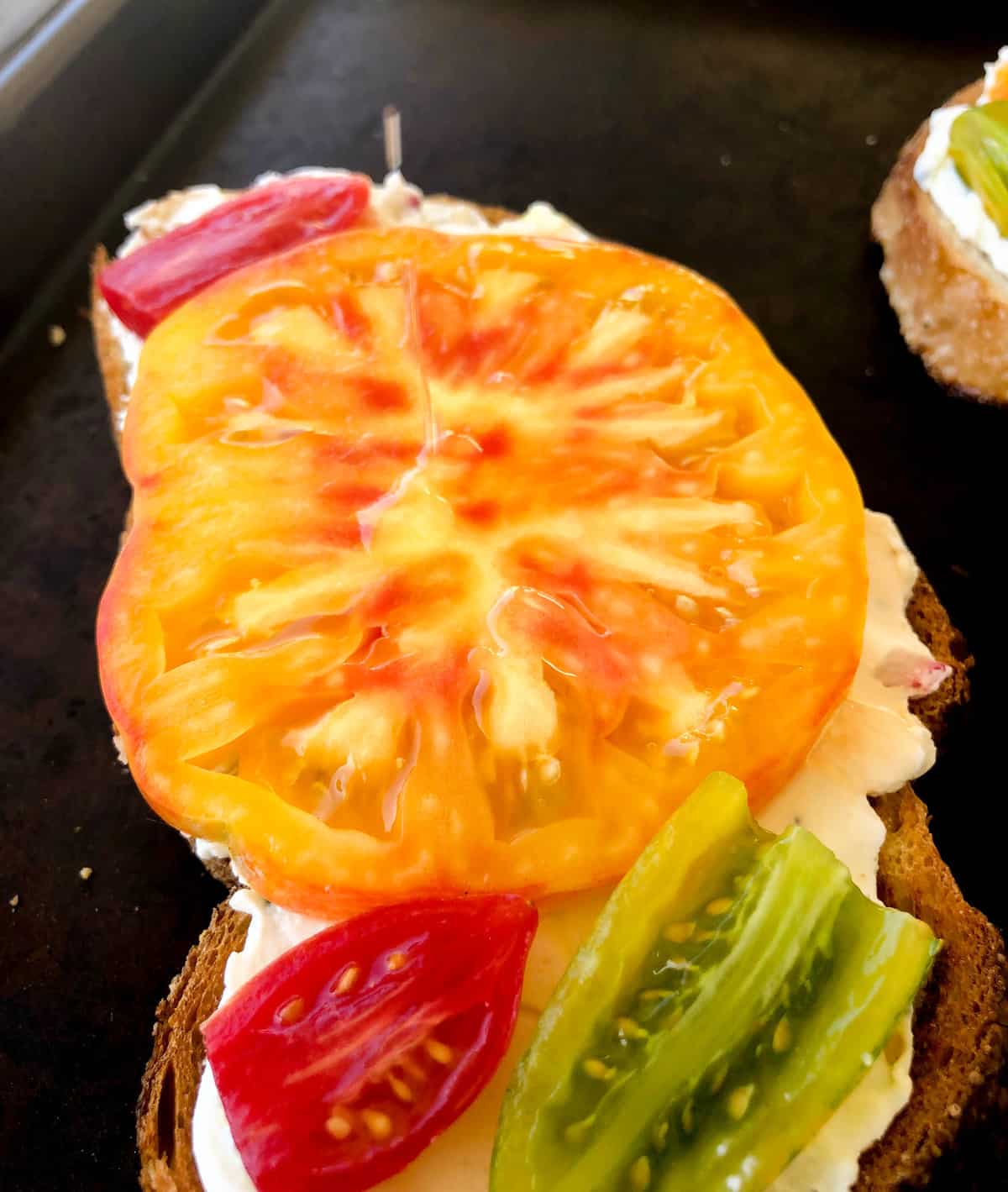 Drizzle a small amount of Olive Oil for added yumminess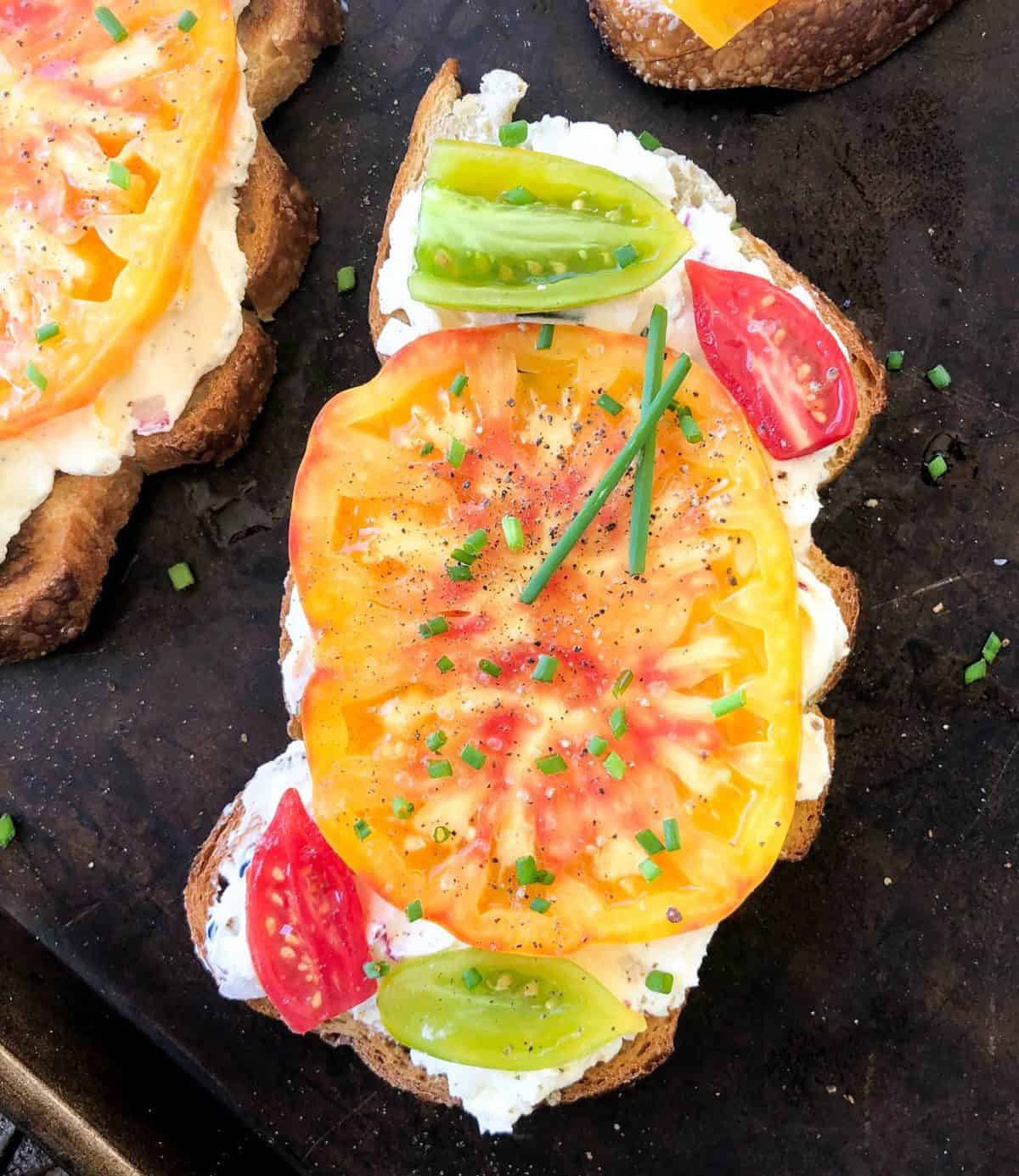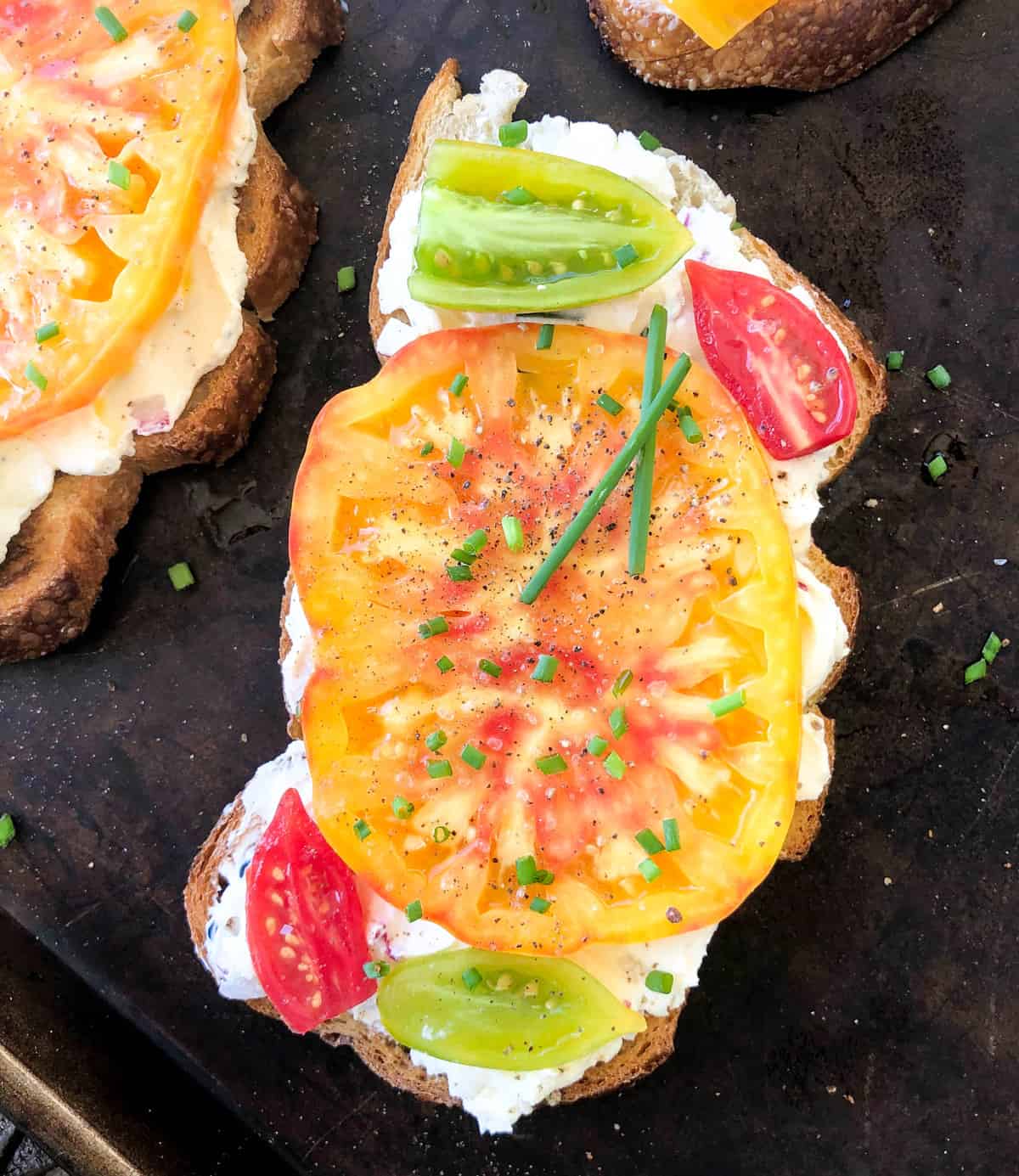 And then dust with salt, pepper and a sprinkling of chives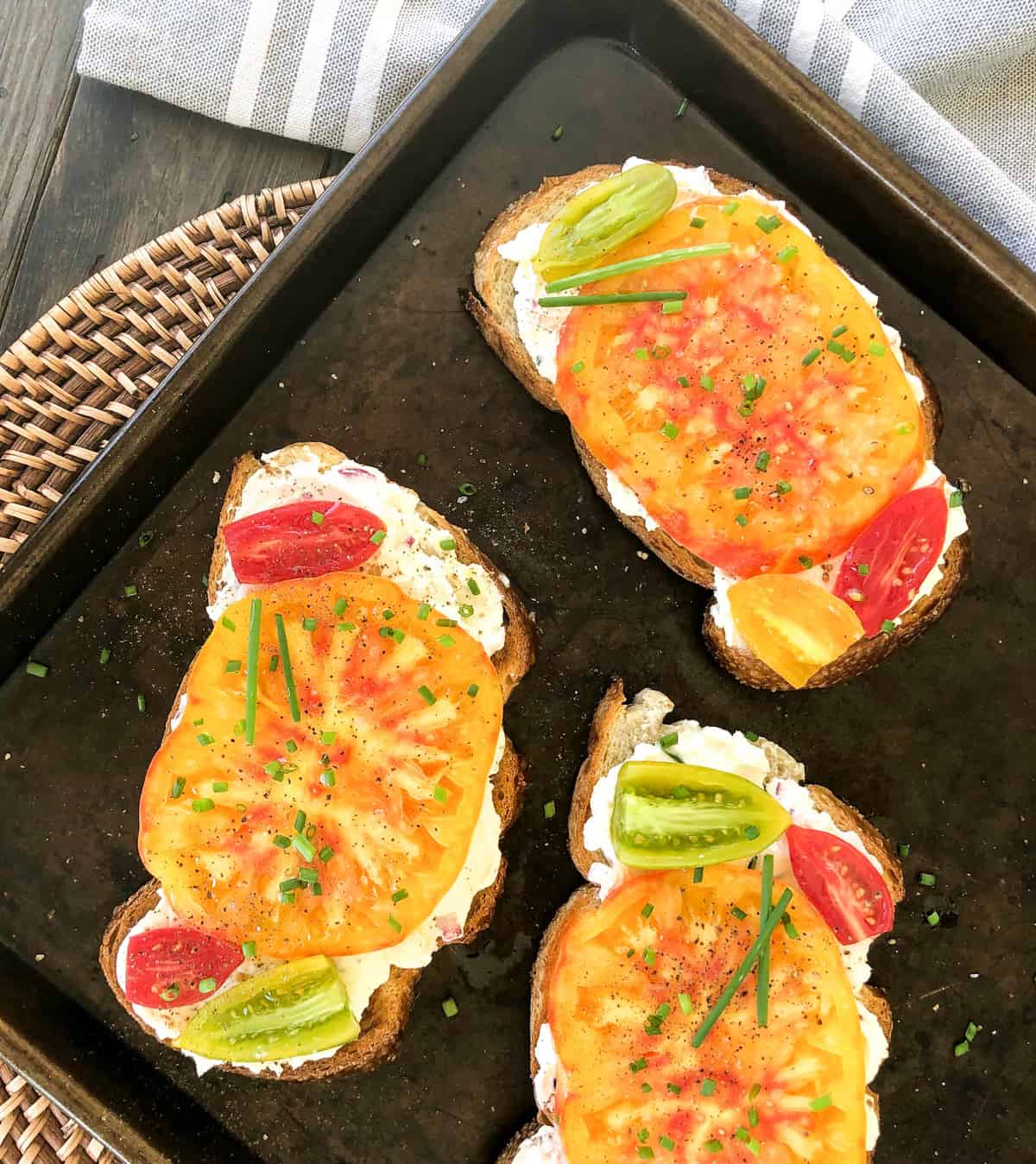 Hello Gorgeous!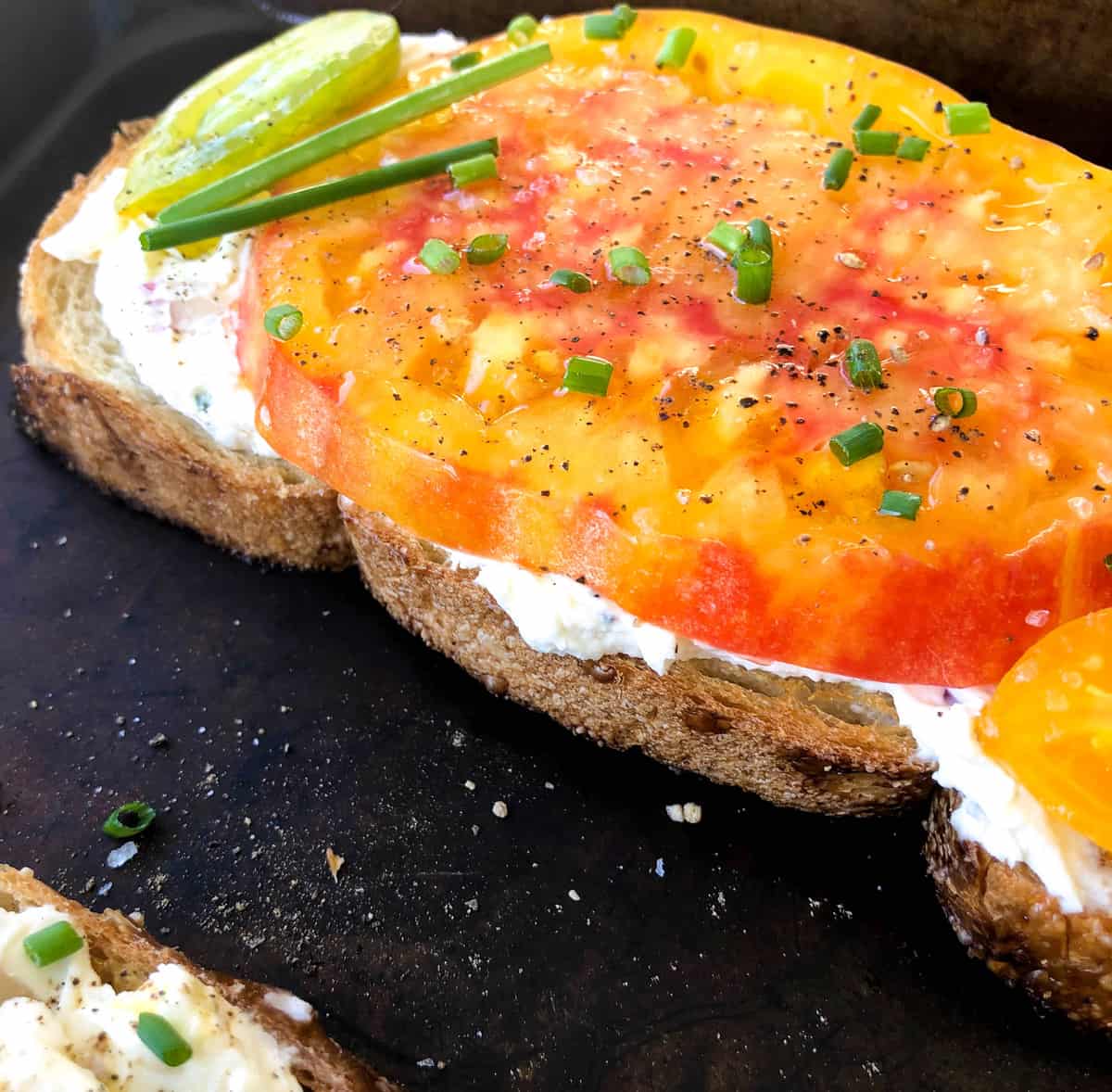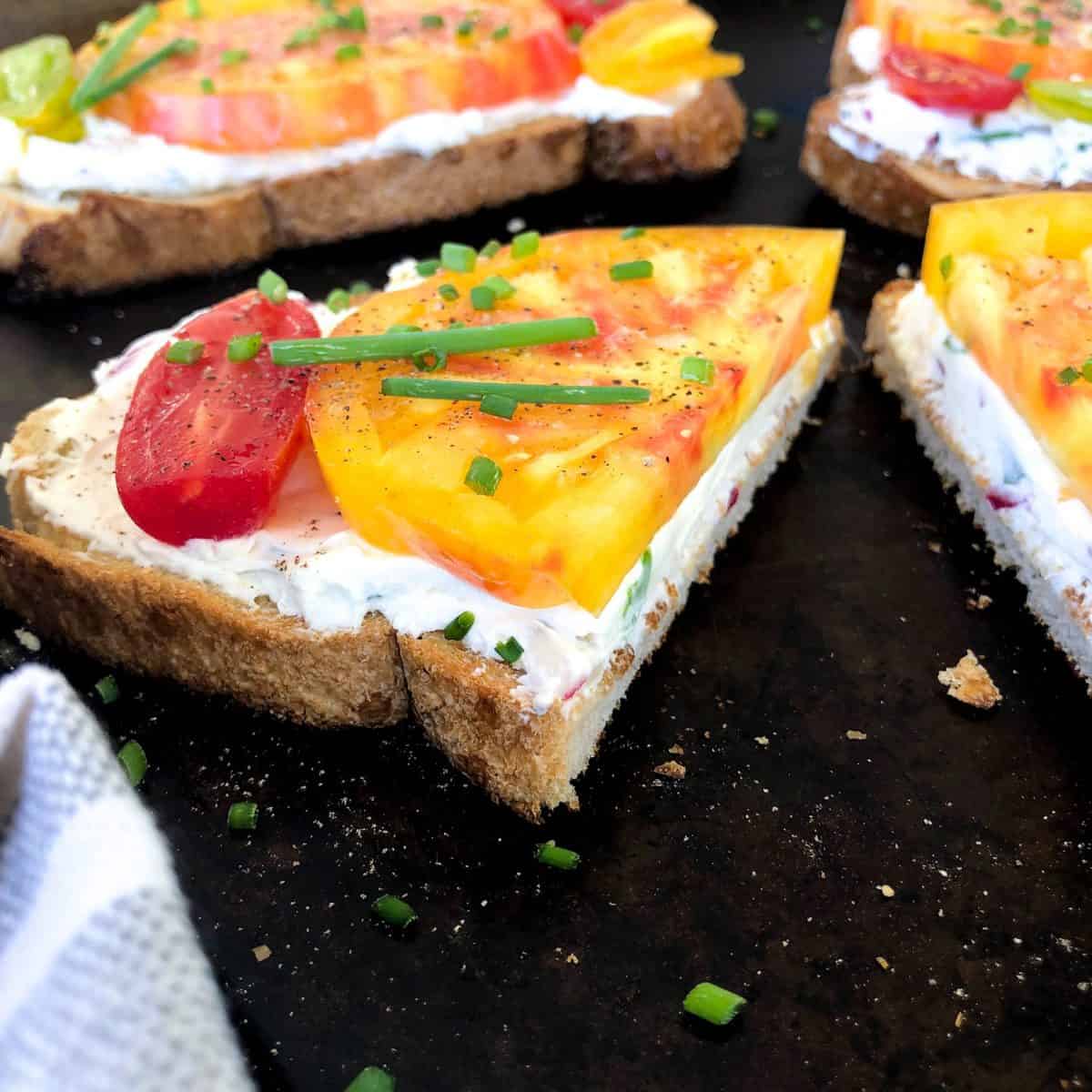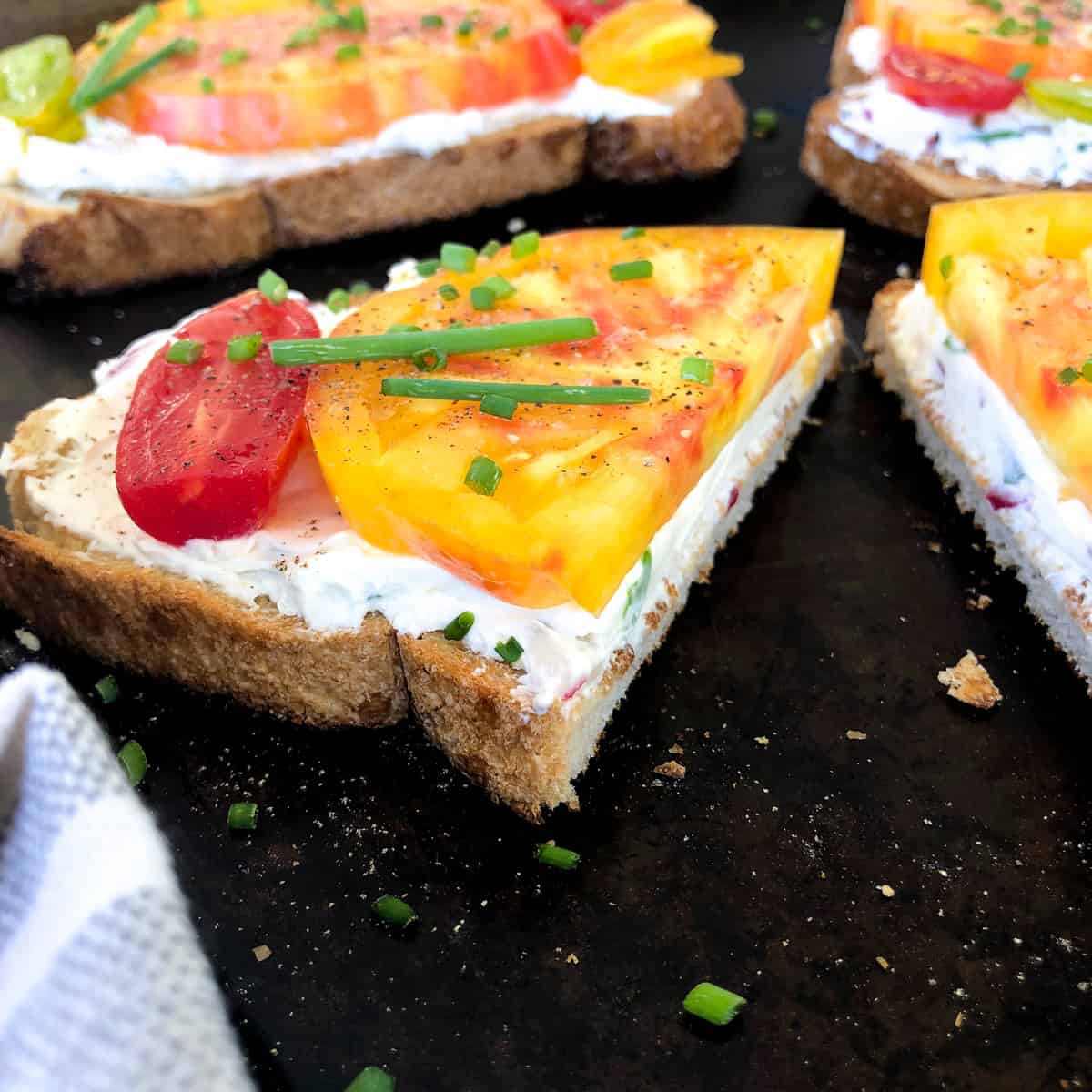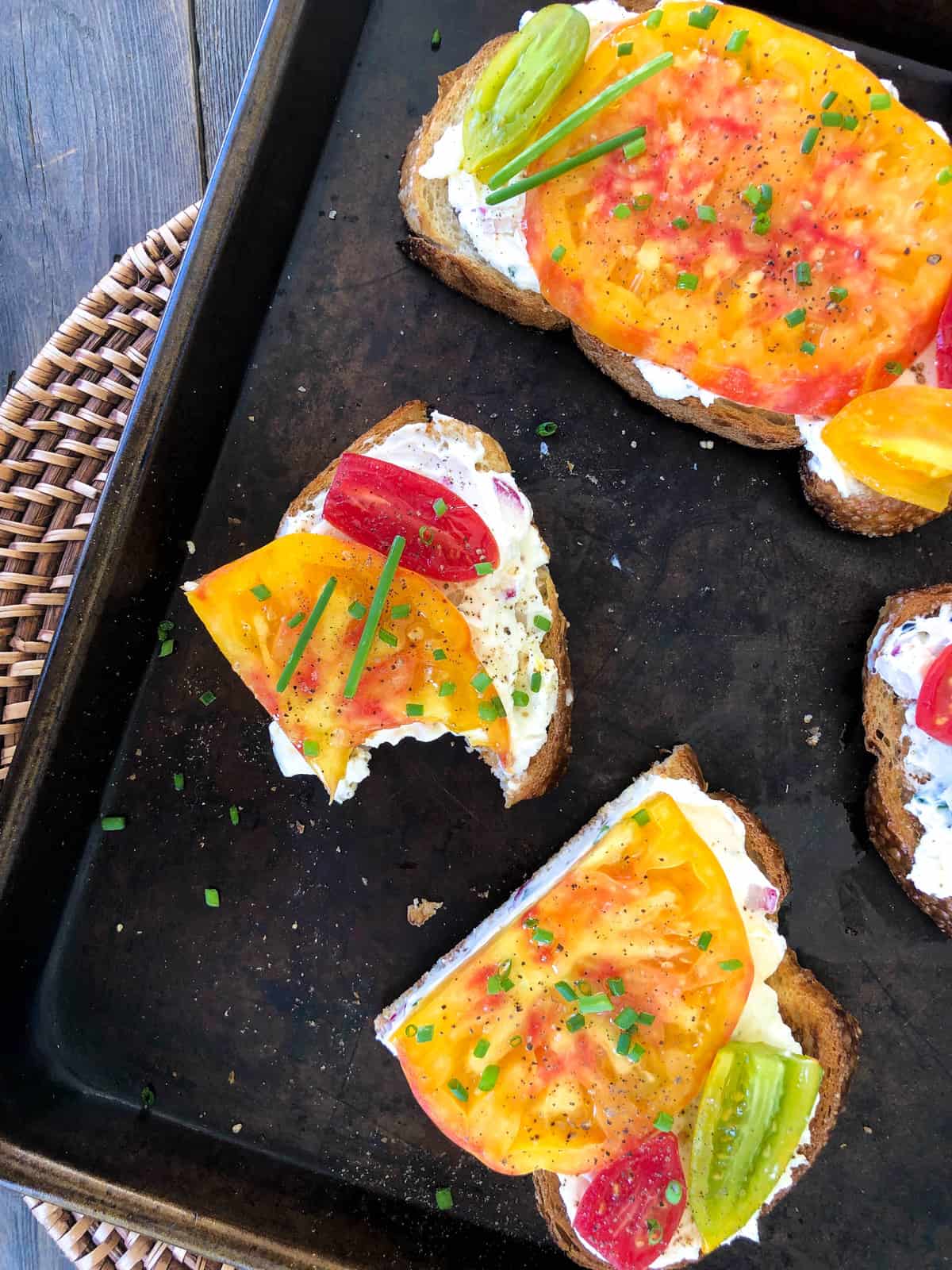 Here is the super easy recipe for ya!
Heirloom Tomato Toast
Perfect for any time of day!
Ingredients
4-5 tomatoes
sliced bread of your choice
8 oz cream cheese, softened
1 whole radish, diced
2 T chopped green chives
1 T olive oil
Instructions
Add the cream cheese, radish and chives in a bowl and mix well to combine

Toast each bread piece on both sides

Generously spread the cream cheese mixture on one side of the toasted bread

Top with thick slices of tomato. Drizzle a little olive oil on the tomato. Sprinkle with salt and ground black pepper and additional chopped chives