CA GROWN Blog
Discover. Learn. Connect.
Farmer's Market Vegetable Soup
August 21, 2019
Eat the Season!
Sign Up For Weekly Recipes
« Back to Recipes
Farmer's Market Vegetable Soup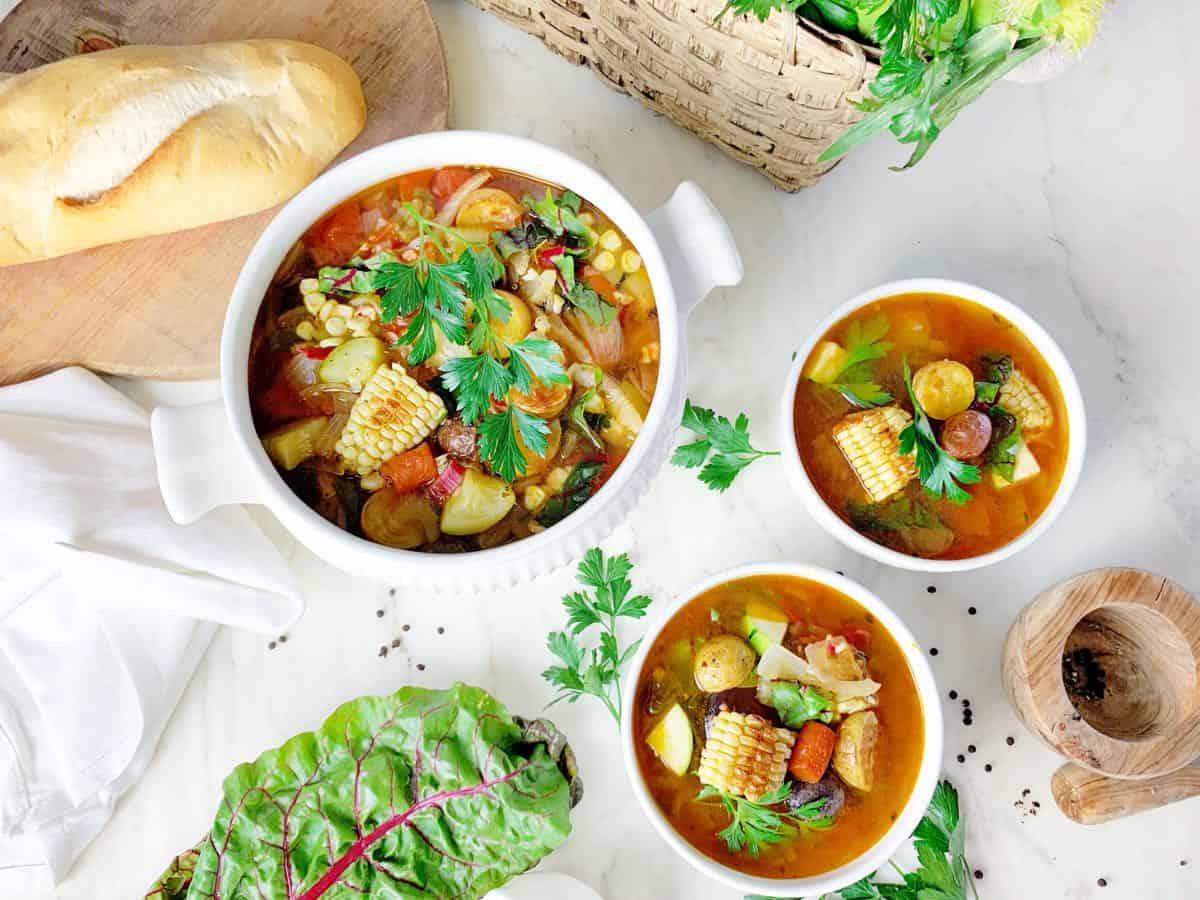 Oh my vegetables! Has your bounty runneth over? There are SO many gorgeous veggies available right now, I want to eat them alllll! Today's Farmer's Market Vegetable Soup is PERFECT for using any and all of the vegetables you can get your hands on – the more the merrier! Pair with some warm bread and butter and you have yourself a healthy, soul-nourishing feast!
The wonderful thing about this vegetable soup is that you can incorporate so many of those vitamin-rich veggies and herbs or, of course, leave out something that you might not have! So gather up all your beautiful produce and let's get cooking!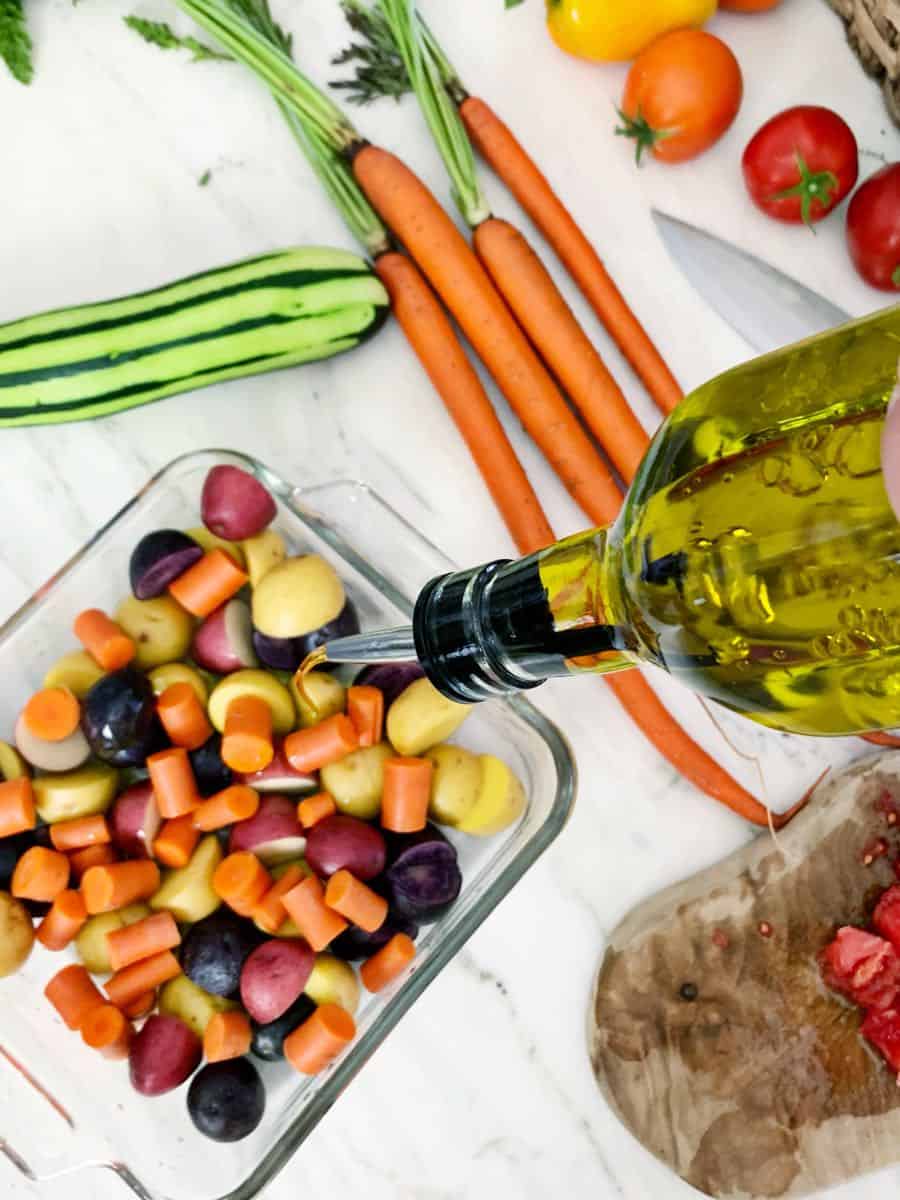 I like to begin with roasting some of my veggies. This gives them a nice, rich flavor and helps them to hold their shape and color once incorporated into the soup. Hearty root vegetables like carrots, onion, and potato take a little longer to cook – roasting them in the oven while prepping and starting the rest of the soup cuts down on cooking time, but really, it's all about adding that extra flavor. SO – chop your potatoes and carrots into nice size chunks (onions, tomatoes, and corn roast up nice and flavorful, als0). Coat generously with olive oil and coarse sea salt.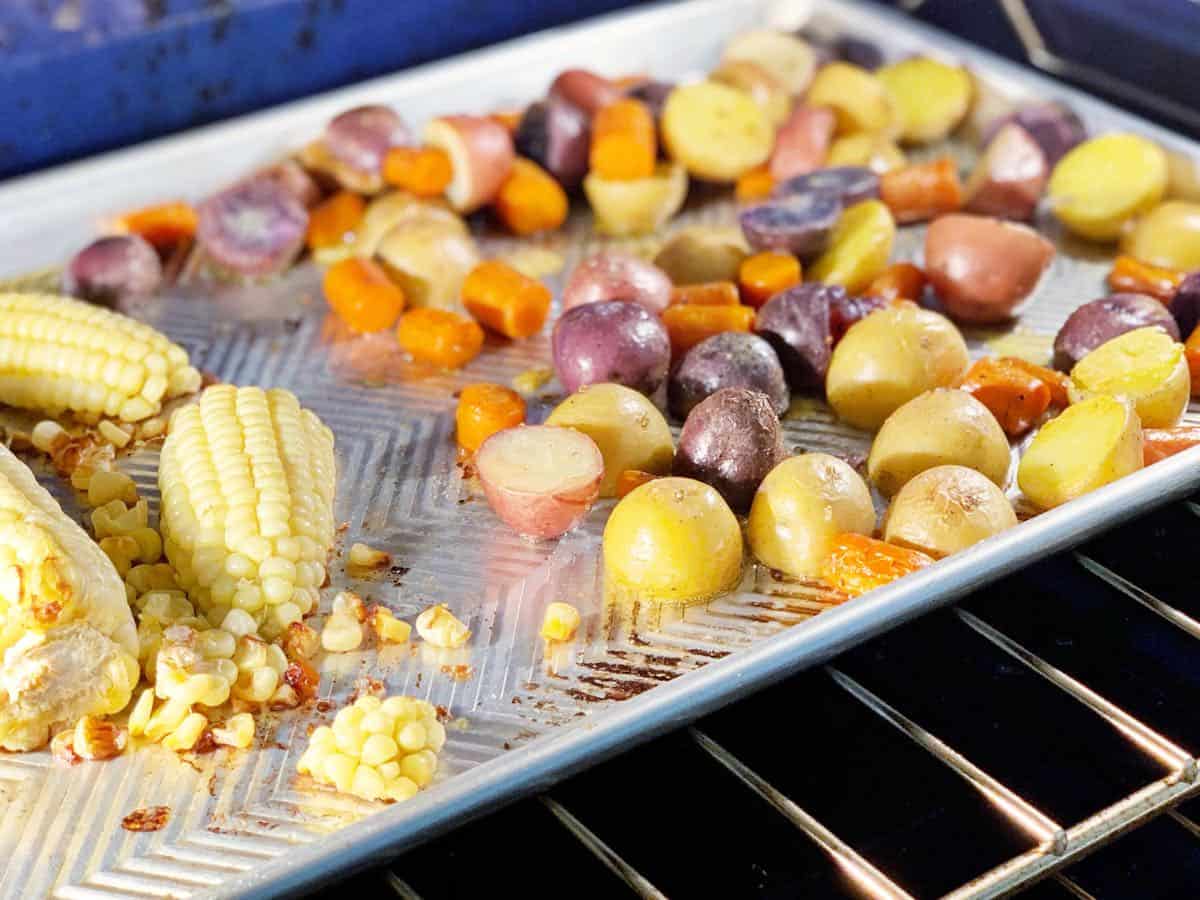 Spread the vegetables onto a baking sheet and roast in a 425 degree oven for about 30 minutes or until they are golden brown. Remove from oven and set aside until the soup is ready to serve.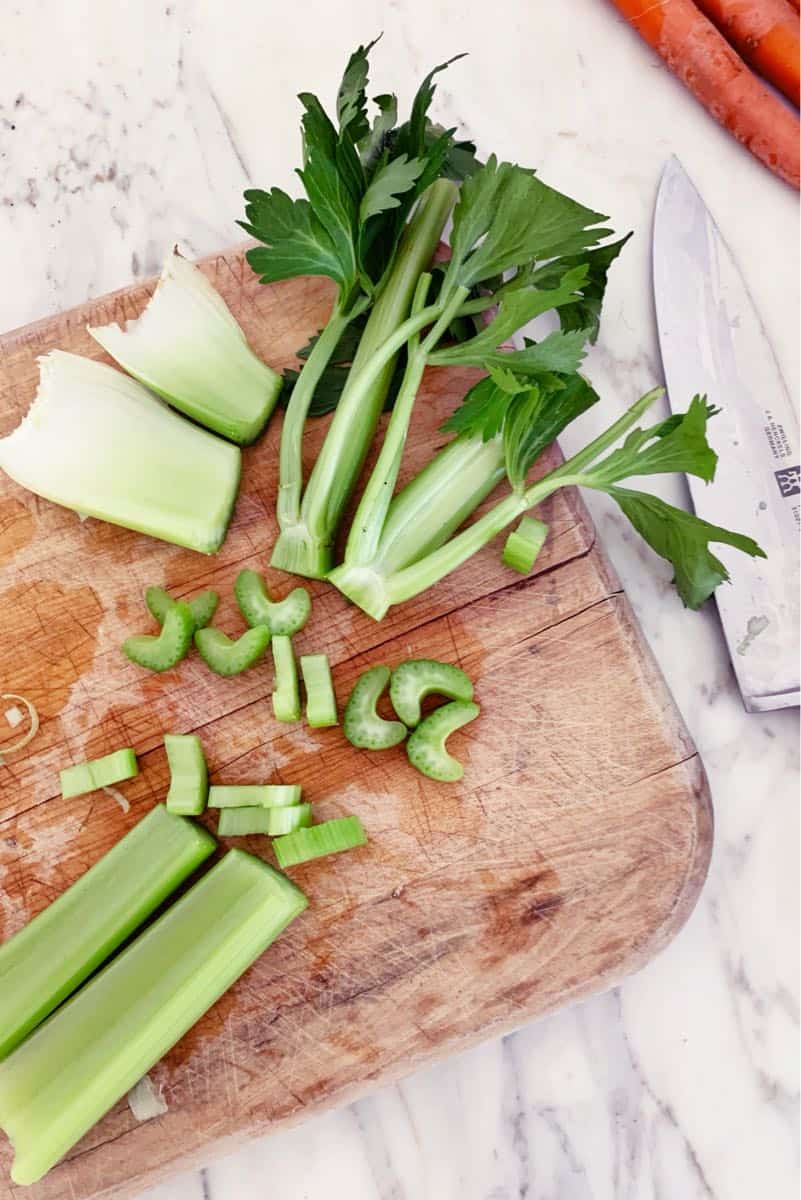 Now let's start prepping the celery, fennel, and leeks. (Onions, too, if you don't roast them.) Wash, peel (if desired), and chop into bite-sized pieces. Preserve the leafy tops and the unusable bottoms of the stalks to use for making stock if you wish.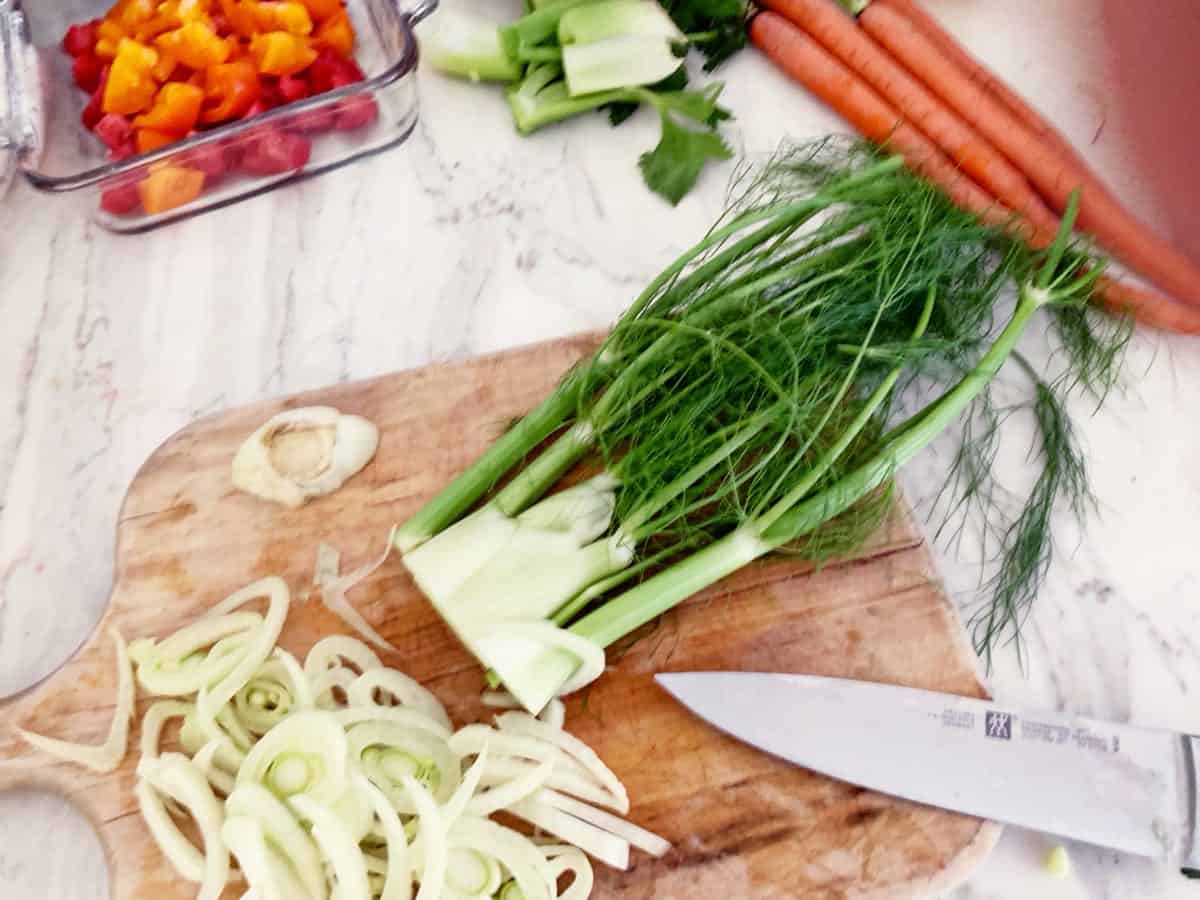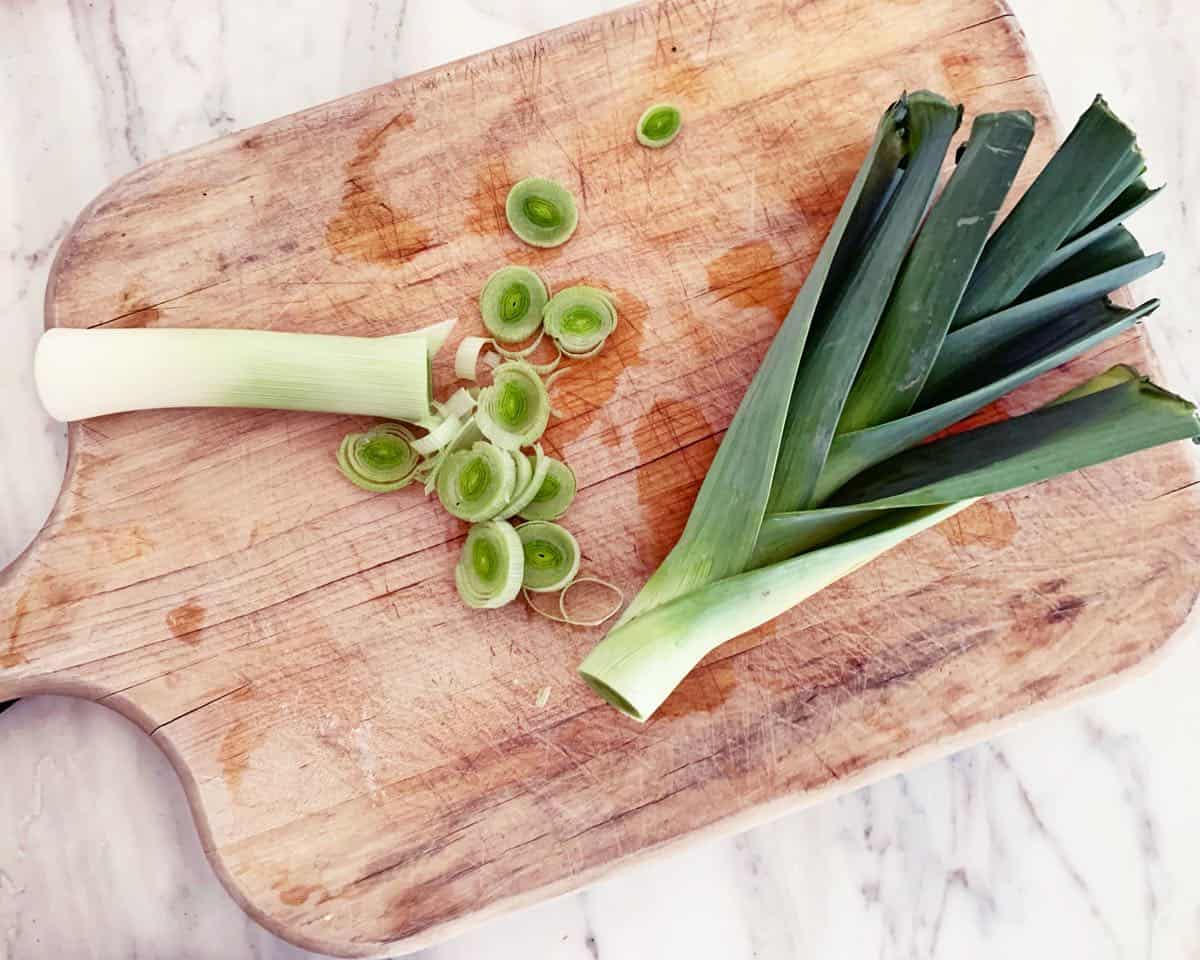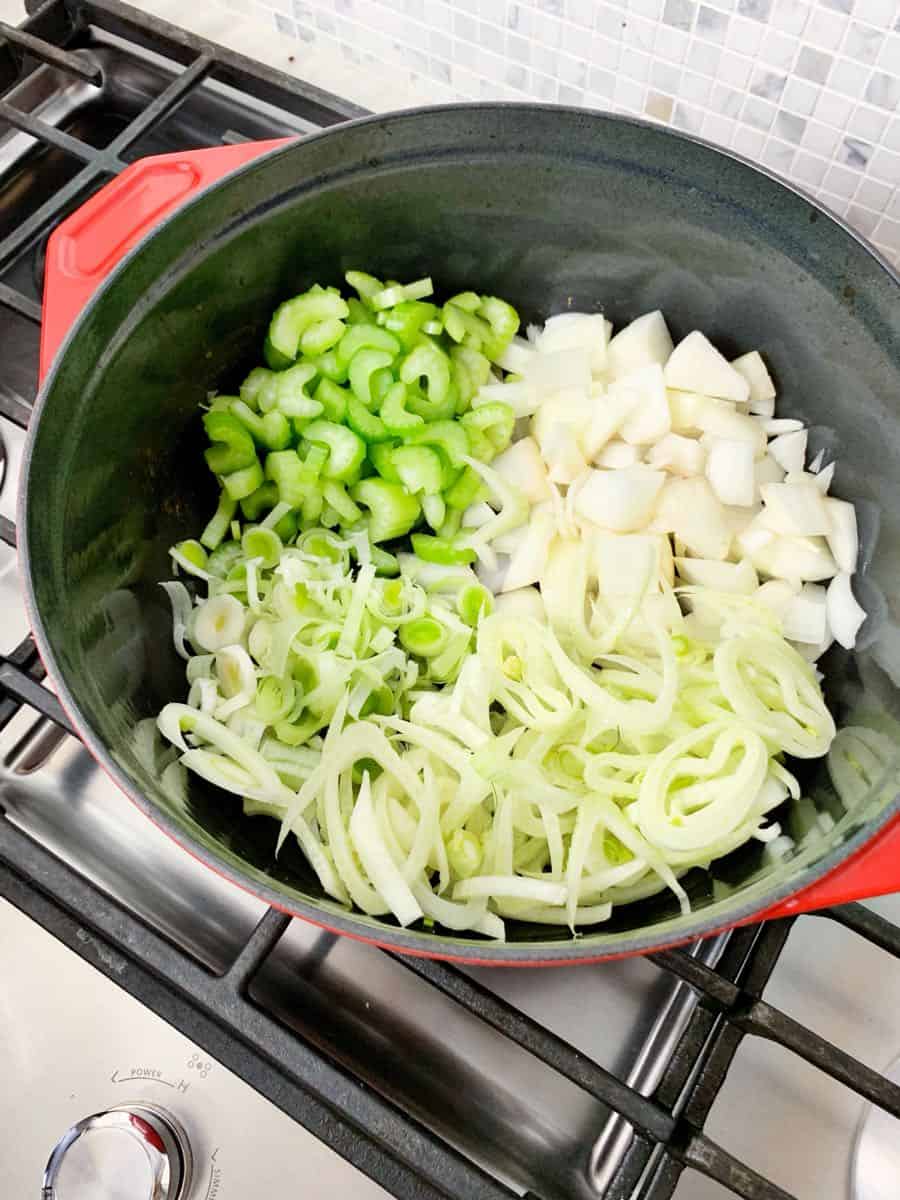 Coat the bottom of a heavy saucepan with several tablespoons of olive oil. Add your chopped onion, leeks, celery, and fennel and sauté over medium heat until wilted and fragrant.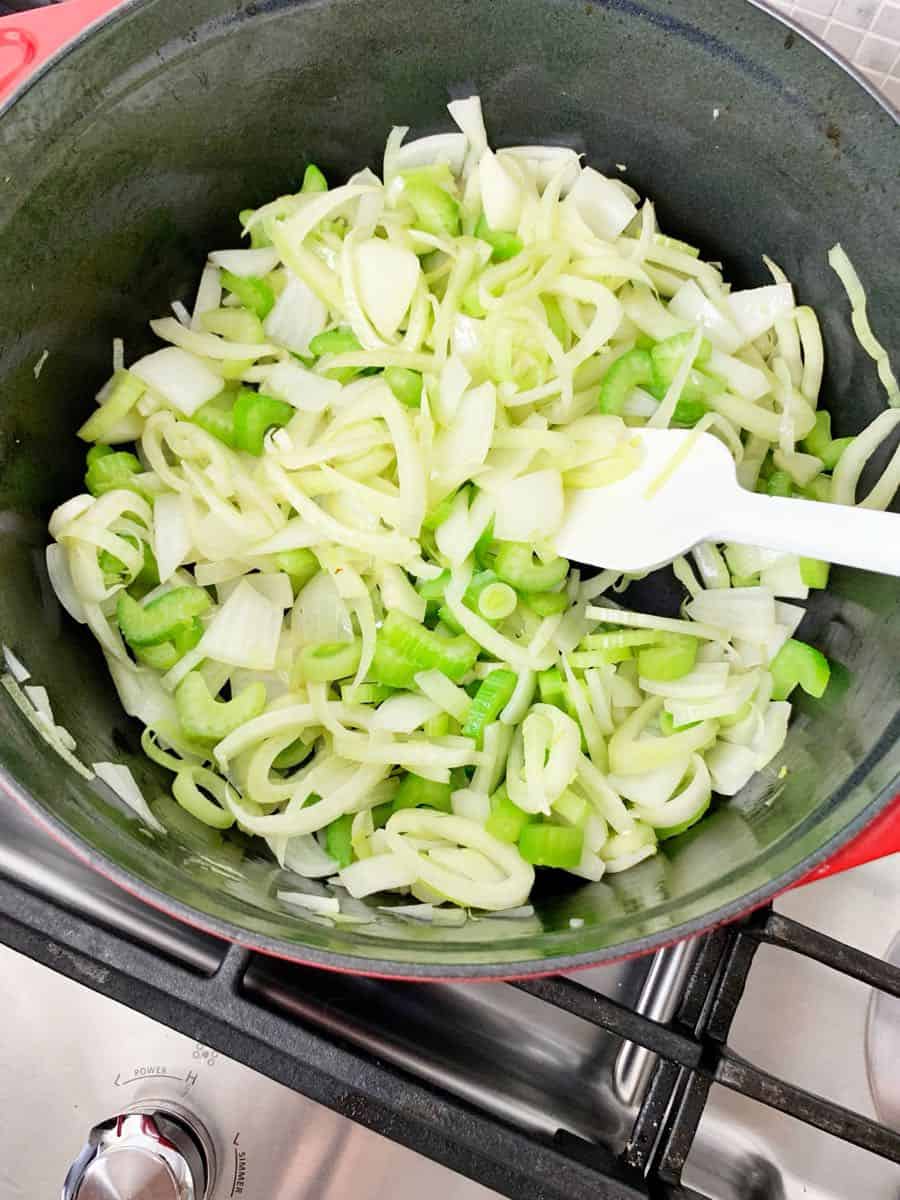 You do not need to cook these veggies all the way, but you do want to get them soft and starting to brown up.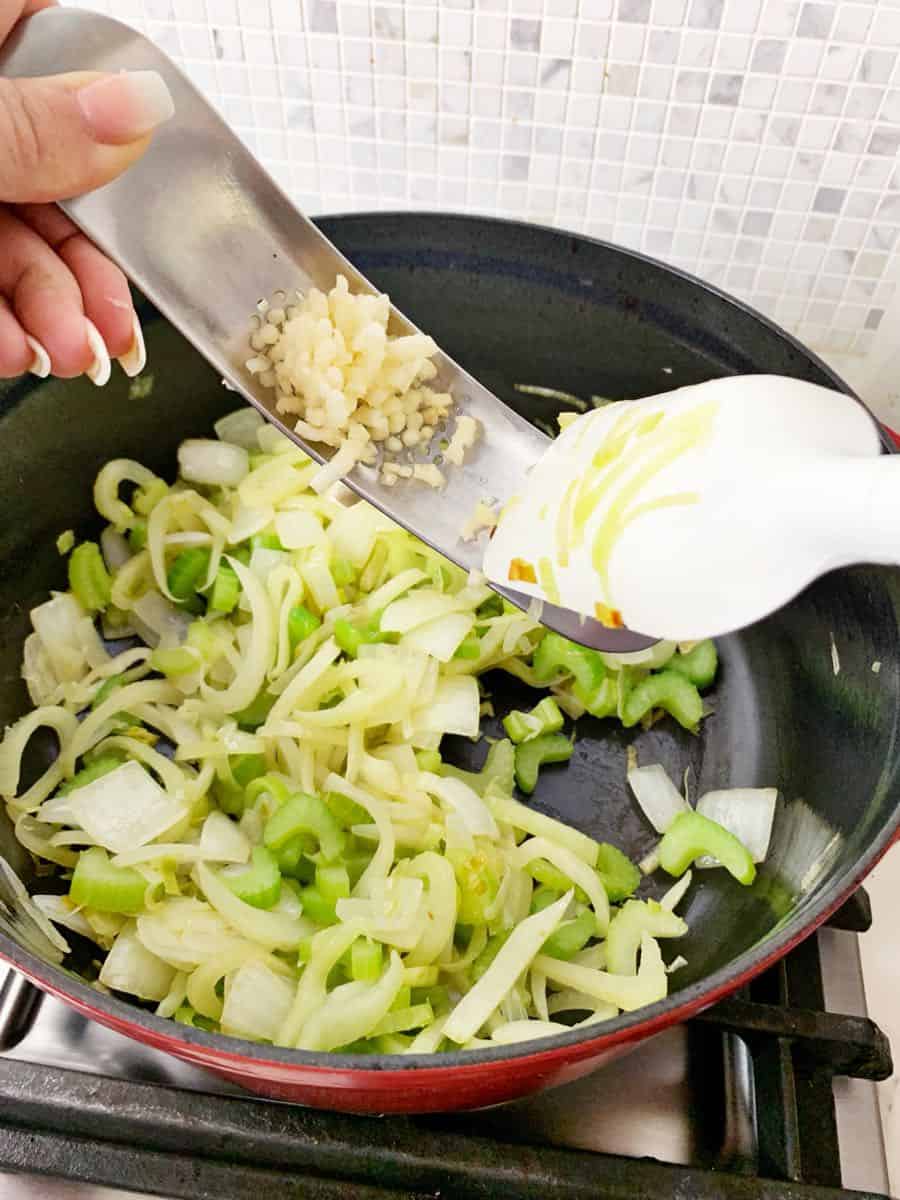 Add chopped garlic, black pepper, sea salt, thyme, dill, and any other herbs you'd like and brown a few more minutes until you can really start smelling all those flavors coming together.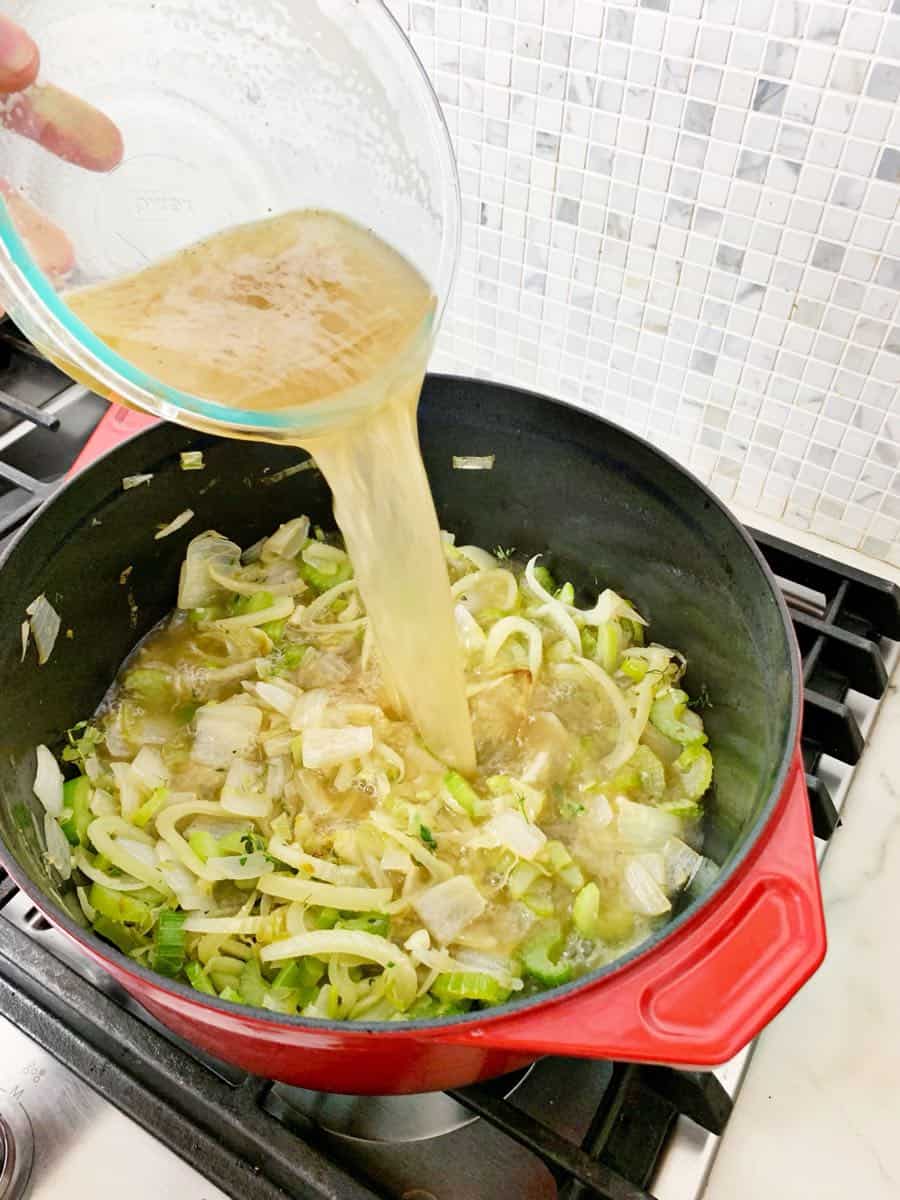 Next, add 8 cups of stock – you can use vegetable stock or chicken stock. I typically have frozen portions of homemade chicken stock in my freezer so that it what I used. Turn up the heat slightly and bring your soup to a boil. Once it begins to boil, turn it down to a simmer and add your remaining vegetables.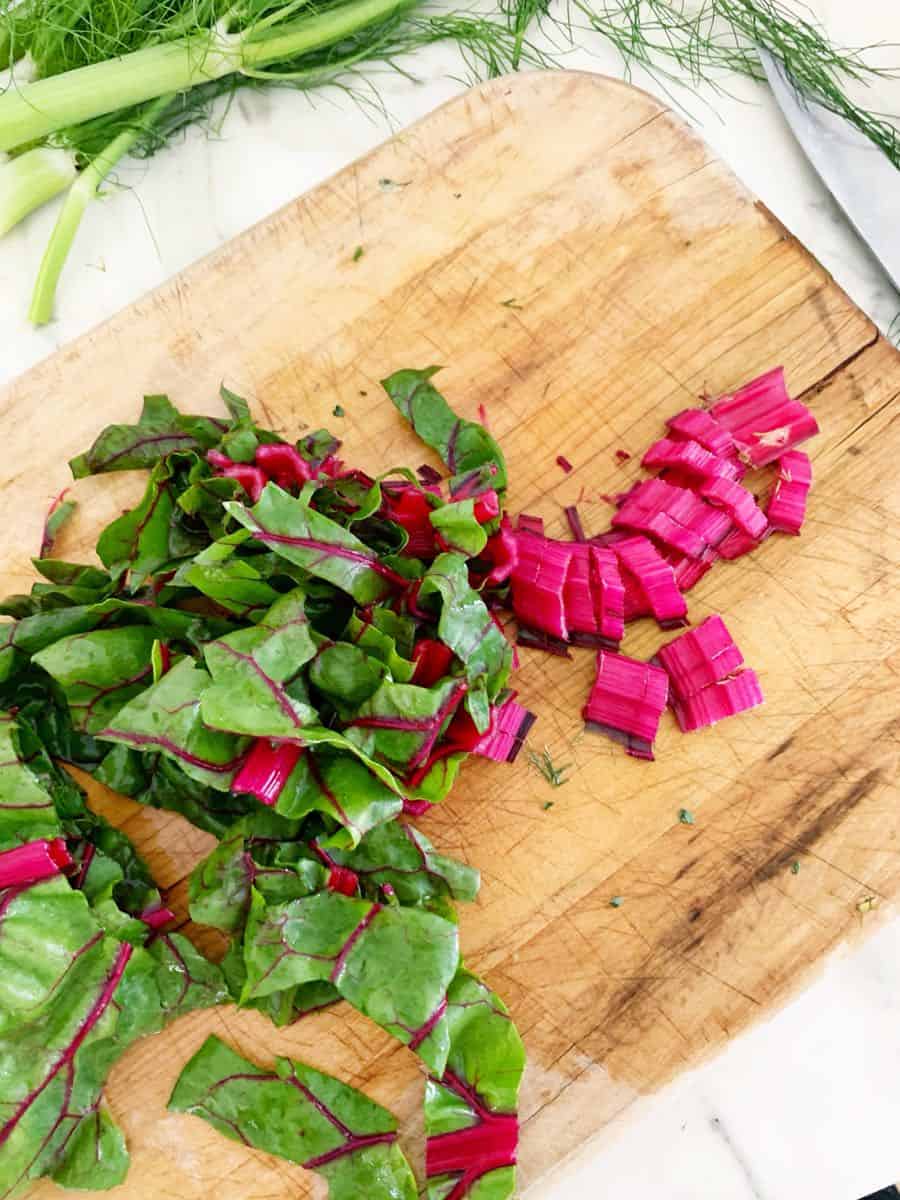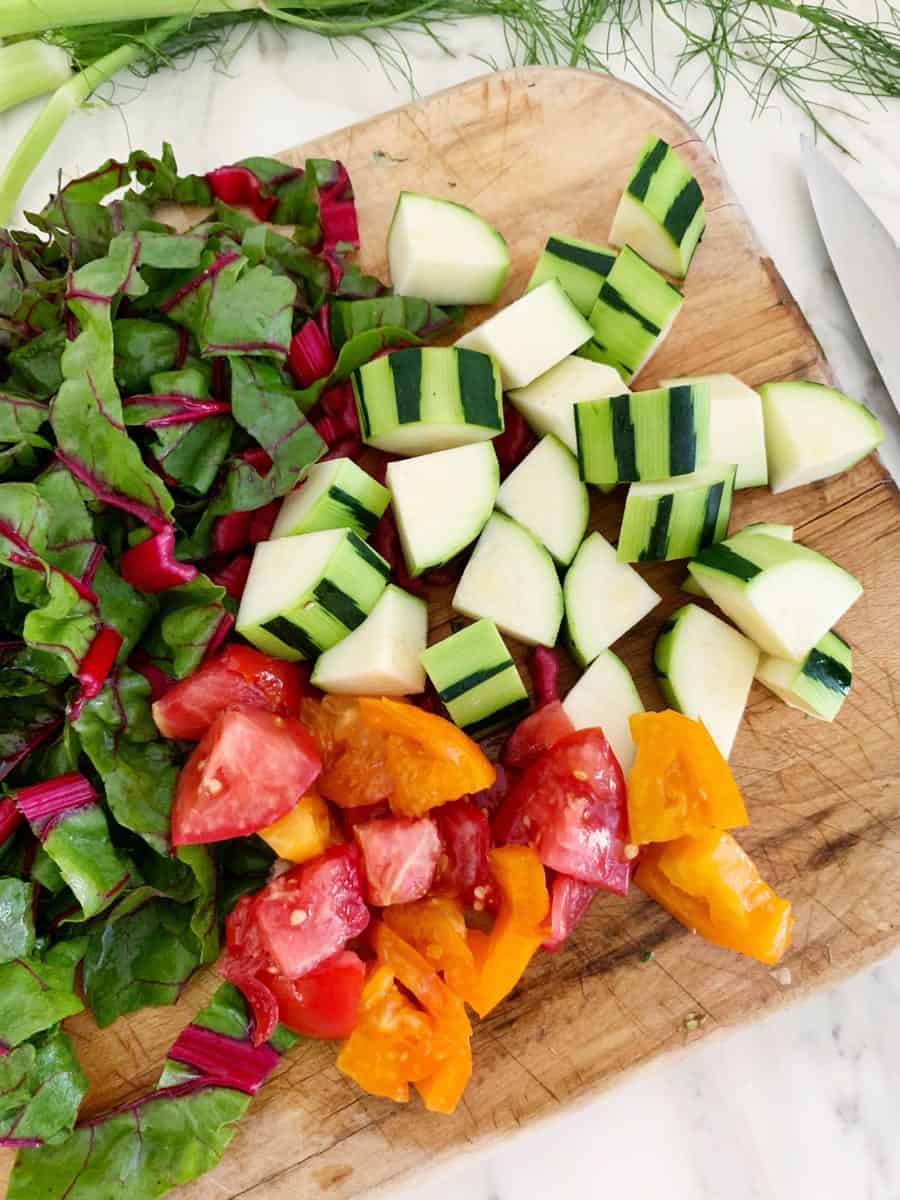 Once my soup has come to a boil, it's time to add my last set of vegetables. I preserve leafy greens like this stunningly colorful Swiss chard, tomatoes, zucchini, green beans, and bell peppers for adding toward the end because they tend to cook up quickly and I don't want them to get super mushy. Throw whichever of those you desire into the pot, along with a sprinkle of crushed red pepper and some fresh parsley.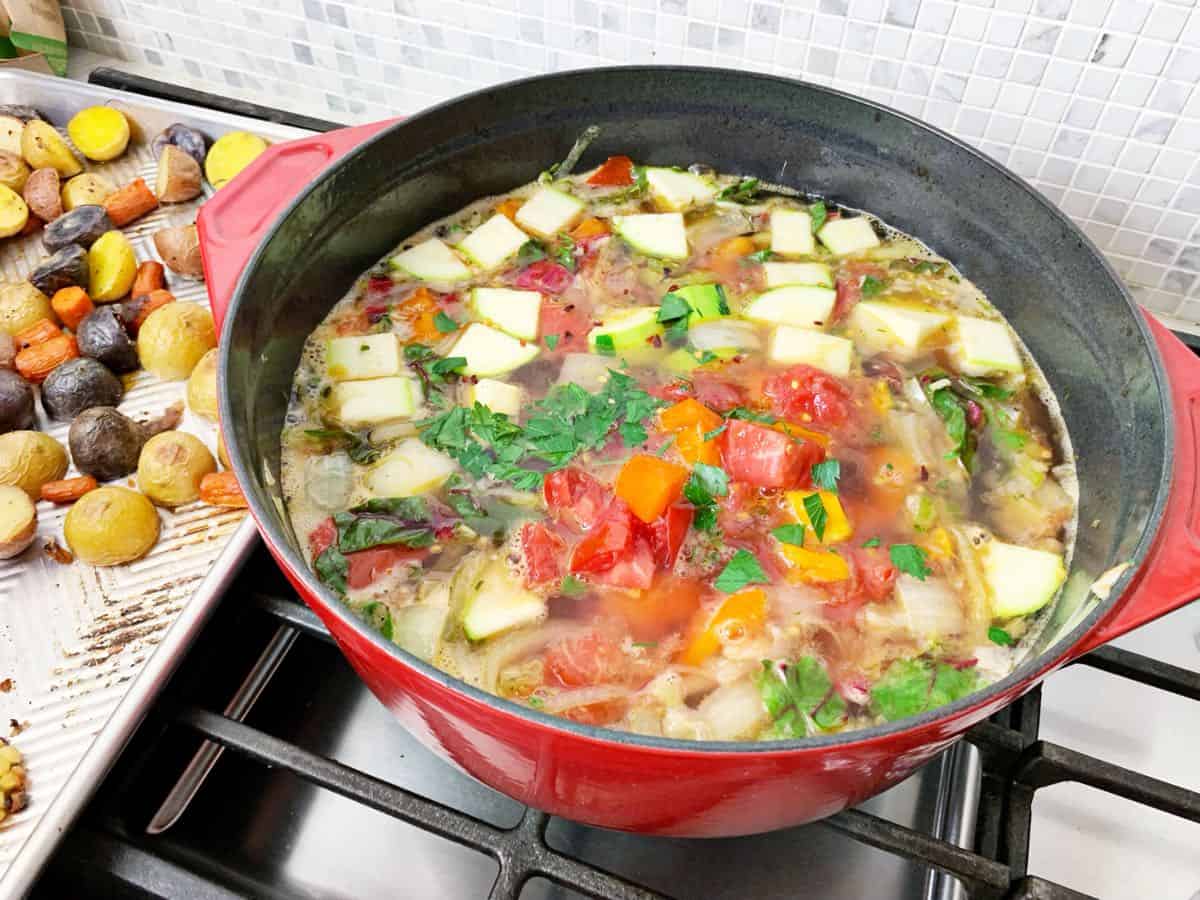 Simmer your soup for 5-10 minutes longer, just enough to blend all of your flavors. Then add in your roasted veggies and cook enough to heat them through – 2-3 minutes longer. Now your soup is ready to serve!!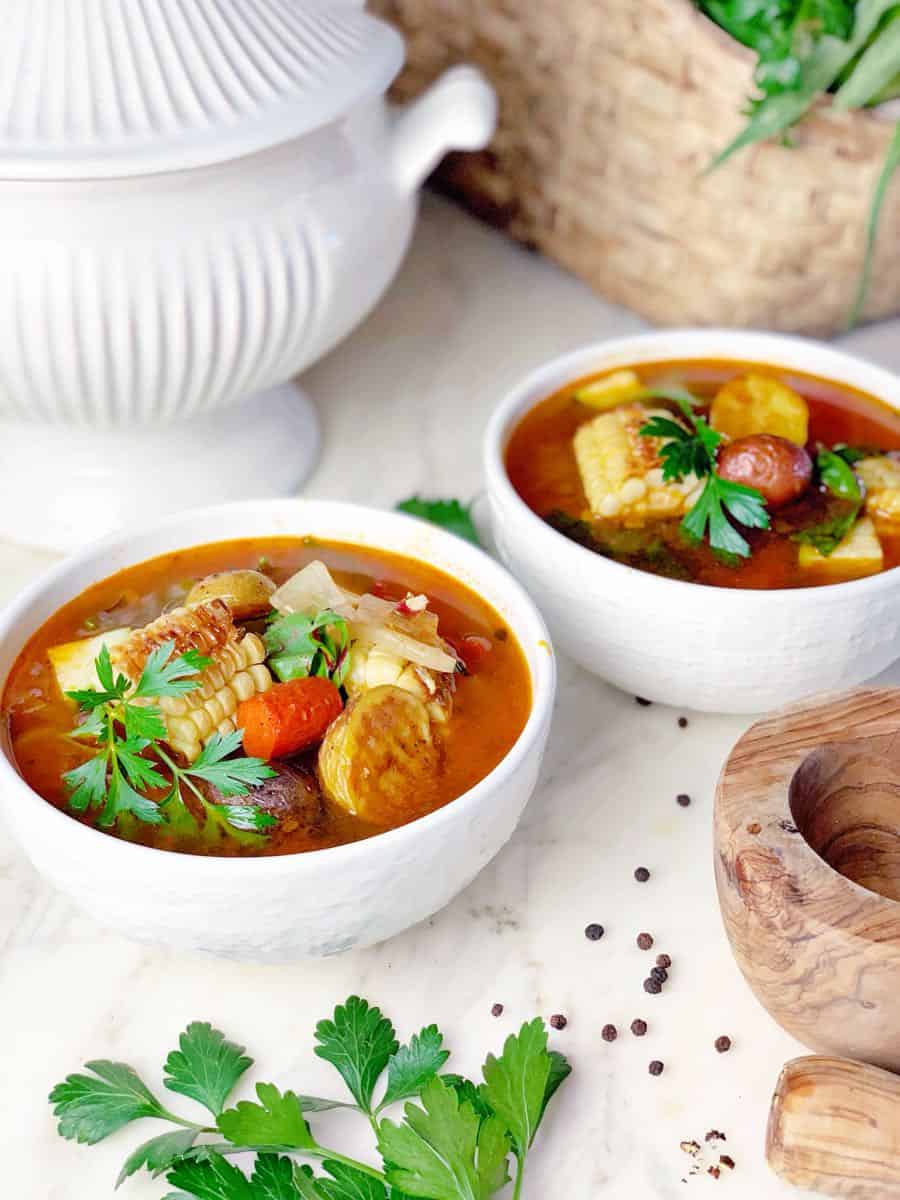 Dish that hearty soup up and serve with a nice loaf of crusty sourdough! Yum!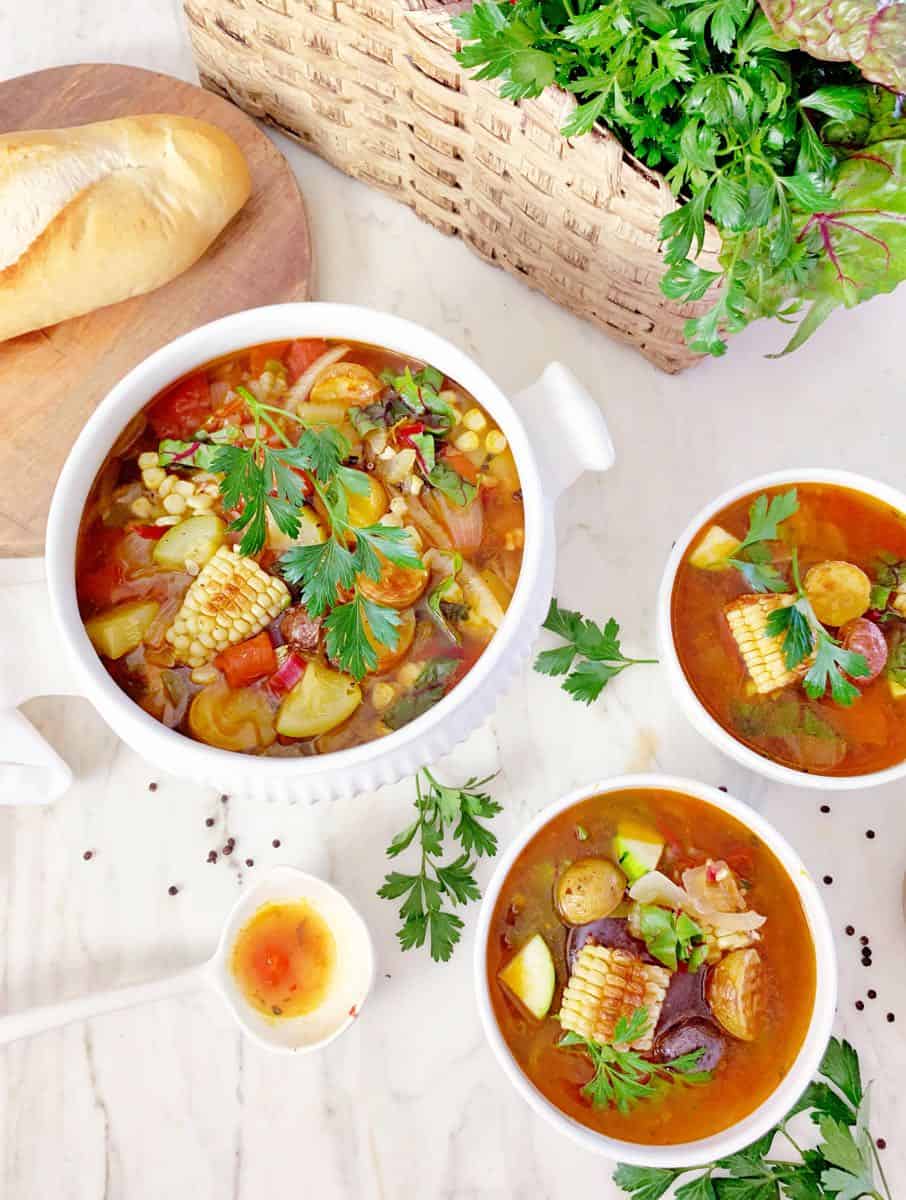 Hearty Vegetable Soup
2019-08-20 21:47:09
Roasted and sautéed vegetables of all colors and textures come together in this delicious, hearty soup.
Ingredients
1 pounds baby potatoes, washed and halved
3 whole carrots, peeled and chopped
1-2 ears of corn, kernels removed
1 onion, peeled and diced
1 bulb of fennel, sliced into thin pieces
3 stalks celery, chopped
1 leek, greens removed and stalk chopped into thin strips
4 large tomatoes, chopped
3 leaves of Swiss chard, chopped
2 cloves garlic, pressed
1 Tbs. fresh thyme, chopped
1 teaspoon fresh dill, chopped
3-4 tablespoons olive oil
8 cups of vegetable or chicken stock
parsley for garnish
Instructions
Coat potatoes, carrots, corn (still on cob), and onions (if desired) with 2-3 Tbs. olive oil.
Spread in a single layer on baking sheet and roast for 30 minutes at 425 degrees until golden brown.
Wash, peel, and dice all veggies, herbs, and seasonings.
In a heavy saucepan, heat 2-3 Tablespoons of olive oil over medium heat.
Add in prepared leeks, celery, fennel, and onion (if not roasting) and saute until soft and beginning to brown.
Add garlic and herbs; saute 1-2 minutes longer.
Add stock and bring soup to a light boil.
Turn down heat to a simmer and add tomatoes, chard, zucchini, salt, pepper, and red pepper flakes.
Simmer 10 minutes.
Add roasted vegetables and heat through.
Serve!
California Grown https://californiagrown.org/
Posted by Stefanie Knaus,
Girl. Inspired.