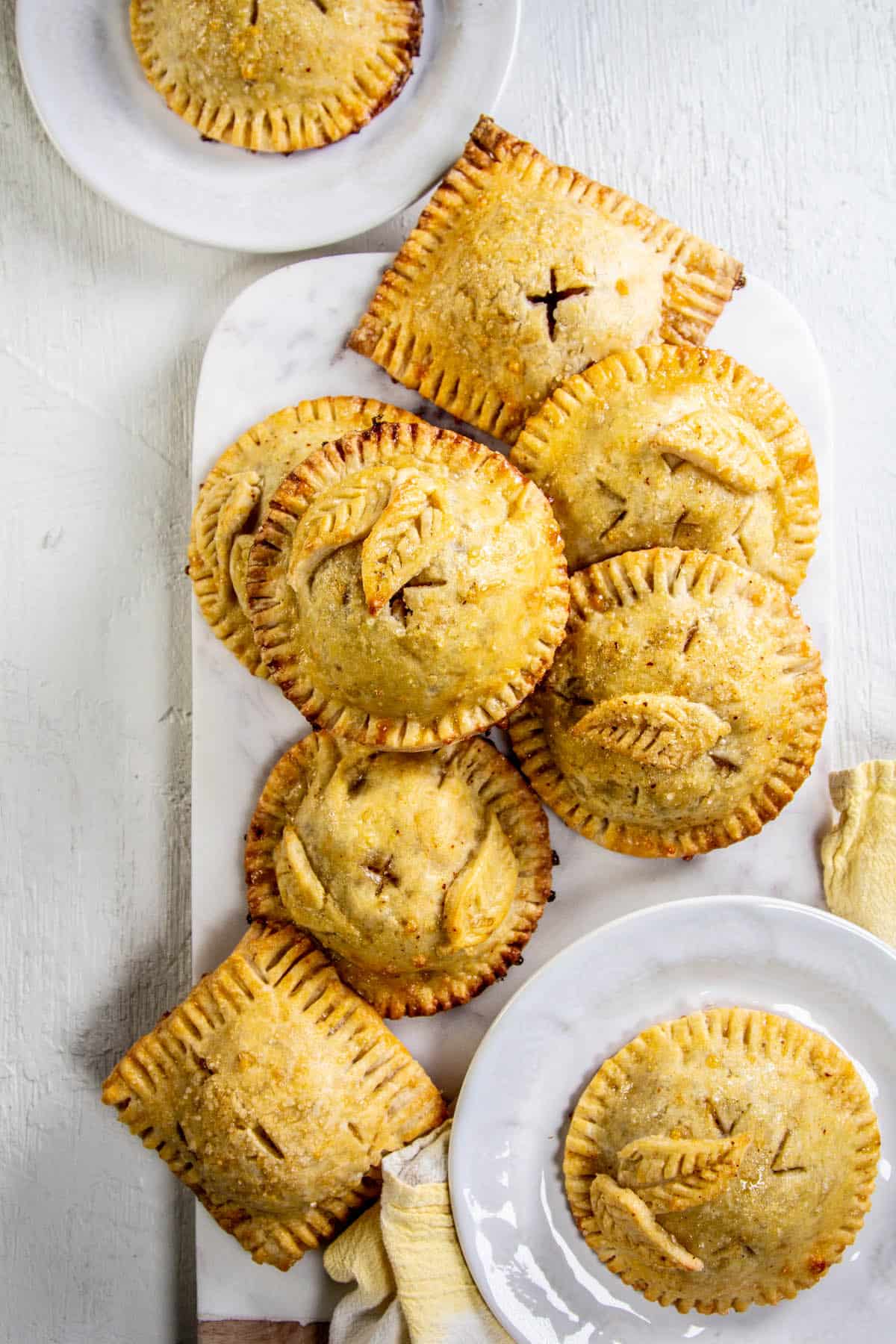 CA GROWN Blog
Discover. Learn. Connect.
The Best Apple Cheddar Hand Pie Recipe
November 1, 2022
Eat the Season!
Sign Up For Weekly Recipes
« Back to Recipes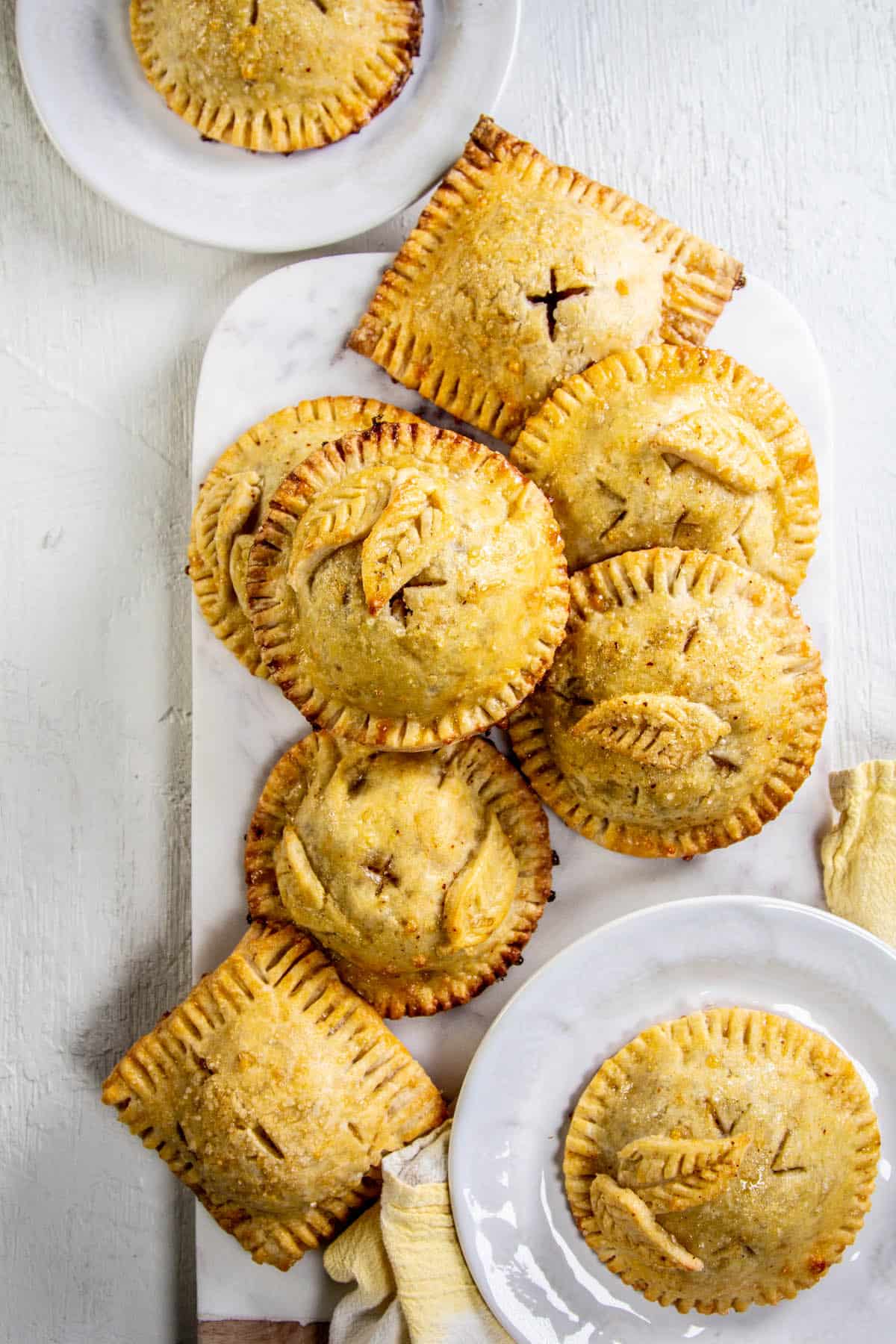 The Best Apple Cheddar Hand Pie Recipe
Every baker worth their salt should have a go-to hand pie recipe in their back pocket, and this Apple Cheddar Hand Pie recipe is ours! This pocket-sized dessert has everything you could want in a slice of apple pie – a tender flaky crust, warm cinnamon apple filling, and no need for a fork or plate. Let's indulge!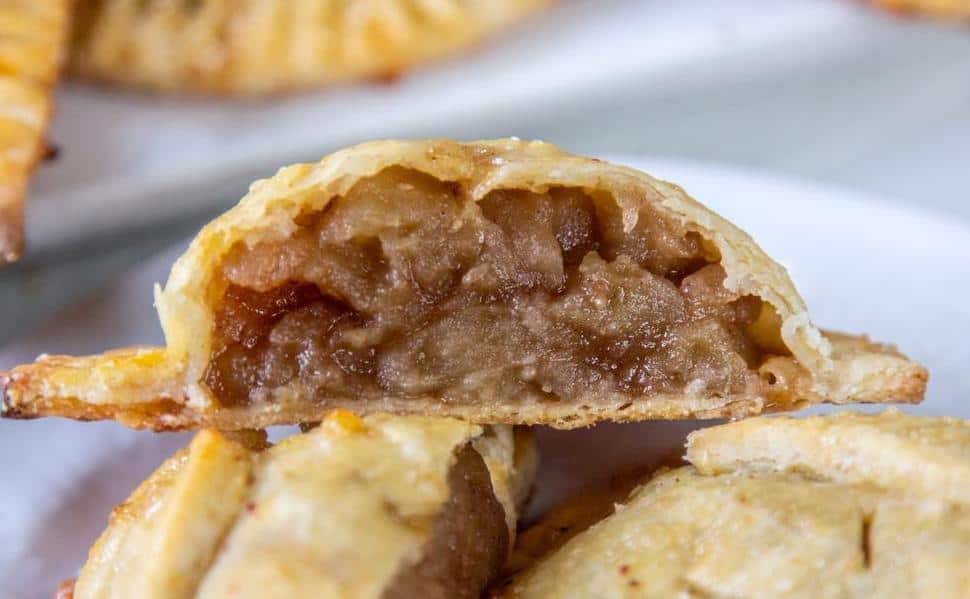 What is a hand pie?
Did you know that hand pies are basically miniature pies? They fit perfectly in your hand and can be sweet or savory.
Most hand pie recipes call for the same type of process to assemble the hand pies. Once preparing the dough and the filling, the baker will create small, evenly sized circular or rectangular-shaped pieces of dough. To fill each hand pie, a small amount of filling is placed in the center of each piece of pie dough, which is then folded over and sealed shut before baking.
While there are a few steps involved in making hand pies, we think miniature pies like these are so much easier to make than the full-sized version!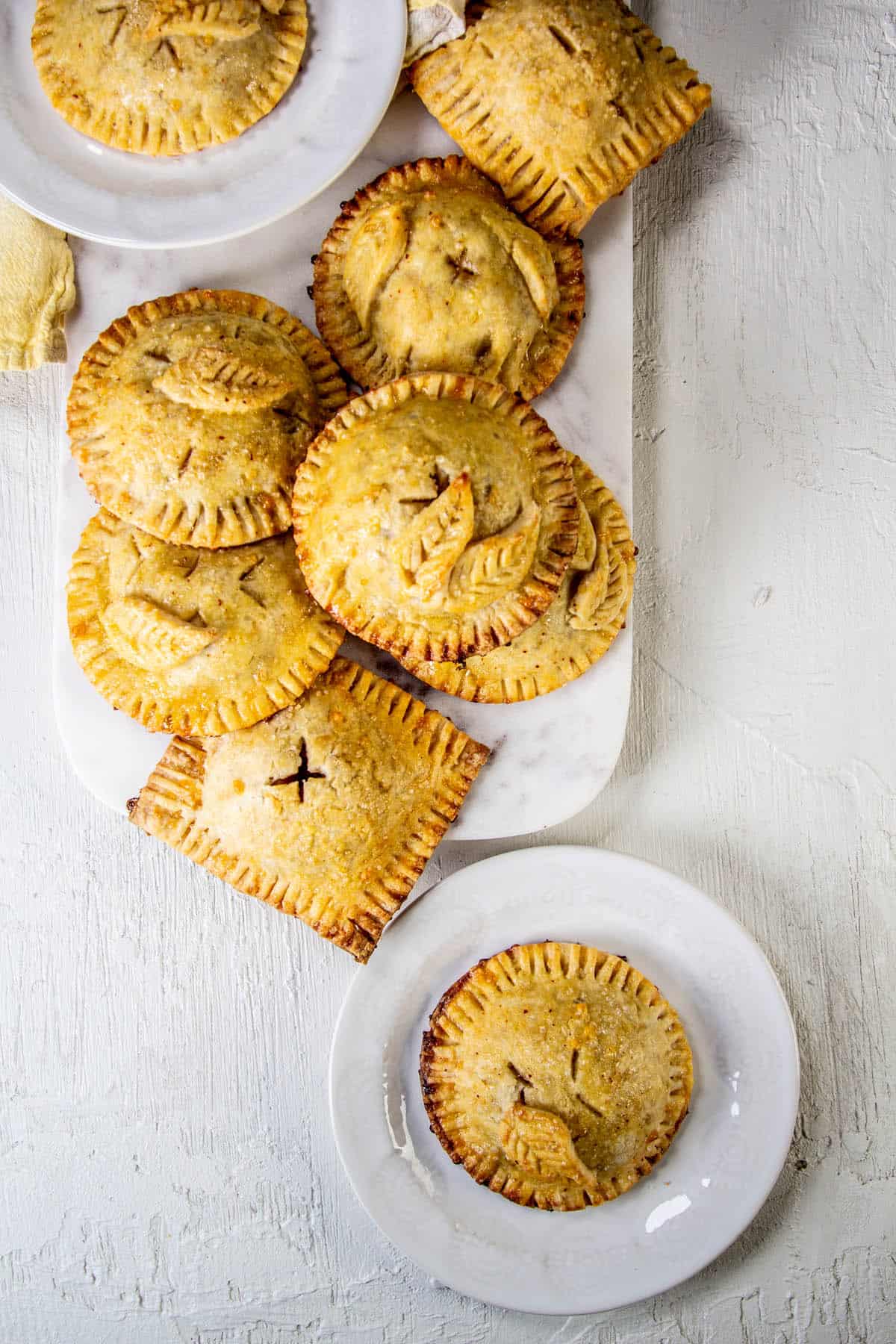 What is the difference between a hand pie and a turnover?
Turnovers are typically made with puff pastry dough, although pie dough can be used. While hand pies tend to be circular all the way around, turnovers are traditionally folded in half, so they look like a half-moon.
What ingredients are needed for this hand pie recipe?
There are two separate recipe components to making any hand pie recipe, the dough and the filling. Each of these components can be changed up to create all kinds of opportunities for unique new hand pie possibilities.
Let's break down the components of our Apple Cheddar Hand Pie recipe, shall we?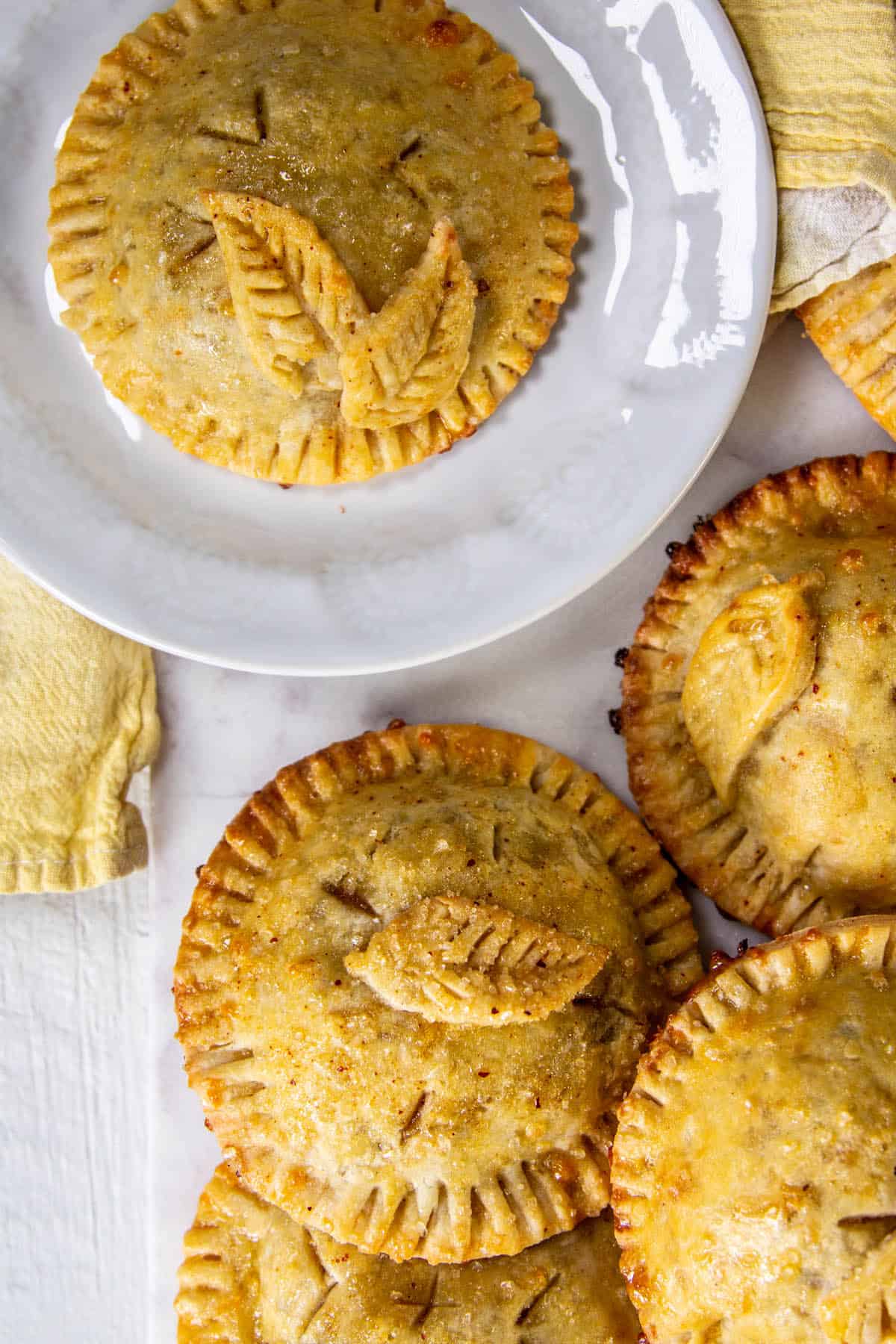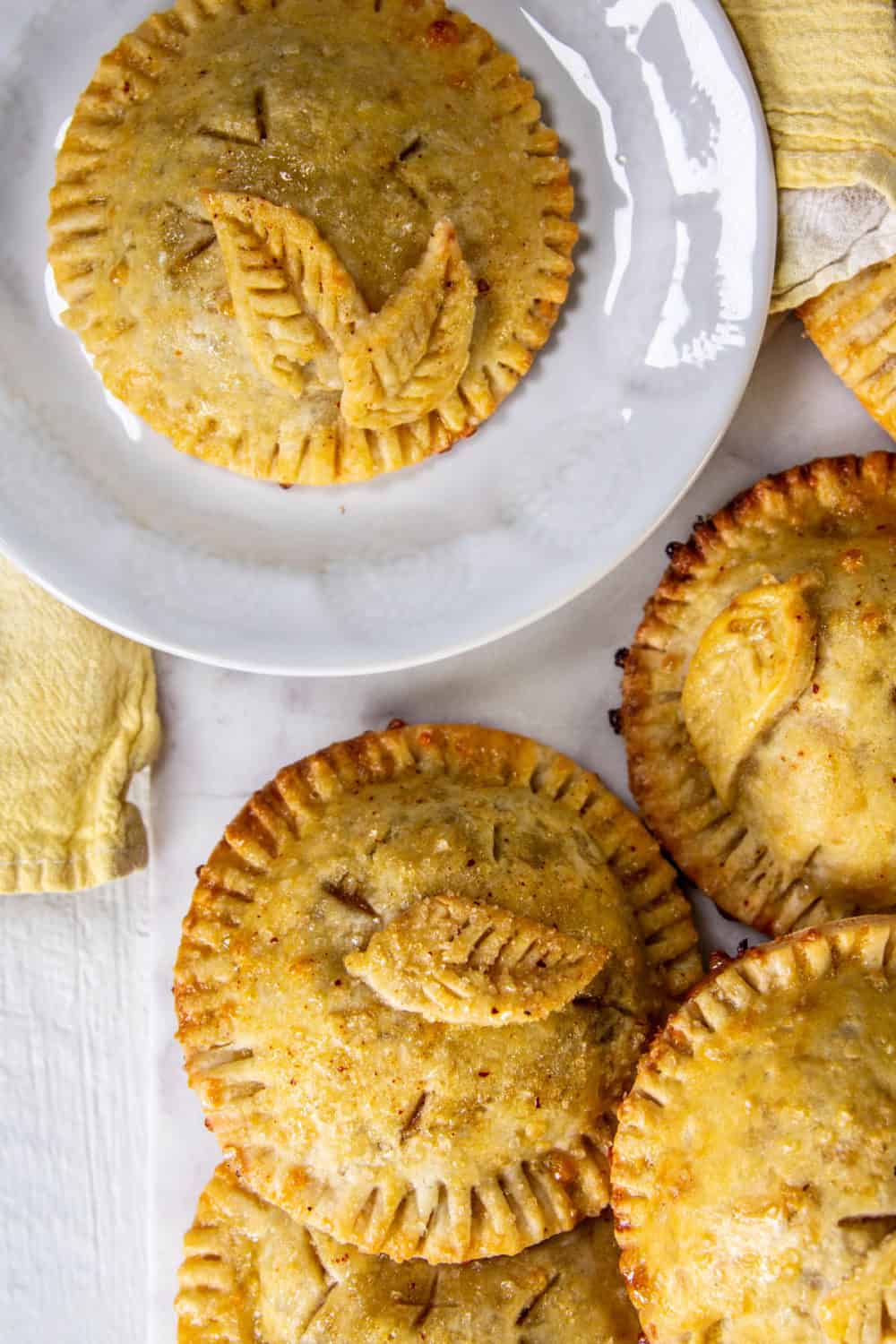 The dough: Gluten-Free Pie Cheddar Cheese Dough
Yes, you read that right. There is cheddar cheese in this recipe for pie dough.
It may sound weird and may even feel a bit "wrong" to some at first, but I assure you, it's so delicious!
Sure, you can omit the cheddar and you will still have a pretty stellar gluten-free pie dough recipe that will be delicious for making apple hand pies.
But, before you write off the idea of cheese in your apple pie, let me make a case for including cheddar in your next recipe for apple pie.
Is cheddar cheese on apple pie good?
Whether you are leveling up your go-to apple pie recipe or making apple hand pies, one thing is certain, apples and cheddar are just better together! Think of it this way: apple pie is sweet and sugary while cheddar cheese is salty and savory. It's a naturally perfect salty-sweet combo.
You can bake cheddar into the crust as we do in this hand pie recipe, or if serving slices of freshly baked apple pie, you can place a slice of cheddar on top.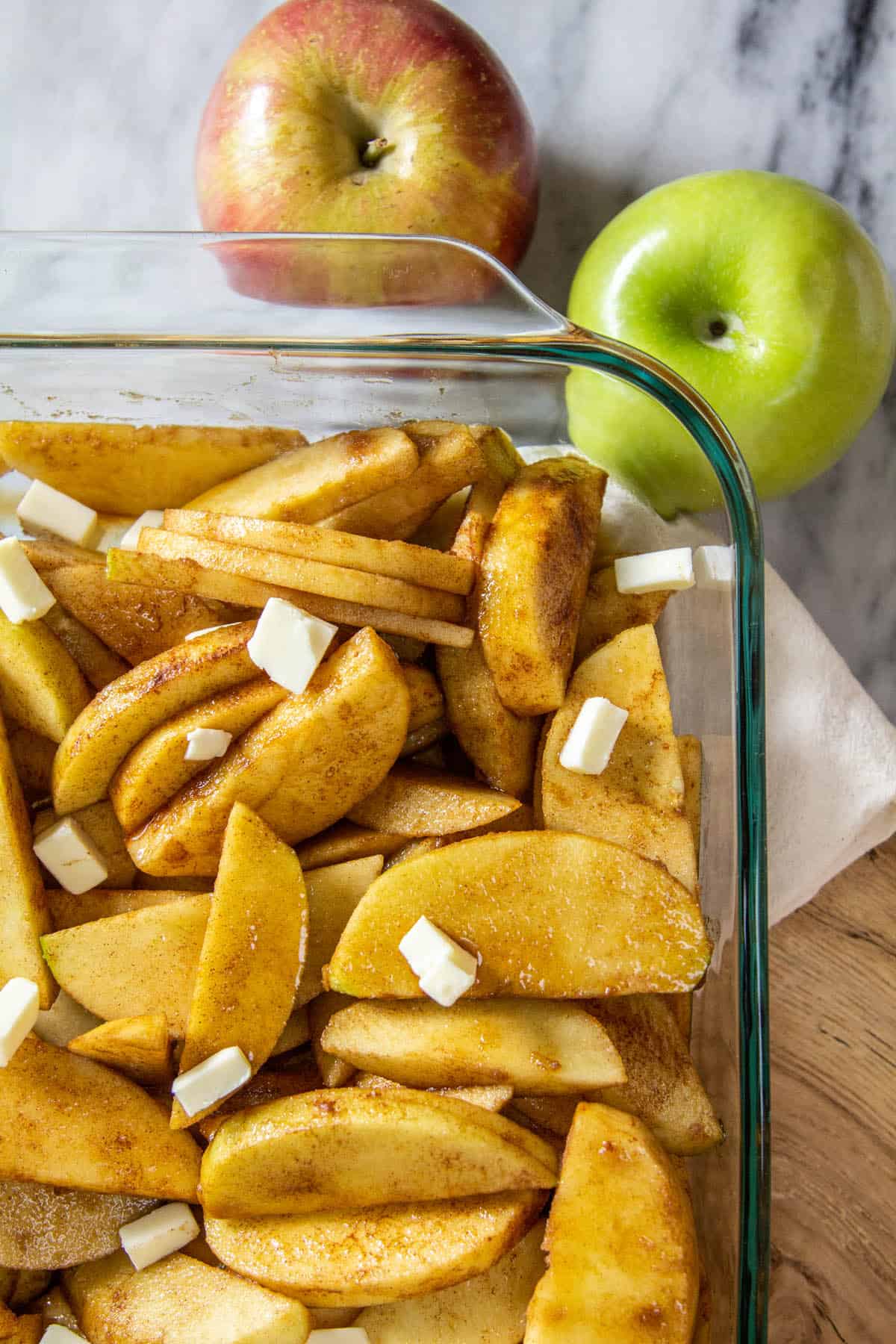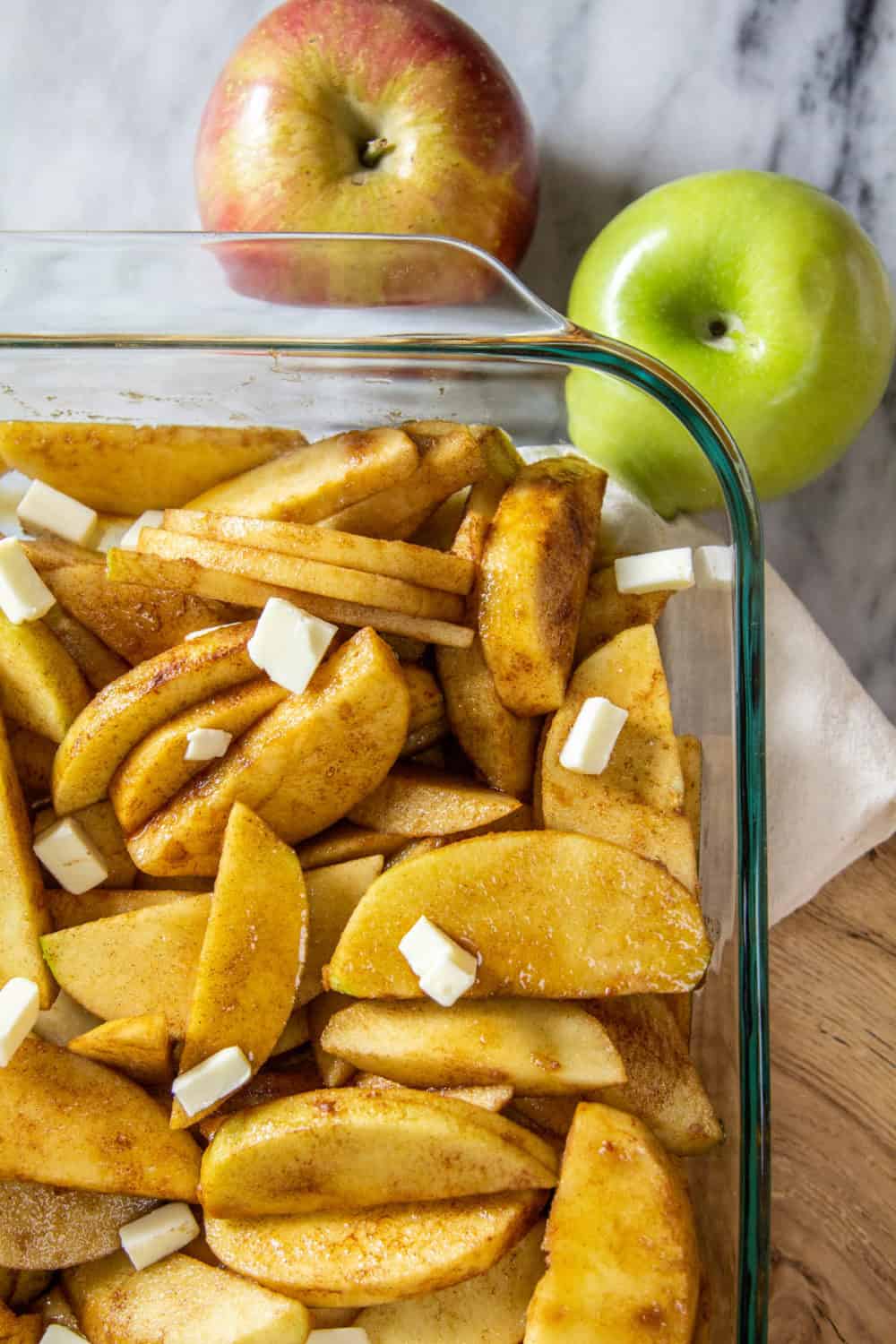 This is our go-to recipe when we are craving baked apples! These apple slices are perfect as-is, with ice cream, or piled high on a bowl of oatmeal.
We also use these delicious baked cinnamon apples as the filling for our Apple Cheddar Hand Pies except we make one key change to the recipe.
Instead of slicing the apples, we dice them into small cubes. The apples will break down as they cook and release their juices. As they cool, the broken-down baked apples will draw back the glorious liquid creating the perfect apple pie filling.
Sure, there are a million and one recipes for hand pie on the internet. But, how do you know which recipes will actually work and are worth all the effort in the end? While not difficult, making hand pies is more of a project than other more simple dessert recipes.
The hand pie recipes that follow are sure to delight your tastebuds while also making the experience of creating and baking hand pies a fun and memorable event, not a stressful one.
Delicious variations of Apple Hand Pie: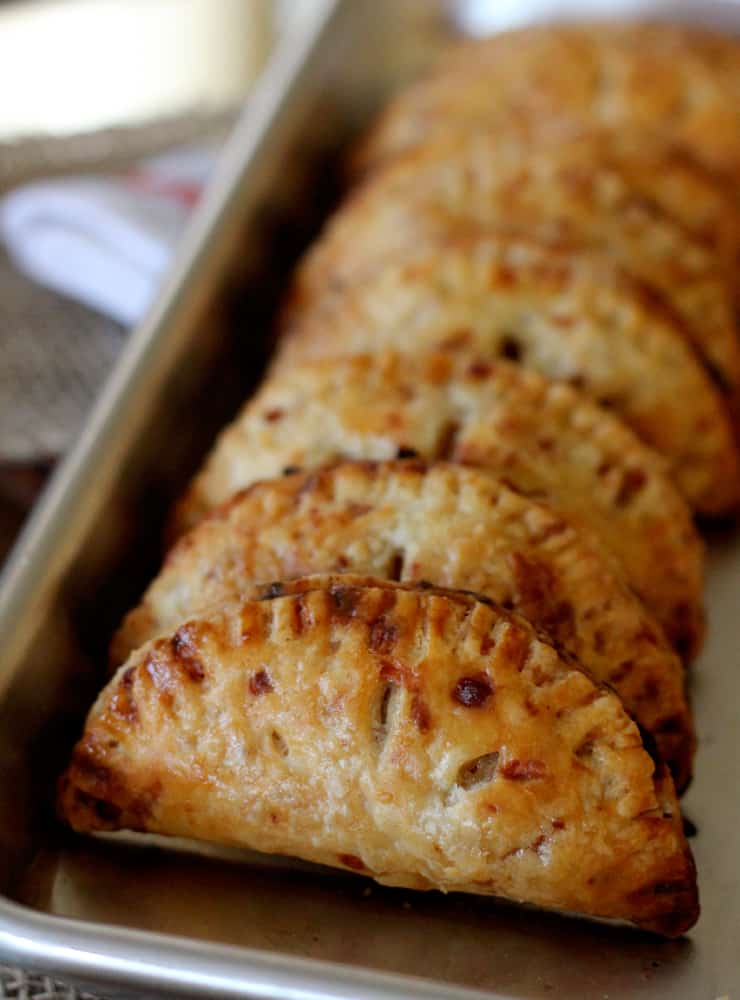 Becky of Baking the Goods recently published this delicious hand pie recipe!
While our recipe concepts are similar, Becky calls for white cheddar in her dough recipe. We have to try that next!
Becky's sharp cheddar pie crust and spiced apples combine to create a tempting tart and toasty hand pie.
Every bite is a perfect mouthful of equal parts flaky, salty pastry, and spiced apple filling.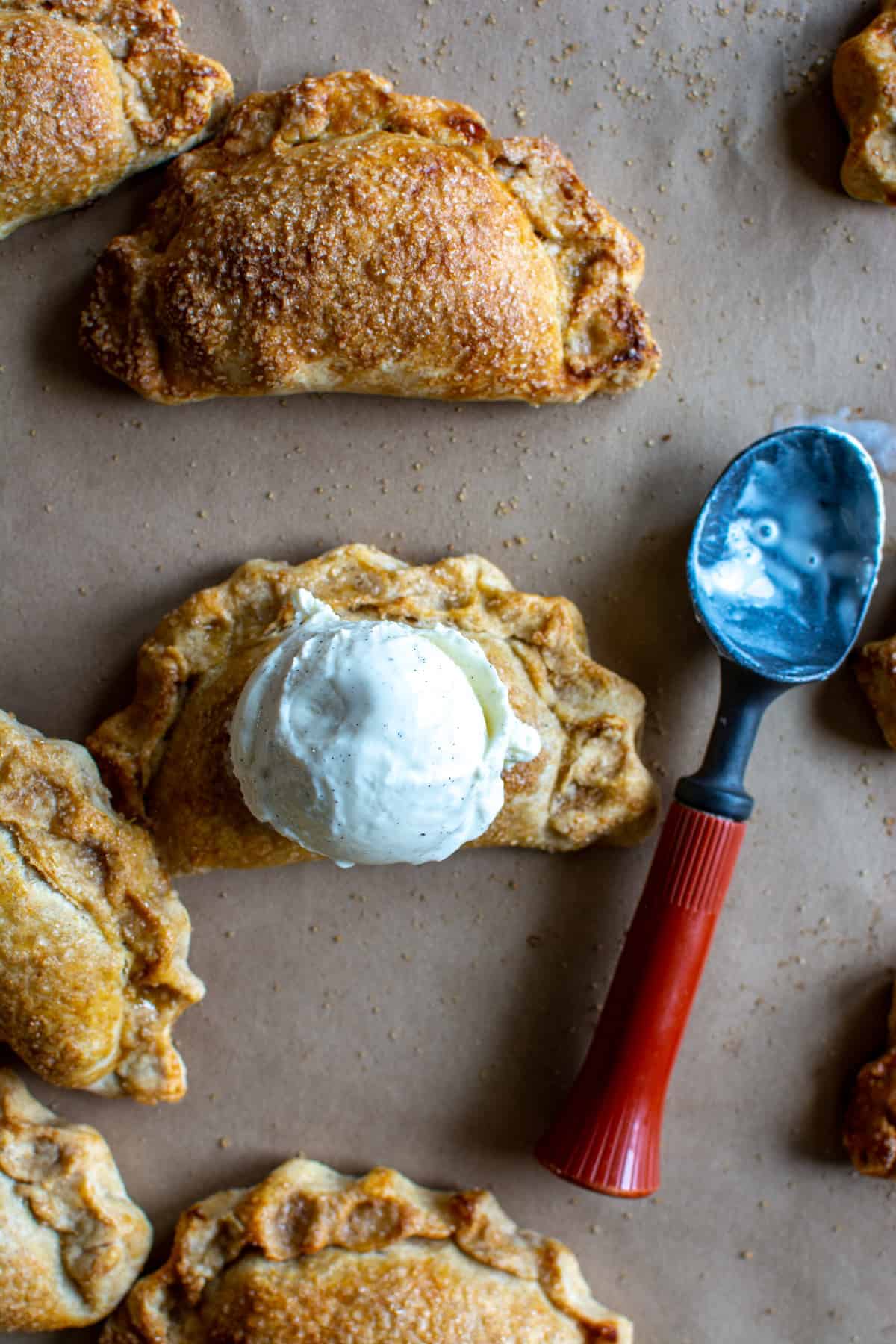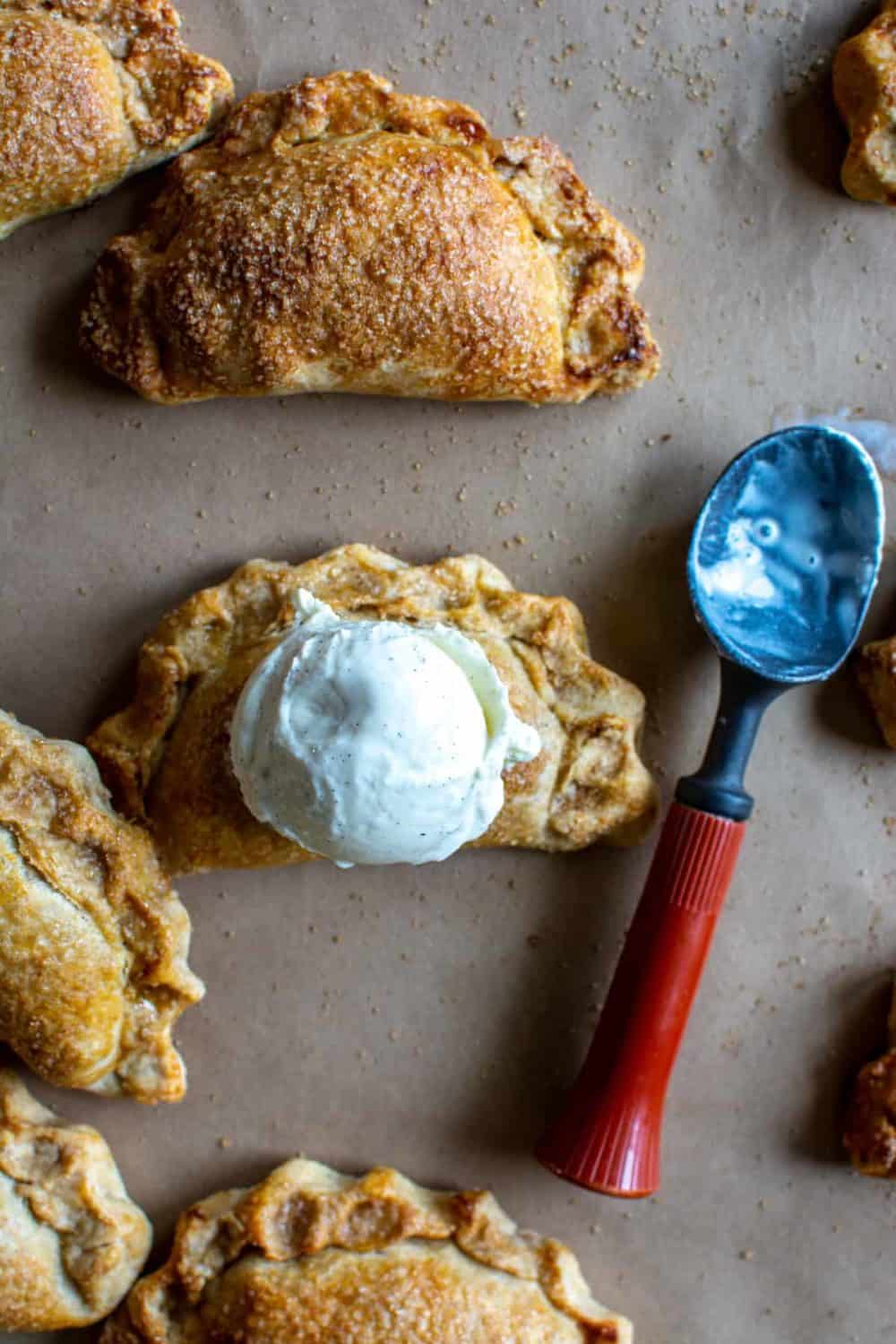 Hola Jalapeno's Apple Hand Pies are similar to an apple empanada with rum-spiked apples and cinnamon wrapped in pastry.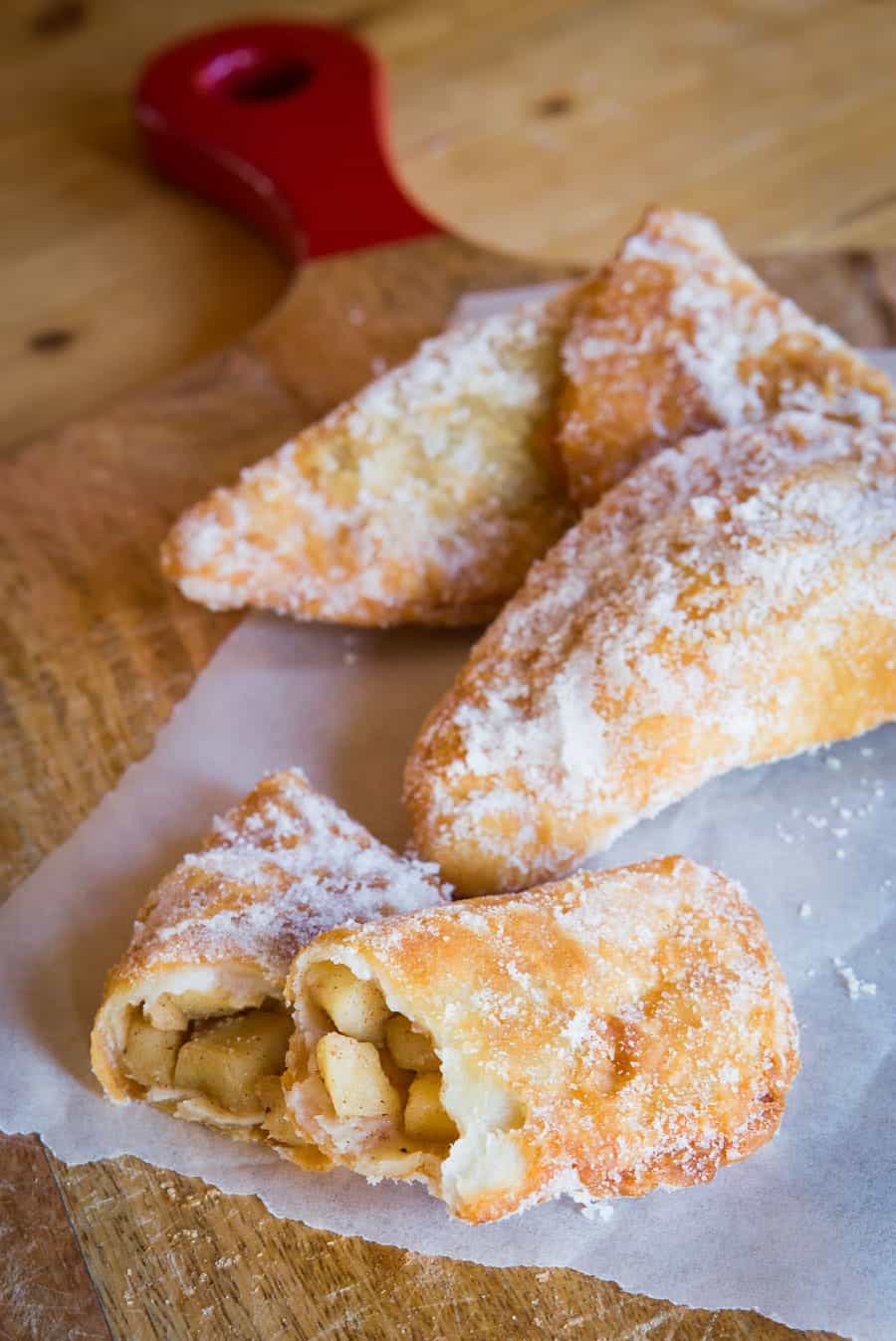 These classic southern-style fried apple pies are easy to make and so very fun to serve and eat. Just follow Irvin of Eat the Love's step-by-step instructions and you'll be a fried pie-making pro in no time!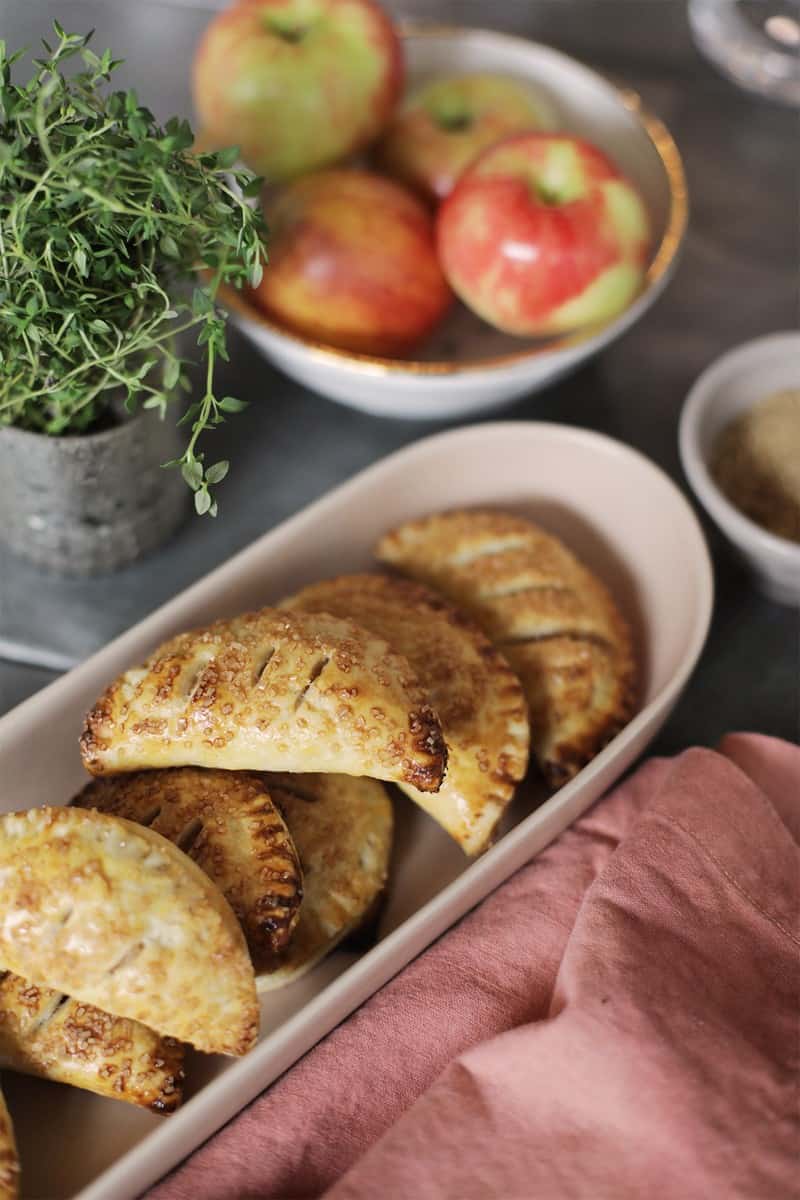 This hand pie recipe from Salt and Wind is essentially a recipe for mini apple pies, which is as American as can be, but the addition of fresh thyme, cinnamon, and shredded cheese means they ride the line of sweet and savory.
Sweet & savory hand pie recipes without apple.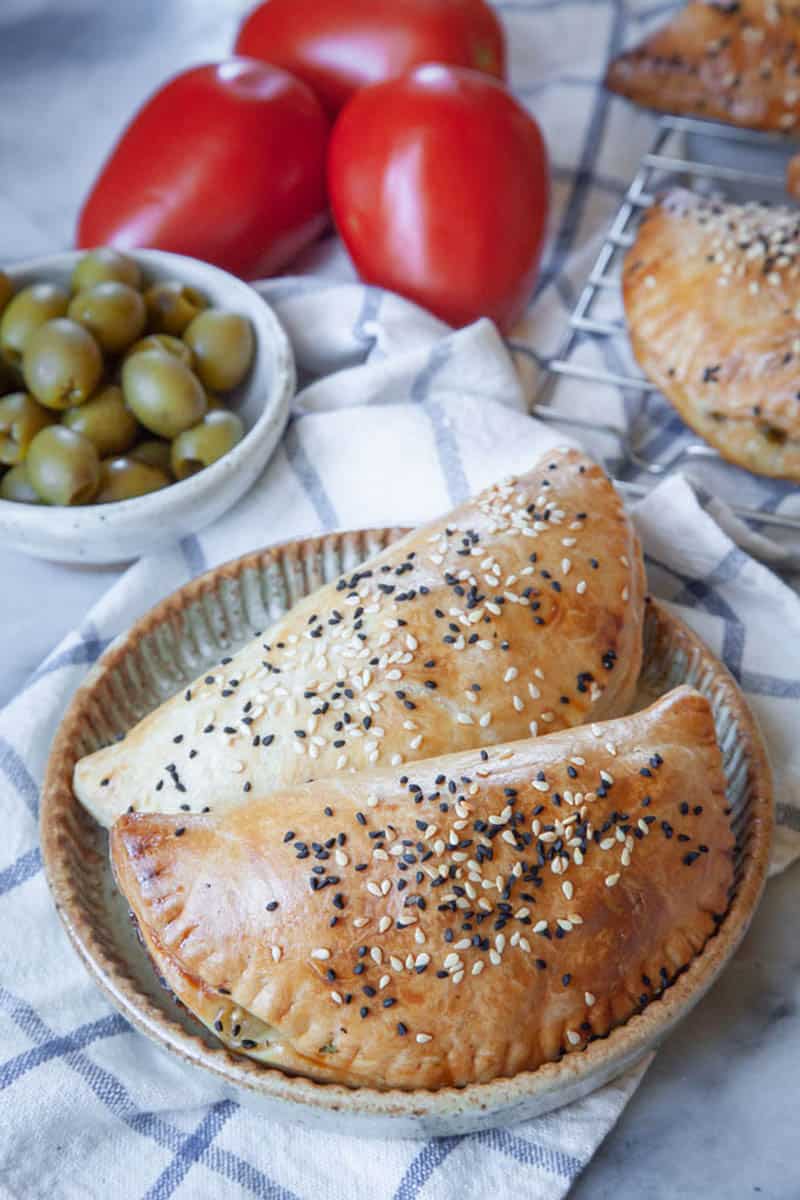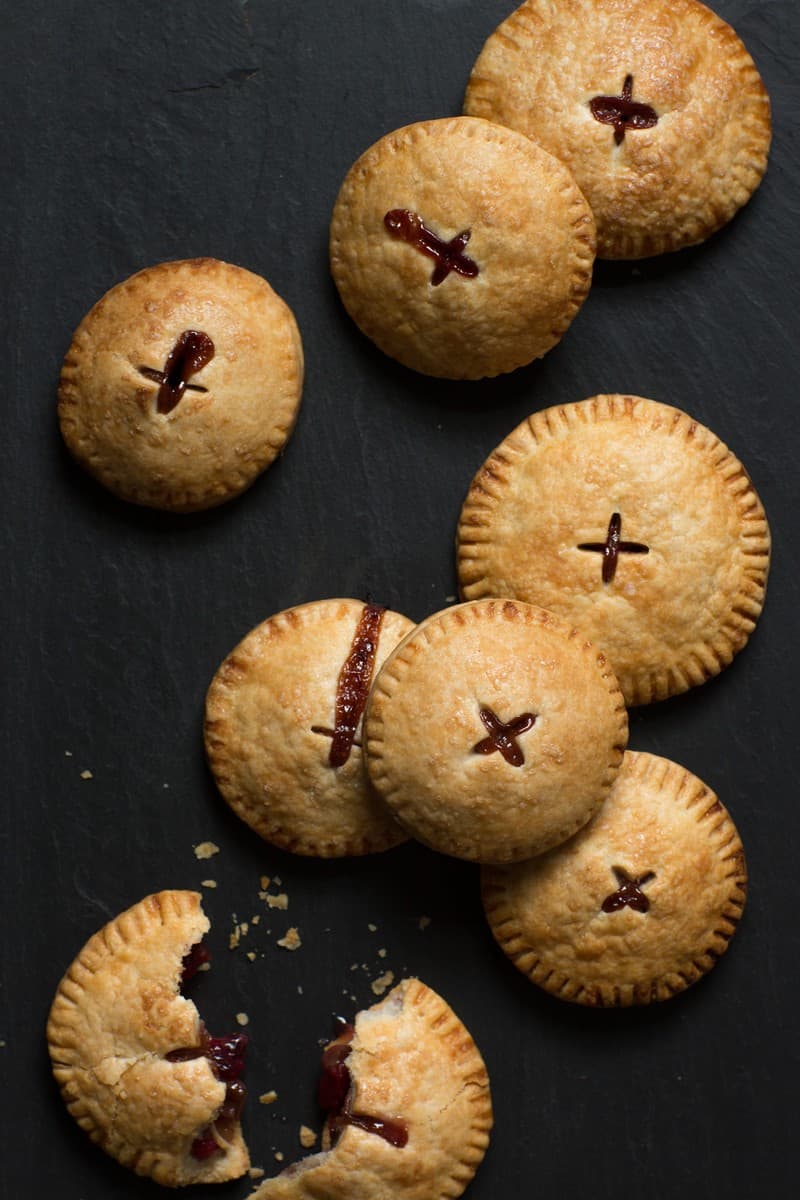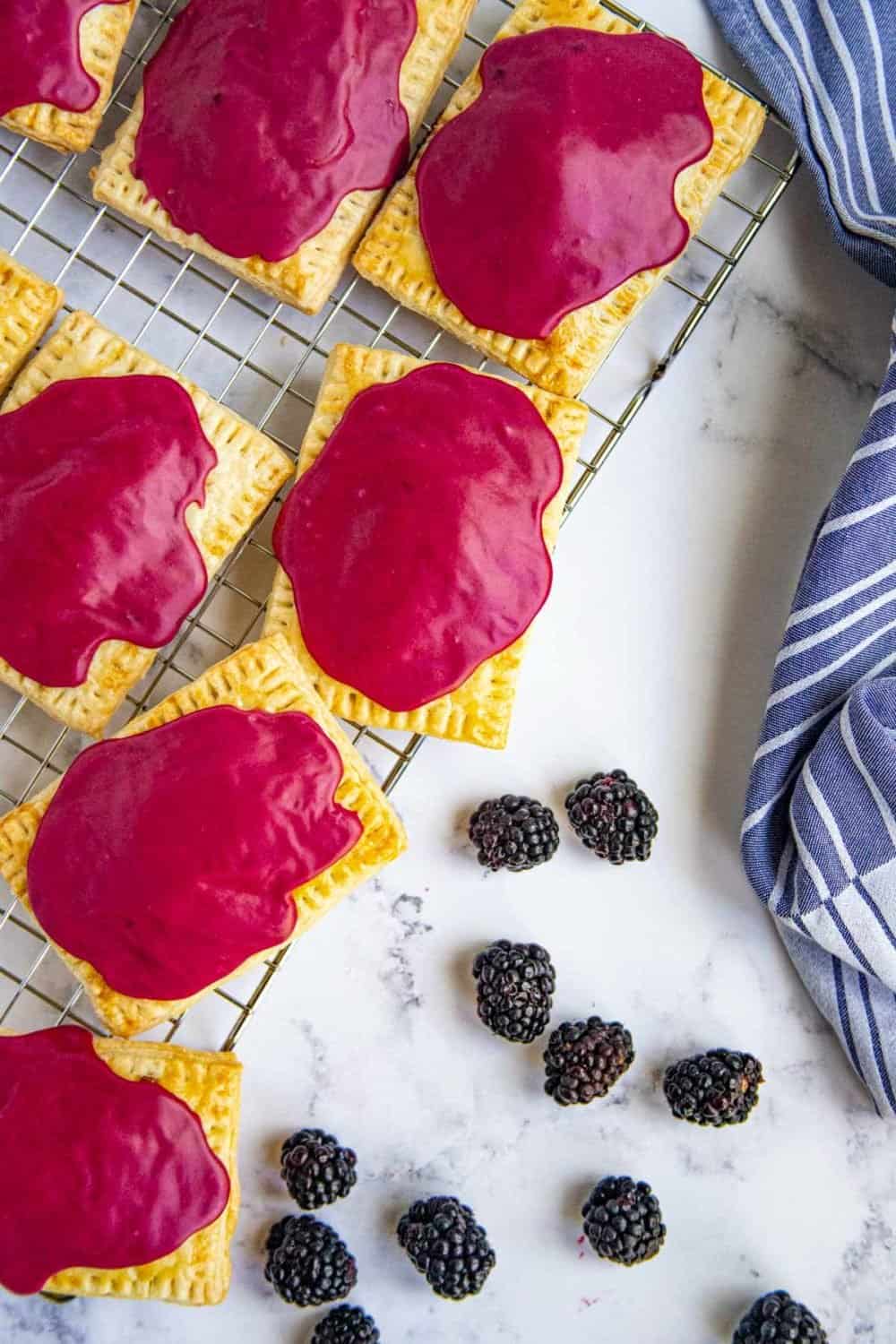 The thick blackberry filling in these hand pies from Bakes by Brown Sugar is piled into buttery pie dough, baked, and then topped with yummy blackberry glaze.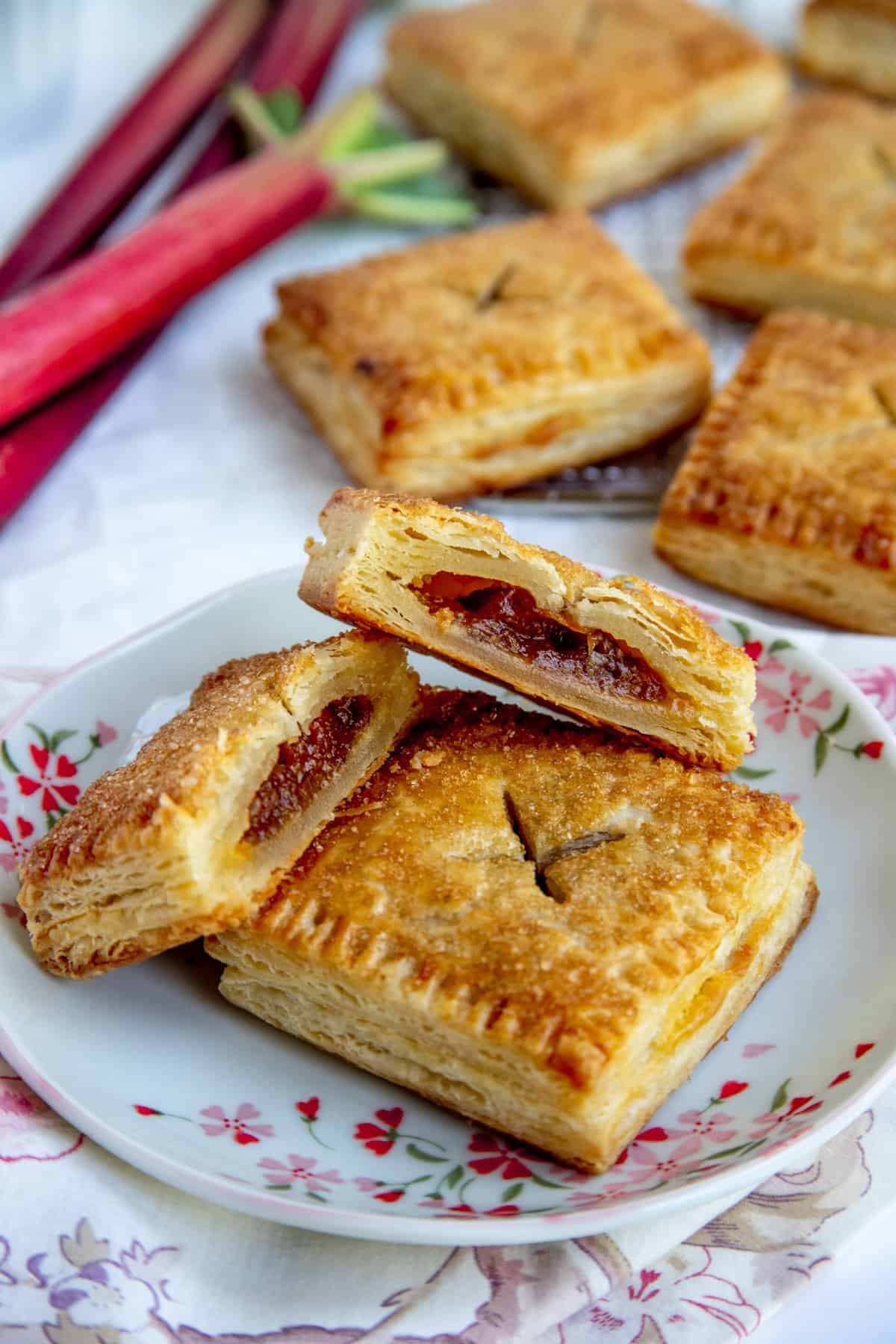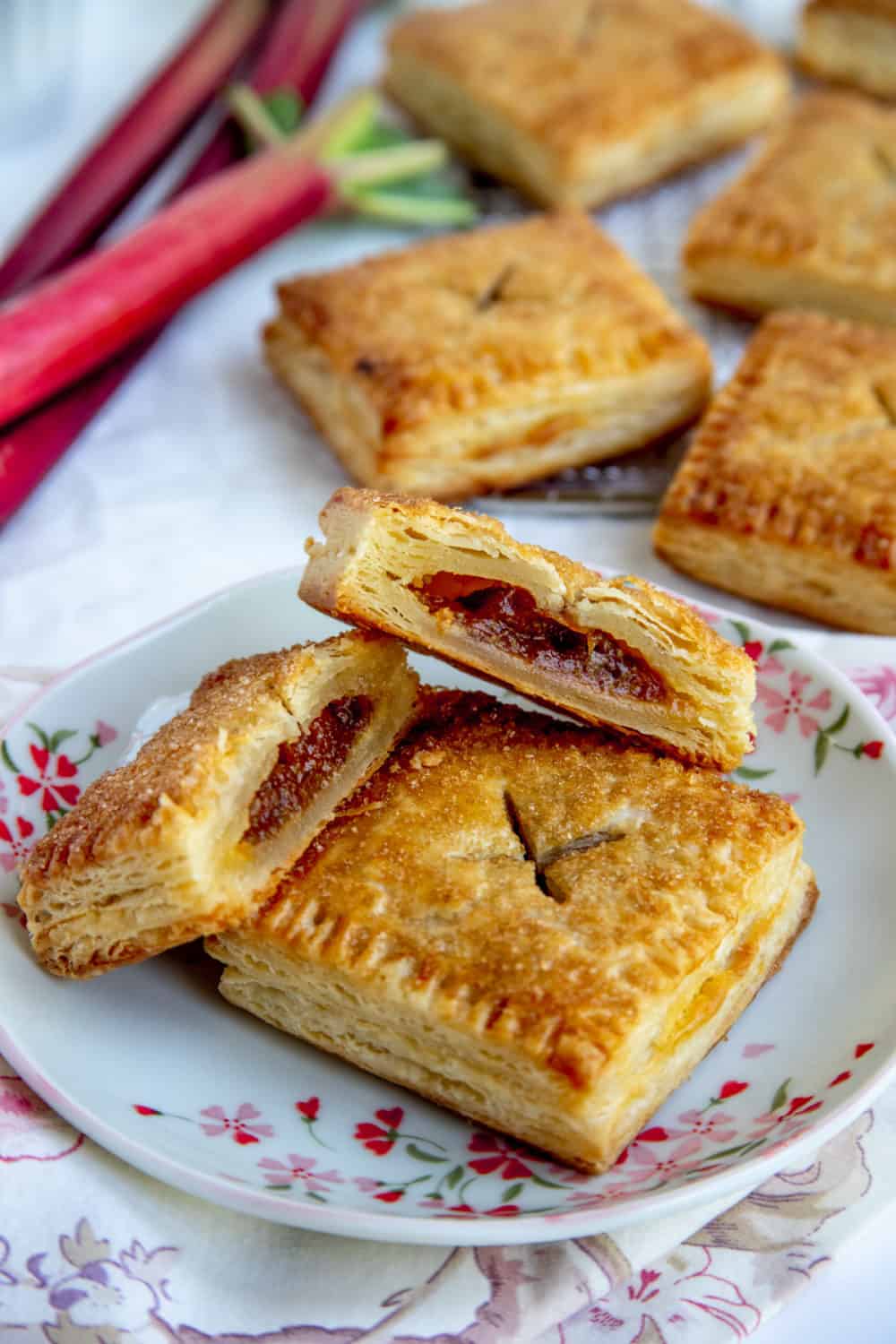 These flaky hand pies from Bakes by Brown Sugar are simply delicious! The buttery, flaky pie dough is packed full of creamy mascarpone and a sweet tangy rhubarb compote.
BE SURE TO SHARE YOUR HAND PIE RECIPES WITH US BY SNAPPING A PIC AND TAGGING US ON SOCIAL USING #CAGROWN.
Craving more CA Grown goodness? Follow us on Pinterest for fresh and fabulous recipe inspiration!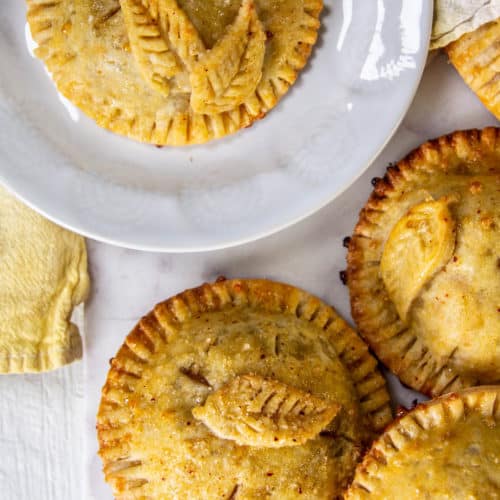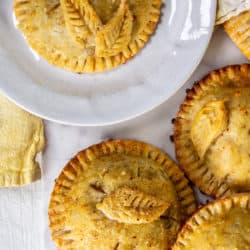 Gluten Free Apple Cheddar Hand Pie Recipe
The crust and filling components of this hand pie recipe can be made up to 24 hours in advance and then chilled until you are ready to assemble and bake.
Equipment
food processor

Rolling Pin

large 3 to 4 -inch square or round food cutters Alternatively, you can use a straight edge and a knife, a pastry wheel, or even a pizza cutter.
Ingredients
6 apples red or green we used Granny Smith and Fuji
1 tablespoon freshly squeezed lemon juice
1/4 cup dark brown sugar
1 tablespoon molasses
1 1/2 teaspoons ground cinnamon
1 teaspoon vanilla extract
2 tablespoons apple juice or cider
2 tablespoons salted butter cubed
Gluten-Free Cheddar Pie Dough
2 1/2 cups gluten-free all-purpose flour we used this one.
2 tablespoons granulated sugar
1 teaspoon xanthan gum
1 teaspoon coarse kosher salt
12 tablespoons salted butter, cold sliced into 1-tablespoon sized pats of butter.
1/2 cup shredded cheddar
2 large eggs
1 tablespoon + 1 teaspoon freshly squeezed lemon juice
up to 5 tablespoons very cold water
1 egg beaten
Instructions
For the cinnamon apple filling.
Preheat the oven to 375°F

Prep the apples by coring, peeling, and dicing into small squares that are all roughly the same size.

Add the apples to a baking 9×13-inch baking dish then add the lemon juice, brown sugar, molasses, cinnamon, vanilla, and apple juice to the dish. Stir to combine and coat all of the apple slices.

Spread the apples evenly into the dish and top with the cubed butter.

Cover the baking dish with foil and bake for 30-35 minutes, stirring every 10 minutes until the apples are soft and tender.

When the baking time has elapsed, remove the baking dish from the oven and allow the apple pie filling to cool completely. Then chill in the refrigerator for at least a few hours, preferably overnight.
For the Gluten-Free Cheddar Pie Dough.
Combine the flour, sugar, xanthan gum, and salt in the bowl of a food processor and pulse a few times until combined.

Add the cold butter pats to the food processor and pulse until the butter is broken down into pea-sized chunks and the mixture is coarse and crumbly.

Add the cheddar cheese and pulse 3-4 times to incorporate.

Whisk the eggs and lemon juice together until foamy.

Transfer the flour mixture to a large mixing bowl and add the egg mixture along with 2 tablespoons of cold water. Stir until the dough holds together, adding more water a tablespoon at a time if necessary, up to 5 tablespoons water total.

Form the mixture into a ball and shape into a flattened rectangle, wrap well, and chill for an hour, or up to overnight.
To form and bake hand pies.
Preheat the oven to 425°F. Allow the chilled dough to rest at room temperature for 10-15 minutes before rolling.

Cover a rolling surface with a sheet or two of plastic wrap or a large silicone rolling mat. Sprinkle heavily with gluten-free flour.

Place the chilled dough onto the prepared surface, sprinkle with flour, and cover with another piece of plastic wrap. Use a rolling pin to roll the dough out to about 1/8" thick.

Use a 3-inch-sized square or circle food cutter to create 24 pieces of dough. Reserve any extra dough to use as decoration.

One at a time, take a piece of dough. Roll with very slight pressure with the rolling pin to make it slightly larger. Scoop 2 tablespoons of filling onto the center and set aside. Repeat with remaining 11 pieces of dough. Brush around the edges of all 12 pieces with beaten egg.

Now, create the top layer of dough for the hand pies. One at a time, flatten the 12 remaining pieces of dough slightly so they are large enough to cover the mound of pie filling without cracking. Lay the top layer of dough over the bottom. Use your fingers to gently form the dough around the filling, pressing slightly where the dough meets.

With a fork, crimp around the edges of each hand pie to seal. To create a very clean edge, place a larger, 4-inch cookie cutter over the formed hand pie. Press down firmly to cut away uneven dough around the edges.

As the hand pies are formed, transfer them to a cookie sheet lined with parchment. Cut a vent into the top of each hand pie with a knife and add decorations if using. Brush the tops of the prepared hand pies with the beaten egg and sprinkle with sugar and/or flaky salt if using.

Bake for 18-20 minutes until golden brown and cooked through. Cool for at least 10 minutes before serving.
Nutrition
Calories: 261kcalCarbohydrates: 27gProtein: 5gFat: 16gSaturated Fat: 9gPolyunsaturated Fat: 1gMonounsaturated Fat: 4gTrans Fat: 1gCholesterol: 81mgSodium: 354mgPotassium: 66mgFiber: 3gSugar: 9gVitamin A: 486IUVitamin C: 3mgCalcium: 57mgIron: 1mg
Frequently asked questions about California Apples.
How many acres in the state of California are dedicated to growing apples? 
California has approximately 14,000 acres exclusively in apple production. 
How many pounds of fresh apples are grown in California? 
California represents a total of 120 million pounds of fresh apples. 

How many pounds (lbs) are in a box of fresh apples? 
A box of apples weighs 40 pounds. 
How does California's apple production rank with other apple-producing states? 
California is the 2nd largest exporter of apples in the United States and the 5th largest producer of apples in the United States. ​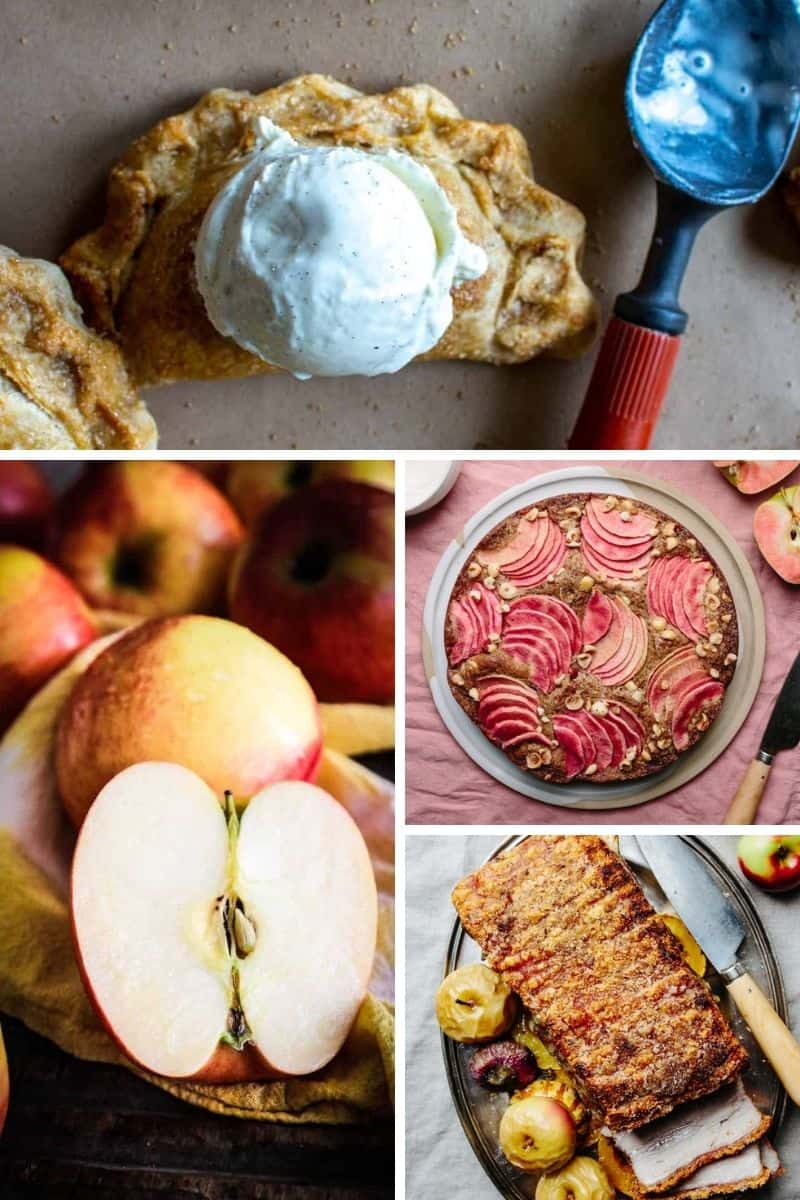 There are literally hundreds of thousands of apple recipes on the internet, so how do you know which ones are actually worth trying?! There is nothing worse than when a recipe fails especially when you've invested lots of time and money on groceries. That's why we've teamed up with some of our most trusted California Grown Creators to bring you over 20 no-fail, delicious apple recipes that you will make again and again!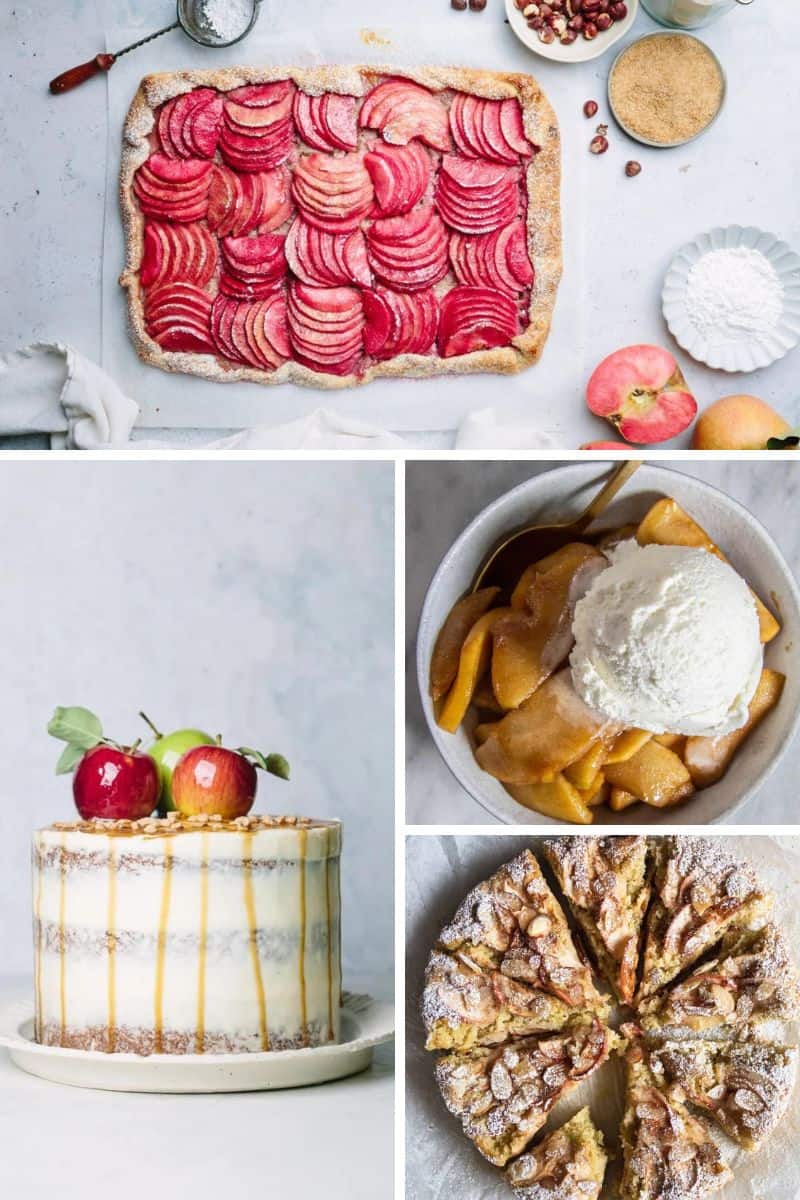 Fall is upon us and with that apple season is in full swing! If you love California apples as much as we do then you will definitely find yourself inspired to try the baking with apples recipes we have curated for you. Straight from our archives and from our California Grown Creators' too!