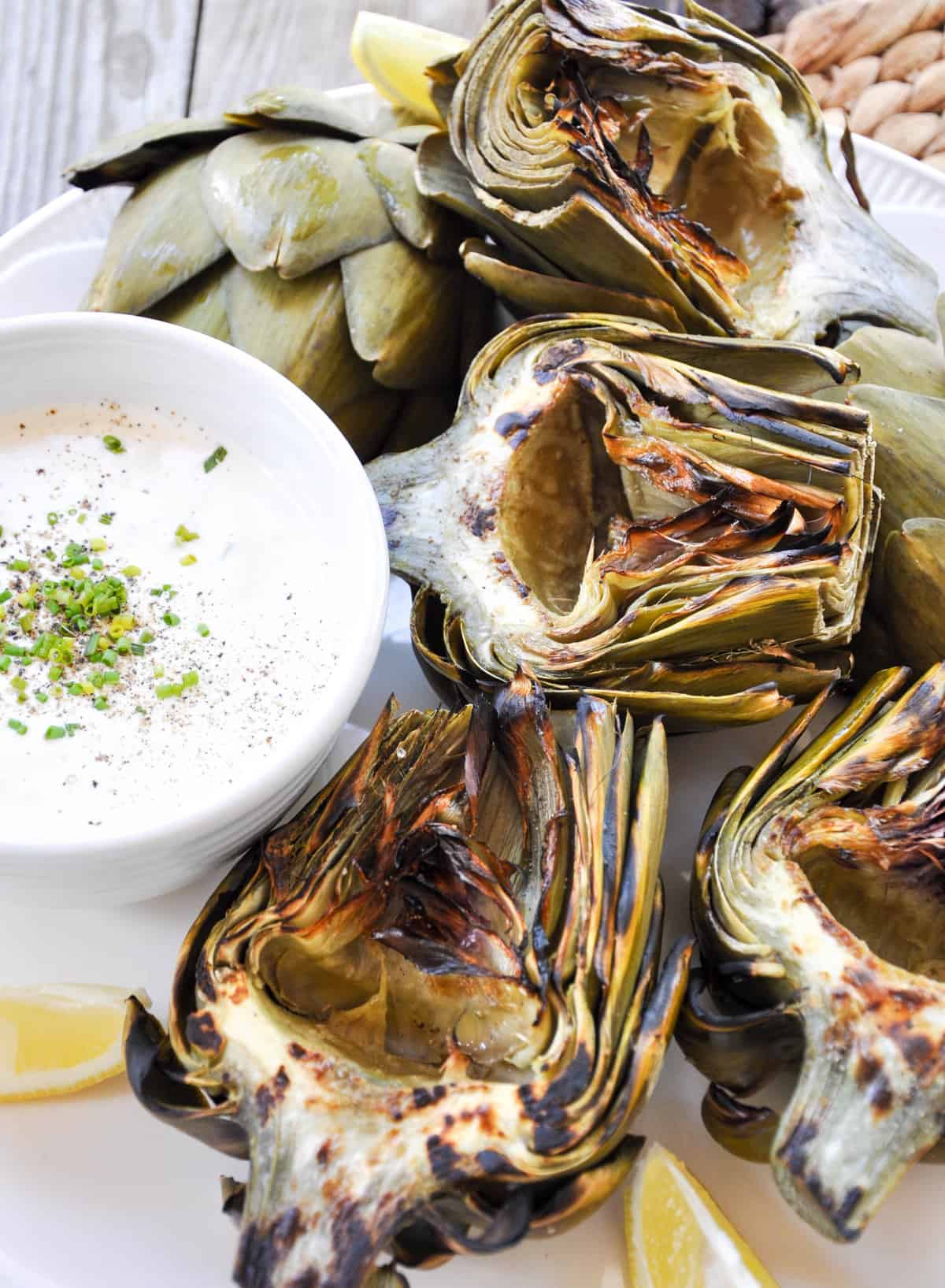 CA GROWN Blog
Discover. Learn. Connect.
Our Best Secrets for Grilling Artichokes & A Garlic Aioli Recipe
May 25, 2016
Eat the Season!
Sign Up For Weekly Recipes
« Back to Recipes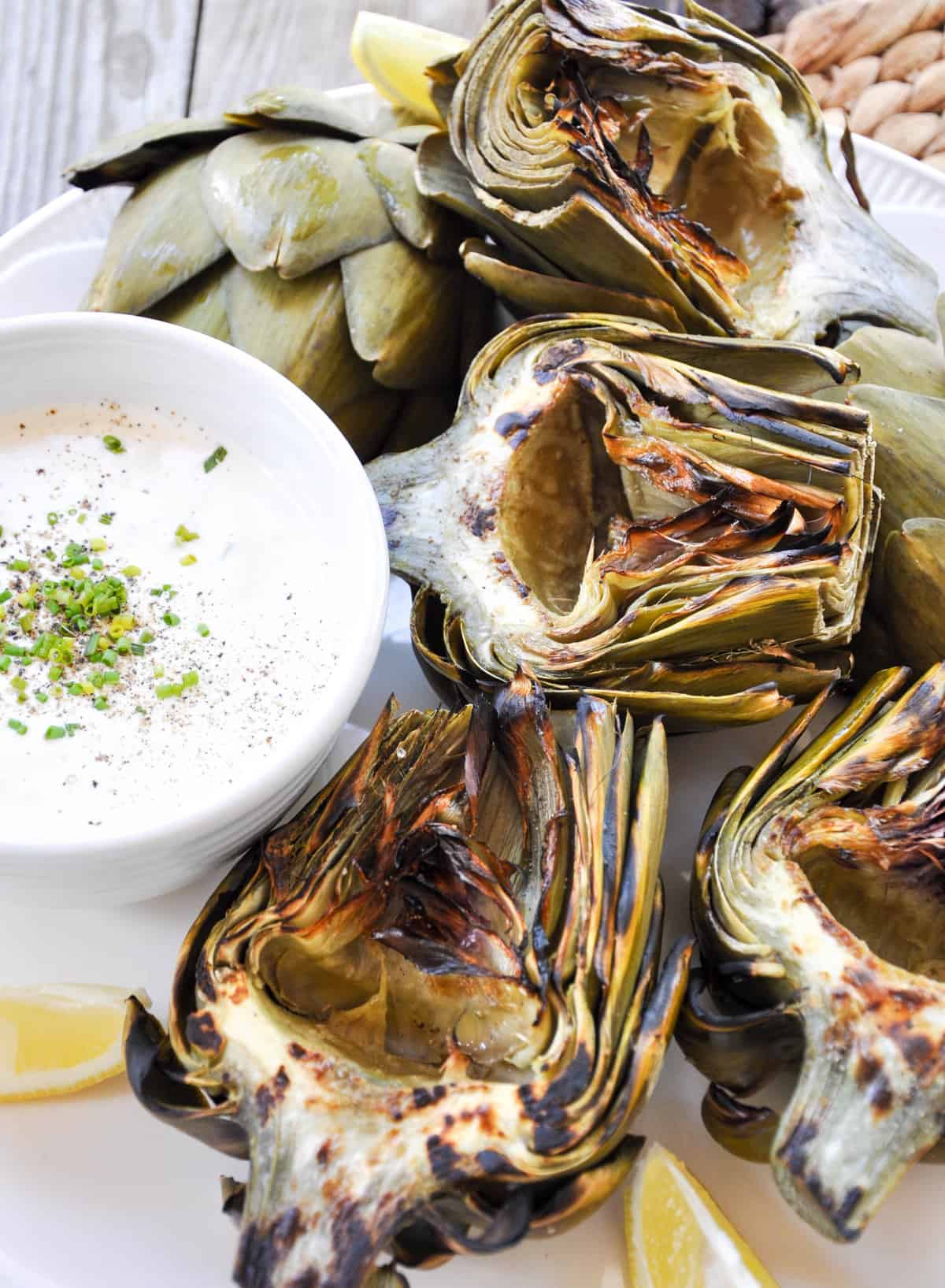 Our Best Secrets for Grilling Artichokes & A Garlic Aioli Recipe
Fire up your grill, we're grilling artichokes! The grill imparts a smokiness to artichokes that we just can't resist. And when smoky, tender chokes are paired with garlic aioli – forget about it! Unlike some vegetables, you can't just go tossing artichokes straight on the grill. They require a few simple prep steps before ever hitting the grates to ensure a tender smoky bite from start to finish.
**This post was updated 2/10/2022 with a new recipe card and information about artichokes.**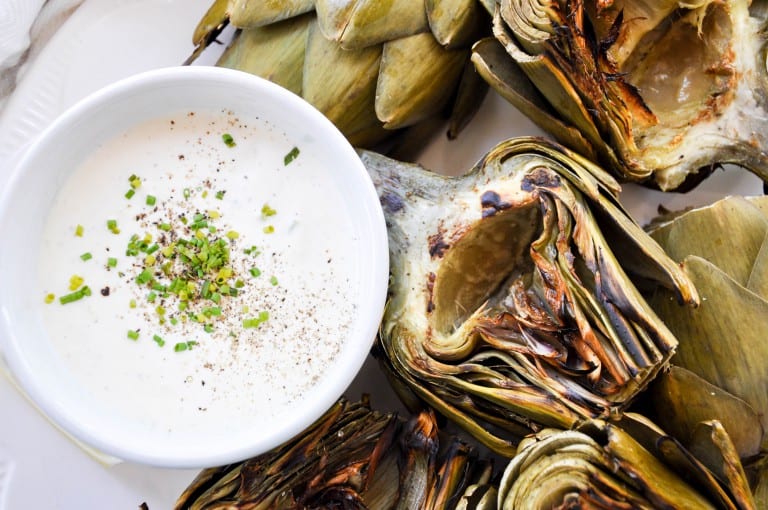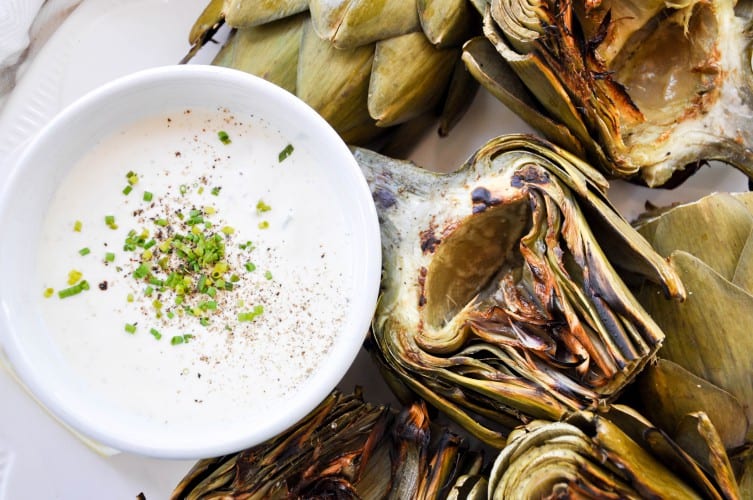 Are artichokes healthy?
The answer to that question is a resounding YES!
Artichokes are a nutritional powerhouse that you should be including in your regular diet. Low-calorie and nutrient-rich, artichokes are an excellent source of fiber and vitamin C. They are also a good source of magnesium.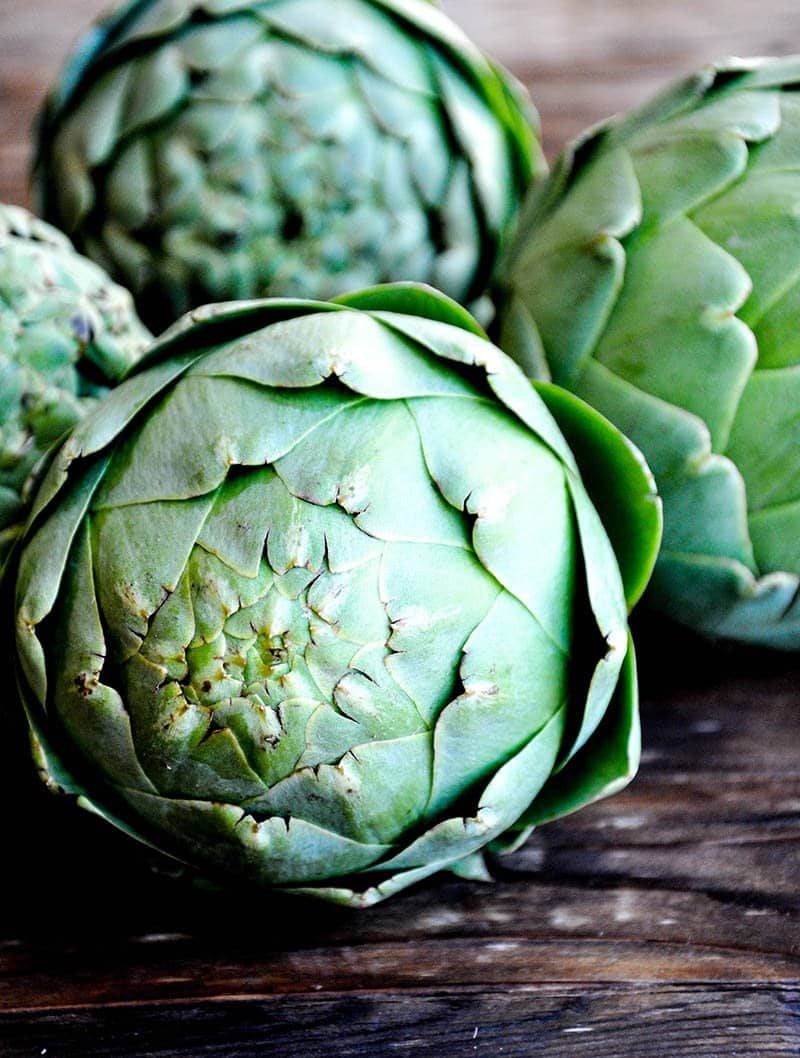 Health benefits of California artichokes.
One medium artichoke has 6 grams of dietary fiber – that's 1/4 of the recommended daily amount – and more fiber than in one whole cup of prunes! Yet an artichoke has only 60 calories.
Artichokes contain 4 grams of protein – spoiler alert, that is A LOT for a vegetable!
Artichokes contain a unique form of fiber known as inulin. Inulin is one of the most available and the more promising prebiotics in the food supply!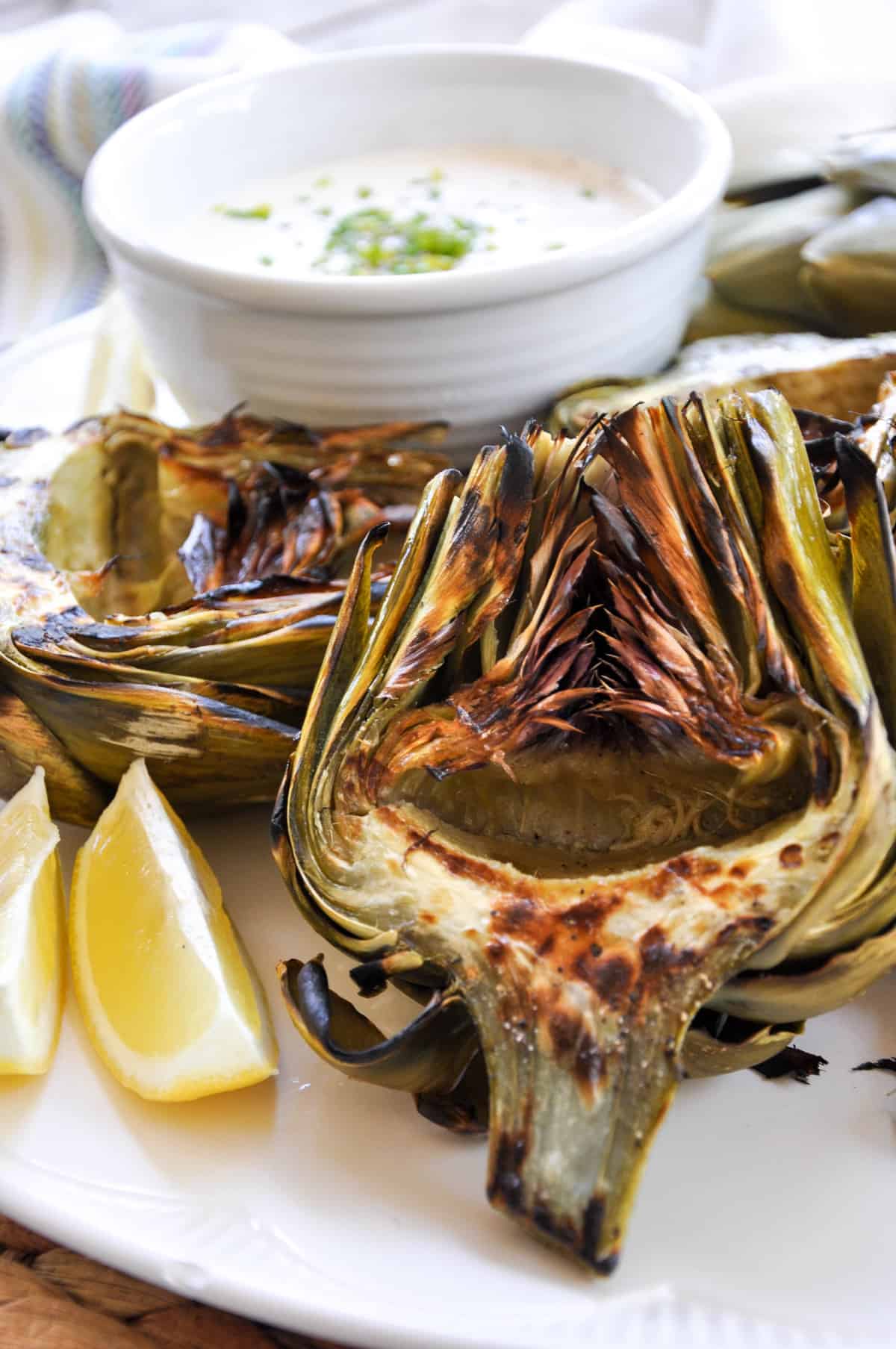 How to prepare artichokes for grilling.
Unlike other veggies, there is some necessary prep work involved in grilling artichokes that shouldn't be overlooked.
The secret to grilling artichokes that are smoky and tender every single time is that you have to steam the artichokes first before they ever hit the grill!
The charred flavor that comes with grilling the artichokes after they have been steamed is magnificent. You get that blackened crust and smokiness that normally comes from a good Bar-B-Que sesh, yet the flesh of the artichoke stays super tender to the bite.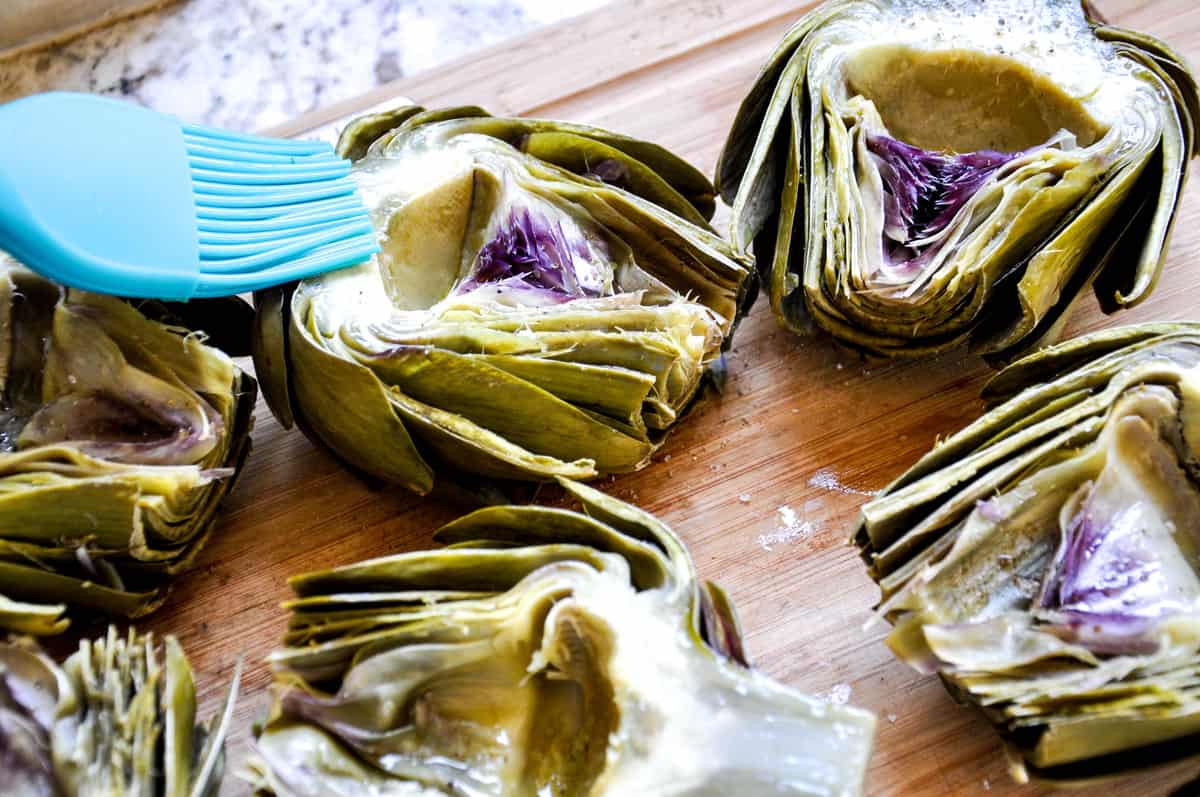 How long to boil artichokes before grilling.
You will need to plan ahead when you want to serve grilled artichoke halves. They require anywhere from 25-40 minutes, depending on size, to cook in the steamer.
How to know an artichoke is cooked.
When you can easily pull off the outside leaves of the artichoke it is cooked through completley.
Once cooked through, slice each artichoke in half and scrape out the rough choke with a spoon. Brush the cut sides of the artichoked halves with olive oil.
The artichokes are now ready to be grilled!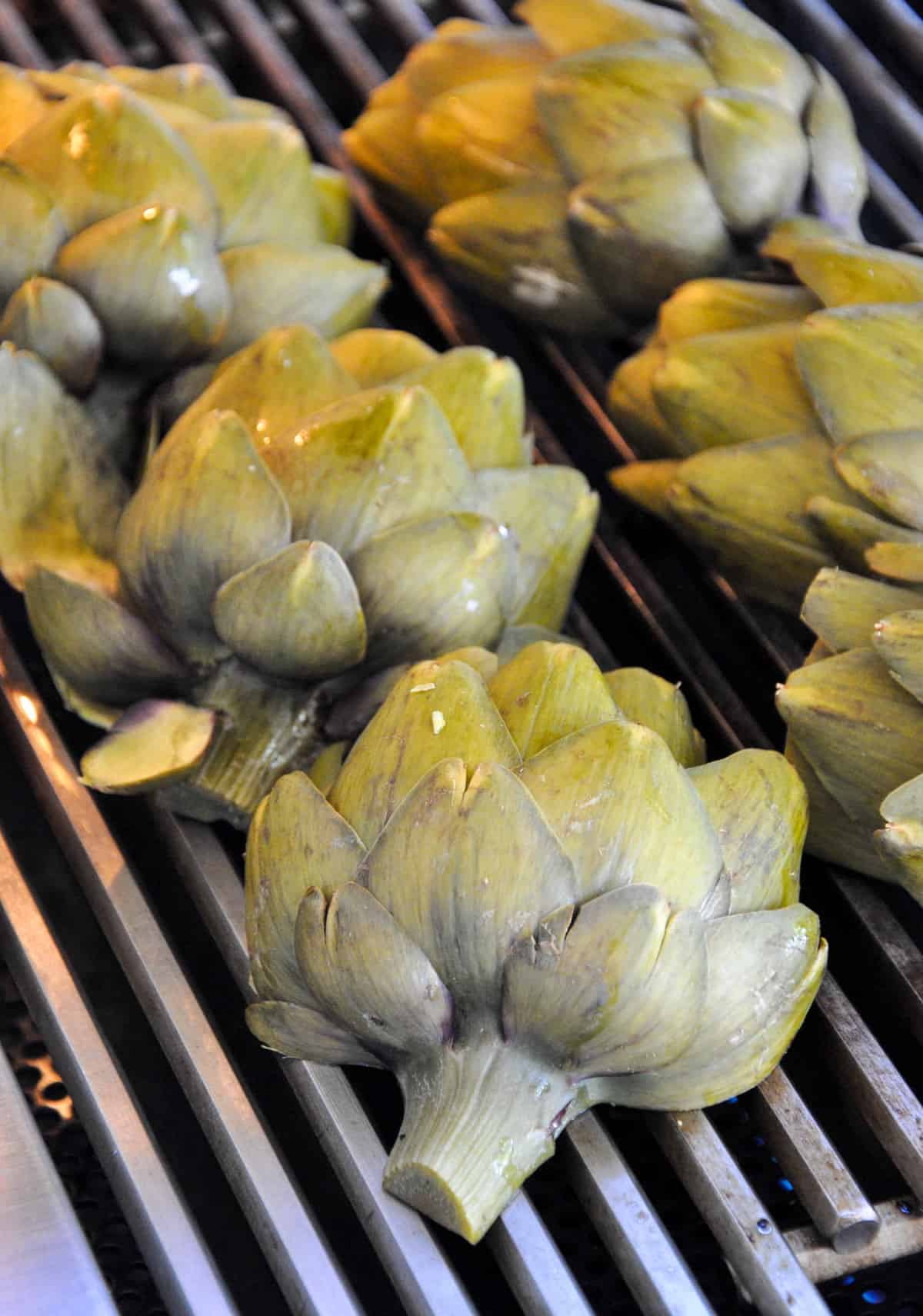 How to grill an artichoke once it has been steamed.
You can use either a charcoal or gas grill to cook artichokes. The actual grilling happens relatively quickly only requiring between 5-8 minutes for a nice smokey char to develop.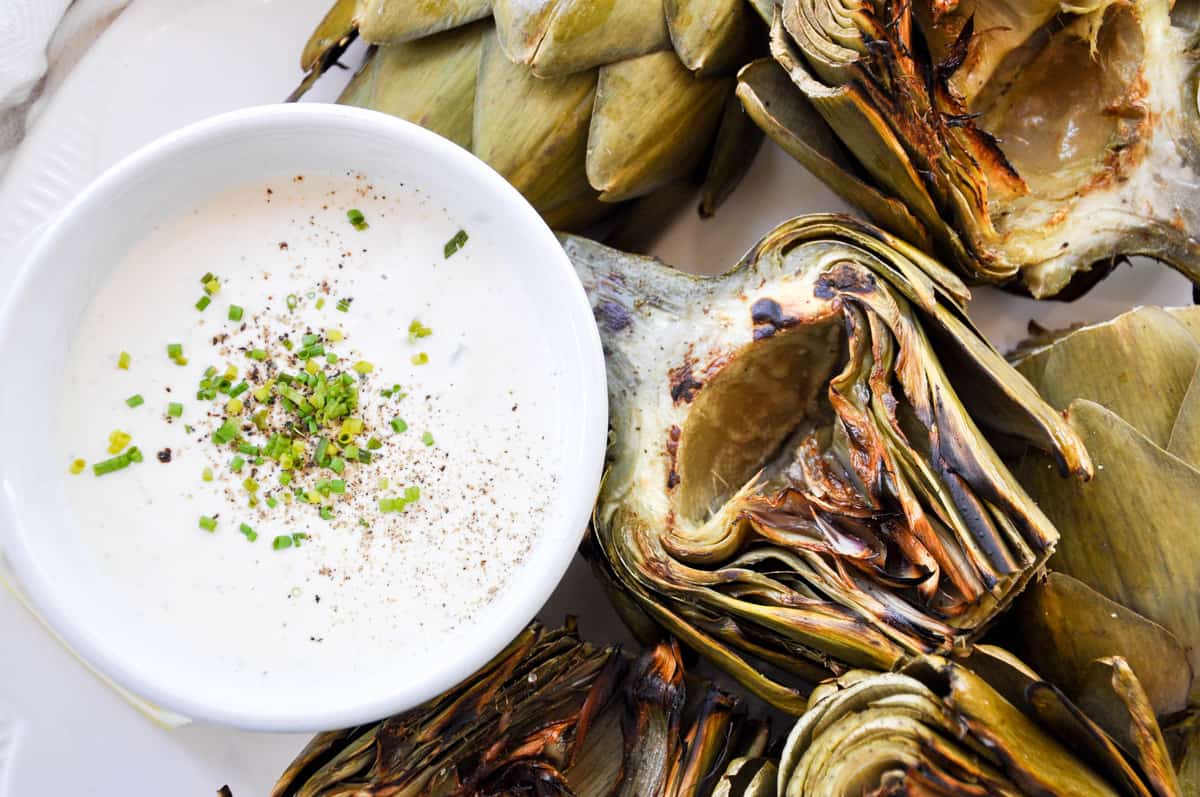 Garlic Aioli, the Best Dipping Sauce for Grilled Artichokes
Our Garlic Aioli recipe is a great sauce to serve when you are grilling artichokes, but it also tastes great on fries and burgers too! The preparation couldn't be easier – simply mince the garlic cloves and stir all of the ingredients together.
Searching for more artichoke recipes?
We have gathered all of the best artichoke recipes in one place for you! Whether you are looking for how to prep artichokes, the best cooking methods for artichokes, or the best sauces to pair with artichokes – the following articles have something for everyone!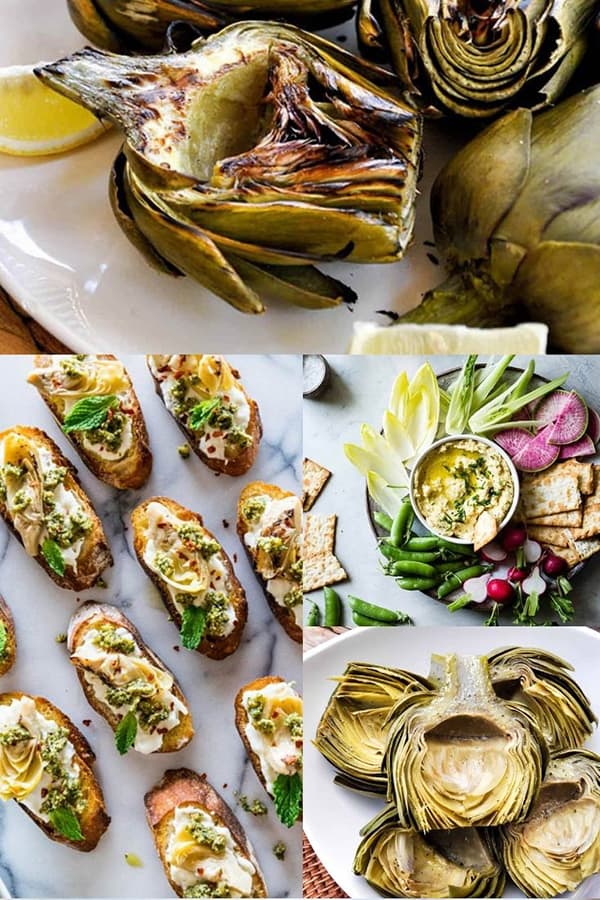 Have you ever Googled, " How to cook artichokes?" Artichokes are one of those vegetables that eludes a lot of home cooks, but today we are seeking to change that as we share 20 recipes that will teach you how to cook artichokes like a pro!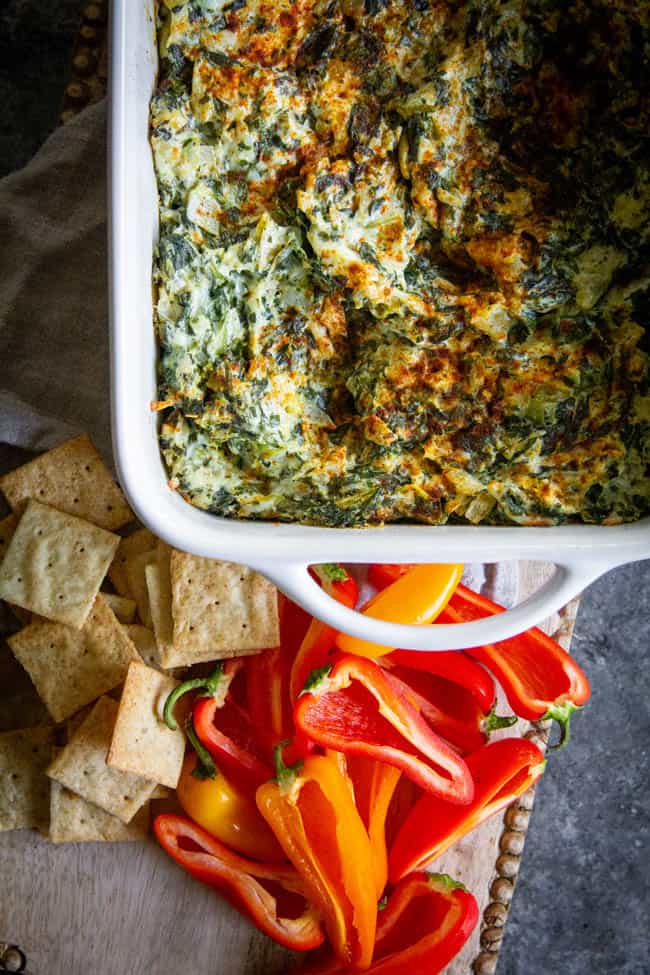 There is nothing that hits the spot quite like this EASY Artichoke and Spinach Dip recipe! This classic, creamy comfort food is loaded with spinach, artichokes, sauteed onion, garlic, and a mix of creamy cheesy ingredients that will make you weak in the knees.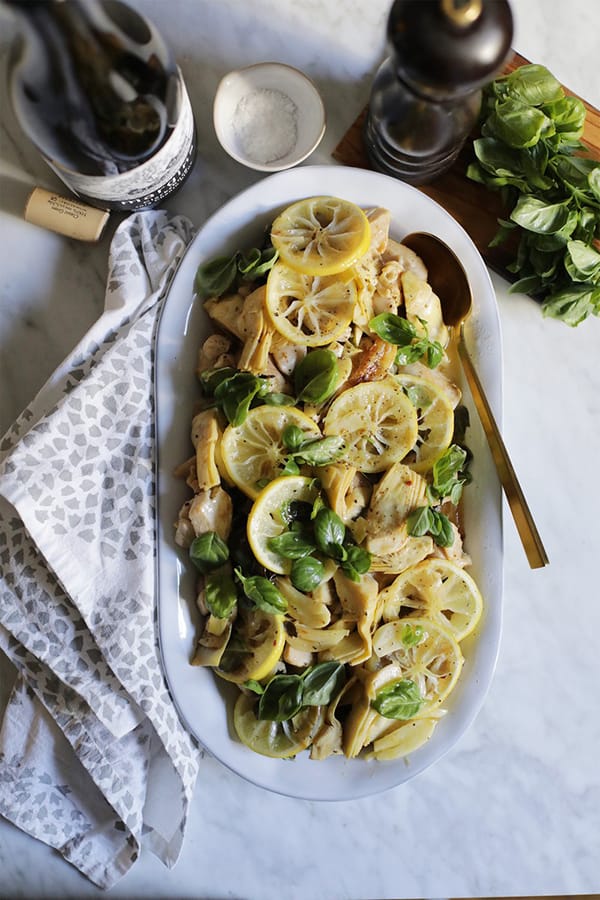 This artichoke-laced recipe from Salt & Wind has some of the most iconic Italian flavors all in one dish. And it's as suited to a weeknight meal as it is to a dinner party.
Now that you're inspired to start grilling artichokes, don't forget to show us your favorite artichoke recipes!
Craving more CA Grown goodness? Follow us on Pinterest for fresh and fabulous recipe inspiration!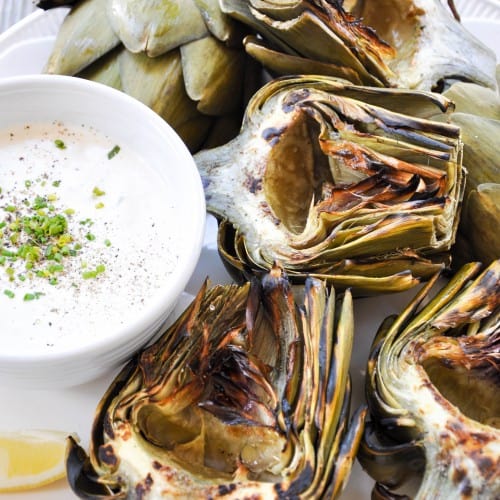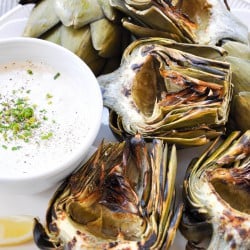 A How to Guide for Grilling Artichokes and Garlic Aioli recipe
Unlike some vegetables, you can't just go tossing artichokes straight on the grill. They require a few simple prep steps before ever hitting the grates to ensure a tender smoky bite from start to finish.
Ingredients
Artichokes
3 artichokes
2 lemons divided
6 cloves garlic divided
Zesty Garlic Aioli
3/4 cup mayo
1/4 cup sour cream
Salt and Pepper
Instructions
Steam the artichoke
Prep the artichokes by cutting off the tips of the leaves and any little thorns with kitchen scissors. Slice about 3/4 inch to an inch off the tip of the artichoke with a serrated bread knife. Pull off any smaller leaves towards the base and on the stem. Cut off the excess stem, leaving about a 1-inch stem on the artichokes. Rinse the artichokes in running cold water gently working your fingers into the petals of the artichoke to loosen and open them up a bit.

Place a small amount of water in a large pot for steaming. Add a cut-up lemon and 3 whole garlic cloves that have been crushed into the water. Bring to a boil.

Place a steamer basket in the pot and add the artichokes top down. So that the trimmed pieces are facing downward and the stem is facing up. Steam for 25-35 minutes or longer, until the outer leaves can easily be pulled off.

Remove the cooked artichokes and cut them in half. Scoop out the rough fibers from the center of each half.
Grill the artichoke
Preheat the grill to medium-high.Brush each steamed artichoke half with a bit of olive oil and place face down on a hot grill for about 5 minutes
Make the Zesty Garlic Aioli
Combine mayo and sour cream. Add the zest and juice of one lemon and 3 minced garlic cloves. Season with salt and pepper.
Video