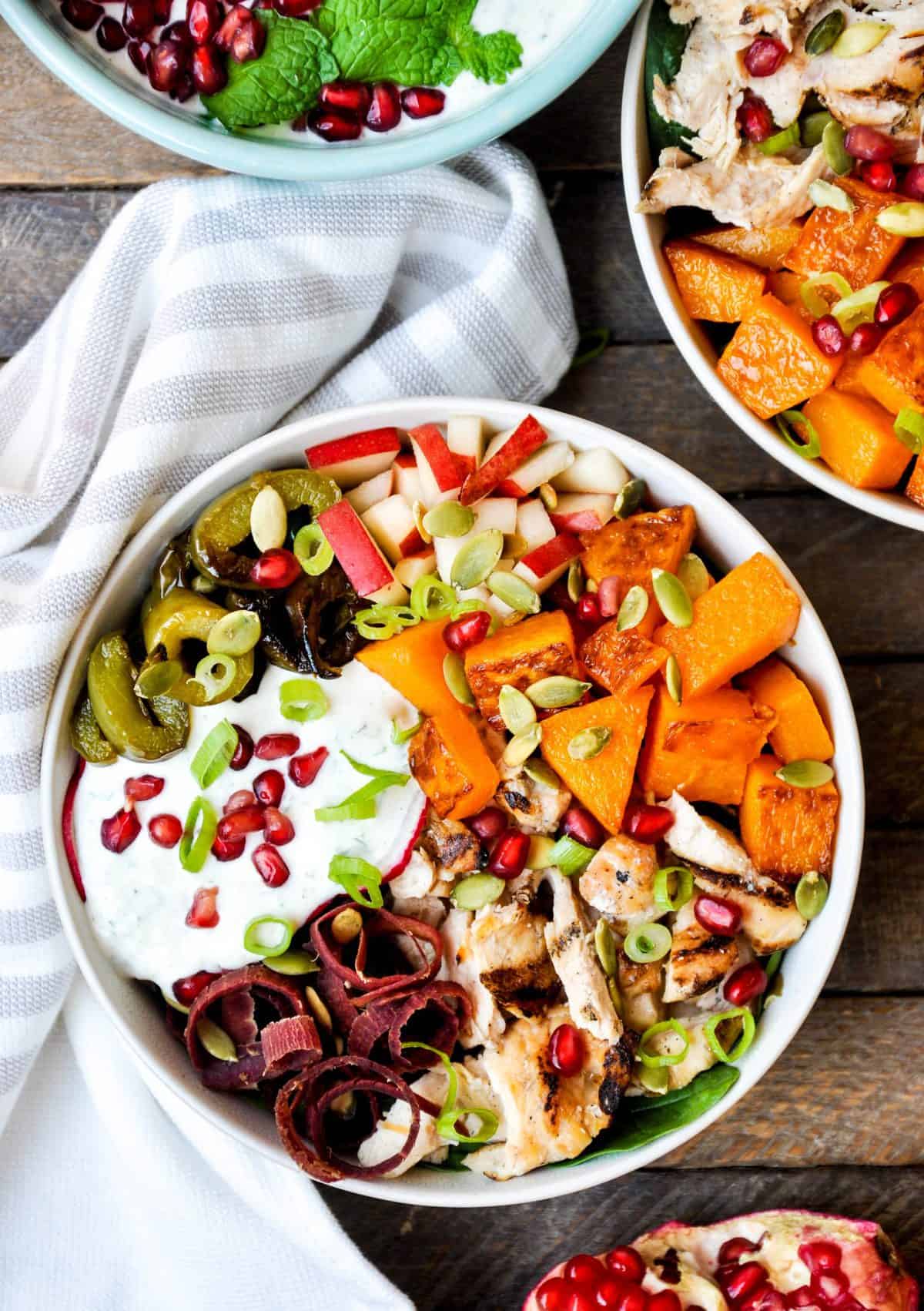 CA GROWN Blog
Discover. Learn. Connect.
Delicious Fall Harvest Bowl Recipe
October 21, 2020
Eat the Season!
Sign Up For Weekly Recipes
« Back to Recipes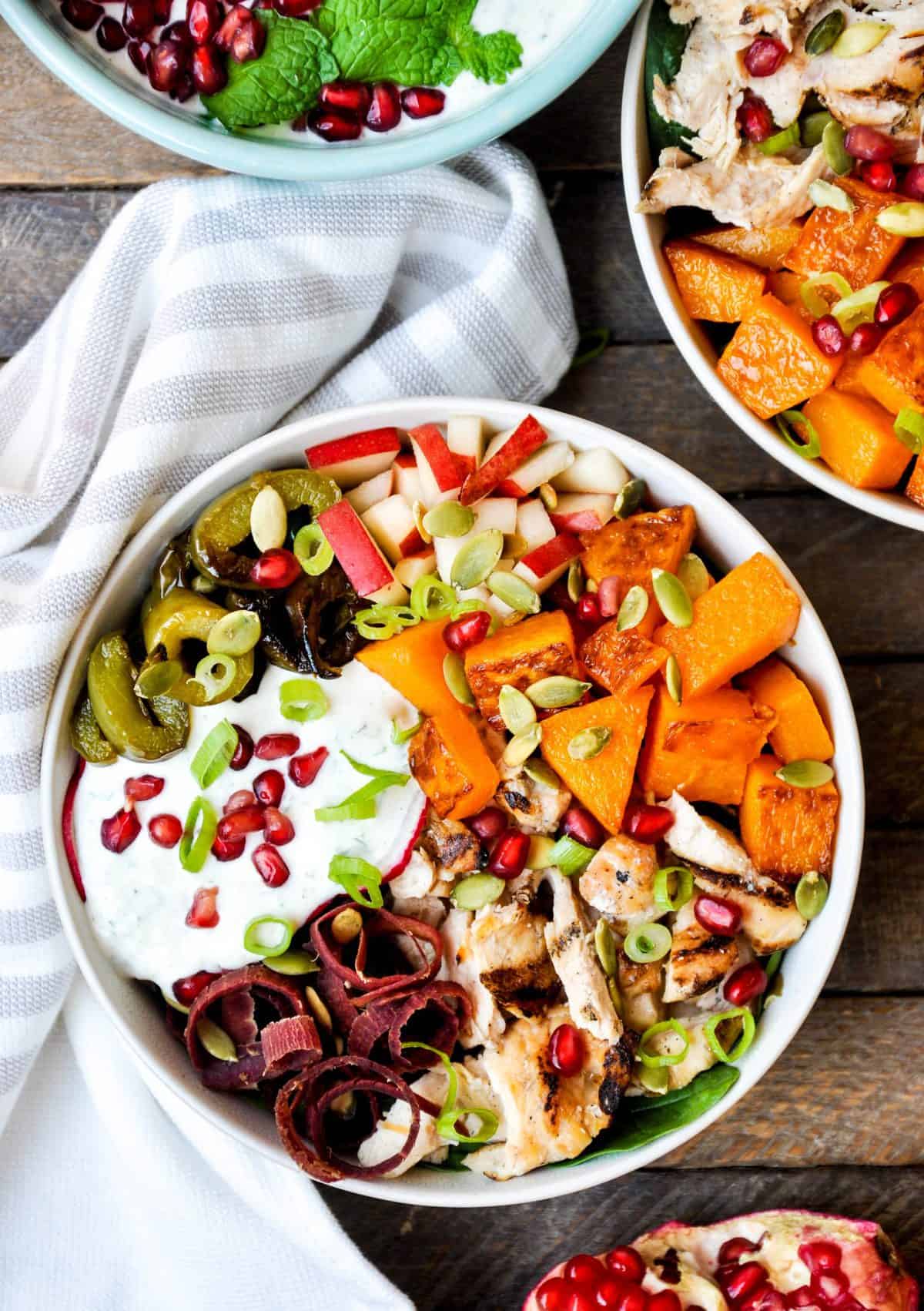 Delicious Fall Harvest Bowl Recipe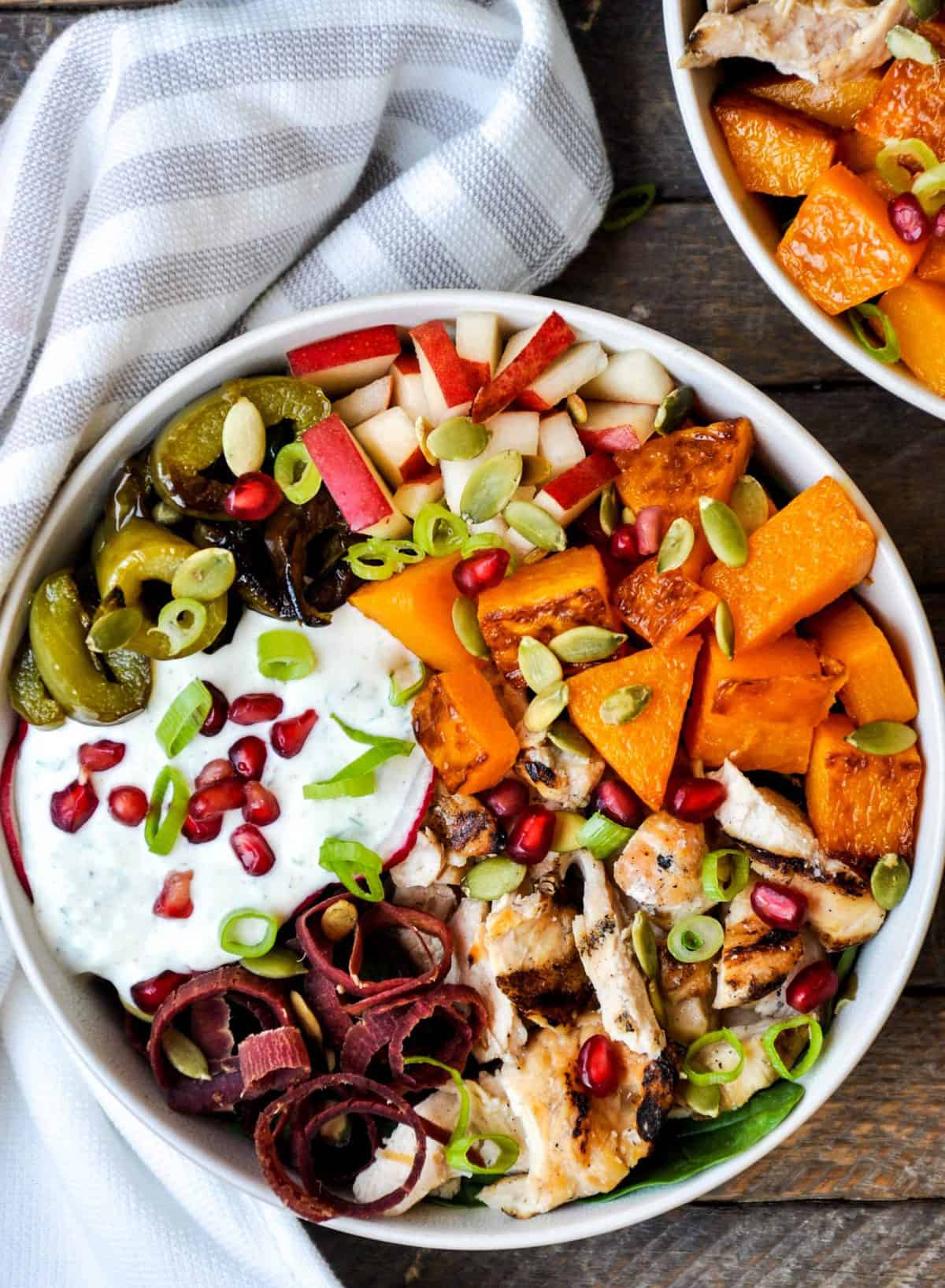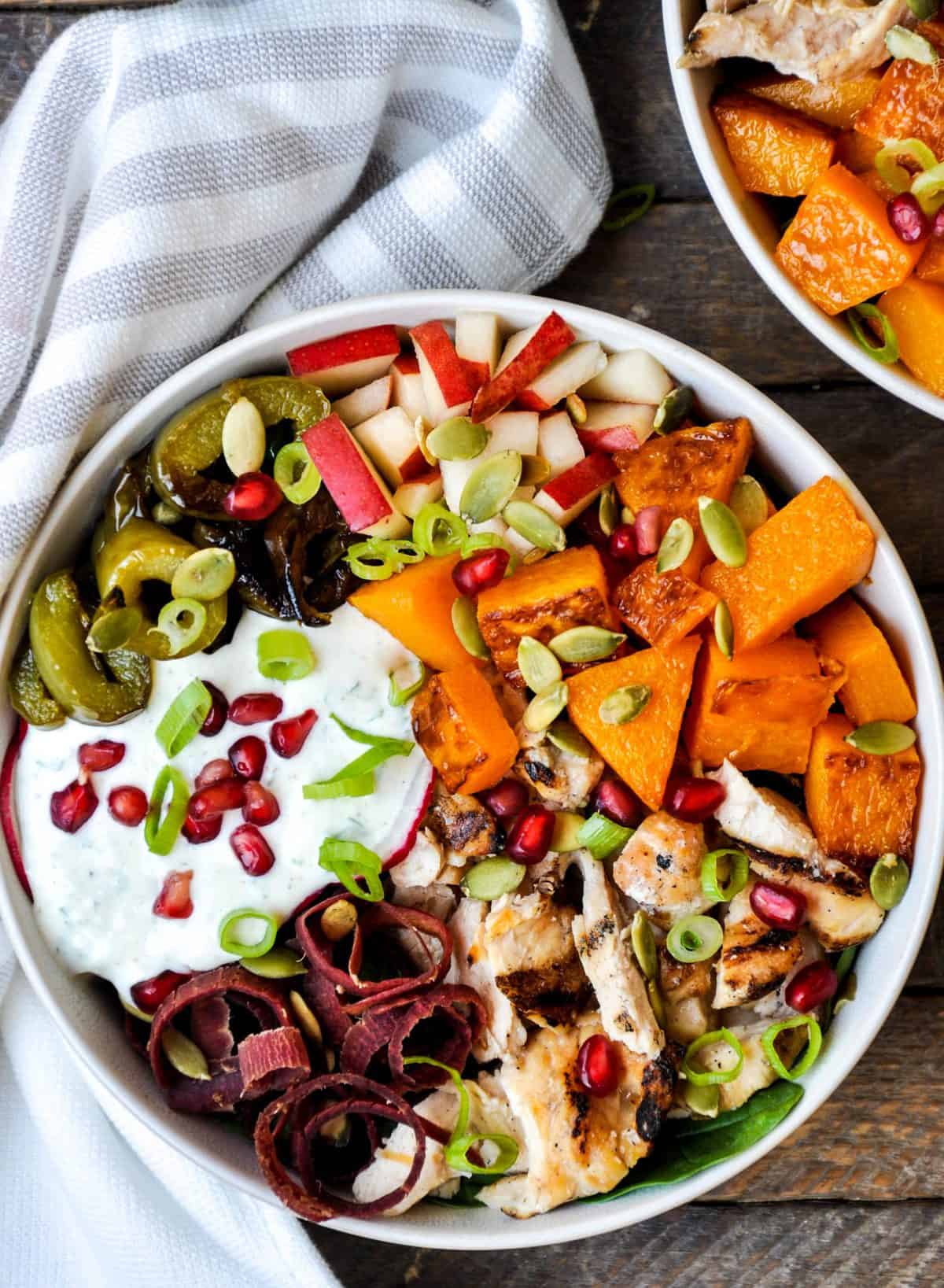 Loaded with in-season fall veggies like butternut squash, green peppers and purple carrots, this delicious Fall Harvest Bowl recipe is topped off with an herbaceous Indian-inspired Pomegranate Sauce that is the perfect silky dressing to compliment all the fresh flavors happening in this hearty bowl.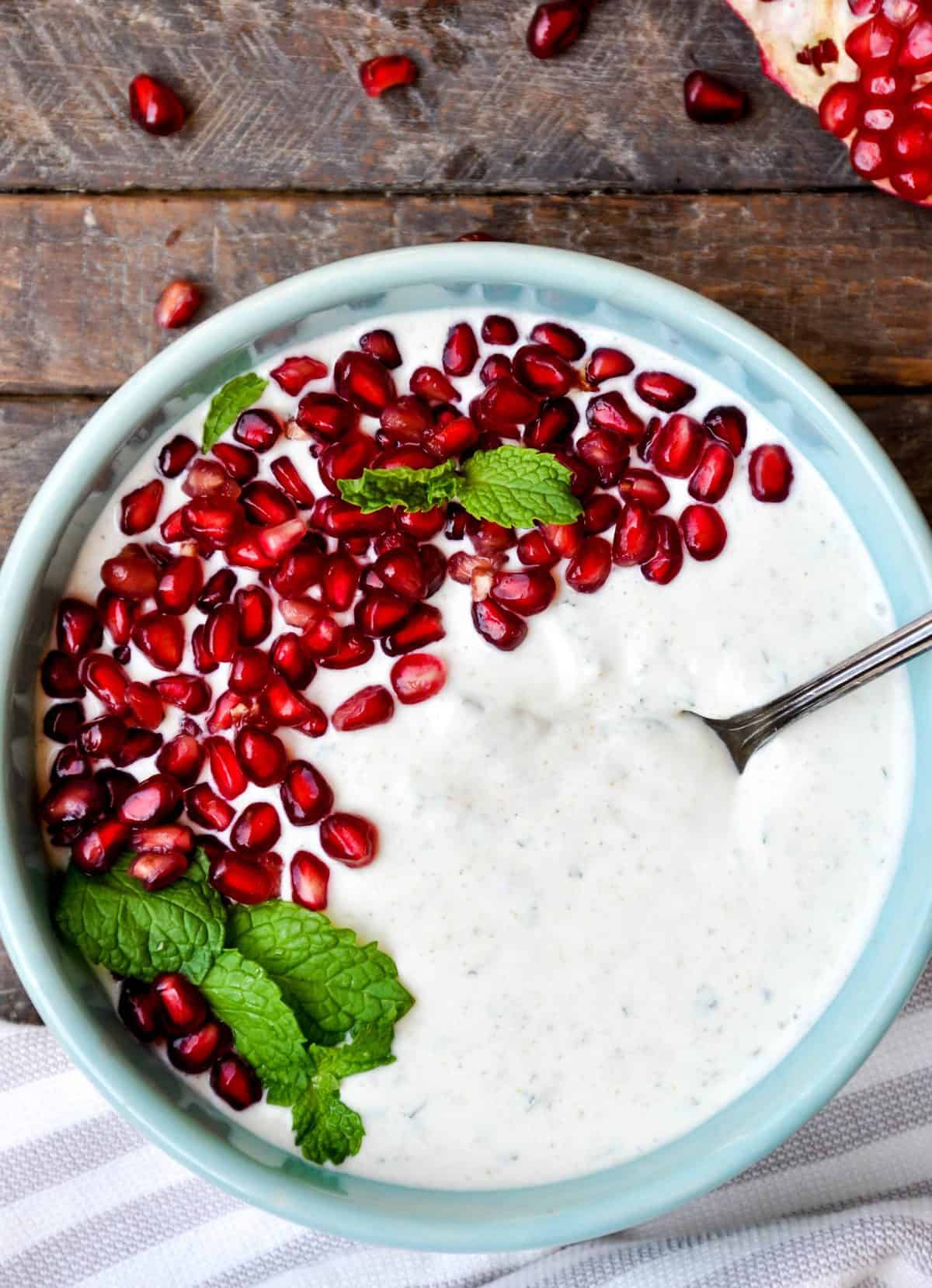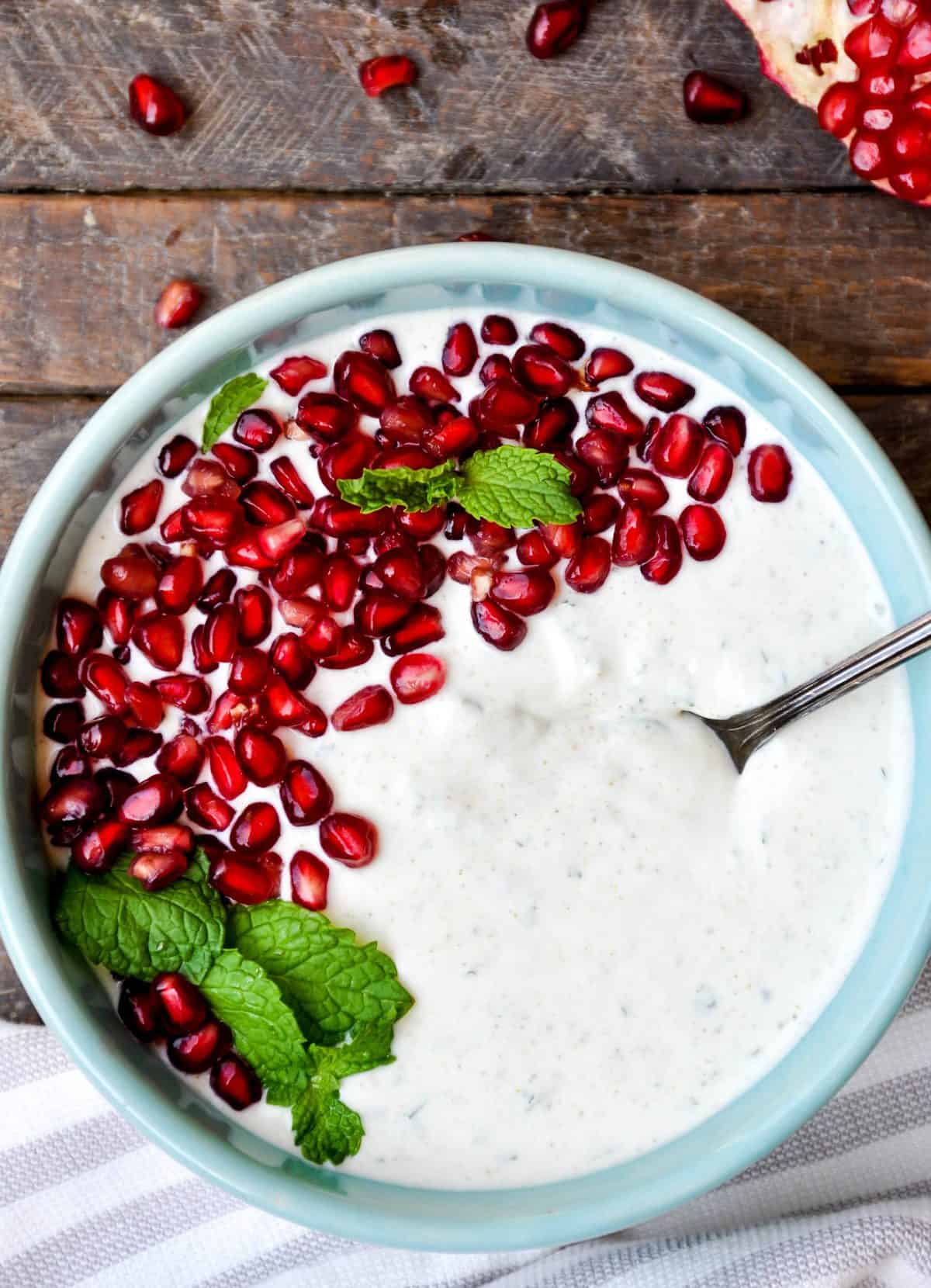 The pomegranate and herb sauce is a yogurt-based condiment popular in Indian cuisine. It is simple to make and exploding with flavor!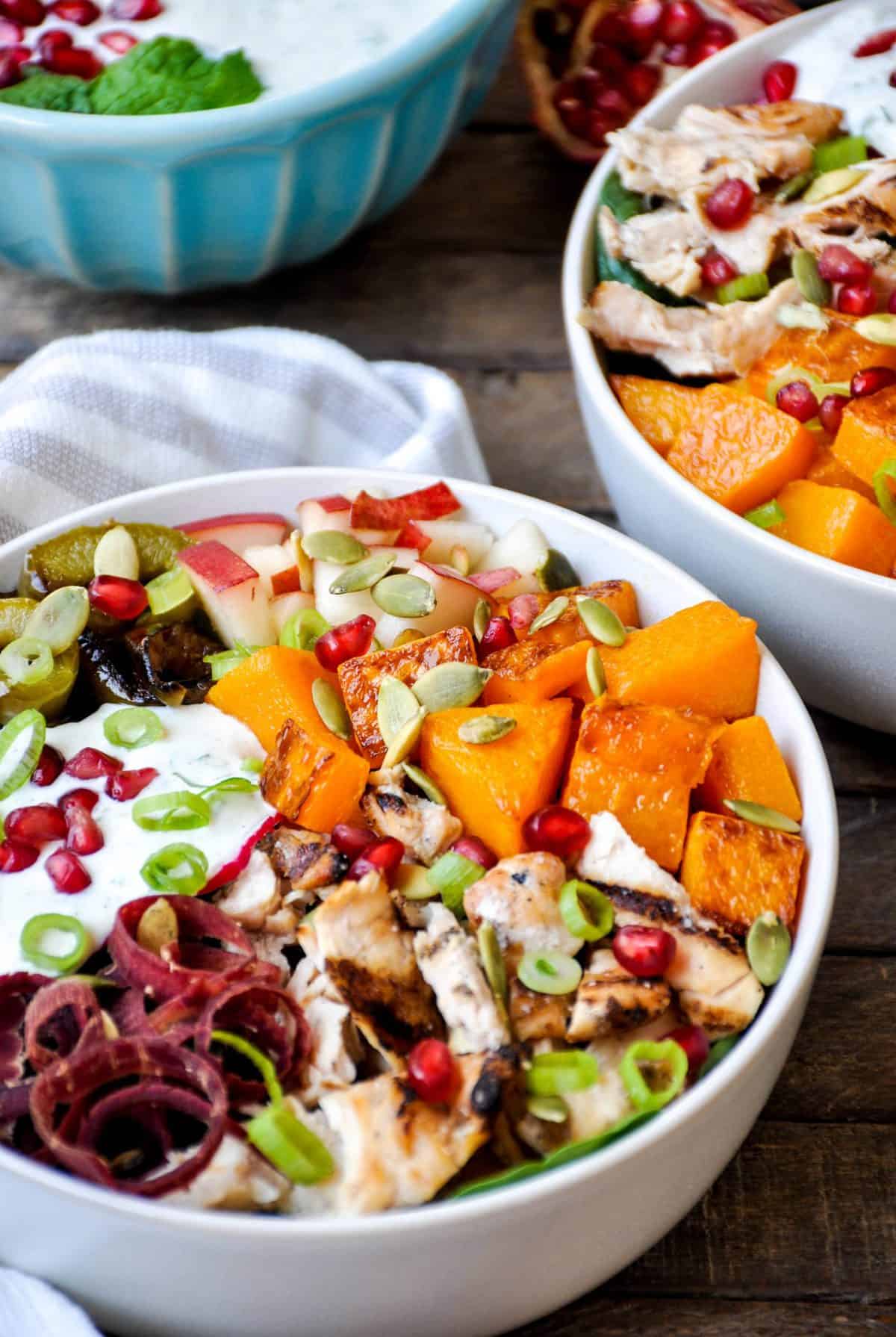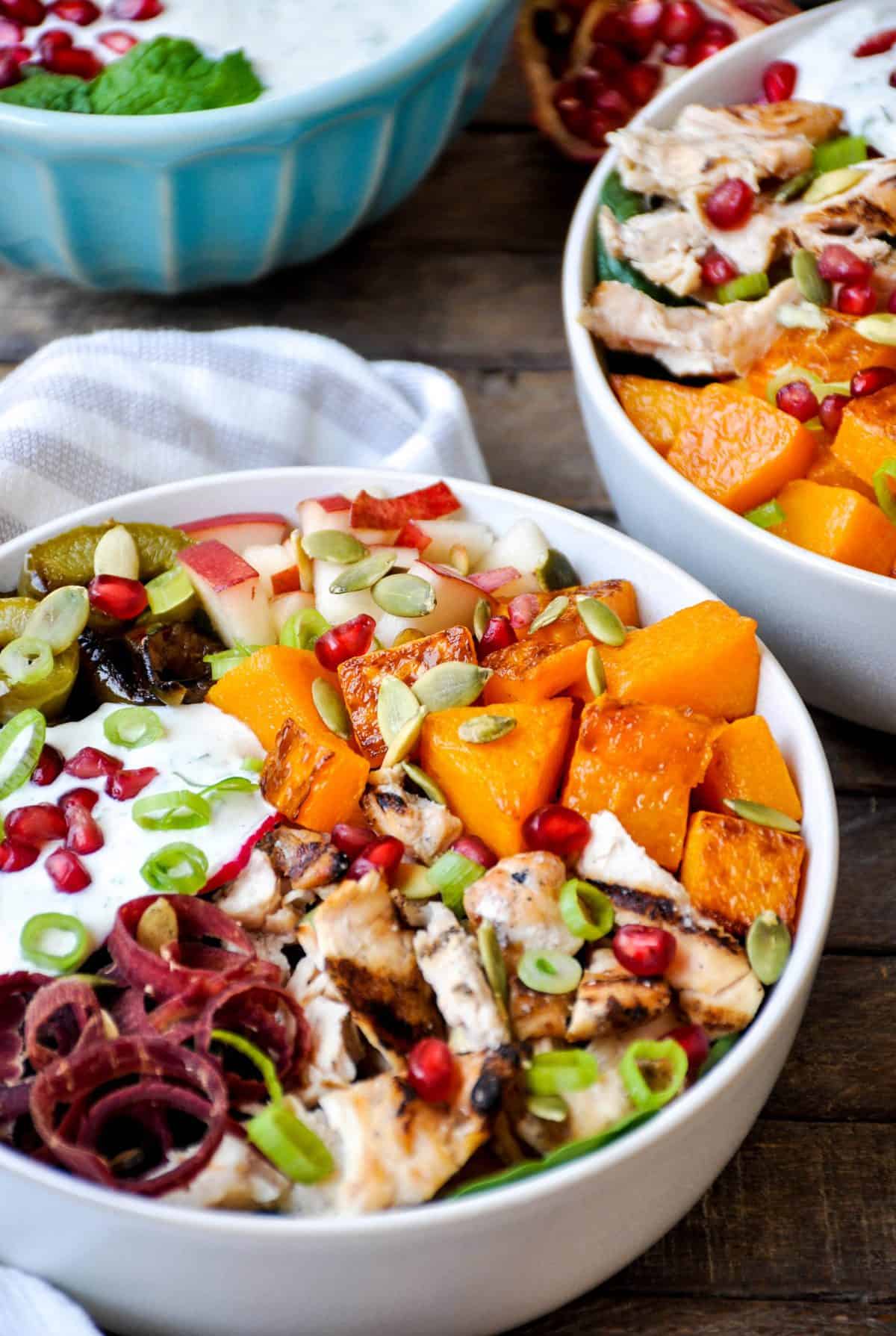 And let me tell you…this delicious Fall Harvest Bowl recipe will nourish your craving for a comfort meal, without all the heaviness.
Let's make the Pomegranate Herb Sauce first…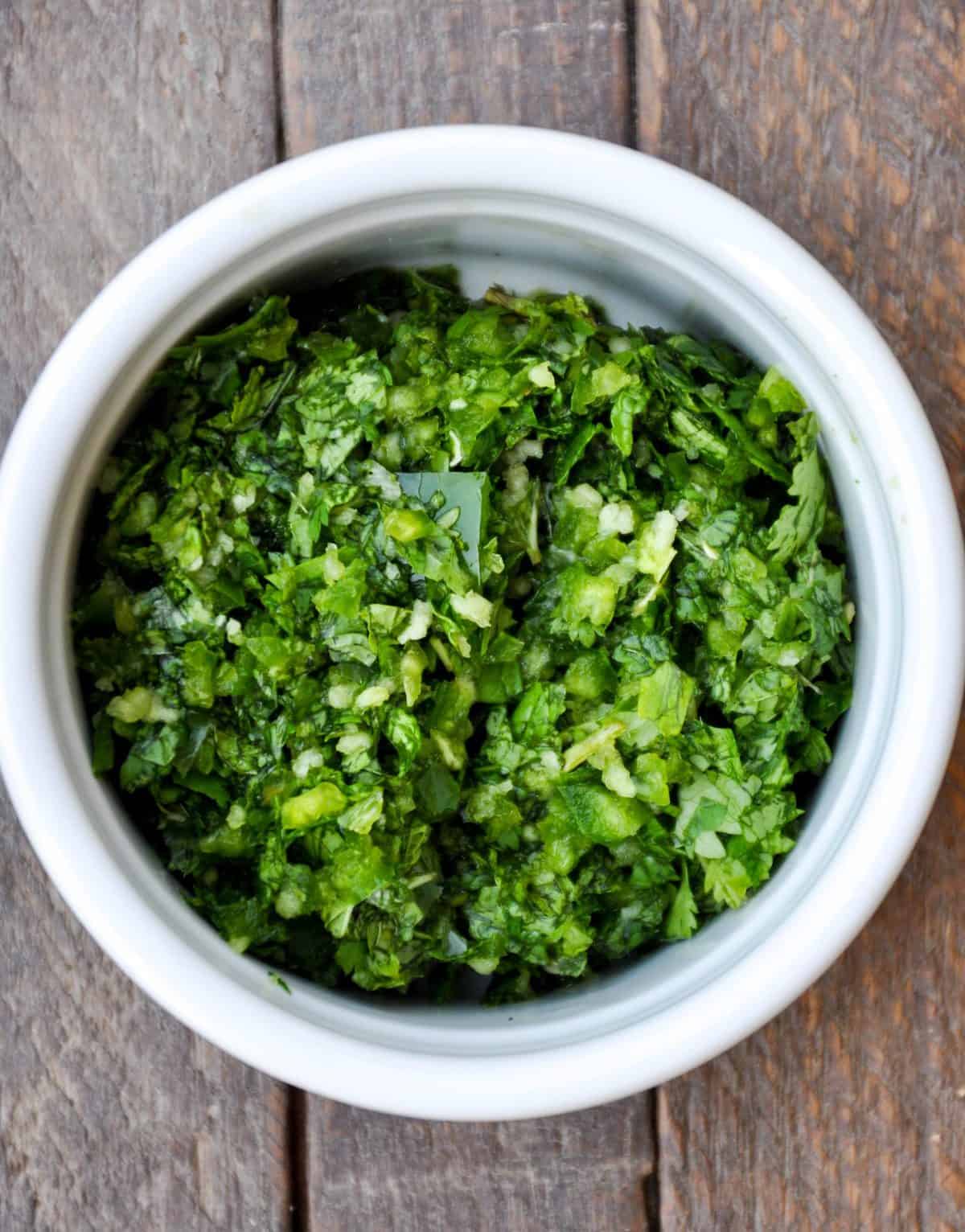 Combine the fresh mint and cilantro along with a jalapeño and garlic into a bowl and blend with a bit of water until it comes together.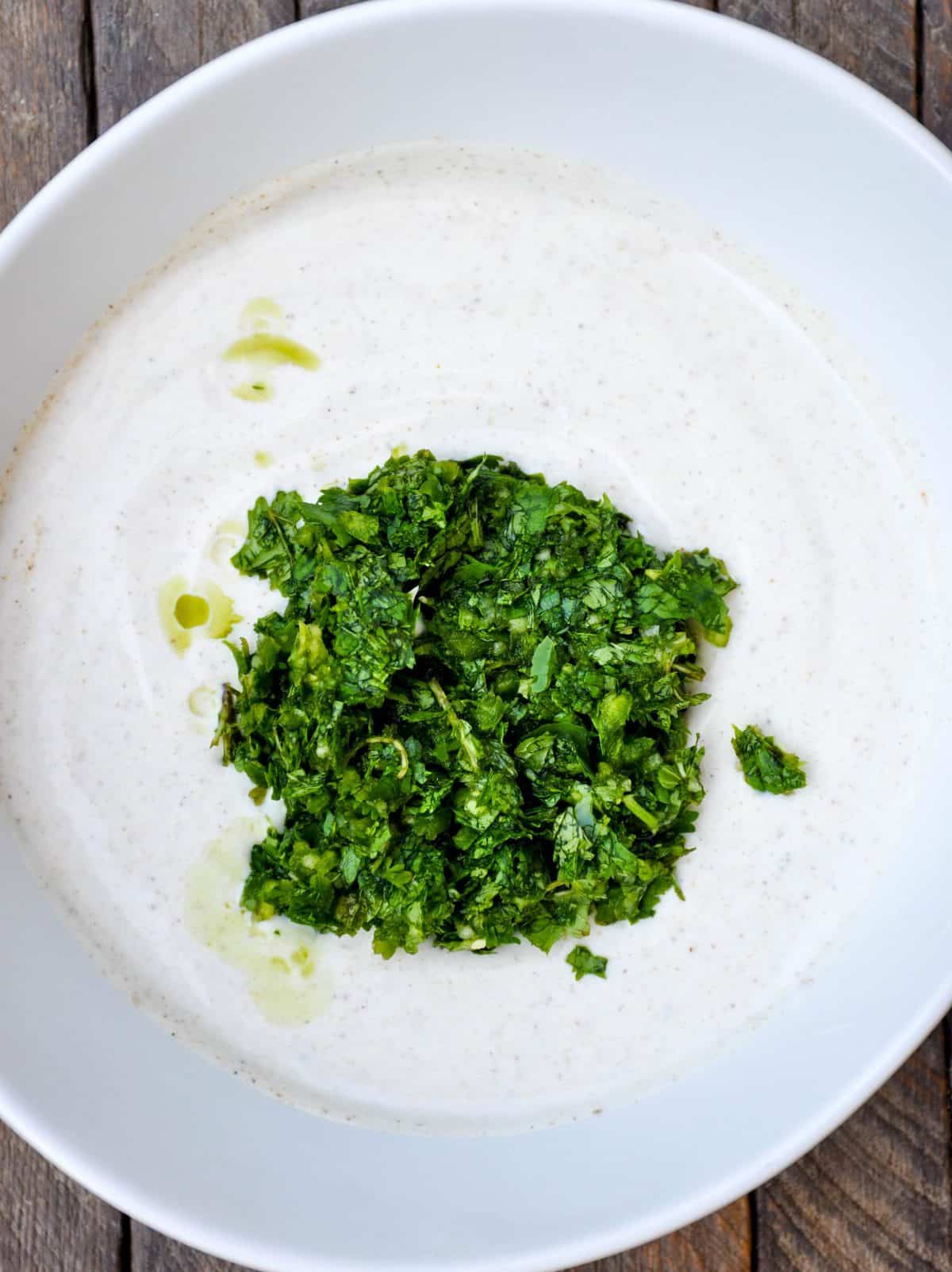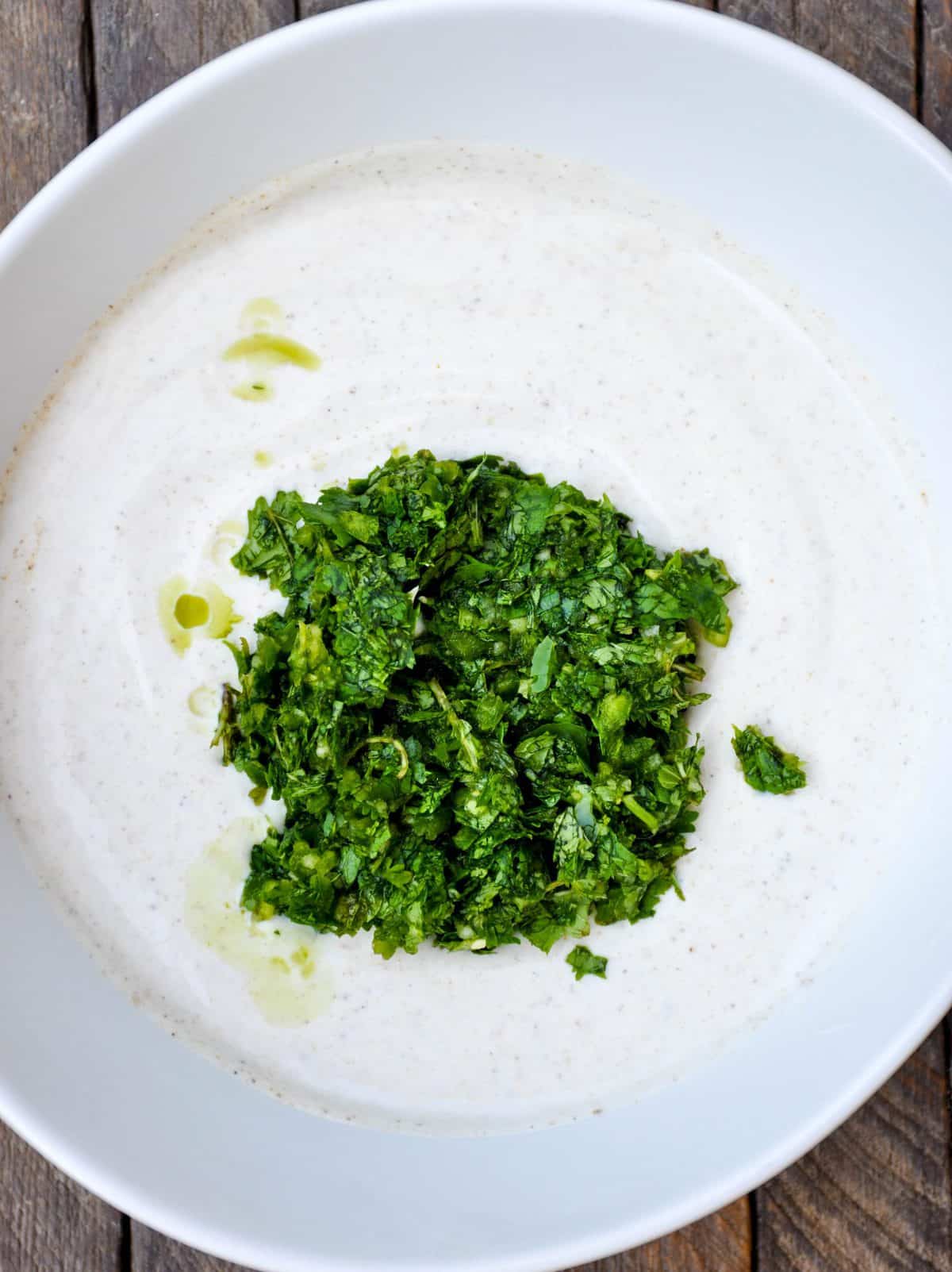 Add the herb mixture to the seasoned yogurt and stir to mix well.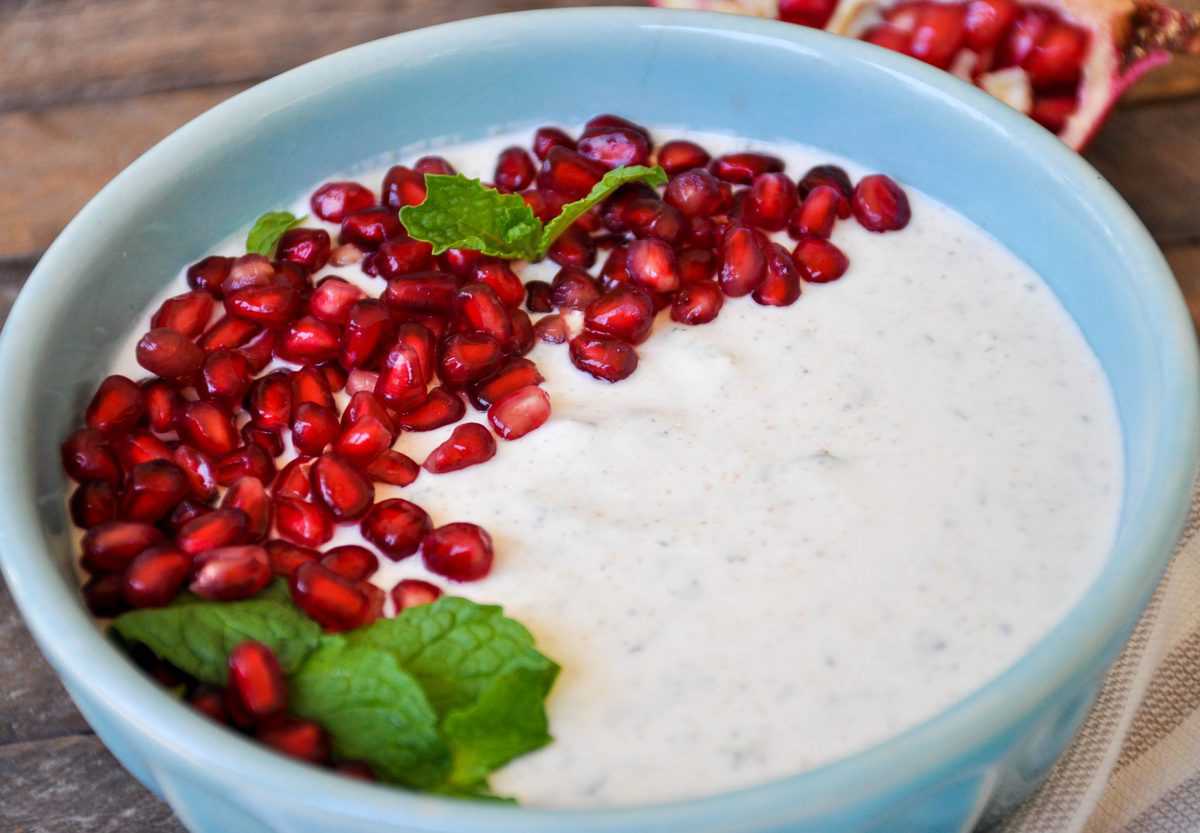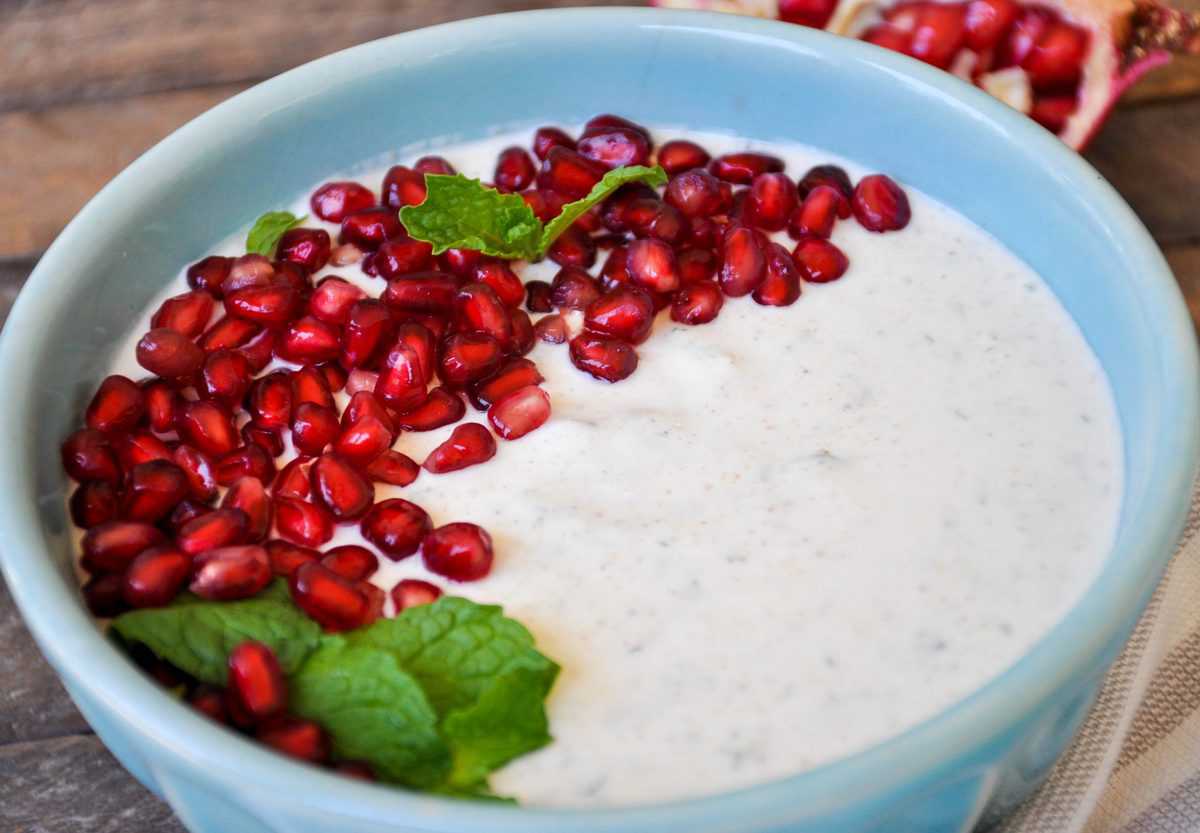 Top with fresh pomegranate arils and fresh mint leaves. Chill in the refrigerator while you make the rest of the bowl.
Now we are ready to prep the roasted veggies.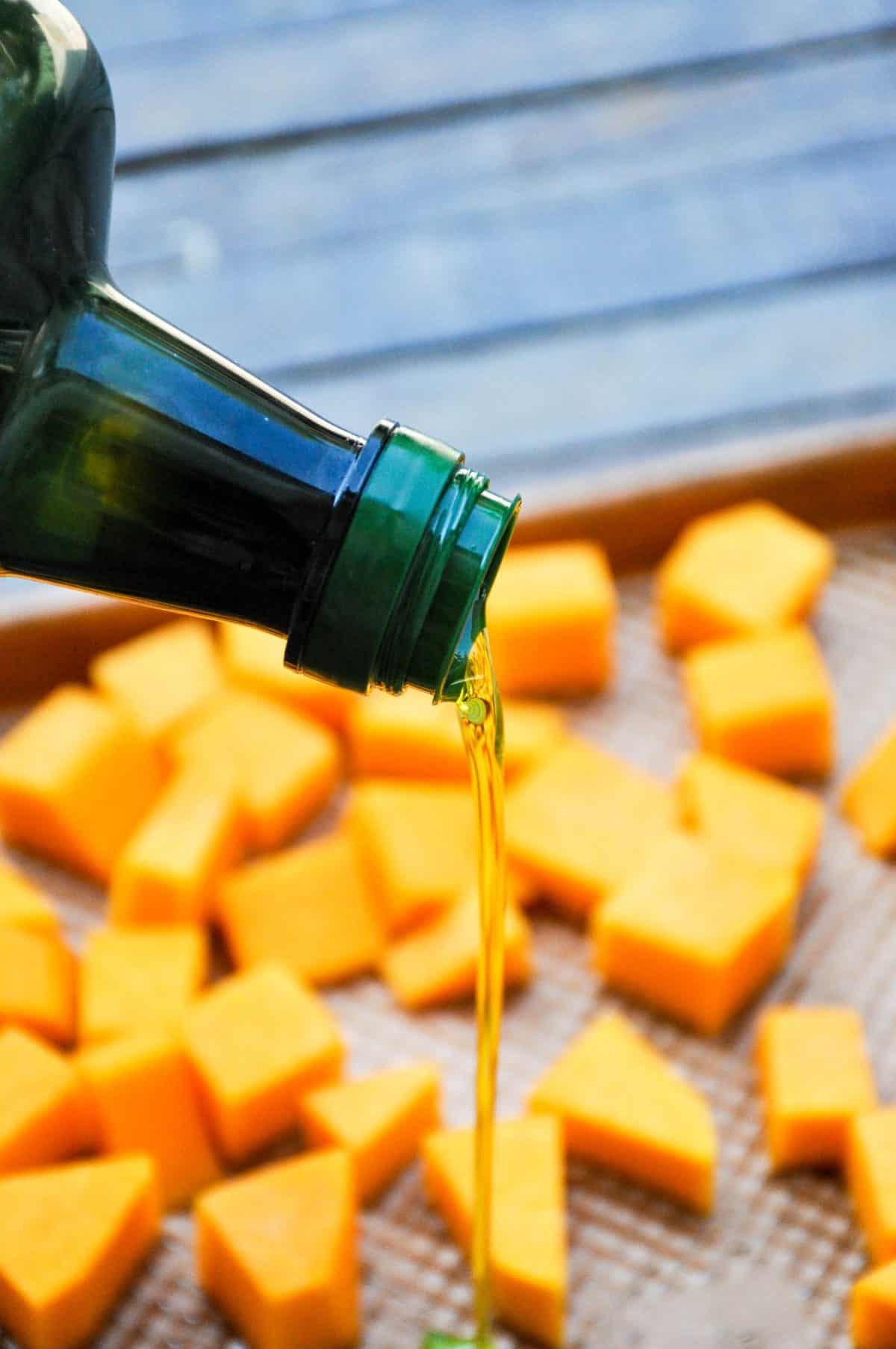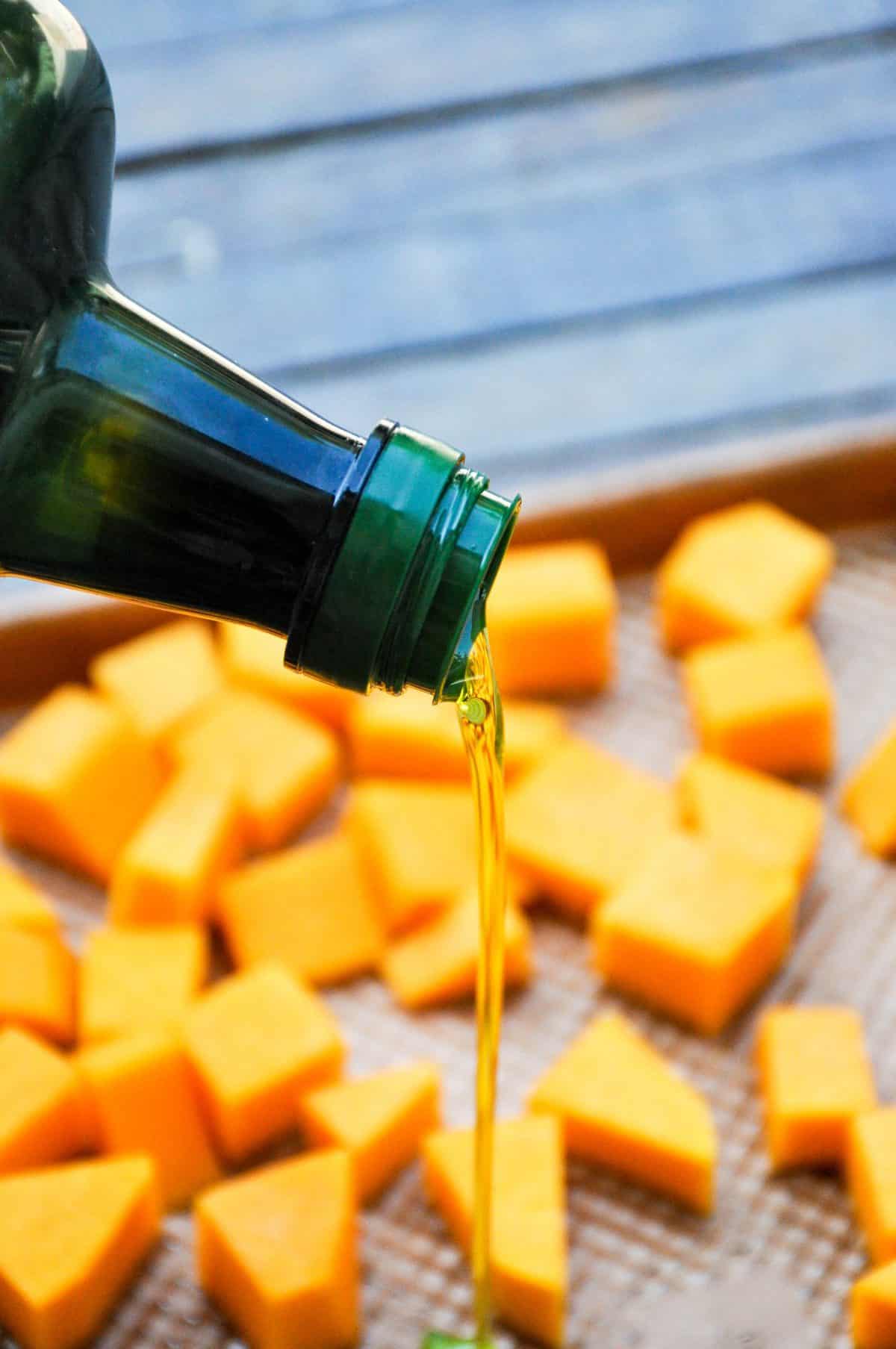 Add the cubed butternut squash and green bell pepper strips to a baking sheet and pour the olive oil over.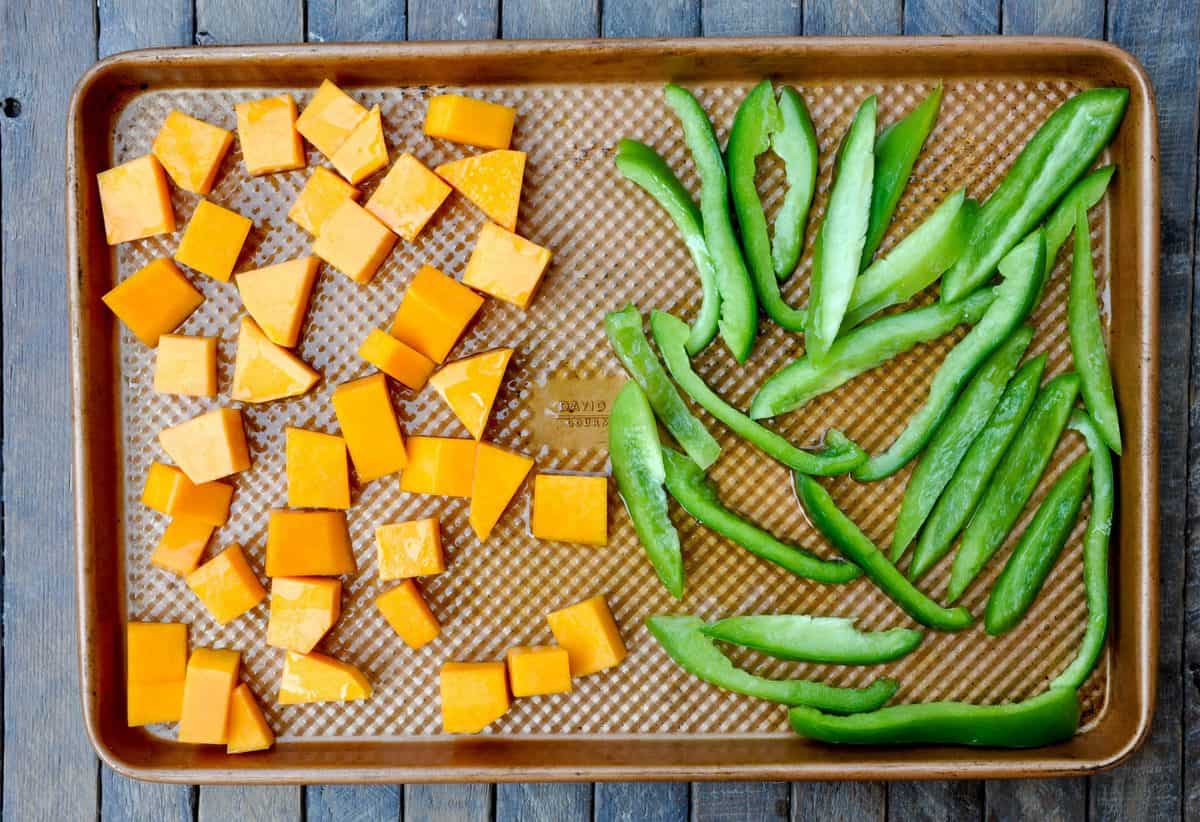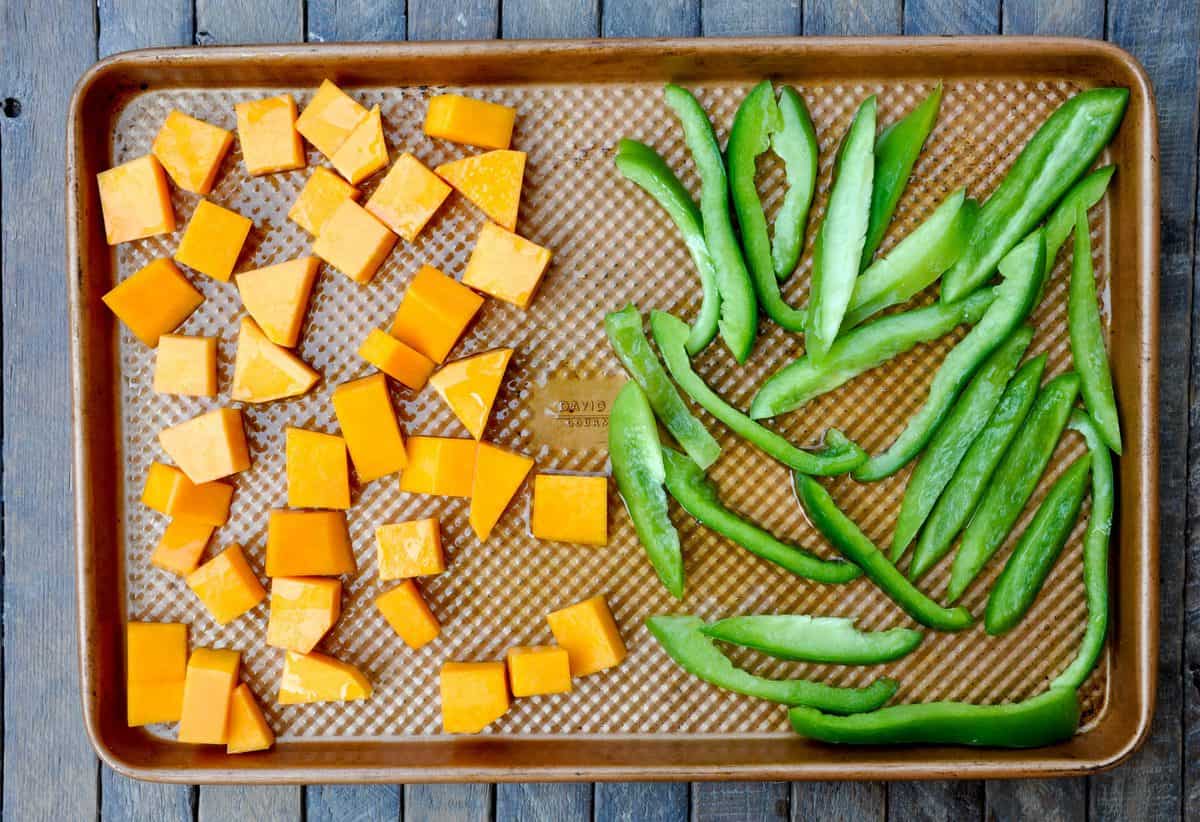 Toss the veggies to coat and roast in the oven for about 30 minutes.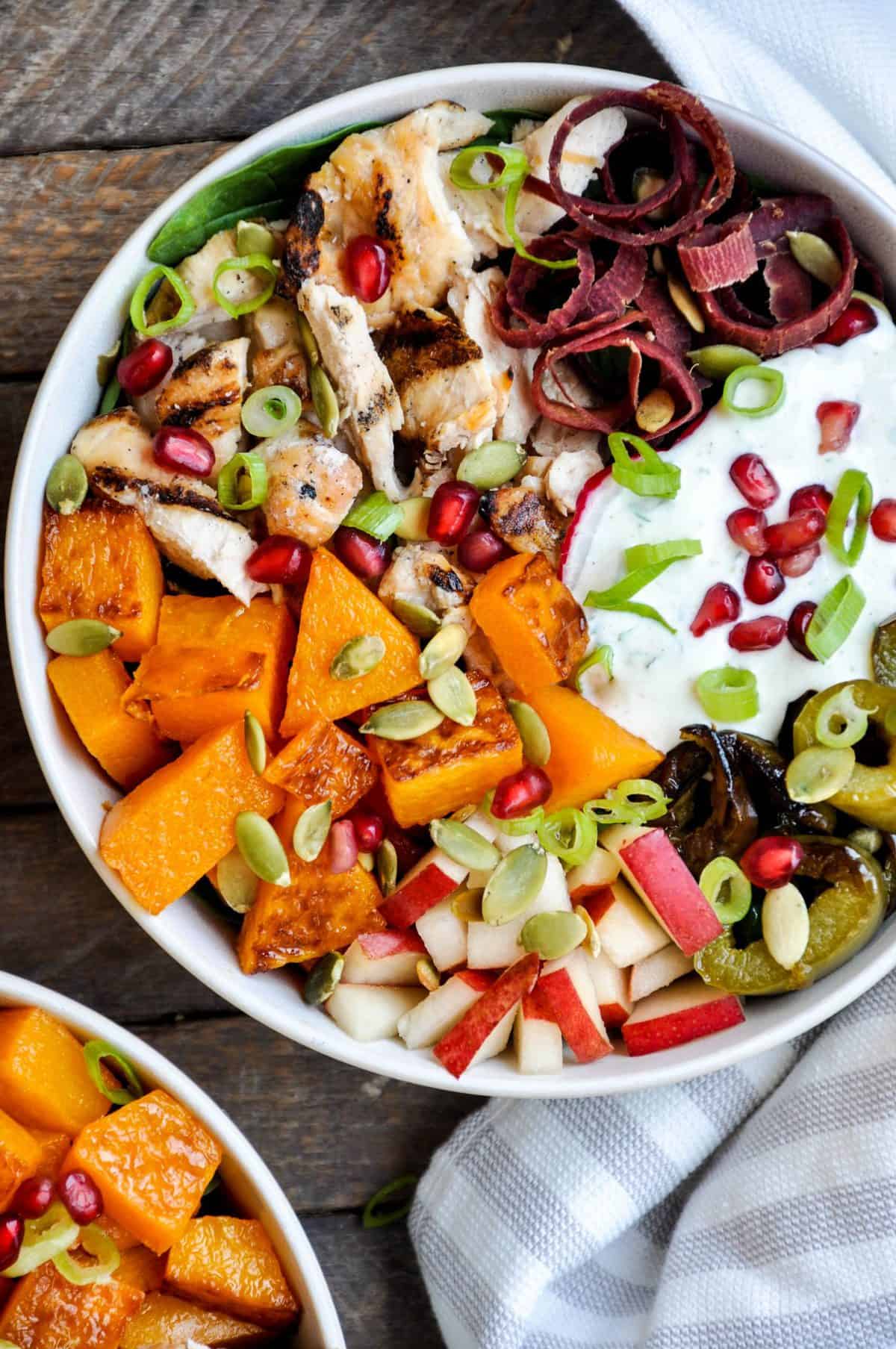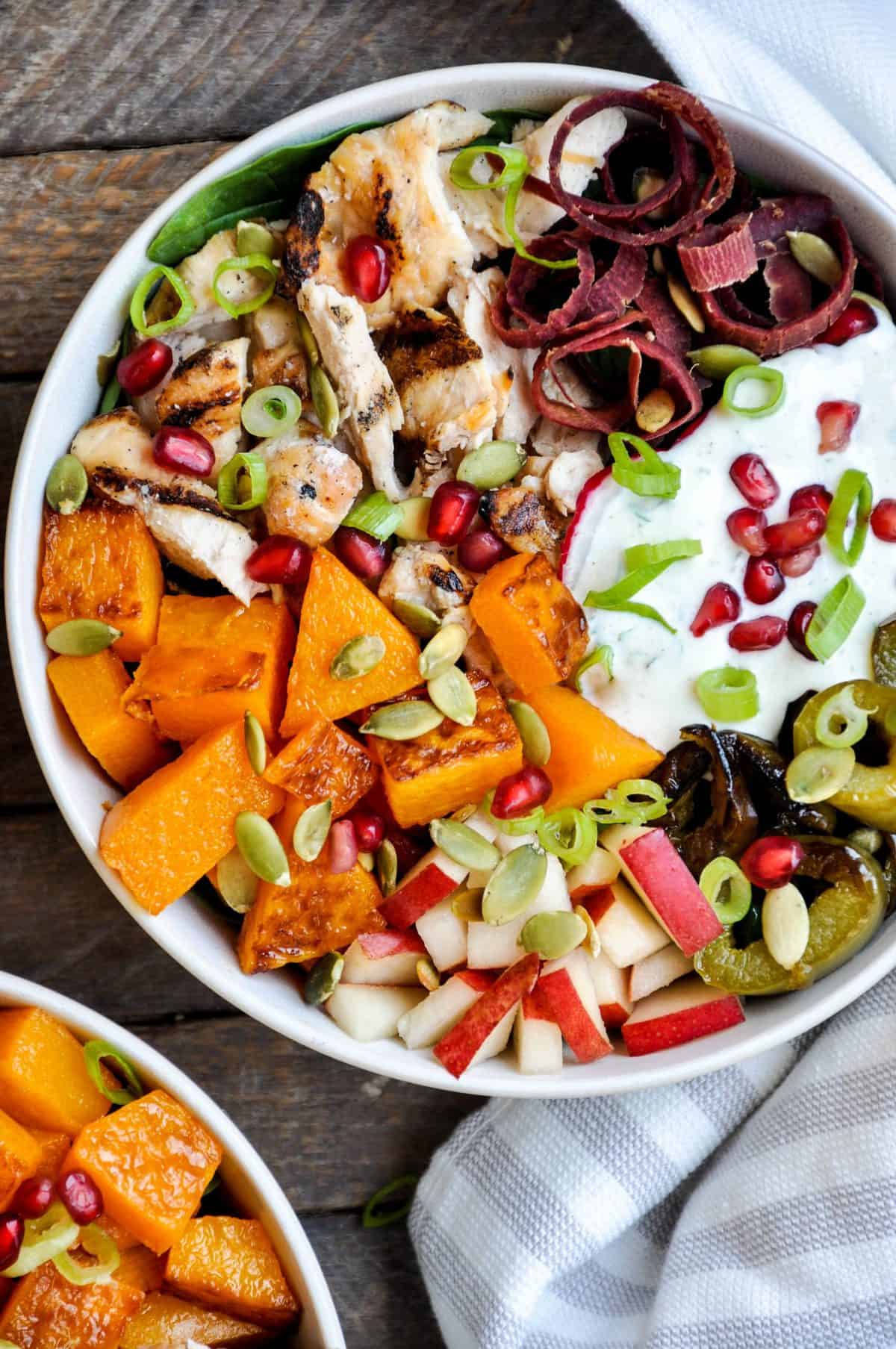 Place all the ingredients into the bowl on top of a nice bed of leafy greens. I used spinach, but feel free to use any in-season greens, like kale or romaine.
Look at all that fall goodness! Pears, carrots, radish, and of course we topped it all off with pumpkin seeds!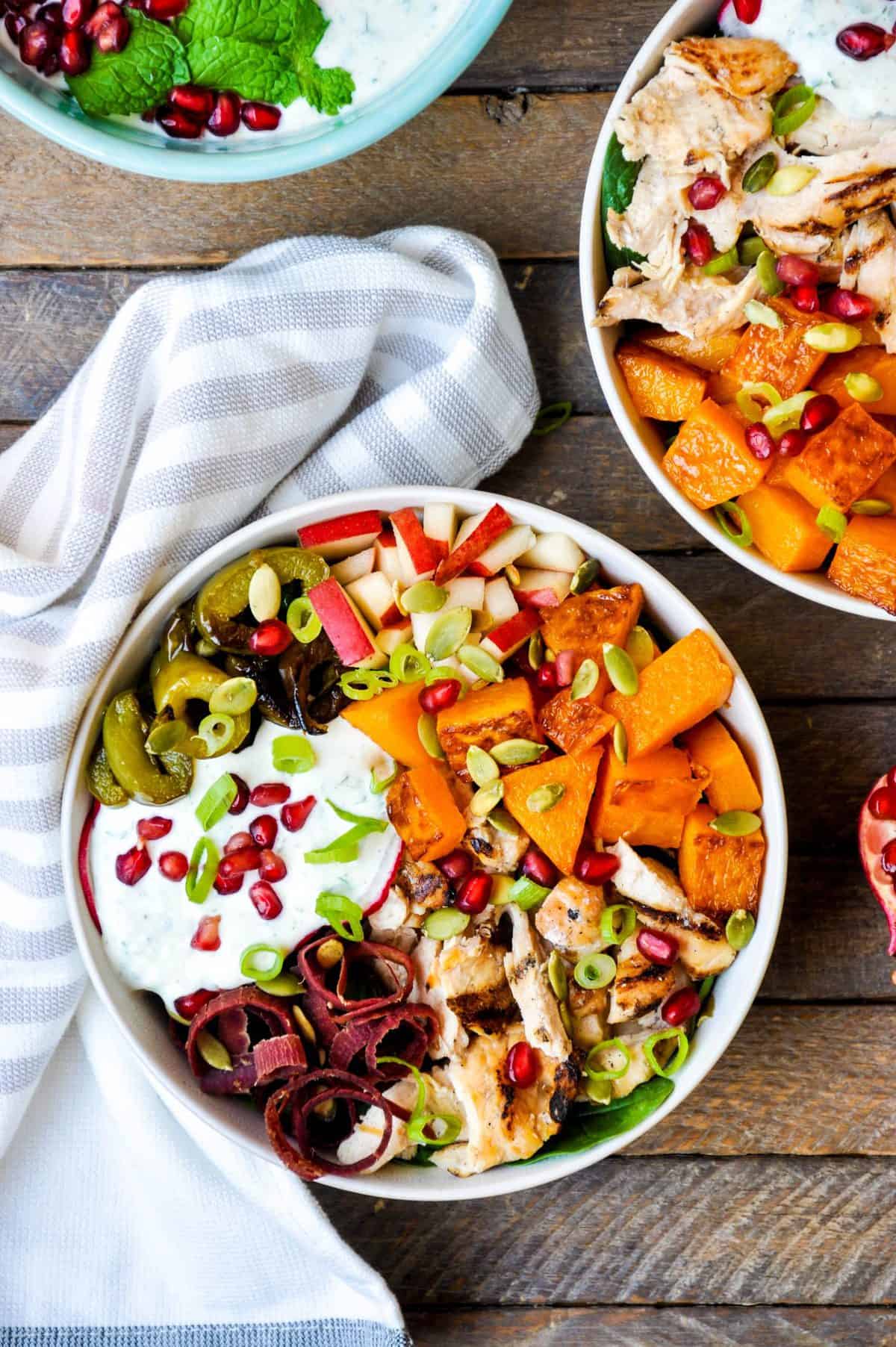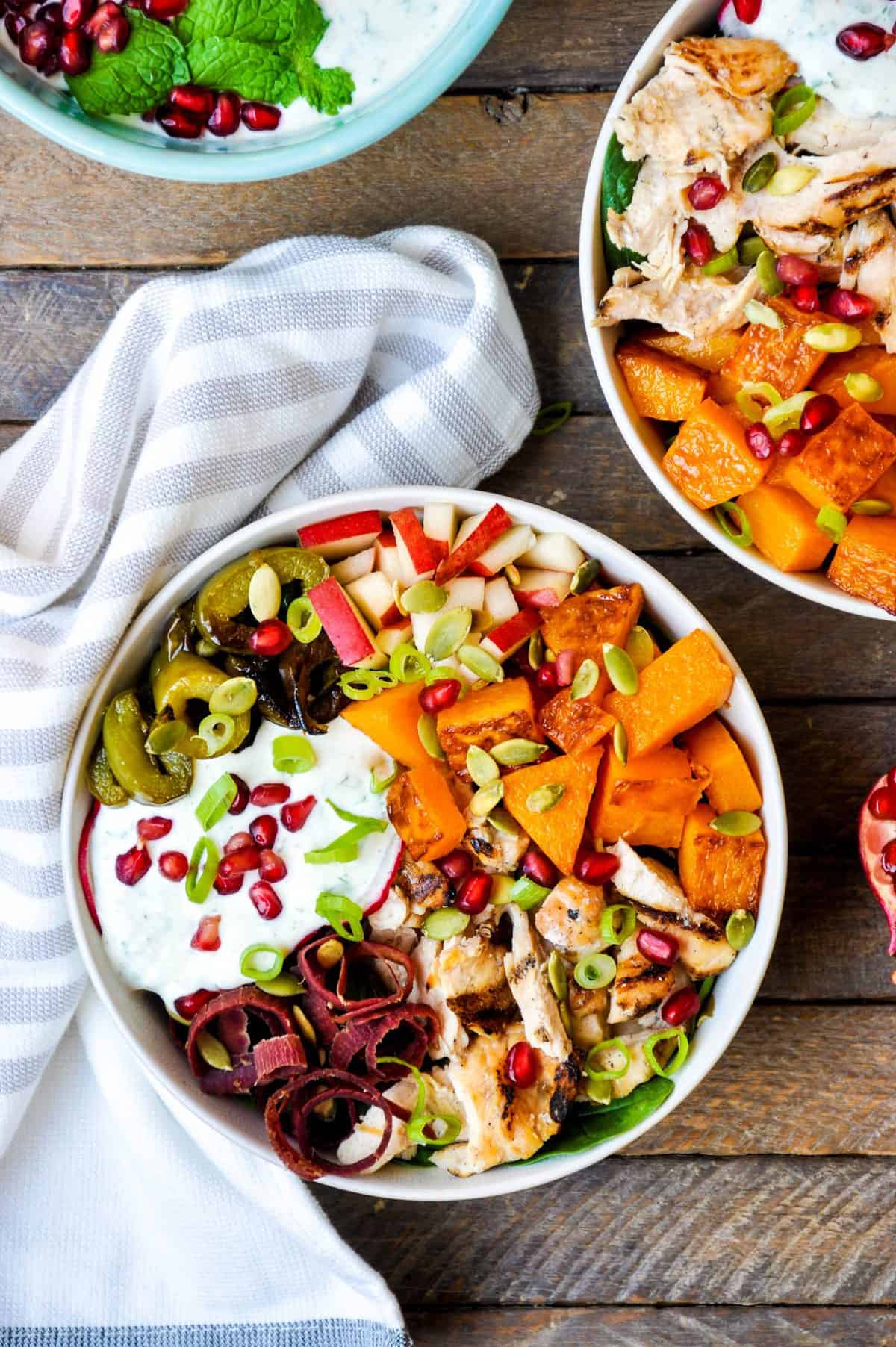 Dig in and enjoy!
Here is the recipe for ya!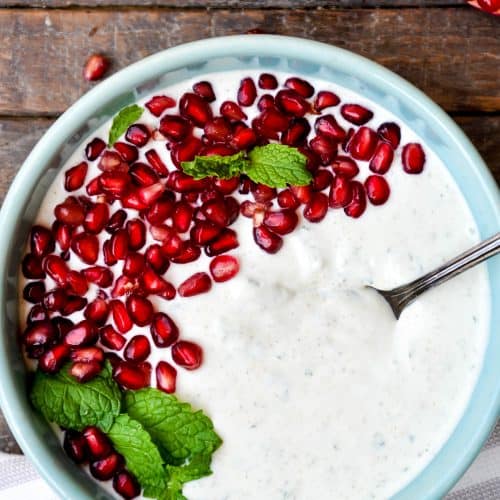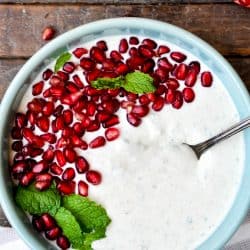 Pomegranate Herb Sauce
Indian-inspired, this fresh yogurt based sauce is perfect as a dipping sauce or dressing.
Ingredients
1/3 cup mint leaves
1/3 cup cilantro leaves
1 whole jalapeno, seeded and diced
2 cloves garlic, minced
2 T water
2 cups plain greek yogurt
1/2 cup water
1 T sugar
1 tsp cumin
1 tsp garam masala
1/2 cup pomegranate arils
Instructions
Combine the cilantro, mint, jalapeno, garlic and water in to a blender or food processor. Blend on high until all the ingredients are combined. You may need to scrape the sides down a few times to make sure everything is combined.

Combine the yogurt and water and stir to thin out a bit. Add in the seasoning and stir. Next, add the herb mixture and stir again to combine. Add salt to taste.

Transfer the sauce to a serving bowl and top with the pomegranate arils.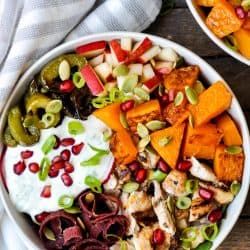 Fall Harvest Bowls
Ingredients
1/2 whole butternut squash, cubed
1 whole green pepper, cut into strips
2 T olive oil
4 whole radish, sliced thin
2 whole carrots, sliced thin
1 whole pear, diced
8 oz. baby spinach
4 oz pumpkin seeds
8 oz. pomegrante herb sauce
Instructions
Preheat oven to 425.  Place the butternut squash and green pepper slices onto a baking sheet and toss in the olive oil to coat.  Bake for 20-30 minutes.  Allow to cool while you assemble the rest of the bowl.

Divide up the spinach into 4 bowls.  Top each with carrots, chicken, and pears.  Add the butternut squash and green peppers.  Arrange a bowl shape with the radish by overlapping and creating a deep well. Add the pomegranate sauce to the radish bowl.

Sprinkle pumpkin seeds on the bowl and additional pomegranate arils if preferred.
Looking for more fall Recipes? Try this out!