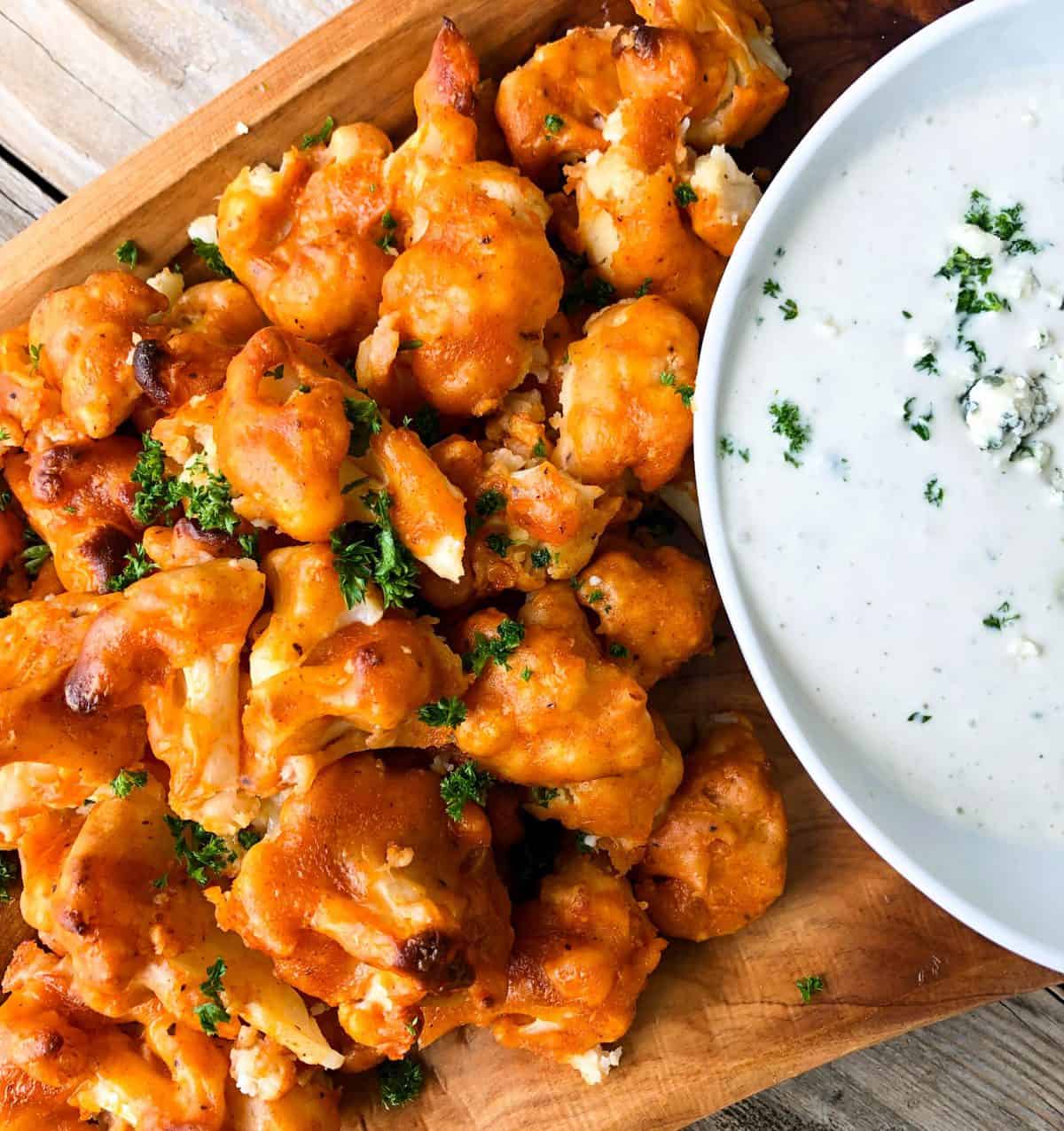 CA GROWN Blog
Discover. Learn. Connect.
A Recipe For Buffalo Cauliflower That You Are Going To Love
February 1, 2019
Eat the Season!
Sign Up For Weekly Recipes
« Back to Recipes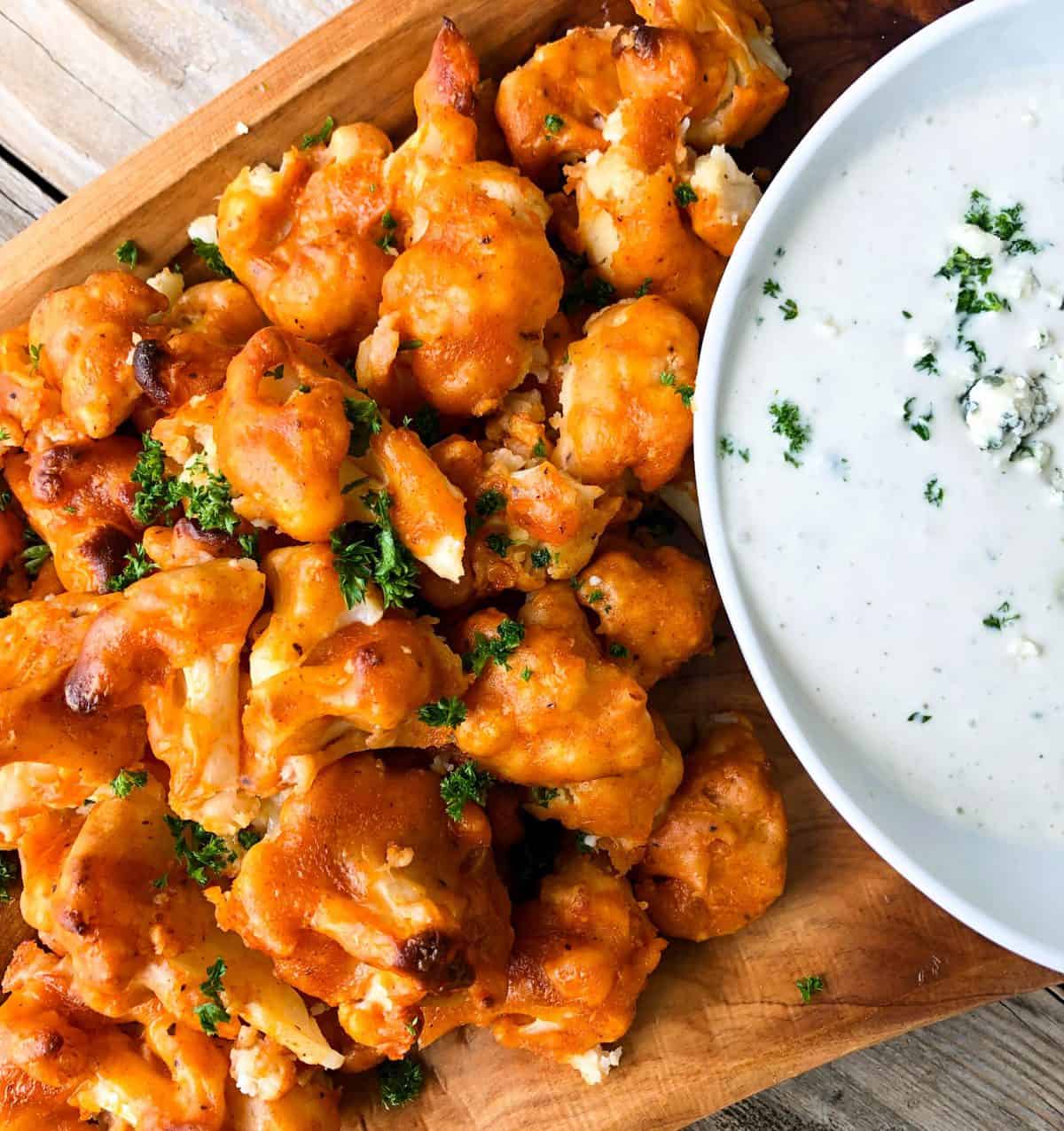 A Recipe For Buffalo Cauliflower That You Are Going To Love
This recipe for Buffalo Cauliflower is a hearty appetizer or side dish that the whole family will enjoy! Spicy and health-conscious, this recipe will satisfy all the hearty appetites at your table.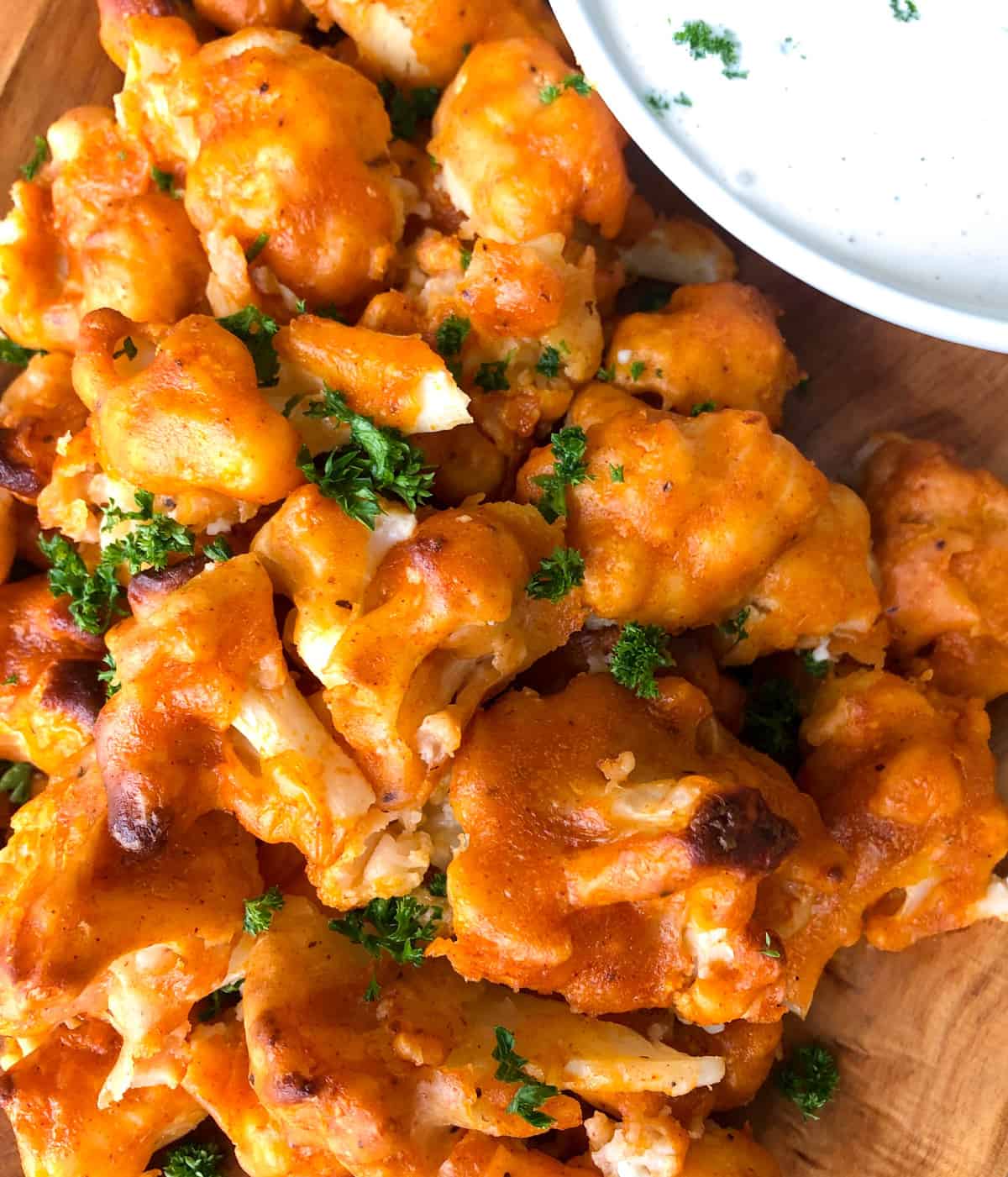 What is Buffalo Cauliflower?
This simple recipe calls for battering cauliflower and then baking it until it's crunchy and golden brown. The baked cauliflower is topped with a spicy buffalo sauce and served with a perfect blue cheese dipping sauce on the side.
You will be amazed at the taste, and you will be amazed at how easy it is to prepare too!
Step-by-step how to make our recipe for Buffalo Cauliflower.
You'll be amazed how easy it is to make this recipe for Buffalo Cauliflower. With only 8 ingredients and minimal prep work, this delicious recipe is sure to become a favorite in your house.
Break down a head of cauliflower
Start with a large head of fresh in-season cauliflower. Break it up or cut into bite-sized pieces.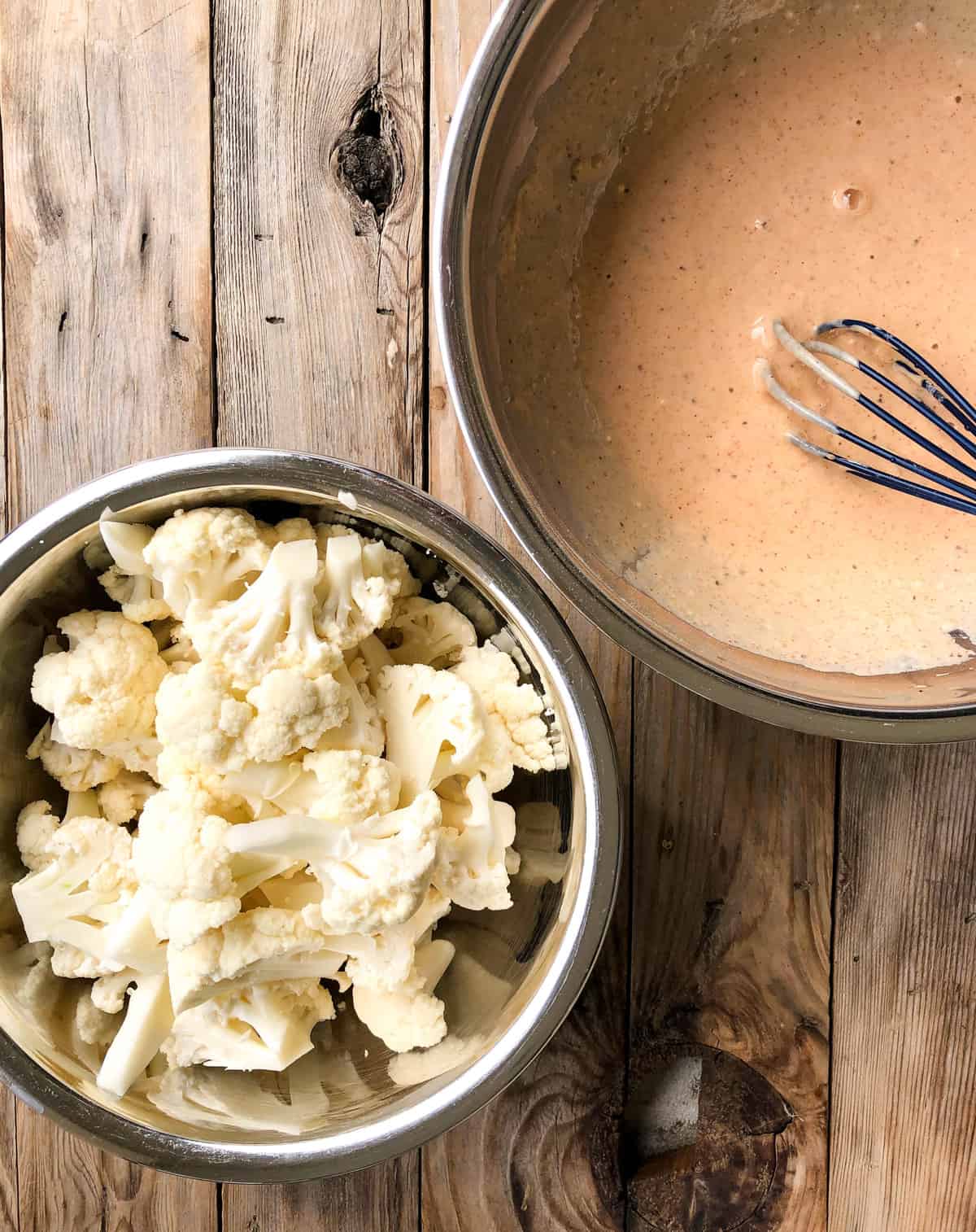 Prep the batter.
Whisk together flour, milk, paprika, garlic powder, salt, and pepper.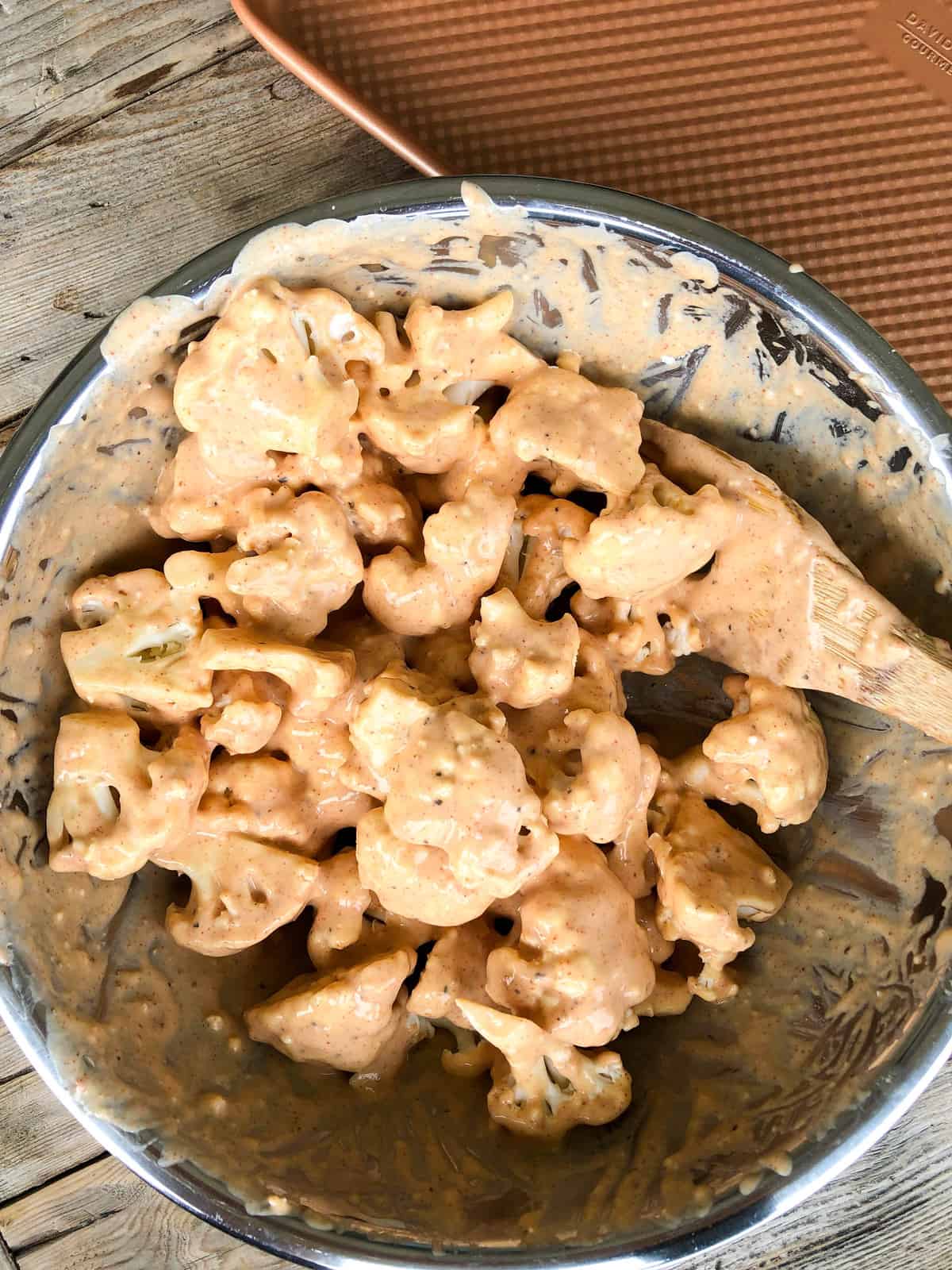 Batter up!
Add the cauliflower into the batter and toss to combine until all the pieces are coated completely.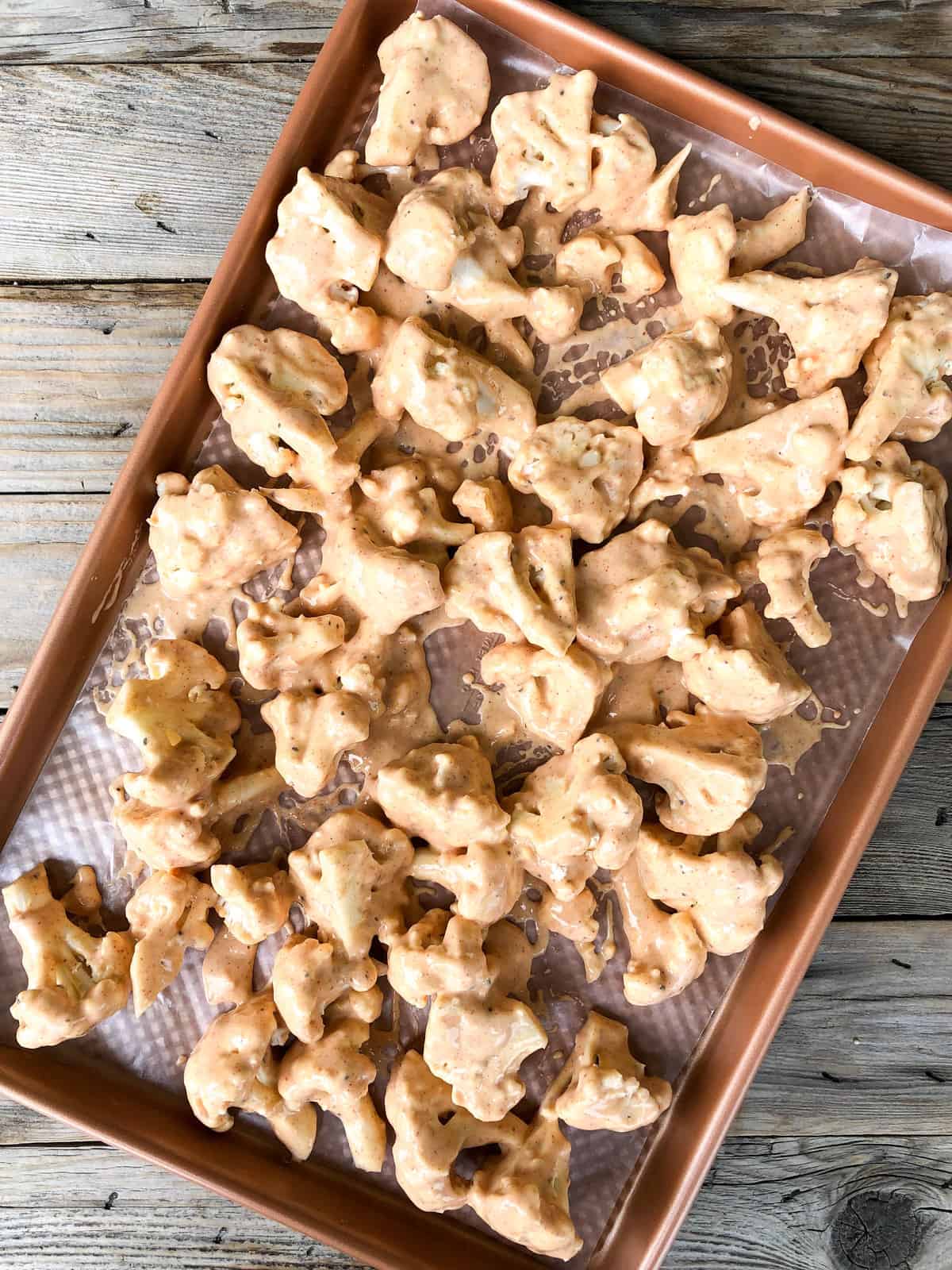 First bake!
Pour onto a parchment-lined baking sheet and bake in a 450 degree oven for 20 minutes.
Crank up the flavor!
Pull the pan out and brush with the buffalo sauce mixture then return to the oven for another 20 minutes.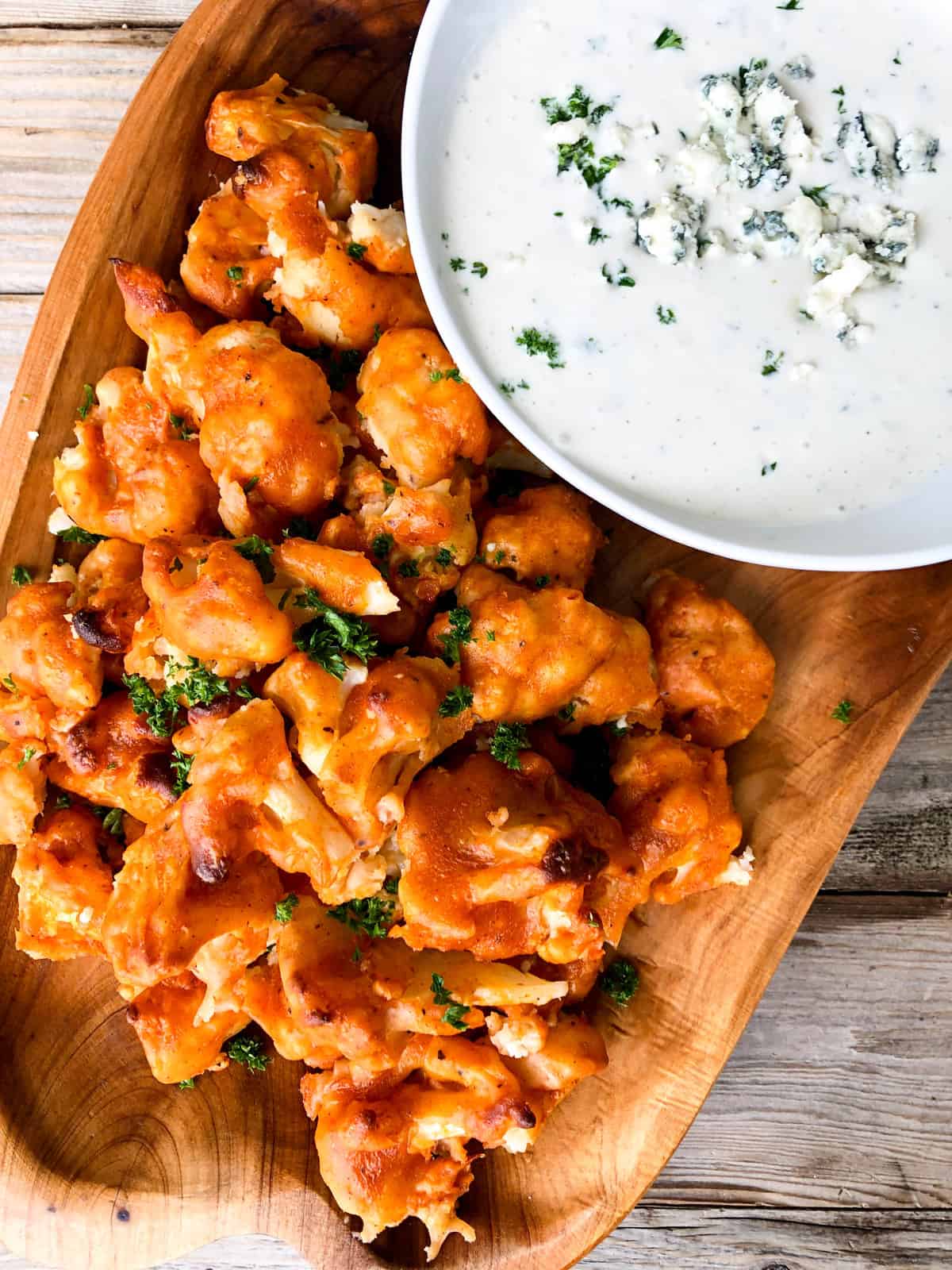 Garnish and serve!
Dust the finished Buffalo Cauliflower with finely chopped parsley and serve with a blue cheese dip.
Each piece of buffalo cauliflower is crisp on the outside and perfectly tender on the inside – just the way it should be!
Hungry for more delicious Pub-inspired recipes? Keep scrolling!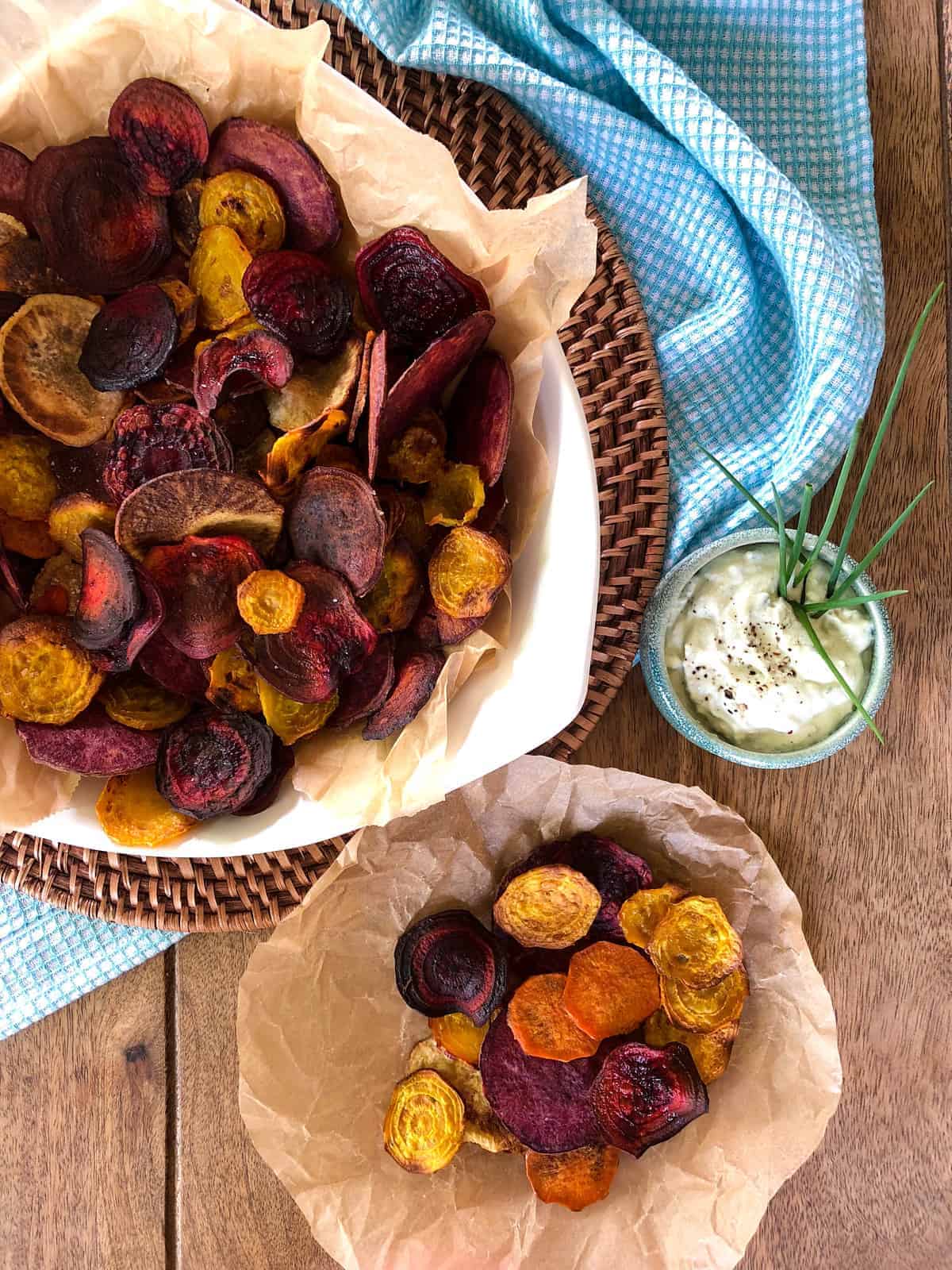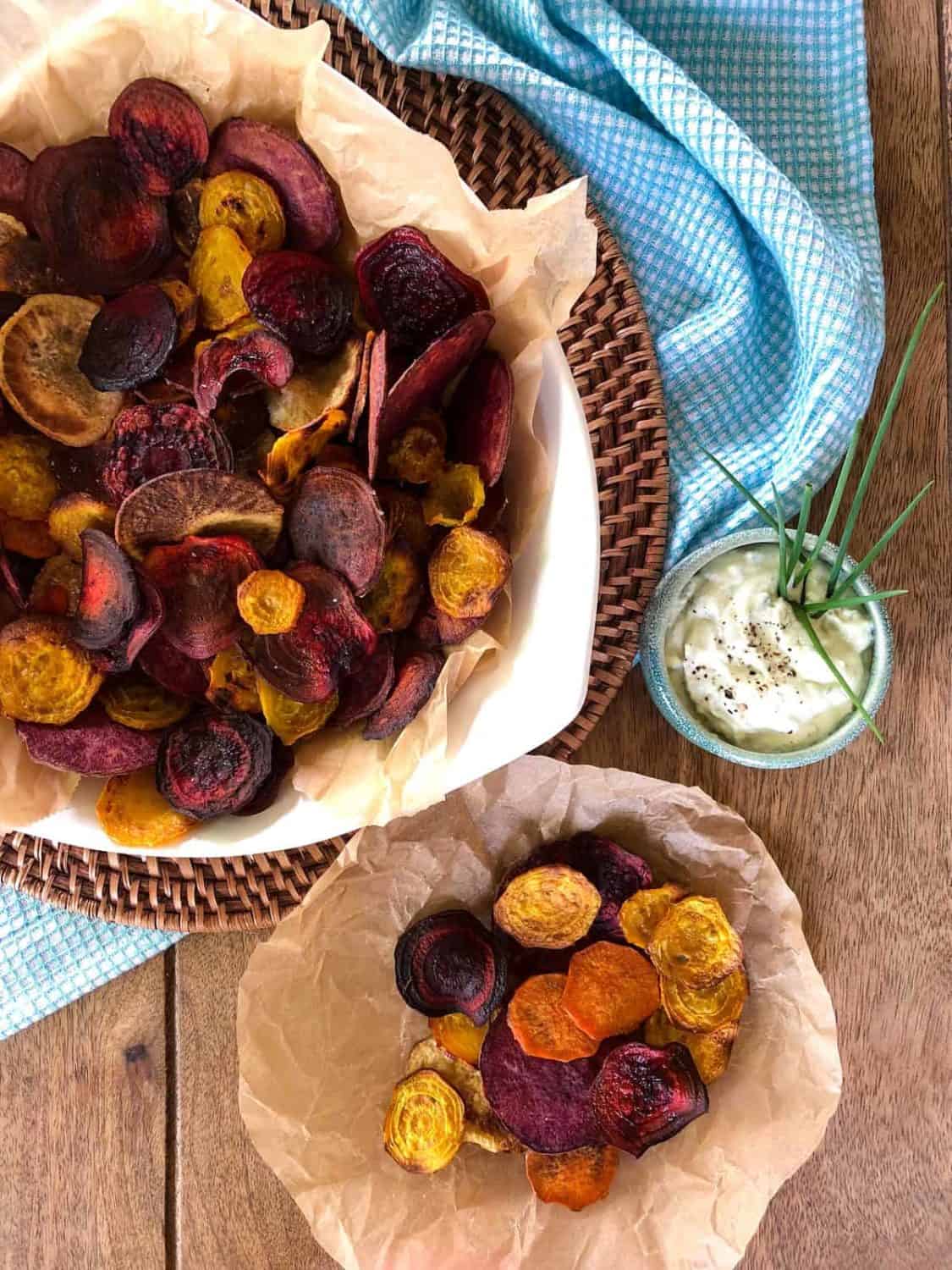 Who doesn't love chips and dip?! These root vegetable chips are baked not fried and full of flavor!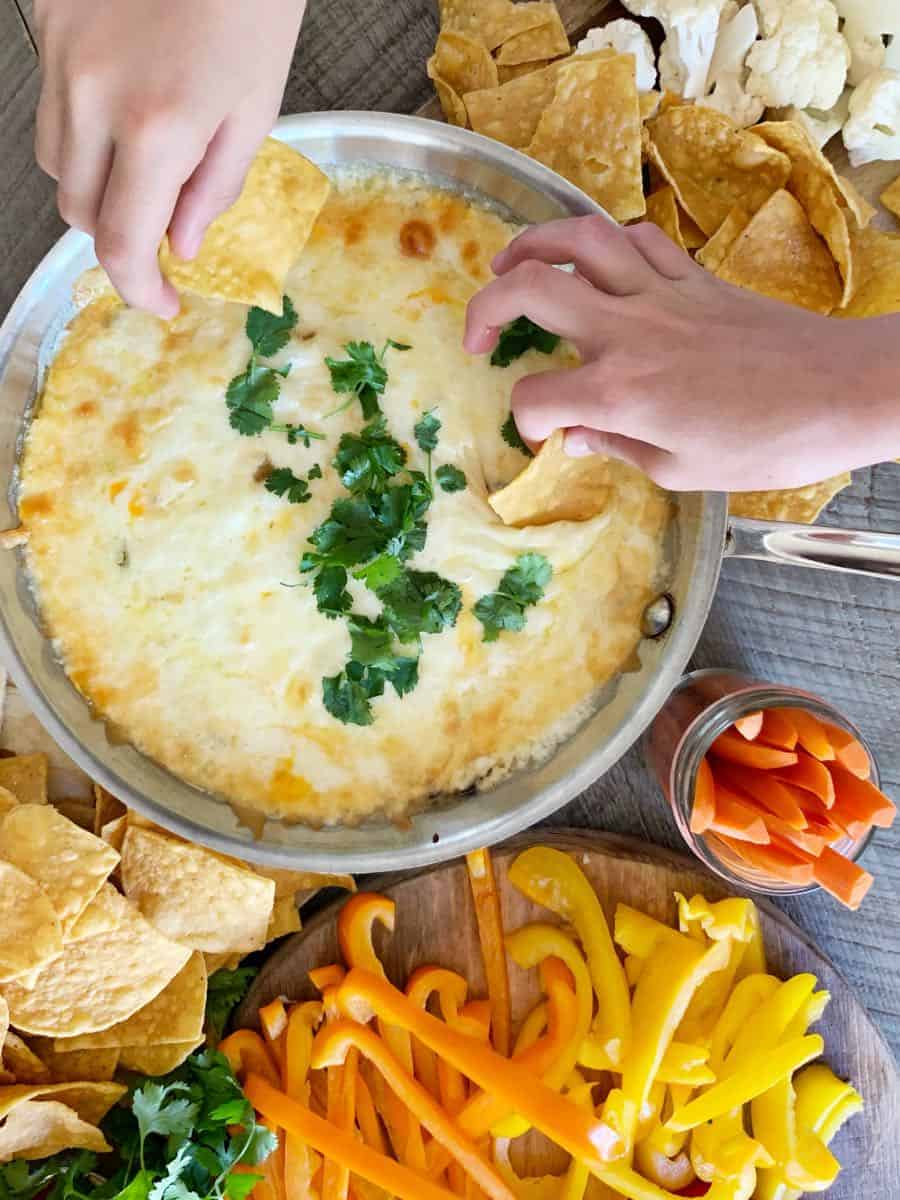 Delicious melted cheese with aromatic mushrooms and chiles makes the perfect dip for chips, tortillas, and fresh vegetables.
Share your favorite recipe for Buffalo Caulifower with us by snapping a pic and tagging us on social using #CAGROWN. 
Craving more CA Grown goodness? Follow us on Pinterest for fresh and fabulous recipe inspiration!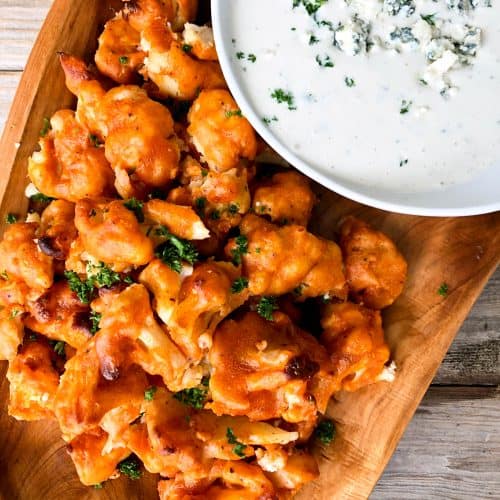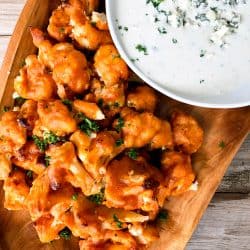 Buffalo Cauliflower
This recipe for Buffalo Cauliflower is spicy and health-conscious while tasting decadent too!
Ingredients
1 large head of cauliflower* broken or cut into bite-sized pieces
2/3 cup flour
2/3 cup milk*
1 teaspoon paprika
2 teaspoon garlic powder
salt and pepper to taste
1/4 cup Frank's Red Hot Buffalo Sauce
1 tablespoon butter* melted
Instructions
Mix the flour, milk, paprika, garlic powder and salt and pepper.  Pour the cauliflower in and stir until well coated.

Pour the cauliflower onto the prepared baking sheet and bake for 20 minutes.

Combine the hot sauce and butter in a small bowl and set aside.

Remove the cauliflower from the oven and brush with the hot sauce mixture and bake for an additional 20 minutes.

Serve with your favorite blue cheese dipping sauce.
Notes
*this comes from California!
Nutrition
Calories: 72kcalCarbohydrates: 13gProtein: 3gFat: 1gSaturated Fat: 1gPolyunsaturated Fat: 0.1gMonounsaturated Fat: 0.2gCholesterol: 4mgSodium: 321mgPotassium: 79mgFiber: 1gSugar: 2gVitamin A: 74IUVitamin C: 2mgCalcium: 40mgIron: 1mg
Want more California Grown goodness? Follow us on Pinterest for delicious, seasonal recipe inspo!
Frequently asked questions about California-grown Cauliflower
Is cauliflower grown in California?
California is the major cauliflower-producing state in the United States, with about 90 percent of the supply.
Where does cauliflower grow in California?
Cauliflower is grown in the Salinas Valley of California- also called the "Salad Bowl of the World." The growing season can last 10 months due to its moderate climate and rich soil.
Is cauliflower better for you cooked or raw?
Fresh cauliflower has 30 percent more protein and many different types of antioxidants such as quercetin. Raw cauliflower keeps the most antioxidants overall, but cooking cauliflower increases indole levels