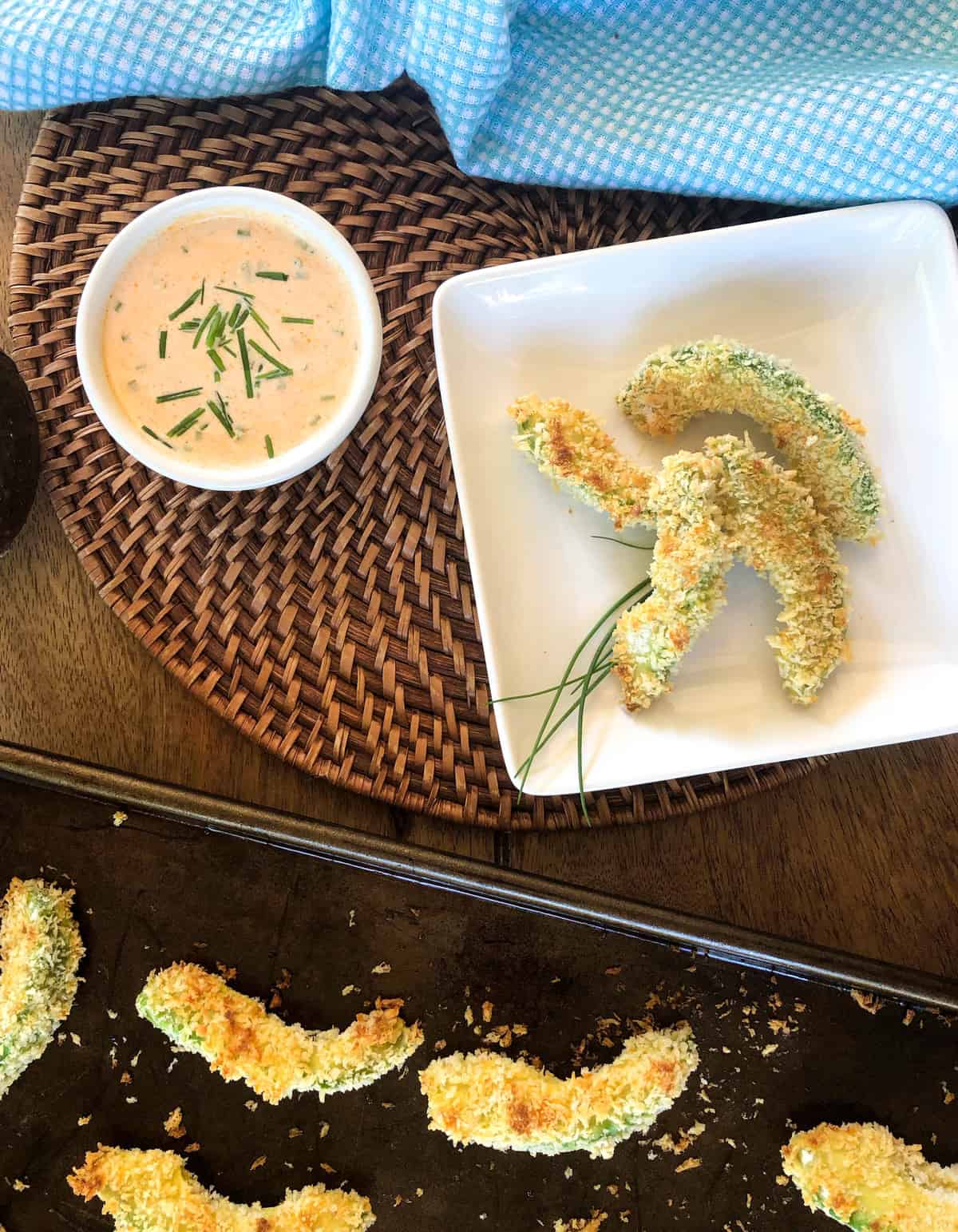 CA GROWN Blog
Discover. Learn. Connect.
Avocado Fries
April 25, 2018
Eat the Season!
Sign Up For Weekly Recipes
« Back to Recipes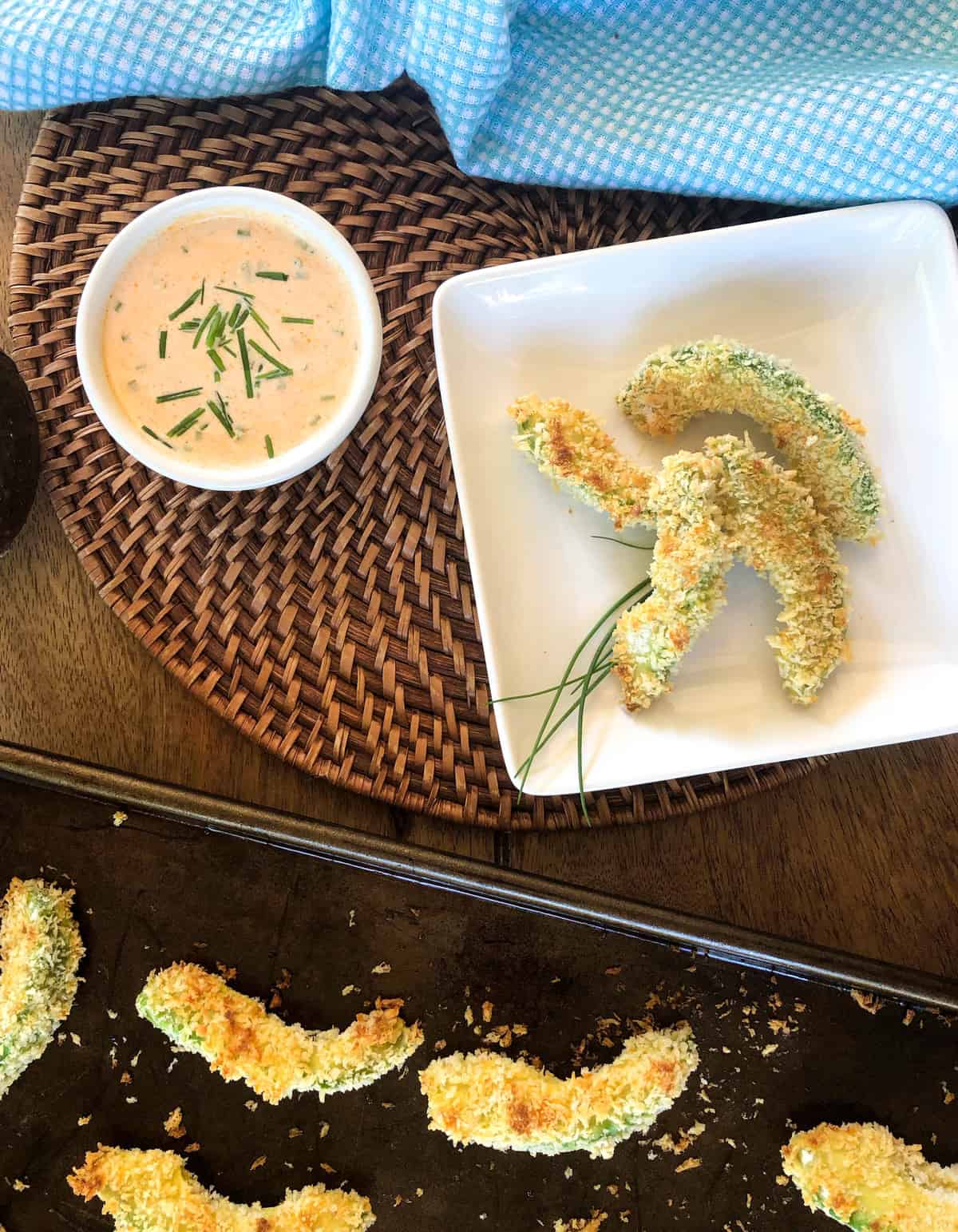 Avocado Fries
These crunchy + delicious baked Avocado Fries take snacktime, mealtime or even happy hour to the tastiest level! Make the most of California avocado season by baking up a batch of these.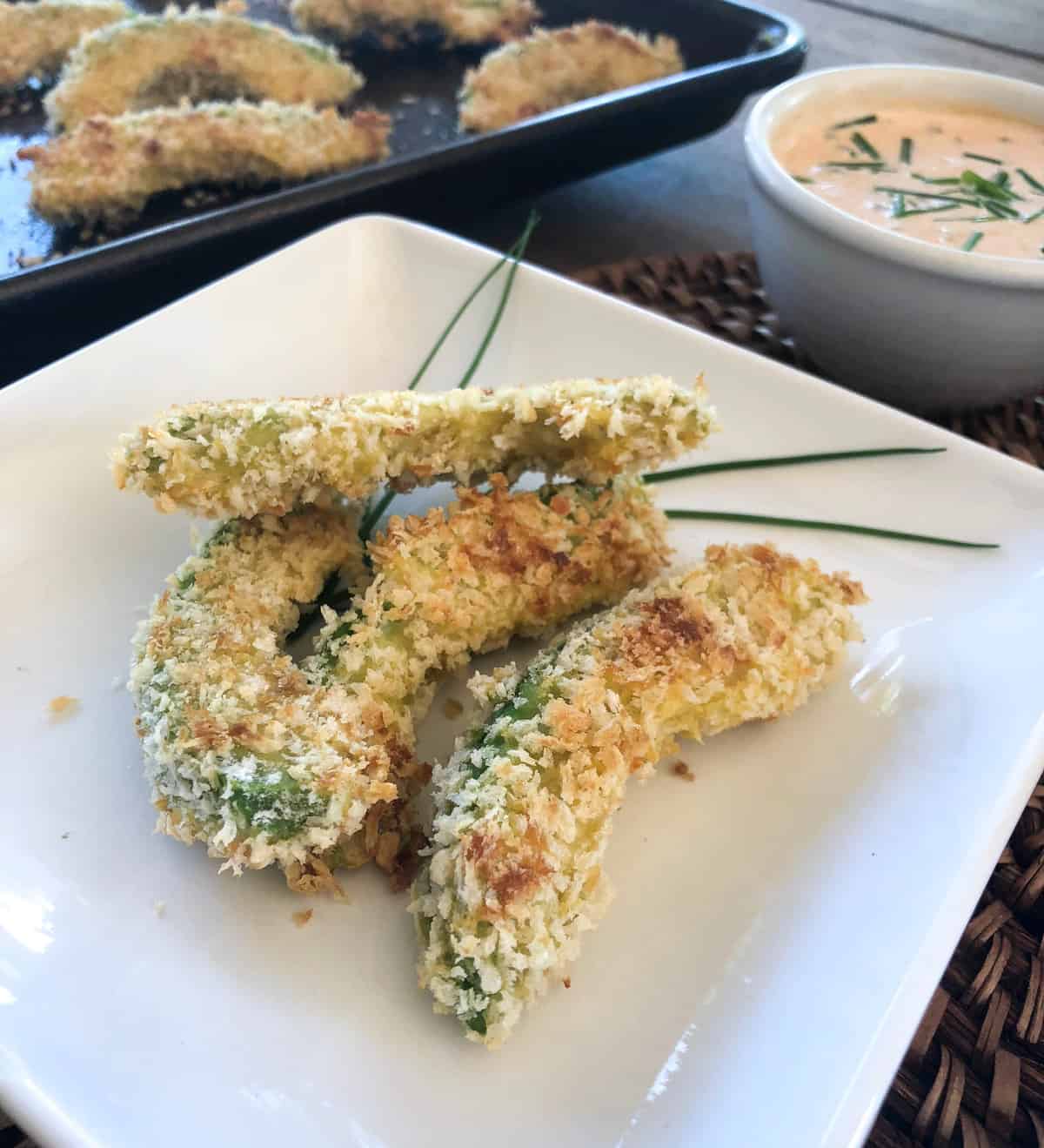 YOU GUYS!
Have you seen the California avocado production this year?
It is insane!
I just bought 10 for 10 bucks. It seems like I haven't been able to do that since the 90's! I'm sure I was wearing a babydoll dress and had Pearl Jam on in the kitchen while making my guacamole…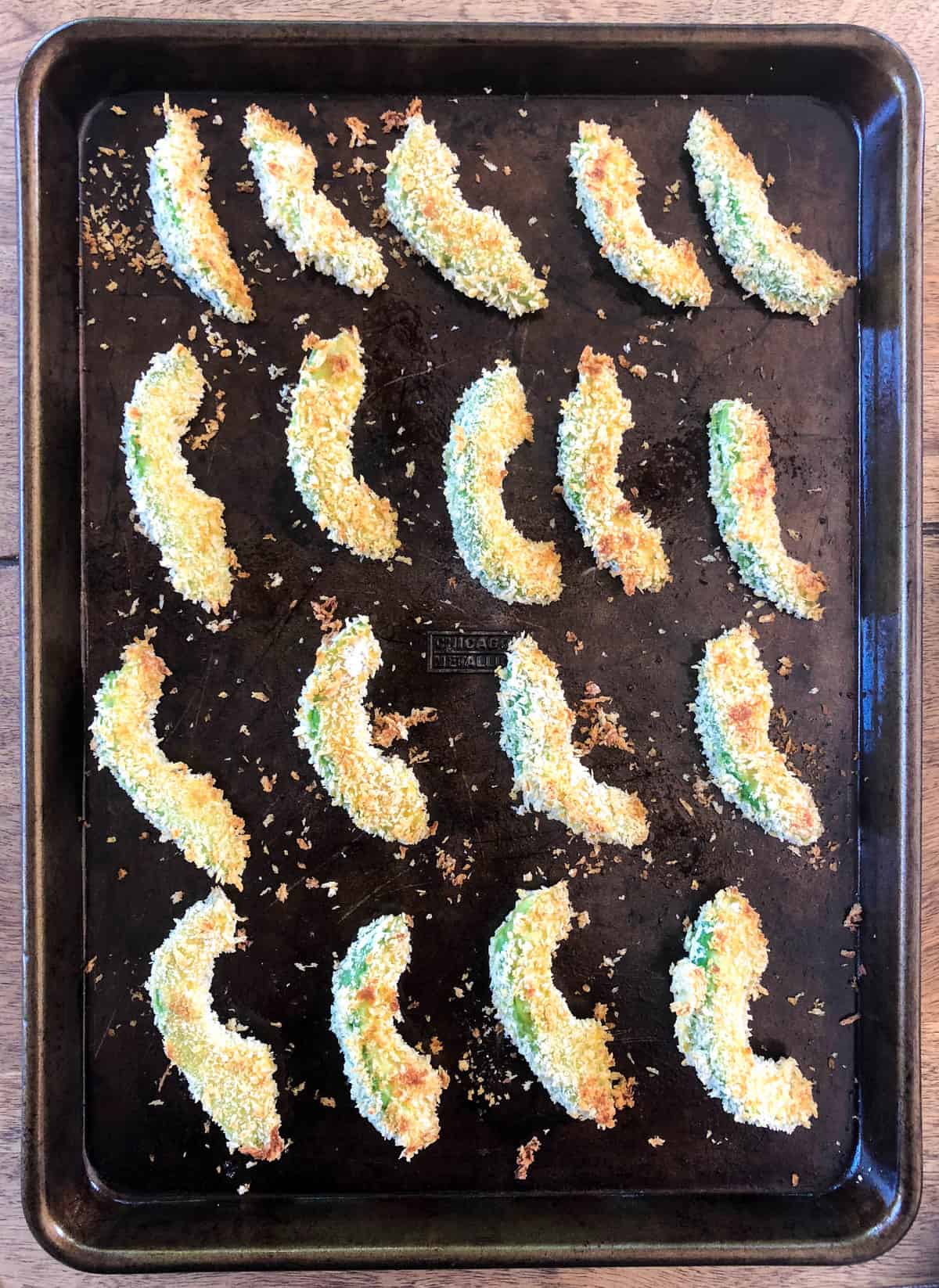 Well, long gone are the days of just making guacamole with those avocados. We have made our fair share of recipes using avocado, but this is the first time I've actually attempted putting the green gems in the oven!
Say what?
Yep, we are coating them and baking them and dunking them… just like your favorite potato wedge.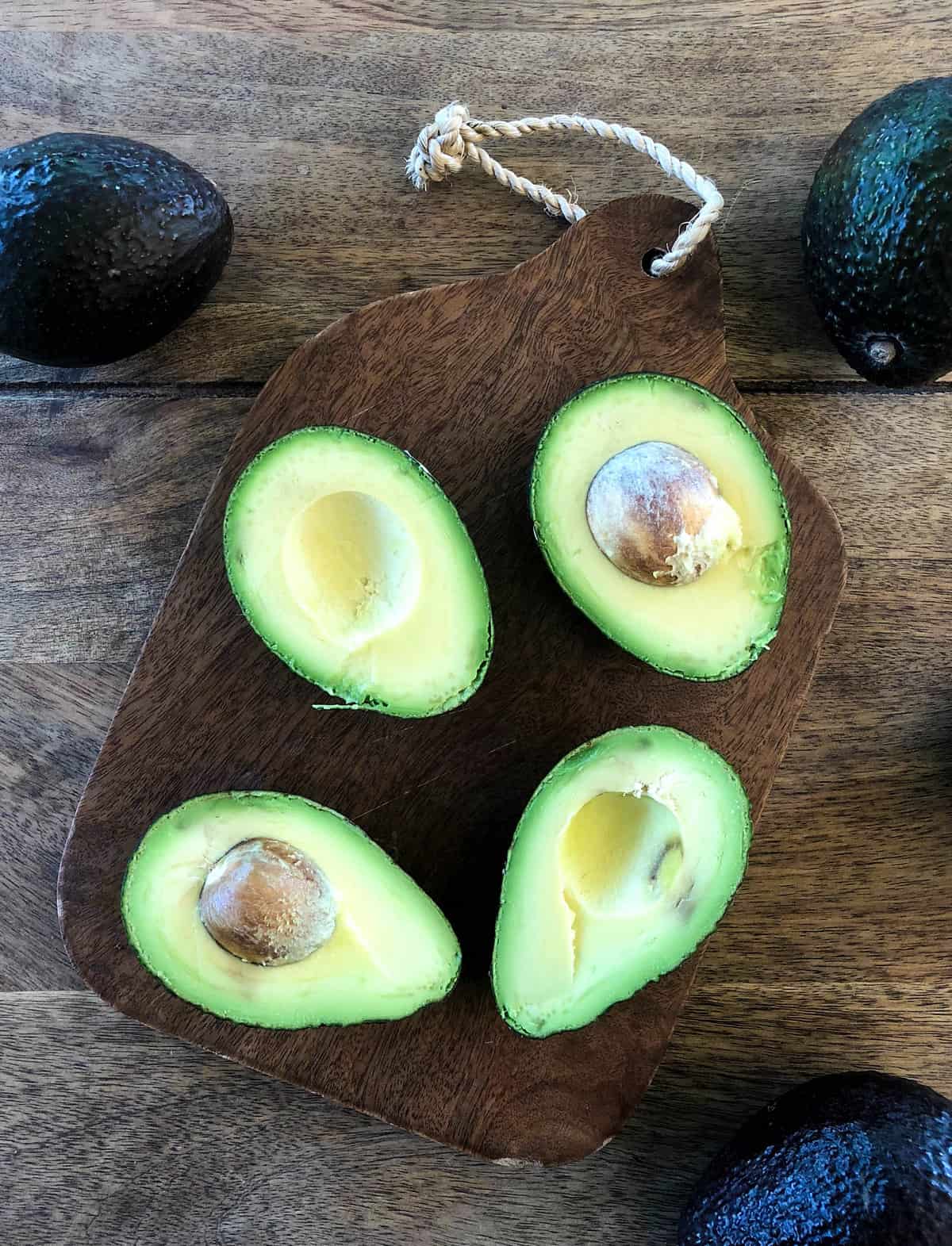 You need to start with fresh, ripe California avocados. They should be firm with just a little bit of give when you press the skin for best results.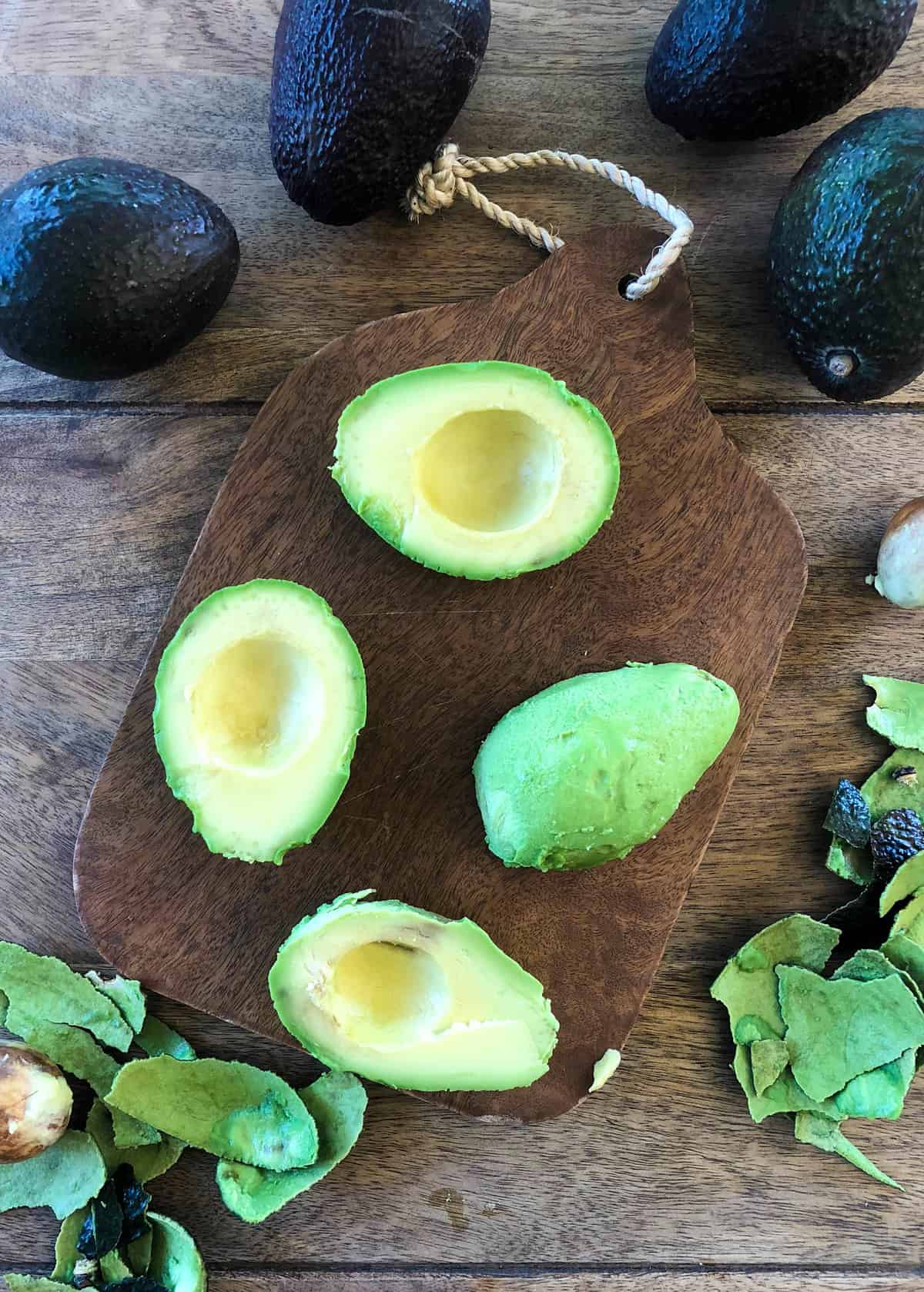 Halve, peel, and remove the pit from the avocados.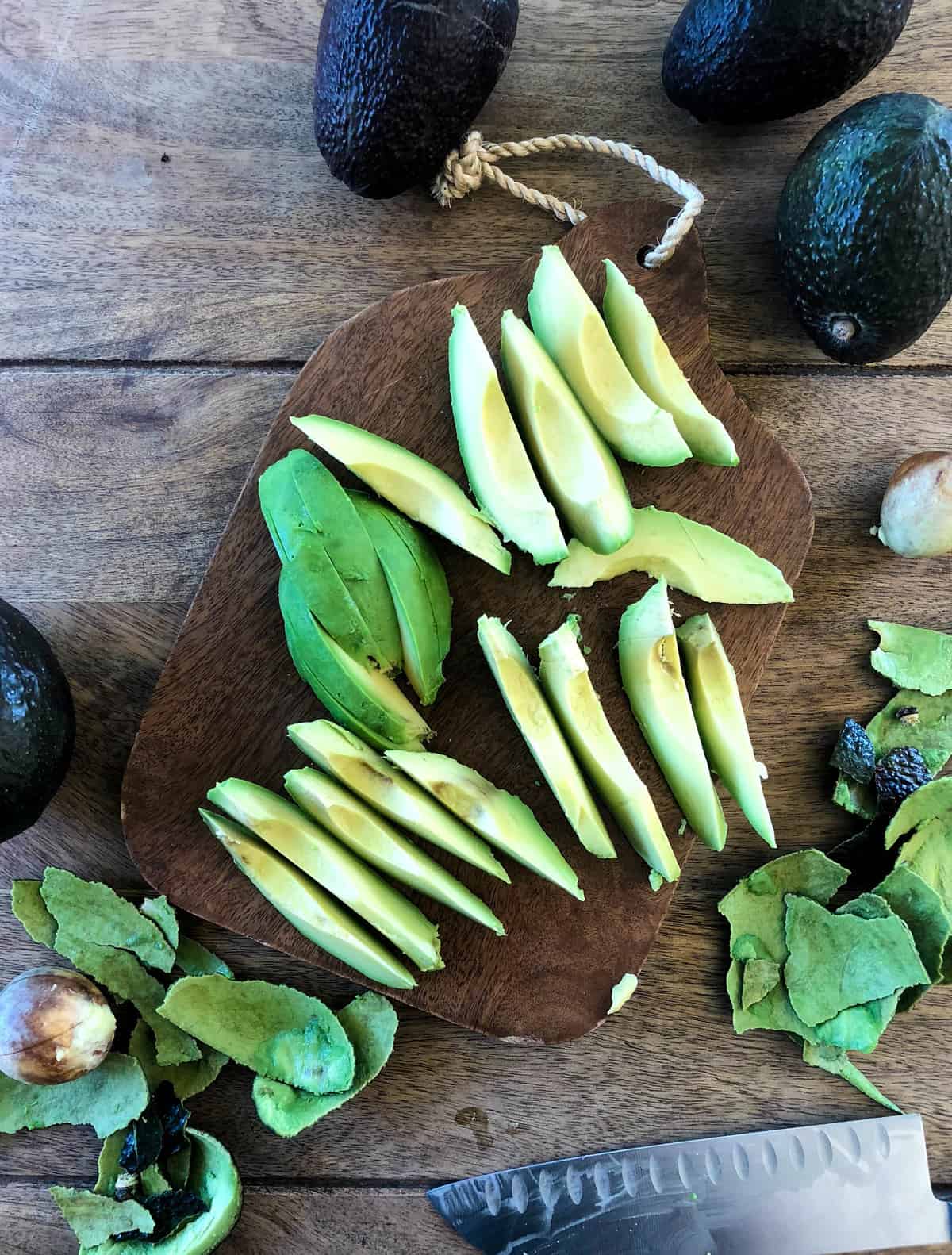 Slice each half into 5 or 6 wedges.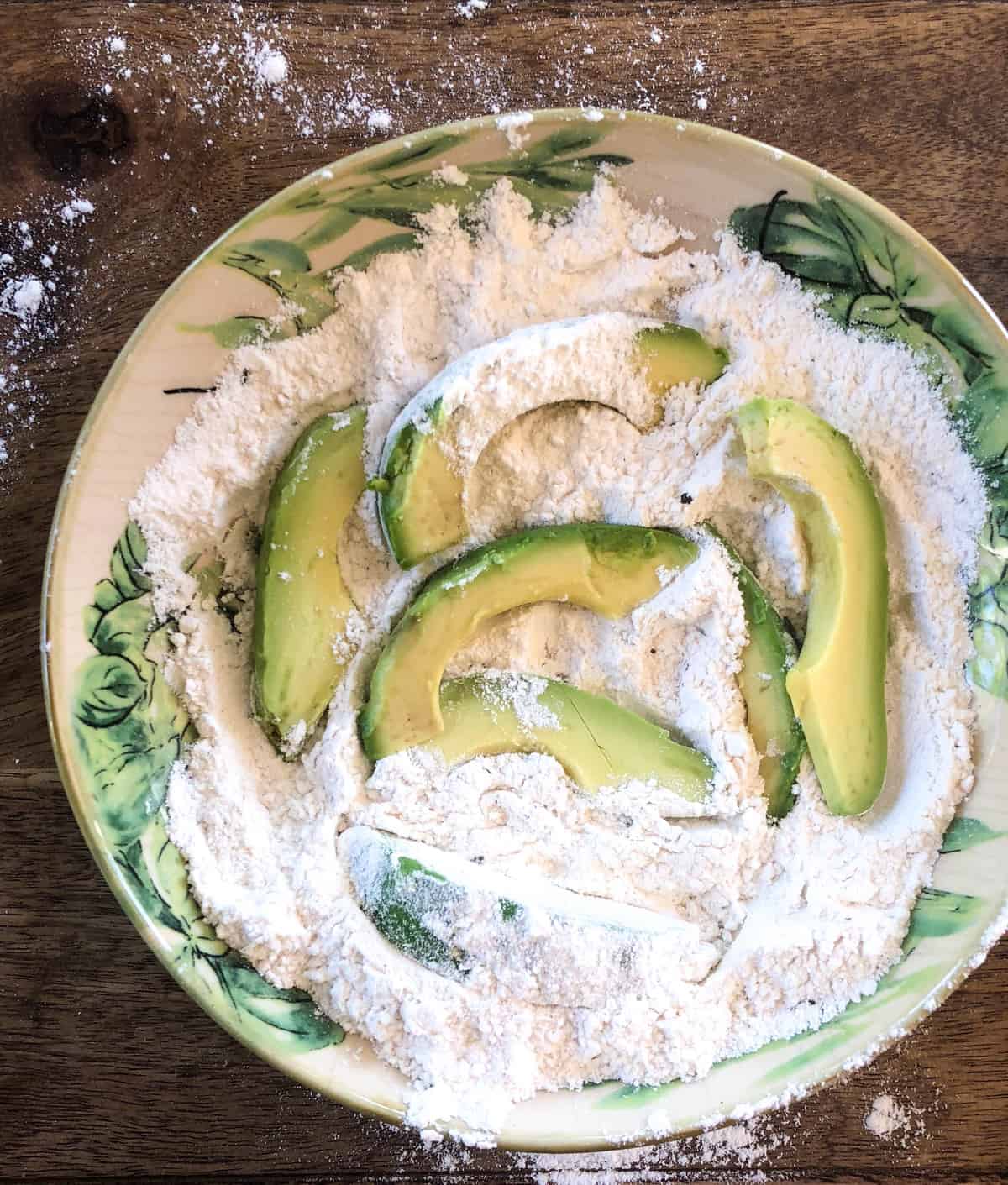 Dunk the wedges (I like working in batches) into seasoned flour.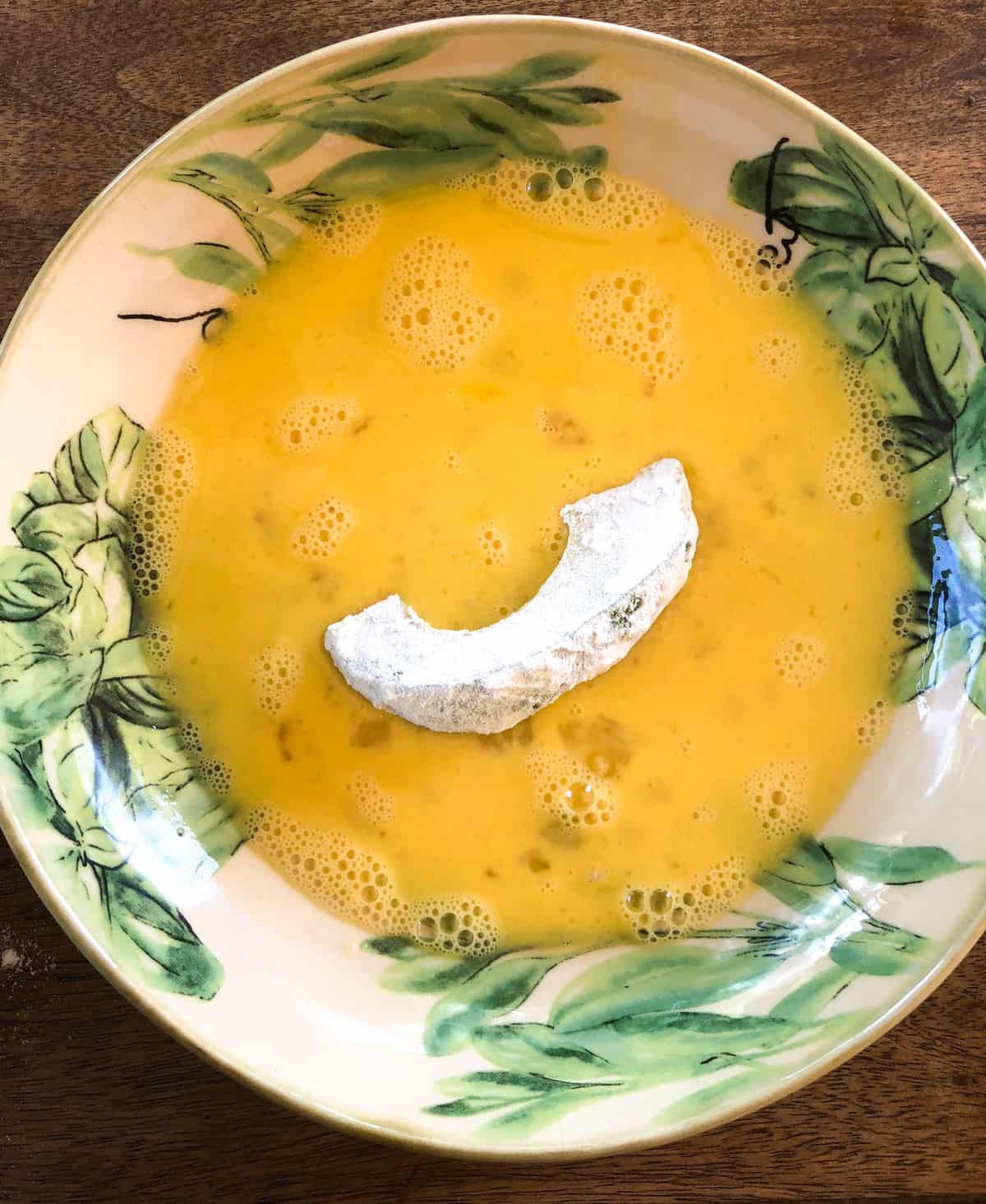 Immerse them into whisked eggs.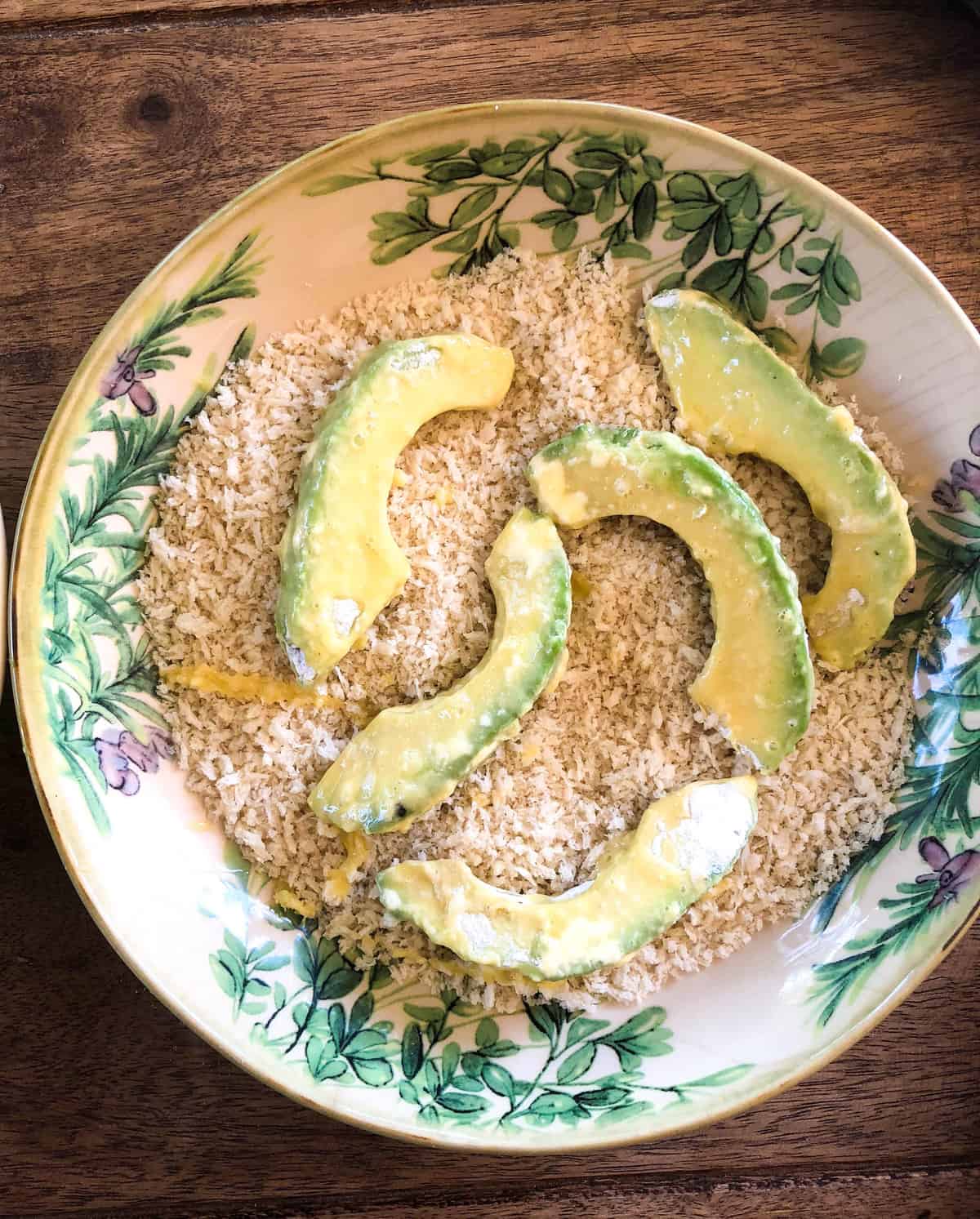 And finally, place in a panko mixture to coat.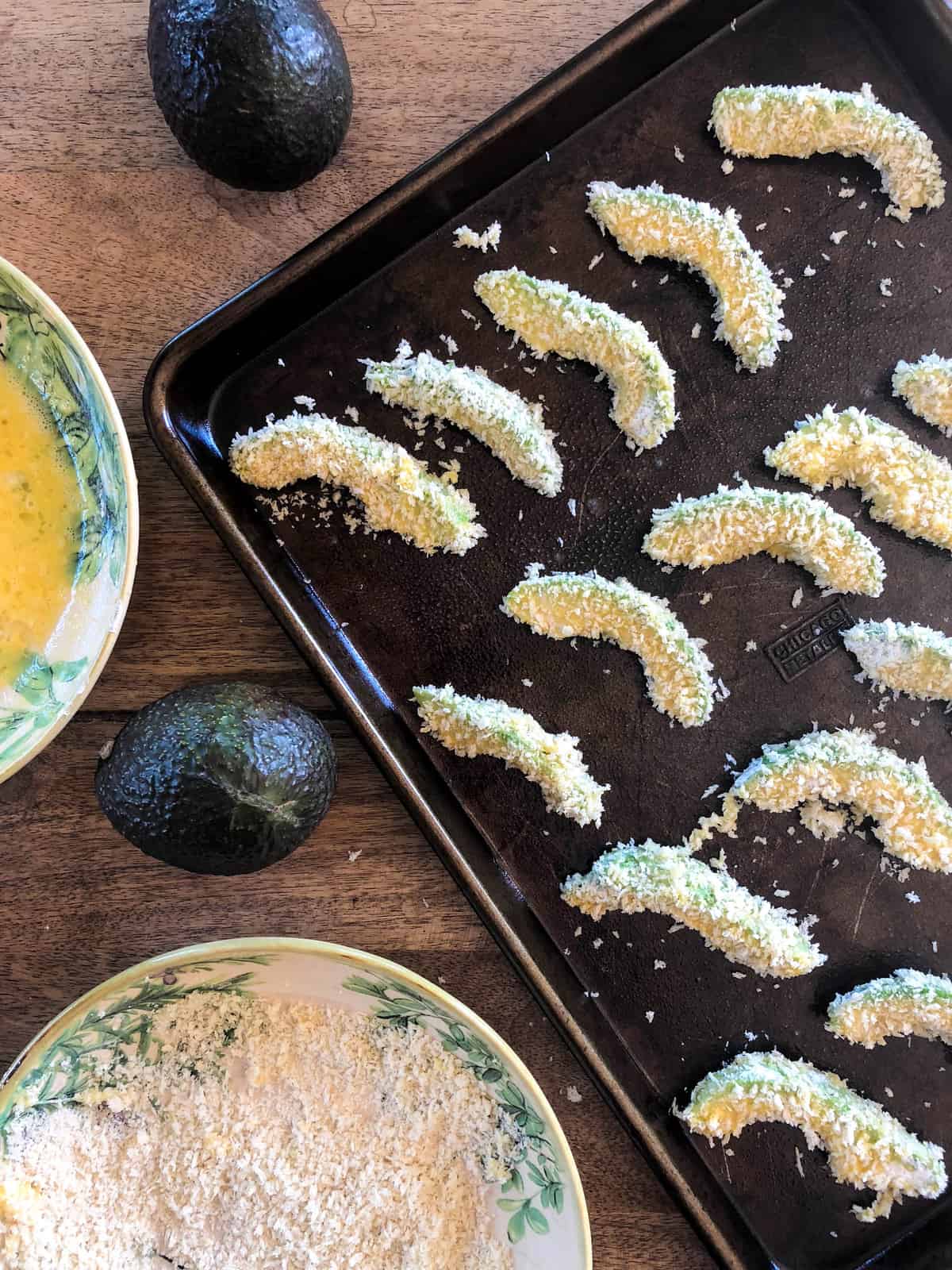 Place the wedges onto a greased baking sheet and bake for 20 minutes at 400 degrees.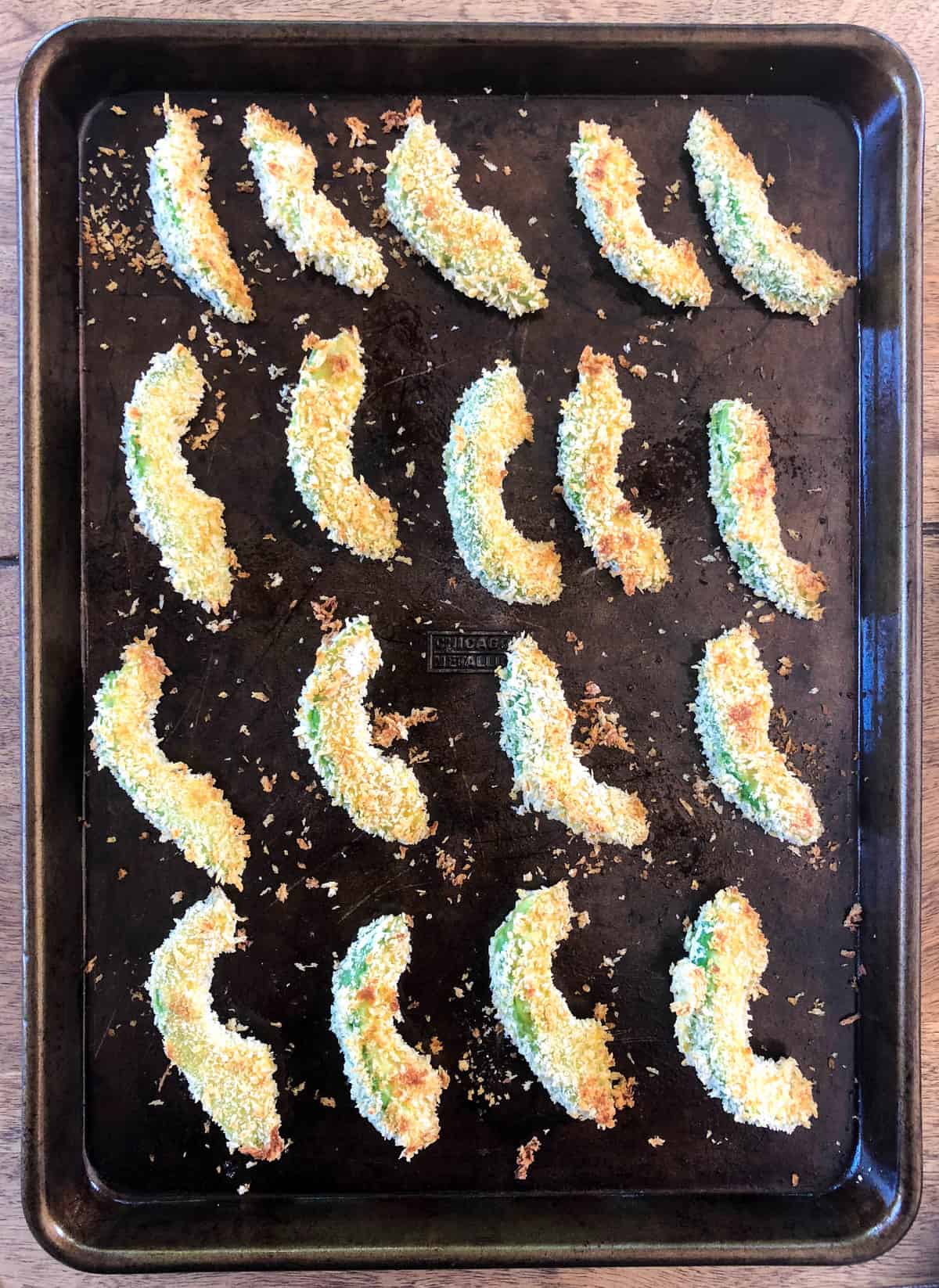 Yum… golden goodness!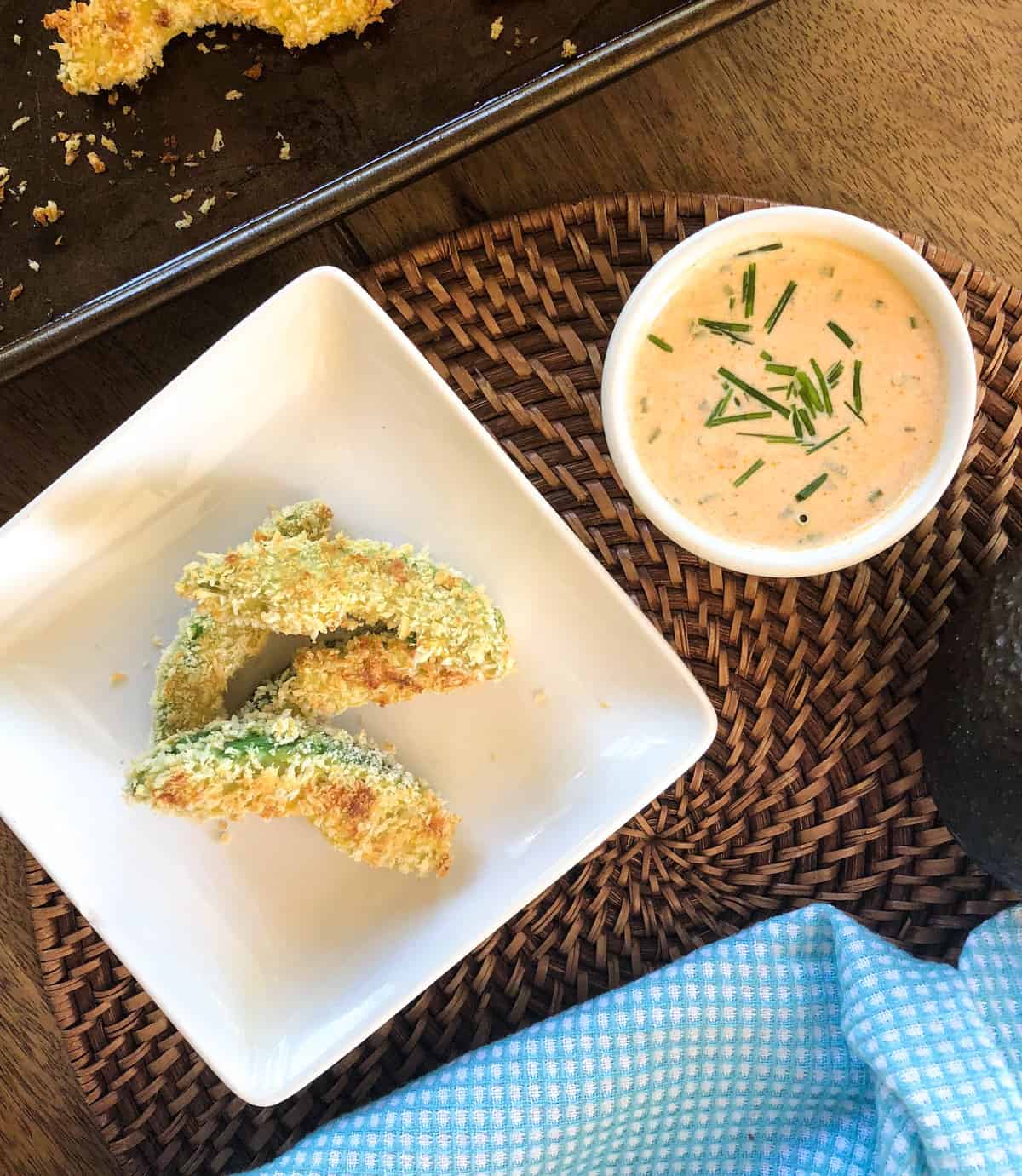 These fries have the perfect crunch on the outside and creamy goodness on the inside.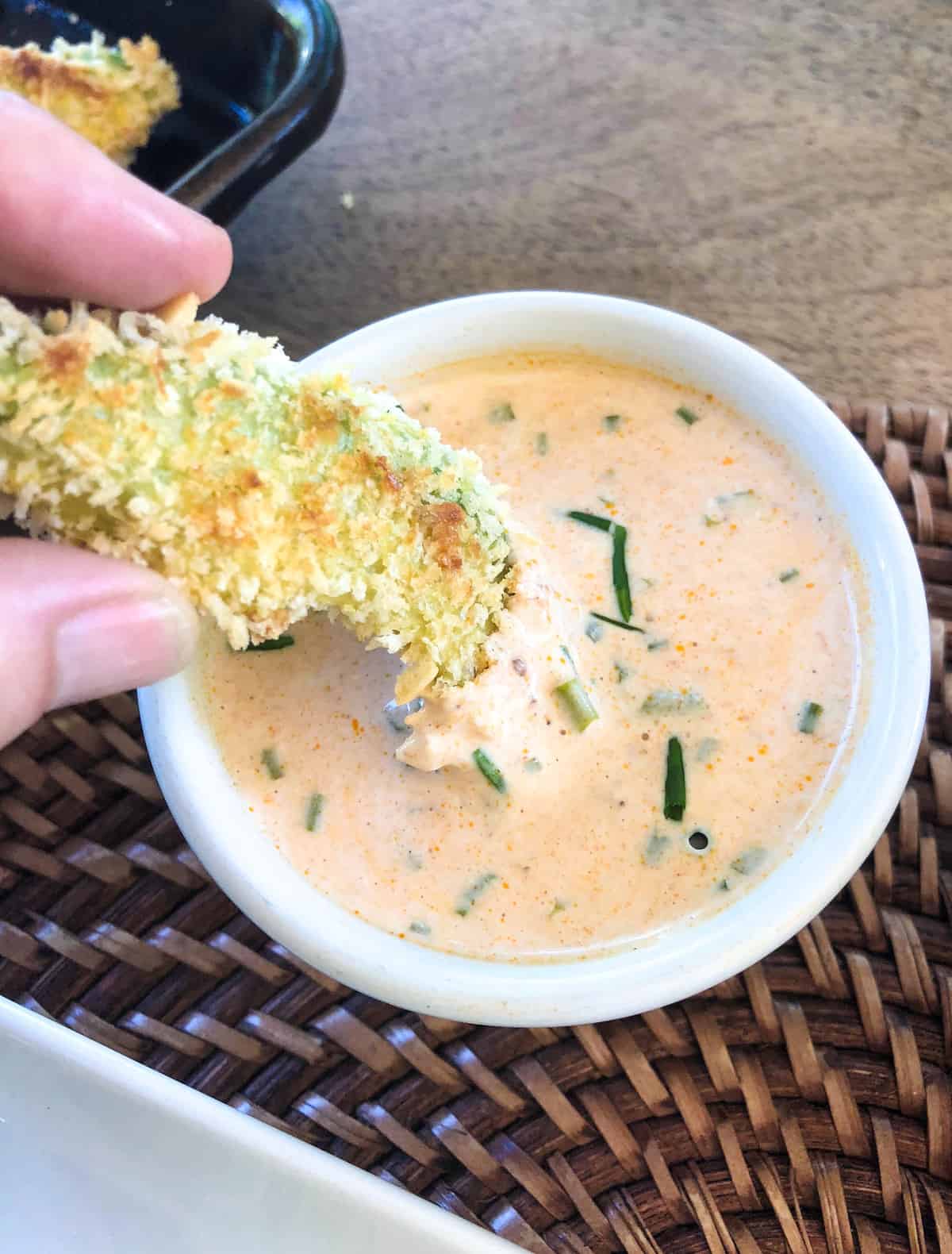 We dunked our avocado fries in a chipotle ranch sauce and it was perfect! Feel free to use your favorite sauce, or just enjoy them solo!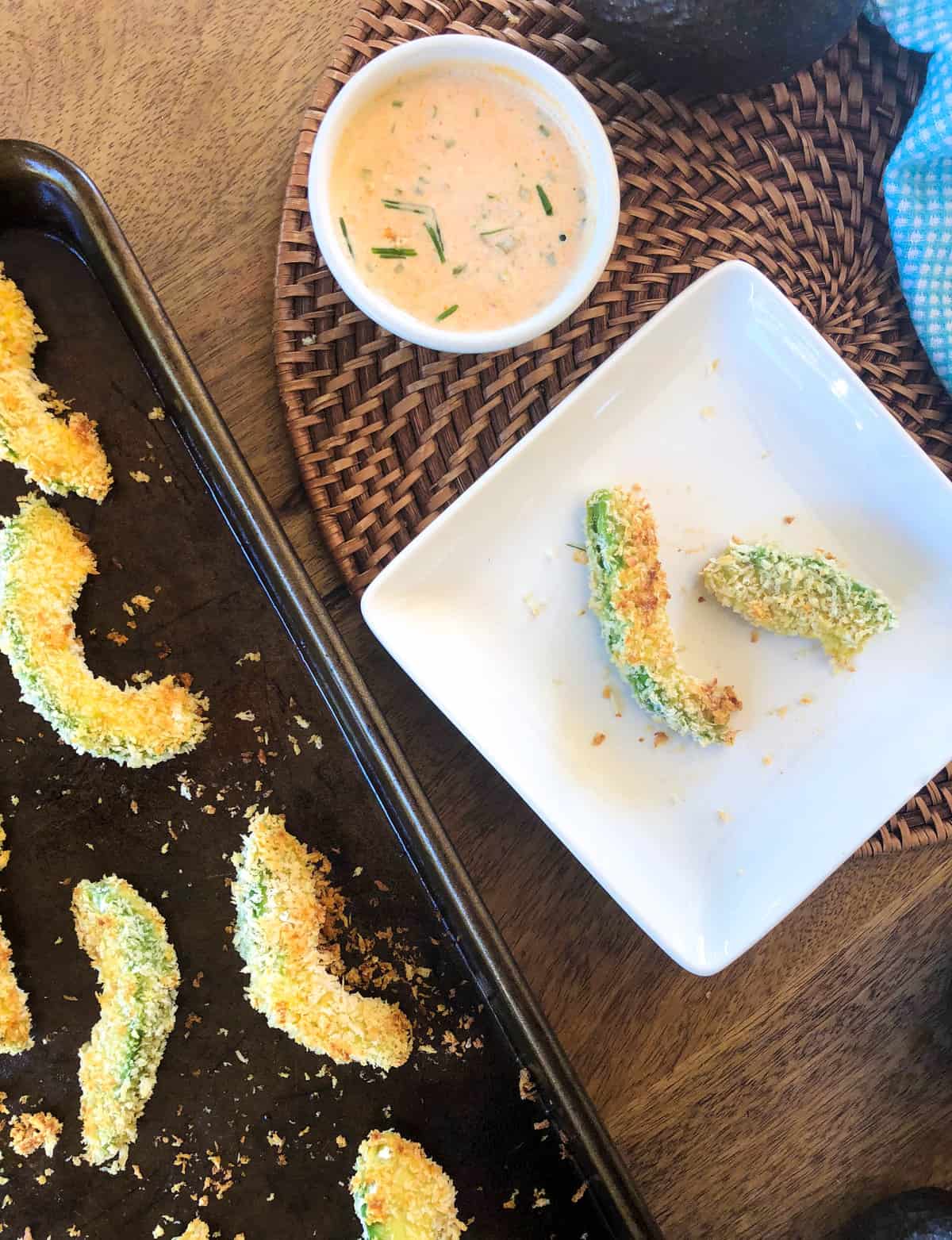 Whatever you choose, they will be gone in no time.
Want more avocado goodness? Check out this Delicious Avocado Toast recipe & our Favorite California Avocado Recipes too!
Avocado Fries
These crunchy + delicious baked Avocado Fries take snacktime, mealtime or even happy hour to the tastiest level!
Servings 4 servings
Calories 306kcal
Ingredients
2 avocados
1 cup flour
2 eggs, whisked with 2 tbsp water
1 1/2 cups panko bread crumbs
salt & pepper
Instructions
Preheat oven to 400 degrees.

Halve, pit, and peel the avocados. Slice each half into 5-6 wedges.

Place the flour, eggs, and panko into their own bowls. Season the flour mixture with the salt and pepper.

Dredge the avocado wedges into the flour, egg, and panko and place on a greased cookie sheet.

Bake for 15 minutes. Turn the fries over and bake for an additional 5 minutes.
Notes
Serve with your favorite dipping sauce!
Feel free to add additional seasonings of your choice to the flour and/or panko mixture to kick it up a notch.
Nutrition
Calories: 306kcal | Carbohydrates: 33g | Protein: 8g | Fat: 17g | Saturated Fat: 3g | Polyunsaturated Fat: 2g | Monounsaturated Fat: 11g | Trans Fat: 1g | Cholesterol: 82mg | Sodium: 39mg | Potassium: 551mg | Fiber: 8g | Sugar: 1g | Vitamin A: 266IU | Vitamin C: 10mg | Calcium: 29mg | Iron: 2mg
SaveSaveSaveSaveSaveSave