Scheid Family Wines: Leading the Way in Sustainable Winemaking
Scott Scheid, CEO of Scheid Family Wines, explains how the Scheid family became a leader in sustainable winemaking.
How did Scheid Family Wines get started?
Scheid Family Wines has always been ahead of the trends. Back in 1972, Al Scheid founded Scheid Family Wines as a strategic investment. He had a hunch that the American culture would embrace a more European lifestyle and shift towards drinking more wine – more specifically, American wines.
At this point, Al was by no means an expert in viticulture or even farming, but he knew someone who was. He conferred with Dr. AJ Winkler, a renowned viticulturist at UC Davis. Dr. Winkler had developed the Winkler scale, a system of classifying climate zones to determine what specific areas are best suited towards different types of winegrapes. Dr. Winkler explained to Al that Monterey County was incredibly unique in that it included four of the five climate zones within its borders. At the time, the area was planted mainly to vegetables, and Monterey County vineyards were few and far between. That was all about to change.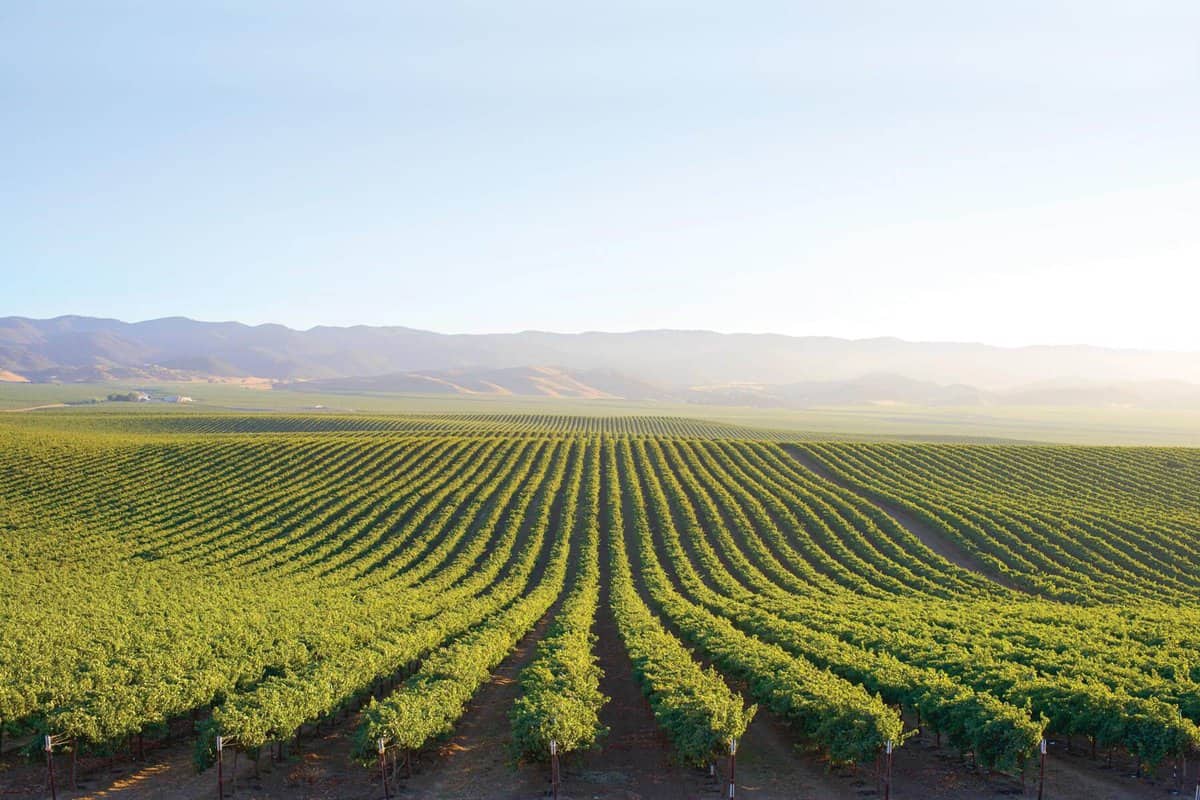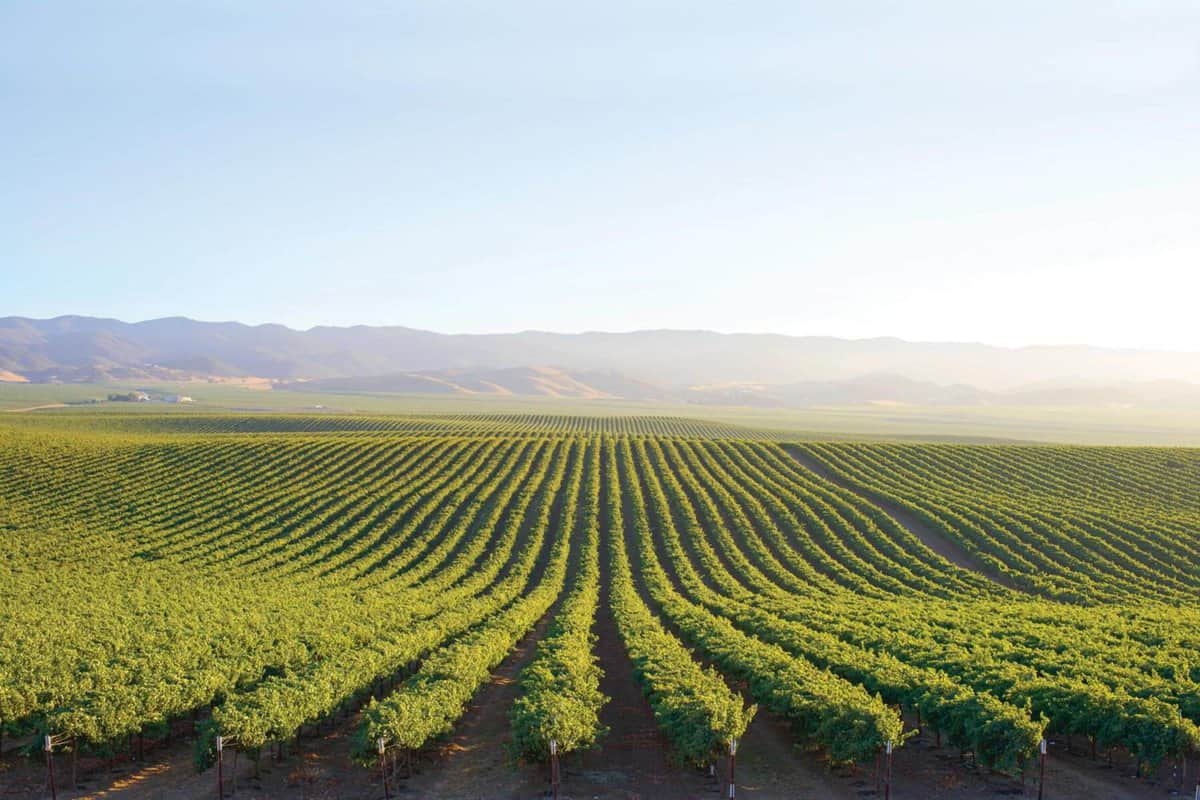 When were winegrapes first grown in Monterey County?
During the 1970s, Monterey County witnessed a surge in winegrape plantings. The acreage planted to winegrapes catapulted from only a few thousand acres at the beginning of the decade to 25,000 acres in a few short years. Al Scheid, along with a few other founding families, are pioneers of the Monterey County wine industry.
What caused the surge in Monterey County vineyards?
In 1976, a critical event forever changed the California wine industry. The Judgement of Paris, a blind tasting judged by some of the world's foremost wine experts was rocked when California wines outperformed their French counterparts – after which demand grew exponentially and the race for production to meet demand was on!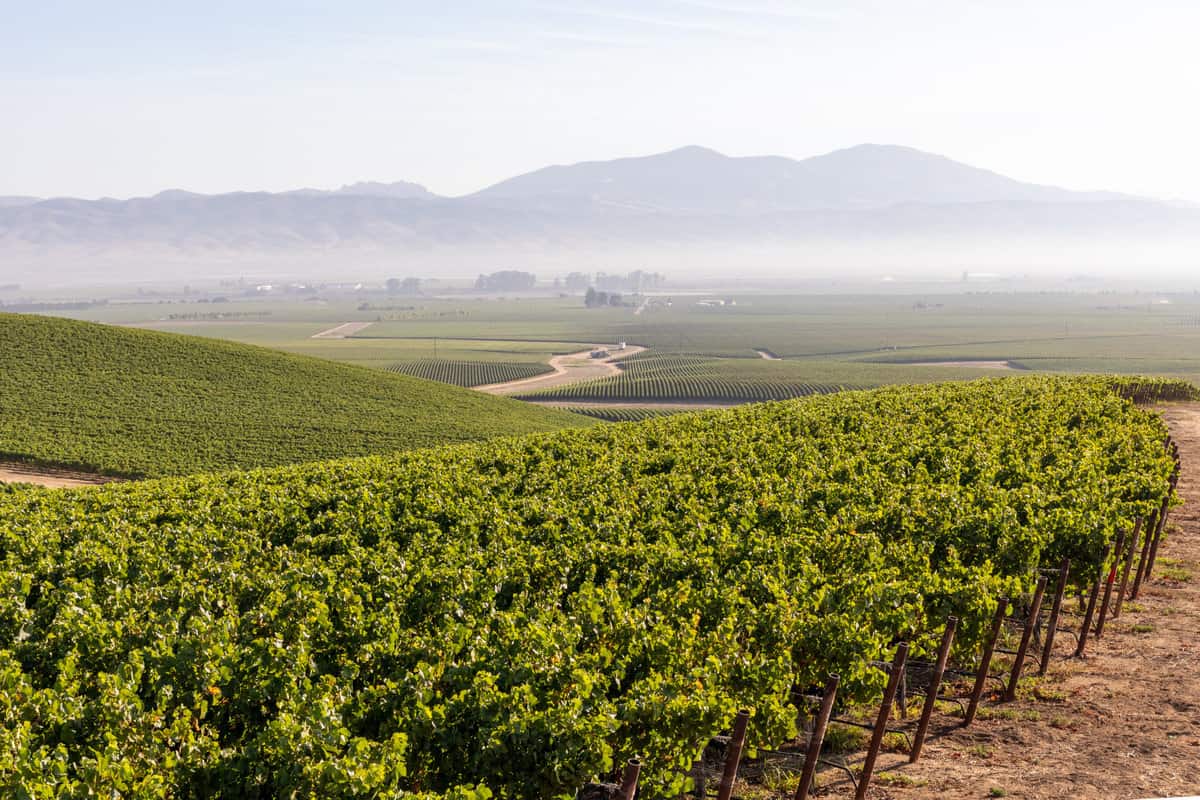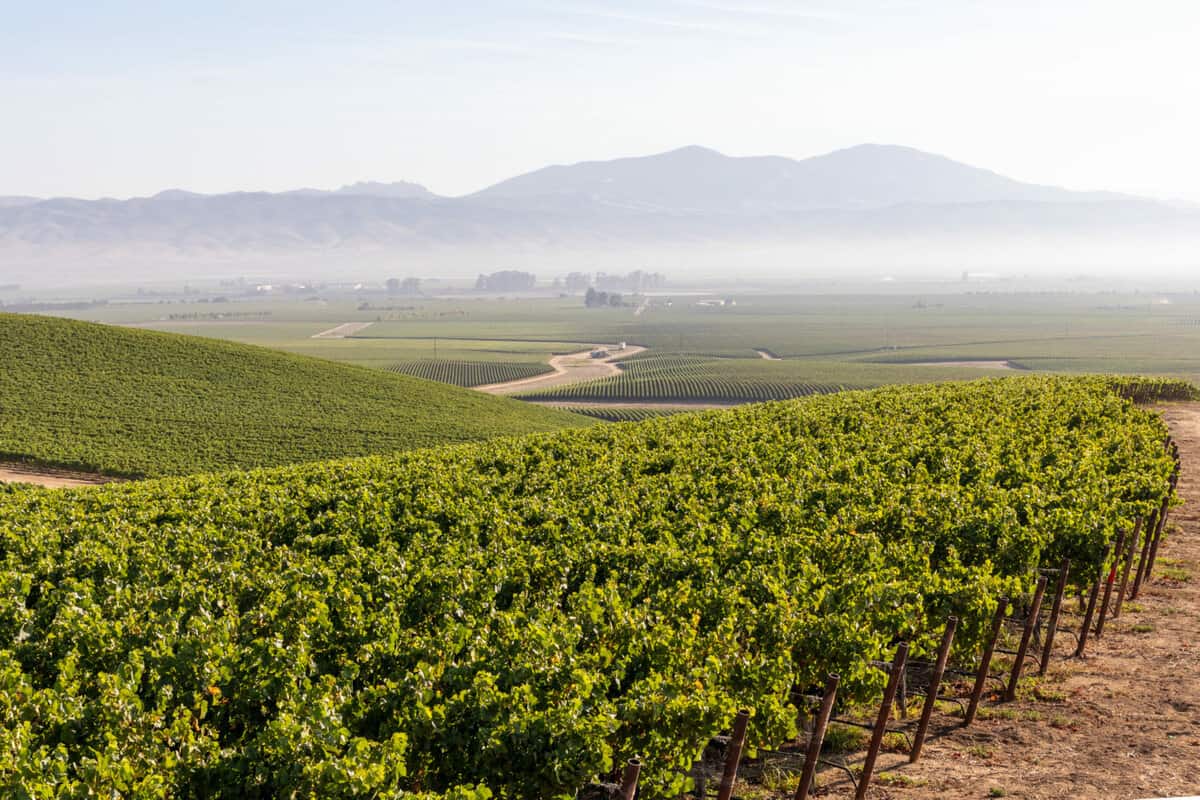 Initially, the majority of grapes grown in Monterey County were used to supply wineries outside the area. "The demand kept growing," Scott explains. "The reason the (Monterey County) vineyards were planted is because as the wineries in other parts of California grew and became successful, they couldn't grow all their own grapes."
What winegrape varieties grow in Monterey County?
Along the way, using the Winkler Scale for guidance, Monterey County winegrape growers became very good at determining exactly what varieties would thrive in certain areas. Today, Monterey County vintners grow 42 different types of winegrapes. Pinot Noir and Chardonnay thrive in the coolest Northern regions, while red grapes like Cabernet Sauvignon and Merlot flourish in the South. With vineyards scattered throughout the region, the Scheid family grows an incredible 39 varieties in Monterey County. 
When did Scheid Family Wines transition from grape growing to winemaking?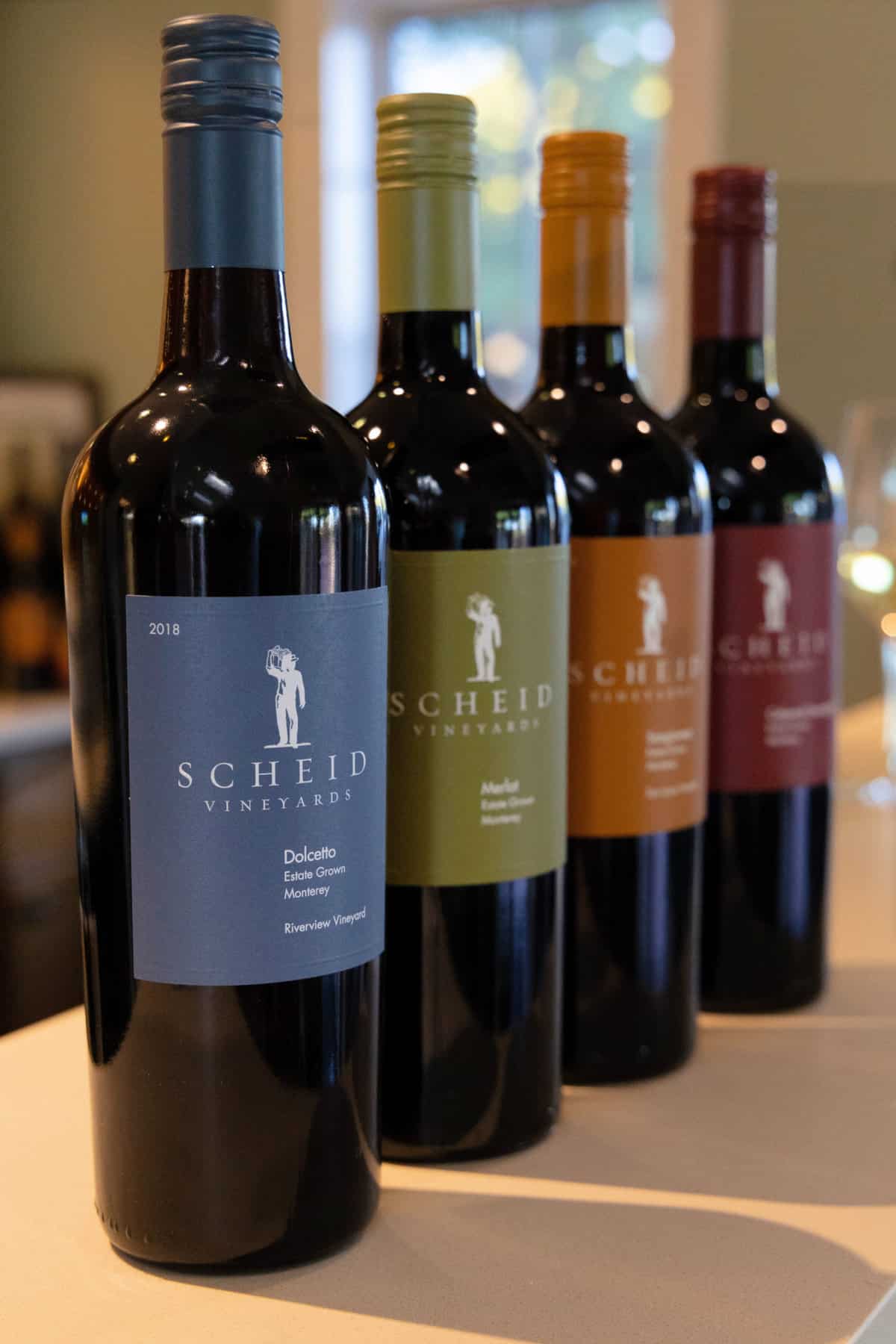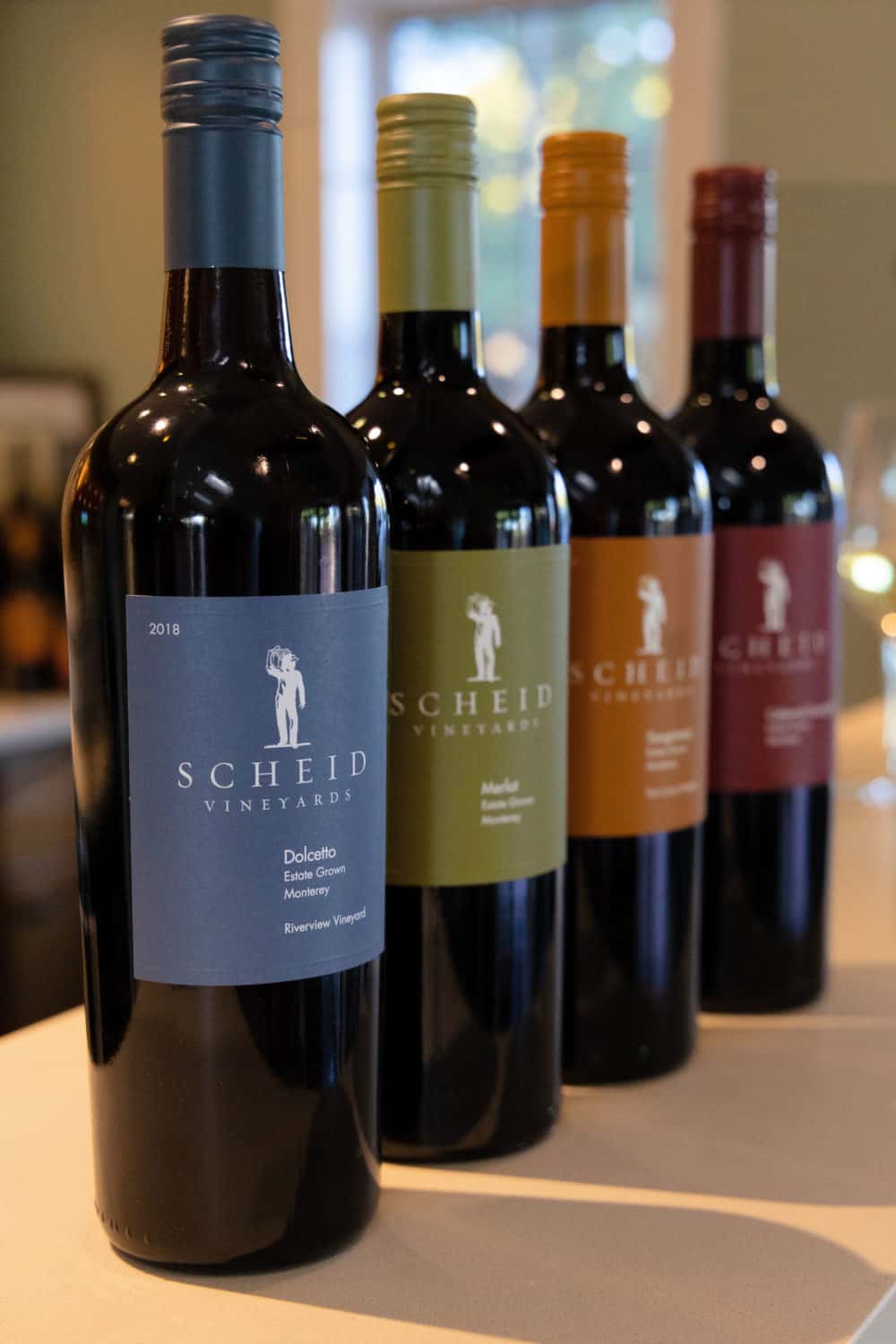 To say that the early 2000s were tumultuous for the Scheid Family would be an understatement. At this point, Al's children, Heidi and Scott, had come on board, along with renowned viticulturist Kurt Gollnick. The "Fab Four" had their hands full with restructuring, replanting and redeveloping. When the Scheid family started growing winegrapes for other wineries in the early 70s, many of those contracts ran for 30 years. As the contracts expired, the Scheid family found that many wineries were constrained by processing limitations. To fill the void, the Scheid family tiptoed into the winemaking business. In 2005, they built their own winemaking facility, and in 2011 they launched the Scheid Vineyards label.
What wines does the Scheid family make?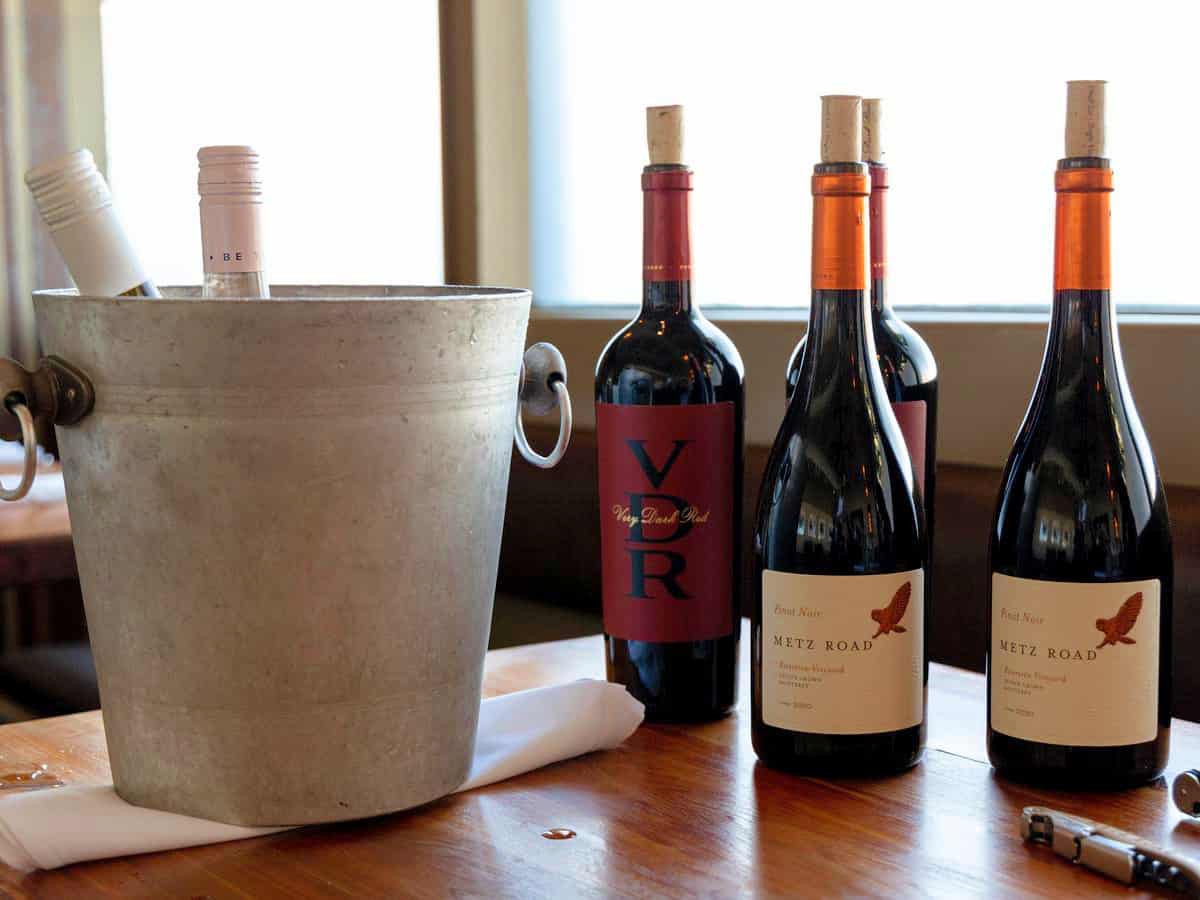 Today, the Scheid Family produces almost one million cases of wine across eight distinct brands. Each brand has its own niche. For example, Sunny with Chance of Flowers is a low calorie, low alcohol wine, while their Metz Road brand focuses on single vineyard bottlings.
Click here to learn more about all of the different brands in the Scheid Family Wines portfolio.
Are the Scheid family's wines sustainably produced?
Scheid Family Wines is incredibly committed to sustainable farming and winemaking. Both the vineyards and winery are certified sustainable. One of their vineyards, White Flower, was certified organic in 2020, and the Scheid family aims to farm all of their vineyards organically by 2025.
How does the Scheid family farm sustainably?
The Scheid Family understands that sustainable farming allows the land to continue to be productive for generations to come. Even before sustainable certifications existed, the Scheid Family took care to protect and conserve their land. "We've been farming here for 50 years, and we want to farm for 50 more," Scott explains. Cover crops are planted to improve soil health, prevent weeds and combat erosion. Grape pomace (the seeds, skins and stems remaining after crush) is made into fertilizer and spread back into the vineyards. To naturally control pests and rodents, 250 owl boxes are strategically placed throughout their vineyards. And water use? 100% of the Scheid family's vineyards use drip irrigation and low impact farming methods with waste water from the winery recycled and used for supplemental irrigation.
Does the Scheid family use renewable energy?
In some parts of Monterey County, wind is a more effective source of renewable energy than solar.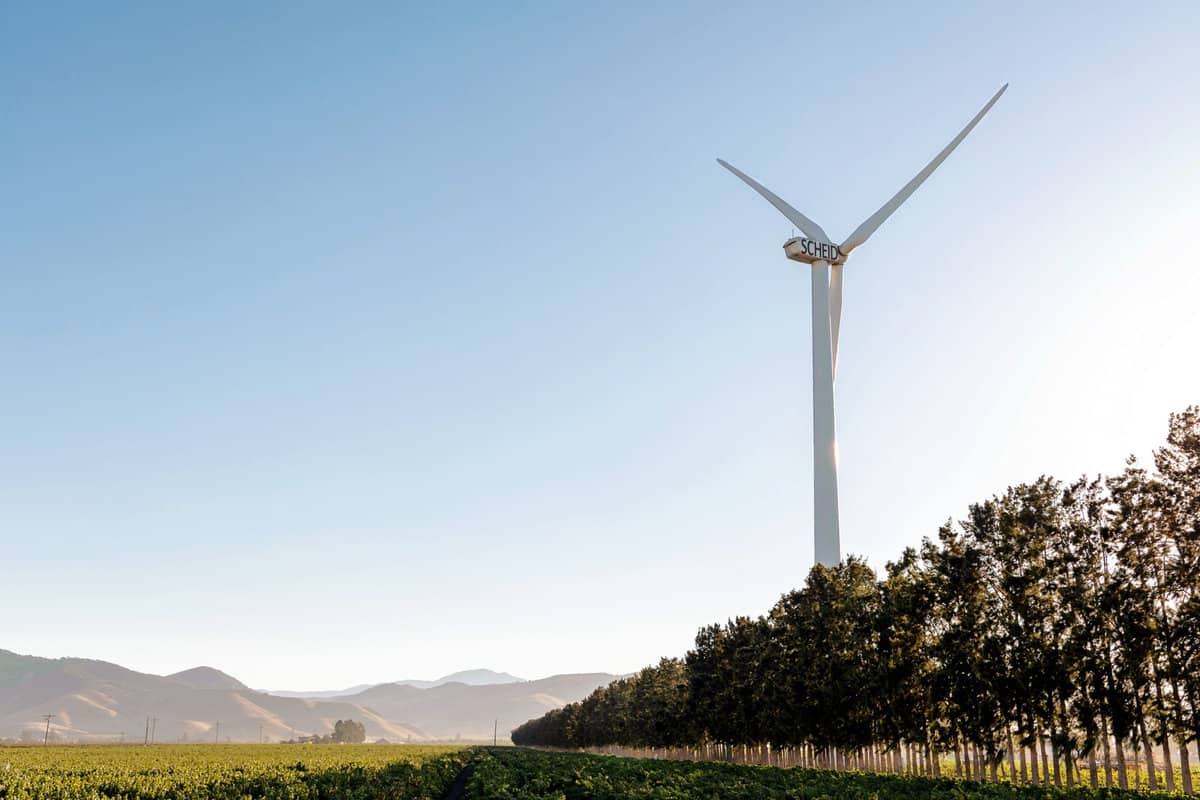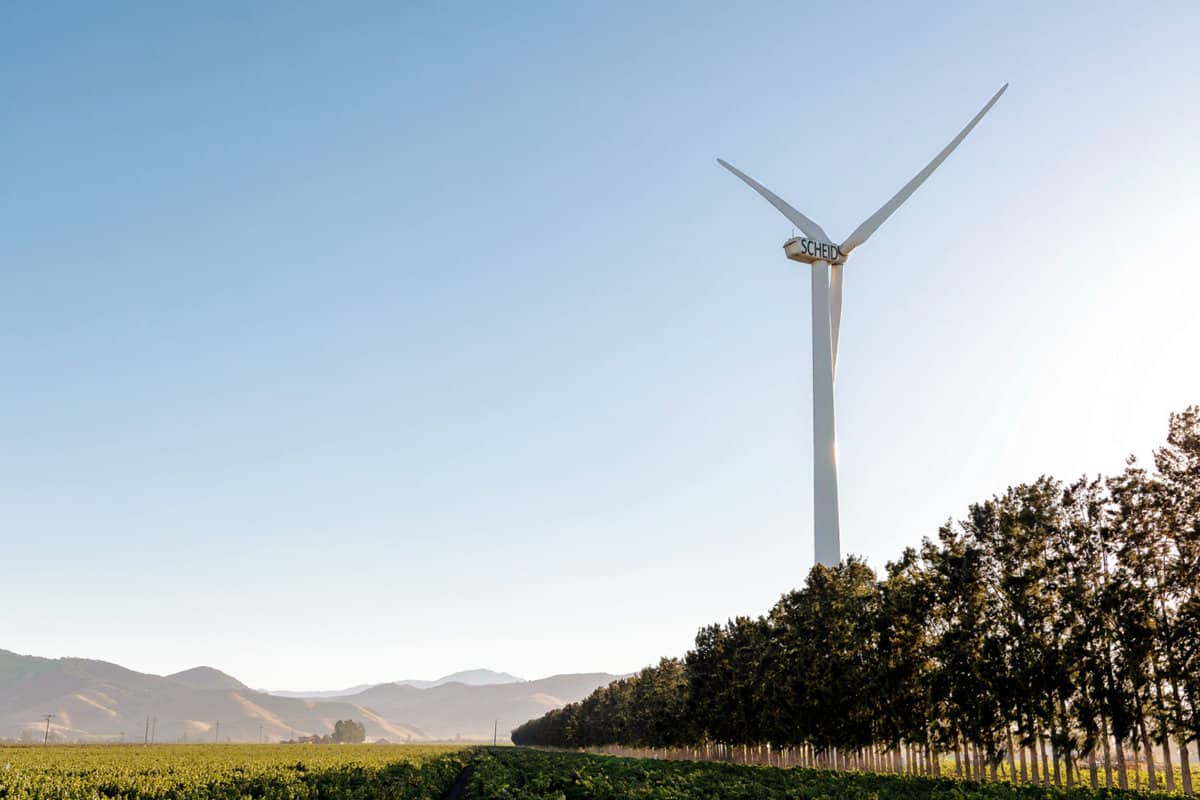 Wind turbines take up a smaller footprint of land, continue to generate electricity at night and are not rendered less efficient from the dust that is kicked up from local farms. In 2017, the family erected a 396 foot tall wind turbine. The turbine provides 100% of the power needed for winery operations, and also provides power to 125 area homes.
How does sustainability affect employees and the community?
Sustainability doesn't just refer to environmentally friendly farming. It also encompasses having a sustainable workforce and whether or not the company is financially sustainable.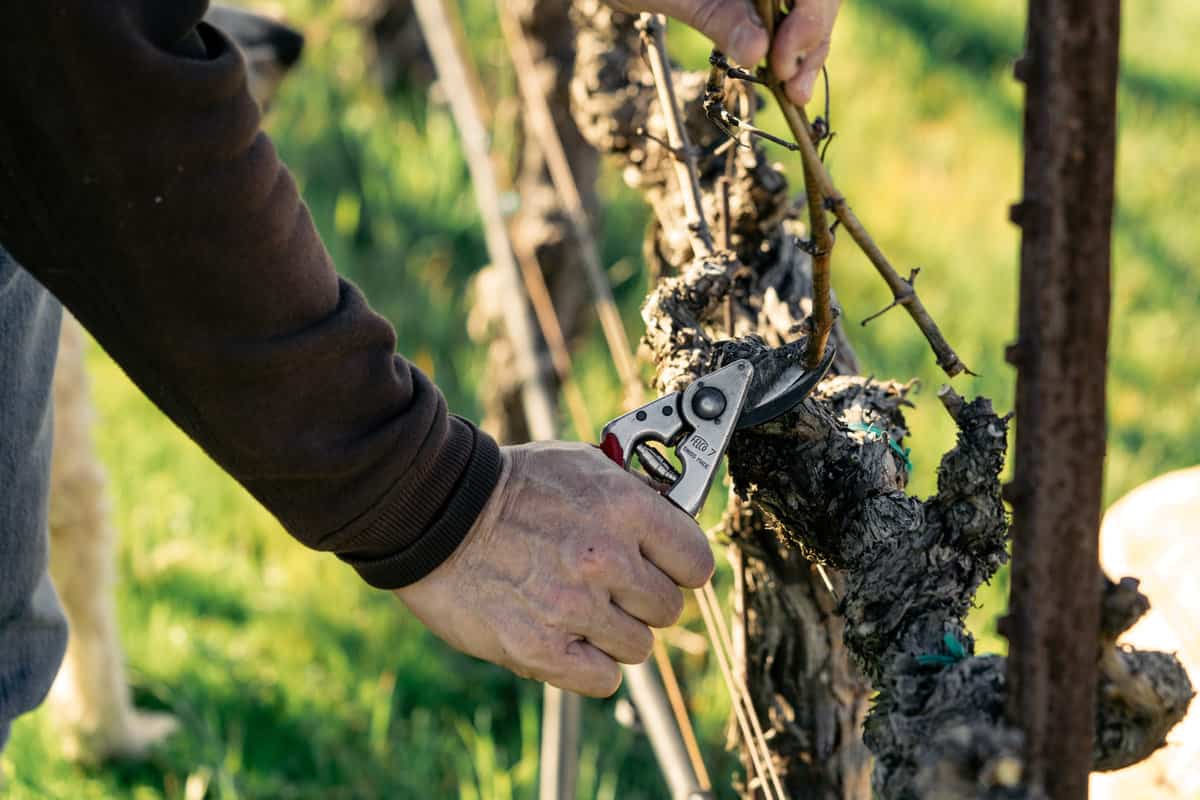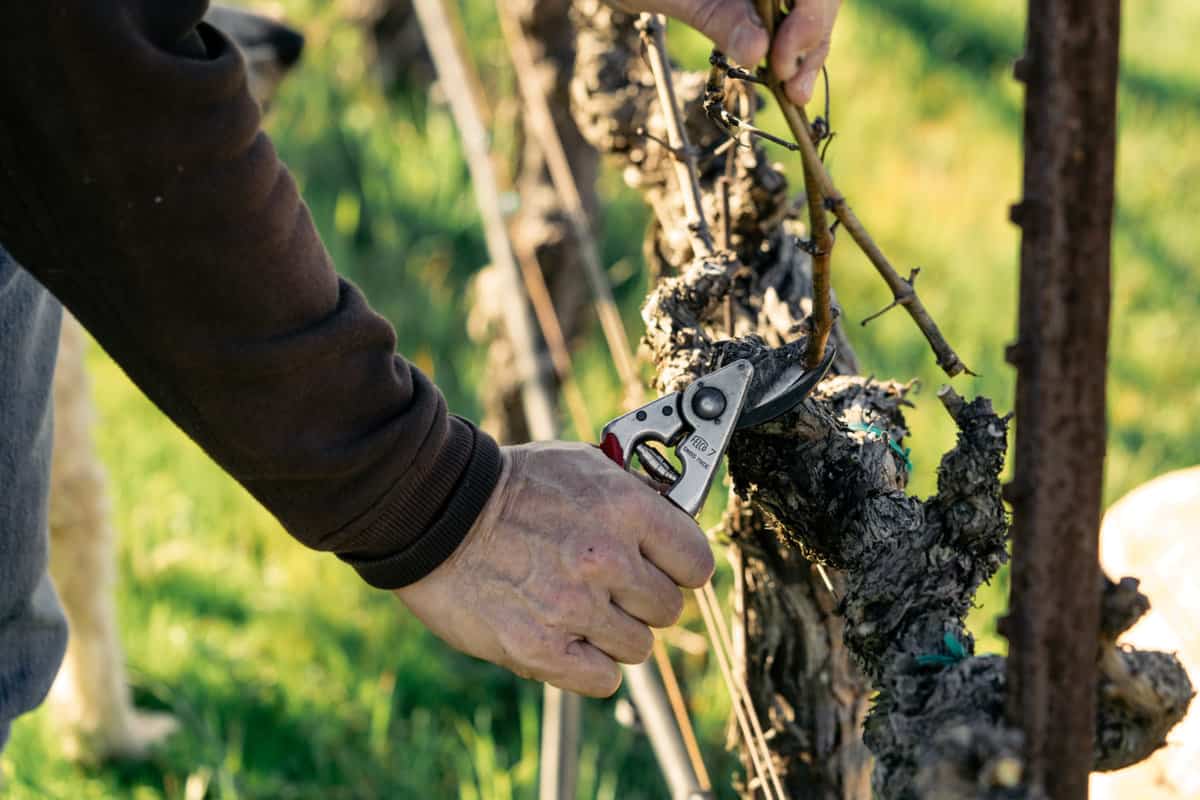 "The way we look at sustainability is it's the whole thing," Scott says. "There's economic sustainability, there's how you take care of your employees so that the enterprise continues and people want to work here." Even seemingly little things can make a difference in quality of life for employees.
For example, electric pruners are provided to all vineyard employees to increase their comfort levels and potentially extend their careers.
Running a winery and tending to multiple vineyards requires skilled labor. Retaining talented team members can be difficult if they don't realize opportunities for advancement. The Scheid family aims to train and promote motivated employees to more skilled, higher paying positions. In fact, many of their senior employees and vineyard managers have been with them for over 25 years.
Community involvement is near and dear to the Scheid family. They consistently support many local nonprofits and recently led fundraising efforts for the development of the Salinas Soccer Complex. In addition, Scheid Family Wines hosts an annual writing contest that has awarded over $350,000 in scholarships to students from two local high schools.
What's next for Scheid Family Wines?
Never content to rest upon their laurels, Scheid Family Wines will continue to evolve and grow. The year 2022 marks their 50th anniversary in the wine industry. As they celebrate this milestone, they look toward the future with ambitious goals. By 2025, Scheid Family Wines aims to become one of the most recognized wine producers – in terms of quality, innovation, and sustainability – in the world.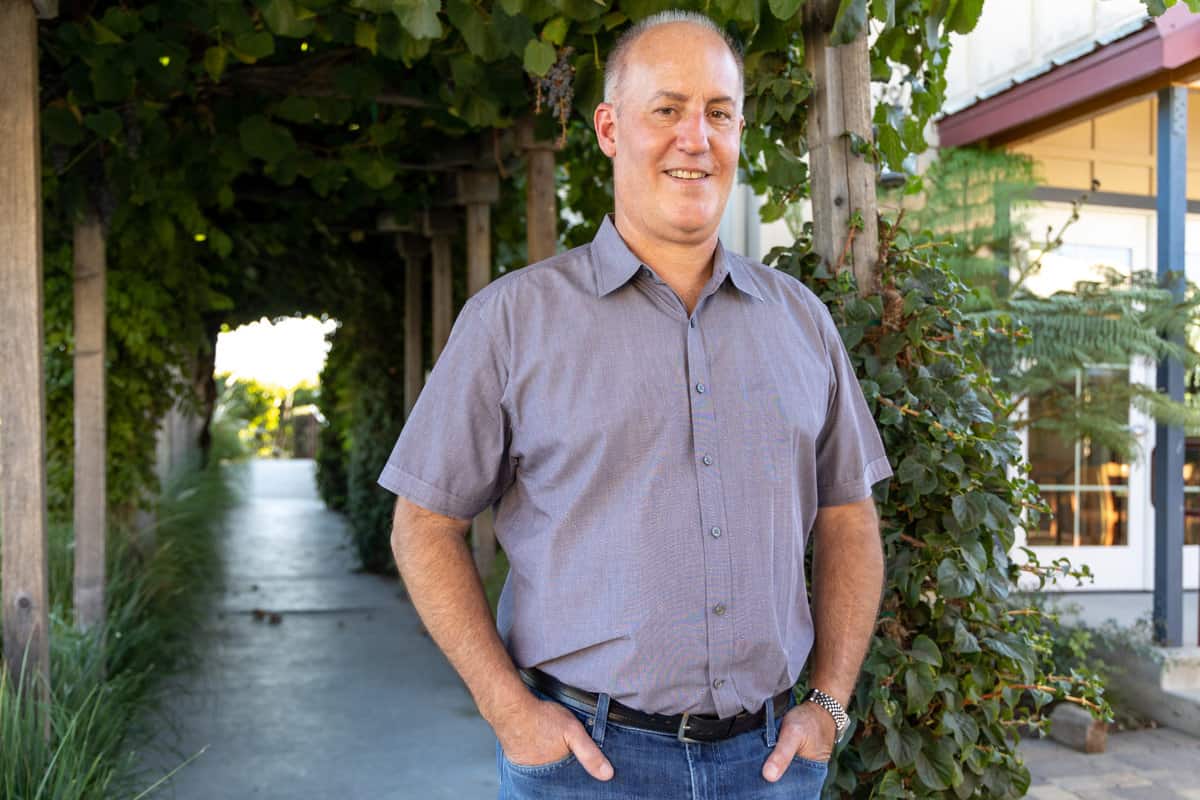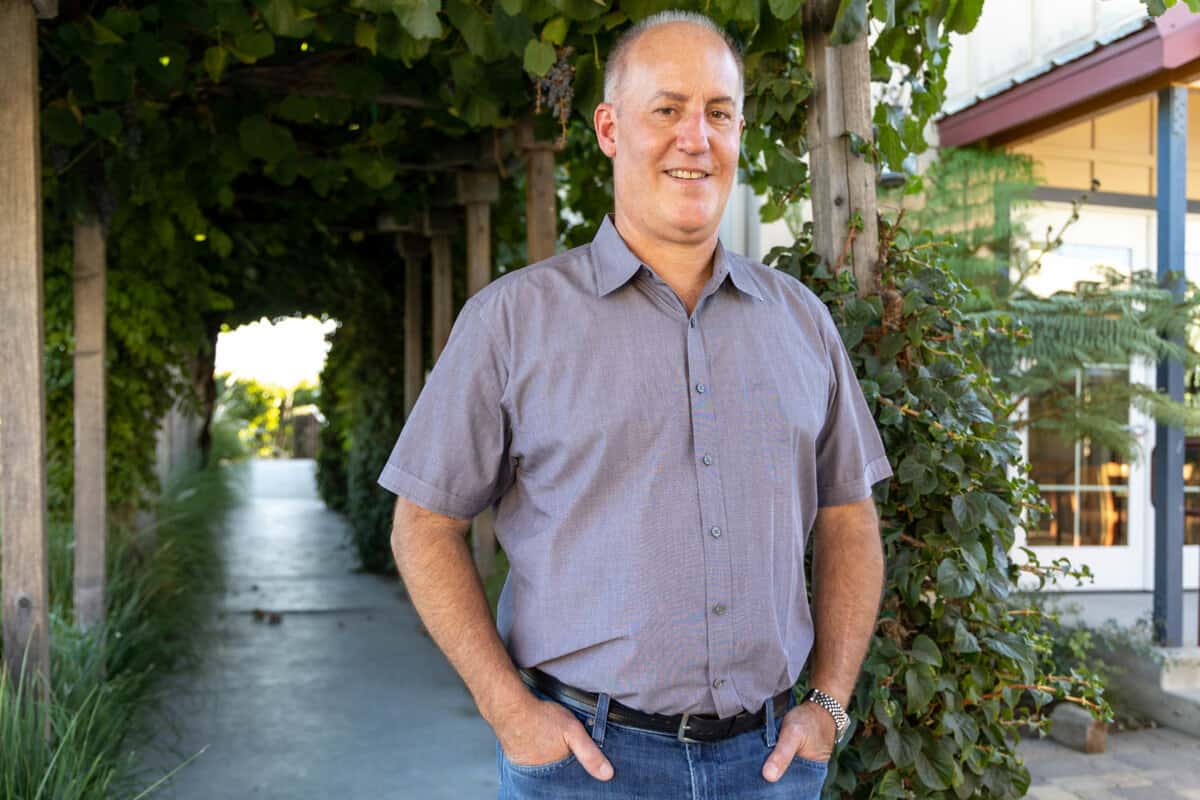 With 8 distinct brands under the Scheid Family umbrella, there's certainly something for everyone. Find your new favorite wine here.
If you're heading to Central Coast, here are our picks for the best wine tasting in Monterey County.
And don't miss our friend Aida's recommendations for where to eat in Monterey County!
Article by Hilary Rance. Photography courtesy of Hilary Rance, California Wines and Scheid Family Wines.