Recipes With Watermelon Juice And How To Make A Watermelon Keg
Summer is upon us which means it's finally watermelon season! We have been waiting all year to show you how to make a watermelon keg and to share with you our favorite recipes with watermelon juice. Let's get started!
What is a watermelon keg?
A watermelon keg is exactly what it sounds like! It is a watermelon that has had its fruit removed and has been hollowed out to create a large empty vessel.
Then the watermelon is tapped with a spigot and filled with a beverage for serving.
Watermelon tap kits are available at all sort of retailers like Amazon and Williams Sonoma. You could honestly probably purchase components at the local hardware store too.
It makes perfect sense that a watermelon serves as a drink dispenser, right?  It's the ideal size and it just looks fun and festive!  Plus, you get to use all the sweet flesh of the watermelon that you scoop out as a terrific base for a refreshing Watermelon Punch.  
How to make a watermelon keg for serving recipes with watermelon juice.
Get ready to bring the WOW factor when the guests at your next summer soiree realize that their beverages for the day are being served from your homemade watermelon keg!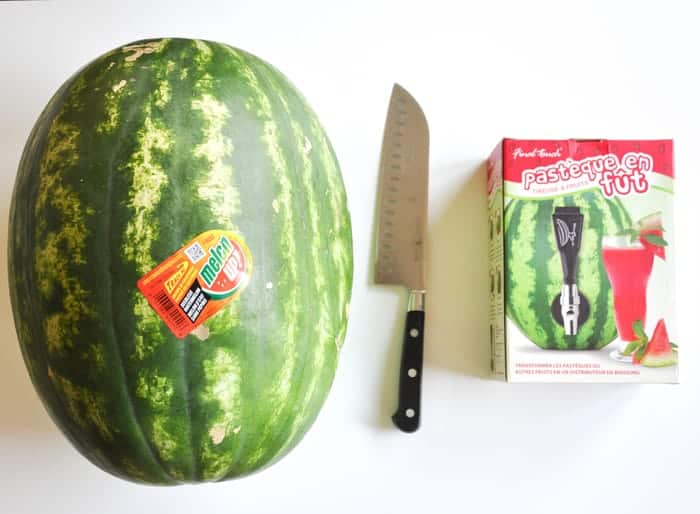 Gather the watermelon keg supplies!
You don't need much for this watermelon DIY!
A California grown watermelon
Sharp knife
Watermelon Tap Kit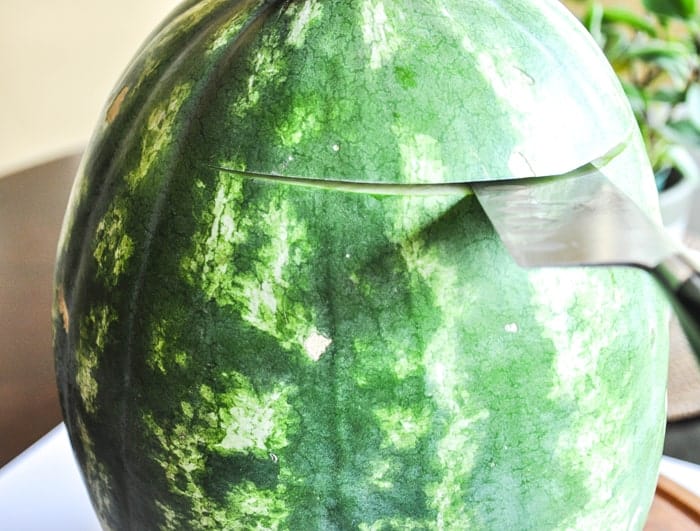 Get to slicin'
Start by cutting the top of the watermelon off, to create a nice, smooth surface. Use your knife to even out any inconsistencies so the top is nice and flat.
Scoop baby, scoop!
With a large spoon start scooping out the watermelon's flesh.  This is actually a pretty easy step because watermelon is so tender!  
Transfer the flesh of the watermelon to a large bowl and set it aside.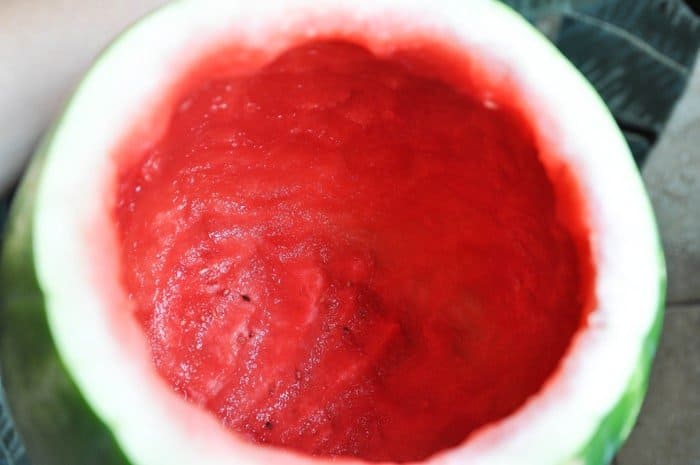 This is what you're going for!
Once the watermelon is completley hollowed out like the one in the image you are ready to install the keg!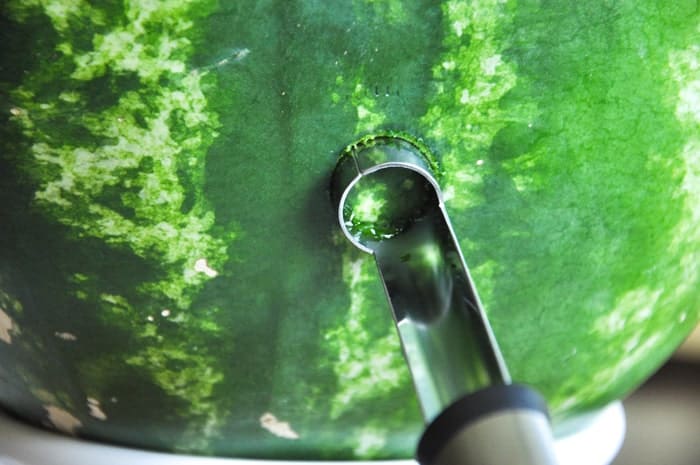 Punch a hole.
Pick a fairly flat spot on the surface of the watermelon about 2-3″ from the bottom. Insert an apple corer pushing it in with firm, steady pressure.  You may need to twist the corer a little to punch all the way through.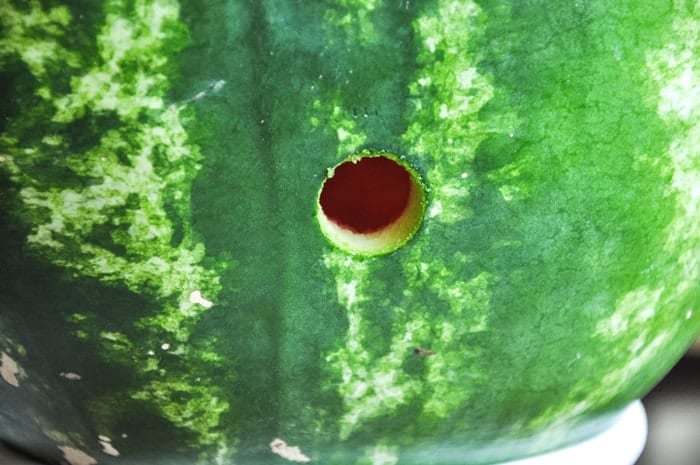 On the outside, insert the spigot through the tunnel on the front of the watermelon, making sure the shank is all the way through.  On the inside, screw on the included locking nut on to the shank and tighten down to secure.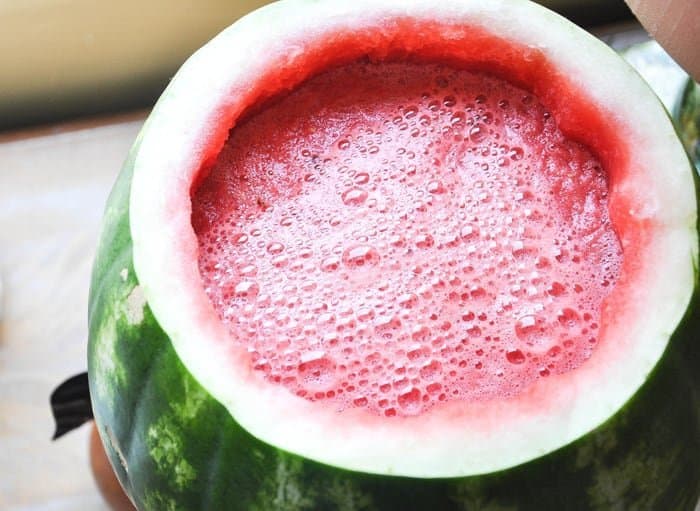 The watermelon keg is ready!
Fill this beverage vessel with whatever drinks you prefer! We suggest our Watermelon Punch recipe. It's crazy delicious!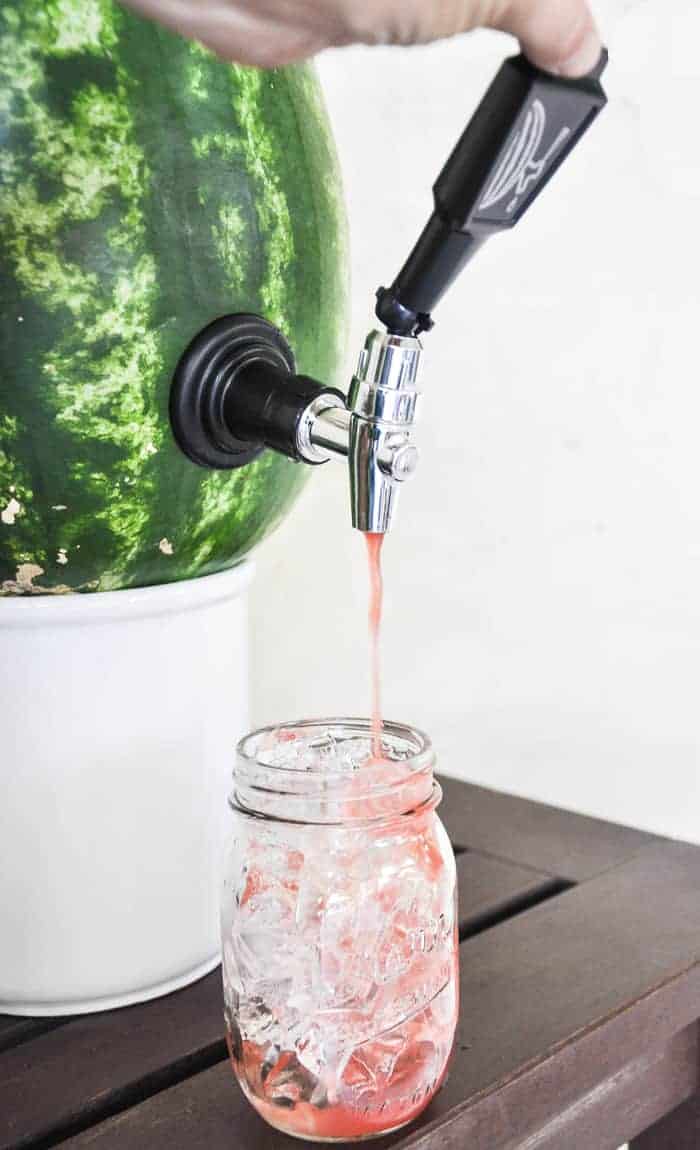 How to set up a watermelon keg to serve.
Our watermelon keg was propped on a ceramic canister and it was very stable.  Since the spigot needs to be high enough to get a drink glass below it the canister was a necessity.  You can also cut off a small portion off the bottom of the watermelon to create a flat surface for placing flat on a serving vessel.  Just keep in mind with this method, the watermelon will need to be on the edge of the table so you can fill your glass.
Now that you have know how to make a watermelon keg you are probably wondering what to do with all of that fruit you have left behind! Keep scrolling for some delicious ideas for recipes with watermelon juice.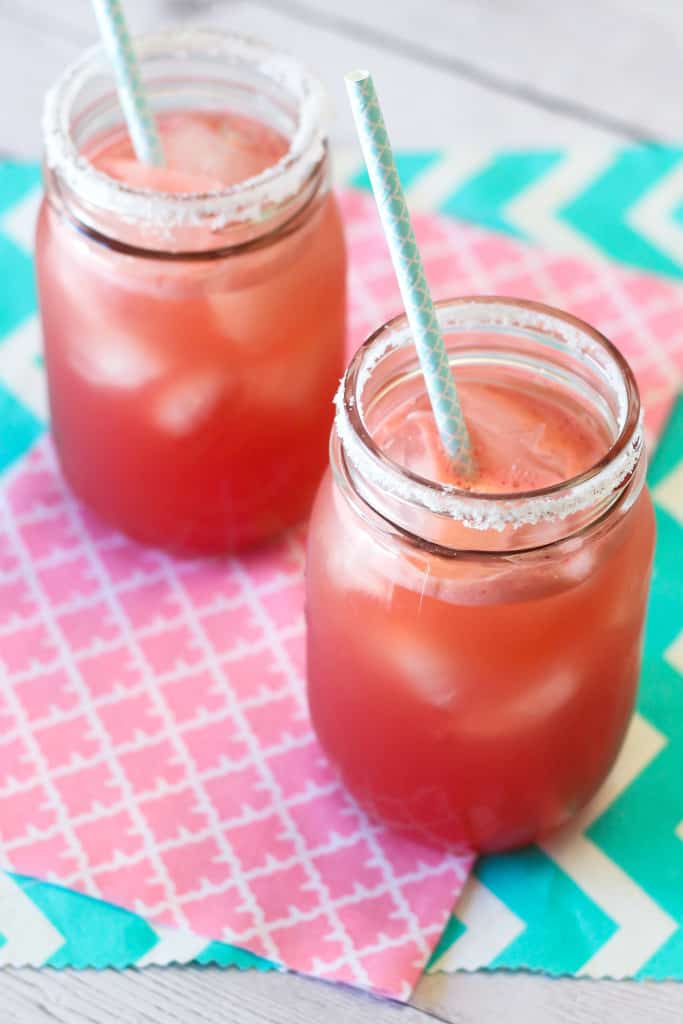 How to make watermelon juice.
Now that you know how to make a watermelon keg you are probably wondering what the heck you are gonna do with all of that watermelon you have on hand. Good thing for you I have a few ideas up my sleeve.
Place watermelon into a blender and blend for about 1 minutes, until it's liquified. You know have a thick watrmelon jucie with a bit of texture from pulp.
To create a thinner watermelon juice, place a fine mesh strainer over a large bowl and pour the watermelon juice into the strainer. Let the juice drain out and discard any pulp that is left behind.
Lots of delcious recipes with watermelon juice to try!
While we highly recommend filling your DIY watermelon keg with our Wild Watermelon Punch (pictured below). The truth is, any one of the recipes with watermelon juice below from our California Grown Creators would be delcious too!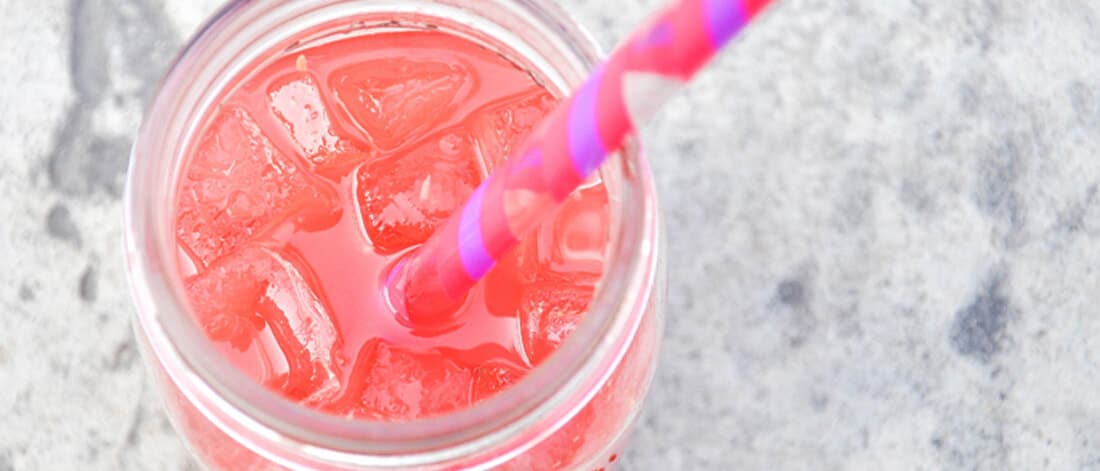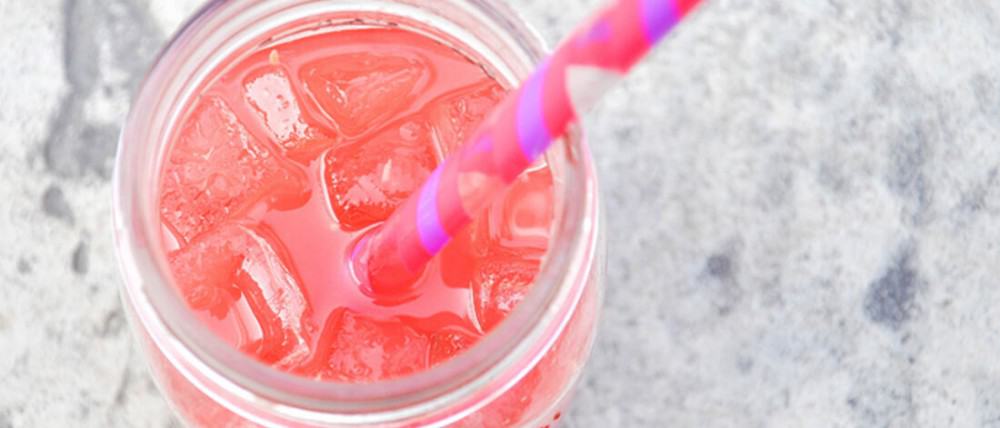 This recipe with watermelon juice combines watermelon, lemon-lime soda, and raspberries! It's a total winner for the hot days of summer ahead.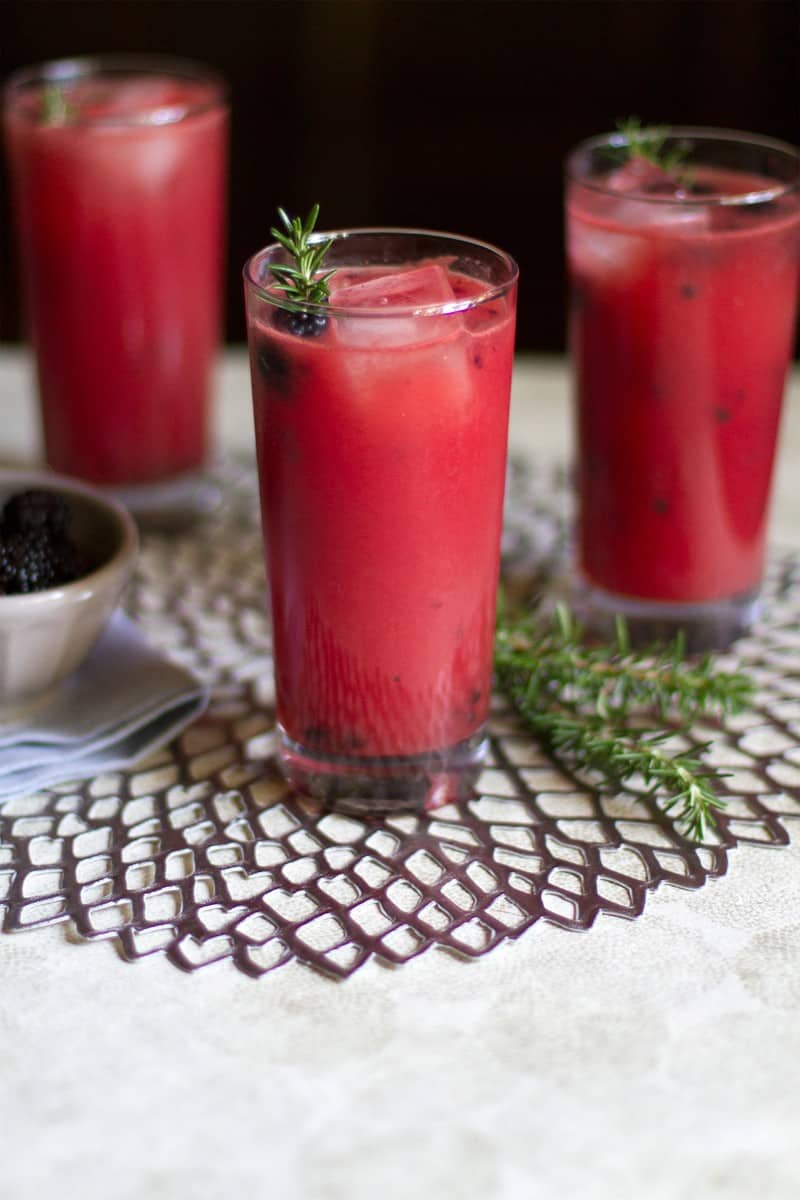 Make it ahead, take it to your next potluck, or spike it if you're in need of something stiff. This recipe with watermelon juice from Salt & Wind is particularly tasty with white rum or a good gin.
But drink it up while you can because just as soon as summer slips away so will the ingredients for this recipe.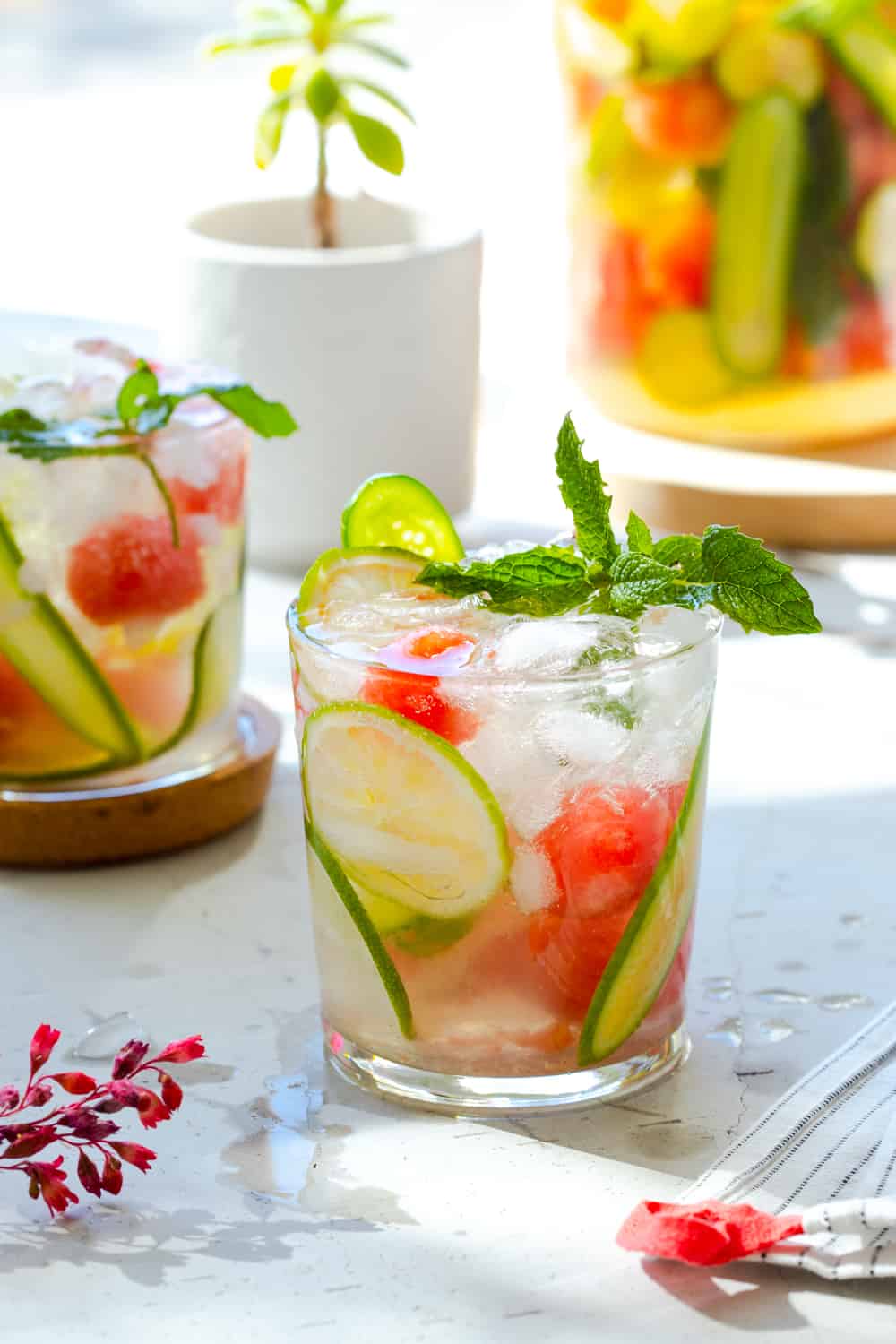 This refreshing sangria from Baking the Goods is a refreshing summer sun sipper with sweet watermelon, fresh cucumber, zesty lime and mint basking in a white wine and dry vermouth base with a sparkling, bubbly finish.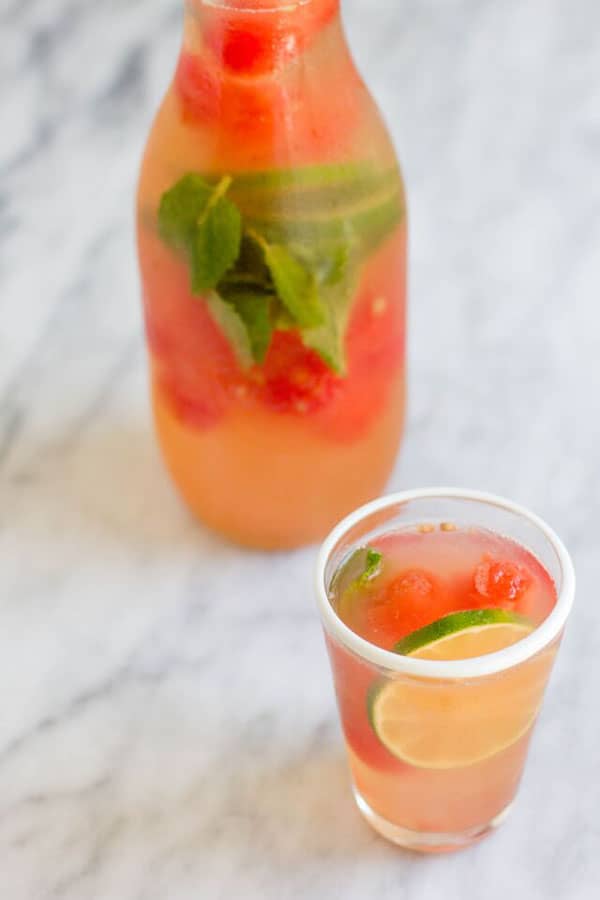 This Mess is Ours suggests that you chop up the leftover flesh from your watermelon keg and use it to make infused water like you would find at the spa.
You can also add any watermelon juices that collect in chopped watermelon storage containers to your bottled water for a fruit-filled flavor burst!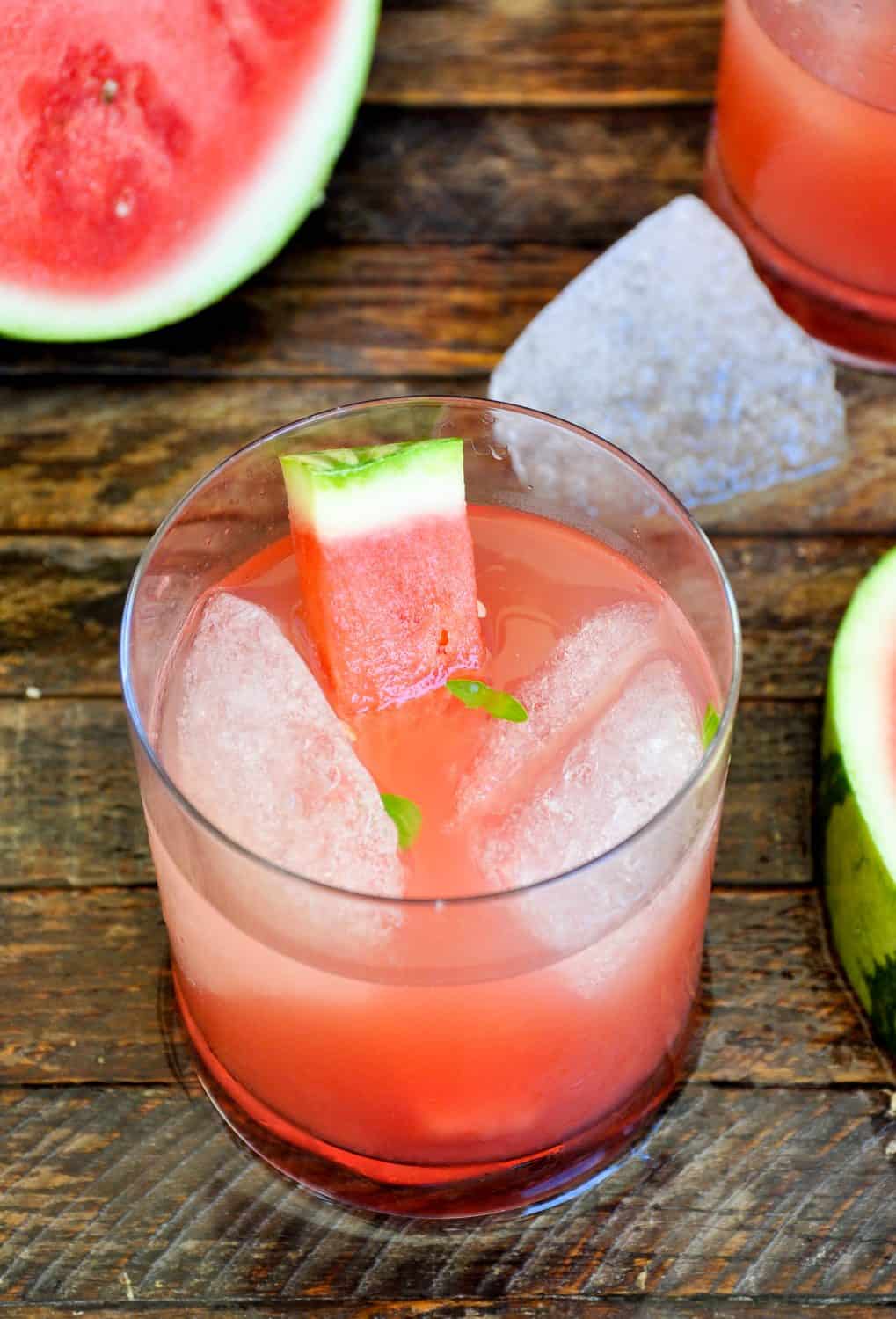 Our summer approved daiquiri is so fresh and satisfying, you'll wonder how you ever did summer without it!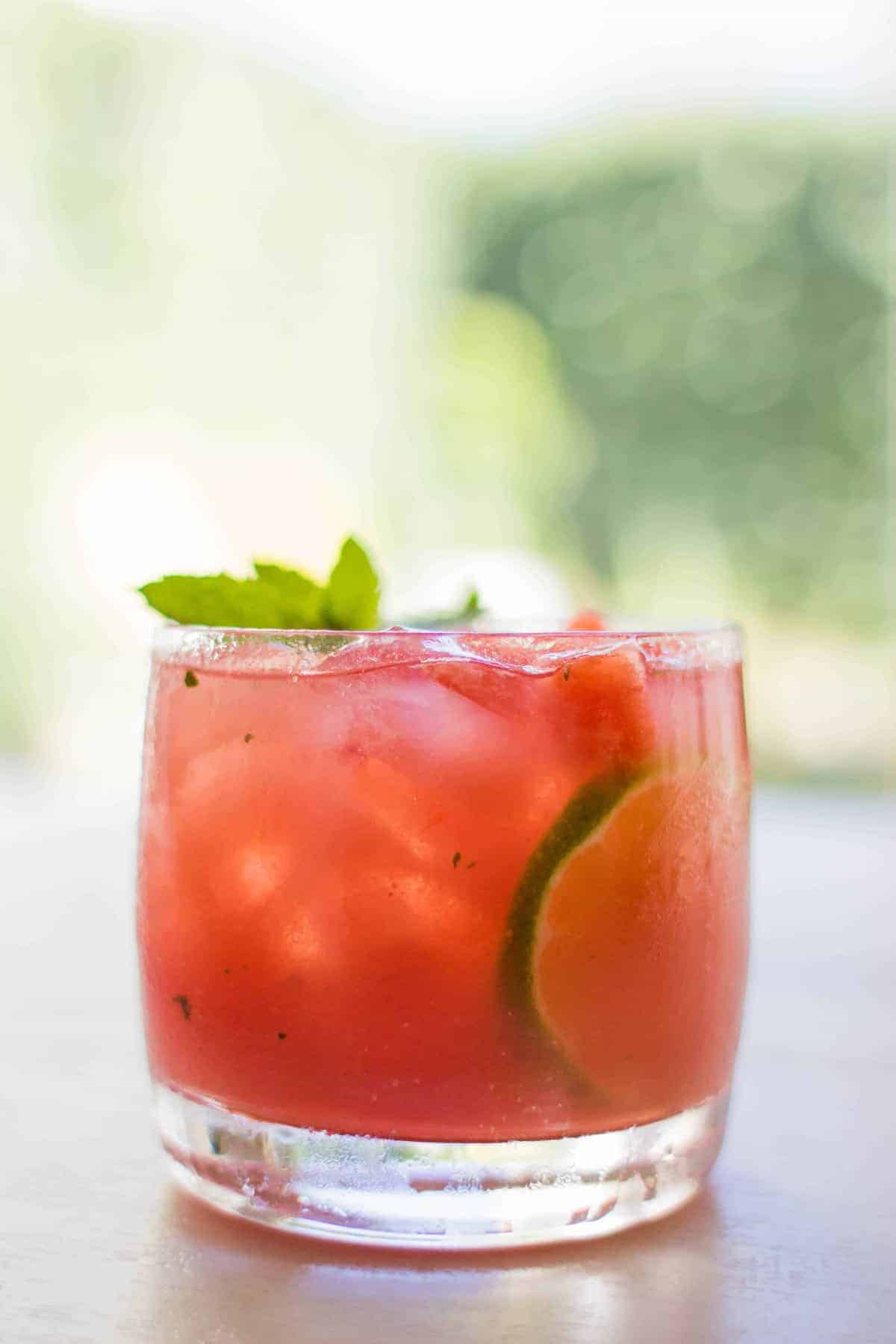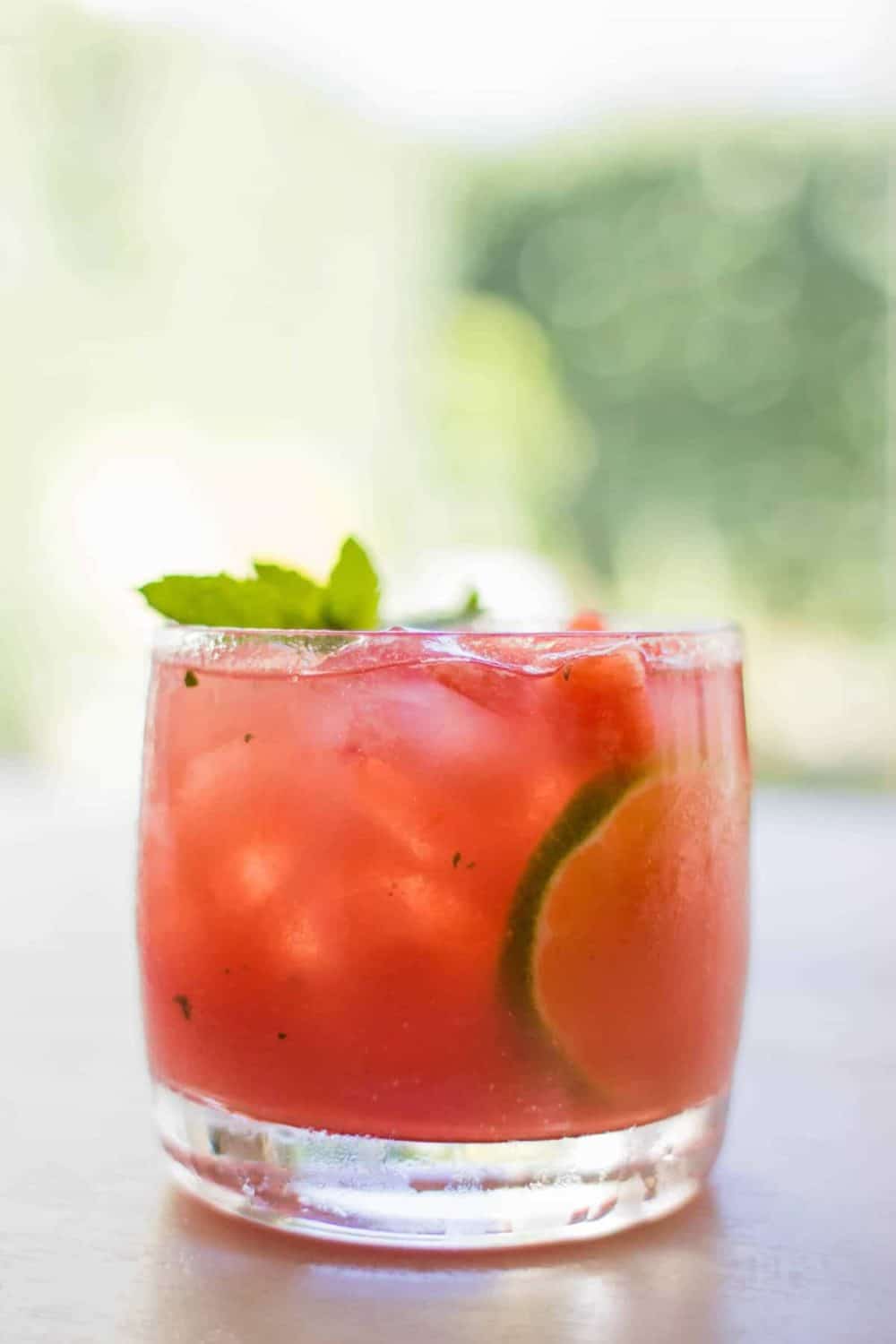 This Mess is Ours is serving up Mojitos!! Watermelon + mint + lime + coconut rum – I mean seriously, can you think of a better flavor combination to celebrate summer with?! We can't!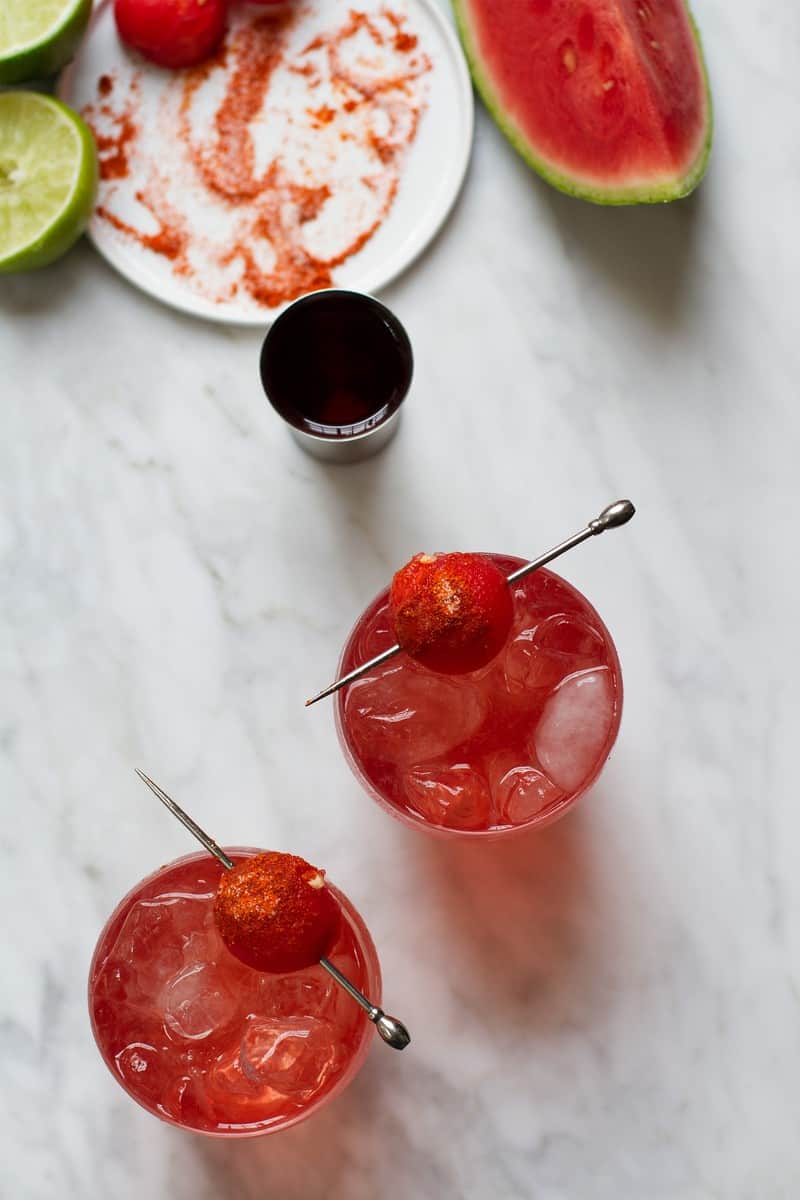 When it comes to refreshing, it's hard to do better than watermelon juice!
For summer entertaining, take a note from Aida of Salt & Wind and add a touch of pomegranate liqueur to your watermelon margaritas! It will add a little tartness and a deep ruby color to the cocktail.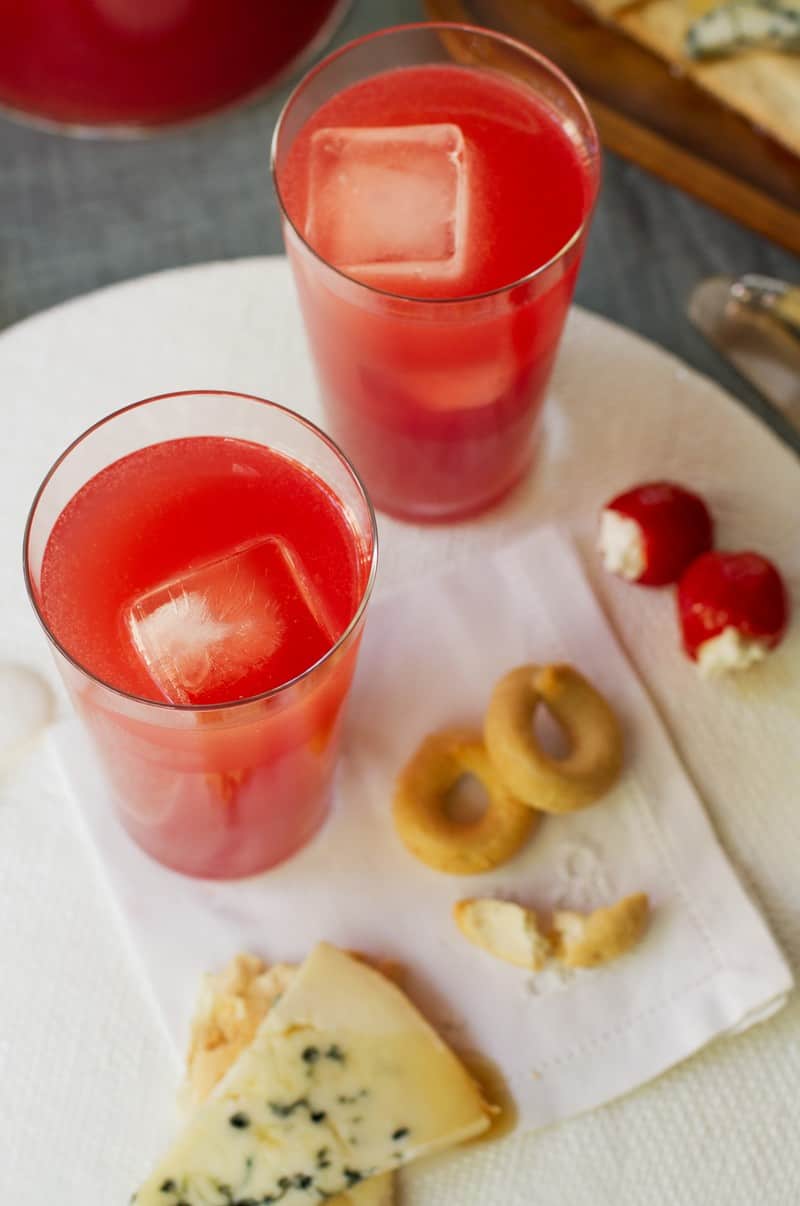 This aperitivo recipe with watermelon juice from Salt & Wind has watermelon and Chambord for sweetness and a pinch of salt to help tame the bitterness.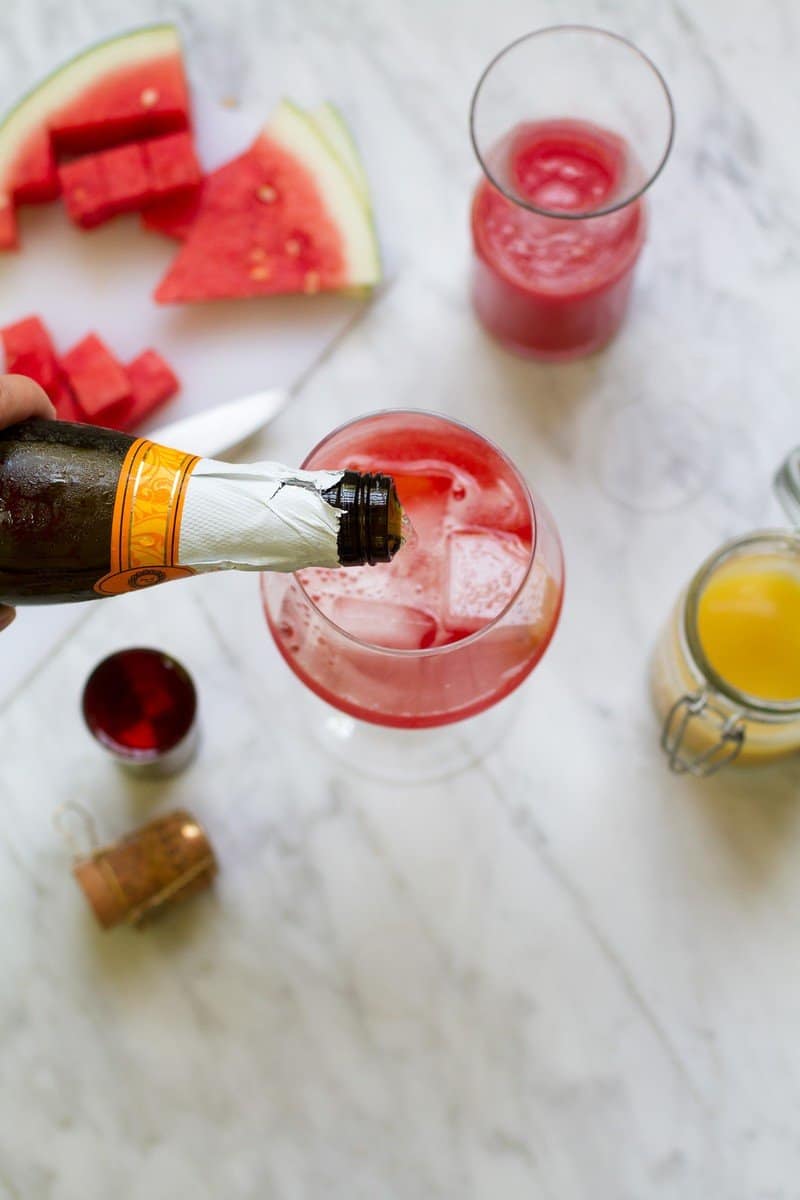 This spritz from Salt & Wind is made with watermelon juice and a dash of homemade ginger juice.
It's a snapshot of summer in a glass when the produce is amazing, the days are hot, and you just don't want it to end anytime soon!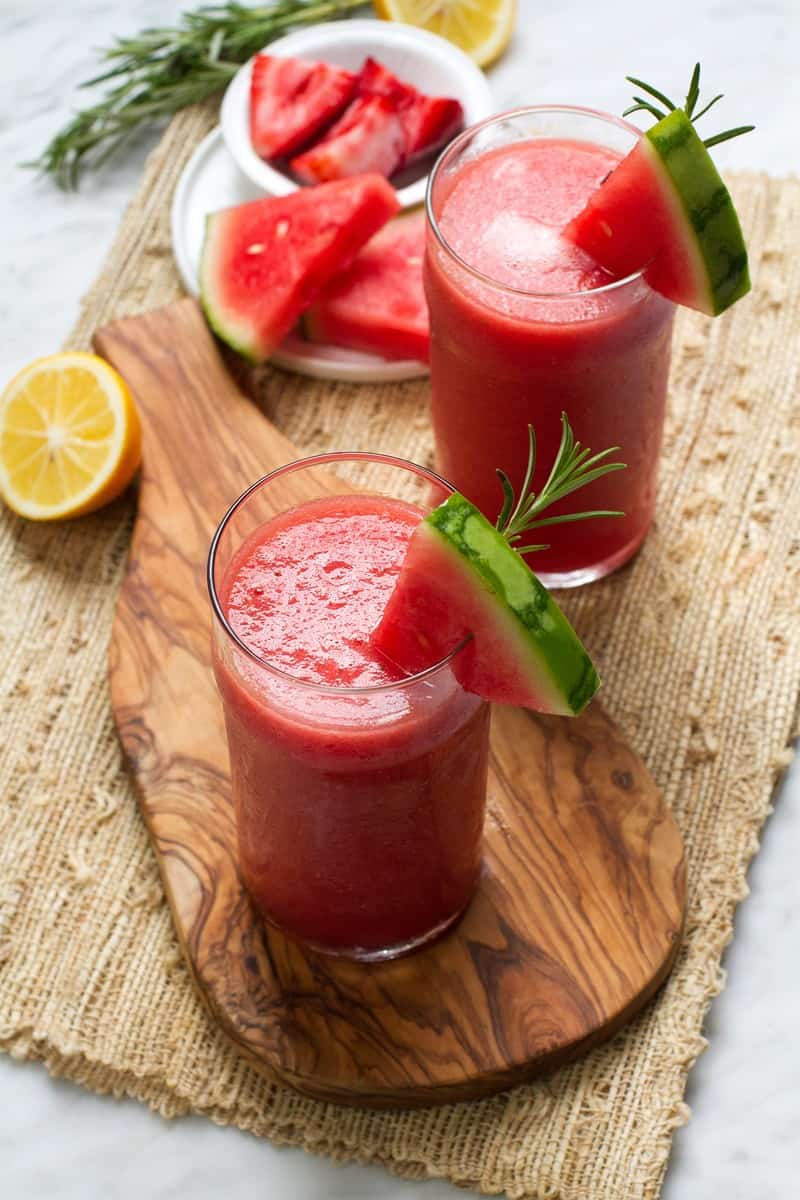 This exotic blend from Salt & Wind sips like a fancy cocktail, but skips the hefty bar tab!
Watermelon juice is hydrating, and rich in vitamin C and anti-inflammatory lycopenes, while rosemary contributes awesome flavor and antibacterial backup. The combination makes this your secret immunity agent! 
Craving more CA Grown goodness? Follow us on Pinterest for fresh and fabulous recipe inspiration!
BE SURE TO SHARE YOUR FAVORITE RECIPES WITH WATERMELON JUICE WITH US BY SNAPPING A PIC AND TAGGING US ON SOCIAL USING #CAGROWN.