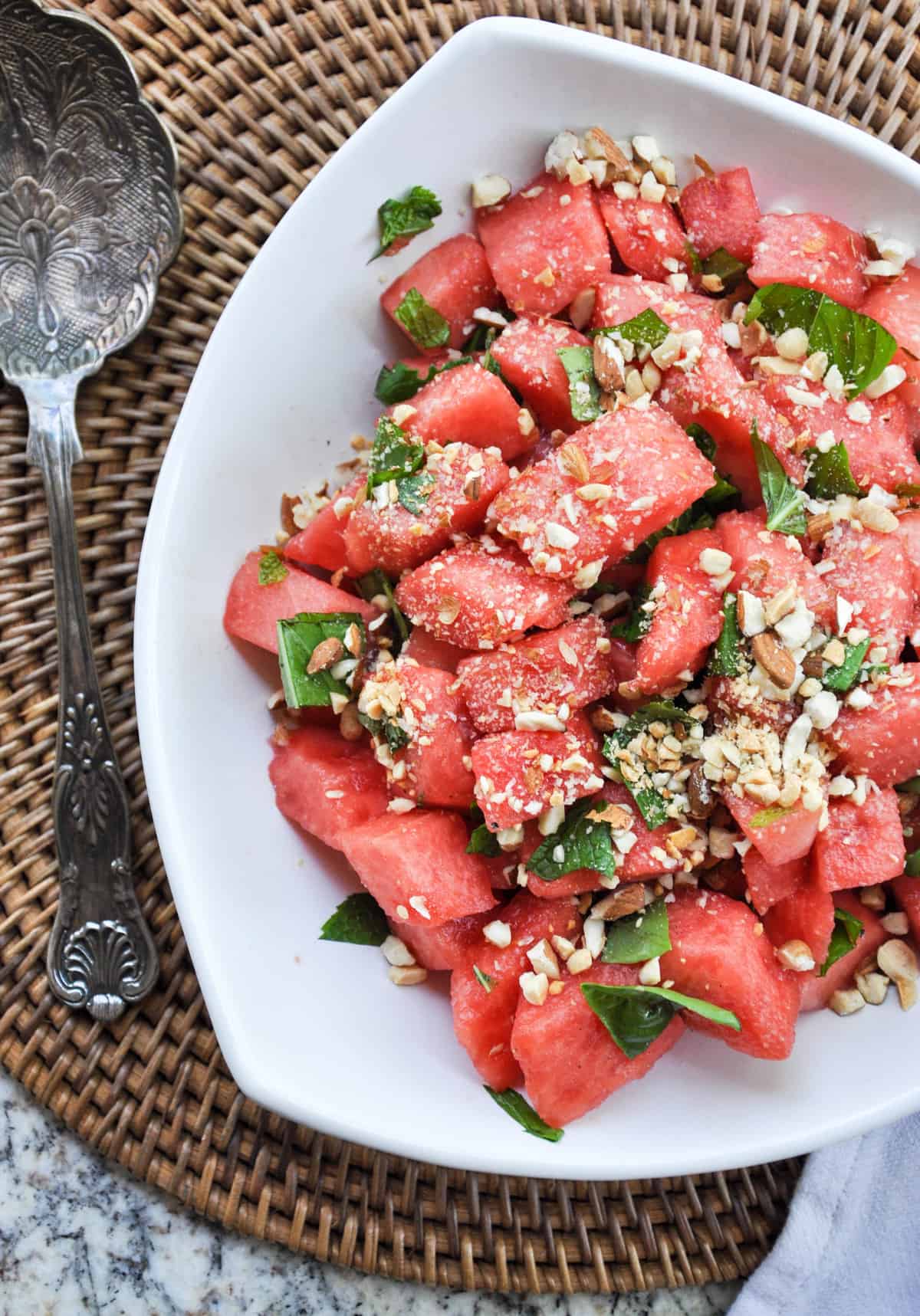 CA GROWN Blog
Discover. Learn. Connect.
Watermelon Salad
August 3, 2016
Eat the Season!
Sign Up For Weekly Recipes
« Back to Recipes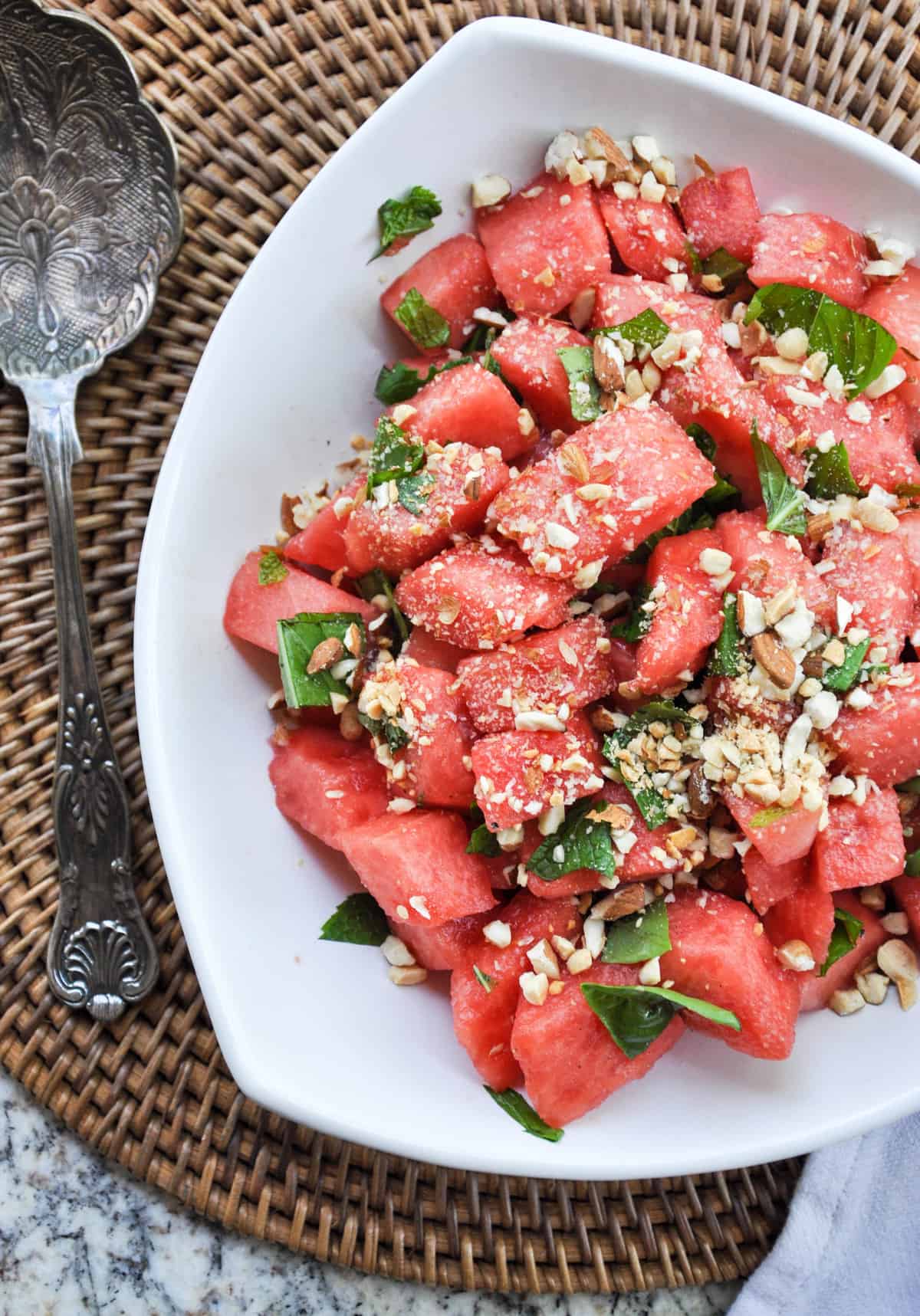 Watermelon Salad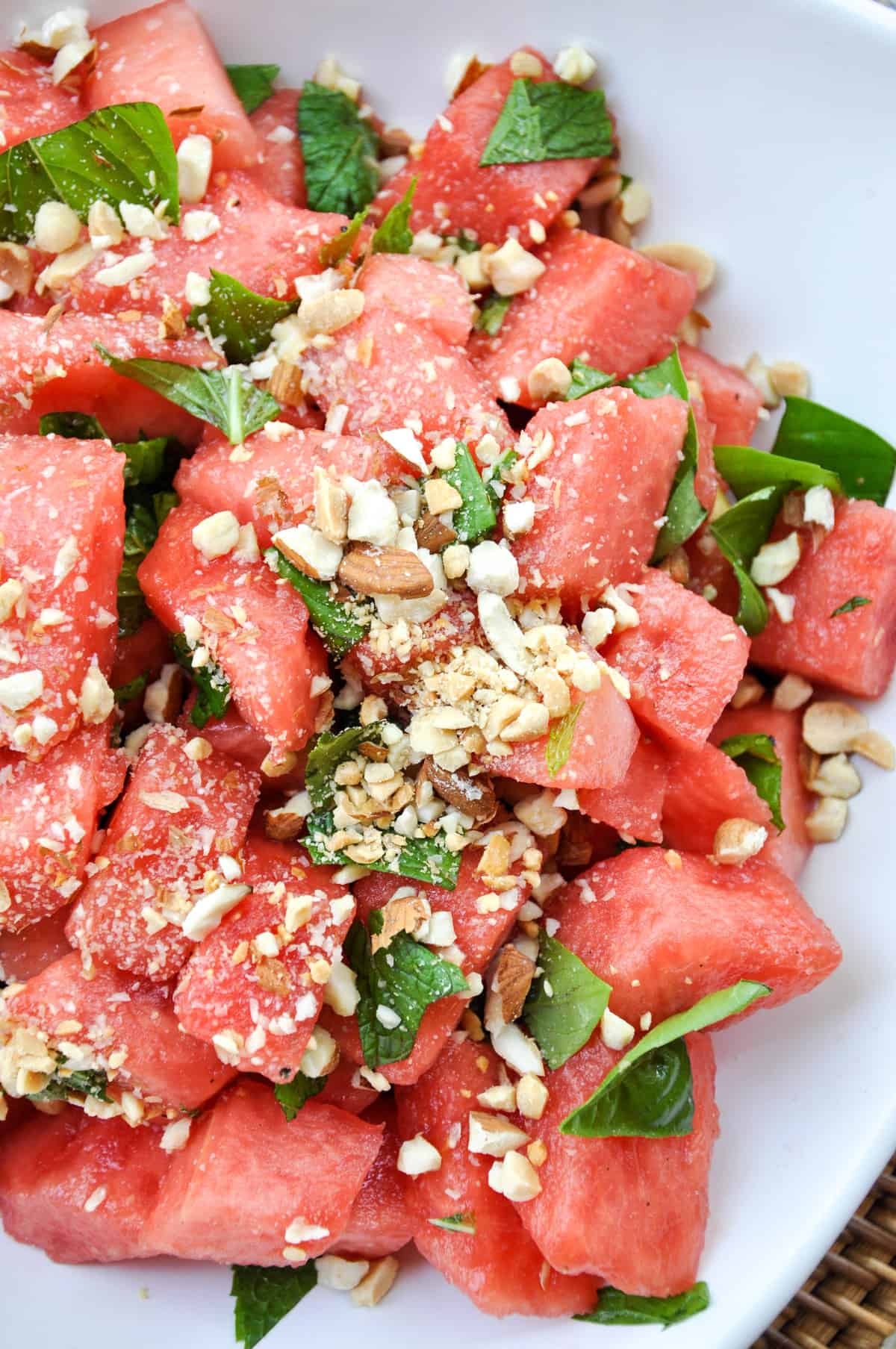 Raise your hand if you like simple summer salads…
What if we could incorporate a favorite summertime fruit that is traditionally reserved for big slices and smiles, and combine it with a few fresh herbs and a zesty dressing?
Surely that would be fabulous, no?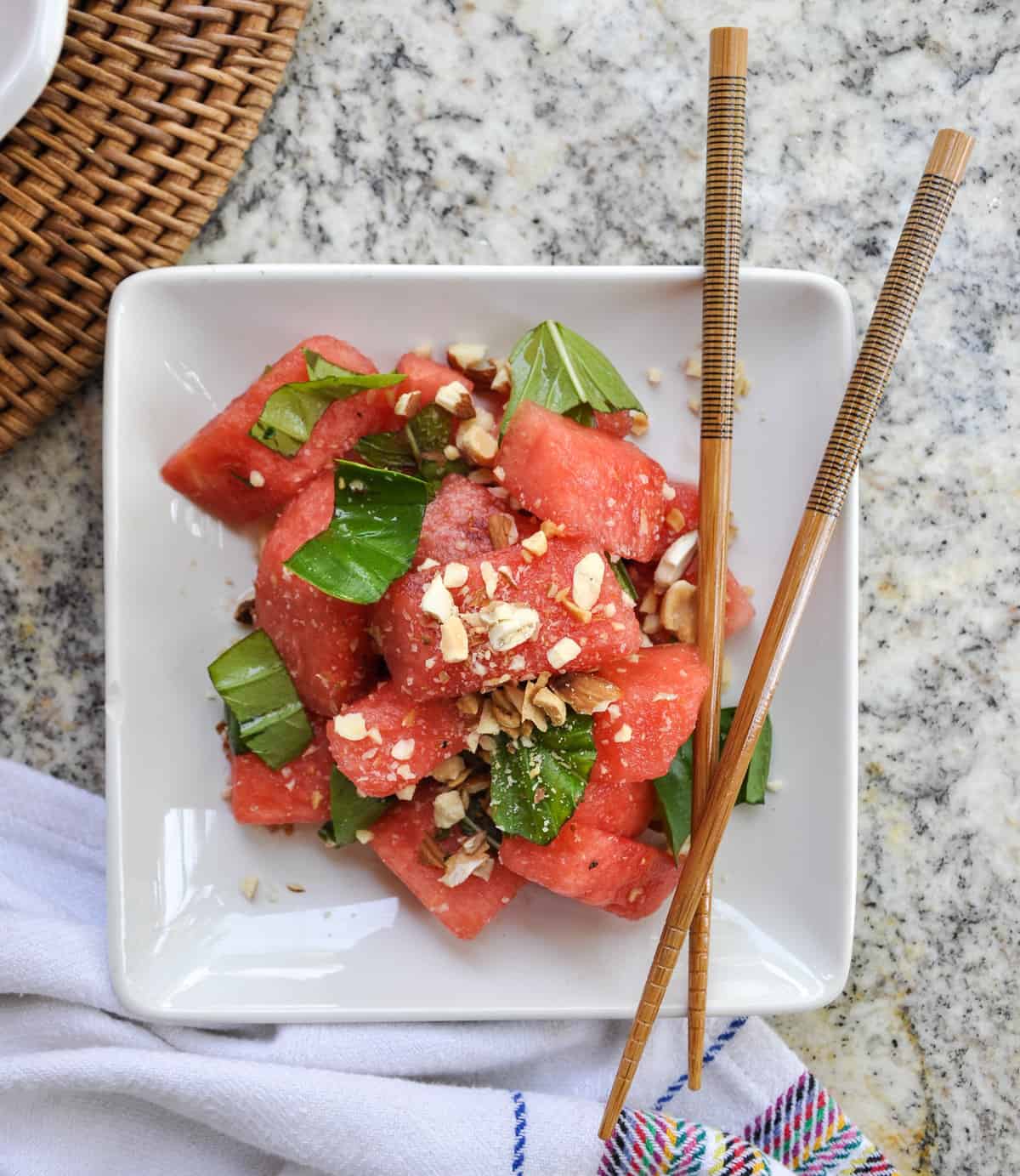 Well this recipe has it all!
Only a handful of ingredients create a bright and delicious dressing that is simple yet powerful and tangy. When we top the whole salad off with a nice dusting of a chopped almond and peanut mixture, it gives it a wonderfully unexpected crunch.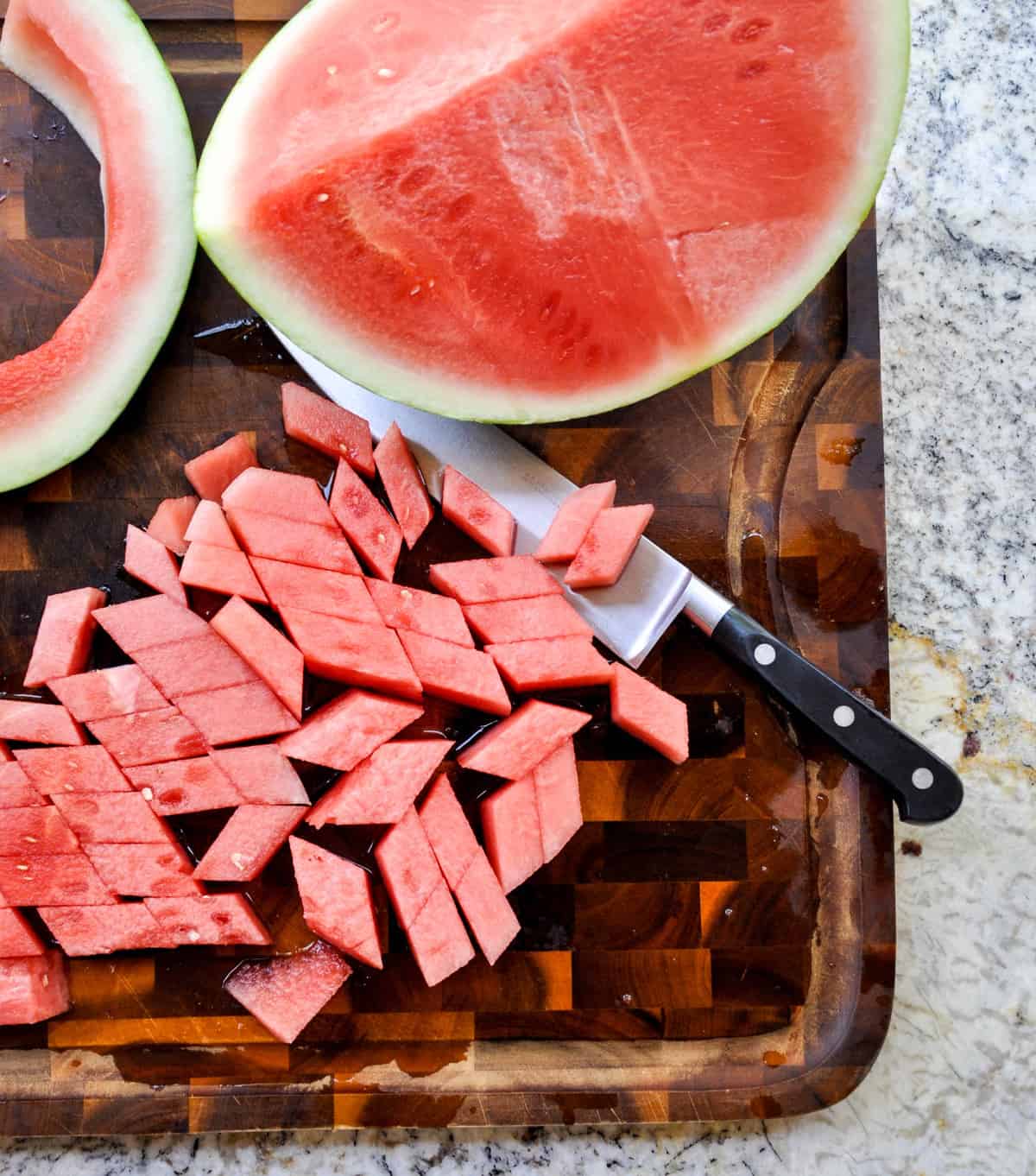 I used red seedless watermelon from my local market, but feel free to use yellow, or any other variety of California watermelon you prefer. Particularly, this melon has great texture and is very juicy, just like they should be!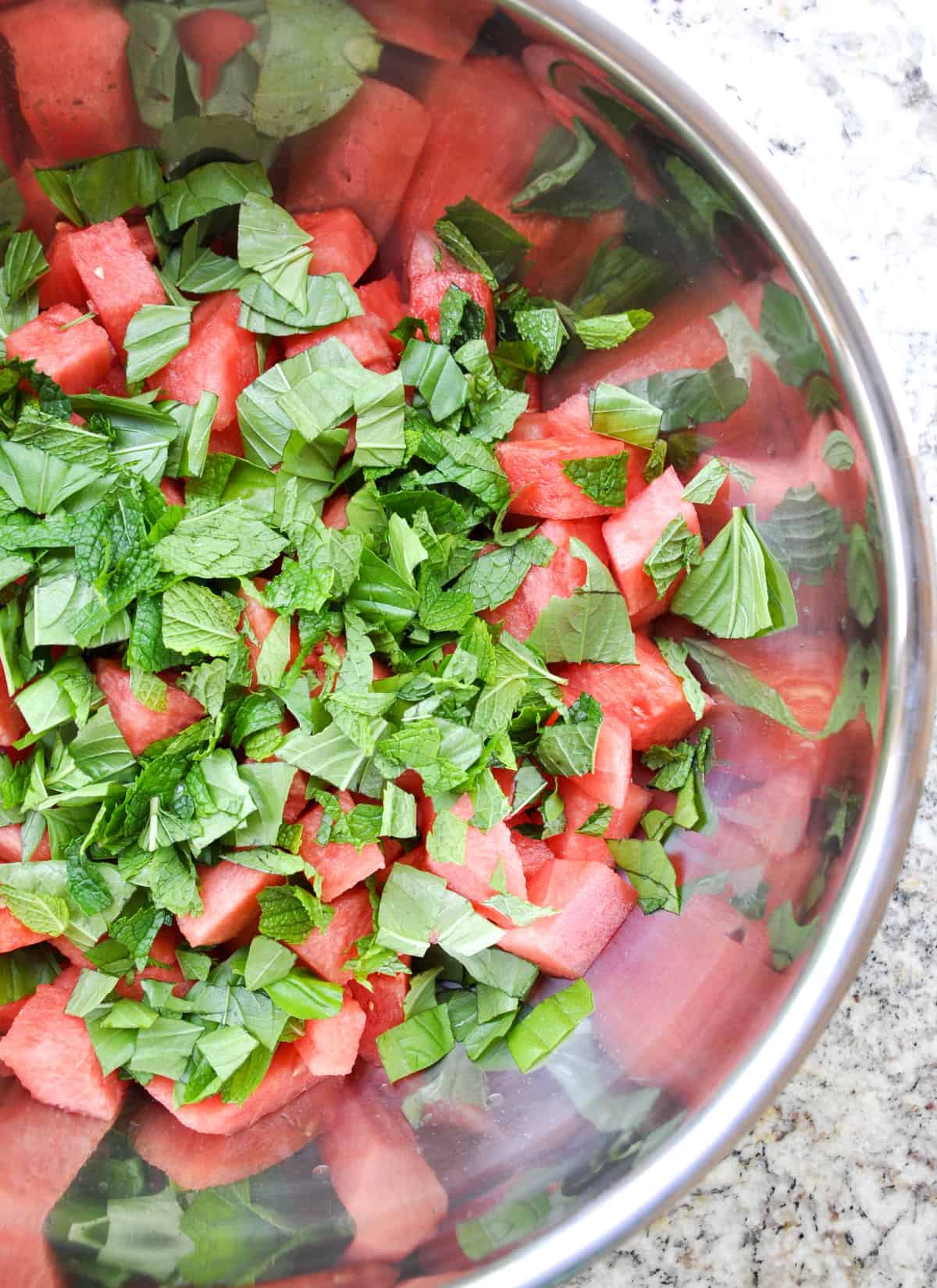 Firstly, I cut the watermelon into medium-sized cubes and added fresh chopped basil and mint leaves that I grew in my garden. I love being able to go outside and pick fresh leaves off the plants!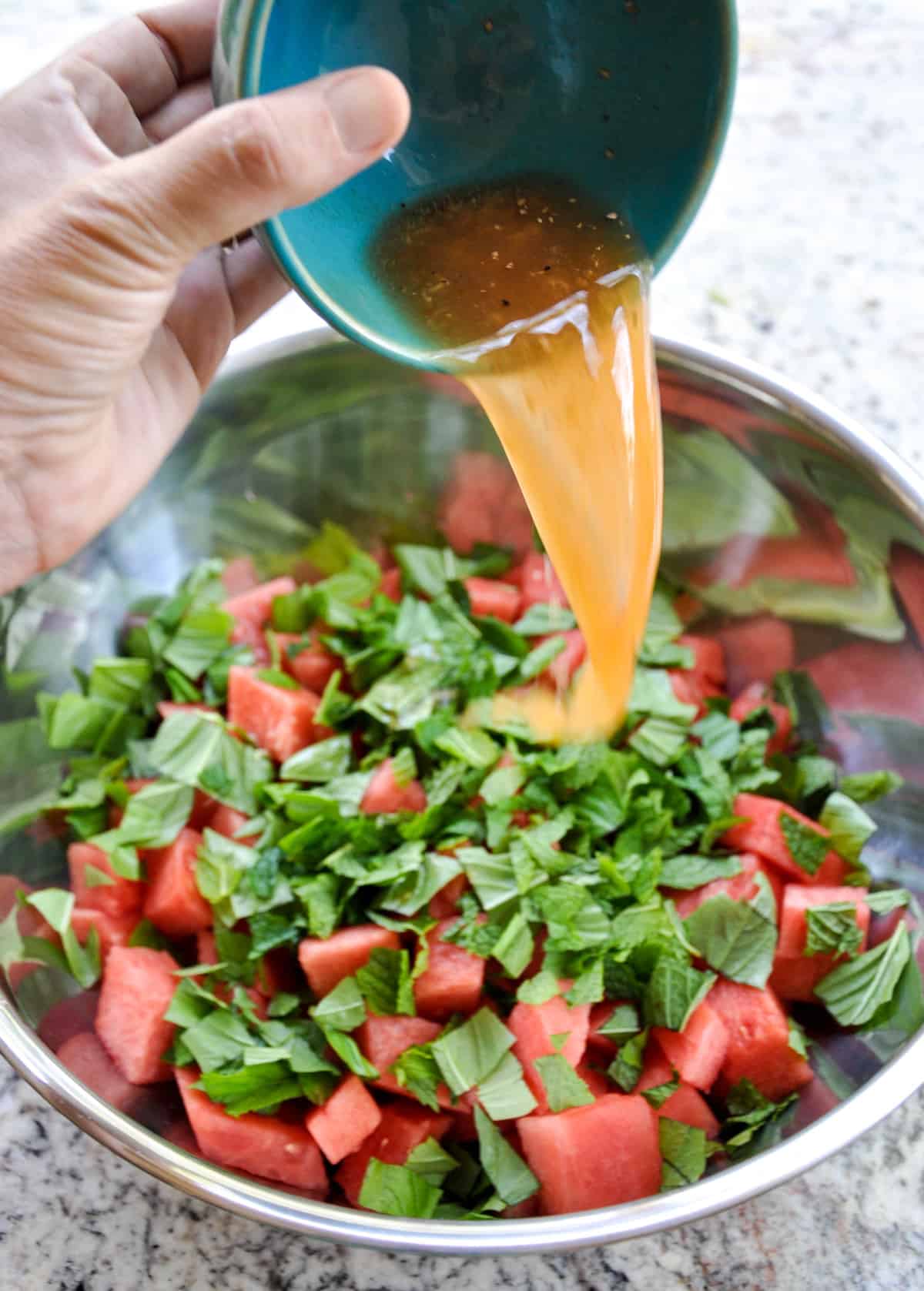 Then a quick addition of dressing to the chunks of watermelon and herbs…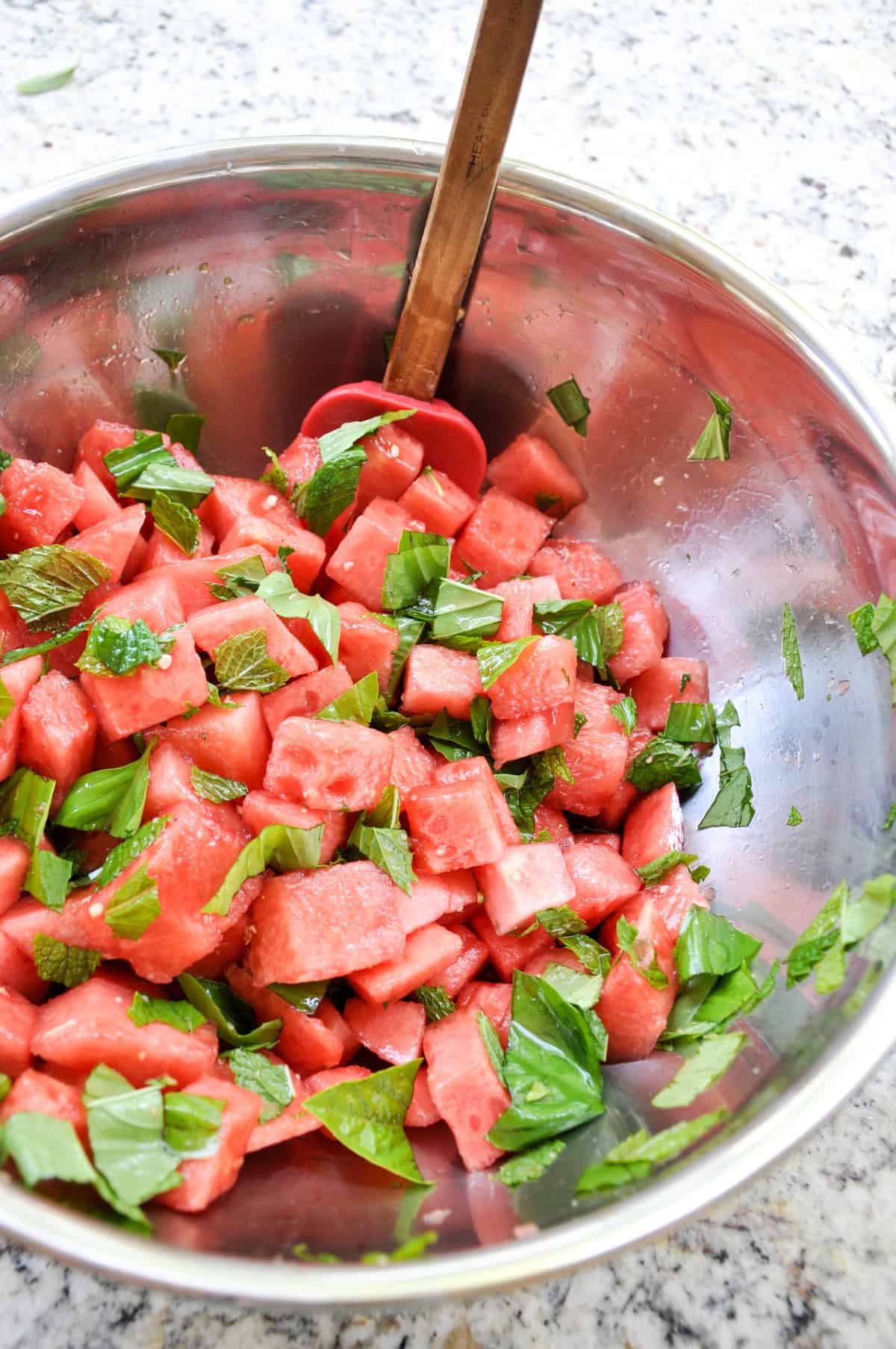 Lightly fold the mixture and pour into a serving dish…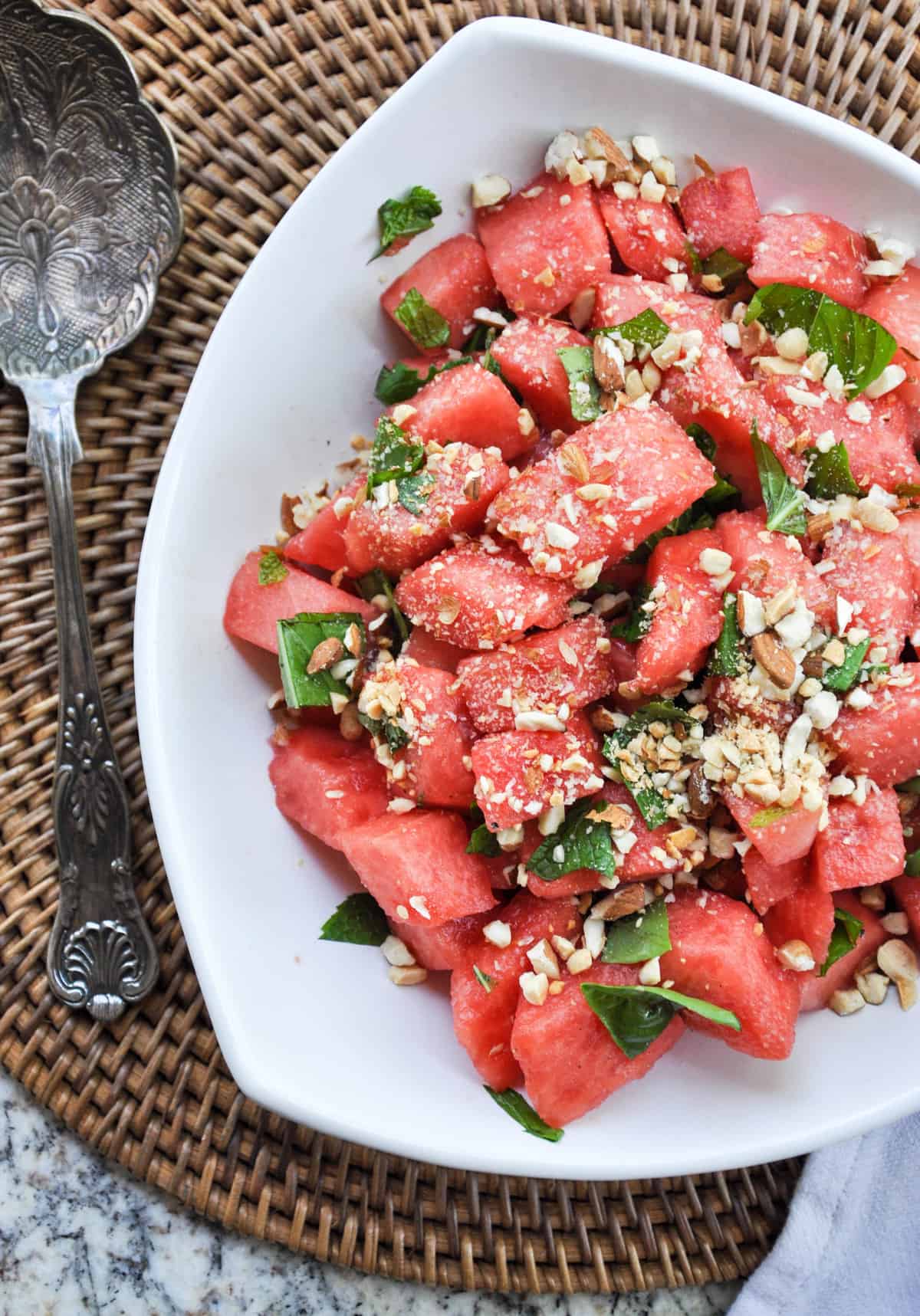 Top with a layer of crushed almonds and serve!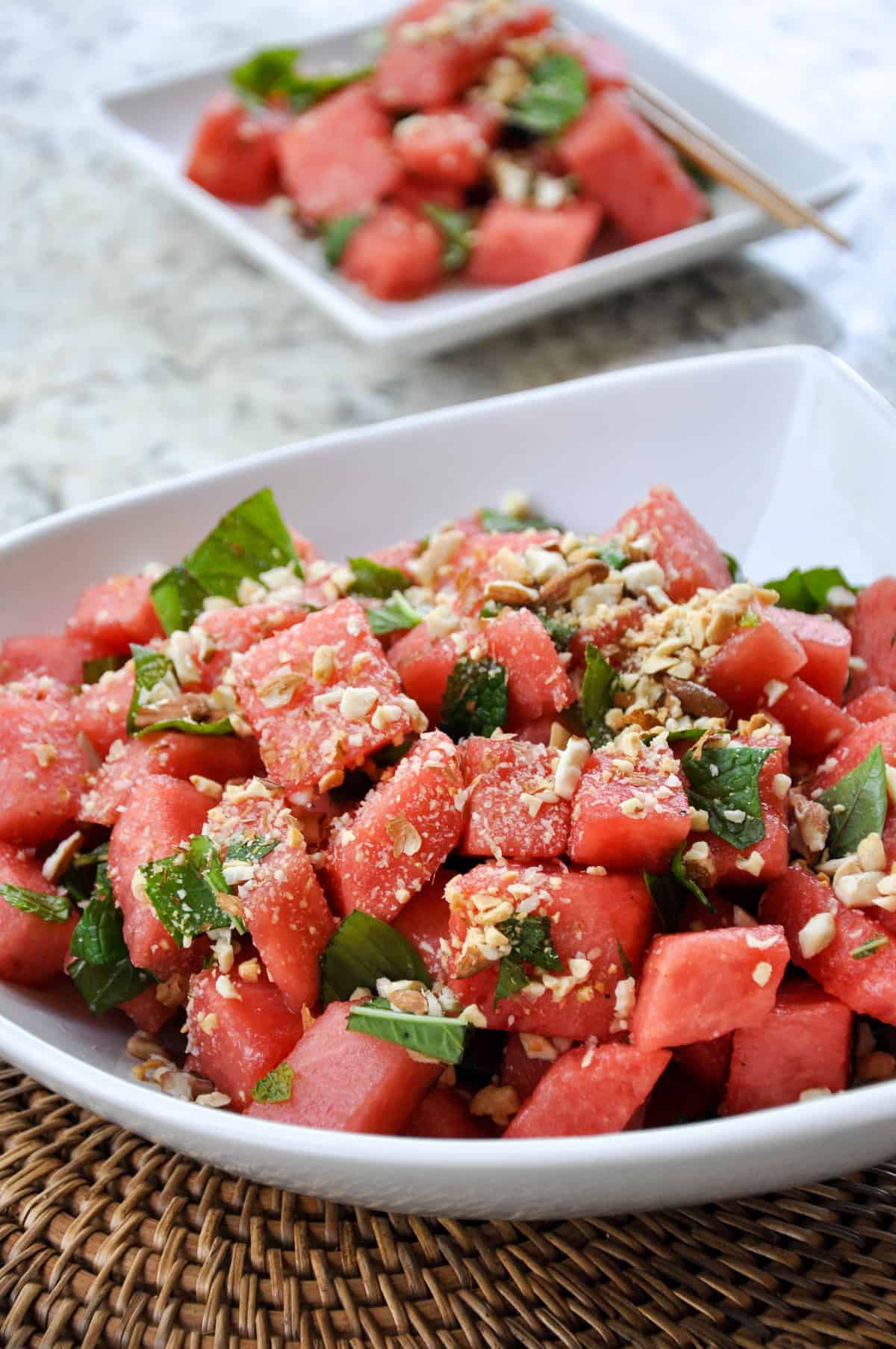 Certainly you'd agree that this is such a refreshing option to serve for your weeknight dinners. Additionally, it's the perfect option when heading to a neighborhood cookout or family get together.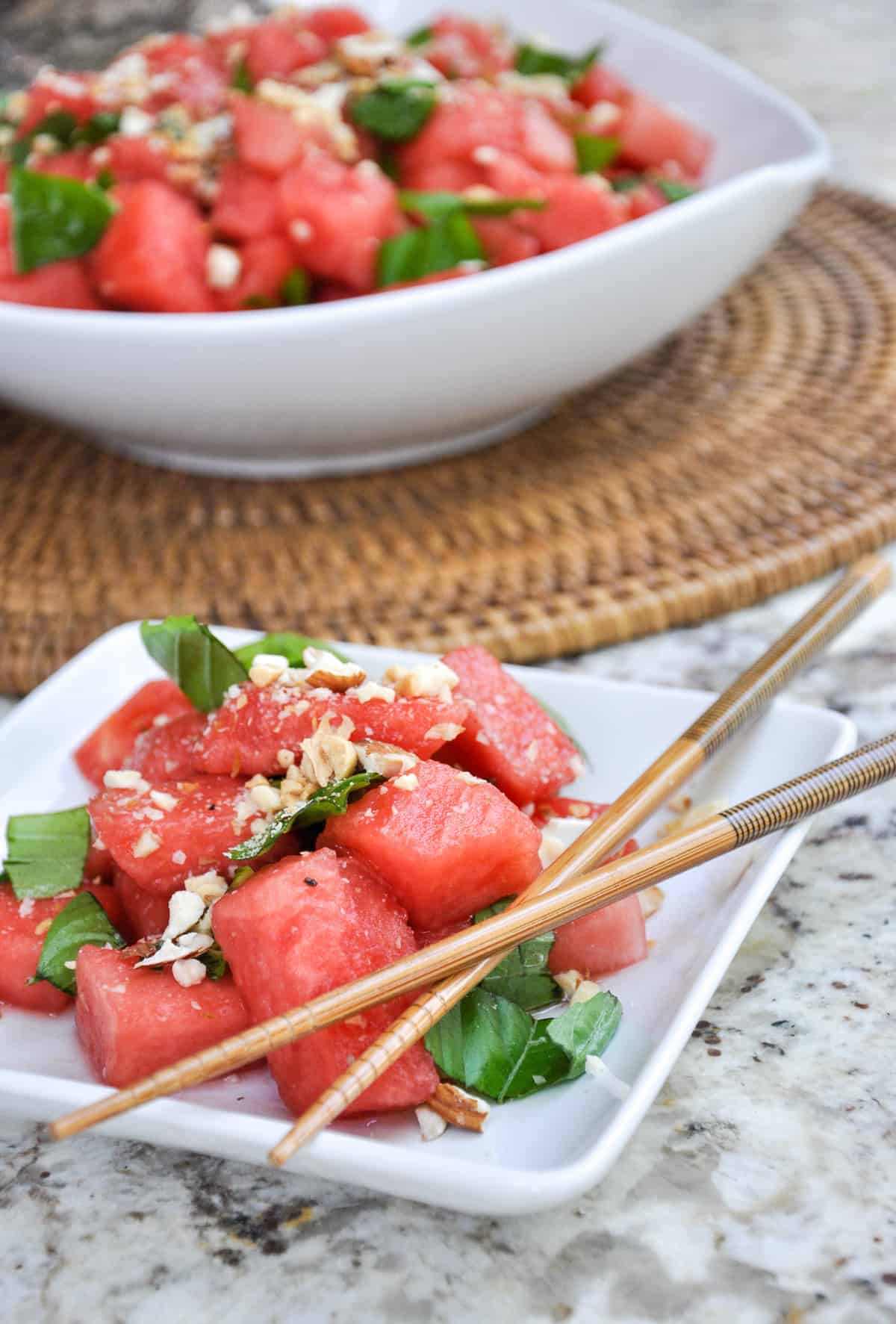 Just make sure you make enough, because it will get devoured!
Here is the recipe for ya…
Watermelon Salad
2016-08-02 20:39:38
Dressing
1 large lime, juiced (about 4 tablespoons)
1 tablespoon rice vinegar
1 tablespoon Asian fish sauce
½ teaspoon Sriracha
½ teaspoon freshly grated ginger
1/2 large watermelon, flesh cut into 1 inch chunks (about 12 cups)
15-20 large basil leaves, rough chopped
1/2 cup fresh mint leaves, rough chopped
1/4 cup almonds, chopped
1/4 cup peanuts, chopped
Instructions
Mix all the dressing ingredients and stir to combine
Place the watermelon, basil and mint in a large mixing bowl
Pour the dressing over and lightly fold to coat
Add the chopped almond/peanut mixture to the top and serve
Notes
Can be made in advance and refrigerated. Wait to add the almond topping until ready to serve
Adapted from Inspiration
California Grown https://californiagrown.org/