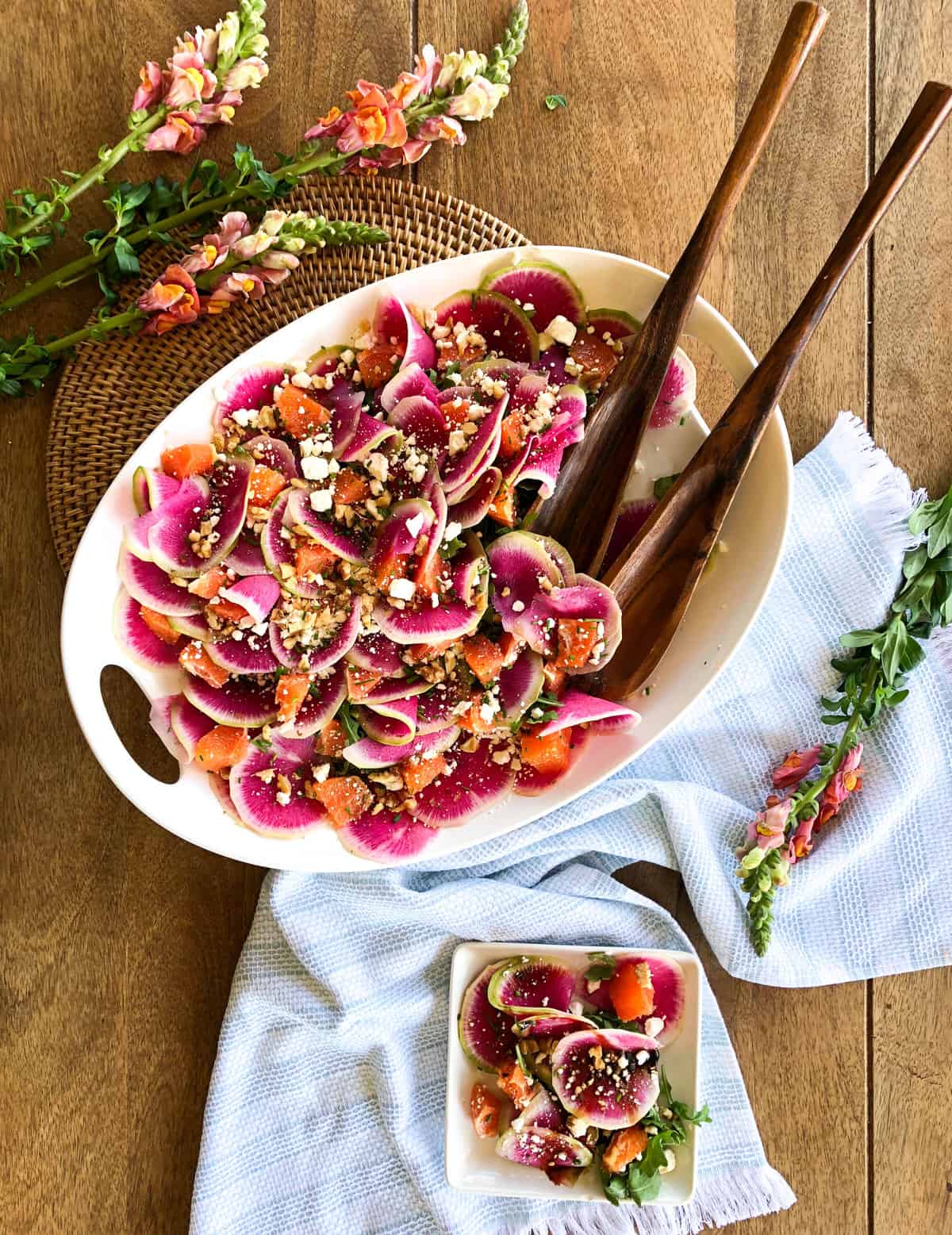 CA GROWN Blog
Discover. Learn. Connect.
Watermelon Radish Salad
January 26, 2018
Eat the Season!
Sign Up For Weekly Recipes
« Back to Recipes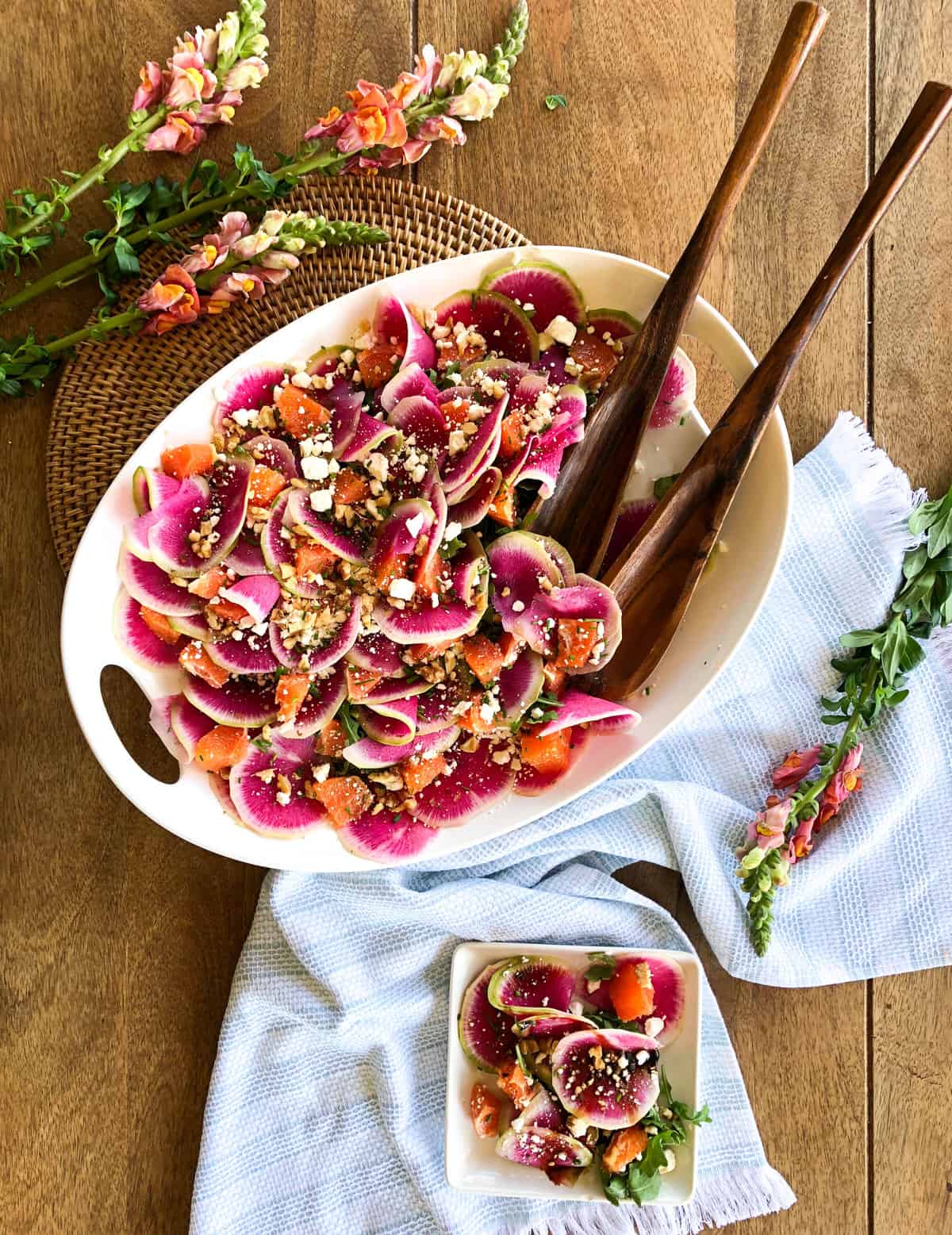 Watermelon Radish Salad
This spicy, sweet + tangy Watermelon Radish Salad is truly beautiful, and equally delicious. Fabulous all on its own, or with grilled chicken or salmon. Once you make a salad with watermelon radish, you'll be hooked.
Jump to Recipe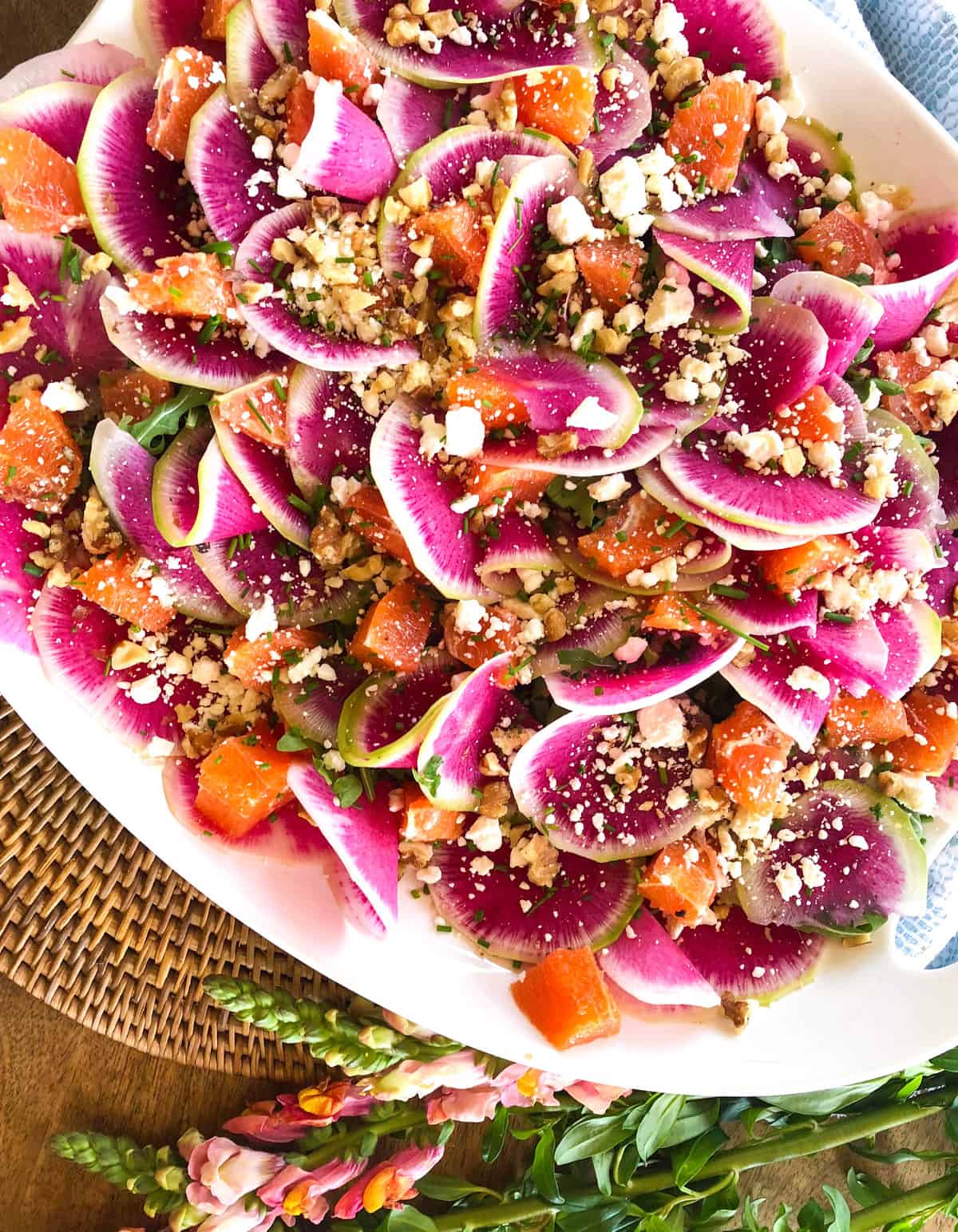 – Updated March 2022 with a new recipe card –
You guys!
This salad is life.
If you love radishes, and even if you don't, you have to give this recipe a try. The flavor profile with the oranges, feta, walnuts, and arugula is almost too much to describe. Then we top it all off with a drizzle of olive oil and balsamic vinegar that pulls it all together.
It. Is. Insane!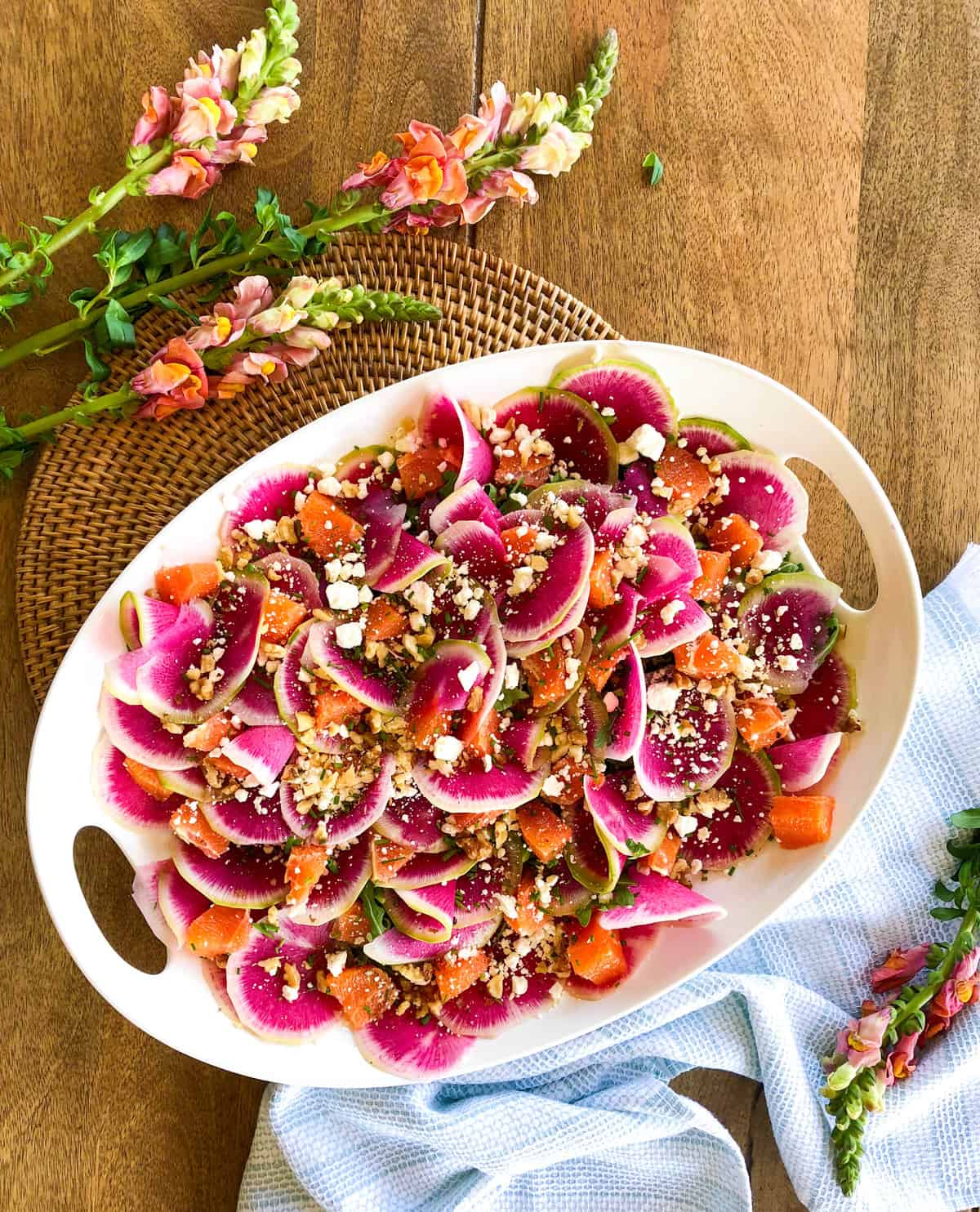 This salad is perfect to take to a potluck or to the neighbor's house for dinner. Not only is it flavorful and delicious, the visual display is over-the-top gorgeous.
Let's make a Watermelon Radish Salad: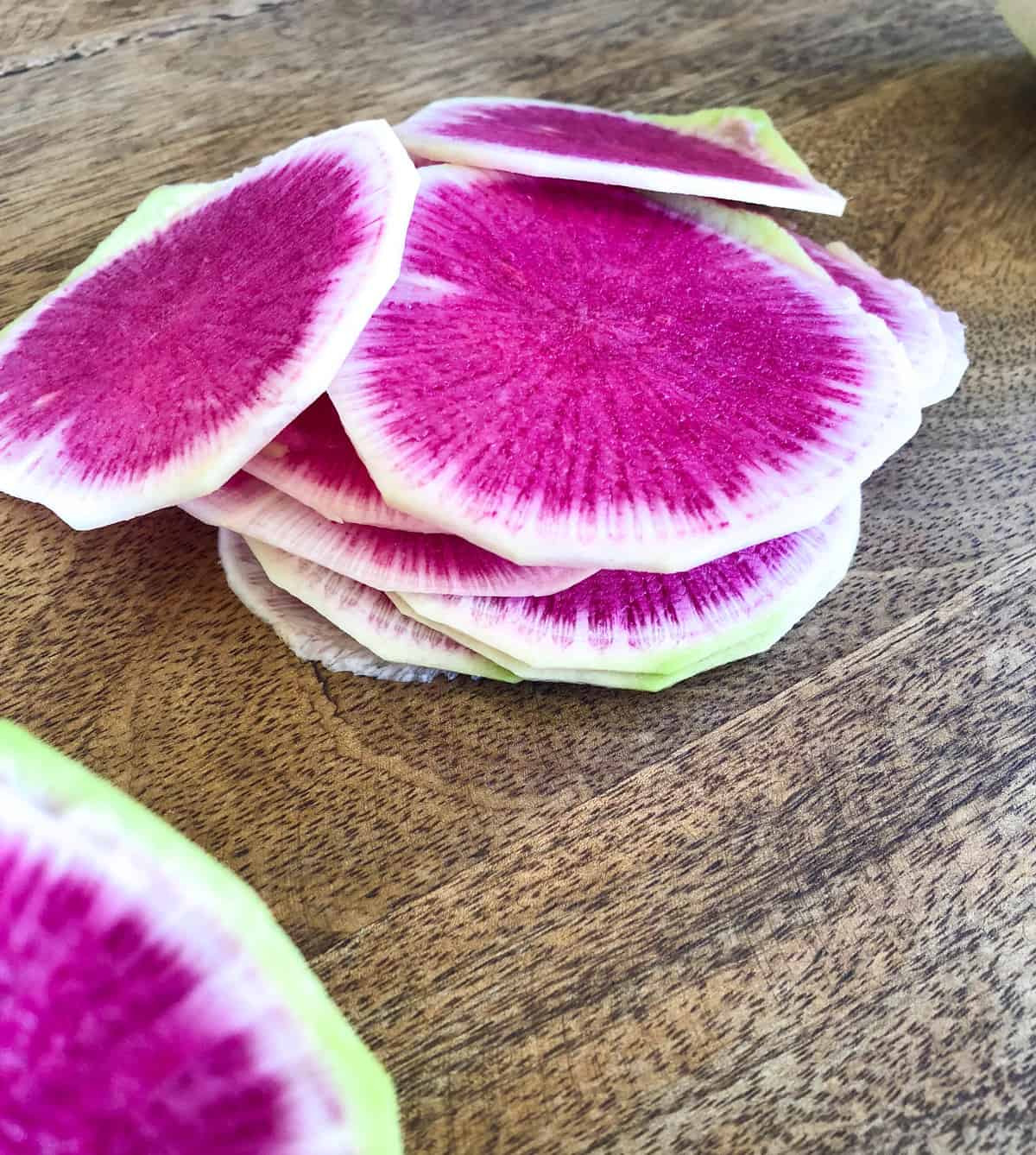 Of course, the star of the dish are these watermelon radishes. They should be readily available at your local grocery store or Farmer's Market in California right now. Winter is peak season for these lovelies.
The trick is to slice these paper thin. The only way I can do it without slicing off my fingers is with a mandoline. I use mine all the time and they are easy to store when not in use!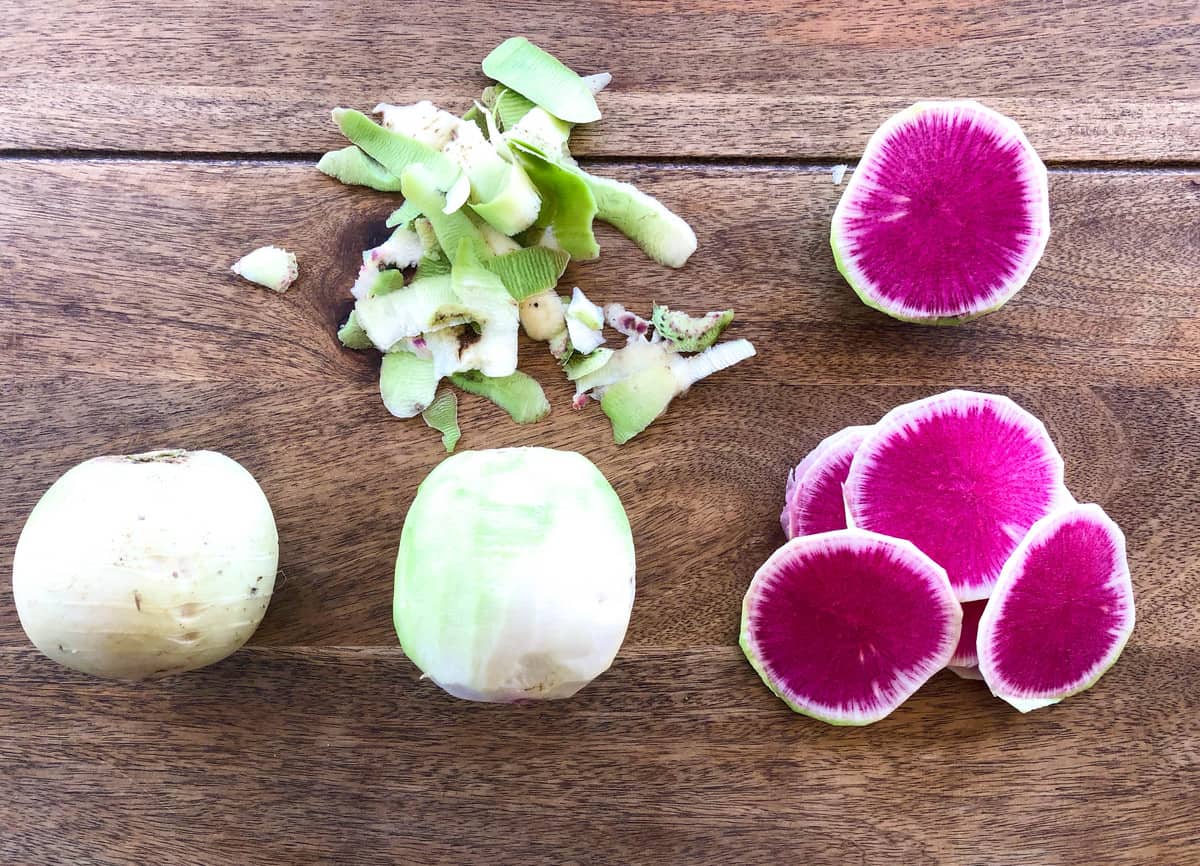 Watermelon radish earned their name by, you guessed it, looking exactly like a watermelon! The exterior is a light green and the interior is a deep purple-crimson color that is gorgeous when sliced.
Our secondary ingredient are Cara Cara oranges. Unlike their color, they taste nothing like a grapefruit. They are literally the sweetest orange that you can buy. They are our faves around here!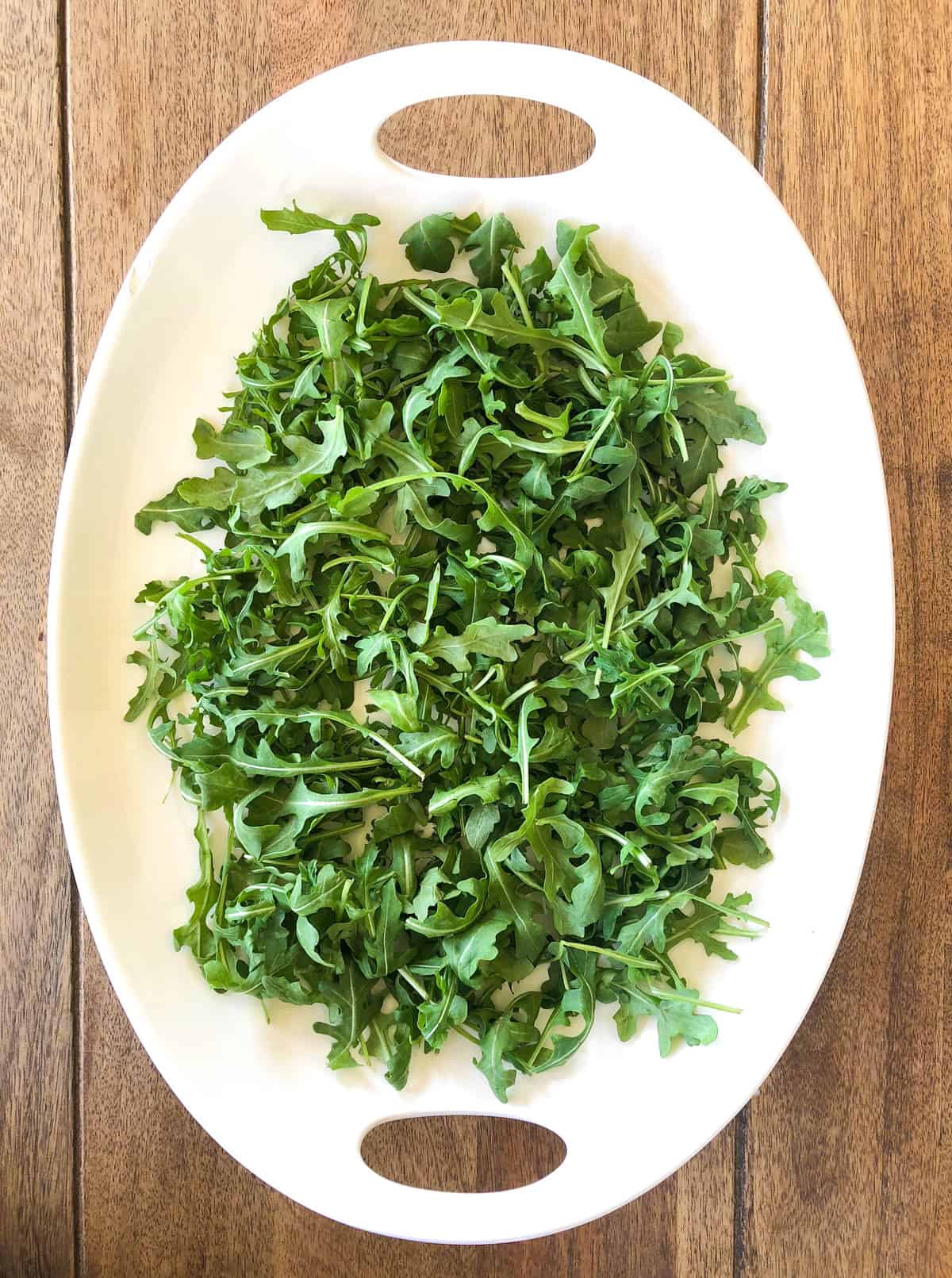 I began by laying down an arugula base on my platter.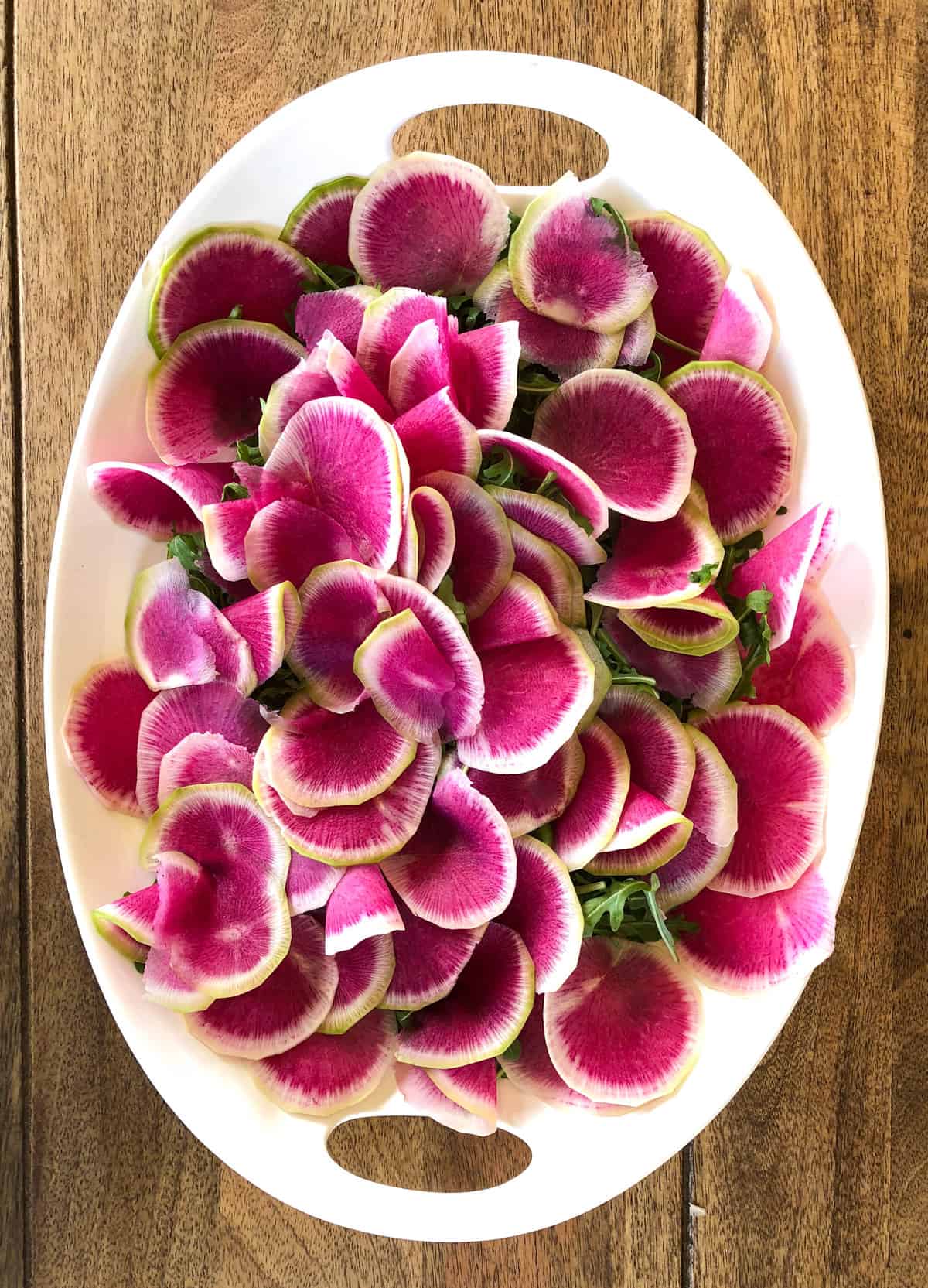 I added the slices of two watermelon radishes…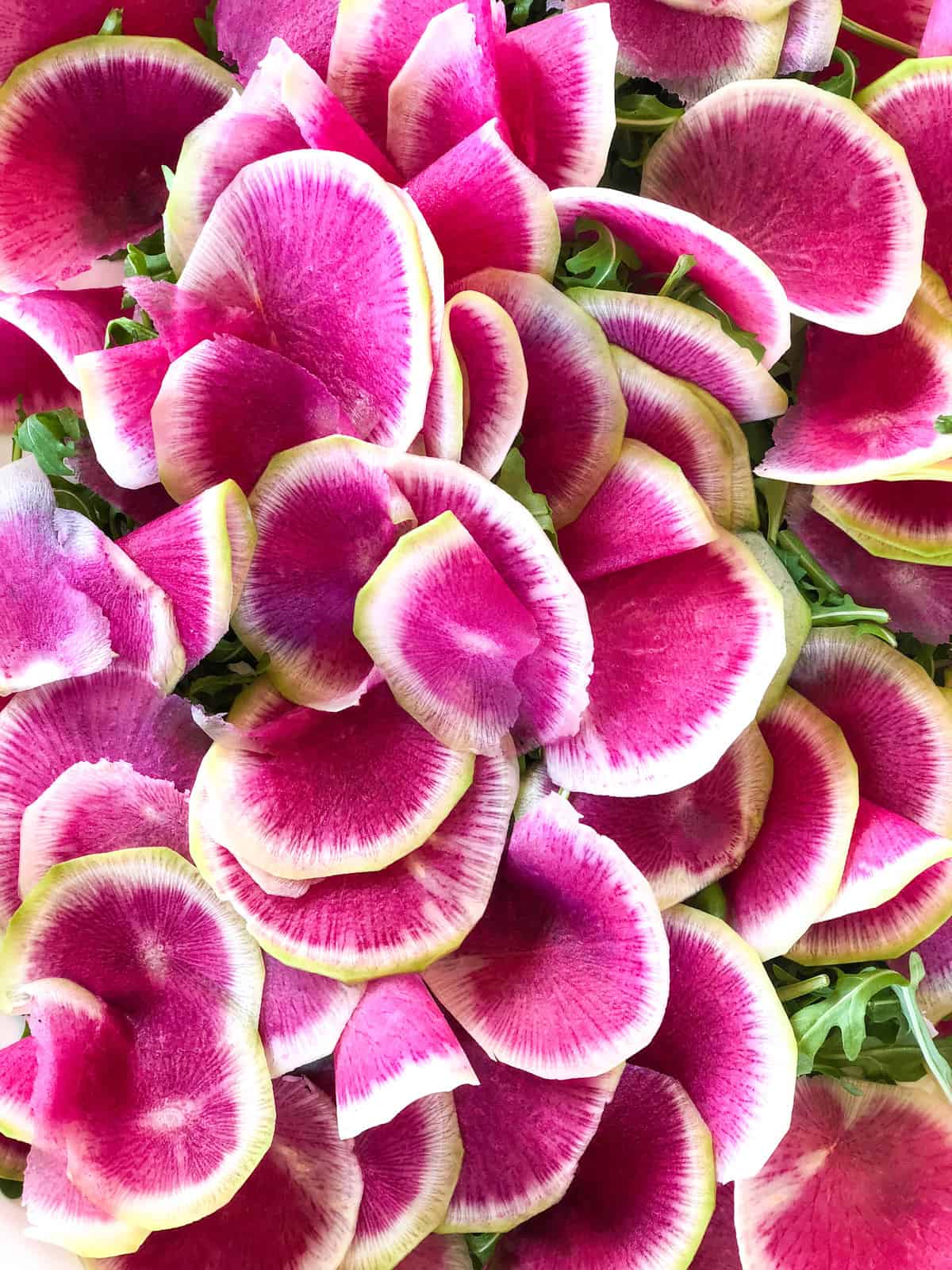 They are so flexible, that it is a good idea to fold them and tuck them into crevices. It helps give a little height to the salad and avoids all the radish just laying on top of each other.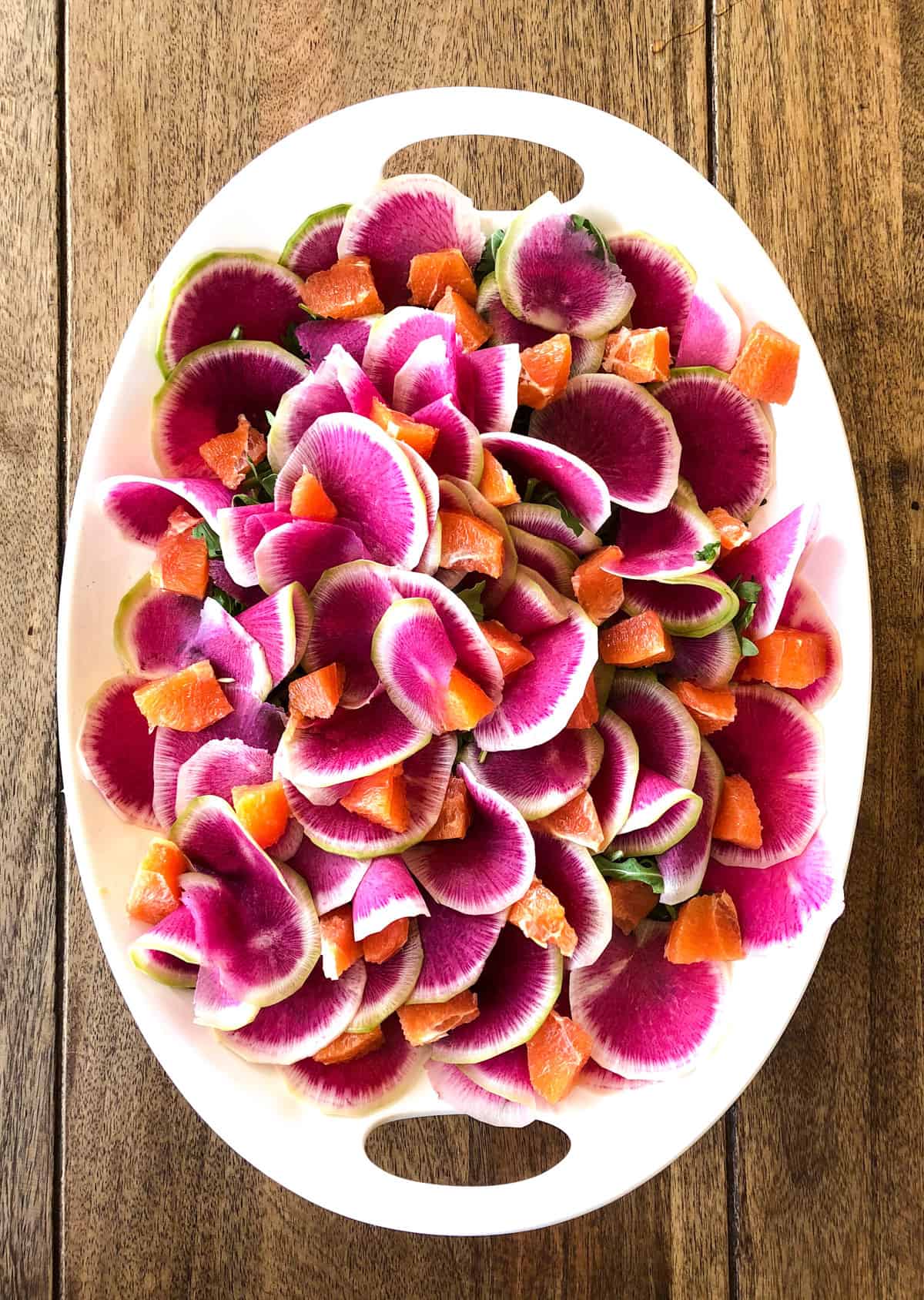 Next comes the Cara Cara orange segments added.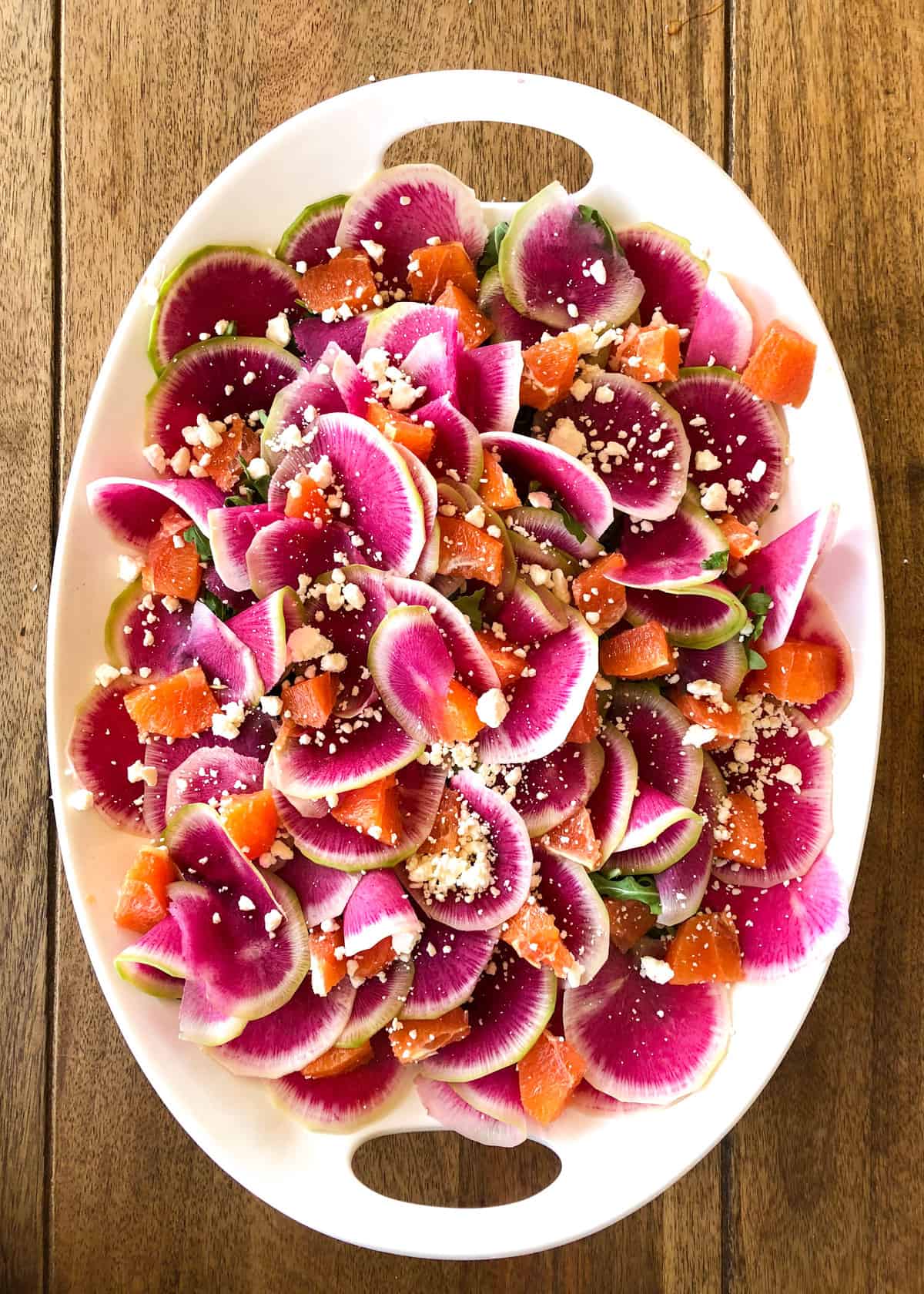 A healthy sprinkling of feta cheese.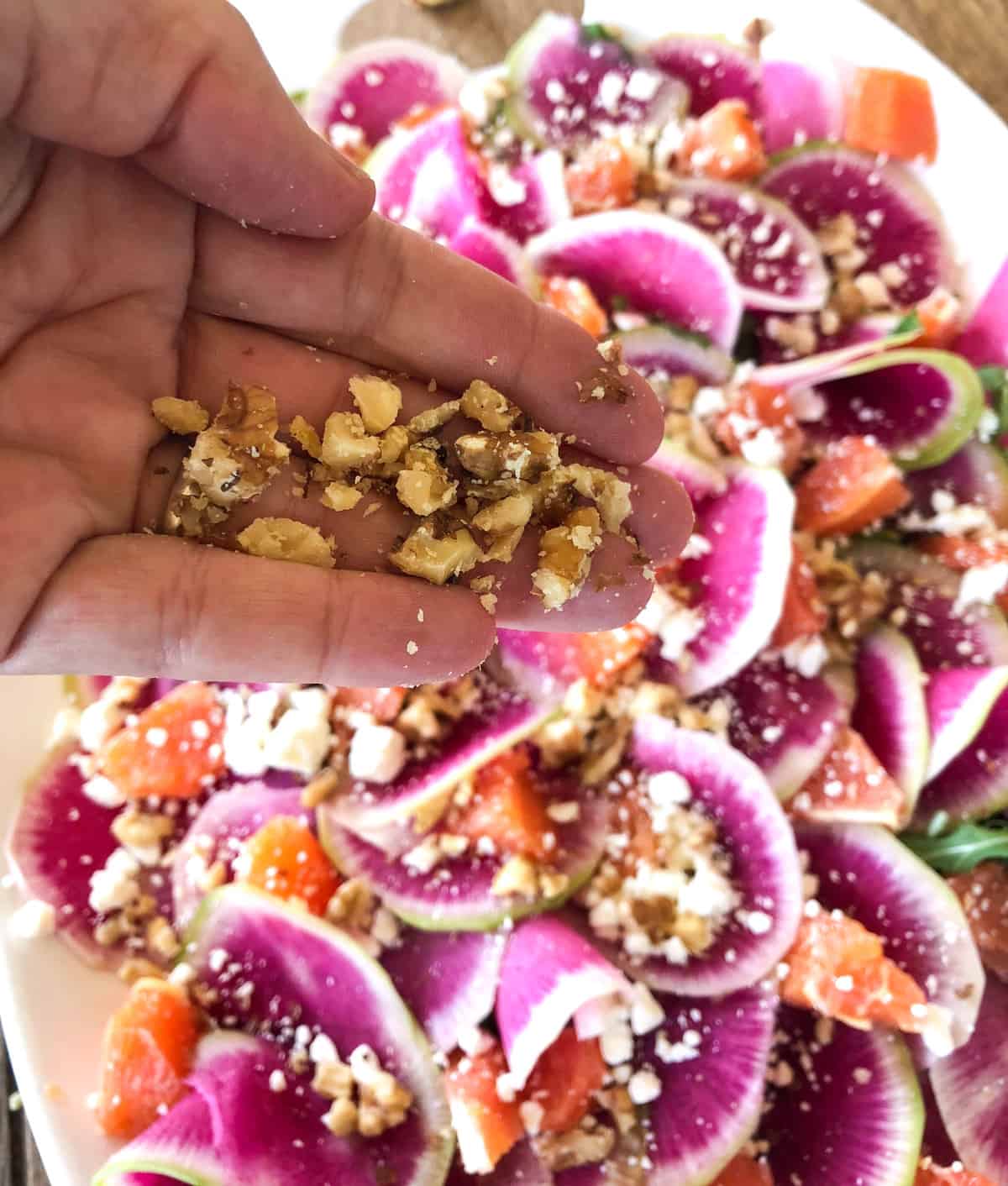 Topped off with a generous handful of chopped California walnuts.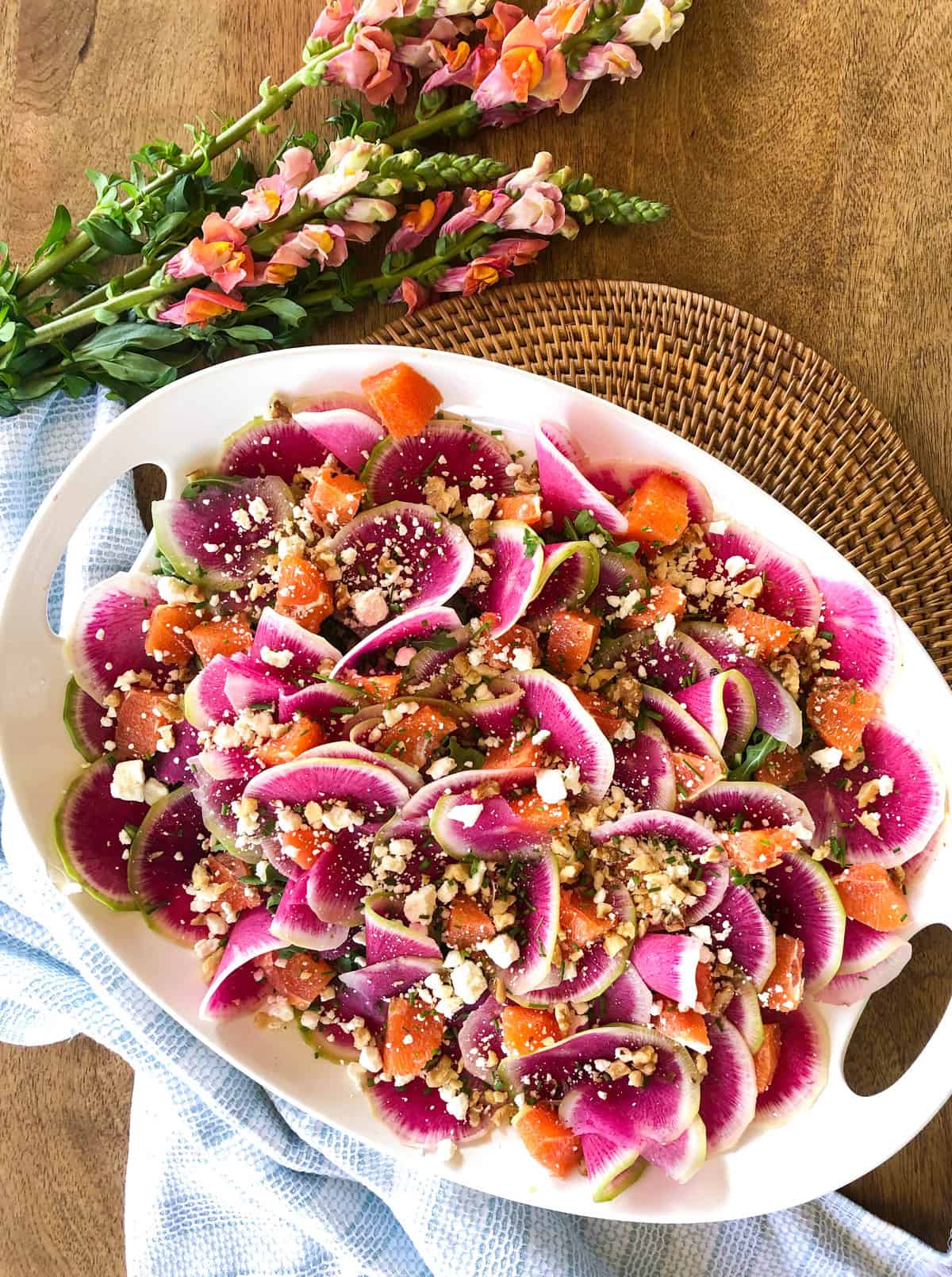 Can you believe the California Grown flowers I was able to find too? They are the perfect color combination to compliment my salad.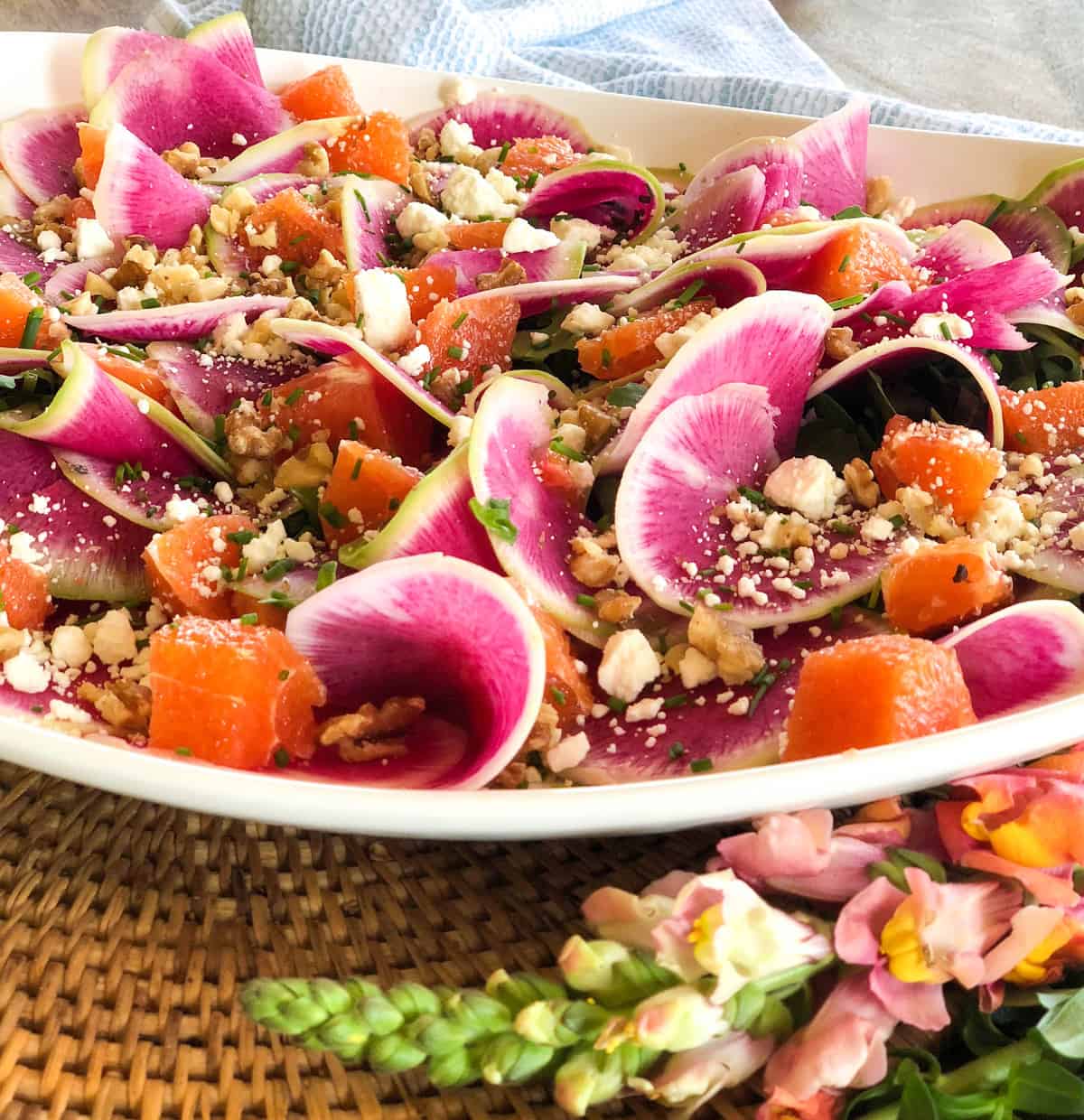 Yumm-O!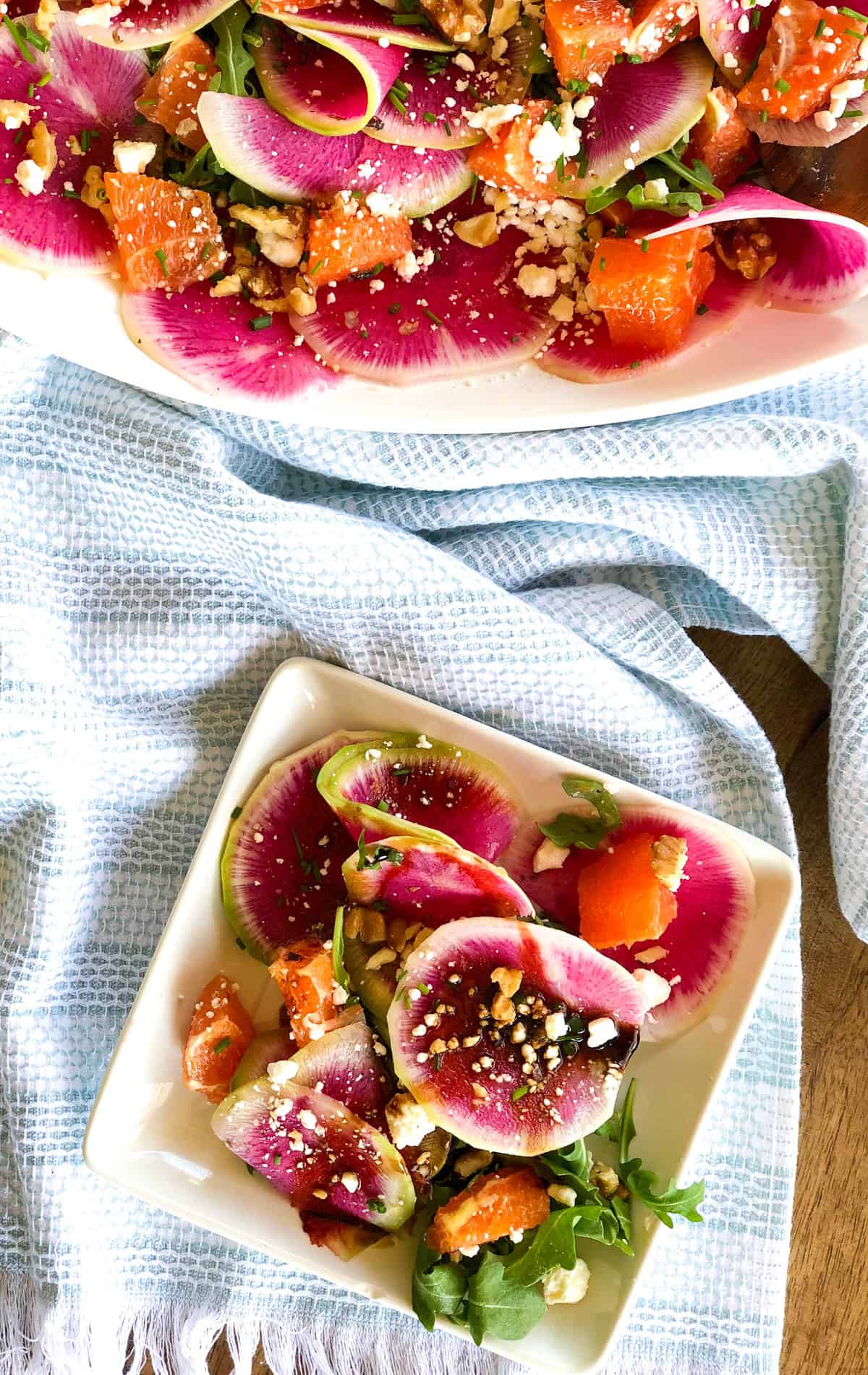 Dish up a serving and drizzle with olive oil and balsamic vinegar and dig in!
Here is the recipe for ya…
SaveSaveSaveSaveSaveSave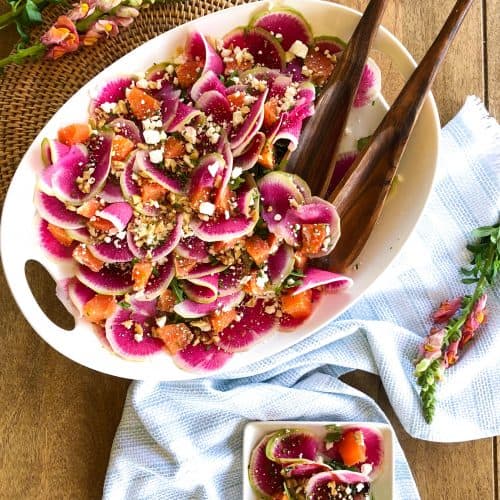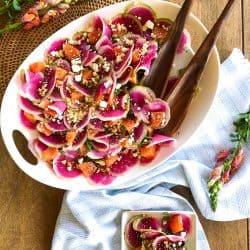 Watermelon Radish Salad
This spicy, sweet + tangy Watermelon Radish Salad is truly beautiful, and equally delicious.
Ingredients
2 watermelon radishes sliced paper thin
2 cara cara oranges peeled and sliced into segments
8 oz. baby arugula
1/2 cup crumbled feta
1/2 cup chopped walnuts
2 T. chopped chives
Olive oil and balsamic vinegar
Instructions
Place the arugula on a platter.

Layer in this order: radish, oranges, feta, walnuts and chives

Serve topped with a drizzle of balsamic and olive oil
Notes
This salad is delicious topped with grilled salmon or chicken too.
Inspired by a recipe from Alexandra Cooks
Nutrition
Calories: 83kcalCarbohydrates: 5gProtein: 4gFat: 6gSaturated Fat: 1gPolyunsaturated Fat: 4gMonounsaturated Fat: 1gCholesterol: 5mgSodium: 108mgPotassium: 242mgFiber: 2gSugar: 2gVitamin A: 684IUVitamin C: 12mgCalcium: 64mgIron: 1mg