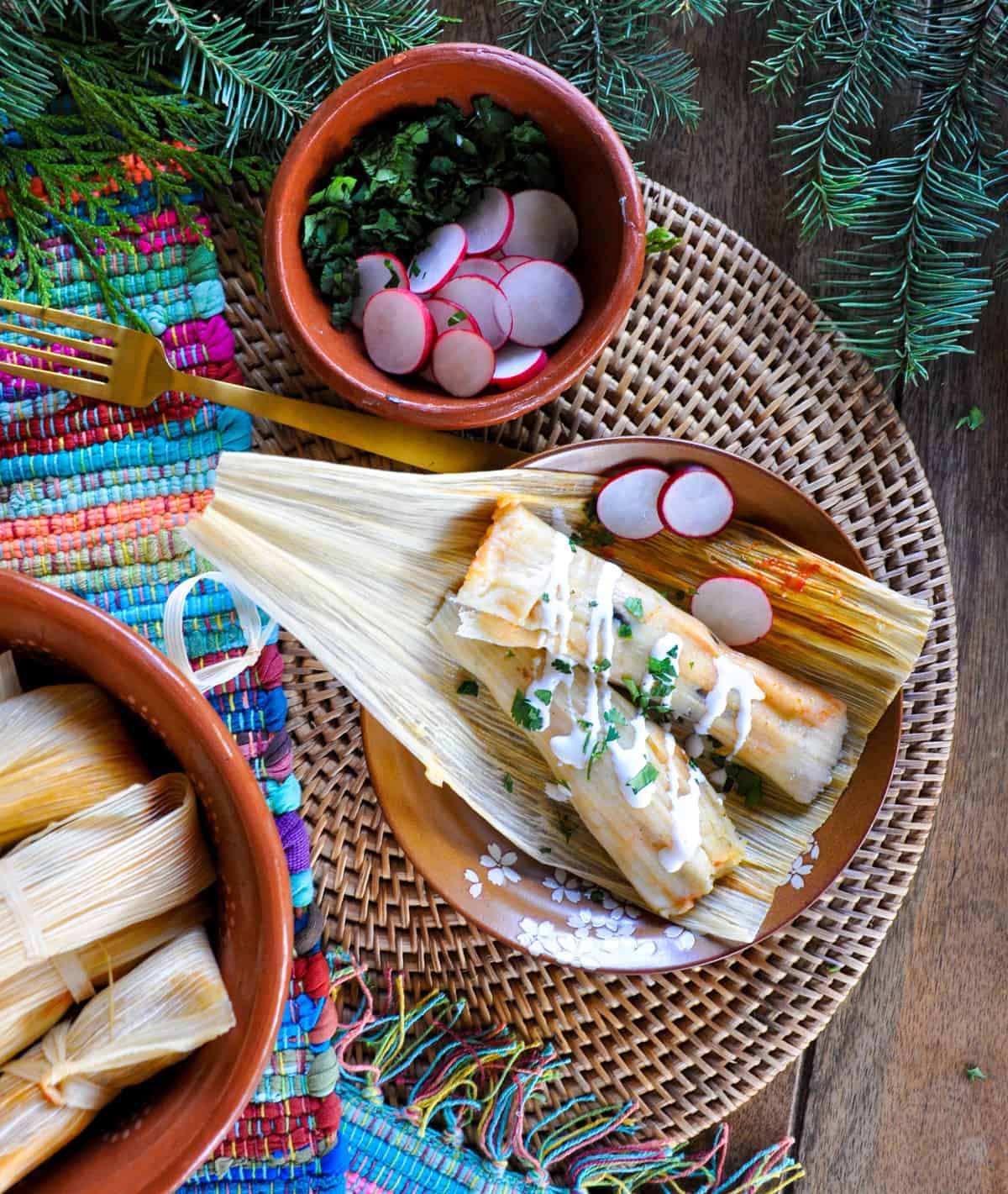 CA GROWN Blog
Discover. Learn. Connect.
A Simple Recipe For Vegetarian Tamales With Mushrooms And Chiles
December 13, 2017
Eat the Season!
Sign Up For Weekly Recipes
« Back to Recipes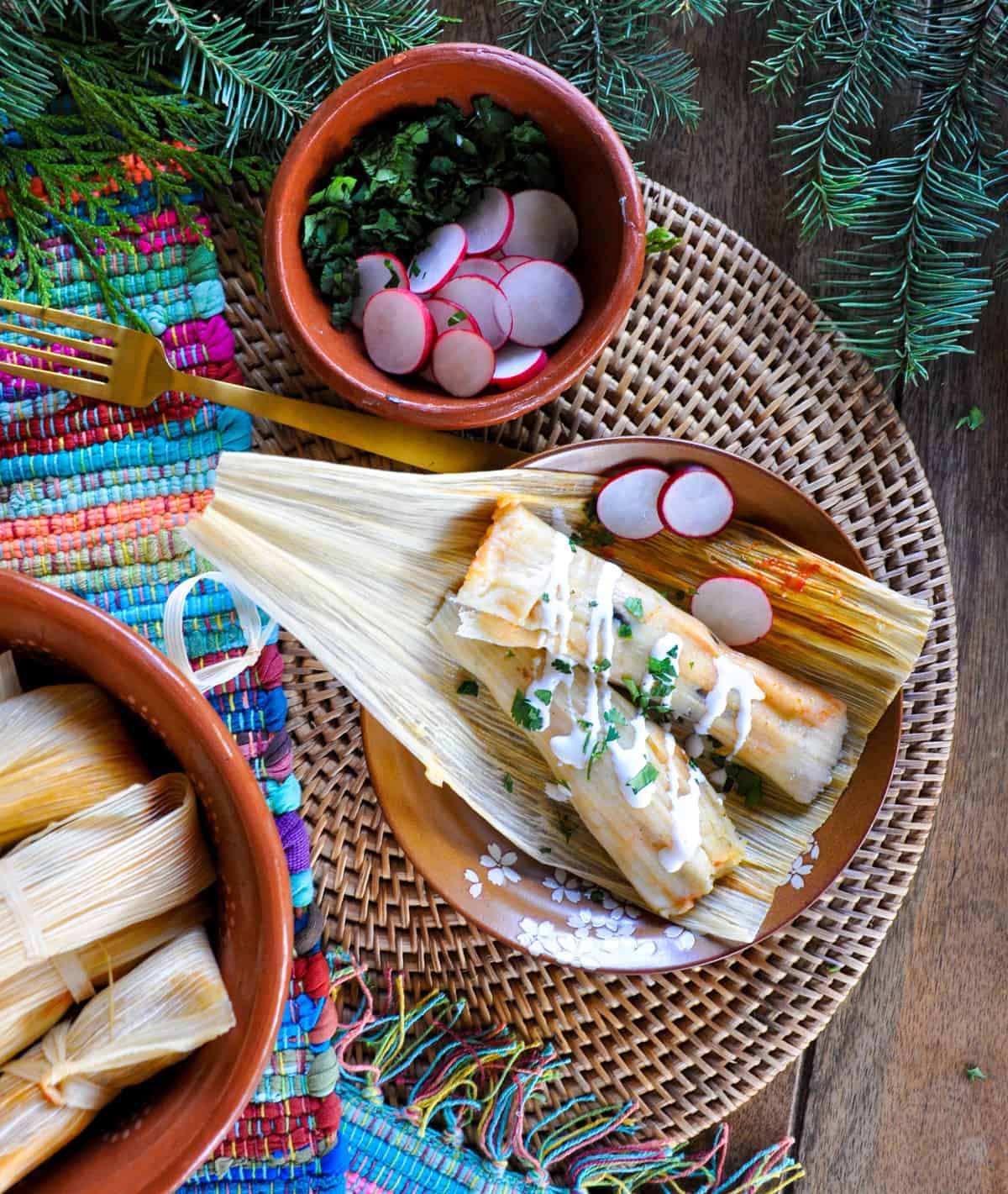 A Simple Recipe For Vegetarian Tamales With Mushrooms And Chiles
In Mexico, Central America, and for many Mexican American families, the holiday season is synonymous with tamales. This recipe for vegetarian tamales is loaded with seasonal ingredients like mushrooms and roasted Anaheim Chile's.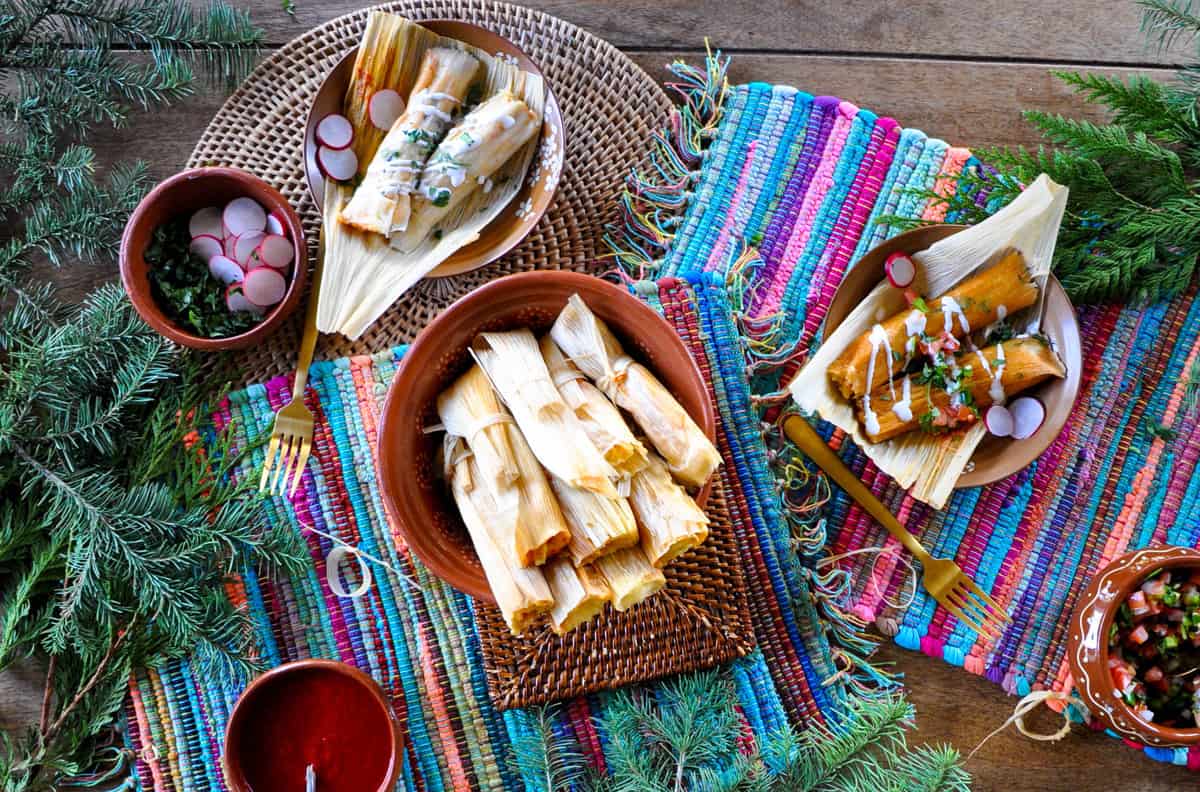 Want to learn about the signifigance of making, eating, and sharing vegetarian tamales during the holidays?
California is a cultural melting pot that represents a wide variety of holidays and traditions from all over the world! We are endlessly inspired by how our fellow Californian's celebrate their heritage through food and find ourselves always hungry for more.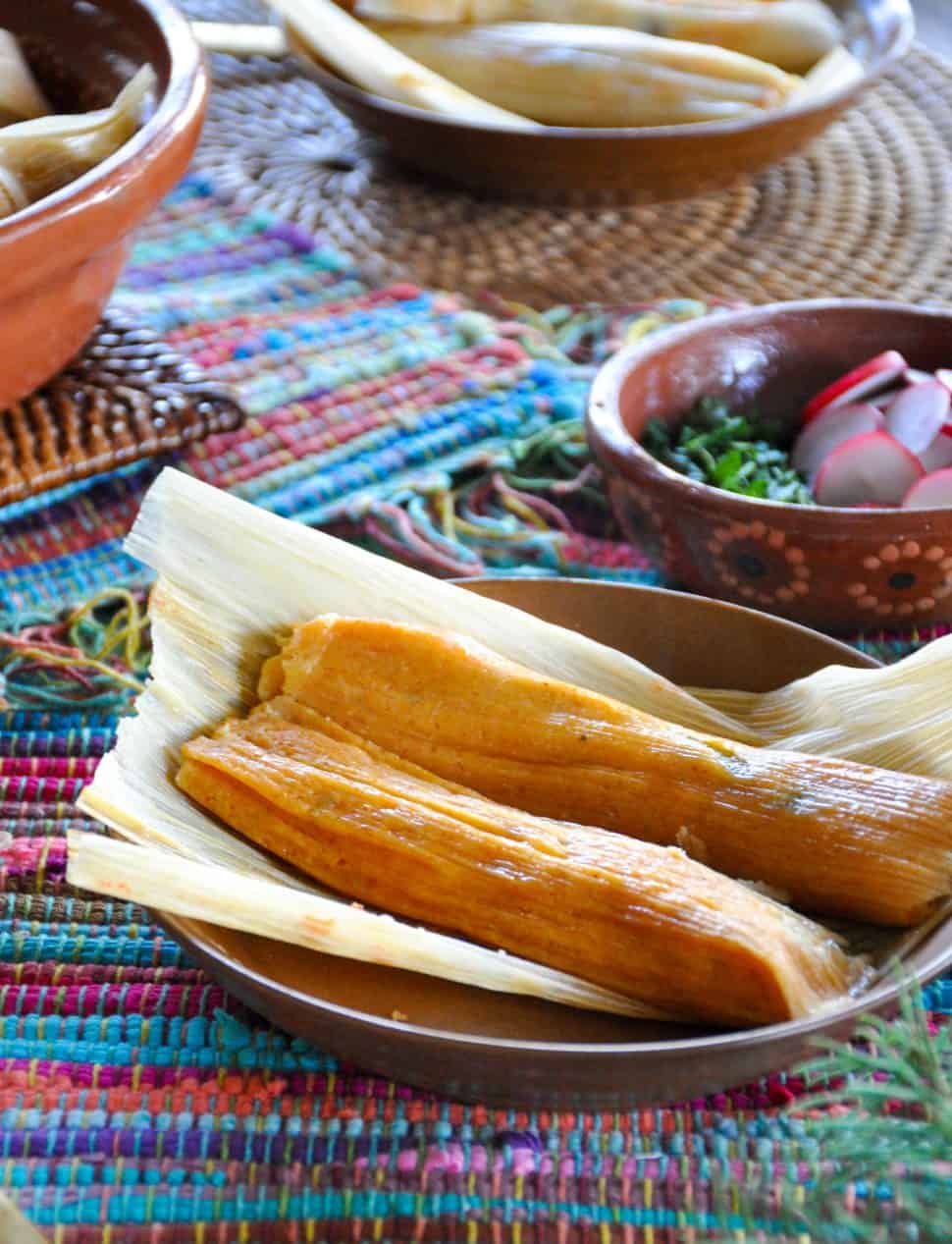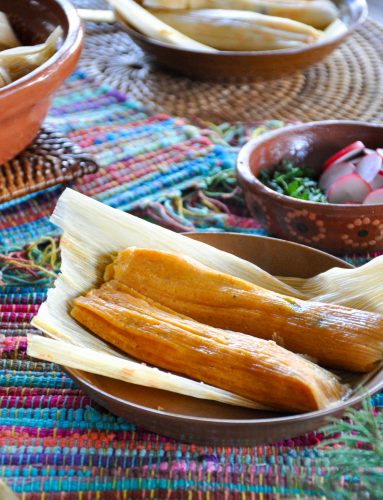 Julie Giuffrida, the Test Kitchen coordinator for the Los Angeles Times, wrote about the significance of gathering for tamalades and serving tamales around the holiday season.
From the Feast of Our Lady of Guadalupe on Dec. 12 through Three Kings' Day on Jan. 6, tamales are a culinary requirement.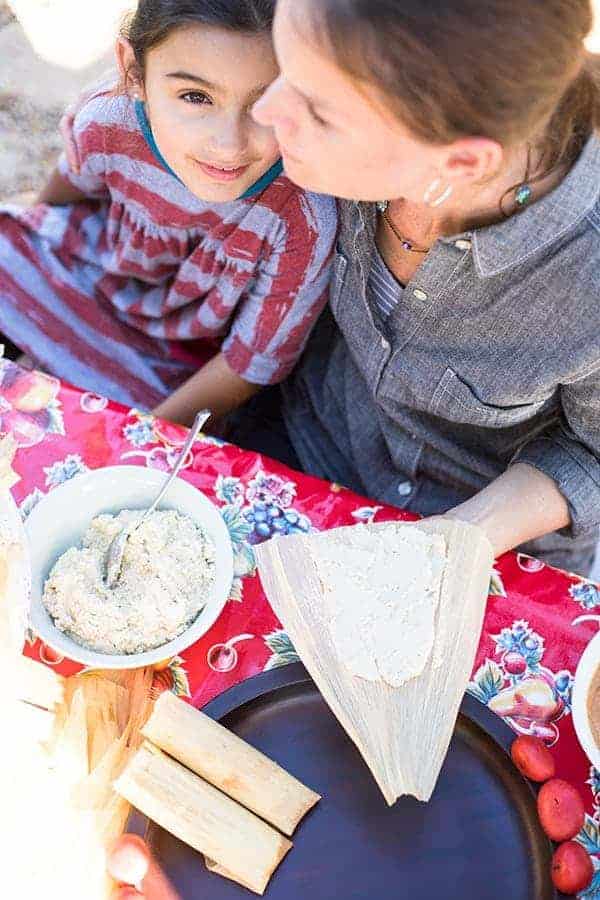 If you have ever even thought about hosting a Tamalada party you know, that there is a lot of work required. A proper plan and a few delicious recipes are what is required for success.
That's why we turned to our California Grown Creator Kate of Hola Jalapeno for all of our pressing questions about how to host a Tamalada and how to make the most delicious tamales!
Special ingredients and equipment needed to make vegetarian tamales.
You really don't need much to make tamales at home, but there are a few items taht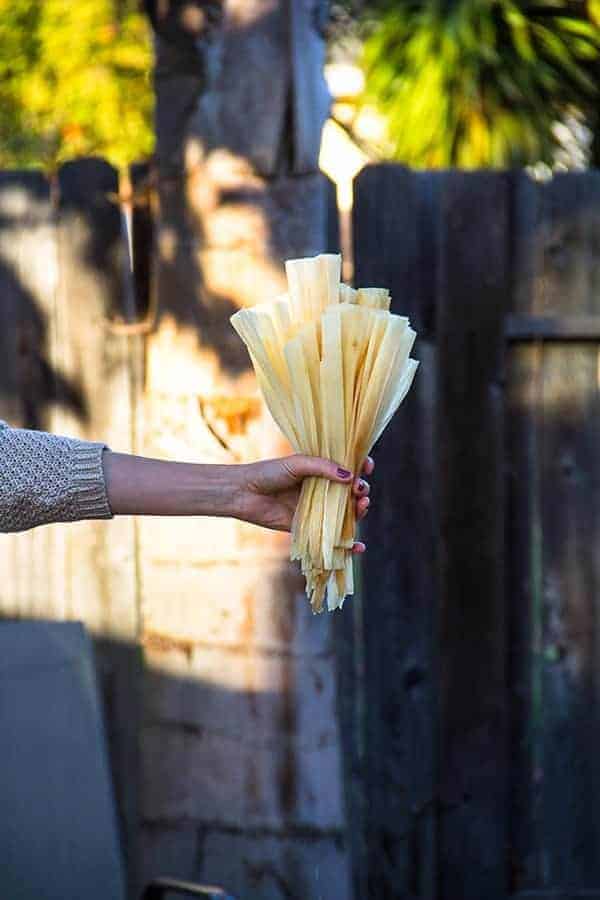 A vegetarian tamale-making checklist.
Soaked corn husks. 
Prepared masa which is made with a ground cornflour used for making tamales and tortillas. Our friend Kate of Hola Jalapeno shared her recipe with us, or you can buy pre-made masa which is made from fresh ground corn at your Mexican grocery store.
At least one type of filling.
A large surface for assembling.
A tamale steamer or large lidded pot fitted with a strainer or rack.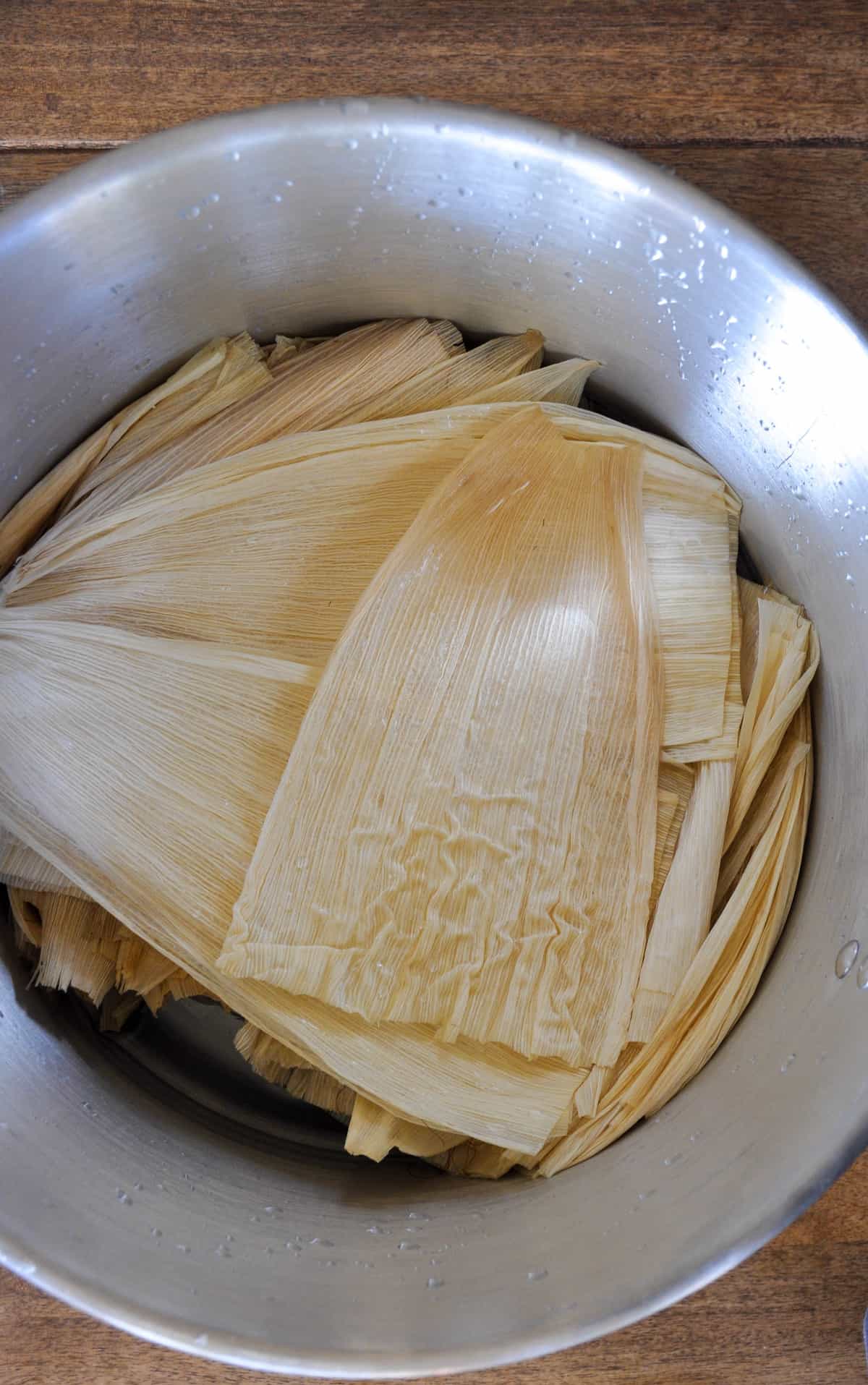 How to soak corn husks for making vegetarian tamales.
Dried corn husks need to be soaked for at least 30 minutes and in some cases up to a few hours in warm water to make them pliable.
This will prevent tears or breaks and will make the husks more flexible for folding around the masa.
Once you have all of your supplies for making tamales, you need to decide what type of filling you would like to create to stuff them with. In our opinion, this just might be the hardest part of the tamale making process.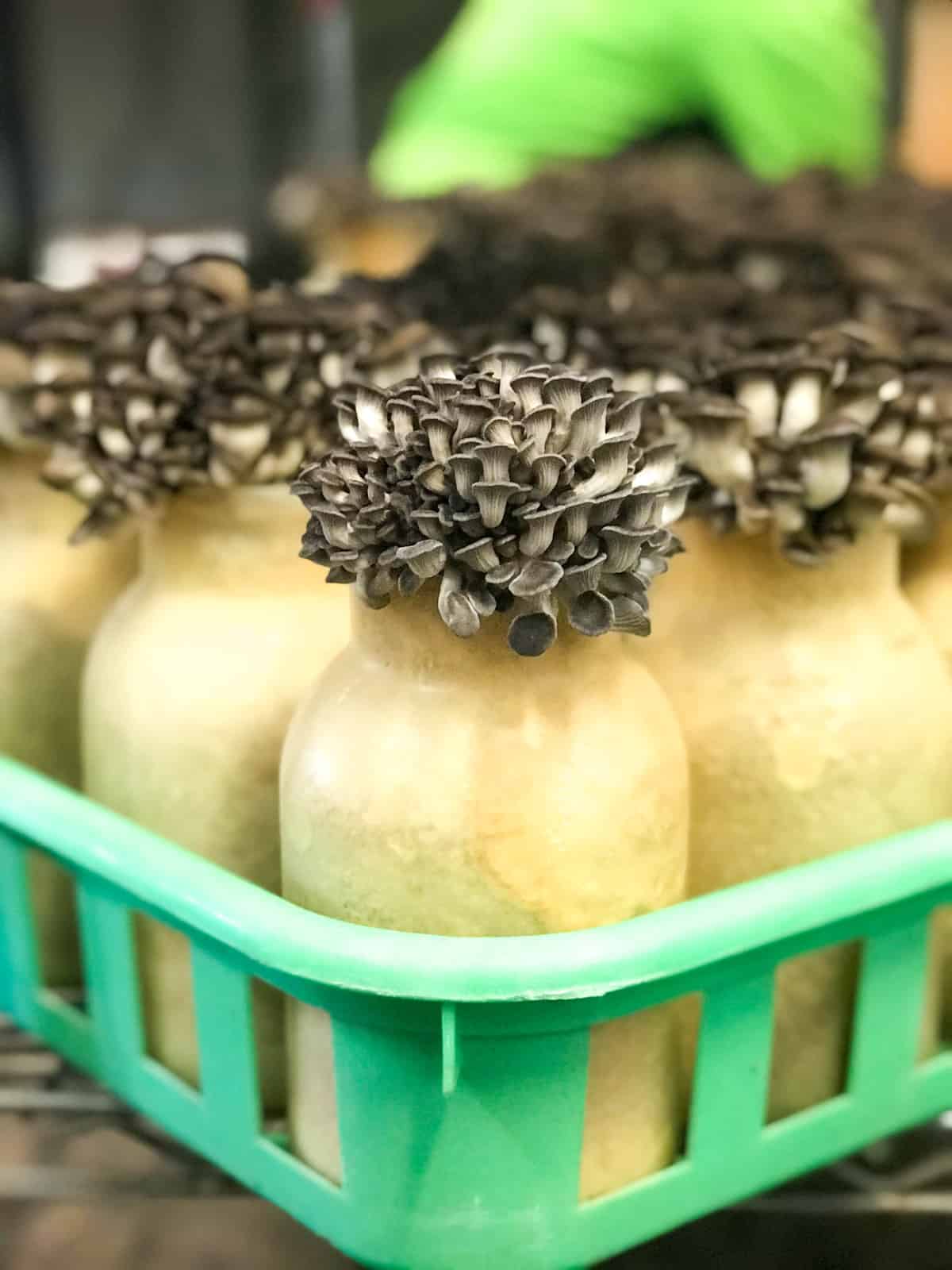 Literally, if you can dream up a flavor profile you can stuff a tamlae with it. There are lots of delicious recipes you can find online for authentic meat-based tamales. But we also suggest using tamales as the vehicle to showcase your favorite vegetables, like mushrooms!
We are big fans of mushrooms around here and we find that they make a delicious, hearty filling for these vegetarian tamales.
Looking to learn more about mushrooms and how they grow? Here are a few articles to get you started!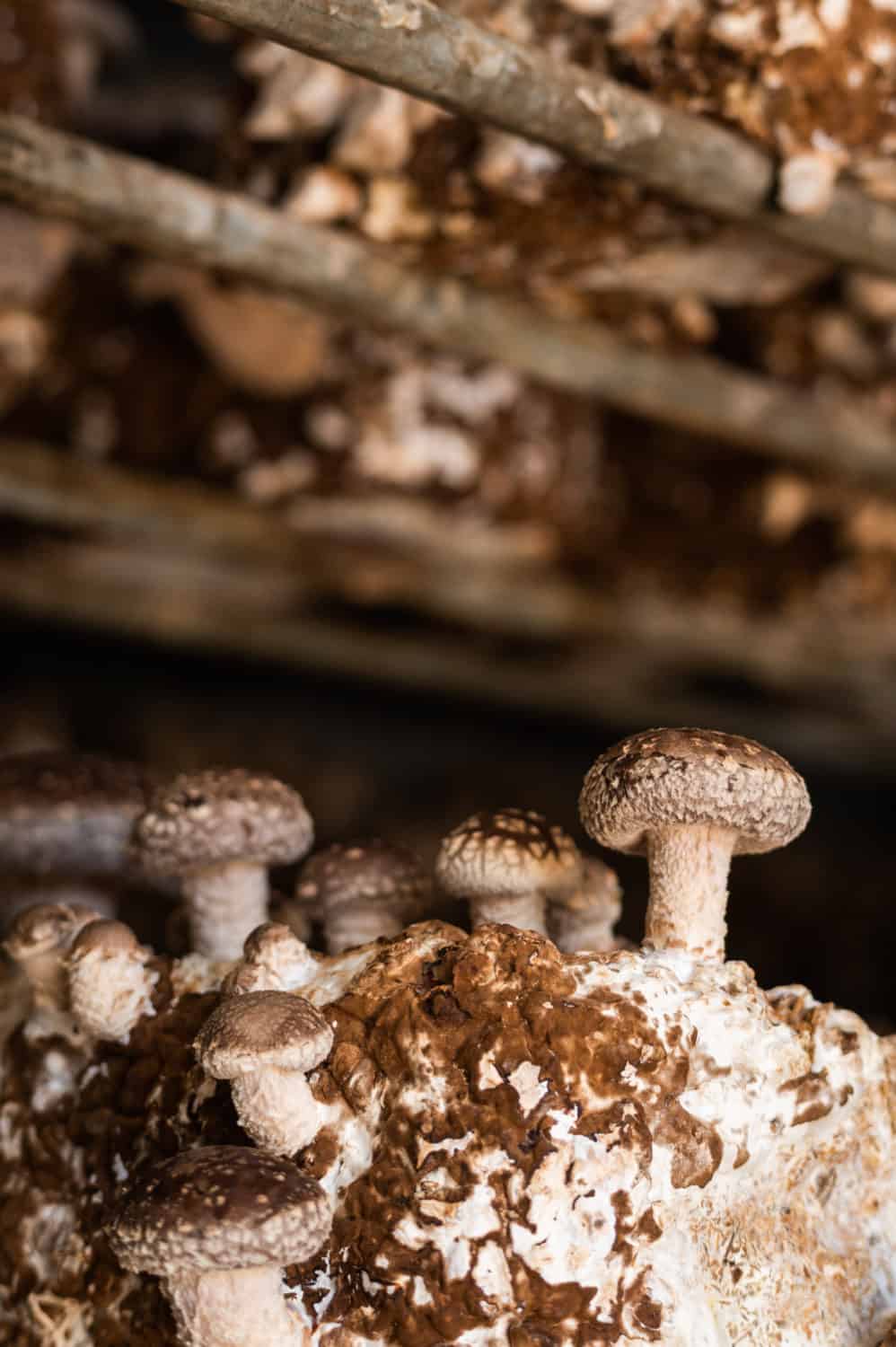 Mushrooms haven't always been the culinary equivalent of the "It Girl". Even though the New York Times called them the "Ingredient of the Year," mushrooms have been a divisive ingredient that people either love or love to hate. But over the past several years, perhaps in part because pandemic-related food shortages got more people growing their own food or because word is getting out that mushrooms are a healthy powerhouse, mushrooms are big, and exotic mushrooms are even bigger.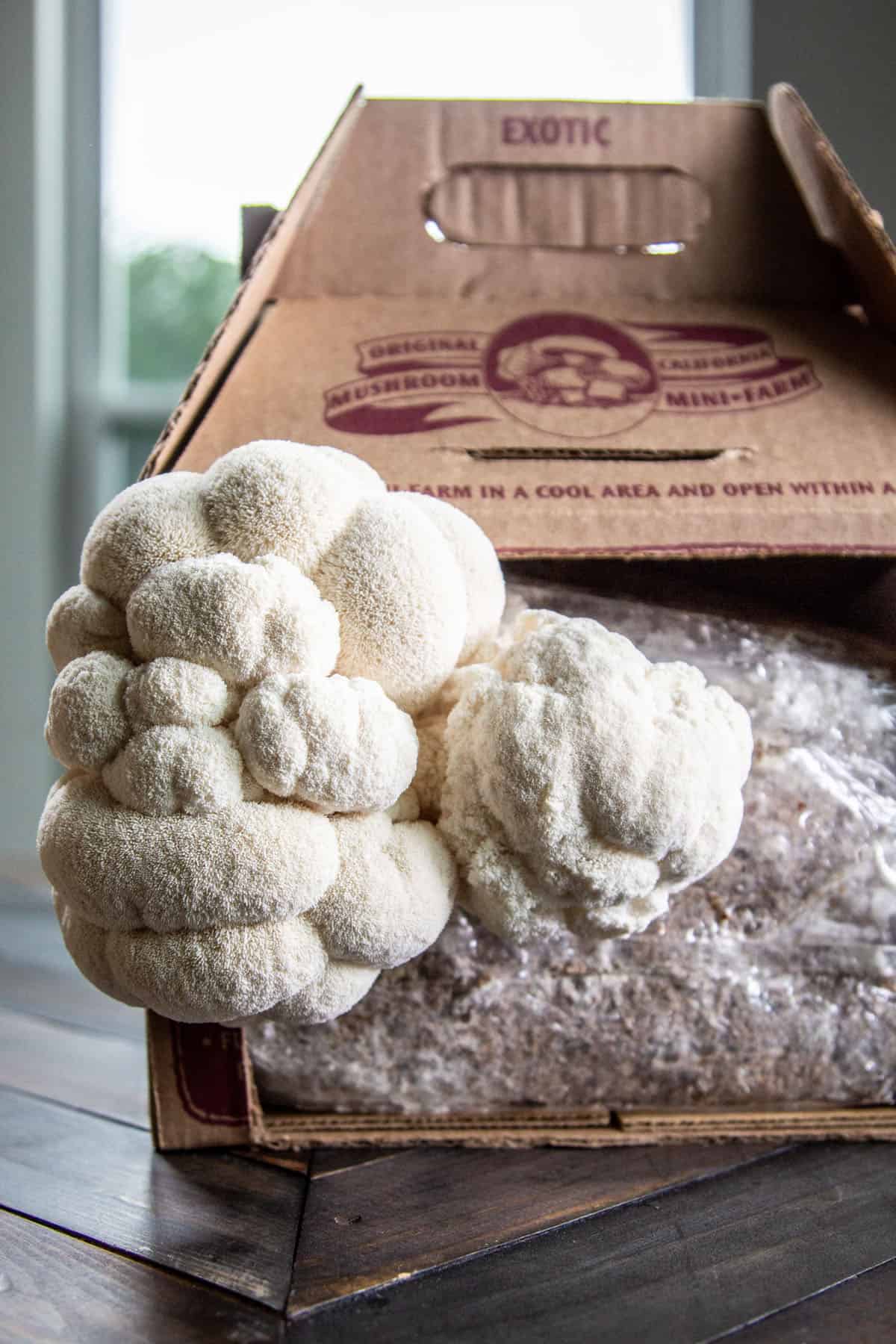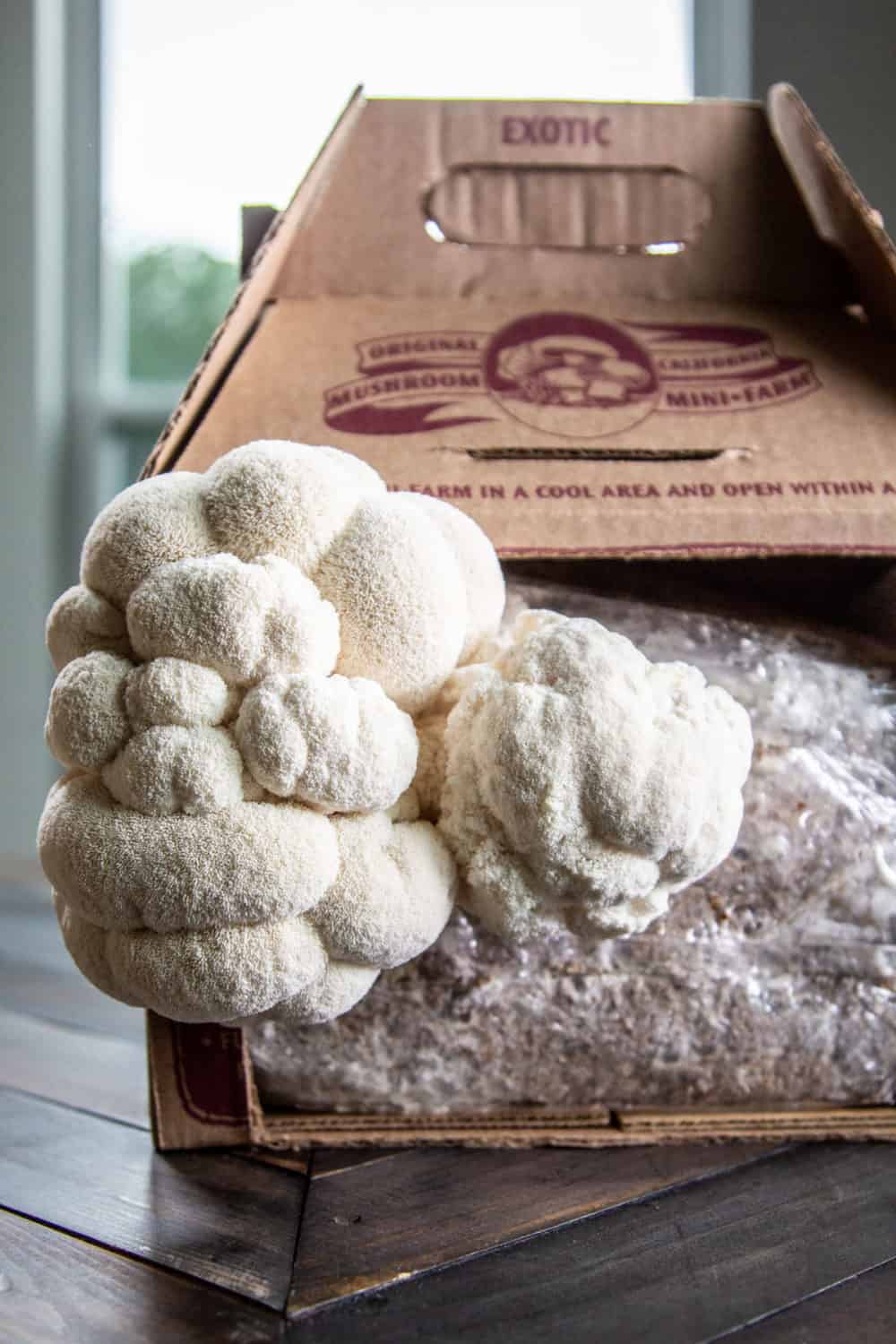 It's definitely easier to acquire fresh, specialty mushrooms here in California than it is in other parts of the United States.
True mushroom lovers and fungi fanatics will most definitely get a delicious kick out of growing their own specialty mushrooms at home like our friend Meg of This Mess is Ours did.
Step-by-step how to make this recipe for vegetarian tamales.
If you have never made tamales before, you might find the process intimidating. However, after you make a couple you will find yourself a rhythm to settle into. While it is a time commitment to make tamales from scratch, it is well worth it in the long run.
This recipe makes at least 36 tamales and some recipes make lots more! It's the ultimate cook once, eat all week type of situation.
First, let's make both of the vegetarian tamale fillings and set up an assembly line for filling the vegetarian tamales.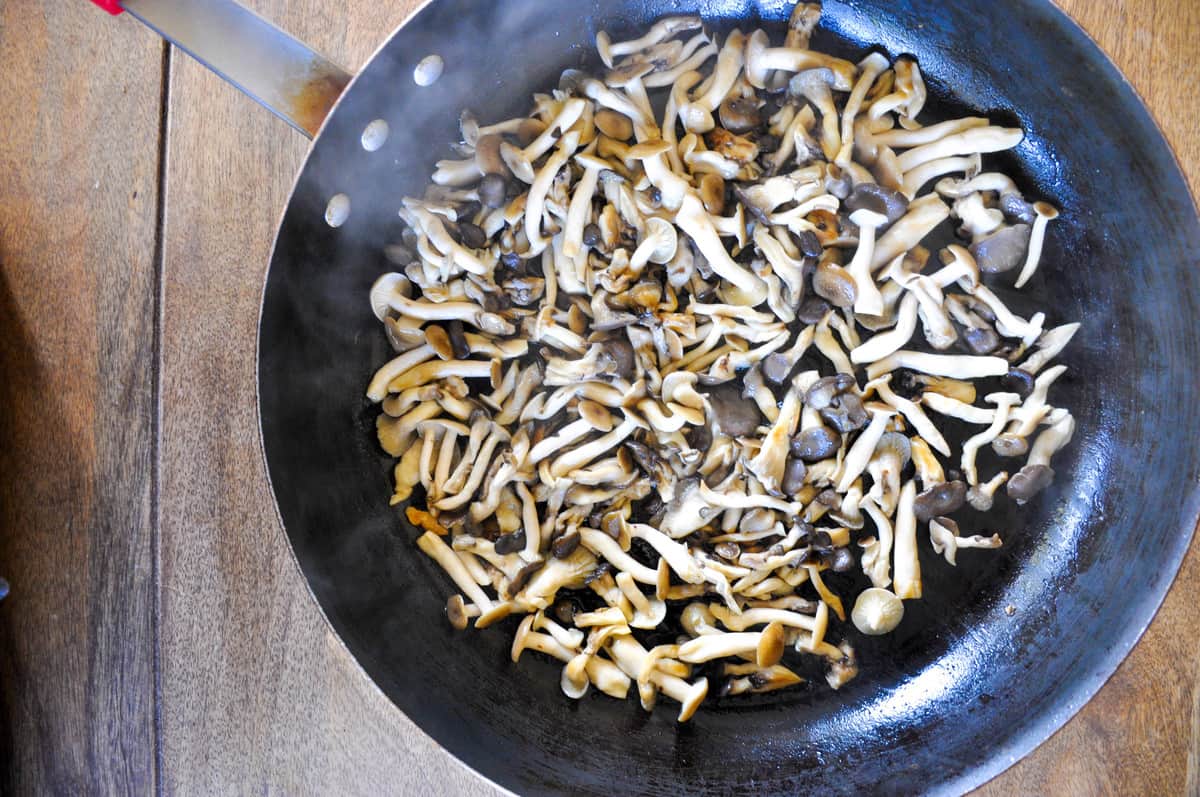 For the mushroom filling for vegetarian tamales:
Pour about a tablespoon of olive oil into a sauté pan and heat over medium-high heat. Add the prepared mushrooms and sauté until al dente.
Set aside until ready to use.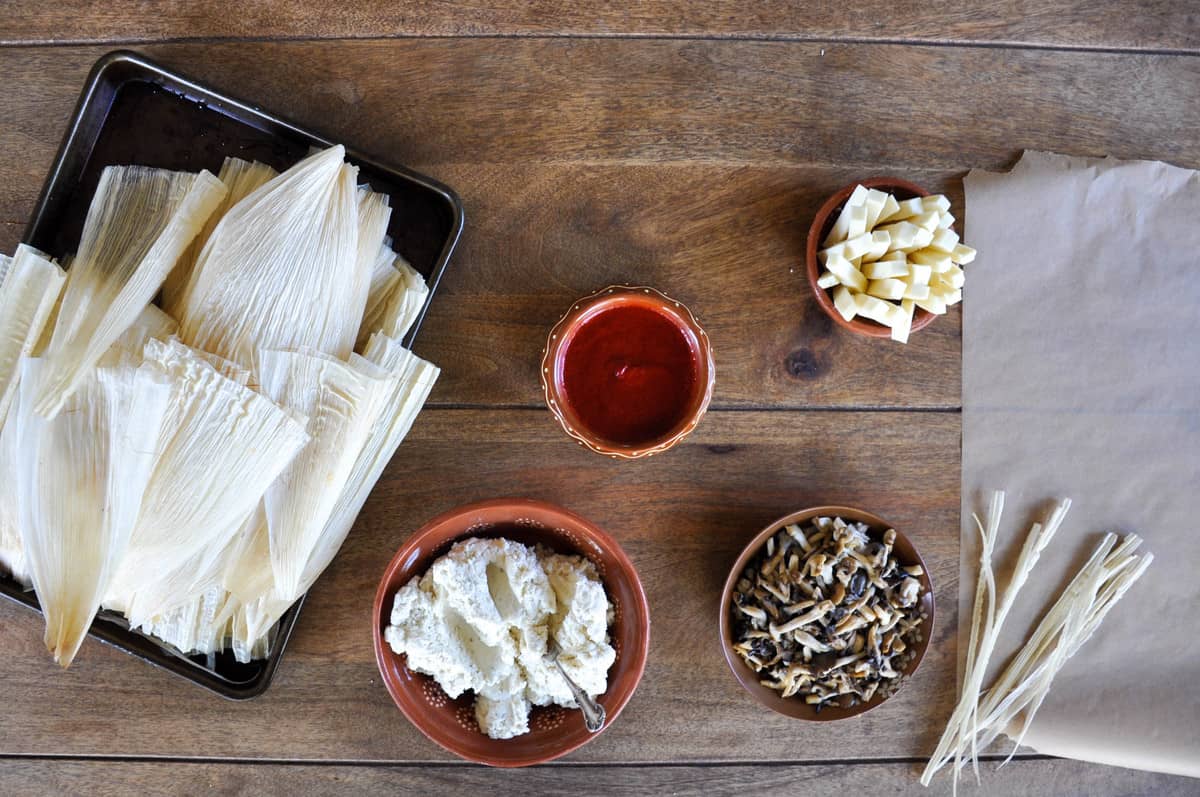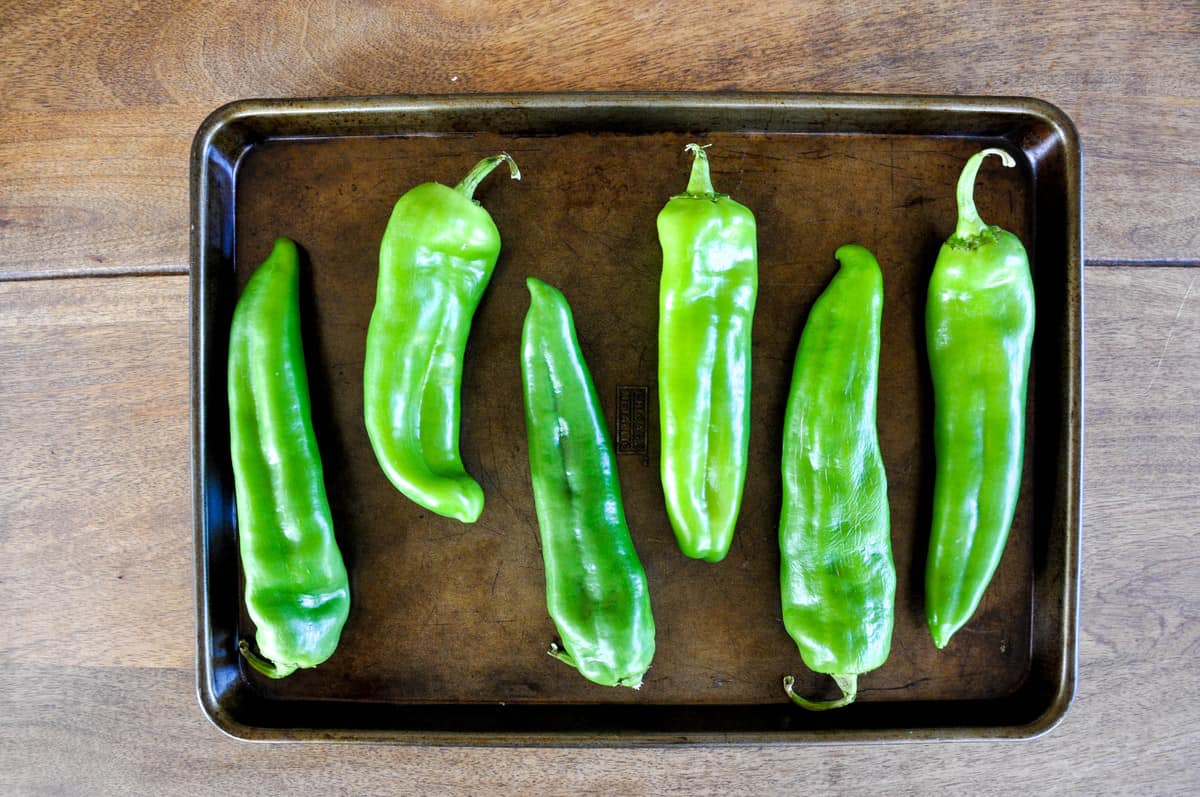 To make the roasted chile filling for vegetarian tamales:
Start by broiling the chilies for about 10 minutes under the broiler, turning once, until well blistered.
To remove the blistered skin from the chiles: Place the roasted chiles in a plastic baggie and seal them up for about 30 minutes.
The skin should separate from the flesh easily. Remove the skin and discard. Cut the tops off and remove the stems and seeds then slice into 2-inch strips.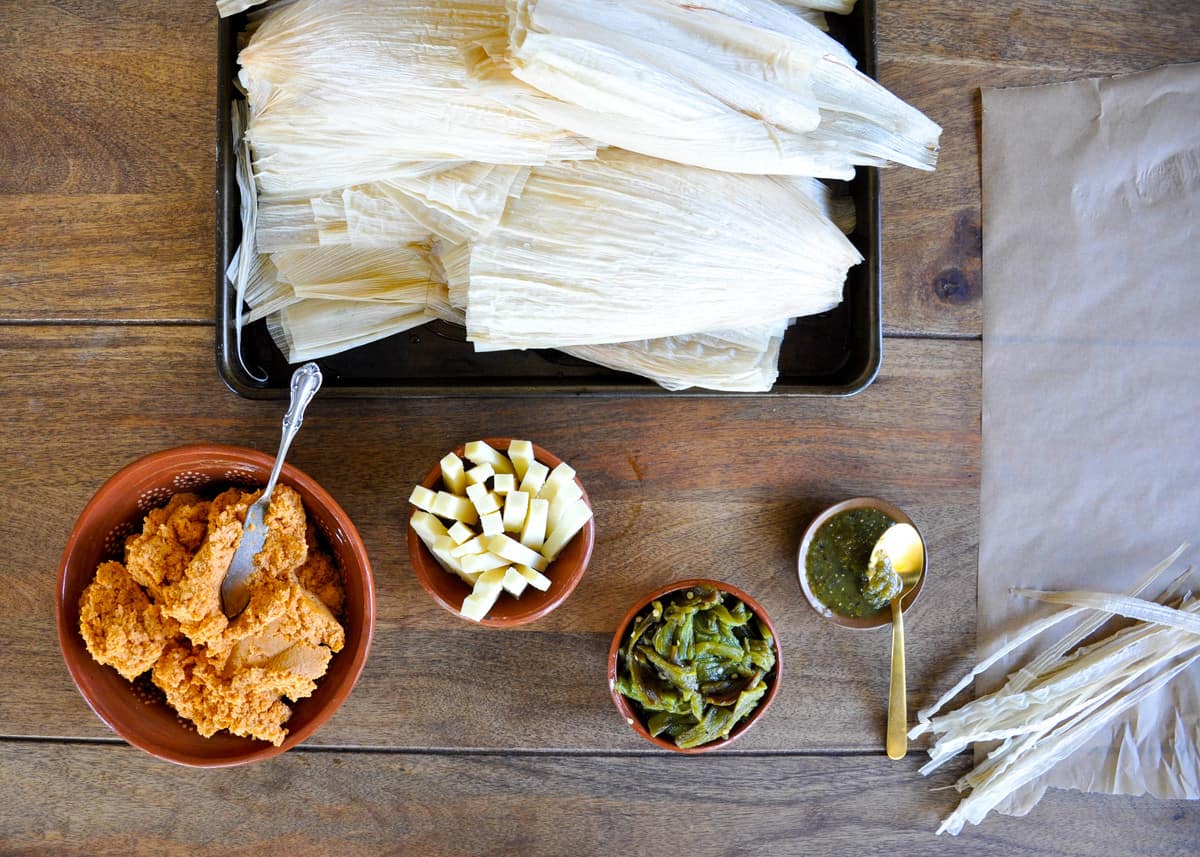 Make a tamale assembly line!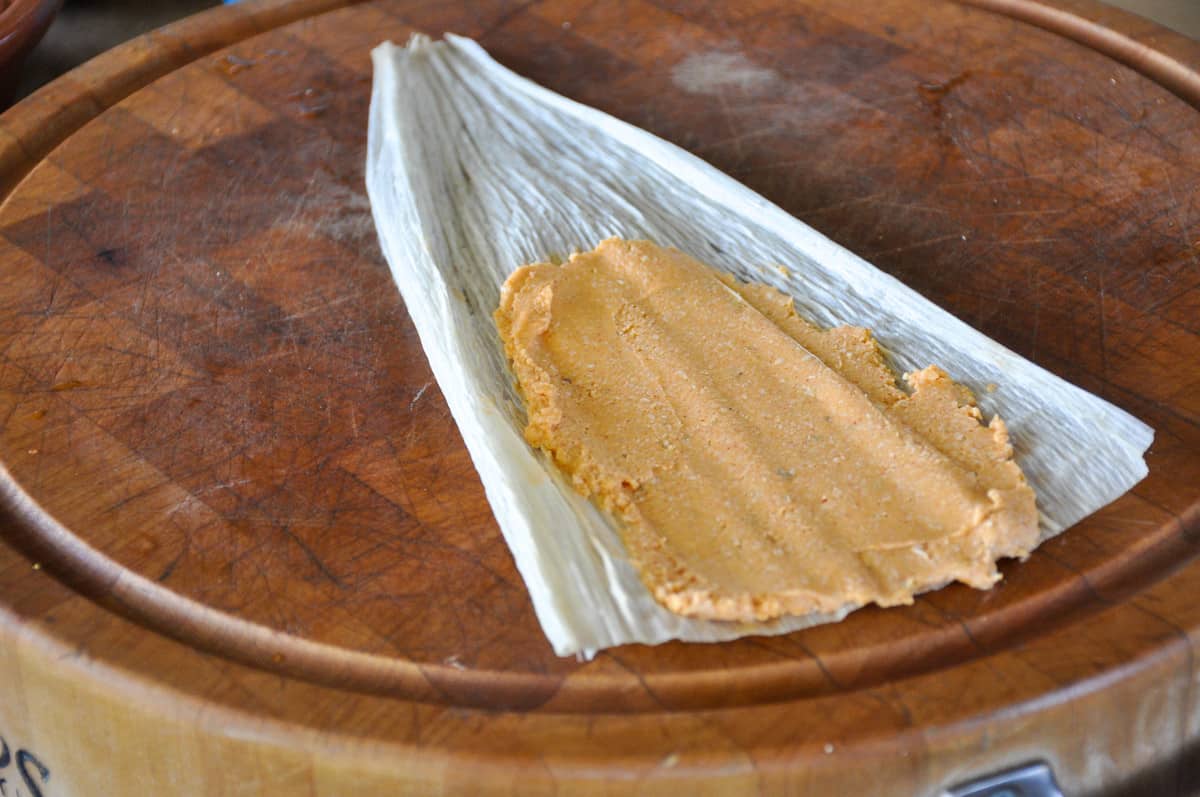 Masa.
Spread a rectangle-sized layer of prepared masa onto one of the soaked corn husks.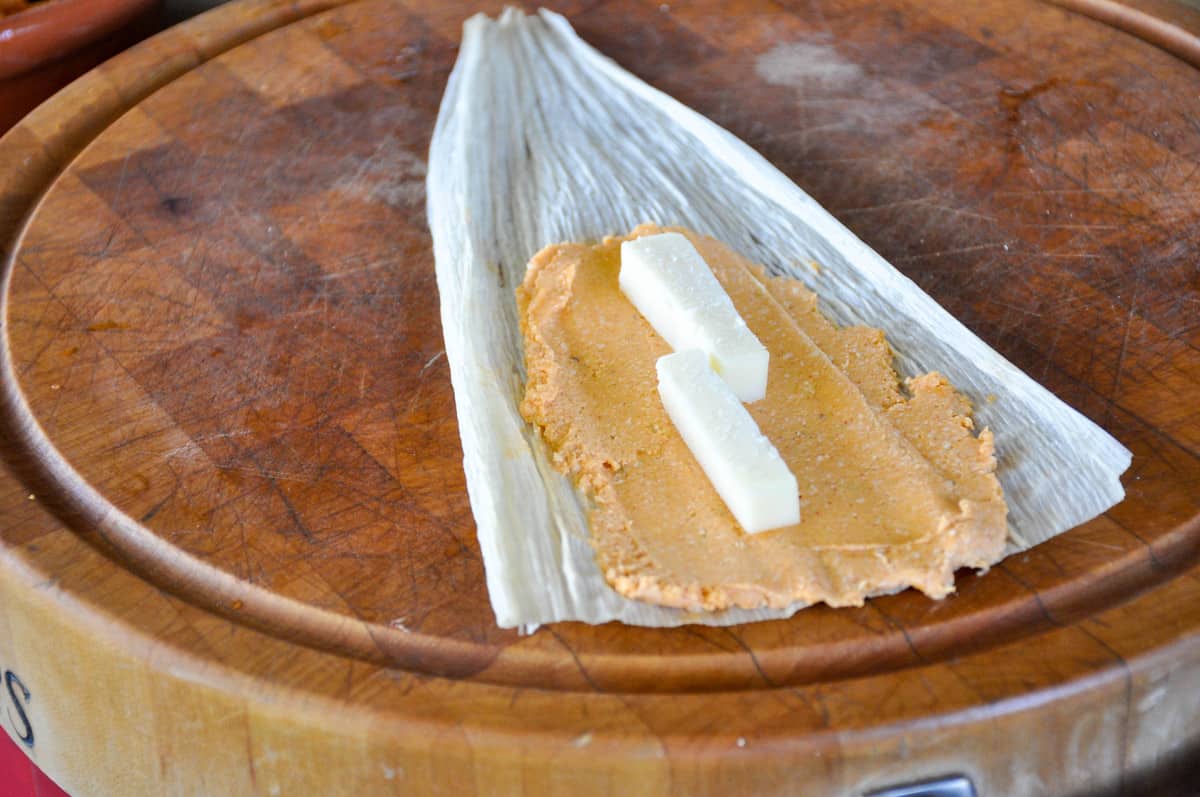 Cheese.
You can use whatever cheese your heart desires, but we opted for small rectangle-shaped pieces of Monterey Jack cheese.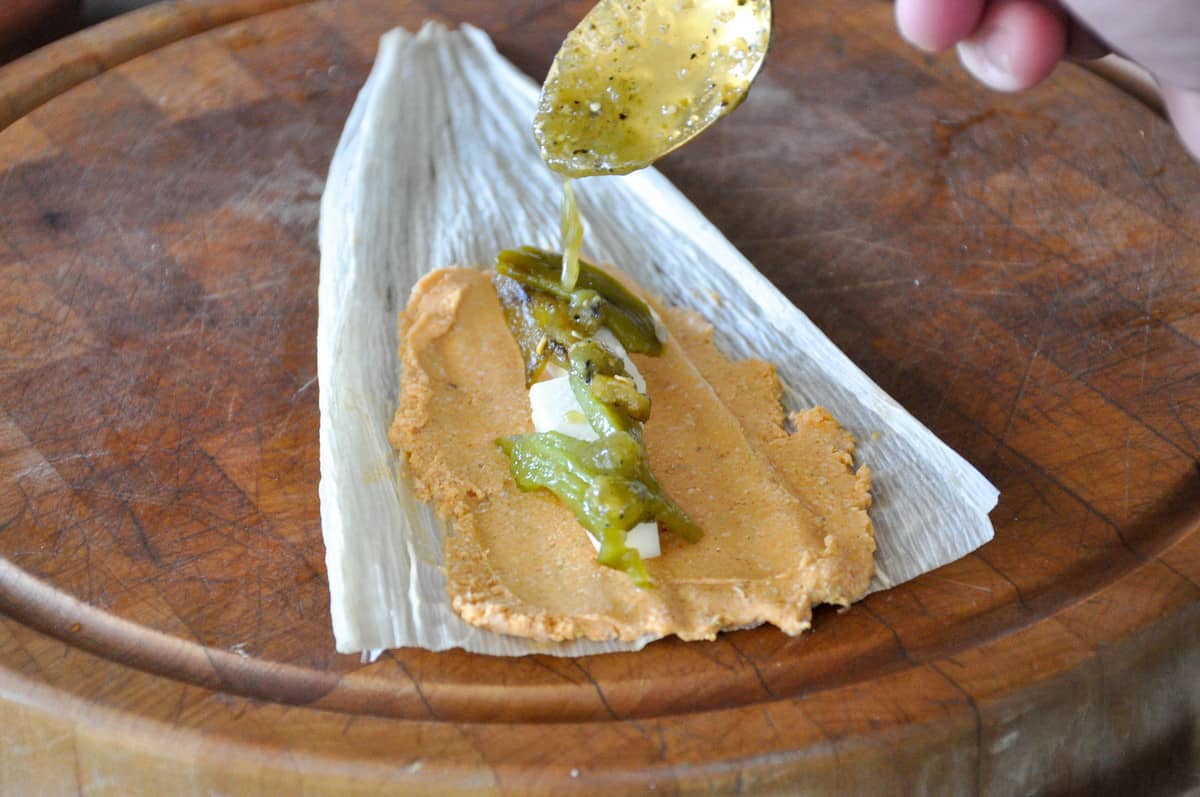 Fillings.
Whether you are using the mushroom filling or roasted chile filling now is the time to layer on the flavor!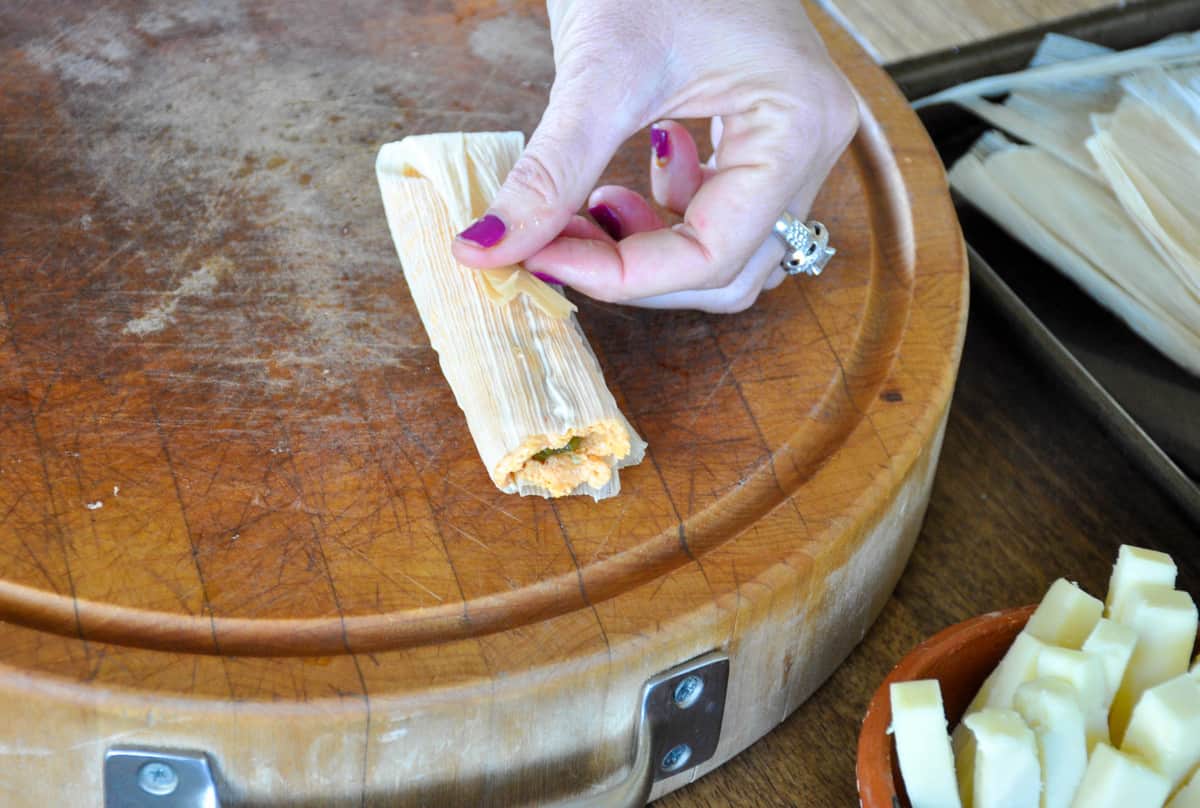 The fold.
It won't take long for you to develop a tamale folding flow for yourself.
Simply, fold the sides of the corn husk in over the filling then fold the long length of husk left at the bottom up towards the top.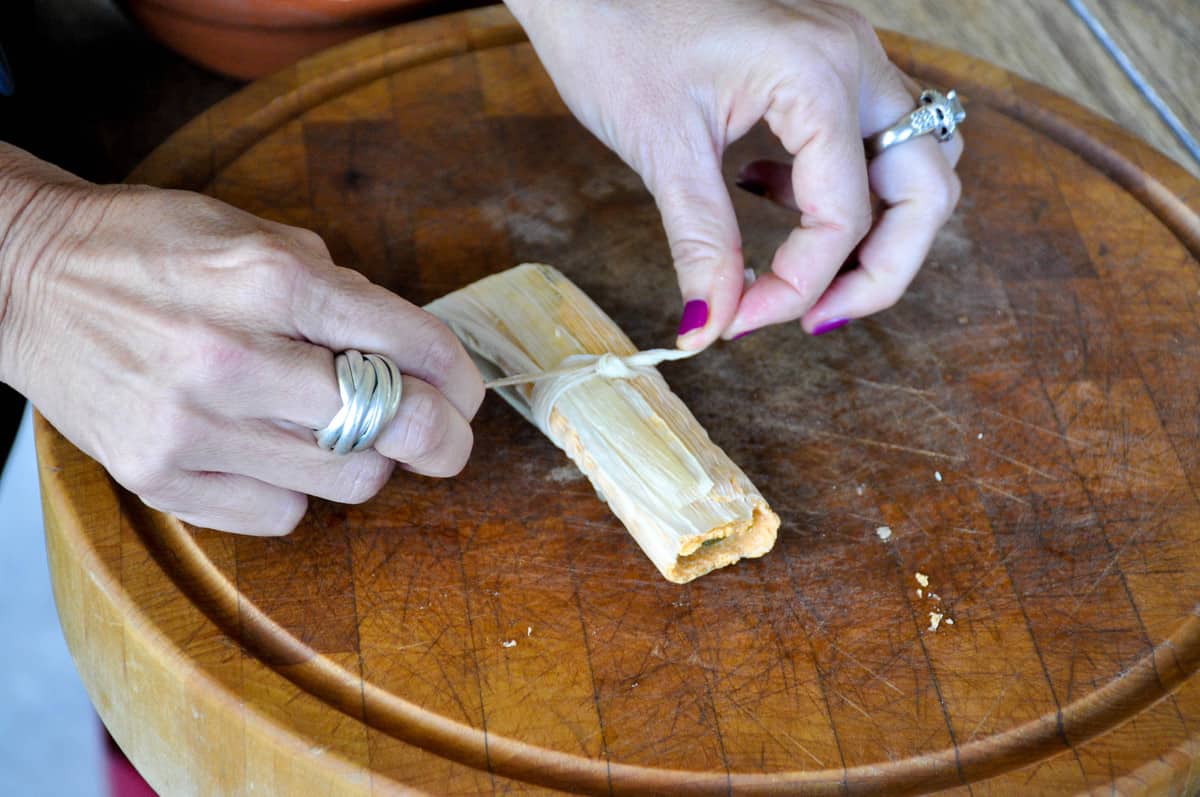 Secure the tamale.
Make a nice little bundle by tying a thin strip of corn husk around the tamale to secure everything in place.
Once all of the tamales are filled and rolled it is time to cook them!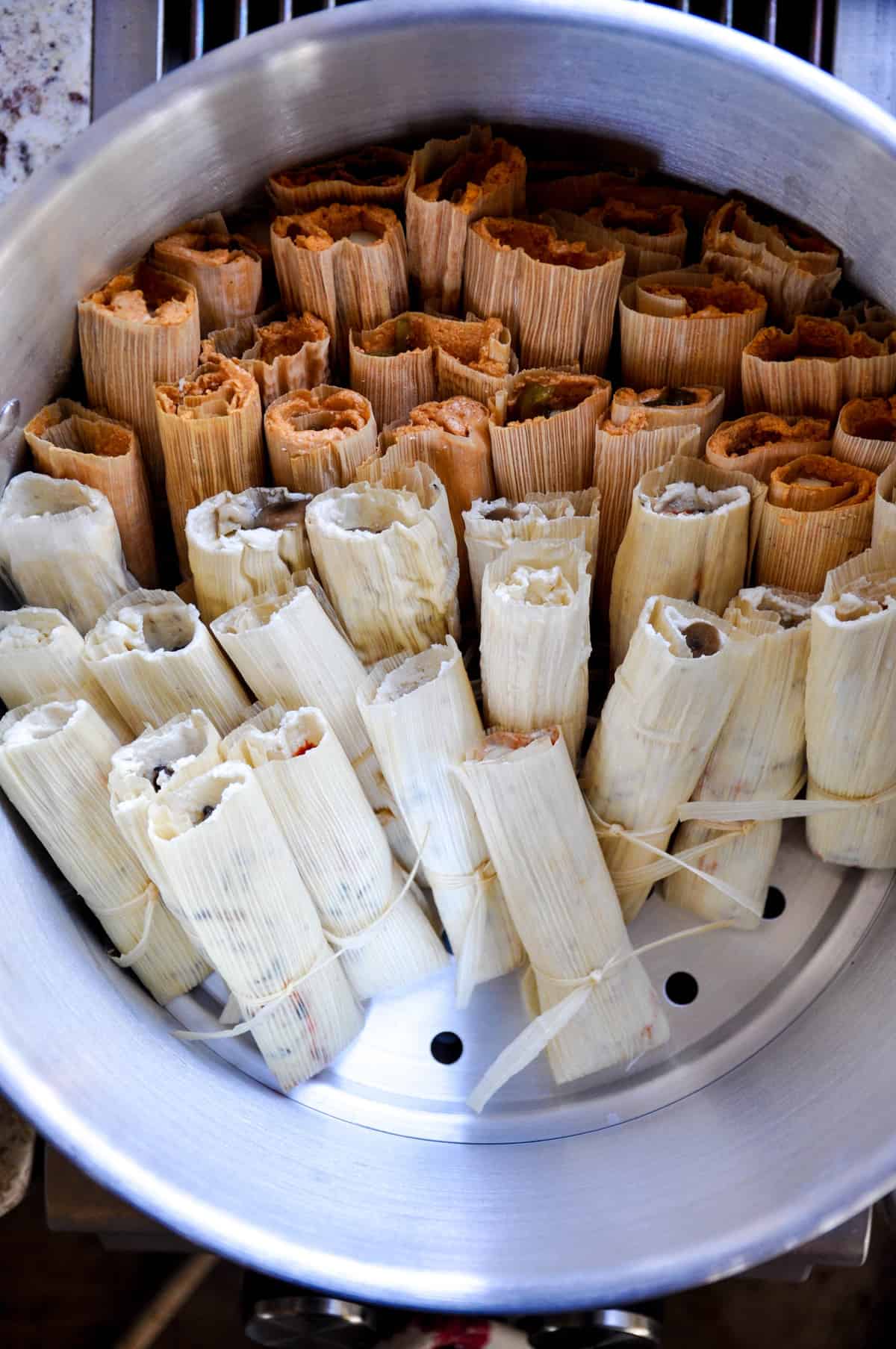 Get ready to cook!
Add all of the tamales that have been filled and rolled into a large prepared steamer pot.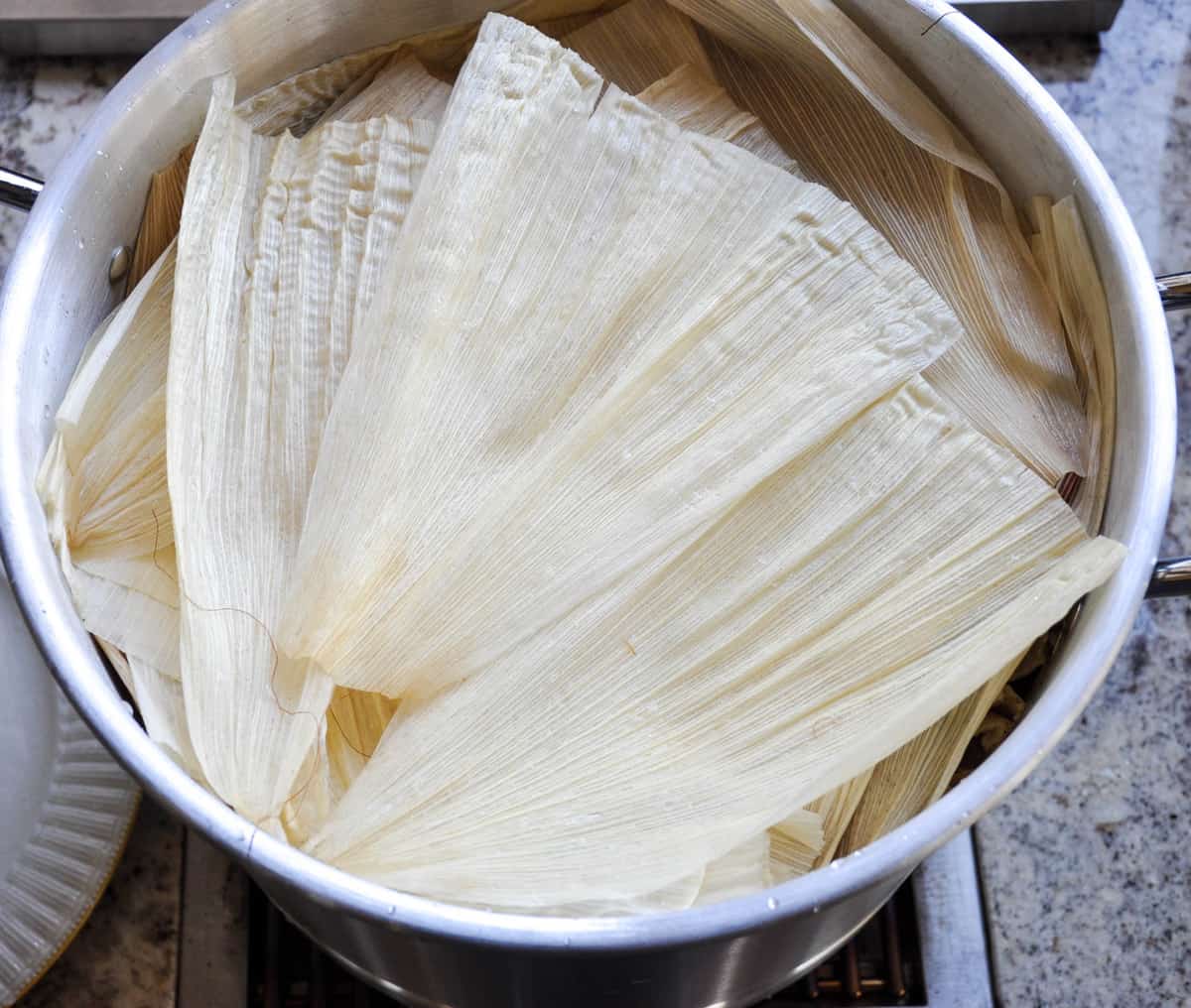 Lock in the steam.
Cover the entire pot with more corn husks and steam for about an hour, until the tamales are fully cooked.
Remove the tamales from the pot and serve piping hot or cool completely before storing.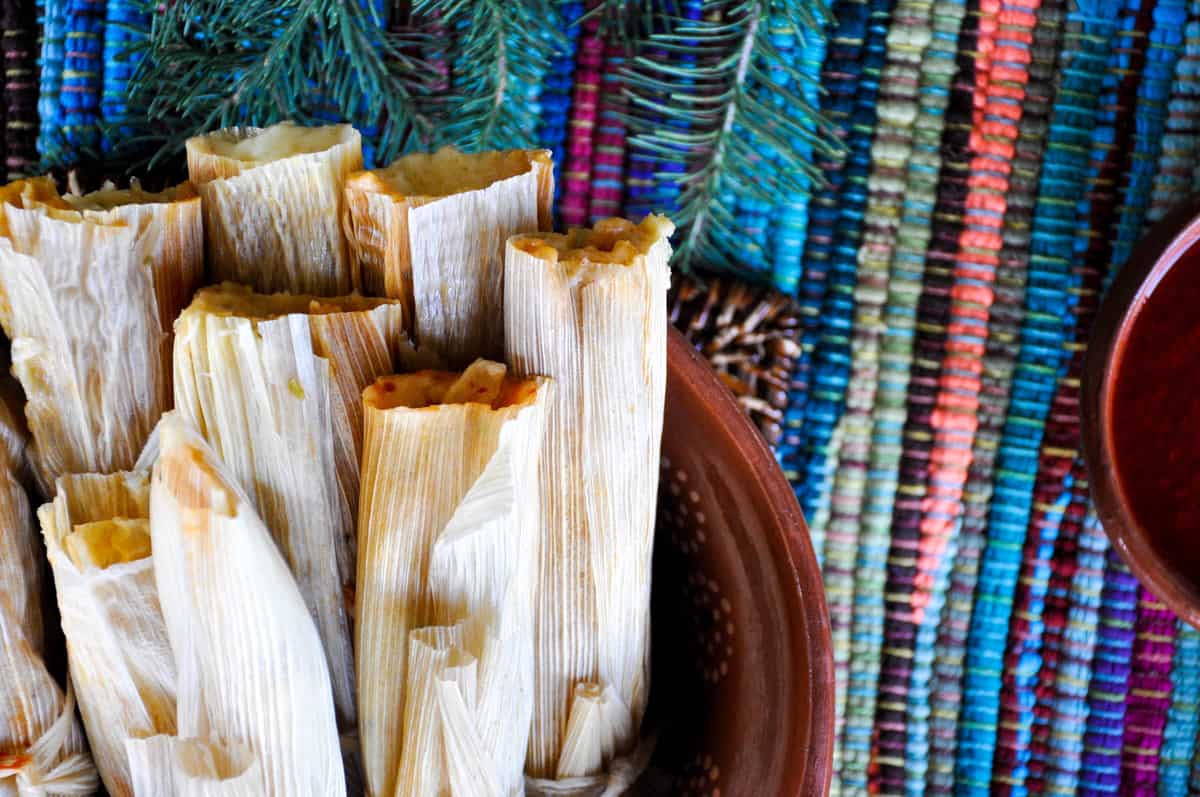 How to serve these vegetarian tamales.
You can serve plain and without condiments, but I highly suggest you dress them up a bit. Not only for presentation purposes but for flavor!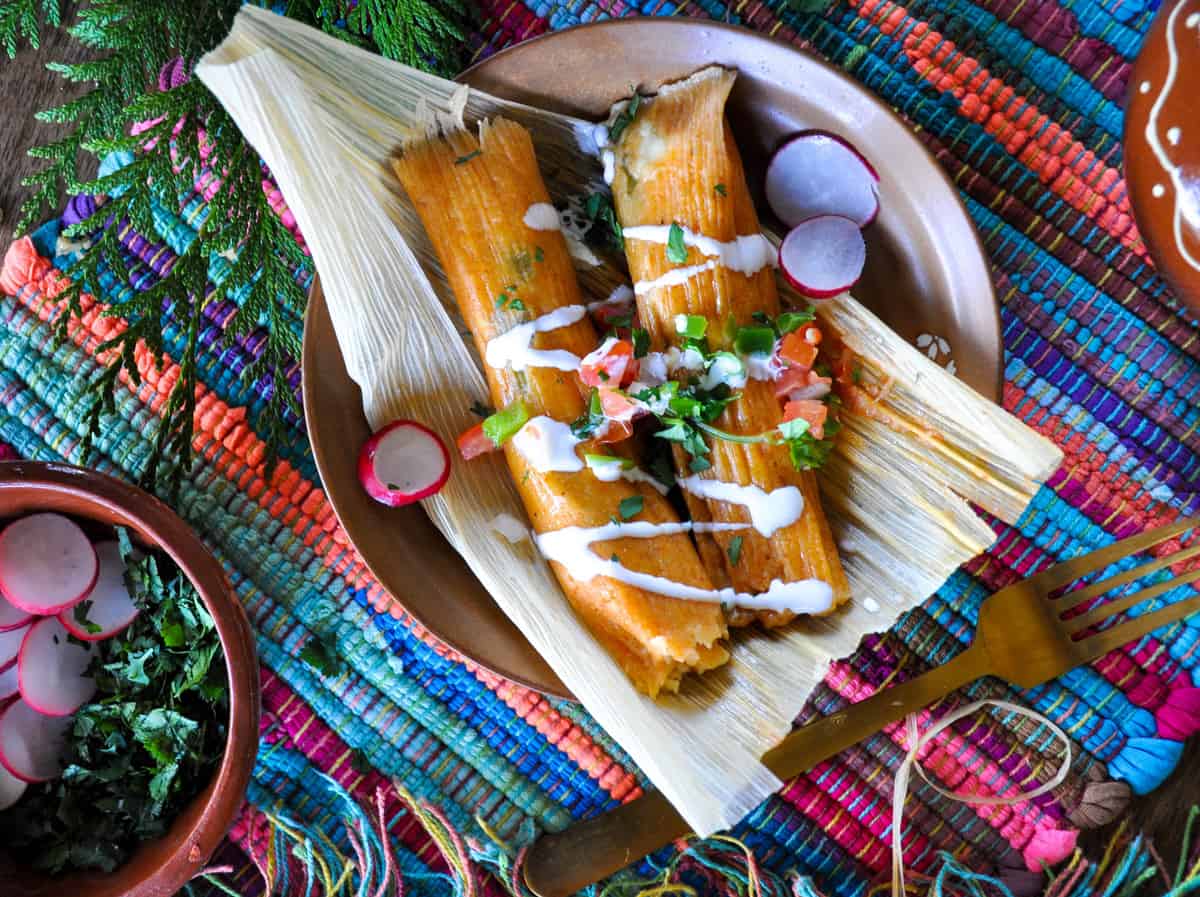 The best garnishes for vegetarian tamales.
Sour cream
Radish coins
Cilantro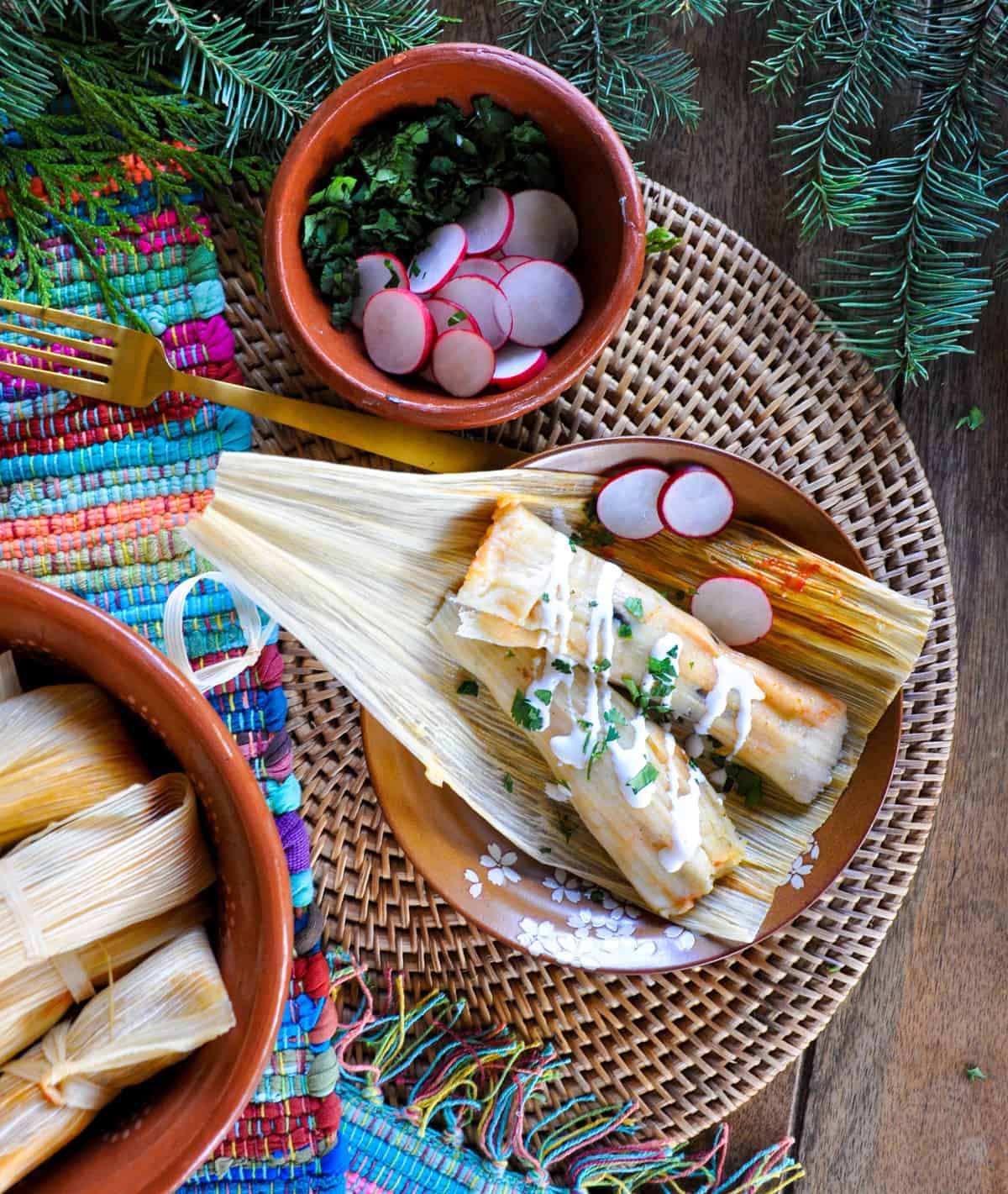 BE SURE TO SHARE YOUR VEGETARIAN TAMALE CREATIONS WITH US BY SNAPPING A PIC AND TAGGING US ON SOCIAL USING #CAGROWN.
Craving more CA Grown goodness? Follow us on Pinterest for fresh and fabulous recipe inspiration!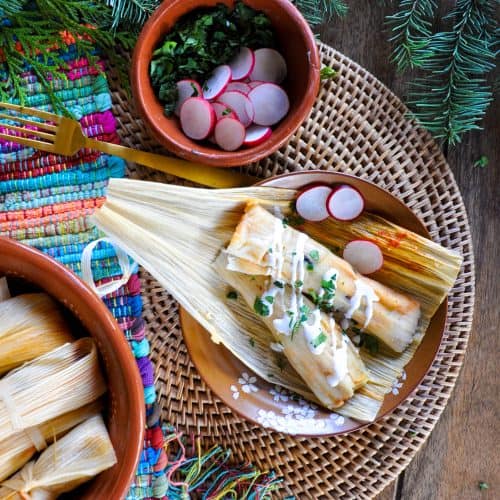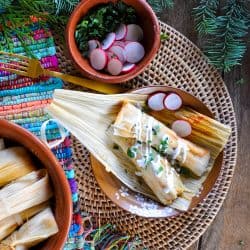 Easy Vegetarian Tamales
Our vegetarian tamales are loaded with seasonal ingredients like mushrooms and Anaheim Chile's and are a delicious way to celebrate this season!
Ingredients
Anaheim Chile Tamales
6 Anaheim Chiles
8 ounces Jack Cheese, cut into cubes
4 ounces Salsa Verde
Prepared Masa
Corn Husks
Cheesy Mushroom Tamales
16 ounces Mushrooms
2 tablespoons Olive Oil
8 ounces Cheese, cut into cubes
4 ounces Red Sauce
Prepared Masa
Corn Husks
Instructions
Soak the corn husks in water for an hour.
For Cheese Mushroom Filling
Sauté mushrooms in olive oil until al dente. Set aside.
For Anaheim Chile Cheese Filling
Broil the chilies in the oven until skins are black and blistered. Place in a baggie for 30 minutes to steam. Remove skins and seeds. Chop into 2 inch strips.
For All Tamales
Spread masa in a thin layer onto a corn husk. Add cheese and rest of filling. Roll and fold end up and secure. Place in steamer.

Add a layer of corn husks on top of the tamales and put the lid on. Steam for an hour or until done.
Nutrition
Calories: 63kcalCarbohydrates: 1gProtein: 3gFat: 5gSaturated Fat: 3gPolyunsaturated Fat: 0.2gMonounsaturated Fat: 2gCholesterol: 12mgSodium: 230mgPotassium: 56mgFiber: 0.4gSugar: 1gVitamin A: 131IUVitamin C: 2mgCalcium: 92mgIron: 0.1mg
SaveSave
SaveSave
SaveSaveSaveSave
SaveSaveSaveSave
SaveSave
SaveSave