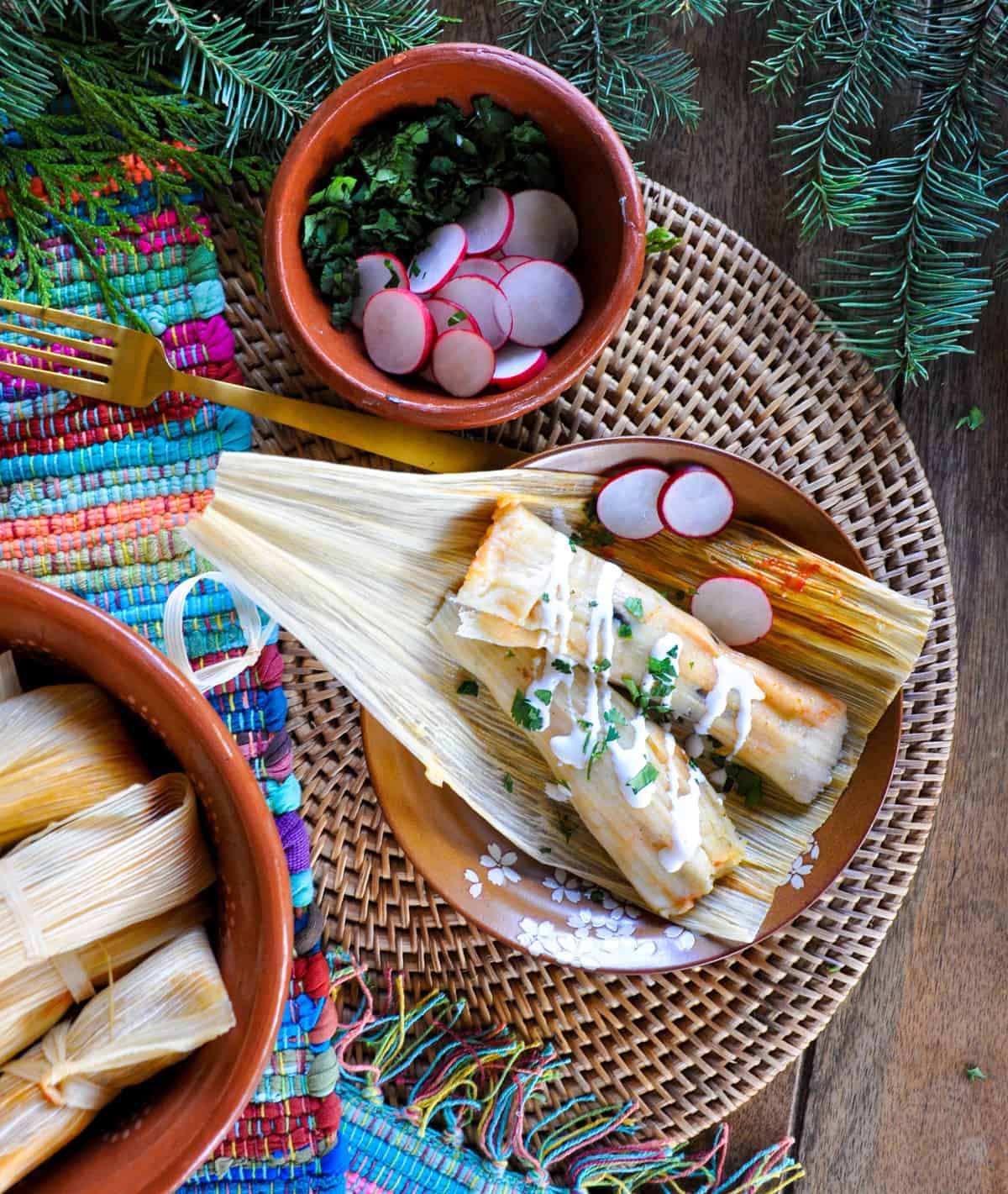 CA GROWN Blog
Discover. Learn. Connect.
Vegetable Tamales
December 13, 2017
Eat the Season!
Sign Up For Weekly Recipes
« Back to Recipes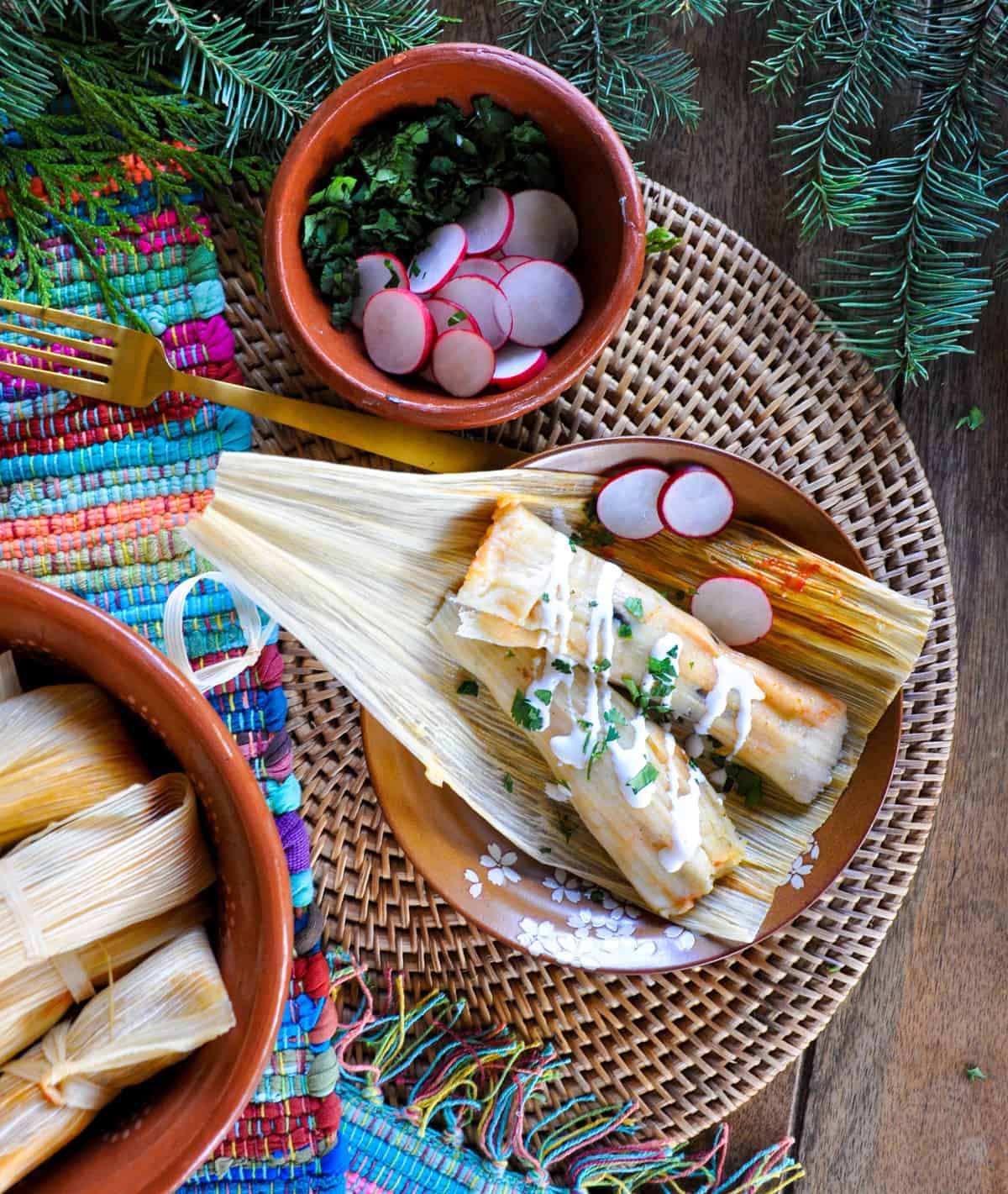 Vegetable Tamales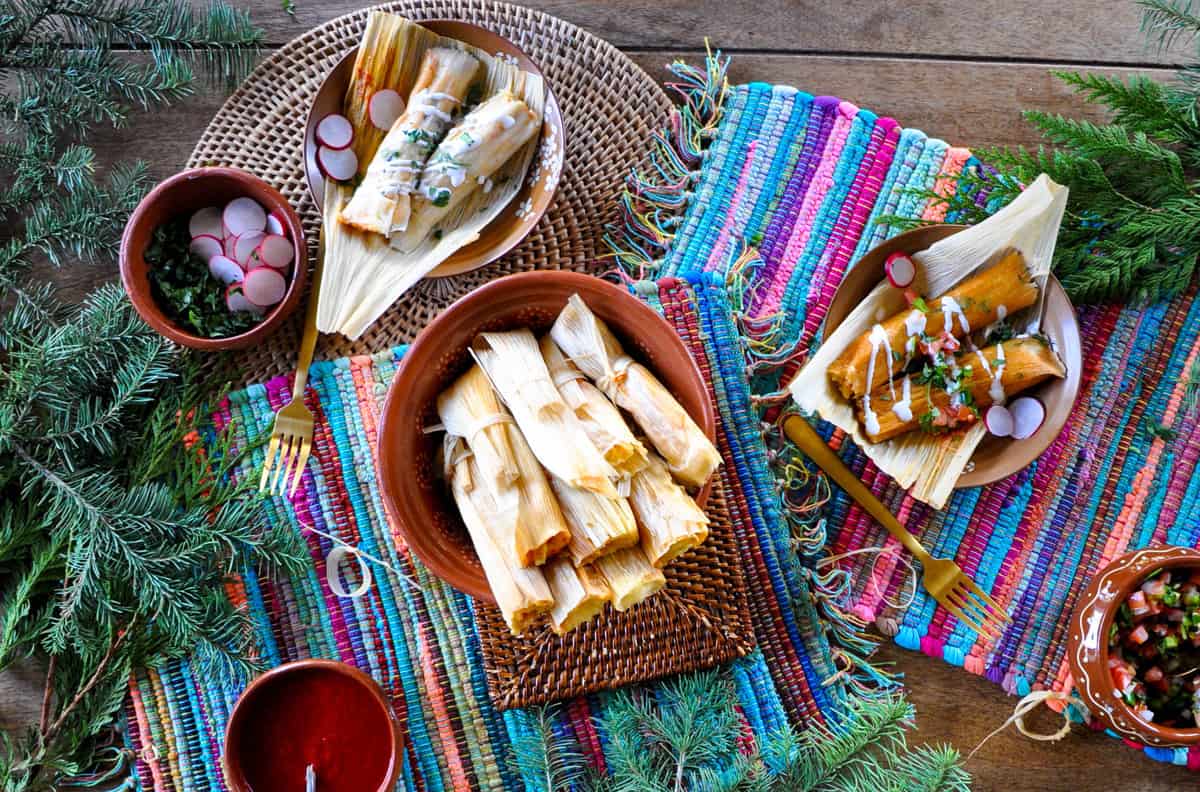 What's Christmas without tamales?
Pretty dismal, I say…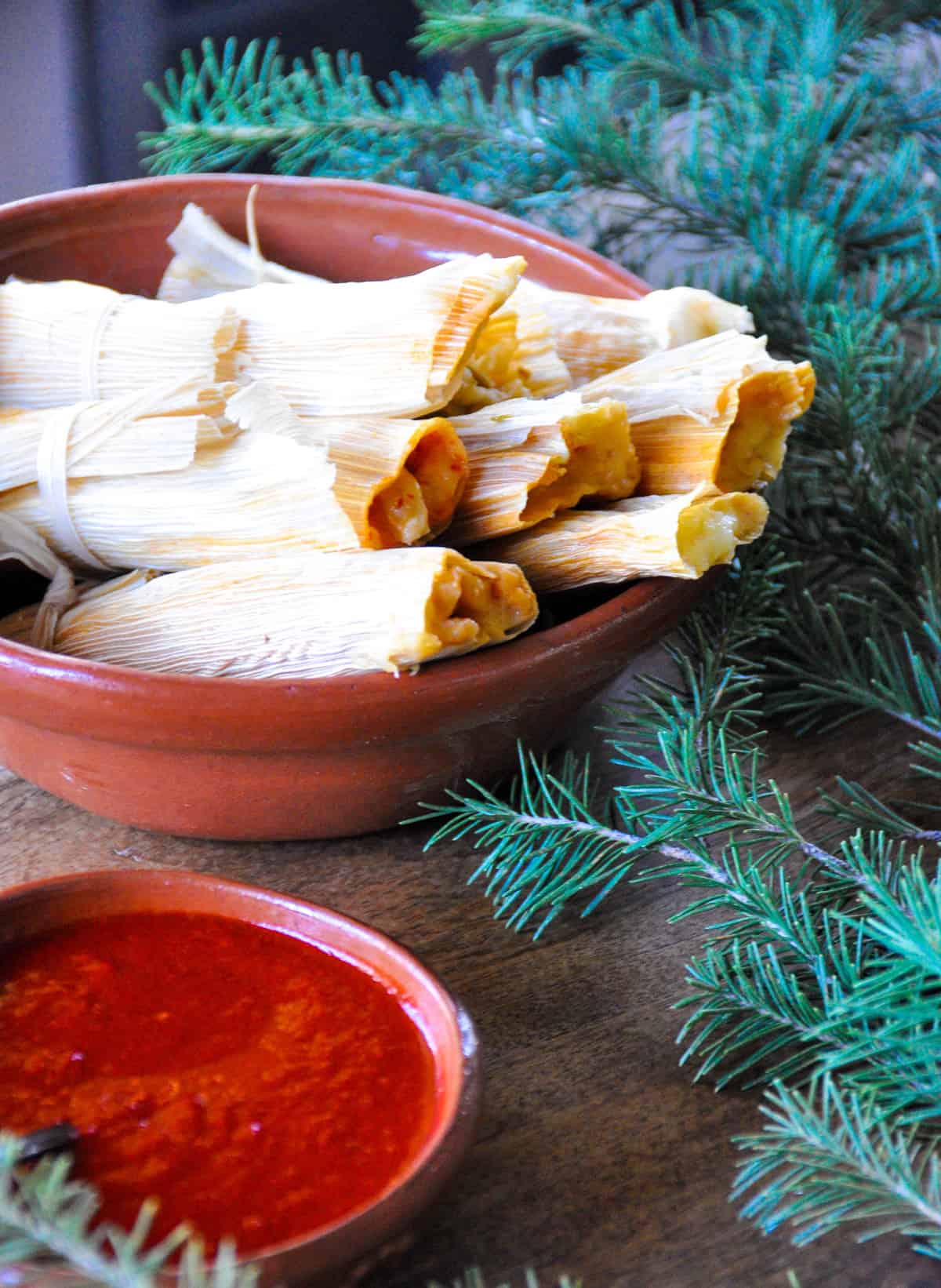 Tamales are a Christmas tradition in so many California households. They are the ultimate festive comfort food and hubby and I set out to master the method one recent afternoon.
Instead of using the traditional meat mixture, we decided to use veggies that are in season right now and that would work well in a tamale environment. We decided on cheesy mushroom tamales and Anaheim Chile cheese tamales. SO yum! I think the Chile cheese variety is my favorite. They taste just like a Chile relleno wrapped up in tasty masa.
The mushroom variety is not far behind with it's woodsy flavor and soft texture.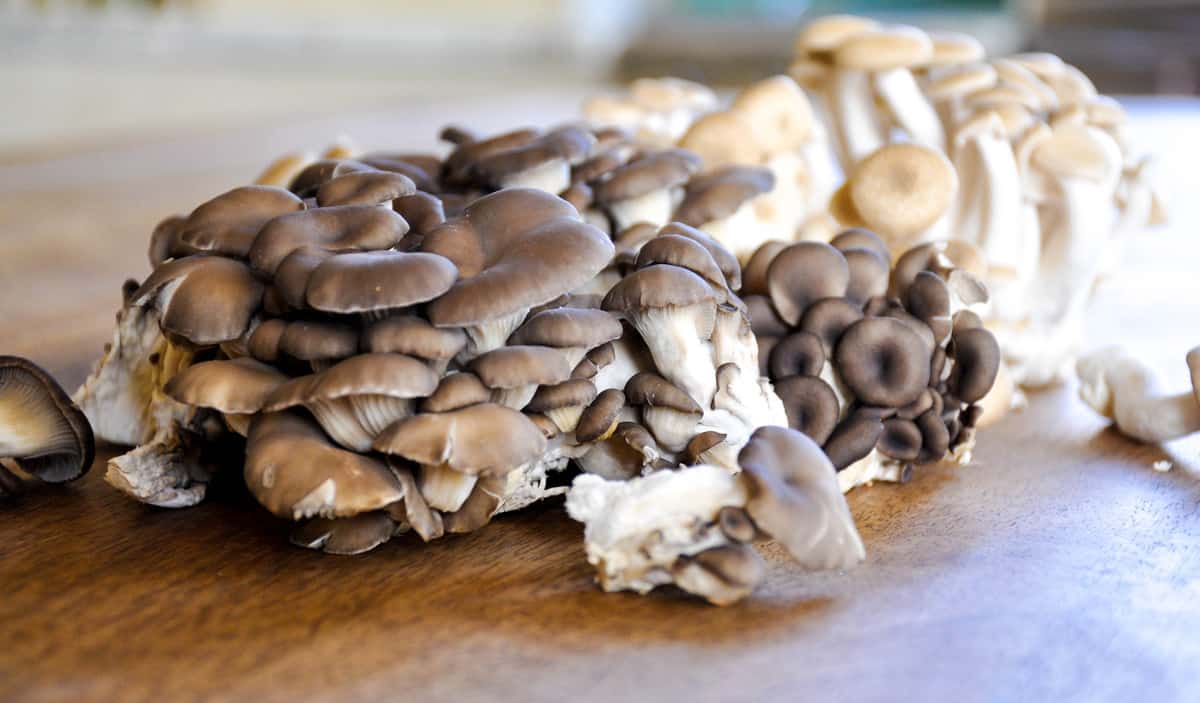 We found these beauties at a local Mushroom Farm, Sun Smiling Farms in Sanger, California.
It was so impressive to see all the fungi growing in small glass pots under a controlled environment… Hubby and I got a mini-tour since it was our first time visiting. What a treat!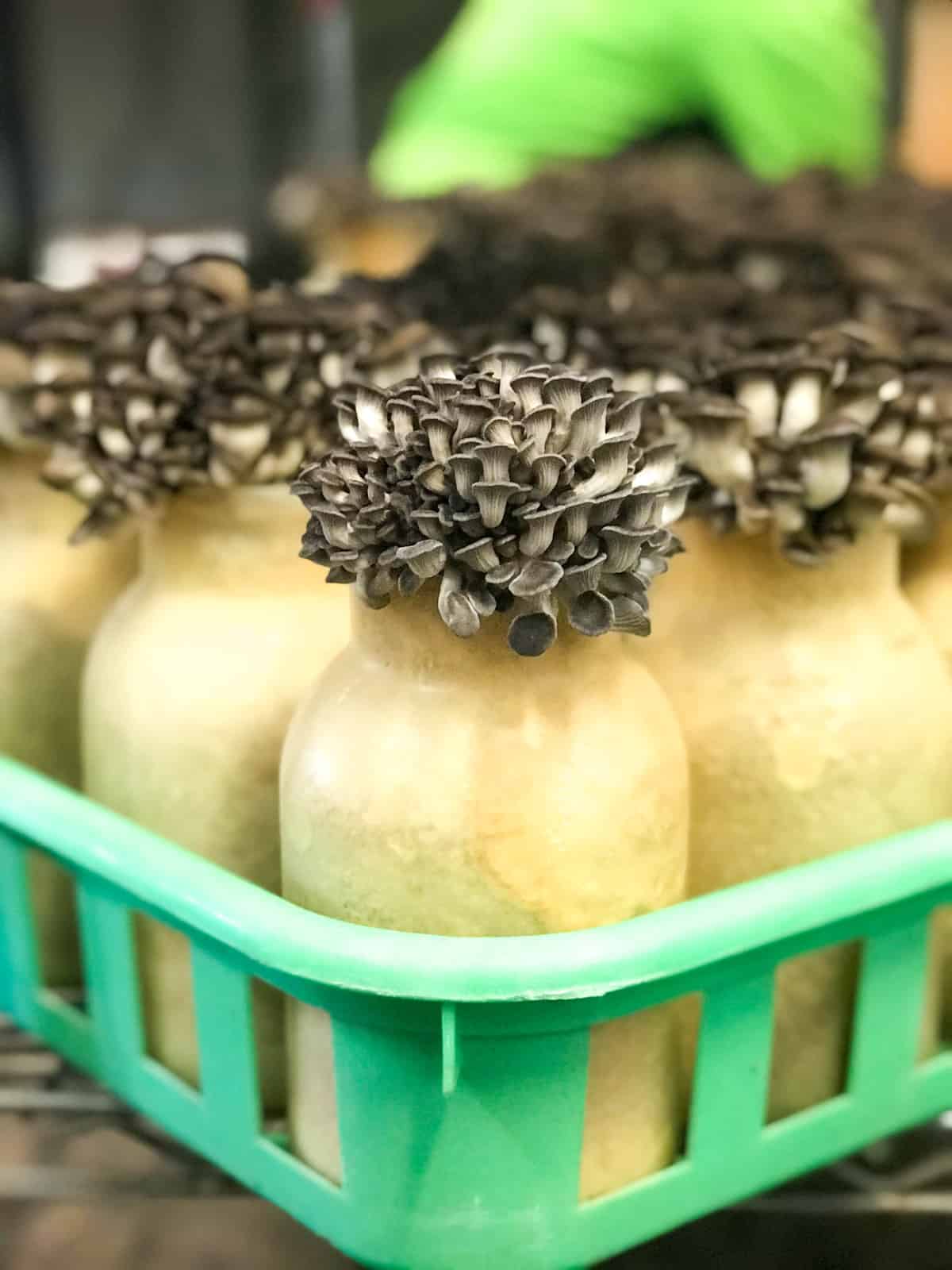 You get a whole new appreciation for your food when you can see all the hard work and thought that goes into its growth. So much love and care are dedicated to this craft!
Ready to get going?
Let's start with the first step in making the tamales. Soaking the husks…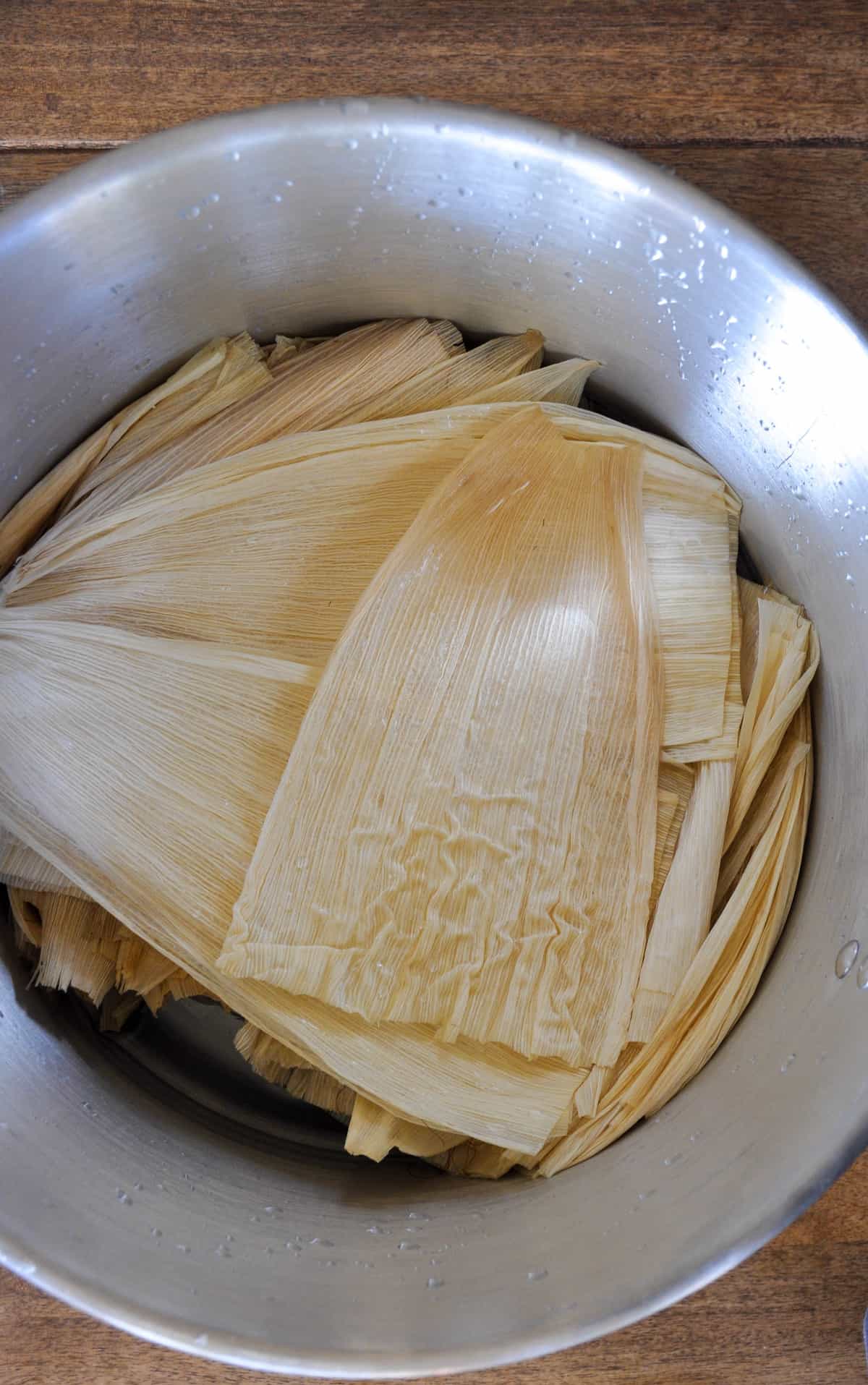 Throw them in a deep pot and cover with water. I used the bottom of the steamer disc to keep the husks submerged under water.
Pour about a tablespoon of
Olive Oil
in a sauté pan and add the mushrooms to sauté until al dente.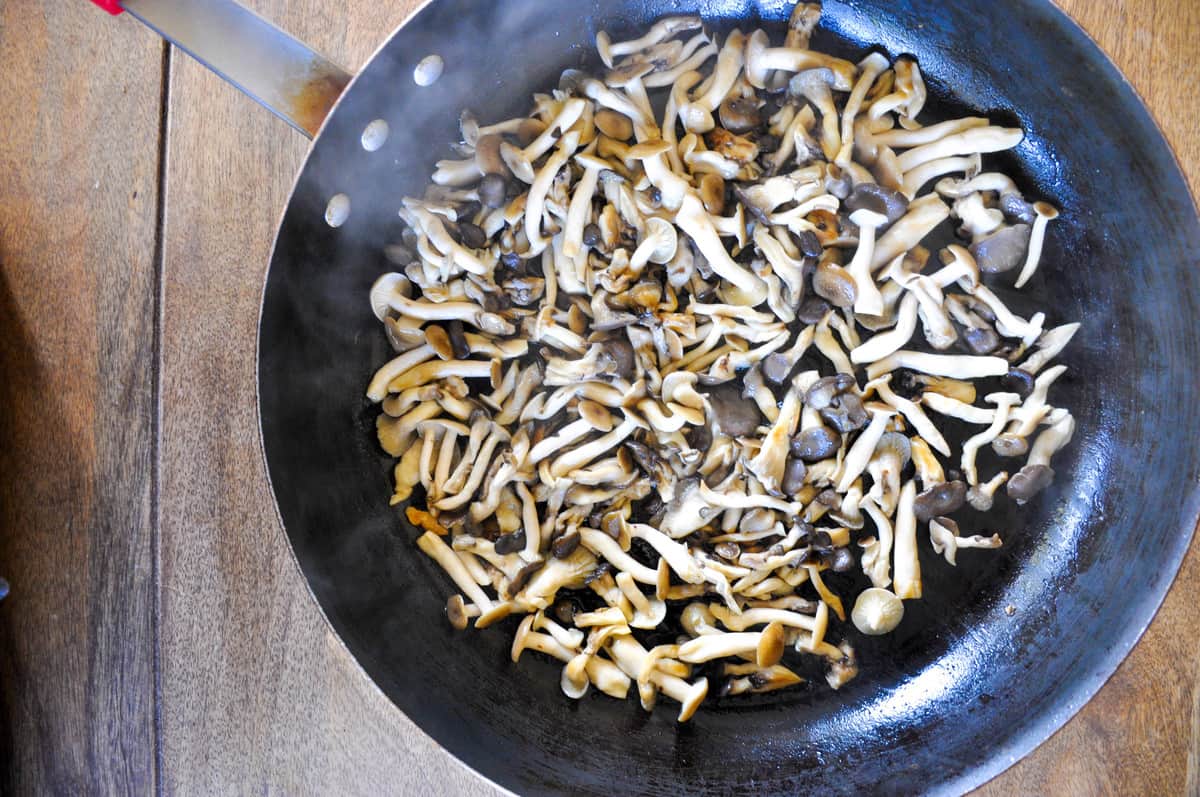 Set aside until ready to use.
For the Anaheim Chile Cheese Tamales, we started by broiling the chilies until well blistered…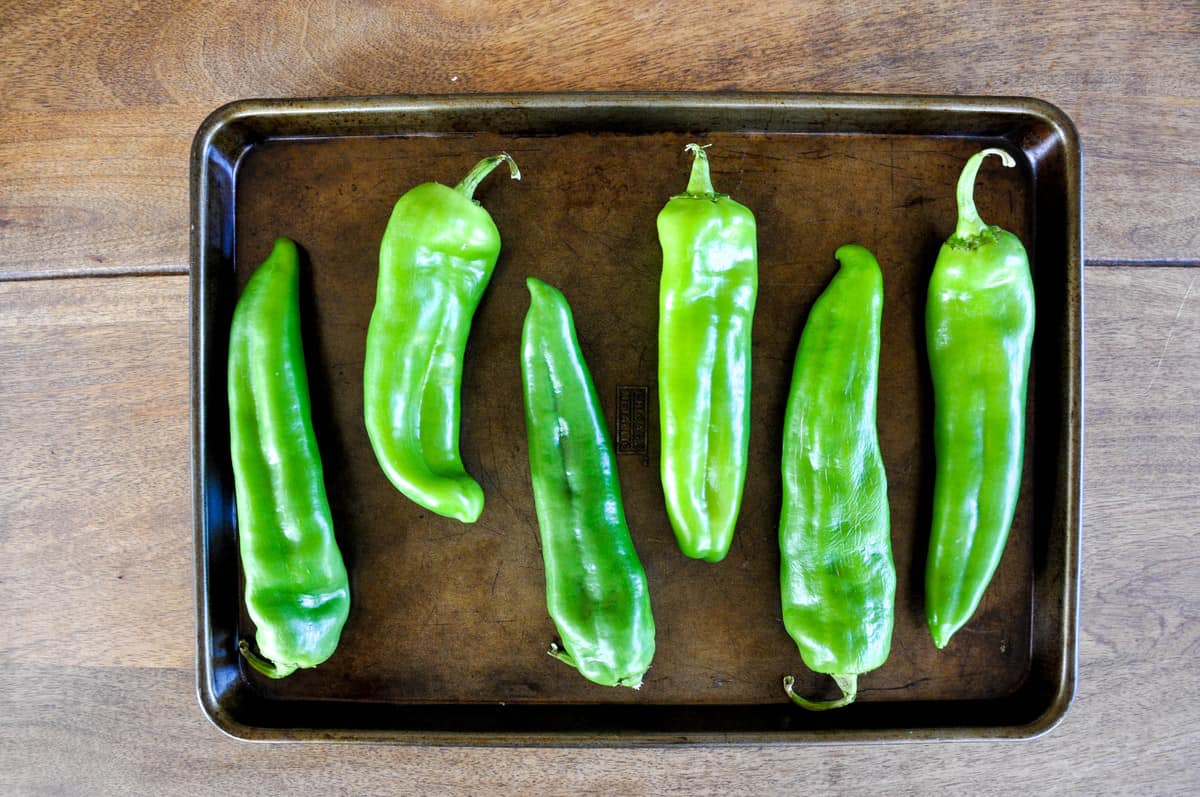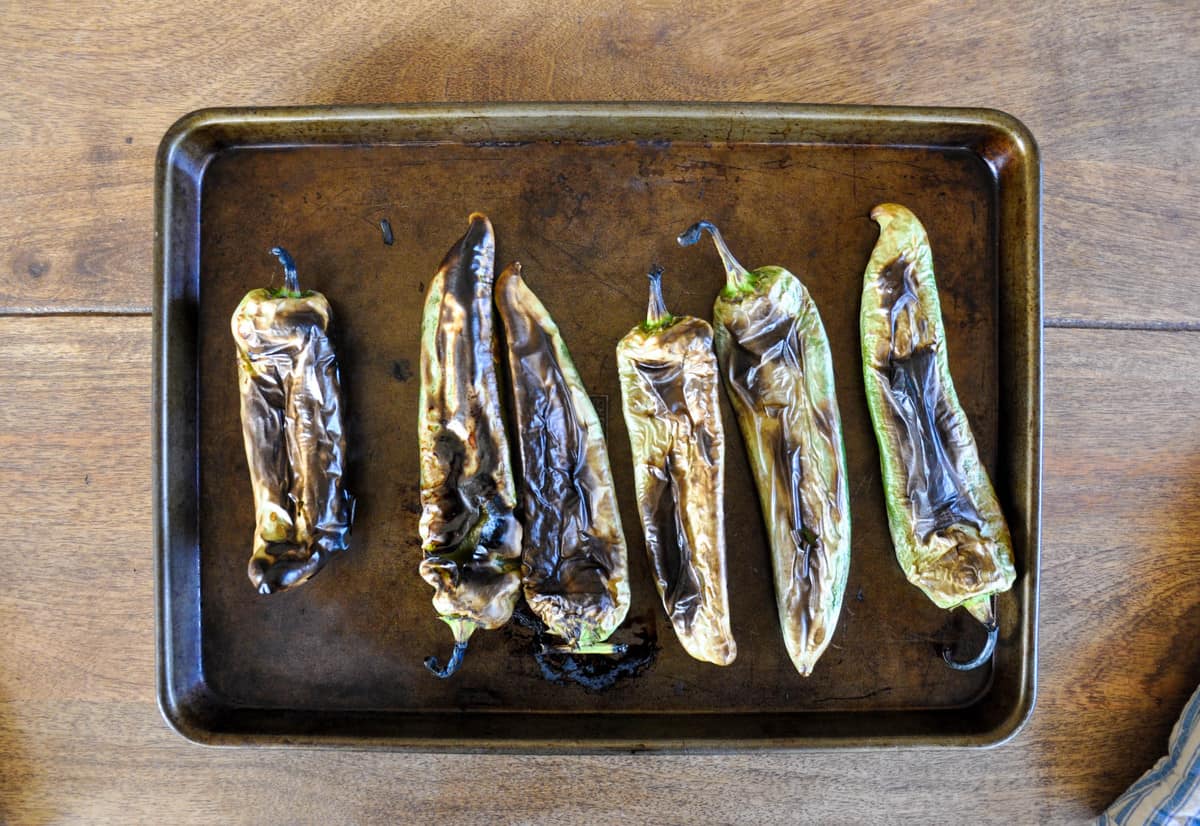 About 10 minutes under the broiler, turning once, should do the job.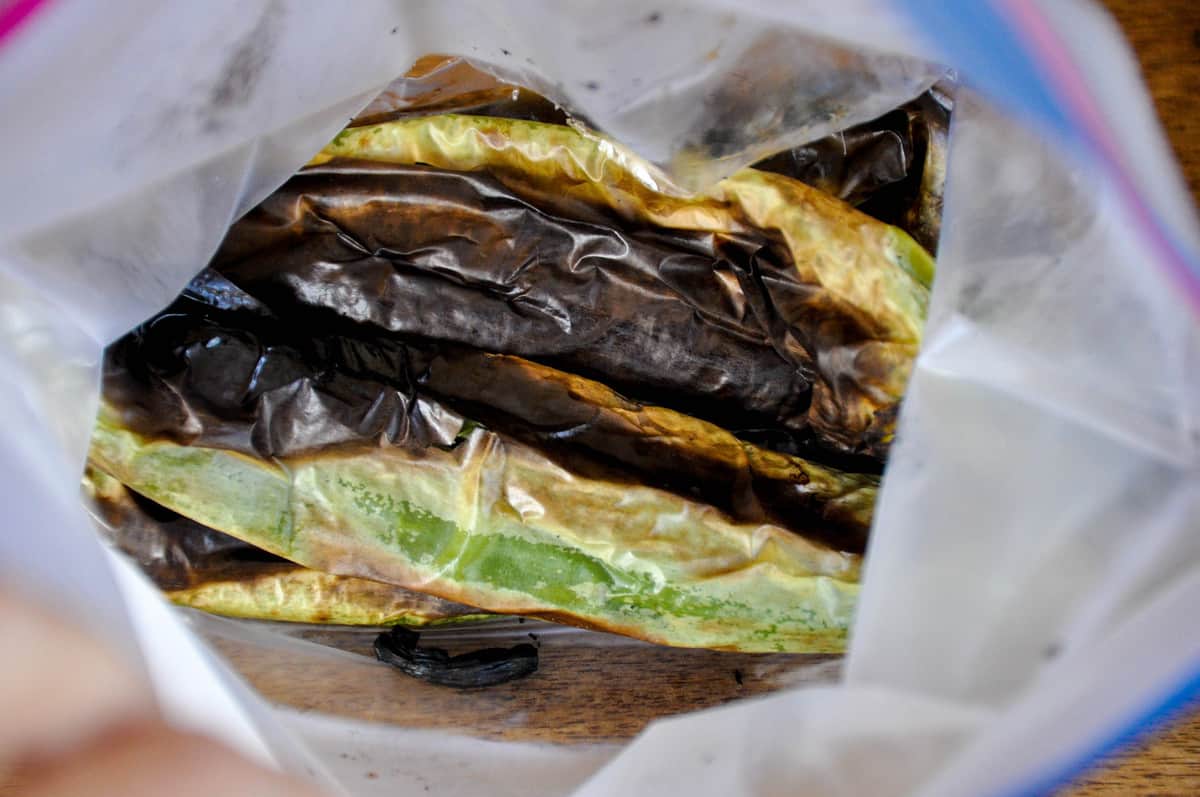 Throw them in a plastic baggie and seal up, allowing them to steam for about 30 minutes.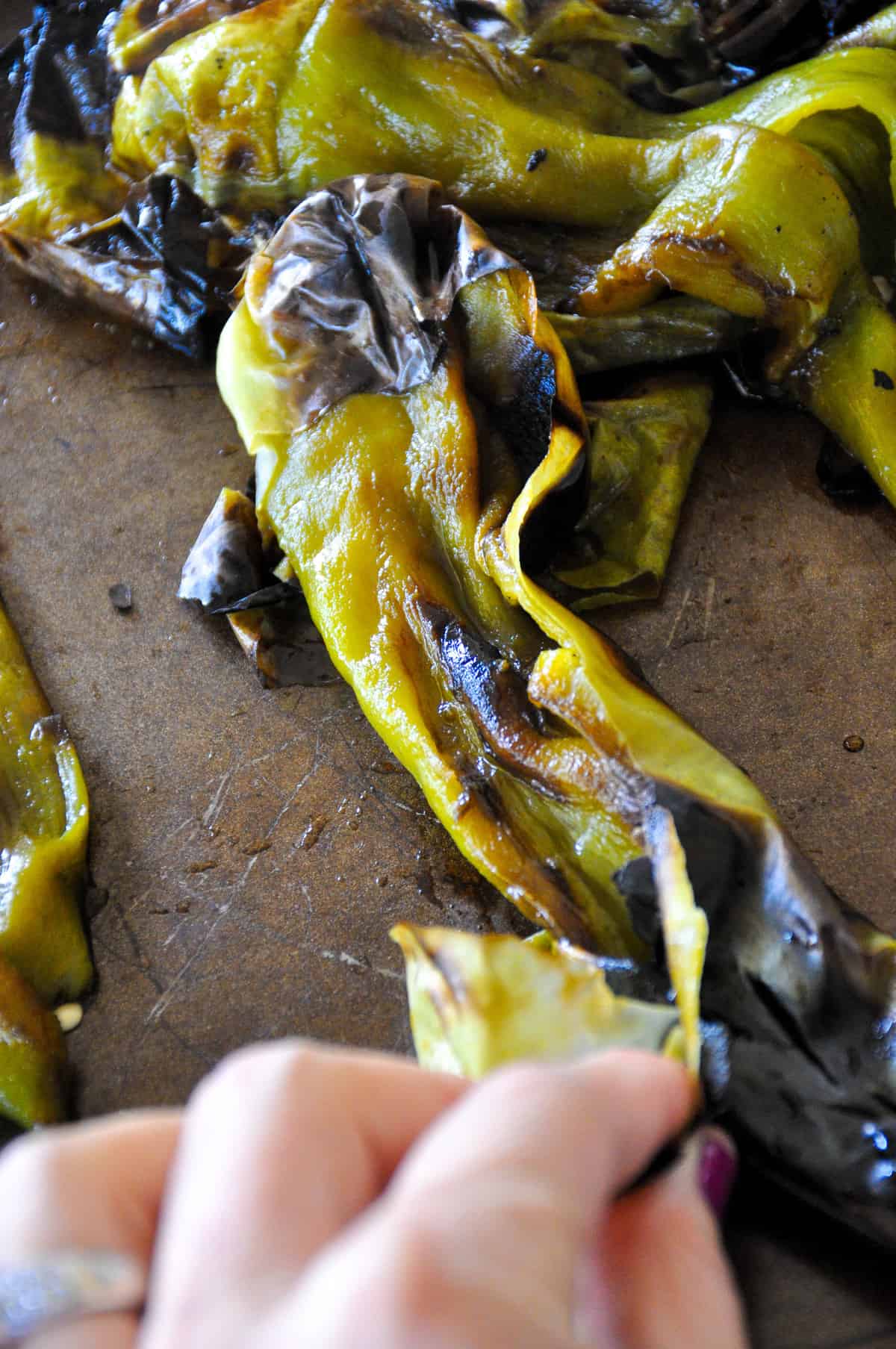 Once they are done, the skin should separate from the flesh easily. Remove the skin and discard. Cut the tops off and remove the stems and cut into 2 inch strips.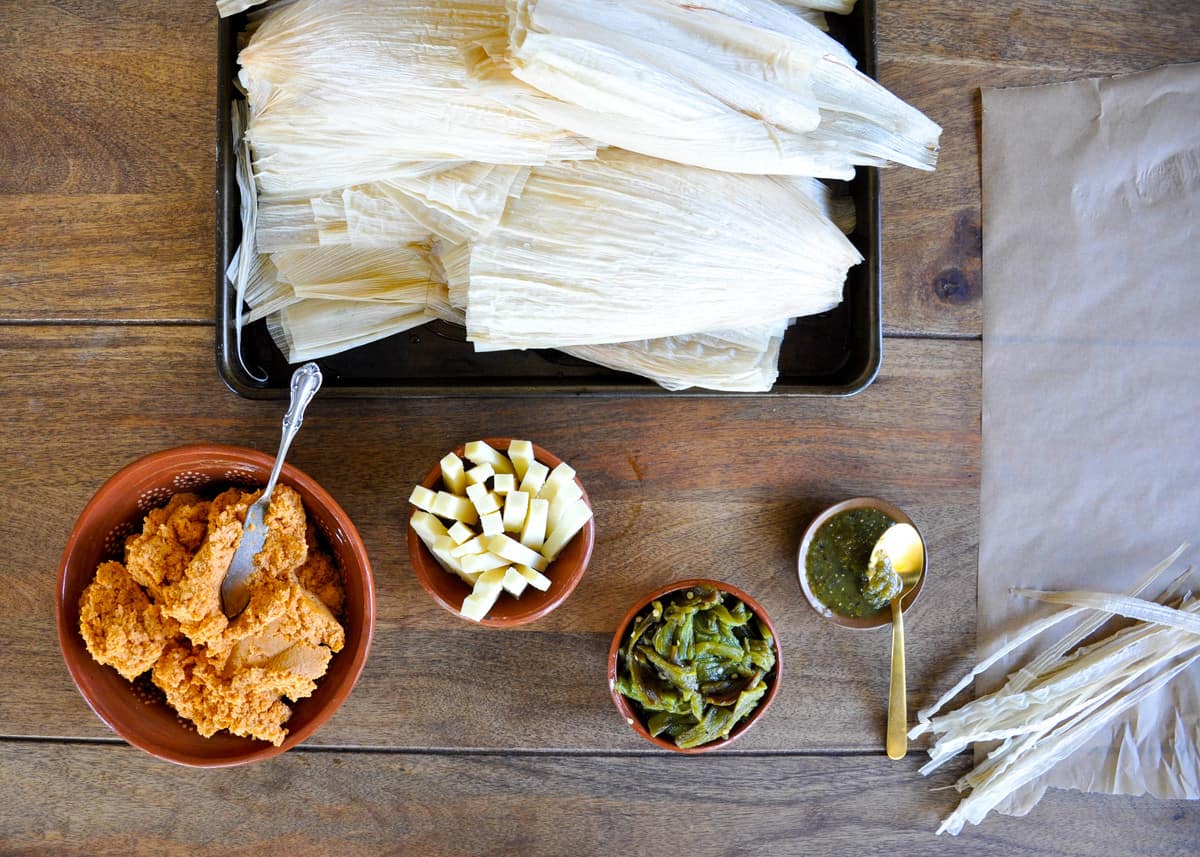 Here is our line-up of ingredients for the first batch… Prepared masa with Chile, jack cheese, roasted Anaheim chilies, salsa Verde and corn husks.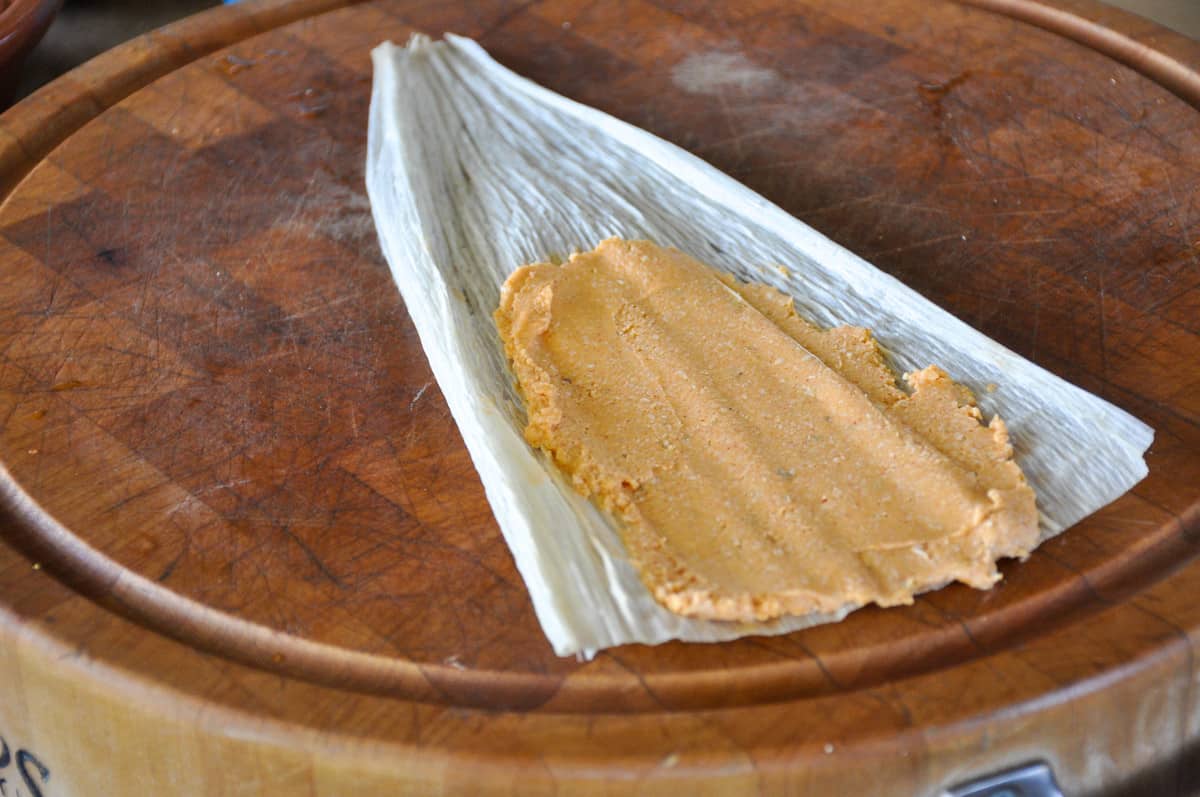 Add a rectangle sized layer of masa on the corn husk. I found it easiest to use a knife, frequently dipped in water to prevent sticking.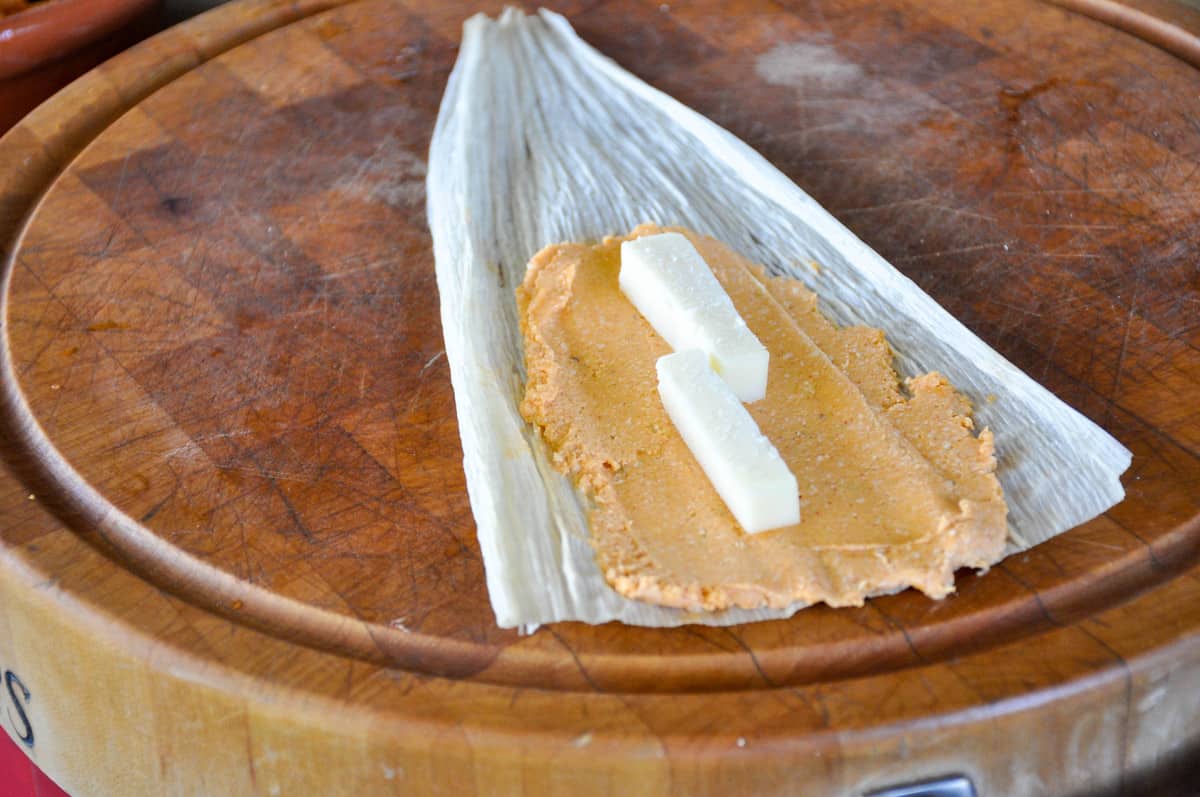 Add the jack cheese.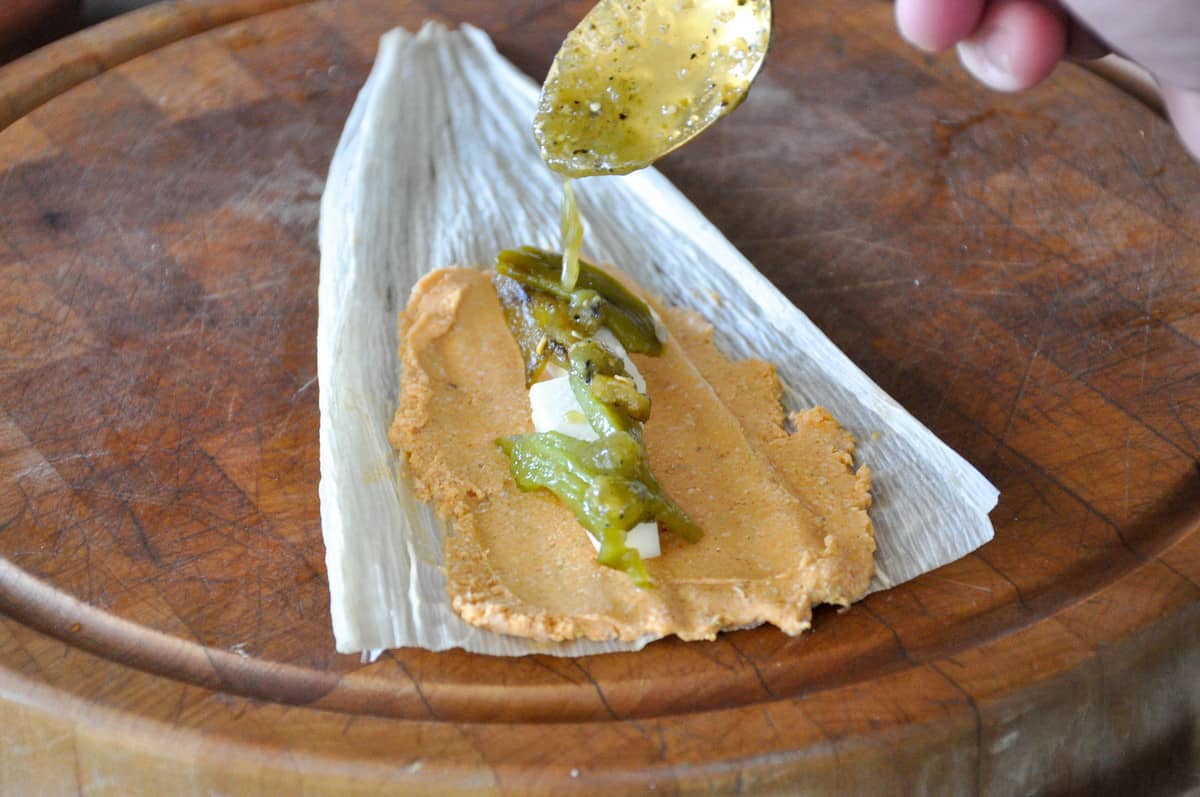 Roasted chilies and salsa Verde.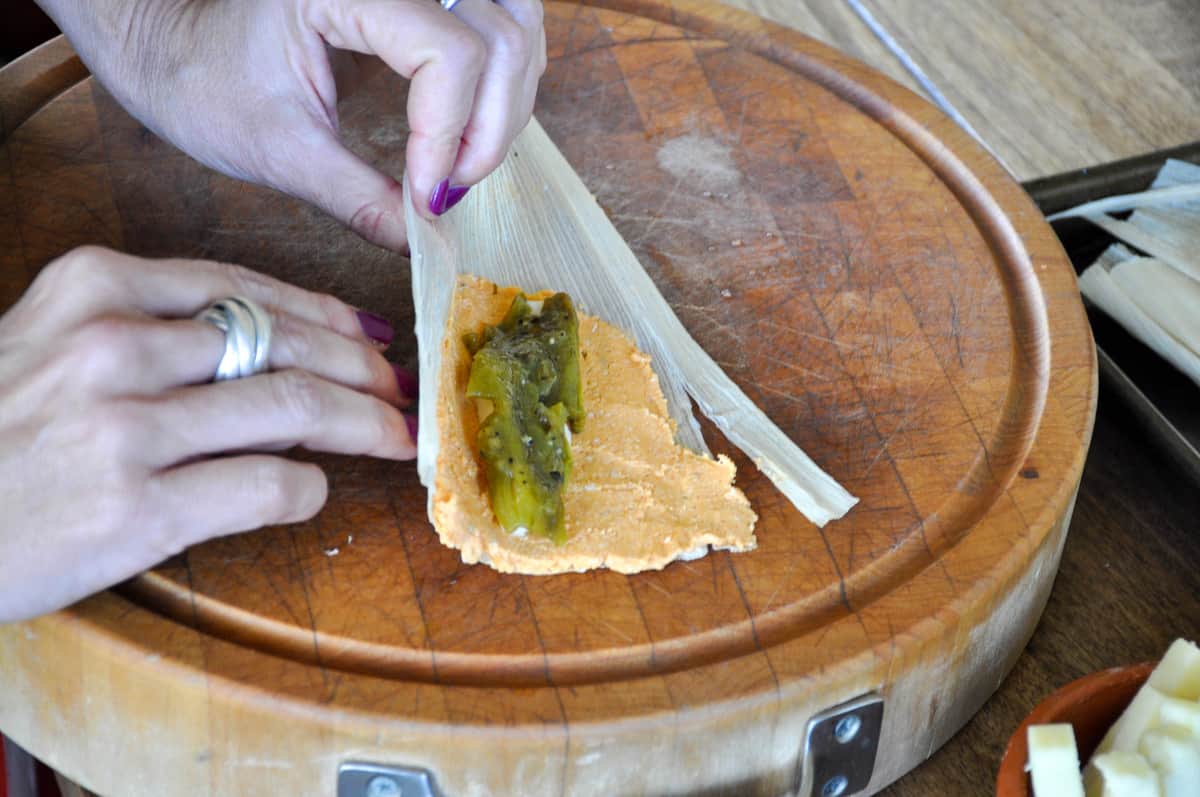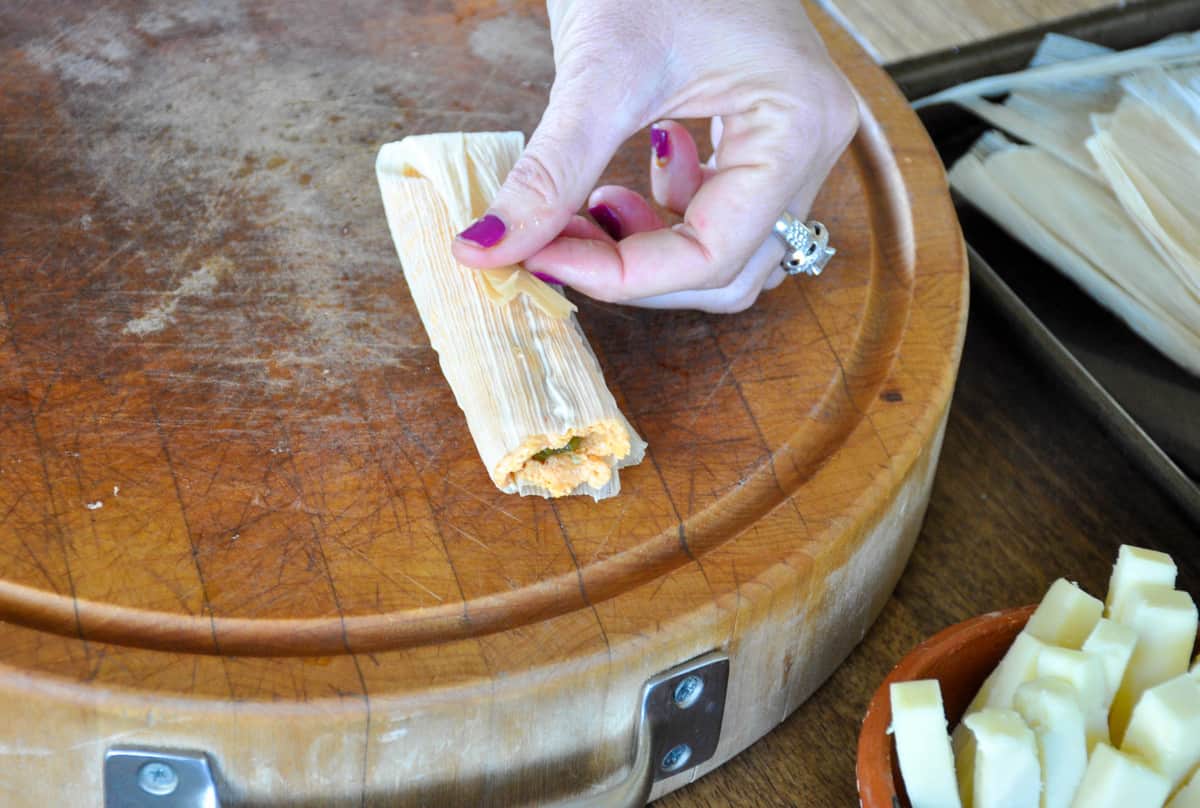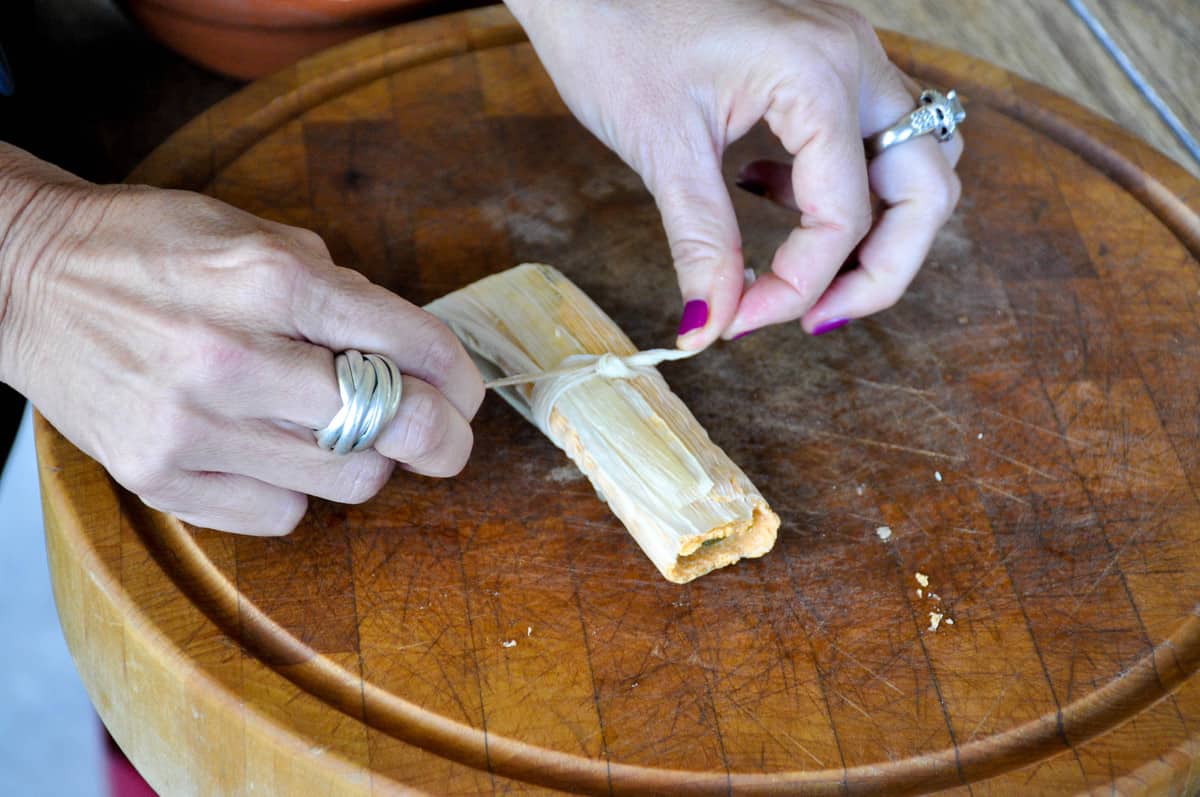 Roll the tamale up in a semi-tight roll and flip the bottom up. Secure with a thin strip of corn husk if needed.
The Cheesy Mushroom Tamales were made basically the same way…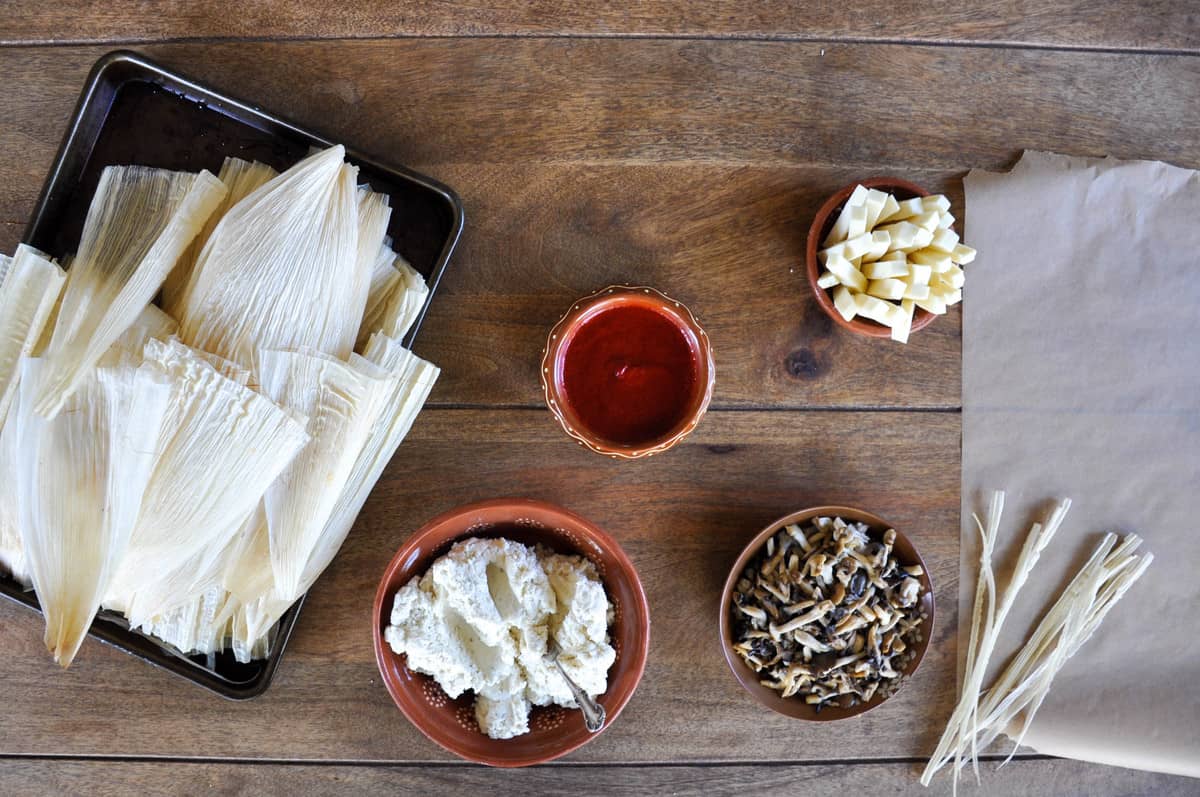 We used corn husks, traditional masa, sautéed mushrooms, jack cheese, and red sauce.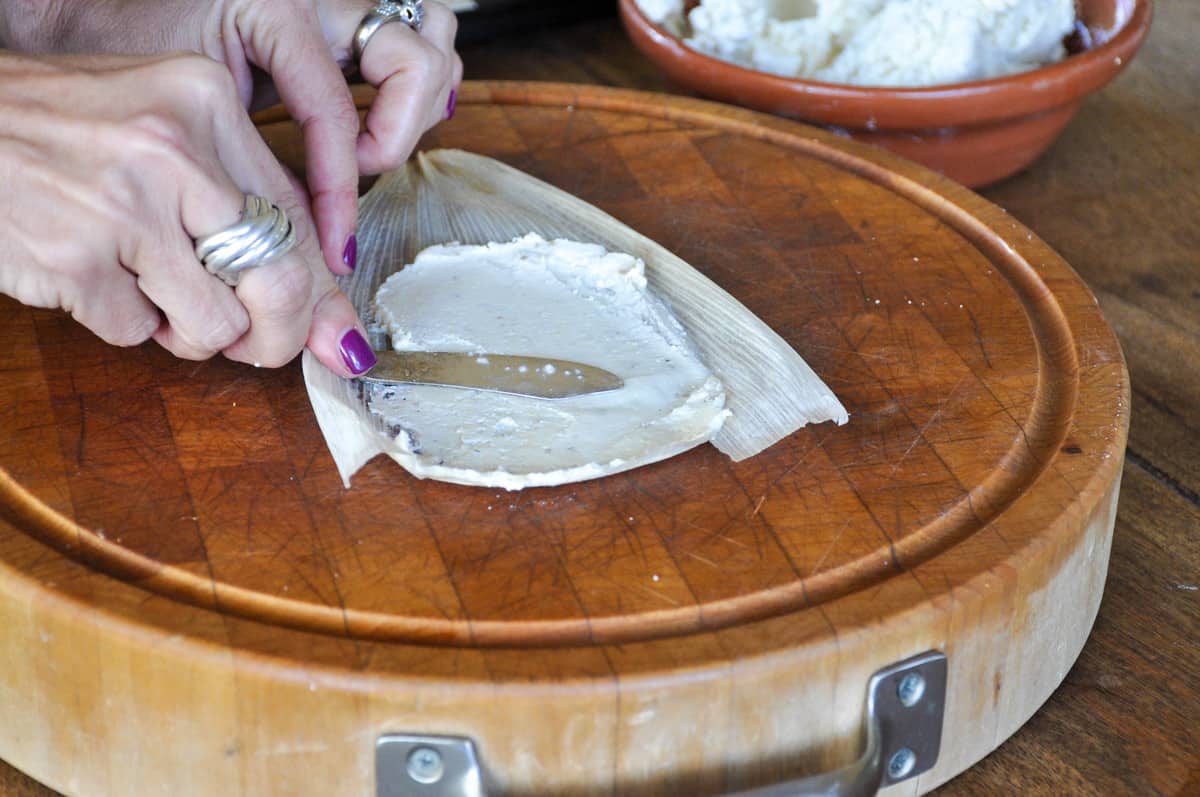 Spread the masa.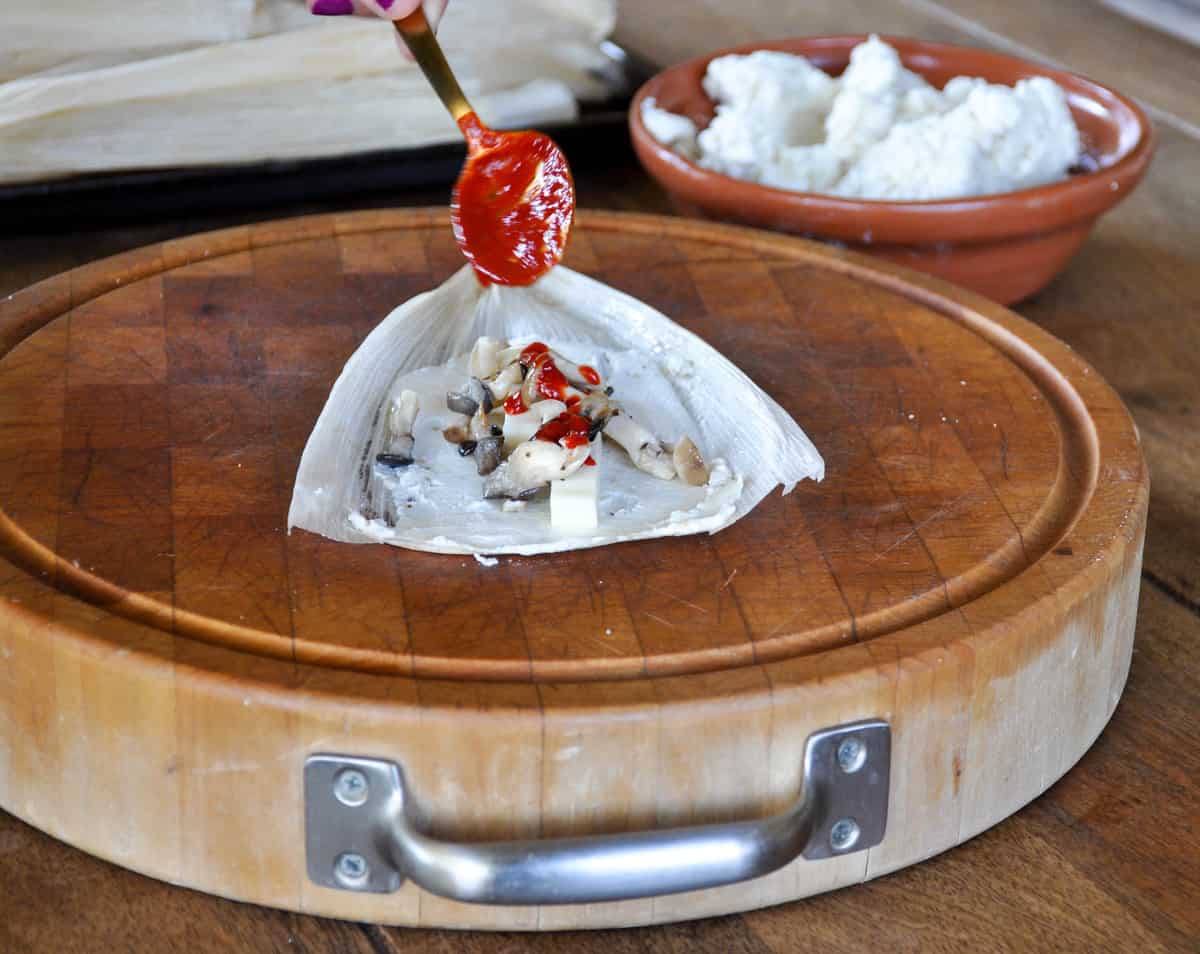 Add the cheese, mushrooms, and sauce.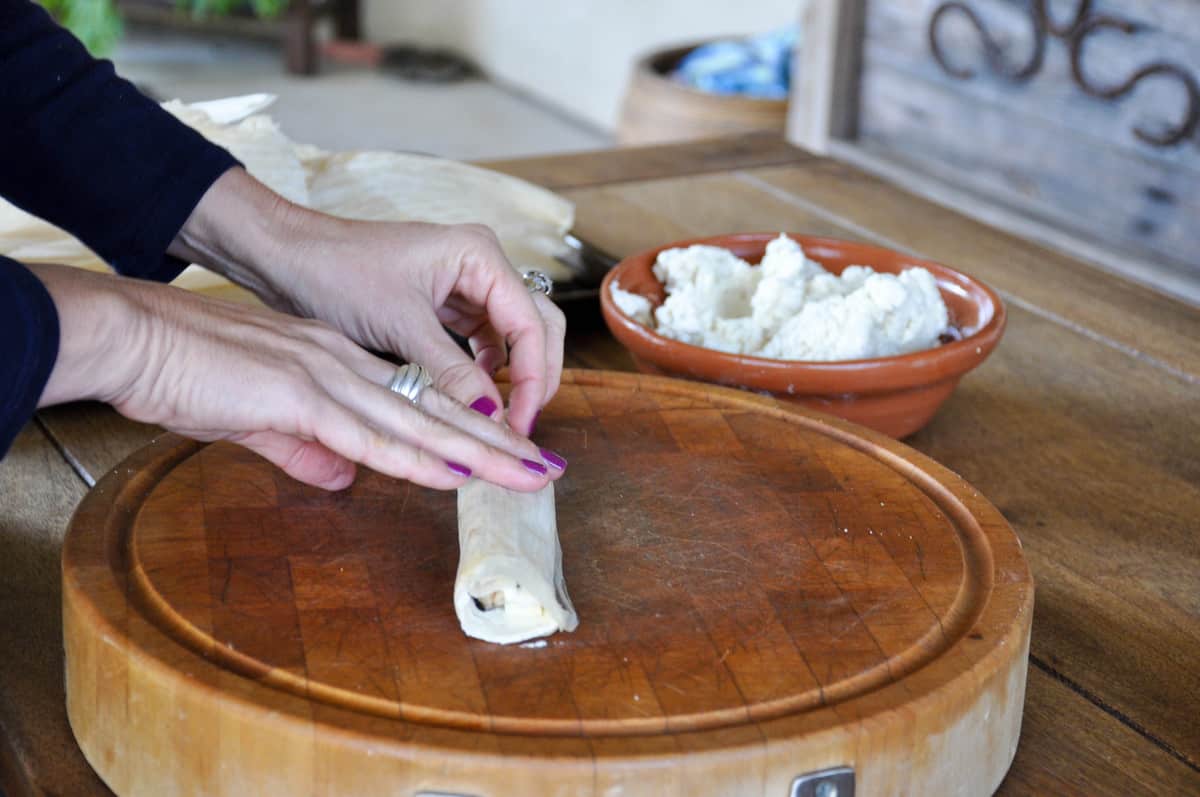 Roll up and tie to secure.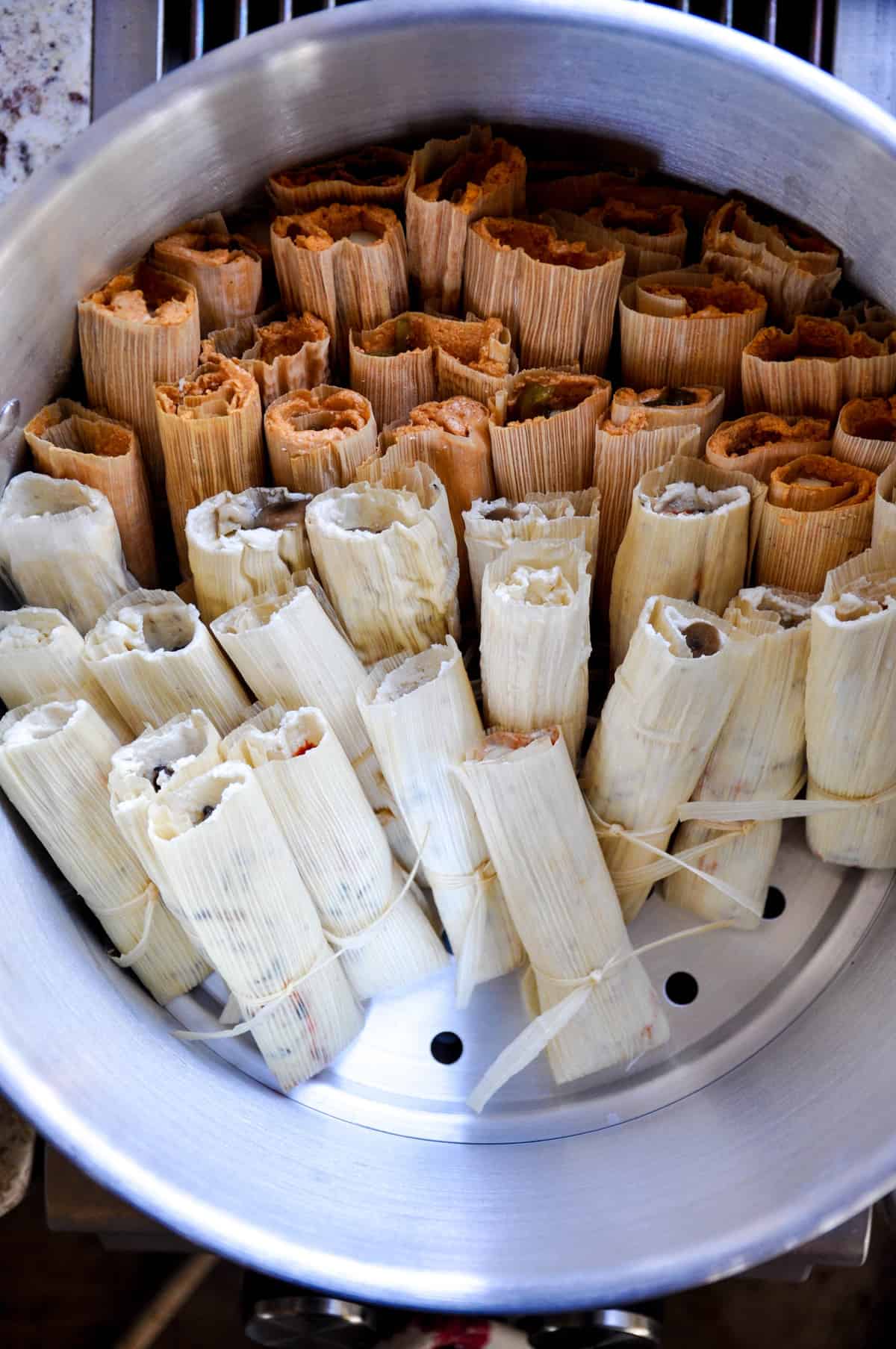 Add all the tamales into a steamer pot.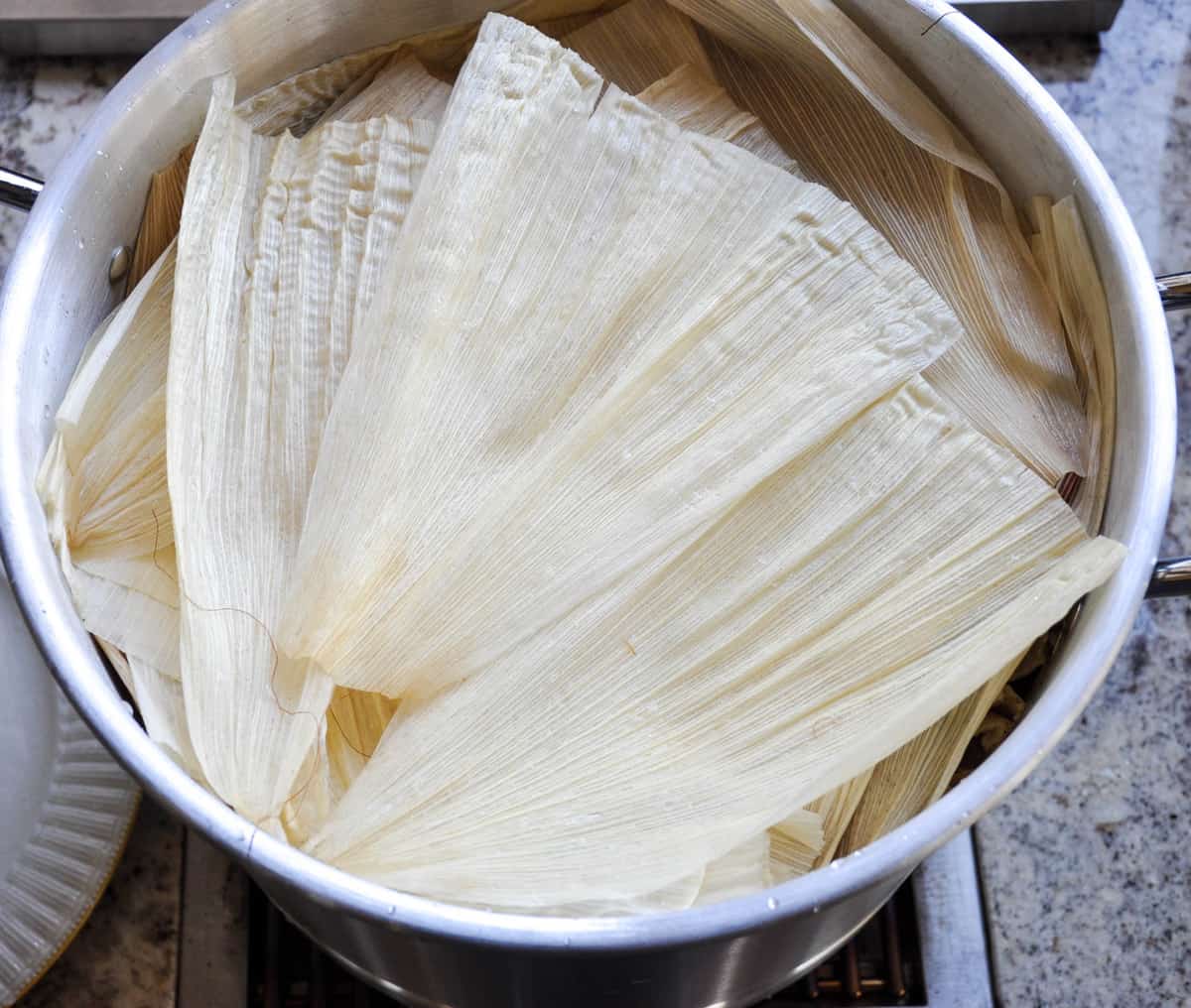 Cover the entire pot with more corn husks and steam for about an hour, until the tamales are fully cooked.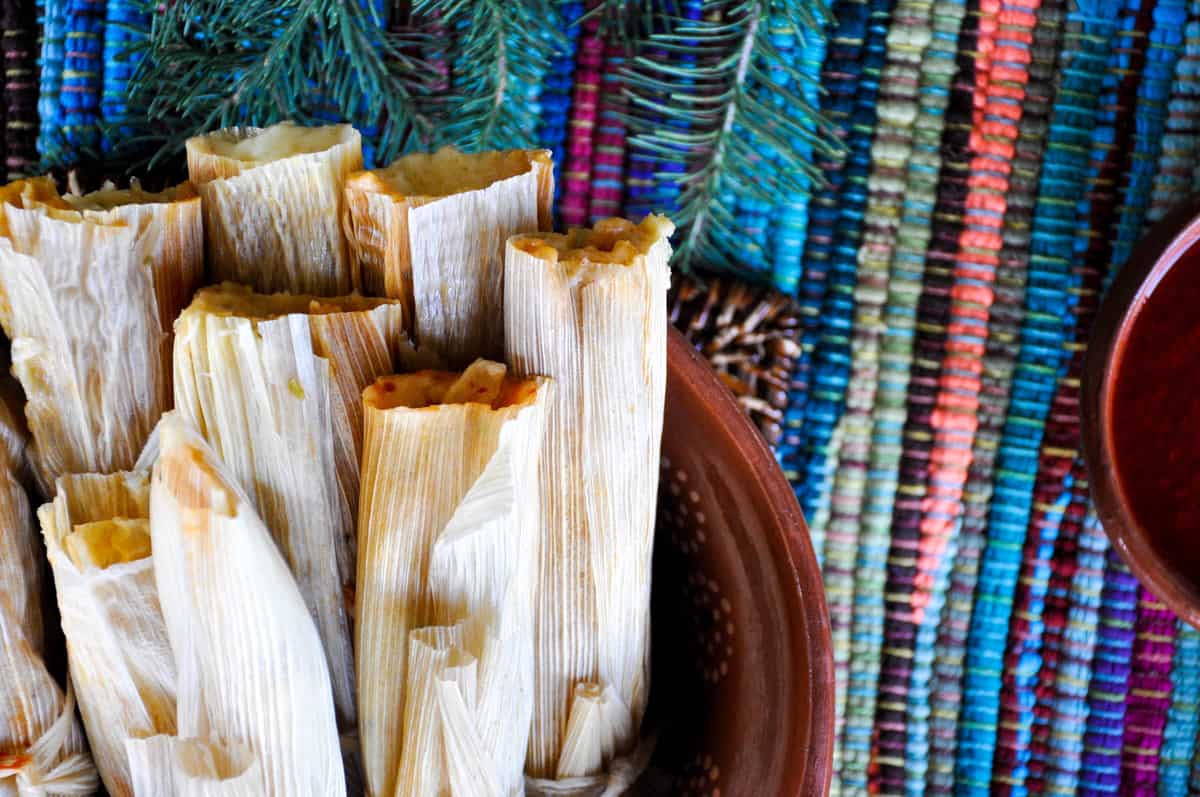 Remove the tamales from the pot and serve piping hot.
SaveSave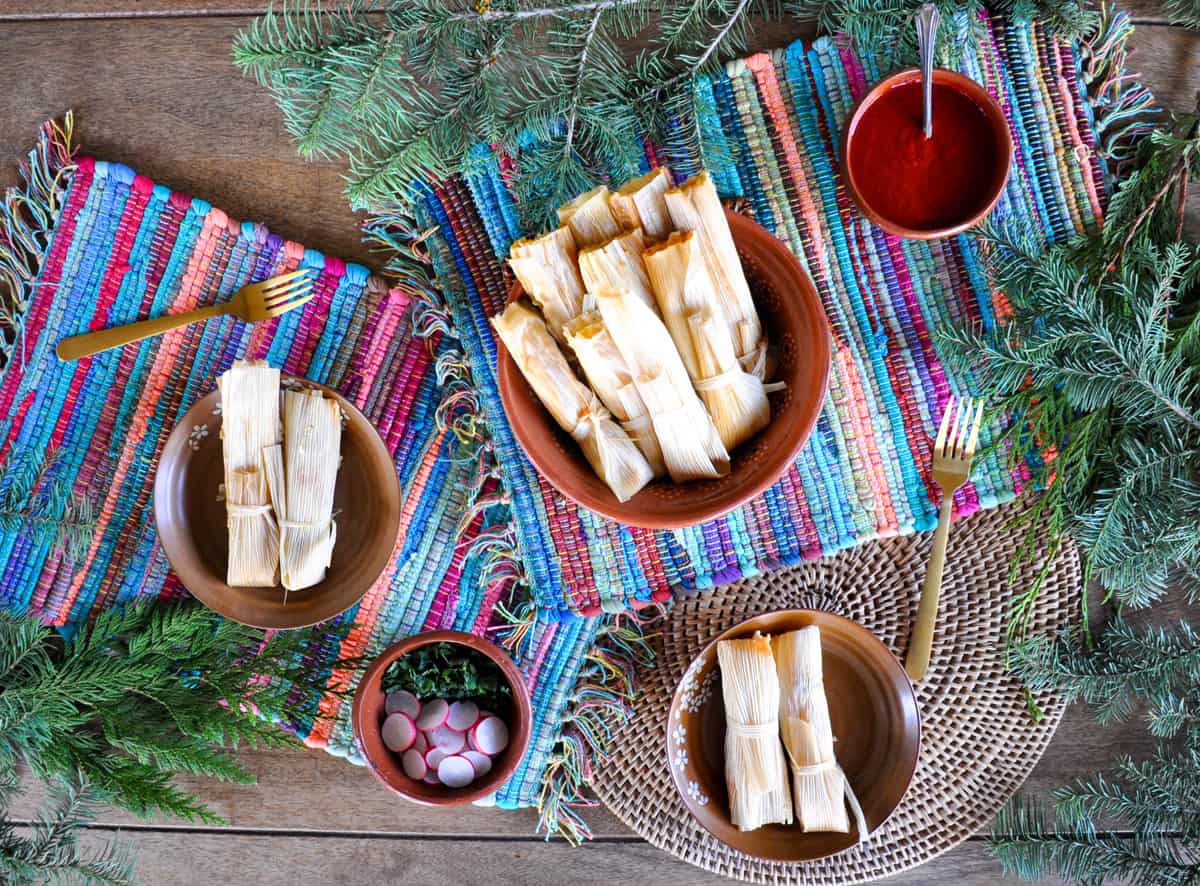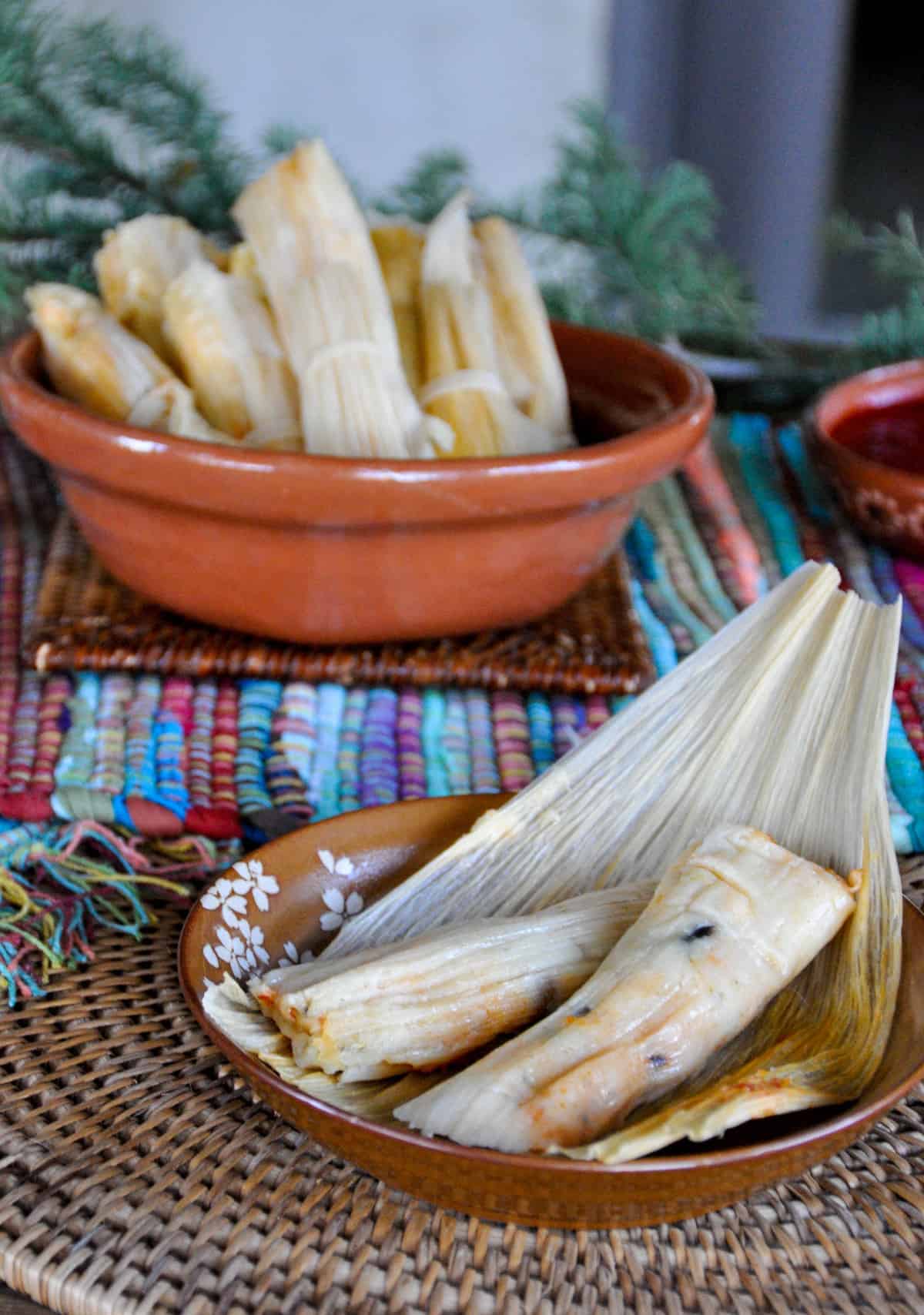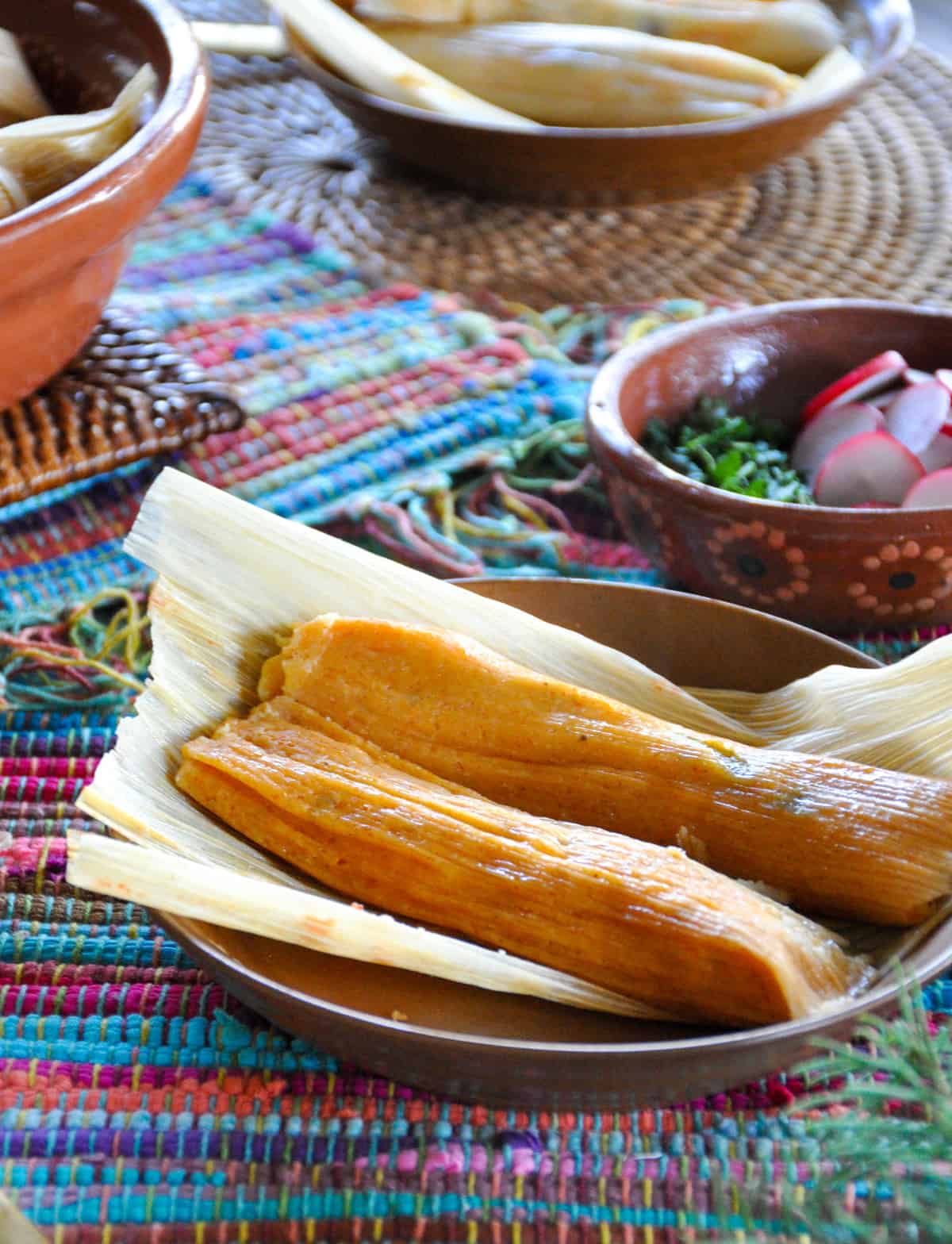 You can serve plain and without condiments, but I highly suggest you dress them up a bit. Not only for presentation purposes but for flavor!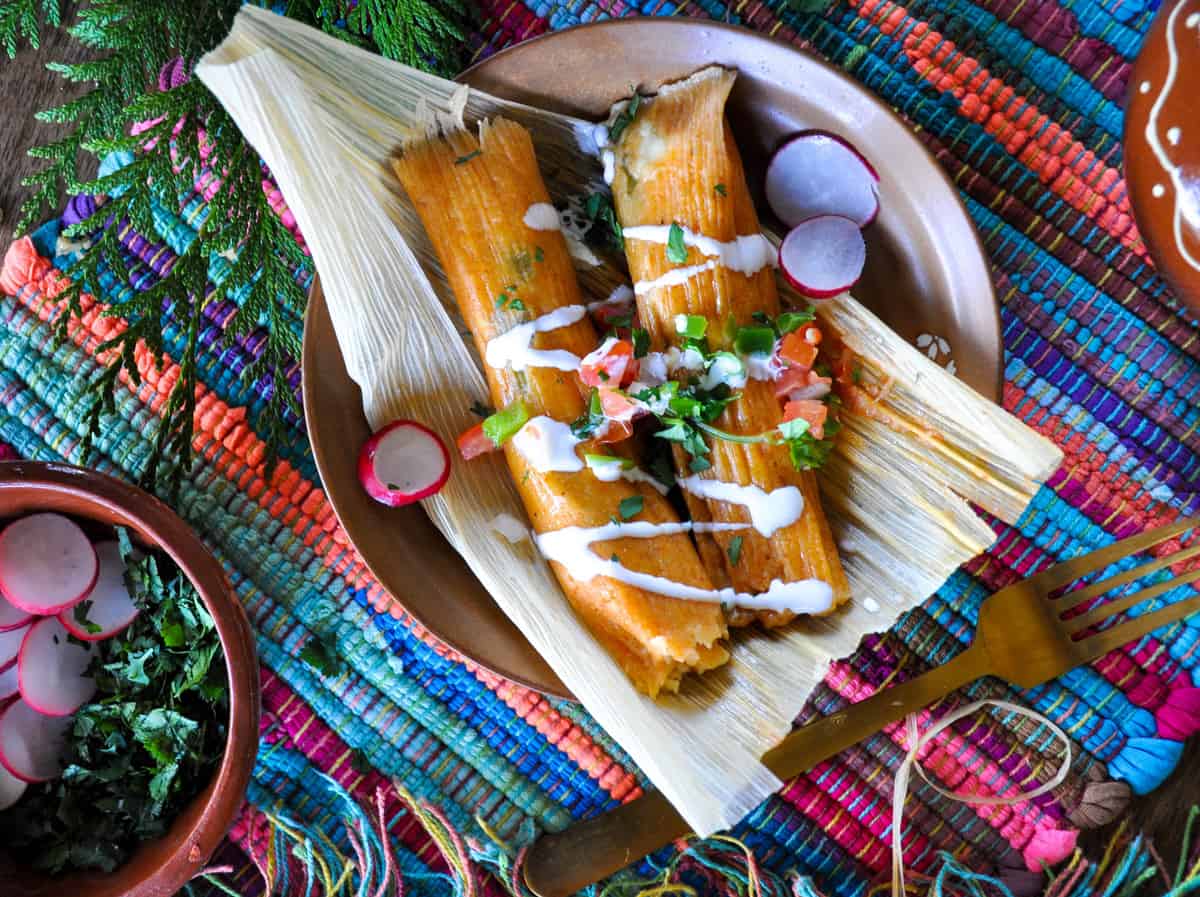 A bit of sour cream, Pico de Gallo and radish coins goes a long way in the flavor department…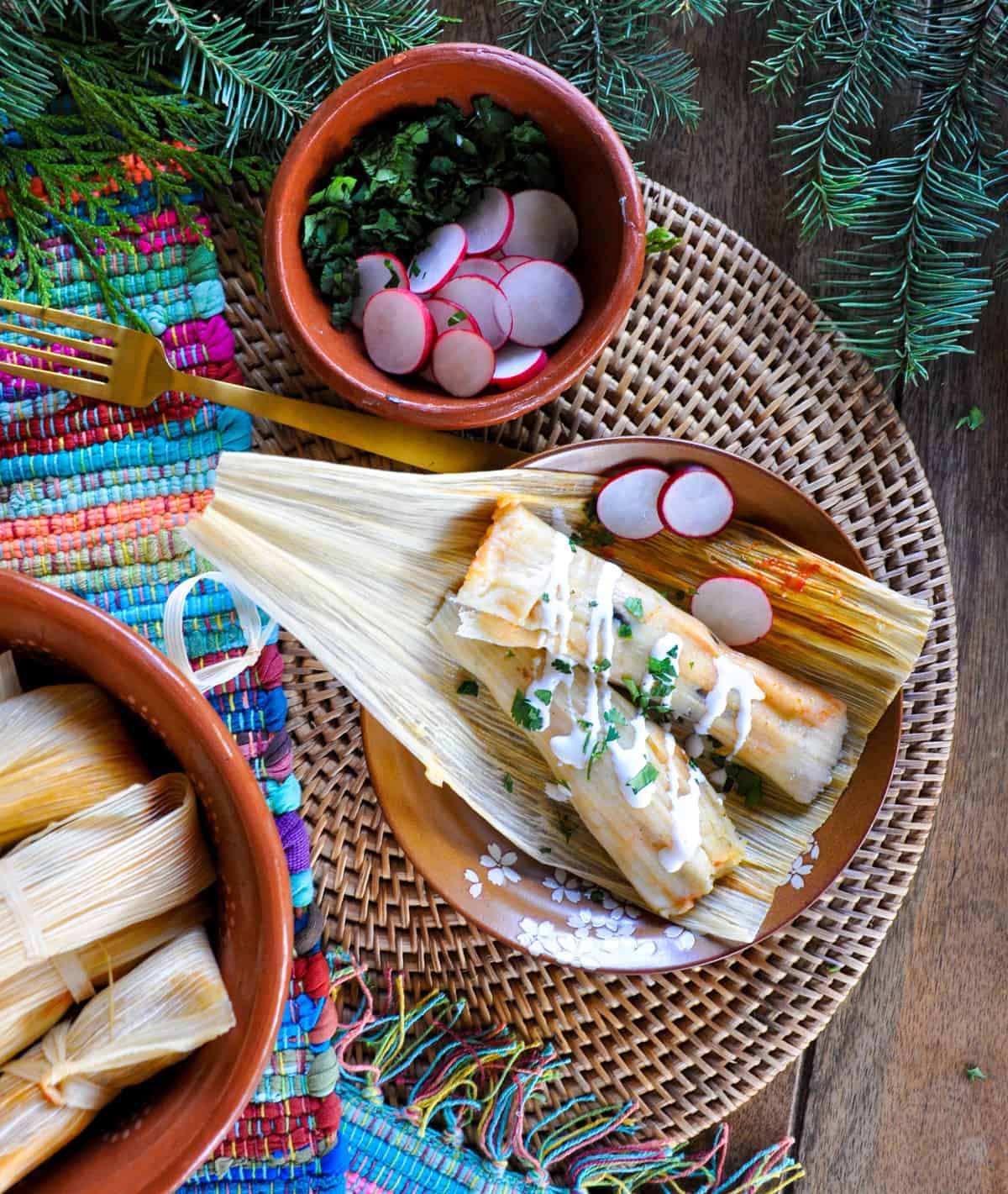 Dig in and enjoy!
Vegetable Tamales
Servings 36
Ingredients
Anaheim Chile Tamales
6 Anaheim Chiles
8 oz. Jack Cheese, cut into cubes
4 oz. Salsa Verde
Prepared Masa
Corn Husks
Cheesy Mushroom Tamales
16 oz. Mushrooms
2 T. Olive Oil
8 oz. Cheese, cut into cubes
4 oz. Red Sauce
Prepared Masa
Corn Husks
Instructions
Soak the corn husks in water for an hour.
For Cheese Mushroom Filling
Sauté mushrooms in olive oil until al dente. Set aside.
For Anaheim Chile Cheese Filling
Broil the chilies in the oven until skins are black and blistered. Place in a baggie for 30 minutes to steam. Remove skins and seeds. Chop into 2 inch strips.
For All Tamales
Spread masa in a thin layer onto a corn husk. Add cheese and rest of filling. Roll and fold end up and secure. Place in steamer.

Add a layer of corn husks on top of the tamales and put the lid on. Steam for an hour or until done.
SaveSave
SaveSave
SaveSaveSaveSave
SaveSaveSaveSave
SaveSave
SaveSave