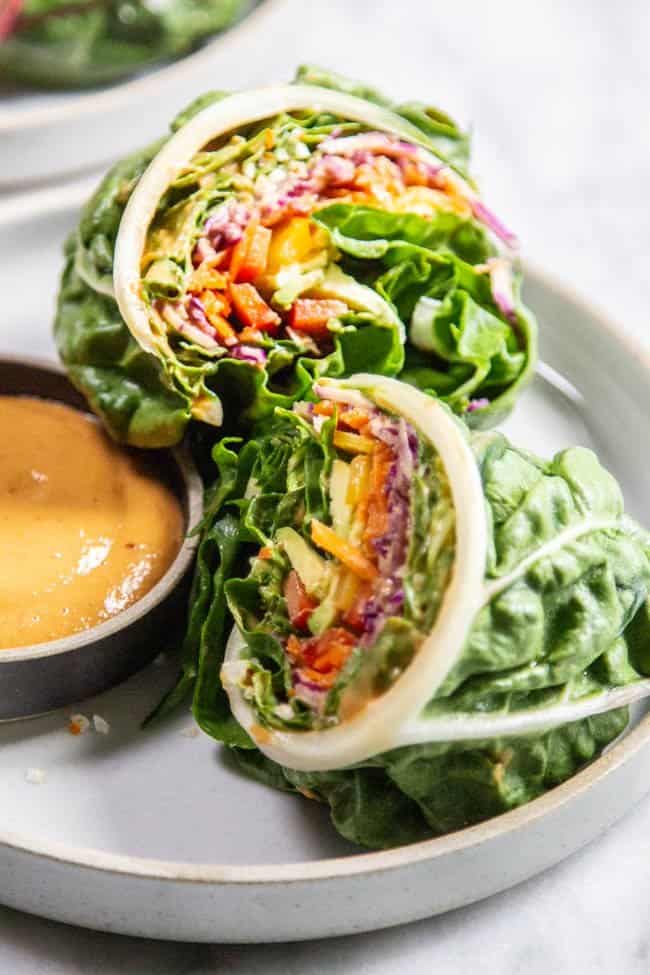 CA GROWN Blog
Discover. Learn. Connect.
A Simple Recipe for Rainbow Vegetable Wraps
April 19, 2022
Eat the Season!
Sign Up For Weekly Recipes
« Back to Recipes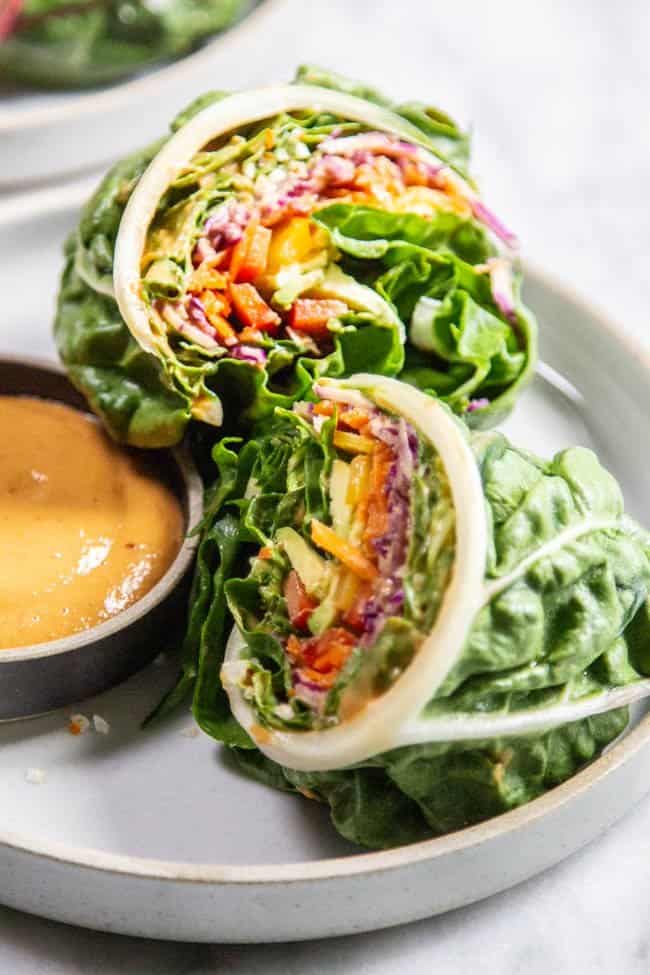 A Simple Recipe for Rainbow Vegetable Wraps
Our Rainbow Vegetable Wraps are bursting with California-grown produce and slathered in a Red Curry Almond Butter Sauce. These vegetable wraps will knock your socks off! While they may look labor-intensive, they are simple to make and completely customizable.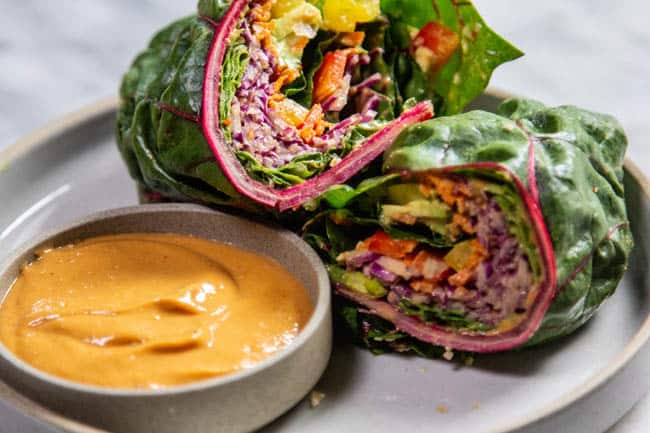 What ingredients are needed to make Rainbow Vegetable Wraps?
We tend to make vegetable wraps like these when we need to clean out the crisper drawer. It's sort of a bit of meal prep too because I always cut more than we need. That means we have the makings for more wraps or epic salads for days after a prep session.
For the wraps pictured we used Swiss chard, thinly shredded red cabbage and carrots, arugula, red and yellow bell pepper. We also added California avocado slices to the vegetable wraps, because let's face it, everything is better with avocado!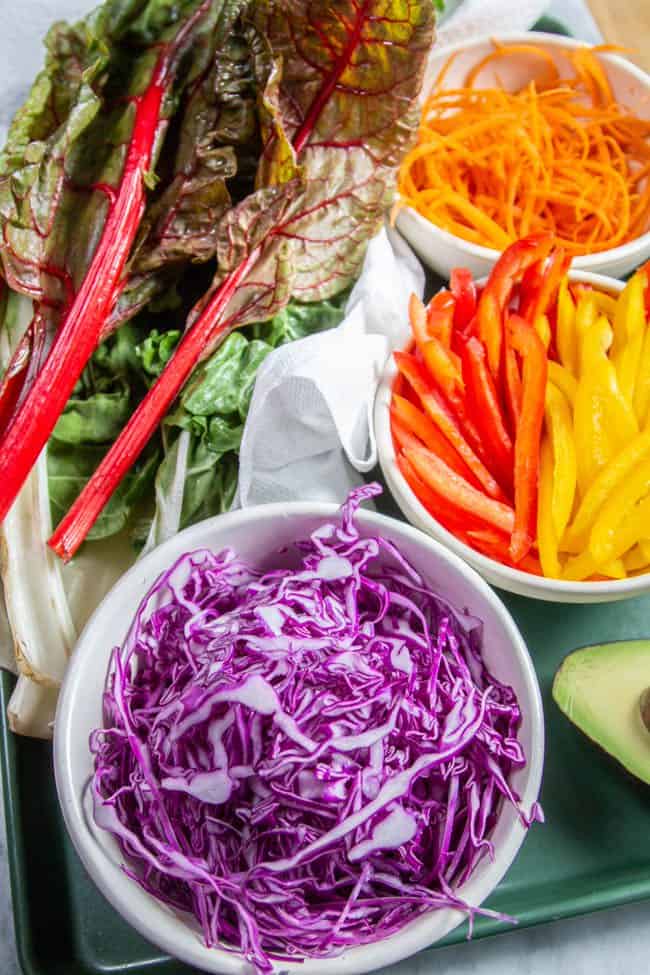 Rainbow Vegetable Wraps are customizable too!
You can use any large hearty green like Swiss chard, collard, cabbage, or large lettuce leaves for the wrap.
You can fill this wrap with any vegetables you like. Just slice them super thin when prepping.
We wrote the recipe with California almond butter, but any nut or seed butter you have on hand will work.
Like a sauce with more texture? Use chunky nut butter and skip the blending step.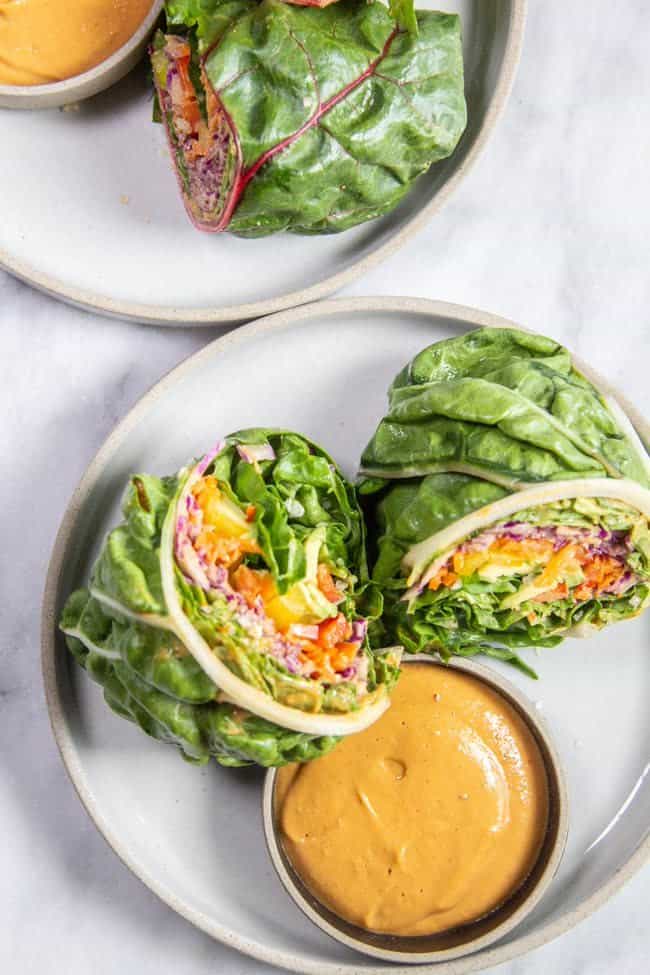 What ingredients are needed to make the Almond Butter & Red Curry Dipping Sauce?
While the hubs and I prefer a spicier dipping sauce our kids don't. So, this recipe for almond butter and red curry dipping sauce is low on the Scolville scale. Want more heat? Simply add more pepper flakes, a few squirts of hot sauce like Sriracha, or use our hot honey in the sauce.
Like our Almond Butter & Red Curry Sauce? It was inspired by the sauce from This Mess is Ours below!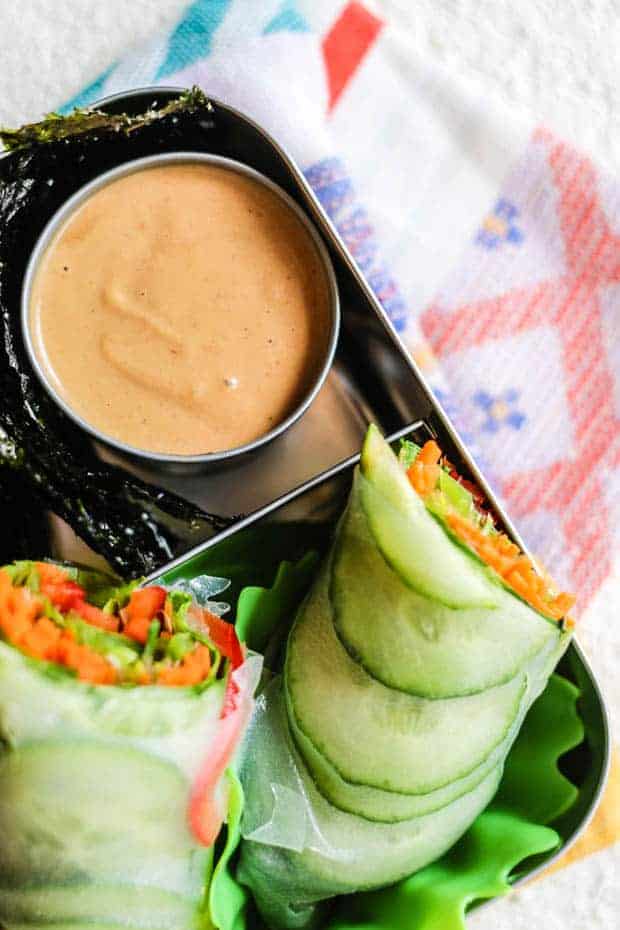 A simple hack for using large leafy greens like chard or collards as a wrapper.
Do you find it difficult to actually wrap your raw vegetable wrap like a burrito? We have a few tips!
To remove the tough fibourous stem, simply cut along the sides of the stem with a pairing knife.
If you still find the stem that remains to be too fiborous for your liking try using a vegetable peeler to shave down the stem.
Place large individual leaves inbetween two paper towels then place in the microwave. Cook for 10-15 seconds. This will make the sturdy green just supple enough to roll without too much trouble.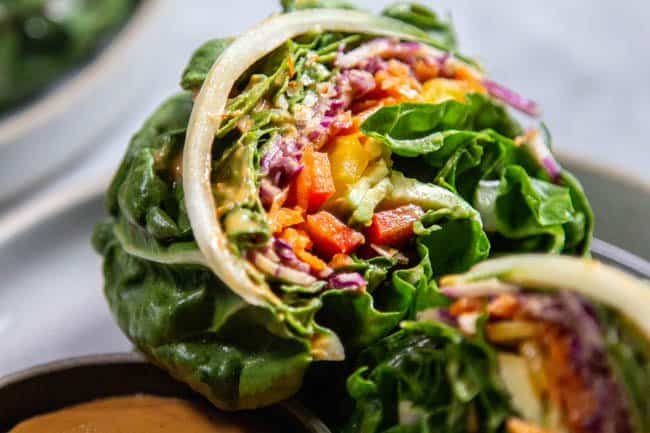 Keep scrolling for more rainbow-inspired recipes that will make sure you get your daily dose of fruits and vegetables.
It's our mission to bring you colorful, delicious recipes that are overflowing with vibrant seasonal fruits and vegetables. We also love to shine a light on our California Grown Creators! They have created some incredible rainbow-inspired recipes we couldn't resist sharing!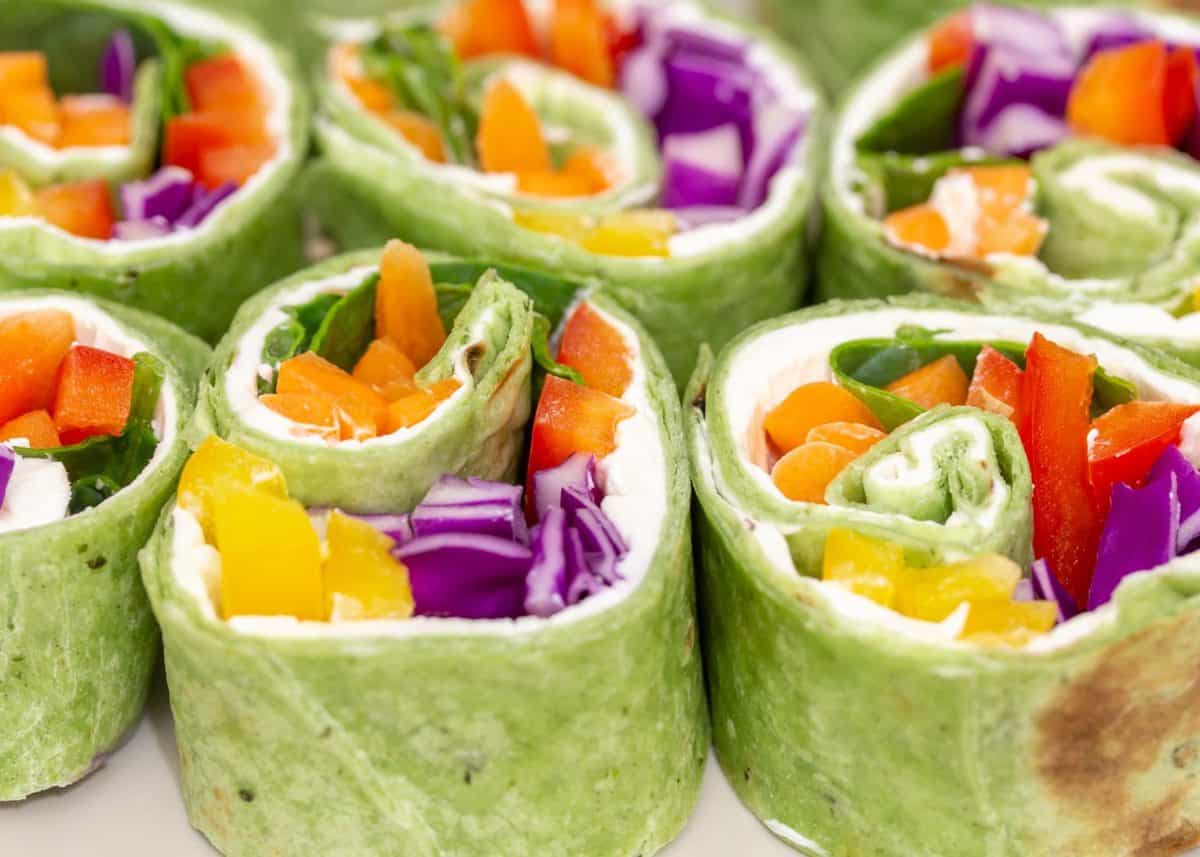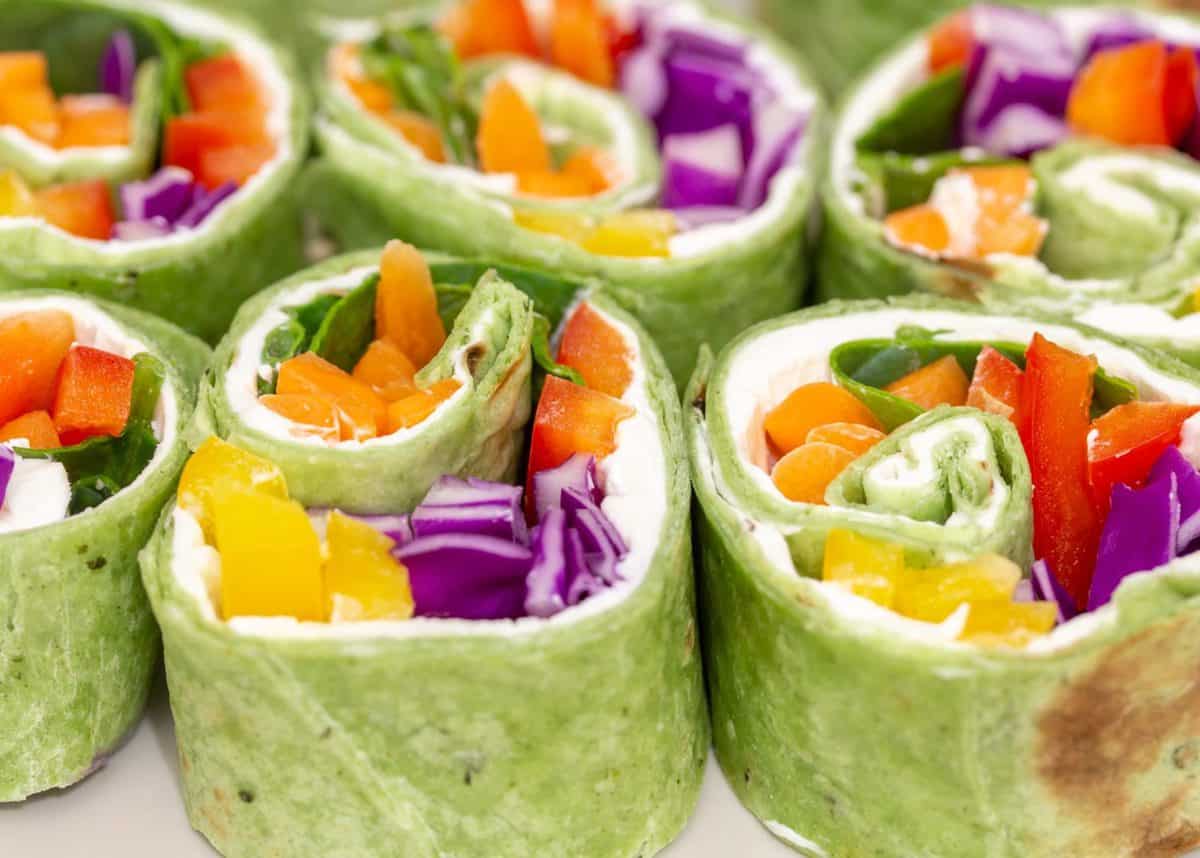 Here is a fun, tasty way to get kids to eat their veggies. These roll-ups (or pinwheels) from Jerry James Stone are bursting with fresh bell peppers, carrots, cabbage, and more.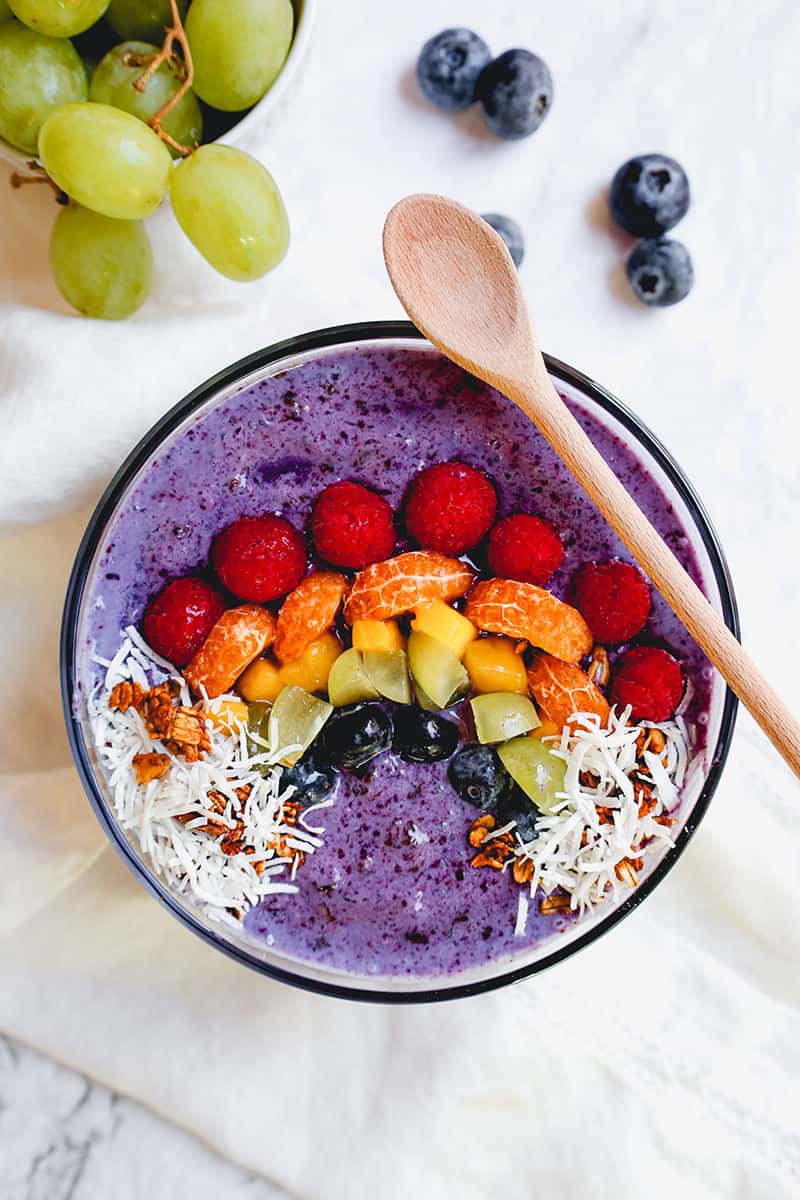 You really can't start your day off wrong when you begin by nourishing your body with a rainbow-inspired smoothie bowl from Real California Milk.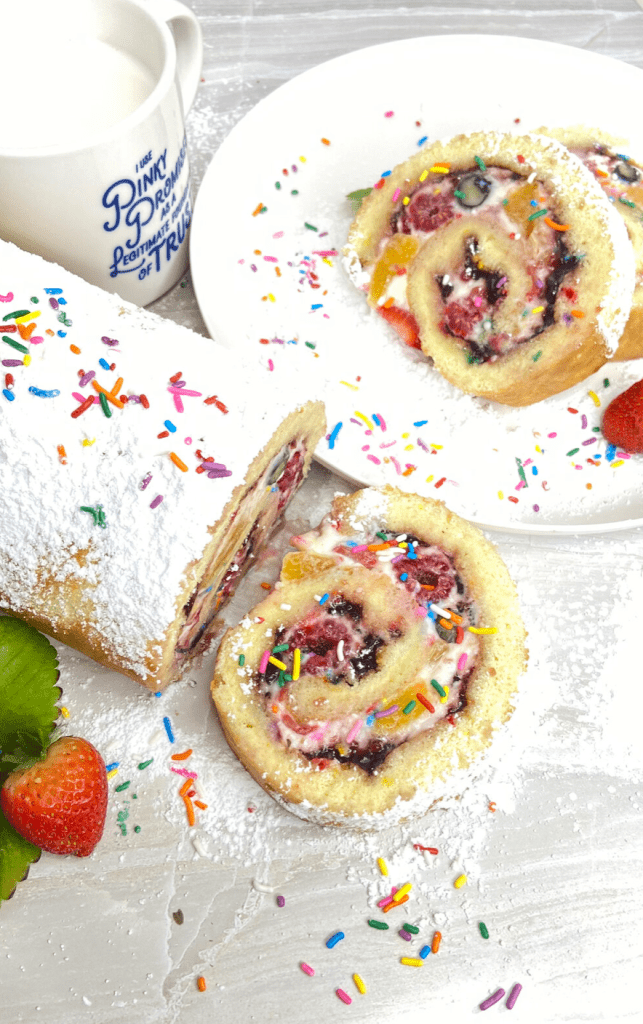 This Rainbow Cake Roll from Rachel Makes It is fun, delicious, and an impressive way to sneak some California-grown fruit into dessert!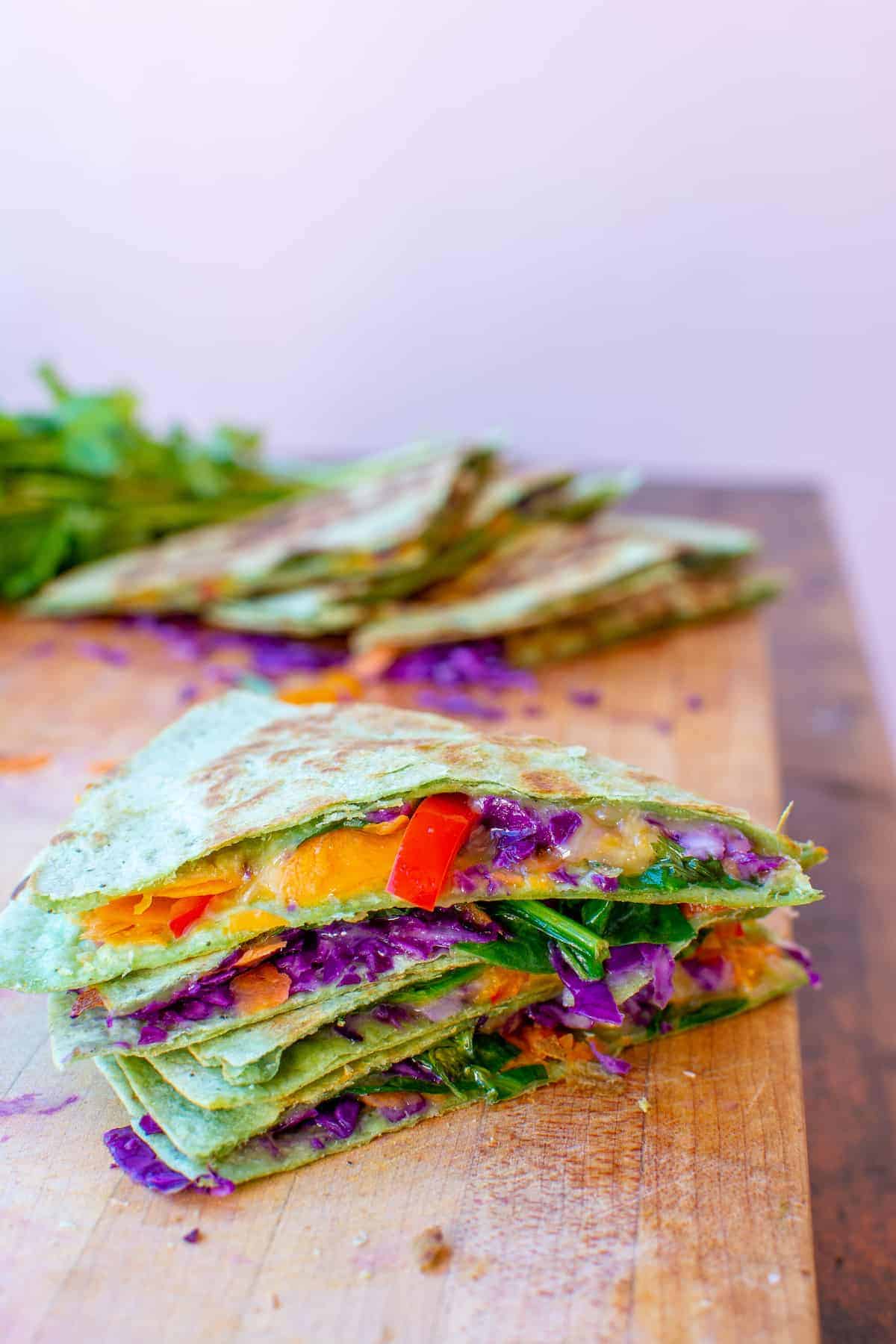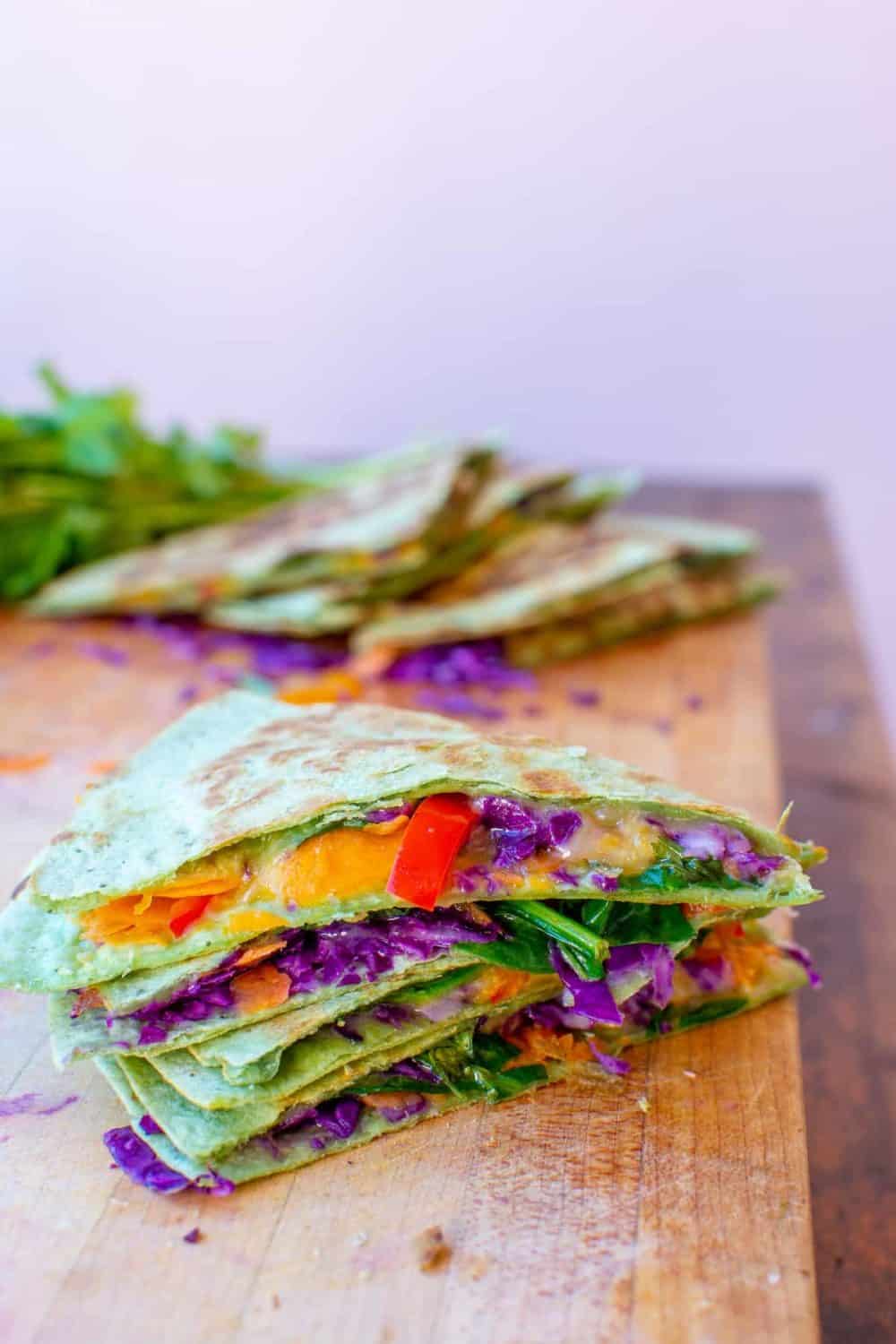 This super yummy quesadilla from Hola Jalapeno is filled with a boatload of colorful vegetables and lots of melted cheese. A quick and easy recipe that is a clear winner for the whole family. Keep these veggies in the fridge for a healthy meal any time hunger strikes!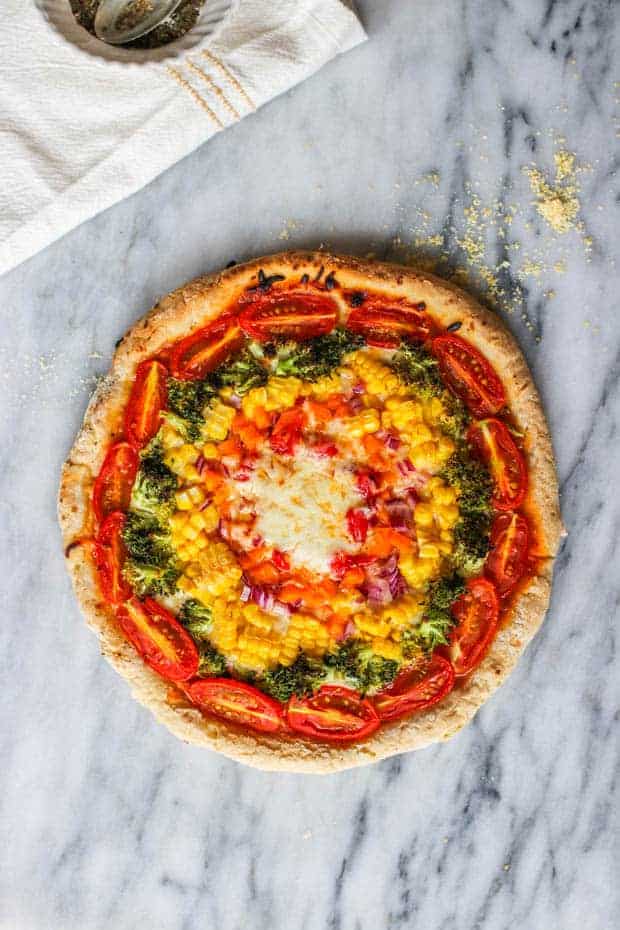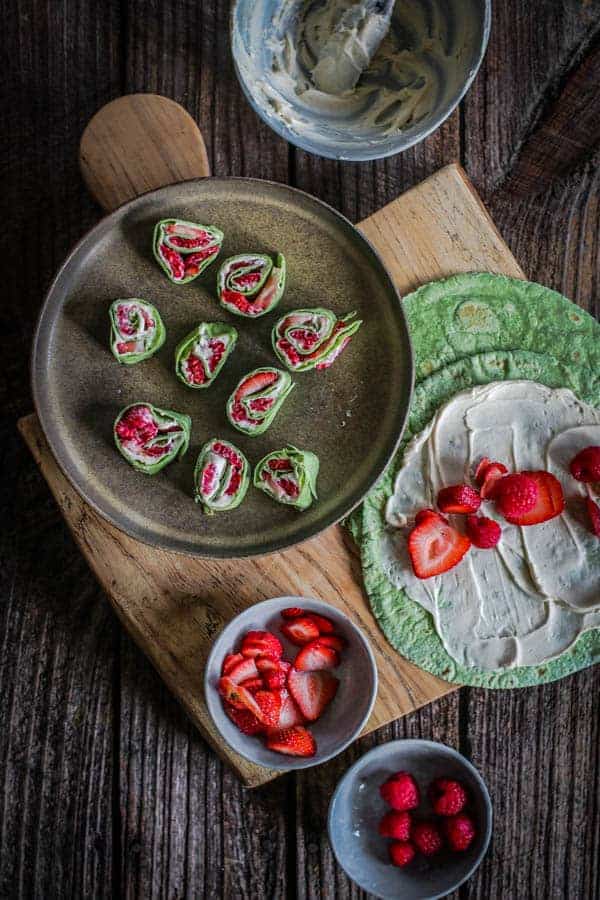 These easy roll-ups from This Mess is Ours are quick and easy to assemble with only a handful of ingredients like fresh berries, cream cheese, and gluten-free spinach wraps.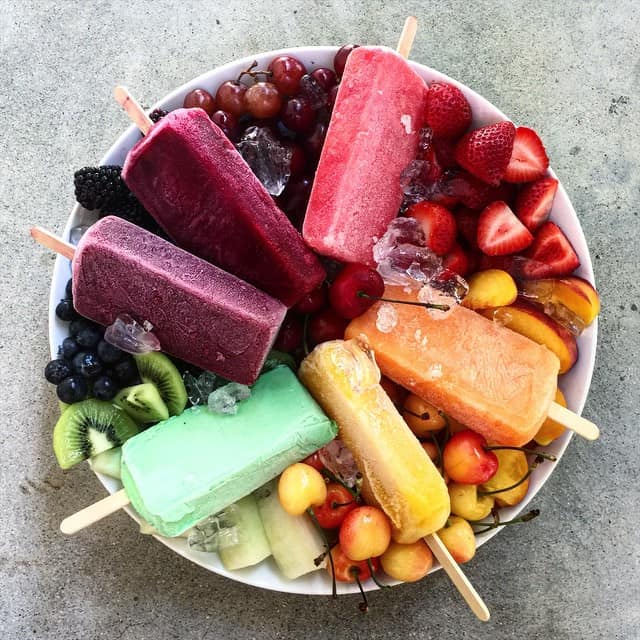 Sarah of The Delicious Life assures us that even though paletas look exactly like popsicles they are actually not a popsicle at all.
She says that paletas are a frozen refreshment on a "palo" (stick) and with flavors like unsweetened cucumber, tamarind, hibiscus, and mango with chili powder you can let your taste buds run wild all summer!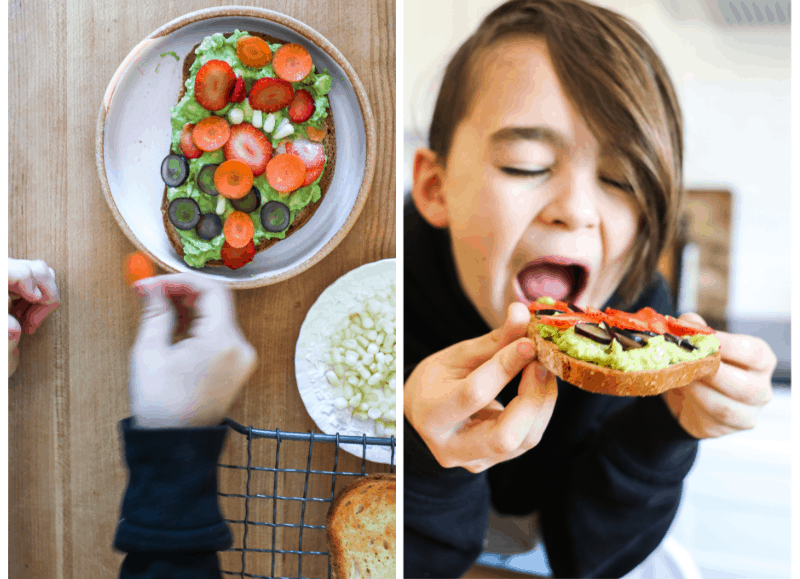 This simple avocado and lime mash from This Mess is Ours is perfect for even the pickiest of palettes. Plus, fresh fruit like juicy berries and grapes taste even better when paired with avocado, it's just a fact.
Craving more CA Grown goodness? Follow us on Pinterest for fresh and fabulous recipe inspiration!
BE SURE TO SHARE YOUR CALIFORNIA-GROWN VEGETABLE WRAPS WITH US BY SNAPPING A PIC AND TAGGING US ON SOCIAL USING #CAGROWN.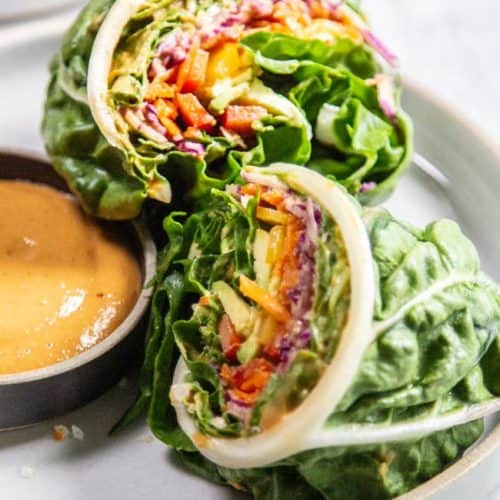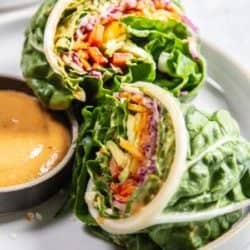 Rainbow Vegetable Wraps with Almond Butter & Red Curry Sauce
A simple adaptable recipe for vegetable wraps with a delightful dipping sauce.
Ingredients
For the Rainbow Vegetable Wrap assembly
1 bunch large, sturdy leafy greens Swiss chard, collards, cabbage, or large lettuce leaves
2 cups arugula
1 cup thinly shredded red cabbage
1 any color, bell pepper sliced thin
1 avocado thinly sliced
For the Almond Butter & Red Curry Dipping Sauce
1 cup creamy almond butter
1/4 cup canned, full-fat coconut milk
1/2 cup water
3 tablespoons unseasoned rice wine vinegar
2 tablespoons soy sauce Tamari or coconut aminos
2 tablespoons roasted sesame or peanut oil
1 tablespoon honey
3 teaspoons Thai red curry paste
1/2 teaspoon red pepper flakes
Instructions
To make the Almond Butter & Red Curry Dipping Sauce
Combine all of the ingredients in a blender and blend until smooth. Add salt to taste if necessary.
To make the wrap
Remove any fibrous stem from the leafy green wrap and place large individual leaves in between two paper towels then place in the microwave. Cook for 10-15 seconds. This will make the sturdy green just supple enough to roll without too much trouble.

Spread a thin amount of the Almond Butter & Red Curry Dipping Sauce on the center of the prepared leafy green.

Layer on the hearty ingredients then top those toppings with softer, more tender ingredients.

Wrap in the same way you would a burrito. Serve immediately with dipping sauce.
Notes
A note about the sauce:
Sauce can be stored in the refrigerator for up to 2 weeks, and bring back to room temperature before using.