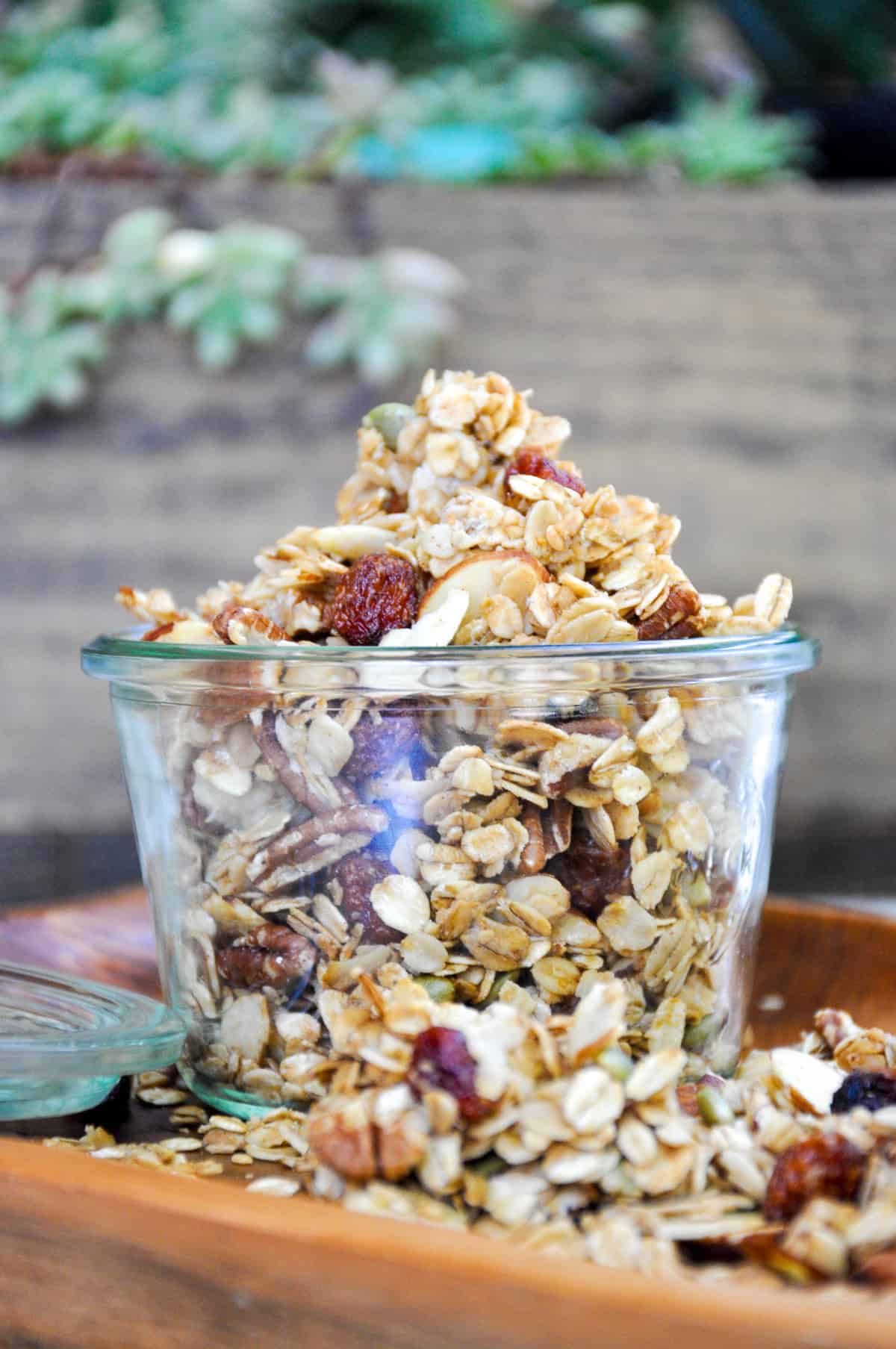 CA GROWN Blog
Discover. Learn. Connect.
Nutty California Granola
August 16, 2017
Eat the Season!
Sign Up For Weekly Recipes
« Back to Recipes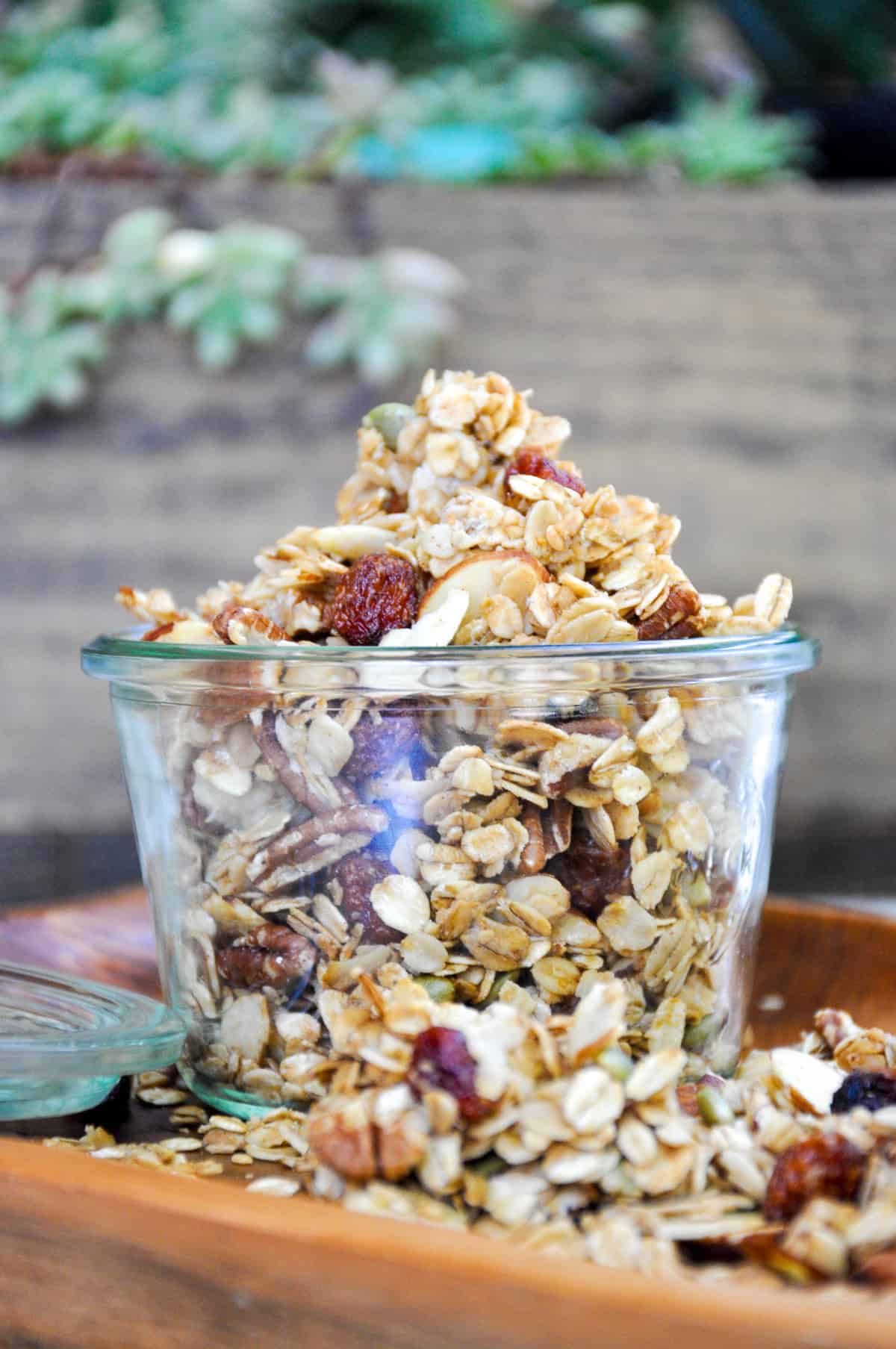 Nutty California Granola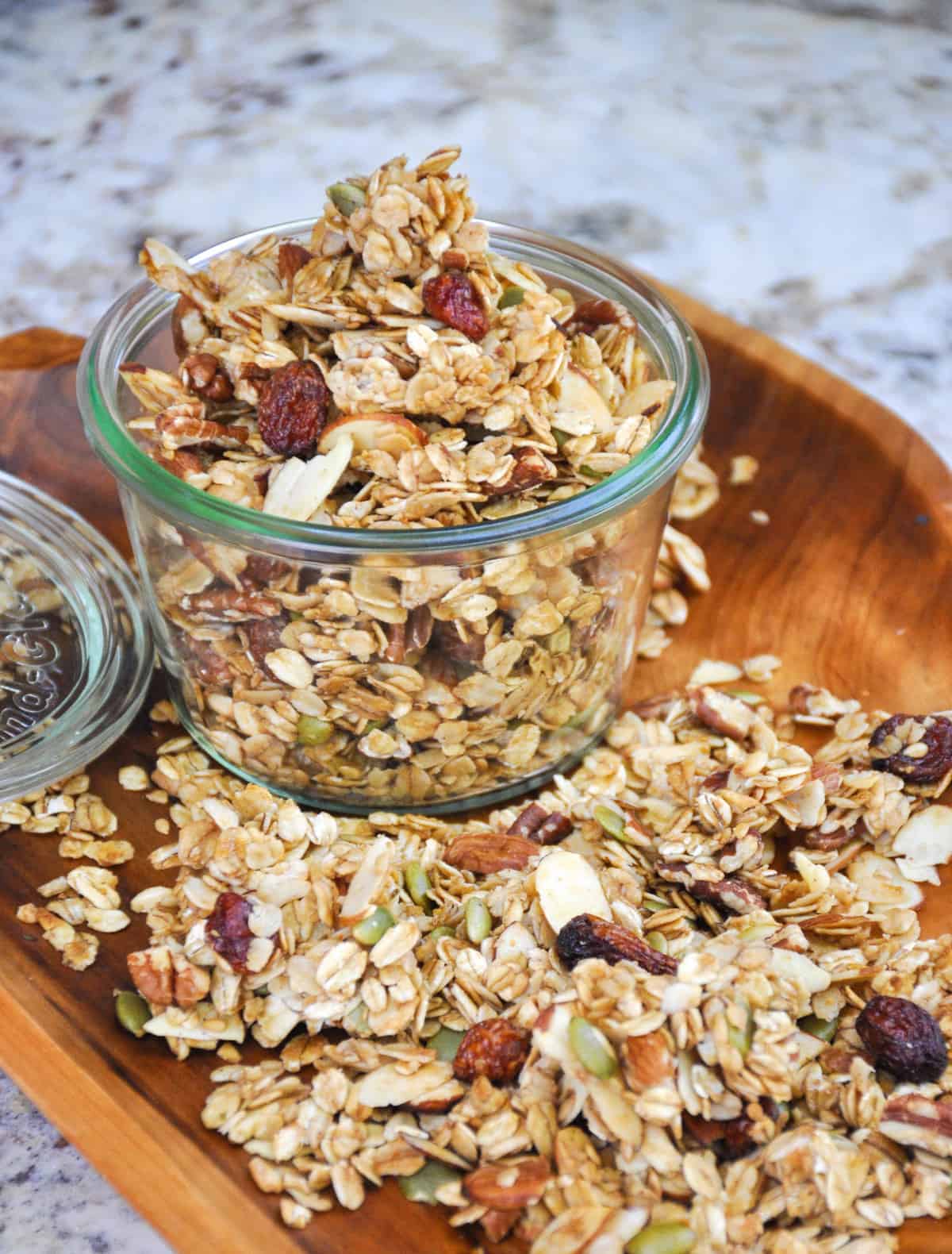 Who's looking for some healthy, back-to-school morning breakfast alternatives?
Over here in our household, I am in full organizing-drill-sergeant mode. I am knee-deep in getting the kids prepared for school, running all over town (with an occasional Amazon cart purchase) buying pens and papers and markers and crayons and glue and shorts and shirts and hair-ties!
Just to name a few…
I took the opportunity this week to make a bunch of fresh, home-made granola to be fully prepared for healthy breakfast choices for the kids. It was super easy to make and considering the price of granola, was surprisingly economical. Plus, I love how flexible it is so you can customize it just the way you like it!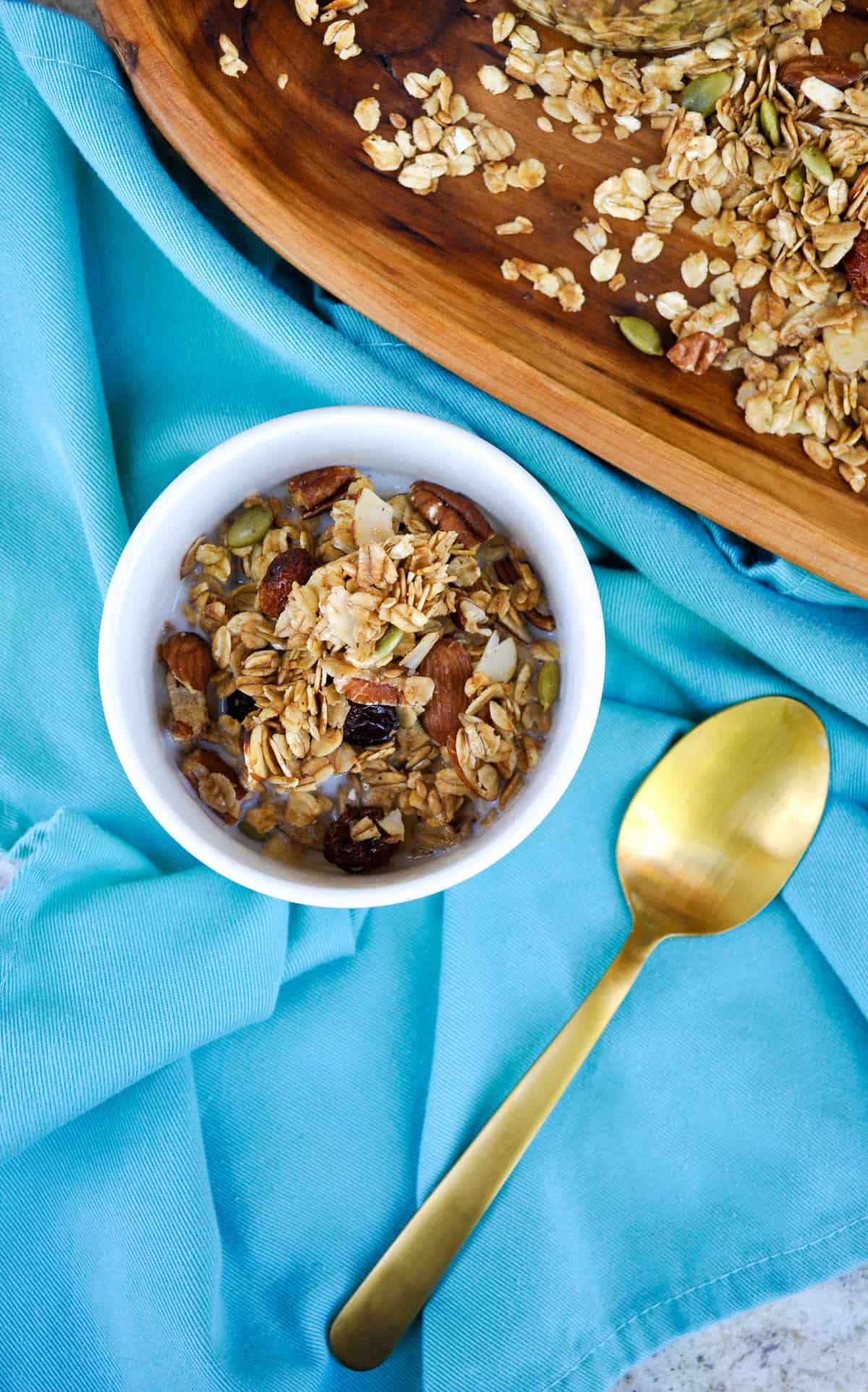 I think the best way to eat granola is with plain ol' milk. You only need about a 1/2 cup serving to keep you energized throughout the morning. Enjoy it with a side of fresh strawberries or cantaloupe and you are winning the breakfast game!
I know my kids will enjoy topping their yogurt with it.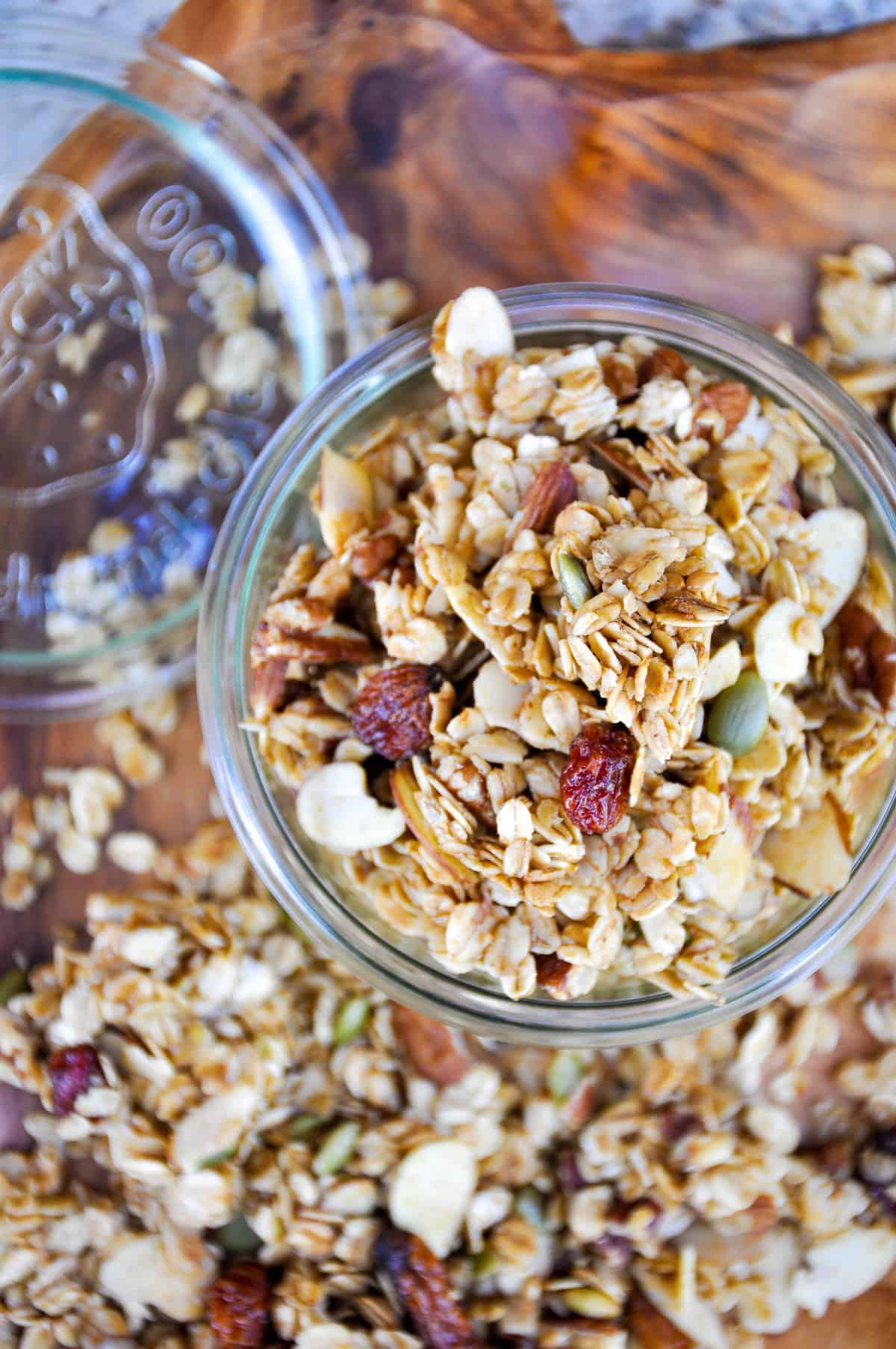 One ingredient that sweetens the cereal and keeps it clumped together is California honey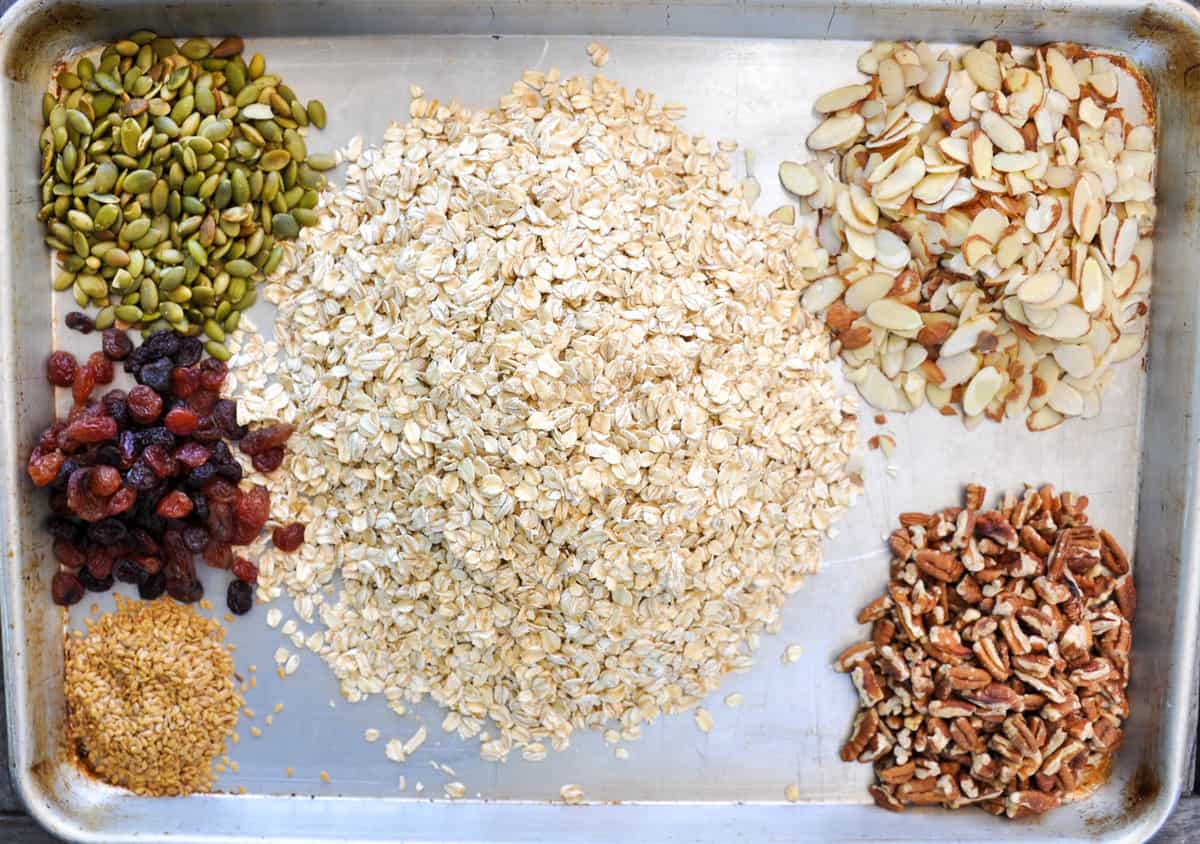 I used a plethora of California nuts for this granola. Almonds, pecans, and pepitas to name a few; I also used sweet crimson raisins… Yum!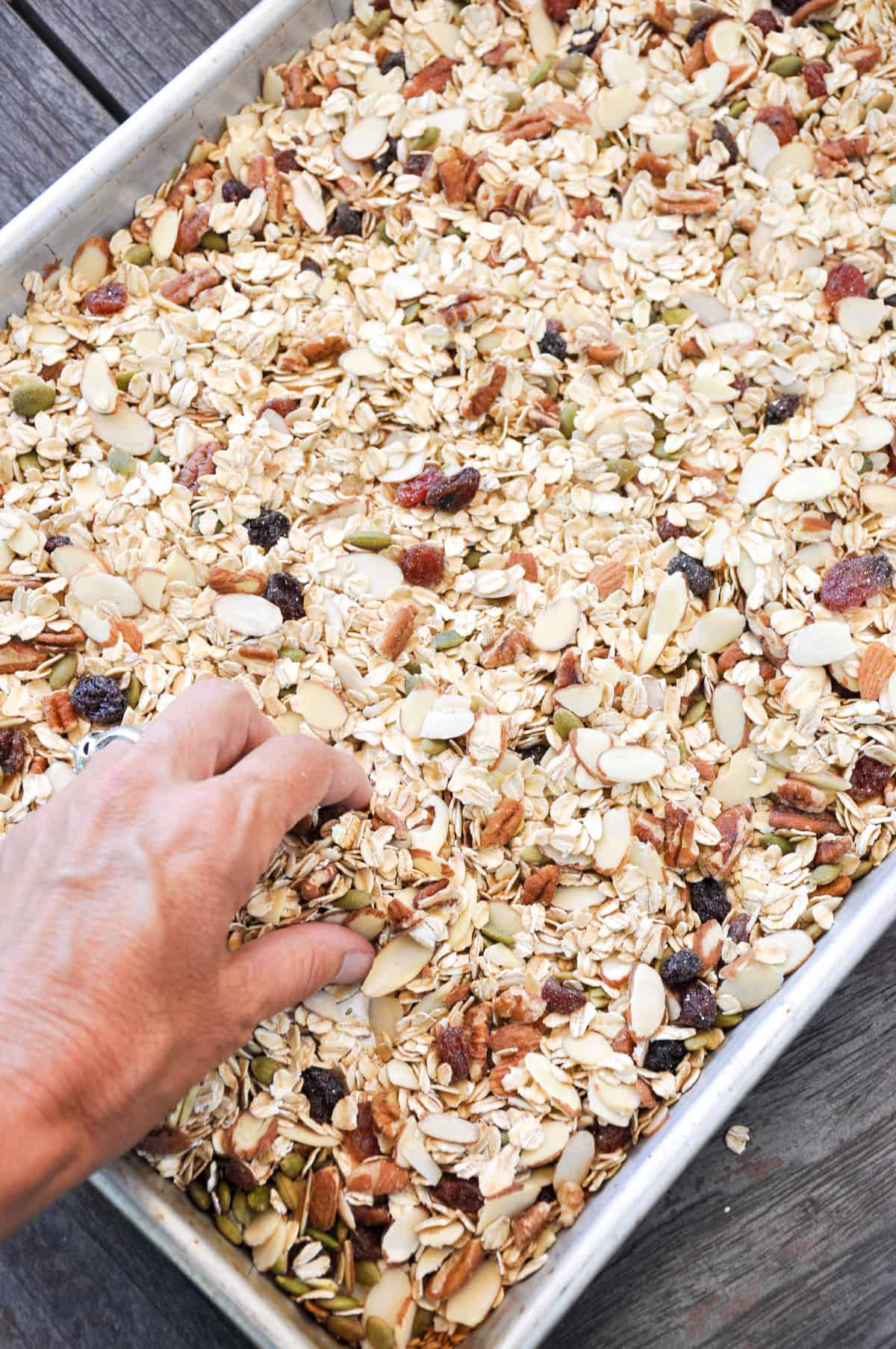 Mix all the dry ingredients together in a shallow baking sheet.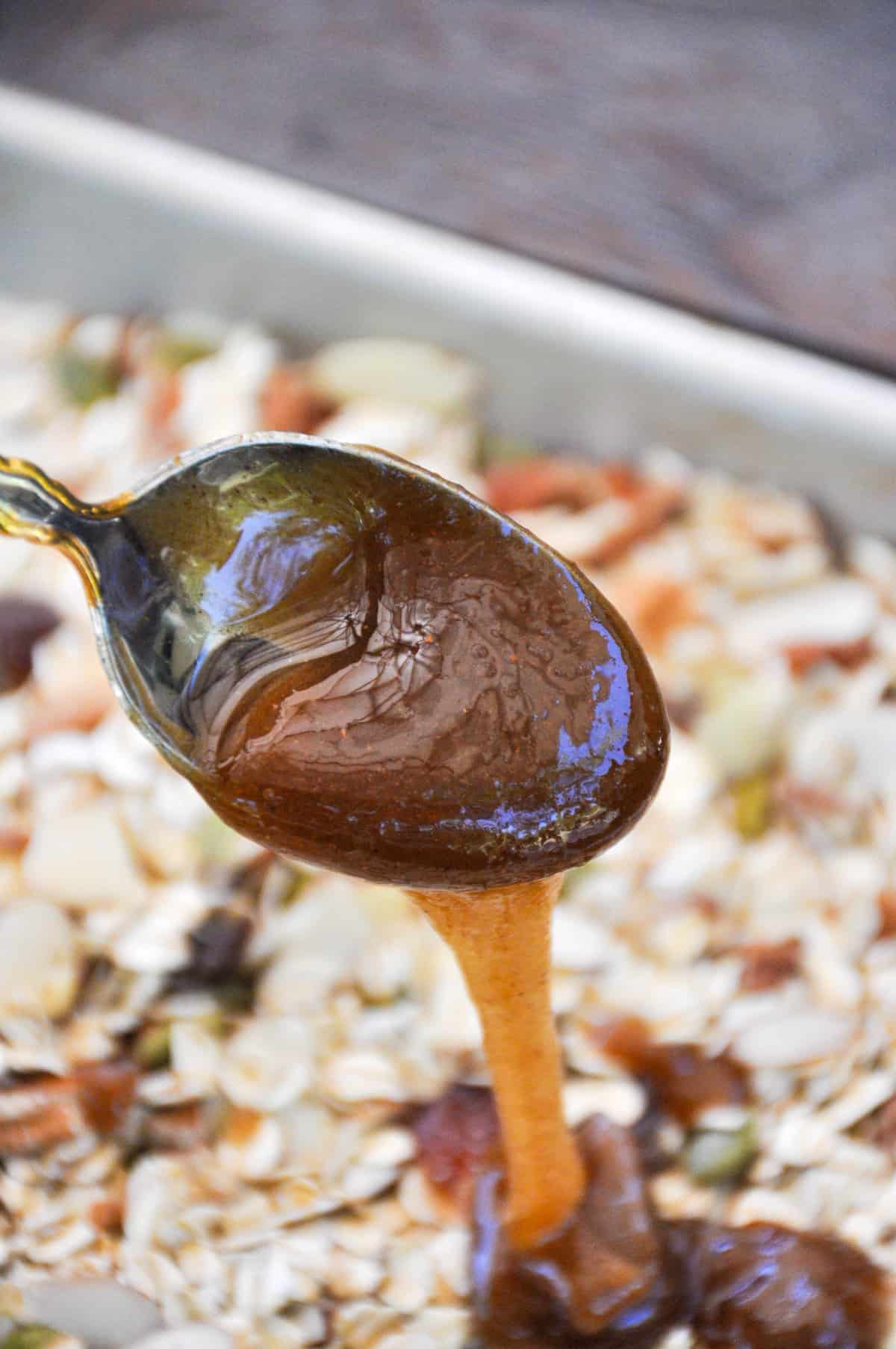 Drizzle the wet ingredients over the dry.
Thoroughly mix until well incorporated. Bake 35 minutes at 300 degrees.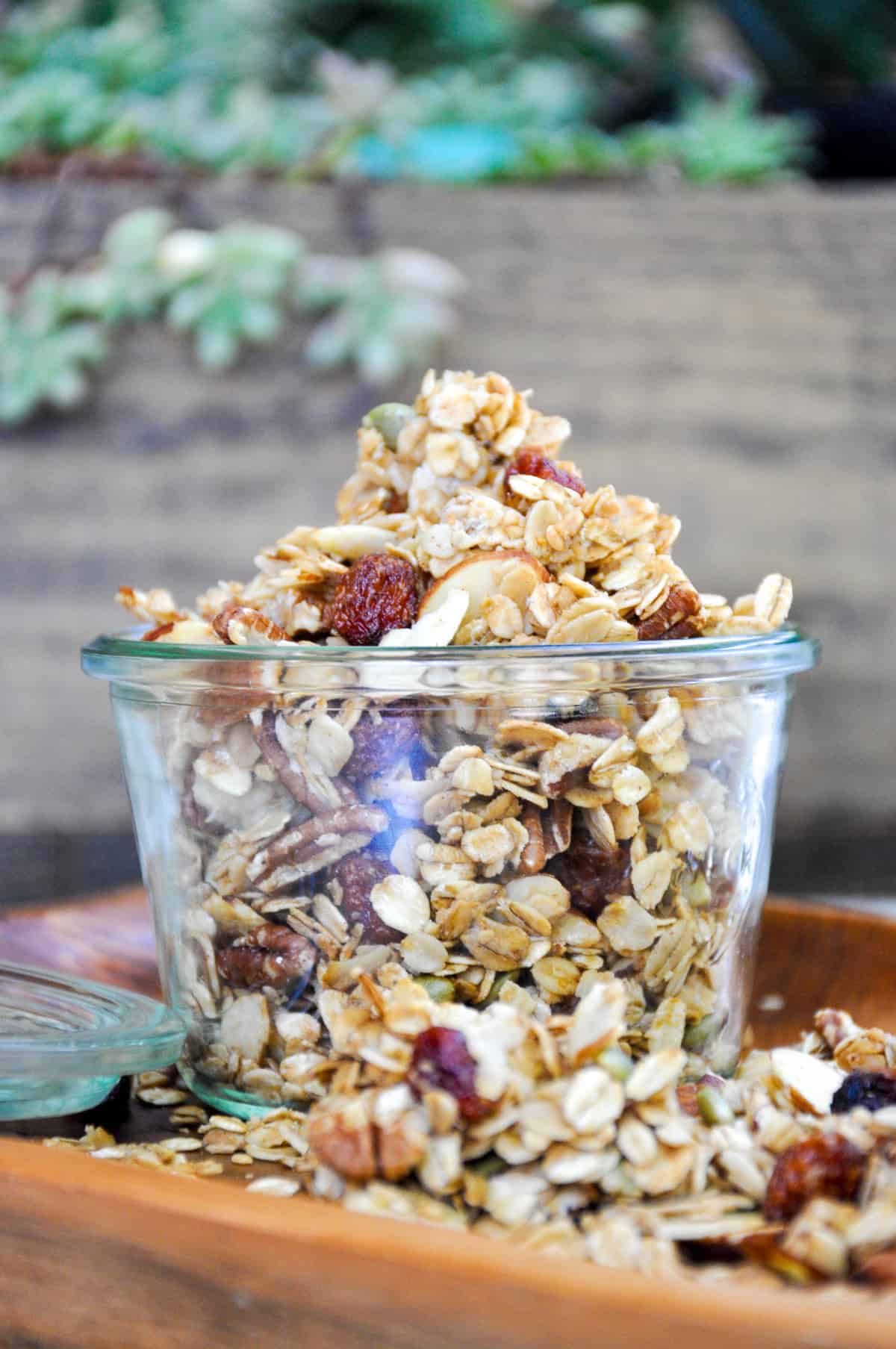 Once out of the oven, allow to cool for at least an hour. We are storing ours in a sealed container and plan on using it throughout the week… if it lasts that long!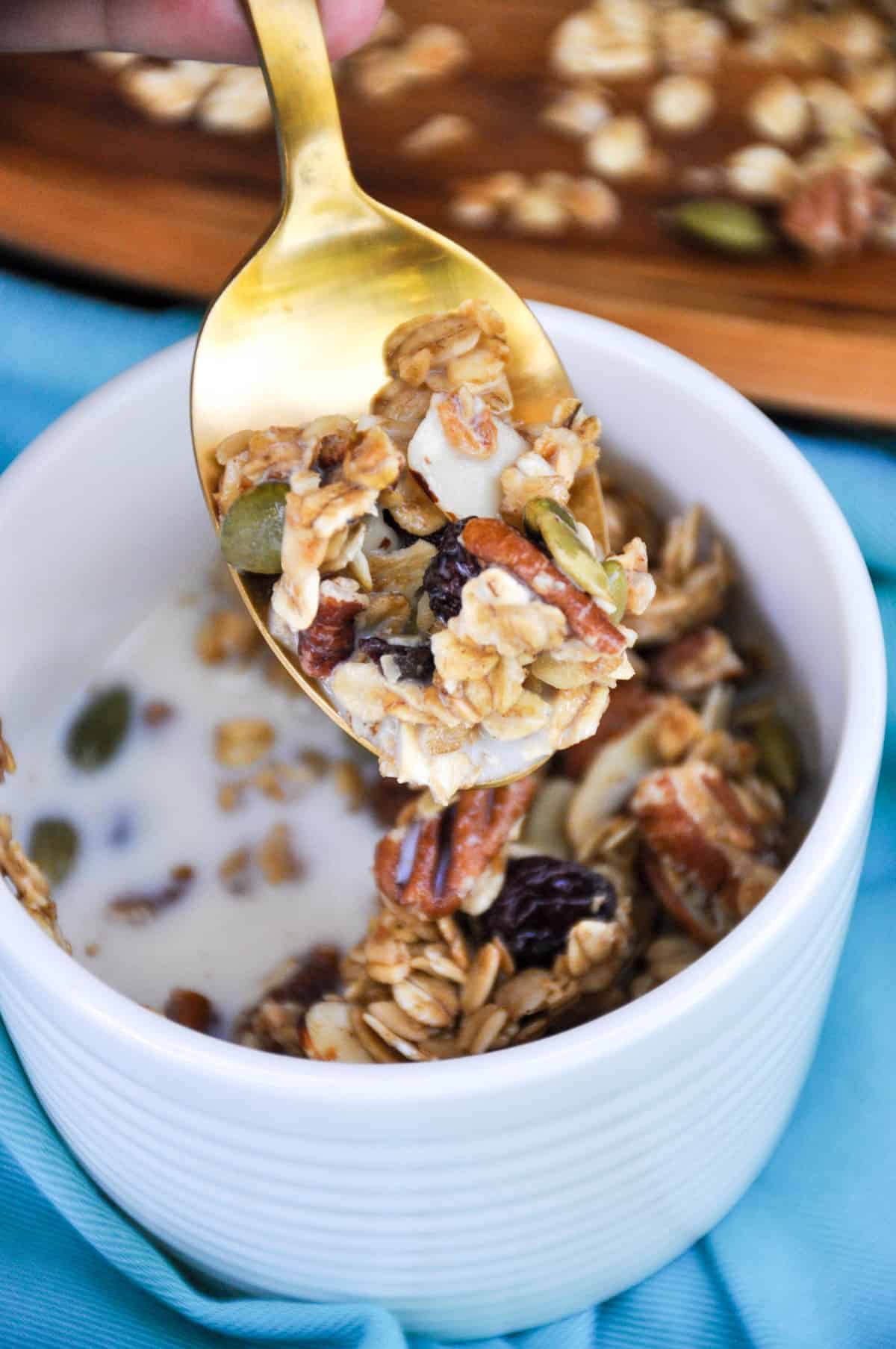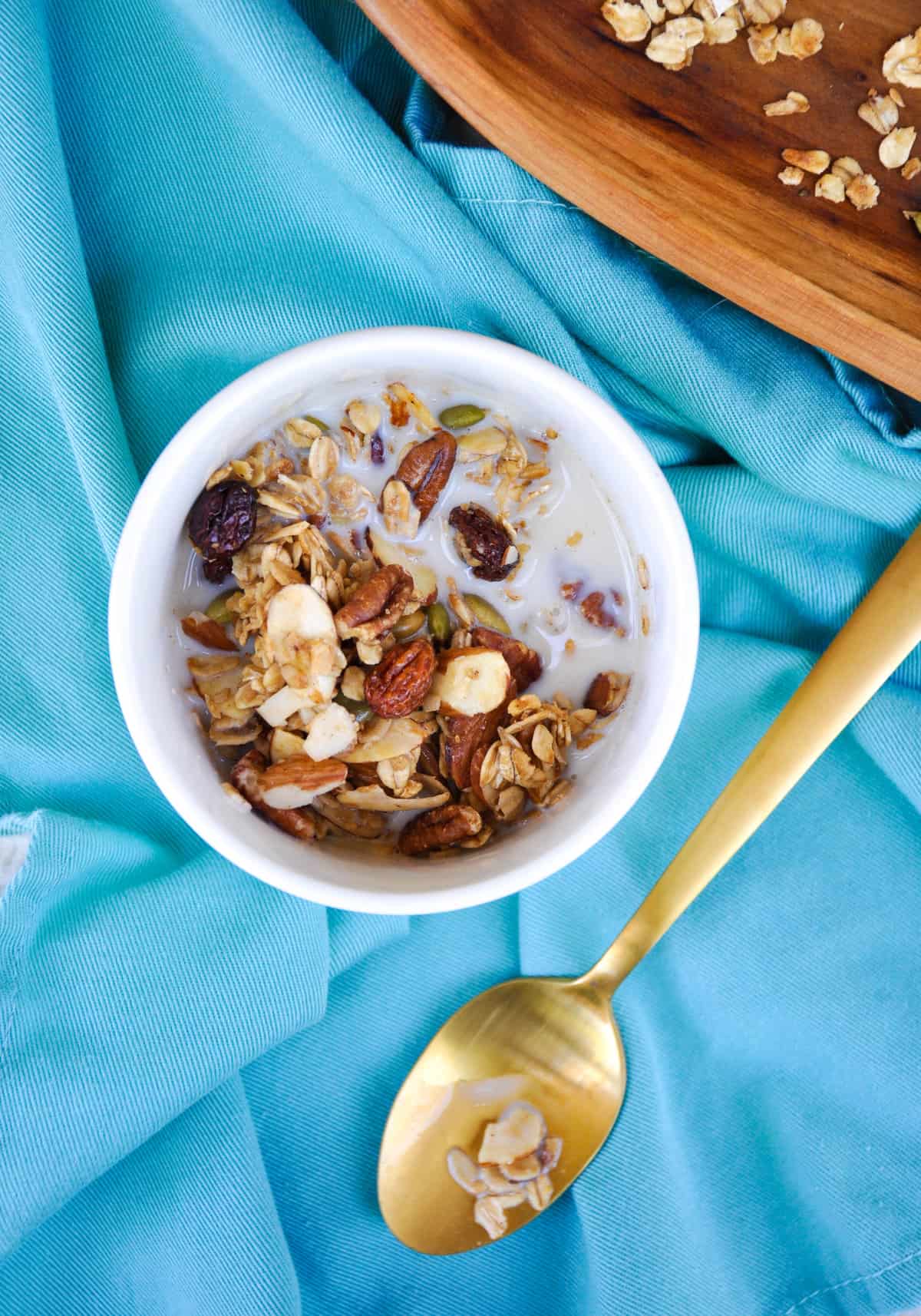 Happy and nutritious Back-to-School to you and yours!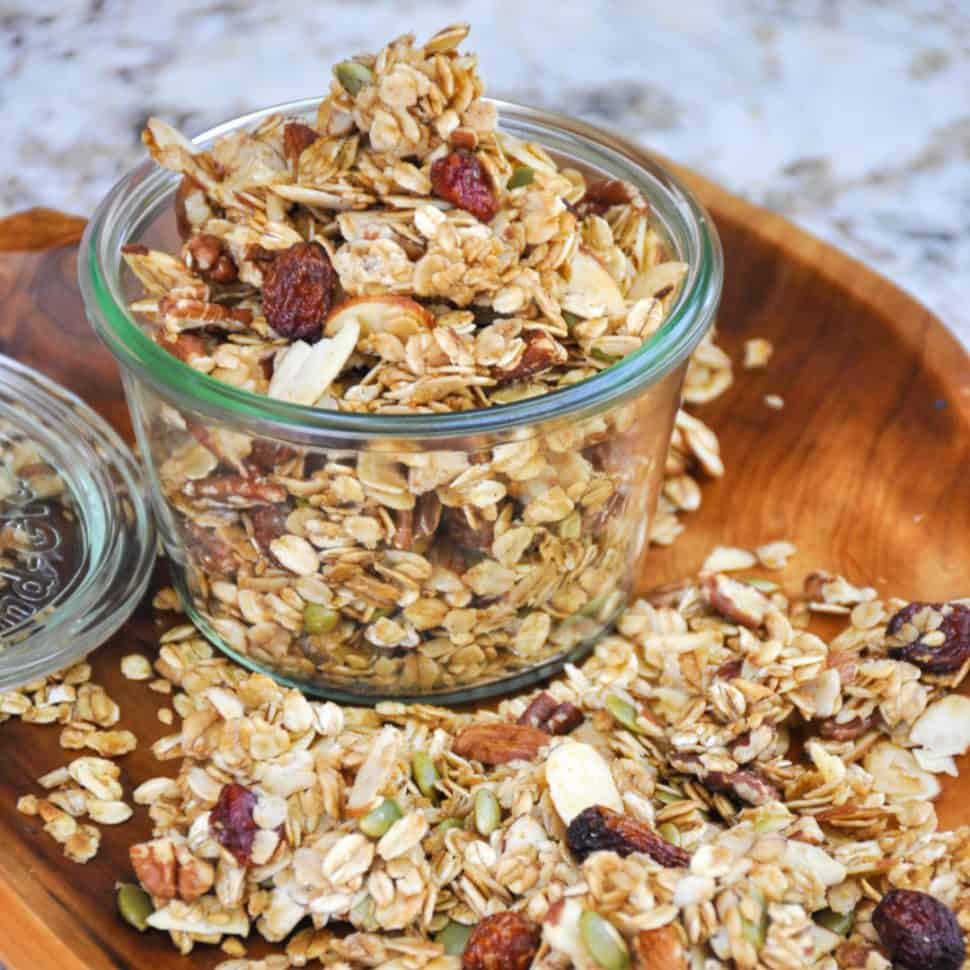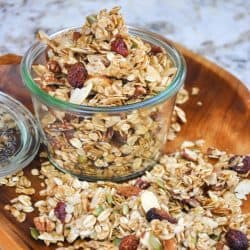 Nutty California Granola
Ingredients
4 cup Rolled Oats, not quick oats
1 cup Sliced Almonds
3/4 cup Pecan Pieces
1/4 cup Pepitas (pumpkin seeds)
2 T Flax Seeds
1/2 cup Raisins, or more if you'd like
4 T Brown Sugar
1/2 tsp Cinnamon
1 T Vanilla Extract
1/2 cup Honey
1/2 cup Vegetable Oil
Instructions
Preheat oven to 300 degrees.

Combine all the dry oats, nuts, and seeds together on a baking sheet.

Mix the brown sugar, cinnamon, vanilla, honey, and oil and mix well. Pour over the dry ingredients and mix well to coat all the ingredients.

Bake for 30-40 minutes, stirring every 10 minutes, until golden.

Cool for 1 hour before eating.

Store in an air-tight container for a week.
Nutrition
Calories: 218kcalCarbohydrates: 22gProtein: 5gFat: 13gSaturated Fat: 5gTrans Fat: 1gSodium: 3mgPotassium: 177mgFiber: 3gSugar: 8gVitamin A: 2IUVitamin C: 1mgCalcium: 41mgIron: 1mg
If you are looking for more healthy breakfast ideas, we've got 'em right here!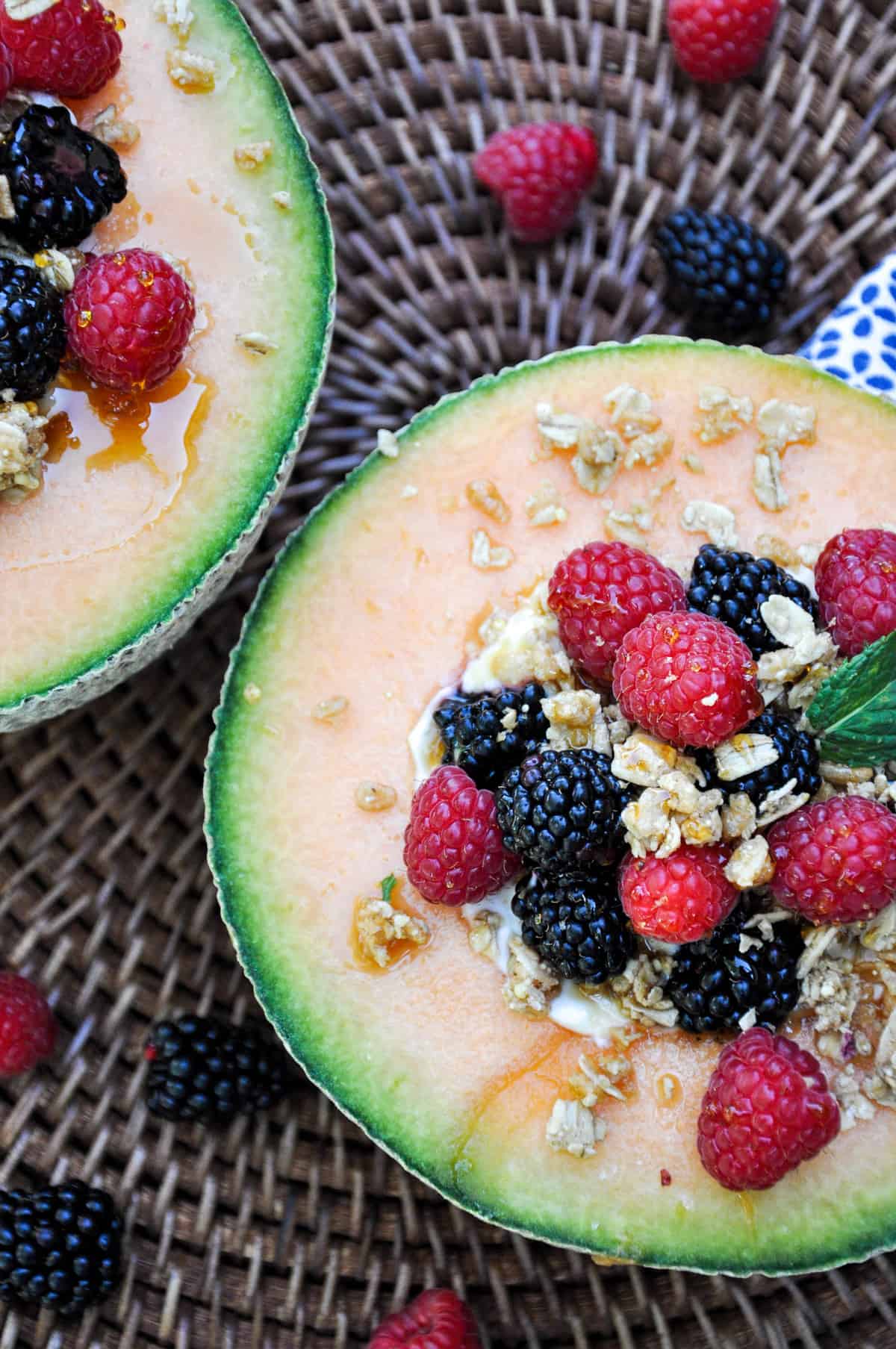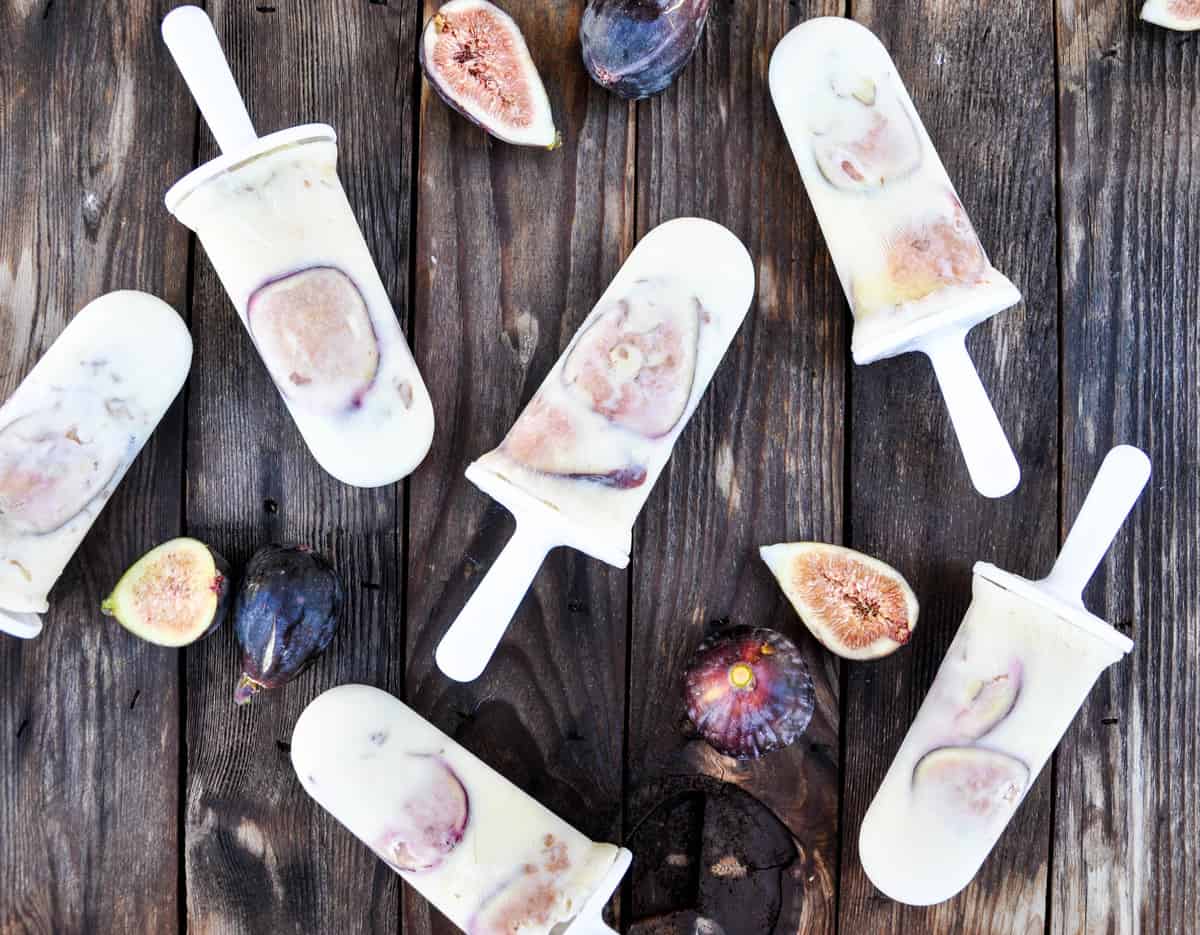 Black Mission Fig Yogurt Popsicle