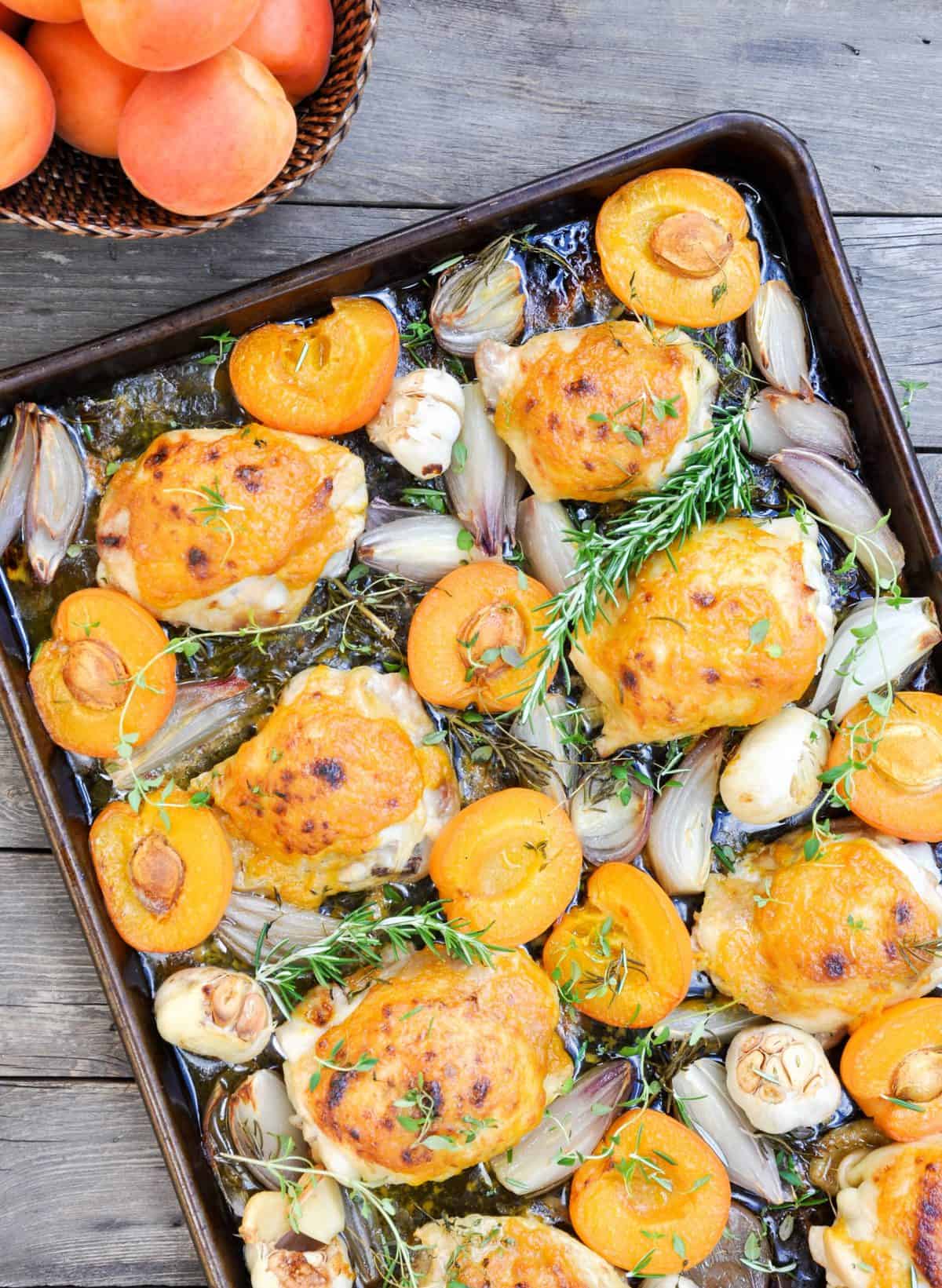 CA GROWN Blog
Discover. Learn. Connect.
Fresh Apricot & Shallot Sheet Pan Chicken
May 27, 2020
Eat the Season!
Sign Up For Weekly Recipes
« Back to Recipes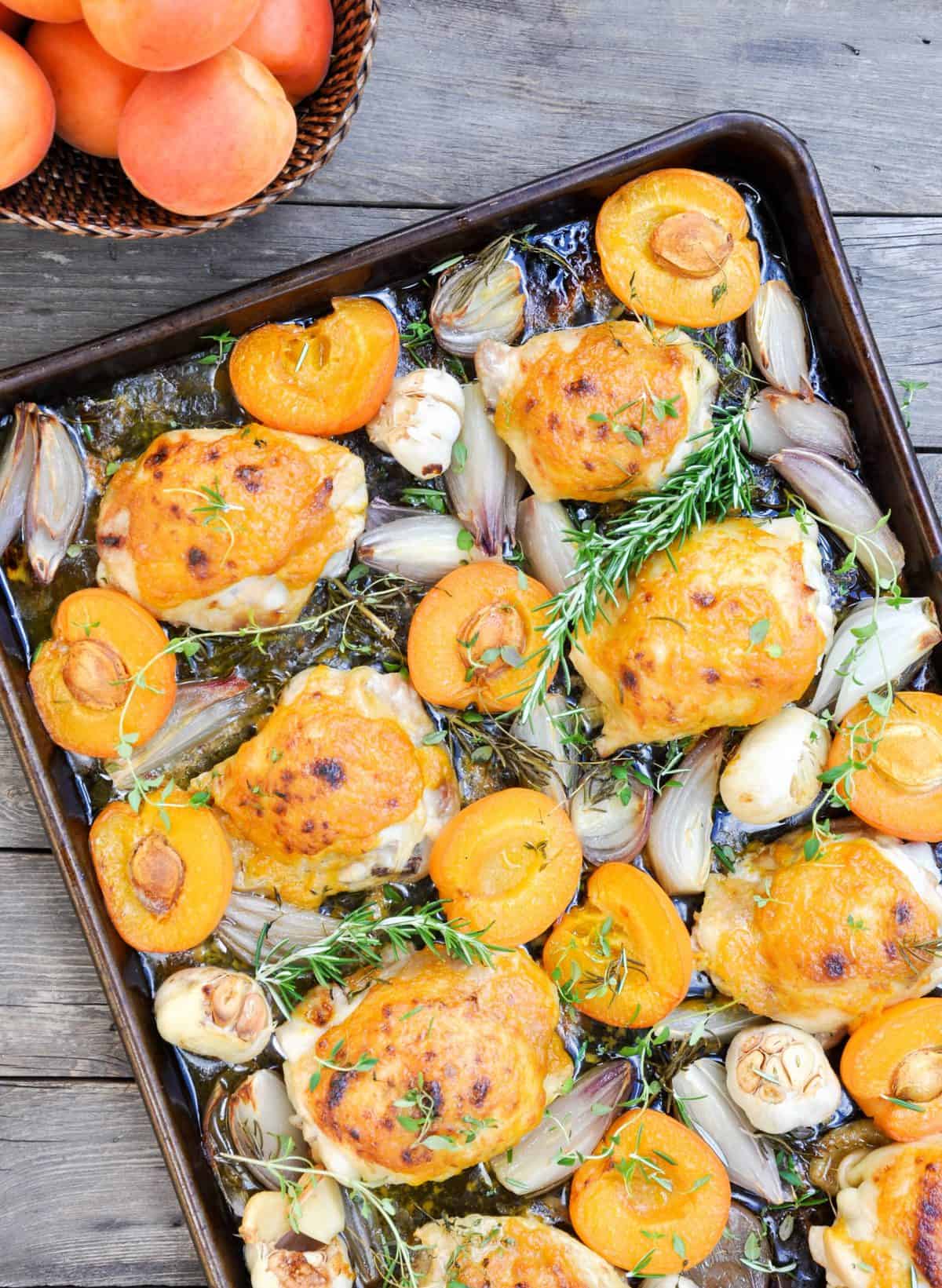 Fresh Apricot & Shallot Sheet Pan Chicken
This sheet pan chicken recipe is simple, delicious, and cooks up in less than an hour with minimal hands-on time! This meal showcases fresh, in-season apricots, a sprinkling of fresh herbs, onions, and garlic.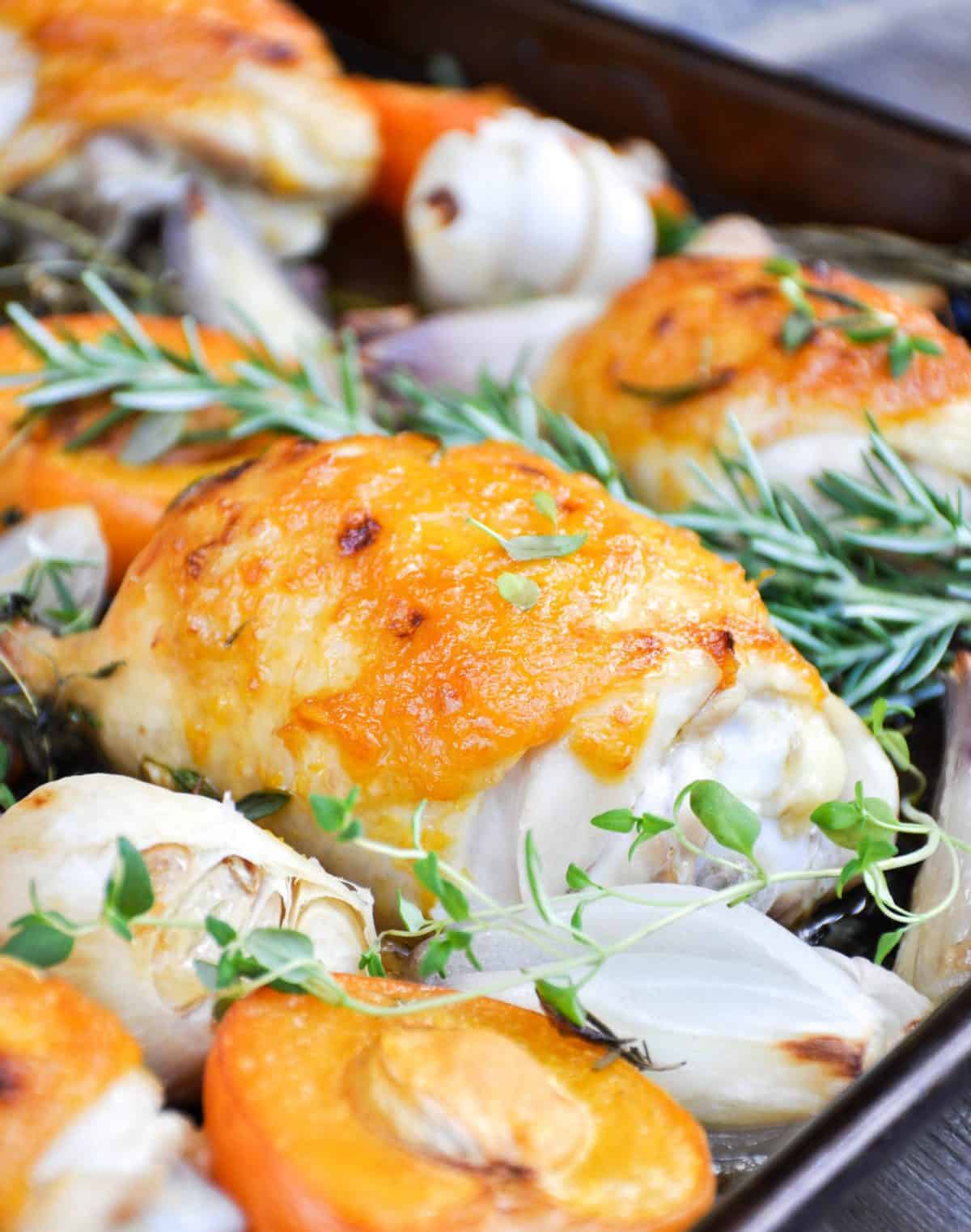 Why are sheet pan dinners so great? Let me tell you…
Sheet pan dinners are really a simple dinner prep process that combines and seasons all the ingredients, arranges them on a rimmed baking sheet then bakes it all together until golden and crispy. It's as hands-off as prepping a meal can get to be honest.
Let's make this Fresh Apricot & Shallot Sheet Pan Chicken step-by-step!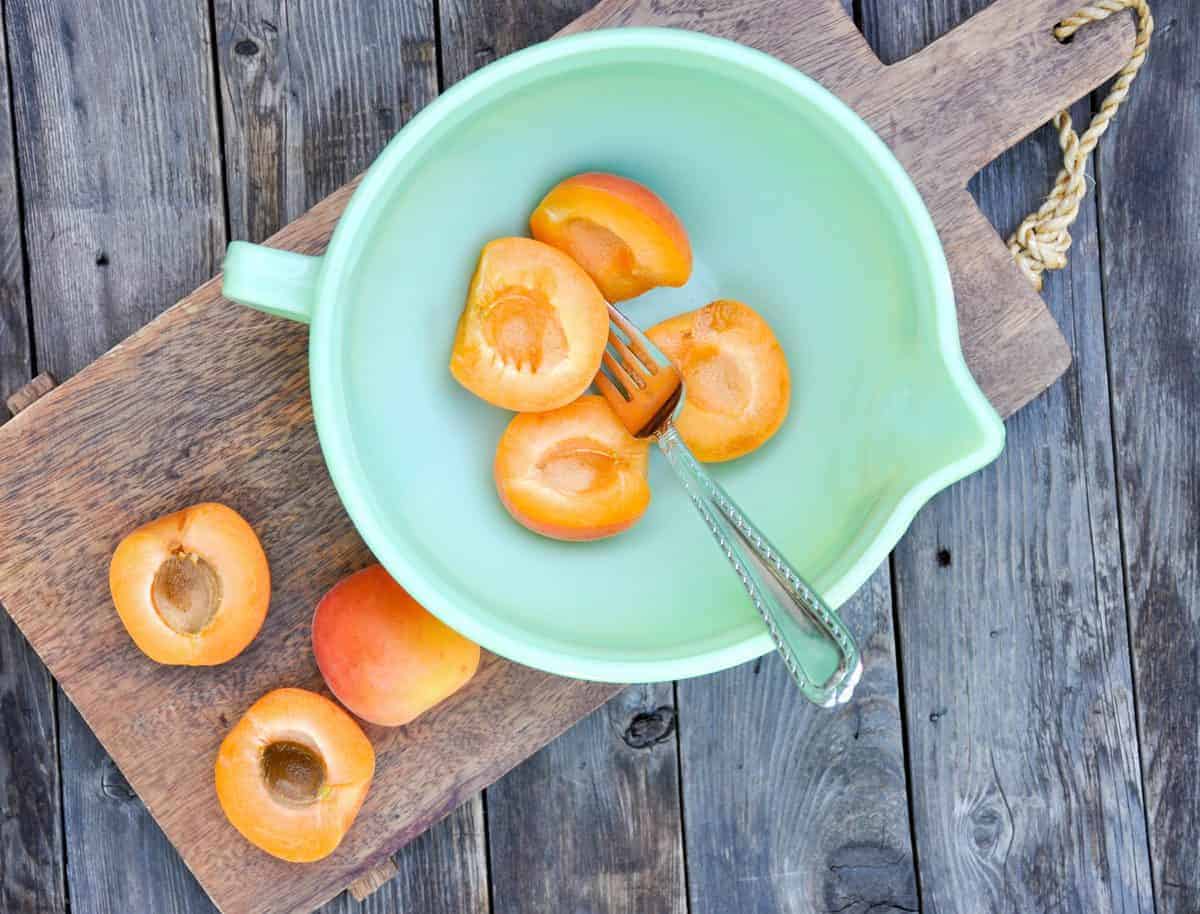 First, let's make the sauce.
Halve three fresh, ripe apricots and remove the pits. Combine the prepped apricots, olive oil, dijon mustard, honey, and garlic powder in a blender. Puree until smooth.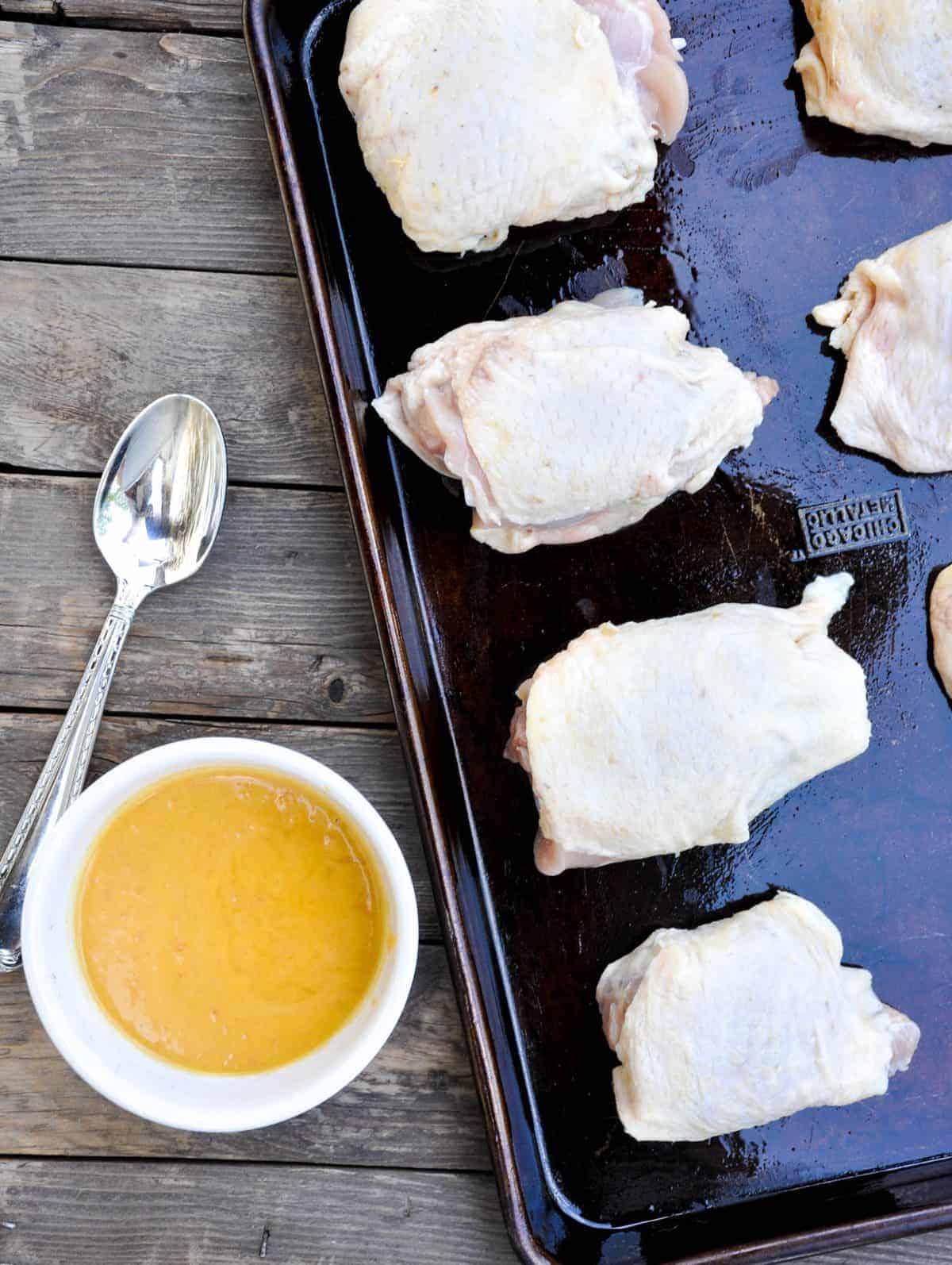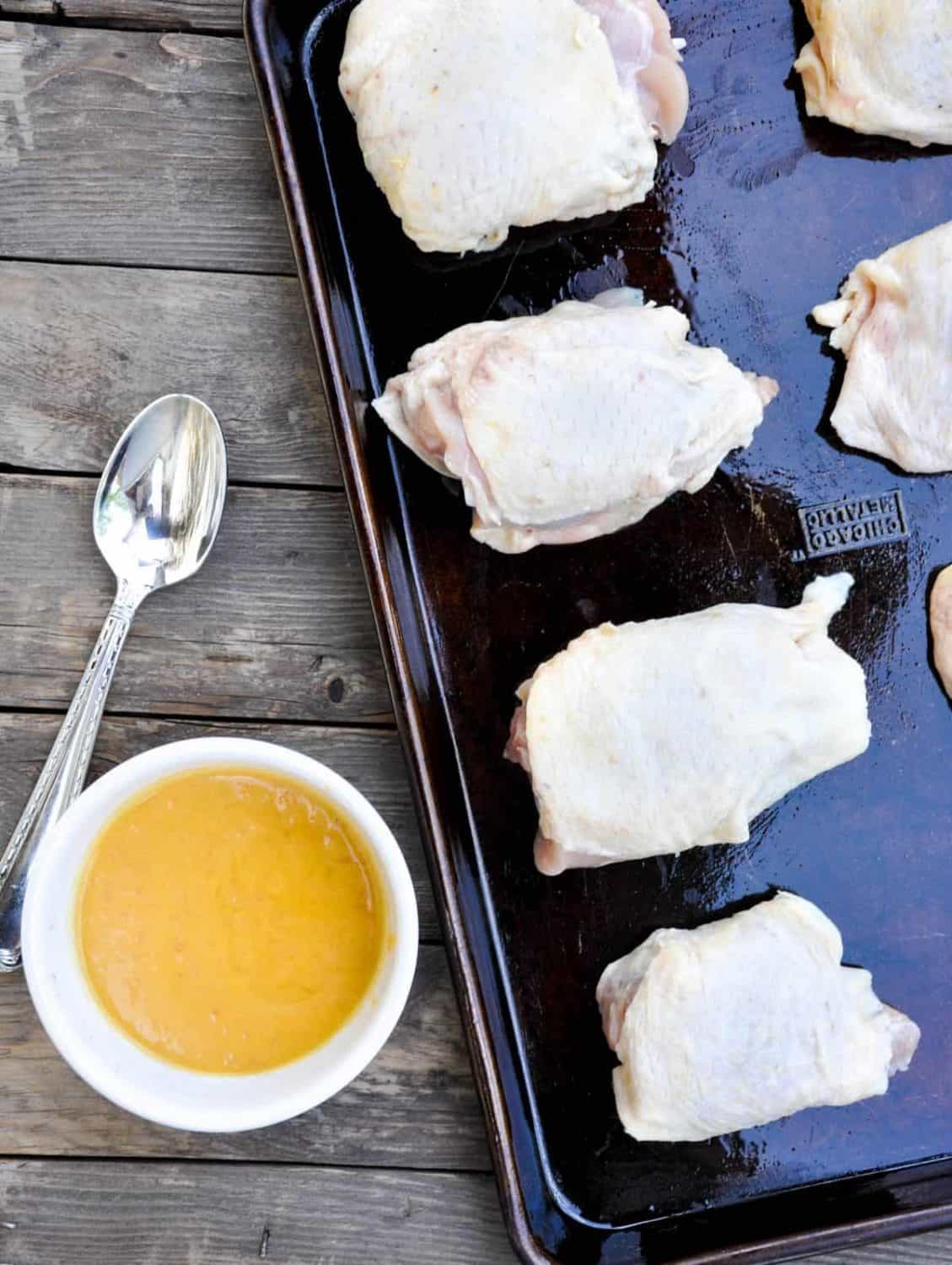 Prep the sheet pan!
Coat the bottom of a rimmed baking sheet with olive oil and place the chicken thighs, skin side up on the pan.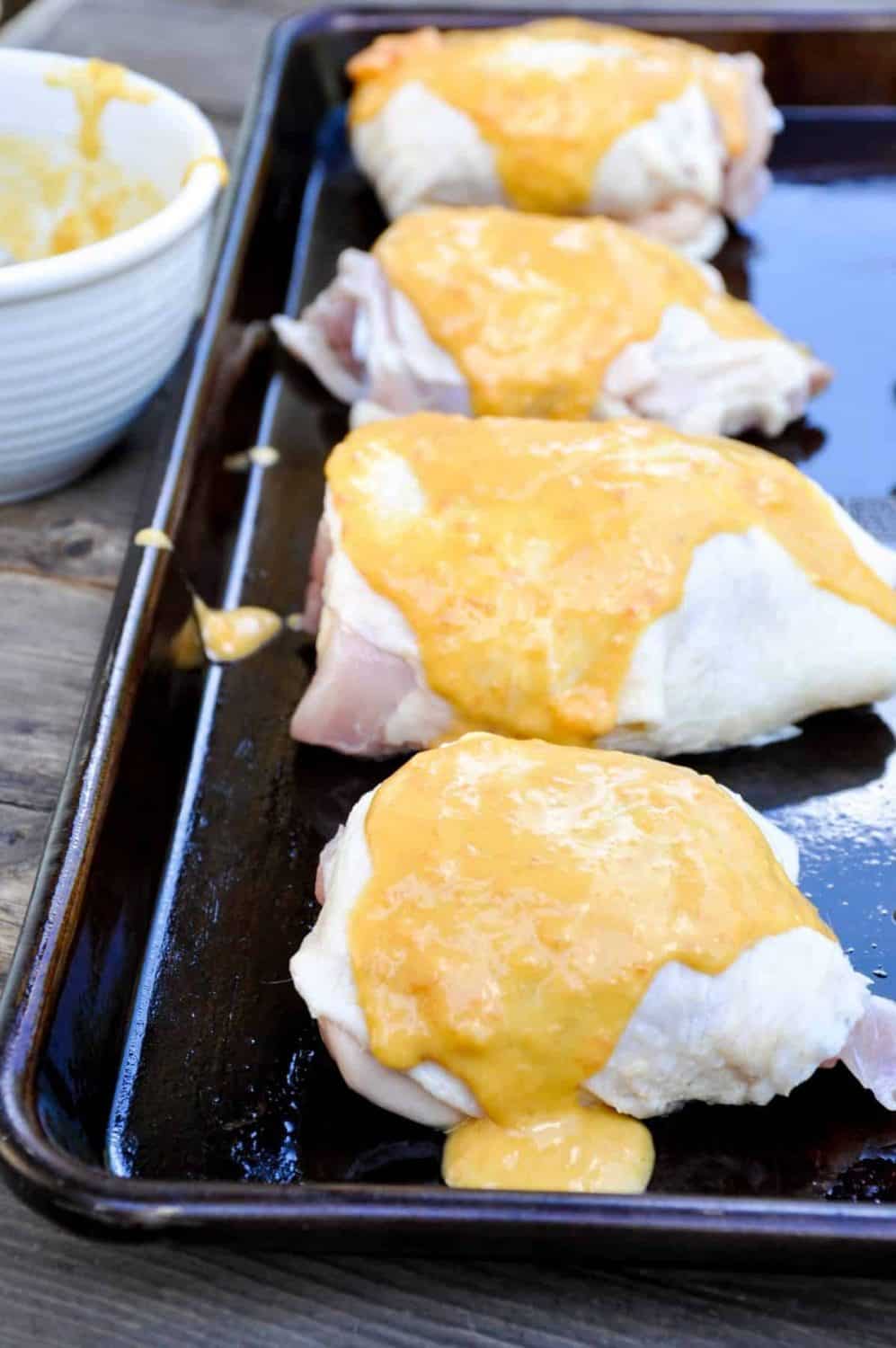 Smother it in flavor!
Generously cover each piece of chicken with the apricot sauce.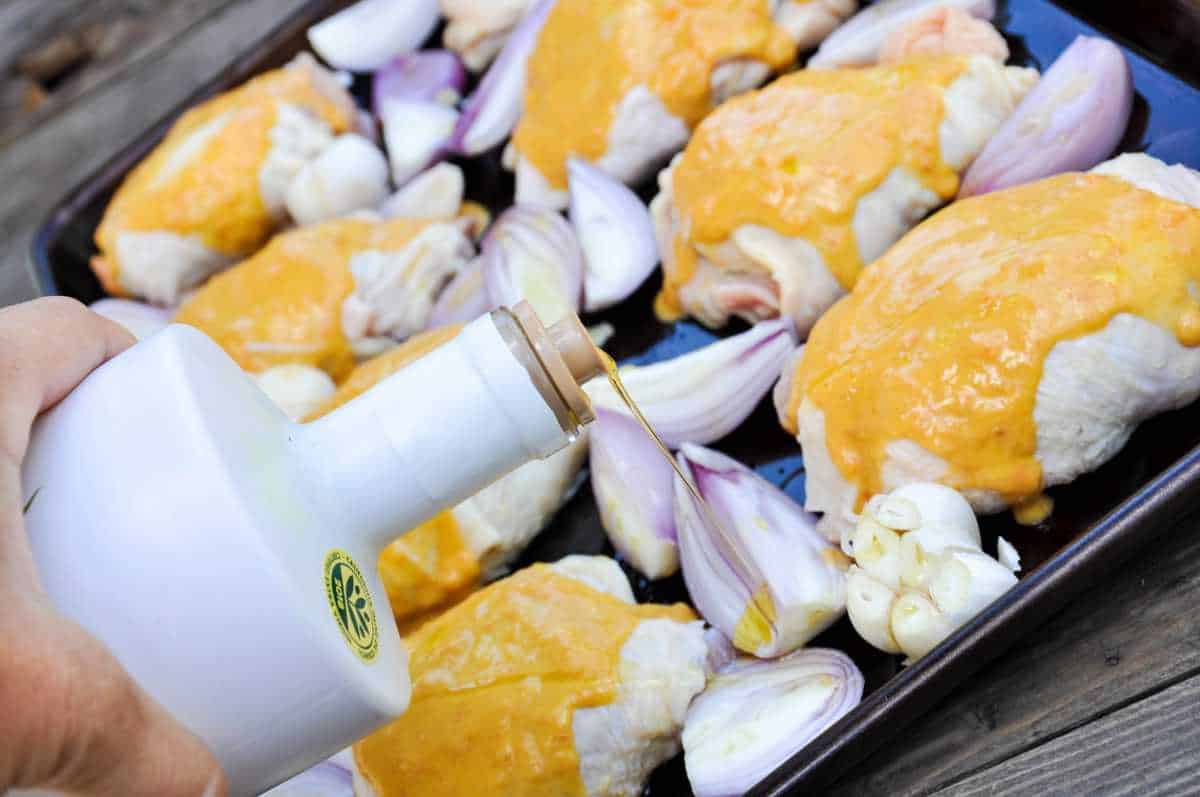 Don't forget the shallots and garlic!
Add the peeled and quartered shallots and garlic cloves to the pan and drizzle olive oil over the aromatics. Bake in the oven at 425° for 20 minutes.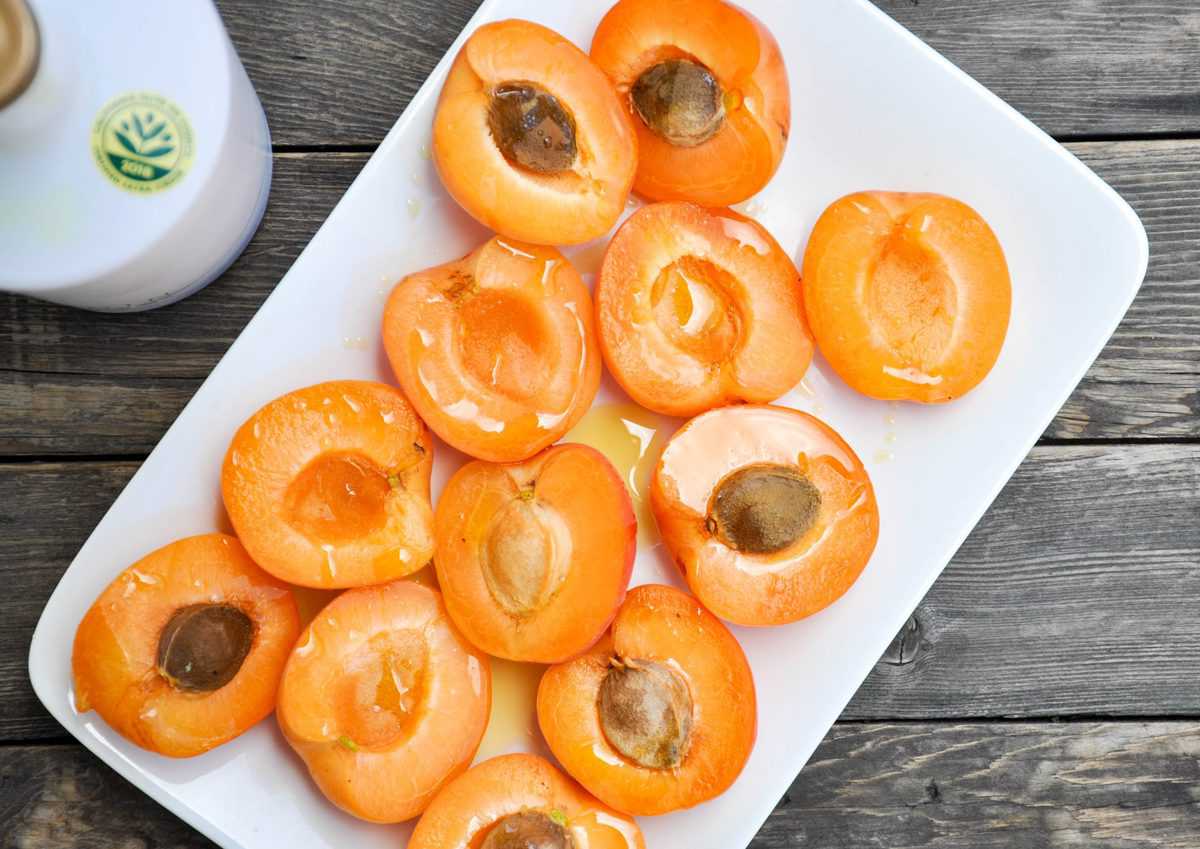 Now let's prep more fresh apricots to roast!
While the chicken is baking, prepare more fresh apricots by halving them. Drizzle with olive oil and toss to coat.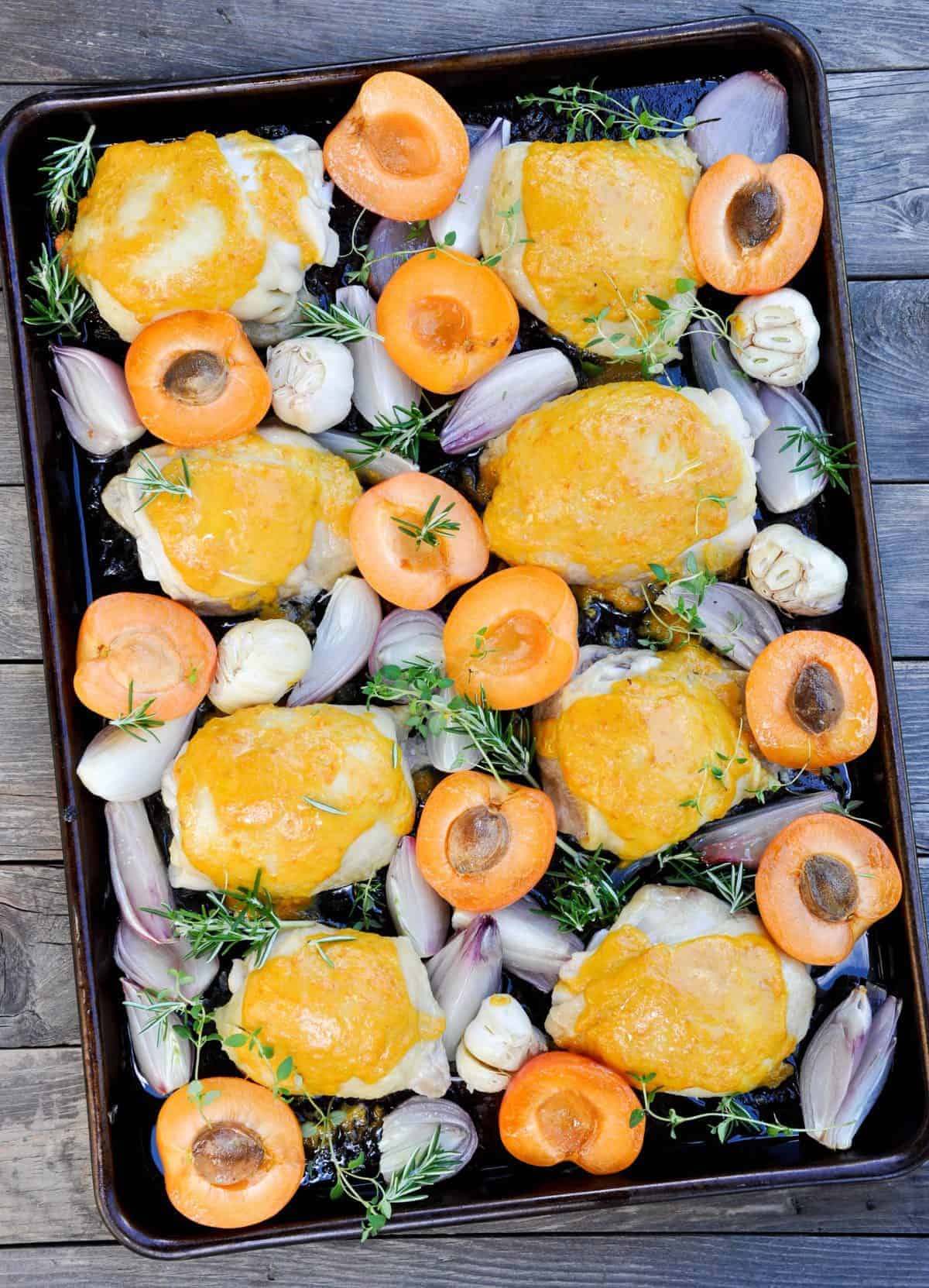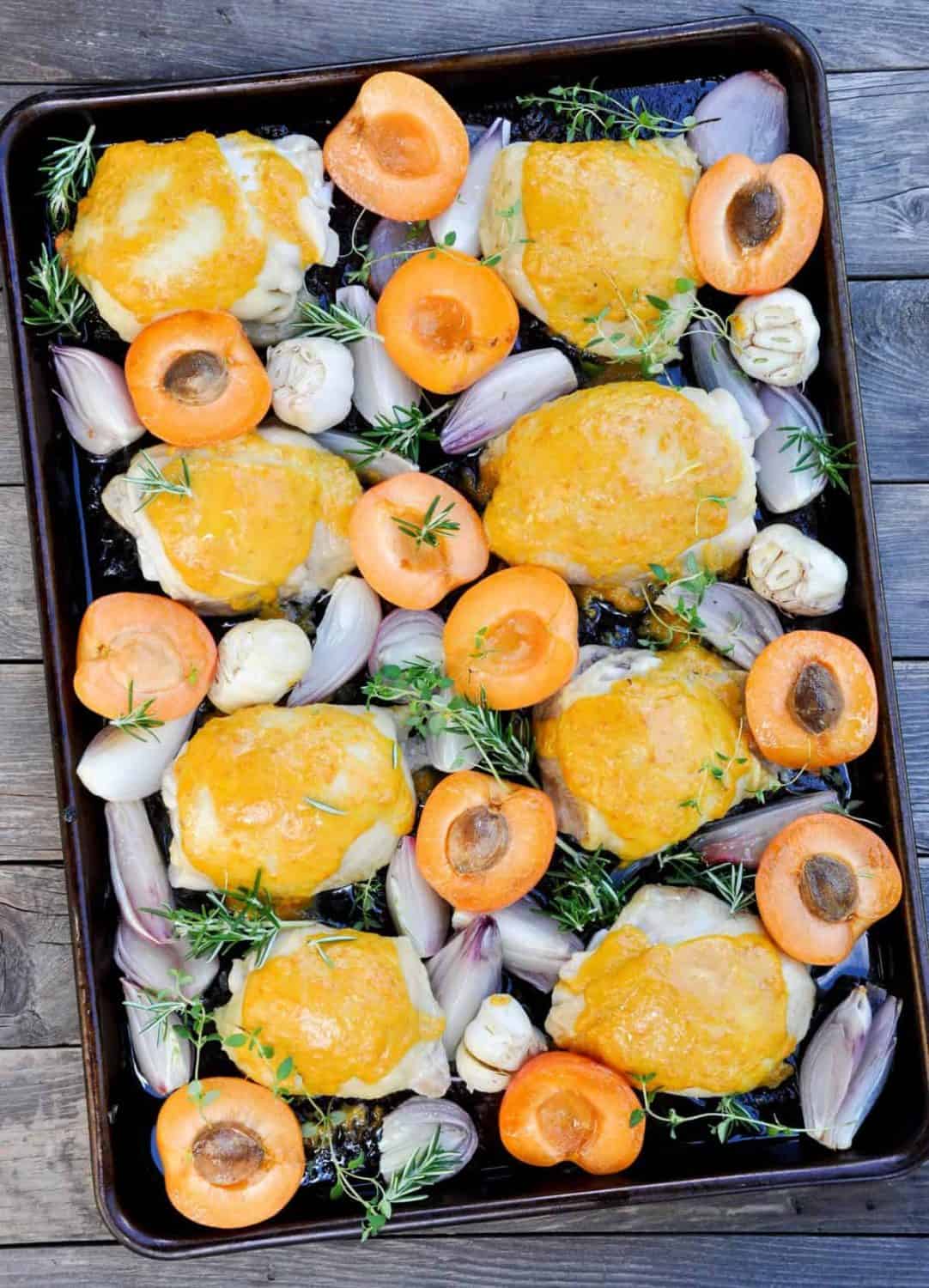 Have you ever seen a prettier sheet pan dinner?
Remove the chicken from the oven and arrange the apricots and fresh herbs in the pan. Return the pan to the oven and bake for an additional 25-30 minutes or until chicken is cooked through.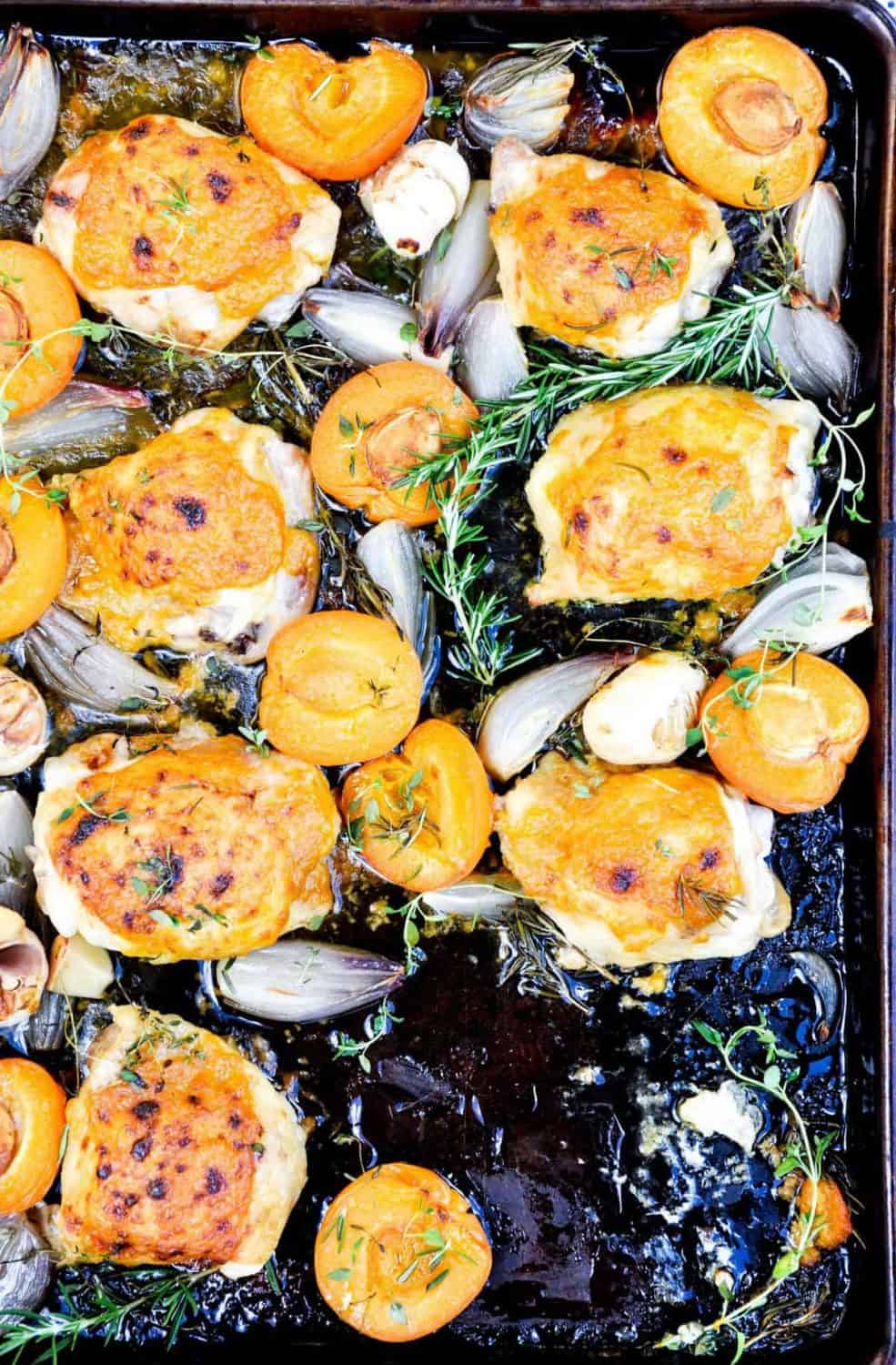 Don't forget to rest!
Allow the sheet pan chicken to rest for a few minutes before serving. This allows the juices to really lock into the chicken leaving it tender and juicy.
This dish goes perfect with roasted potatoes, steamed rice, or if you want to get real comfort-foody, mashed potatoes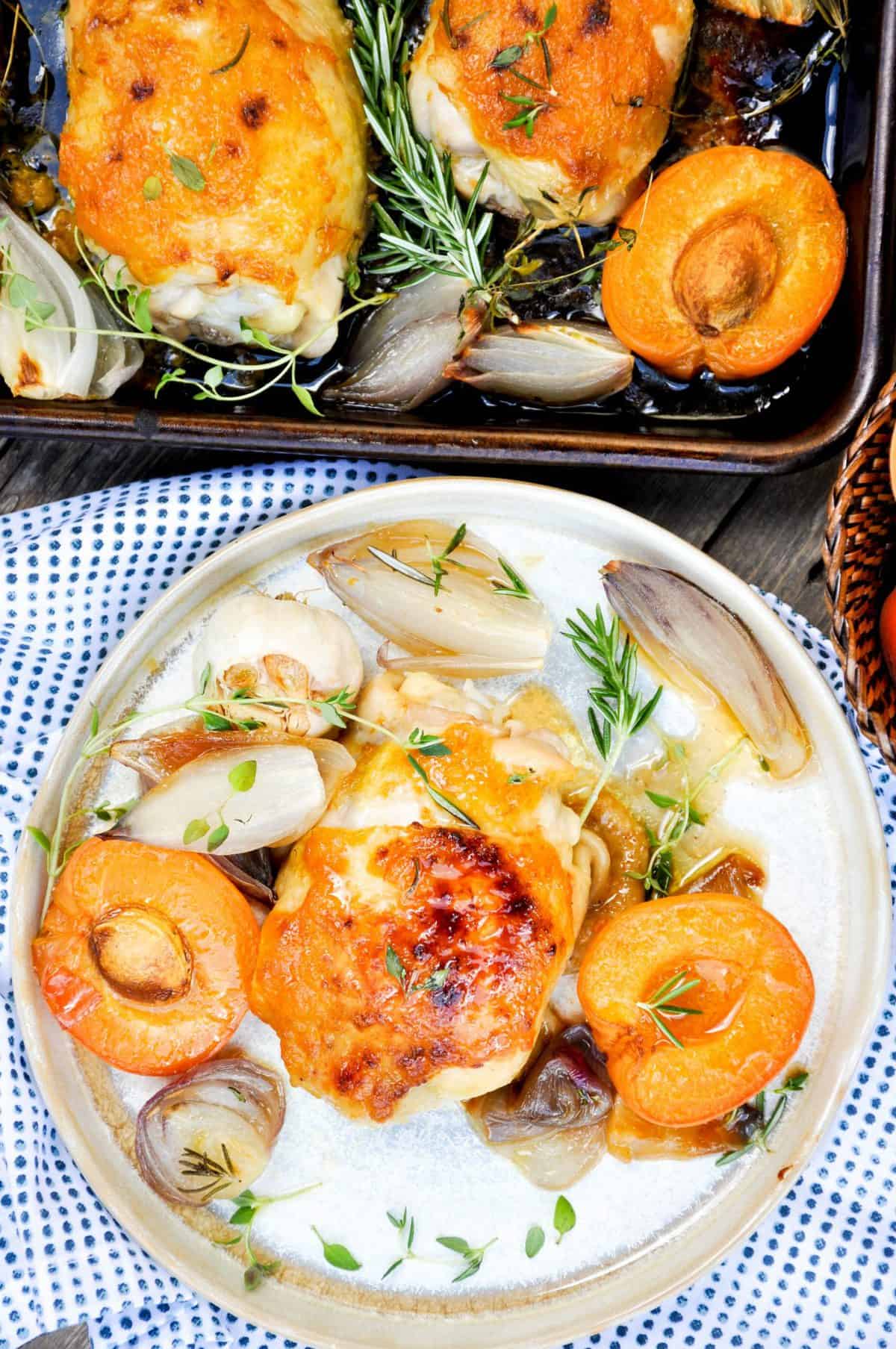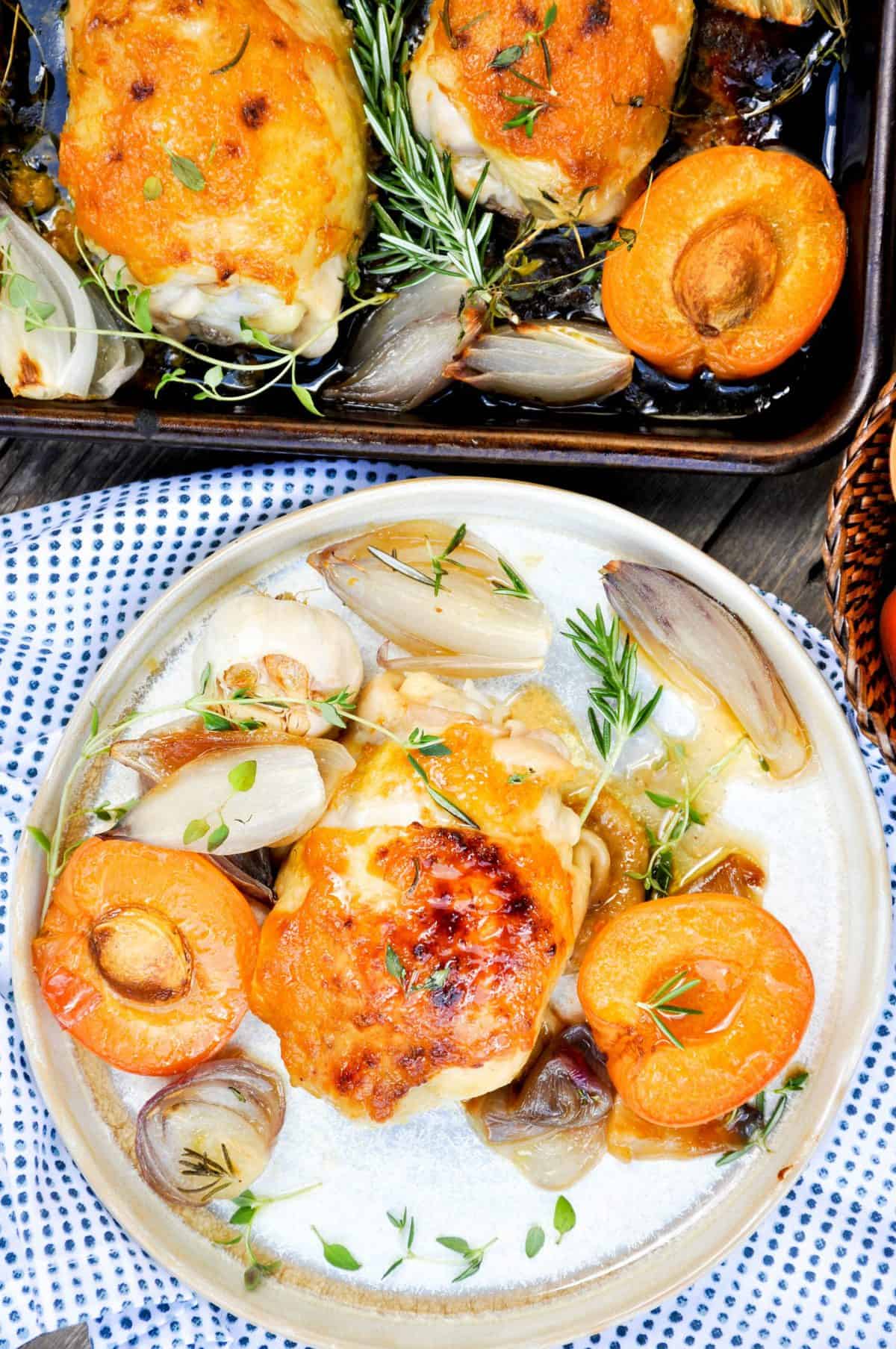 Hungry for more sheet pan chicken dinners? Keep scrolling for a few of our favorites!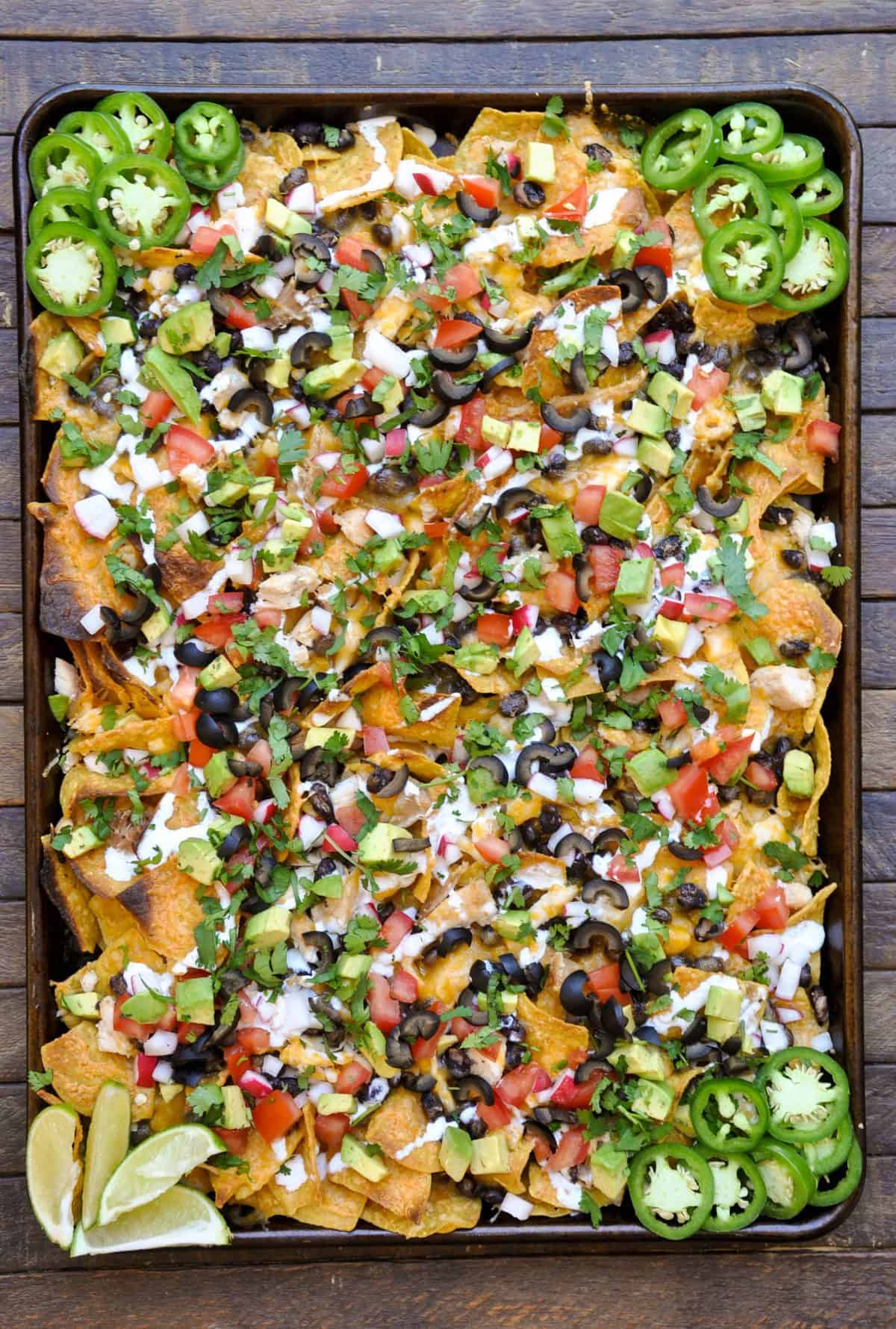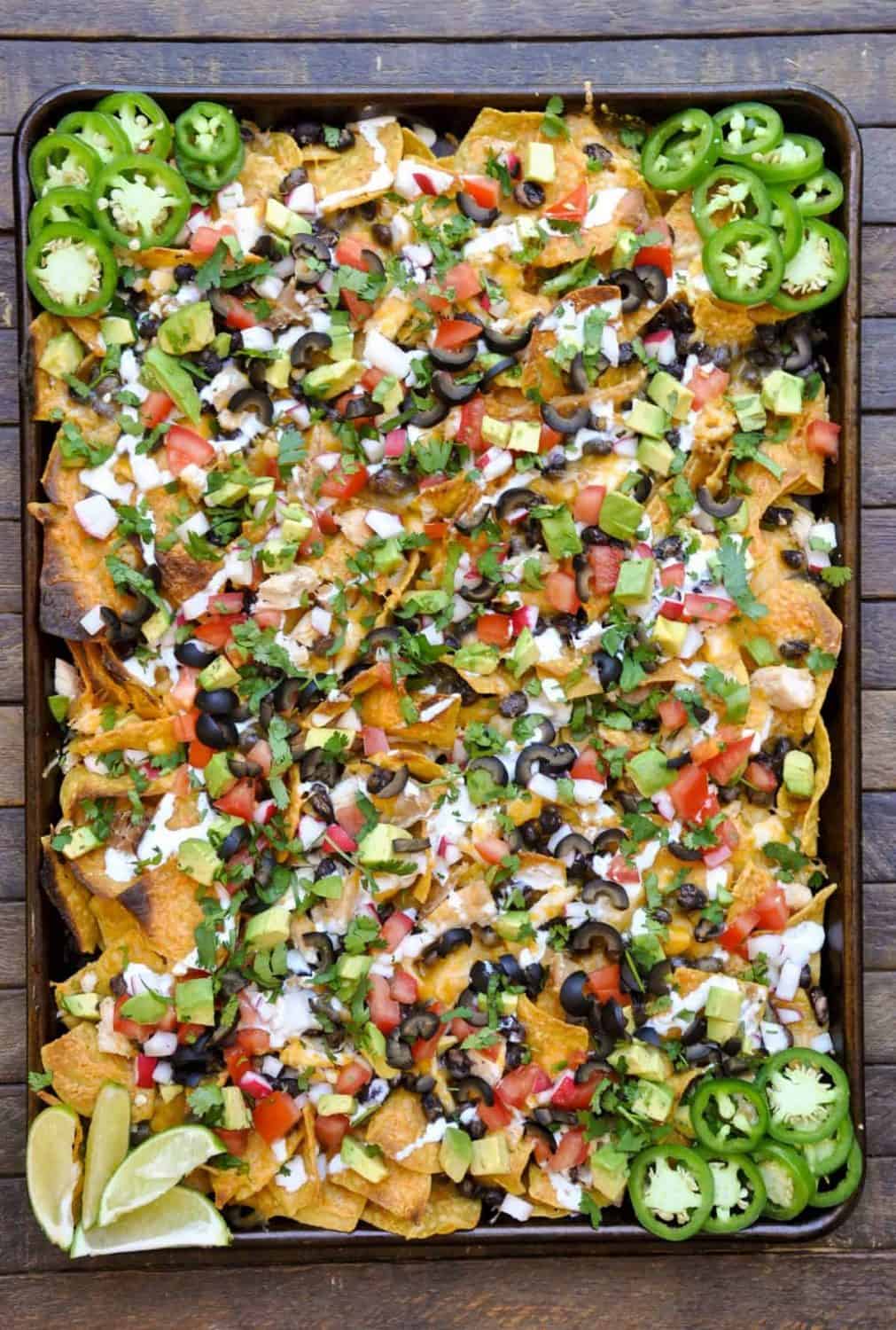 Tomatoes, avocado, radish, cilantro, jalapeños, olives, black beans, cheese, and chicken are all included in this mouth-watering sheet pan chicken dinner that is ready to serve in less than 20 minutes.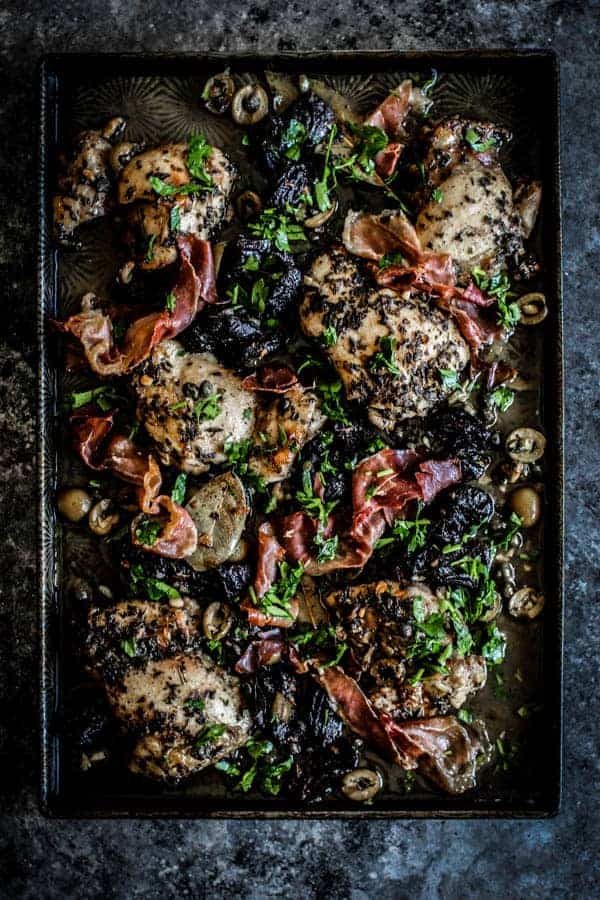 This Quick and Easy Sheet Pan Chicken Marbella recipe from This Mess is Ours is made with sweet prunes, green olives, and capers. This retro redo is a simple chicken dinner idea that packs BIG, BOLD flavor with minimal effort.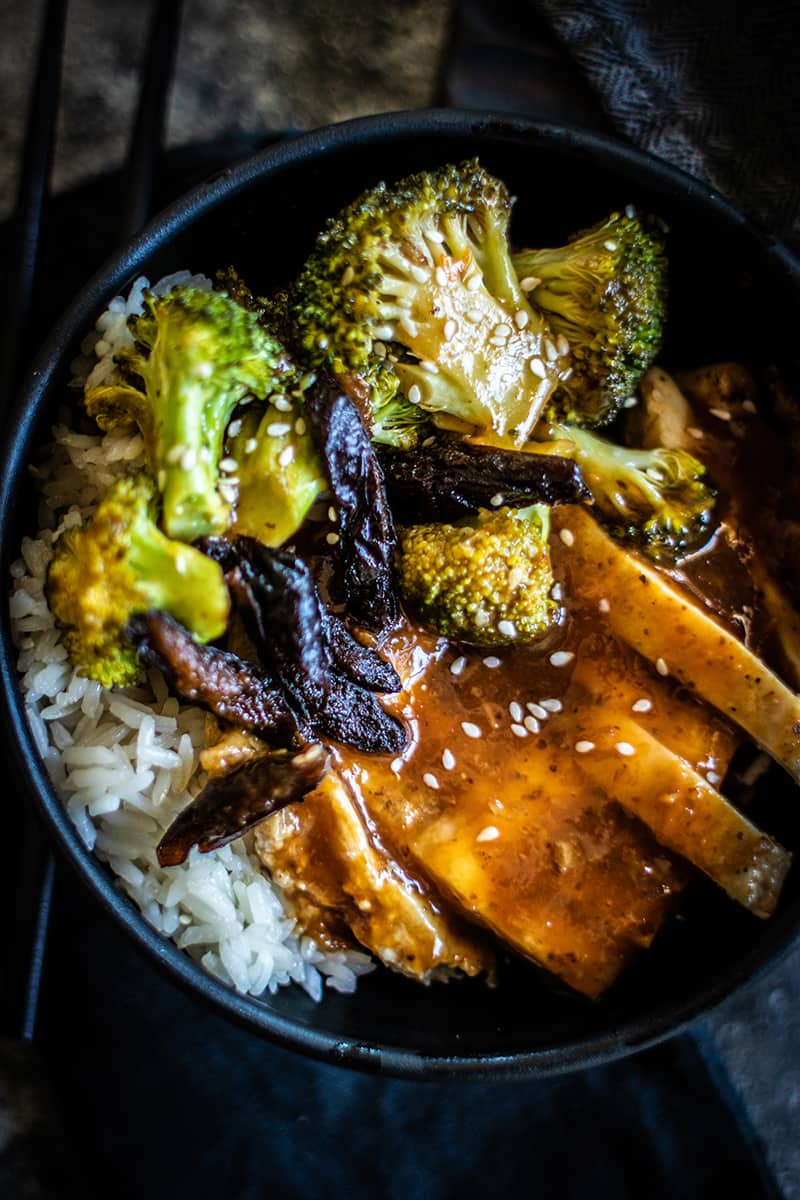 Why order takeout when you can have these Chicken Teriyaki Bowls from California Prunes on the table in under a half-hour? Make the teriyaki sauce ahead of time and keep it on hand to create a variety of quick and easy weeknight meals in a flash!

Share your apricot creations with us by snapping a pic and tagging us on social using #CAGROWN.
Craving more CA Grown goodness? Follow us on Pinterest for fresh and fabulous recipe inspiration!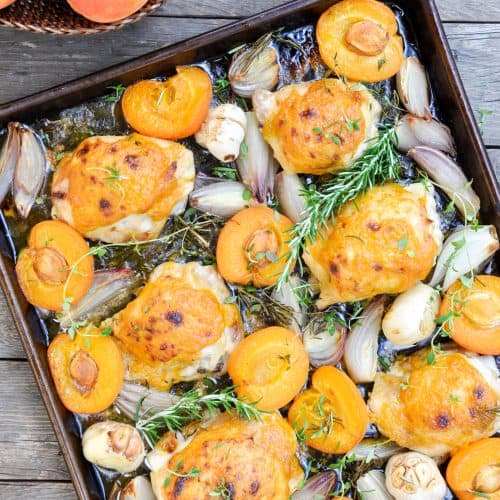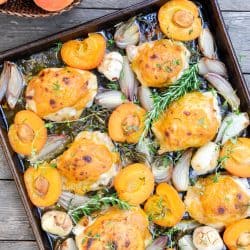 Apricot & Shallot Sheet Pan Chicken
Ingredients
10-12 fresh apricots, divided
1 Tbsp honey
1 tsp dijon mustard
1/4 cup olive oil
1/2 tsp garlic powder
8 bone-in, skin-on chicken thighs
6-8 whole shallots, peeled and quartered
4-6 whole bulbs of galic, tops cut off to expose cloves
6-7 sprigs fresh rosemary
6-7 springs fresh thyme
Instructions
Halve 3 apricots and remove the pits. Place them and the honey, mustard, olive oil and garlic powder into a blender and puree until smooth.

Preheat the oven to 425. Coat the baking sheet with olive oil and place the chicken on and pour the apricot sauce over each piece. Place the shallots and garlic around the chicken pieces and drizzle with additional olive oil. Bake for 20 minutes.

While the chicken is baking, halve the other apricots and drizzle them with olive oil, tossing to coat.

After 20 minutes, remove the chicken and add the apricots and chopped fresh herbs (reserving some for after baking) and return the pan to the oven for an additional 25-30 minutes or until golden brown and the chicken is cooked through.

Remove from the oven and allow to rest for a few minutes. Sprinkle with the remaining fresh herbs and serve.
Frequently Asked Questions About Sheet Pan Cooking
What is sheet pan cooking?
A sheet pan takes the concept of a one-pot meal and flips it onto a pan. It saves time, makes clean-up easier, and doesn't require expensive equipment or ingredients. Start with your protein of choice, then add vegetables, fat, and flavorings, and roast at high heat until everything is golden brown.
Is a cookie sheet the same as a sheet pan?
Although cookie sheets are often referred to as "baking sheets," there is a difference. Baking pans have rolled edges, and cookie sheets do not.