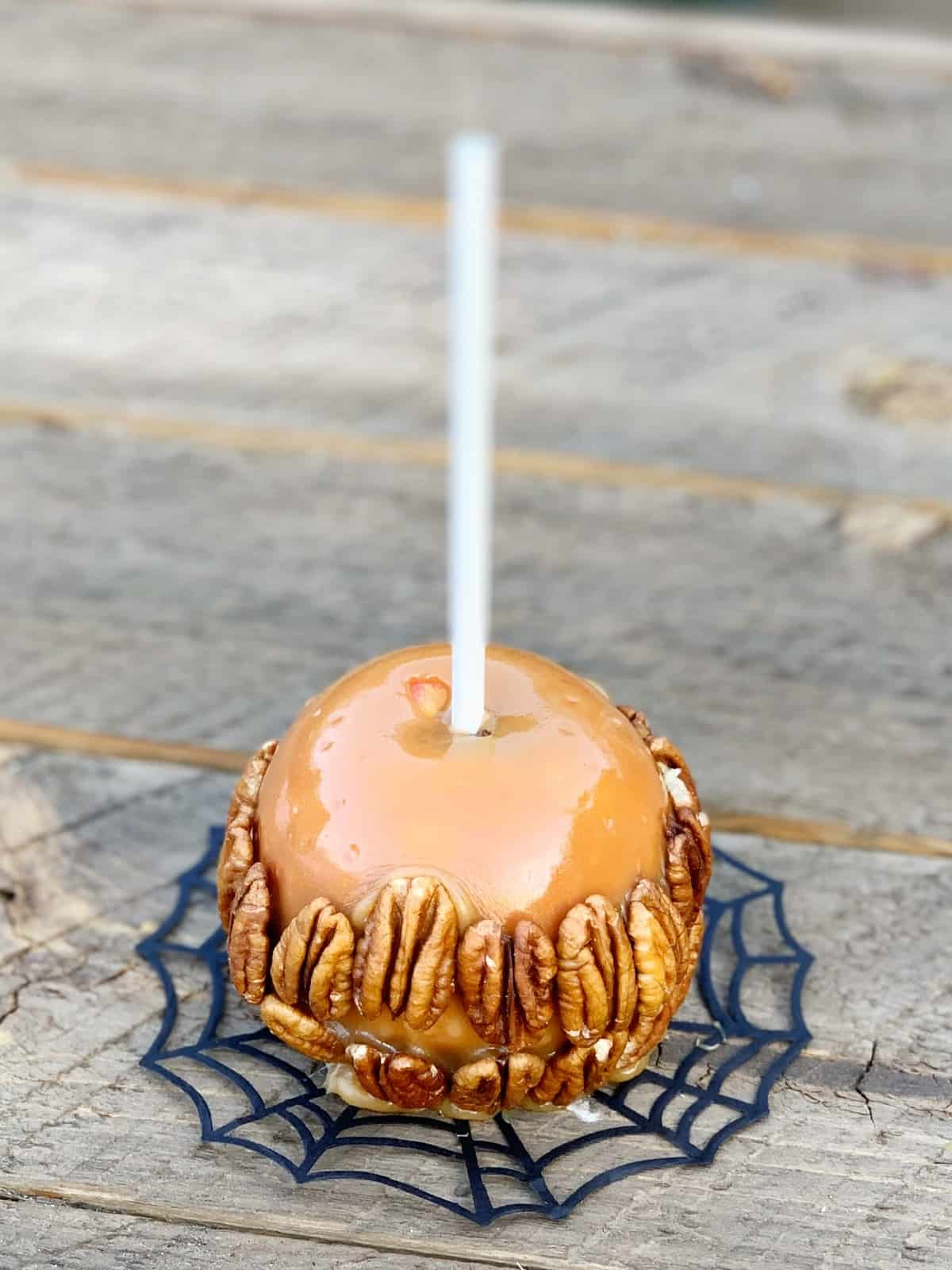 CA GROWN Blog
Discover. Learn. Connect.
Homemade Caramel Apples for Halloween
October 23, 2019
Eat the Season!
Sign Up For Weekly Recipes
« Back to Recipes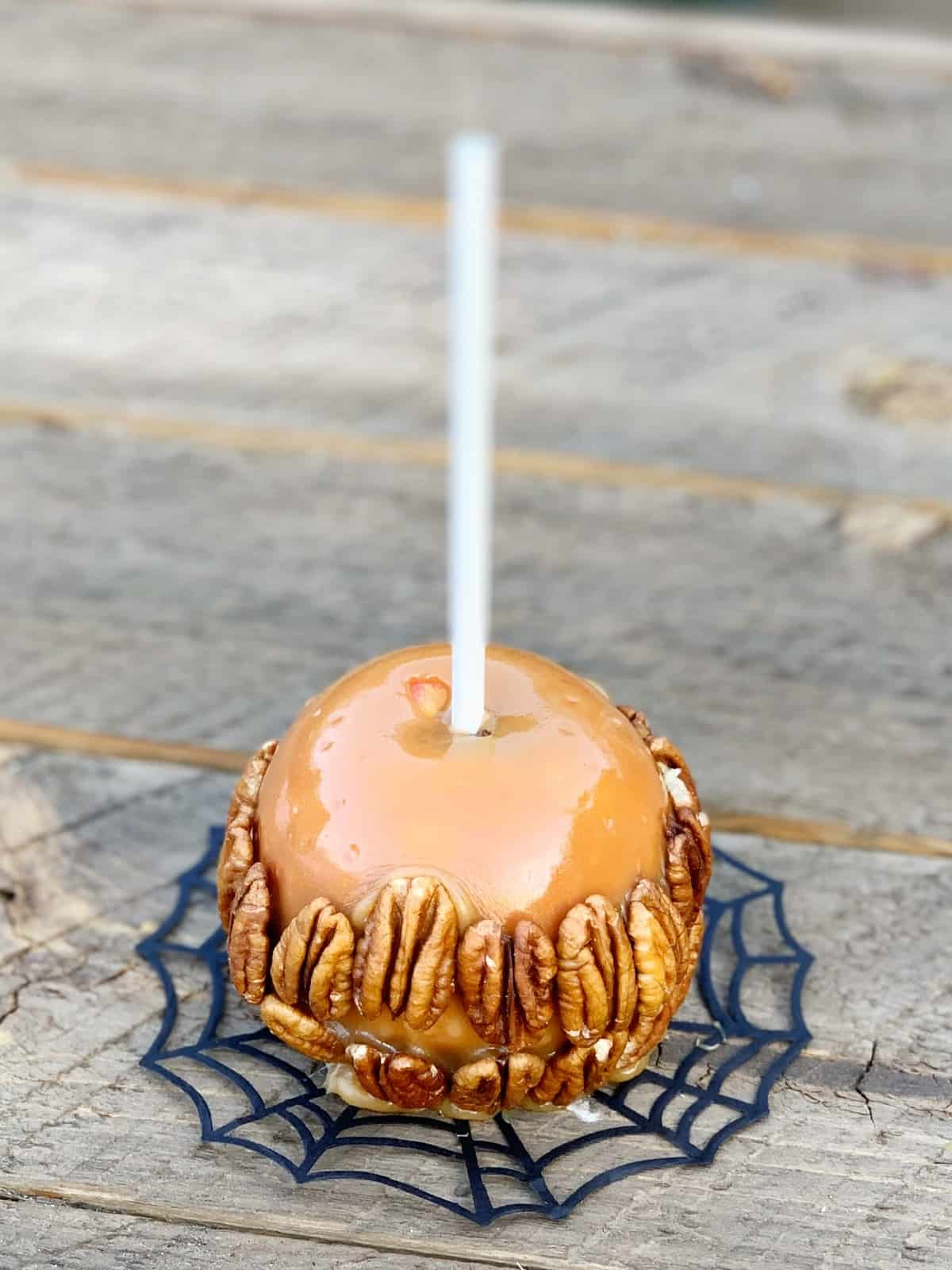 Homemade Caramel Apples for Halloween
This recipe for Homemade Caramel Apples is perfect for Halloween, or anytime you want to create and share a truly delicious treat!
Ooey, gooey, buttery delicious caramel apples – what could be better for an Autumn treat or to pass out to your favorite Halloween trick or treaters? If you have never made a perfect caramel apple, you're missing out! As if this thick, melt in your mouth caramel isn't enough for your apple, you can add all kinds of toppings to these beauties for added flavor, texture, and recipient excitement!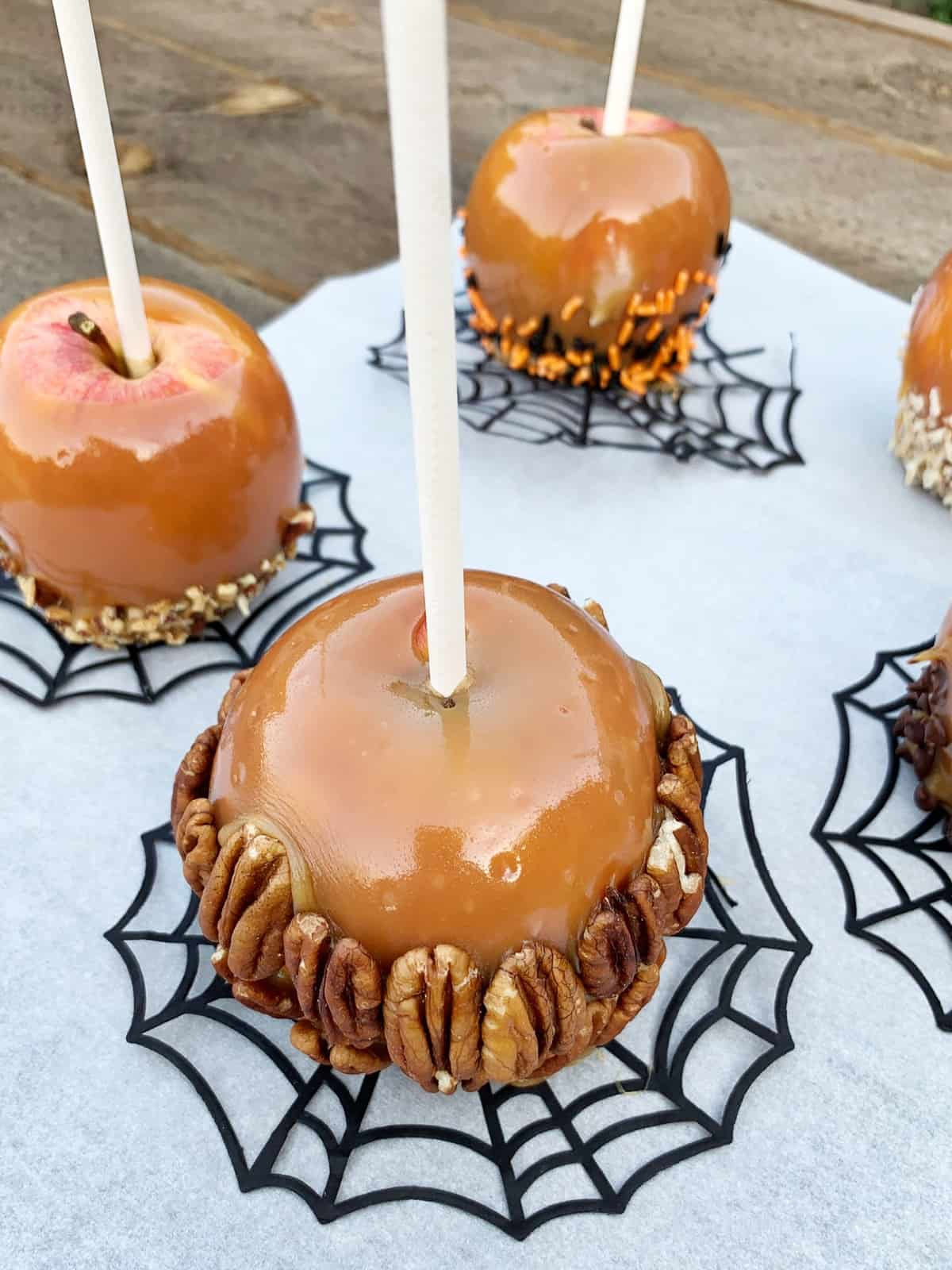 Don't worry, making homemade caramel apples is a snap!
Are you worried about this recipe being more trick and less treat? Getting caramel the right consistency to hold perfectly to your apples, but keep your teeth in your mouth can be a concern, but not if you have the right recipe and a candy thermometer! Today's recipe is simple and fool-proof. I dare you to give it a go!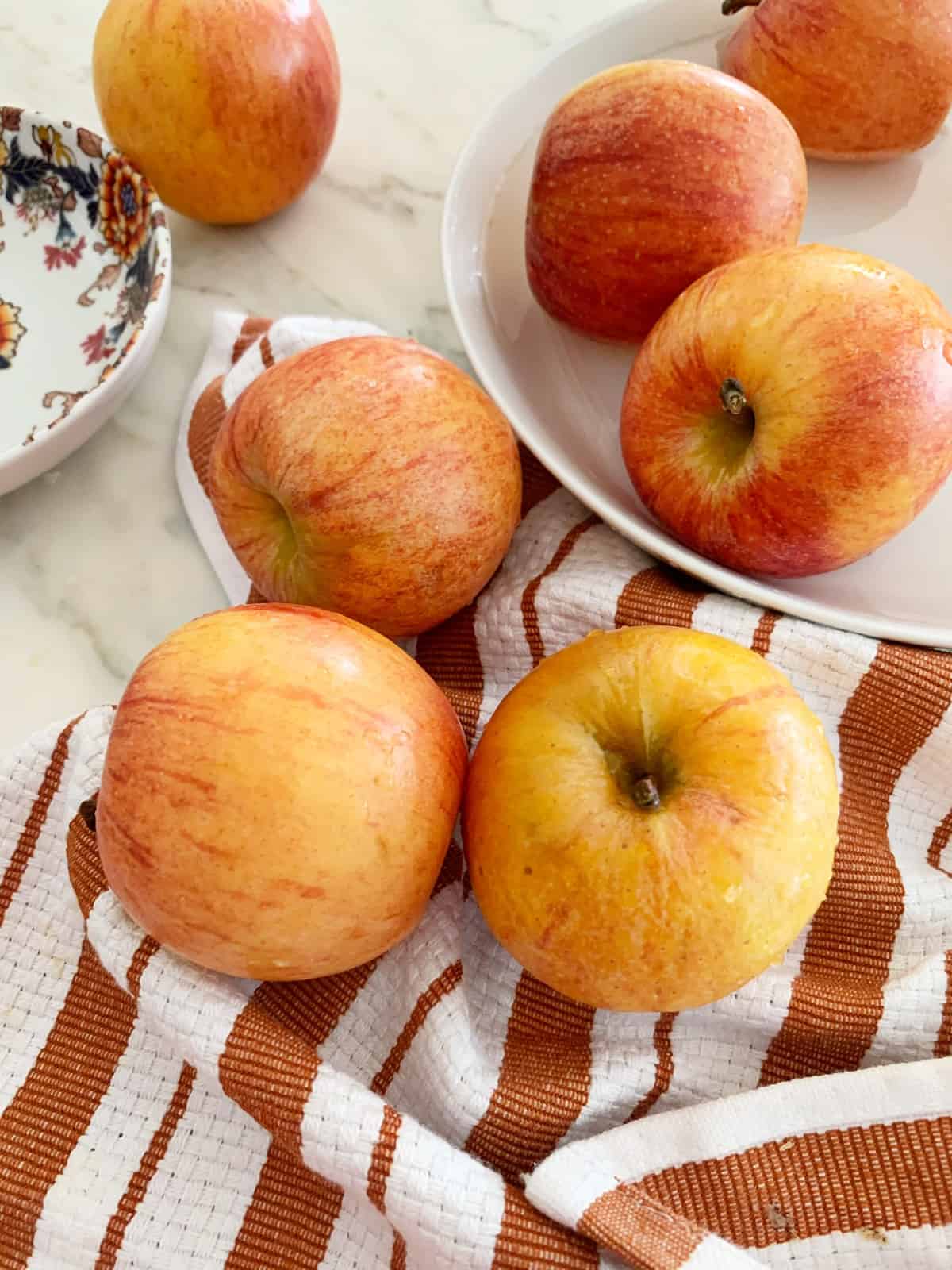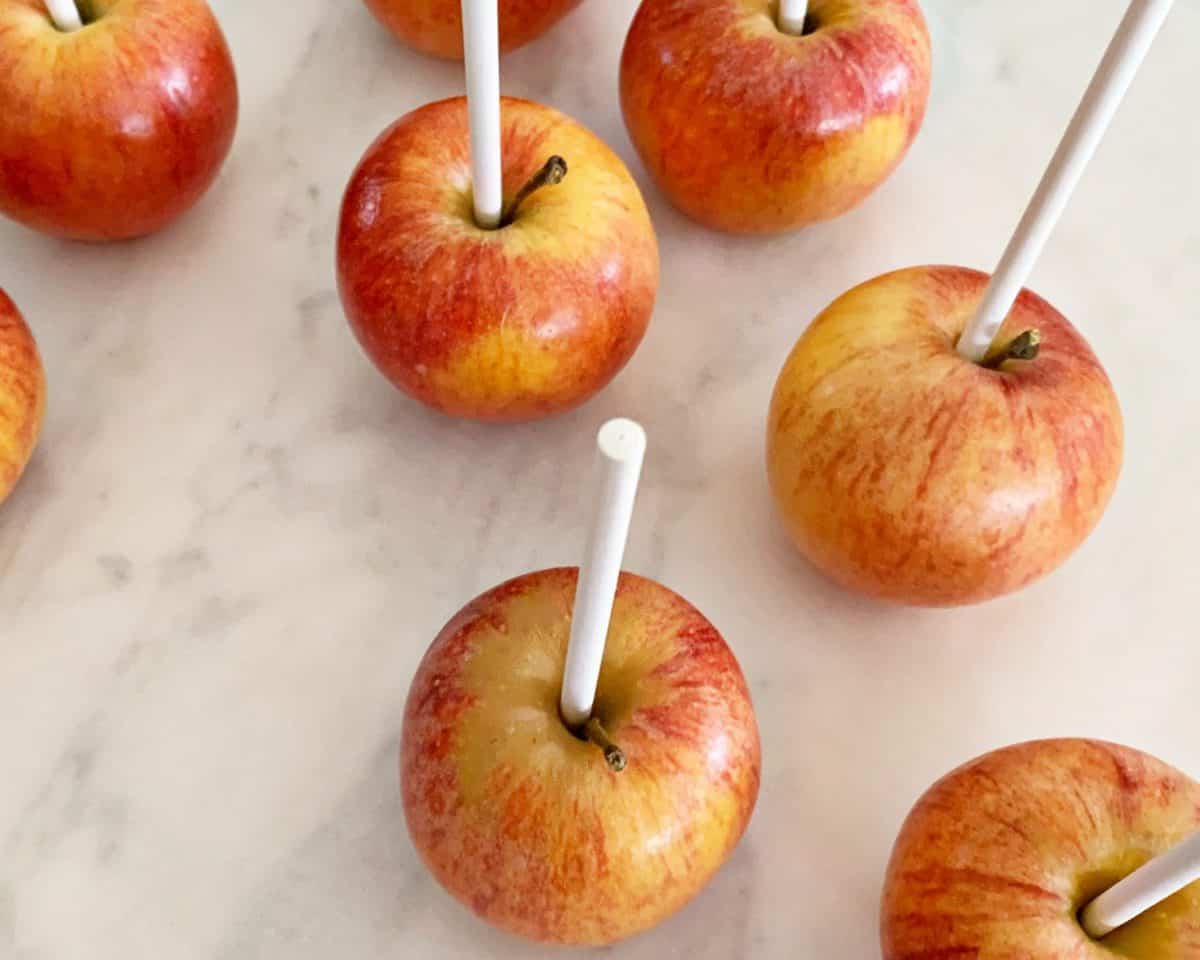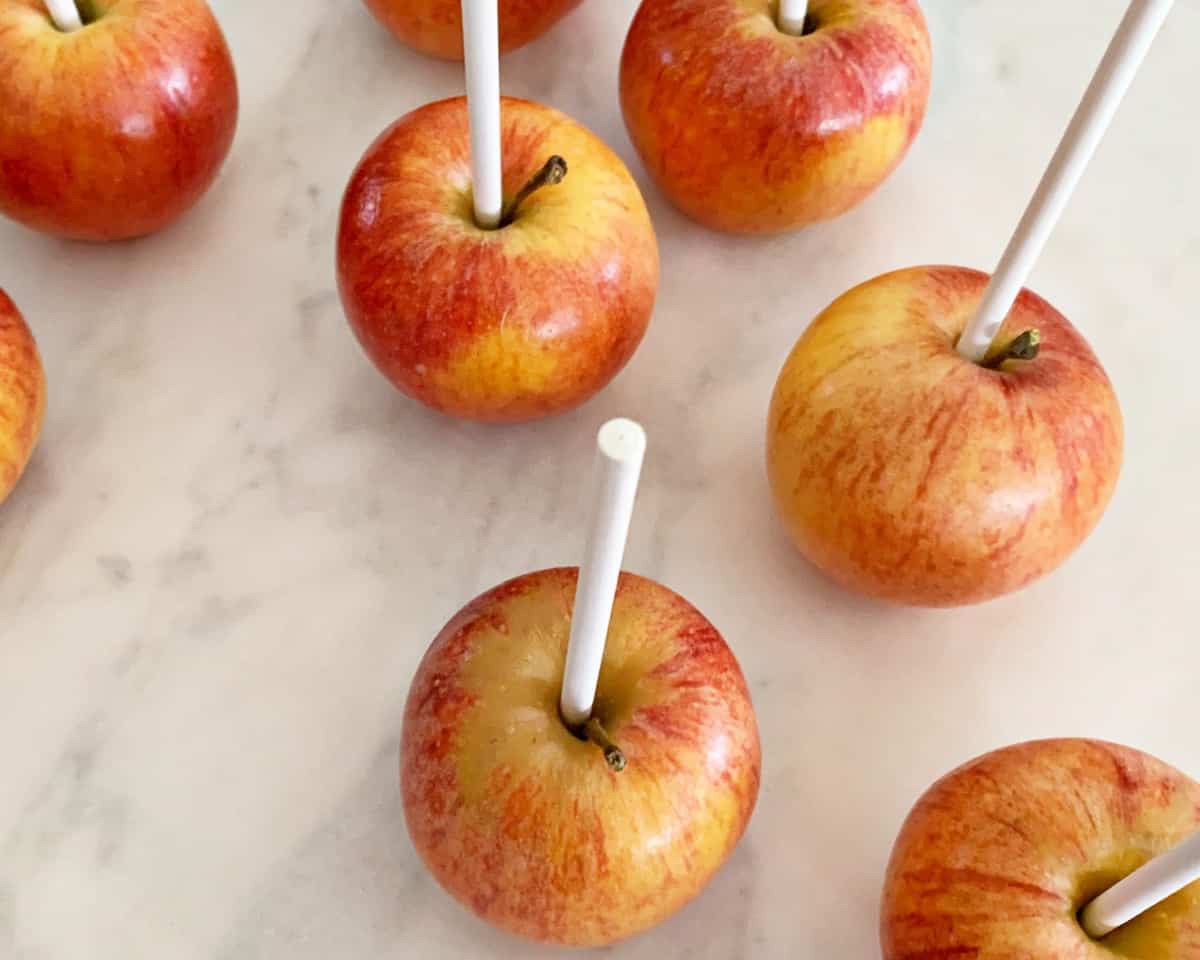 Choosing and prepping your apples:
To get started, you need about a dozen fresh, crisp California apples. The variety is up to you – for a tart contrast to the sweet caramel, try Granny Smith! I don't think you can go wrong blending the different flavors of apple varieties with this versatile caramel. I used Gala apples and let me assure you, there was no caramel apple left behind. Prepare your apples to make sure that the caramel sticks nicely. I rinsed mine with water and a bit of white vinegar and patted them dry. I think the vinegar just helps remove any wax from the peel. Be sure you remove any stickers/labels as well. Pat the apples dry.
Lay out a nice long sheet of parchment paper and spread out the apples. Push a thick cookie stick into the top center of each apple – press it in deeply so that it doesn't fall out, but also make sure you don't poke it all the way through the other side of the apple!
Let's make the caramel for the apples, step-by-step: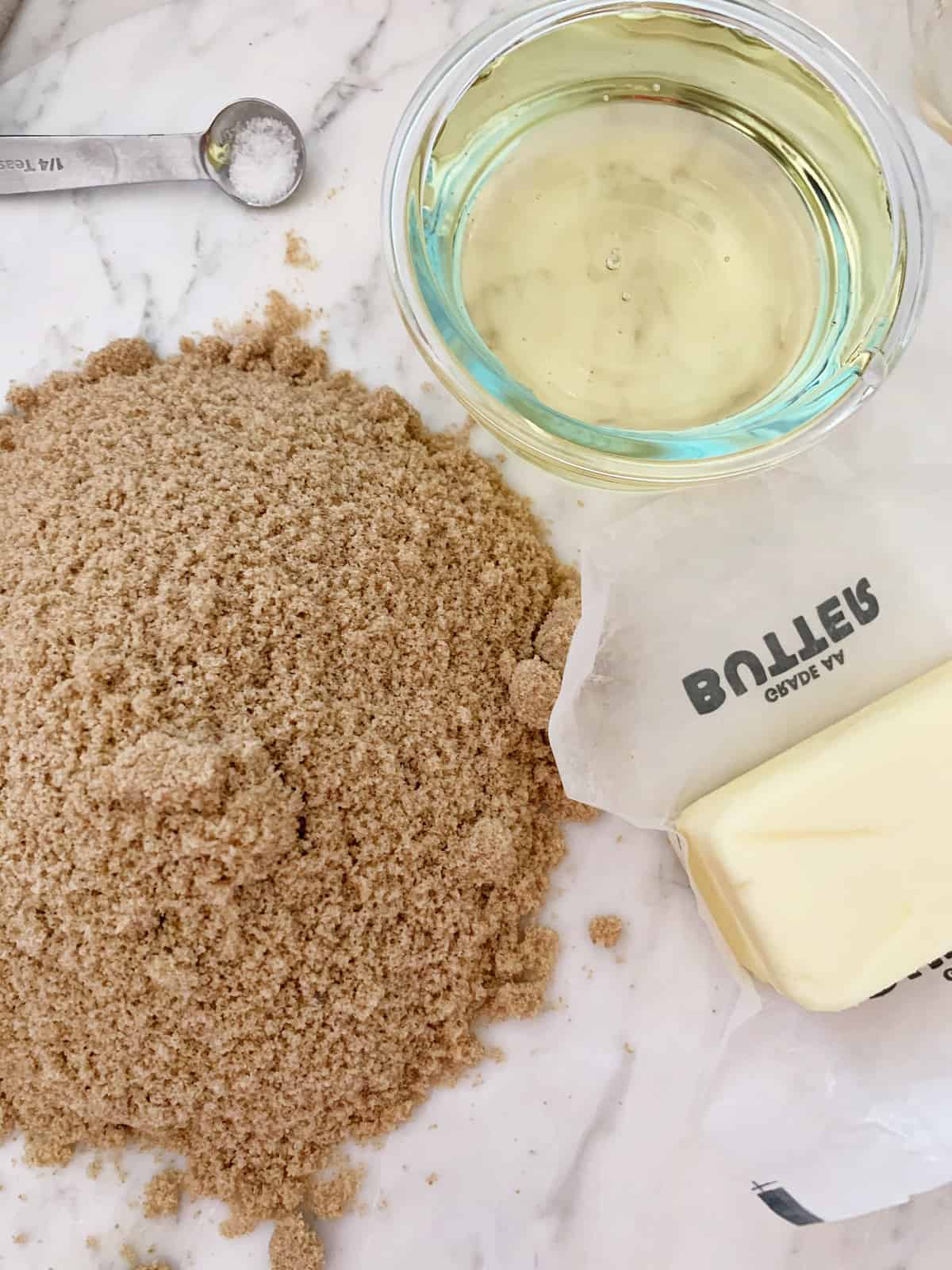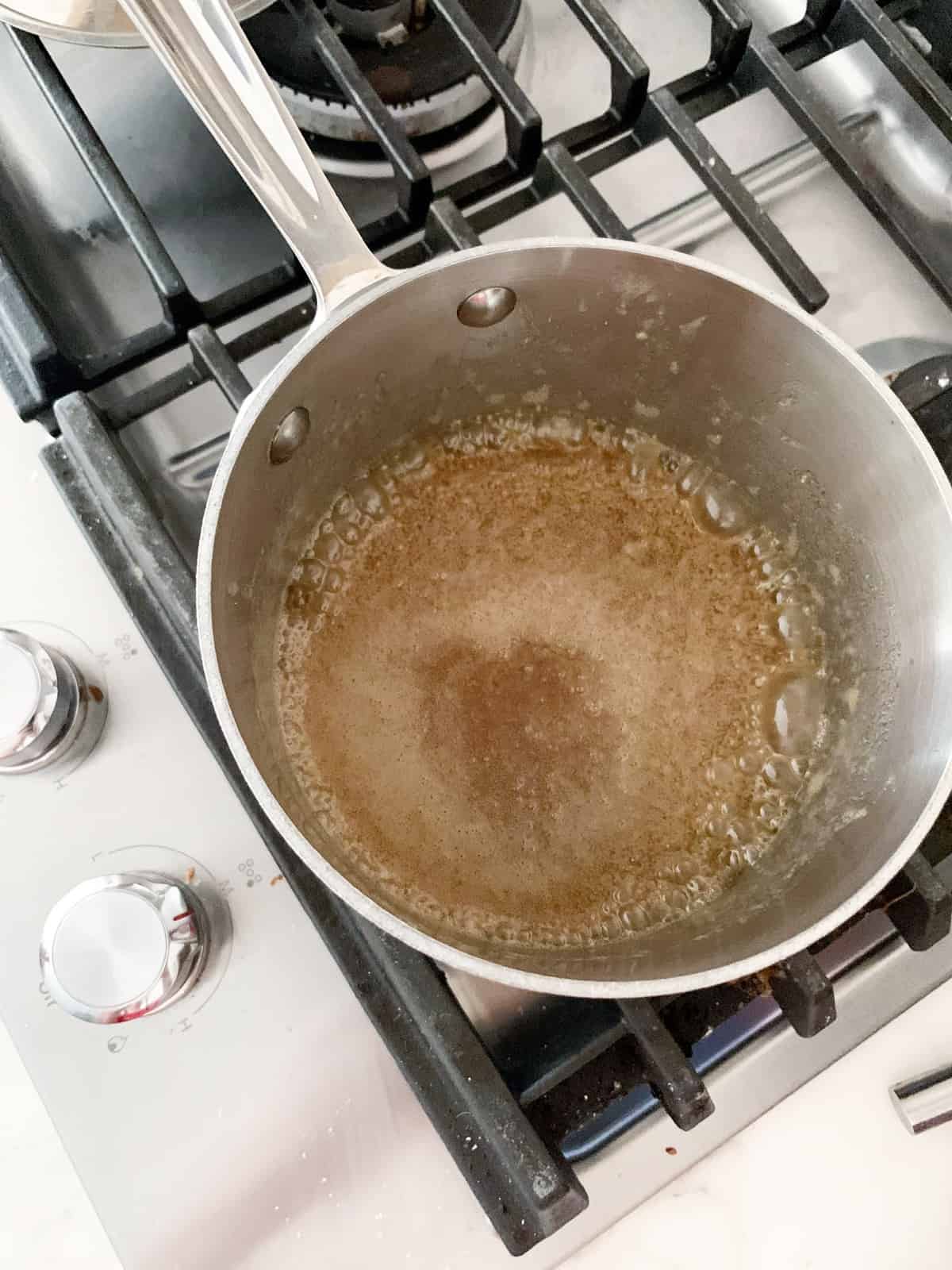 Time to start making our caramel. Gather your ingredients and keep them nearby. Once you start cooking the caramel, you will need to stir it continuously, so you'll need everything within hand's reach. Place the butter in a medium sized saucepan – I like to use one with a small width, but taller sides – could just be me, but it keeps the candy/caramel from overheating and scorching too quickly and it also provides a deeper well for dipping those apples into. Heat the butter in your saucepan over medium heat until melted.
Add the brown sugar, corn syrup, and salt. Cook and stir over medium heat until the mixture comes to a full, rolling boil.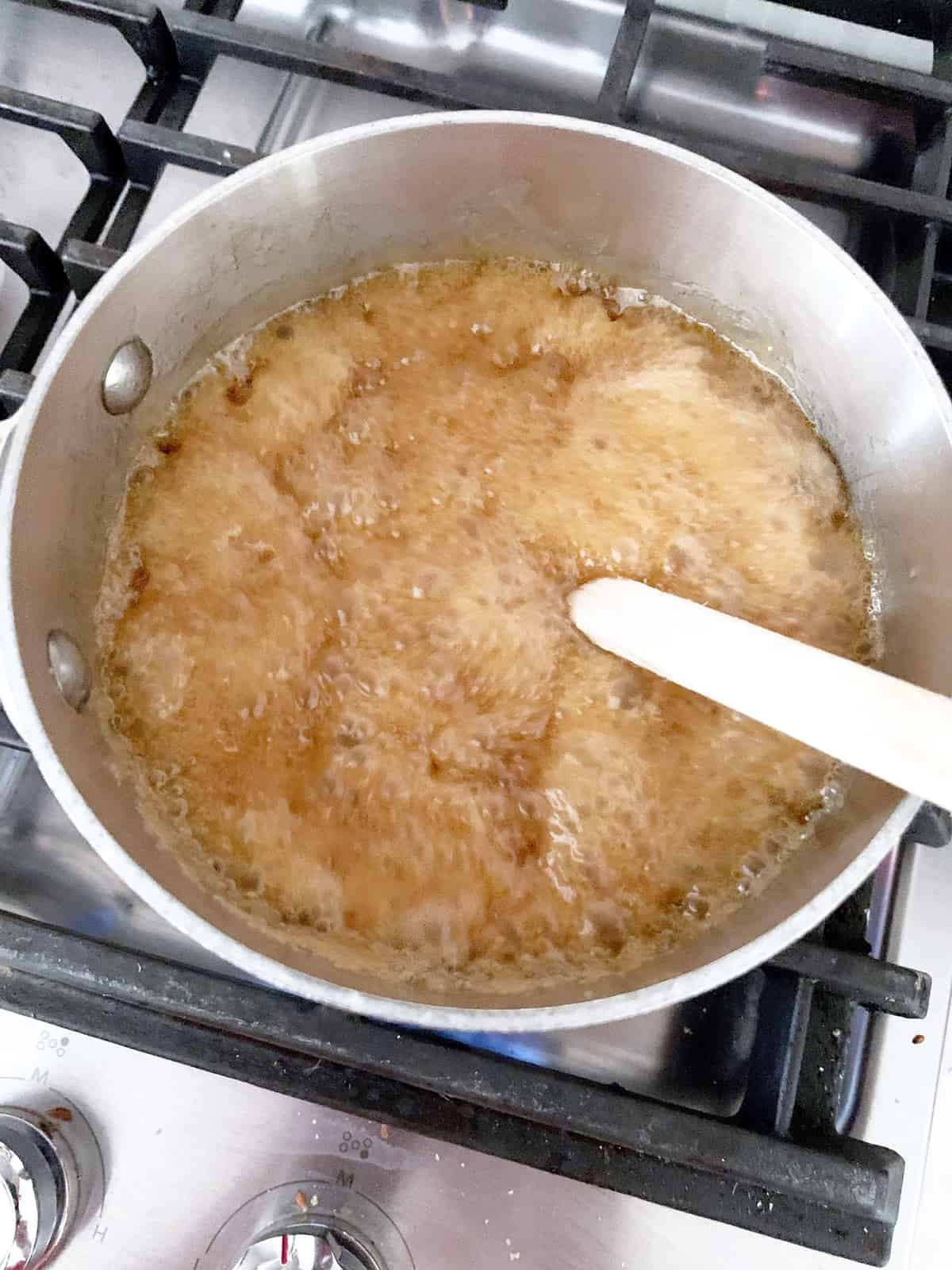 This photo shows a full rolling boil – it's going to take about 10 minutes to get to this stage. Remember to continually stir the mixture so that the bottom does not scorch and everything cooks evenly.
Add a can of sweetened, condensed milk to the boiling mixture.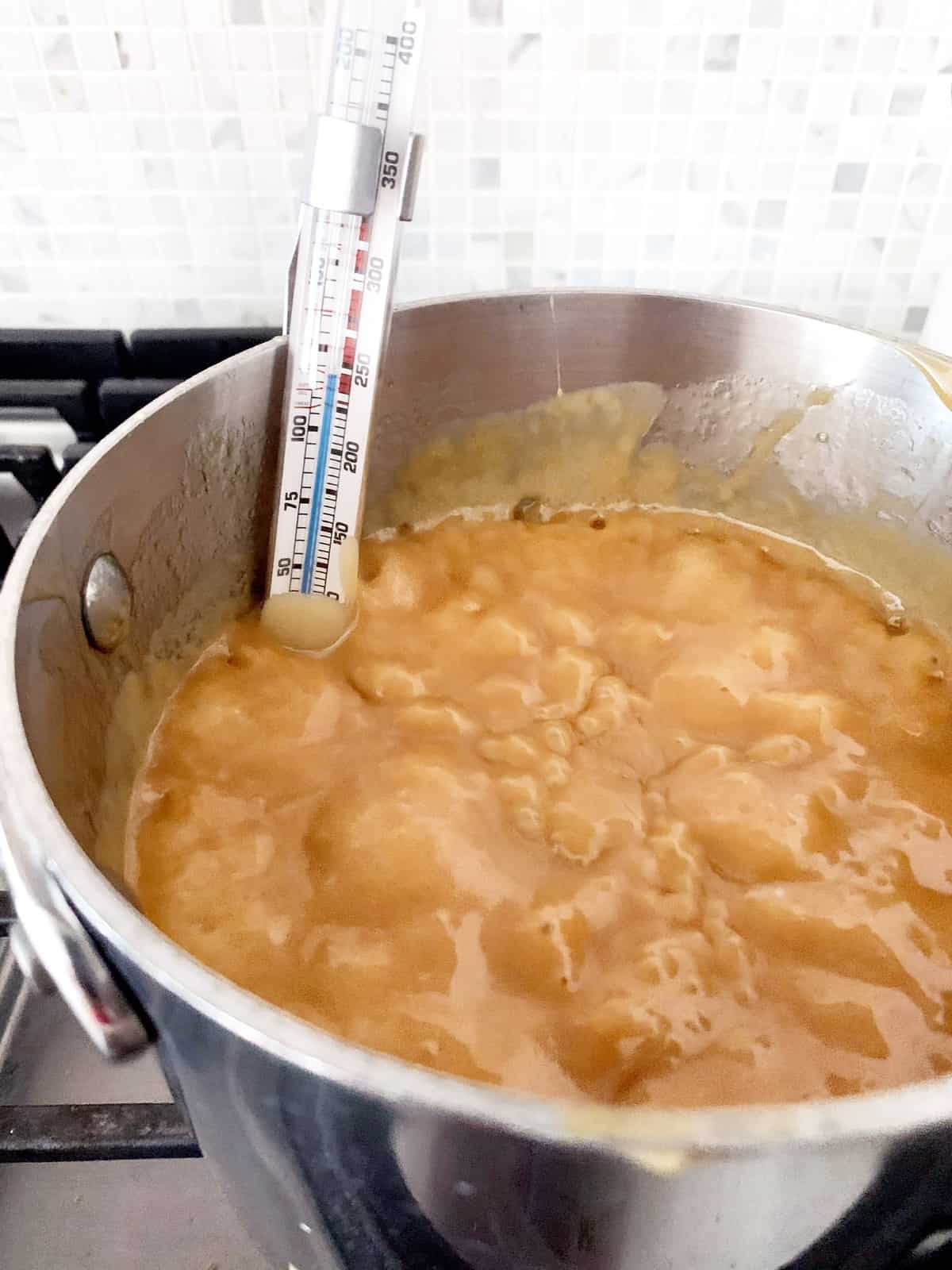 CONTINUE STIRRING and cooking until your candy thermometer registers 248 degrees. Don't remove the caramel from the heat early; don't go over 248 degrees.
Be precise – this is how you get perfect caramel. Once your mixture heats to the magic number, remove it from the heat.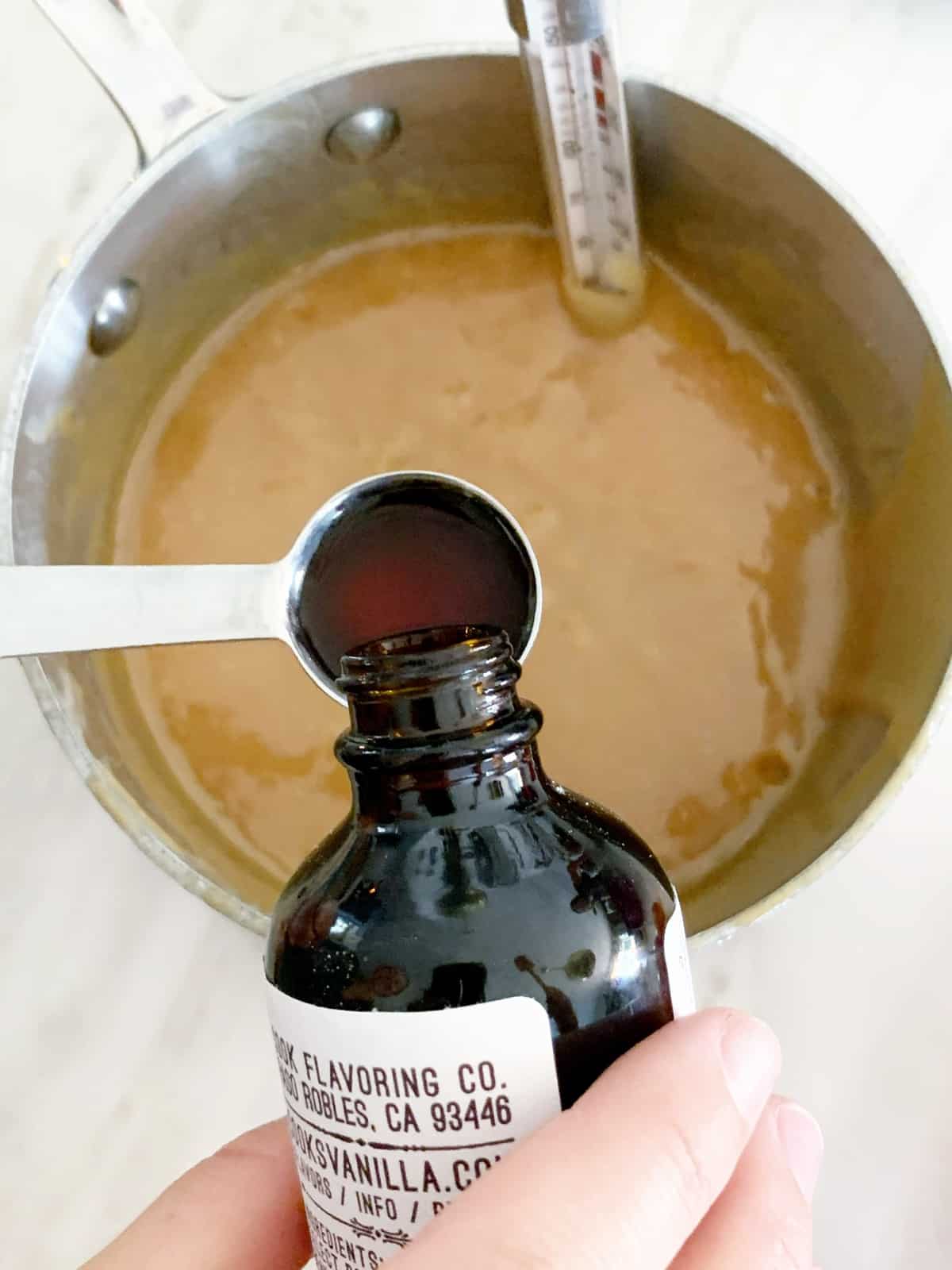 Add in the vanilla. Stir carefully – sometimes your mixture will bubble up from the vanilla so just stir slowly.
The caramel is ready to dip!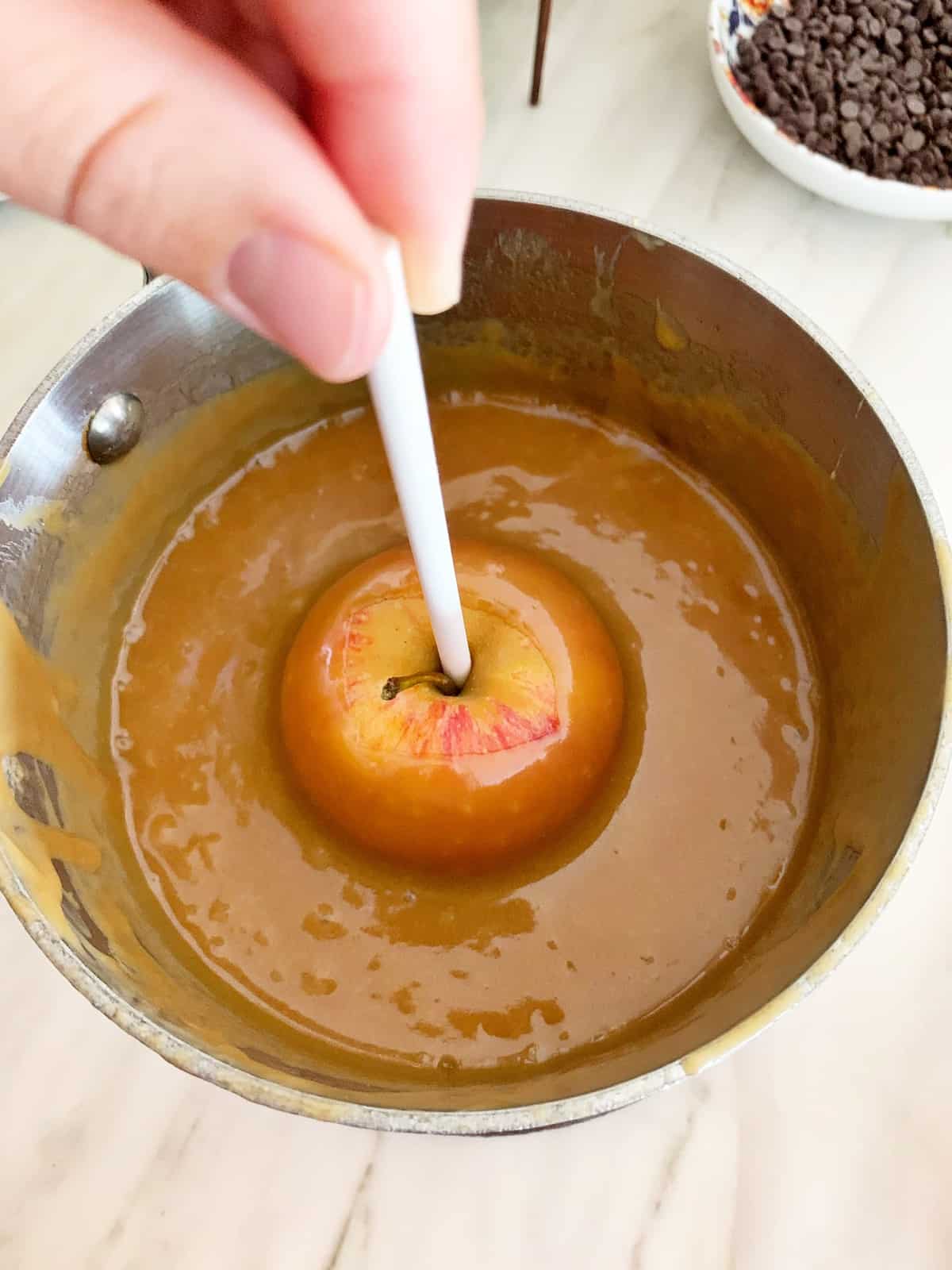 Your caramel is ready for dipping!! Grab one of those prepped apples and give it a dunk and swirl!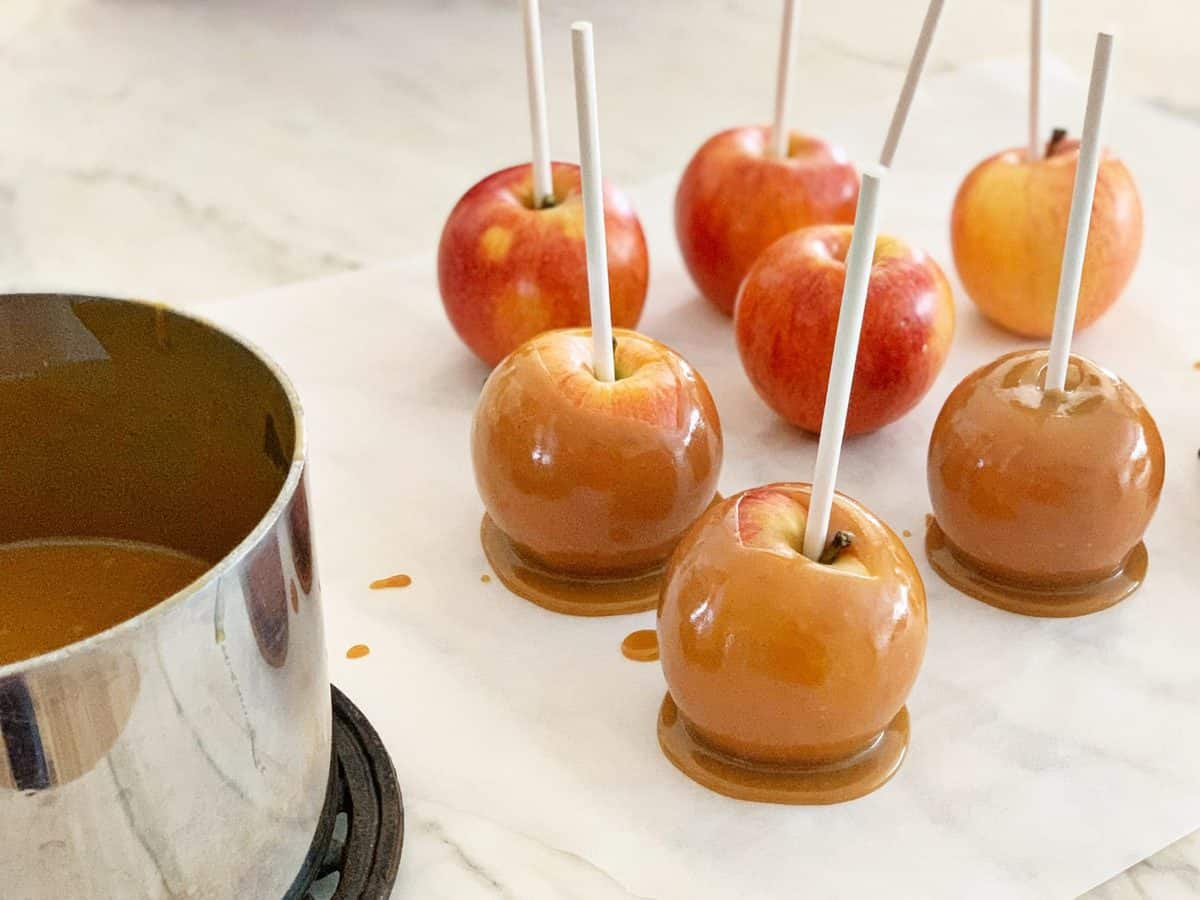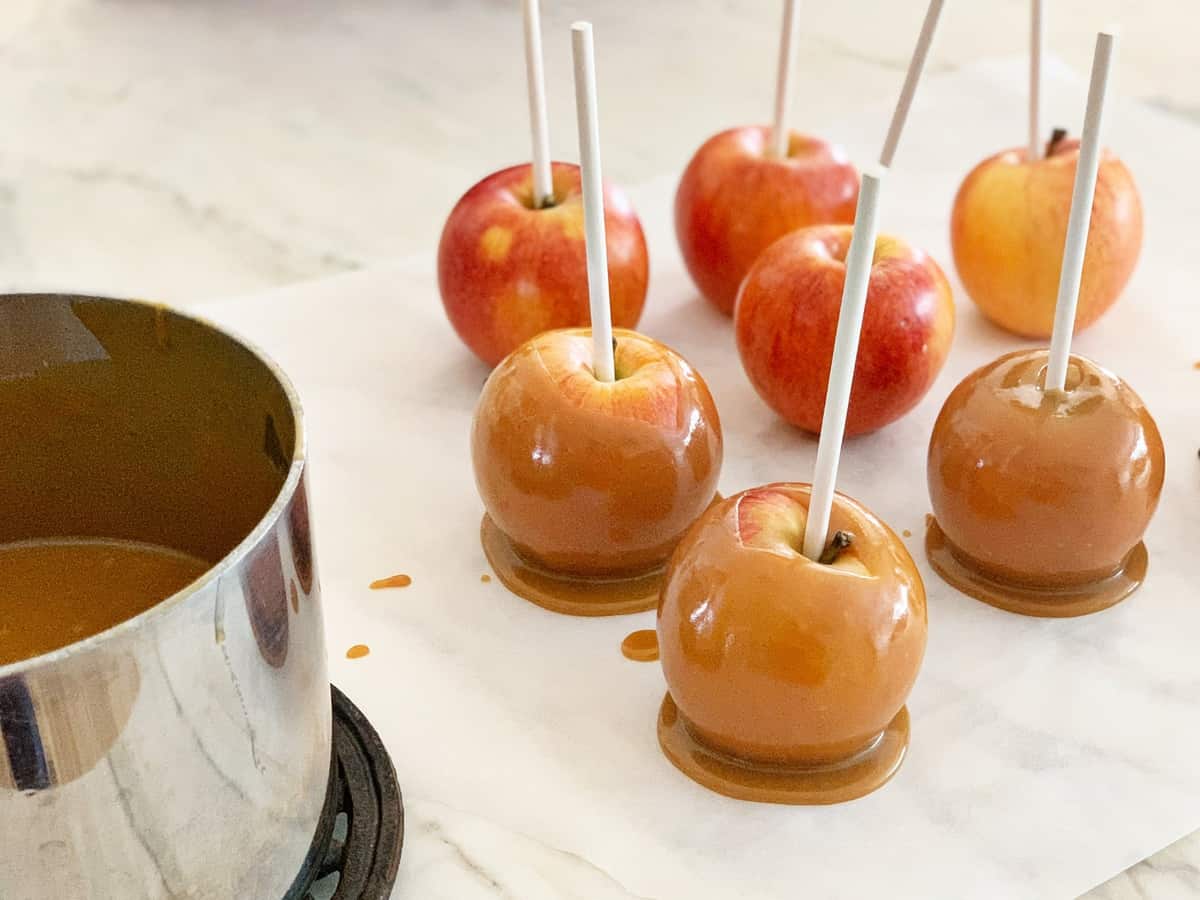 The best dipping method for caramel apples:
Let most of the excess drip off the apple – dunk it again if you want thicker coverage – and then set the apple down on parchment or waxed paper to cool. [Hint: For easier transfer, place each dipped apple on a separate square of parchment paper.]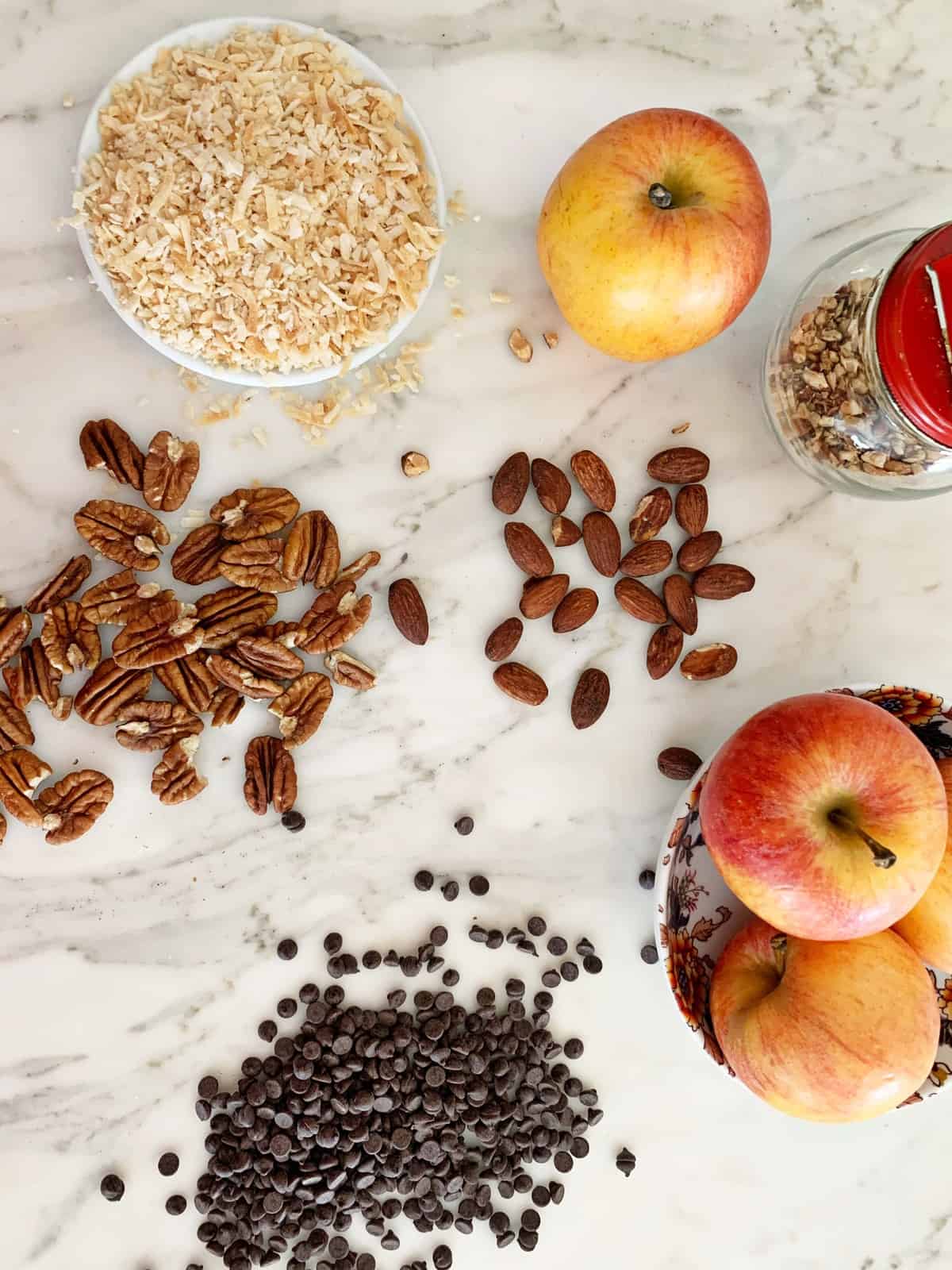 You can also get creative with some extra toppings! Mini chocolate chips, festive sprinkles, and coconut work well. Nuts are always a delicious pairing with sweet treats! I added toasted, chopped almonds to some of my caramel apples.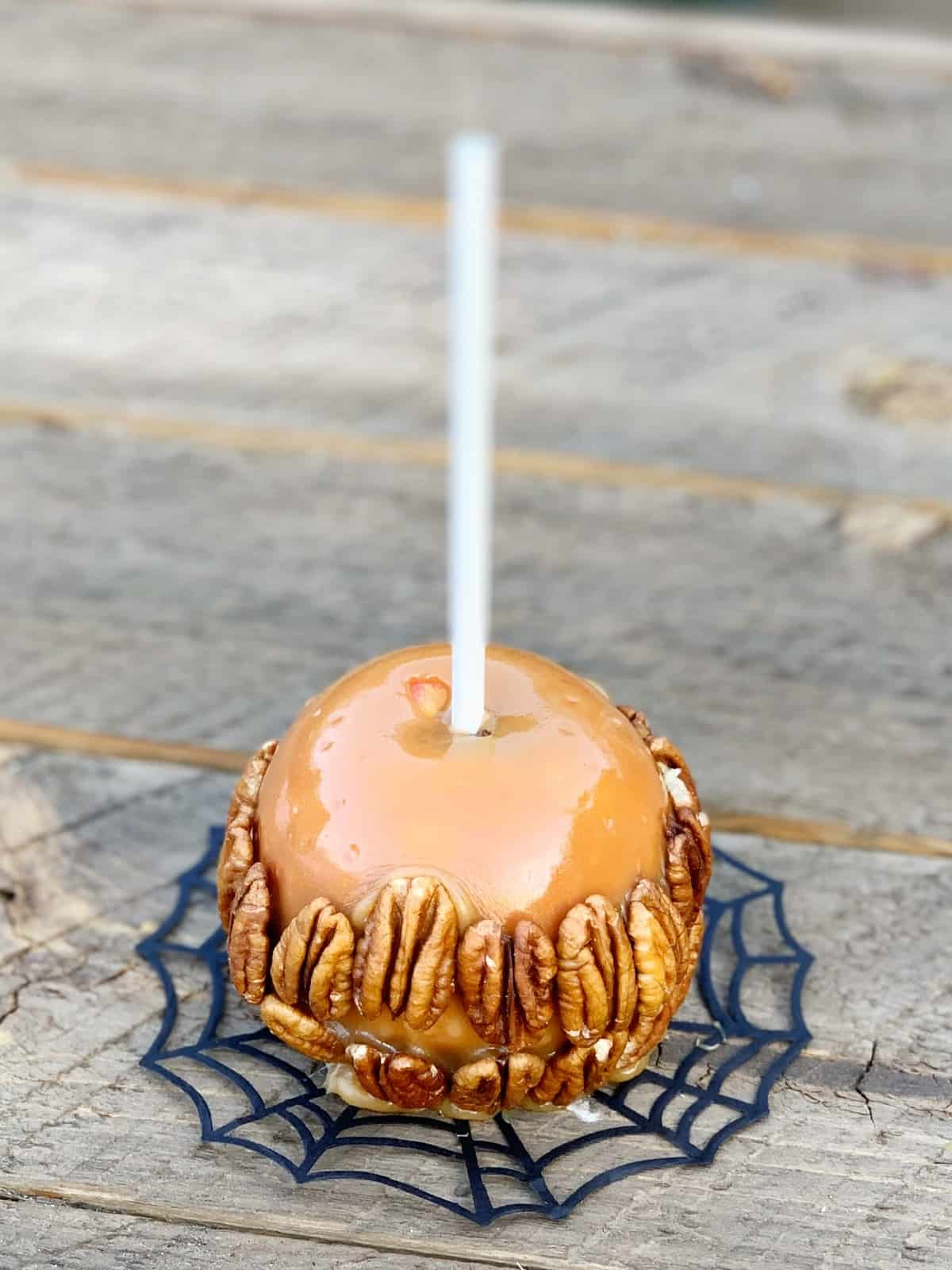 While the caramel is sticky, add the extras!
The caramel is going to be soft and sticky for a few moments, so you can sprinkle or dip the apple into your toppings OR place your toppings, like these gorgeous California pecans, onto your apples in a pretty pattern!
Once the Homemade Caramel Apples cool, they are ready to serve!
Allow the dipped apples to cool, and then they are ready to serve! Once the caramel is completely cool, it will be dry to the touch – you could gently wrap them in little bags to hand out to trick or treaters or store in your refrigerator!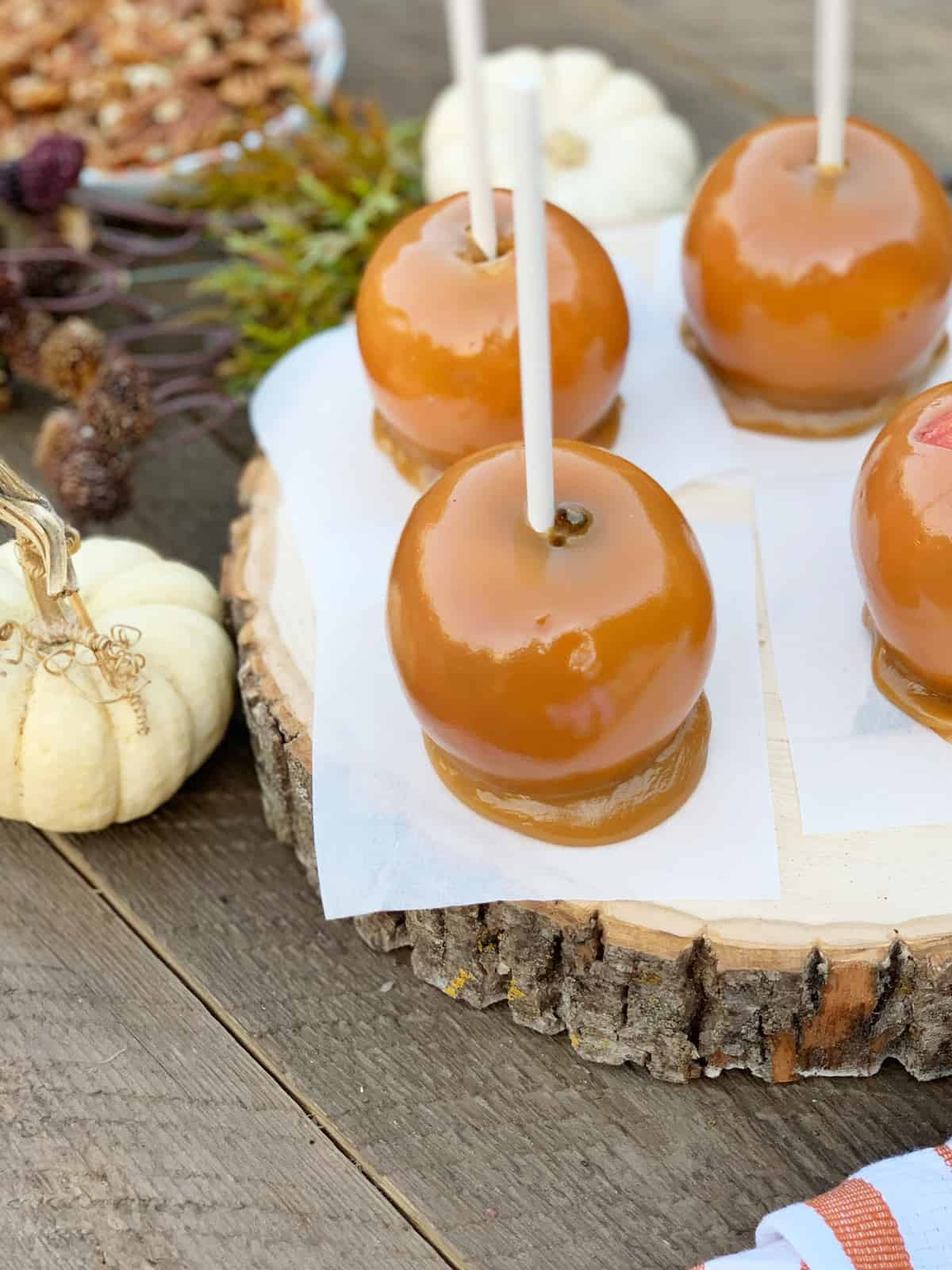 More Caramel Apple Goodness to try: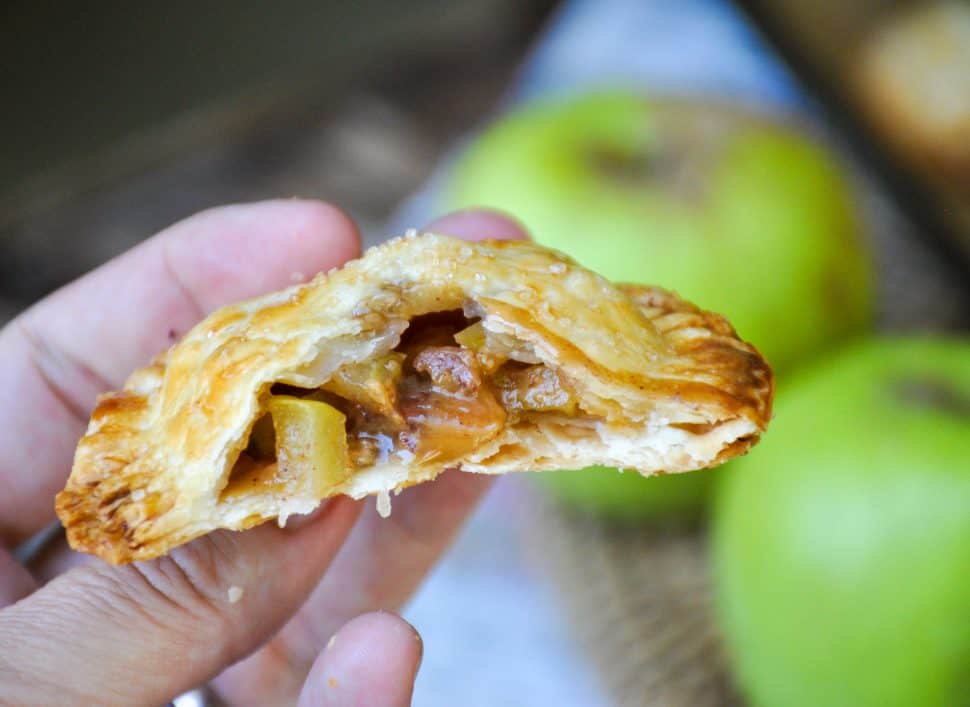 Burnt Caramel Apples are about to become your new favorite treat. Let's set the scene: cool, crisp apples dipped in the deepest, softest caramel. You will not go to battle with this caramel, it will not pull out a tooth and you won't have to struggle with it sticking to your teeth. Soft, rich, cool, crisp. Are you sold yet?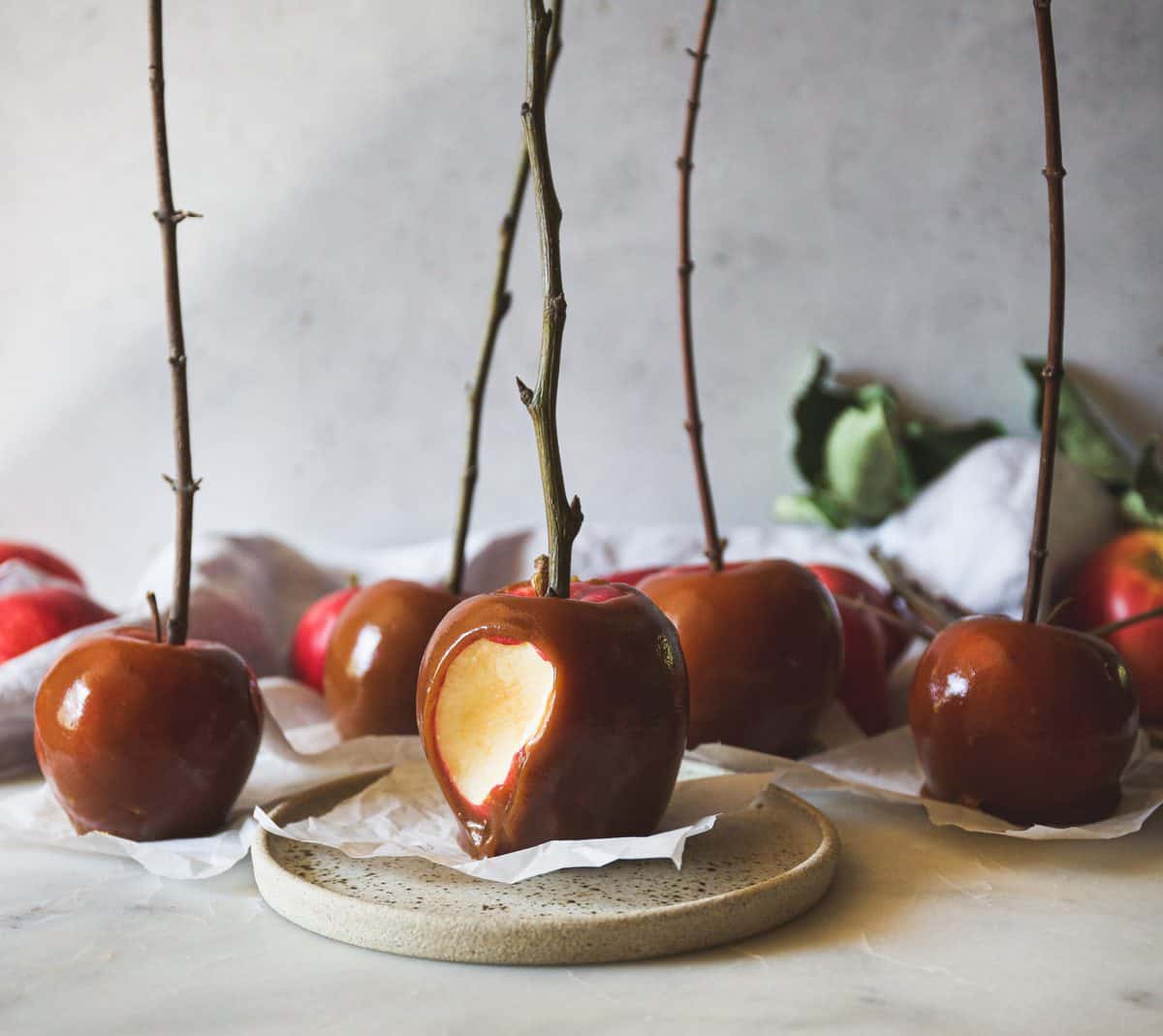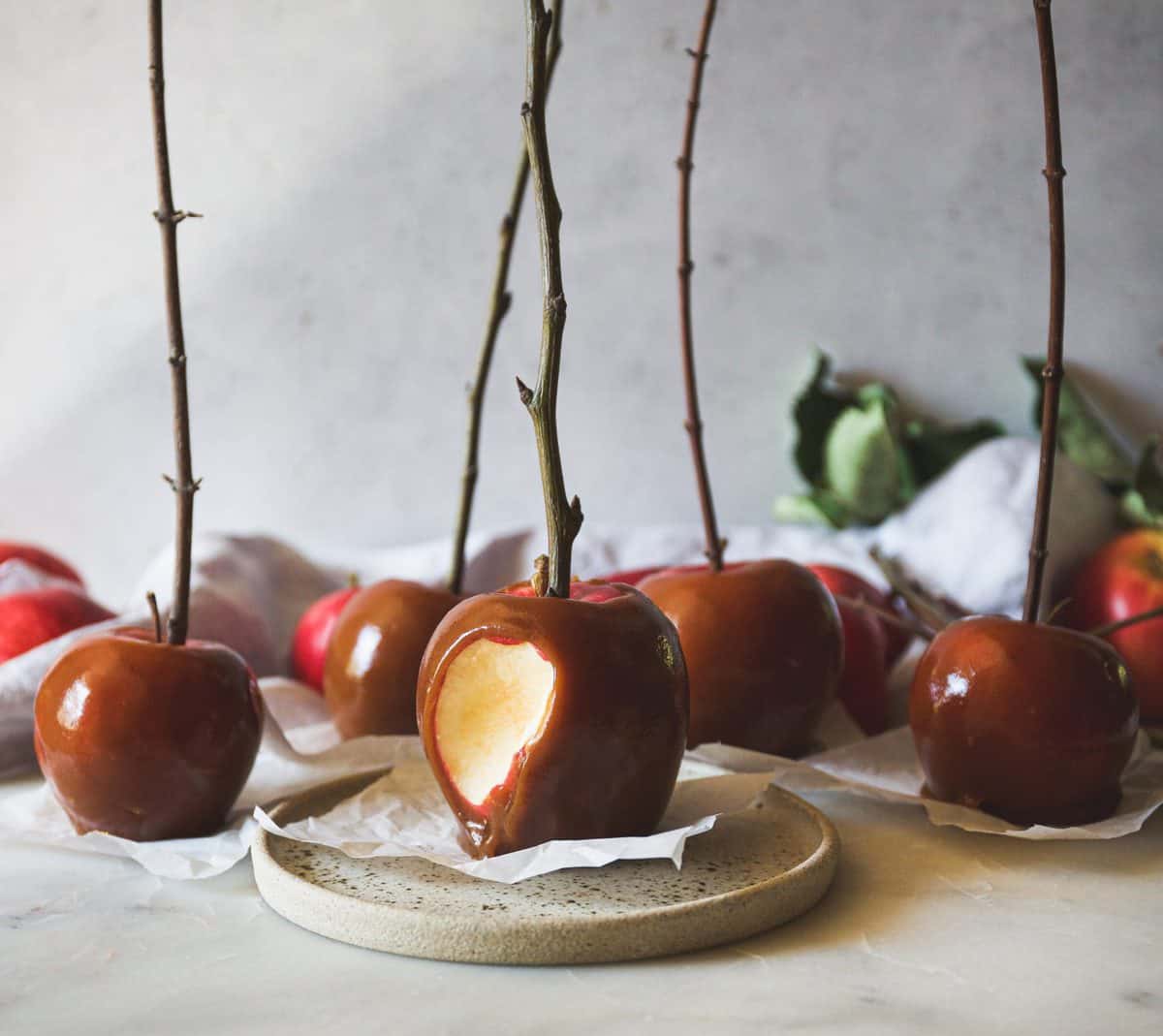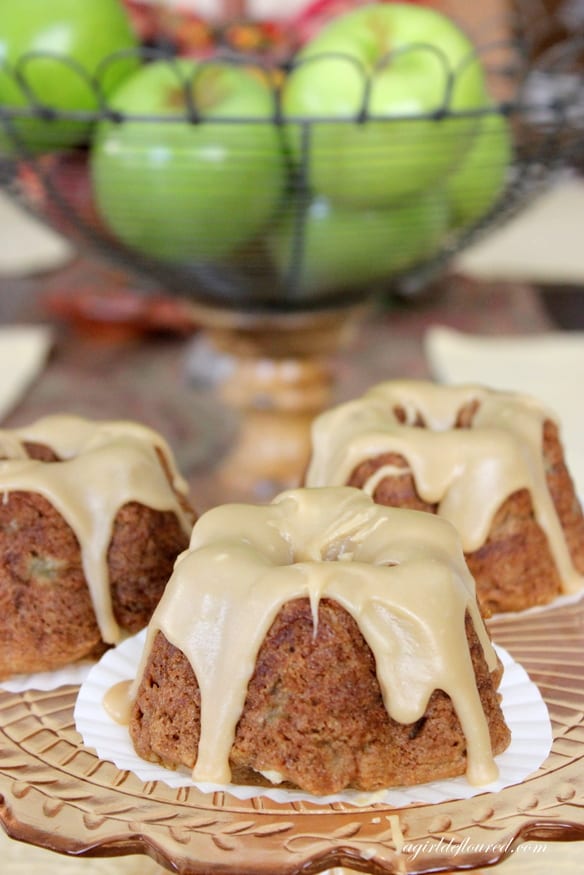 The mini apple cakes from A Girl Defloured are moist and full of sweet-tart apple chunks, and drizzle with a caramel sauce that will haunt you in your dreams! Consider yourself warned.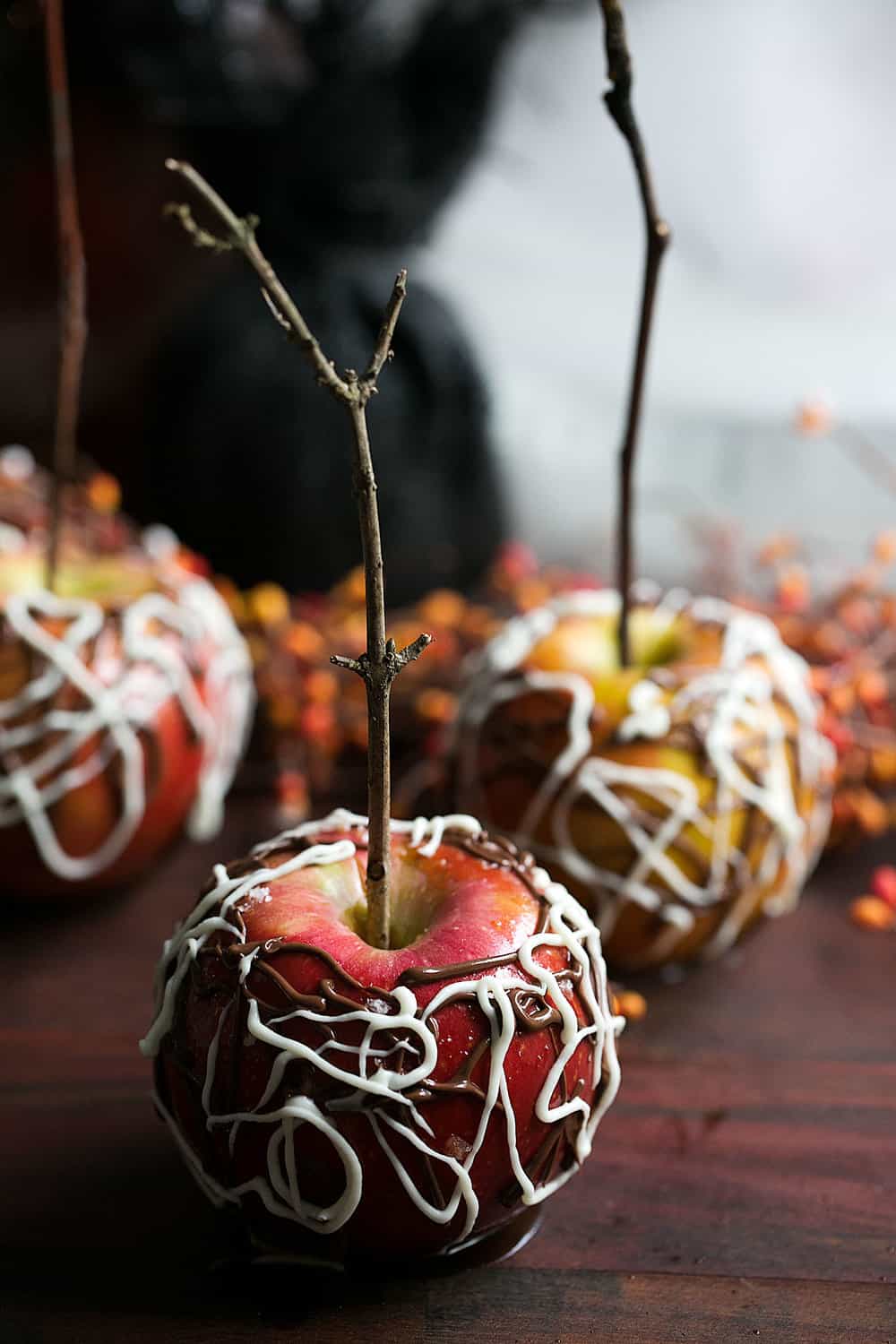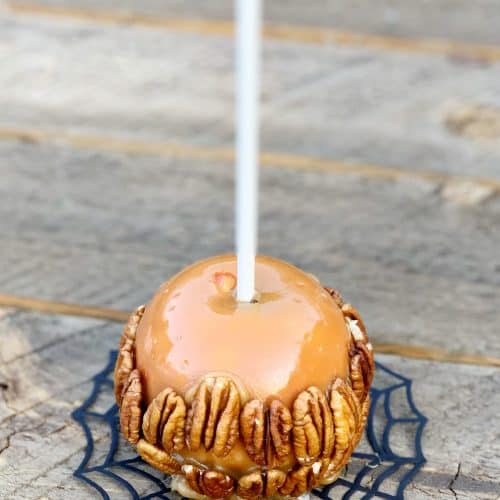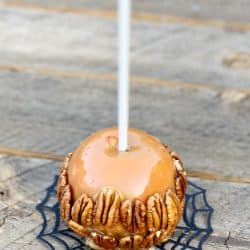 Homemade Caramel Apples for Halloween
This recipe for Homemade Caramel Apples is perfect for Halloween, or anytime you want to create and share a truly delicious treat!
Ingredients
1/2 cup butter look for the Real CA Milk seal!
2 cups packed brown sugar
1 cup light corn syrup
dash of salt
1 14 ounce can sweetened condensed milk look for the Real CA Milk seal!
1 teaspoon vanilla extract
1 cup white vinegar optional for washing apples
12 crisp California apples washed and dried
12 thick cookie/treat sticks
Instructions
Wash and dry apples well.

Press sticks into the tops of apples and place on parchment paper.

Melt butter in medium saucepan over medium heat.

Add brown sugar, corn syrup, and salt.

Cook and stir over medium heat until mixture reaches a full rolling boil.

Add milk.

Continue cooking and stirring until mixture reaches precisely 248 degrees on a candy thermometer.

Remove from heat and add vanilla.

Dip apples to coat with caramel.

Add toppings if you like.

Allow to cool on parchment paper.

Store in refrigerator.
Notes
Apples can be made a day or two ahead and stored in the refrigerator.
Nutrition
Calories: 307kcalCarbohydrates: 61gProtein: 1gFat: 8gSaturated Fat: 5gPolyunsaturated Fat: 0.4gMonounsaturated Fat: 2gTrans Fat: 0.3gCholesterol: 20mgSodium: 73mgPotassium: 247mgFiber: 4gSugar: 55gVitamin A: 335IUVitamin C: 8mgCalcium: 45mgIron: 0.5mg
Posted by Stefanie Knaus, Girl. Inspired.