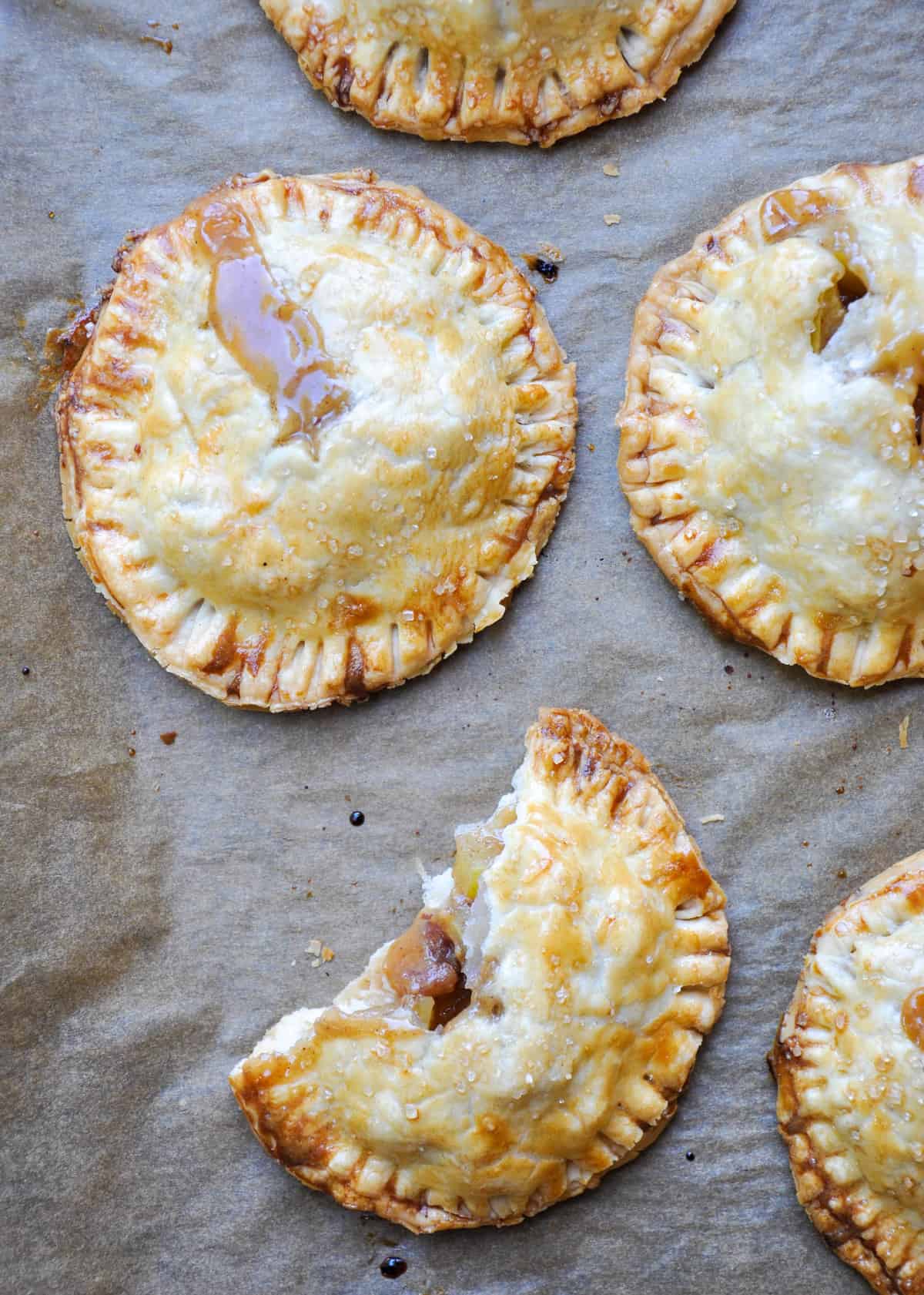 CA GROWN Blog
Discover. Learn. Connect.
California Caramel Apple Hand Pies
September 27, 2017
Eat the Season!
Sign Up For Weekly Recipes
« Back to Recipes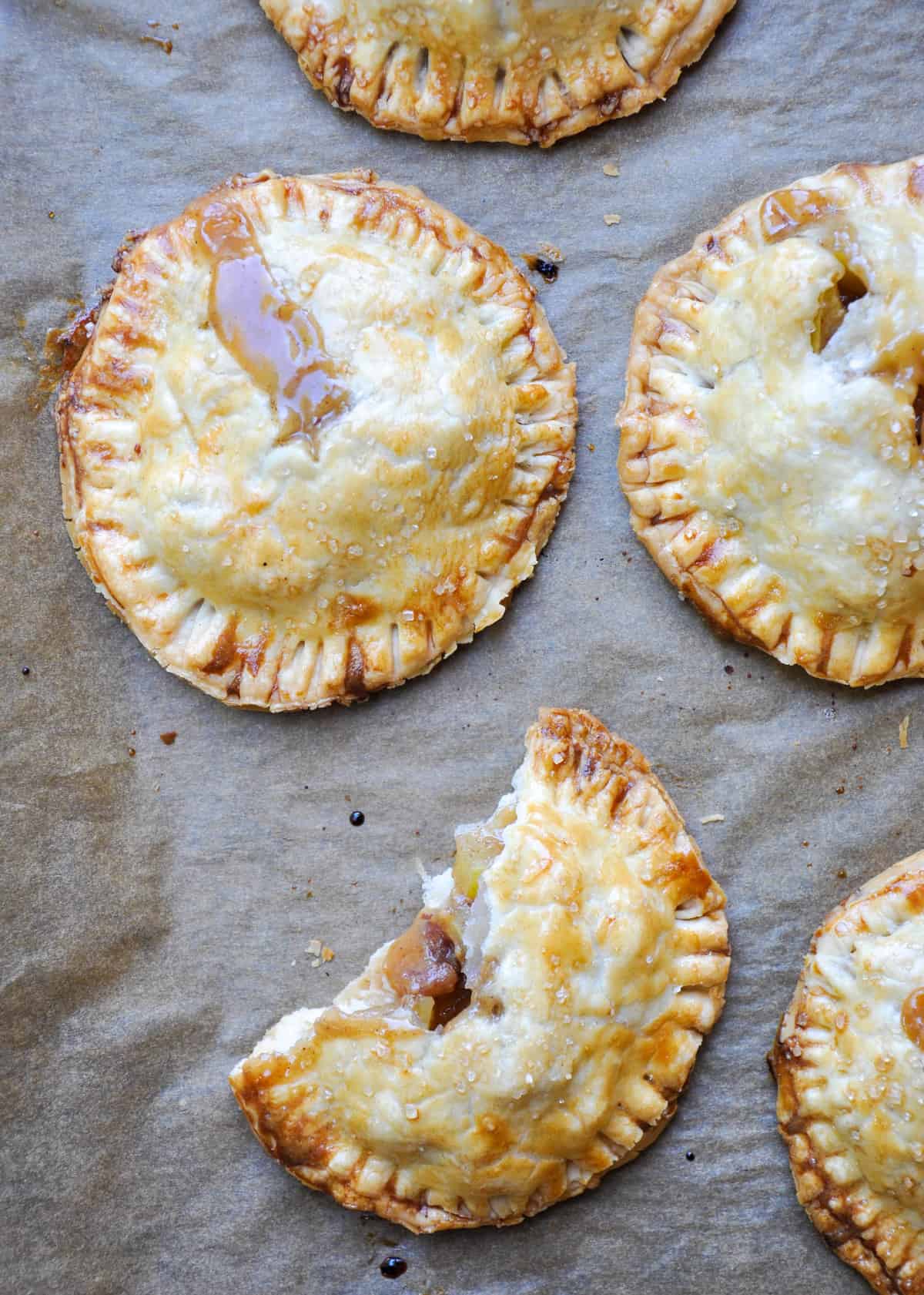 California Caramel Apple Hand Pies
Flaky golden brown and deliciously sweet Caramel Apple Hand Pies are easy to make, and even easier to eat!
Jump to Recipe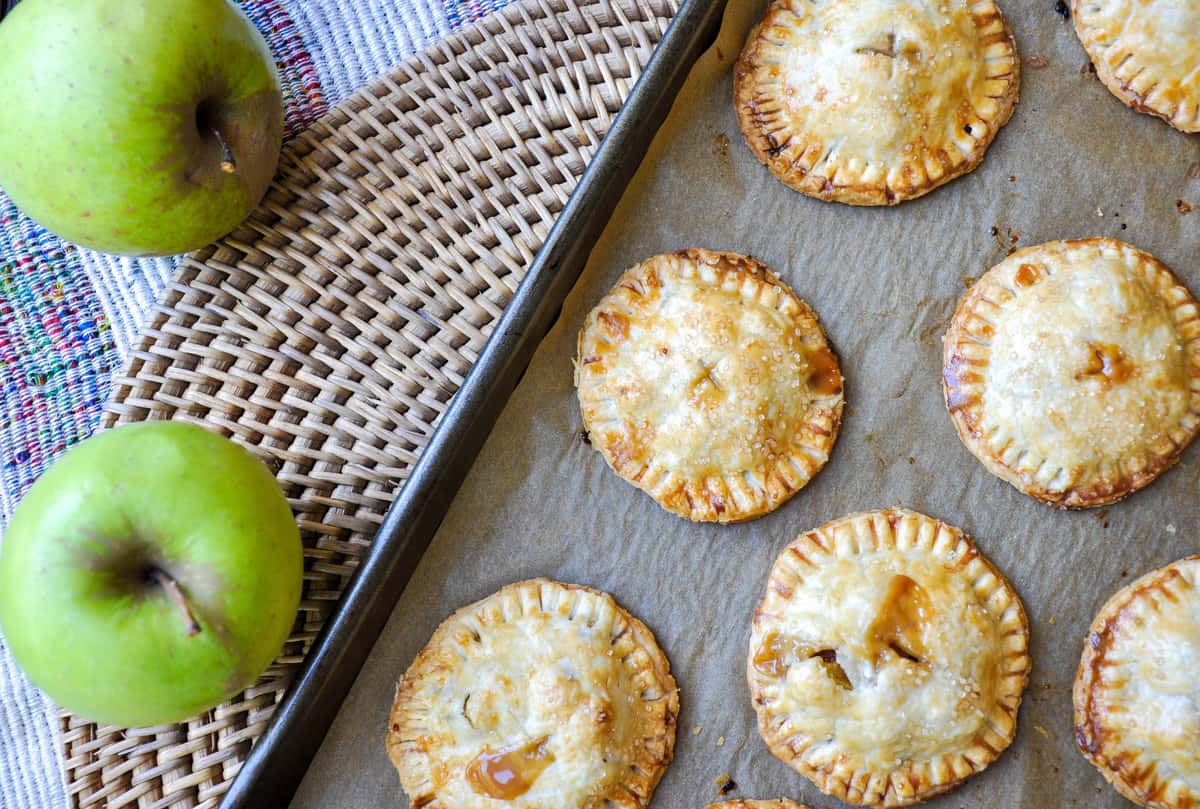 It's Fall Y'all!
And what better time than Fall to enjoy apples from Apple Hill, in Northern California! Cooler temperatures in the northern region of our great state allow us Californians to enjoy crisp, sweet apples for a few months. Yay us!
We love apples around our house, so when I got my hands on a bag of the green beauties, I decided to use a few for these handheld treats.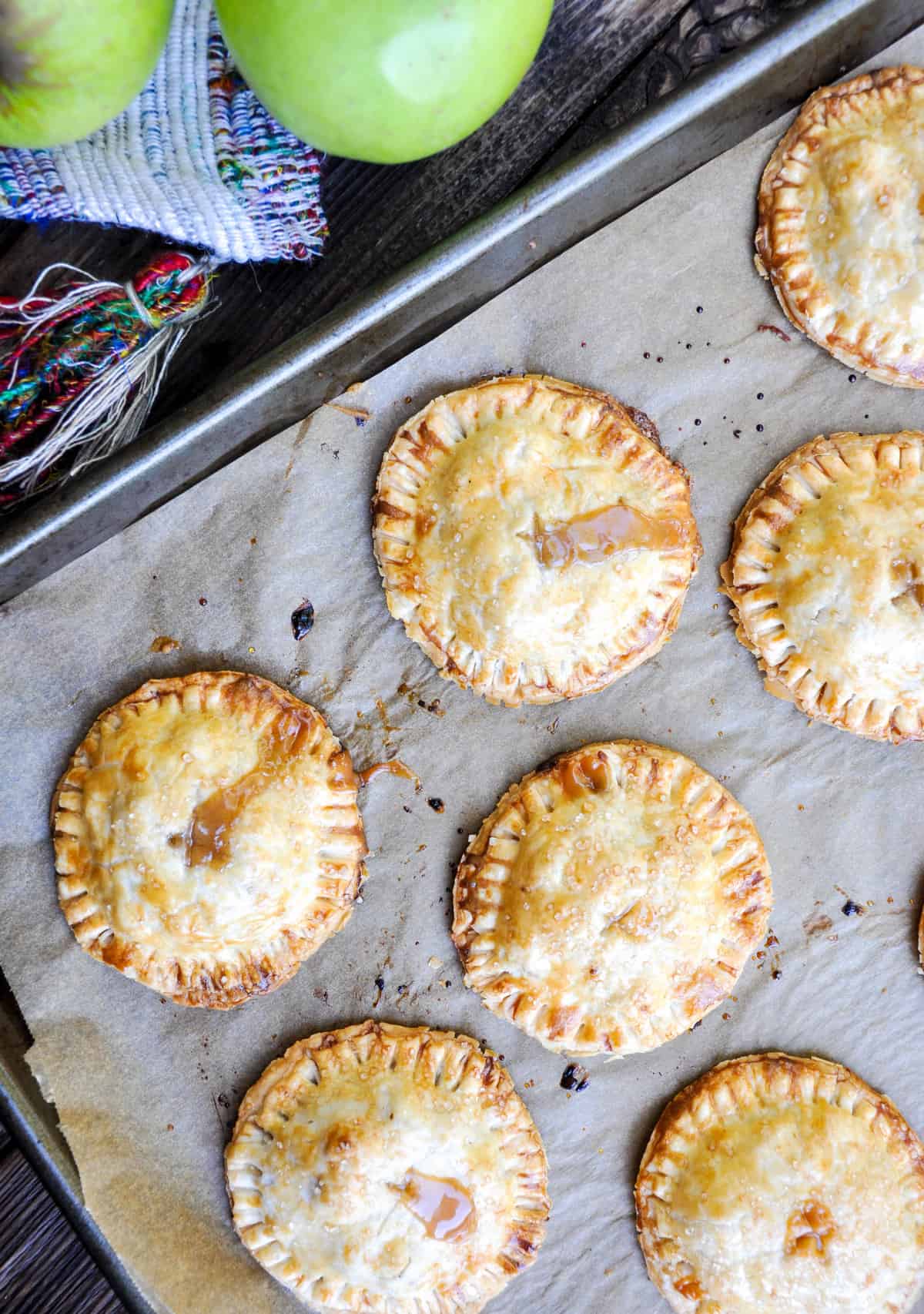 Simple to make and even easier to eat, these convenient goodies are perfect for rushed mornings. They pack well in a lunchbox and are an ideal choice for a modest, after dinner dessert.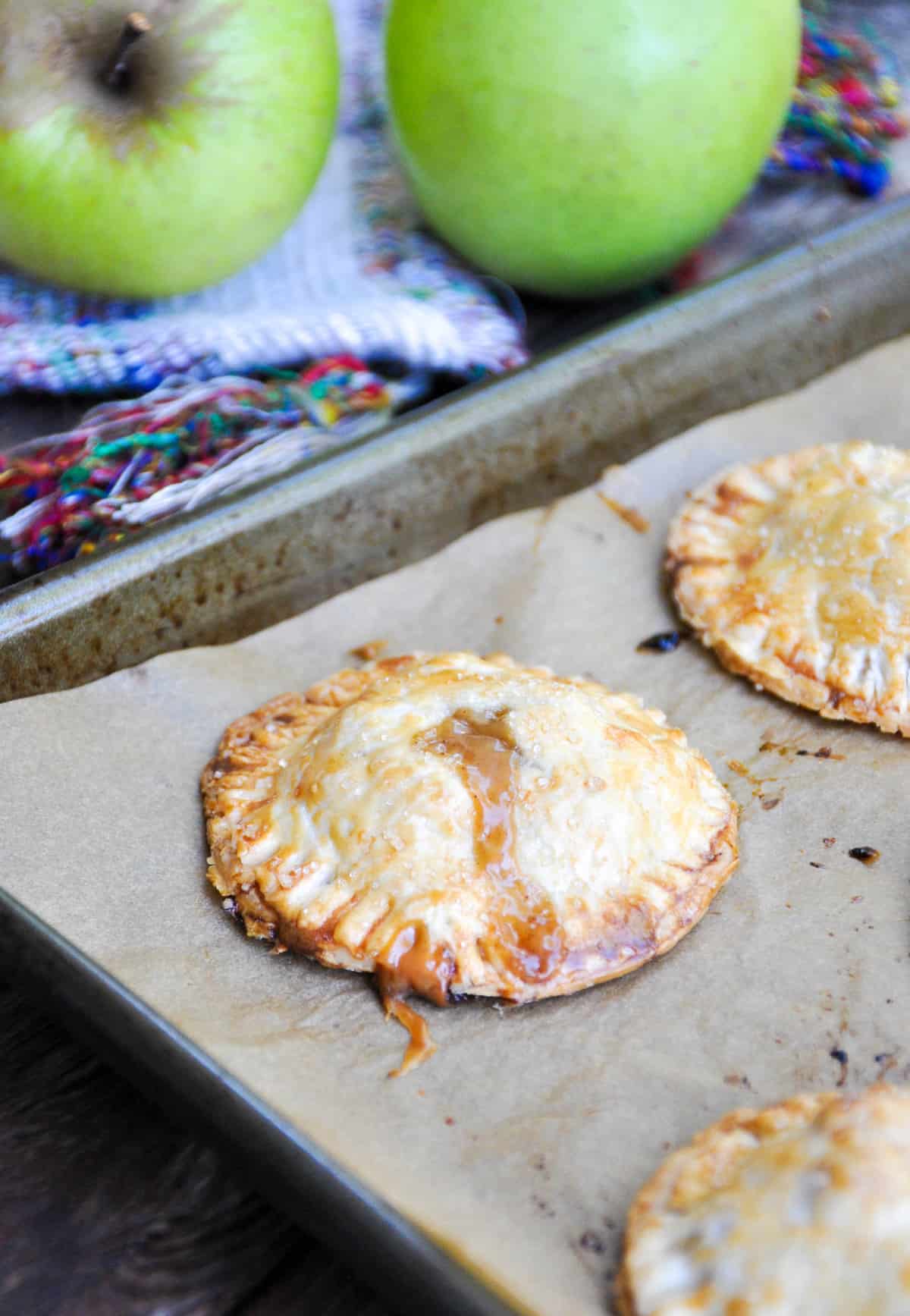 Packed with fresh apples and oozing with soft caramel, these hand pies are going to be your new favorite Fall goodie.
Let's make some!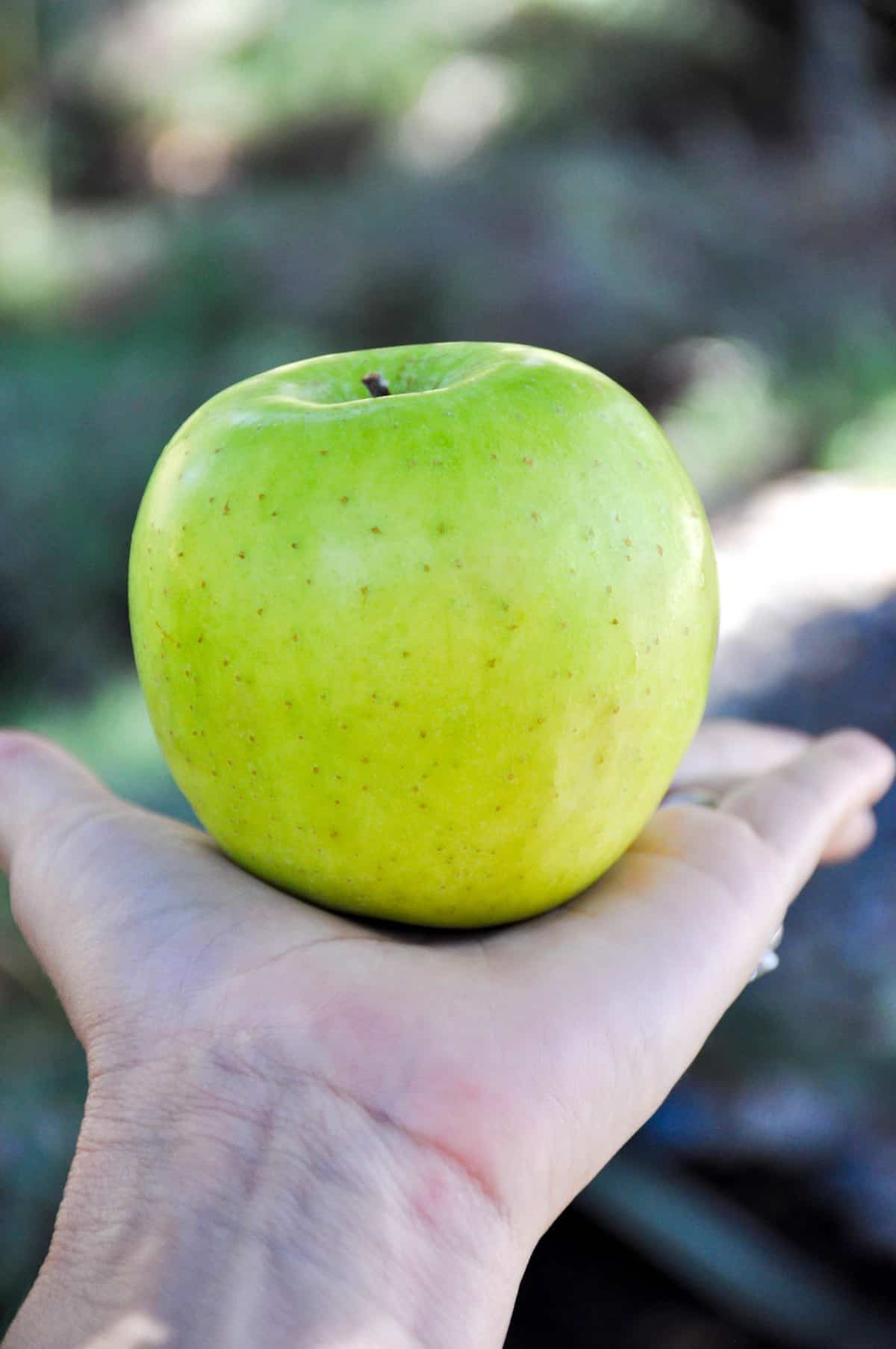 Here it is… the perfect California apple. Look for them NOW in your grocery stores and farmer's markets!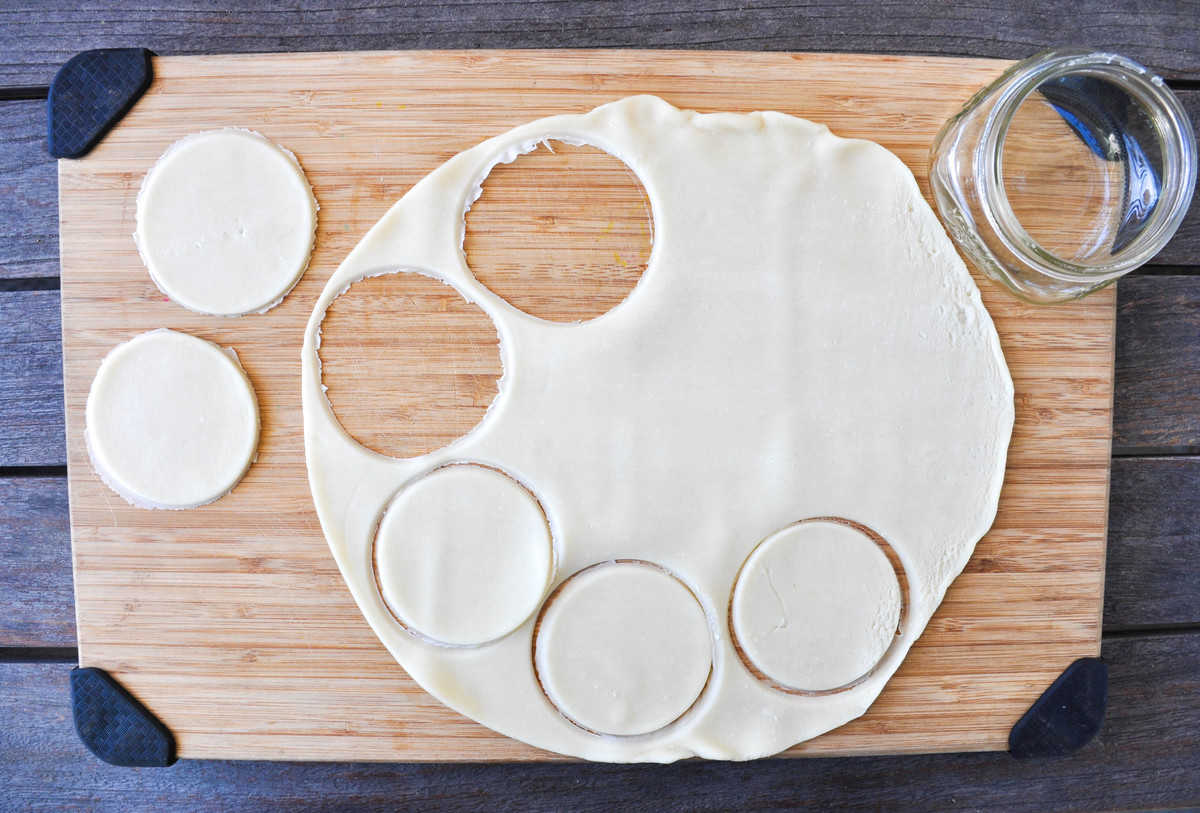 I made my life easy and purchased refrigerated pie crusts from the store. I made 8 handpies with one double crust box. Using a wide-mouth Mason jar, I cut out 8 circles per dough.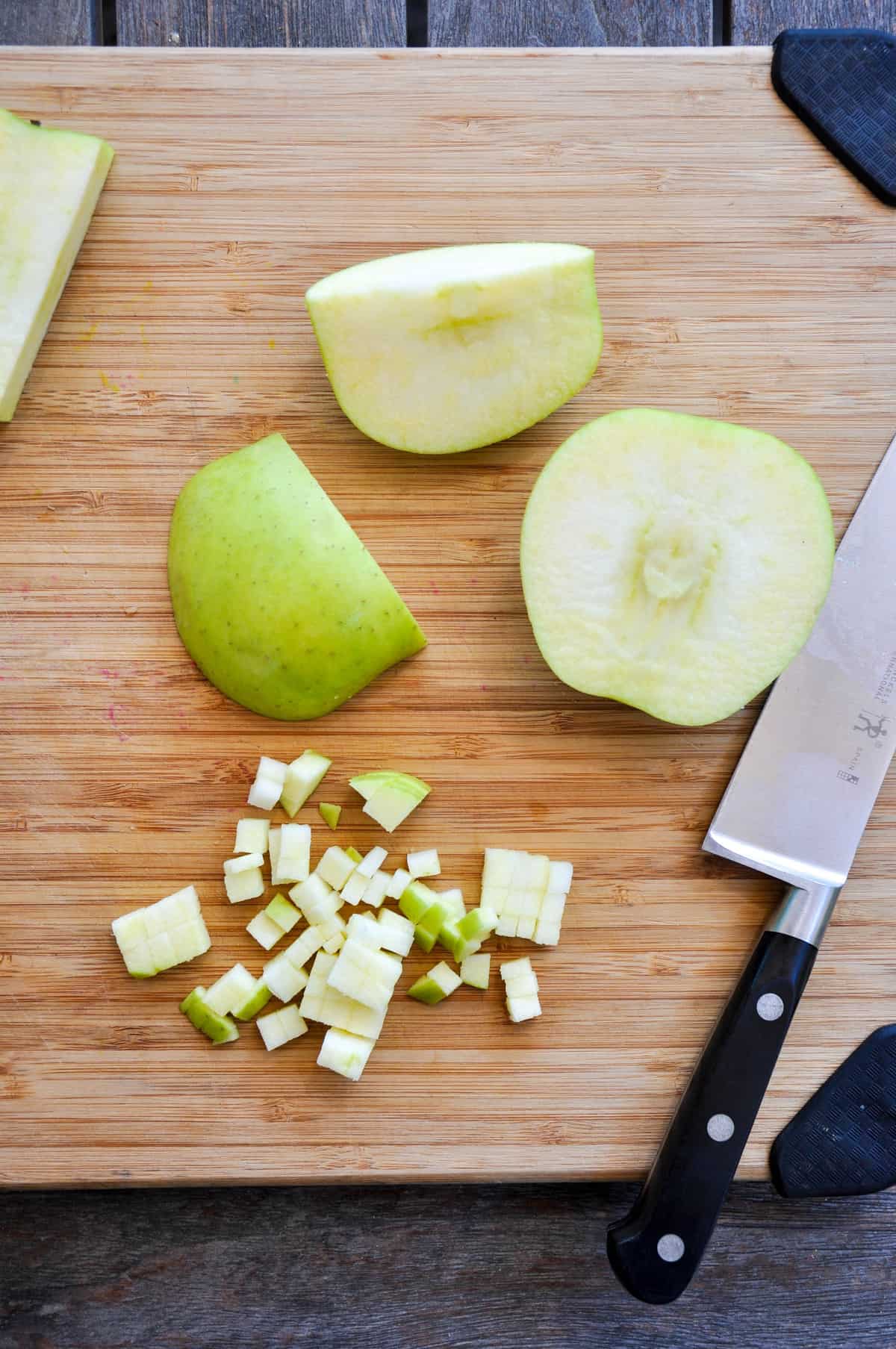 I cut each apple into small, consistent pieces so I could keep the cook time to a minimum, as we aren't precooking the filling (yay for time savers!)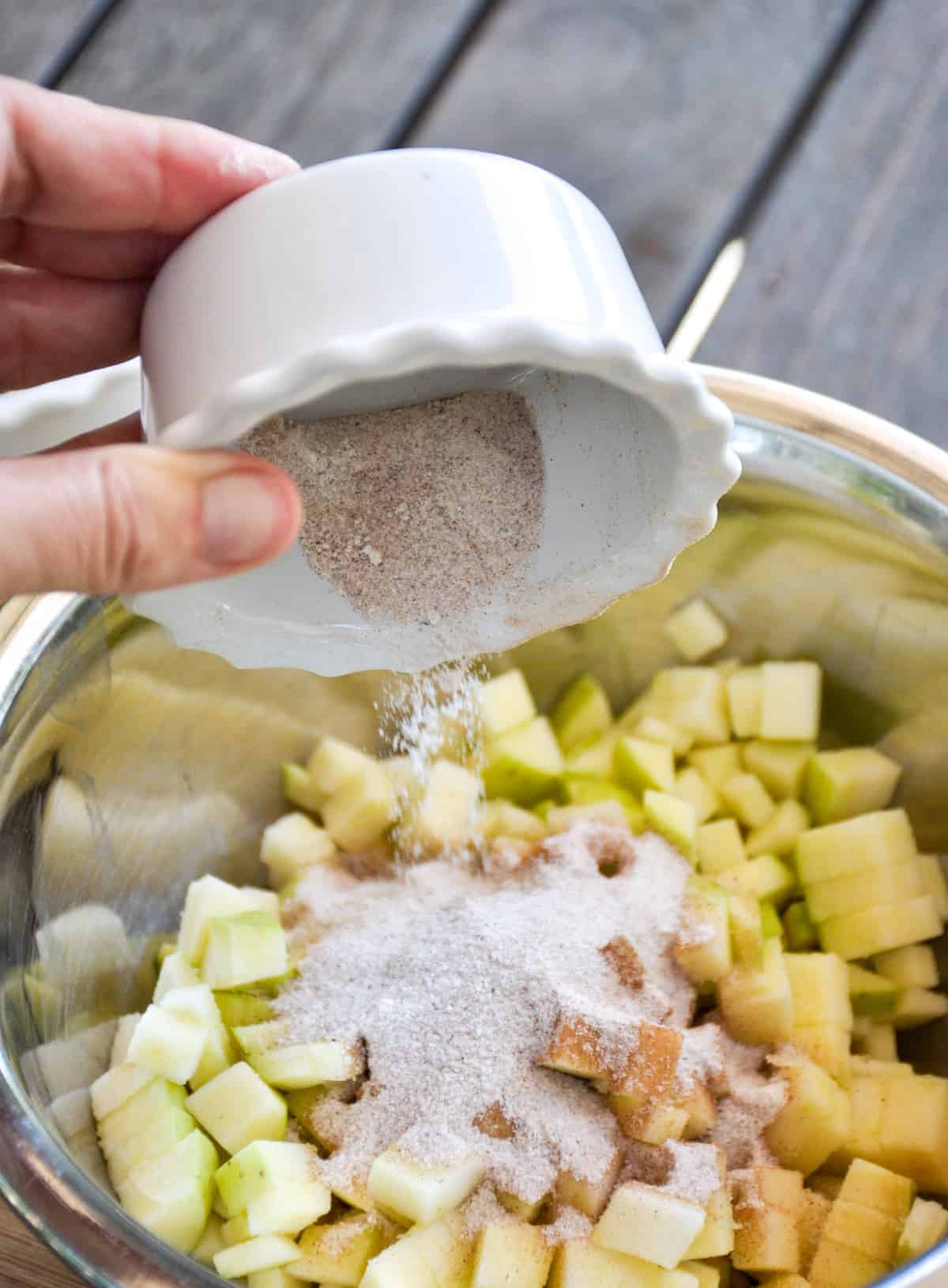 Mix the flour, sugar and cinnamon into the apples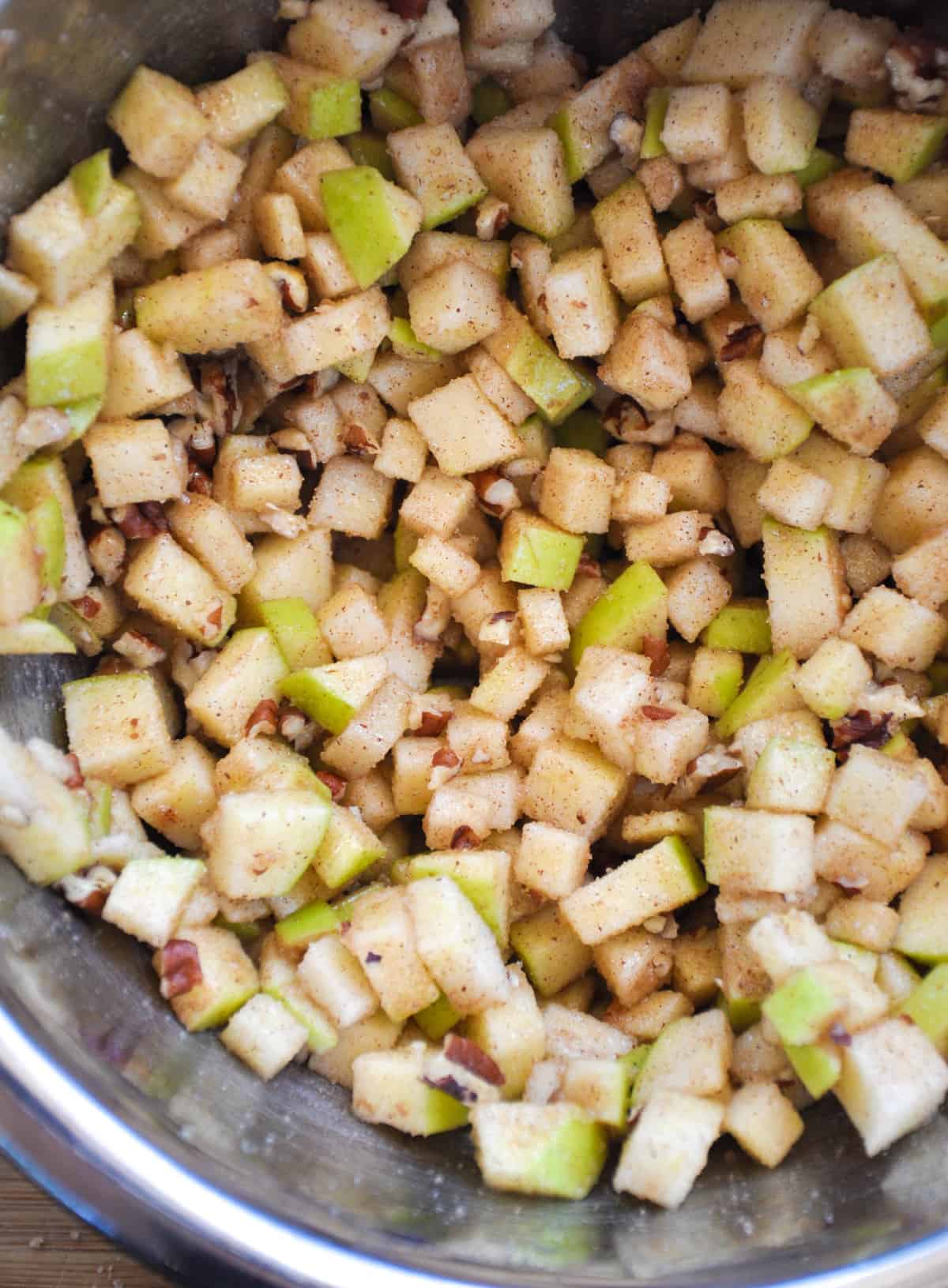 Lastly, fold in the chopped pecans. Allow mixture to rest while you lay out the pastry rounds on the baking sheet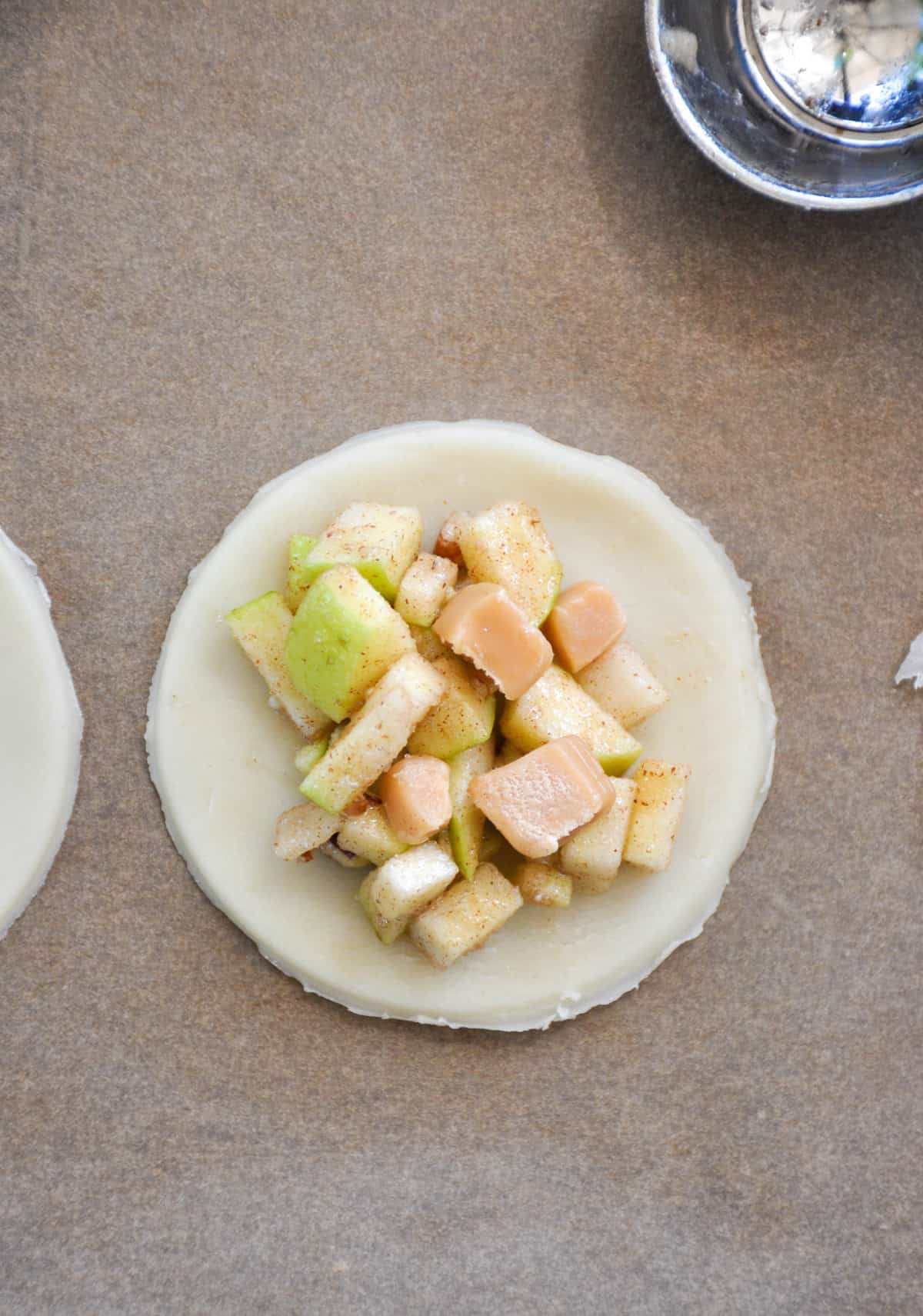 Add a generous amount of filling to each round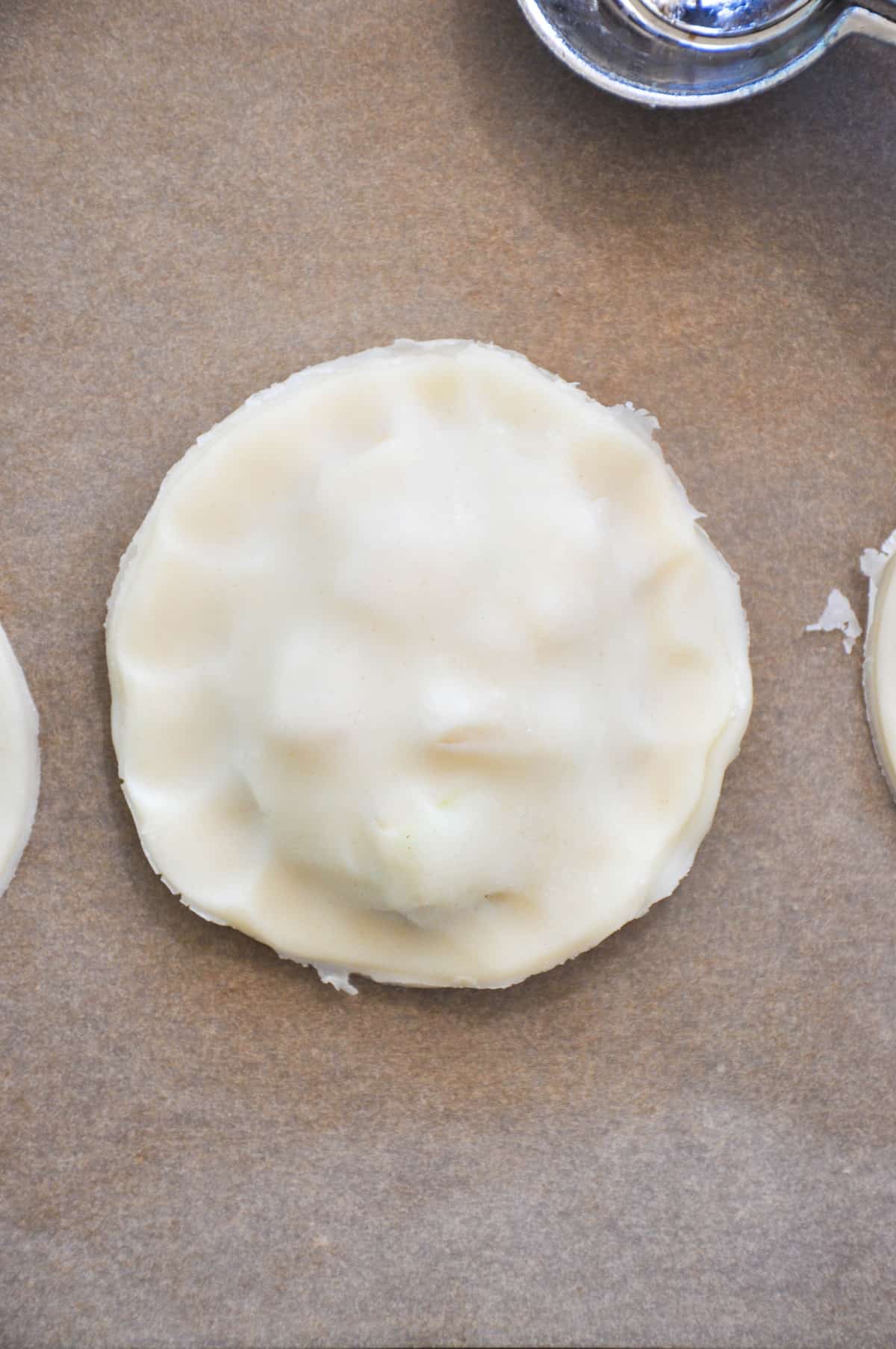 Place the top round on top of the filling, making sure the two pastries meet each other on the edges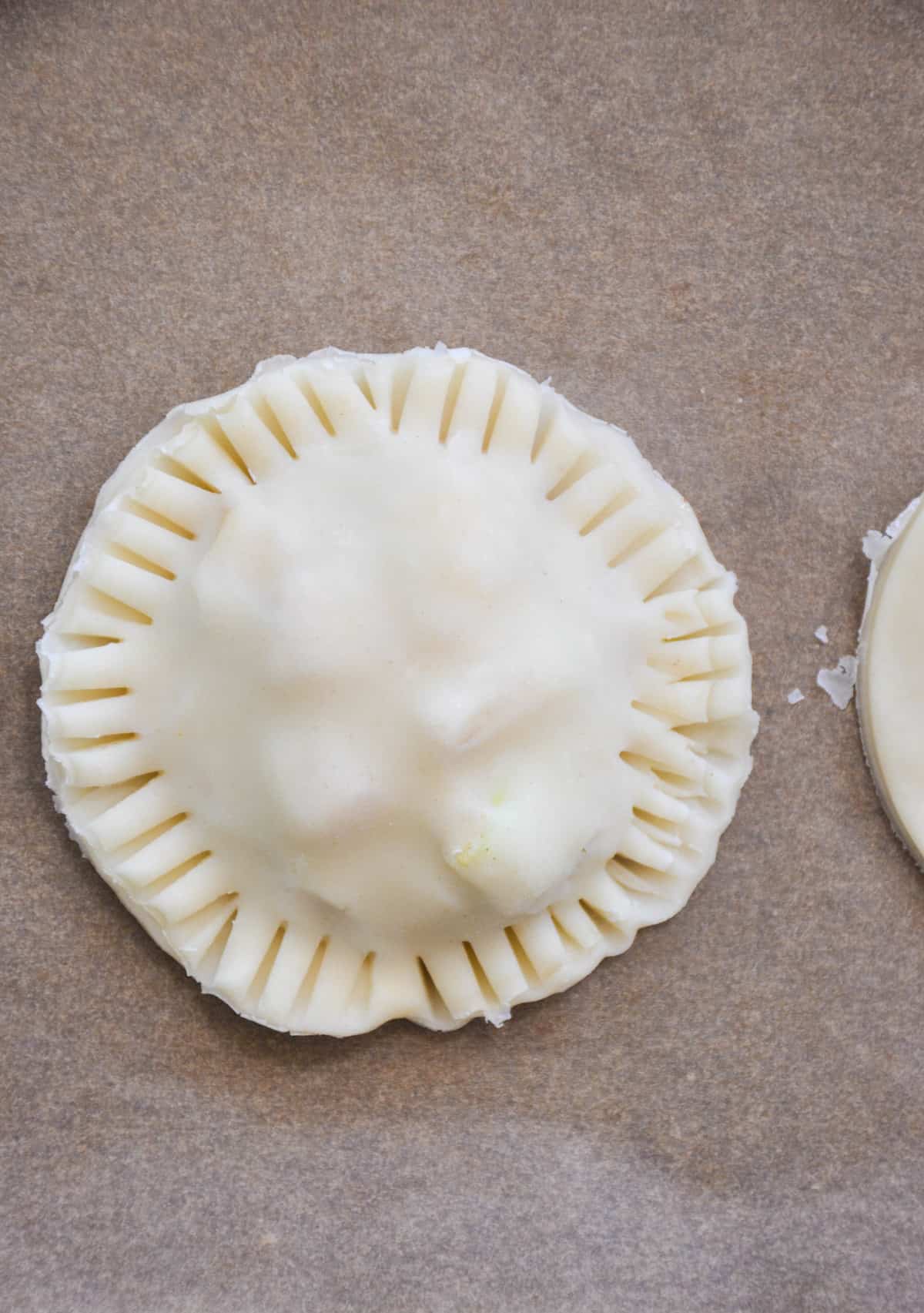 Press the edges with a fork to seal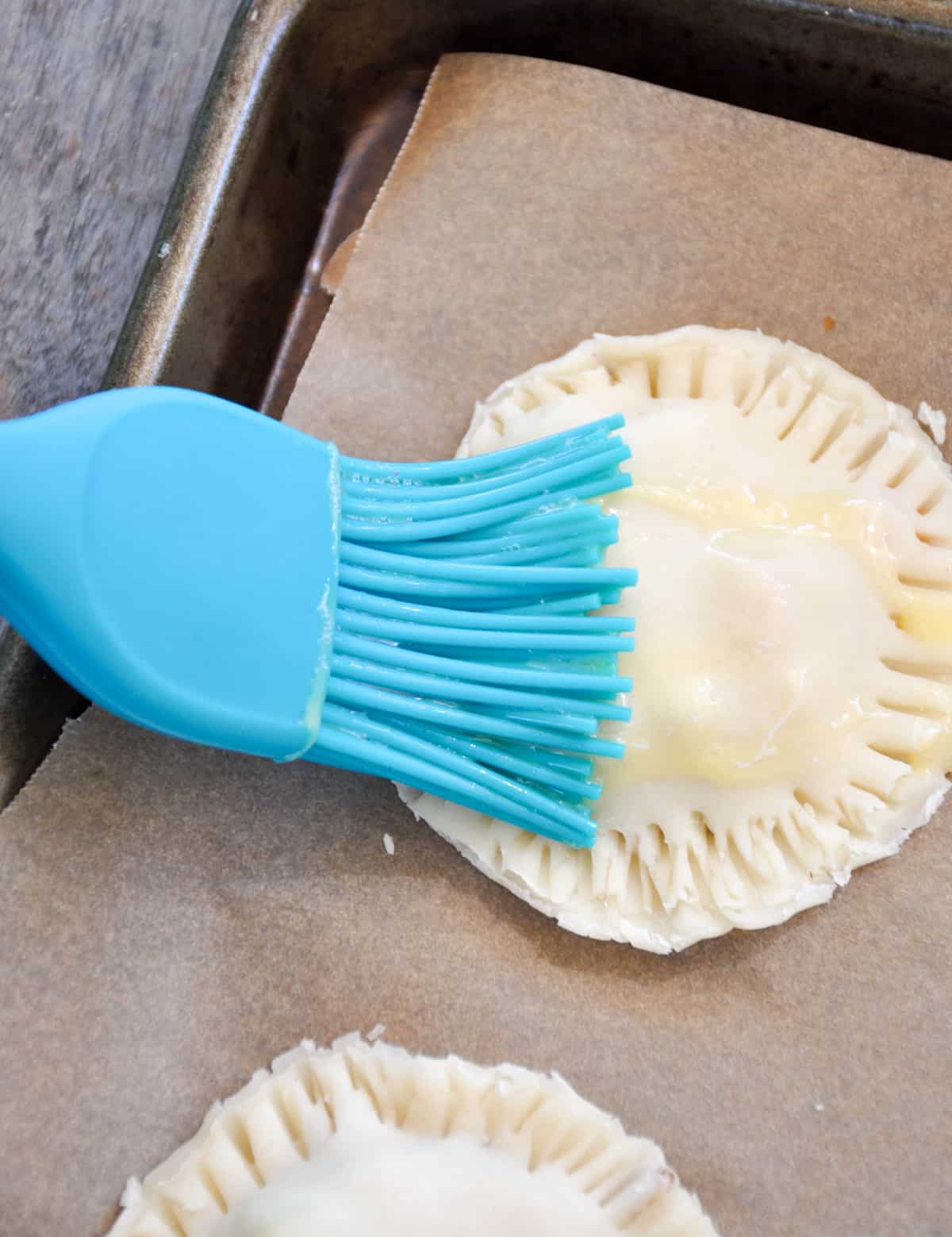 Brush the tops and edges with egg wash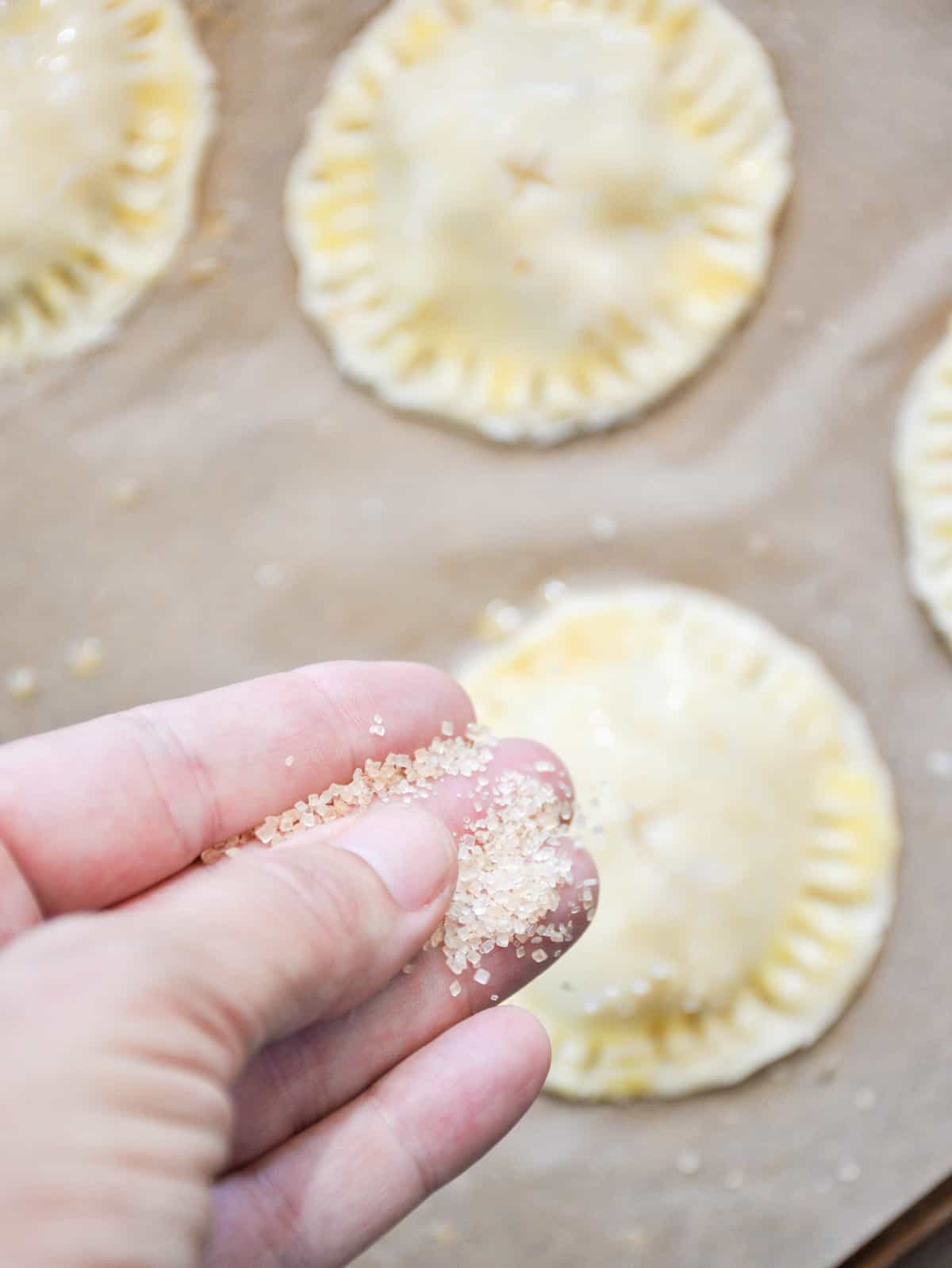 Dust the tops with sanding sugar and pop in a 425F degree oven for 15 minutes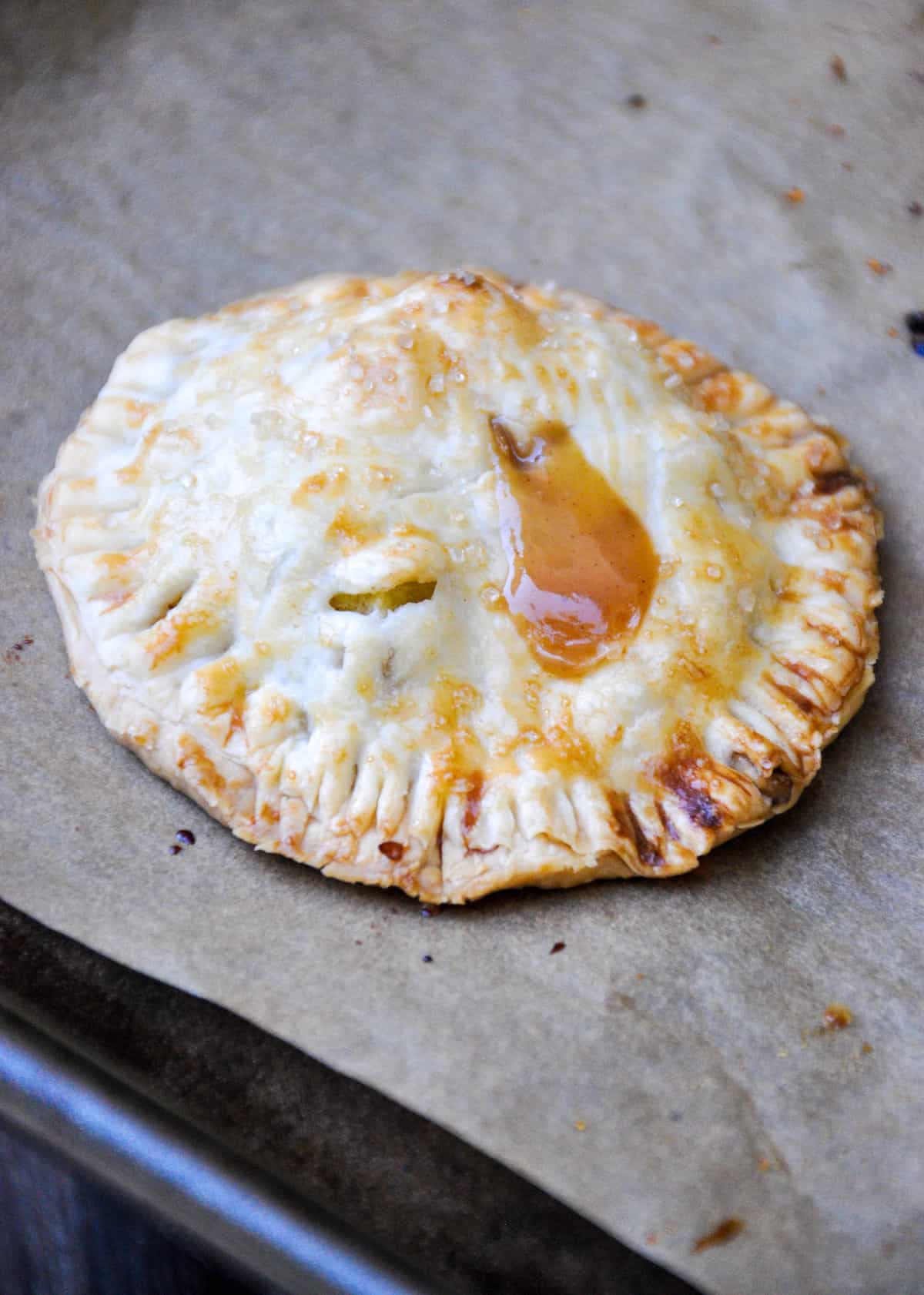 Ho-Lee-Cow. It's almost too much to take!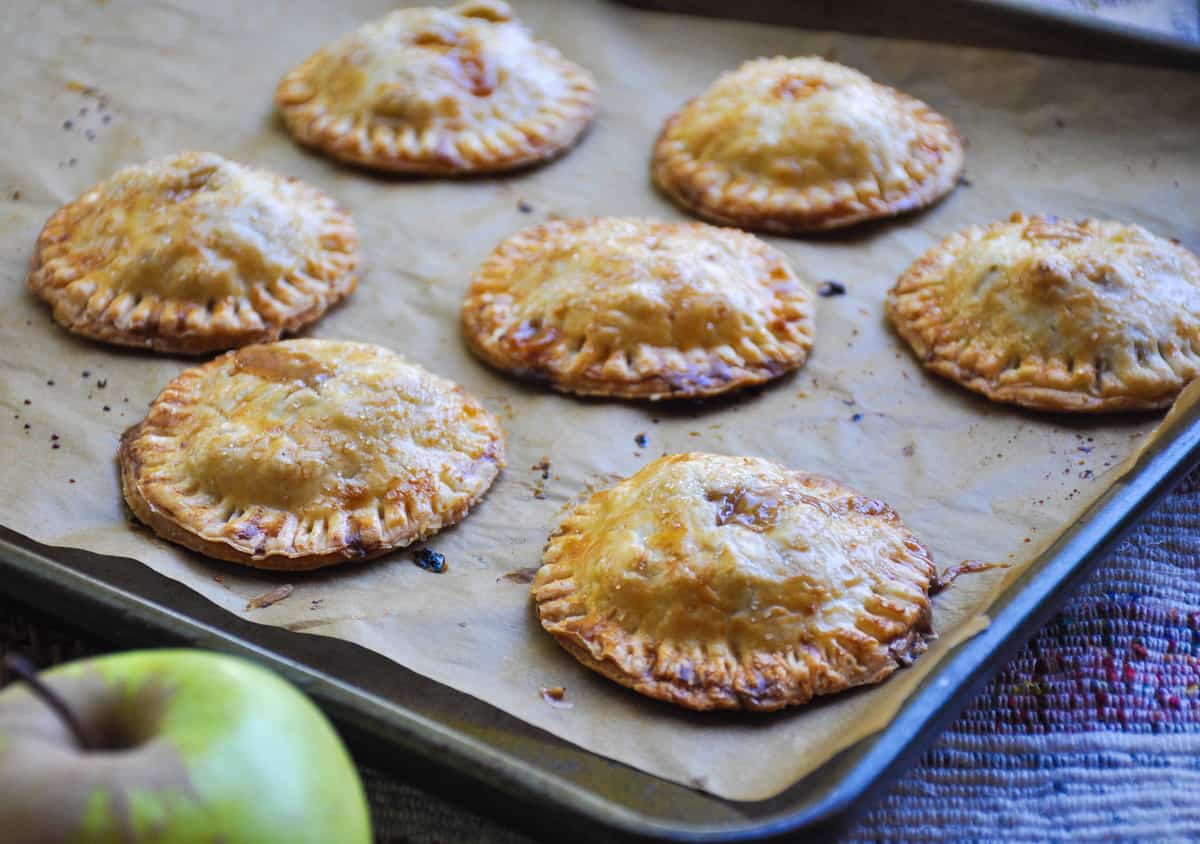 The crisp, flaky crust and the sweet gooey filling is the perfect ratio of textures. I always feel like I want more crust when I eat an apple pie, and this hand pie is a perfect balance.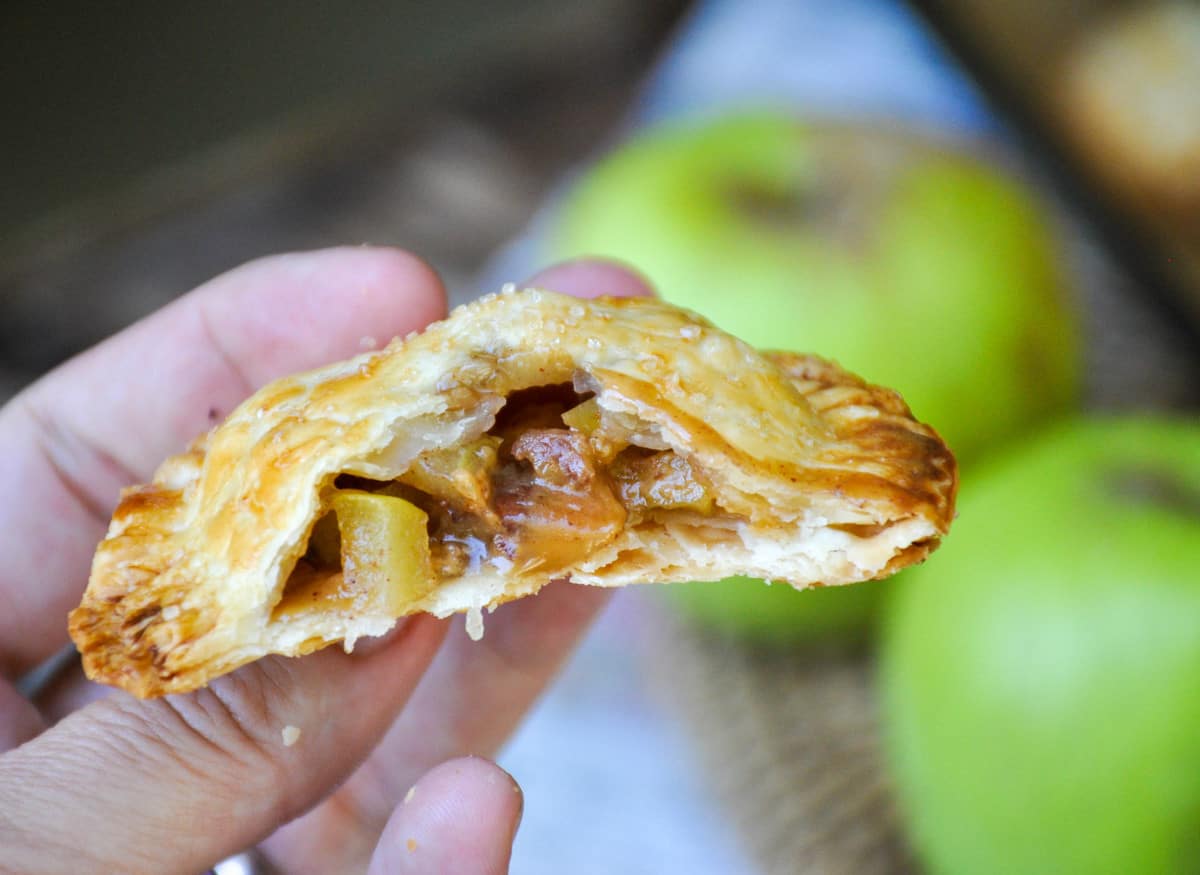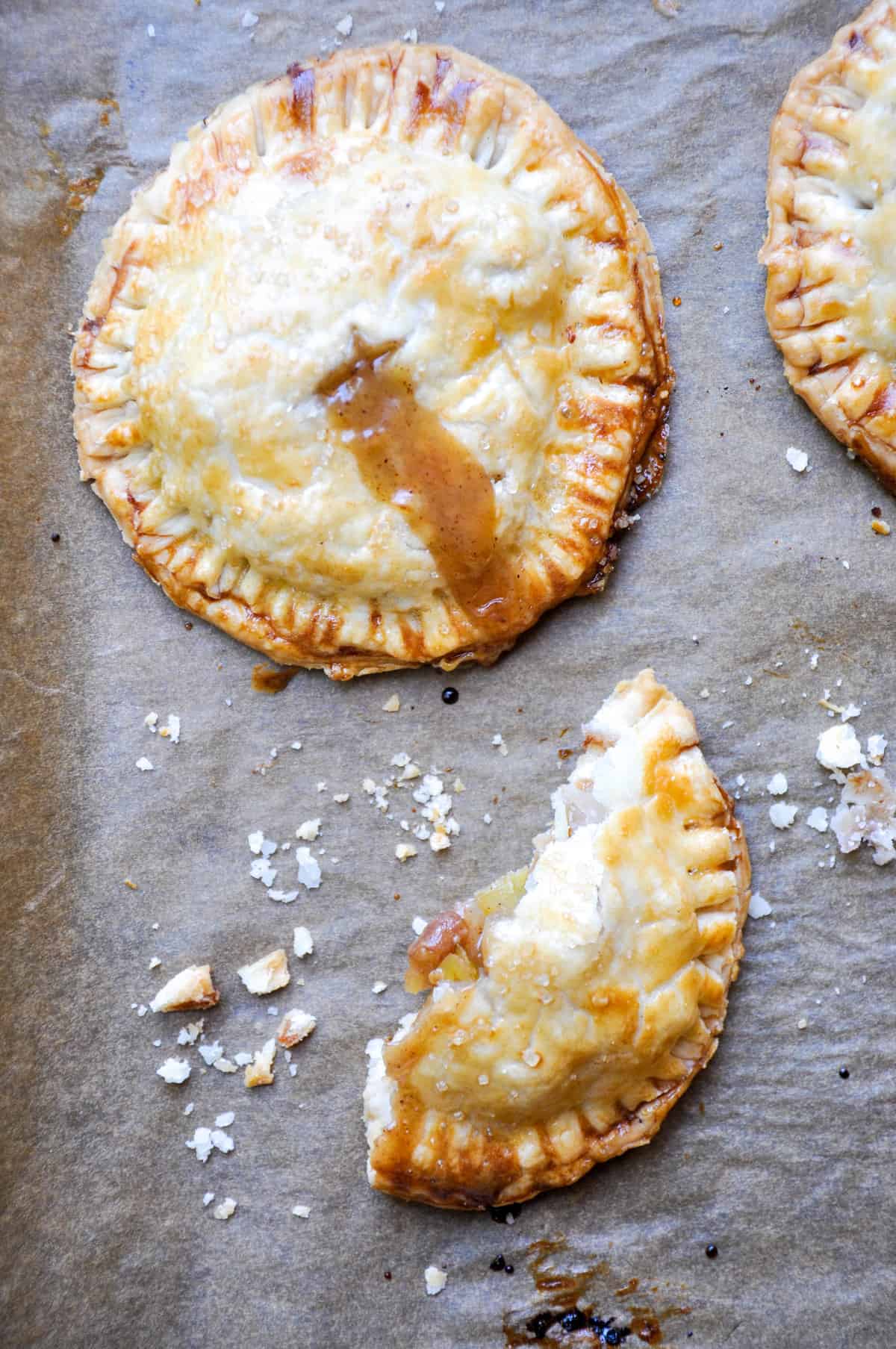 Break one open and enjoy!
Here is the recipe for ya…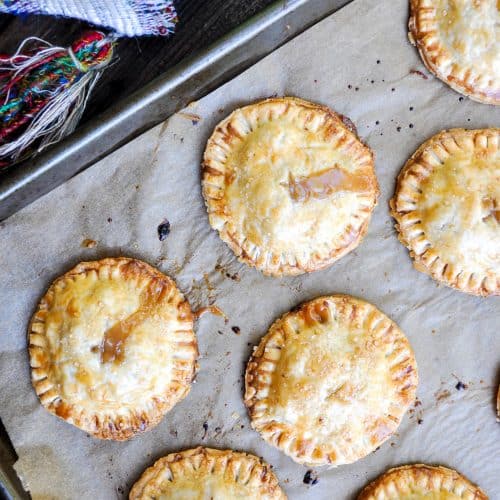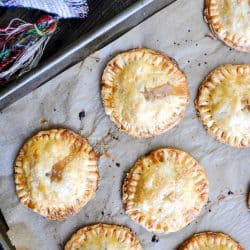 Caramel Apple Hand Pies
Flaky golden brown and deliciously sweet Caramel Apple Hand Pies are easy to make, and even easier to eat!
Ingredients
2 14 oz boxes refrigerated double crust pie dough
2 California Golden Delicious apples or Granny Smith, diced small
8 soft caramels cut into small cubes
1/4 cup sugar
1/2 tsp cinnamon
2 TBSP flour
1/4 cup chopped pecans
2 TBSP sanding sugar
2 eggs whisked. You can add a little water if needed to thin. (This is the egg wash)
Instructions
MAKE THE FILLING:
In a medium sized bowl, combine the apples, cinnamon, sugar and flour, and mix thoroughly. Then stir in the chopped pecans. Set the mixture aside.
ASSEMBLE THE HAND PIES:
Preheat the oven to 425ºF.

Remove the pie dough from the refrigerator and unfold it onto a well-floured surface.

Using a 3-inch circular cookie cutter or cup, cut out as many circles as possible. Re-roll the scraps and continue cutting out circles until you run out of dough, ensuring you end up with an even number of circles. (You should have approximately 32 3-inch circles, getting 8 from each pie dough round.)

Place six of the dough circles on a Silpat or parchment paper-lined cookie sheet. Spoon a small portion of the apple filling into the center of each circle, leaving a border around the filling. Top the apple filling with a some of the chopped caramels. Place a second dough circle atop each filled circle then use a fork to crimp the edges together, sealing each pie.

Brush each pie with the egg wash, and cut two vent lines or a small X on the top of each pie. Sprinkle the pies with the sanding sugar.
BAKE THE HAND PIES:
Bake the pies for about 15 minutes, or until they're golden brown.

Remove the pies from the oven and allow them to rest for at least 10 minutes before serving. Repeat the filling and baking process until all the hand pies are cooked.
Notes
Serve warm or room temperature.
Can be kept in an airtight container at room temperature for up to 5 days.
Adapted from a recipe by Just a Taste
Nutrition
Calories: 293kcalCarbohydrates: 35gProtein: 4gFat: 15gSaturated Fat: 4gPolyunsaturated Fat: 2gMonounsaturated Fat: 7gTrans Fat: 1gCholesterol: 21mgSodium: 223mgPotassium: 99mgFiber: 2gSugar: 9gVitamin A: 46IUVitamin C: 1mgCalcium: 23mgIron: 2mg
Love apple recipes? We do too! Check out G-Free Foodie's French Apple Cake, Cheryl's Apple Pistachio Crisp + these Fried Apple Rings!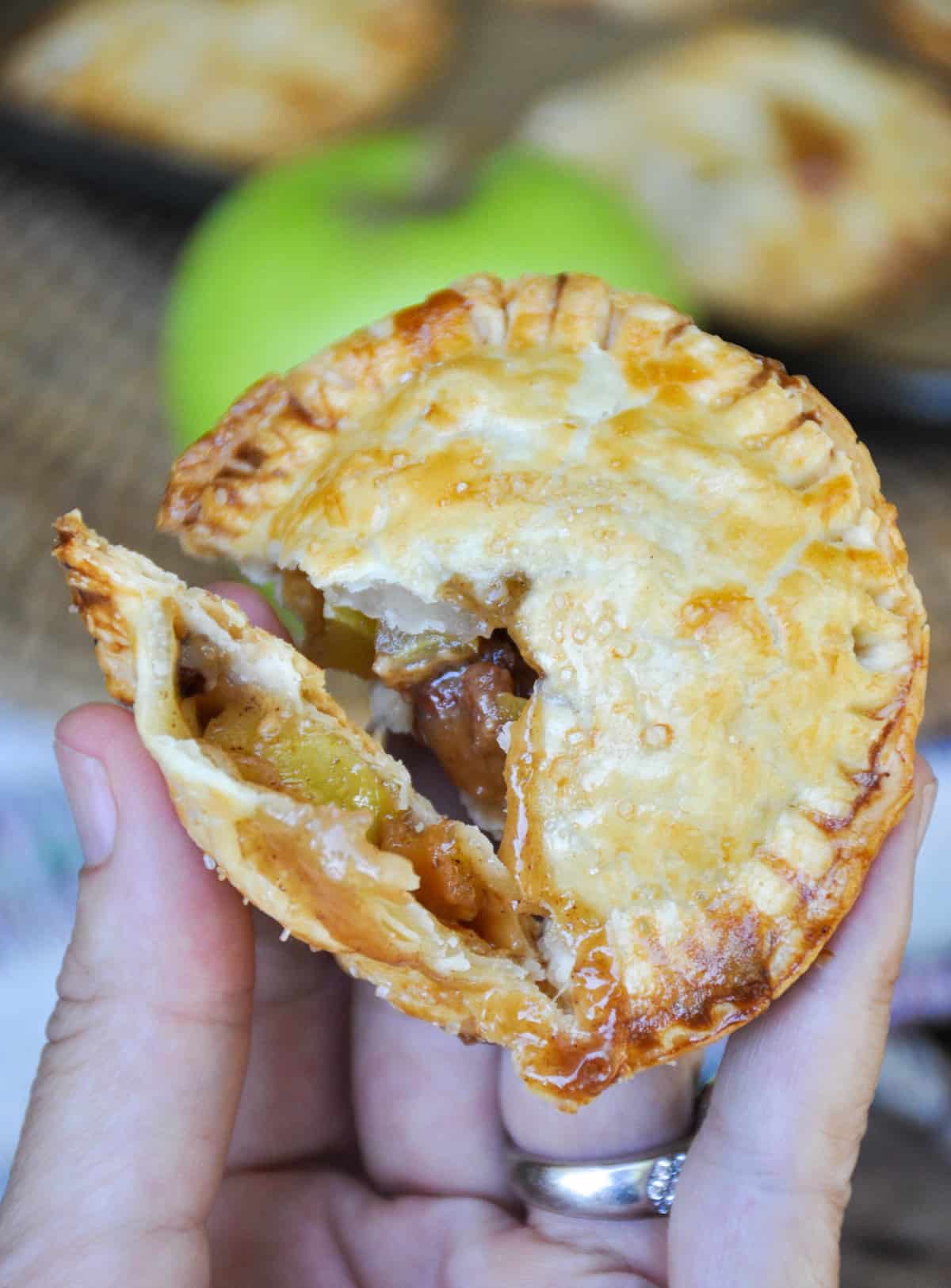 SaveSaveSaveSave