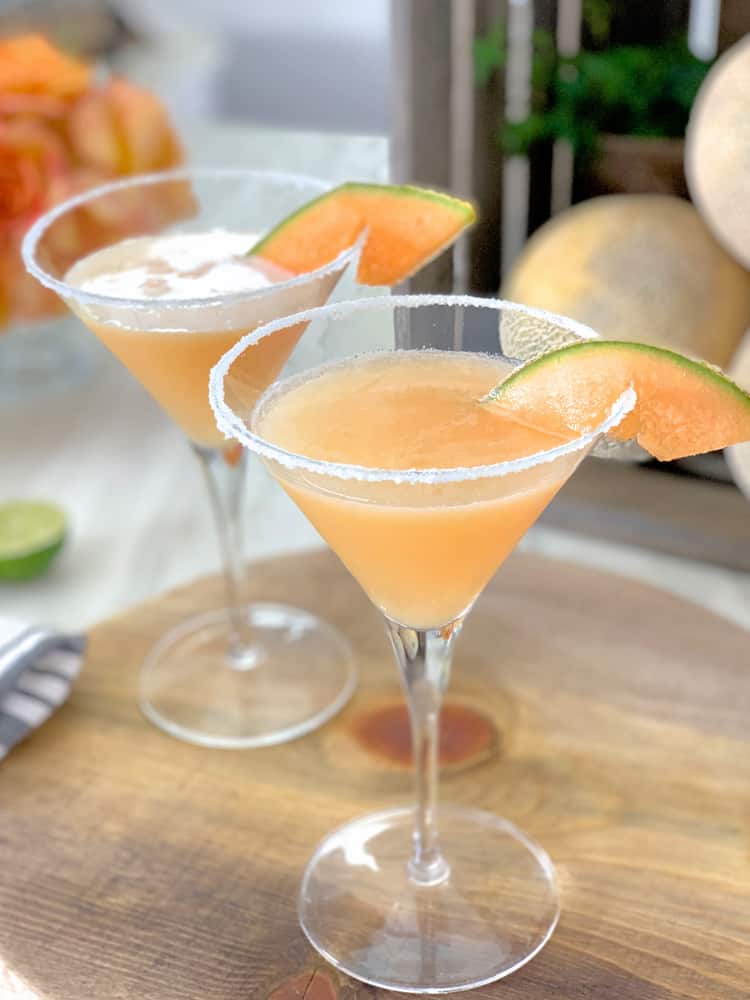 CA GROWN Blog
Discover. Learn. Connect.
Cantaloupe Grapefruit Vodka Martini with Cantaloupe Infused Vodka
July 10, 2019
Eat the Season!
Sign Up For Weekly Recipes
« Back to Recipes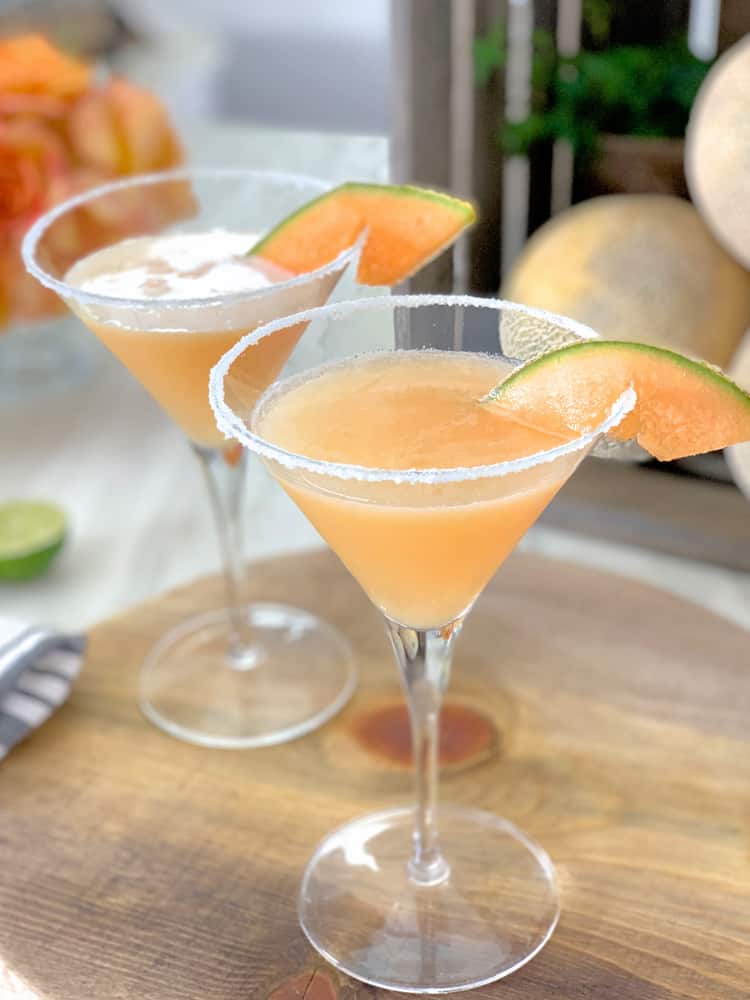 Cantaloupe Grapefruit Vodka Martini with Cantaloupe Infused Vodka
Here's an easy step-by-step guide to make your own infused vodka with cantaloupe. Plus, a recipe for crisp, tart and sweet Cantaloupe Grapefruit Martini made with the cantaloupe-infused vodka and fresh fruit. Yum!
Jump to Recipe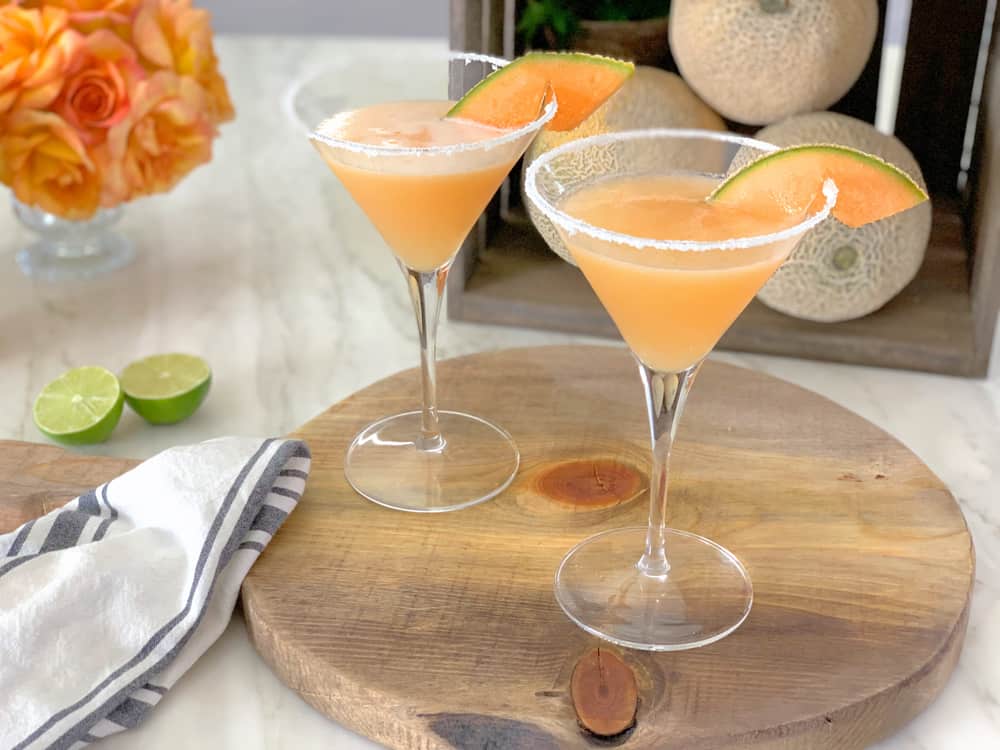 Updated March 2022 with a new recipe card
Oh summer, its sweet and bright flavors everywhere I turn, bring a true vine-ripened melon that can only mean summer sunshine. Tasting a ripe melon is an immediate transport back in time to a barefoot, carefree childhood with a slice of cantaloupe in hand and the warm juices dripping off my chin. Nowadays, I rather enjoy a martini in hand, so what better way to celebrate the sunshine than to combine these favorites into a crisp, cool cantaloupe martini! For today's recipe, I've used a combination of cantaloupe puree, freshly squeezed grapefruit, and a cantaloupe-infused vodka for maximum flavor! You will want to prepare your vodka at least 24 hours in advance (if not a few days) for a great flavor infusion.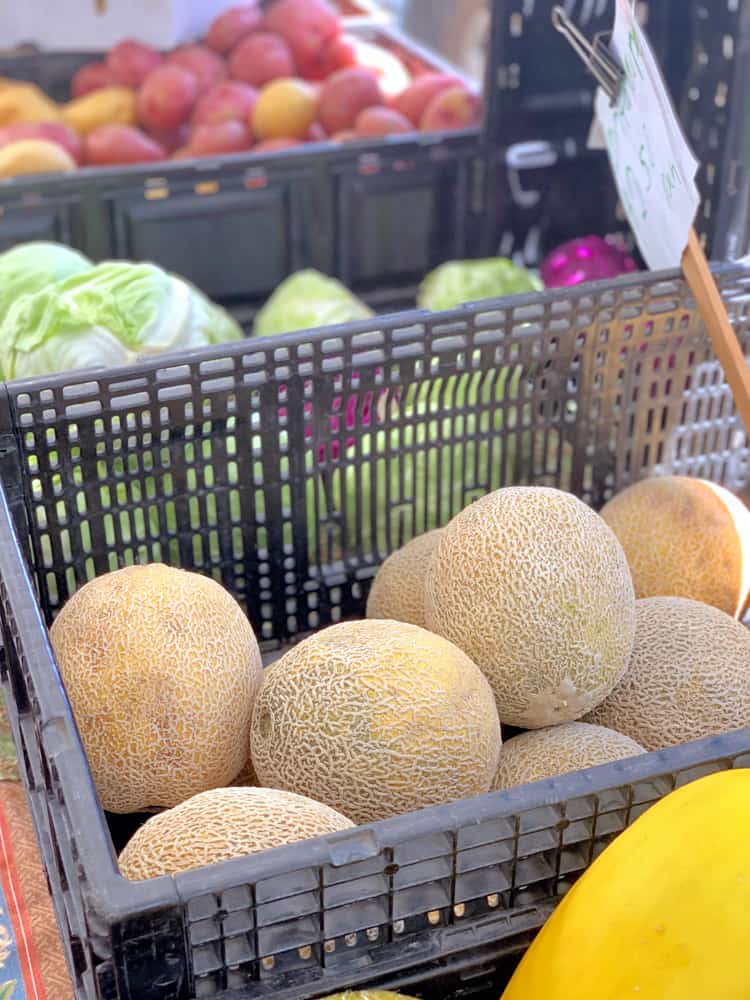 Hitting up the local farmer's market yields the ripest options for freshly grown California cantaloupe. Check the stems for a little give and take a sniff at the stem base to determine ripeness. If that little button is just slightly soft and you can smell your cantaloupe right through the thick skin, you've found a melon that should be full of sweet, ripe flavor.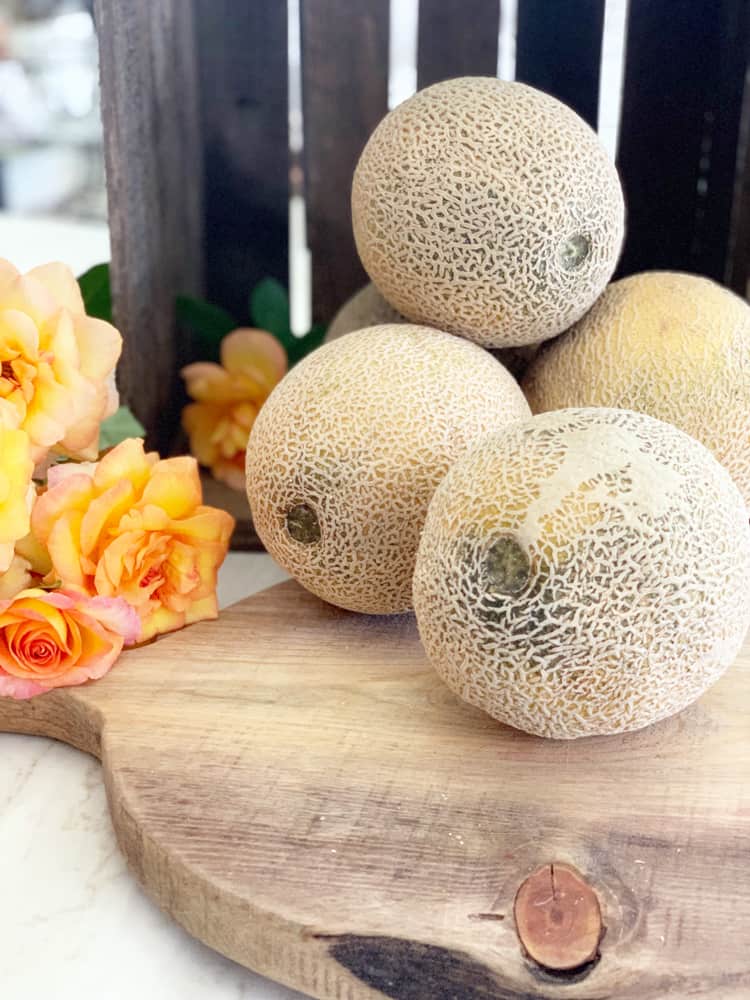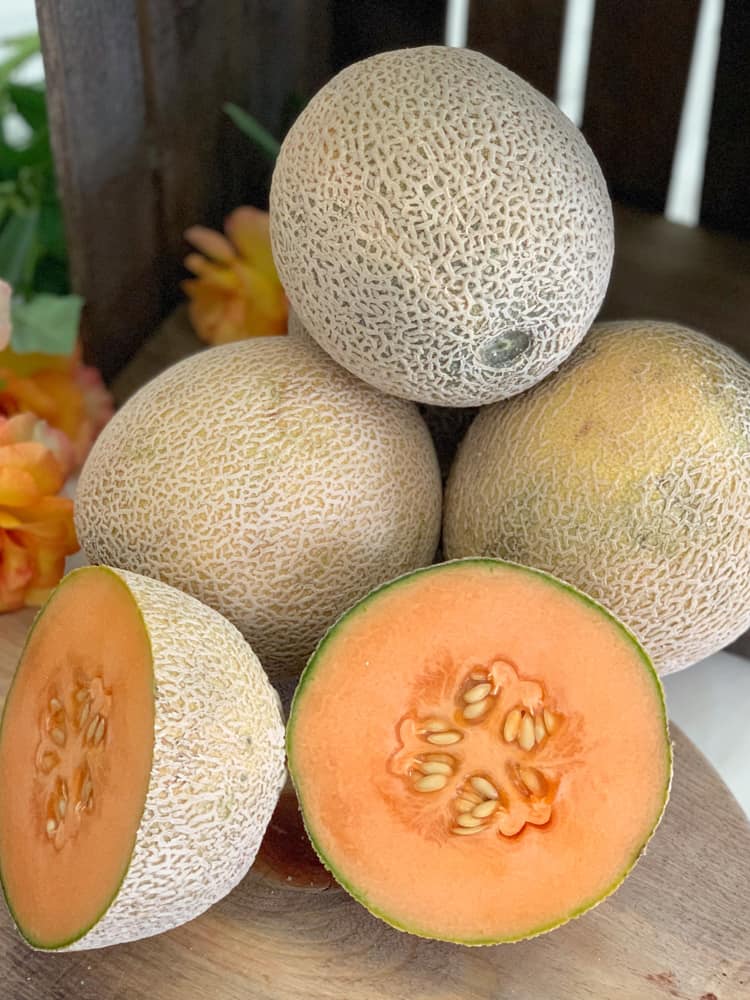 When you cut into a vine-ripened cantaloupe, the flesh will be a beautiful, deep apricot color. Mmmmm.
Let's prep the Cantaloupes for the infused vodka: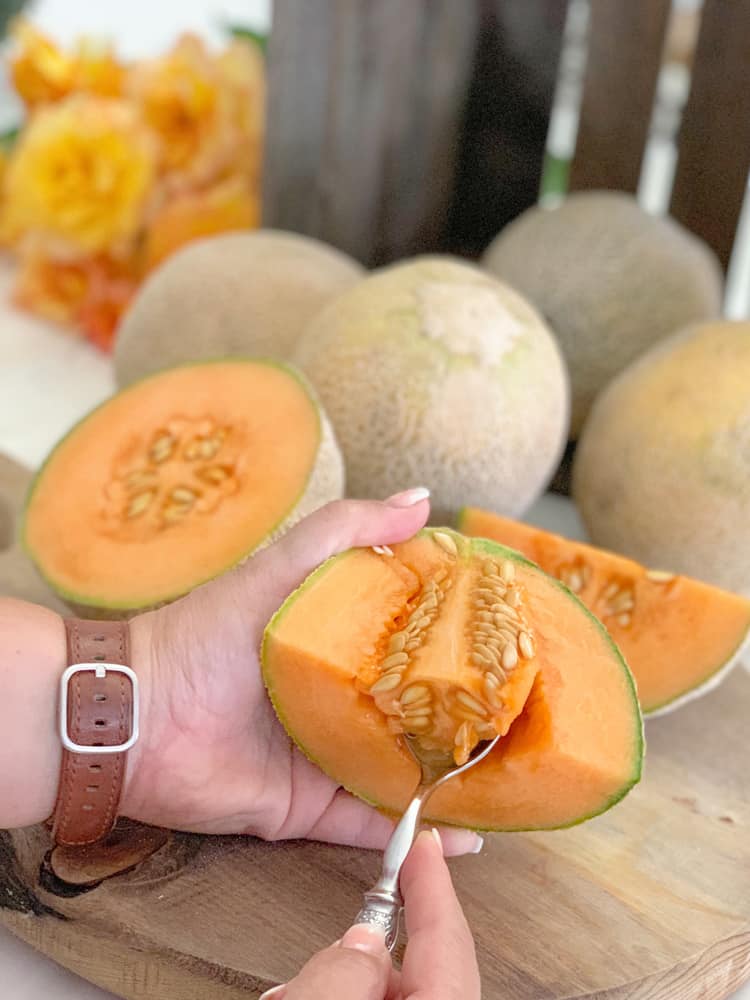 Slice your cantaloupe in half (or even fourths) and scoop out the seedy center of the melon (discard or toss into compost pile!)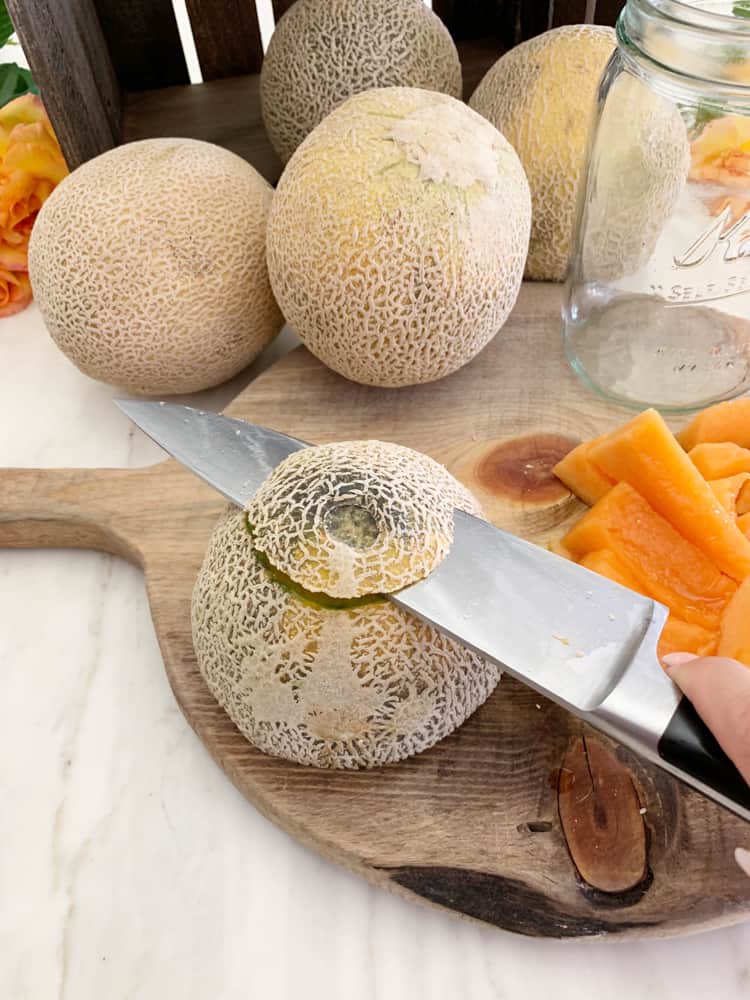 I've found the easiest way to cut up a cantaloupe is by laying the cut half face down. Slice the stem cap off.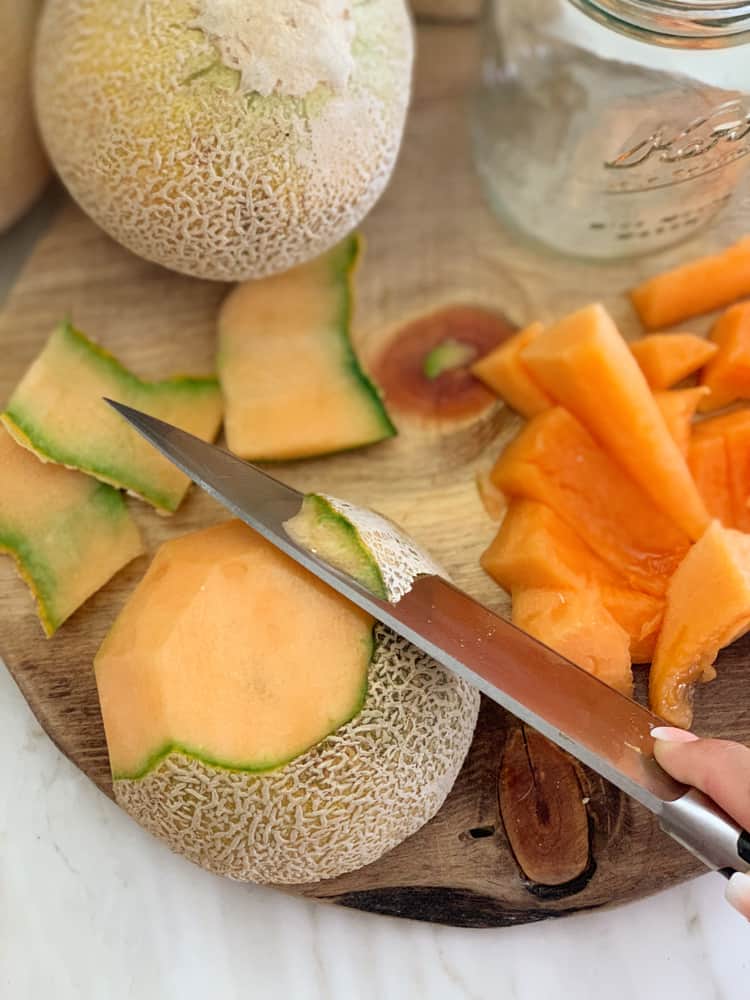 Then, slice at a curve down around all sides of the melon to remove the skin. Be sure to get all of the green off, but leave behind as much of the flesh as possible.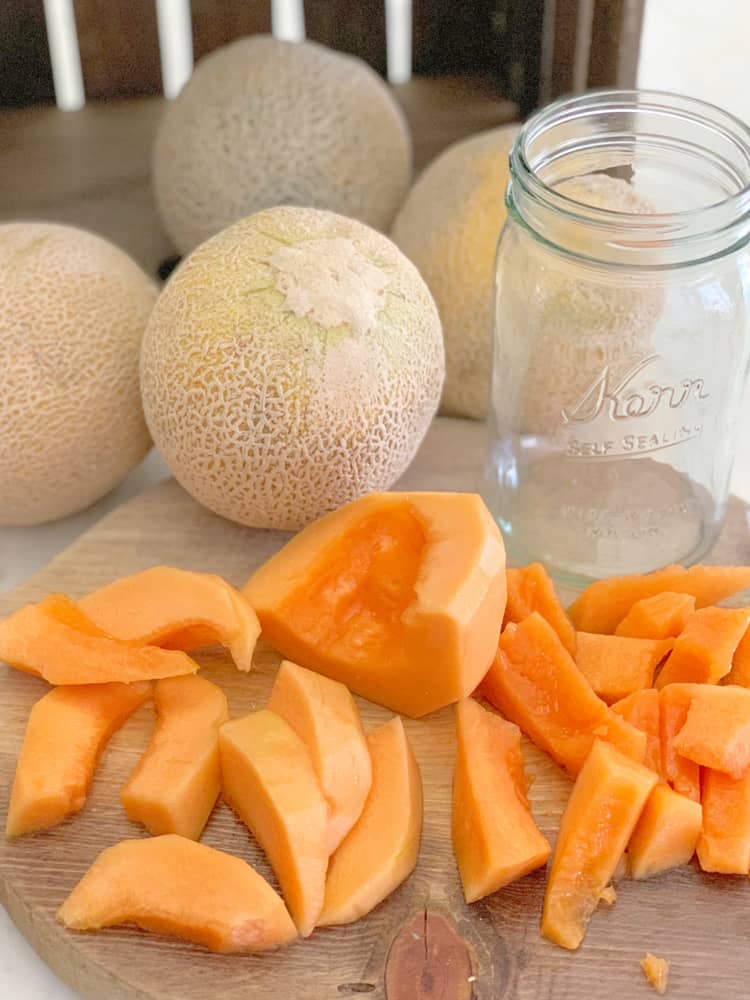 Once your melon is skinned, cut into chunks. Tip: this is also the quickest and safest way to cut any melon into pieces. Ever tried to finagle a huge watermelon? Get it stable by slicing in half and laying it face down on the cutting board to steady it, just like we did with the cantaloupe. Okay – We're going to make our infused vodka now!
Let's make infused vodka!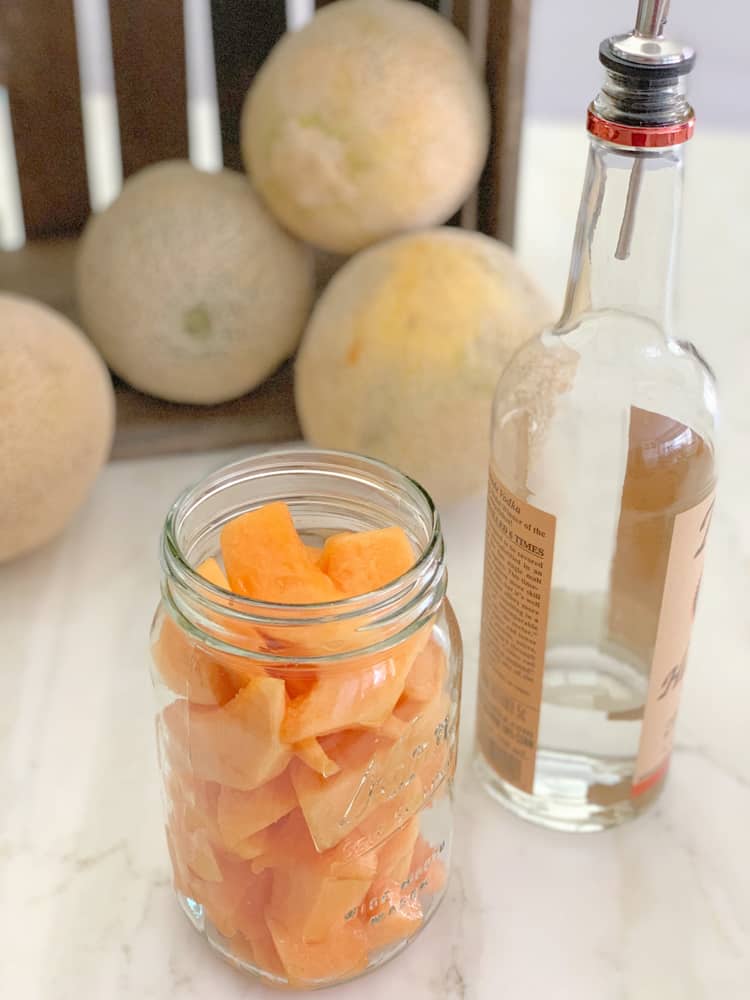 Stack cantaloupe chunks in a quart-sized mason jar or other sealable, glass jar.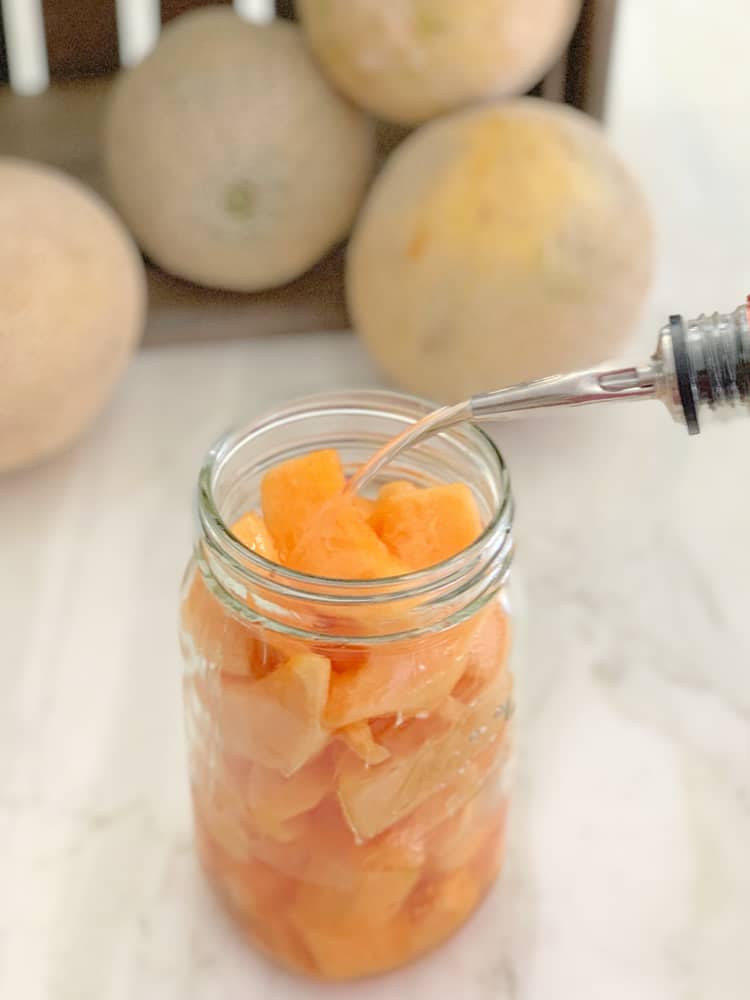 Pour in a high-quality vodka to immerse the cantaloupe.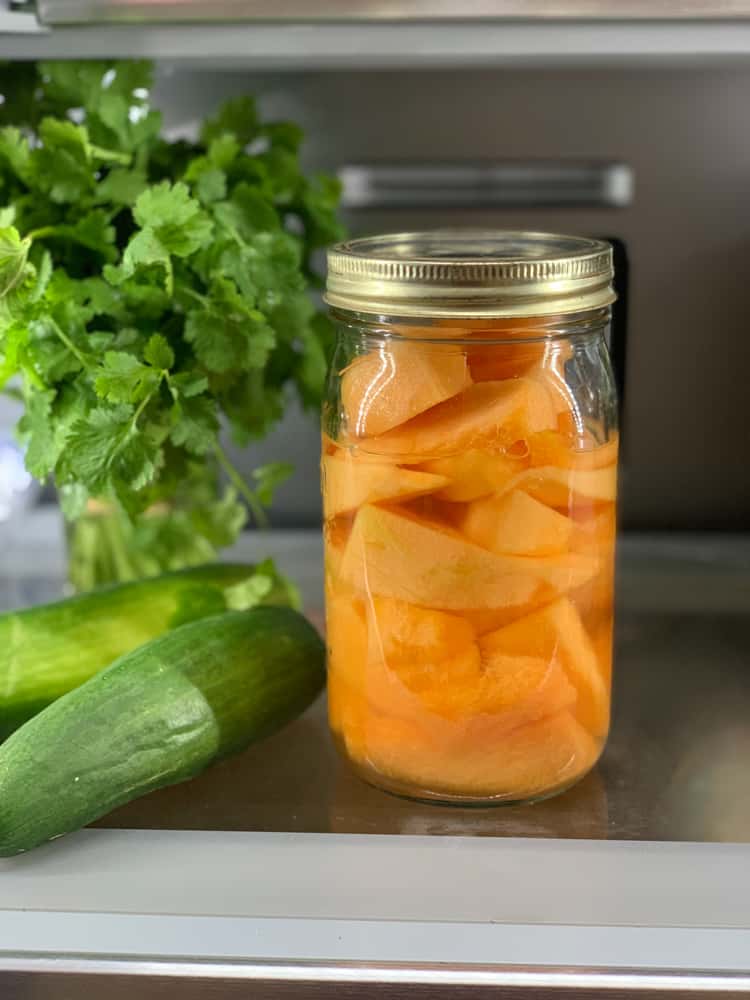 Infuse the cantaloupe vodka in the refrigerator for a minimum of 24 hours. The longer the vodka infuses, the more cantaloupe flavor it will take on. After 5 days, pour the vodka off the fruit and store sealed in the refrigerator for up to 2 weeks.
Let's make Cantaloupe Grapefruit Martinis with our Infused Vodka!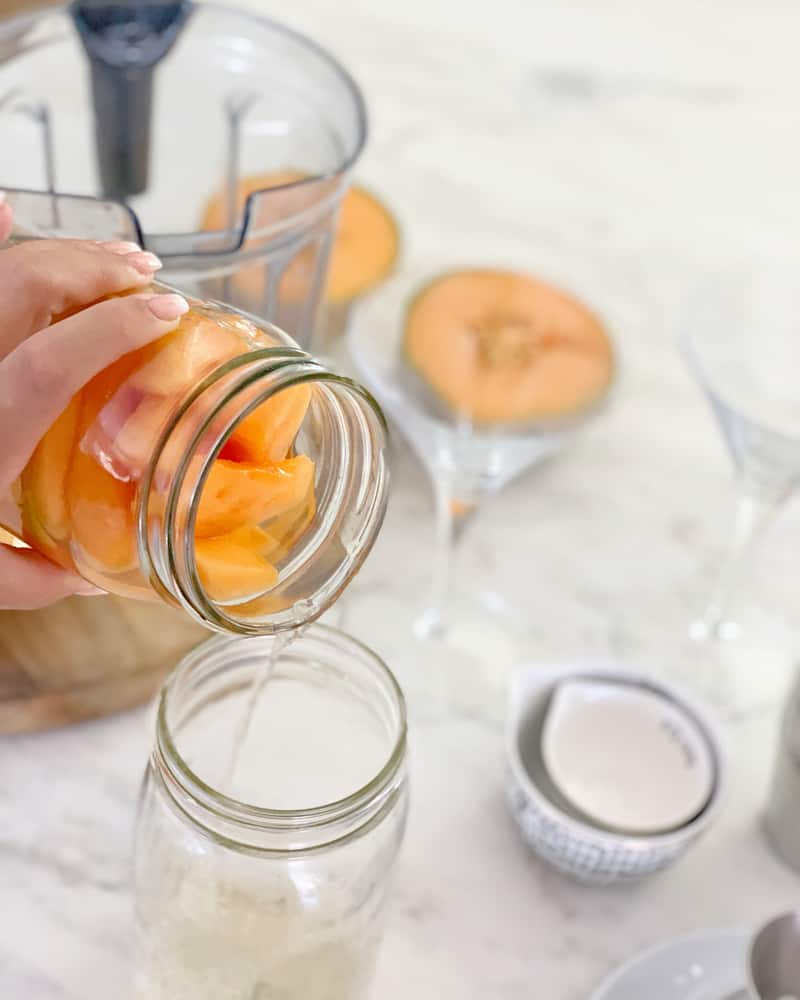 Alright – MARTINI DAY! After your cantaloupe-vodka infusion has set for a day or three…we can make this very crisp, summer drink. First off, drain the infused vodka into a separate container and set aside.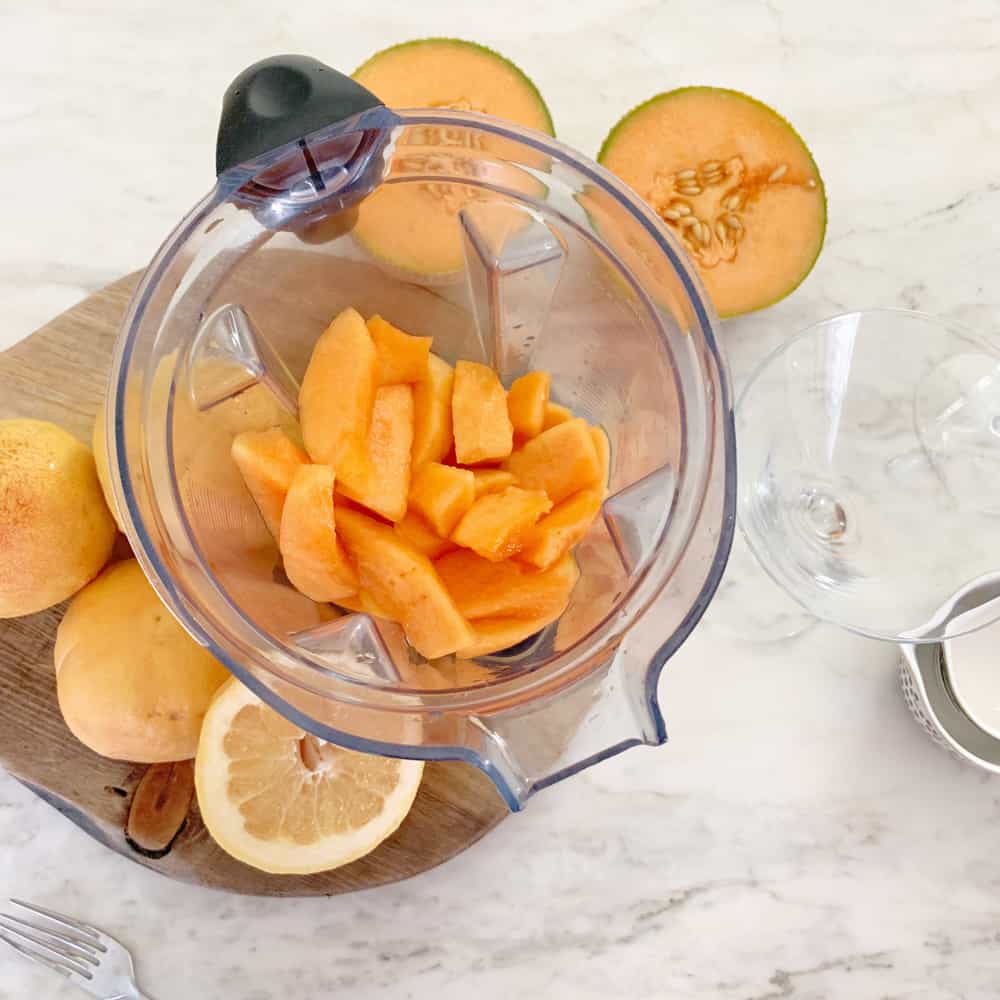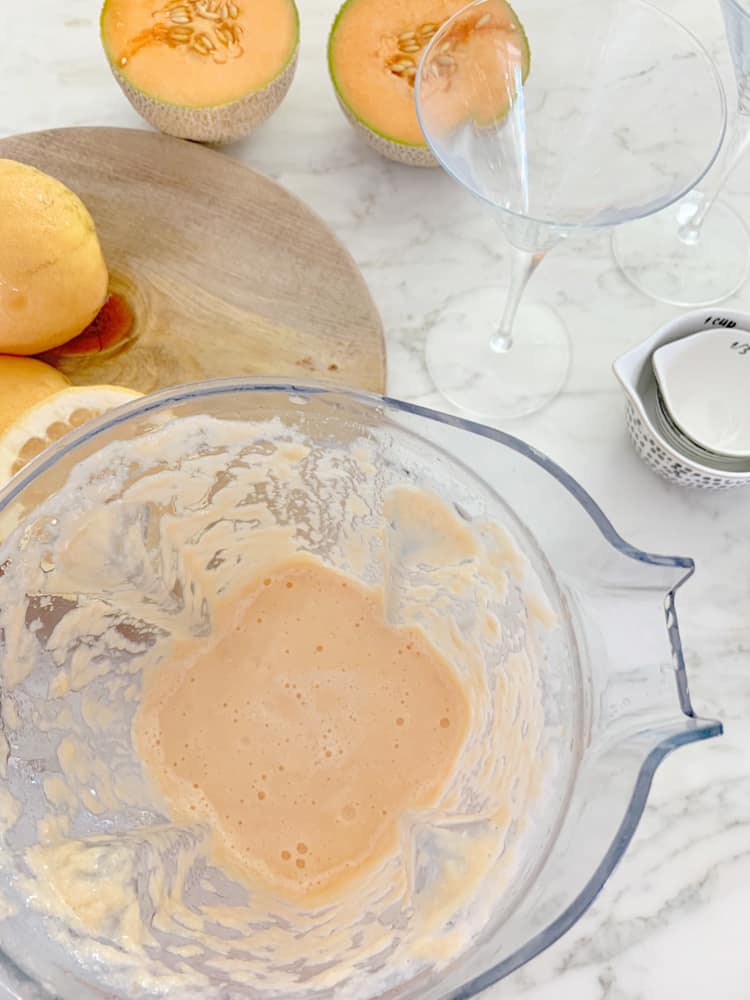 Transfer the cantaloupe to a blender or food processor. We're going to use some cantaloupe puree in the martini – this cantaloupe that was infusing flavor into the vodka has likewise been infused with the flavor of vodka – hahaha – so if you prefer to use some fresh cantaloupe puree – go for it! Pulse the cantaloupe until a puree has formed – it will be a little foamy – that's okay.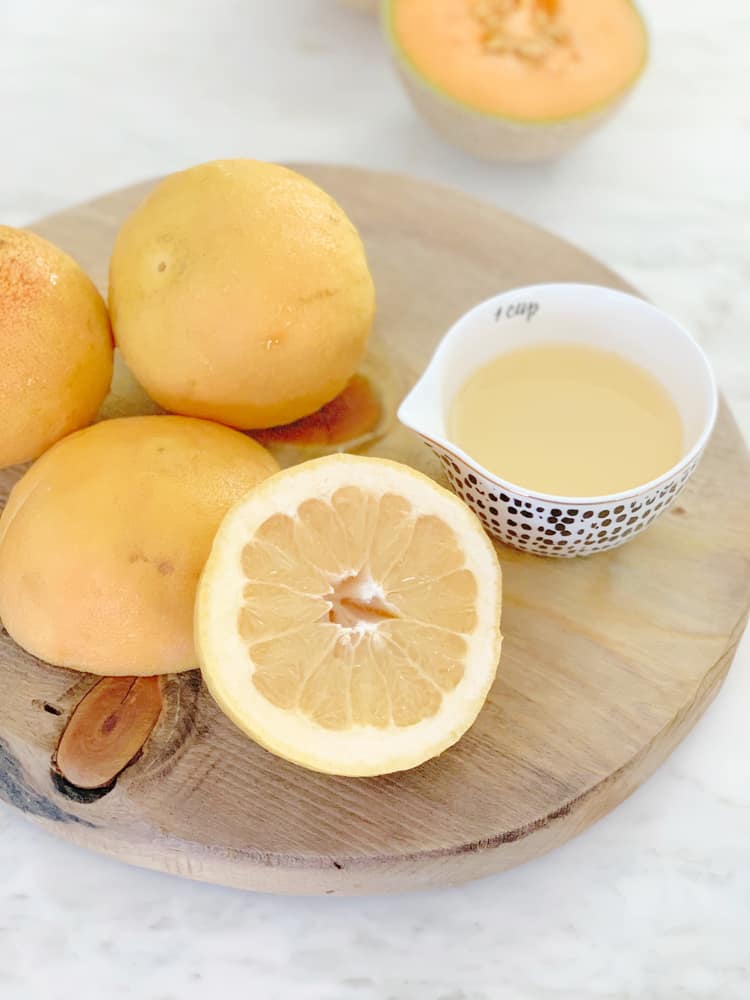 Let's also squeeze some fresh grapefruit juice. Although it's not grapefruit season, per se, I've found that there are typically a few neighbors with trees that have plenty of ripe grapefruits year-round. Any variety will work with this recipe, so don't fret if you find a sweet grapefruit or a more tart variety. Squeeze a couple grapefruits and strain seeds and pulp.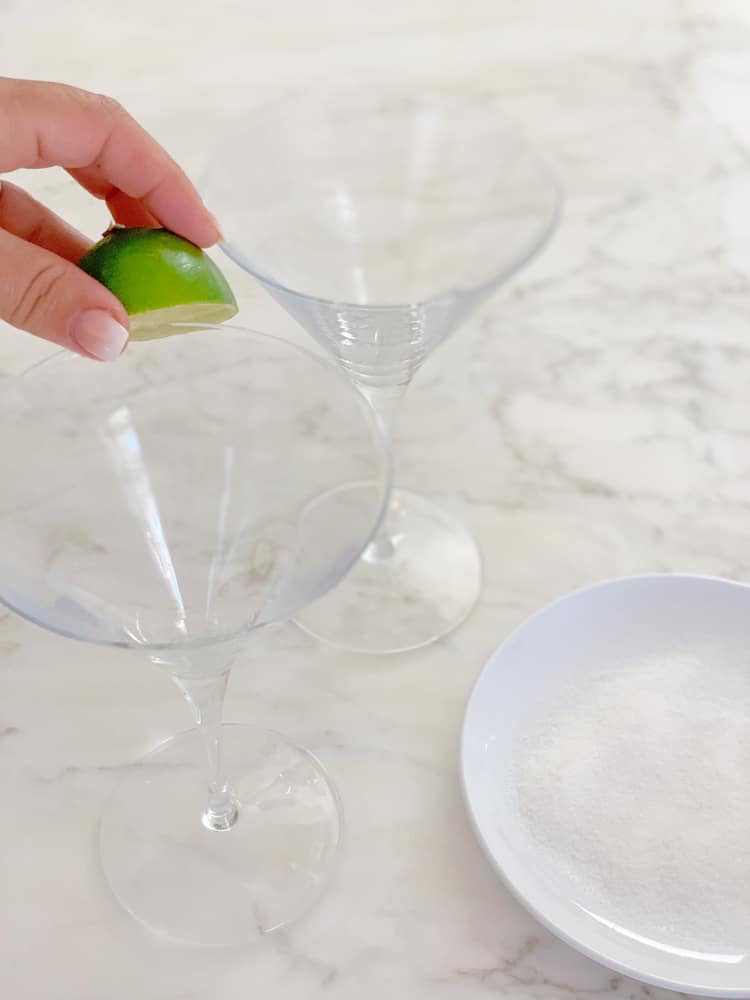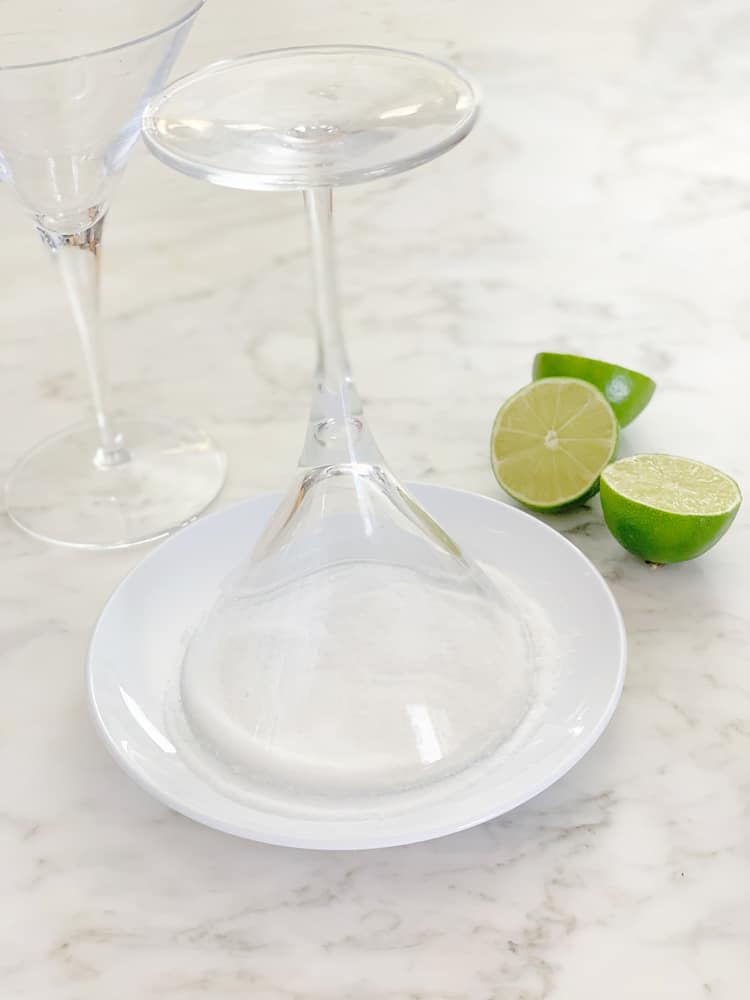 Prepare two martini glasses by swiping a cut lime around the rim and dipping into a plate with granulated sugar. I sure love a sugared rim and it's the perfect bridge between the sweet cantaloupe and tart grapefruit in this martini.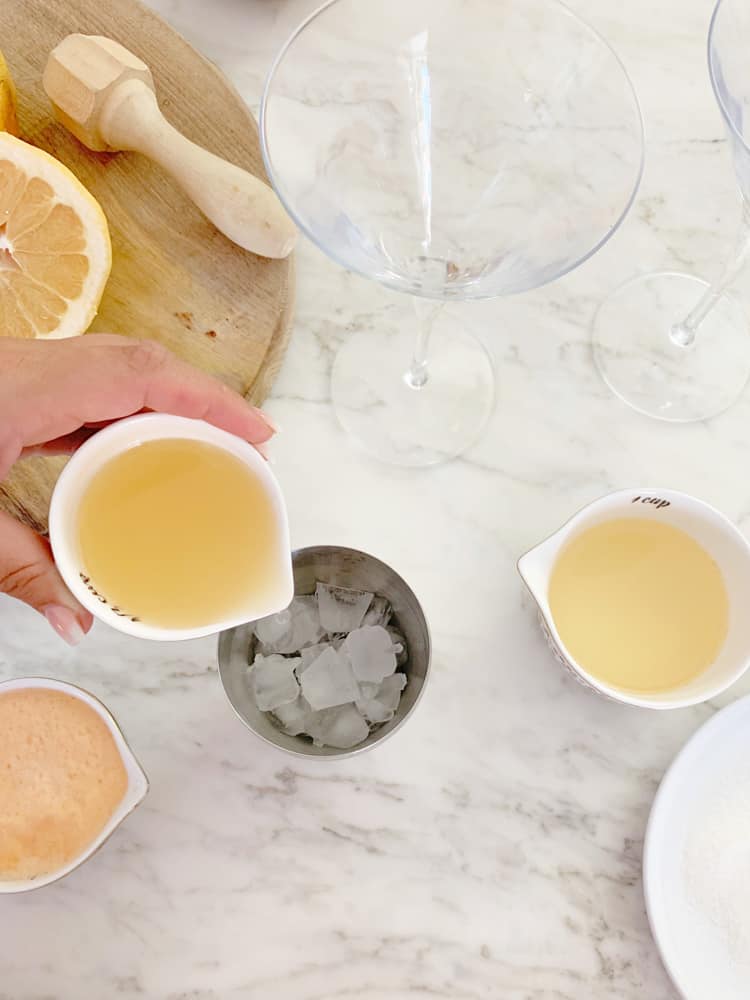 Now, place about a half cup of ice in your martini shaker. Add grapefruit juice and cantaloupe puree. Adjust the amounts to your taste, but you can find my suggested measurements in the recipe card at the bottom of the post.
Add your cantaloupe-infused vodka!
Give it a good shake, mixing all the ingredients and getting your liquid nice and icy cold.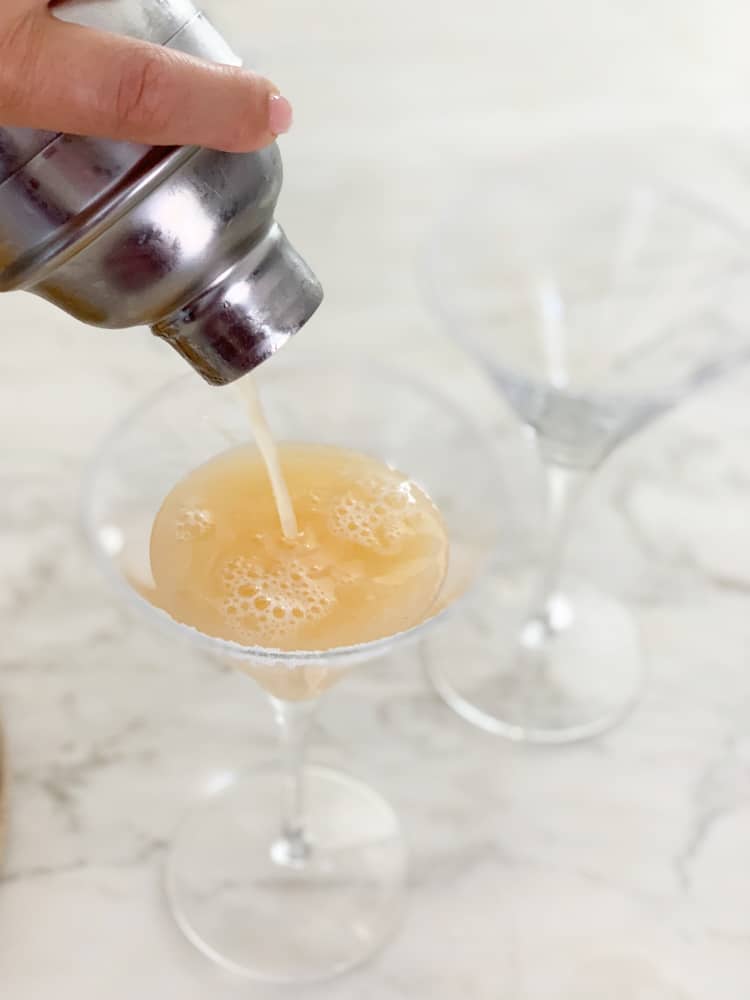 Pour into your prepared martini glasses.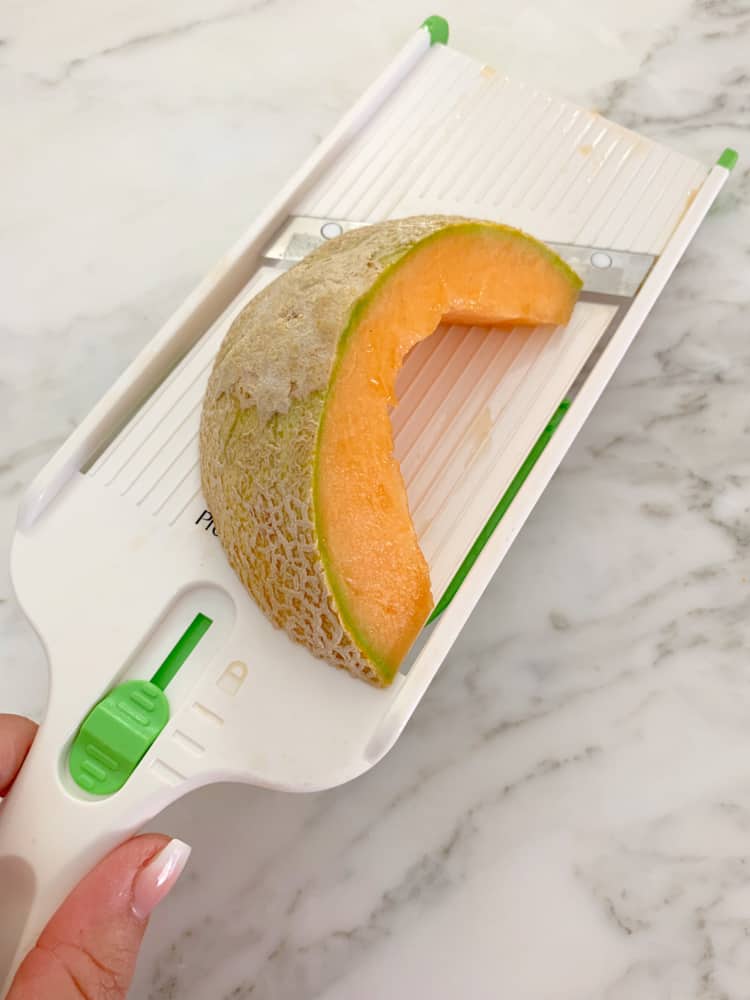 If desired, use a mandolin to slice some very thin cantaloupe slices for garnish – I think they make them look so cute!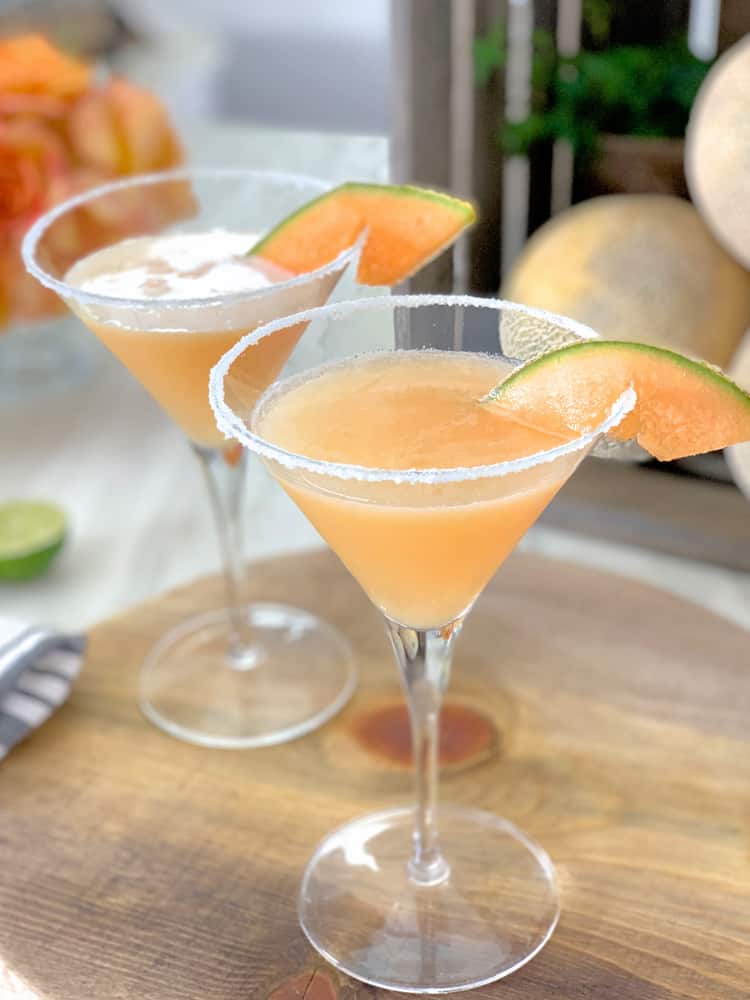 And…….serve! Cheers to the summer!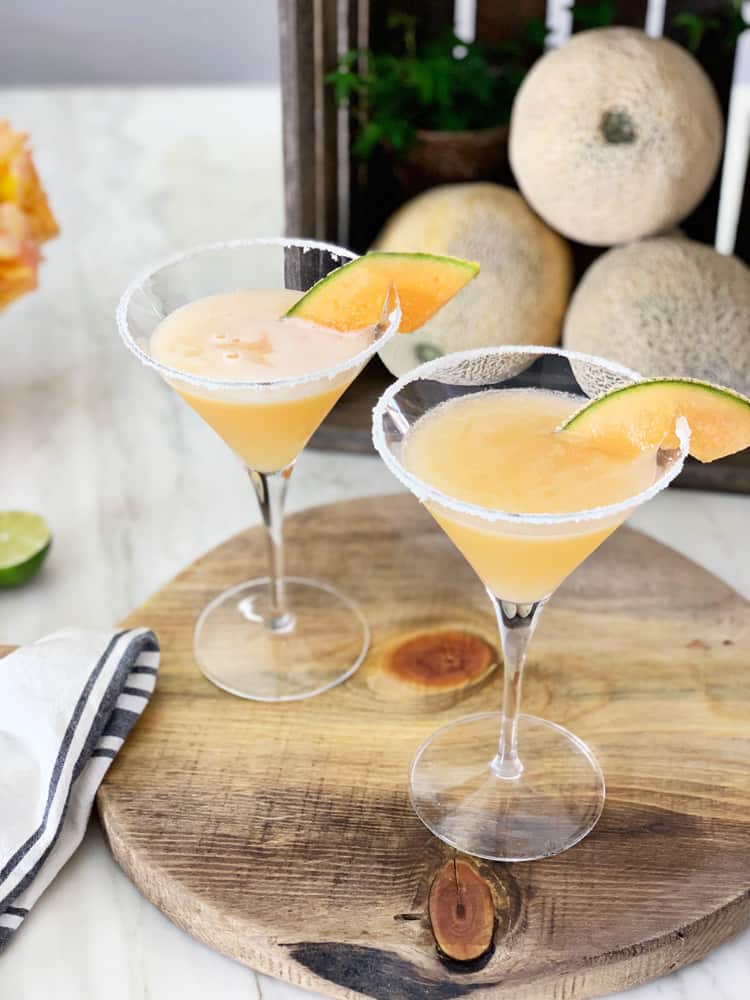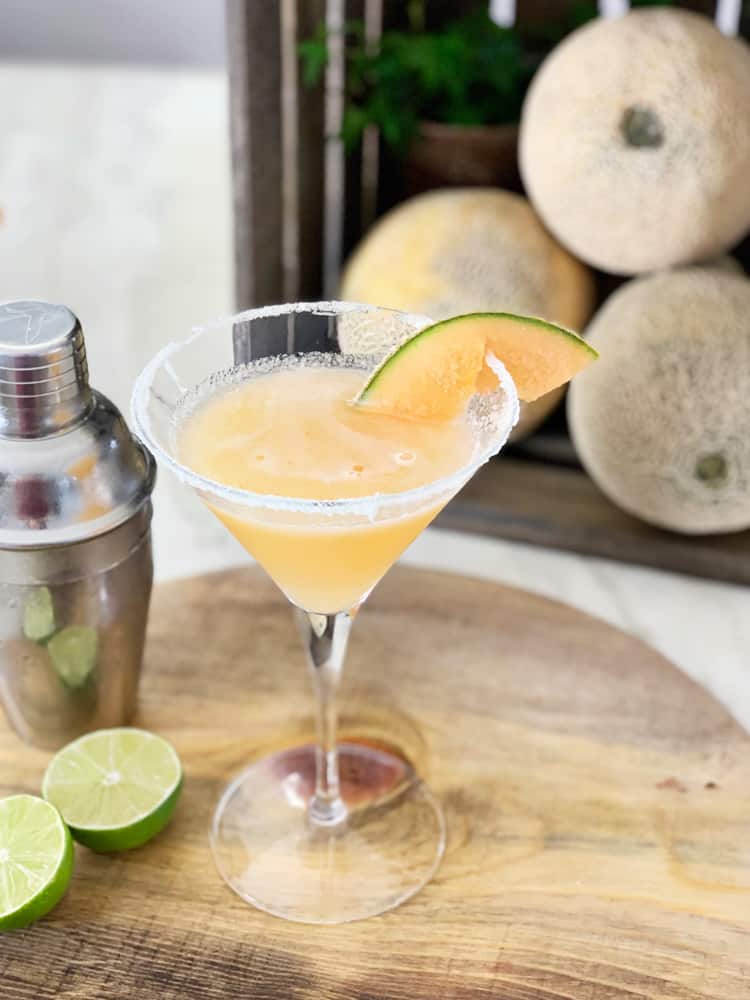 Cantaloupe Grapefruit Martini with Cantaloupe Infused Vodka
A crisp blend of tart and sweetness in this grapefruit, cantaloupe martini, with cantaloupe-infused vodka and fresh fruit.
Servings 2 cocktails
Calories 590kcal
Ingredients
2 cantaloupes
2-3 cups good quality vodka
2-3 grapefruits juiced
1/2 cup ice
lime and granulated sugar for garnish
Instructions
to make Cantaloupe Infused Vodka
Peel and slice 1 cantaloupe into pieces.

Stuff cantaloupe pieces into a quart-size mason jar.

Cover cantaloupe with vodka.

Seal jar and refrigerate for at least 24 hours.

Drain infused vodka into a separate container.
to make the Cantaloupe Grapefruit Martini
Place cantaloupe from infusion jar into food processor.

Puree cantaloupe (or use fresh cantaloupe).

In a martini shaker, add ice, 3 Tablespoons cantaloupe puree, 1/2 cup grapefruit juice, and 3 ounces of cantaloupe-infused vodka.

Shake well.

Prepare martini glasses with a sugar rim by running a fresh lime around the edge and dipping the glass into granulated sugar.

Pour shaken martini mixture into two martini glasses.

Serve immediately.
Notes
Infuse the Cantaloupe vodka in the refrigerator for a minimum of 24 hours. The longer the vodka infuses, the more cantaloupe flavor it will take on. After 5 days, pour the vodka off the fruit and store sealed in the refrigerator for up to 2 weeks.
Nutrition
Calories: 590kcal | Carbohydrates: 145g | Protein: 13g | Fat: 3g | Saturated Fat: 1g | Polyunsaturated Fat: 1g | Monounsaturated Fat: 1g | Sodium: 337mg | Potassium: 2424mg | Fiber: 17g | Sugar: 122g | Vitamin A: 43225IU | Vitamin C: 280mg | Calcium: 216mg | Iron: 5mg