Keeping track of hundreds of acres of California pears, apples, cherries and kiwi is a big responsibility, and one that Virginia greatly enjoys. But as a 6th generation farmer in a family business that dates back to 1850, her fulfillment comes from more than just her job: "I like the family legacy part of it," she says. "There's nothing like the sense of being a part of history."
Producing such a variety of foods finds Virginia working with a widely fluctuating staff — sometimes as small as 20 or as large as 400, depending on the season. Would it be simpler to focus solely on one type of produce? Maybe, but Virginia believes California's diverse population demands a wide range of food choices.
"California has a lot of people and a lot of produce. It should be a no-brainer to put the two together."
Her advice to California residents? Take advantage of living in the heart of one of the most diverse food producing regions of the world. "It's all here and it's fantastic!"
California currently has 56 pear growers throughout the state.
California ranks No. 1 in Bartlett pear production, generating 40 percent of the nation's Bartlett crop. It also produces 25 percent of all pears grown in the United States.
Pear growers' spending boosts the economy in a ripple effect that generates nearly 1,015 California jobs.
Pears contain a mix of both soluble and insoluble fiber, offering a total of 6 grams of fiber in just one medium-size pear. That makes pears one of the top food choices for fiber.
Bartlett pears were first brought to the United States in the early 1800s, and by 1849, Bartlett pear trees had arrived in California, brought west by prospectors eager to strike it rich in the Gold Rush.
Learn More >
California Bartlett Pear and Spinach Salad
Prep time: 15 minutes
Cook time: about 10 minutes total
Serves 6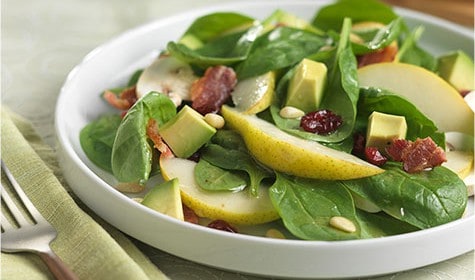 Ingredients
Salad
1 (10 ounce) package washed and ready-to-eat fresh spinach
2-3 large ripe, California Bartlett pears, cored, quartered and sliced
1 California Avocado, peeled and diced
3-4 strips bacon, cooked crisp and crumbled
1/2 cup pine nuts, toasted
1/2 cup dried cranberries
1/4 cup fresh sliced mushrooms, optional
Dressing
1/3 cup olive oil
2 tablespoons seasoned rice vinegar
1 clove garlic, crushed
1/4 teaspoon salt
1-2 teaspoons Dijon mustard, to taste
Preparation
Combine spinach, pears, avocado, bacon, pine nuts, cranberries and mushrooms in salad bowl. In a small bowl, whisk all dressing ingredients together and drizzle over salad. Toss before serving.