Jacobsen Orchards: This Urban Farm Works With Napa's Most Famous Chefs
In certain circles, Peter Jacobsen's urban farm is famous. If you're a Michelin-star chef looking for unique, premium produce, he's your go-to guy. Peter not only grows some of the most sought-after fruits, veggies and herbs in the state, he also inspires and collaborates with these super star chefs.
Peter is a culinary farmer, or a farmer that grows exclusively for restaurants. If you're lucky enough to chat with him, it's evident that he was meant to be a farmer. He clearly loves the job, and his enthusiasm is contagious. The funny thing is, farming was never on Peter's bingo card. In a previous life, Peter was a dentist in San Francisco.
How did the Jacobsens learn to farm?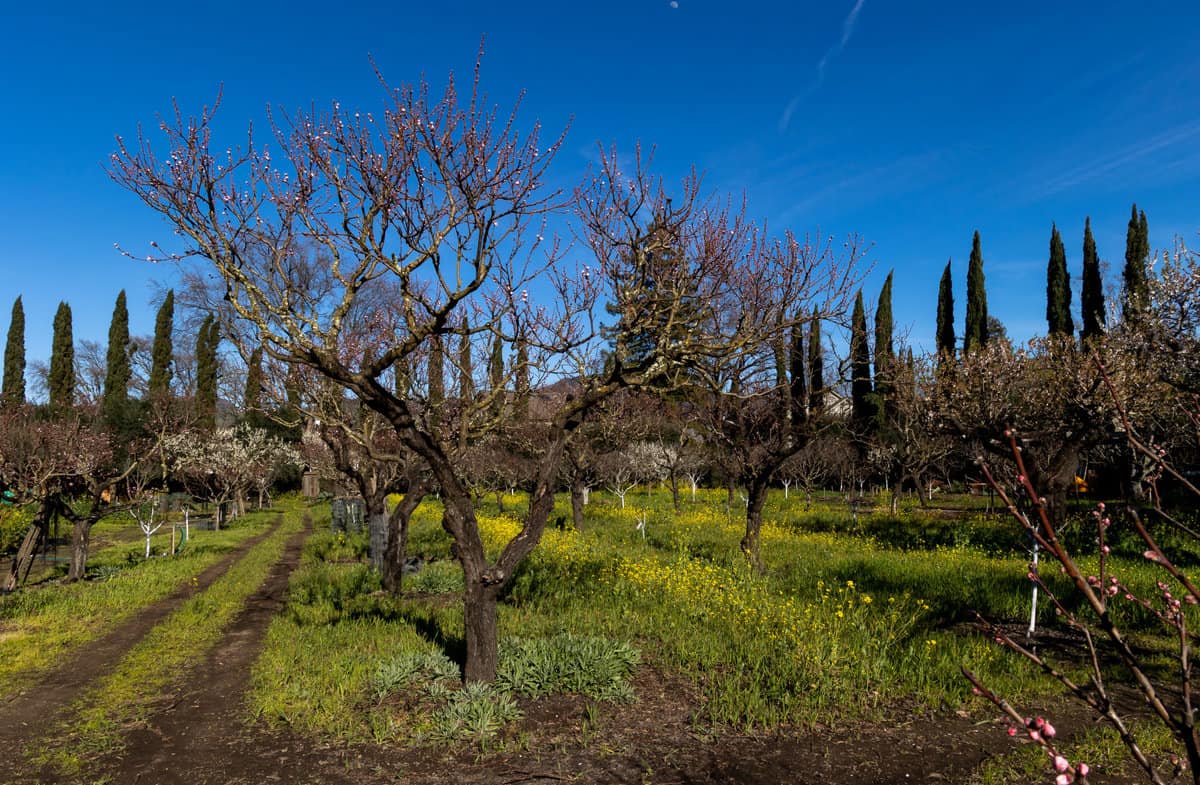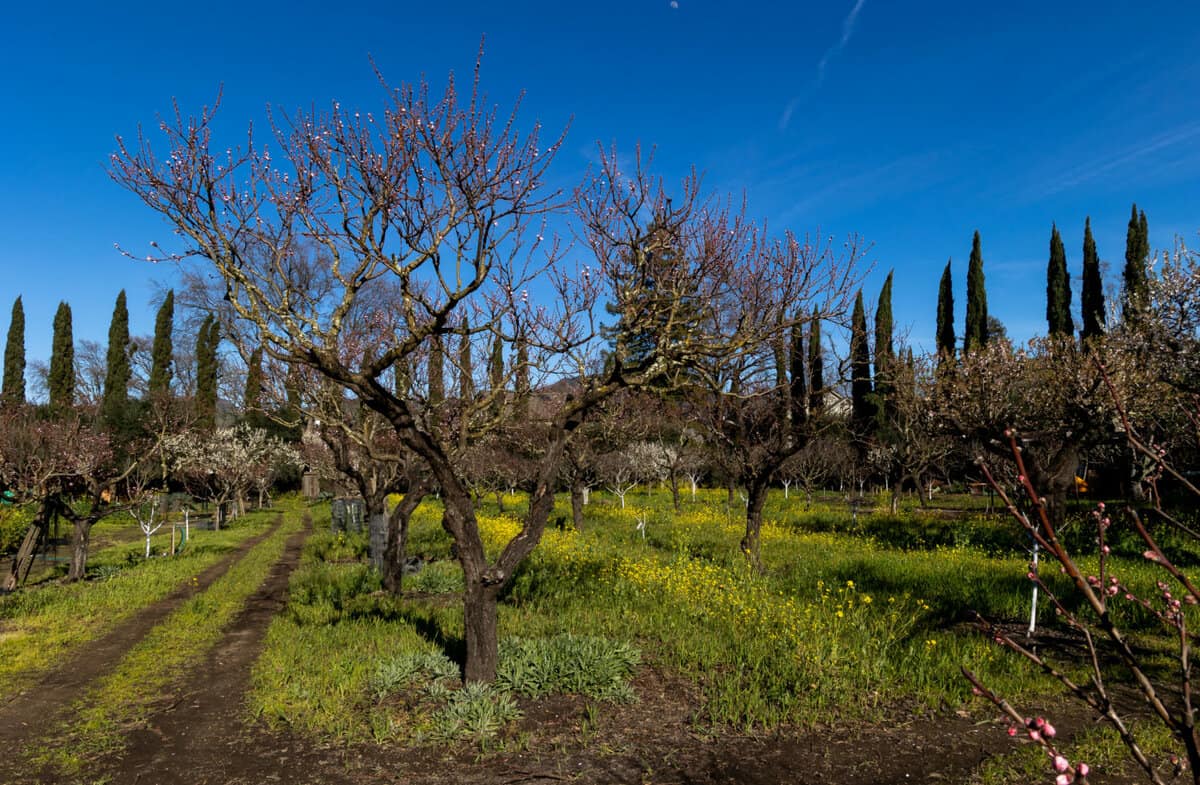 How does one transition from a career as a big city dentist to running an urban farm? It all started when Peter and his wife Gwen bought a vacation home in Yountville back in the 80s. The charming, wood clad house situated on an acre of farmland was surrounded by 128 fruit trees. Peter was still working full time as a dentist, so the couple would slip away to Yountville for weekends.
The Jacobsens didn't have any experience with farming. "My only qualification to be a farmer at that time is that I had no fear of dirt," Peter laughs.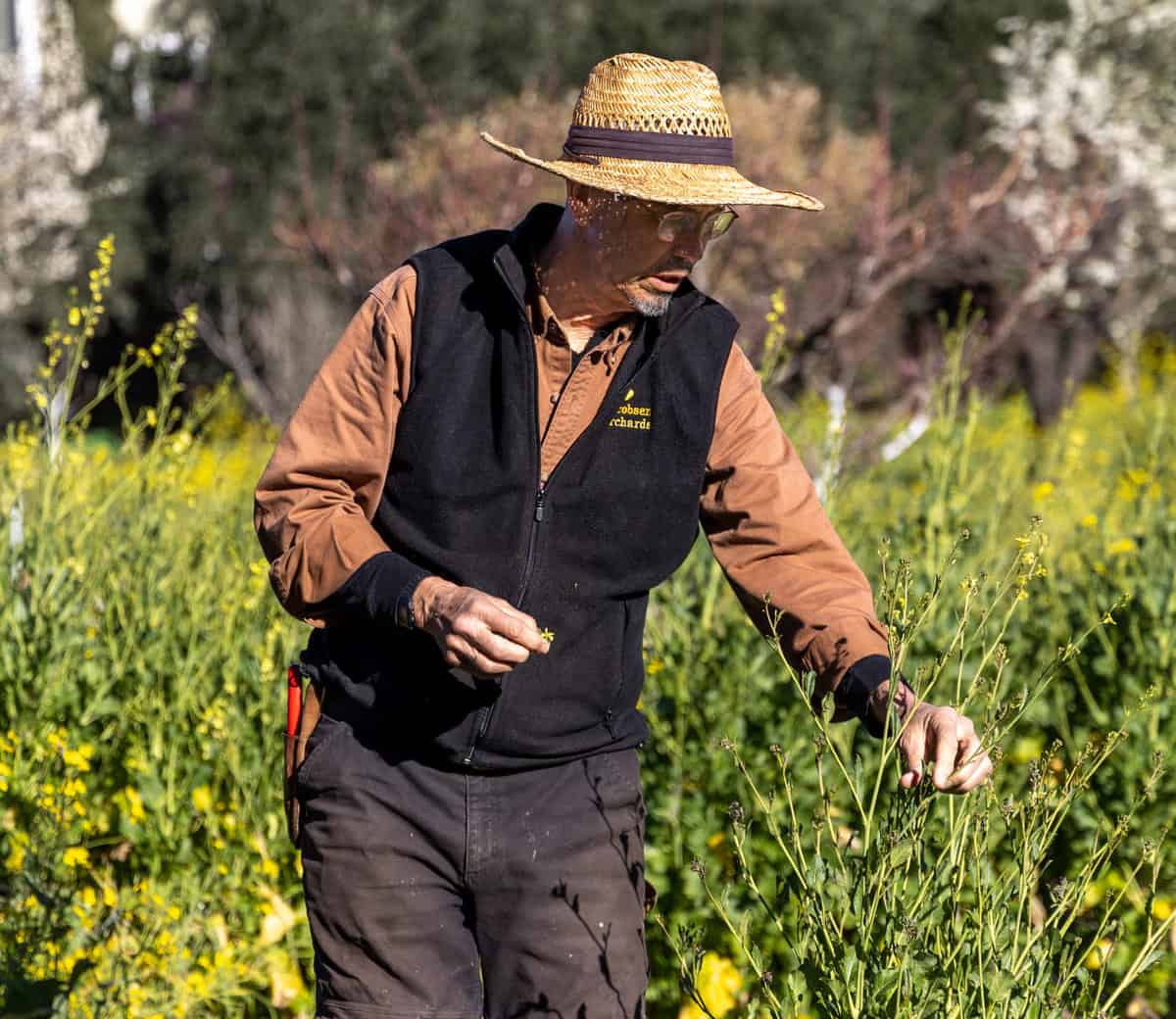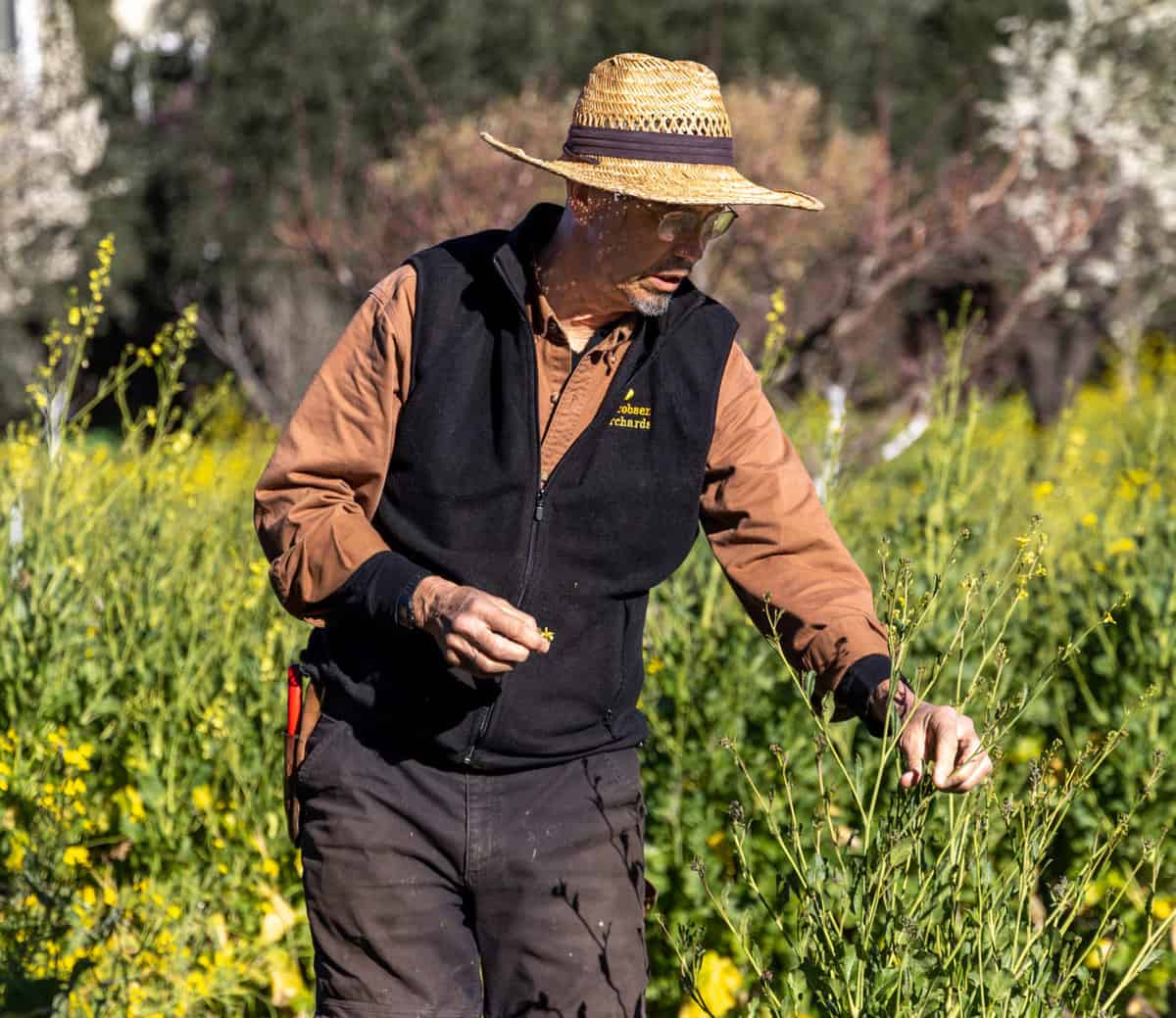 They invited sharecroppers to tend to the orchard and to plant other assorted vegetables and herbs on the property. On weekends, Peter and Gwen would head to Yountville and get their hands dirty. For the first ten years, they worked alongside the more experienced farmers, soaking up knowledge and know-how until they eventually took over the operation. "What's weird about farming is the only way you can learn is by doing it," Peter admits.
How did Jacobsen Orchards become a culinary farm?
Jacobsen Orchards was tiny but mighty. Before long, the Jacobsens faced a conundrum. Their small farm was producing far more than two people could possibly consume. Rather than let all that homegrown goodness go to waste, Peter decided to see if any local restaurants were interested in purchasing the excess. It turns out they were interested – very interested.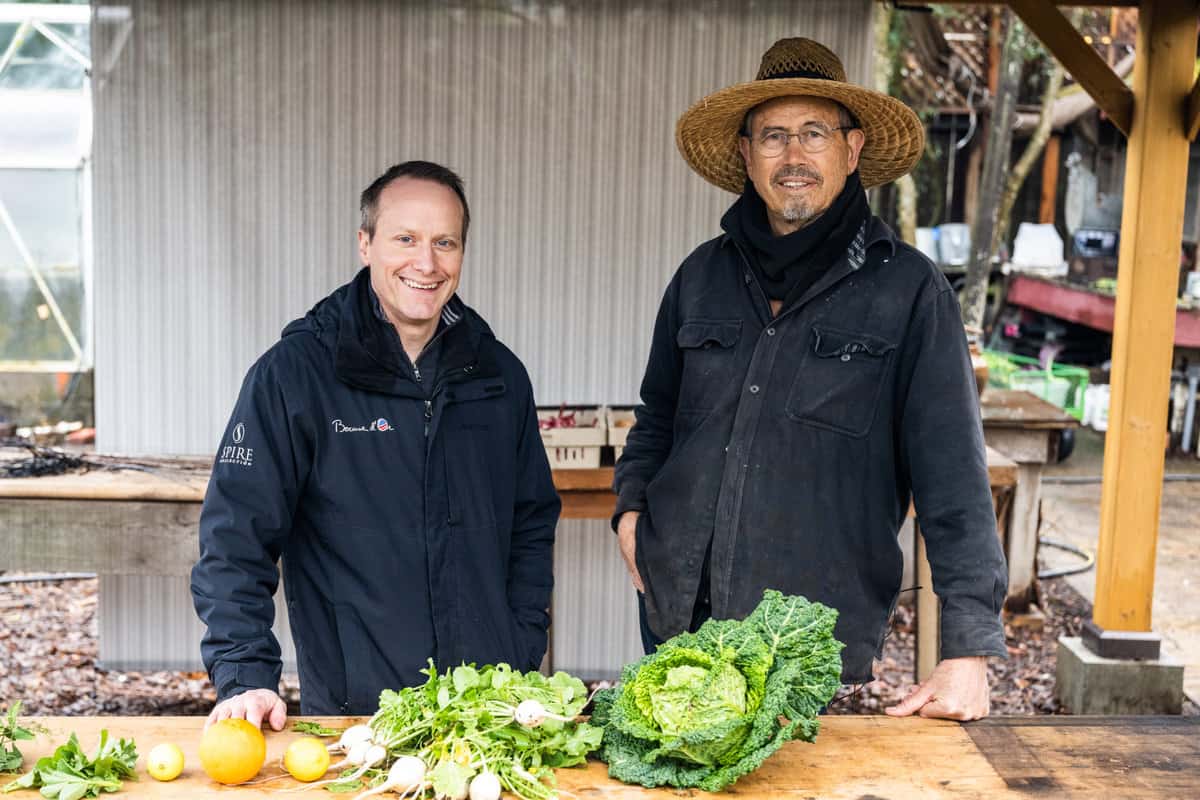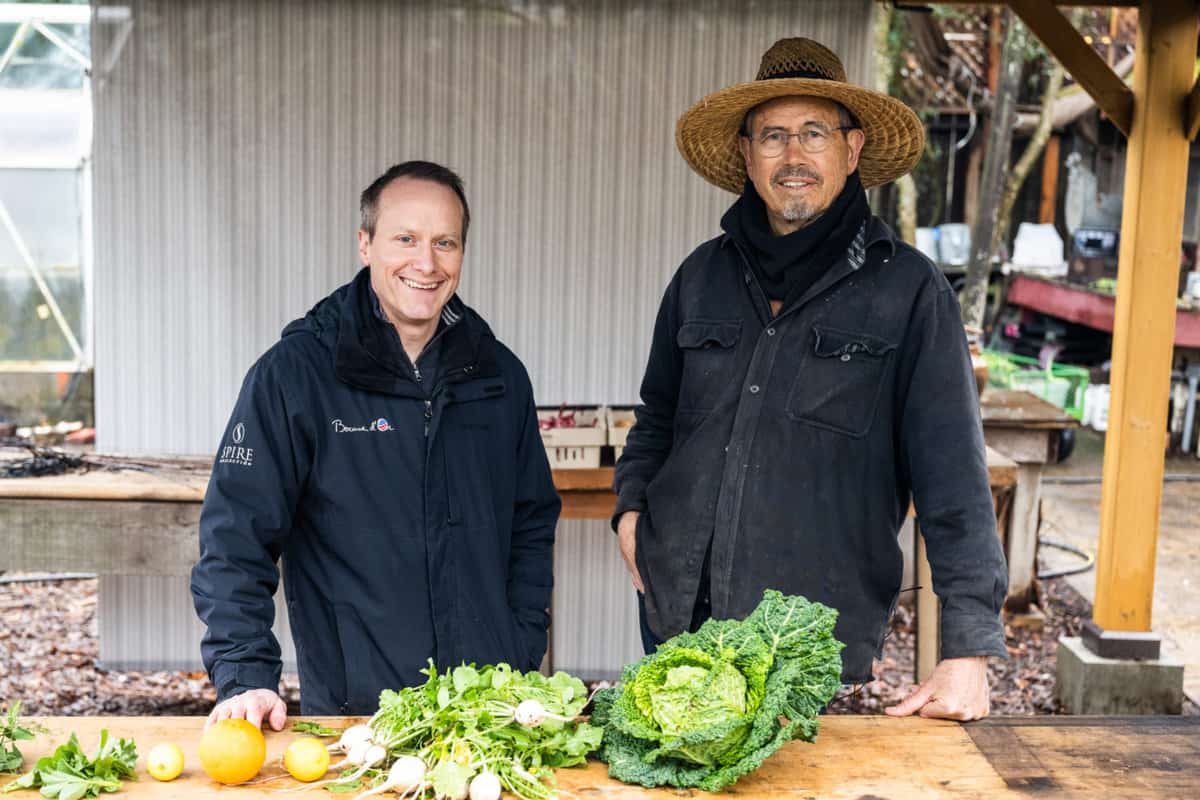 What is a culinary farmer?
A culinary farmer is a farmer that grows or produces exclusively for restaurants. It requires a slightly different skill set than traditional farming. Culinary farmers need to have an understanding of a chef's mindset. The produce they grow needs to taste delicious, but also needs to look a certain way. To this end, Peter teaches a class at the CIA in St. Helena, called "Chefs Training Farmers" and shares this knowledge with the next generation.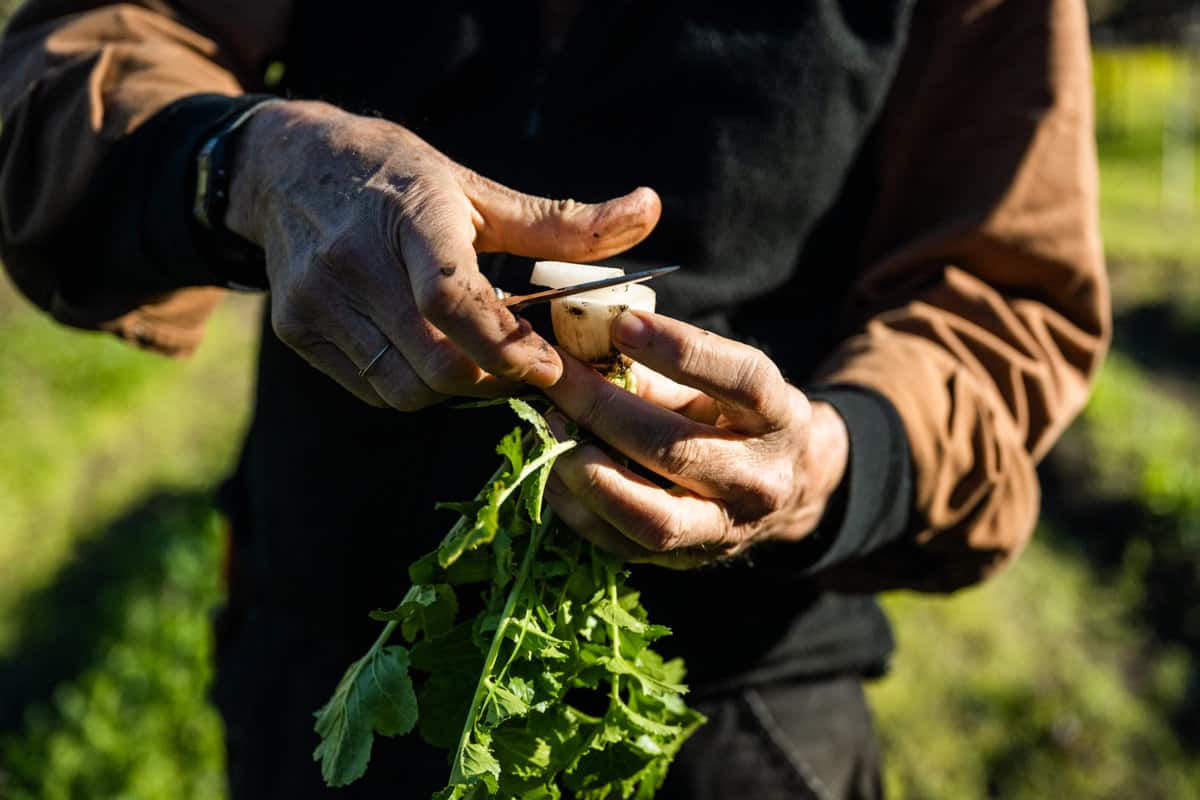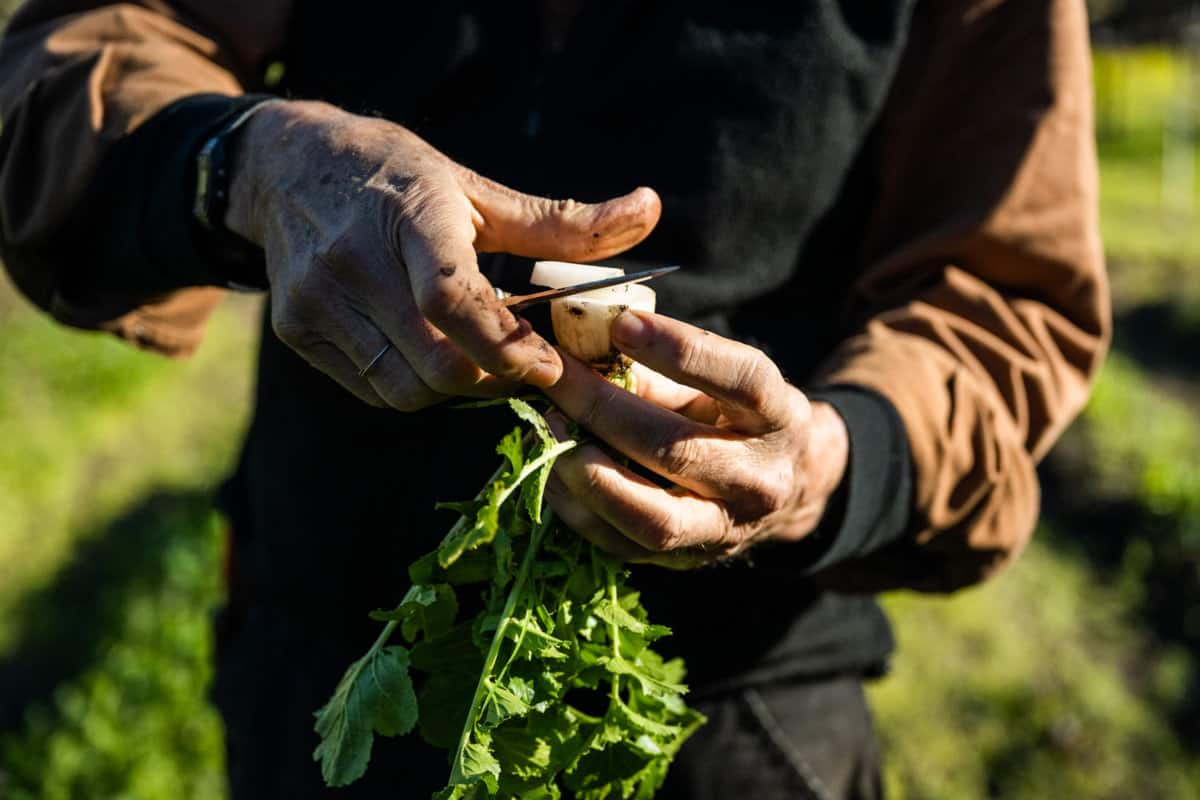 Peter relishes sharing unique produce and ideas with the chefs he works with. "I've learned over time chefs are really excited about things they don't know." Peter is particularly proud of a recent collaboration with Chef Tessier. Chef Tessier wanted to include a squash blossom gnudi on the menu at PRESS. The limited growing season and sheer number of squash blossoms needed presented a challenge.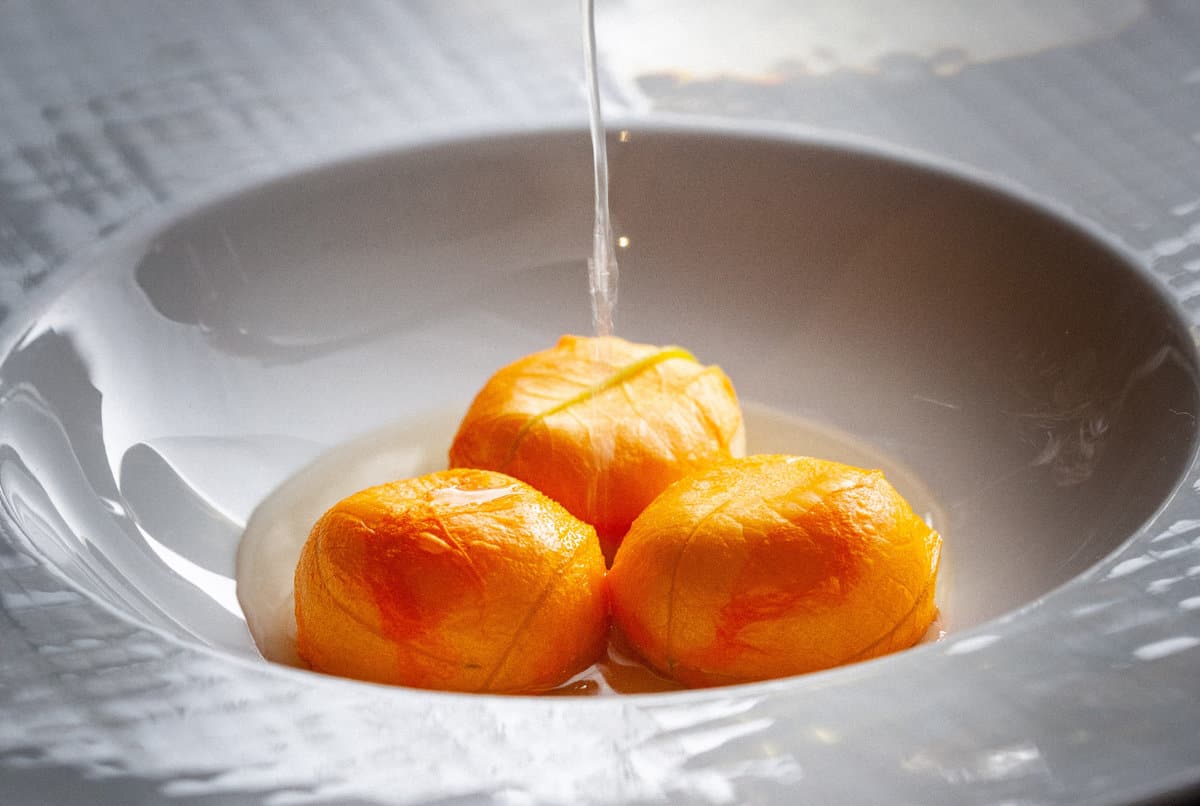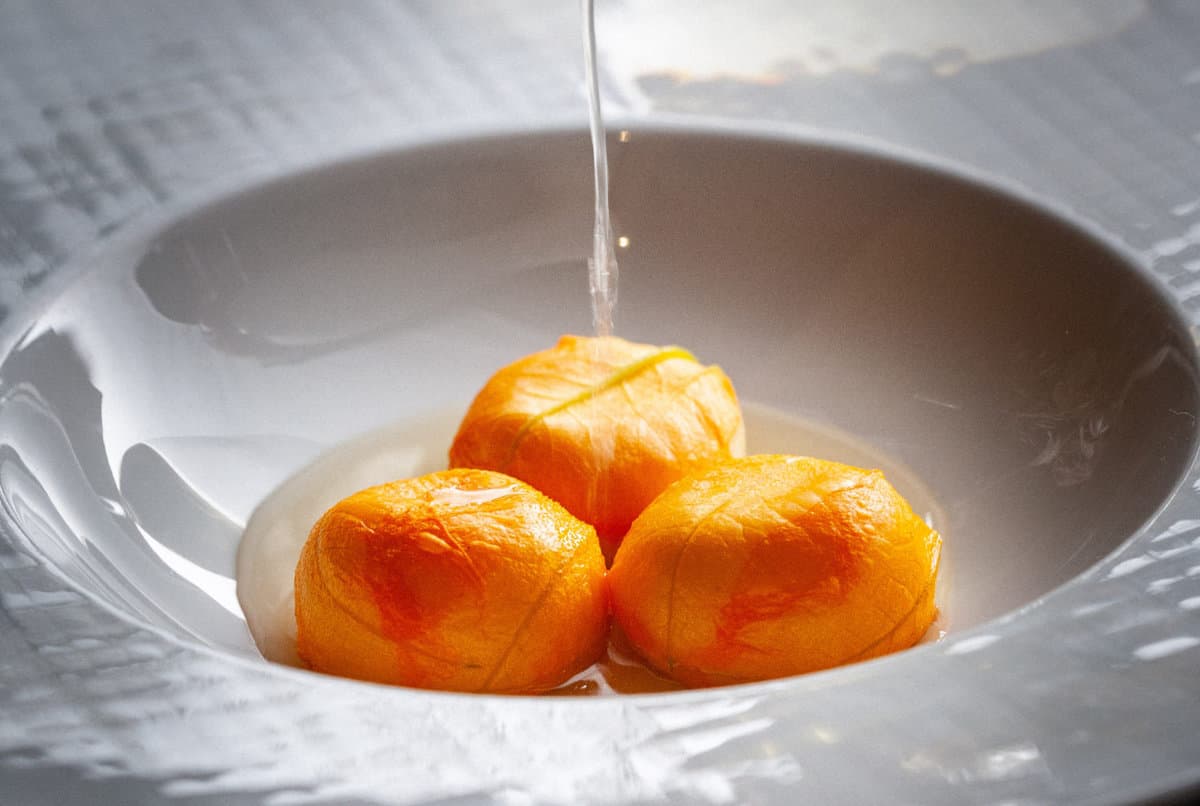 Peter came up with a brilliant solution. While zucchini blossoms would have been the obvious choice for that dish, they certainly aren't the only blossoms to fit the bill. By using various types of squash and pumpkin blossoms, Peter was able to provide PRESS with squash blossoms from April through October.
"That's been amazing because we really had the ability to keep a signature dish on the menu," Chef Tessier interjects.
What types of produce are grown at Peter Jacobsen's urban farm?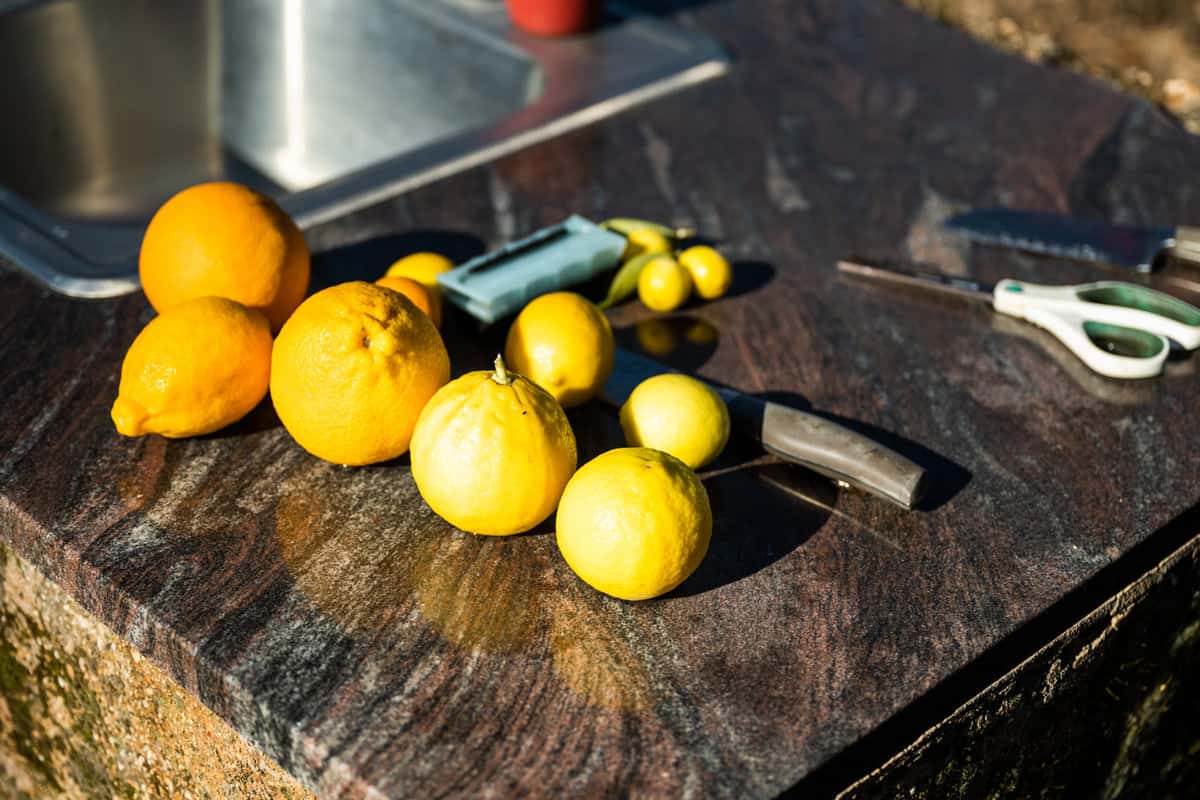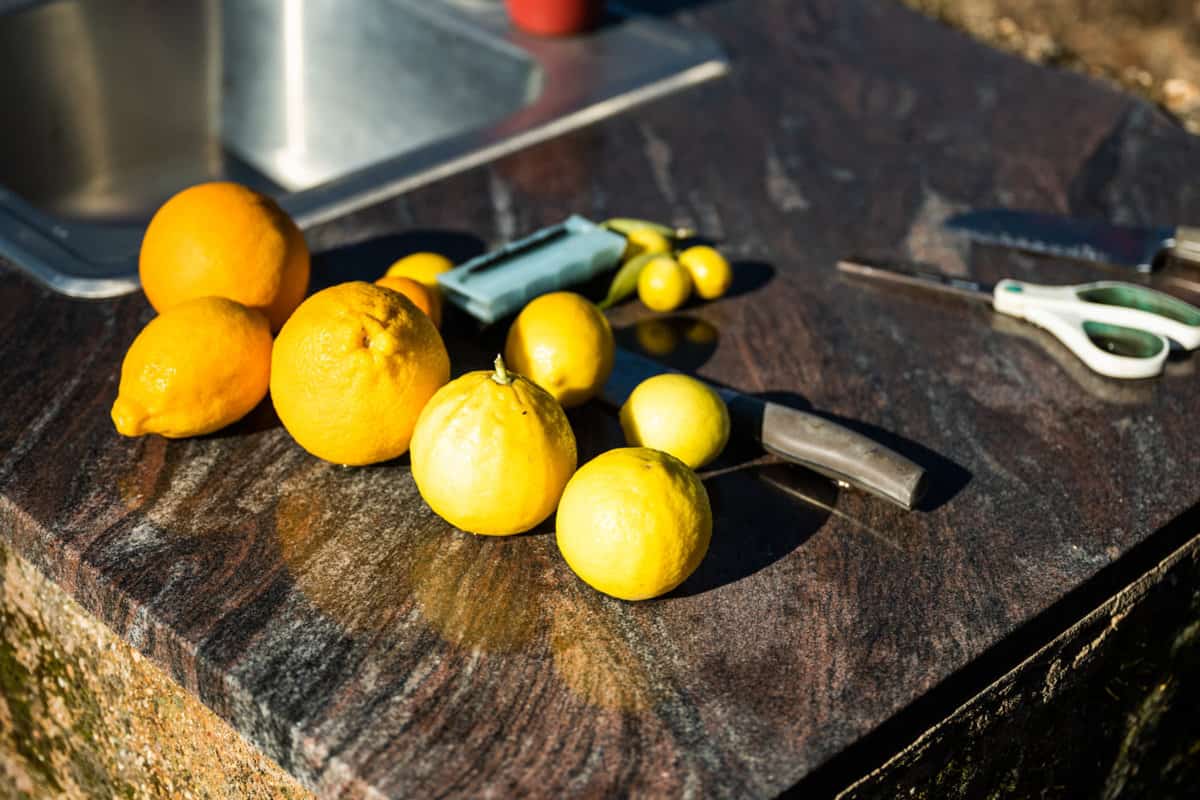 Jacobsen Orchards is an urban farm that grows multiple varieties of apples, pears, peaches, figs, citrus and plums. Peter and Gwen work with the chefs to decide what additional vegetables, herbs and edible flowers to grow each season.
How does Jacobsen Orchards farm sustainably?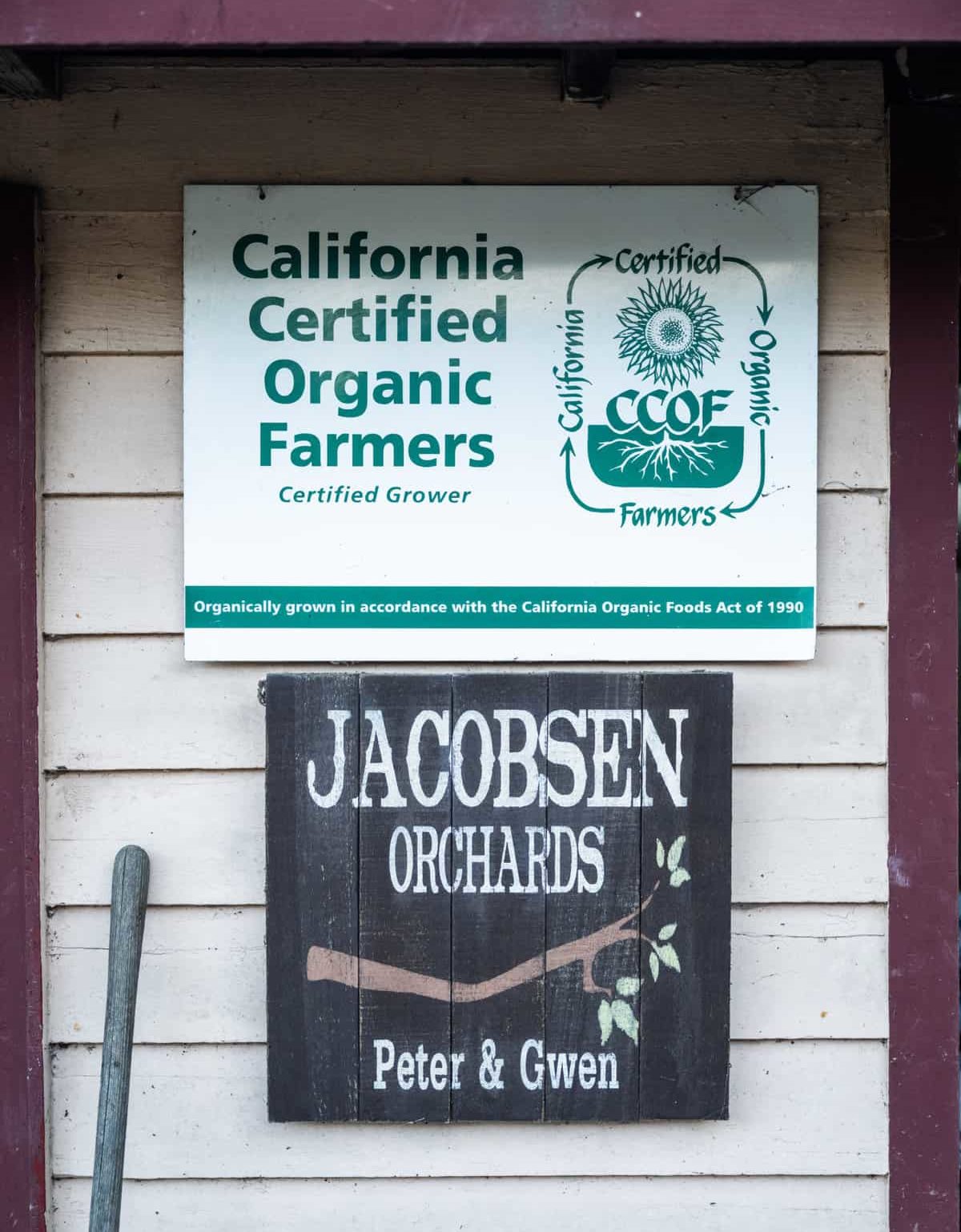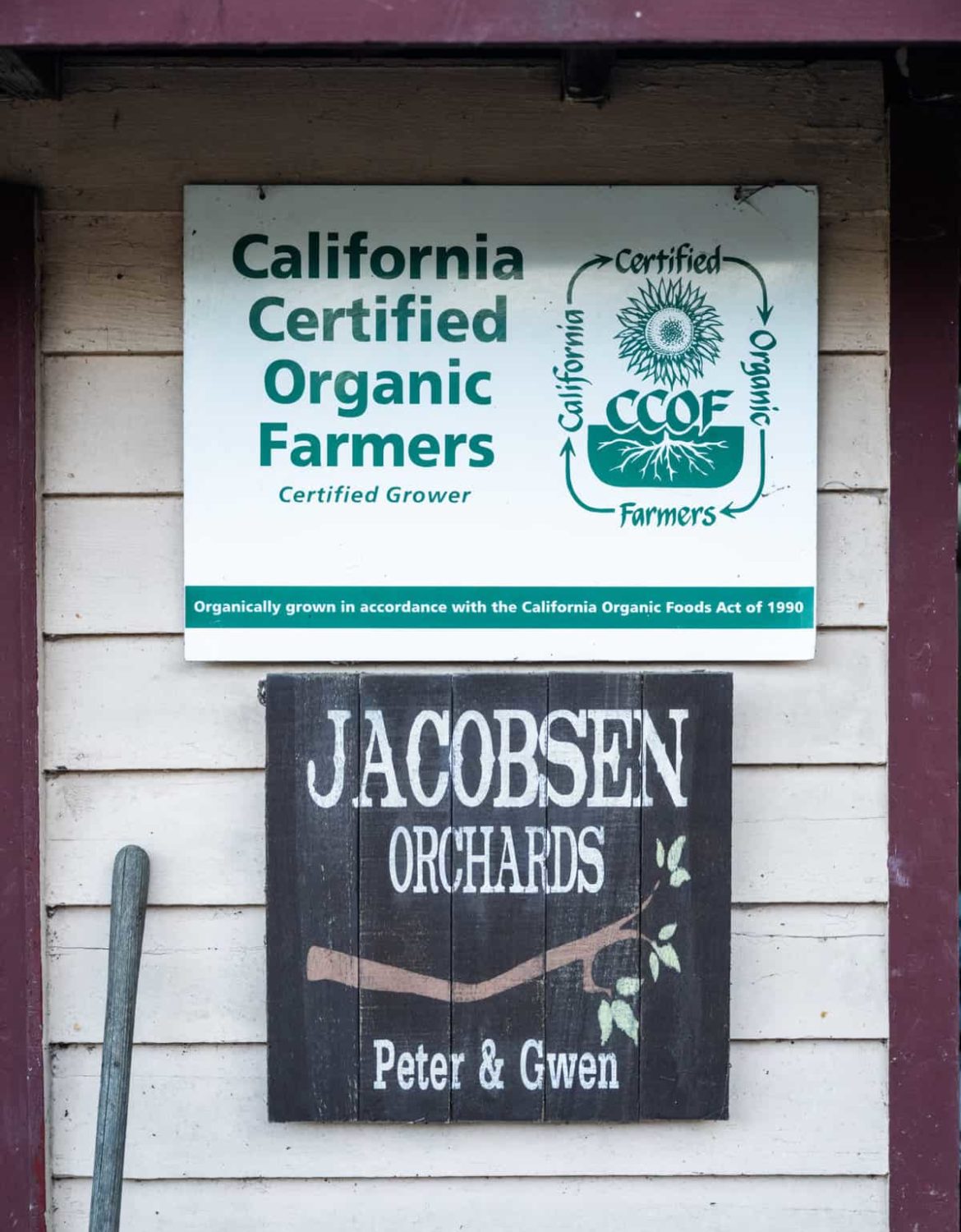 Jacobsen Orchards is committed to sustainable farming and has been certified organic for over 25 years! To be organic certified means that they farm according to strict standards set by the USDA.
On smaller farms, it's important to use your space wisely. Instead of rototilling the rows in between the fruit trees, Peter plants edible cover crops like fava beans. The plants fix the nitrogen in the soil, and chefs quickly snap up the resulting beans.
Sustainability is often talked about in terms of the environment – but the actual definition of the word sustainable is "to endure".
When the Jacobsens first purchased the property almost 40 years ago, most of Yountville was undeveloped. Today, Jacobsen Orchards is surrounded by neighbors on all sides. "It's an urban farm, let's say," Peter notes. "The other sustainable thing is, we haven't been cut into pieces and built into houses. We're still here."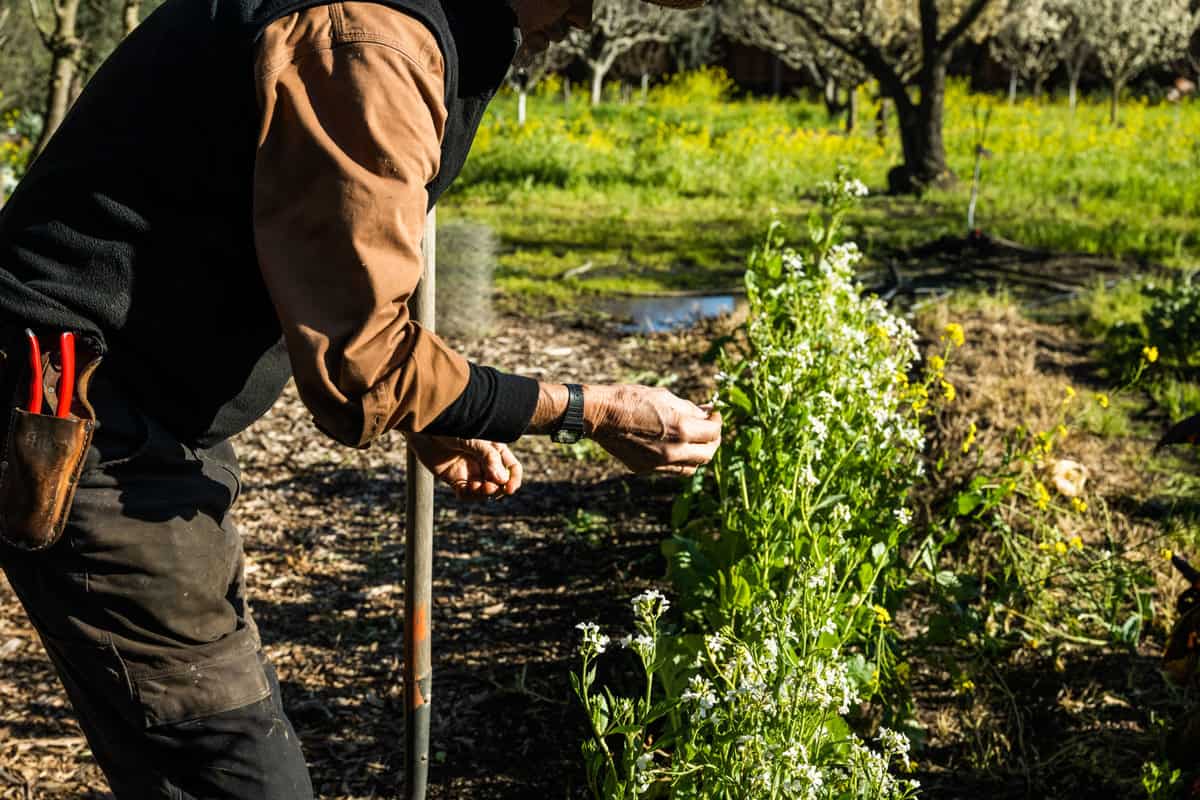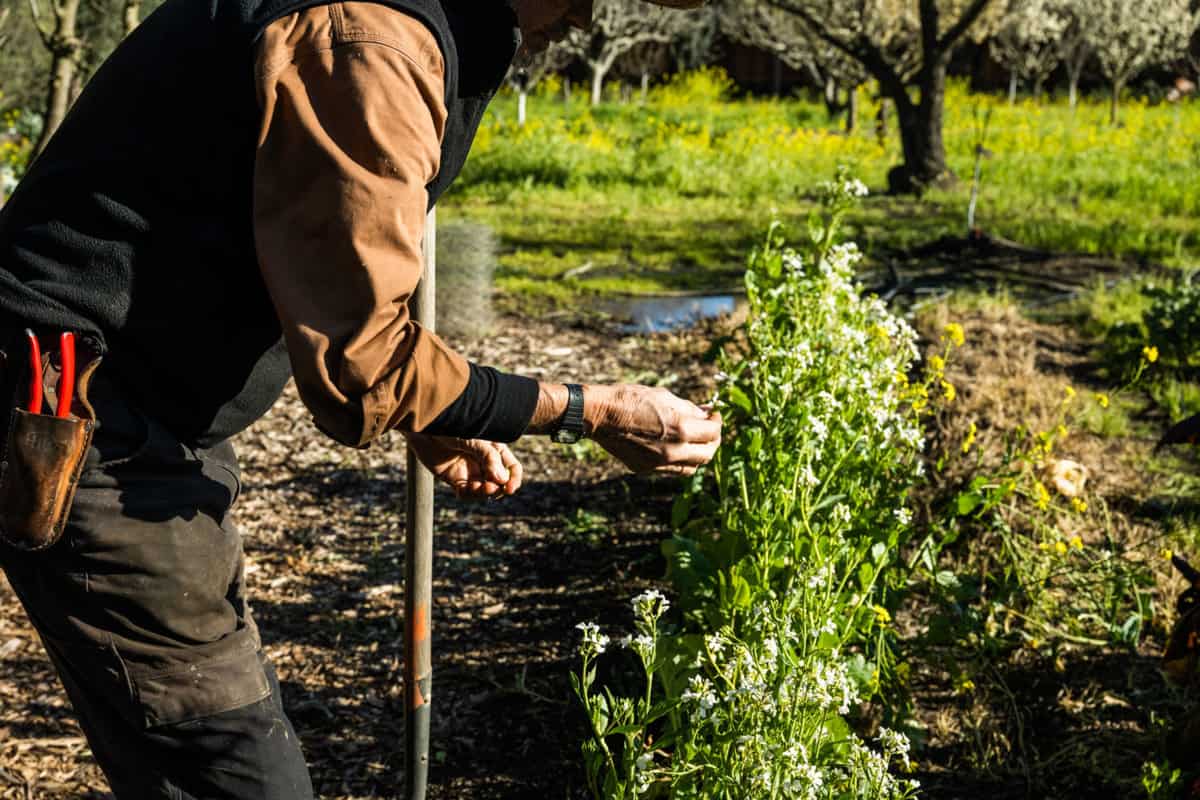 Article by Hilary Rance. Photography by Hilary Rance and James Collier.