The Restaurant at Wente ~ Livermore, CA
What a treat we have for you today!
I discovered this hidden gem because of my husband.  He is an avid golfer and even though you wouldn't think the two mix, wine and golf are a pretty nice combination!  And Wente does it perfectly.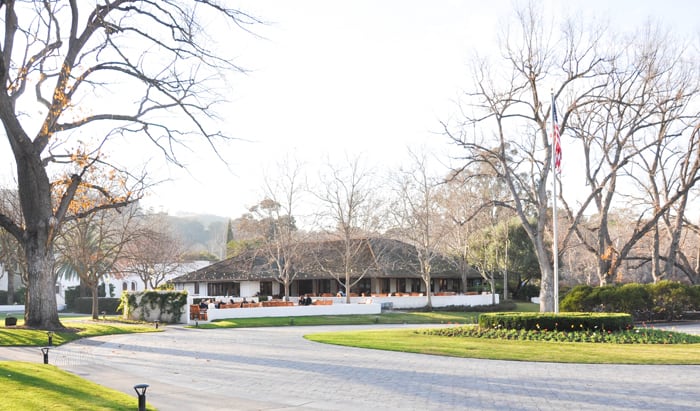 There is plenty to discover and see here.  The grounds are bustling with people wine tasting, meandering through the walking trails and strolling through the barrel cellars.  There is a charming antiquity to this estate that will have you cherishing the slow-paced atmosphere.  The restaurant, pictured above, reminds me of an old farm homestead.   Several large, comfortable dining spaces inside keep patrons cozy and well cared for.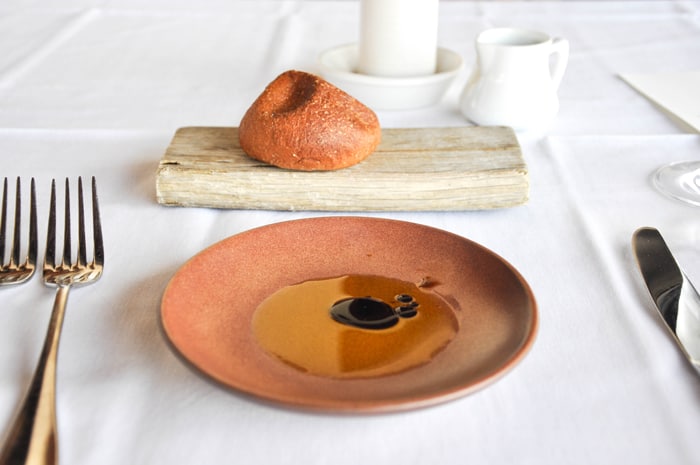 Once at your table, a house made roll served atop a salvaged wood plank, is whisked to your seat.  So charming and fun!
I also started with a glass of their estate-grown Charles Wetmore Cabernet Sauvignon.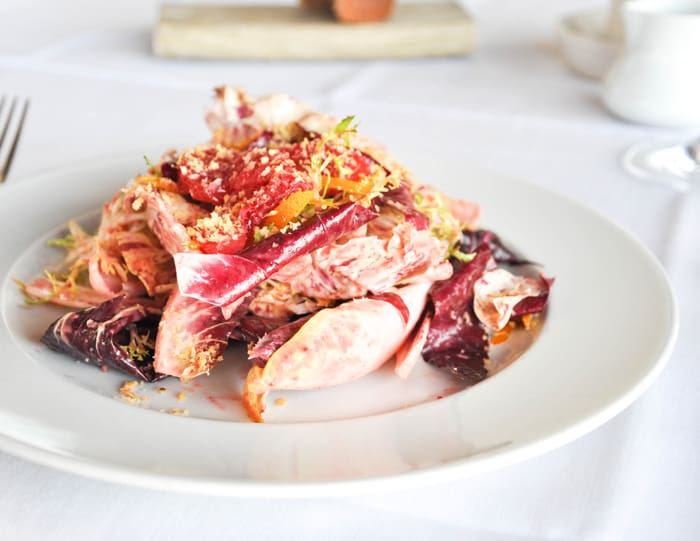 My first course was the Winter Chicory Salad. What an interesting combination of lettuces and citrus!  I loved the addition of Castelfranco Radicchio, which is bought from a local farmer.  The presentation was beautiful and the taste was an excellent mix of bitter and sweet.  The tasty blood orange vinaigrette and light dusting of crouton flakes topped it off nicely.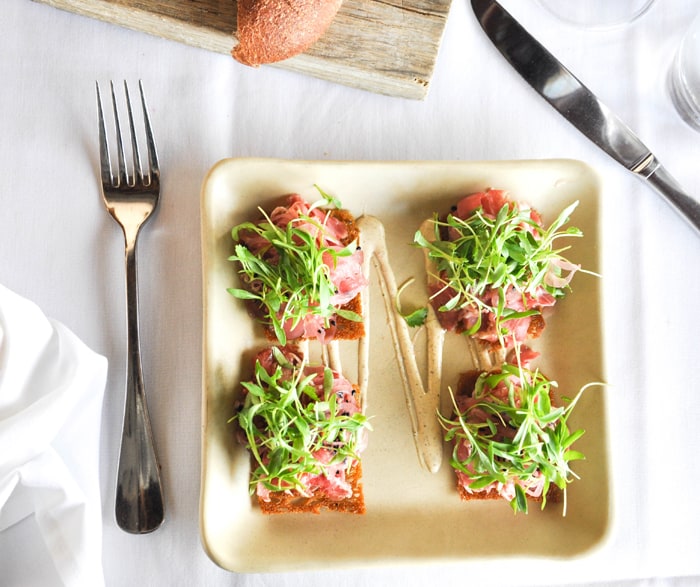 My server, Sean, recommended the Lamb Pastrami for my second course.  I would have never chosen this from the menu myself, and I'm glad I listened!  House-cured lamb pastrami atop delicate rye crisps and pickled onions, finished with micro-cilantro and a coriander aioli.  Seriously, I could've eaten this all day and been happy.  I have now vowed to take the wait staff's advice on menu choices from now on!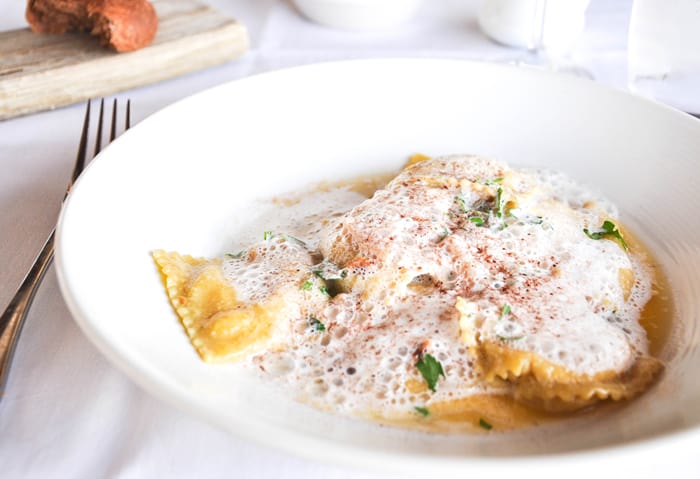 For my main course, I chose their hand-crafted Heirloom Squash Ravioli.  The squash for this dish is grown in the restaurant garden or sourced locally.  As a matter-a-fact, all of their produce and most of their protein is purchased locally.  That's how it's done when you live in this bountiful state and perfect climate!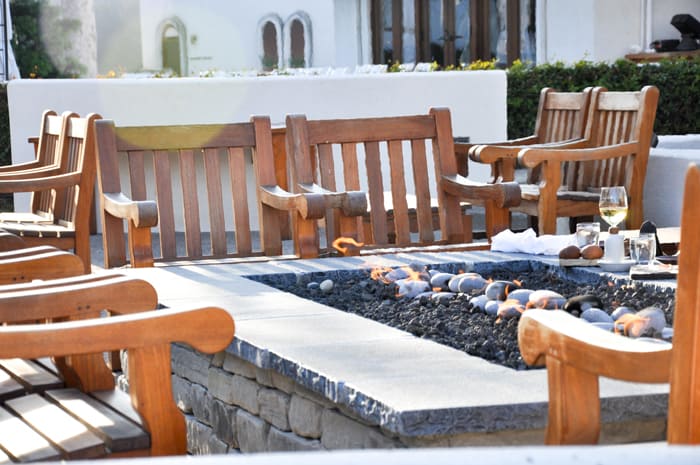 Right outside the restaurant, they just added a relaxing patio complete with several cozy, conversational fire pits where you can relax after lunch or dinner and sip wine. You can even order dessert and other fare while kicking up your feet and chatting with friends.    I envision myself here for hours!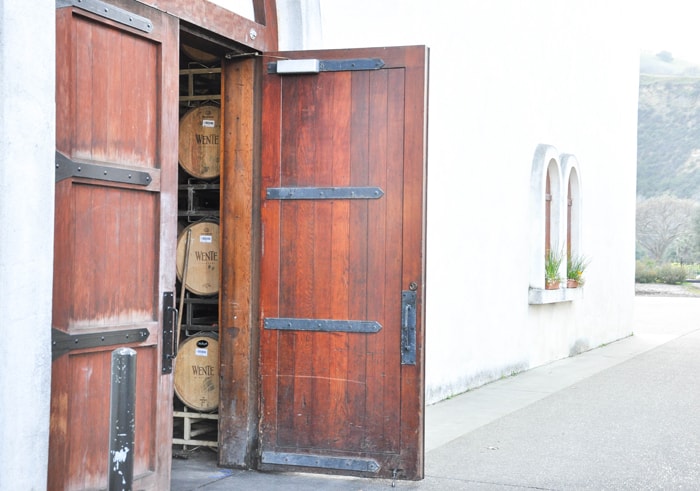 After your meal, I highly recommend taking a jaunt through the grounds to discover aged buildings with wide open, welcoming doors.  I found several as I was meandering towards the restaurant garden.  It felt like strolling through the streets of Italy: Old stucco, massive wood plank doors, and shuttered windows with overflowing flower boxes.
Peek inside and you'll discover the huge operation that Wente is.  Rows and columns of fermenting wine barrels everywhere.  What an impressive sight!
Not only was I fascinated by the  magnitude of the buildings, but also the approachable atmosphere.  These people want you to know their story.  They are proud of the history here and want you to experience what has made this place so great.
For more information about Wente or to make a reservation, please go HERE.  Trust me, you won't be disappointed!