Santa Barbara Sea Urchin Stroll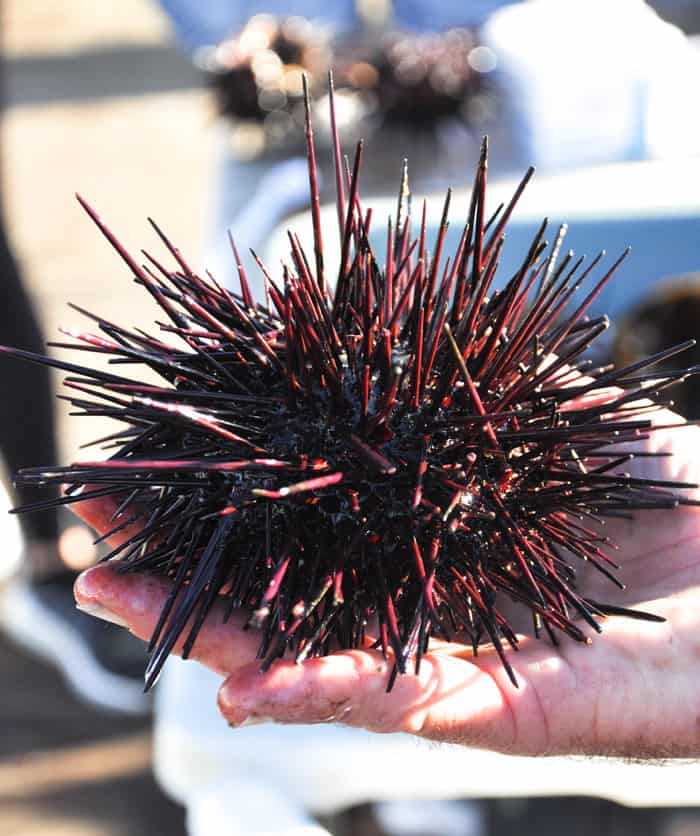 Who would ever think that such an odd looking fellow would be the protector of such a prized ingredient sought after by top chefs?  Harvested from The Channel Islands (Santa Cruz and San Miguel to be exact) a few nautical miles right off the California coast, these cousins of the star fish feed off the prolific seaweed that grows in this warm water region.
While on a recent getaway to Santa Barbara, my husband and I took an early morning stroll on the bustling pier. We were intrigued by these beautifully spiny creatures that were being sold and cracked open on the spot by twenty- and thirty-somethings.  Ron, the super nice and informative sea urchin peddler, enlightened us about their recent rise to fame in the States.  Usually imported straight to Japan, America has recently jumped on the Uni bandwagon with the help of Martha Stewart, Bobby Flay and other distinguished chefs incorporating sea urchin into their recipes.
If you're a little apprehensive, let me help: Uni is considered the Gold of the Sea, much because the hidden treasure within is a honey golden hue with a sweet, buttery taste.  Often described as having the texture and flavor of an avocado, uni has the potential to be the next California food craze. And, because they are harvested about an hour's boat ride from Santa Barbara, the cost is pretty nominal, with the average urchin costing about 5 bucks.
Ready to try one?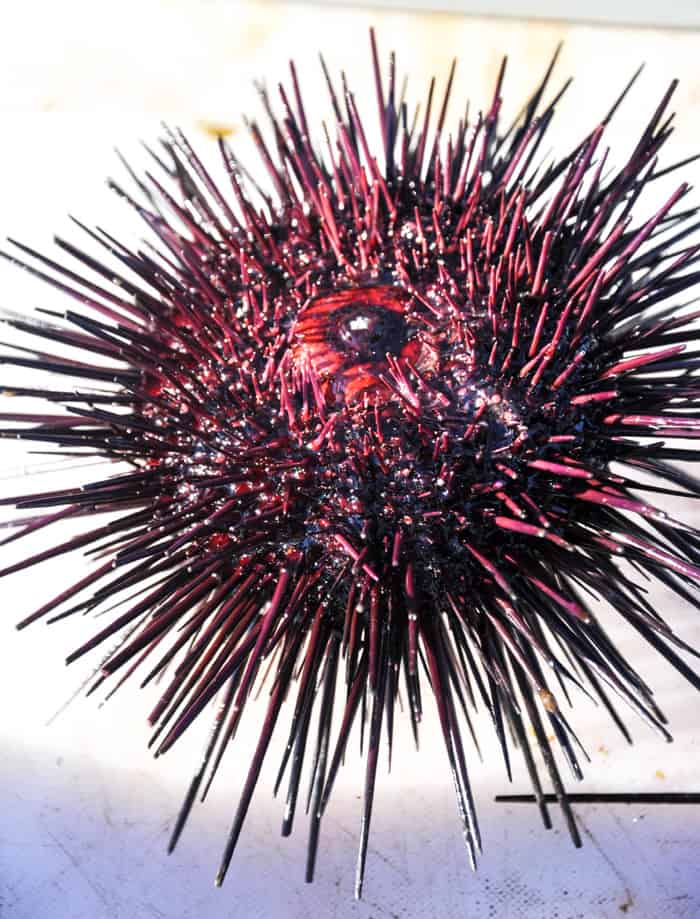 Sea Urchin has a tough, spiny body to protect it from predators.  While talking to Ron, we discovered that the sea urchin does not have a heart or a brain.  They are basically  big digestive spheres, however they somehow work together to eat on the long vines of seaweed.  That little bit of info helps for the next step…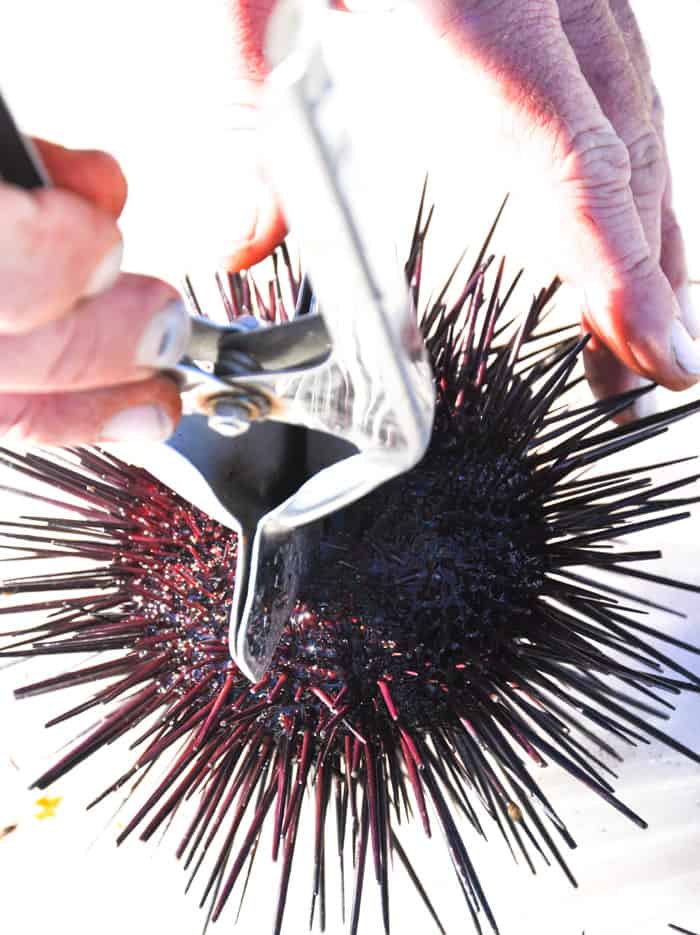 A tool specific to cracking open sea urchin is inserted right into the mouth of the urchin.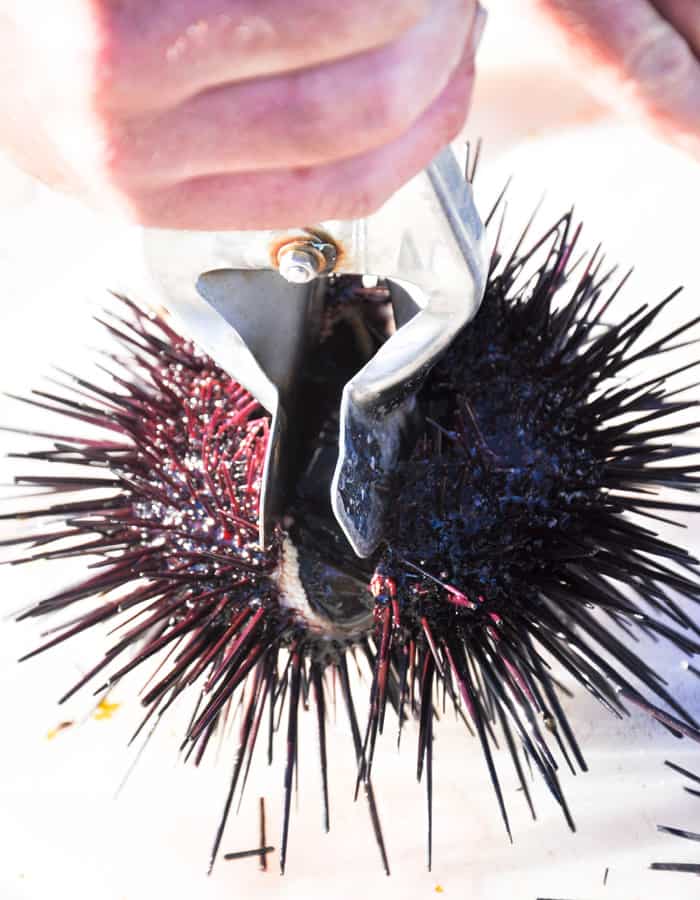 A quick bashing of the forceps quickly cracks open the urchin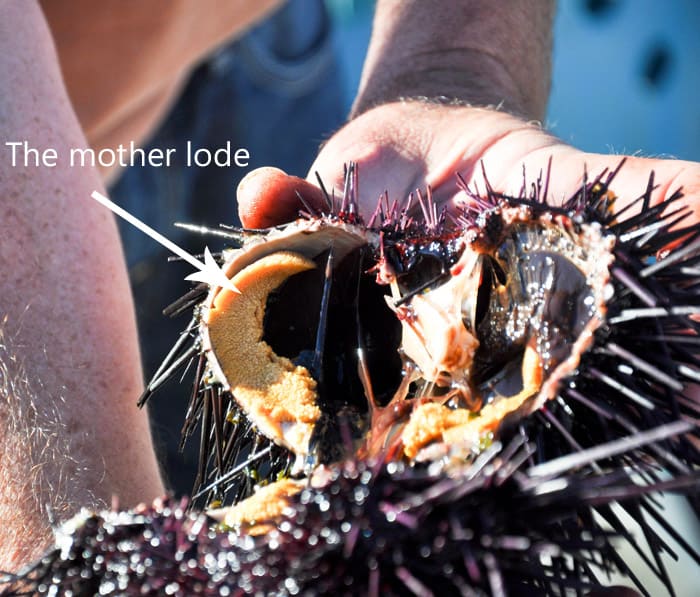 Open up the cavity and expose the California gold that is so sought after.  The "roe" or glands are the only  goods taken from the urchin.  There are four in each urchin and amounts to a few ounces of goodness.
Ron, who has been diving for and selling urchins for 28 years, was eager to educate us about local restaurants who use sea urchin in their menus too.  If you are intrigued to try some, you can visit these restaurants anytime:
Or if you are feeling adventurous, take a stroll along the pier and crack one open!