Meet a Farmer: Kyle Garrett of Red Tower Farms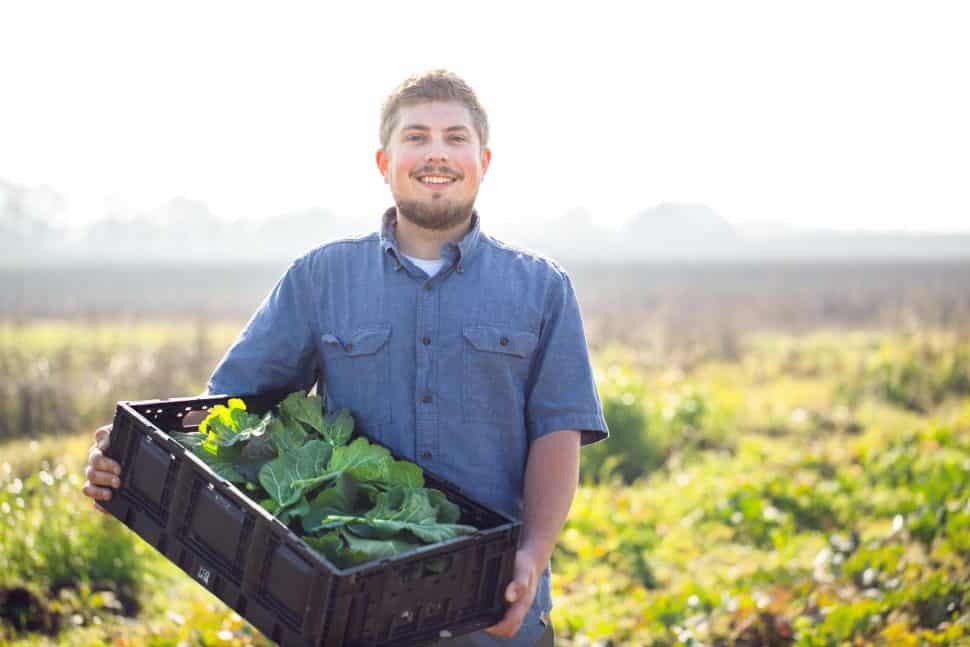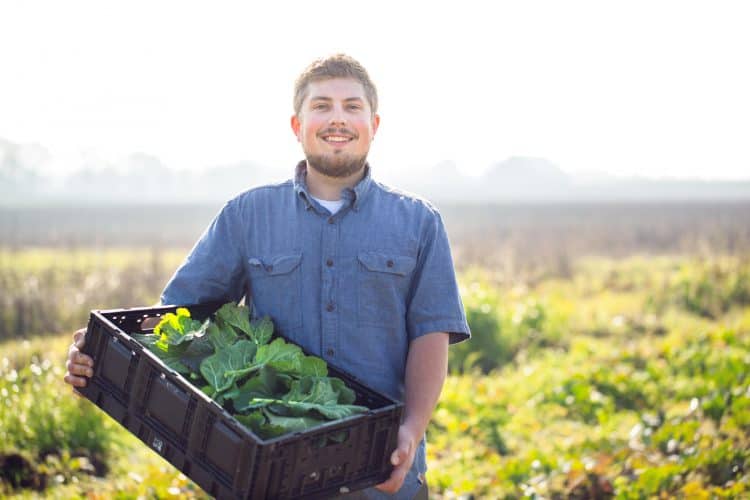 Meet Kyle Garrett, Co-Owner of Red Tower Farms in Elk Grove, CA. Along with his partner, Cortland Dunnington, they started their business in 2015 and are proud to supply their community with diverse and high quality food. Learn more about Kyle's love for his job, how his childhood shaped his passion for farming and why it's important to maintain the soil his crops grow on.
CA GROWN: What are you doing today?
Kyle: Today, we're caring for our herd of pigs and we're making sure that everything is good with the new pen because we just moved them to a new pasture yesterday. Also, we're contacting some of our customers to start planning produce deliveries for the week.
CA GROWN: What is your favorite thing about your job?
Kyle: I really love that my job allows me to work outdoors and to be in nature everyday. I also love that I get to work with plants, animals and people. It's tough to find a job that allows you to work with all three, so I'm very fortunate.
CA GROWN: You mentioned you love working with plants, animals and people. Why do you enjoy that?
Kyle: It really just works with my personality. I've always enjoyed those plants and animals in general, but I also don't want to abandon the connection to people and society just to be around plants and animals only. I've had a lot of different jobs in the past that were more isolating where I worked in a lab or did research. I enjoyed some of it, but I definitely enjoy being around people, talking to them and learning from them.
CA GROWN: How do you give back to the community?
Kyle: We're still a young business, but I'm happy that we've been able to donate to our local food bank. Also, through our CSA program, we provide affordable, custom produce boxes to families and individuals in the Sacramento region. Typically, fresh local produce comes with a premium cost and we try to organize our business in a way that allows us to cut some of those costs and get high quality produce in people's hands for less money and to help people that have poor access to fresh produce in their neighborhoods. We think that everyone should have the option to eat well and cook healthy meals.
CA GROWN: What drew you into the farming profession?
Kyle: I grew up around farming, it's in my blood. I have fond memories of visiting my great-uncle Jim on his farm and remember driving around with him on the tractor and the ATV with my cousins and stopping to sample the produce along the way. It was always really fun and enjoyable to me. Then later on, what also drew me in was learning about agroecology in school. I've visited sustainable farms in Costa Rica and worked as an agricultural research assistant in the Monterey Bay area as well as here in Sacramento. Eventually, I decided that I wanted to become a farmer myself.
CA GROWN: What are your hobbies or pastimes when you're not farming?
Kyle: I like to listen to and play music, guitar mostly. I also like to cook and spend time with close friends and family and when I get the chance, I love going up to Tahoe to go skiing.
CA GROWN: What advice would you give to someone who wants to become a farmer?
Kyle: I'd tell them that farming takes a lot of time, patience and coordination to succeed as a business. Whether you come into farming with a lot of money to invest or very little, it's important to remember that farming is a very demanding job. Your passion, drive and adaptability are going to determine whether or not you succeed.
CA GROWN: What is something that's unique about your business or makes it stand out?
Kyle: We work directly with local restaurants, artisans and food craftsmen. A lot of what we grow is done specifically for businesses we work with. We help one another succeed, but also progress and evolve. We're focusing on what's worked best for us in the past season and get good at growing those specific crops. We're also taking steps to make sure we produce the highest quality produce and meats every year. We want to be able to cultivate healthy food without sacrificing the healthy soil we grow on and our local ecosystem.
CA GROWN: What are some things you're looking forward to with your business?
Kyle: I look forward to getting more established as a business and being able to take on more restaurant clients as well as CSA customers.
CA GROWN: What's the most rewarding part of your job and why?
Kyle: I think the most rewarding part about being a farmer is just sharing good food and experiences with people. I love being able to tour friends and customers around the farm and to see the joy on their face when they bite into a delicious tomato or a juicy peach right off the tree is the best feeling.