Meet a Farmer: Danielle Kendall of Kendall Farms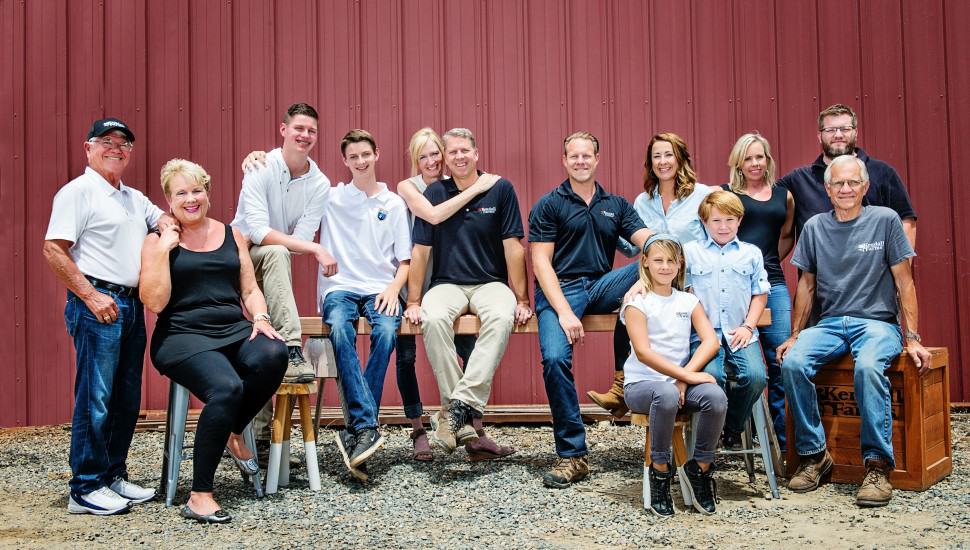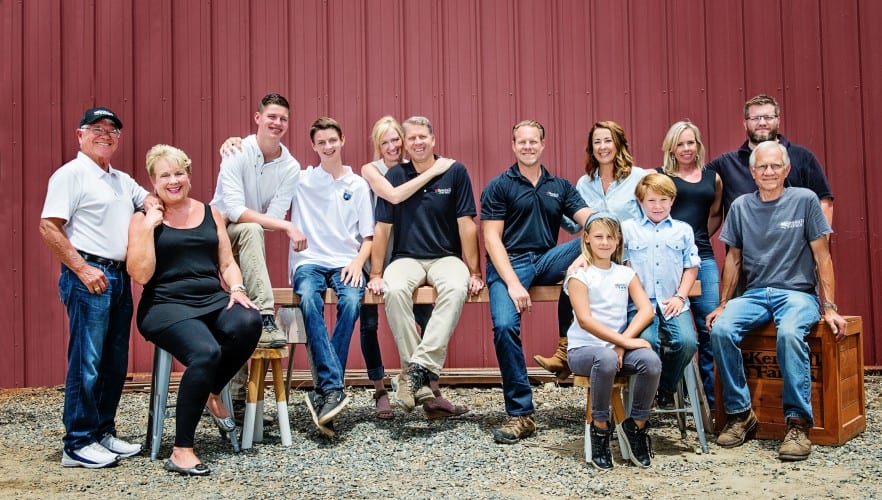 Meet Danielle Kendall, Lifestyle Floral Designer & Stylist at Kendall Farms. Her father-in-law, Dave Kendall, established the farm in 1987 and the family has helped it grow into the large and self-sustaining business we see today. Learn more about Danielle's strong work ethic, what makes their business so unique and why she says the real paycheck comes from growing things that are natural and sustainable!
CA GROWN: What does a typical day look like for you?
Danielle: For me, it's coming in and creating a recipe. Fortunately, I only have to be here part time because we have kids that we're still raising right now, but I come in and decide on a recipe based on what the farm is currently growing. And I usually touch bases with Cathy, who is one of our Managers, and our staff just to make sure that everyone is on the same page and producing quality stuff. I also find out where we are with orders and where we are with marketing and help out with social media. So my day is very much on-the-go and it's pretty busy around here. It feels like there's always something to do.
CA GROWN: What is your favorite part of your job?
Danielle: My favorite part is the fact that I get to be on the farm every day. Most people who live in San Diego County don't get to see a river running through their property and 500 acres of growing flowers. We also have wonderful people that work for us, so I'd have to say the culture and the environment that I get to work in is stunning. You can't ever get sick of it and when you first drive into the farm, it's the most beautiful view ever. But I'd have to say the best part is that my father-in-law created a really special community for us.
CA GROWN: How do you give back to the community?
Danielle: We do a couple different things. The farm does the Food Project where we take a couple of acres and grow fruits and vegetables and then we donate them to the local food charities in Temecula. We do that growing for about half the year. Then, the Flower Stand actually gives 10 percent back of all purchases. Currently, we have two different organizations that you can pick from that are dear to our hearts. We are also fully sustainable, we have our own well water and we just put in more than $1 million worth of solar panels.
CA GROWN: What drew you into the farming profession?
Danielle: I actually married into it, to be totally honest. I'm a city girl and I met my husband in college. He brought me out to the farm a few times and showed me what his father had started. My husband was selling product out of his dorm room when we met and shipping it to brokers. When we got married in 2000, he asked me to come work with him because he wanted to start selling more to wholesalers and get into grocery store chains. So I joined him in the flower business and I did sales first to understand the product, then I transitioned into marketing. Then I took a break when we started having kids and now I'm back designing. So I've pretty much done a little bit of everything at this company. And that's been good for me because you really have to earn your stripes here on the farm.
CA GROWN: What are your hobbies or pastimes when you're not farming?
Danielle: My husband and I are big travelers, so we spend a lot of time out and about. We like to snowboard, we like to surf and we love being outdoors. I also spend a lot of time volunteering at my children's schools. I love everything from interior design to styling wardrobes and houses. And I love to sew! So I definitely keep myself busy when I'm not working. It's definitely a work hard, play hard type of life.
CA GROWN: What advice would you give to someone who wants to become a farmer?
Danielle: I'd tell people who want to become a farmer that you're not going to get rich, and that sounds a little big negative but honestly, it's not something you do because you're going to make a ton of money. It's more about the fact that you love what you do and you want to take care of the Earth. You definitely have to be able to work really hard and deal with days that are rough, because things can happen and it's not always easy. But the real paycheck comes from growing things that are natural and sustainable. So, it's a different kind of paycheck. If you want to get into it because you think it might be a fun hobby, then keep it a hobby. If you love it and you want to make enough to live, then go for it. It definitely takes a lot to be a California farmer and it's not an easy process. We're up against a lot of government restrictions, rules and regulations and all that good stuff. You also have to be committed to growing a great product because once you see something come to fruition and you finally see a plant produce and you get to cut it, sell it and people enjoy it, that's the best part.
CA GROWN: What is something that's unique about your business or makes it stand out?
Danielle: We stand out for one big reason – our location. The area we're in has multiple components to its climate. We have the ocean breeze, but we also have the dessert right behind us. So we have this micro climate here, which allows us to grow all these beautiful South African plants. Because of this climate, we can grow the wax flower, eucalyptus, protea, banksia flowers and more that you can't grow anywhere else. That gives us a niche in the market and makes us different because most people can't grow those items, but we can.
CA GROWN: What has contributed to your long-term success in the past and what are you doing to ensure continued success in the future?
Danielle: The long term success was definitely part of the vision my father-in-law had for this place. He was a self-starter and created his own businesses from scratch and that's exactly what he did. His vision always included doing things the right way and that has paid off so far. Going forward, I'd say the people that work for us and have helped create our business with us are the foundation and will keep us going in the future. Culturally, we have a big mix of people working and living here. A lot of the people that service the fields and do the cutting, irrigation and more actually live on our farm. So we take care of them, they're fed here and they live here for a majority of the year. So it's definitely more of a unique community that we've established. We're also very dollar conscious and watch every single penny we spend. That's how we became sustainable and my cousin, Troy, keeps track of each field and can tell you how much it grows, how much water it takes, how many plants you can yield from that crop and much more. If we didn't have that and didn't know what we were producing and how much we were making, we'd be in big trouble. We also take a lot of pride in what we're growing and why we're growing it, so that makes a big difference too.
CA GROWN: What are some things you're looking forward to with your business?
Danielle: I'm really looking forward to having consumers learn more about us and buy our product directly without having to go through a store or another retailer. I feel like the consumer gets the best deal on that because they're buying product that was grown and cut right here on the farm. So they're getting a product that hasn't gone through shipping and distribution for three to five days before getting to them. At the end of the day, the people are getting a product that's going to last 10 days in their house instead of five days. We also do farm dinners and we have a safari school bus that we've turned into our tour bus that we drive and sell product out of. I think getting more involved in the community and having people learn more about us as a business and doing business with us directly is very exciting.
CA GROWN: What's the most rewarding part of your job and why?
Danielle: I think it's definitely getting the chance to work with the flowers. There's something about touching something that is a natural product that's amazing. Especially since we spend a lot of time on technology and on our phones, or in our cars, on our computers or watching TV. It's amazing to touch something that's living and even though it's been cut and is now in the process of decay, there's a piece that comes with that and it's the best part. Depending on how you arrange it, it can be beautiful by itself or with other things. For me, it's like a therapy when I'm touching the flowers or working with them.