Meet a Farmer: Megan Shanley Warren of Shanley Farms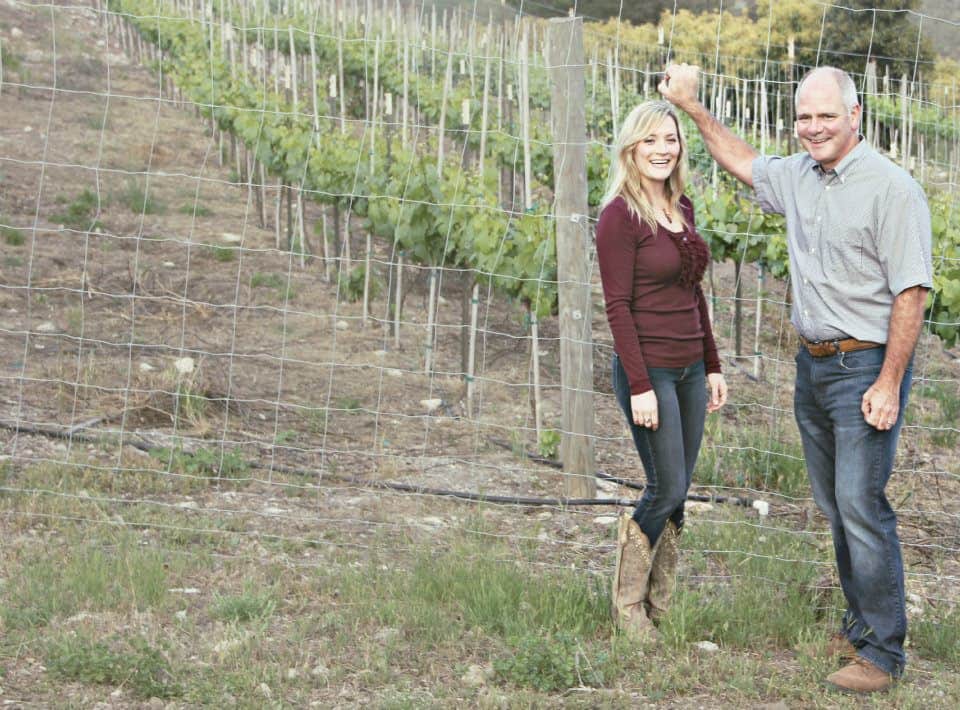 Meet Megan Shanley Warren, Co-Owner of Shanley Farms in Morro Bay, CA. Her dad purchased the farm in 1998 as a retirement project, but it's evolved into a successful business run by a strong father-daughter duo. Find out why Megan loves being a business owner and a mom, how layered agriculture is contributing to the company's success and what fun fruit products will make their debut this year!
CA GROWN: Tell us about your farm's history.
Megan: My dad purchased the Morro Bay property in 1998 and this was his retirement plan because he was never a farmer before. He worked in the grain and feed industry in Tulare and when this property was up for sale, he decided he wanted to plant avocado trees and live off of that. Then the years went by and he really got into farming. So another property came up for sale in Visalia in 2003, so he purchased it with oranges and lemons already growing on it. At that point, he started learning about finger limes and thought it was the greatest thing since sliced bread. After I graduated from college, I went to work in the produce industry, but once the finger limes started producing a few years later, my dad thought they were the coolest thing. He's a foodie at heart – he loves cooking, he loves food and he loves learning about new items in the food market and playing with them in the kitchen. He started asking me what customers he should sell these finger limes to and I told him I should come work for you. His idea then became his passion to build this company to leave for my sister and I. So I started working for him in sales and marketing and the rest is history.
CA GROWN: What is a finger lime?
Megan: They're fruits that were growing wild in Australia hundreds of years ago. Then a tree was donated to UC Riverside about 100 years ago and the school eventually introduced it to different farmers throughout California to see what the interest was. So my dad was the first person to place an order for these trees and we're the first finger lime growers. Now there's several growers, but it's still a specialty item. It's a citrus that's the shape of your finger and green. The inside is filled with little beads and a lot of people say it looks like caviar. You can squeeze it out and get a spoonful of Citron Caviar, which is lime juice when your burst the beads. The plan is to start selling it in jars and we're going to call it Finger Lime Pearls. Our season recently ended and we have to wait until June before we start shipping that product, but that's what we're really excited about right now because we see them being what pomegranates were before people figured out how to extract the seeds from the pomegranates. We've even developed a machine to extract the finger lime pulp from the rinds, so it's been a long process but it's all worth it in the end.
CA GROWN: What does a typical day look like for you?
Megan: I'm more on the marketing and sales side, so I do a lot of office work. From communicating with customers, getting orders, responding to export inquiries, setting up trade shows, and setting up promotions and advertisements. My dad is usually out walking the groves, checking the coffee trees, making sure the finger limes look good for shipment, making sure the birds haven't gotten to the goji berries and everything else that involves farming. He's also busy being innovative. He spent the last month on design work for the machine to launch our Finger Lime Pearls product. He's not like your typical farmer because he came from building businesses in his previous life and now he's a farmer, but he's got this strong business mind. So he's constantly trying to figure out how to do cooler and more innovative things to keep us ahead of everyone else.
CA GROWN: What is your favorite part about your job?
Megan: Hands-down it's the fact that I'm working for my own company. I've always worked for someone else and I was actually my dad's employee for the first five years and that felt pretty cool because I was working for him, so it was my family's business. And then last year, he made my sister and I owners of the company and now it's a whole new level of excitement for me to build up this business that's got my name on it now. It's a whole new sense of pride and it's really inspired my mind and opened my eyes to all the new things we can do because now it's something that's going to be my children's business someday. It's taken on a whole new meaning for me. I also love that since I'm raising two babies, I can still work and be a stay-at-home mom and I never thought that was possible. I thought it was always one or the other, but this has given me the opportunity to keep my foot in the door with my family's company and be as involved as possible with my little boys. That's priceless for me.
CA GROWN: How do you give back to the community?
Megan: A personal thing we're dealing with is that my mom was diagnosed early onset Alzheimer's, so as a company we've started to do a lot of fundraising for the Alzheimer's Association, so a portion of all the sales are going to the association. That's a big non-profit project we've been working on lately and aside from that, we provide a lot of work for local families when it's finger lime season. We bring in several employees that would otherwise be unemployed and we give them jobs and let them work as much as we have work for them.
CA GROWN: What drew you into the farming profession?
Megan: For my dad, he just loved the Morro Bay area. That's how he got into farming because he had always vacationed at a beach house in Cayucos that was owned by his previous employer, so he fell in love with the area. He isn't the kind of person to buy a beach house and just let it sit there until he took vacations, so he got into farming so he could live in the area and still generate income while he was there. So he bought this property and it had an empty lot that he planned to build a house on someday for the same price as purchasing a beach house. And now, 15 years later, he's got this property and he built his dream home and he came to love farming. He loves pleasing people with what he's growing, so that's what really inspires him to keep innovating and looking for the next cool thing to bring to our customers. For me, while I was at Cal Poly San Luis Obispo you had to select a major and I happened to select agriculture business because I knew a little bit about it from my dad doing that in his previous career. Once I got into ag business, I started learning more about the produce industry. Someone once said to me "once you get bit by the produce bug, you can't go back" and that's what happened to me. One of my scholarships sent students to the Produce Marketing Association trade show and when I went, I was blown away by all the big companies and their marketing. That's how I ended up wanting to get into this industry and my path led me to where I am today.
CA GROWN: What are your hobbies or pastimes when you're not farming?
Megan: For me, it's family time with my boys. We go camping a lot and we go to the beach a lot since it's only a five-minute drive from our property.
CA GROWN: What advice would you give to someone who wants to become a farmer?
Megan: Definitely head into specialty farming because there's so many big companies out there, so if you don't find your niche it's going to be really tough. If I was selling broccoli, I probably wouldn't be here anymore because there's just too much out there.
CA GROWN: What is something that's unique about your business or makes it stand out?
Megan: We've evolved into a specialty produce company since we found that there were retailers and consumers across the country that really enjoyed specialty produce. So my dad being the innovator that he is started looking into what else was out there. At our Visalia farm, we're growing fresh goji berries, finger limes and a delicious fig variety that's brand new on the market. For now, we're calling them raspberry figs because the inside literally tastes like raspberry jam. We've also got Surinam cherries growing and some lemons and avocados. On our Morro Bay farm, we're doing layered agriculture. We planted coffee trees in between our existing avocado trees and we planted dragon fruit into existing avocado trees. Also, we've surrounded the avocado orchard with deer fencing, which we planted passion fruit vines on. So where we were once getting one revenue stream on the land, we're now getting four (dragon fruit, coffee, passion fruit and avocados). It's a new approach called layered agriculture and we're teaching other growers in this area how to do it too.
CA GROWN: What has contributed to your success so far and what are you doing to ensure continued success going forward?
Megan: What's contributed to our success is the fact that customers now look to us as people they can come to when they need specialty produce. They're always excited to talk to us at the trade shows and find out what we have going on and what we're looking into for the next year. That's definitely contributed to us still being here and our commitment to innovation will help us going forward.
CA GROWN: What's the most rewarding part of your job?
Megan: Over the years, it's evolved. But as of now, it's the fact that I can still be here and be involved, but still be super involved with my kids on a day-to-day basis. For agriculture in general, it's really awesome to be the one growing the food and I love going on social media and seeing all the people posting pictures because they're so excited that they found these finger limes and that came from my farm. That's an incredible feeling.