Meet a Farmer: John Bos of Dutch Hollow Farms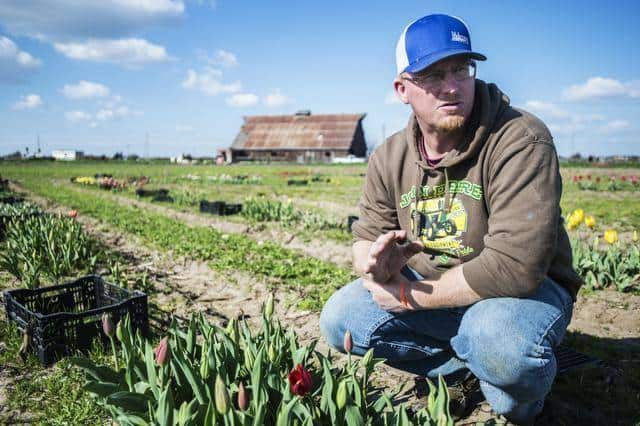 Photo Credit: Modesto Bee
Meet John Bos, Owner of Dutch Hollow Farms in Modesto, CA. As a farmer and pumpkin patch owner, he loves what he does and loves bringing joy to people.
Learn more about John, why he says he's in the top one percent and why he encourages people to have a strong work ethic when they get into farming.
CA GROWN: Tell me about the history of the company and what your role is.
John: I grew up in Southern California, but we moved to Modesto in 1982 and my dad started a dairy farm. I grew up working for my dad and even though I went to college, it was always in the plan to bring me in as a partner for the dairy. I started farming on my own a little bit and in 2005, one of my good friends, Brian Van Groningen, loaded up one of his trailers with prize-winning pumpkins from his family's farm. We went out and sold them on a street corner and had the time of our lives. We had always talked about how fun it would be to do a pumpkin patch, so the following year I leased the property we're at now and the dream was born. We bought pumpkins from his family's operation, Van Groningen & Sons, and we had our first pumpkin patch and did really well. I was also growing tulips, so now that's primarily what we sell (pumpkins in the fall and tulips in the spring), but we also grow various other crops. In 2009, Brian became part owner of his family's business so he decided to focus on that solely and I continued running our farm and changed the name from Pumpkin World to Dutch Hollow Farms.
CA GROWN: What does a typical day look like for you?
John: I'm out of the house by 5 a.m. and because it's a working farm, we have several animals here that I'll go out and feed first. We have chickens, turkeys, alpacas and much more that are available for the public to visit. As the day goes on, I'll make my way around the fields to make sure things look good. My day pretty much depends on what time of the year it is, but generally we start transplanting around 6 a.m. and do a few acres every morning. With so many different varieties of crops and cut flowers, it definitely takes a lot of planning. My afternoons are usually dedicated to research, catching up on phone calls and social media. I'll also go out and check the fields again and then start planning for the next day.
CA GROWN: What drew you into the farming profession?
John: Growing up on the dairy farm taught me a strong work ethic. Most people live and work inside buildings these days and get their food and products from a grocery store. They don't realize the amount of time and resources it takes to grow that crop or raise that animal. I absolutely love what I do and I love being my own boss. I was the type of kid that loved the outdoors, so this has always been the perfect place for me. I truly believe I'm in the top one percent of people that actually love what they do for a living and I'm grateful for that.
CA GROWN: What are some ways your company gives back to the community?
John: We're actually going to do a big tulip fundraiser like the schools do with cookie dough. We're going to sell pre-bundled bunches of flowers around Valentine's Day and I really think that's going to expand my business because we've tested it out over the years with some schools and it did really well. The schools make 50 percent of the profit, so they really benefit from it. We have a lot of schools and churches that come out here for pumpkins and we're able to give away pumpkins that we grow in excess. We're also going to start having a Movie Night at the Farm so people can take their family out for free and enjoy a movie on us. It's a great way for the community to come out and enjoy a nice evening with the ones they love.
CA GROWN: What are your hobbies or pastimes when you're not farming?
John: I used to play a lot of golf in college, but now I don't get to play as much. Between myself and a lot of my friends, we're in the prime of our careers and that leads to a lot of work and not too much fun, but what we have discovered is traveling. This year, we went to Puerto Vallarta with the kids and it was the first time they've ever been out of the country, so we'll definitely do more of that. We also love going to San Francisco Giants games and I love watching my kids play sports as well. We definitely enjoy spending those moments of quite time together because they're few and far between.
CA GROWN: What's the most rewarding part of your job?
John: Honestly, it's the joy that it brings to people. Having baby animal days on the farm is probably one of the most rewarding things I will ever experience because not only did the kids love it, but the parents went crazy over it too. I've gotten so much praise for doing what I do, so it truly goes beyond making a living at this. I've built relationships with people and lifelong friendships. People truly enjoy what we're doing and it's amazing to see.
CA GROWN: What has contributed to your past success and what are you doing to ensure success going forward?
John: I have a really good base of friends that I bounce ideas off of and they're willing to help me. It helps to have professional growers in your back pocket because if I ever have a problem, I call them to talk about it and they'll help in any way they can.
CA GROWN: As a California farmer, we know that you have a long list of activities you undertake on your farm to care for the land and its resources. What are one or two ways that you're most proud of or you feel are innovative ways you care for your land?
John: We do crop rotation, especially because we grow cucumbers and strawberries. If you plant those in the same land year after year, you're setting yourself up for failure. We have a total of 65 acres and we're constantly rotating for fresh ground.
CA GROWN: What advice would you give to someone who wants to become a farmer?
John: It's definitely not for everyone. You have to start somewhere, so just reach out to farmers and start working with them to learn as much as you can from them. You also have to have a strong work ethic because farming is not a 9 to 5 gig. It can put stress on a family if you're not used to a farm setting. For example, my wife goes to work and brings home her paycheck. When it comes to farming, you're planting your investments in advance and you don't see any of that money until after harvest. So it's definitely not for the faint of heart and having that determination to succeed is everything. Educate yourself as much as you possibly can and know more than the next guy – whether that's through school, an apprenticeship or whatever. It's also important to take baby steps towards your growth because if you grow too fast too soon, it can be a big mistake.