Meet a Farmer: Karen Avinelis, Thomas Creek Farm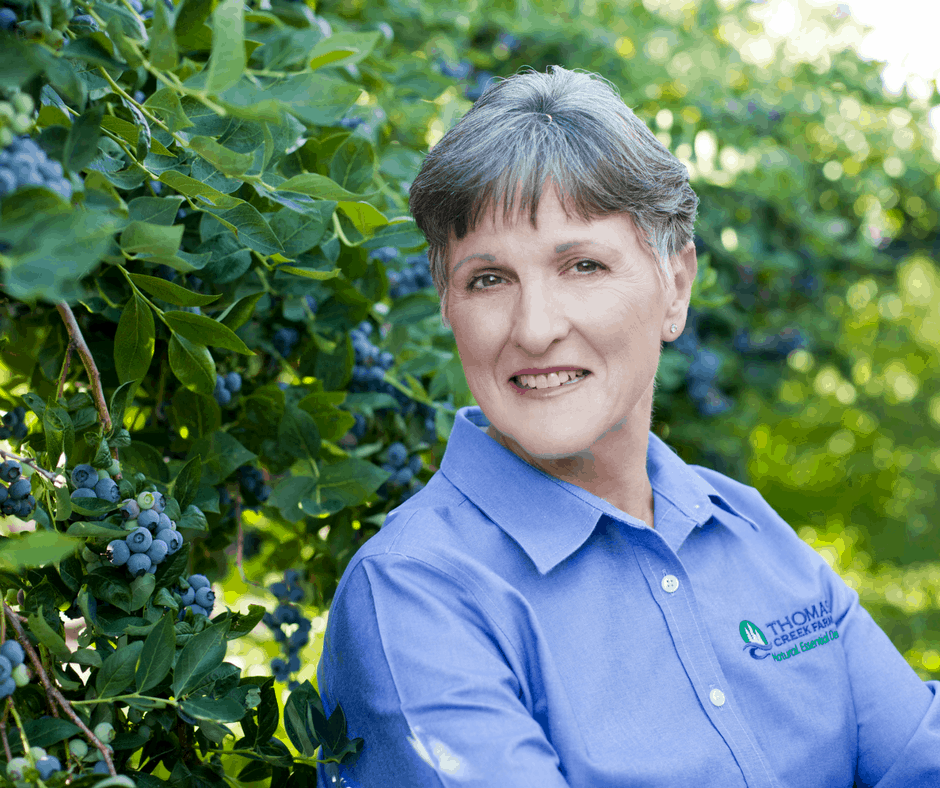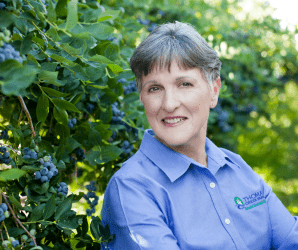 Meet Karen Avinelis, Founder, President and Research & Development Director of Thomas Creek Farm in Porterville, CA. When she's not busy learning about the many health benefits of blueberries, she enjoys spending time with her family and riding her horses.
Learn more about Karen, how her health impacted what she grows in the fields and why there's nowhere else she'd rather be than on her farm.
CA GROWN: Tell me about the history of the company and what your role is.
Karen: We're a family-owned and operated company that was founded in June of 2012. We wanted to develop value-added products from the crops that we grow on the farms we own and manage. My husband and I have been in the farming industry since we were born and I was always looking for a way to work with him. My real passion is blueberries and freeze dried, value-added products, so that's where we started and it has grown from there.
CA GROWN: What does a typical day look like for you?
Karen: Today, I've been out picking different blueberry varieties on two of our farms, tasting the different flavor profiles and deciding what is most appropriate for our value-added projects. Then I did some work in the research & development lab, I have a young scientist that works with me as well, so I left him to work on some projects and came back in the office. Now I'm working on several other projects and communicating with our clients. So my day takes me anywhere from out in the field to inside the lab and into my office.
CA GROWN: What drew you into the farming profession?
Karen: I love farming. I grew up on a cattle ranch and my father grew hand grains and angus cattle. I went to Cal Poly San Luis Obispo and met my husband there (I was an animal science major and he was a crop science major) and we both loved farming. There's no other place I'd rather be. I've been a professional floral designer and I have a Master's degree in biblical counseling so I've done a lot of other things, but I keep coming back to the farm because it's who I am. We take farming very seriously because we believe that we're stewards of the land God has given us to manage and that's a full time job.
CA GROWN: What are some ways your company gives back to the community?
Karen: We actually have a young gal named Emma who's about 8 years old now and she has an immune issue that she's had since birth. This will be the second year that her and her family will come out to the farm and pick enough blueberries for her to eat a cup a day for a year. We do this because her doctor helped her parents figure out that by eating blueberries every day, it helps her body deal with everything in the environment that causes her health issues. So we work closely with her family to make sure she's supplied with blueberries.
For the last two years, we've also sent freeze dried blueberries, apples and grapes to a camp for children with Type 1 diabetes. We really like to do things like that and get our healthy products into people's hands that really need it and may not be able to get it any other way aside from us donating it.
CA GROWN: What's your personal connection and reason for growing healthy foods?
Karen: We didn't start off as organic growers but as my husband and I dealt with my health issues, we realized that I'm very environmentally-sensitive to chemicals and things like that. I was born with a weak immune system, so I've had to research how to manage that while farming. We figured out early on that by using more organically-certified materials, it was less pressure on my immune system and body.
As I began to shift my eating habits and eat organically, I had a major shift in my health and that caused my husband to learn more about the history of organic farming and find out how we could convert our farming practices to organic. Understanding all of this and learning more about blueberry health benefits and what it can do for the body on so many different levels, I became convinced that what I ate was just as important as any medication I took. As we learned more about how food impacts your system, we realized that what we're doing was important and we wanted to make products to help other people that have the same issues that I do. That's been the most exciting thing for me with Emma because blueberries do the same for her system that they do with mine, so my health has impacted much of what we do and how we farm today.
CA GROWN: What are your hobbies or pastimes when you're not farming?
Karen: I love spending time with my husband and that usually consists of us walking through the fields. We have two adult children that work in the business with us and we love spending time with them and our four grandchildren. They've been here on the farm with us for the last few weeks and it's been wonderful. My husband and I both have horses as well, so we like to ride when we can.
CA GROWN: What's the most rewarding part of your job?
Karen: Putting healthy products in the consumers' hand because we know it's good for them, it's going to improve their quality of life and we take that job very seriously. I've been involved in blueberry research for about seven years now and the blueberry is really my passion.
CA GROWN: As a California farmer, we know that you have a long list of activities you undertake on your farm to care for the land and its resources. What are one or two ways that you're most proud of or you feel are innovative ways you care for your land?
Karen: We're very detailed about our irrigation processes and training and supporting every one of our employees to be the best they can be. We're also very focused on integrated pest management and how we care for the soil in between each one of our plants. We do all permanent crops (citrus, table grapes, stone fruit and blueberries), so we know the soil health in each one of our fields is extremely important. We want healthy microbes and a very healthy environment for the root system of every tree and plant.
We're also involved in cutting edge research and anything we can do to make our plants' environment better. We pay close attention to pollinator health and develop friendly environments for native pollinators. We are also keenly aware of how we impact the communities that surround our farm and part of our view of sustainability is understanding that it's not only about the soil and the plant, it's about everyone that works in the field for us and all the communities that we impact around our farms. For this reason, we're always looking at new and innovative ways that can help us do a better job with everything that we do.
CA GROWN: What advice would you give to someone who wants to become a farmer?
Karen: To get out in the field and live with it for a while. Don't get into farming if you're not passionate about the land, environment or the plants that you grow because it's a tough life. We have weather events, market issues and much more that we can't control. You spend your time and money raising your crop all year long and when it's harvest time, that's when you make it all back. If you don't have a stomach for that, you probably shouldn't be in farming. You also have to care about each one of your employees and the communities that you touch. And if you love the soil, the plants and if you love hard work, then farming is perfect for you.