Meet a Farmer: Andrew Kazarian of Circle K Ranch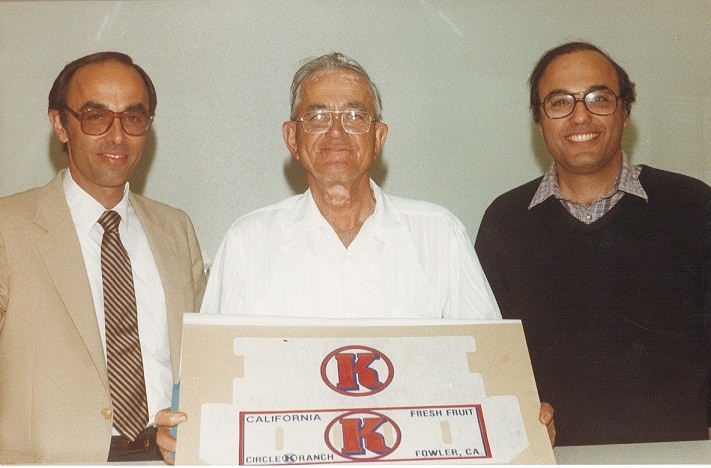 Meet Andrew Kazarian, General Manager of Circle K Ranch in Selma, CA and third generation farmer. After working with his dad and brother on the farm, Andrew appreciates the knowledge he's gained and believes dedication is key when it comes to farming. Learn more about him, why he loves providing people with jobs and what it's like to work with his family!
CA GROWN: What are you doing today?
Andrew: Our company's work is very seasonal, so we built it to be a year-round business. Right now, we're really busy with Christmas gift packs and now the tree fruit and table grape season is over. Those are summer and fall crops that we harvest and sell and now the farming is pretty much finished. Now the crews are busy putting together our holiday gift packs and that will keep them tied up throughout the holidays.
CA GROWN: What is your favorite part of your job?
Andrew: I get to work with my brother and dad on a daily basis and I get to learn so much from my dad. His experience and wisdom has been key to our success and it's a good experience to see how my brother and I think similarly and differently on a number of issues. For the most part, we agree on the important things and that's a great thing. Working with your family can be very rewarding, but it's not for everybody. It's a delicate situation because you have to identify strengths and weaknesses, give everyone their responsibilities and also have boundaries and make sure people are accountable.
CA GROWN: How do you give back to the community?
Andrew: We give away fruit, we donate food and we give jobs to the local communities. We also help our employees as much as we can with miscellaneous things.
CA GROWN: What drew you into the farming profession?
Andrew: I used to do commercial real estate and I saw an opportunity to be in business for myself with my brother and dad. From there, we were able to work together and grow this business.
CA GROWN: What are your hobbies or pastimes when you're not farming?
Andrew: I love to travel and I definitely enjoy going on family vacations with my wife and two sons as much as I can.
CA GROWN: What advice would you give to someone who wants to become a farmer?
Andrew: Know that it's hard work and if your heart isn't in it, it can definitely work against you. You can't be just an average farmer, you definitely have to put your heart and soul into everything you do and be dedicated to it. You also need to have a lot of experience and know what you're doing when it comes to farming.
CA GROWN: What has contributed to your long-term success in the past and what are you doing to ensure continued success in the future?
Andrew: We're vertically integrated in that we farm, we pack, we sell and we're doing activities that allow us to keep employees busy for 9 to 10 months out of the year instead of the typical 3 to 4 months that other farmers do because we're farming different crops and doing many things.
CA GROWN: What are some things you're looking forward to with your business?
Andrew: Expanding in a systematic fashion, doing the things that we do best and maybe scaling back in other areas where we can't get as much production value.
CA GROWN: What's the most rewarding part of your job and why?
Andrew: Being able to give jobs. I love that we're able to employ 150 people with jobs in the summer and we give them their payroll checks weekly. Giving jobs to the locals who work so hard and do their best work for us is definitely rewarding.
CA GROWN: How does it make you feel to know that your business has been successful through three generations of your family?
Andrew: There's definitely a little bit of pressure to keep going just like my grandfather and dad did. My brother and I view it as a challenge though because there are other things going on now with water, labor and weather. There's a lot that can go against you, but we think we're going in the right direction with the crops we farm and with the great employees we have.