Highly Likely Café Serves Up Fun, Fresh + Local Food
Los Angeles is known for its movie stars, great beaches, and perfect weather. It also happens to have one of the best restaurant scenes in the U.S., and arguably the world. With respect to good restaurants, the historic community of West Adams is having a moment. Known for being one of L.A.'s oldest neighborhoods when it comes to architecture, it's now one of L.A.'s youngest when it comes to residents. That can only mean one thing – hip restaurants like Highly Likely Café that are serving up fun, fresh food are moving in. We recently had the opportunity to visit Highly Likely and chat with Chef Kat Turner about her unique menu, what she loves about the neighborhood, and how California produce inspires her cooking.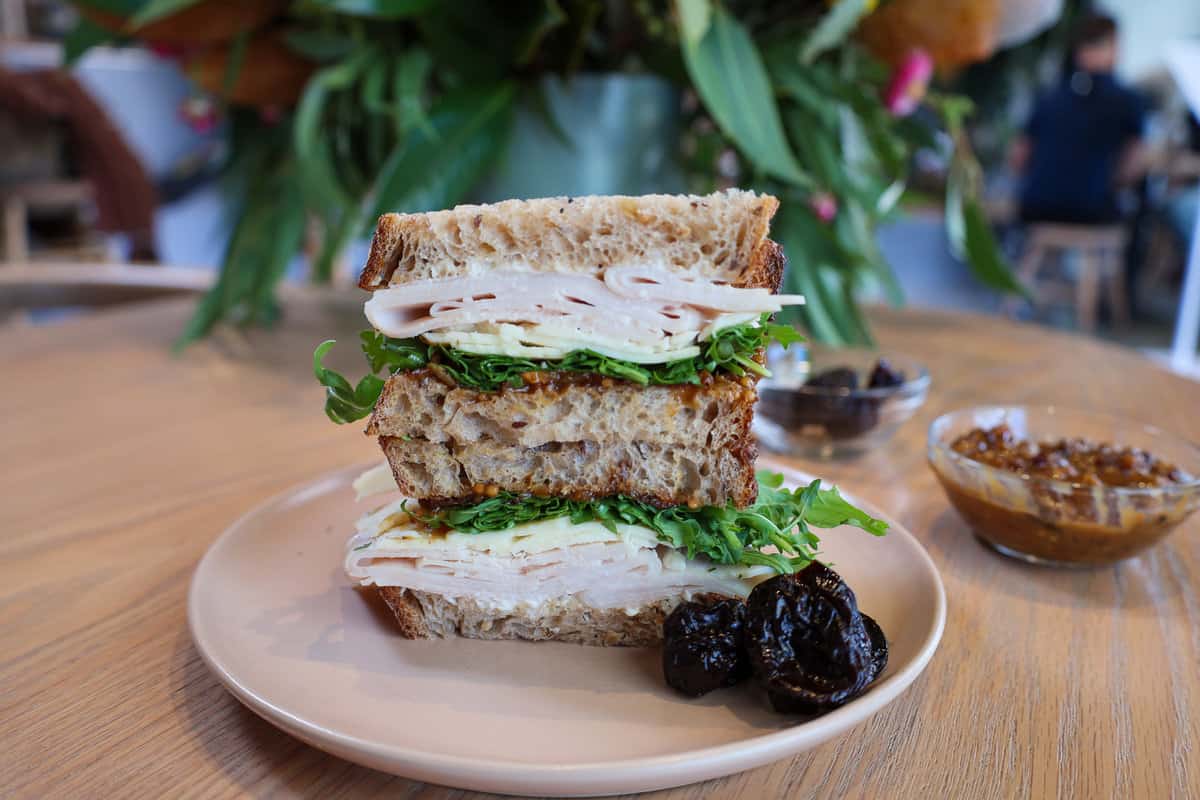 Highly Likely Café is an Eclectic and Welcoming Neighborhood Gathering Spot
Highly Likely is an all-day cafe located on a quiet strip of Jefferson Boulevard in an industrial-looking building. The restaurant is open and airy with blond wood accents, a beamed ceiling, smooth cement floors, plants everywhere and a rather large tree growing in a planter in the center of the dining room. Basically, it's a millennial's dream space. I arrived mid-morning to interview a very chic Chef Kat who was totally calm and collected, despite the fact that a team of fire inspectors was rummaging around in her kitchen.
The place was hopping – full of parents with strollers, folks with laptops, people grabbing a quick cup of coffee and friends meeting for brunch. "Is it always like this?" I ask. "This isn't actually that busy," laughs Kat.
Her menu can best be described as eclectic and reflective of the melting pot that is L.A. with Mexican, Asian and Middle-Eastern influences. You'll find everything from breakfast burritos and rice bowls to salads, sandwiches and small bites. Of course, they have Ubiquitous Avocado Toast (its actual name), and some of the best coffee in town. Pro tip: do not sleep on the Good Turkey Sando that's slathered with Kat's famous Prune Mostarda, or on her award-winning hot sauce made from locally grown Fresno chilis. 
Kat's path to becoming a chef isn't linear – she grew up in a small Wisconsin town, studied theater and fine art in college, moved to L.A. and became an actor (as one does), then eventually she went to school in New York to become a private chef. She moved back to Southern California and worked as a private chef with bands like Smashing Pumpkins and for A-list actors traveling all over the world. It was during those travels that she picked up different styles of cooking. After her stint as a private chef, Kat started catering for a company in Utah where she created menus for large events "kind of like Ted Talk meets Burning Man with a really incredible food program," Kat quips. That's where she met her current business partner.
After some persuasion (she initially wasn't interested in running a restaurant), Kat moved back to Los Angeles and opened the restaurant in May of 2018. "Highly Likely is special. It's kind of a neighborhood catch-all. It's an all-day dining café. We have incredible Third Wave Coffee, we have a great California wine selection. I created the menu to be familiar and approachable but also unique. There's a lot of influence from all over the world that weaves its way into every dish. My goal is to have food that's accessible but leaves the diner feeling as though they have eaten something special," Kat says.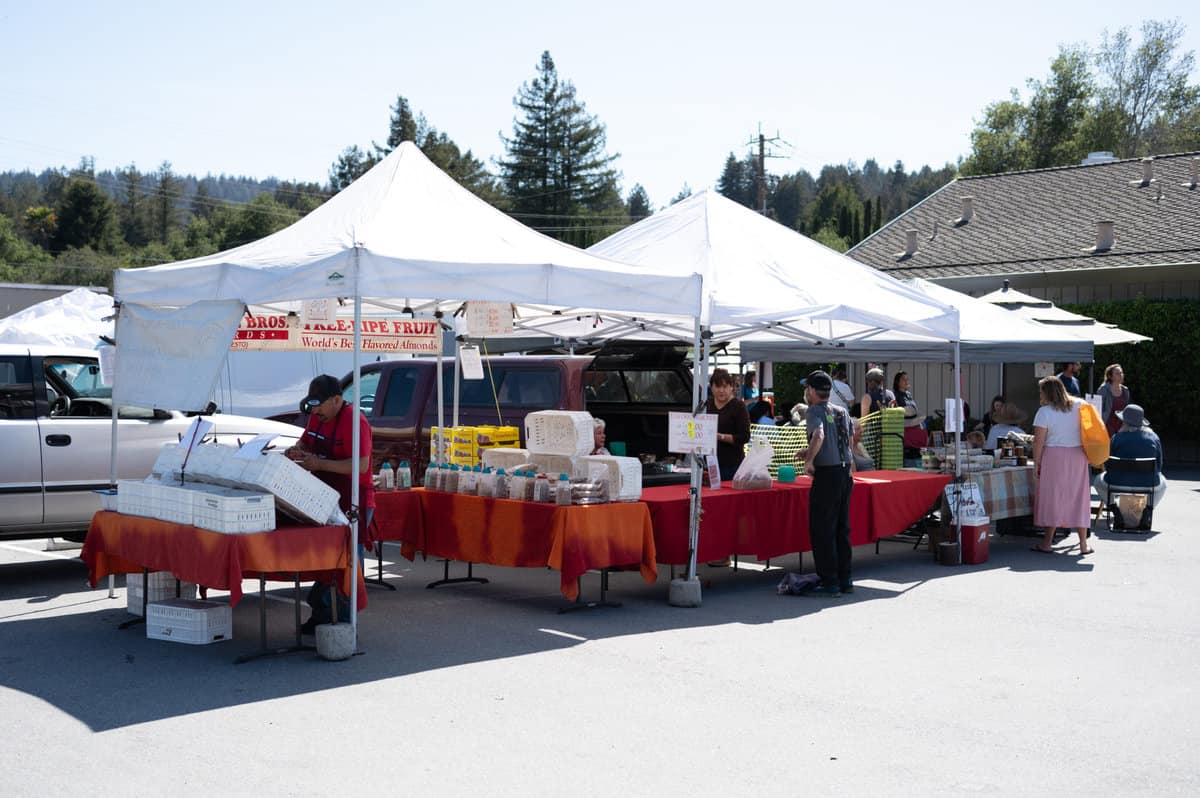 The Produce in Los Angeles is a Sensory Overload
Even though Kat hails from the Midwest, she's an Angelino at heart. She always wanted to come to L.A., especially since her first career aspiration was to be an actress. "As robust and glamorous as the film industry here is, I think that the food is also robust and glamorous and exciting. You're met at every corner with all kinds of food that is from different ethnicities and regions, and some of the best produce that you can get anywhere in the world. As a chef, it's like getting Willy Wonka's golden ticket. You go to the farmers market and see stall after stall after stall of gorgeous, sexy vegetables and meats and cheeses and flowers – it's almost like sensory overload. I think that we are really lucky to be in a place that has so many intersecting areas of culture and food," remarks Kat.
Kat is committed to sourcing her food from local farmers. "As a chef, I think you're doing a great disservice to yourself if you don't go to the farmers market. I wait all year long for Tennerelli to have their robata apricots that are only available for two weeks and I go absolutely crazy for those. Weiser is incredible – they are legends. Their radishes and their melons and their potatoes. Every farmer at the farmers market is a rockstar as far as I'm concerned." 
When you come to Los Angeles, Kat wants you to know that you should expect to eat well. "People should come to Highly Likely first if you're hungry. But if you come to L.A. for a week you can eat in as many different settings as you choose. The ability to travel the globe in one city is just incredible. But you have to have a car, don't think you can just UBER everywhere," she jokes.
"For me, one of the gifts of being a chef is that you're afforded the incredible luxury of bringing people together. To see the same people day after day, year after year. It's an unbelievable gift. As rewarding as it's been for me, I hope it's been the same for the people who come through the doors at Highly Likely, and who have met me and my partners and my incredible staff," Kat continues. "It takes a lot to run a restaurant like this seven days a week and I wouldn't be able to do it without an amazing team of everyone in the back of house and front of house who pulls together day after day to make it work. I think most people know that the restaurant industry is hard – if anyone watched The Bear – but the real deal is that it's a true labor of love."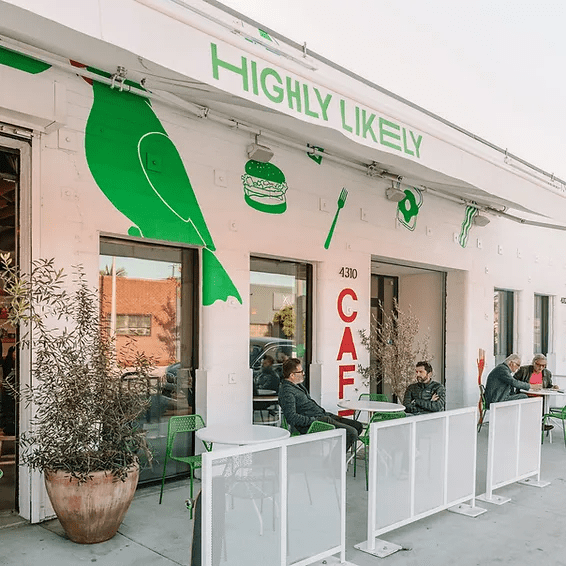 Visit Highly Likely Café
4310 W. Jefferson Blvd, Los Angeles, CA
Website: https://www.itshighlylikely.com/
Article by Alison Needham. Images by Alison Needham and James Collier.