Hawks Public House – Sacramento Farm-to-Fork Gastropub
Hawks Public House, located in East Sacramento, is a gastropub and so much more. Offering a seasonal menu peppered with inventive dishes sourced from local farms, this is the second restaurant of husband + wife team Molly Hawks and Michael Fagnoni. We had the chance to sit down with Molly and Michael to find out more about their restaurant, their ethos, and why they love the Sacramento area. Happily, we also enjoyed a delicious meal there. The next time you're in California's capital you should too.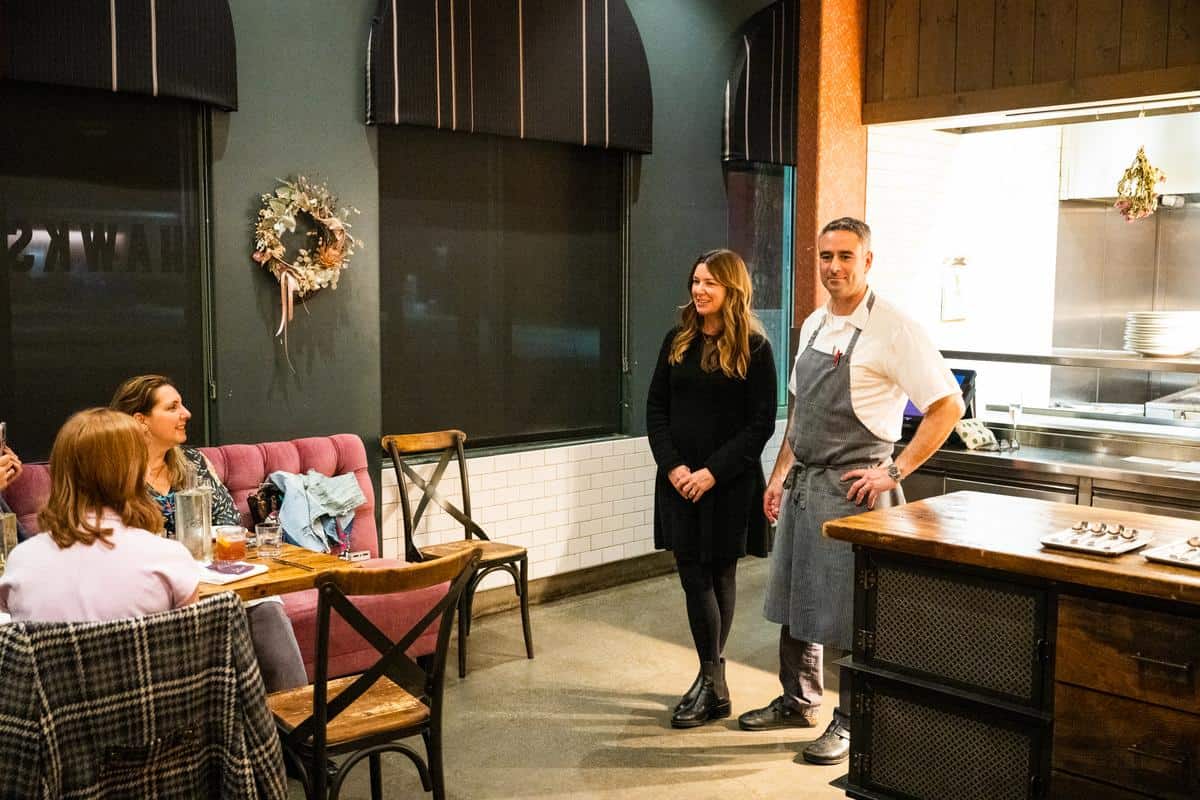 At Hawks Public House, Michel's role is head chef, and though Molly is also an accomplished chef, she primarily runs the management and operations side of their business. Mike and Molly met and fell in love while working together at another establishment. They always knew they wanted a restaurant of their own and realized their dream in 2007, when they opened their first restaurant Hawks in Granite Bay. The location quickly became a hot spot and is known for its romantic atmosphere, great ambiance, and delicious California cuisine. When they considered what they wanted from a second restaurant, they knew they were looking for something a bit smaller, a bit more casual and closer to the emerging "foodie" scene in Sacramento.
Sacramento – A Foodie Destination
Sacramento is the self-proclaimed "Farm-to-Fork Capital of the World" and that makes a lot of sense considering its access to abundant fresh produce grown nearby. "When Michael and I first relocated to the Sacramento area, we didn't know just how much agriculture would be at our fingertips. And…once the word gets out that you have a restaurant with chefs who are looking for cool, interesting products to use and trying to cook in the seasons, the [farmers] will find you," shares Molly.
Talking about the food at their second venture, Hawks Public House, Chef Michael describes it as true, honest cooking. "We start with everything with dirt on it. Nothing is precut, frozen, or pre-made. So it's real food using direct farmers and real produce," he promises. "You can have almost any experience here – come hang out at the bar, have a burger [or] you can do a full course menu," he adds.
Like all farm-to-table restaurants, their menu relies heavily on what produce is seasonally available. "It's really a beautiful thing when we create a menu, we're looking to see what's in season. And just when you think…ah, that's been on the menu for a while, the seasons start shifting and there are new ingredients to bring in," remarks Molly.
Their connection to local agriculture is what makes their menu truly stand out. "When you buy direct from the farmer, you're getting only what's in season, picked by somebody who loves what they do, and it's their livelihood, so it's always ripe and the best possible product you can get," says Michael. "That's all we want to serve here. We want to do the least we can to just show the quality of the product," he explains.
One of Chef Michael's favorite ingredients to use is California Prunes. "Prunes are a great ingredient. I mean, it's a dried plum, right? It's got a lot of sweetness. When we puree it, they give a ton of viscosity. We've done everything from soaking them in cognac and serving them with duck to making a puree with balsamic vinegar and miso to go with some charred carrots. They're super versatile and can be used in sweet or savory," he observes.
In addition to an eclectic wine list featuring many California wines, Hawks Public House also prides itself on having a "farm-to-cup" cocktail program. "Jamie, who orchestrates our bar program here, is often in the kitchen whether she's dehydrating fruit or making syrups or tinctures. You know, there's just as much cooking that goes on for the bar program as what we do for the food side," explains Molly.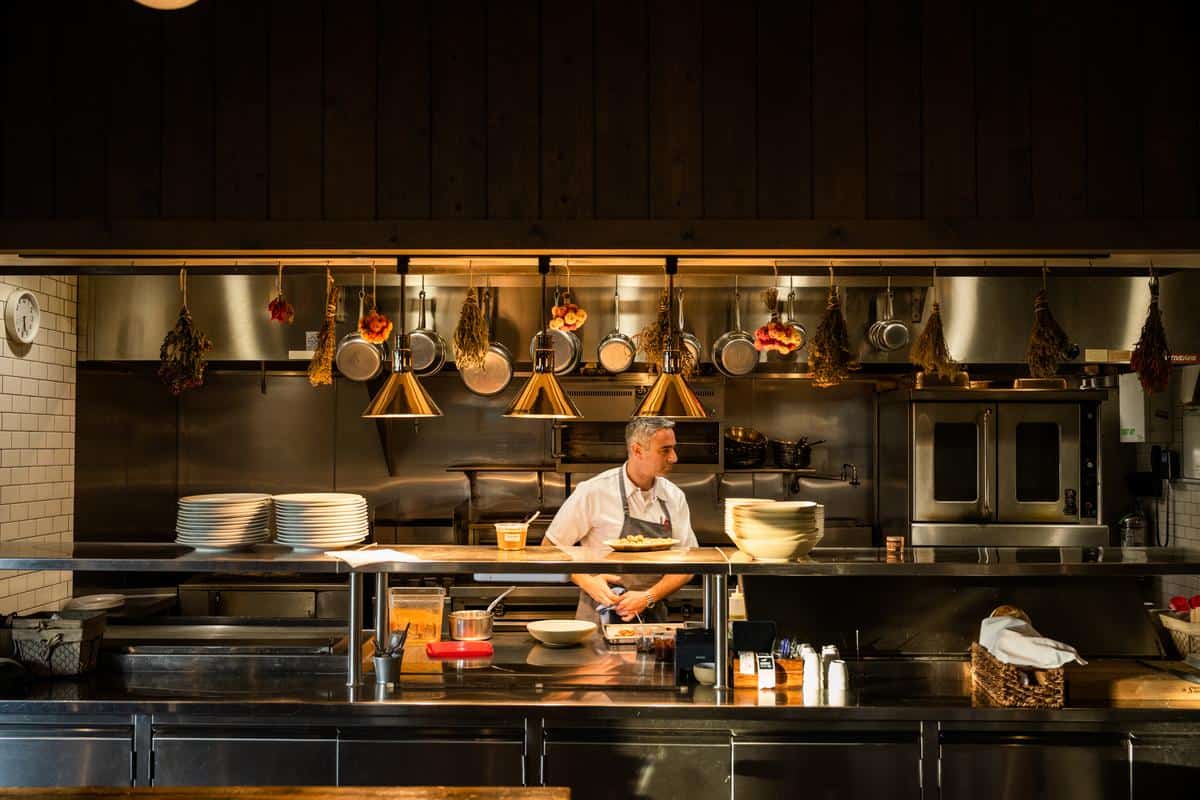 Michelin "New Discovery"
Since its opening in 2015, Hawks Public House has become not only a popular place to dine with locals and tourists, but has also caught the attention of the folks at Michelin. Last year Hawks Public House was honored in Michelin's latest roster of "new discoveries'. Molly says, "We had heard that the restaurant might be acknowledged in the Michelin Guide, and we didn't know exactly what that meant. And, once the guide was released and we saw that the restaurant was included… we were honored just to be acknowledged. As chefs and as restaurant owners, that's something we talk about with the team – set the bar to where we want to be."
The interior of Hawks Public House is elegant-meets-industrial with rich green walls, plum velvet banquettes, rustic wood tables, high ceilings, brass accents and interesting art. It has a modern and romantic vibe, and is an equally great spot to grab a drink and some snacks or to settle in for an evening of locally sourced (and delicious) offerings. Molly and Michael are looking forward to your visit. "One of the beautiful things about this space is that the menu's always evolving, the cocktails as well as the food. Seasonally there's always something new to try and I feel like we're in a really beautiful place right now with our menu. So I just want everyone to come enjoy," encourages Molly.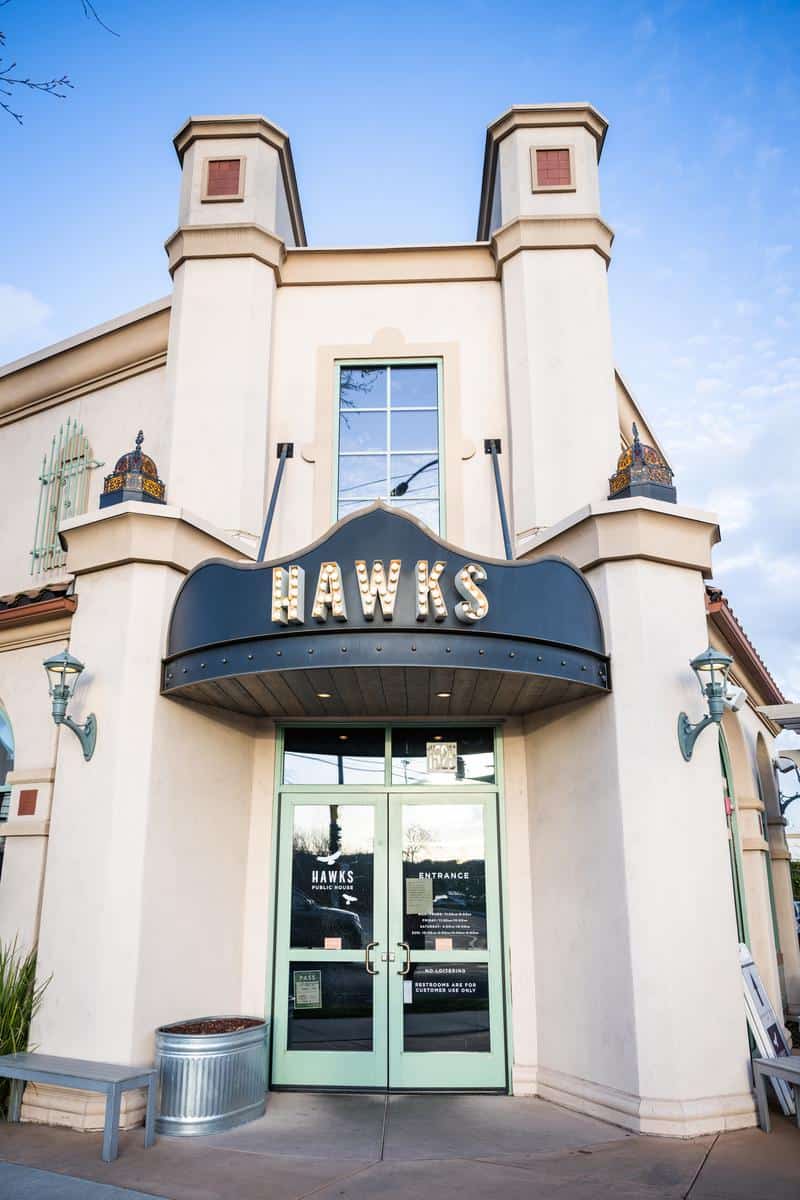 1525 Alhambra Blvd
Sacramento CA 95816
(916) 588-4440
eat@hawkspublichouse.com
Article by Alison Needham. Images by James Collier.