CA GROWN Restaurant – Trelio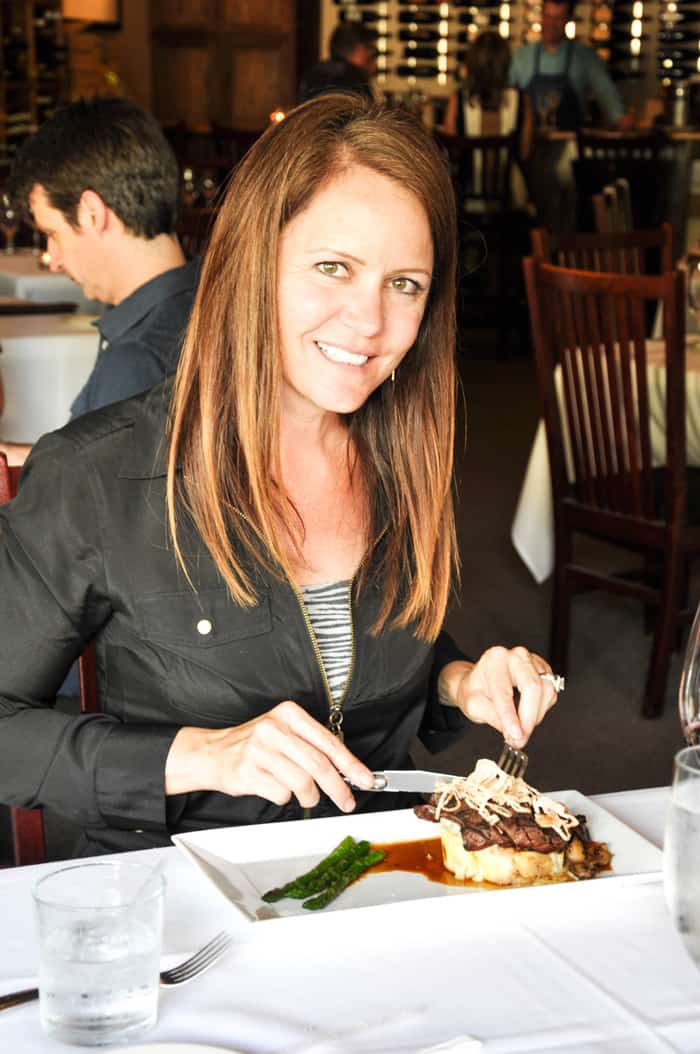 Located in the storybook old town district of Clovis, Trelio is a unique culinary oasis in a town saturated with chain restaurants and fast food. The relaxed elegance is a lovely addition to the row of boutique shops and antique stores that line the busy street. Once you walk through the door of this charming restaurant, you can feel the love and care that the owner, Chris, has instilled in his staff and his creations.
My husband and I snuck away for dinner recently and were delighted to find not only attentive service, but we agreed this was our new favorite local spot to dine.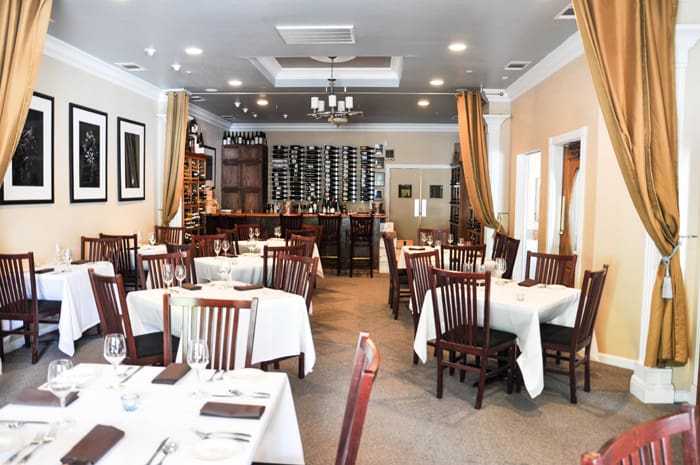 The wine list at Trelio is pretty impressive. Chef Chris is a trained sommelier so you would expect nothing less. The wait staff was very educated on the wines and patiently gave us a background of each wine when we were wavering between two. We decided on a California Cabernet Sauvignon from Scheidt Winery (Sonoma) and it was quite the treat for $12 a glass.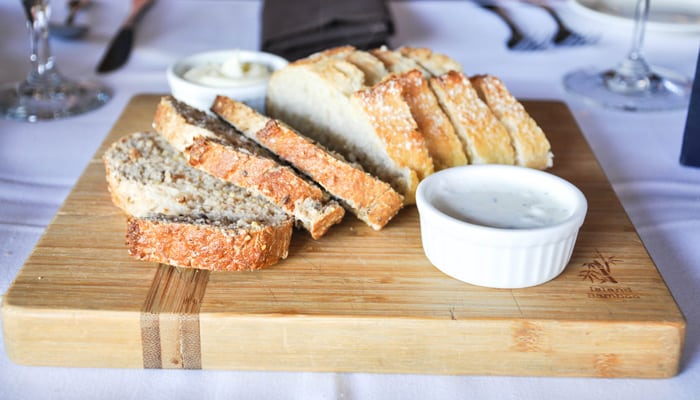 Piping hot bread was quickly whisked to our table, accompanied by a creamy salted butter and freshly made formaggio. The seven grain and traditional french selections were a perfect start to our meal. We leisurely sipped our wine and chatted about life. It was the perfect weekday respite to our busy life.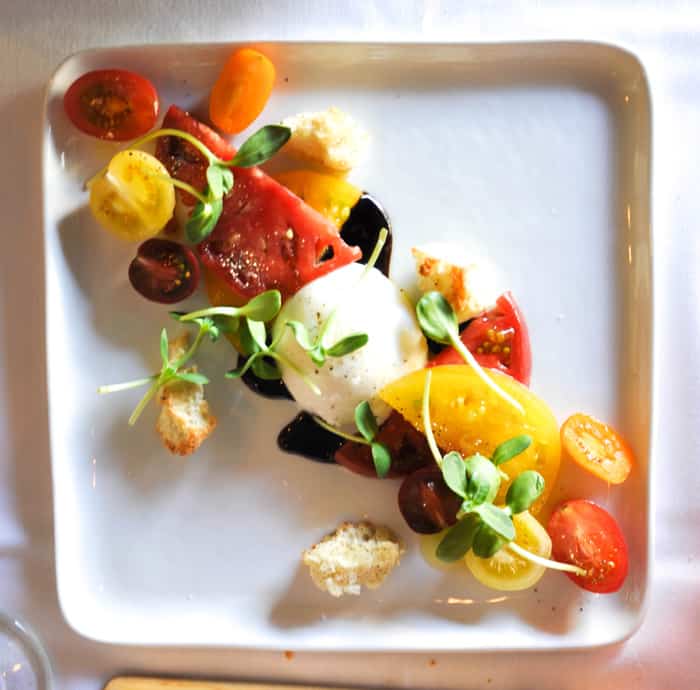 Our first course – or second, if you count the bread – was the Heirloom Burrata. A decadent combination of jeweled tomatoes and mozzarella wrapped ricotta cheese. The kicker to the dish were the delicate and tasty sunflower shoots along with the sprinkling of crunchy house-made garlic croutons. Delish!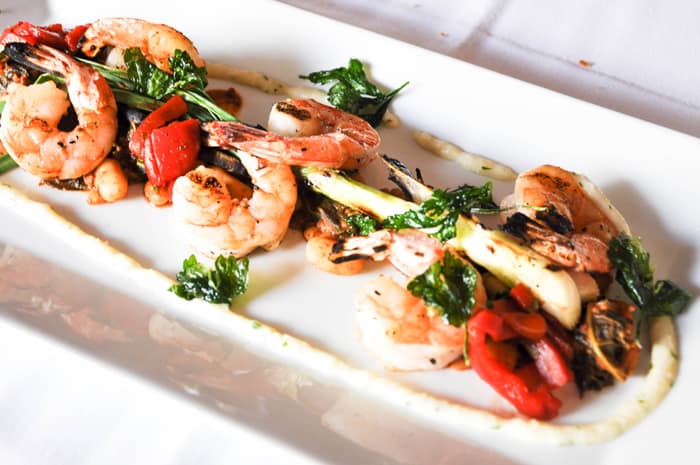 For our main course, I chose the grilled tiger prawns in a white bean, chorizo and kale mixture served with a creamy corn cilantro puree. The combination of flavors was genius! A little bit cajun and a whole lot of southern. My husband chose the flat iron steak atop a blue cheese potato cake topped with a mushroom wine sauce. I actually took over the plate as you can see in our first photo. The beef was amazingly tender and the flavor of the silky red wine jus was perfection. Chef Chris explained to us what area of the beef the flat iron comes from and how it has become a new phenomenon in the culinary world, since butchers have learned to cut it differently. Yay for butchers making life better!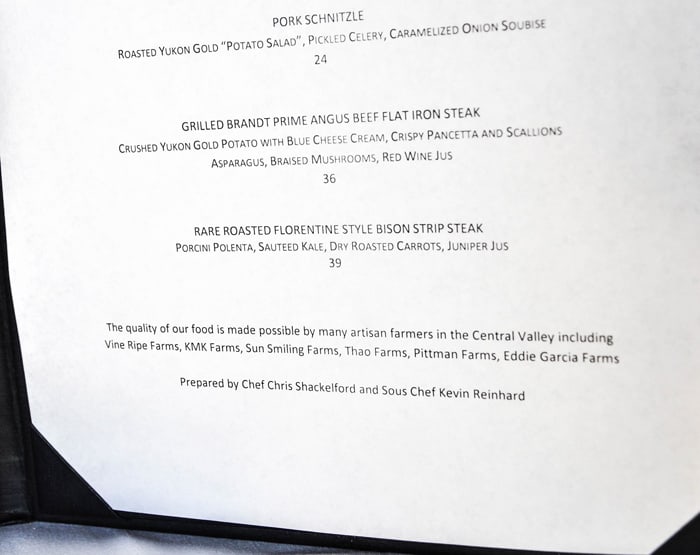 Chef Chris and I had a chance to sit down for a quick pow-wow so I could pick his brain about how he sources his food for the restaurant. You might be surprised about why he chooses his food locally!
——-
CA Grown: How do you go about sourcing the food for your restaurant?
Chris: We shop every day. We are at the local farms, Farmer's Markets, and sometimes I go to Whole Foods when I can't find what I want, but that is pretty rare. We don't buy any of our food off a produce truck. I want to see, feel and taste everything that I am going to be preparing.
CA Gown: So, you go yourself? That sounds like a lot of work!
Chris: It doesn't feel like work to me! I love what I do and am so passionate about it; it's like an adventure to me everyday. When I get back to the restaurant, we put our heads together and figure out what we are going to prepare for the evening. Because of the changing and sometimes short growing seasons, we have dishes on the menu that are short lived. We have, on average, one to three new dishes daily. The dishes metamorphosize with what is available and as the seasons progress.
CA Grown: Is it important to you to buy local?
Chris: We never sought out to be the local sourced, farm-to-fork restaurant. We just want good quality, unique products – so buying local for us is a no-brainer. We can't get any better food than what's in California. I'm talking produce, fruit, meat. We live in the bread basket of the world, so it wouldn't make sense for me to buy from anywhere else but here. There are a few things we can't get here, like pork and lamb, just because there isn't enough production around here for that. But, it comes down to quality, we want the best stuff and local farms grow the best stuff. Period.
CA Grown: What is the most unique menu item you've made using local food?
Chris: Our goal is to make unique dishes everyday with standout ingredients. Some of things that come to mind are unique flowers and sprouts that people consider weeds that we put in our dishes. We've had local rabbit and goat on the menu too. That was pretty unique! I'm searching for unique items to satisfy my need to create every day, so naturally there is something unique on the menu daily.
——
Boy, he's not kidding! A few more items on the menu that are certainly unique: Crispy Smoked Pork Jowl, Rare Roasted Florentine Style Bison Srip Steak.
Trelio is located at 438 Clovis Avenue in Clovis, California
You can also check them out on the web, or like them on Facebook for daily mouthwatering photos of their creations.