CA GROWN Chrome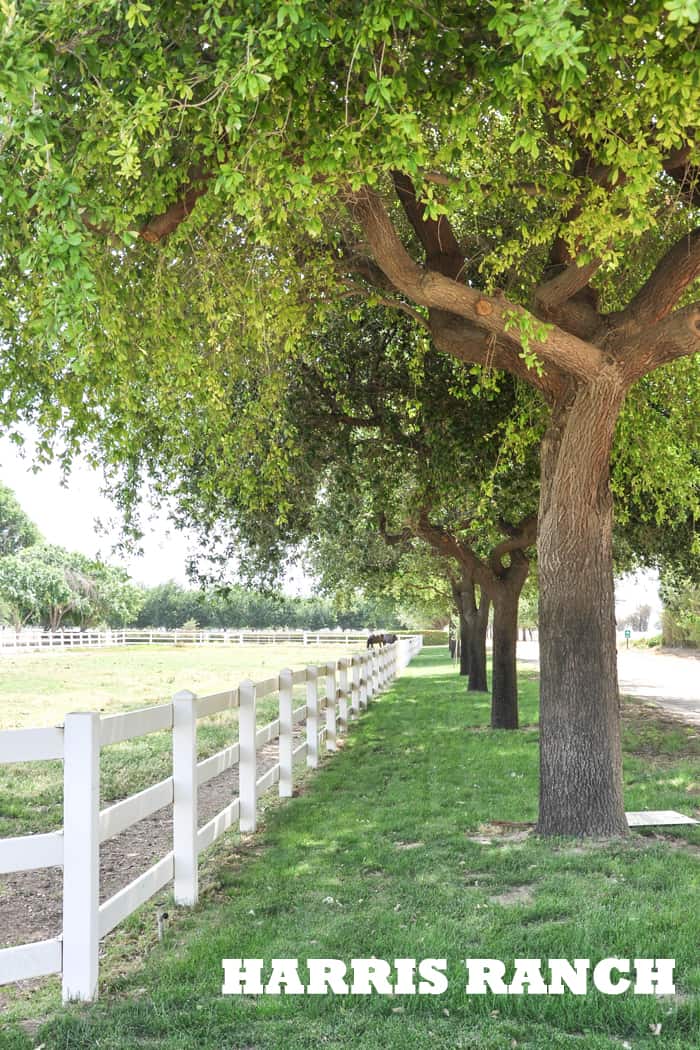 Triple Crown hopeful California Chrome is the ultimate California Grown ambassador. Born and raised in the heart of California's Central Valley at Harris Ranch, California Chrome's humble beginning and storied rise to fame are what America is all about. We live for stories like this. It helps us keep our own dreams alive.
I recently visited Harris Ranch and got to learn a little bit more about California Chrome from the staff at the boarding and training facility. I walked along the rocky paths and peered into the green pastures that Chrome has been accustomed to all his life. As I walked the unassuming grounds, you could see the love and feel the pride that everyone there has for this horse. I even got a chance to sit with Per, Chrome's first trainer, to ask him what set California Chrome apart from all the rest. "He was a horse that was easy to work with," Per said beaming. "Very smart, very trainable." Debbie, who has worked at Harris Ranch for over 20 years, said Chrome was just a cool, laid back horse. In an industry where horses are known to be wiry and easily excitable, Chrome's smooth demeanor stood out.
Chrome's rise to fame has been quick. In March of 2013, after his potential was noted at Harris Ranch, he was transported to southern California to work with trainer Art Sherman. His exciting win at the Kentucky Derby – the first in 62 years for a California-bred horse – was the start of an amazing journey. After his incredible win at The Preakness, this $10,500 dynamo has everyone murmuring; could he be the next Triple Crown winner? What's even more exciting is that the elusive Triple Crown was never been won by a California-bred horse. Maybe this is our year.
I was ecstatic to meet California Chrome's dam and sire (mom and dad) as they still live at Harris Ranch. It's times like these, that you wish you could communicate with animals so you could let them know what their boy is up to!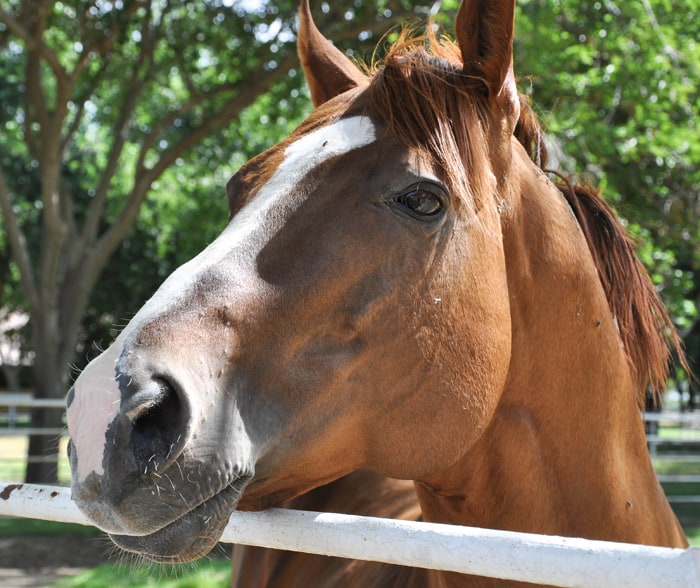 Lucky Pulpit – Sire to California Chrome
Lucky Pulpit, California Chrome's sire, has gotten a lot of attention too. His stud fee quadrupled after California Chrome's Kentucky Derby win, and just in case you are wondering – he's all booked for the year.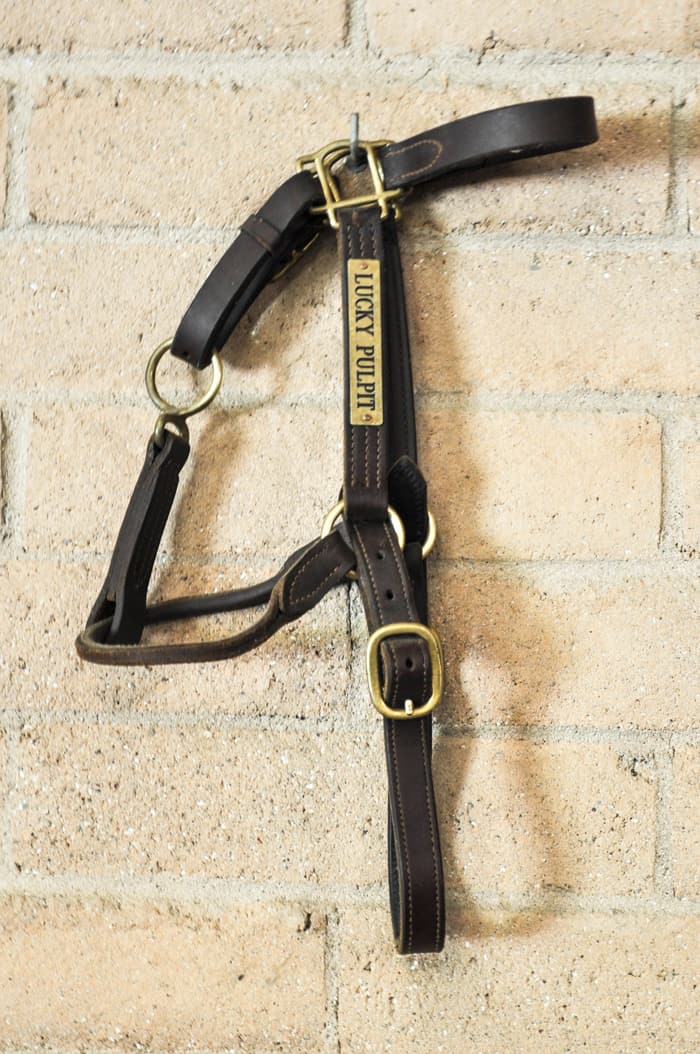 Lucky Pulpit's harness hangs in the Stud Barn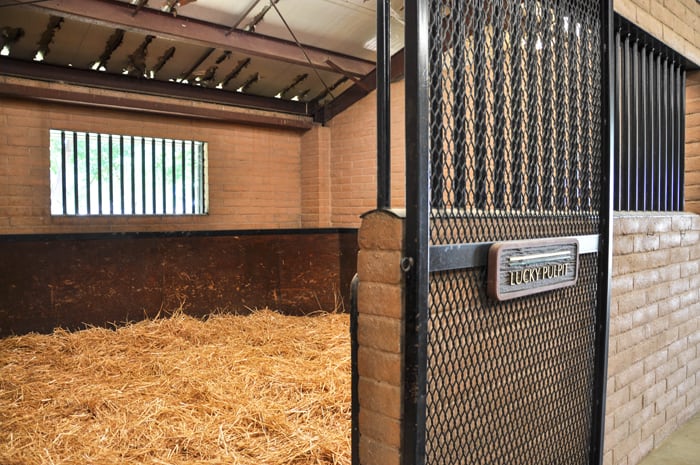 Lucky Pulpit's Stable
Love the Chase is busy with her 4 month old filly. This baby is the full-blooded sister to California Chrome. She doesn't have a name yet. She will once the owners get together and pull names out of a hat, just as they did with California Chrome.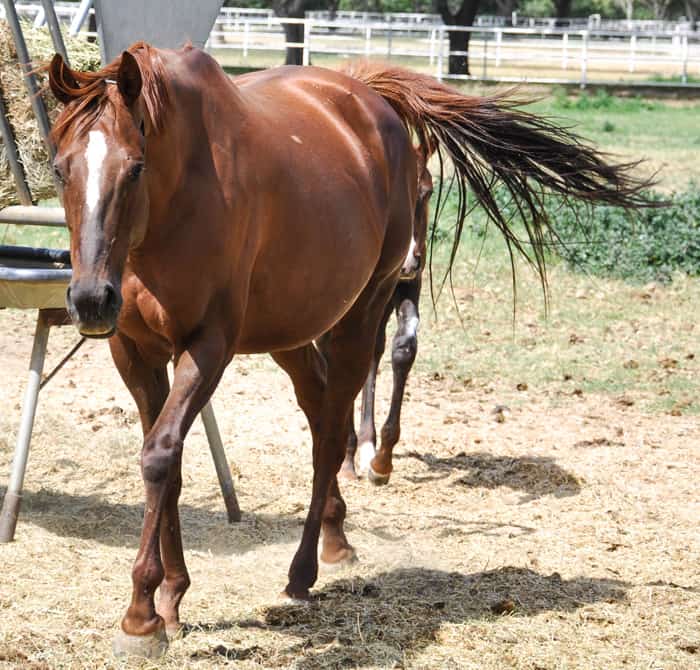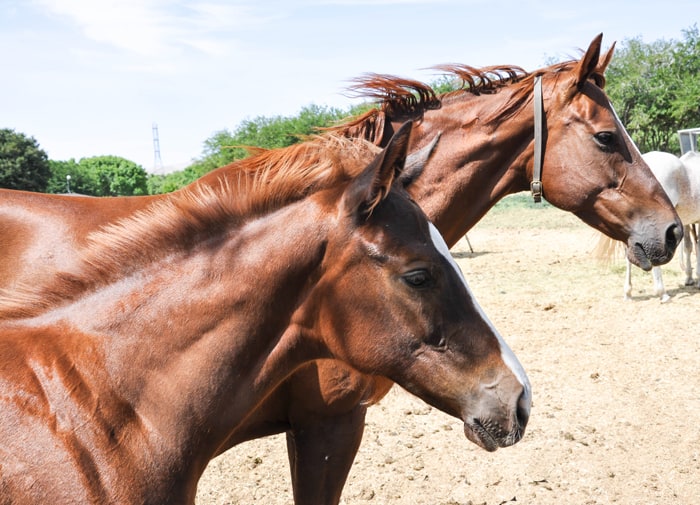 More than likely, California Chrome will run The Breeder's Cup in November and then retire to stud. Not a bad life. I asked Per if he thought California Chrome would ever come back home and he was skeptical. He's a super star horse. He's going to garner a lot of attention now. Per said he will probably end up in Kentucky as a stud. Well, one thing is for sure – Kentucky or not – he will always have the unique name that undeniably represents where he came from and as the ultimate California Grown horse!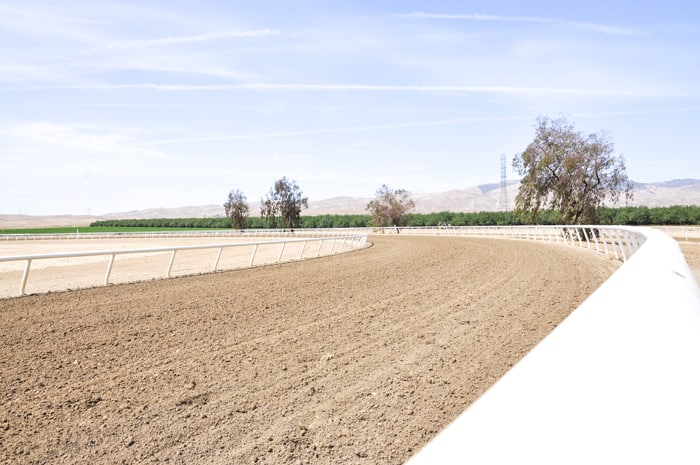 California Chrome's first training track at Harris Ranch – 7/8 Mile
California Chrome Facts
Born – February 18, 2011
Dam – Love the Chase
Sire – Lucky Pulpit
Investment – $10,500
Turned pro – March 2013
Kentucky Derby win – May 3, 2014
Preakness Stakes win – May 17, 2014
Follow us on Facebook, Twitter and Instagram and watch with us as we follow this amazing horse to the Triple Crown!