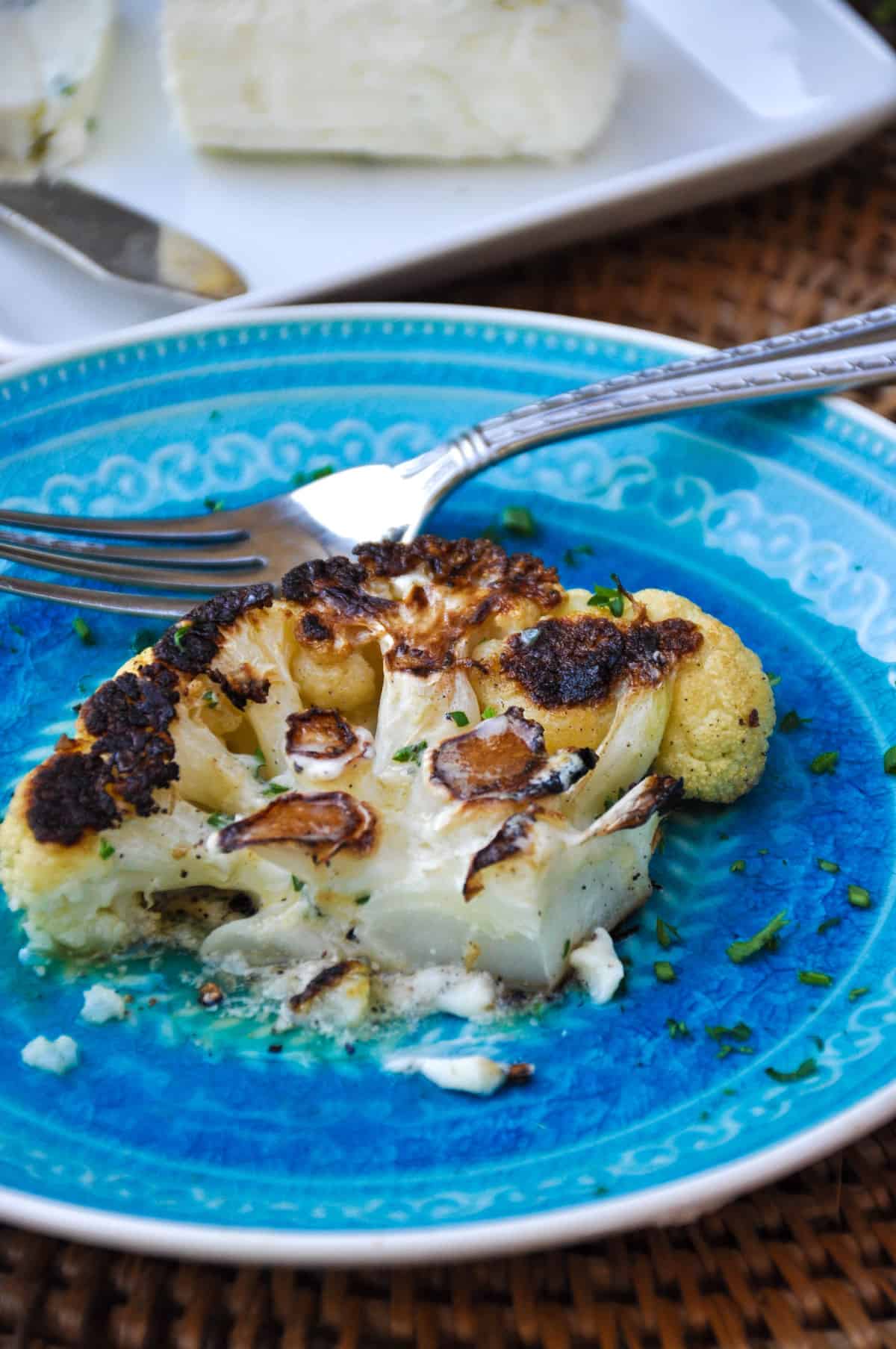 CA GROWN Blog
Discover. Learn. Connect.
Cauliflower Steaks with Blue Cheese Butter
December 6, 2017
Eat the Season!
Sign Up For Weekly Recipes
« Back to Recipes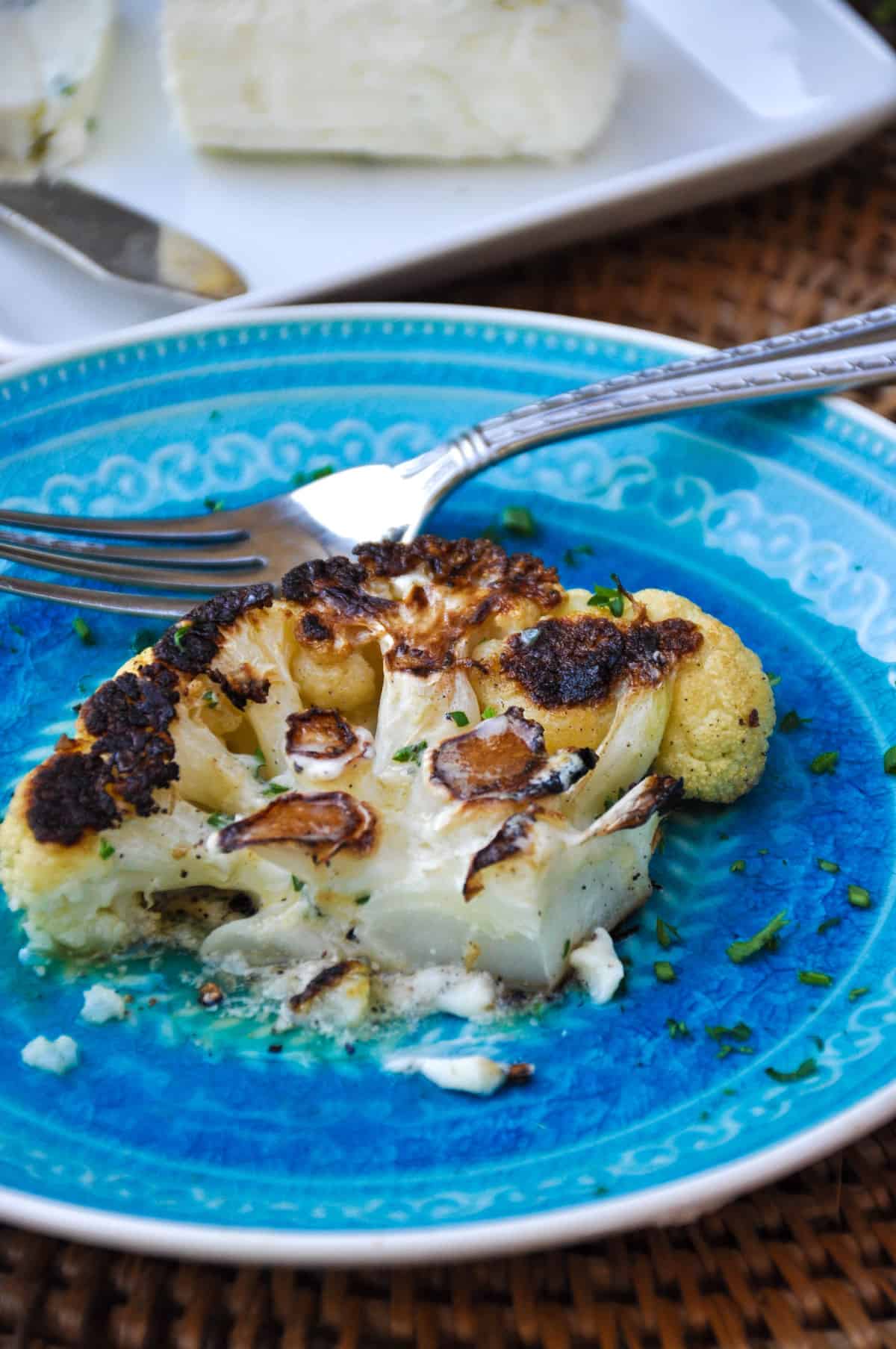 Cauliflower Steaks with Blue Cheese Butter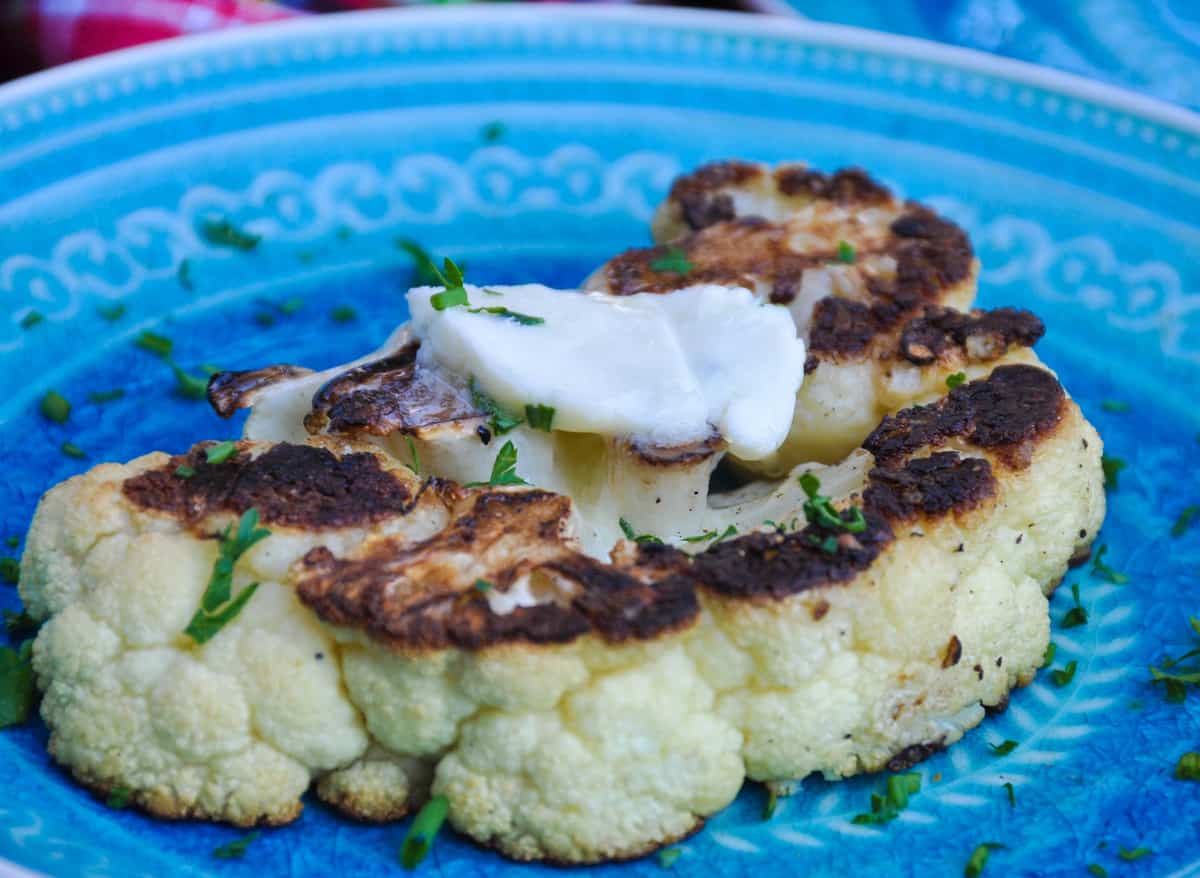 Cauliflower anything is all the rage right now, and I totally get it! I mean…when you are trying to cut back on carb intake and you are gifted this vegetable that looks, feels and evens tastes like a carb-loaded potato, you do a little happy dance.
This particular method treats the hearty veggie like a thick steak and gets seared and roasted in the oven and topped with a classy Blue Cheese Butter! Talk about a yum-fest.
Is your mouth watering yet?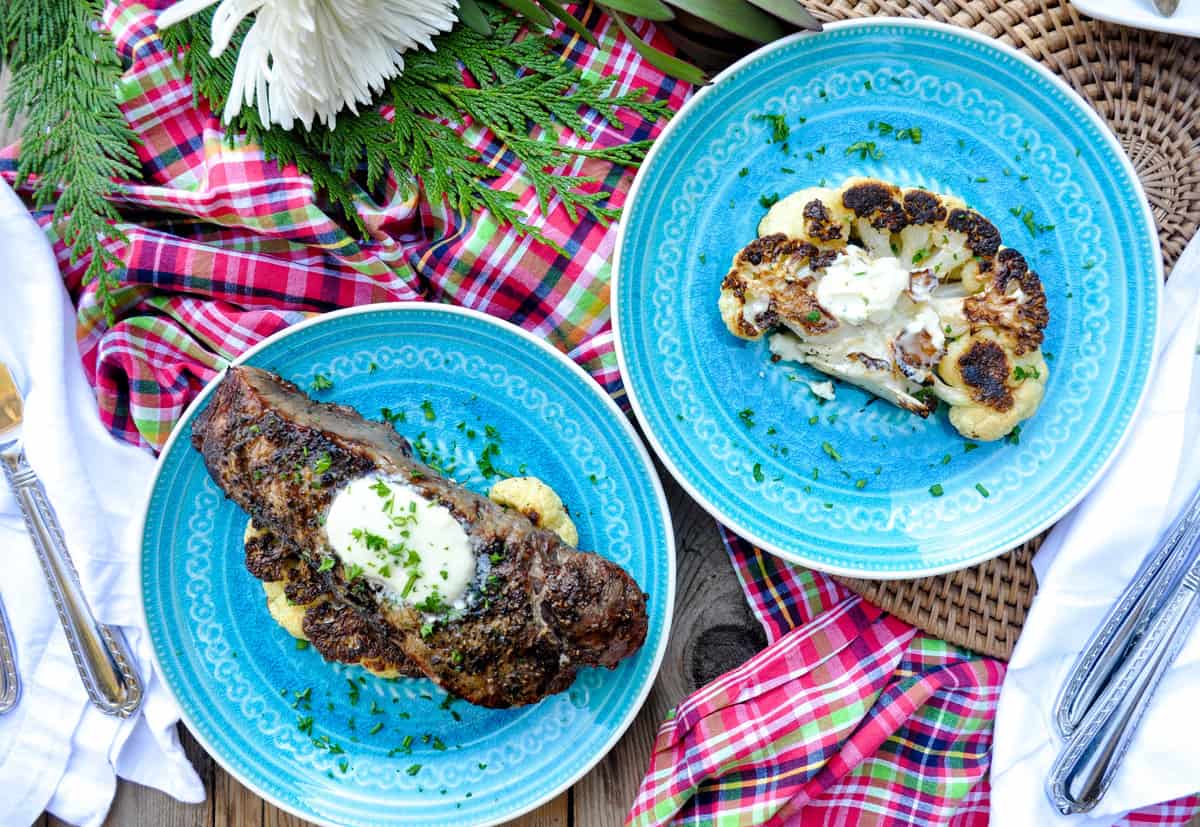 I thought this was a wonderful alternative for vegetarians out there, too. When your dinner partner chooses a steak, and you don't want to feel left out of the thick, hearty goodness, just serve yourself up a large serving of Cauliflower Steak and you are all set.
No hard feelings here!
I whole-heartedly believe the kicker to this recipe is the Blue Cheese Butter. Don't skip this part unless you want to be sad.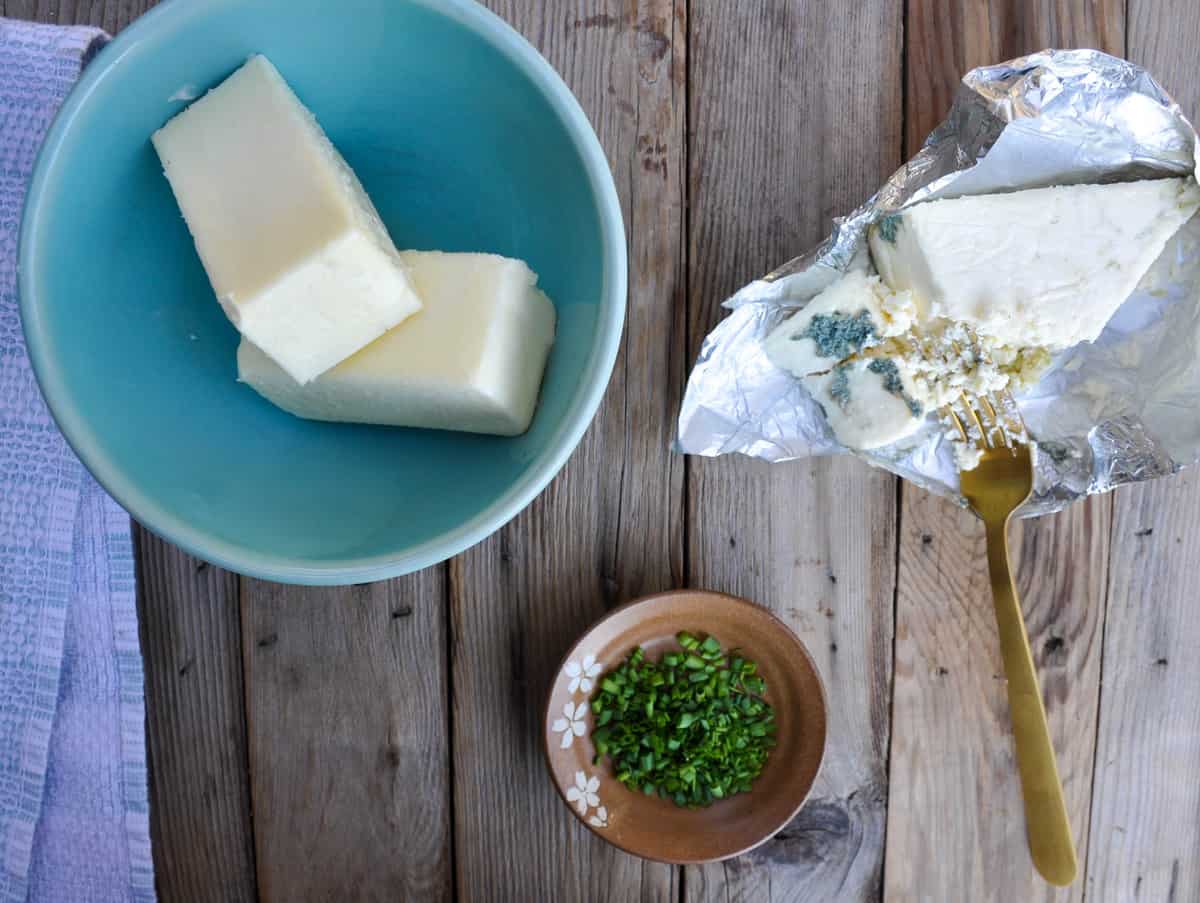 I used a cup of butter, 3-4 ounces of blue cheese and a few tablespoons of chopped chives.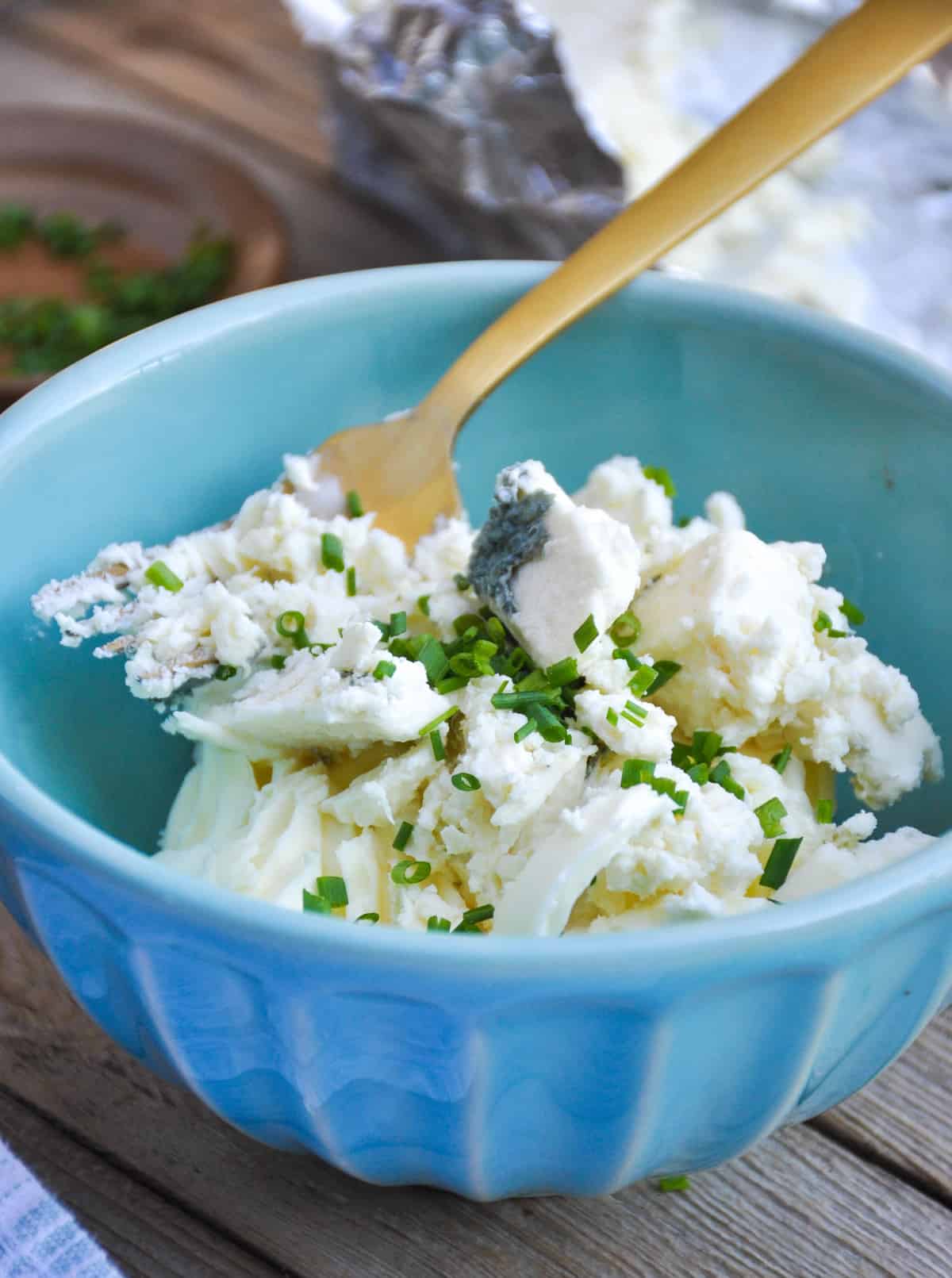 Throw it all in a bowl and mix well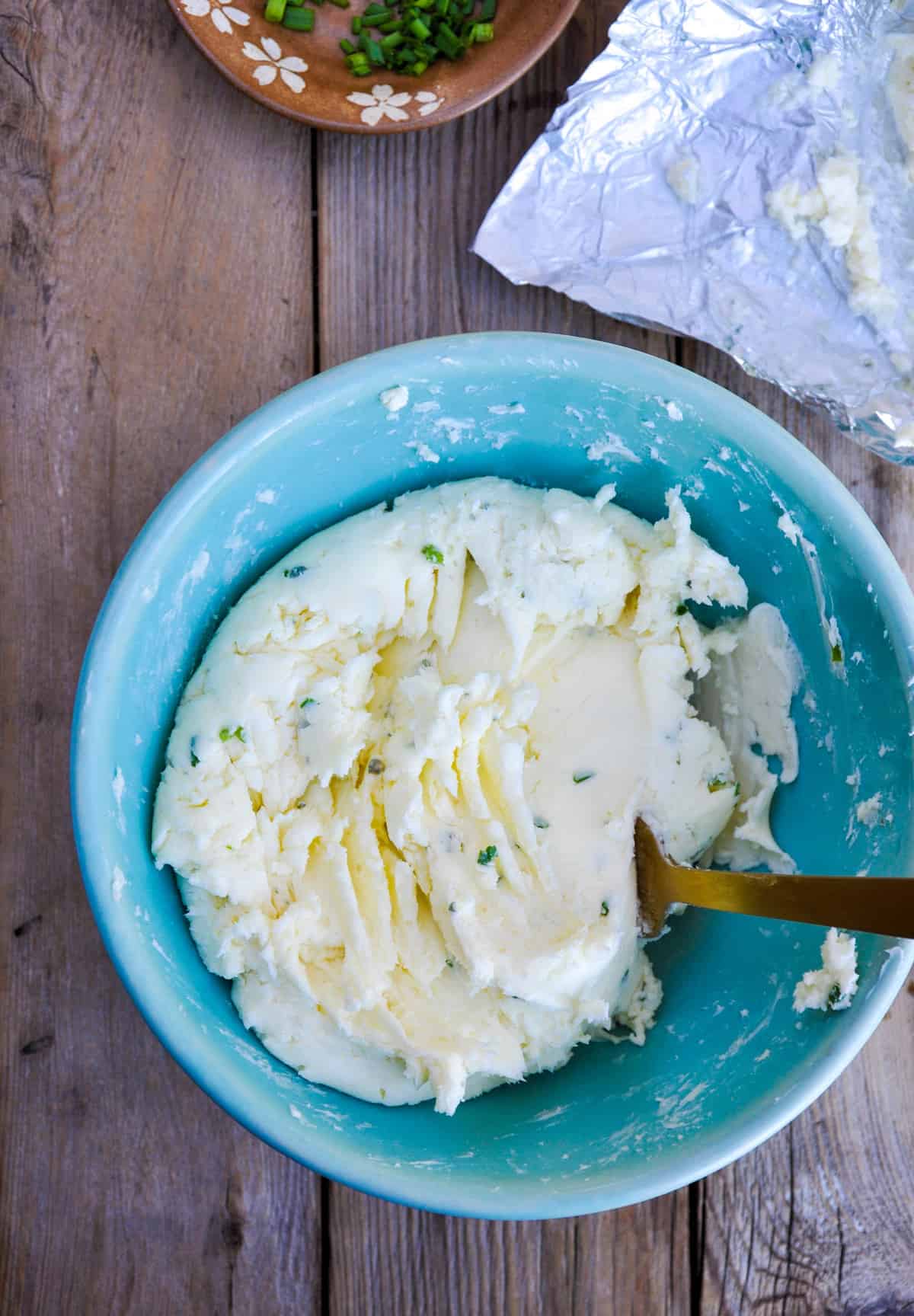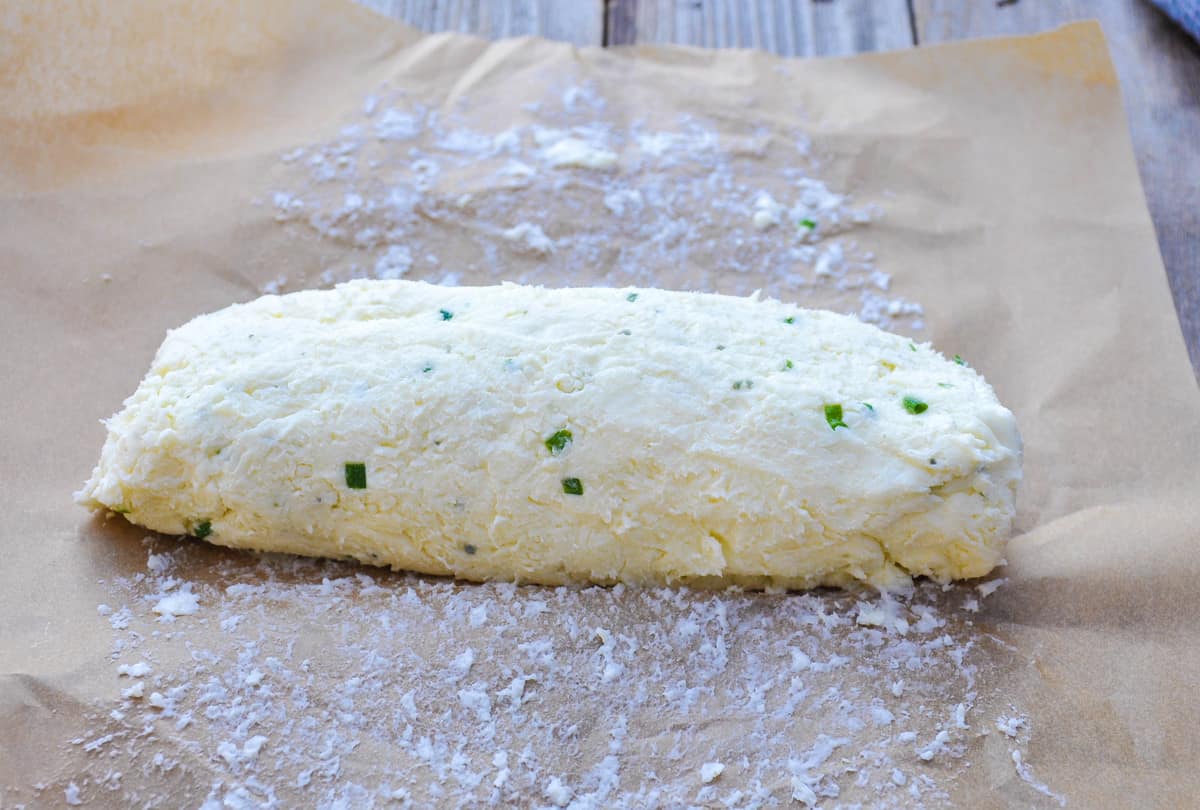 Mix well until thoroughly combined. Throw the mixture onto a piece of parchment and shape into a cylinder shape. Roll and shape until the desired thickness.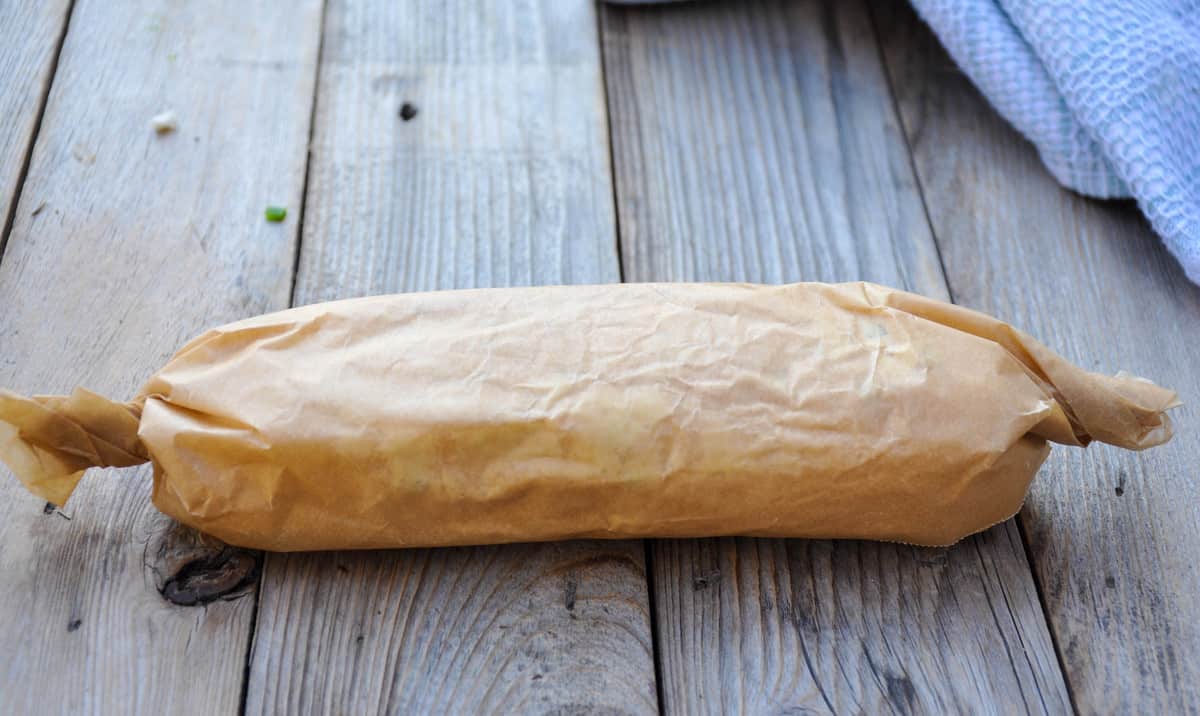 Roll and seal in the parchment paper and place in the fridge until ready to use.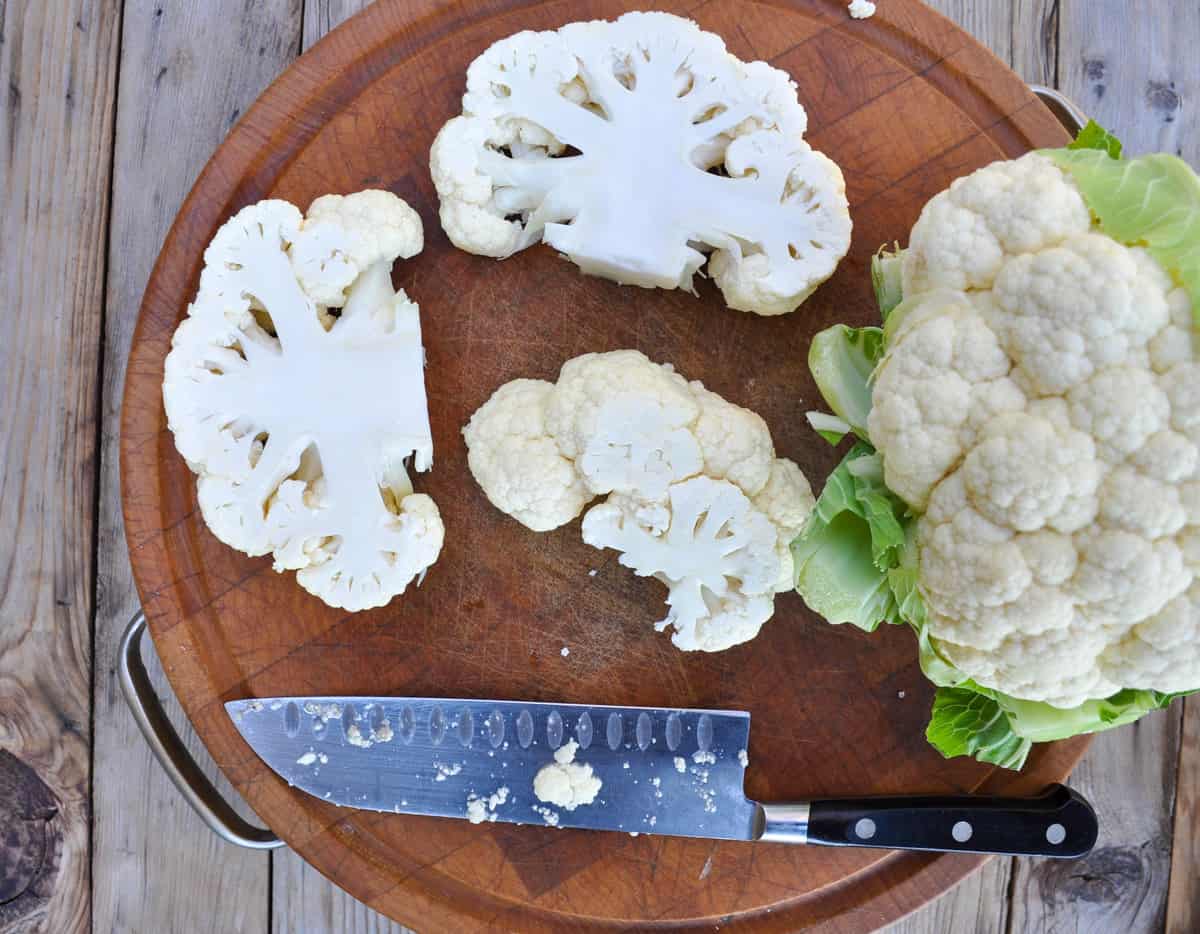 The cauliflower is easy to cut into "steaks" Remove the lower green leaves and cut the stalk off as close to the crown as possible. Trim off a little of two sides, creating a flat surface and then cut the head into four steaks.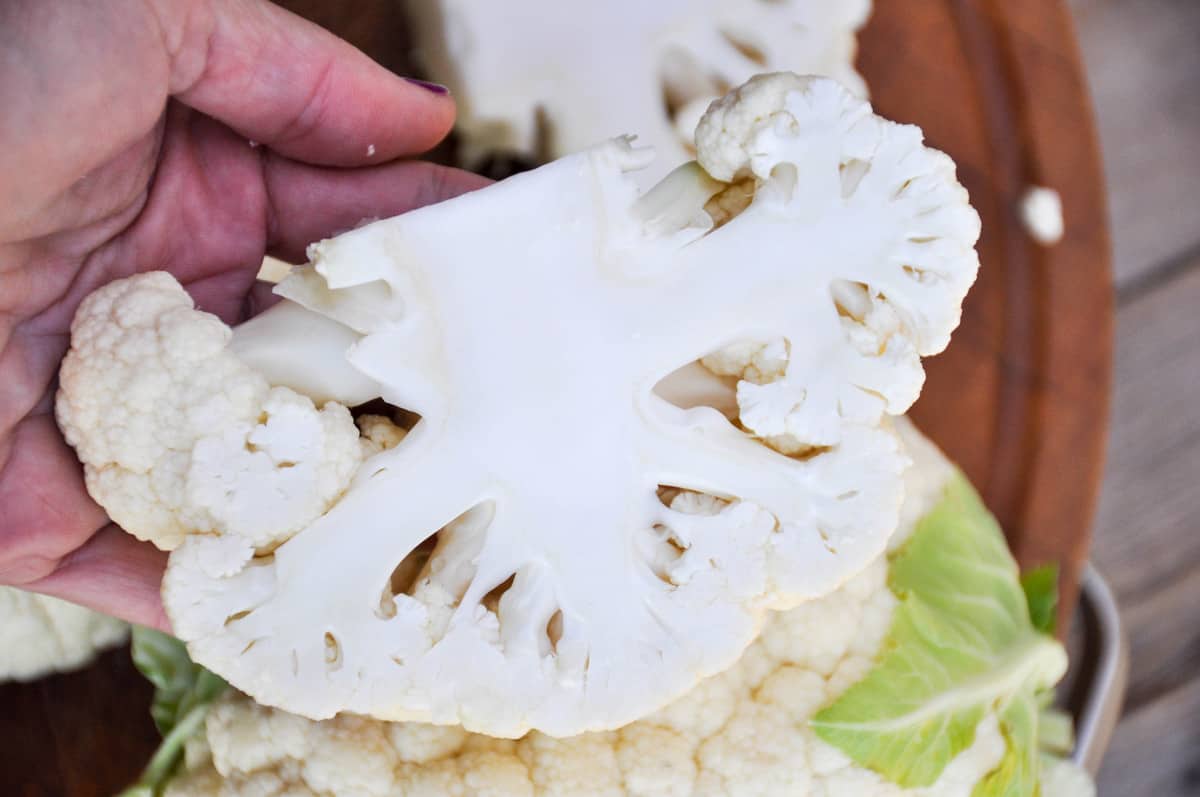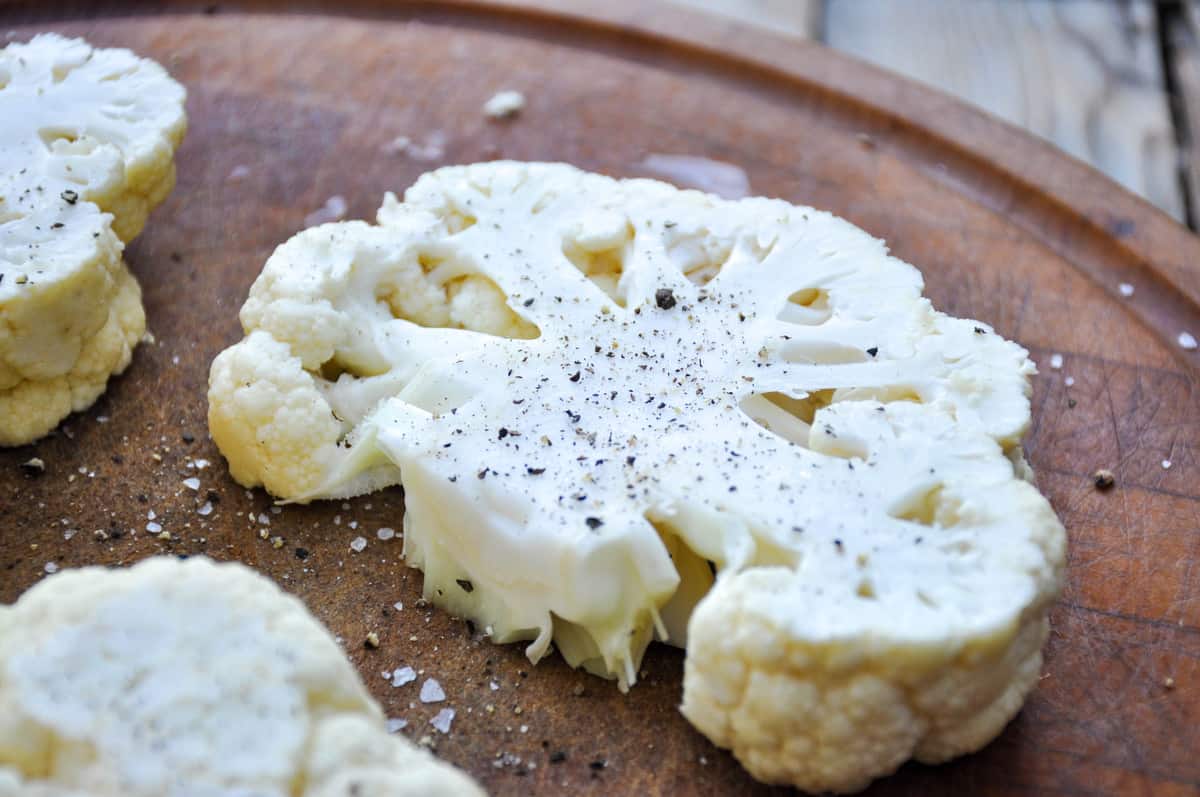 Salt and pepper both sides of the steaks and set aside.
Pour a few tablespoons of California Olive Oil into a heavy cast iron pan and heat to medium-high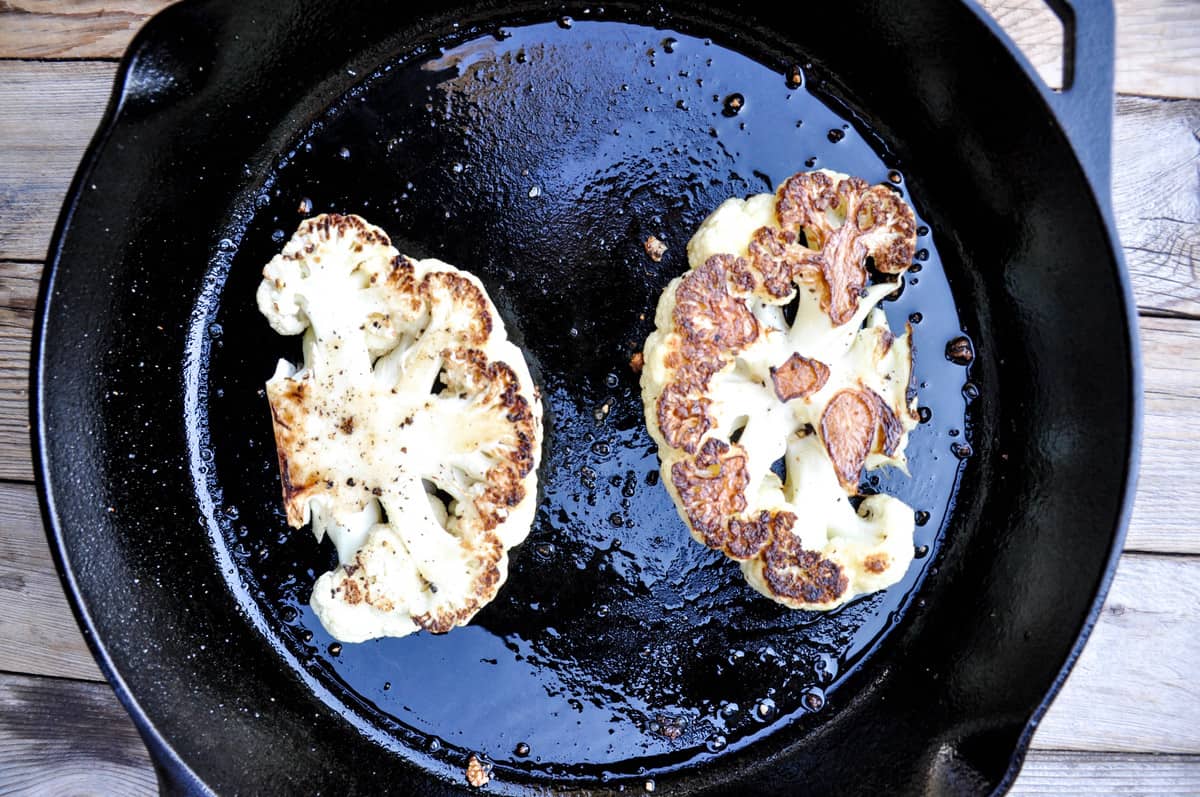 Sear the cauliflower on both sides and pop into a 400-degree oven.
If you are also eating beef steaks along with the cauliflower, now is your time to do that.
I used New York steaks today. Feel free to use any cut you love.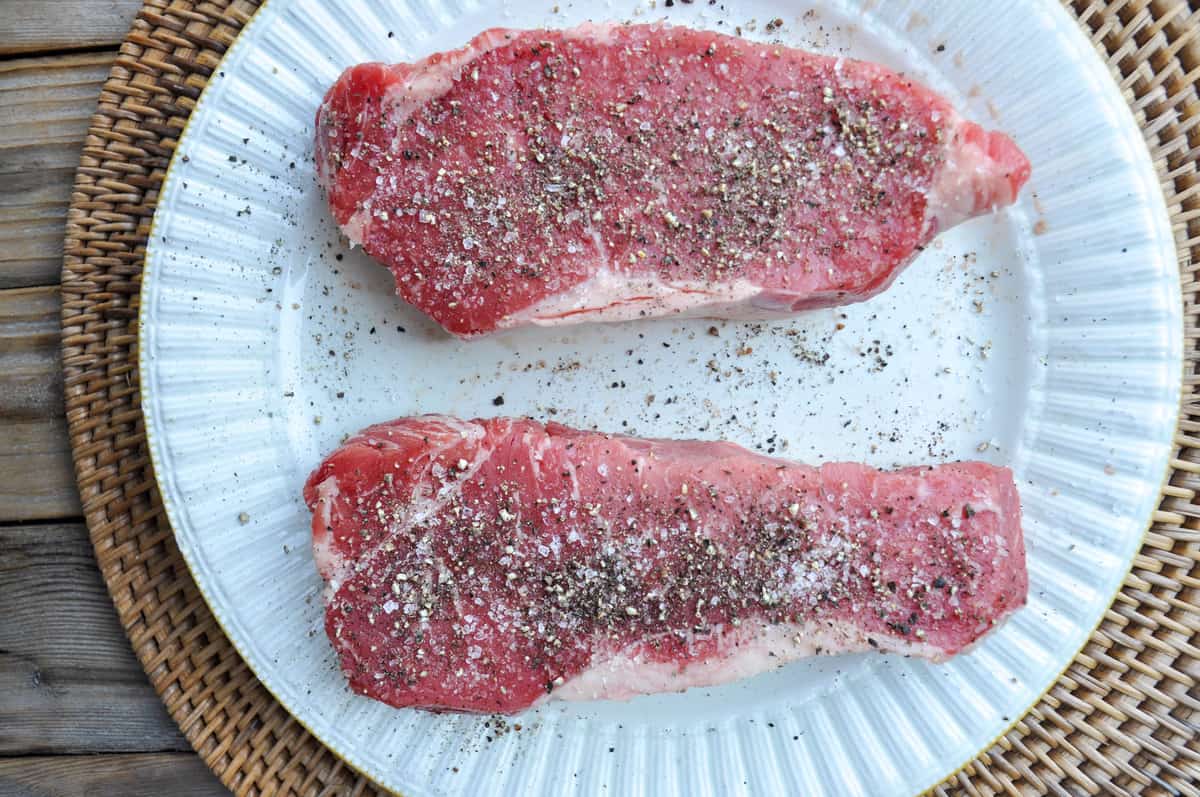 When we cook our steaks, we let the natural flavor shine through and just use plain ol' salt and pepper. We believe in a hot grill or oven to seal in the juices too!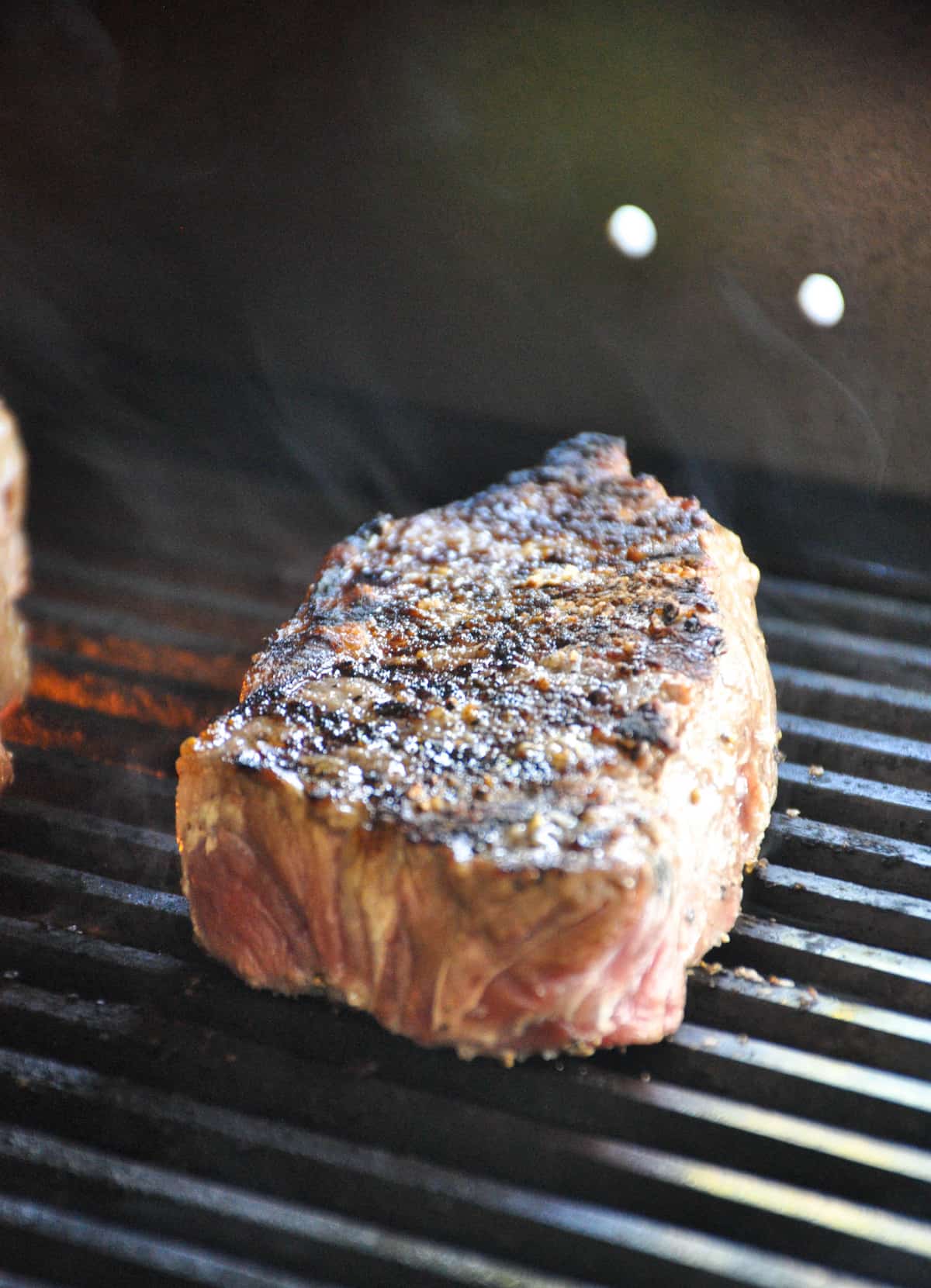 Yes, ma'am!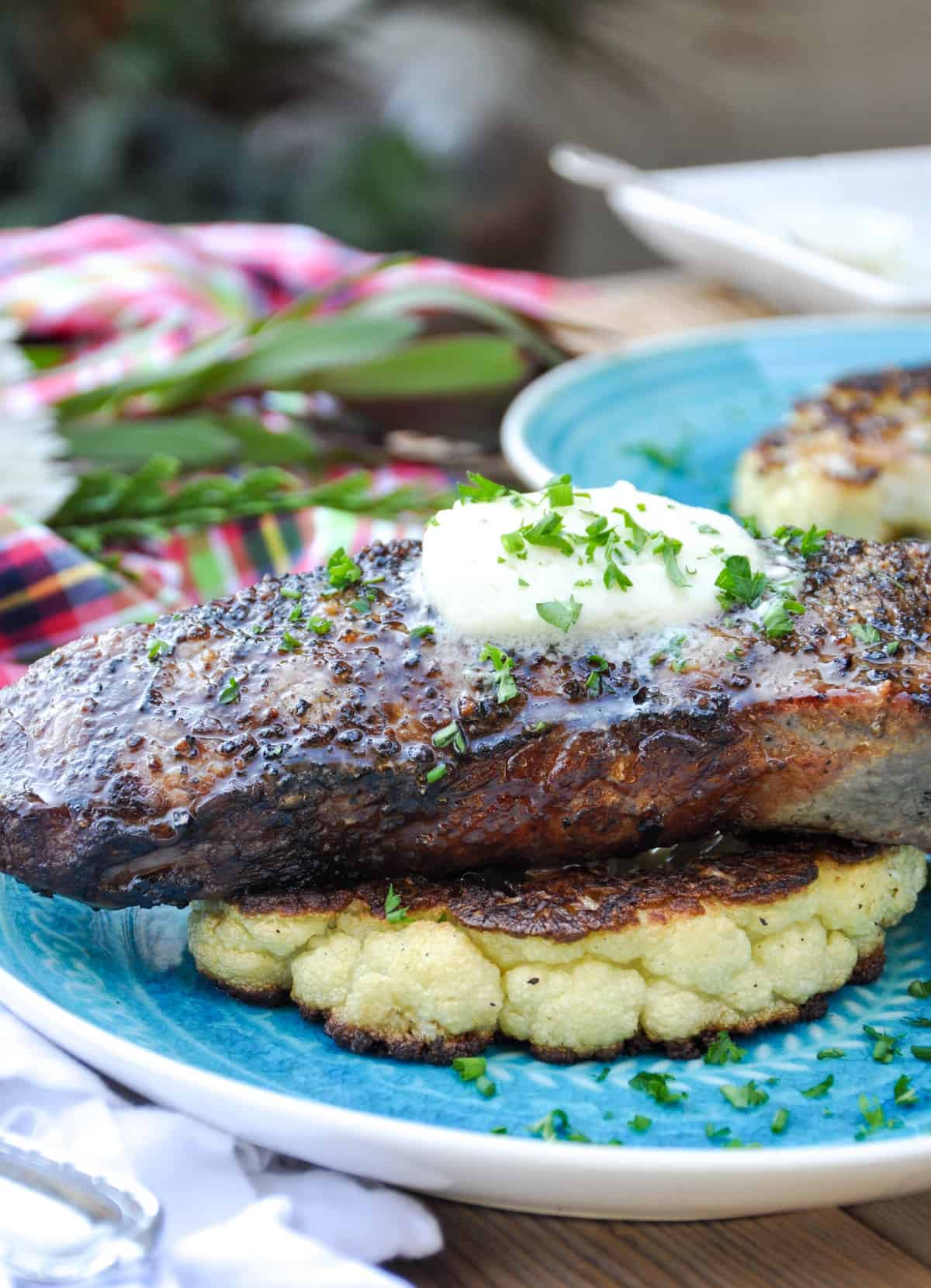 Pop that puppy right on top of the Cauliflower Steak. It's like a double-decker of ultimate flavor!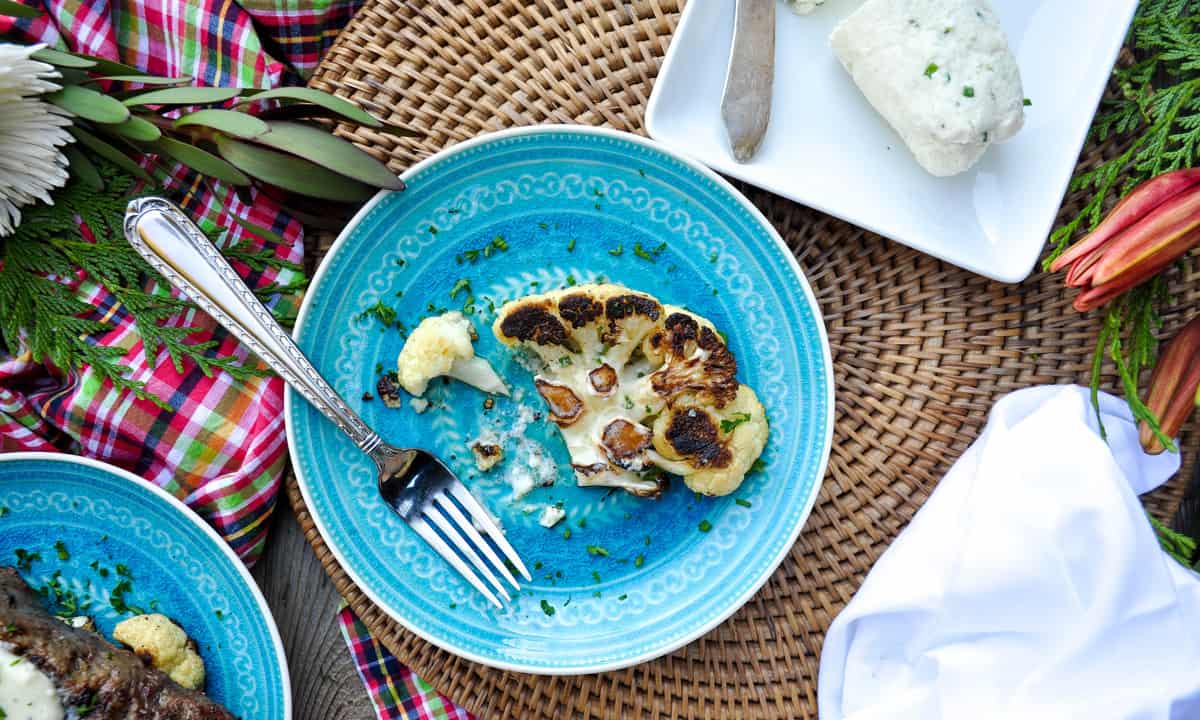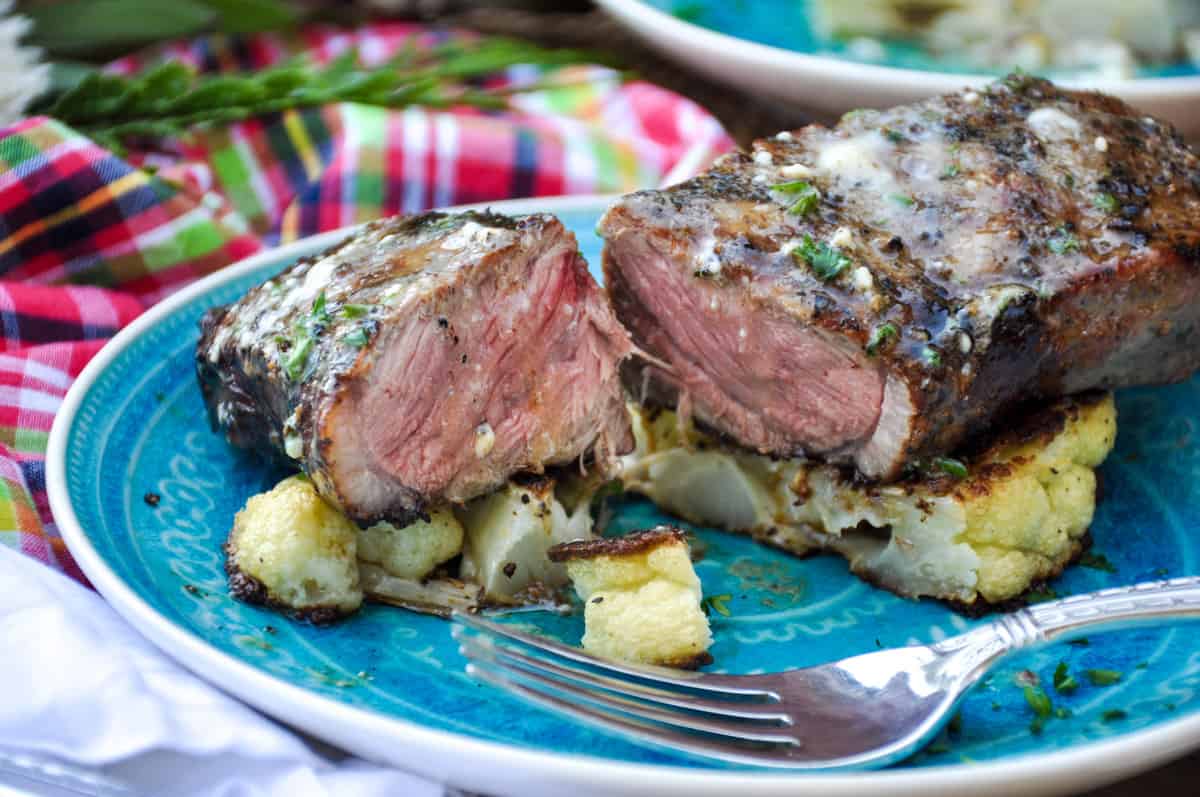 Dig in and enjoy!
Cauliflower Steak with Blue Cheese Butter
2017-12-06 01:18:15
Serves 4
Ingredients
1 head cauliflower
1/4 cup olive oil
Salt & Pepper
1 T. chopped chives
FOR THE BUTTER
1 cup butter, softened
4 oz. blue cheese
1 T. chopped chives
Instructions
Preheat oven to 400
Combine all the butter ingredients and mix well. Roll into a cylinder with parchemnt paper, roll and seal and place in fridge while you prepare the rest of the meal.
Remove the outer leaves and cut the center stalk down on the whole cauliflower. Cut the head into four equal "steaks".
Heat the olive oil in a cast iron skillet. Place the cauliflower steaks in the hot oil and allow to brown on both sides for a few minutes on each side.
Transfer skillet to oven and cook for 10-15 minutes, or until cooked through
Remove from oven top with a pat of the blue cheese butter and top with additional chopped chives.
California Grown http://californiagrown.org/
Save
Save
Save
Save
SaveSaveSaveSave
SaveSaveSaveSave
SaveSave
SaveSaveSaveSave
SaveSaveSaveSave
SaveSave