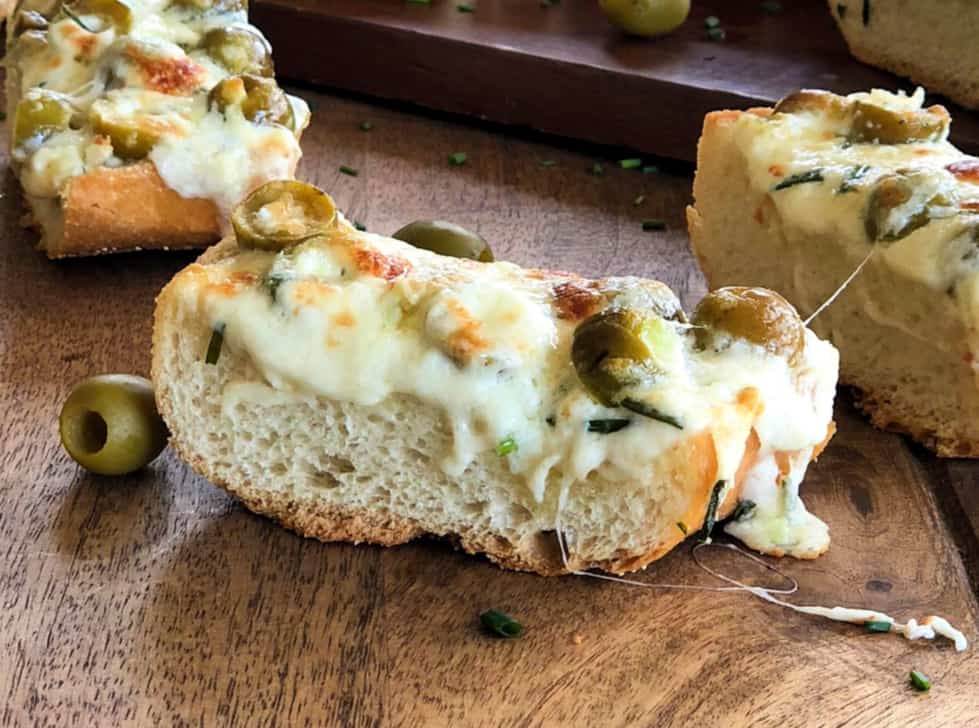 CA GROWN Blog
Discover. Learn. Connect.
Green Olive Garlic Cheese Bread
February 28, 2018
Eat the Season!
Sign Up For Weekly Recipes
« Back to Recipes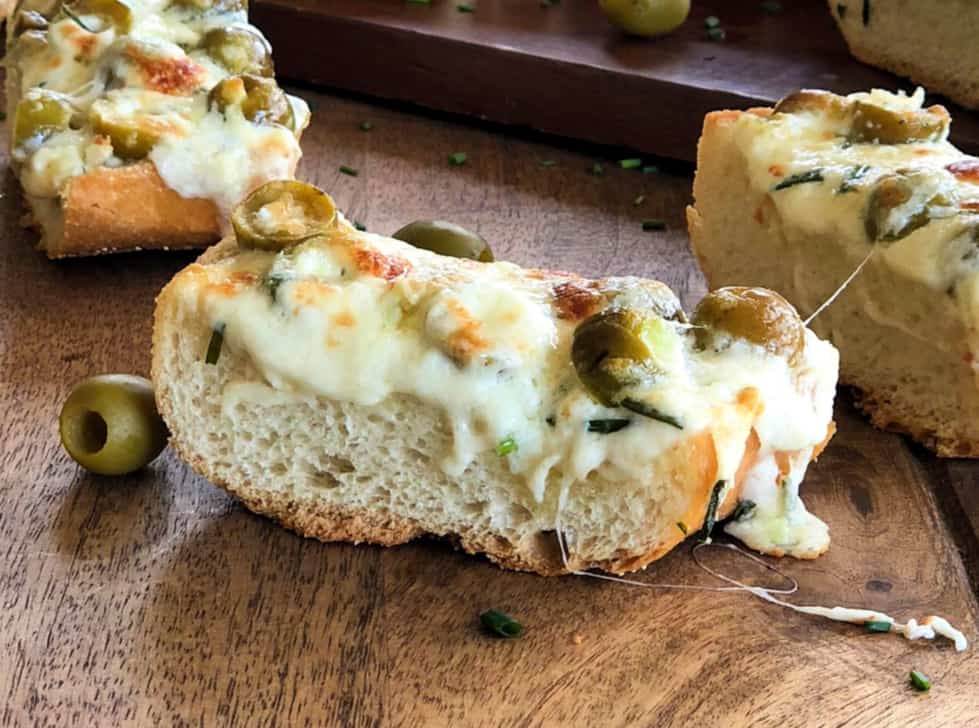 Green Olive Garlic Cheese Bread
This Green Olive Garlic Cheese Bread is sure to be a favorite – no matter who you serve it to! It's easy, loaded with California-grown flavor, and oh-so-delicious!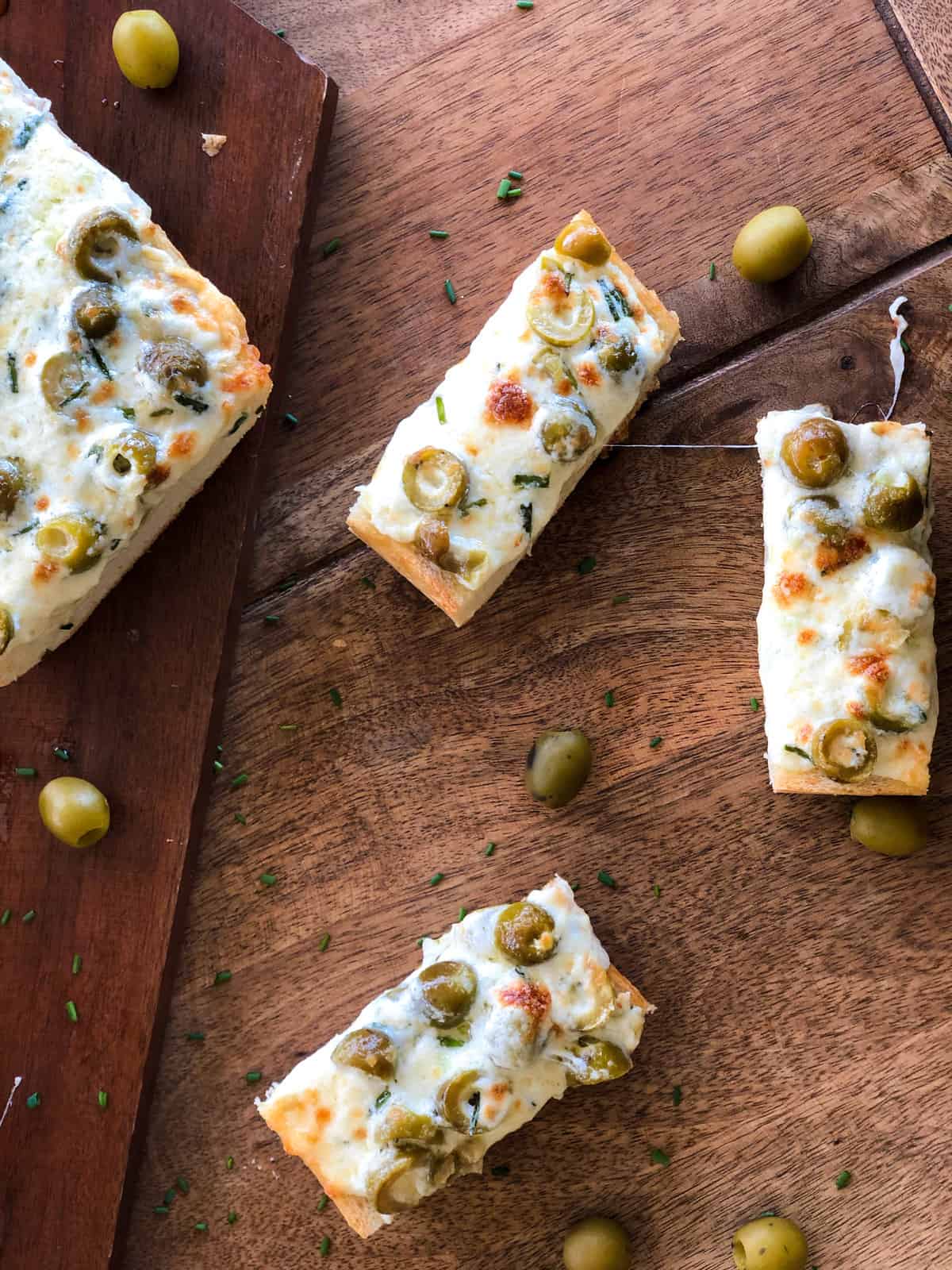 Olives and cheese and garlic. Oh my!
Things seriously don't get any better than this.
I fell in love with green olives when I was about 10 years old and my grandma would visit us and bring dozens of cans of green olives. I would sit and visit with her and eat olives until I couldn't stuff myself anymore. It's funny how tastes and smells can bring back so many memories like they were yesterday! Does that ever happen to you?
These particular olives are already pitted and hail from California, of course! I love when packaging brags about being from California. Who wouldn't want to brag about being from California, right?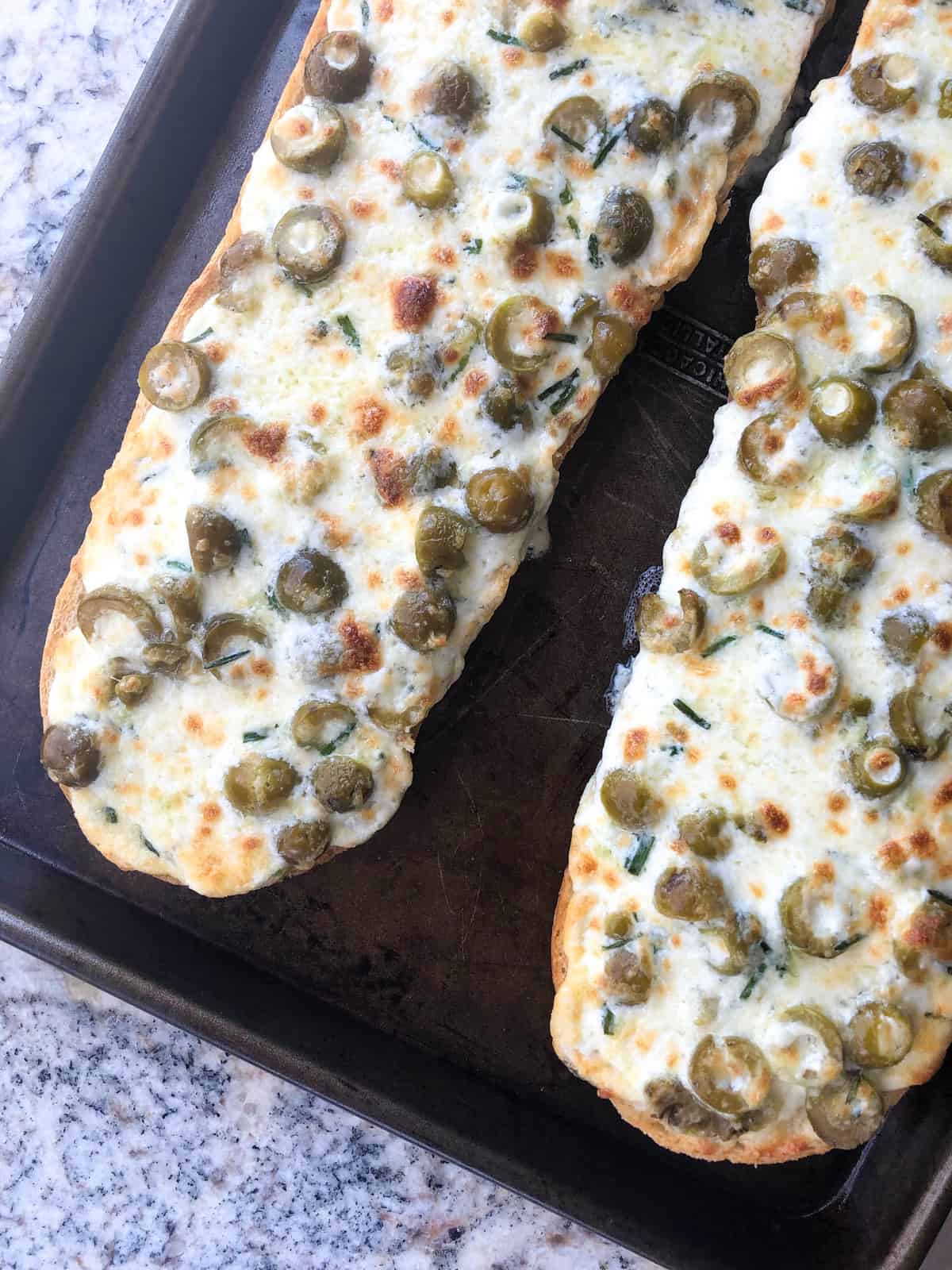 The ingredients are simple and easy, and you could make this a main course for a quick weeknight meal.
Ready to get started?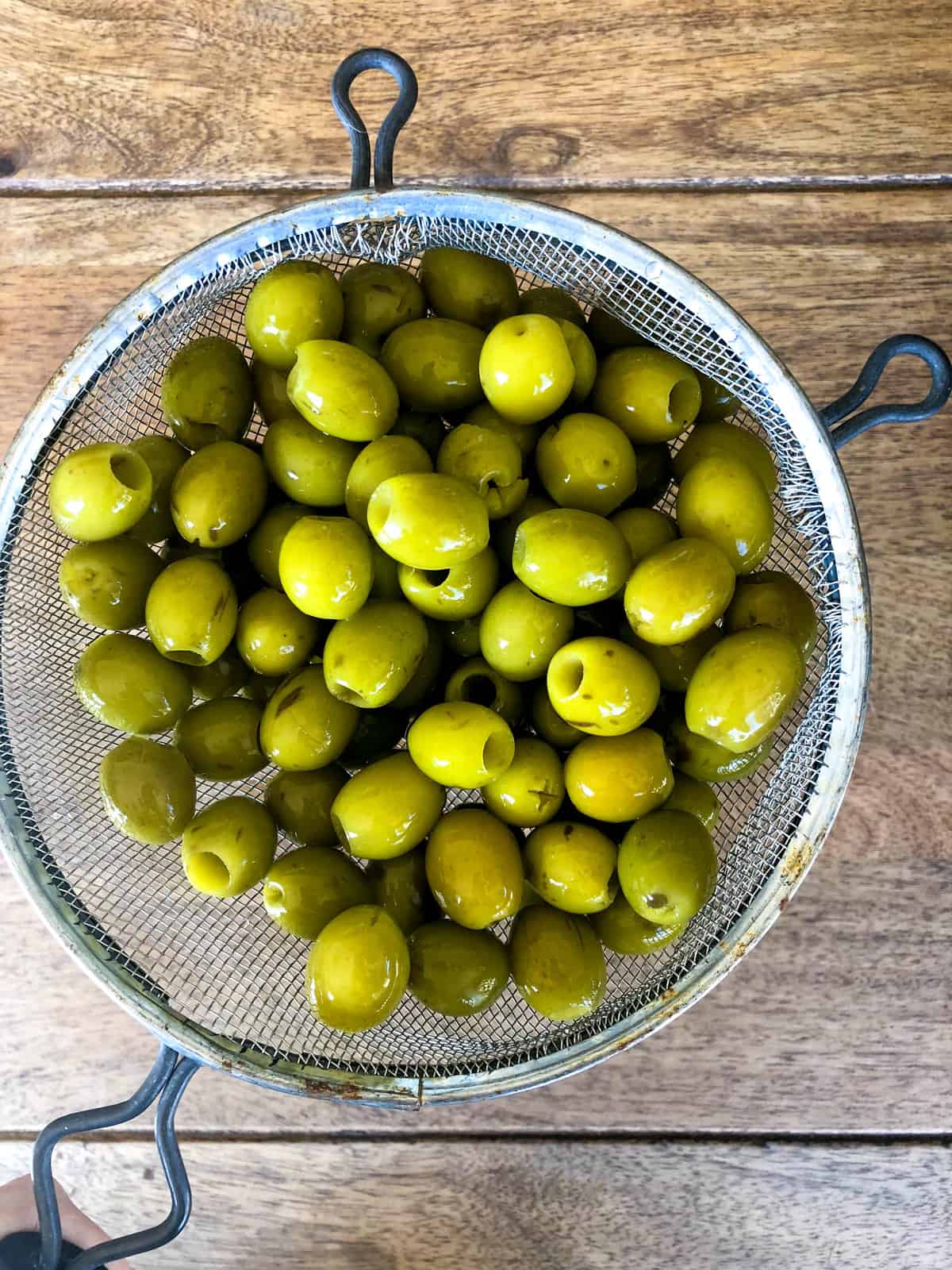 Drain the olives. I used two cans in this recipe, but I always allow for munching, so really only about 1.5 cans were used in the recipe.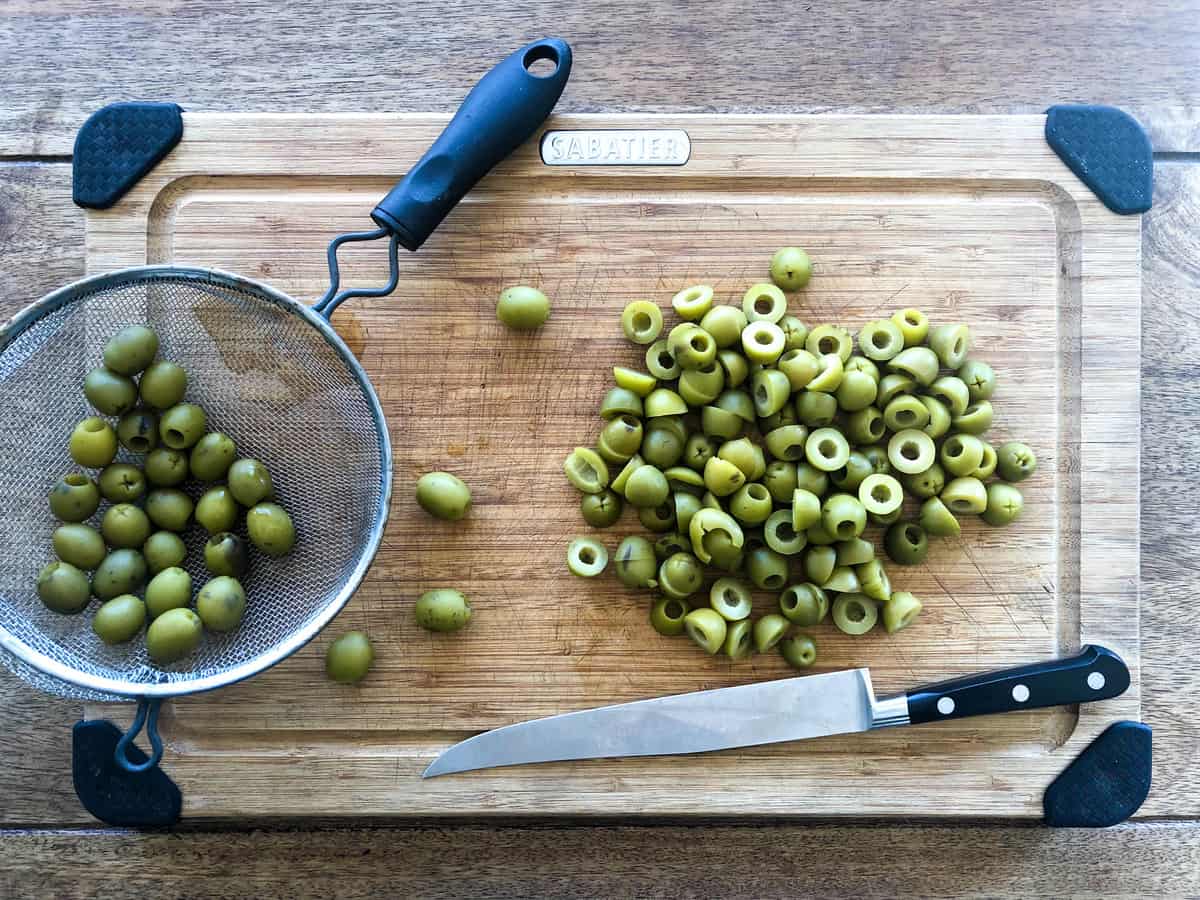 Slice each olive in half.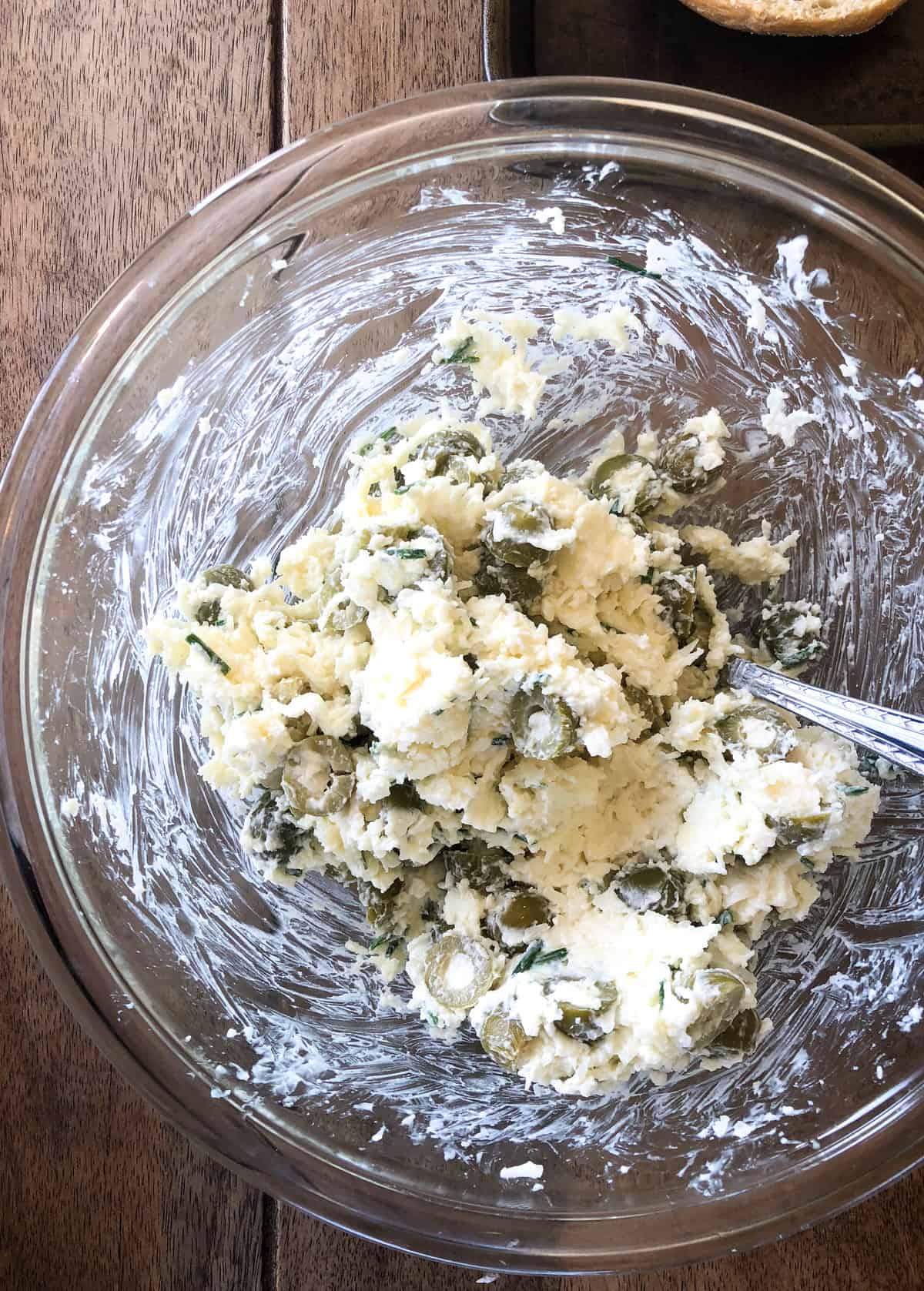 Combine the olives, butter, garlic, mayo, and chives in a bowl and mix well to combine.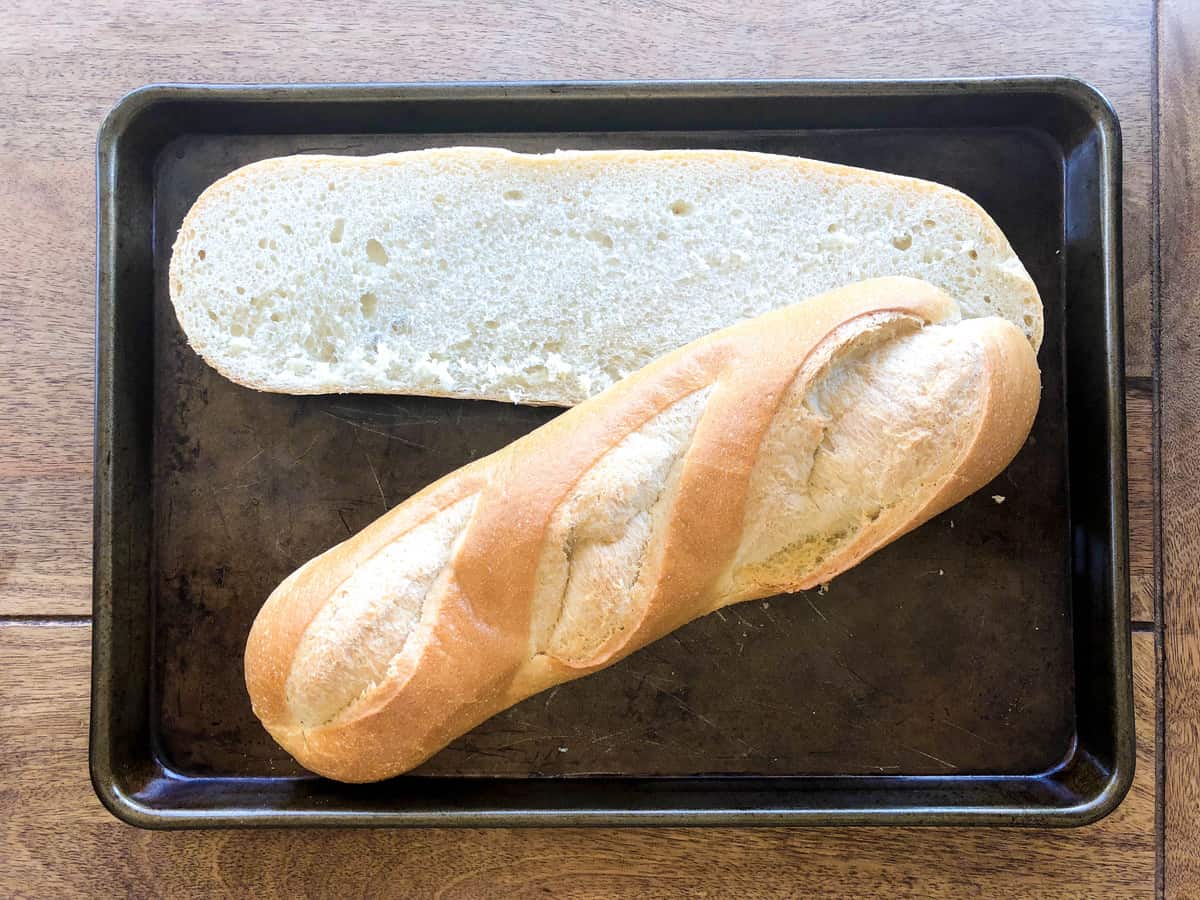 Slice your bread in half lengthwise. I like to use a sturdy bread like Pugliese.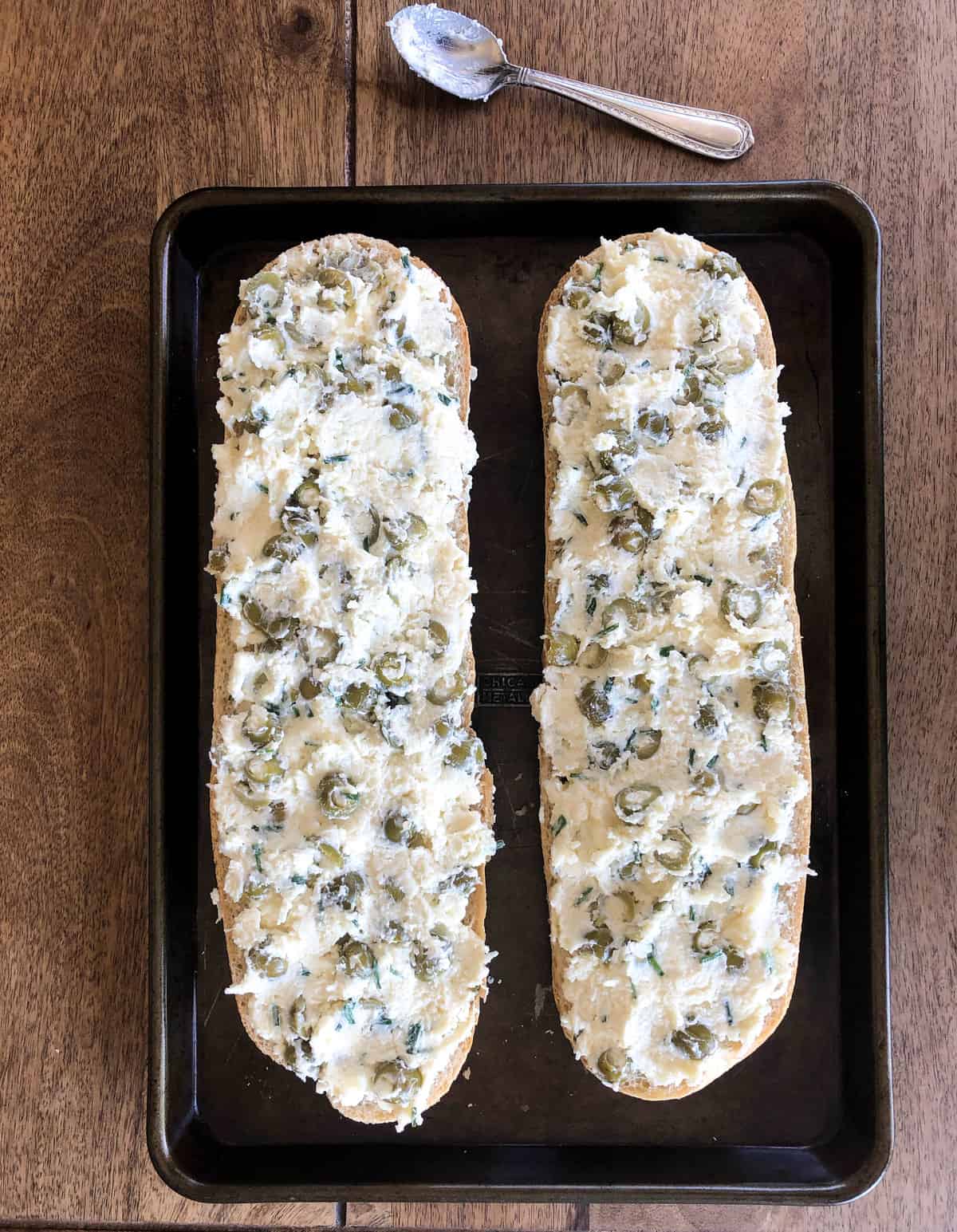 Spread the mixture onto both halves of the bread and bake in a 350-degree oven for 20 minutes.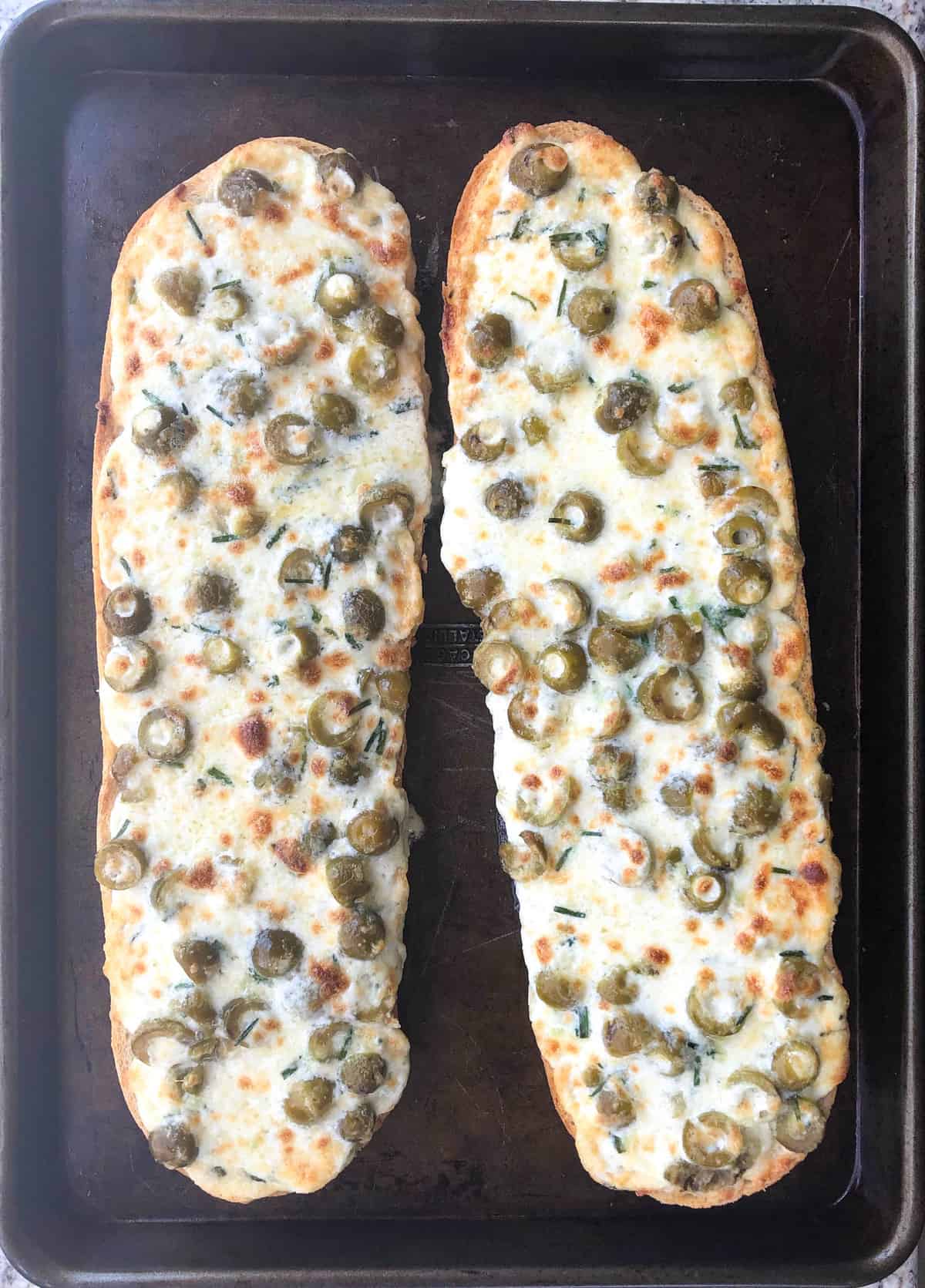 Broil the tops for the last few minutes and allow to rest for a few before slicing up.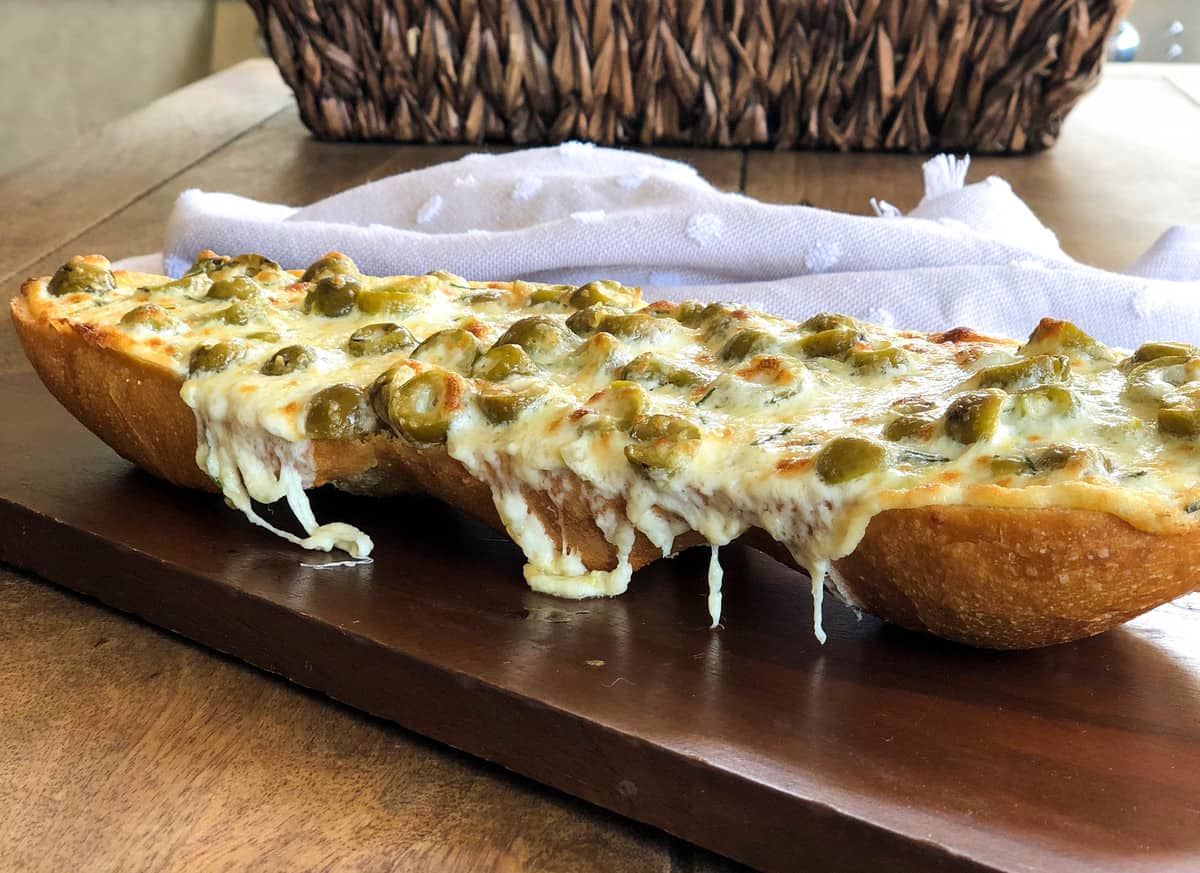 Yummy overload!
Here is the recipe for ya!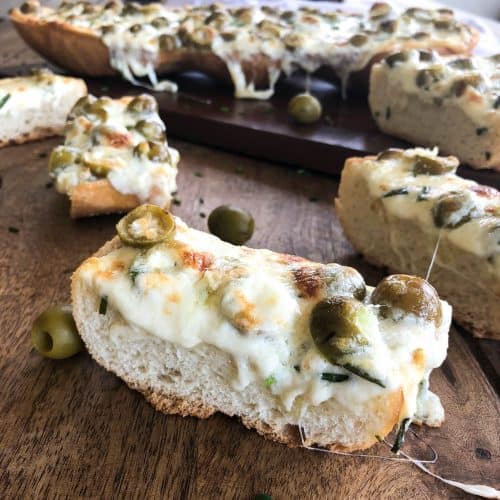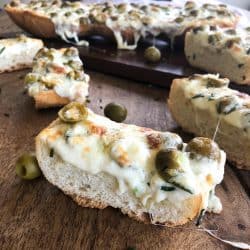 Green Olive Garlic Cheese Bread
Ingredients
2 cans pitted green olives, drained
2 cloves garlic, minced
1/2 cup mayo
1/2 cup butter, softened
3 cups shredded mozzarella cheese
1 loaf bread, like Pugliese
chopped scallions
Instructions
Preheat oven to 350 degrees.

Slice the olives in half. Add the rest of the ingredients (except bread) and mix well in a bowl.

Slice the bread in half and spread the mixture onto each half.

Bake for 20 minutes or until melted and bubbly.

Broil for a few minutes to get a nice golden top. Slice and enjoy!
SaveSave
SaveSave
SaveSave