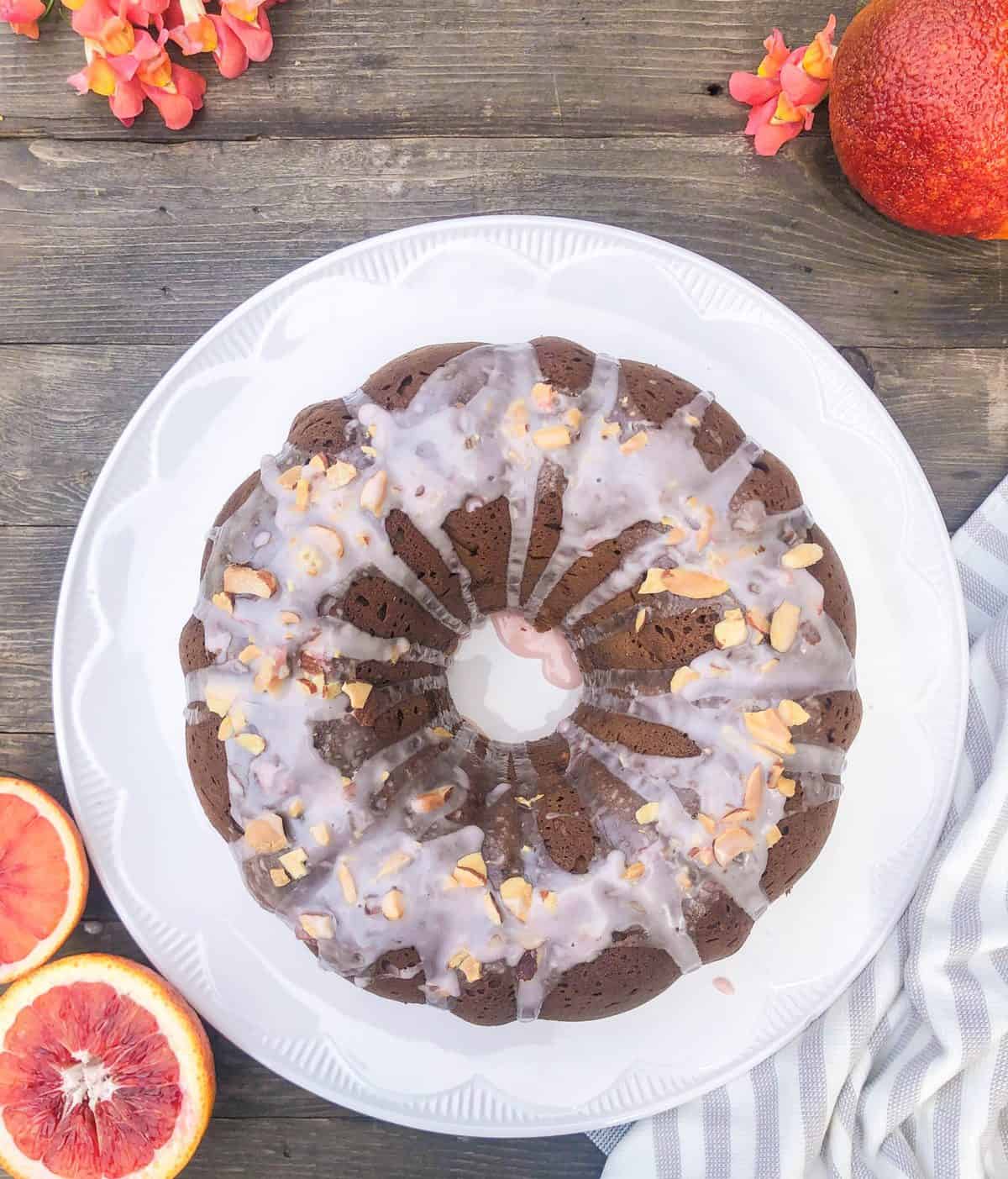 CA GROWN Blog
Discover. Learn. Connect.
Our Favorite Recipe with Blood Orange: Blood Orange & Almond Cake
February 5, 2020
Eat the Season!
Sign Up For Weekly Recipes
« Back to Recipes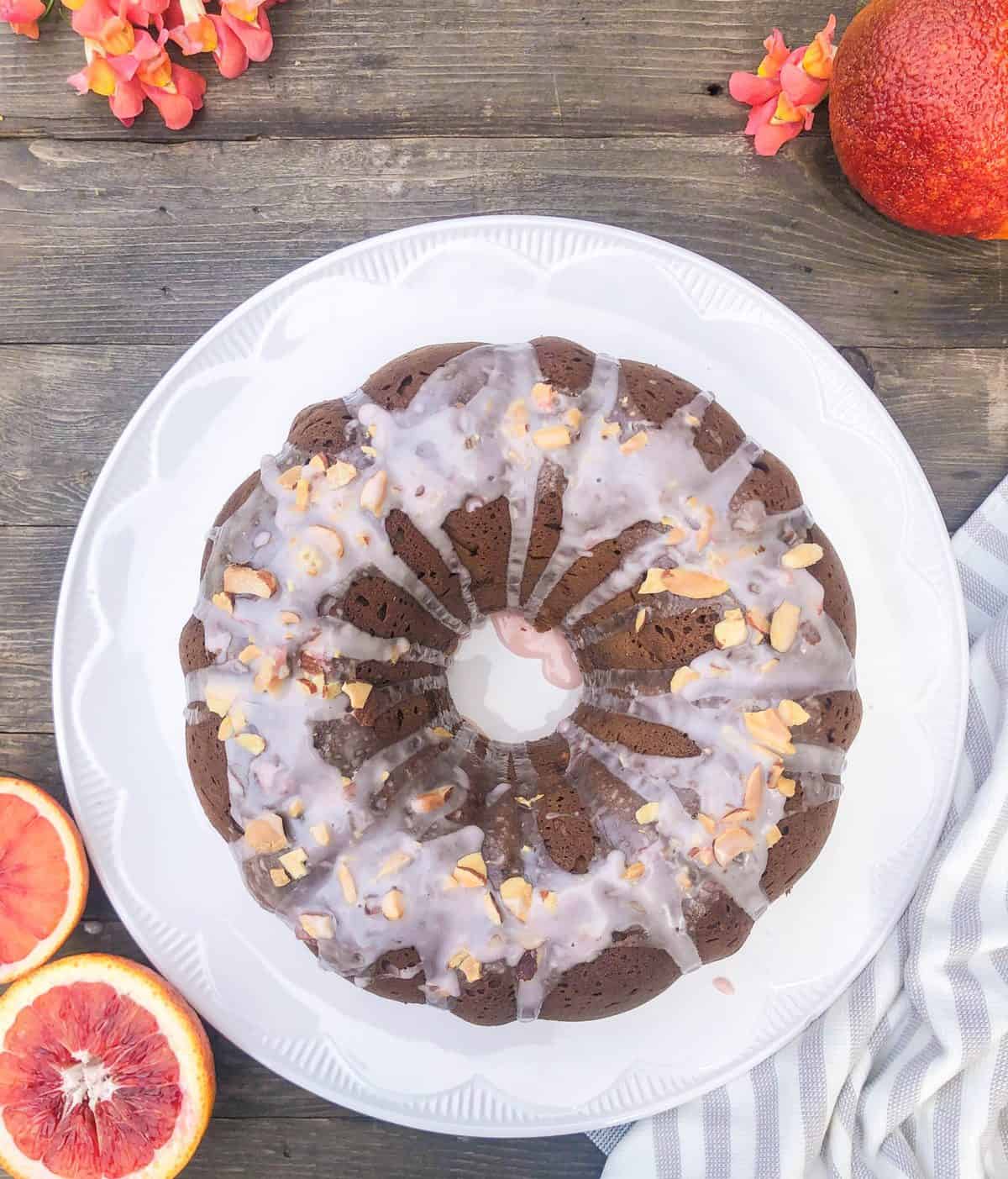 Our Favorite Recipe with Blood Orange: Blood Orange & Almond Cake
This recipe with blood orange is amazing! Our Blood Orange & Almond Cake has a hint of blood orange in the batter with a sprinkling of almond streusel layered in to create texture and flavor.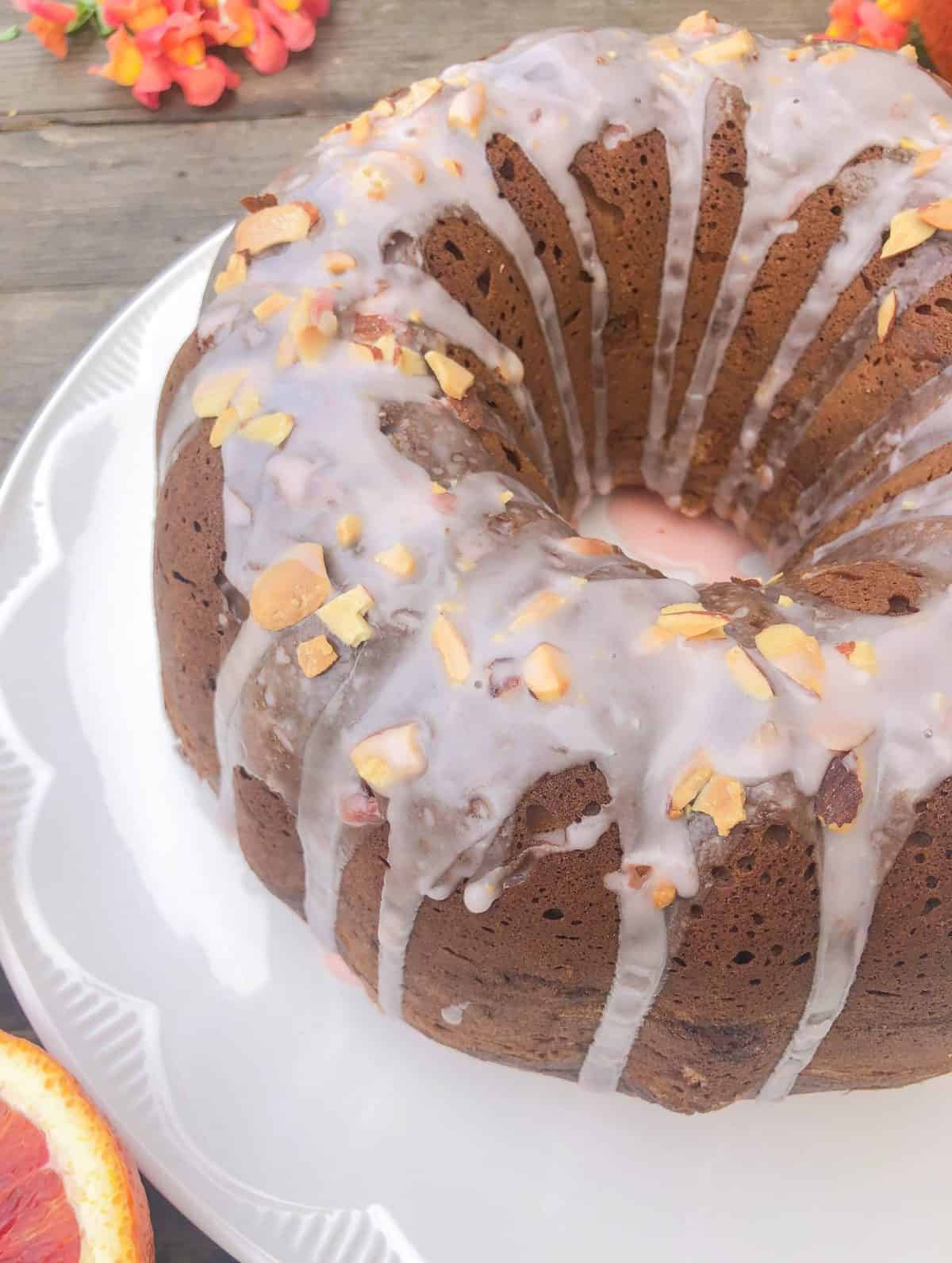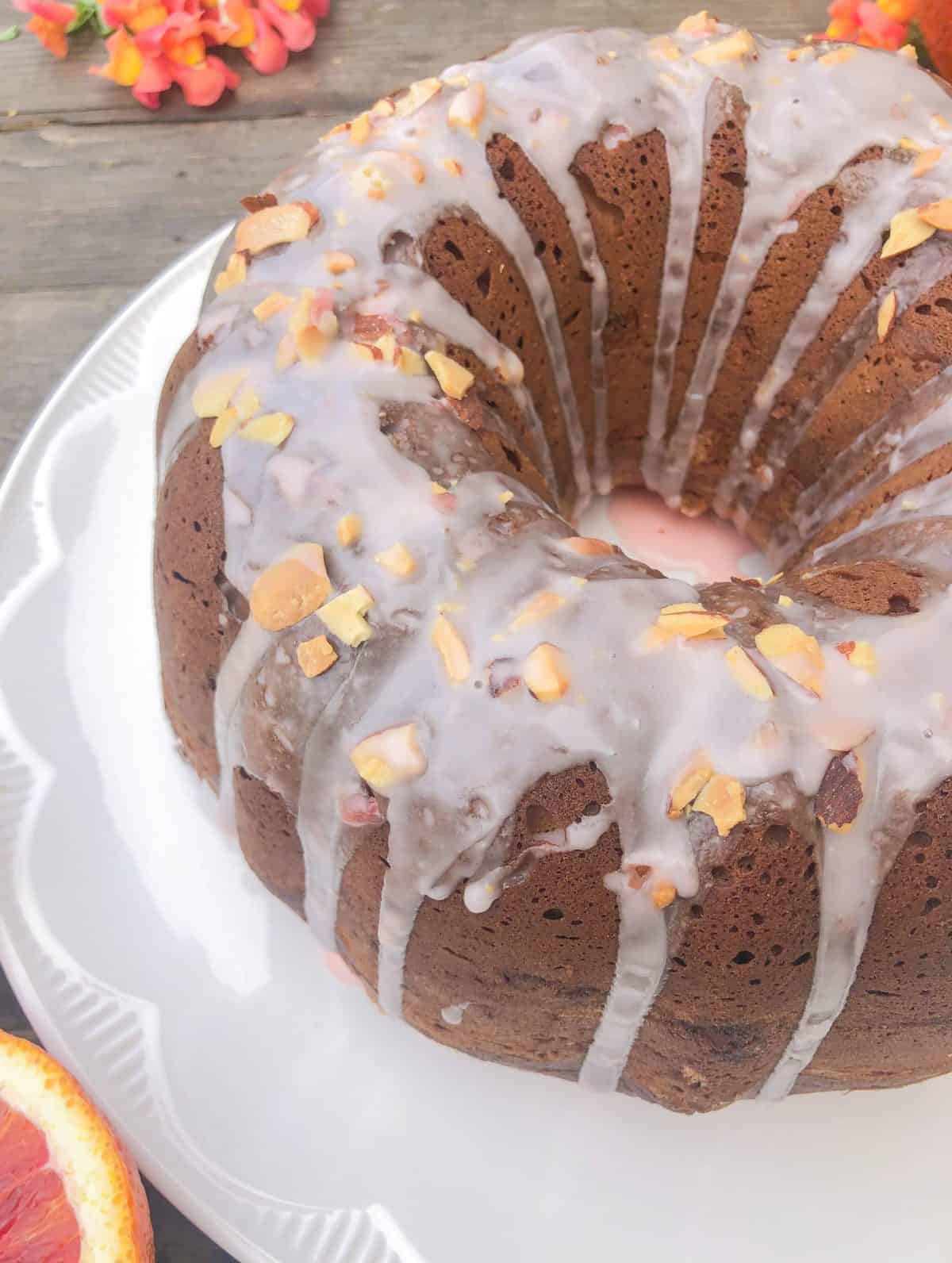 The drizzle of pink icing that adorns this cake has blood orange juice in it. We love making icings and glazes with blood orange juice because it lends its flavor and pink hue without any need for artificial colorings.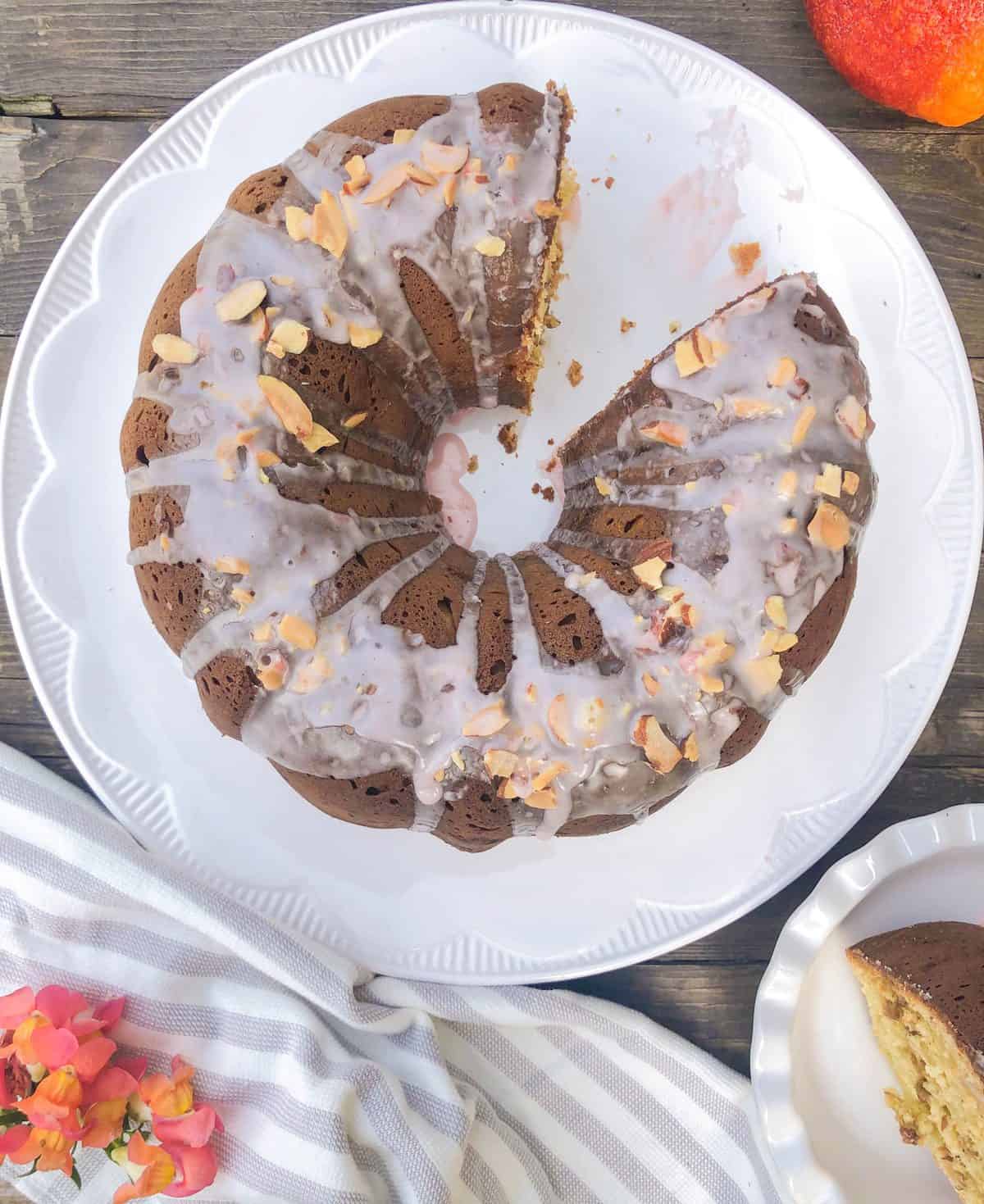 Want to make this recipe with blood orange for yourself? Keep scrolling for step-by-step instructions.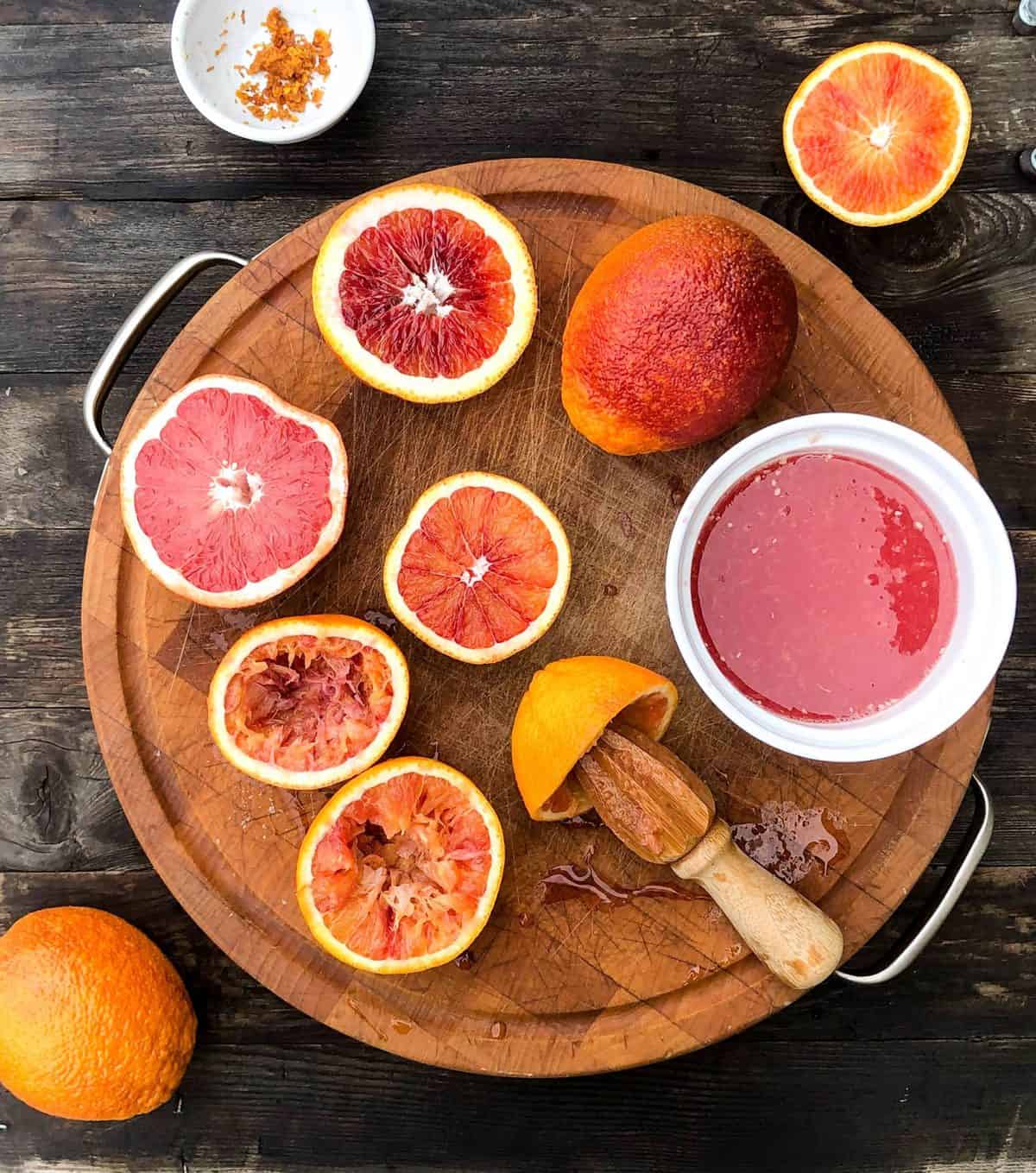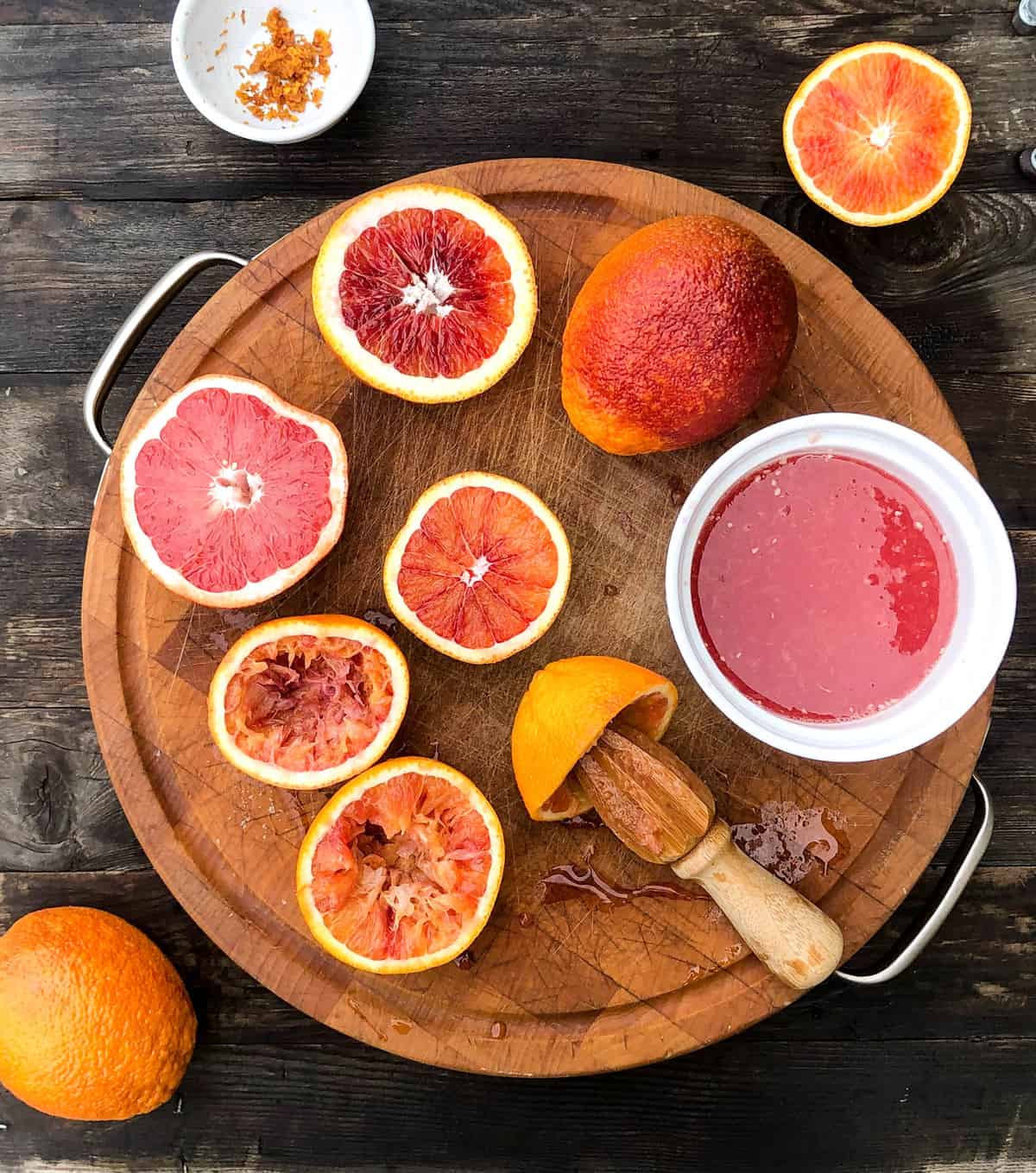 Step 1: Zest and juice the blood oranges.
While this recipe doesn't call for a lot of oranges, I always juice more than called for because I love sipping on a big glass of fresh squeezed blood orange juice!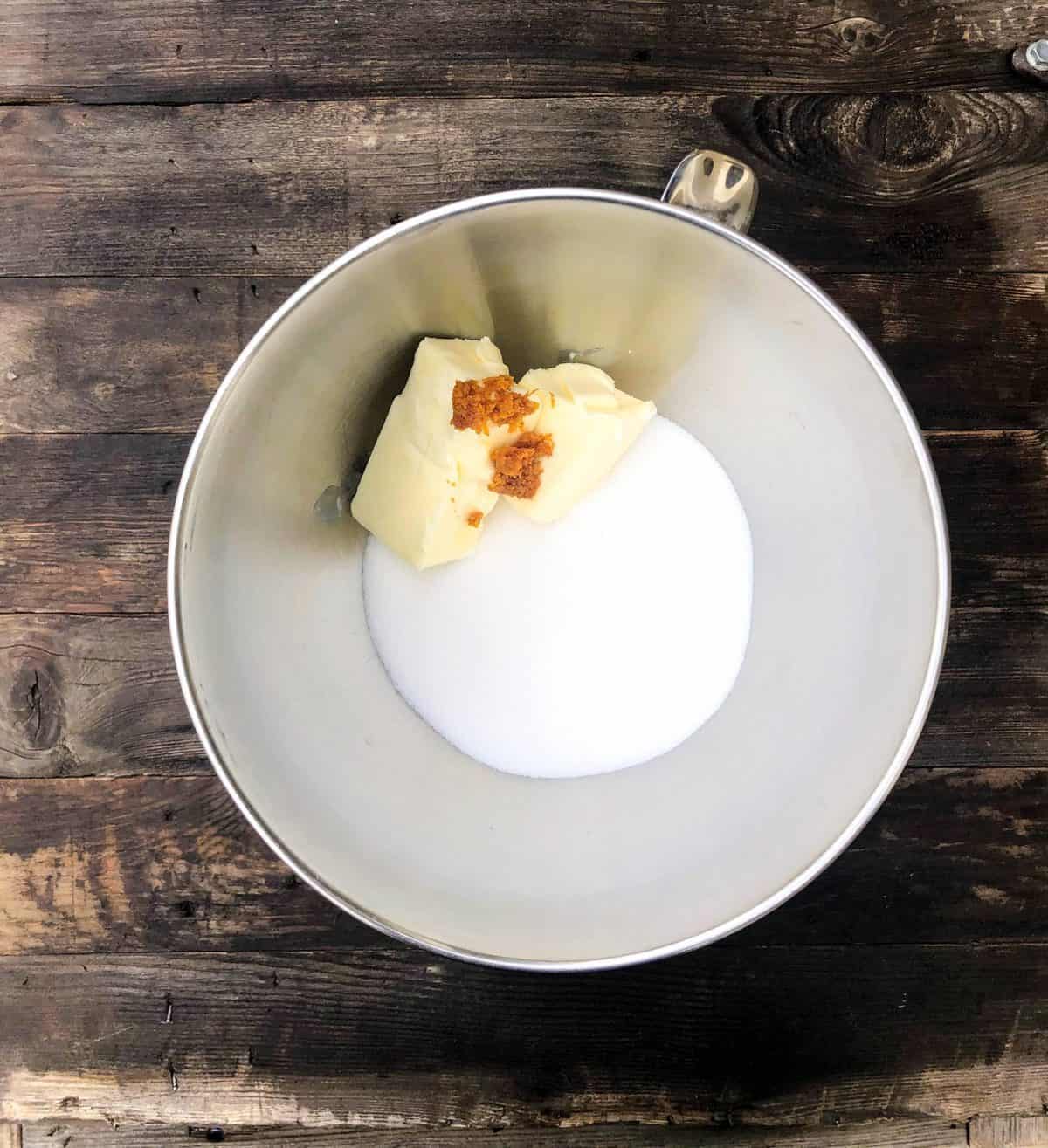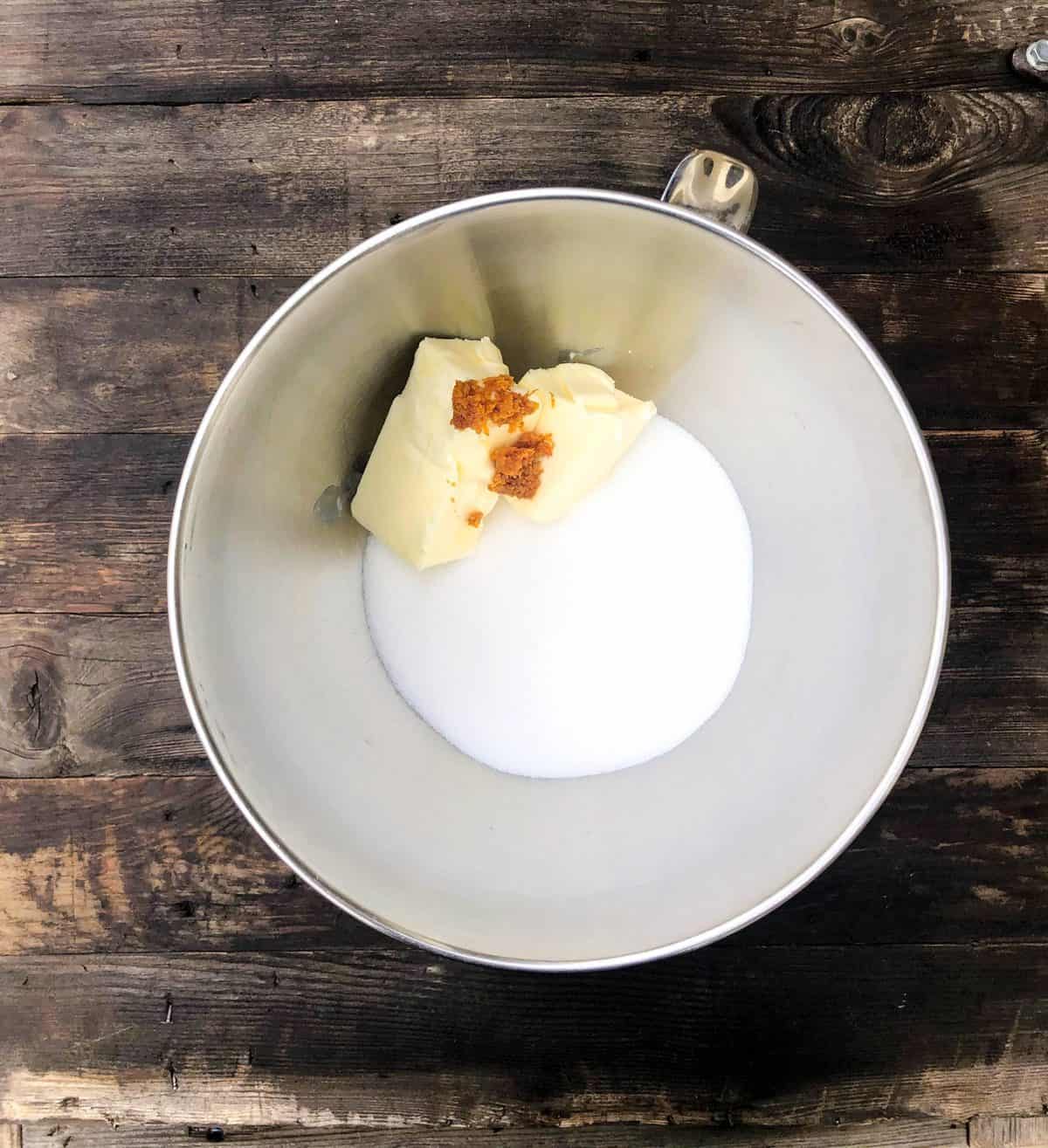 Let's move on to the batter!
In a mixing bowl, cream the sugar, butter and blood orange zest together until fluffy and creamy.
Then, add the eggs and vanilla and incorporate well.
Add the flour mixture and sour cream to the batter, mix until combined then set aside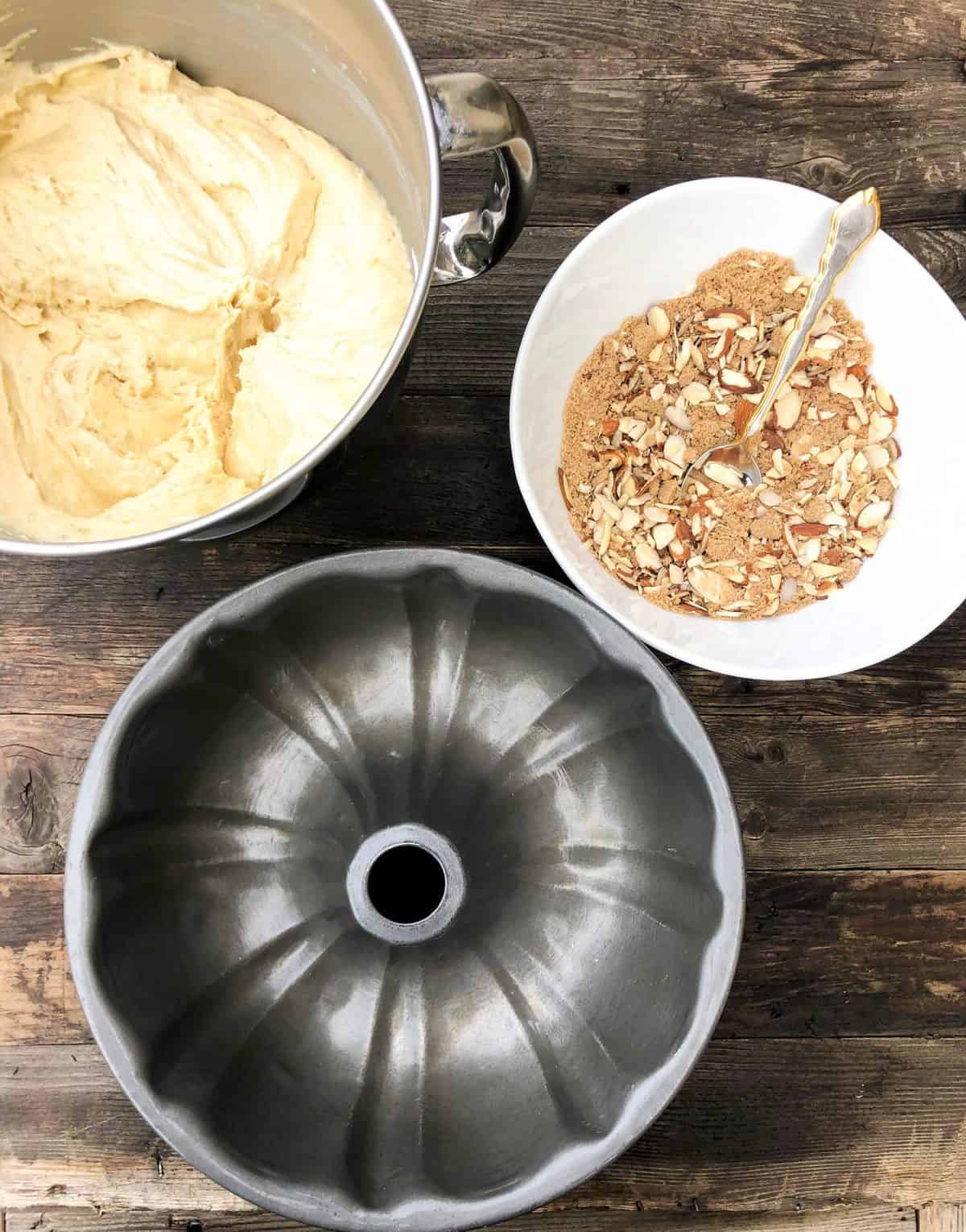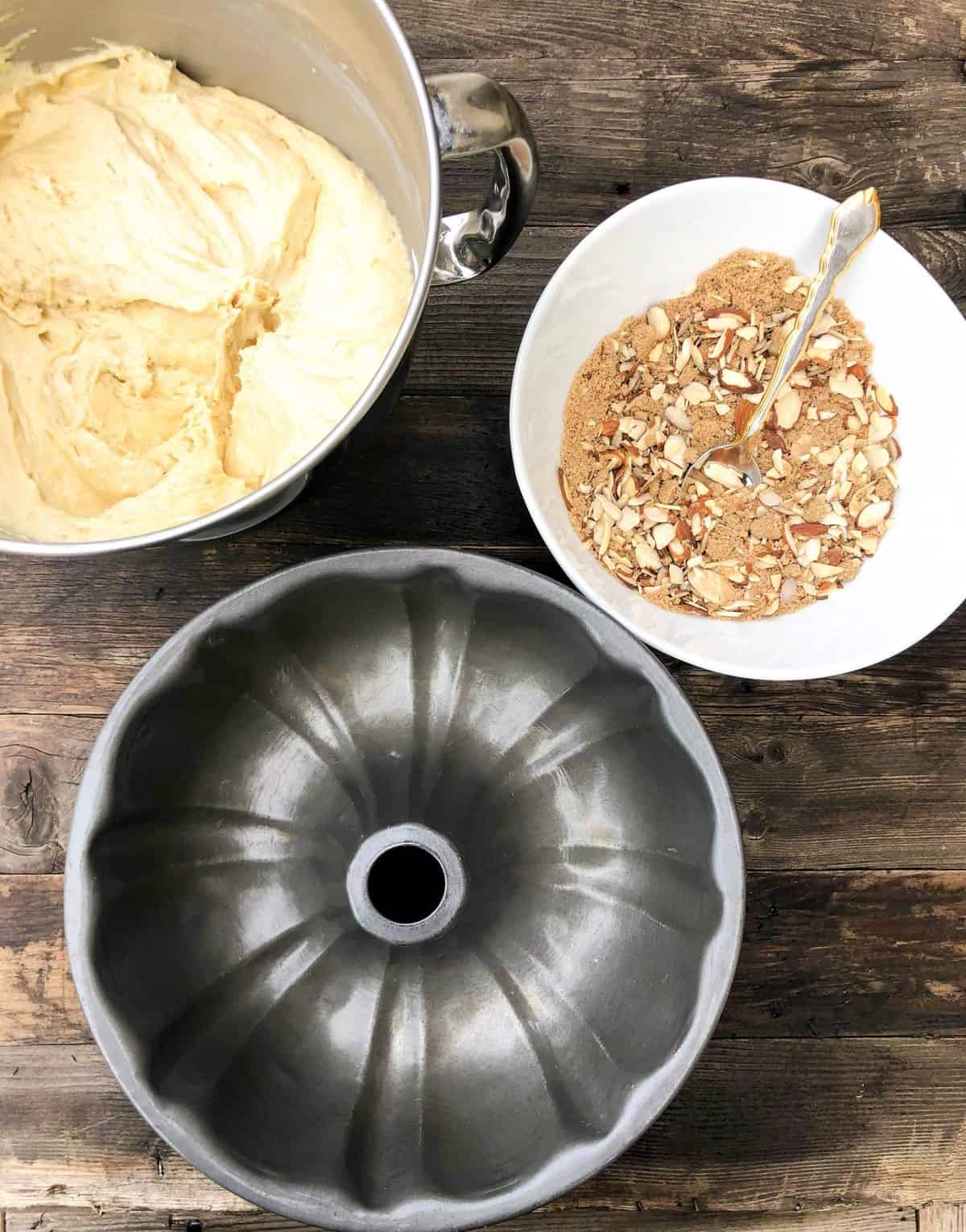 Make the streusel filling.
The make the streusel filling all you need to do is mix together the brown sugar and sliced almonds in a separate bowl until combined.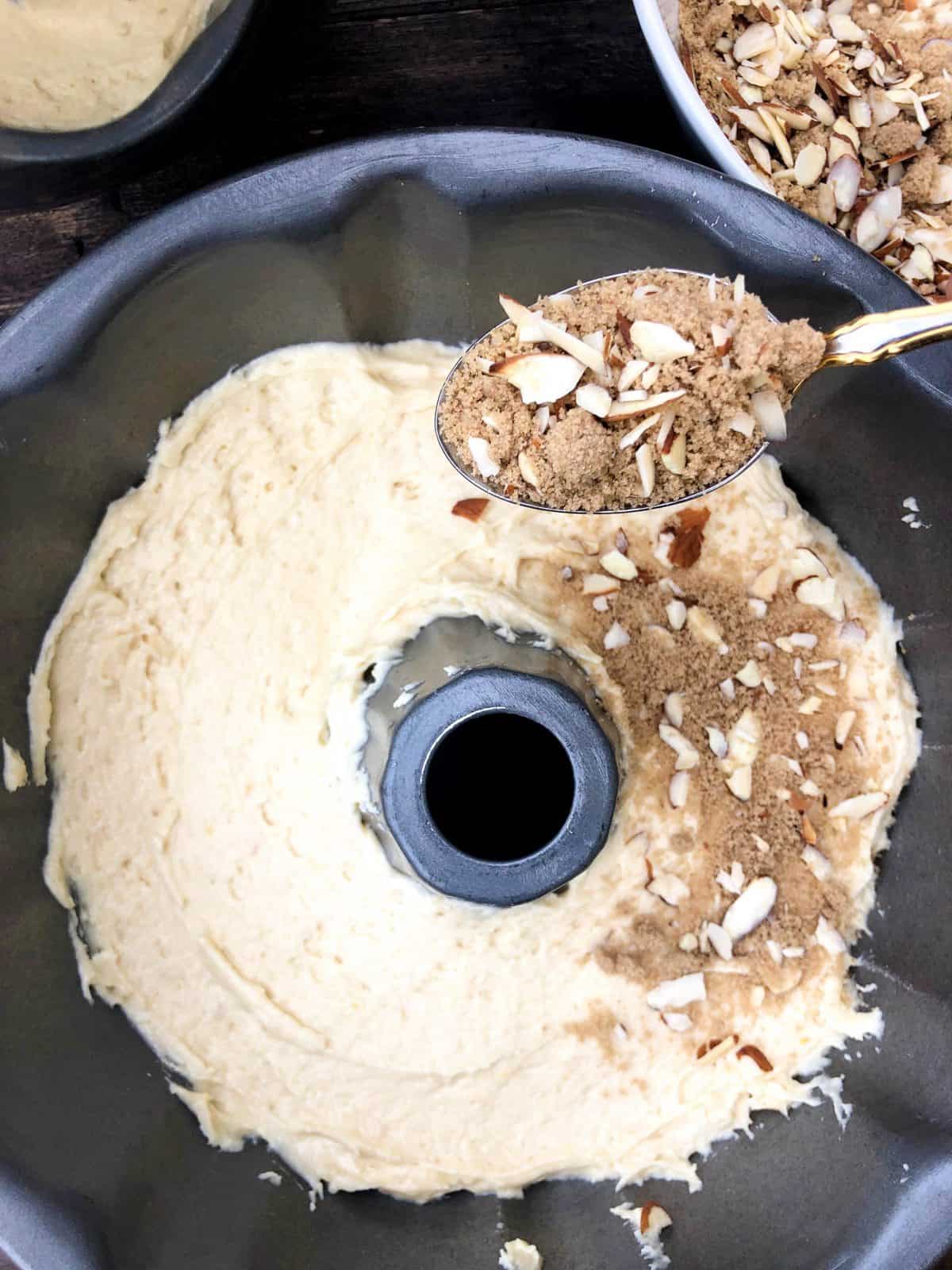 Layer it up!
Add 1/3 of the batter into the bottom of a greased bundt pan. Sprinkle half of the streusel over the top.
Then, add another 1/3 of the batter and the last half of the streusel. Finish by adding the last layer of batter on top.
Bake for 1 hour at 350°F. Then allow the cake to cool on a wire rack.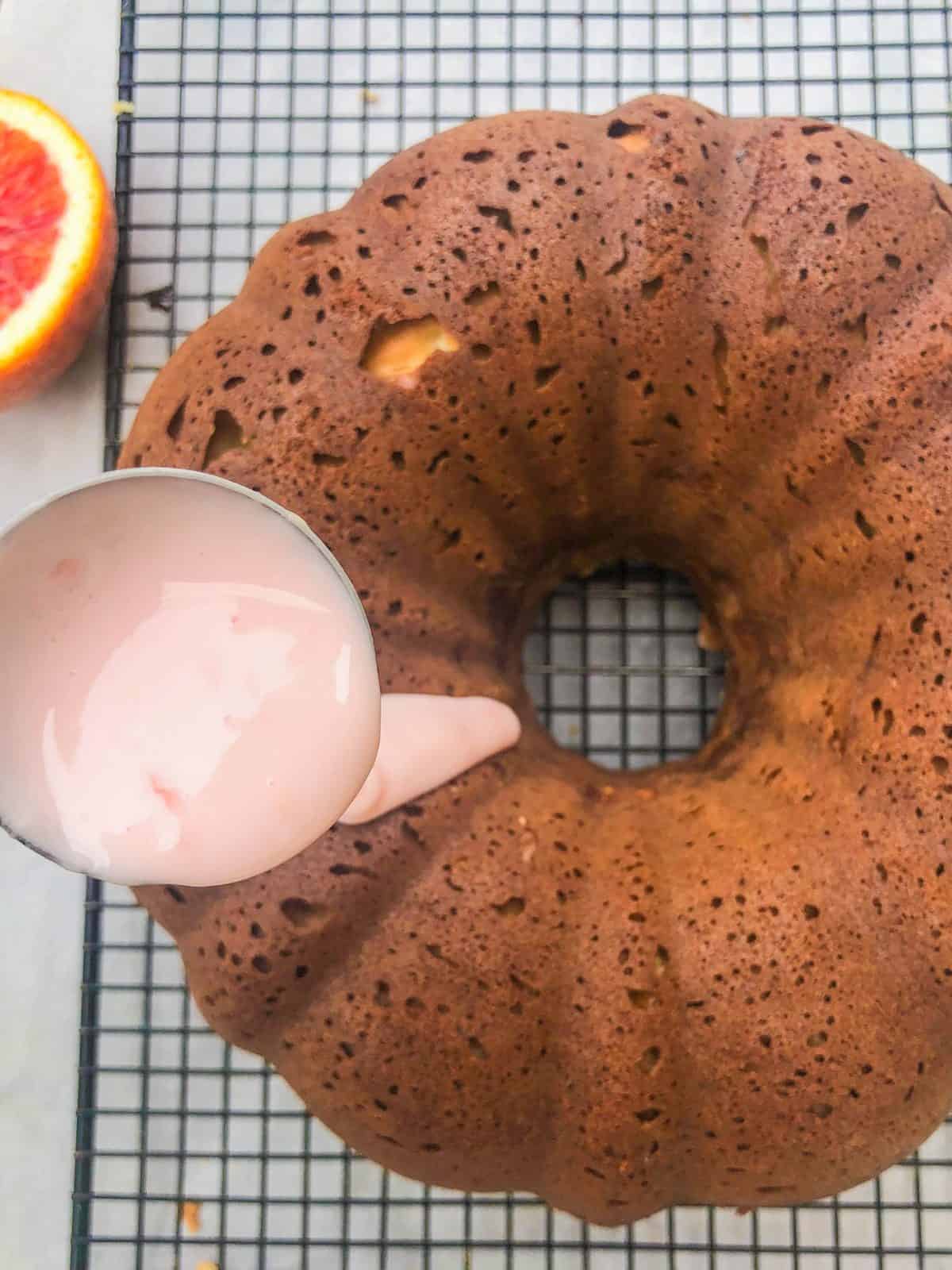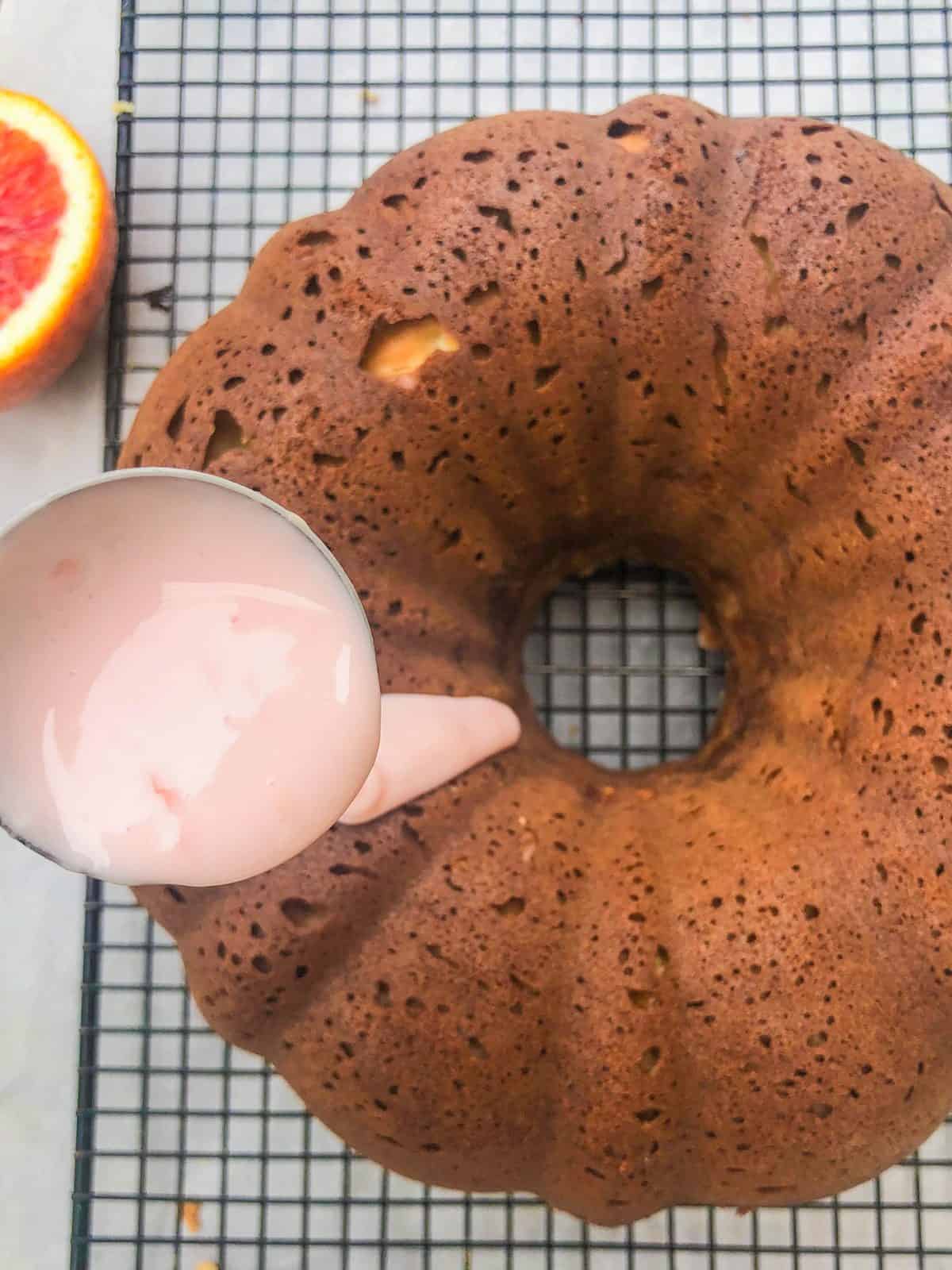 Time to decorate!
Remember when we talked about adoring this cake with a pink blood orange icing drizzle? Now is the time!
Once the cake has cooled, pour the icing over the whole cake. If your cake is too warm the icing will melt and slip right off. It is best to do this when the cake is completely cool.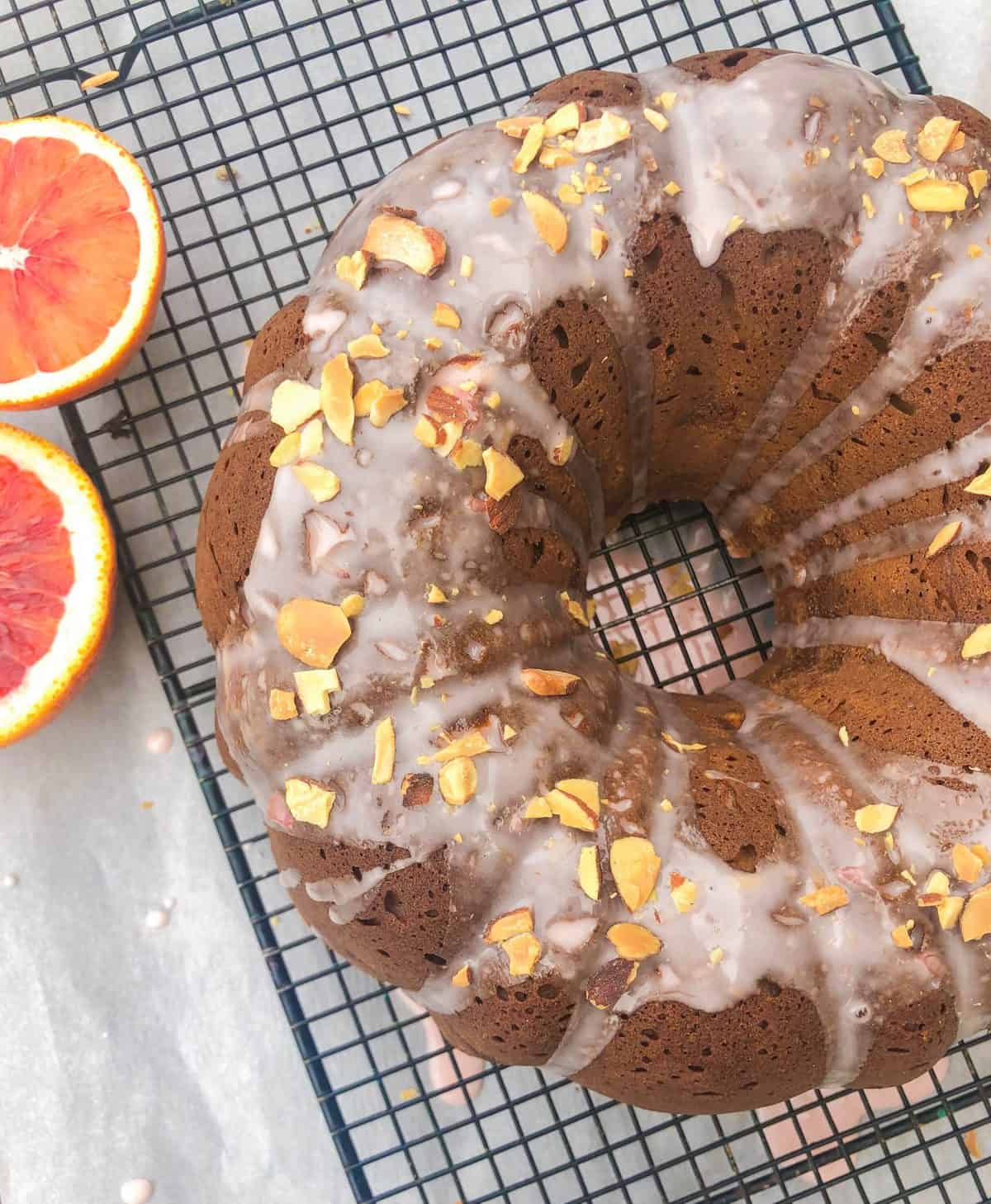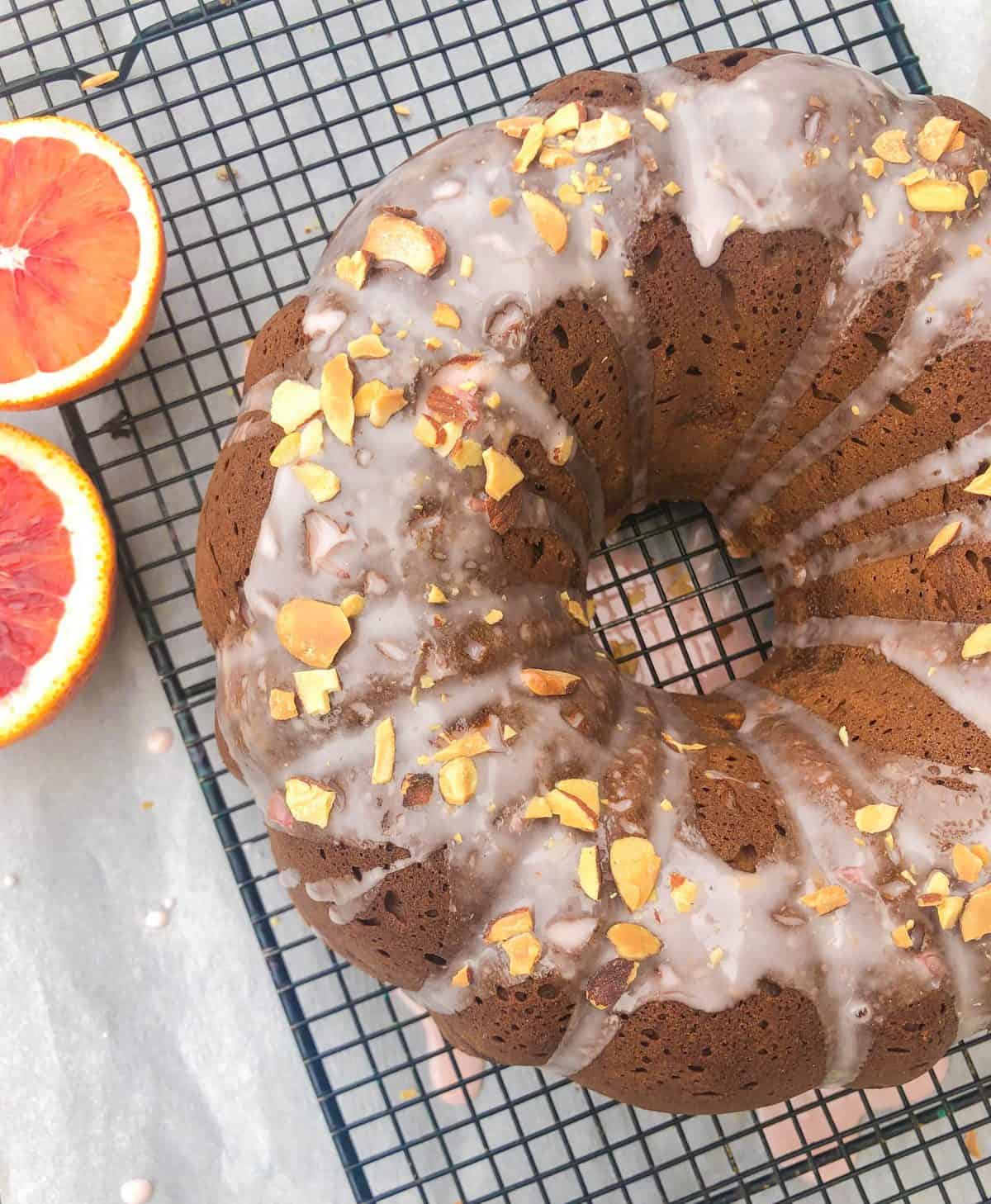 Garnish!
Sprinkle the top of the cake with toasted slivered almonds to garnish.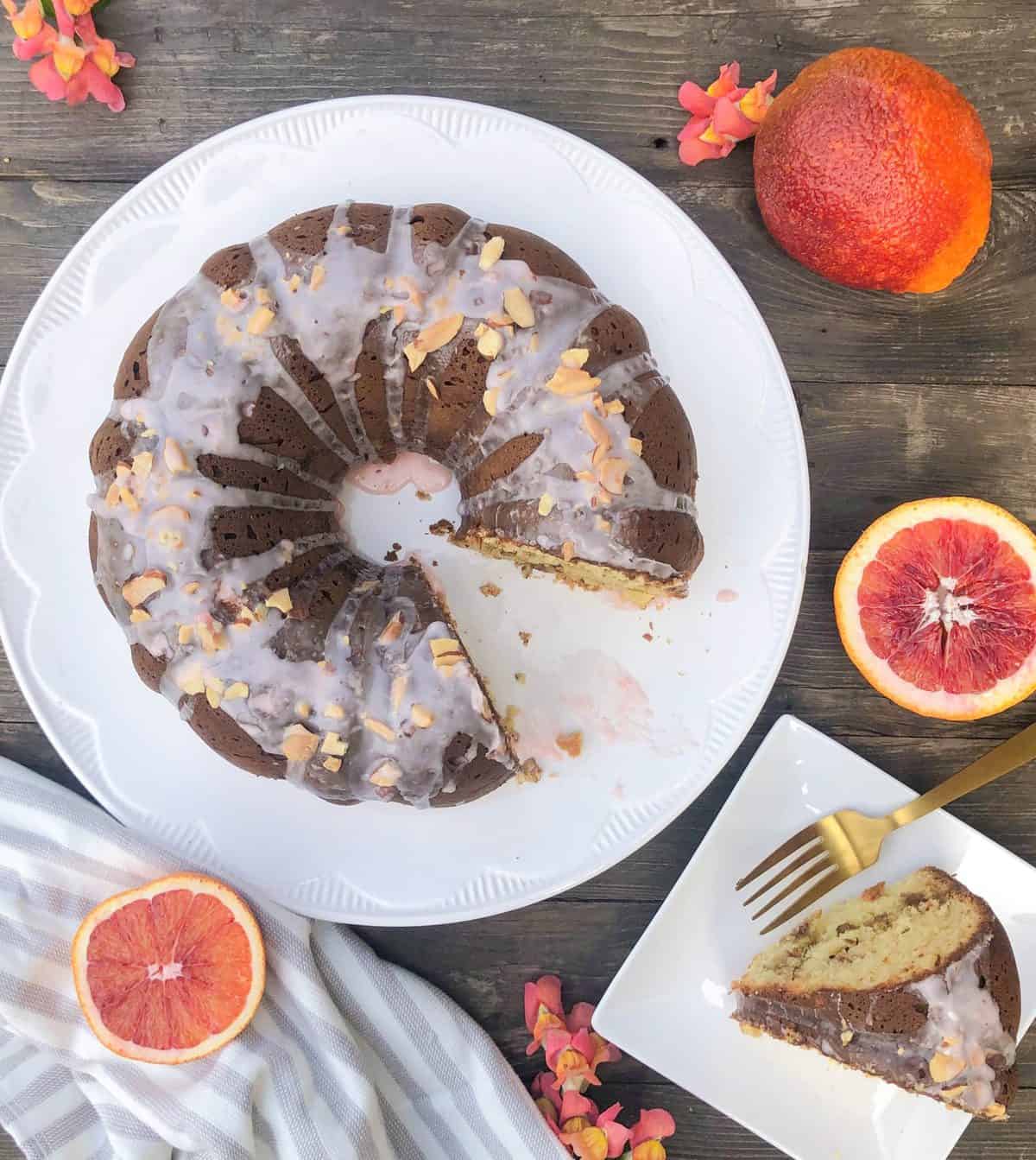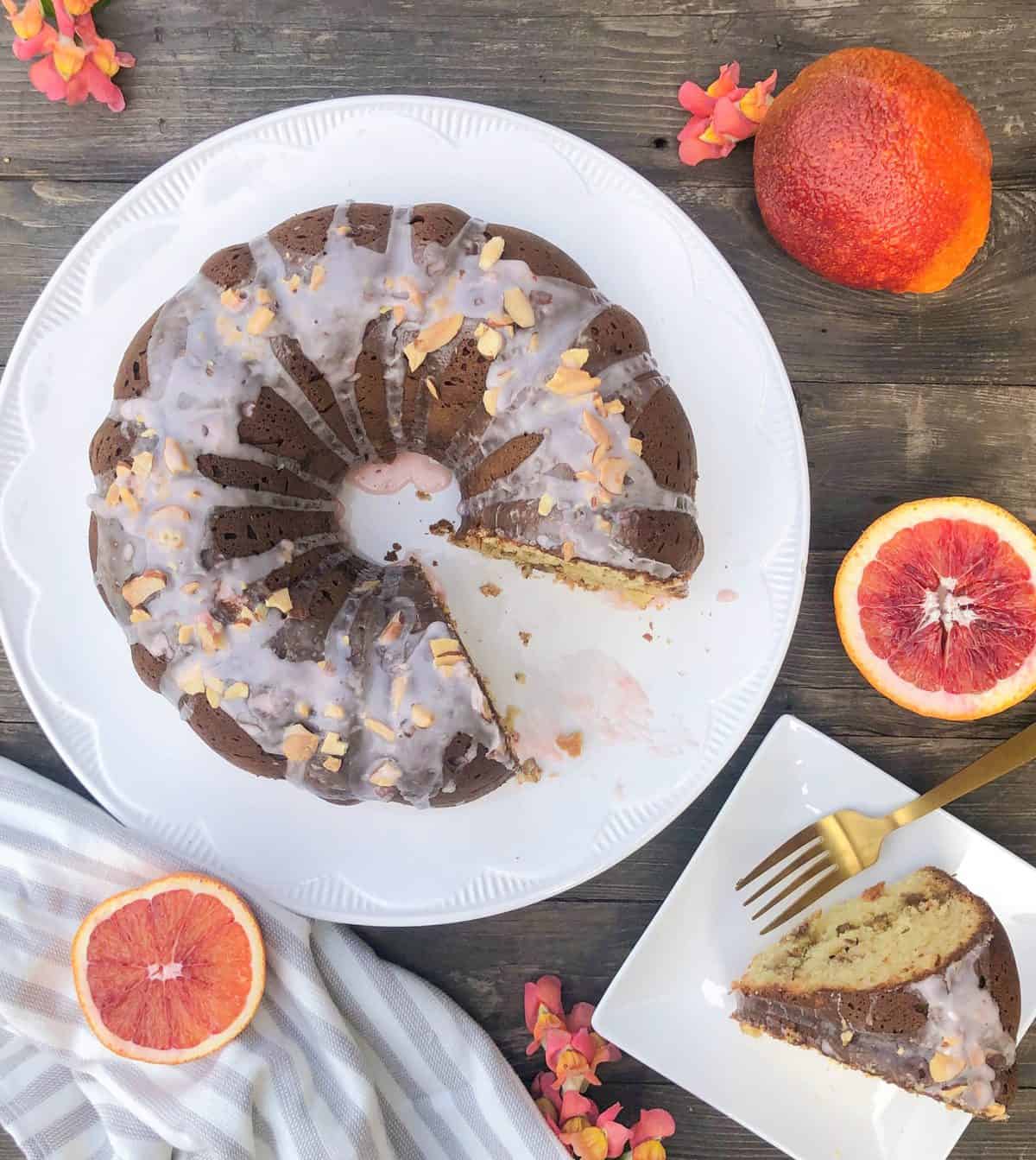 Hungry for more recipes with blood orange?
It is no secret that we love California citrus around here and our California Grown Creators do too! Below you will find a few more of our favorite recipes for when we want to indulge in blood oranges.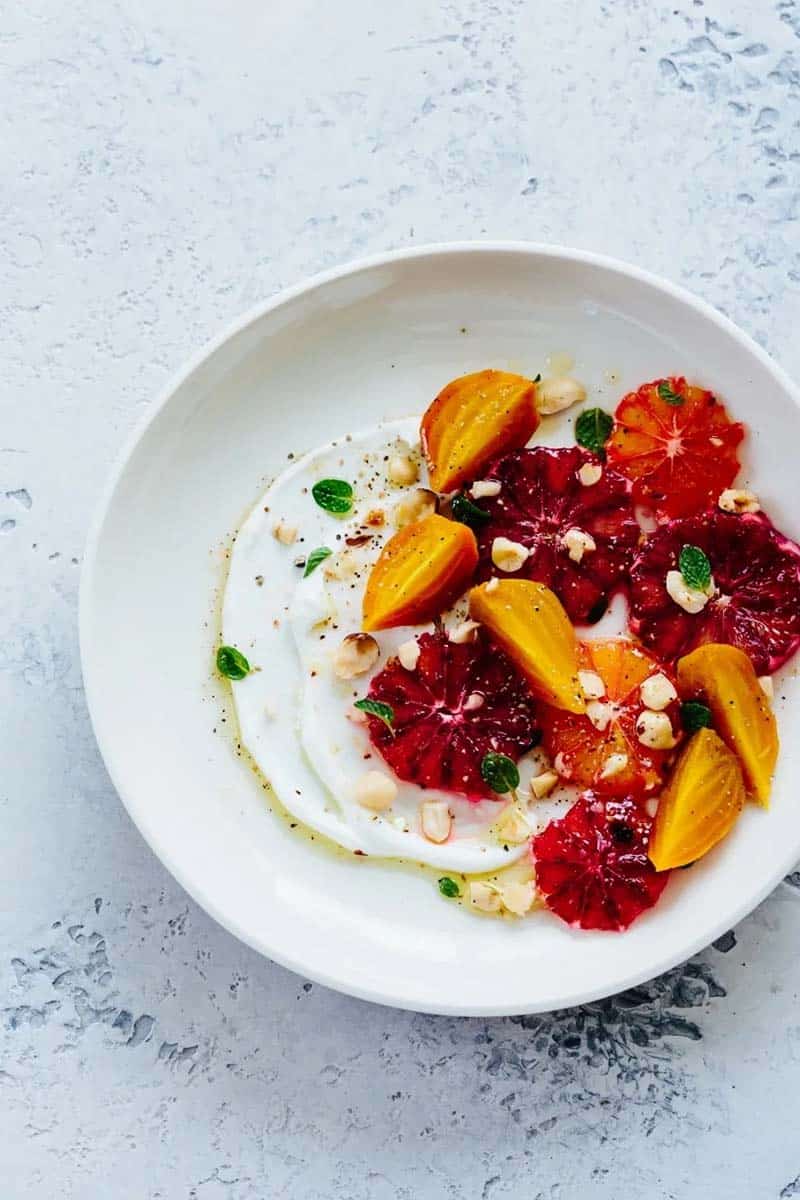 The sweetness of the beets in this recipe from Beyond Sweet & Savory provides a nice contrast with the tangy yogurt and the sweet-tart flavor of the blood oranges.
It tastes almost like a dessert but with the olive oil and dressing the scale tips right back to the savory side.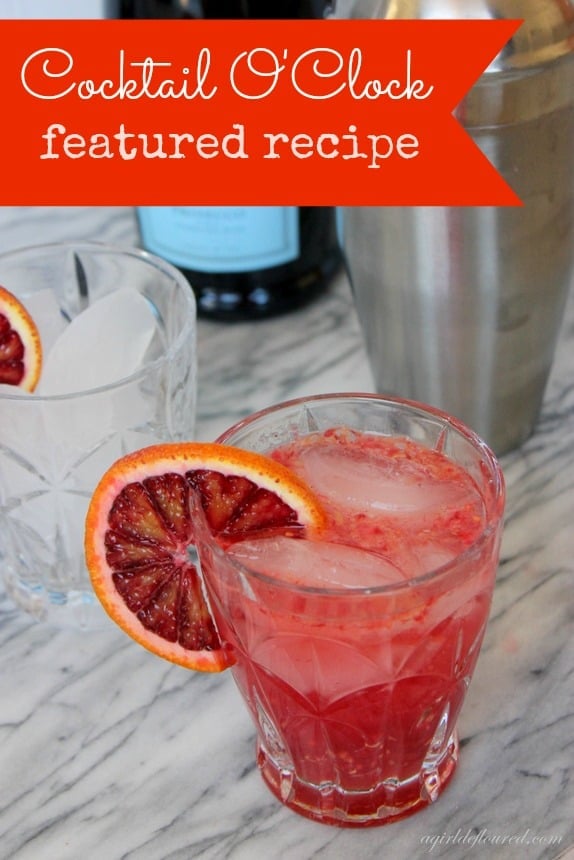 This cocktail from A Girl Defloured is sweet, spicy, tangy and just the right amount of bitter. The deep rouge color comes from both the blood oranges and the raspberries. If you cannot find blood oranges, feel free to substitute regular oranges…or even better, tangerines.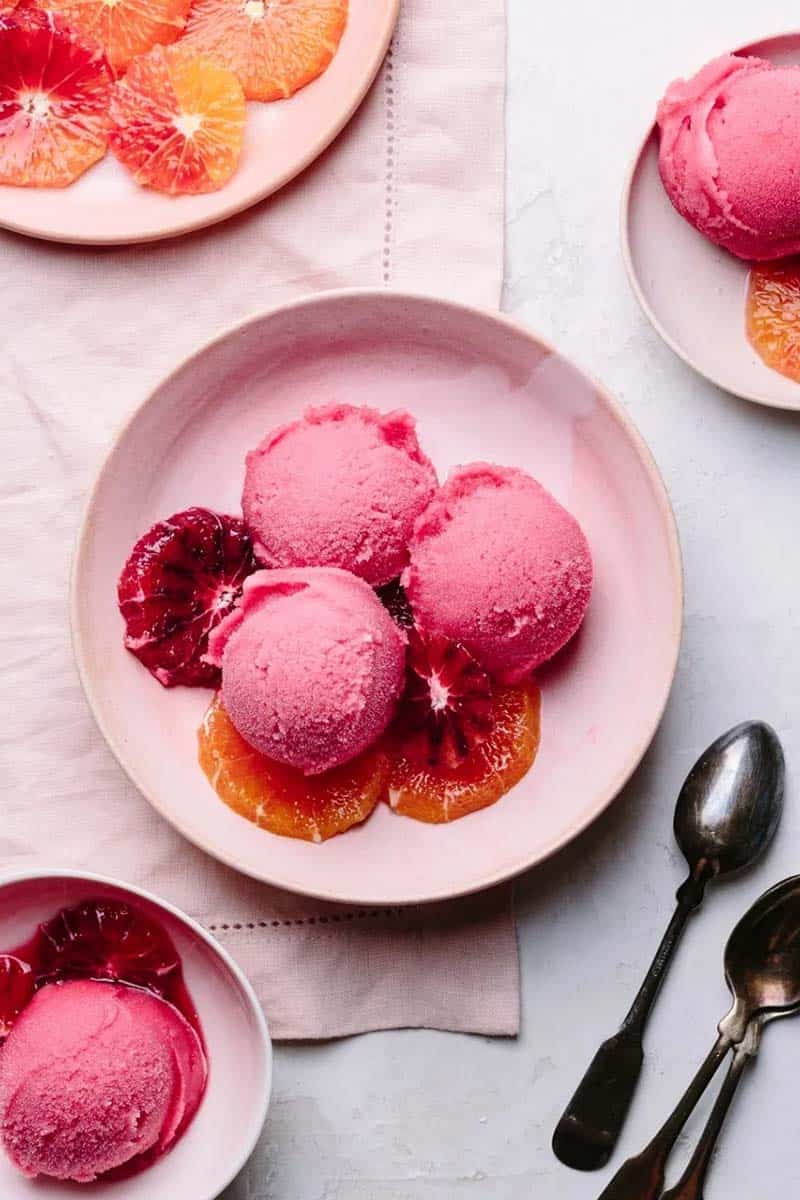 This Blood Orange Sorbet from Beyond Sweet & Savory is refreshing and tangy with a hint of cardamom flavor. Just look at that color!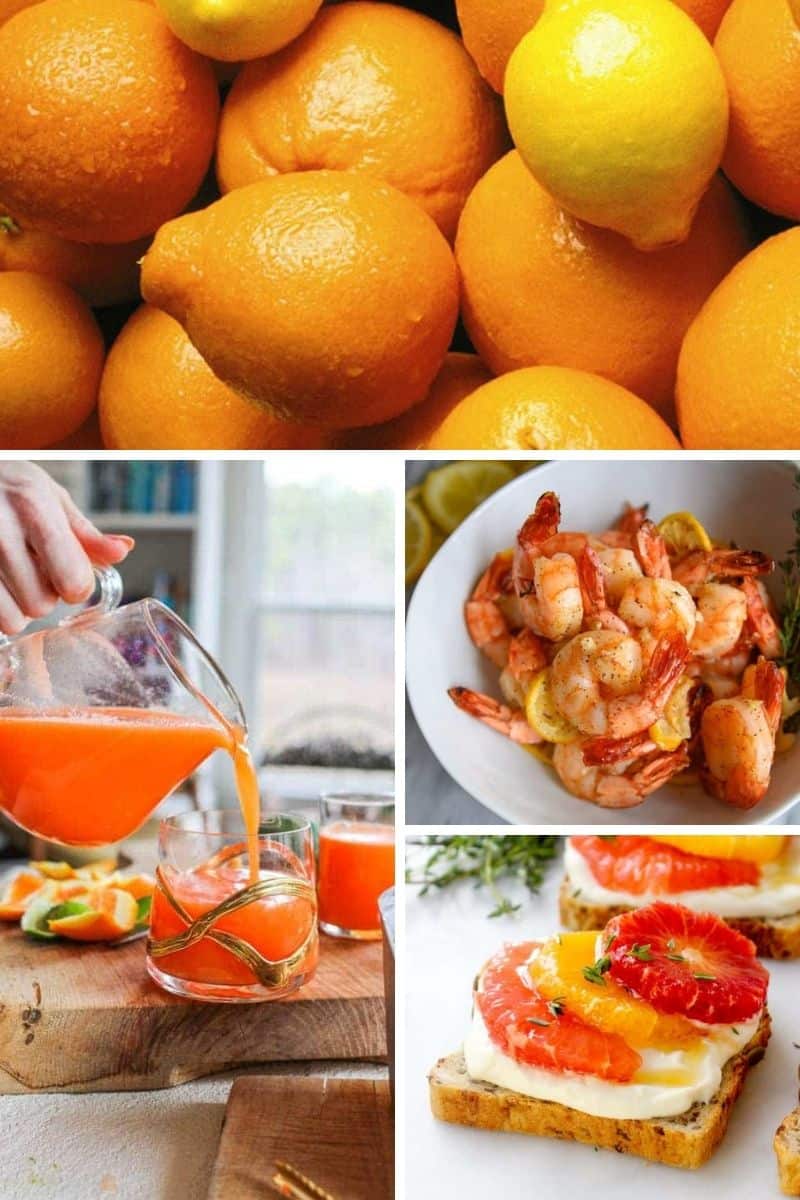 California may be best known for its beautiful beaches and Hollywood icons, but we are also known for our incredible citrus! If you are a sucker for that sweet-tart mix of sugar and acidity that only fresh California citrus provides get ready because this round-up features some of the best citrus recipes that our California Grown Creators have to offer!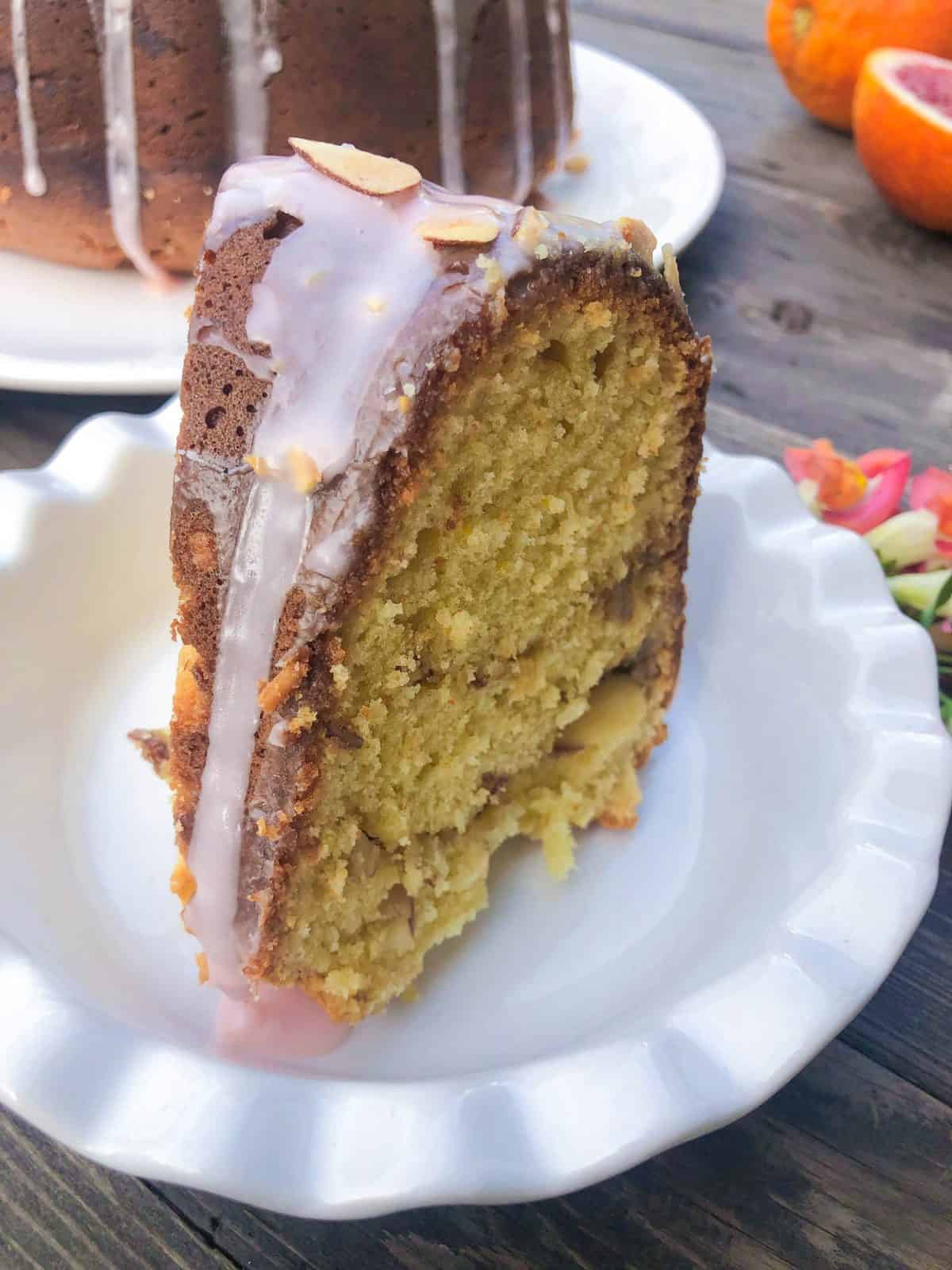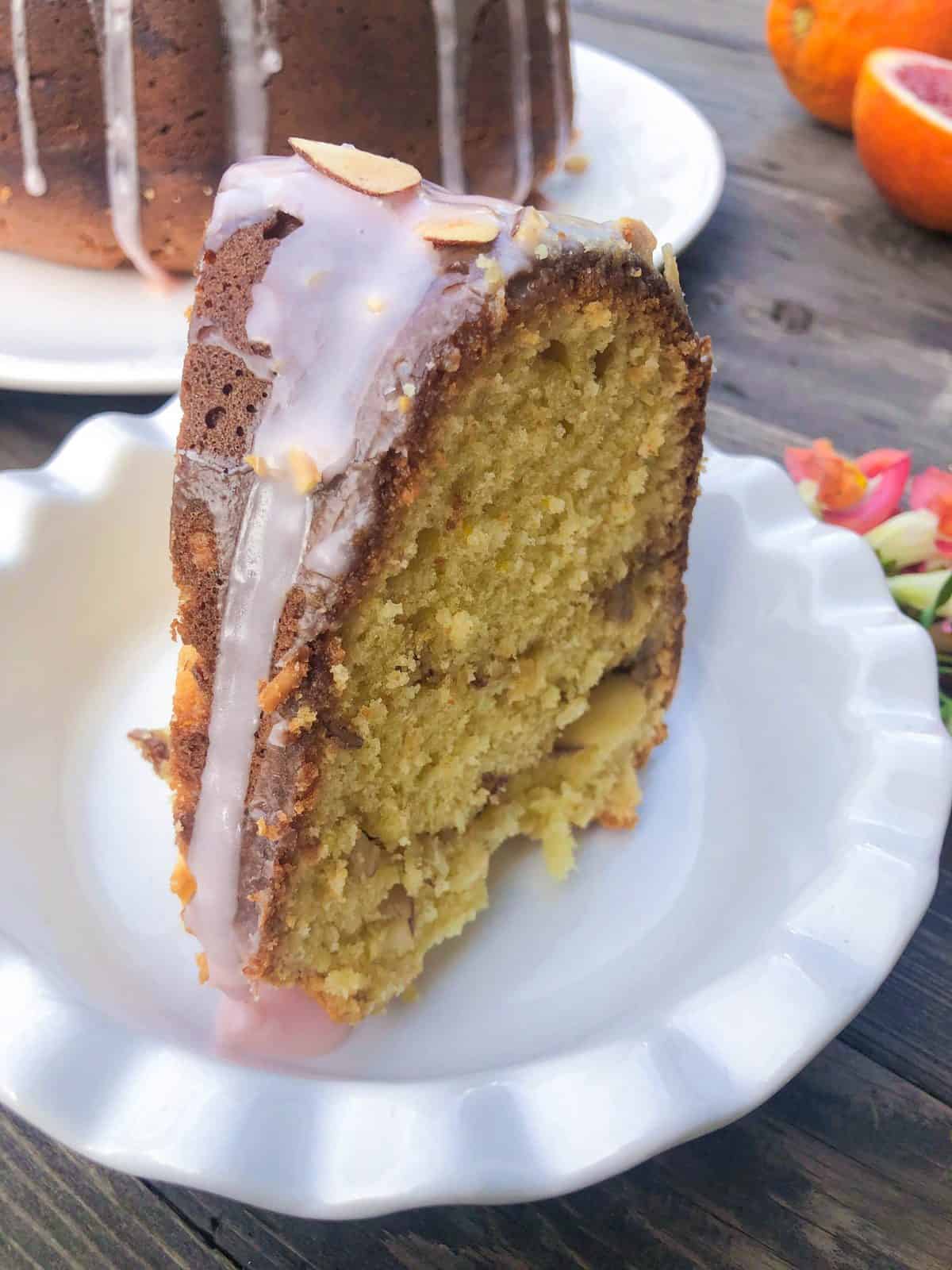 BE SURE TO SHARE YOUR FAVORITE BLOOD ORANGE WITH US BY SNAPPING A PIC AND TAGGING US ON SOCIAL USING #CAGROWN.
Craving more CA Grown goodness? Follow us on Pinterest for fresh and fabulous recipe inspiration!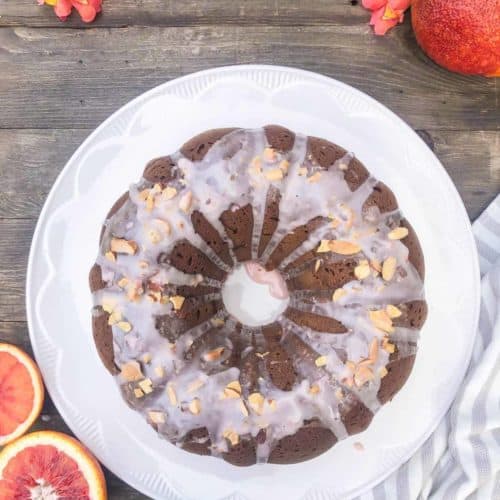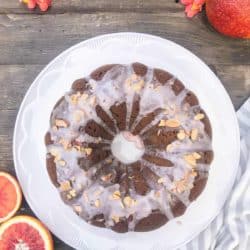 Blood Orange Almond Cake
Ingredients
For Filling
1/2 cup packed brown sugar
1/2 cup sliced almonds
For Batter
3 cups flour
1 1/2 teaspoons baking powder
1 1/2 teaspoons baking soda
3/4 teaspoon salt
1 1/2 cups granulated sugar
3/4 cup butter or margarine softened
1 1/2 teaspoons vanilla
1 tablespoon blood orange zest
3 eggs
1 1/2 cups sour cream
For Icing
1 1/2 cup powdered sugar
2 tablespoons plus more if needed fresh blood orange juice
Instructions
Preheat the oven to 350°F. Grease a bundt pan.

Combine the filling ingredients in a bowl and set aside.

In medium bowl, mix flour, baking powder, baking soda and salt; set aside.

In large bowl, beat granulated sugar, 3/4 cup butter, 1 1/2 teaspoons vanilla and the eggs with electric mixer on medium speed 2 minutes, scraping bowl occasionally. Beat in flour mixture alternately with sour cream on low speed.

Spread 1/3 of the batter in the pan; sprinkle with 1/2 of the filling. Repeat and end with the last third of the batter on top

Bake for about an hour or until a toothpick inserted comes out clean. Cool for 10 minutes. Release cake from pan on a wire rack and allow to sit until cooled.

Mix the icing ingredients and pour over the cake allowing the icing to drizzle over the sides. Top with toasted almonds if preferred
Nutrition
Calories: 647kcalCarbohydrates: 92gProtein: 9gFat: 28gSaturated Fat: 13gPolyunsaturated Fat: 3gMonounsaturated Fat: 9gTrans Fat: 1gCholesterol: 106mgSodium: 546mgPotassium: 219mgFiber: 3gSugar: 60gVitamin A: 725IUVitamin C: 4mgCalcium: 132mgIron: 3mg