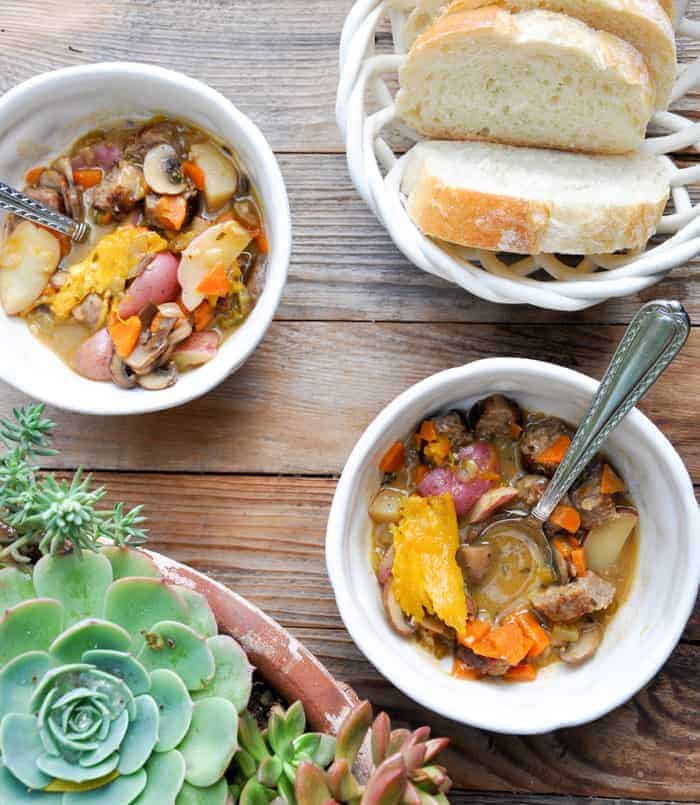 CA GROWN Blog
Discover. Learn. Connect.
A Simple Stew Recipe for Fall Served in a Pumpkin Tureen
November 17, 2014
Eat the Season!
Sign Up For Weekly Recipes
« Back to Recipes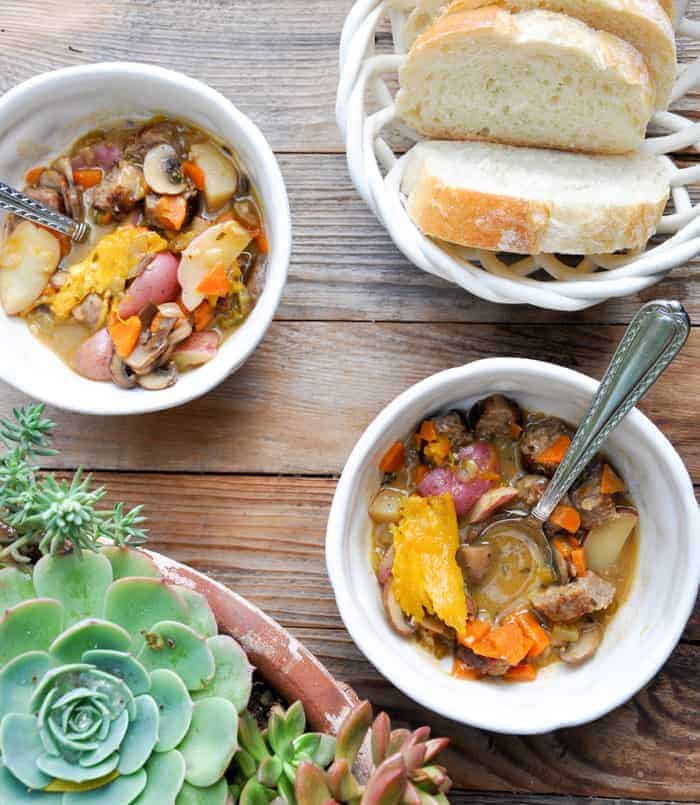 A Simple Stew Recipe for Fall Served in a Pumpkin Tureen
Pumpkins are so versatile and can be used in a variety of ways during the fall season. They're great for decorating, but if you're looking for something more than just a centerpiece, try serving this delicious stew recipe in one! This is one dish that will warm your belly on a chilly autumn day.
Let's make this Simple Stew recipe together step-by-step.
First things first preheat the oven to 350°F so that it will be ready once the pumpkin has been prepared.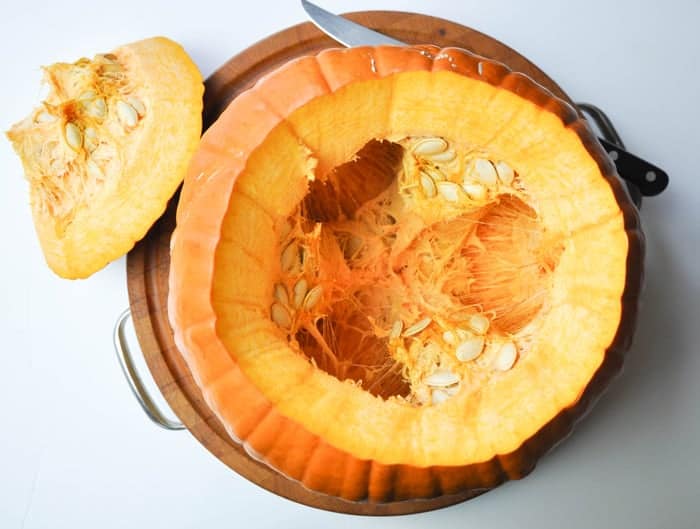 Pick the perfect pumpkin.
An 8-10 pounder will do! Cut the top off of the pumpkin with a sharp knife, creating a lid that can be snuggly placed back on top.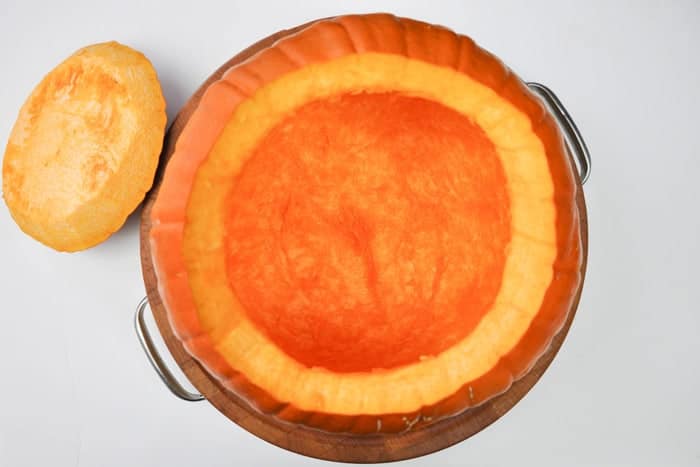 Prep the pumpkin.
Remove all the seeds and membranes from the pumpkin and the lid. Place the lid back onto the prepared pumpkin and roast in the preheated oven for 35 minutes.
Once the pumpkin has roasted, remove it from the oven and increase the temperature to 375°F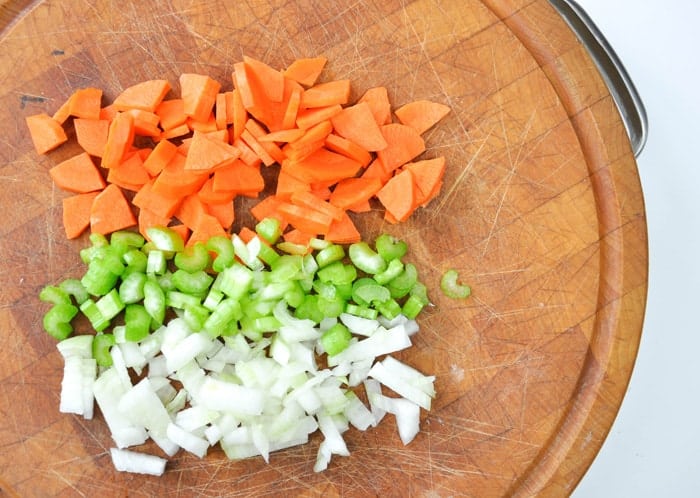 Make a mirepoix.
Most stew recipes start with a mirepoix which is a combination of carrots, celery, and onion.
Chop all your veggies for the mirepoix. That's fancy speak for carrots, celery, and onion. Sauté in a pan over medium-high heat with about a tablespoon of butter until tender, and add minced garlic at the end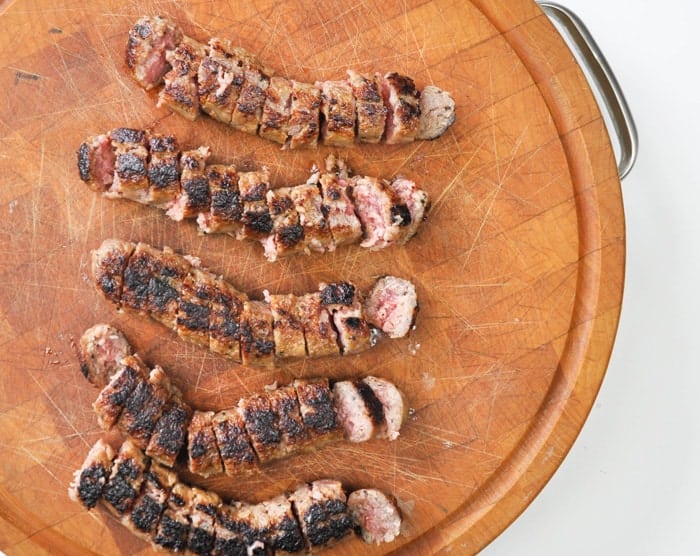 Brown then slice.
Brown the Italian Sausage and allow to rest, then slice it into bite-sized pieces.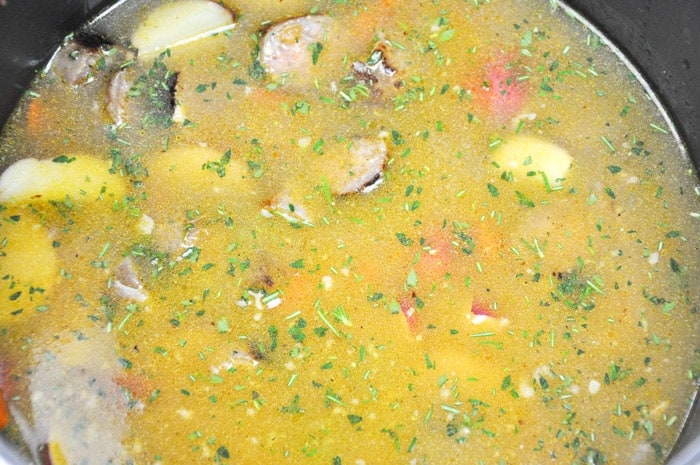 Combine it all together.
Add the sautéed veggies, sausage, and quartered new potatoes into a pot. Following, add the chicken broth, wine, and Dijon. Mince up your herbs and toss in. Simmer for about 30 minutes until potatoes are fork-tender.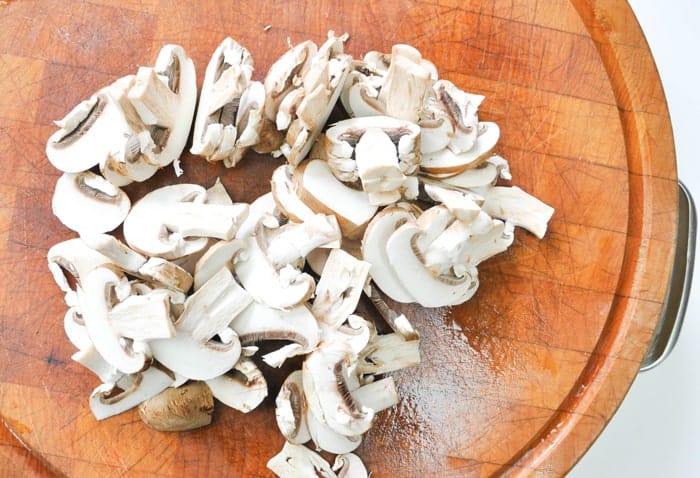 Meanwhile…
While the stew is simmering, slice up the mushrooms and sauté in 1 tablespoon of butter until golden brown.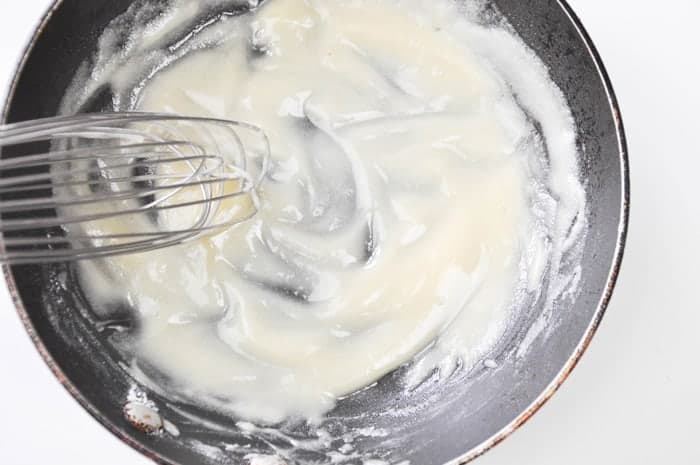 Make a roux.
A roux (pronounced "roo") is essentially an equal mixture of oil or other fat and flour that is stirred and cooked slowly and continually in a pot until browned. It is used as a thickening agent and flavor builder for making gravy, casseroles, soups, sauces and stew recipes.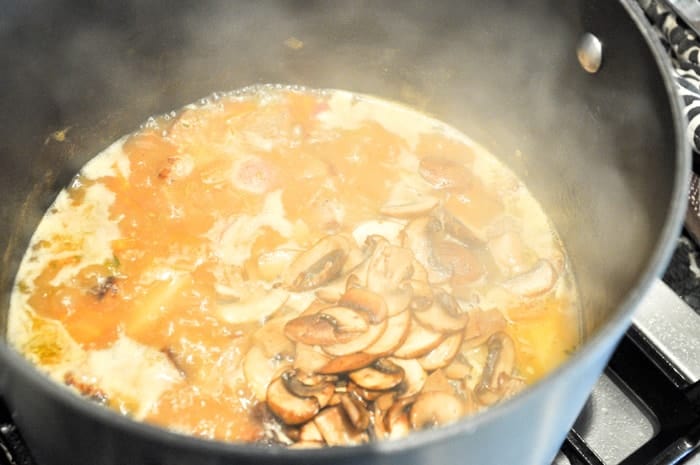 Bring it all together!
After the potatoes are tender, add the cooked mushrooms and whisk in the roux.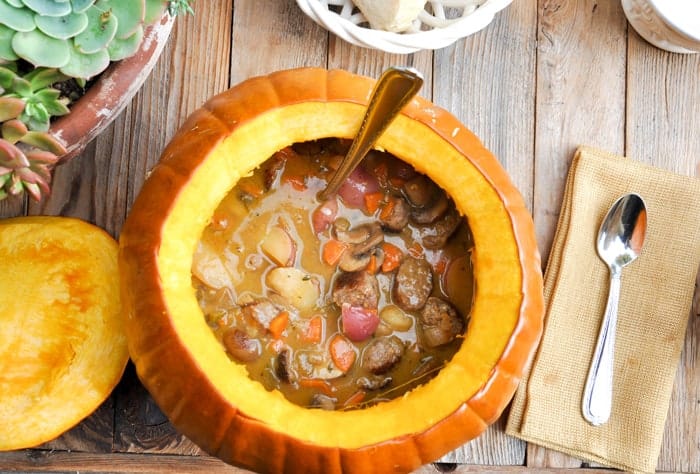 The final step for this stew recipe.
Pour into the pre-baked pumpkin and return the entire tureen to the oven for an additional 10 minutes at 375°F.
The warmed tureen will keep your stew piping hot for hours!
While ladling the stew to serve, you can scrape the inside of the pumpkin and add bits of the softened roasted pumpkin to your bowl. Without a doubt, it looks like fall in a bowl, right? Coupled with the colors and the aromas, we just can't get enough.
Looking for more warming soup and stew recipes for fall? We've got you covered!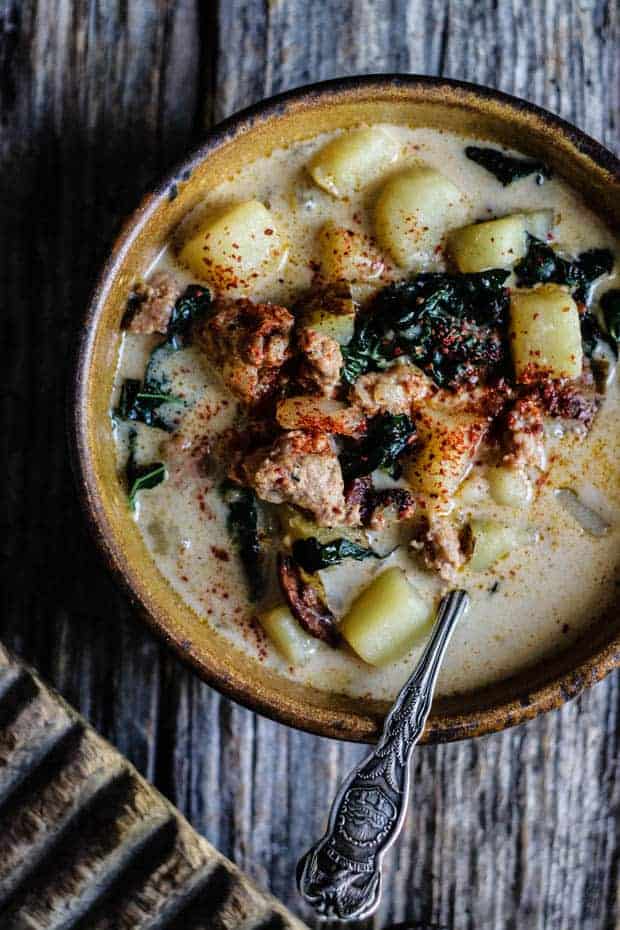 This popular recipe remake from This Mess is Ours is a soup that eats like a stew! Hearty potatoes and greens mingled with sausage and bacon – yum!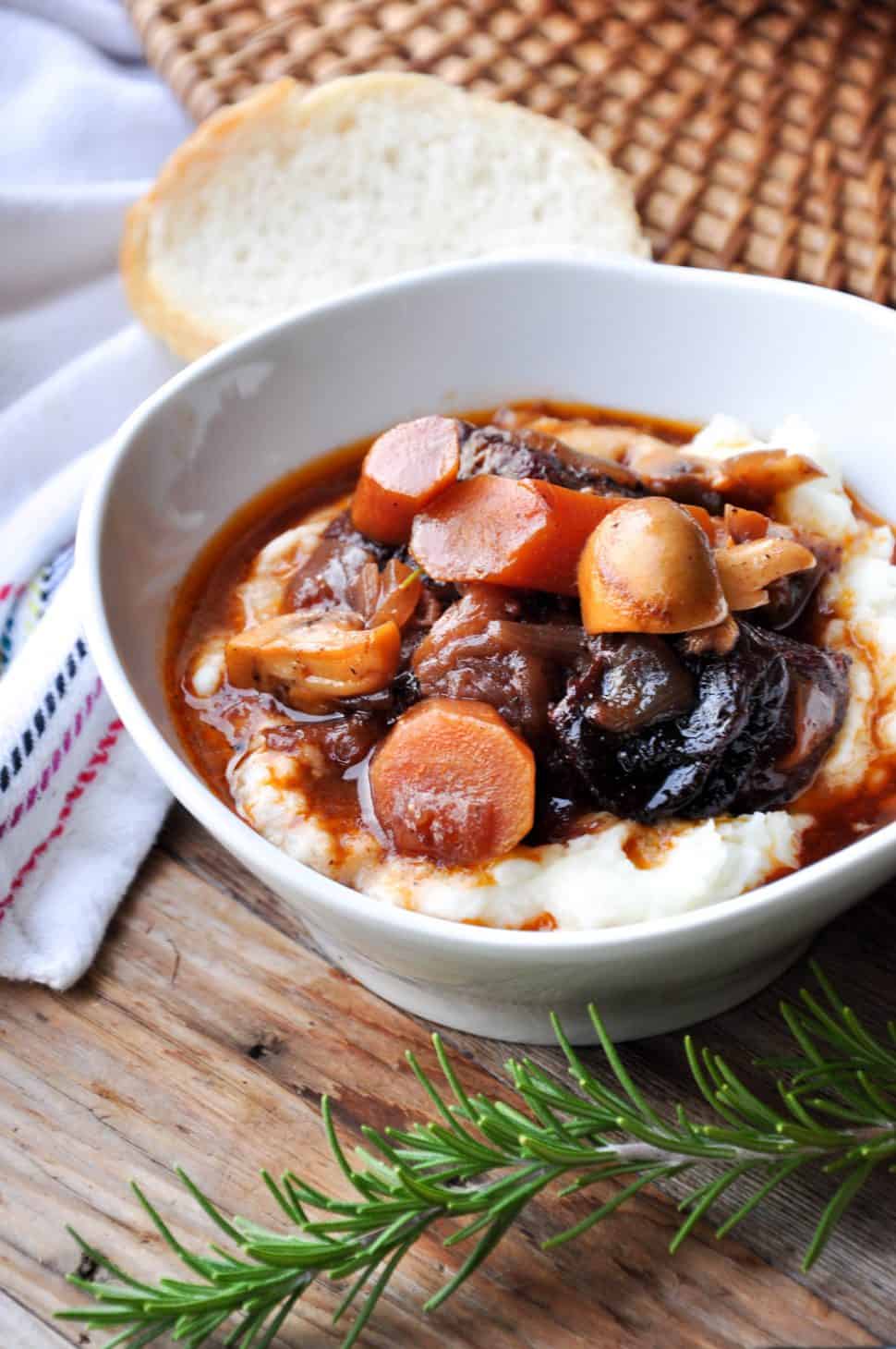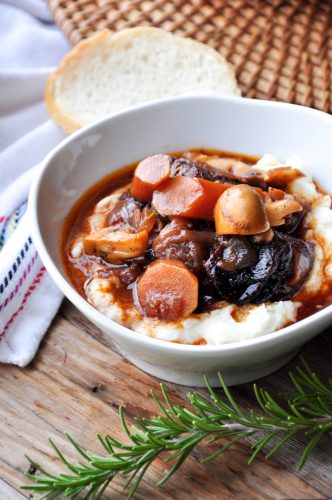 This spectacular stew roasts in the oven and is served over garlic mashed potatoes! Talk about stick to your bones satisfying.
Be sure to share your California Grown Pumpkin inspired creations with us by snapping a pic and tagging us on social using #CAGROWN.
Craving more CA Grown goodness? Follow us on Pinterest for fresh and fabulous recipe inspiration!
A Simple Fall Stew
A Simple Fall Stew with Italian sausage, potatoes, carrots, celery, and onions cooked to perfection then served in a whole roasted pumpkin tureen.
Ingredients
1 8-10 pound pumpkin
1 pound sweet Italian sausage
4 tablespoons butter divided
2 carrots chopped
2 celery ribs chopped
1 yellow onion chopped
3 garlic cloves minced
12 small new potatoes quartered
2 tablespoons Dijon Mustard
4 cups chicken broth
1/2 cup white wine
1 tablespoon chopped rosemary chopped
1 tablespoon chopped thyme chopped
1 1/2 tablespoons butter
2 tablespoons flour
1 package crimini or button mushrooms sliced
Instructions
Preheat oven to 350°F.

Cut the top off the pumpkin making a nice sized lid and scrape out all the seeds and membrane. Bake for 35 minutes with the top on. Set aside to cool a bit an increase the oven temperature to 375°F.

Meanwhile, brown the sausage in a bit of olive oil. Allow to rest and slice into bite size pieces.

Sauté the onion, carrots and celery until browned. Add the minced garlic.

Add the sausage, potatoes, cooked veggies, broth, wine and chopped herbs all to a heavy pot.

Simmer for 30 minutes until potatoes are fork tender.

Sauté the mushrooms in 1 1/2 tablespoons of butter.

Make a roux by melting the butter and whisking in the flour.

Add the mushrooms and roux to the stew and stir to combine.

Transfer the stew to the baked pumpkin tureen and bake for an additional 10 minutes.