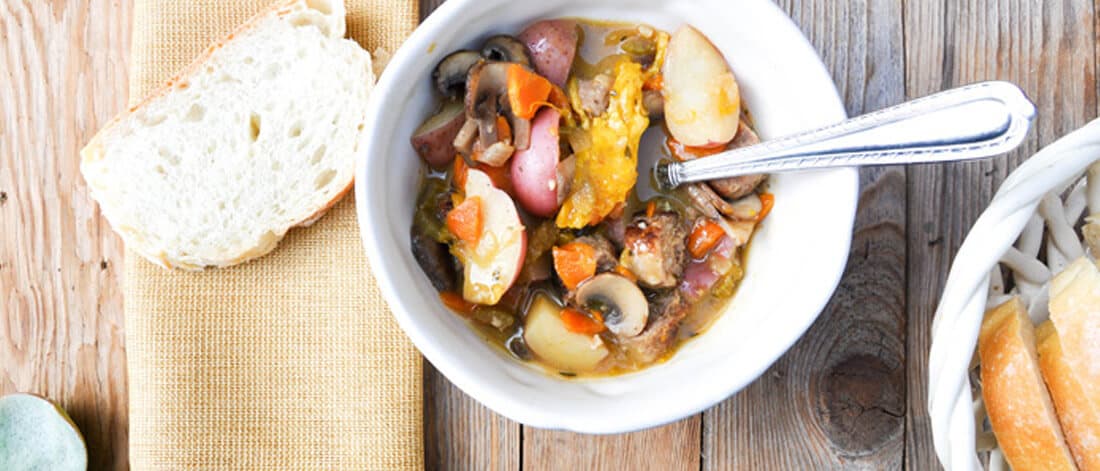 CA GROWN Blog
Discover. Learn. Connect.
Autumn Stew in Pumpkin Tureen
November 17, 2014
Eat the Season!
Sign Up For Weekly Recipes
« Back to Recipes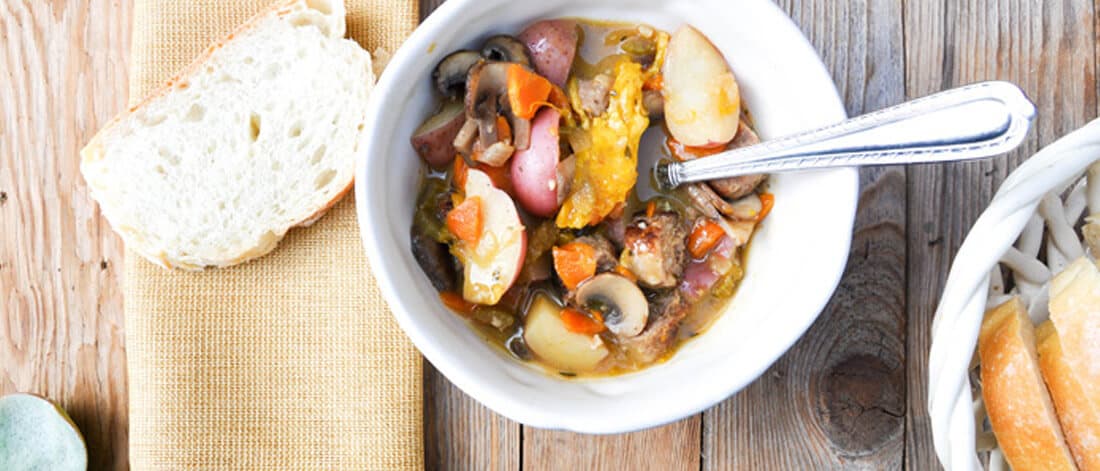 Autumn Stew in Pumpkin Tureen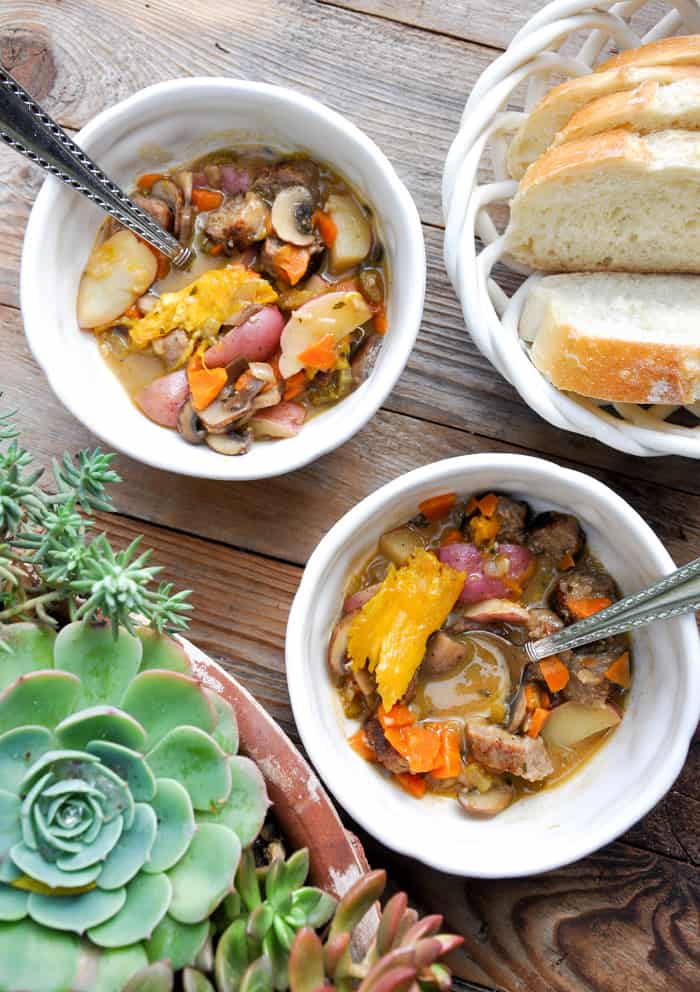 I can't even begin to tell you how good this is. Like, crazy good. It has all the right ingredients along with amazing, aromatic herbs that turn this stew into a comforting bowl of goodness.
As a matter of fact, you'll wish you made more.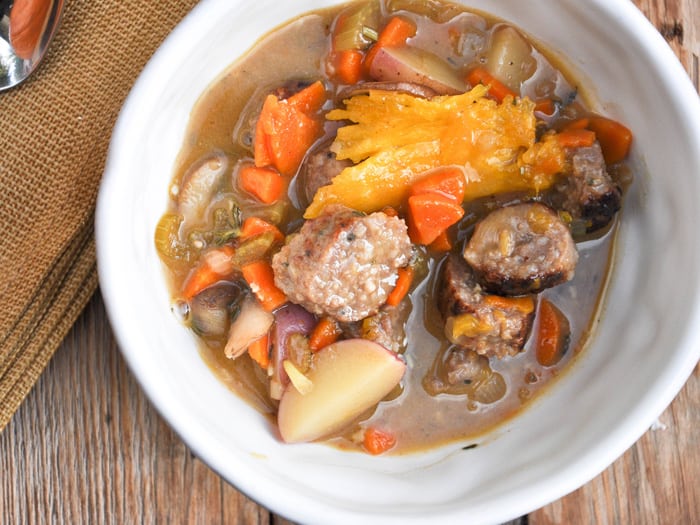 Italian sausage, potatoes and aromatic veggies swim in a full-bodied broth. Altogether, it's hearty enough to serve to your family for dinner with a fresh green salad and crusty French bread.
The best part?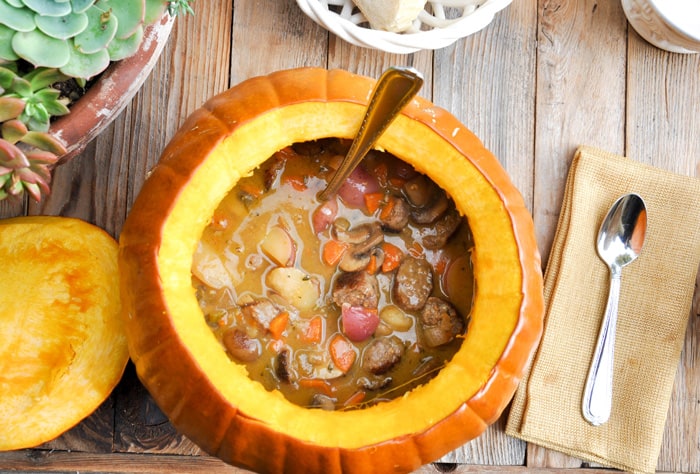 It's all served inside a piping hot, prepared pumpkin. Seeing that, it's incredibly cool, right?
While ladling the stew to serve, you can scrape the inside of the pumpkin and add bits of the softened pumpkin to your bowl.
Wanna make one? Let's do it: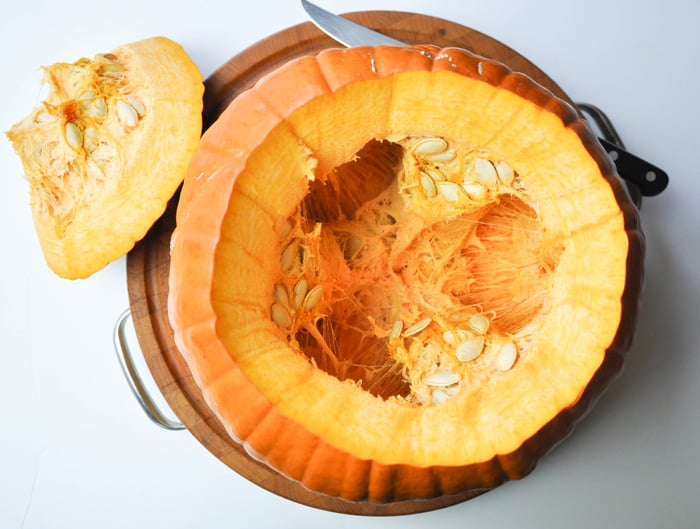 Start with a 8-10 lb. pumpkin. I found one for $.25 at my local supermarket. Total score! You could even use one you have still lying around from Halloween. As long as you haven't cut into it yet, it's still good.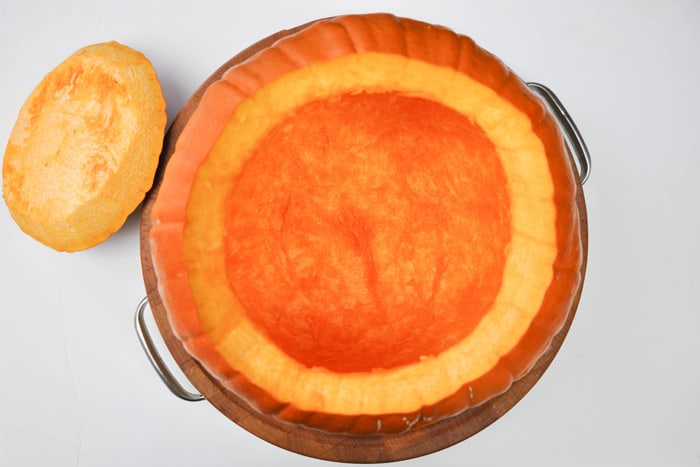 As shown above, remove all the seeds and membrane from the pumpkin. Certainly you'll want to get the kids involved; they love doing this stuff! Put the lid back on and bake for about 30-40 minutes in a 350 degree oven.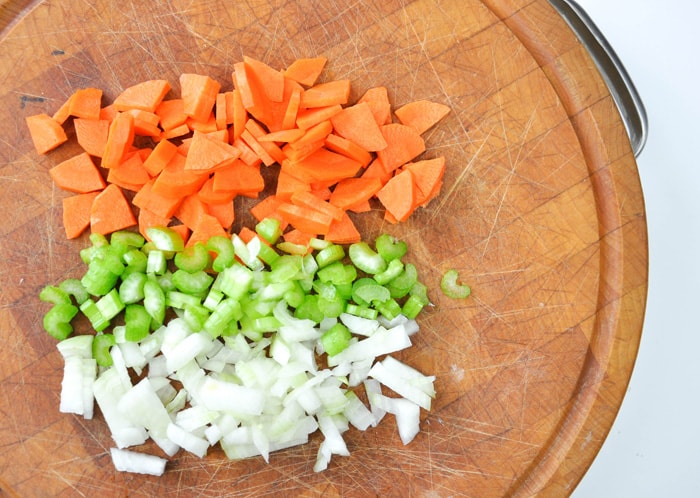 Chop all your veggies for the mirepoix. That's fancy speak for carrots, celery and onion. Sauté in a pan with about a tablespoon of butter until tender, and add minced garlic at the end.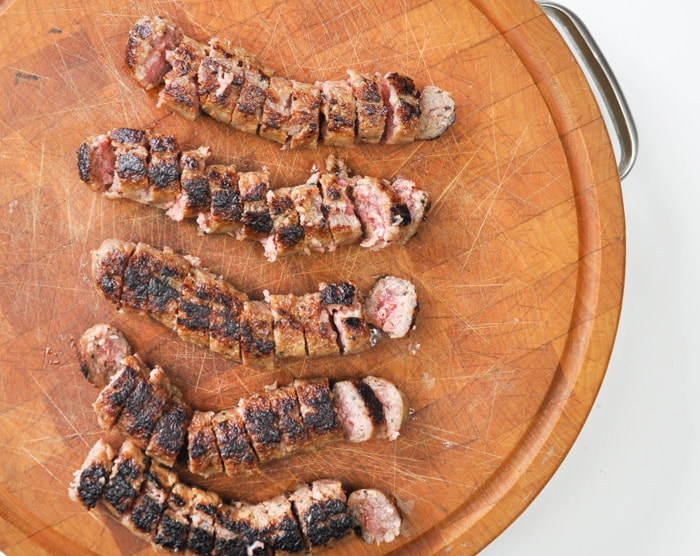 Brown the Italian Sausage and allow to rest, then slice it into bite sized pieces.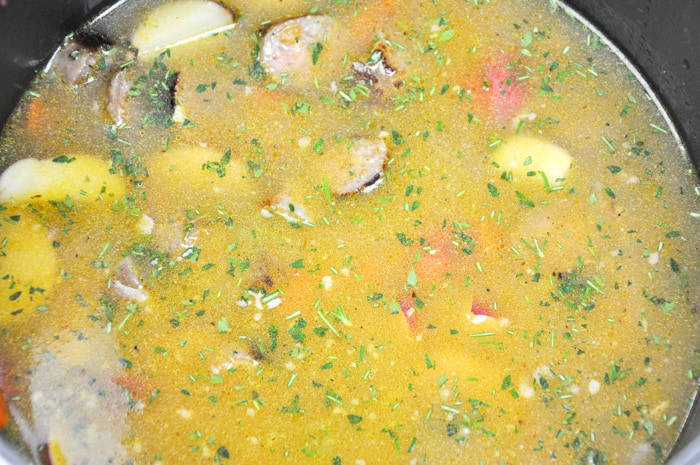 Add the sautéed veggies, sausage, and quartered new potatoes into a pot. Following, add the chicken broth, wine, and Dijon. Mince up your herbs and toss in. Simmer for about 30 minutes until potatoes are fork tender.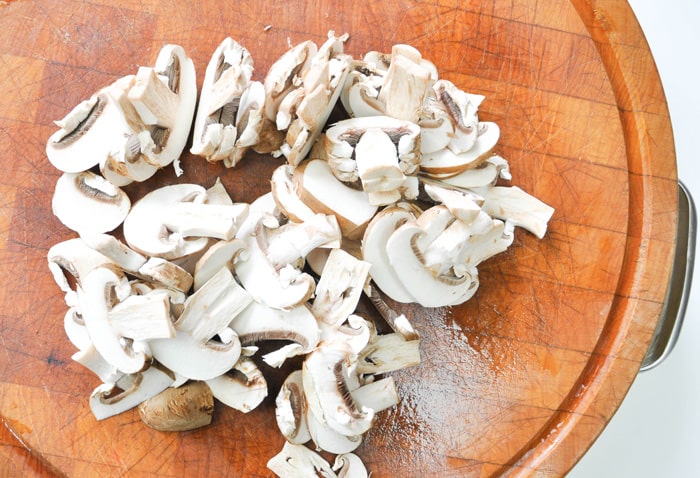 While the stew is simmering, slice up the mushrooms and sauté in about a tablespoon of butter until golden.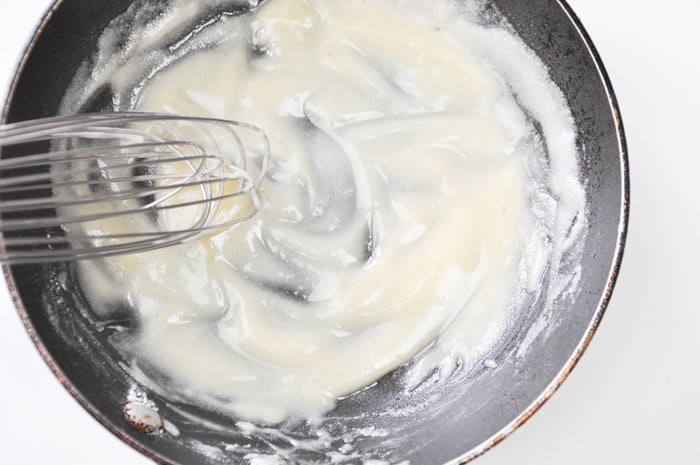 At this point, make your beurre manie. More fancy talk. This time it means flour and butter!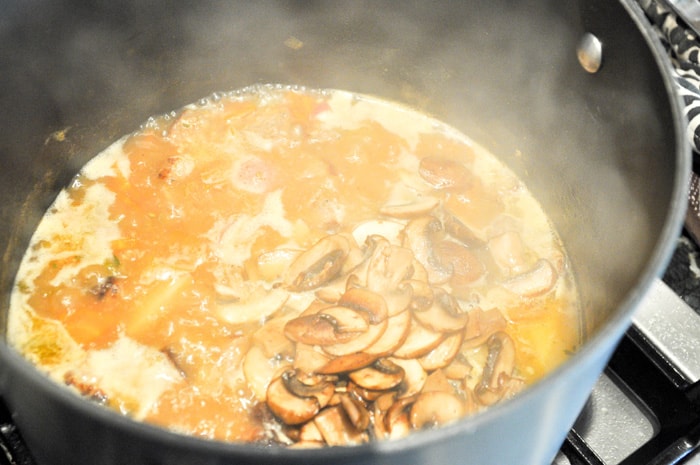 After the potatoes are tender, add the cooked mushrooms and whisk in the beurre manie. Pour into the pre-baked pumpkin and return the tureen to the oven for an additional 10 minutes at 375 degrees.
Total goodness…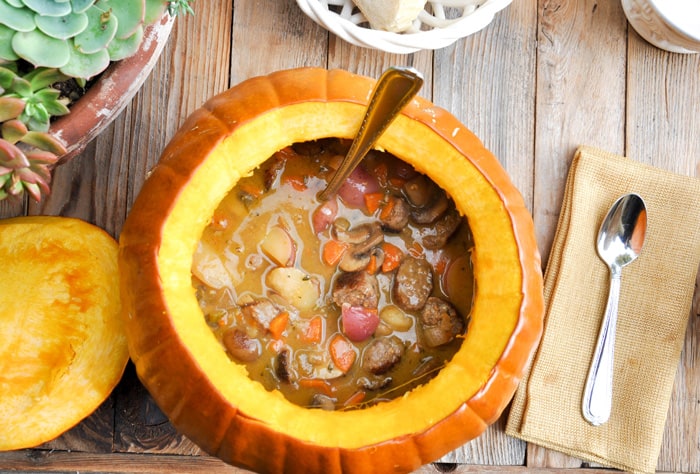 BONUS:
The warmed tureen keeps your stew piping hot for hours!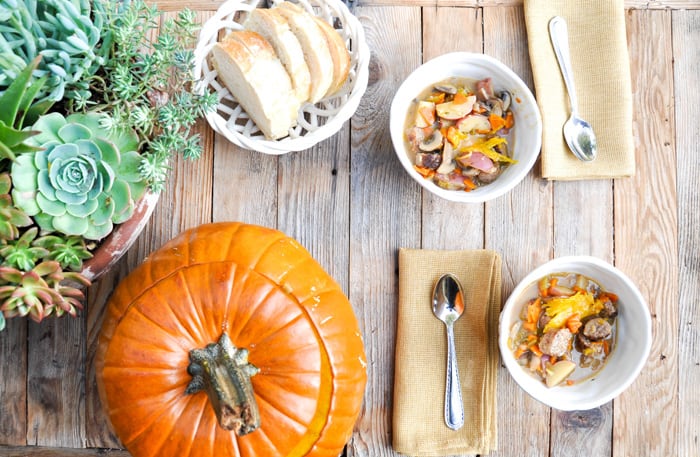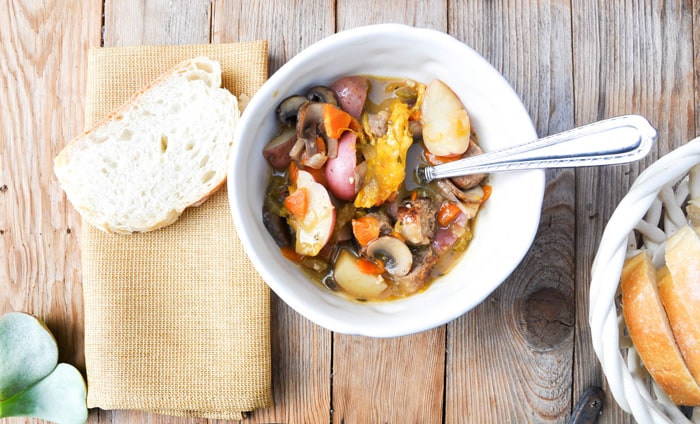 Without doubt, it looks like fall in a bowl, right? Coupled with the colors and the aromas… wow, I just can't get enough.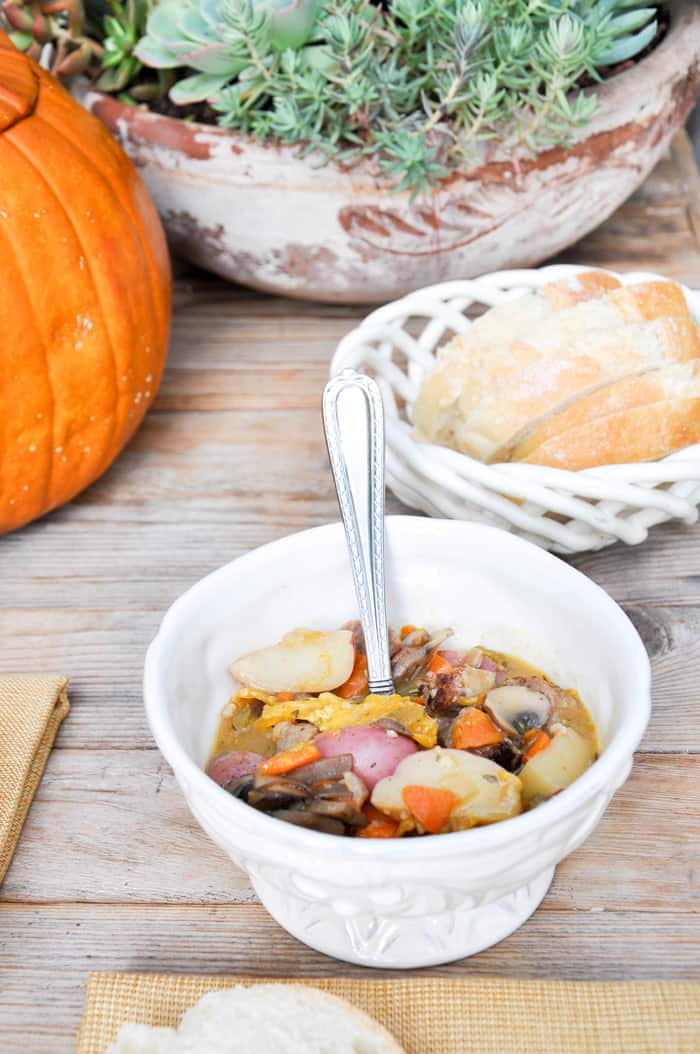 In the hope that you make this, I know you won't be disappointed!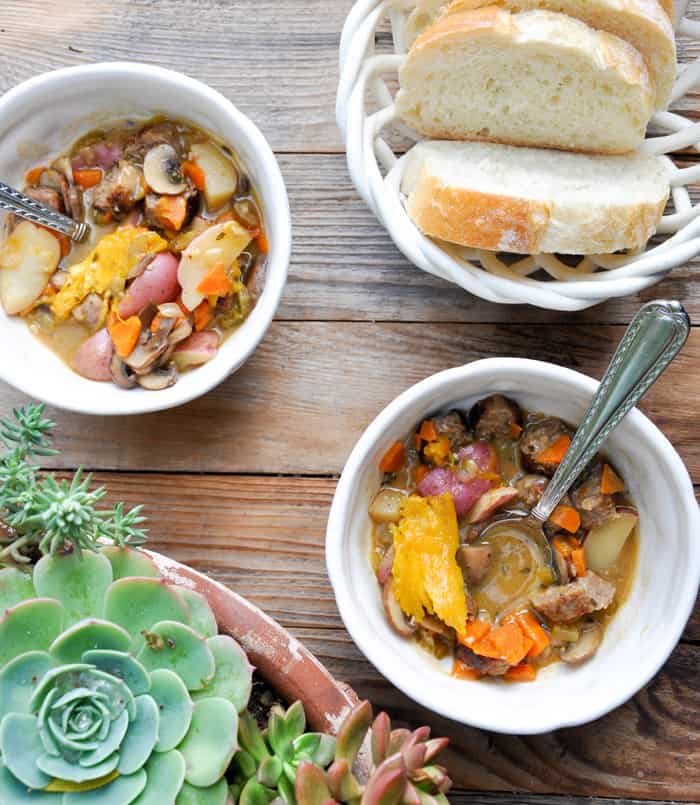 Ingredients
1 8-10 lb. pumpkin
1 lb. sweet Italian sausage
4 T. butter, divided
2 carrots, chopped
2 celery ribs, chopped
1 yellow onion, chopped
3 garlic cloves, minced
12 small new potatoes, quartered
2 T. Dijon Mustard
4 C. chicken broth
1/2 c. white wine
1 T. chopped rosemary, chopped
1 T. chopped thyme, chopped
2 T. flour
1 package crimini mushrooms, sliced (button is fine)
Instructions
Preheat oven to 350 degrees.
Cut the top off the pumpkin making a nice sized lid and scrape out all the seeds and membrane. Bake for about 30-40 minutes with the top on.
Brown the sausage in a little olive oil. Allow to rest and slice into bite size pieces.
Sauté the onion, carrots and celery until browned. Add the minced garlic.
Add the sausage, potatoes, cooked veggies, broth, wine and chopped herbs all to a heavy pot.
Simmer for 30 minutes until potatoes are fork tender.
Sauté the mushrooms in 1.5 T butter.
Make the beurre manie by melting 1.5 T of butter and whisk in 2 T flour.
Add the mushrooms and beurre manie to the stew and stir to combine.
Transfer the stew to the baked pumpkin tureen and bake for an additional 10 minutes at 375 degrees.