Meet Tom Gamble of Gamble Family Vineyards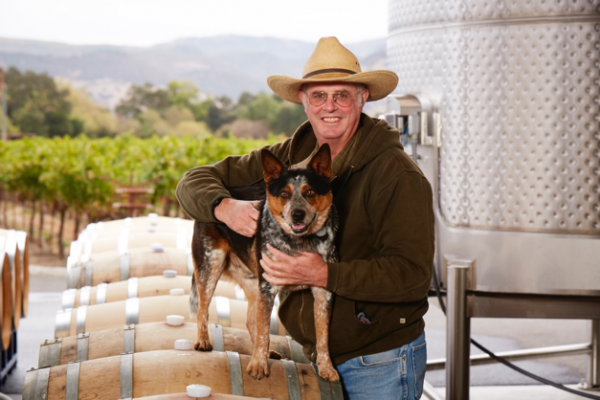 Meet Tom Gamble from Gamble Family Vineyards in Napa, CA. He took time out of his busy schedule to chat with us about his vineyards and giving back to the community.
CA GROWN: What are you doing today?
Tom: This morning, I was commencing the second year of a leafing trial- we are using different techniques than before to create a more flavorful fruit. I began land prep for next year's replanting, I have a telephone meeting with regulators on the status of a permit for a planting in 2018, and I have to go check in on the install of some solar panels that will deliver water to wildlife and livestock. I also have to make sure I am doing the payroll correctly because my bookkeeper is on vacation and finally, I have to visit some of the restaurant accounts where they sell my wine. That's why I get up at 4:30 in the morning!
CA GROWN: What is your favorite thing about farming?
Tom: The same things that drew me to it. I am passionate about sustaining the family traditions and living a life closely connected to nature and the seasons. I also really appreciate the sustainability aspect of agriculture and coexisting with all the natural elements.
CA GROWN: How do you contribute to the community?
Tom: If you are farming in Napa, then you are almost giving back by default. The land is legislated for farming because farmers cannot be enriched by further development and the benefits accrue to the citizens of California by the aids and protections of our greenbelts and watersheds. But more directly, we give back by hosting the annual charity wine auction called "Winepalooza." It raised $750,000 last year, and we are shooting to raise over $1million this year. That will put us in the running to be the 10th largest wine charity auction in the country. Finally, we are deeply involved in the Beyond Organic movement that incorporates the needs of people, planet, and profit.
CA GROWN: What drew you to farming?
Tom: Sustaining the tradition of caring for the land as my family has done for 100 years and my wife's family has done for 140 years. (This is actually my family's 100th anniversary of farming in this county!) So I have grown up with it, and I am closely connected to the cycles and the rhythms of nature as well as sustaining a living for ourselves and ever improving the sustainability of the land and business for the coming generations. That's what drives us and that's what drew us into farming.
CA GROWN: What are your hobbies and pastimes when you are not farming?
Tom: We quietly enjoy our land whether it is bird watching or photography. We also enjoy the land with our family and enjoy sharing family stories with the younger generations that span 100 years or more.
CA GROWN: If you could give advice to any future farmers what would that be?
Tom: Everyone who eats, wears clothes, or shelters in a forest product like a wood house is a farm contributor. And they support those who live their lives growing those products and take the unbelievable risk in doing so, including risking a comfortable retirement. If one thinks they want to take on the risk of farming and actually become a farmer, they should consider whether they are passionate enough to endure the extremes of weather and legislation and if they can endure 80-hour work weeks and few vacations. If they can do that, then perhaps, they have what it takes to be counted among the less than 2% of the population contributing the food, clothing, and shelter upon which is used to sustain the rest of our society.