Meet Corinne da Silva of Bella Vado – California Avocado Oil.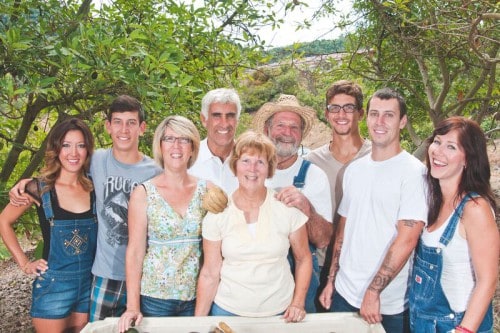 Meet Corinne, a farmer from Valley Center, California. Corrine loves nature, yoga, and of course, avocados! We caught up with her and chatted about avocado oil and her passion for farming.
CA GROWN: What are you doing today?
Corinne: We are actually polishing oil today and we also just received a shipment of avocados that we will sort through for pressing of oil. When we polish oil, it means that we run the oil through the machine one last time to make the oil a little clearer. We want a nice clear oil. Oil naturally has a lot of waxes in it. As the oil cools down after being run through the production process, sometimes the oil will contain more or less wax depending on the batch of fruit. We don't refine our oil, so we polish the oil to achieve a nice clear product for bottling.
CA GROWN: What is your favorite thing about farming?
Corinne: I love being out in nature. So for me, my favorite thing about farming is actually working with the plants, working with the trees, and walking the groves. I just think that connecting with nature on the farming level is magical.
CA GROWN: How do you contribute to the community?
Frank: We actually support a non-profit in Temecula called Michelle's Place. Michelle's Place helps women of any age who have gotten breast cancer. Every year we support them with products for their fundraiser run and provide monetary funds for the center.
CA GROWN: What drew you to farming?
Corinne: That's kind of an interesting story because my husband and I went all over the world travelling for our jobs in information technology. We were stationed in Adelina, Australia. There was farmland all around the city of Adelina and I was just fascinated by it. I would drive out into the farmland and I just fell in love. So, it got me thinking about farming.
My husband grew up on a banana plantation in Portugal on the island of Madeira. And, I was actually raised with cattle, pigs and goats (yes, I know how to milk a goat). So yea, we were both familiar with farming and we decided to shift out of IT and take the plunge into farming.
CA GROWN: What are your hobbies or pastimes when you are not farming?
Corinne: My husband and I are both yoga enthusiasts and we practice Bikram yoga. We also love to hike and my husband still plays soccer to this day with our boys. We travel quite a bit and really enjoy visiting Europe and our family.
CA GROWN: What is your advice for anyone who wants to become a farmer?
Corinne: If this is something you love and are drawn to, you will love it no matter what environmental conditions are thrown at you. There will always be obstacles in anything you do. So love it, enjoy the outdoors, figure out your true passion and drive towards that. Anyone who loves the outdoors will be extremely happy as a farmer. For me, I've been in an office, I've been in the corporate world, but there is nothing like being in nature and walking through the groves. There is nothing like it on earth.
For more information about Bella Vado products, visit their website or follow Bella Vado on Twitter, Facebook, or Instagram.