Meet a Farmer: Vincent Ricchiuti of P-R Farms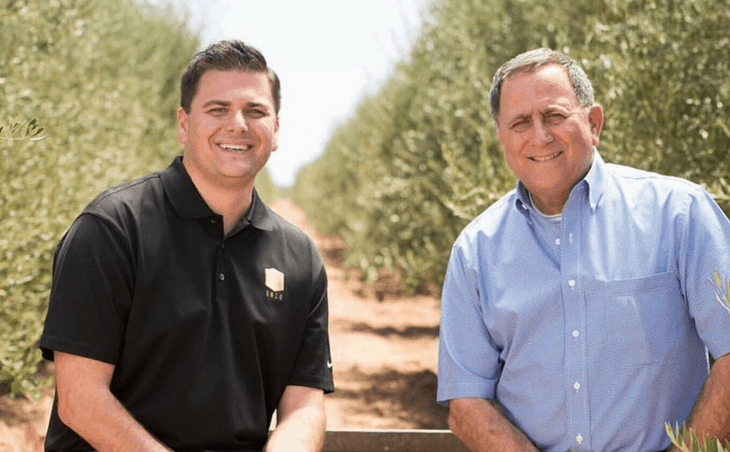 Meet Vincent Ricchiuti, Director of Operations for P-R Farms and Enzo Olive Oil in Fresno, CA. As a fourth-generation farmer, he understands how important and crucial farmers are. Learn more about Vincent, why giving back to the community is so important and why he says it takes a special type of person to be a farmer.
CA GROWN: Tell me about the history of the company and what your role is.
Vincent: The company was started by my great grandfather when he moved here from Italy in 1914 and was carried on by my grandfather, Pat Ricchiuti, and then by my father, Patrick Ricchiuti, and now me. The company started out growing vegetables here in California and when my grandfather got back from WWII, that's when the family business got more into tree fruit and we would grow peaches, plums, nectarines, apricots and all the different kinds of stone fruit for a long time. Then we started growing almonds and in 2008, our family reorganized some of the farming activities and we transitioned away from stone fruit and grew our almond business. Then we started our olive oil venture as Enzo Olive Oil and we've been growing ever since.
CA GROWN: What does a typical day look like for you?
Vincent: I'll go into the office and get some paperwork done. Then I'll drive out to our olive oil mill to meet with the guys there. On the way there and back, I'll check in on the fields for our almond orchards and olive groves. Our family has some real estate projects also going on right now, so there are meetings I go to as well for that or farming or marketing.
CA GROWN: What are some ways your company gives back to the community?
Vincent: That's one of the things we do very well. My family is very involved with Fresno State and other local agricultural groups like the Farm Bureau, Fresno State Athletics, Fresno State's Jordan College of Agriculture, the art museum and local hospitals as well. The community has done great things for us over the years and we definitely want to give back as much as possible. It's very rewarding and an honor that people actually search for our products or go to the grocery store and request our products by name. Just knowing that the time and effort that we put in to our craft is seen by our customers helps us grow and produce the highest level of quality product that we can.
CA GROWN: What drew you into the farming profession?
Vincent: The fact that it's our family's business and it's what we've done for nearly 100 years. It's really one of the only things I've been around and I started out as a young kid in the third grade out there in the packing house. Every summer from then on I was working and I felt very privileged to be able to do that. Problem-solving skills, the ability to work with people and having a strong work ethic was ingrained in me at such a young age. It was a really special opportunity and I've been working with some of the same people since I was in third grade, so they've seen me grow up and the friendships we have are great.
CA GROWN: What advice would you give to someone who wants to become a farmer?
Vincent: Be ready for a lot of hard work and long hours. An old friend once told me that if farming was easy, everybody would be doing it. It definitely takes a special person to be a farmer and it's an important profession. We put food on the table for families all around the country and sometimes the world and it's an honor to know that you're growing something nutritious for that family that is helping them live. If you're up to the challenge, there's definitely a great reward in this profession.
CA GROWN: What is something that's unique about your business or makes it stand out?
Vincent: What's unique about our business is that it starts with either our almonds or our olive oil. Everything we grow is estate grown because we don't have outside growers. You know if you're buying an almond from us or olive oil, it's only our family's product and we're able to control the quality of it from the planting of the trees to the harvesting to the bottling and packaging. I think that helps us produce a superior product.
CA GROWN: Why is perseverance so important when you first start out farming?
Vincent: You need to be headstrong and confident in what you're doing. Just because weather or something knocked you off track this year, you just have to get back up and work towards the next year. It's an old adage, but it really is true because you have to persevere through a weather event or the market might go bad, but you have to know you're doing the right thing and be committed. Every profession has its issues and some are worse than others, but you have to fight to get through it and get to the next day.
CA GROWN: What's the most rewarding part of your job?
Vincent: There are a couple of things. Being able to work with my family every day and continuing to build a legacy for my kids. My wife and I are parents to two young twin girls and hopefully one day, I'll be able to work alongside them and watch them make the decisions for the next generation. We're working hard every day for that next generation and making sure we leave a lasting legacy for them.
CA GROWN: Tell me about the Network for a Healthy California's Harvest of the Month program.
Vincent: We've been doing that program for more than 10 years now and the goal is to introduce agriculture into the classroom. We're able to provide food that goes to schools and the children and teach them about all the different fruits and vegetables and where they come from. We're able to work with and show them a peach and through the teachers, we can explain that a peach doesn't come from a can, but from the Earth and it was created by a farmer in the state that they live in. That's very important to us and another way we can connect with the community.
CA GROWN: What has contributed to your past success and what are you doing to ensure continued success going forward?
Vincent: There's no question that our past success is a result of the hard work of my grandfather and my father. The long hours they put in along with the blood, sweat and tears, has allowed us to move on to the next generation. So it's our job to now continue with the same work ethic and principles to get the job done.
CA GROWN: As a California farmer, we know that you have a long list of activities you undertake on your farm to care for the land and its resources. What are one or two ways that you're most proud of or you feel are innovative ways you care for your land?
Vincent: We're trying to be as sustainable as possible and that's why being organic is so important to our company. We're planting organic almonds now and our olive oil is 100% organic and estate grown and that's important to us. What's so special about being able to farm in California is the fact that we can grow anything, especially in the San Joaquin Valley because it's a fertile valley. Sometimes farmers get a bad rap, but the Earth and the environment are the most important things to us and we have to make sure we do a good job of making sure it stays that way for the future generations. If we're irresponsible with the land that we're given, then our kids can't continue to farm, so we have to make sure we're good stewards of the land.