Meet a Farmer: Tony Ortiz of Joseph & Sons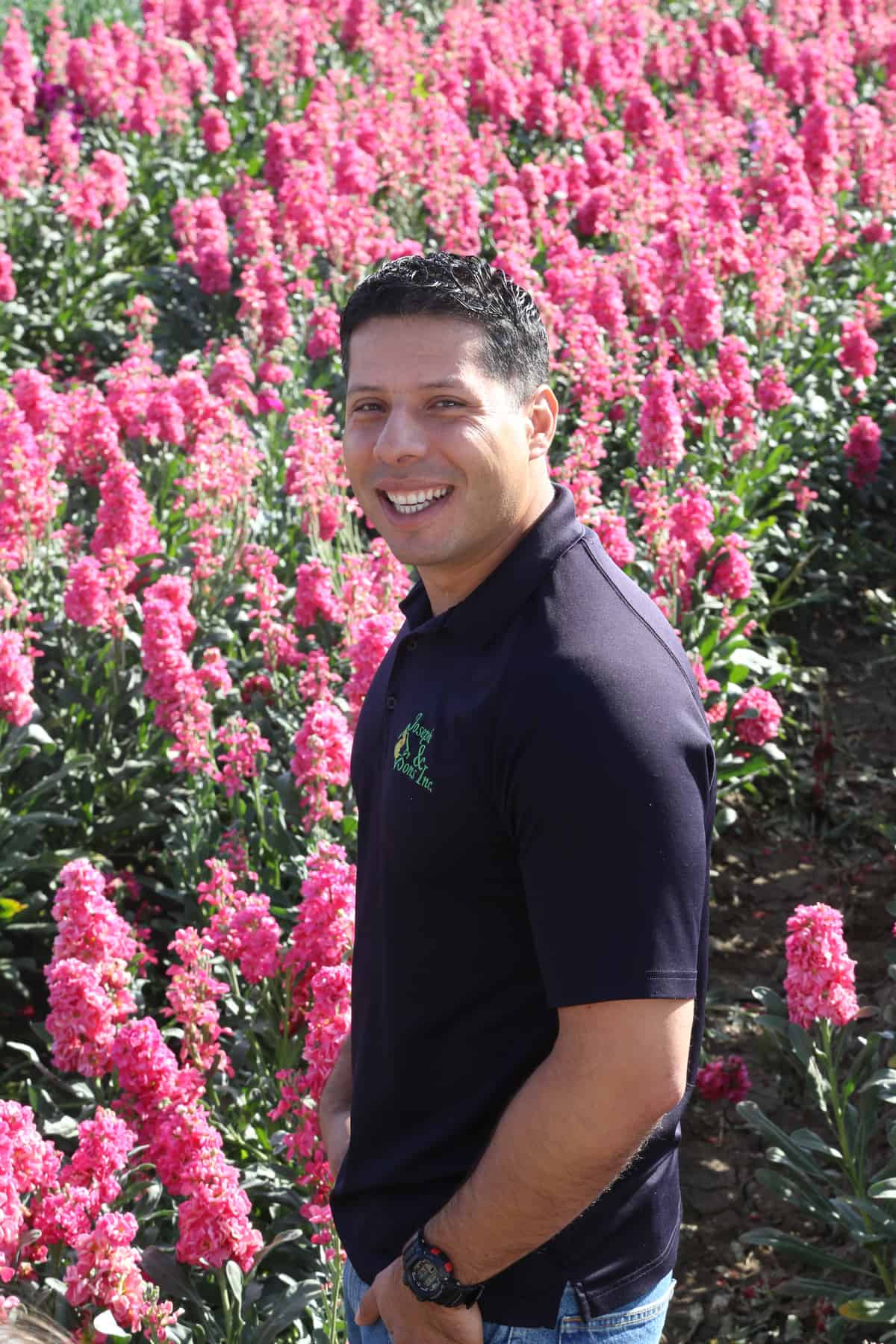 Meet Tony Ortiz, Operations Manager of Joseph & Sons in Santa Paula, CA. With more than 50 years of growing experience, his father built this business from the ground up.
Learn more about Tony, how he got involved in the family business and why hard work as been a big part of his life from a young age.
CA GROWN: Tell me about the history of the company and what your role is.
Tony: We're a multi-generation, family-owned and operated fresh cut flower farming and shipping operation. I've been with the company for nine years now and when I first started out, I was mainly overseeing the operations and now I do more project management. Depending on the season, we grow 13 to 15 different varieties of cut flowers in Santa Paula, Lompoc and Imperial Valley. My parents are the first generation who own and operate the business. My brother, sister and I are the second generation who handle the day-to-day operations and my nephew and son are the third generation. I also have a cousin who's one of our farmers as well. We've been in business for 13 years now and I'm the Operations Manager, so I work under my dad since he's the primary farmer and oversees all of the growing. We've seen a lot of change and growth over the years and I'm thankful for that because outside change has made us change the way we think and do things for the better.
CA GROWN: What does a typical day look like for you?
Tony: My day usually starts in the Santa Paula office, but I can end up in Lompoc or Imperial Valley, at a meeting with a vendor or a number of other places. I have a laundry list of things I do which includes making sure our permits are up-to-date, our employees are fully trained and have the tools and supplies they need. I also oversee various projects and for example, we just had solar installed this past April and that was a project I started last year. I also order pesticides and fertilizer, schedule maintenance repairs and more. If we need a new truck or piece of property that we need to purchase or rent, I handle that. I also help out on social media with posting to Facebook and Instagram. There's also water board meetings and I'm on the California Cut Flower Commission board, so I definitely dabble in a lot of things.
CA GROWN: What's it like working with your family?
Tony: It's really great and it's a blessing to be able to work with your family. In my role, I get to see them everyday and I trust them and understand where they're coming from on things. I'm the youngest, so while we do have different opinions because of the age gaps, at the end of the day we're family. With my parents, of course it's great to see mom and dad every day and it's wonderful to see all the hard work that my family has put in and how far we've come.
CA GROWN: What drew you into the farming profession?
Tony: I've always been a part of it. Every since I can remember, my dad has been a farmer and he's got a pretty interesting story. He came here with my grandpa many years ago and started out as a day laborer. He worked his way up to tractor driver then to irrigator and to foreman and then he eventually went out on his own with his uncle, then later on with a brother-in-law and now he's on his own with our business. So I've known farming all my life and getting up at 6 a.m. to go to work with him during the summers was not an option. I learned how to harvest and drive a truck at a pretty young age, I worked out in the fields and one of my best memories is driving tractors alongside my dad and learning so many things from him. After high school, I left for the military for almost six years and my dad always wanted me to come and join the family business. So when I came back home, I went to school for awhile and then I started working here and things started falling into place. It was an interesting transition for me because farming life is pretty different from military life. But it's truly been a great nine years for me.
CA GROWN: What are some ways your company gives back to the community?
Tony: My brother does donations for the community and we donate lots of flowers to local organizations, to the church and the commission events. We donate our time and flowers to events like the Rose Parade and it's nice to be able to see the smiles on people's faces when they get flowers. Plus, seeing our products at these events is such a rewarding feeling.
CA GROWN: What are your hobbies or pastimes when you're not farming?
Tony: I like to be outdoors, so I do a lot of hiking, mountain biking and riding my motorcycle along the Pacific Coast Highway. I also have a son who's seven, so we'll go around the farm and I'll introduce him to the different varieties of flowers. When we come back home he'll ask me about the flowers and why they look different from one another, so now he's slowly starting to learn all these things and it's amazing to see him pick up on these things. Spending time with my family is always fun and because we have a big family, we're together every weekend for events and stuff. It's such a blessing to have such a large family and to be so close to each other.
CA GROWN: How proud are you to know that the flowers you grow bring so many smiles to people's faces?
Tony: That is definitely what makes everything we do worthwhile. When I donate flowers, it's hard to see that reaction because I'll make the arrangement and send them off to get delivered or picked up. But the rare times that I do get to see their reactions, it's so worthwhile because there's that genuine emotion of seeing their eyes light up and their smile. It truly makes all the hard work we do worth it and it makes us proud to do what we do. Knowing the flowers we grow here in California are going to go to someone's wedding in Texas, to someone's birthday party in New York or to any event makes it feel like we're a part of their family. It's the most rewarding feeling and a great reminder to us for why we do what we do.
CA GROWN: What is something that's unique about your business or makes it stand out?
Tony: Flowers make people's lives happier and what makes us unique is the family dynamic. My dad started this business from nothing, so to see where we're at now is amazing. We're known for our quality and that's great because we definitely strive to produce a high quality product. If there are any issues, we correct them as properly as we can, we value our customer's feedback and appreciate the relationships we've built throughout the years. It's noticeable that our farmers put love into their work because you can see the result of them being so meticulous about the irrigation, fertilizer and everything else to ensure that a quality flower is produced.
CA GROWN: What has contributed to your past success and what are you doing to ensure success going forward?
Tony: A quality product. For us, Valentine's Day isn't a big holiday, but Mother's Day is our number one and that transitions to graduation and wedding season. People want our flowers and the quality we provide at their events. It's definitely my dad's passion for growing these flowers that has put us on the map as far as success. If there were eight days a week, he would work all eight days. He makes sure that his flowers are the highest quality they can be and he's proud to sell them.
CA GROWN: As a California farmer, we know that you have a long list of activities you undertake on your farm to care for the land and its resources. What are one or two ways that you're most proud of or you feel are innovative ways you care for your land?
Tony: I think changing up our fertilizer programs, constantly looking at our soil and water analysis to see what's in the soil and adjusting that accordingly to the plant variety and the conditions of the water. Also increasing our drip tape to ensure good irrigation practices and moving away from old furrow irrigation that was wasteful. We'll try out new products in the market that work for these wells that have higher salt issues. Also, one of the new things we're doing is solar and that's helping us figure out how to reuse energy and do as much as we can with what we have.