Meet a Farmer: Ben Hansen of 24Carrot Farms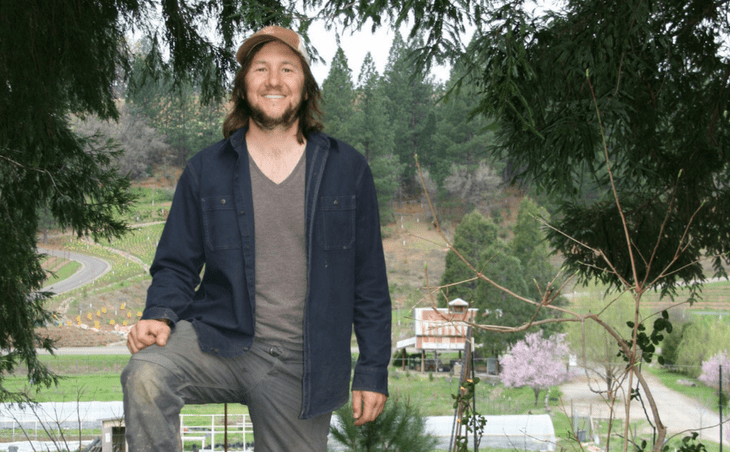 Meet Ben Hansen, Owner of 24Carrot Farm in Placerville, CA. As a first-generation farmer, he started this business from the ground up and loves supplying his community with fresh fruits and veggies.
Learn more about Ben, his road to the farm life from the Bay Area and how his passion for farming allows him to put his heart and soul into his business.
CA GROWN: Tell me about the history of the company and what your role is.
Ben: I started this farm in 2015 and we took over an existing apple orchard that was neglected for at least five years or so. I'm a first generation farmer, so this is my first farm operation that I've done by myself and we've spent the last two years mostly growing vegetables and trying to get the apple orchard back so it's manageable. We're in Apple Hill, which is a well-known tourist area that grows a lot of apples. We do have a farm stand, which is a really big part of our business.
CA GROWN: What does a typical day look like for you?
Ben: Every day is not very typical and it's very different depending on what's going on. I'm involved in every aspect of the operation and I have a very small team, so I'm planting, harvesting, transplanting, working at the farm stand sometimes, fixing broken irrigation, field prep, you name it and I've done it. I have my hand in all of that, so each day is very different. Today, I put new plastic on one of our hoop houses, prepped all the beds to be planted for next week, I put out a ton of gofer traps because they're active again and prepped as much as I could for the next storm that's coming in.
CA GROWN: What drew you into the farming profession?
Ben: For me, I'm a first generation farmer and I grew up in the suburbs of the Bay Area without much of a connection to agriculture. So learning about nutrition and health got me interested in growing my own food and I also worked in the restaurant industry. That's where I became passionate about quality, seasonal and local ingredients from local farms. So I went back to school to study horticulture and I attended several intensive workshops and internships while I was ramping up my own urban garden and the next thing I knew, I had a farm. I've always wanted to have my own business and work for myself and it took a long time for me to figure out what I liked and what I wanted to do. One of the great things about farming is that it's a really good way to do that because you can put your heart and soul into this business.
CA GROWN: What are some ways your company gives back to the community?
Ben: Mostly it's been with my time because I don't have a lot to give yet since we're just getting started. We participate in a program called Ag in the Classroom, which is where elementary school kids come out three times a year for a field trip and learn about agriculture and how things grow on the farm. I also donate food to mostly educational fundraisers and I'm also a board member at our local co-op, the Placerville Foods Co-Op, so I'm working hard to get as much local produce bought and sold within our own community.
CA GROWN: What are your hobbies or pastimes when you're not farming?
Ben: Cooking is a big one for me because I love cooking food that I grow. I also love going to nice restaurants to see how other people cook food that I grow. I love hiking with my dog and traveling for sure because I love going to different parts of the world and seeing different cultures.
CA GROWN: How proud are you to know that the food you grow provides food and nutrition for so many people?
Ben: That's probably the most rewarding part about what we do. It makes me very proud and gets me excited, especially because my farm is open to the public so people can come out and see where their food is grown, how it's grown and then buy it directly from us. Seeing that whole experience and how people make the connection makes me very proud.
CA GROWN: What's another rewarding part of your job?
Ben: There are a lot of days where it's really hot and frustrating and you almost question why you're doing what you're doing. Almost – But then, in the middle of the summer on a nice night when the sun is setting, you look over at all of your healthy crops and walk around to enjoy the fact that they were all tiny seeds that you planted in the spring and now they're big, healthy plants that are producing food for people, so that's a great feeling to have and makes it all worth it.
CA GROWN: What advice would you give to someone who wants to become a farmer?
Ben: Be ready to learn how to fail and don't let it get you down. That's a big one that I'm still learning. Despite all the things people might tell you or the education you might have, the best way you're going to learn is to make your own mistakes. Also, knowing you're growing food is half the job because there are a lot of other aspects to the job that aren't the growing part. A lot of those are the parts that people don't enjoy quite as much, but they're very important. This is the most rewarding hard work you will ever do though.
CA GROWN: What is something that's unique about your business or makes it stand out?
Ben: For us, it's about the fact that you can come to our property, look around and see how things are grown. We offer You Pick for some of our stuff like flowers, berries and apples. Doing this allows people to make that connection. You can also buy produce directly from us right off the farm. We're also certified organic and there's not too many of us in the area we're in, so that definitely makes us unique.
CA GROWN: What has contributed to your so farm and what are you doing to ensure success going forward?
Ben: We have a business model that's not necessarily based on perpetual growth, but based more on high value, short shelf life and extremely fresh ingredients. We sell our produce as locally as possible and we want to grow through making things more efficient, rather than taking on more land, buying more tractors and things. Also being very open and transparent about what we're doing and how we're doing is has gained the trust of people because we're inviting them in to see what we do and how we do it. I think that's been a big part of our success thus far and will be going forward.
CA GROWN: As a California farmer, we know that you have a long list of activities you undertake on your farm to care for the land and its resources. What are one or two ways that you're most proud of or you feel are innovative ways you care for your land?
Ben: We use very little water and we try to keep use down as much as possible through drip irrigation. We also do a minimum amount of tillage and part of our operation is a no-till setup, so we really focus on biological activity in the soil and minimal disturbance. We also try and replenish fertility through cover cropping and adding lots of compost.