Meet A Farmer: Nikiko Masumoto of Masumoto Family Farms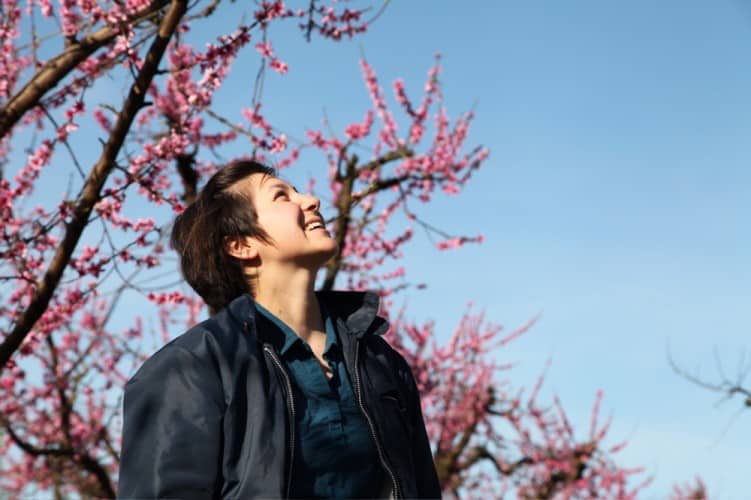 CA GROWN: What are you doing today?
Nikiko: Well today because it's raining, I am catching up on inside work. I'm doing some research for soil and water testing, social media work and working on our latest newsletter. If it were a normal day, by now I would be outside walking the fields and replanting some of our grapevines or on the tractor shredding some pruning branches. We grow peaches, nectarines and grapes for raisins and they're all organic.
CA GROWN: What is your favorite thing about farming?
Nikiko: There are so many beautiful parts of farming. I think the most enriching, and also the slowest thing it has taken me to learn is to really understand the changing of the seasons. Especially from the perspective of understanding how different cycles on the farm affect each other and also understanding that every year is different. I get to be a student of nature every year. It's fascinating and unpredictable!
CA GROWN: How do you give back to the community?
Nikiko: Community is such an important word and something we talk about a lot around our kitchen table in the morning. We do a couple different things, every summer we make sure that we donate some of our best tasting peaches and nectarines. For the past couple of years we've donated to the Marjaree Mason Center, a nonprofit that provides shelter and assistance to domestic violence victims. We also donate to Hinds Hospice, another non-profit that gives end of life care to people in the Central Valley as well as aid to their families. We also do a lot of volunteering of our time to local non-profits. I'm on the board of a couple of arts non-profits. My mom and dad and I have all served on boards at different times and we're all involved with the central valley community foundation. That's just the tip of the iceberg; my mom and dad do so much!
CA GROWN: What drew you into the farming profession?
Nikiko: An idea, a very powerful idea. When I left for college I didn't' want to come back at all. And then I took an environmental studies class at UC Berkley that totally transformed how I thought of our family farm. And what I realized was, coming back to farm organically with my family could possibly be one of the most courageous things, most radical things I could do with my life. There are so many levels. My family history, our Japanese American history is embedded in the land. My grandfather was an amazing person who survived a lot of awful events and he chose to grow a beautiful farm and I want to be part of that legacy. And as we know there are not very many women farmers. So it's very important to me that part of my work is to open the doors for people of all genders to be able to have a happy and healthy life on the land.
CA GROWN: What are your hobbies or pastimes when you're not farming?
Nikiko: Cooking and eating! I just love cooking and eating for sure! I am addicted to podcasts! I'm a lover of all things creativity and art. And if there are any tiny windows, I love to travel!
CA GROWN: What advice would you give to someone who wants to become a farmer?
Nikiko: I would tell someone who wanted to become a farmer to spend time exploring the depths of their intention. And the reason why I think intention is really important is because farming is so hard, it's unpredictable and it's physically demanding. Entering with a clear sense of purpose will carry you through those challenging times.
CA GROWN: Is there anything else you'd like to share with us?
Nikiko: I wouldn't be anywhere else! I underestimated how alive I would feel by farming. There is just so much power by witnessing insects and soil and plants and roots. I really do believe that farming makes me a better person and that there's really powerful culture that emerges from the land and from food.