Meet a Farmer: Meet Clint Cowden, director and educator at West Hills College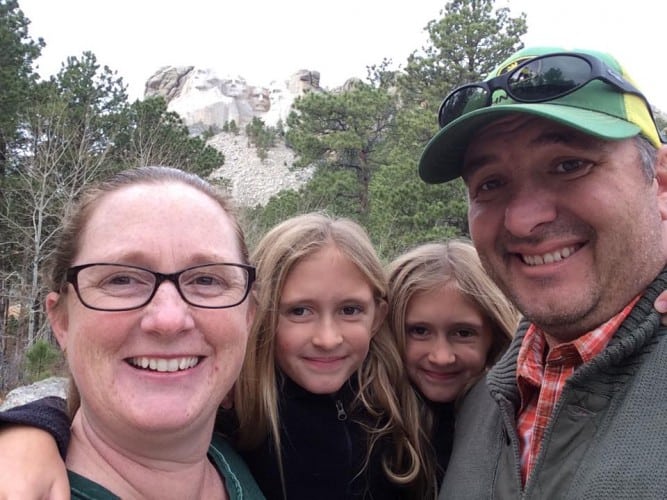 Meet Clint Cowden! He is the Director of the Farm of the Future program for West Hills College in Coalinga, CA. He took time out of his busy schedule to chat with us about his students, his passion for teaching, and farming OUR future!
CA GROWN: What are you doing today?
Clint: I am the Director of an educational program at West Hills College called Farm of the Future. We are teaching our students to blend the farming practices they have learned from their grandfathers with the new big data culture they live in today. For example, being able to recognize soil textures by touch. Don't get me wrong, we are not against technology, but we also do not rely heavily on it. We believe in the combination of ground-truthing, database management, and algorithms so we can truly verify and quantify the things that grand-dad once taught us.
CA GROWN: What do you grow?
Clint: Our main crops include 23 acres of pistachios, 30 acres of garlic, 65 acres of sedan grass and during the winter we grow oats for hay.
CA GROWN: What is your favorite thing about farming?
Clint: What I like about farming is the ability to plan something, make decisions, and see those decisions come to life.
CA GROWN: How do you give back to the community?
Clint: I am on several career technical education boards for local schools. I am the co-advisor for the 4-H Poultry program here at West Hills and serve on the Pleasant Valley 4-H as well. So, shout out to the poultry teams! I sit on the ag-tech roundtable and the food-waste roundtable. Those boards are concerned with issues that are more state-wide regarding the spread of farm technology through the valley and the concerns for food waste. I really try to use my background in education and try to represent the west-side growers on those boards.
In my capacity at West Hills, I give back to the community by teaching. We really have the COOLEST students here at West Hills! For example, we just had a young man finish among the top 10 in the world for an agriculture app he created. I have the coolest students EVER!
CA GROWN: What drew you into the farming profession?
Clint: I was born and raised in Wyoming and my family ran corporate-sized cattle ranches. I always knew that agriculture was what I wanted to do. So, I got a rodeo scholarship to Cal Poly, San Luis Obispo and majored in agricultural engineering.
CA GROWN: What are your hobbies or pastimes when you're not farming?
Clint: My family. It is really common for me, my wife, and twin daughters to jump in the truck and drive to a national park. A couple weeks ago, we were in Wyoming and checked out the Beartooth Mountains.
CA GROWN: What advice would you give to someone who wants to become a farmer?
Clint: The sky is the limit. There are so many opportunities in this industry. You can be a permanent crop grower or a row crop grower; there is a spot for every personality type in farming. People who think that farming is boring, just don't get it and have not been around a farm. Obviously!