Meet a Farmer: Chad Crivelli of Crivelli Farms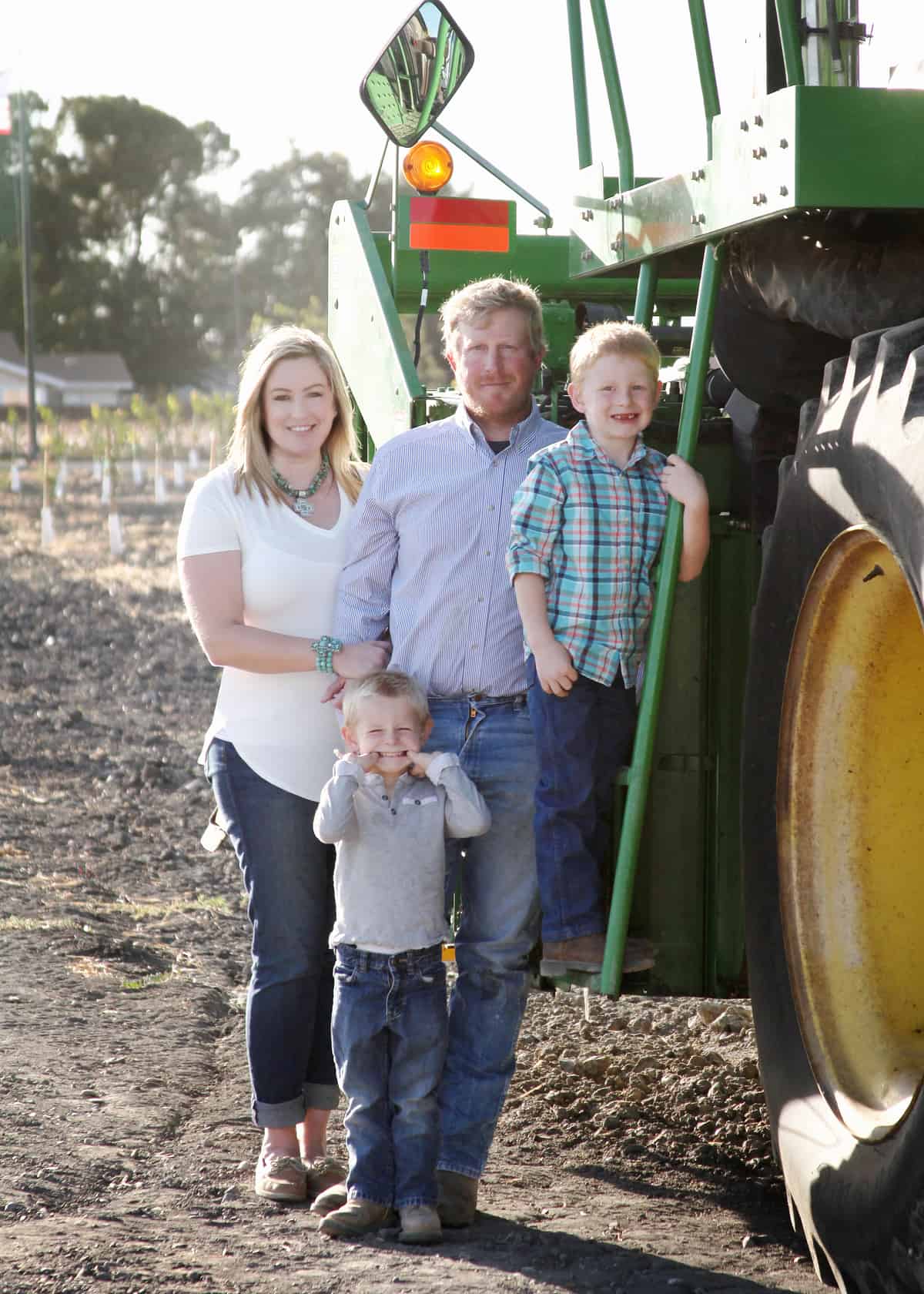 Meet Chad Crivelli, owner and operator of Crivelli Farms in Dos Palos, CA. As a firm believer in a strong work ethic, Chad knows what it takes to make his farm successful and loves knowing that what he does every day makes a difference. Learn more about Chad, his family and how he got his start in the farming business!
CA GROWN: What does a typical day look like for you?
Chad: Basically, right now my role is to run around between all the different ranches and put out fires wherever I'm needed the most. The cropping pattern is pretty diverse now between some permanent crops like pistachios and pomegranates and a lot of the crops on the dairies, my dad's farm and my own. We have cotton and tomatoes and melons and other vegetables in the mix. So a typical day just kind of varies, depending on where the most is going on for that day.
CA GROWN: What has your day been like today?
Chad: At one of the dairy ranches, we're chopping corn so I started out there first thing this morning to get them and the tractors going. Then I came back from there and put the finishing touches on the cotton pickers that we're going to start up tomorrow morning. Then I met a guy at the drip stations for the pistachios to time the last water irrigation on those. Then I got all the food safety records in order for tomorrow's food safety audit on our pomegranates.
CA GROWN: What is your favorite part about your job?
Chad: I picked up my three-year-old son and he's climbing on the spray rig that I'm about to get on and go deploy in the last field and I think that's it – the fact that I can take my two boys with me and have them around with me enjoying all the things that I used to love about farming when I was a kid. From the equipment to being out in the dirt and out in nature, it's awesome. They're learning so much out here like a strong work ethic, the knowledge they're gaining by being out here and all kinds of things. The fact that I'm enlightening them to become better stewards of the land is what I'm proudest of.
CA GROWN: How do you give back to the community?
Chad: We live in the small town of Dos Palos and I've been a volunteer fireman and substitute teacher and sometimes it's not very easy to find teachers, so during the winter a few farmers and I give back by doing that. I'm also on the Dos Palos Ag High School Advisory Board and my wife is also a teacher at Chowchilla High School, so we donate to both schools. So between the schools, athletic foundations, Valley Children's Hospital and FFA fundraisers and Dos Palos City Police fundraisers, it seems like at least half of the weekends in a year we're setting up and donating to a function.
CA GROWN: What advice would you give to someone who wants to become a farmer?
Chad: Make sure you keep the old adage in the back of your mind, "About the only way to make a small fortune in farming is to start with a big fortune", so they better love what they do and it's a true test to myself that I do love what I do, because if you can do it without a big profit involved, then you truly know you love it. Honestly, it's the greatest profession in the world and there's a huge sense of pride when I go on a hunting trip or visit an out-of-state supermarket and see one of my products there.
CA GROWN: What drew you into the farming profession?
Chad: My grandfather was a dairyman, then my dad started farming so I was born into it and my earliest memories are me being out here with my grandfather and being in the dirt and around the equipment and I've just always loved tractors and dirt. I was a plant science major at Fresno State, so I really got into the plant side of it. I don't really know how to describe it, but there was never anything for me besides farming and I can't put my finger on it, but when you have a job that you wake up looking forward to every morning, it's a pretty nice thing.
CA GROWN: What has contributed to your long-term success in the past and what are you doing to ensure continued success in the future?
Chad: I think a lot of the long-term success has been diversification. My grandfather was a dairyman, my dad started growing cotton and we kind of got into growing these vegetable crops and had the ability to change cropping patterns when prices were more favorable for certain crops. Just being able to diversify into just about any annual crop that can be grown in the San Joaquin Valley, it's nice not being locked into only growing one or two crops through the bad years. We've also always been on the cutting edge of technology with the GPS and the drip irrigation, but I'd say the number one reason for our success has been a very strong work ethic. My dad has always farmed like a dairyman and you don't take days off. When you're the one going out all the time, you make sure things are done right instead of trusting somebody who might not do as thorough of a job. It's about making sure all the small details are taken care of and all the equipment is taken care of and being put to the most efficient use and the crops have the right balance of water and fertilizer to ensure a profit.
CA GROWN: How does it make you feel to know that your business has been successful through so many generations of the Crivelli family?
Chad: There's definitely some pride there, but there's also some apprehension. I've seen some farmers go out of business that I looked up to who seemed like they really had a great operation going. In a way, as bad as I feel for them, it does make me proud that we've been able to weather some of the tough years and still be able to come through. I think that goes back to our work ethic because we work extra hard during the tough times and build our equity in equipment and that way when you do have the good years, you can get by with a little less labor and do more yourself.
CA GROWN: What are your hobbies or pastimes when you're not farming?
Chad: The only thing I enjoy besides farming is hunting. I do as much hunting as possible, from birds to game animals. I've been hunting less this year because of all the work to do, but my boys like to go with me.