Buy, Eat, and Learn at Far West Fungi's Retail and Restaurant Locations
Far West Fungi is a family-owned and operated mushroom farm in Northern California founded by John and Toby Garrone in 1983. This year marks Far West Fungi's 40th anniversary. Their farms are spread out over two locations – Moss Landing and San Martin – where they grow about 14 different varieties of exotic organic mushrooms. Though their mushrooms are available for sale at several retail locations and farmers' markets, it's in their two retail stores that you can really see all they have to offer and to learn from experts like retail manager Naomi Wolf, who has been with the company for several years.
Shroom Shops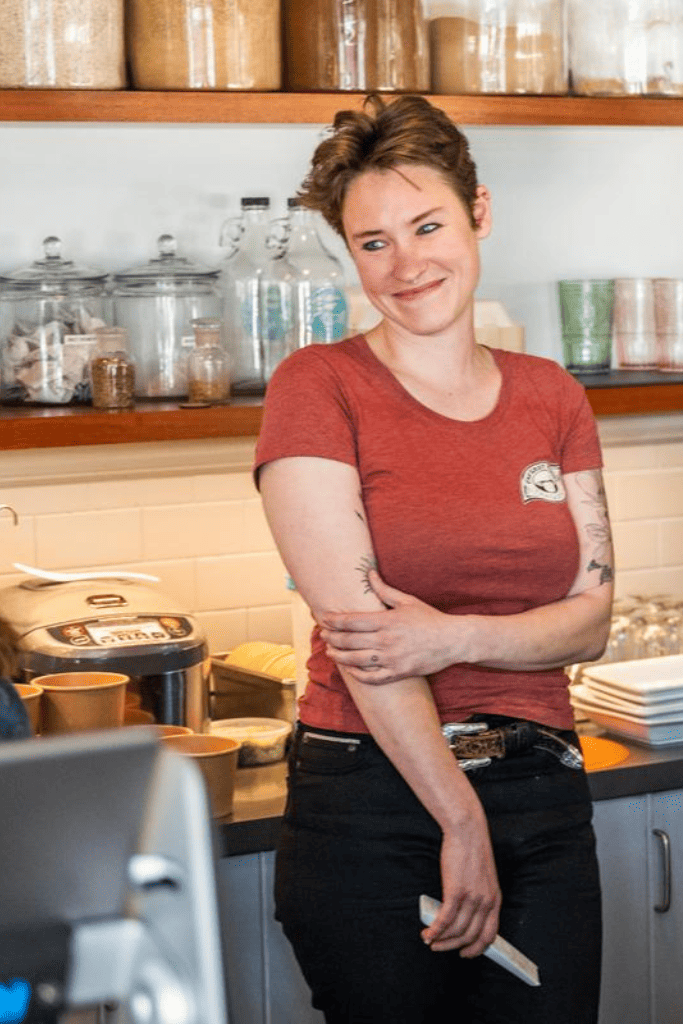 Naomi explains, "The Ferry Building store is our flagship location, and was among the first stores to open, back when the historic building was renovated and retrofitted for retail in 2004. The Ferry Building is a Mecca for food culture in the Bay Area, and we have been a very proud member of this hub that supplies both home kitchens and top restaurants all across San Francisco. She adds, "Our Santa Cruz store opened in October 2019."
Seasonal Cuisine at the Santa Cruz Cafe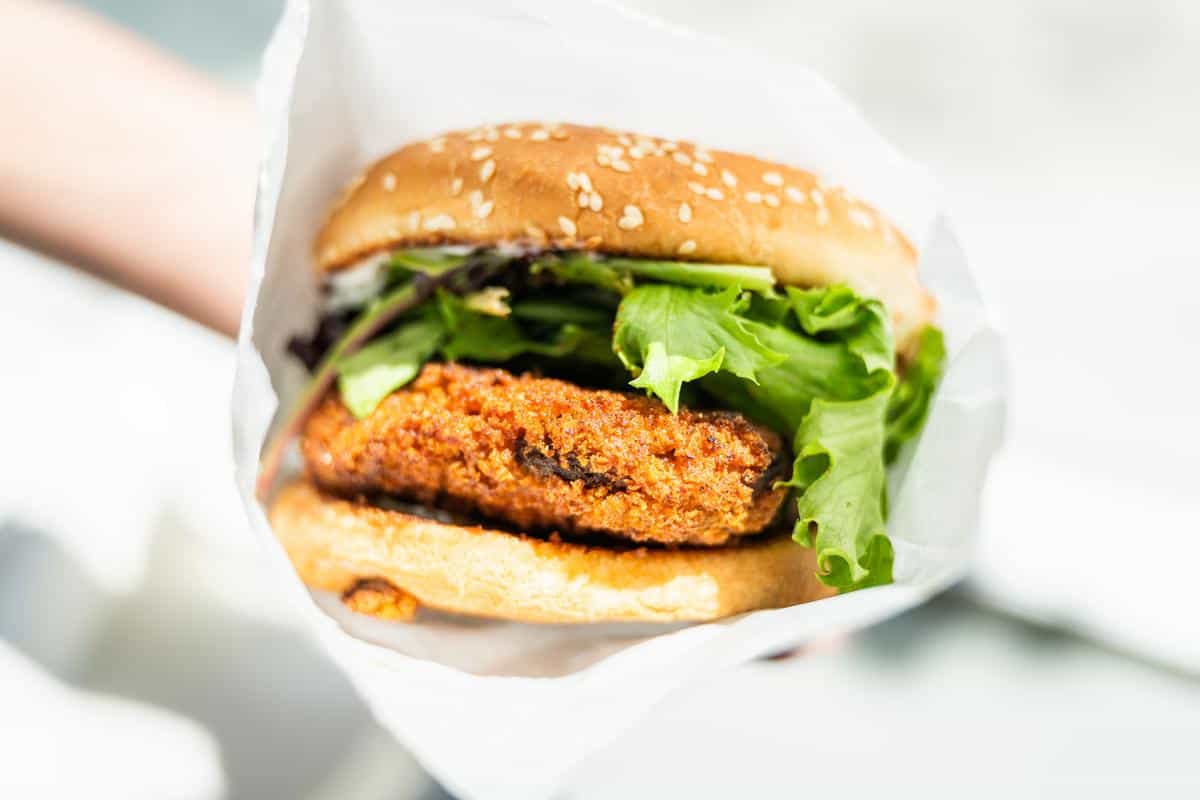 At the Santa Cruz store, there is a cafe where customers can enjoy seasonal, vegetarian, mushroom-forward meals. "Our chef showcases the amazing versatility of mushrooms as a culinary medium, with the hope that customers will be inspired by their meal and want to take home fresh mushrooms to experiment with themselves. We carry not only fresh cultivated mushrooms from our own farms, but also a wide variety of wild foraged foods that you really can't find for sale in any other markets," says Naomi. And depending on the season, you might find ramps, fiddlehead fern, sea beans, huckleberries, and edible flowers. "There is very much a spirit of curiosity and experimentation in the selection of wild foods that we curate, and we are always looking for new and strange things that we've never tried before," she adds.
It becomes obvious when talking to Naomi that Far West offers so much more. For truffle enthusiasts, you can expect to find several species of imported fresh truffles from all over the world. In fact, Far West is one of the few sources of fresh truffles in the Bay Area. In addition to fresh and dried mushrooms and foraged foods, you can also find an assortment of mushroom merch including books, posters, clothing, posters, and foraging supplies. "We sell several means of home-mushroom cultivation for the DIY grower, including pre-inoculated blocks, spawn plugs, liquid cultures, and sterilized substrate. We put a lot of energy into training our staff, and try to create an environment that is engaging and educational for customers," says Naomi.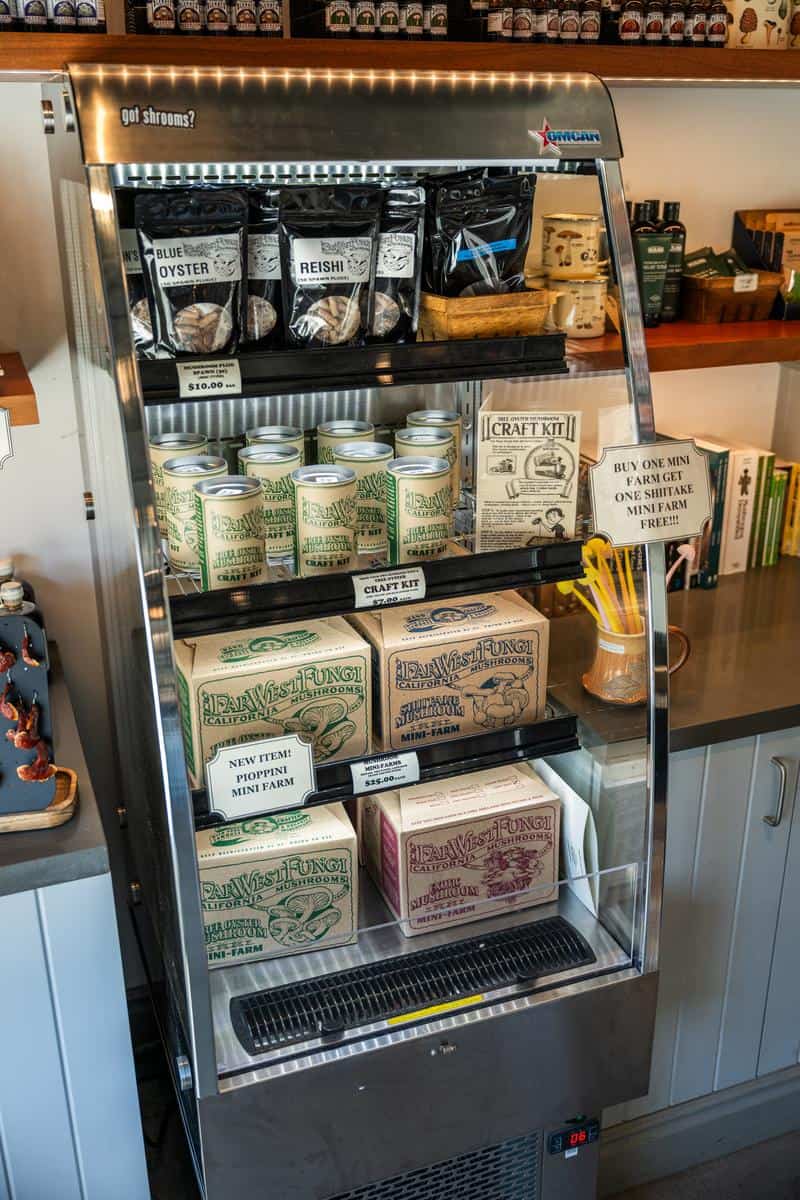 Northern California is a Foodie's Paradise
Thanks to its proximity to some of the richest farmland in the country (or the world for that matter) the Bay Area has an incredible food scene. Naomi's devotion is obvious when stating, "San Francisco, and the Ferry Building, in particular, are legendary for their culinary magnificence. The historic marketplace there is built not only on standards of elegance but on a deeply ingrained set of food principles, about which we feel very strongly. These include the importance of knowing your farmer, a seasonal farm-to-table mentality, a focus on local ingredients, and the vital relevance of California itself as a leader in making high quality, transparently sourced food available to everyone."
Santa Cruz, which is home to Far West's second location, is well known as a leader in organic farming practices and foods. According to Naomi, "Far West Fungi was among the very first farms to apply for a CCOF (California Certified Organic Farmers) certification when the organization was founded. We also feel that the culture of the Santa Cruz community at large is very conscious of food and health values, and it is a place where the concept of food as medicine is very alive. It is also a place with a noticeable mushroom aesthetic, and you will find references to them all over town."
Sustainable Shrooms at Far West Fungi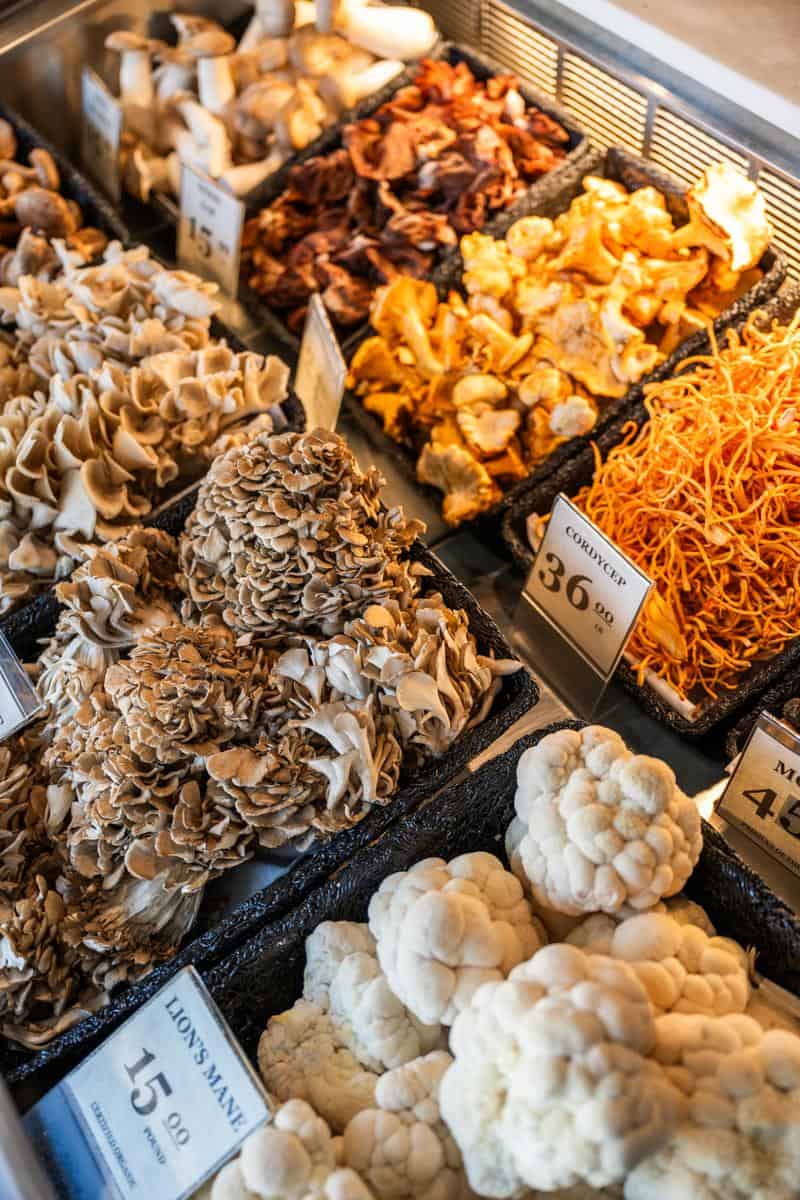 Far West Fungi is proud of its CCOF certification and its other efforts around sustainability. Mushrooms grow on something called a substrate, which Far West makes in-house from locally sourced materials. The substrate is made from Red Oak sawdust which is bagged, sterilized, inoculated, and incubated in their farm in California. Naomi explains that Far West is one of the only mushroom growers that does everything in-house.
"Most commercial mushroom farms purchase their substrate from other producers, and because of the unfortunate realities of globalization and outsourcing, a vast percentage of the substrate used to farm mushrooms in the US is purchased from other countries," remarks Naomi.
Far West's Mushrooms are 100% California Grown
"Because of the way the laws are written, even if the substrate was produced, and even inoculated with mushroom cultures in another country (perhaps a place with lower quality control and less transparency), it can still be shipped to a U.S. mushroom farm, and the mushrooms harvested there and sold as a U.S. Grown product. This might not seem like a huge deal, but it is the same as planting a foreign tomato seed in a foreign pot of foreign soil, fertilized with foreign fertilizers, germinated abroad, grown to maturity, and then shipped to the U.S., where the tomato finishes ripening, is picked, and then sold as an entirely U.S. grown tomato," she adds.
Besides safety and quality control, another obvious advantage of producing the substrate in-house is reducing the carbon footprint by eliminating overseas shipping. Because of the ideal, cool and moist climate at the farms, mushrooms require very little watering. Once the mushrooms have been harvested from the substrate blocks, they are retired to the compost lot which is free and open to the public. Far West also donates all mushrooms with cosmetic defects to food banks that feed low-income communities.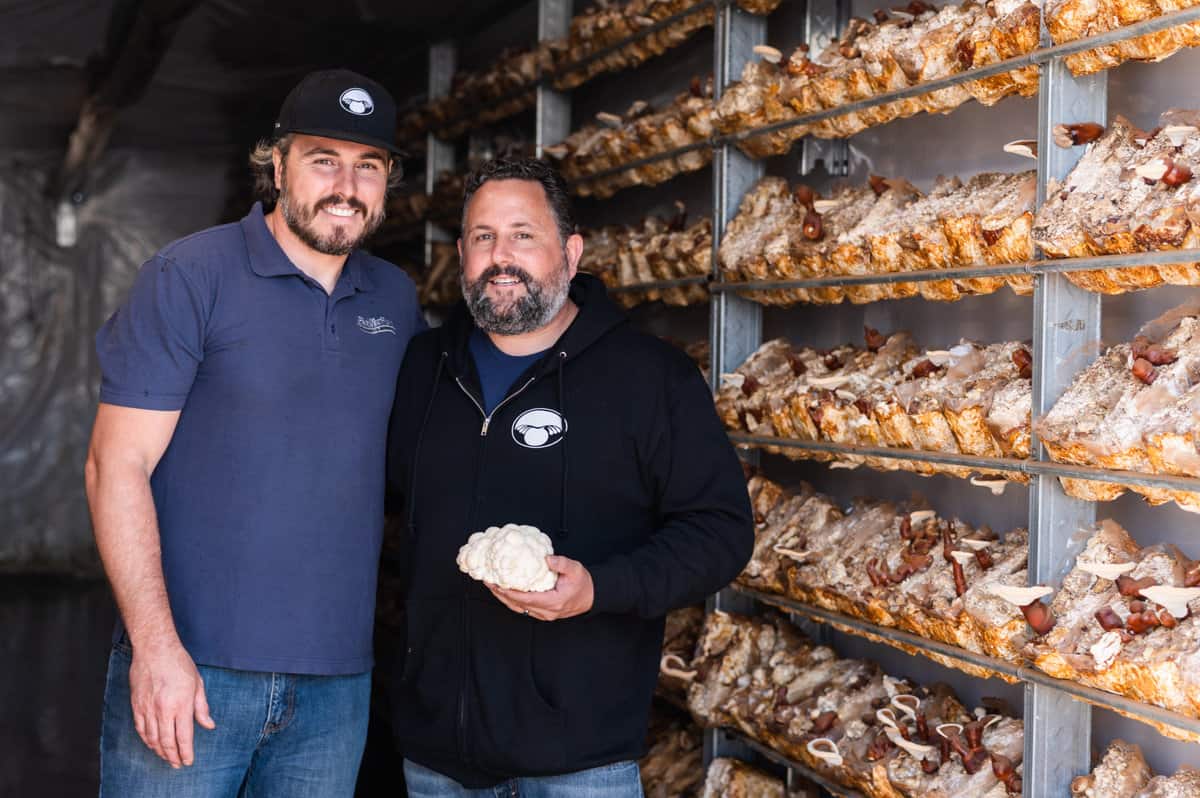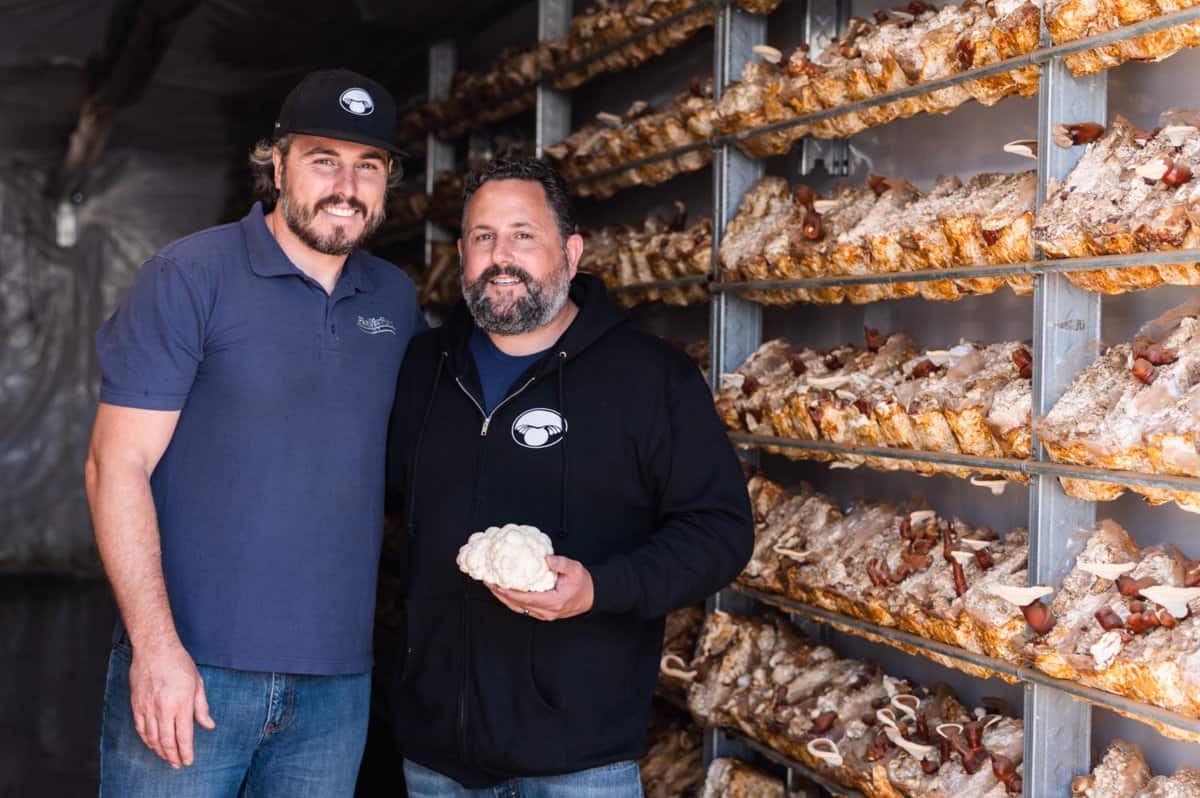 Farming is a Multifaceted Career
Naomi wants everyone to understand that farming is a complex, multifaceted job that "requires a person to be at times a chemist, ecologist, biologist, meteorologist, botanist, entomologist, mycologist, carpenter, mechanic, accountant, and detective. Farming often feels like balancing on a ball that is constantly rolling – you are trying to control acts of nature, which never cease, and if you are not ready for what comes next, it's still going to happen."
At Far West, it's been a priority from day one to connect the farmer to the consumer. Their two retail locations are one way they do it, and do it well. "Good organic produce is not made by machines in a factory, it is nurtured by a person. If you know your farmer, it is easier to manage your expectations of their produce and to keep the value of their labor in perspective," reflects Naomi.
Visit Naomi and her team at either of their two retail locations to sample mushrooms and learn from their expertise. Why not try your own hand at growing shrooms at home with one of their mushroom growing kits?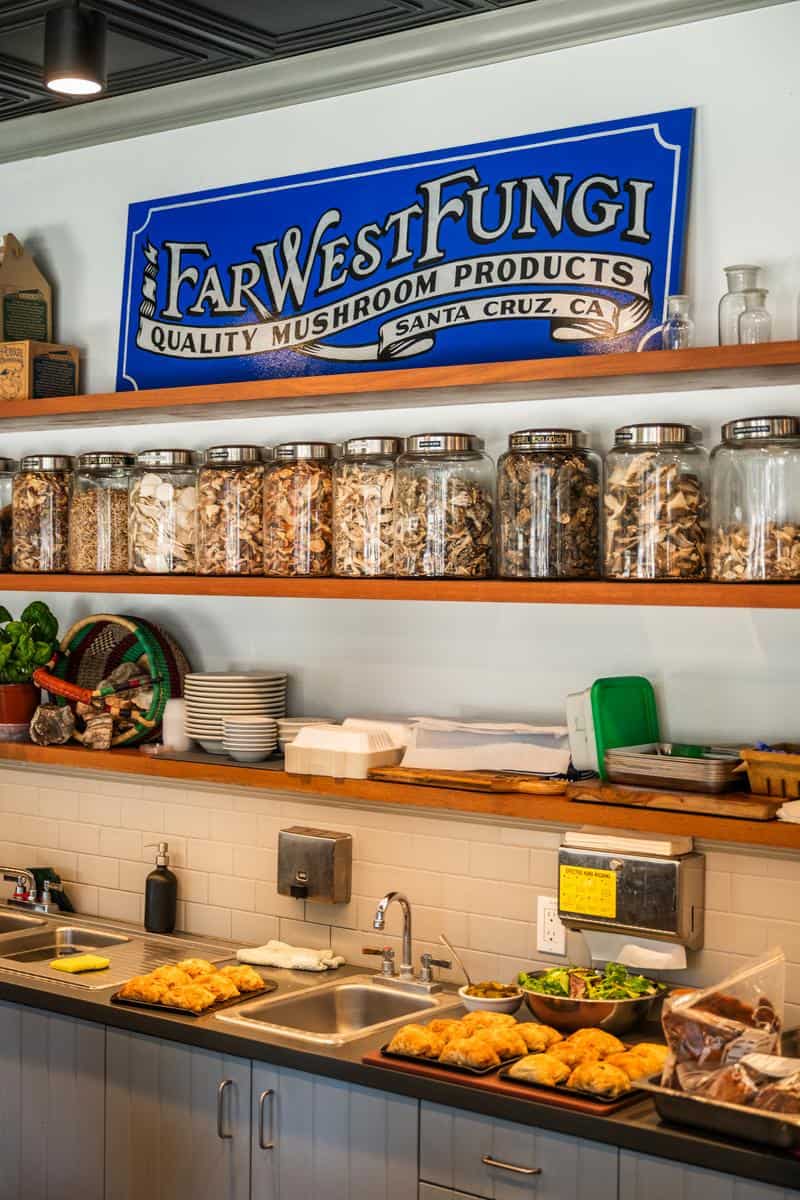 Article by Alison Needham. Images by James Collier.