DIY Boutonnières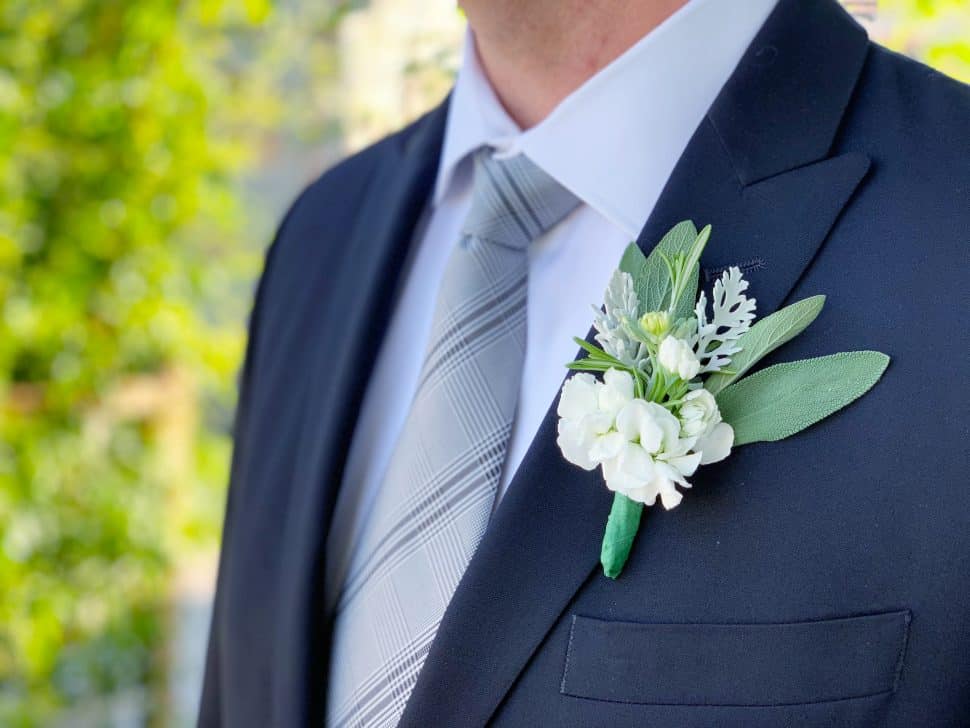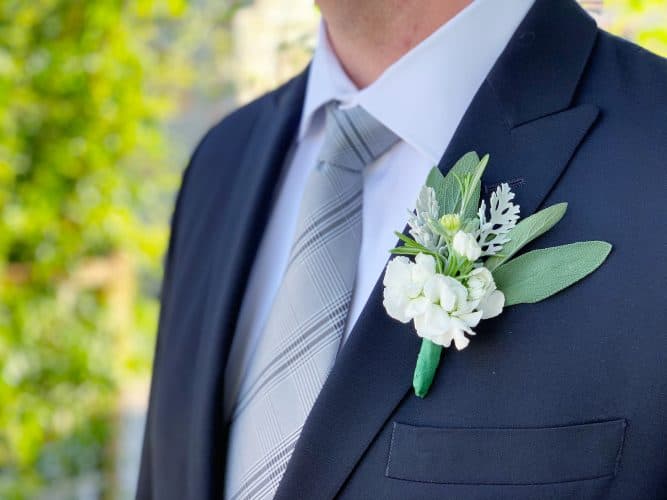 It is California Grown Flowers Month and boy, do I love taking advantage of all the beautiful blooms available for growing, admiring, and displaying this time of year! Absolute eye-candy every where I look! With Father's Day fast approaching and wedding season in full swing – TODAY is the time to rev up all your crafty energy and learn how to create the most gorgeous boutonnieres from fresh grown flowers! It really is so simple and so satisfying as you let those creative juices flow!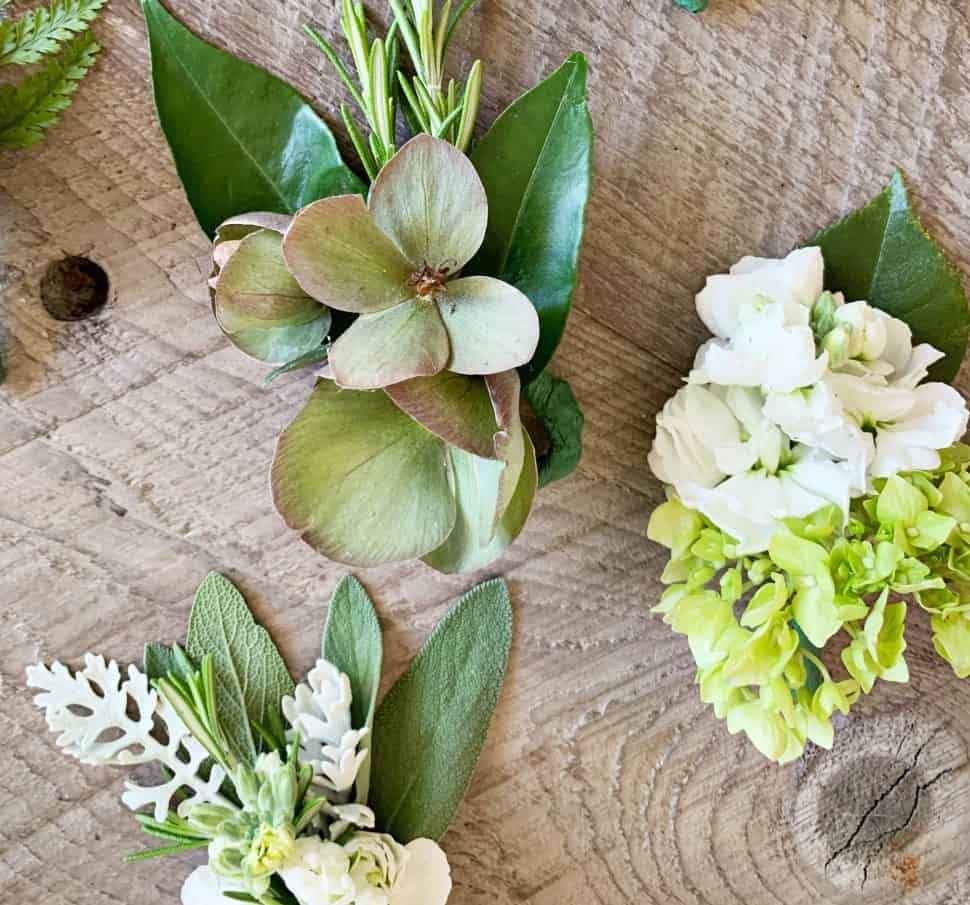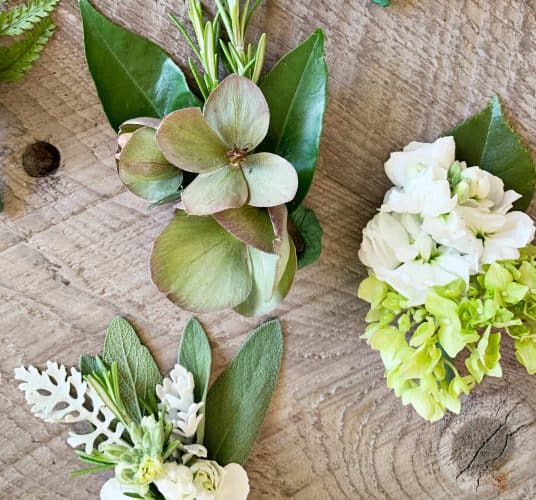 The fun thing about making your own DIY boutonnieres is that you can really step outside the norma of white/red rose and sprig of baby's breath. That option is beautiful, too, but when there is an abundance of fresh flowers available in your supermarket or garden, why not try some new combinations?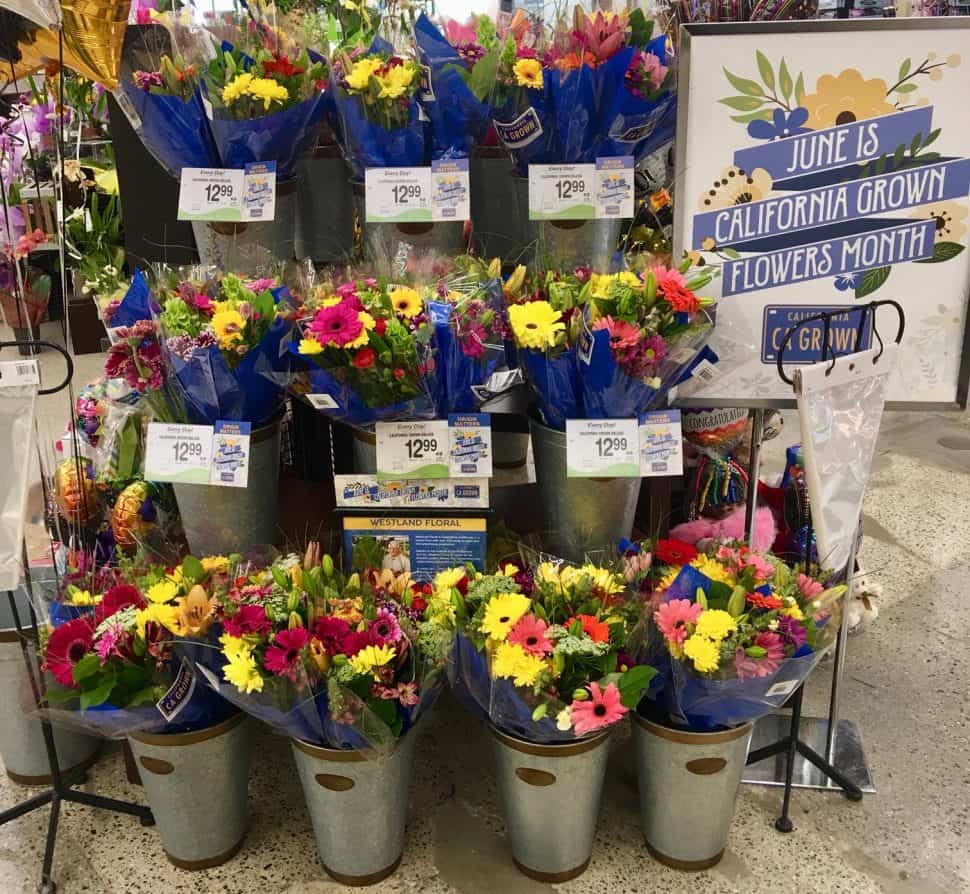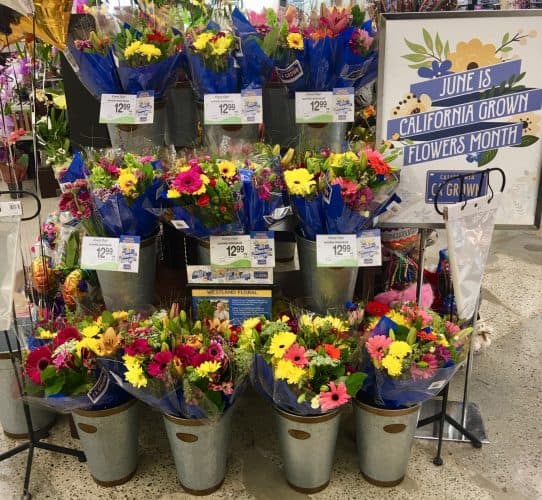 I started in my local grocery store floral department and there were so many options for beautiful, fresh CA grown cut flowers. I grabbed some of the smaller sized flowers for elegant, modern looking boutonnieres.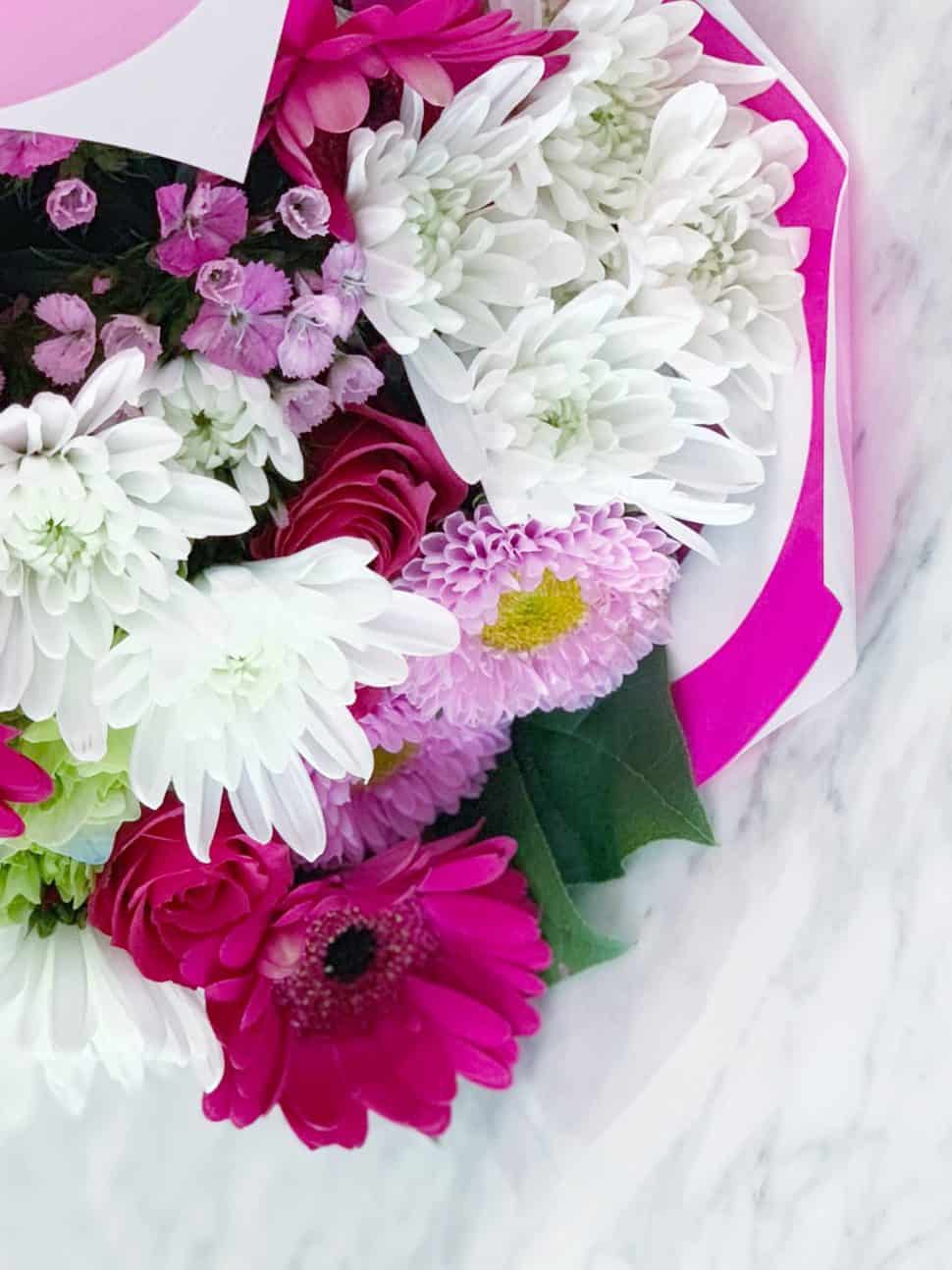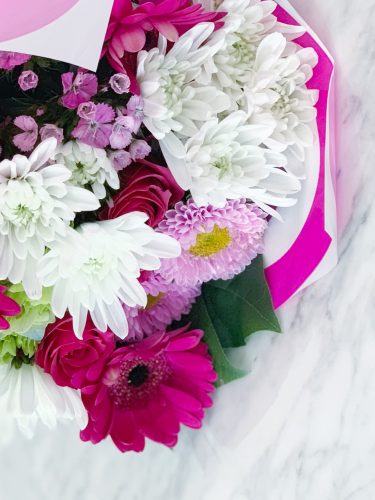 I came home with an irresistible bouquet of Gerber daisies, chrysanthemums, hydrangea, and roses. Lots of options to play with in this bundle!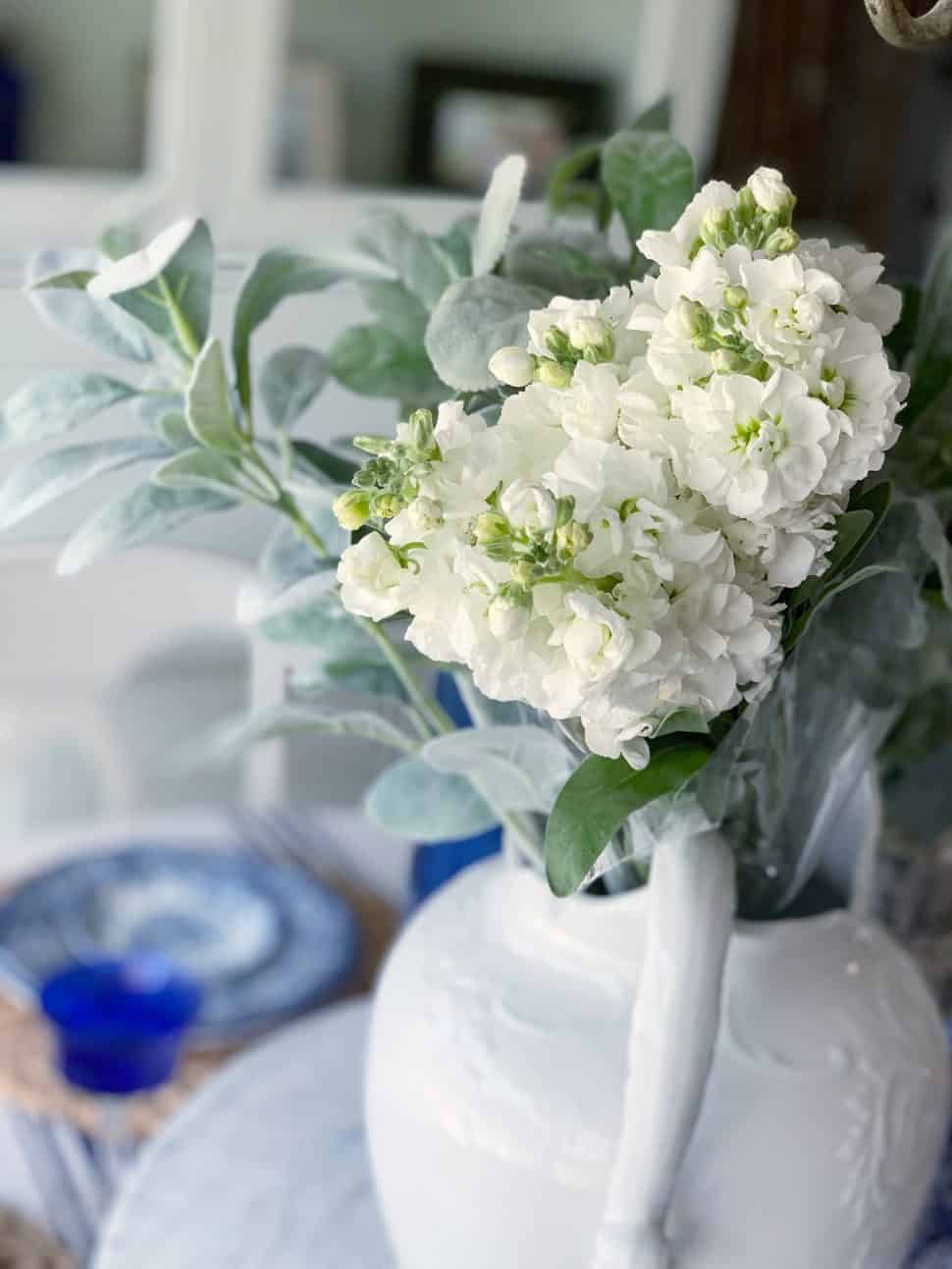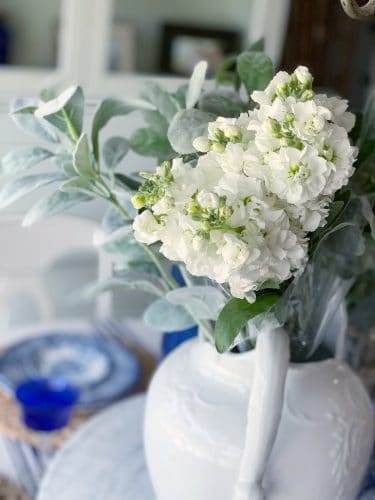 A bouquet of stock is always a good idea. Stock is sturdy, provides a nice filler, and this bright white will be lovely to offset vibrant greens.
Back at home, I took apart my bouquets and wandered around my own garden to see what kind of additions I could find for my boutonnière creations. I was looking for some non-traditional options and snipped some fresh rosemary, sage, fern leaves, Hellebores flowers, and Heuchera leaves.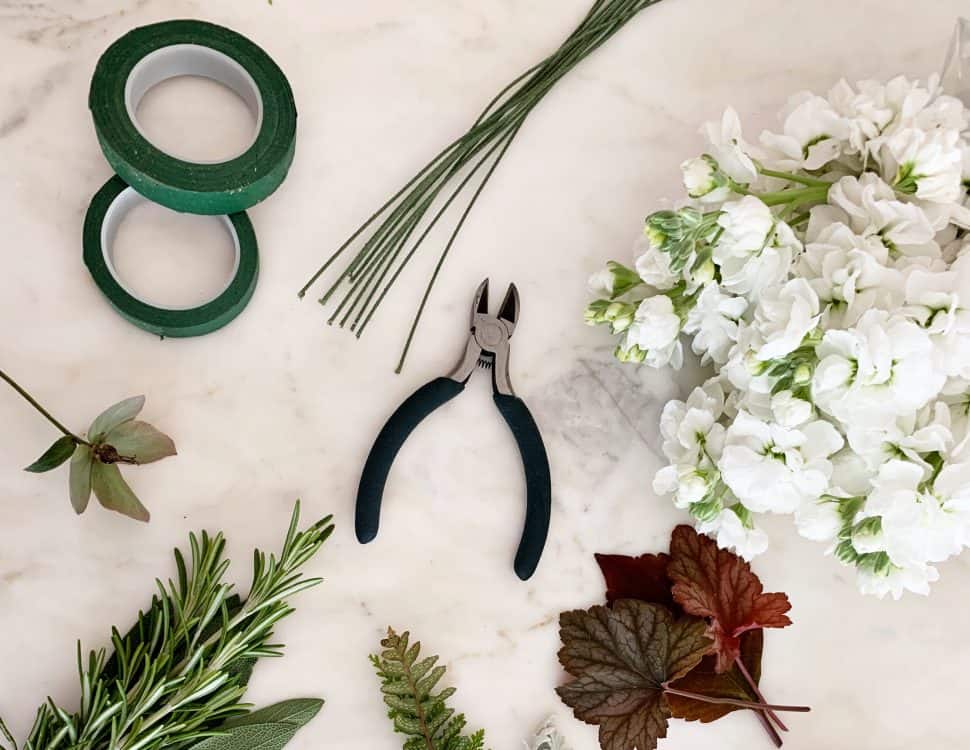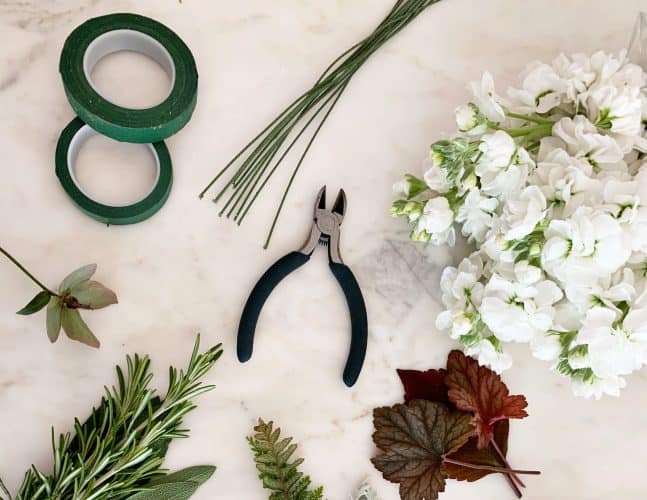 Almost ready! Be sure to keep all cut flowers and greenery in a cool place and in water until ready to use.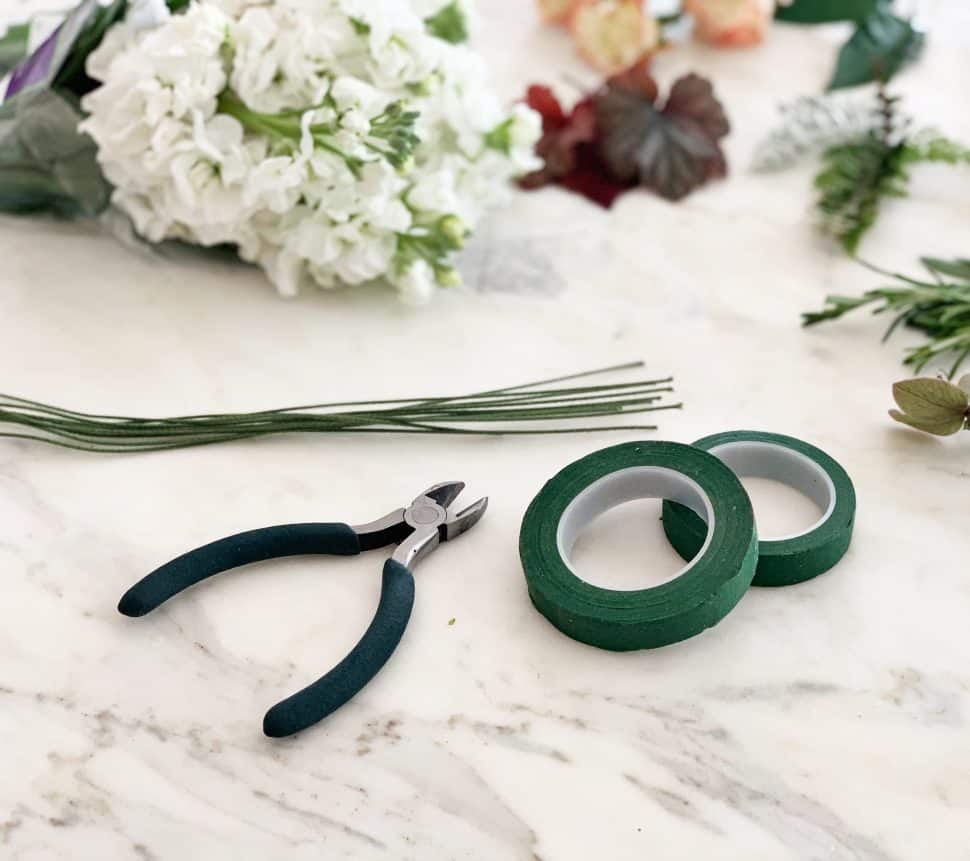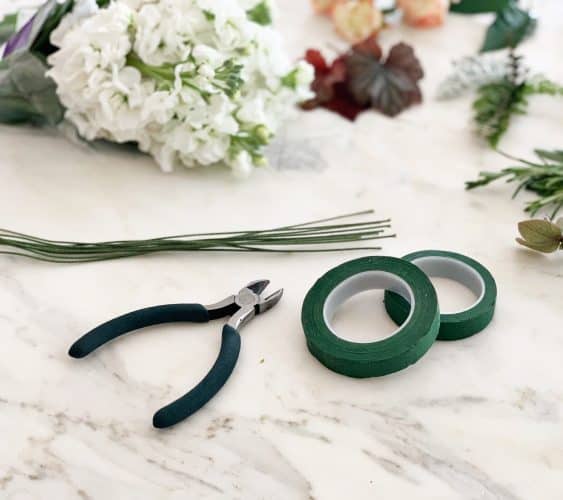 As far as crafting supplies, we need just a few items:
Floral stem tape – you can find this online or in almost any floral/craft supply store
Floral wire – depending on how sturdy the stems of the flowers you will be using are, choose an 18-22 gauge floral wire to help support your boutonnière arrangement.
Wire snips – grab a pair of wire cutters in the floral department of your craft store also. Scissors or garden clippers can be used to cut stems, but you don't want to ruin those tools by trying to cut the floral wire with them.
Floral Pins
Okay! We're ready! I chose to make a modern looking boutonniere using hellebores, rosemary, and stock leaves from one of the market arrangements. If you would like to give the flower some extra support and keep it sturdy and upright for a longer period of time, place a 4-5 -inch piece of floral wire parallel to the stem and pierce it up into the flower from the base. Do not push the wire all the way up through the petals – just firmly into the base will do.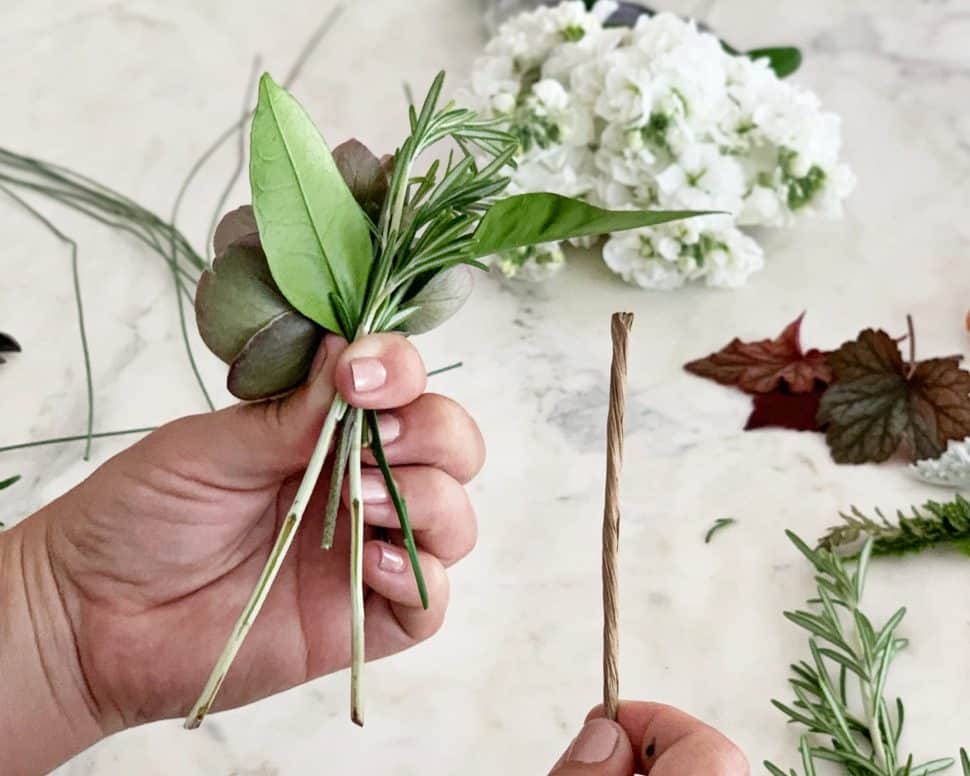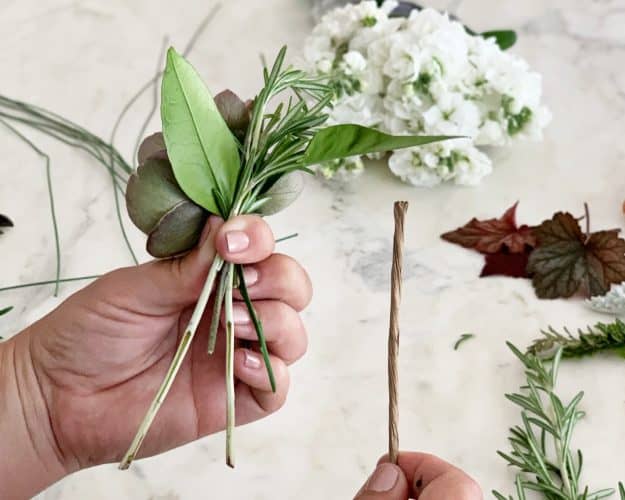 Next, stack your other flowers, leaves, and/or filler behind and around the star flower until you like the way the arrangement looks. Be sure that you have several inches of stem on each piece to work with – we will trim these later, so no need to worry about uneven stem lengths now – just be sure you have enough to work with.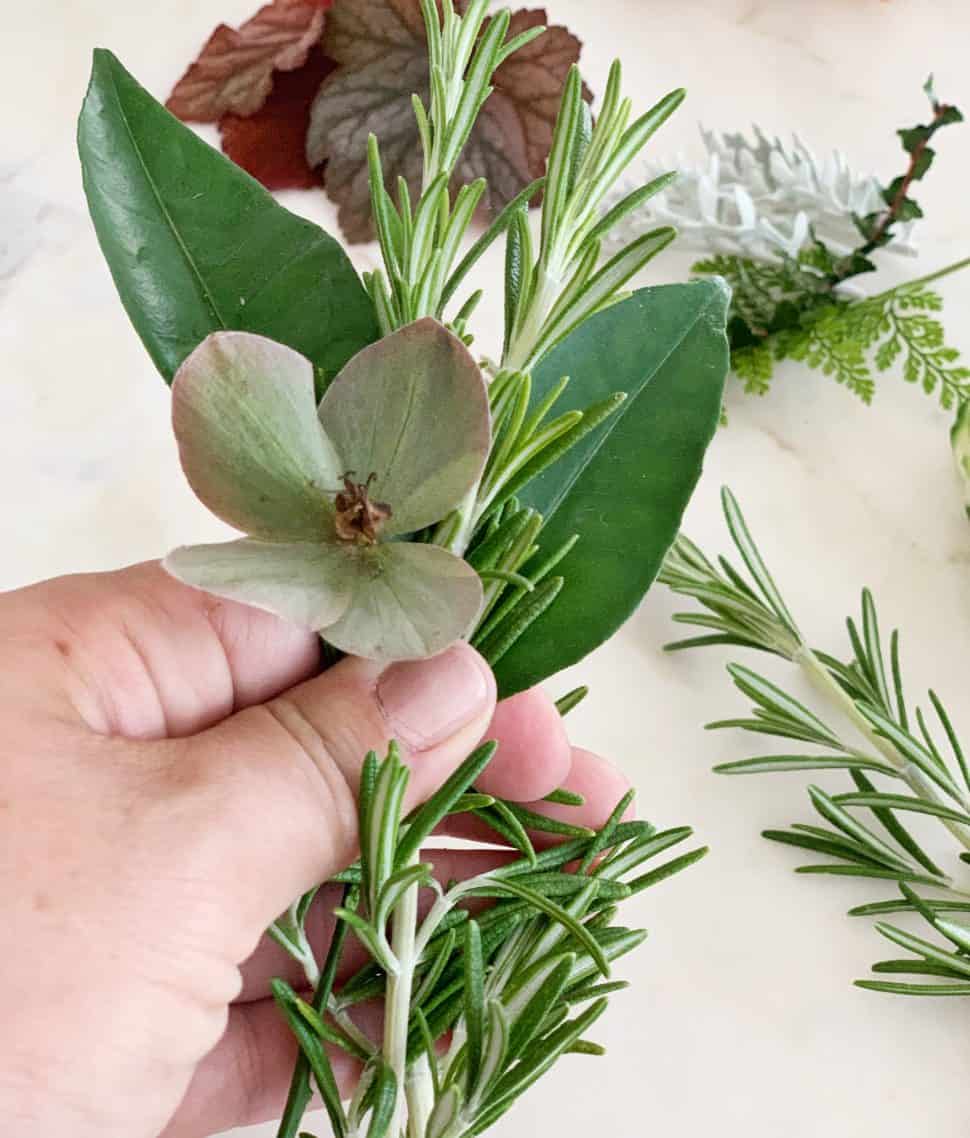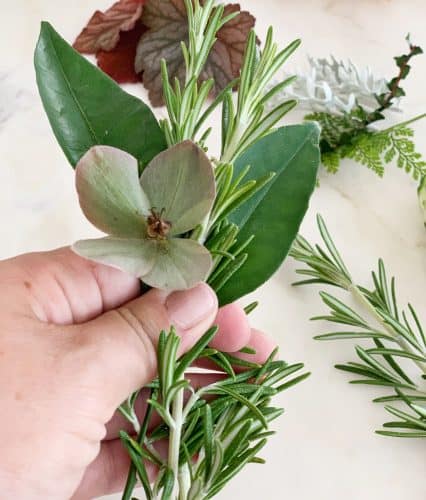 For an arrangement such as this, please note that it is very important to strip the stems of all flowers/greenery below the base of that "star flower". Pinch the arrangement at the base (like I'm doing here with my left hand) and drag your other hand down the stems to remove all the extra leaves, etc.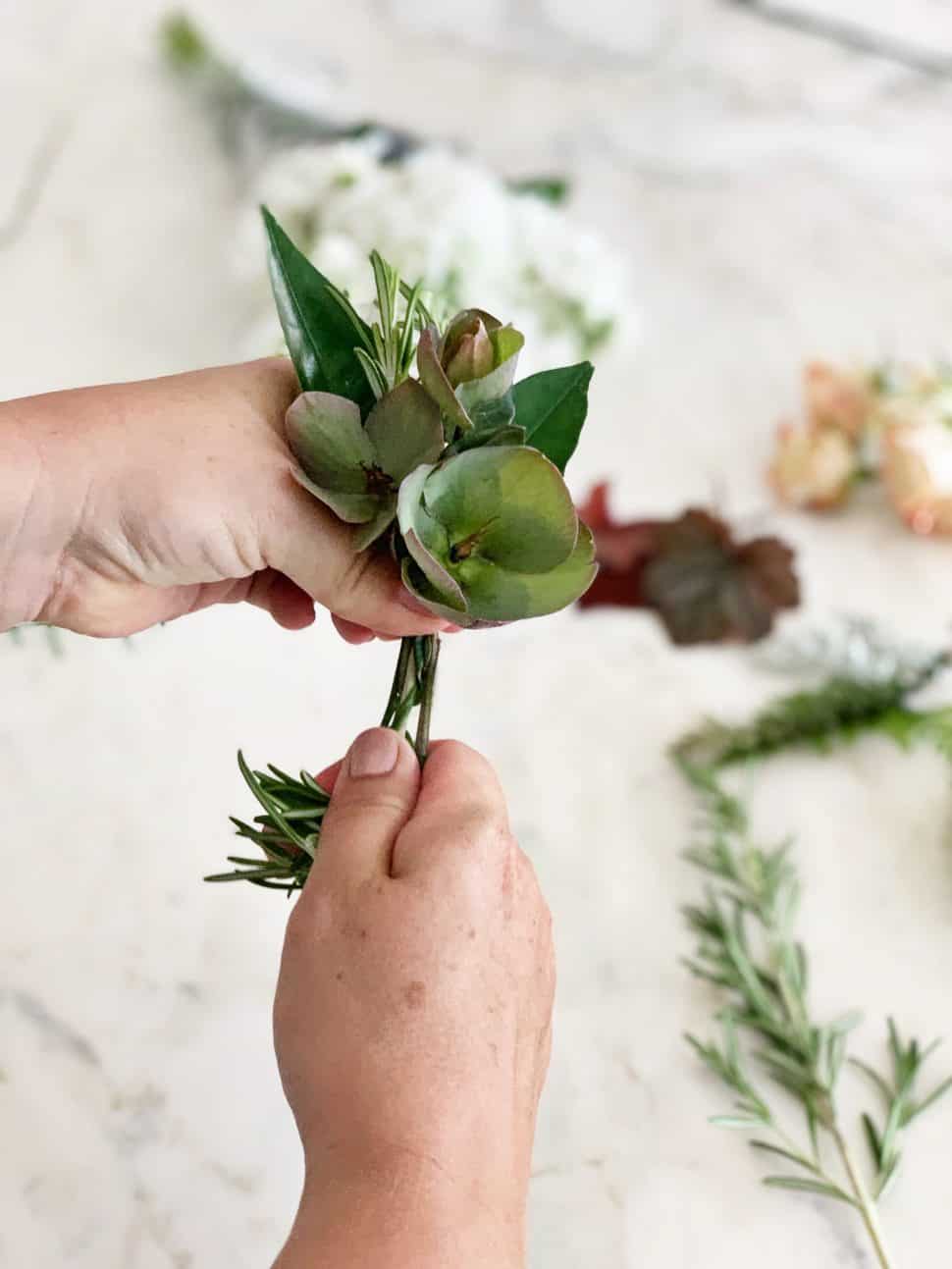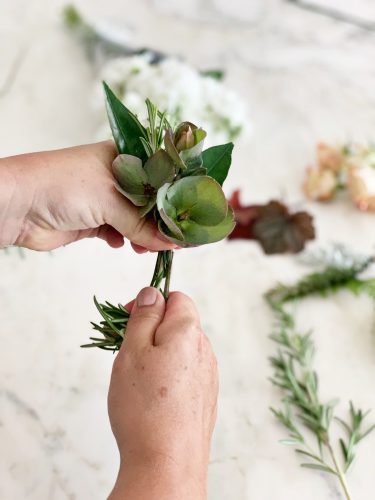 Starting up at the base of the flowers, begin wrapping the floral stem tape around the stems. This type of tape is a bit tacky and it easily sticks onto itself. Wrap firmly several times at the base and then continue on down the stems in a spiral pattern so that you've covered the stems into one bundle.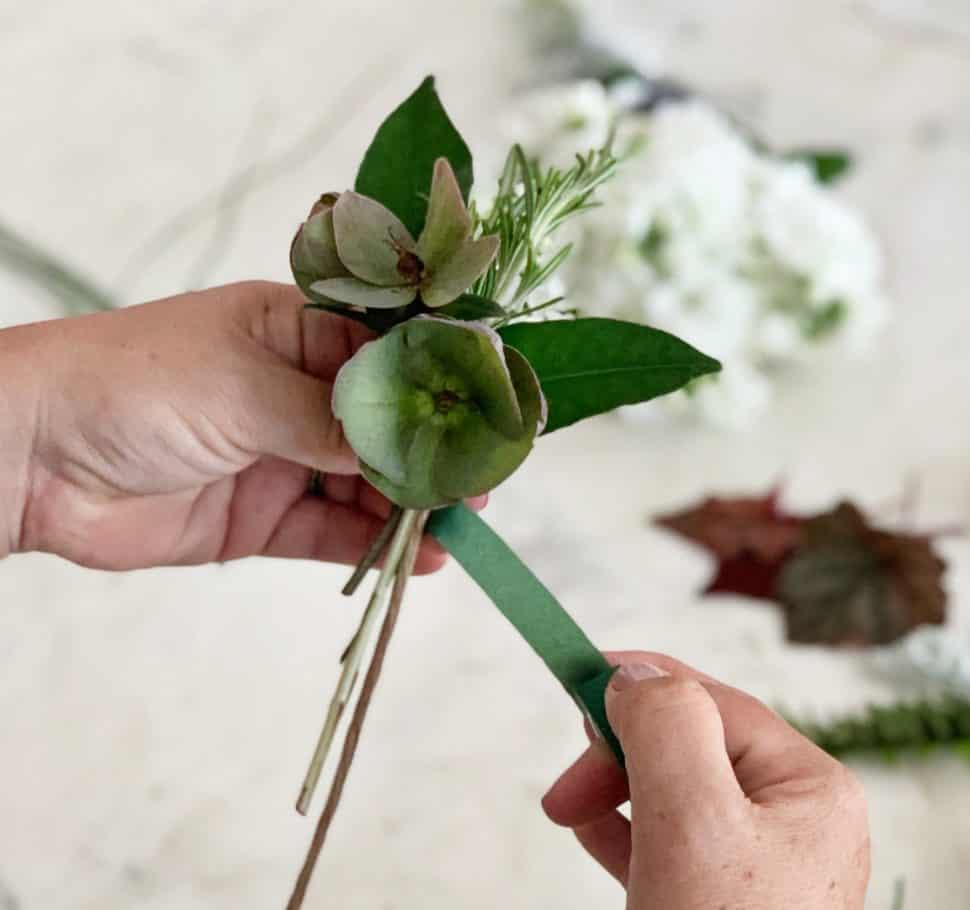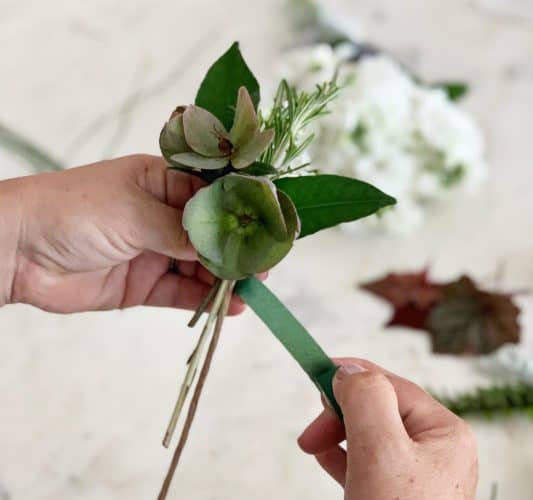 When you have wrapped about 1 – 1 1/2 inches of the stem, go ahead and trim the excess stems and wire and discard. Continue wrapping the tape to cover the "raw edge" and then back up the bundle again. Cut the tape and press the loose end down so that everything sticks together.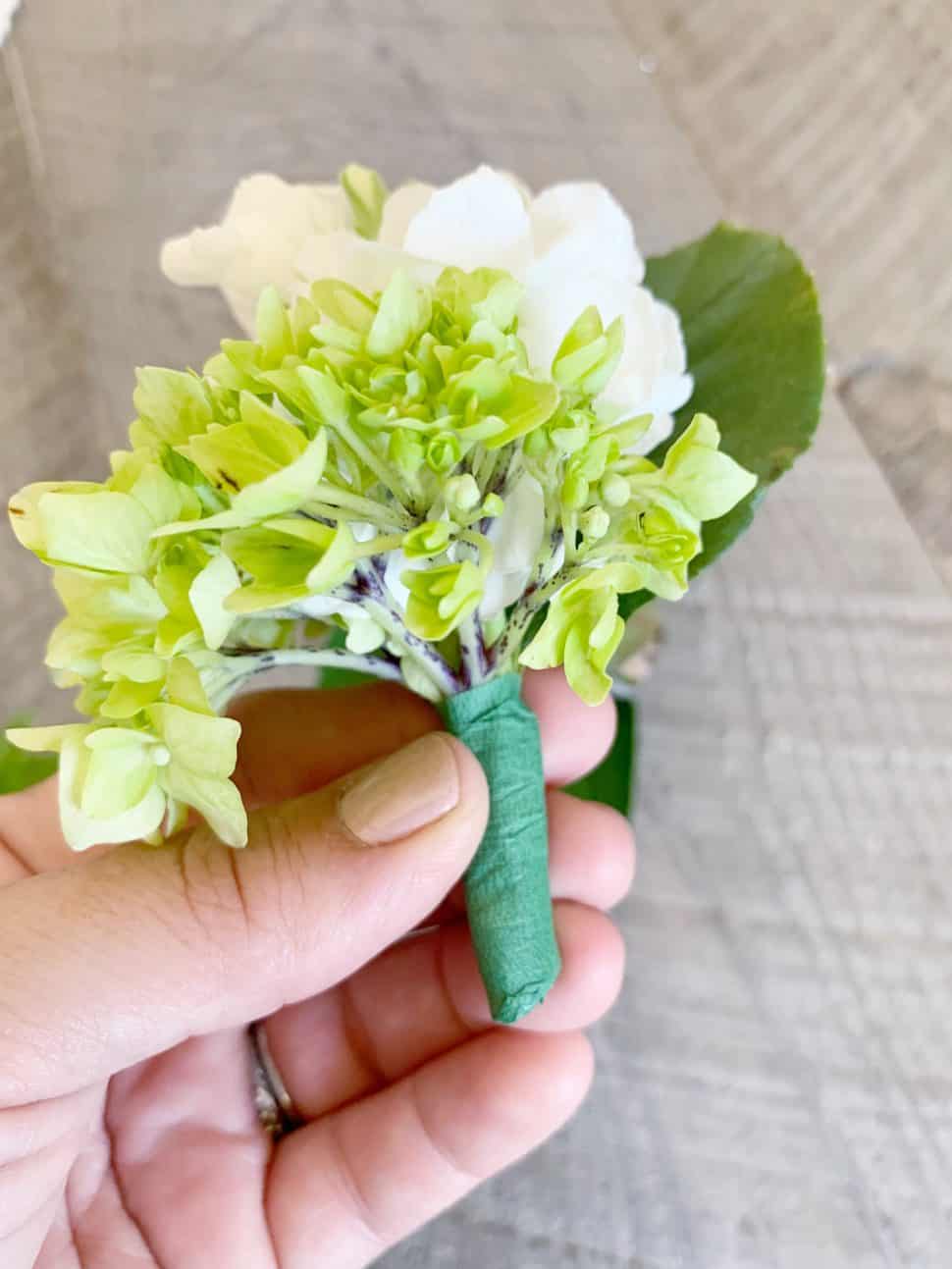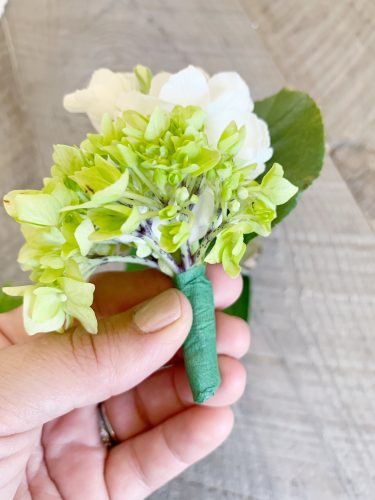 Place a floral pin into the taped stems and refrigerate the boutonnière until it's ready to be pinned on to the lapel of someone special!
If you do not have a chunky base flower that you can press floral wire up into, you can still use a piece of floral wire to support your boutonnière. Place the wire in the back of the cluster and wrap right into your stem packet.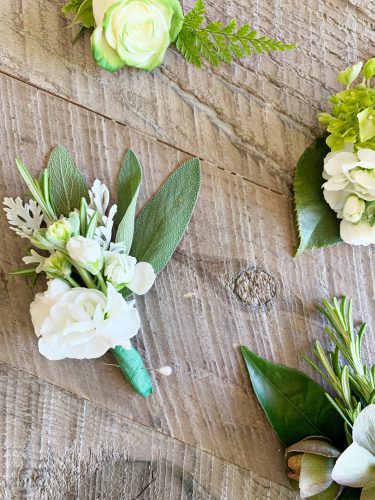 That's it! You're all ready start making!
The options are endless! DIY Boutonnières are so much fun to make! I can't wait to hear what you create with California Grown Flowers!