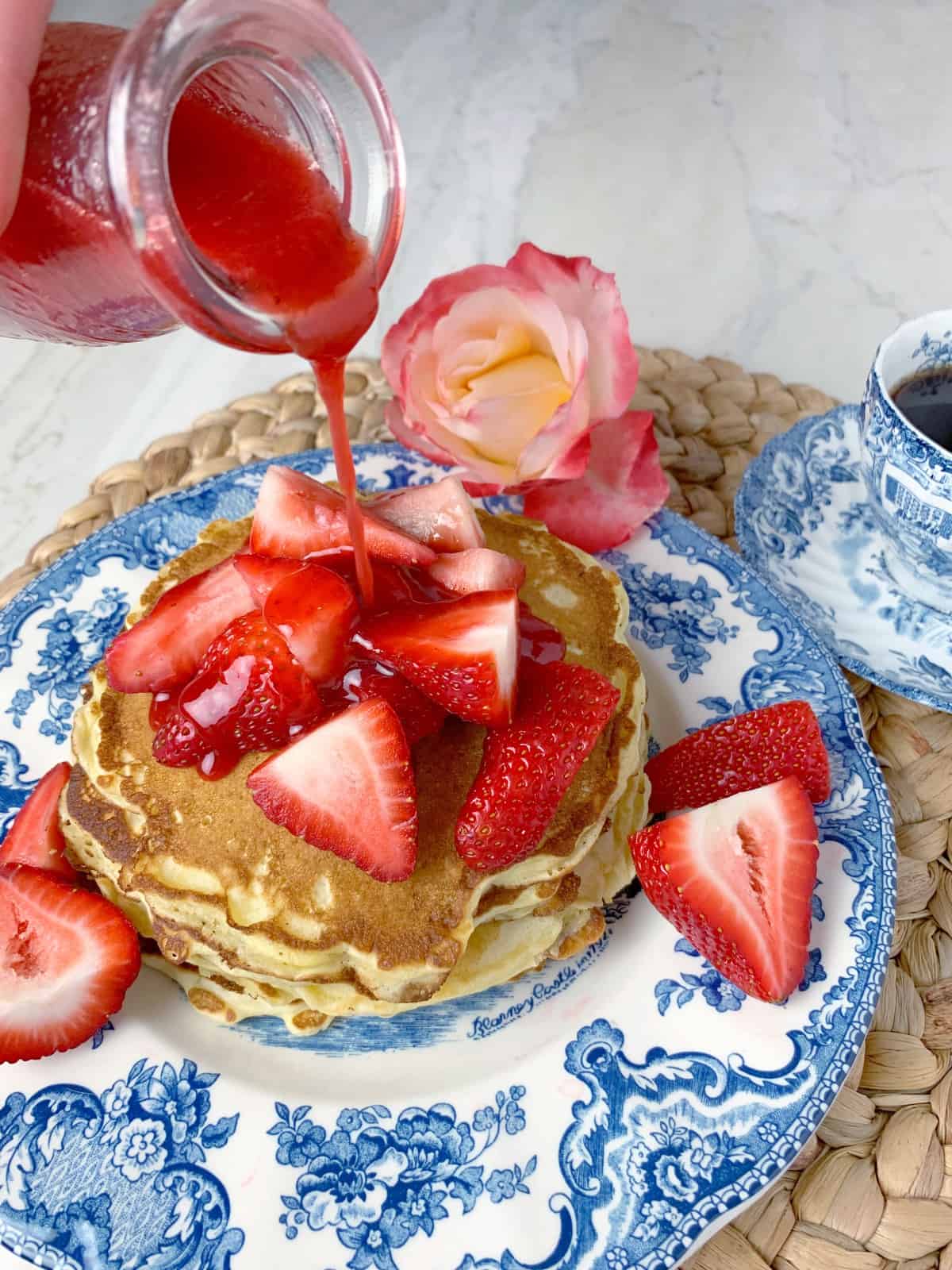 CA GROWN Blog
Discover. Learn. Connect.
Sweet Strawberry Syrup
May 8, 2019
Eat the Season!
Sign Up For Weekly Recipes
« Back to Recipes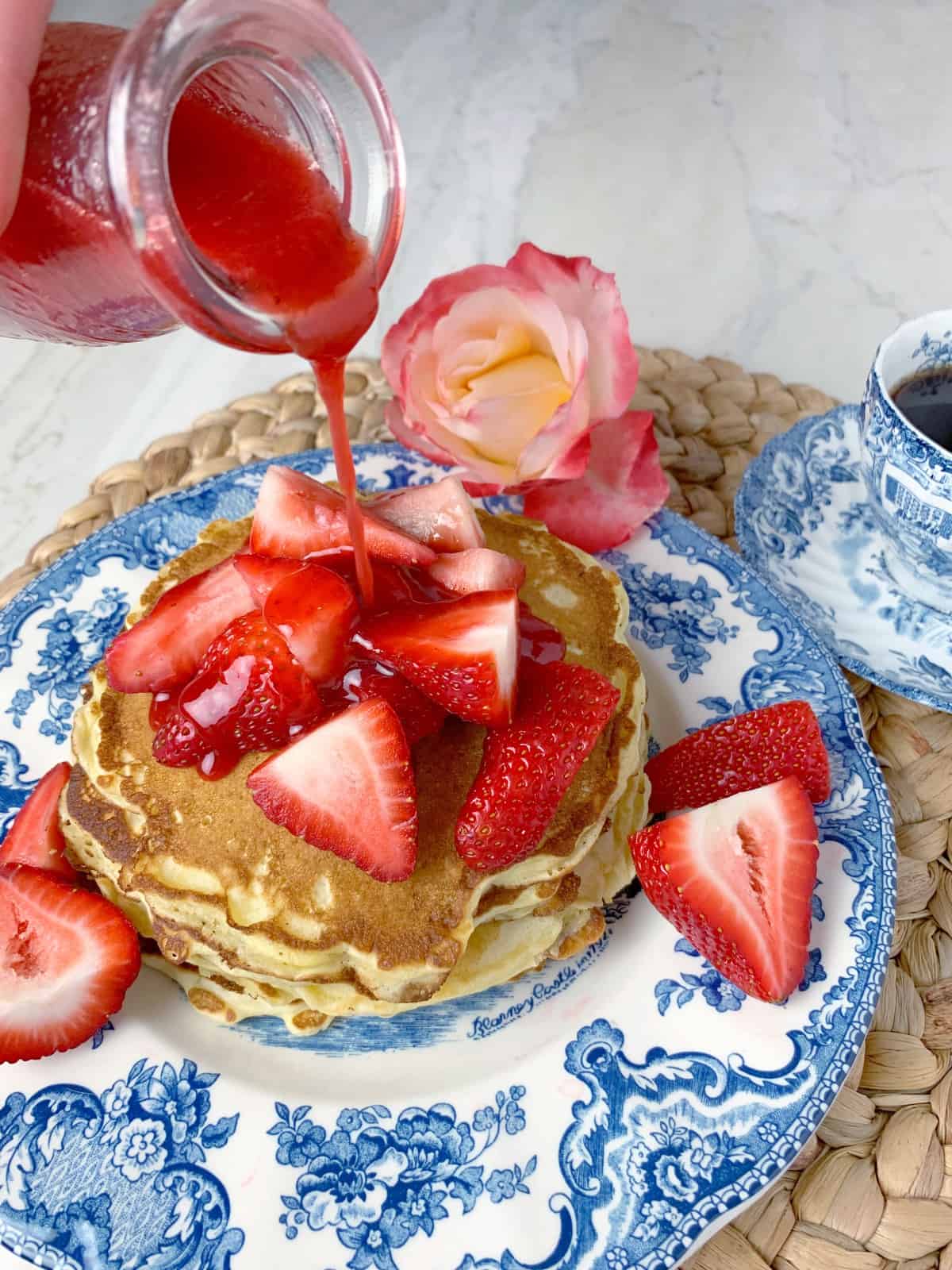 Sweet Strawberry Syrup
This this simple recipe for a sweet strawberry syrup that can be used on pancakes and waffles, or on desserts like ice cream, cakes and frozen yogurt!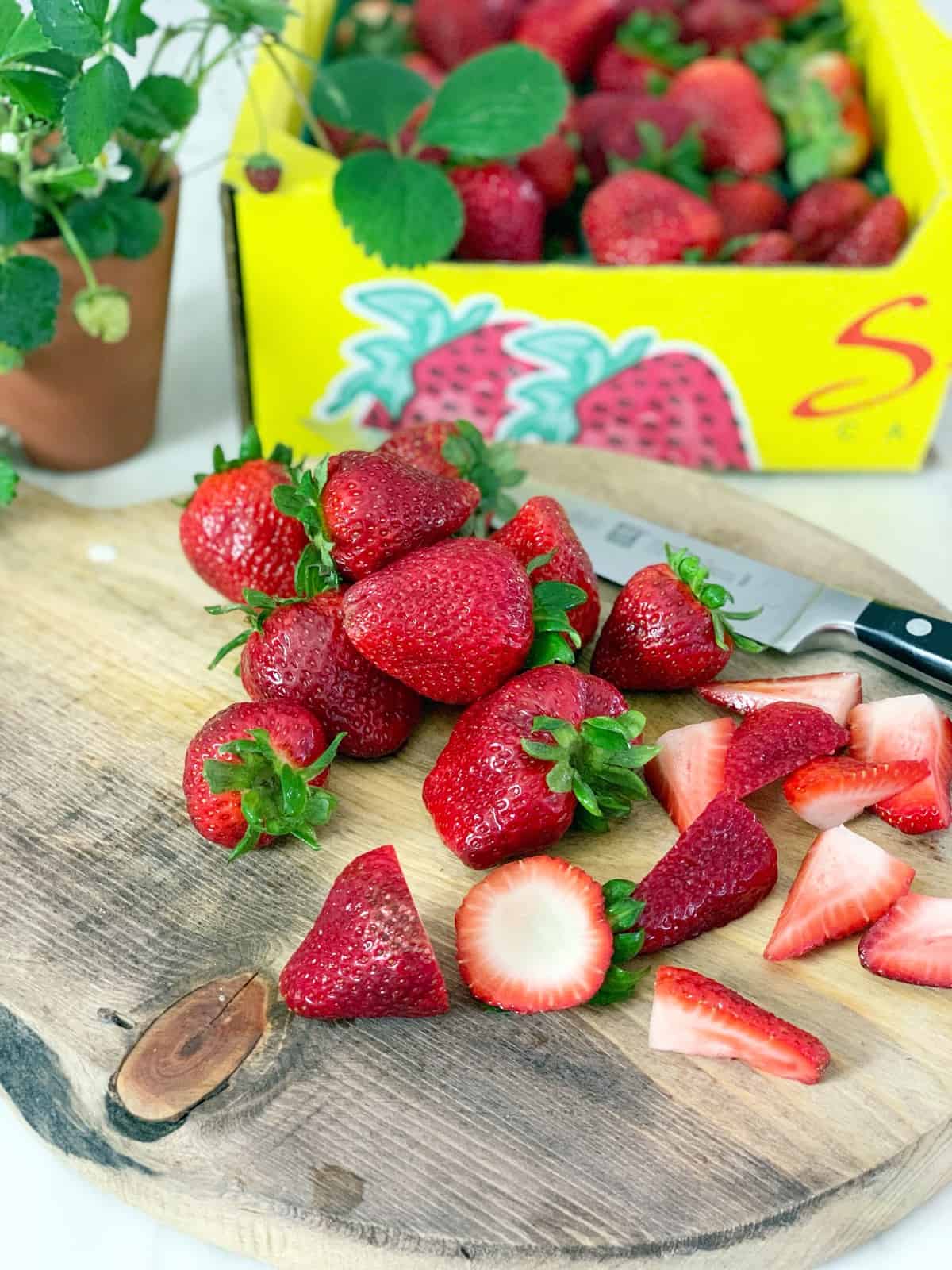 Strawberry season might be the best season.
Nothing ushers in the sweetness of summer quite like fresh, juicy red strawberries. My family eats strawberries year round, but when the strawberry farm stands start opening and the local farmers set up shop on the corners in my neighborhood, we load them up by the flat. In fruit or green salads, over cereal, dipped in whipped cream or chocolate, or plucked warm off the vine, strawberries are one of our favorites! You can be sure another crate will be adorning our kitchen table come Mother's Day. And while strawberries are oh so good fresh, they also cook up into the most delicious jams and sauces.
Today, I'm sharing a simple and delicious fresh strawberry syrup that you can whip up for Mom for Sunday morning.

Let's make the Strawberry Syrup!
This strawberry syrup is made with just a few simple ingredients. You can pour it over pancakes or waffles, add it to smoothies for some concentrated strawberry sweetness, make strawberry milk, or drizzle it over ice cream! Yum!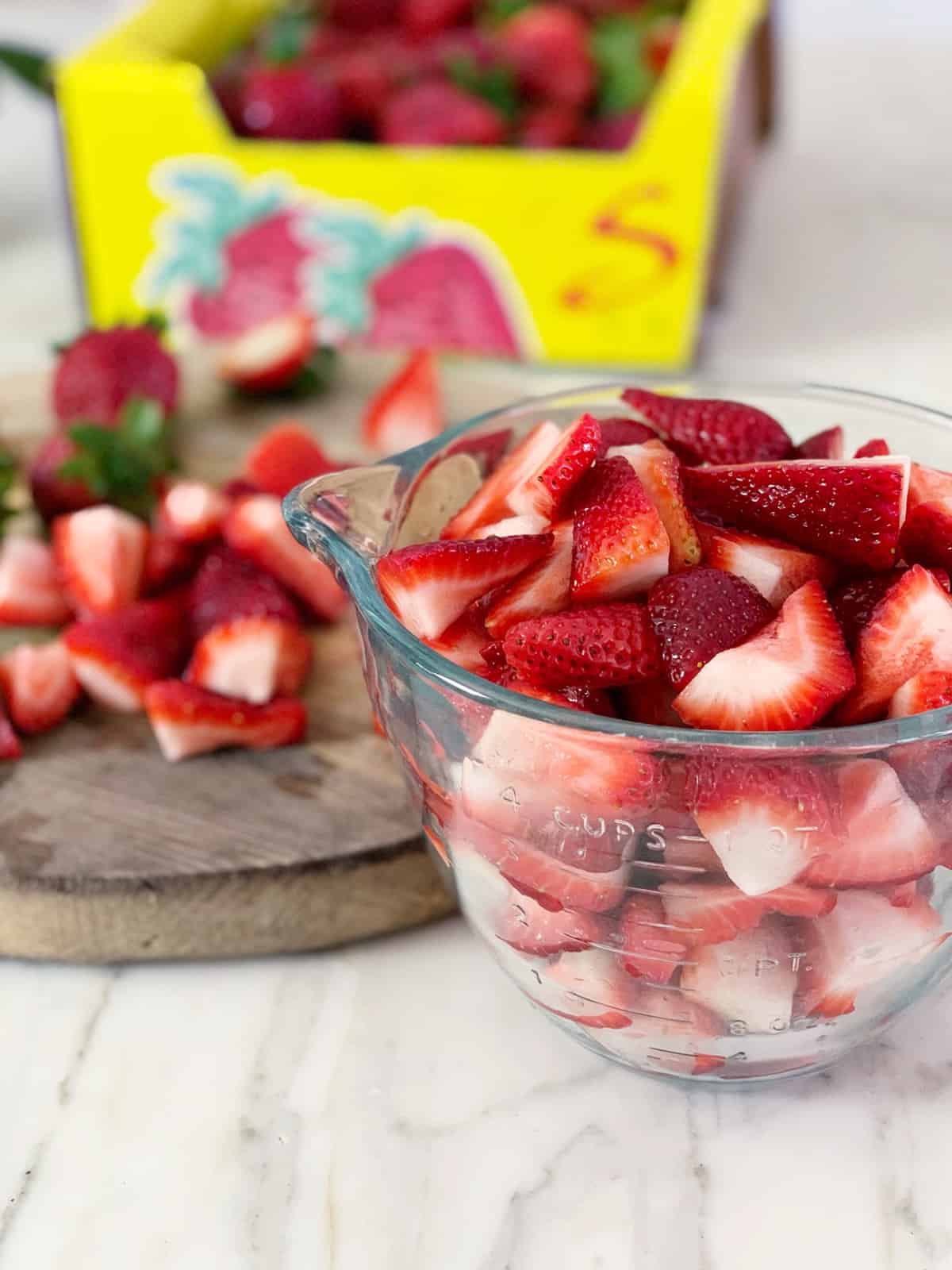 Begin with 4 cups of fresh strawberries, washed and sliced with stems removed. (You can easily double this recipe if desired.)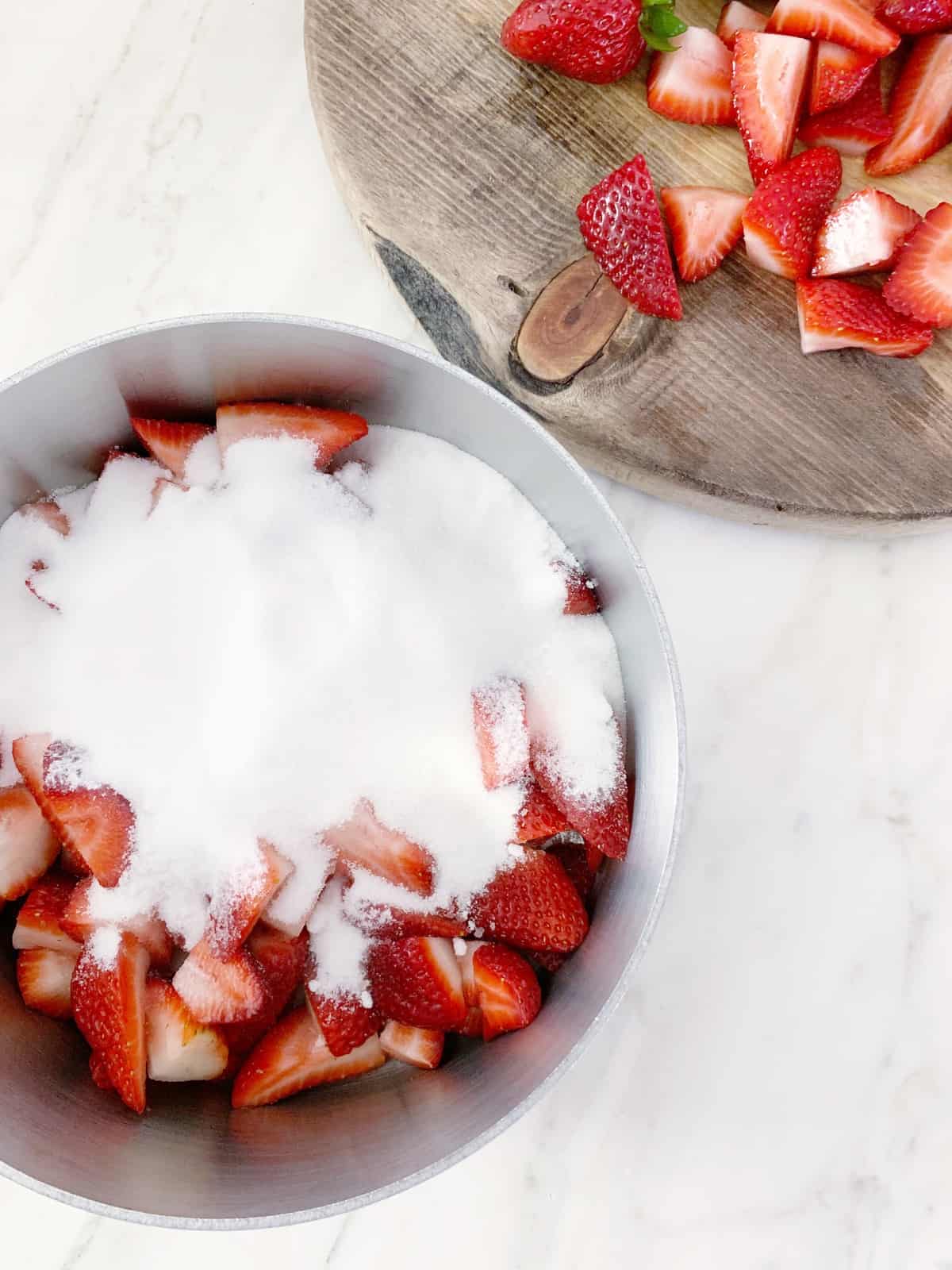 In a medium saucepan, combine strawberries, sugar, and water.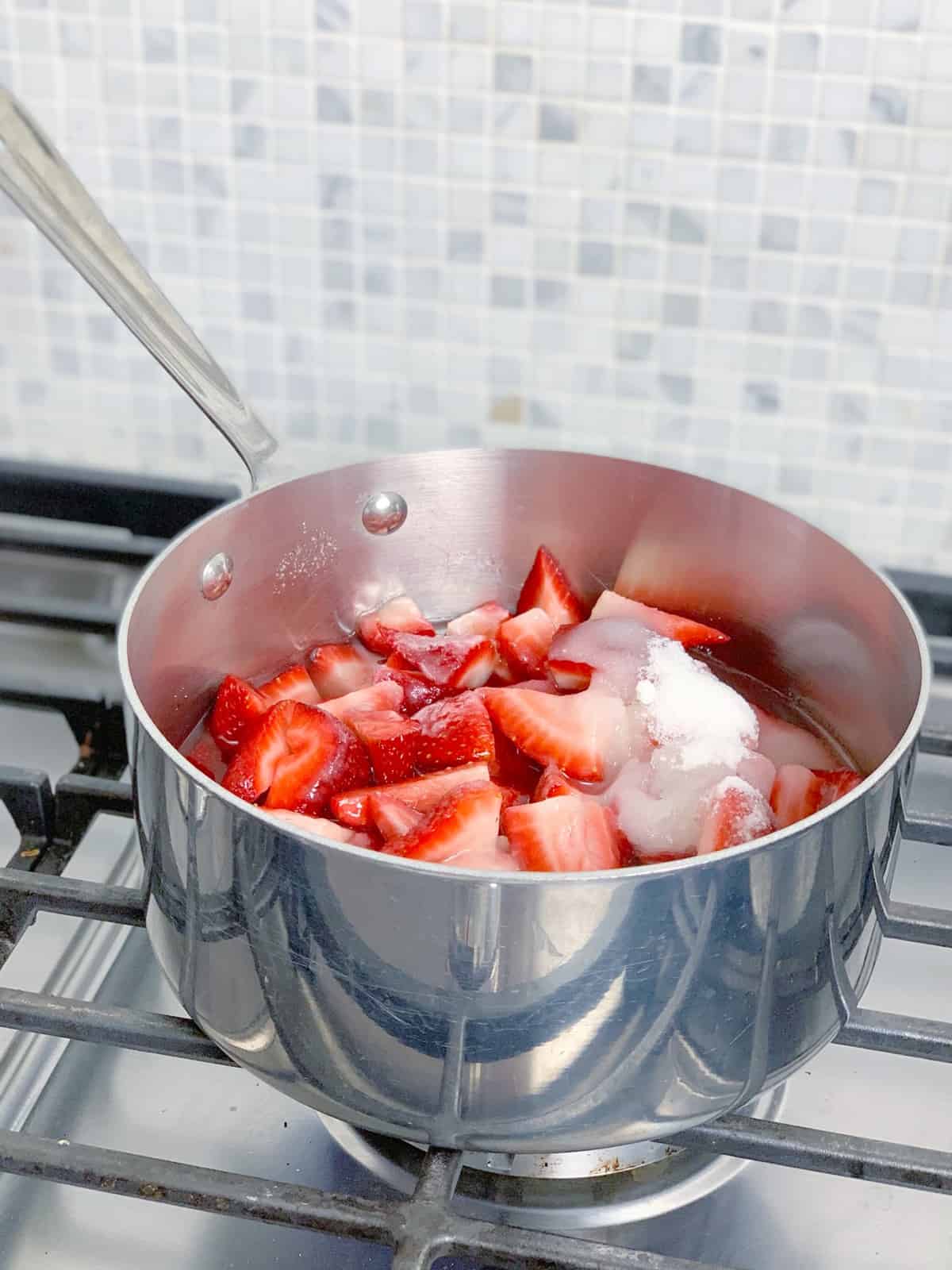 Place on the stovetop over medium-high heat.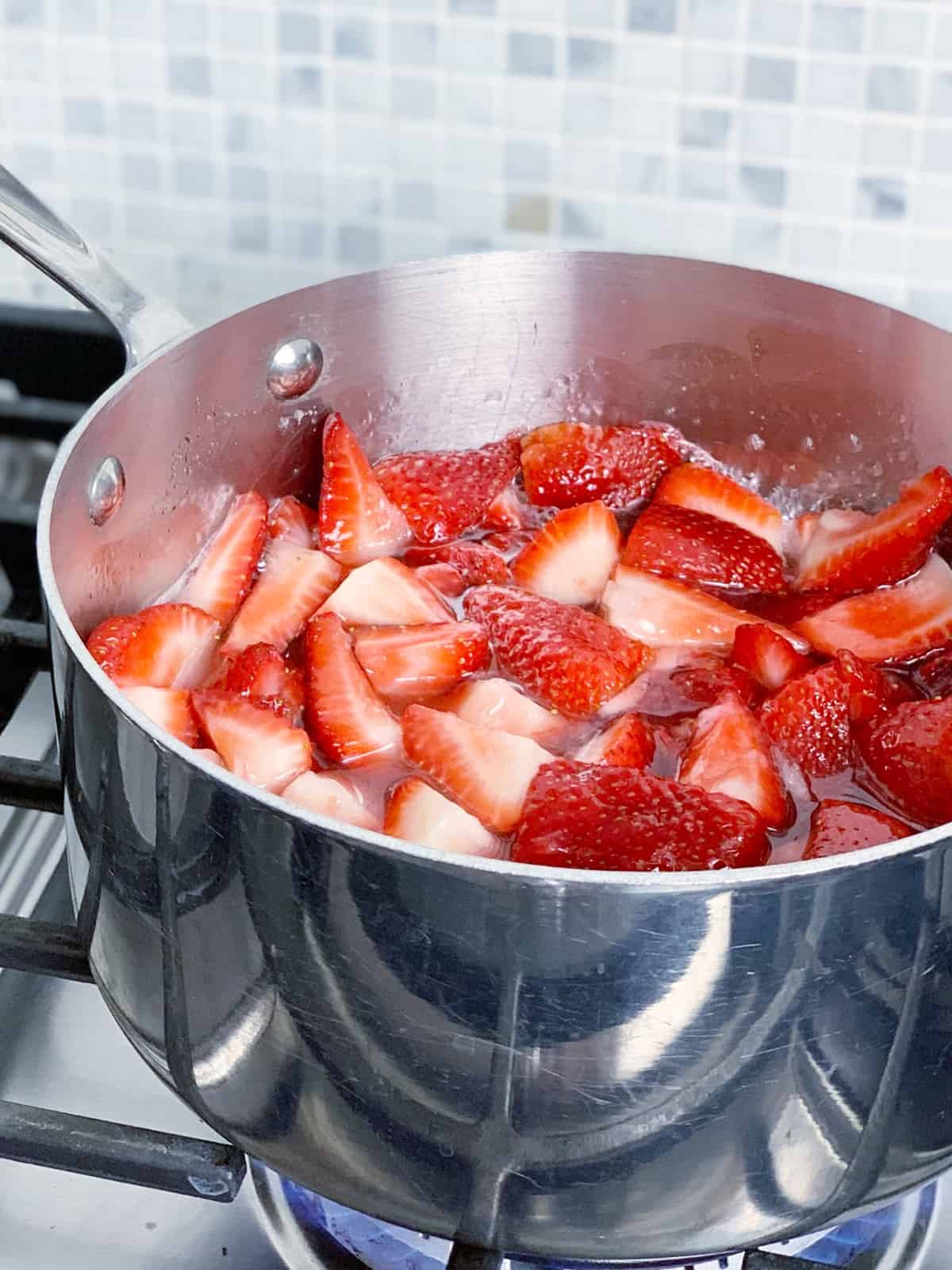 Stir occasionally. You will notice the sugar heat and turn to liquid. Continue cooking and bring to a boil.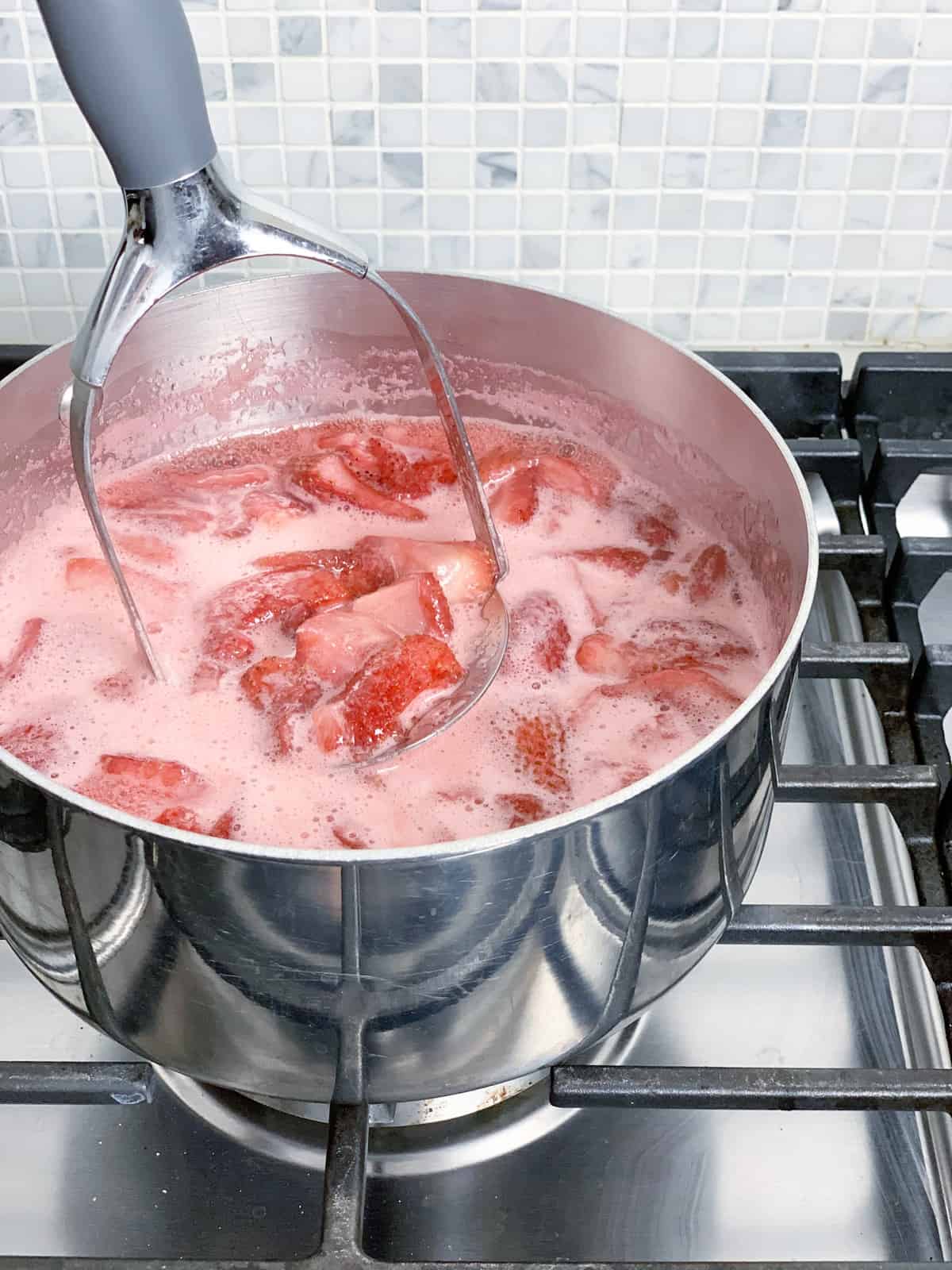 Once the mixture begins to boil, reduce the heat to low and simmer for approximately 30 minutes. Use a potato masher to smoosh the strawberries every 10 minutes or so. If you plan to run the sauce through a blender later (which is what I did), it's not terribly important to do a lot of mashing as you cook.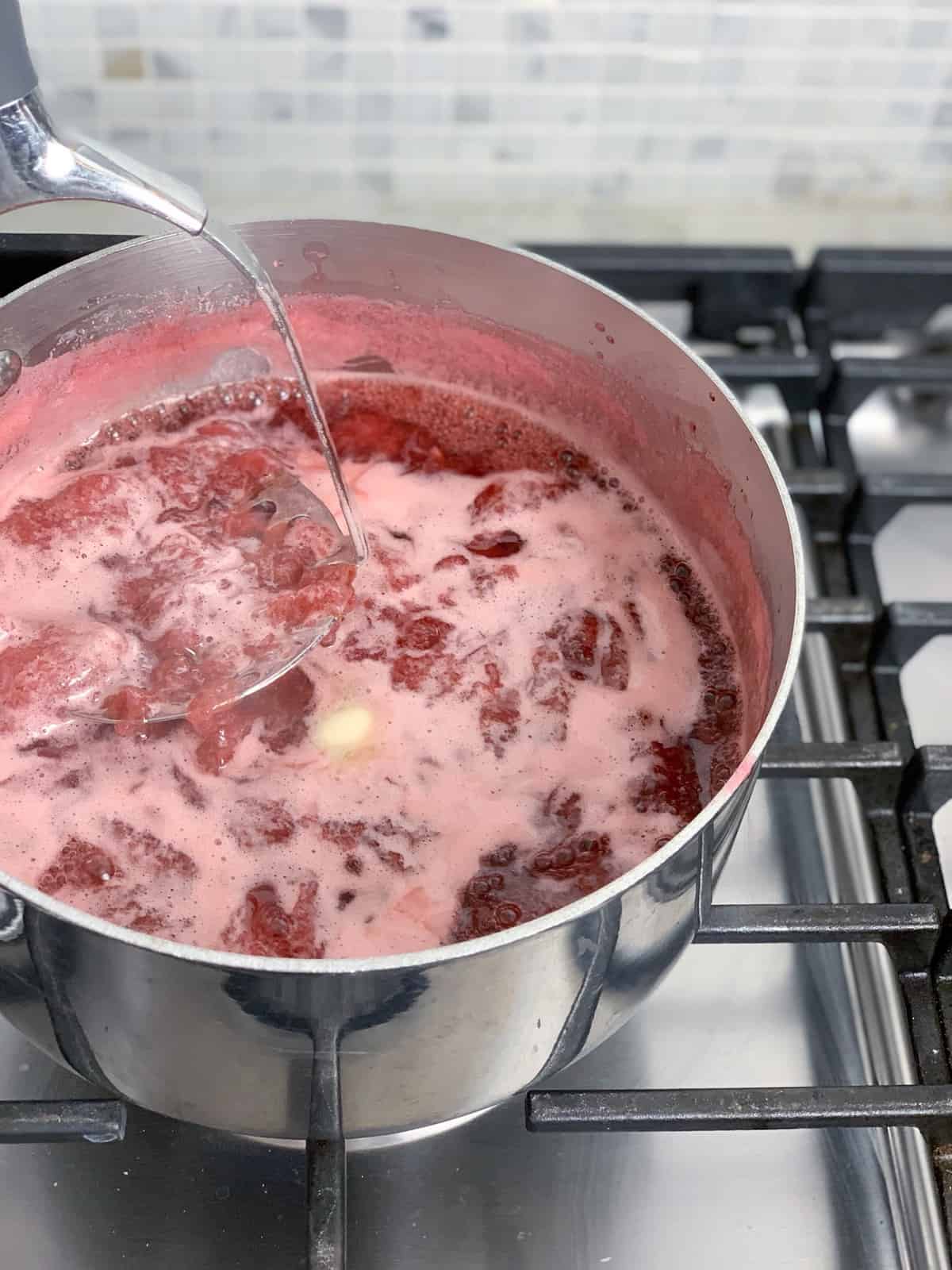 You may notice that the sauce gets frothy on top. To reduce the bubbles, add a dash (1/4 teaspoon) of butter to the pan. This will eliminate most of the bubbles and keeps the sauce cooking along at an even consistency.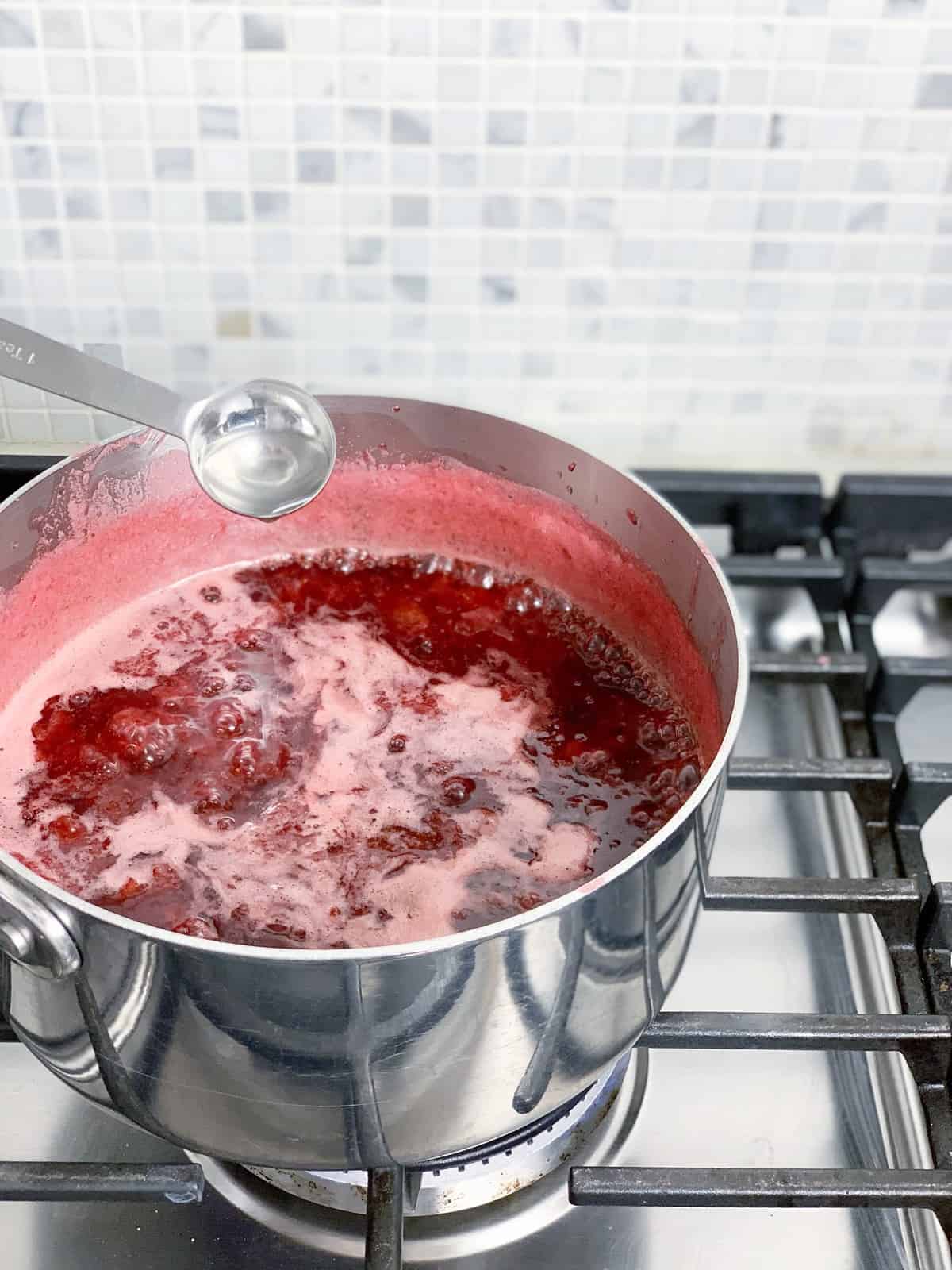 Once the sauce has simmered for 30 minutes, and has turned a deep red and thickened a bit, turn off the heat and add the almond extract, if you wish.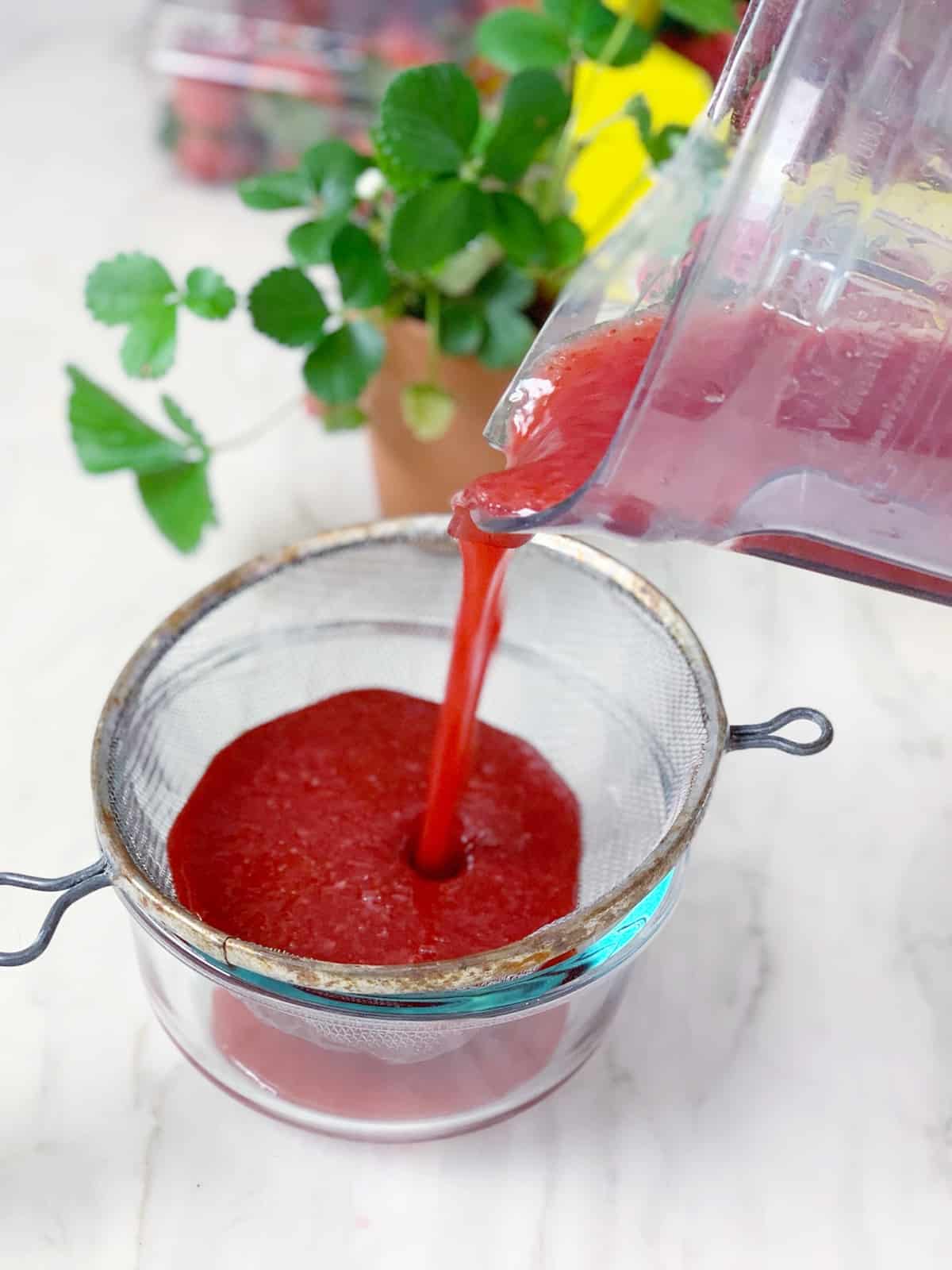 You can now serve your sauce with fruit bits in it OR you may choose to puree and strain the mixture. I pulsated the mixture in a blender until it was a smooth consistency and then passed it through a strainer to get out any remaining seeds/chunks. The resulting texture is smooth but thick enough to stand up to a good stack of pancakes.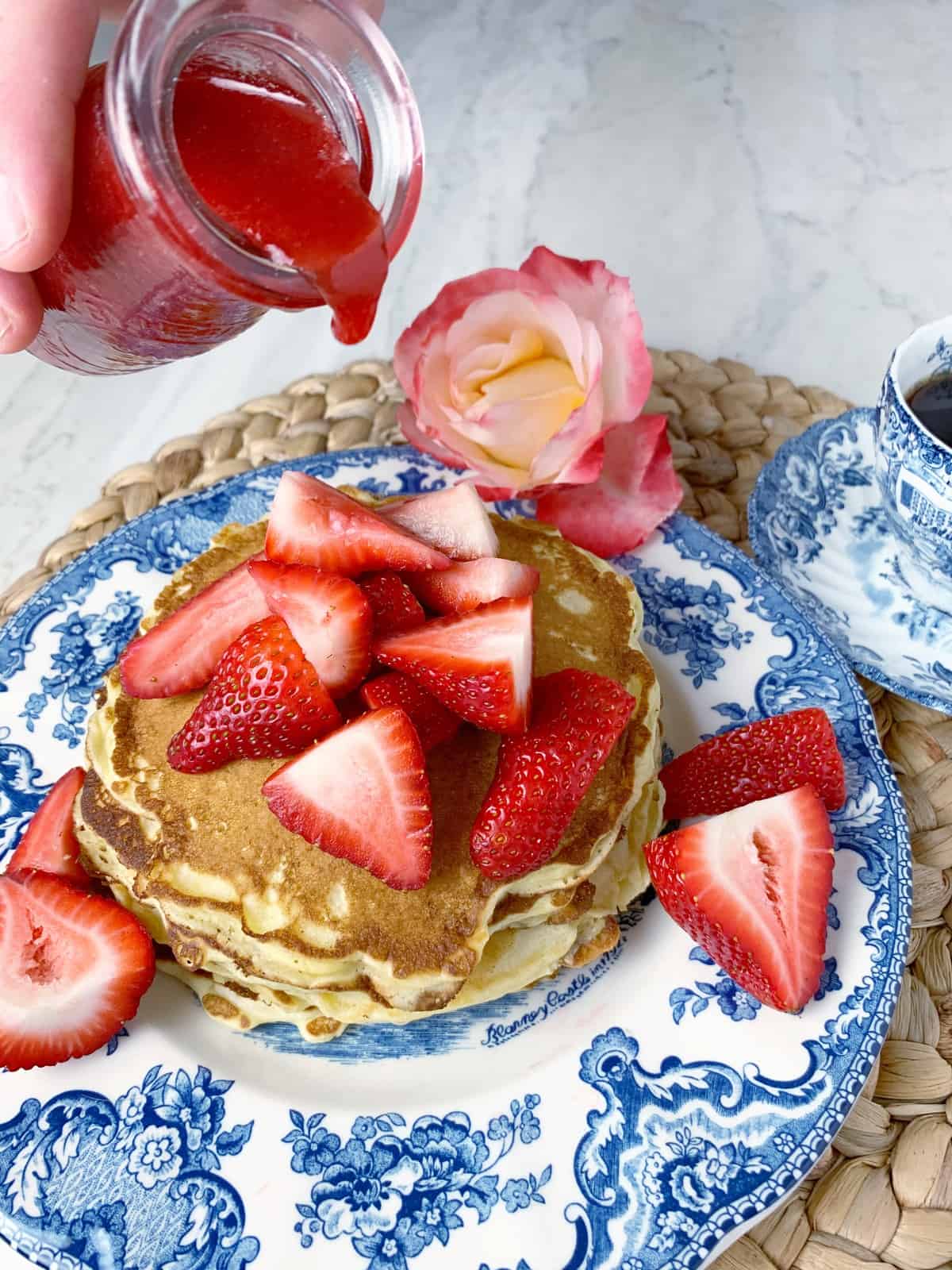 Serve sauce warm and store in the refrigerator for up to 1 week. Enjoy!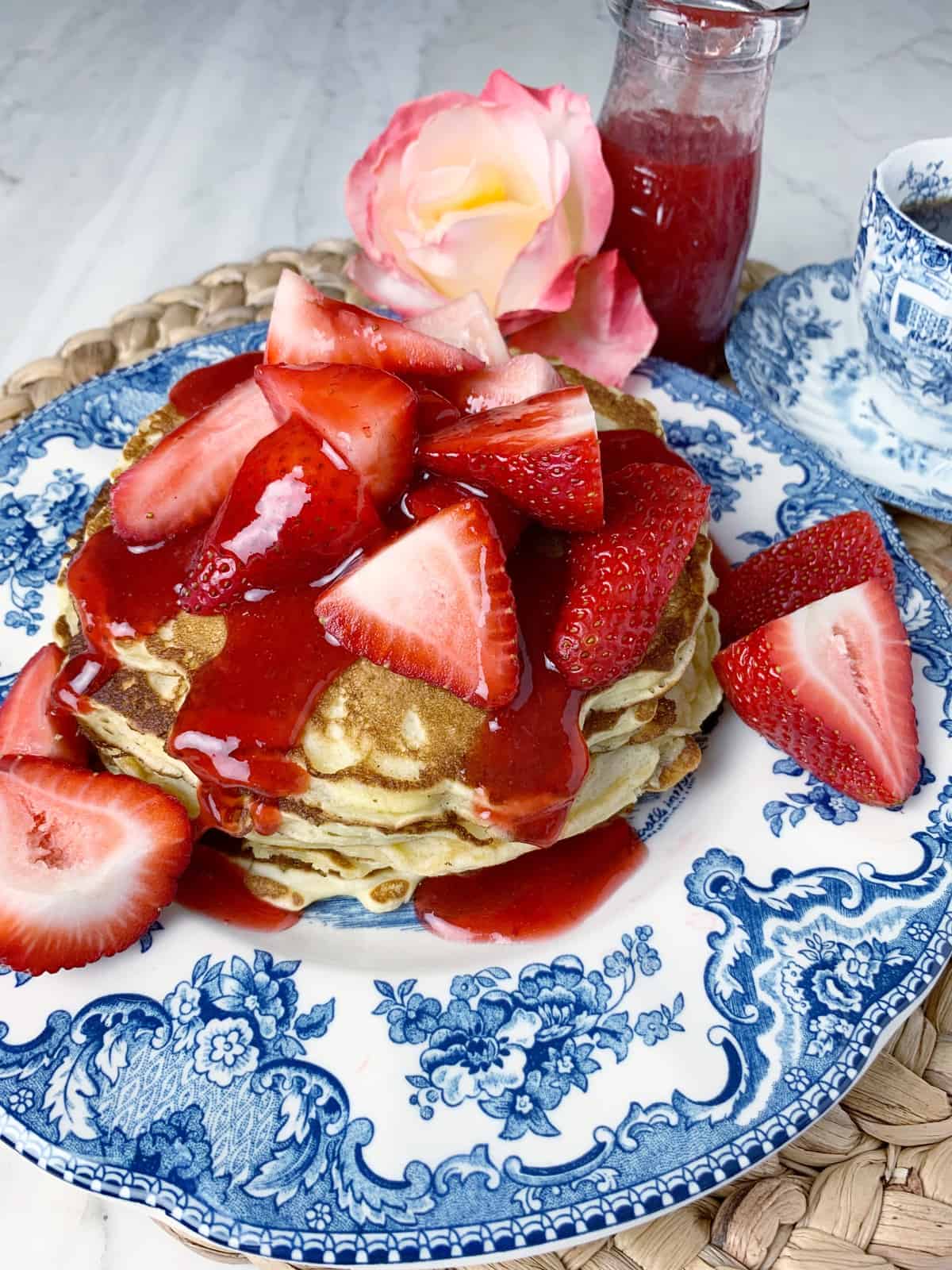 I hope you enjoy this strawberry season as much as we do and Happy Mother's Day to everyone who has loved, inspired, and nurtured someone in their life.
Sweet Strawberry Syrup
A simple recipe for a sweet strawberry syrup that can be used over breakfast dishes like pancakes and waffles, or over desserts like ice cream and yogurt!
Ingredients
4 cups sliced strawberries with stems removed
2 cups granulated sugar
1 cup cold water
1/4 teaspoon butter optional
1 teaspoon almond or vanilla extract optional
Instructions
Wash, remove stems, and slice strawberries into quarters.

Place strawberries, sugar, and water into medium saucepan.

Bring to a boil over medium heat, stirring occasionally.

Once mixture has boiled, reduce heat to low and simmer for 30 minutes.

Add butter while simmering to reduce bubbling.

Remove from heat when mixture has thickened and turned a deep red.

Add almond extract.

Allow mixture to cool until safe to handle.

Blend until smooth in a food processor or blender.

Pass blended sauce through a sieve or cheese cloth to remove seeds/chunks.

Serve warm.

Store in refrigerator for up to 1 week.
Notes
Add it to drinks too!
Nutrition
Calories: 144kcalCarbohydrates: 37gProtein: 0.3gFat: 0.3gSaturated Fat: 0.1gPolyunsaturated Fat: 0.1gMonounsaturated Fat: 0.04gTrans Fat: 0.003gCholesterol: 0.2mgSodium: 1mgPotassium: 74mgFiber: 1gSugar: 36gVitamin A: 8IUVitamin C: 28mgCalcium: 8mgIron: 0.2mg