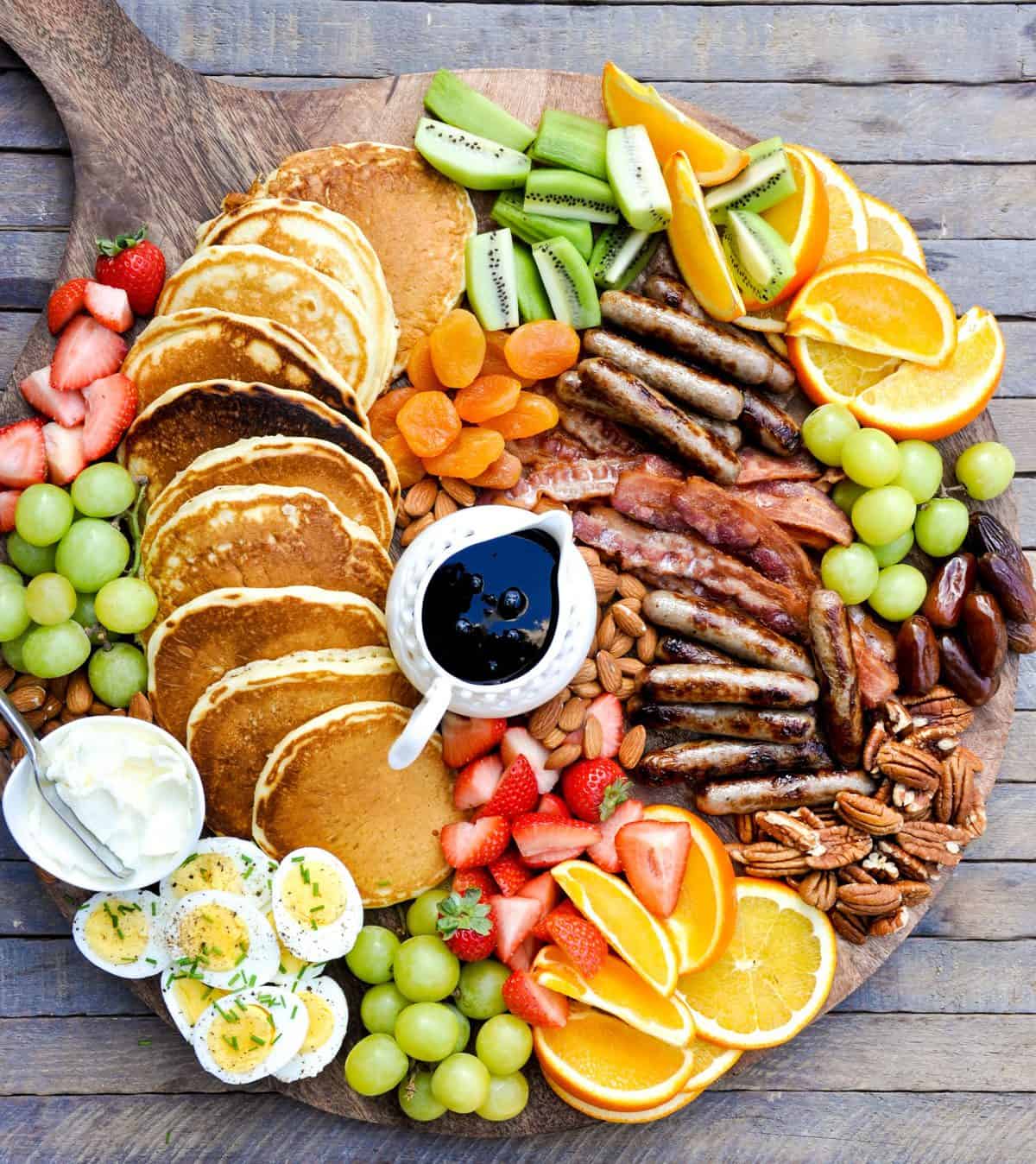 CA GROWN Blog
Discover. Learn. Connect.
The Best Meals For the Holidays: Breakfast Board
December 16, 2020
Eat the Season!
Sign Up For Weekly Recipes
« Back to Recipes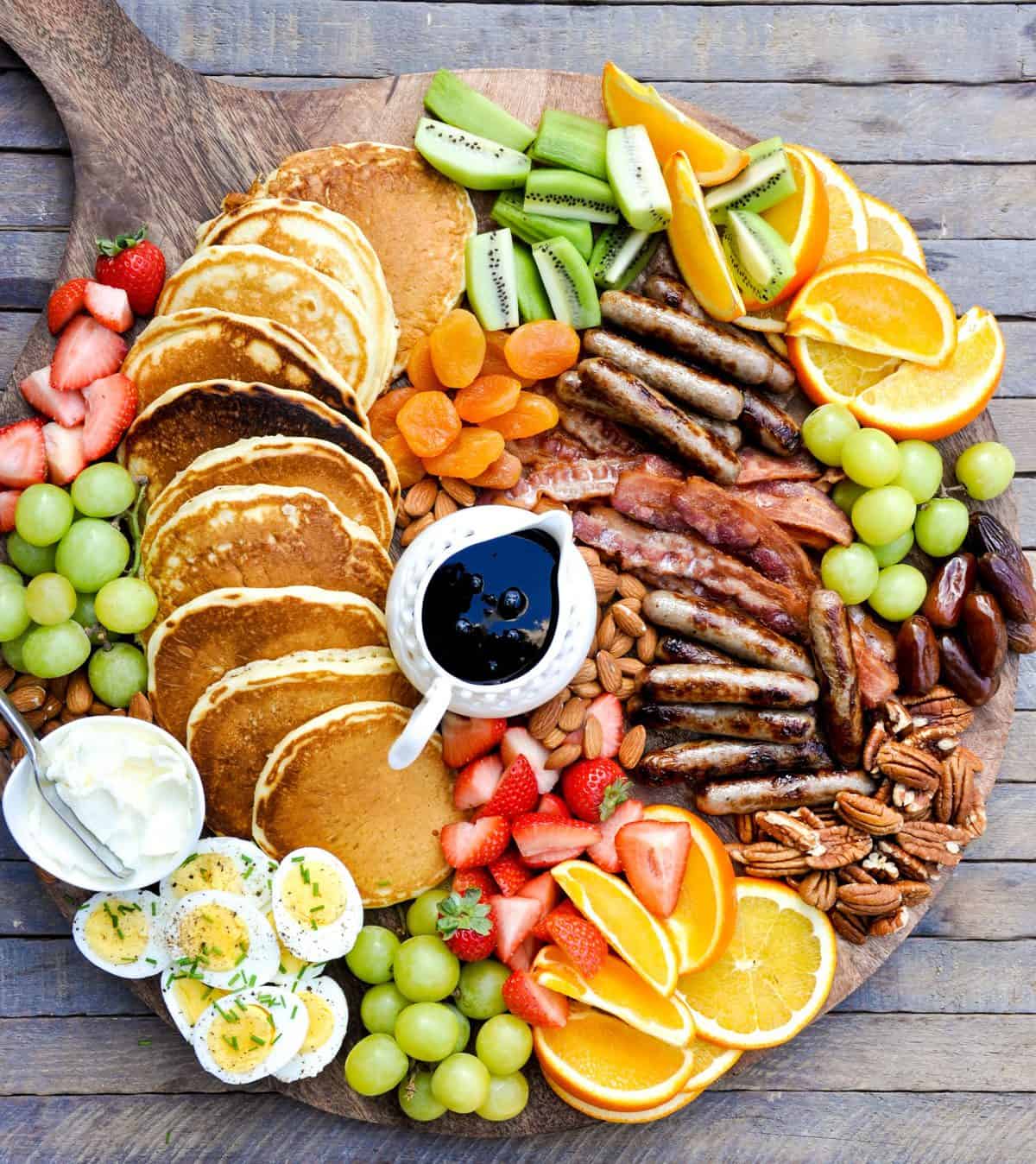 The Best Meals For the Holidays: Breakfast Board
Tis' the season of celebrations and when it comes to serving the best meals for the holidays, this incredibly easy and delicious Breakfast Board is one of our top choices! This beautiful board not only makes for an impressive addition to your buffet, but it effortlessly feeds a crowd, and is endlessly customizable.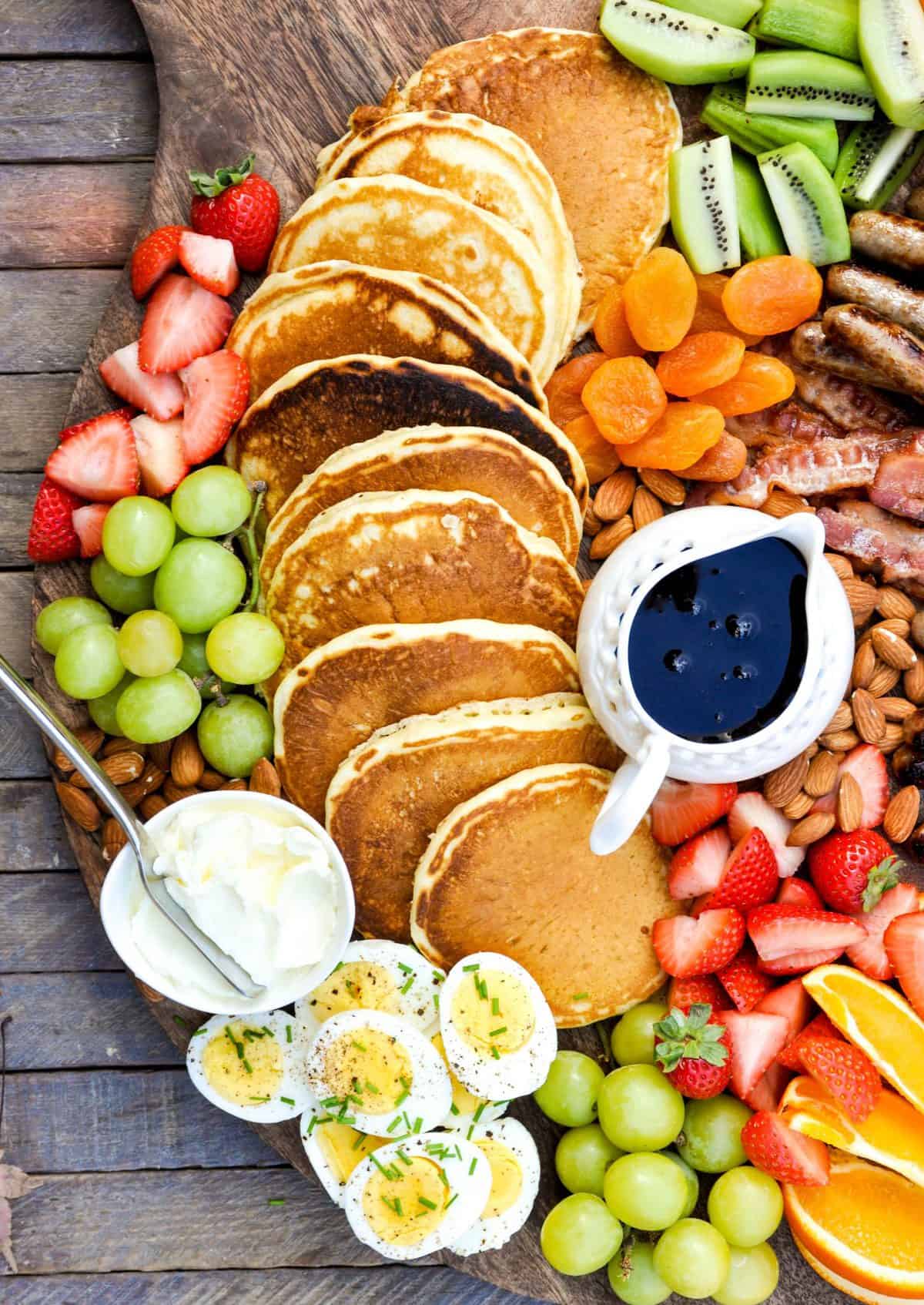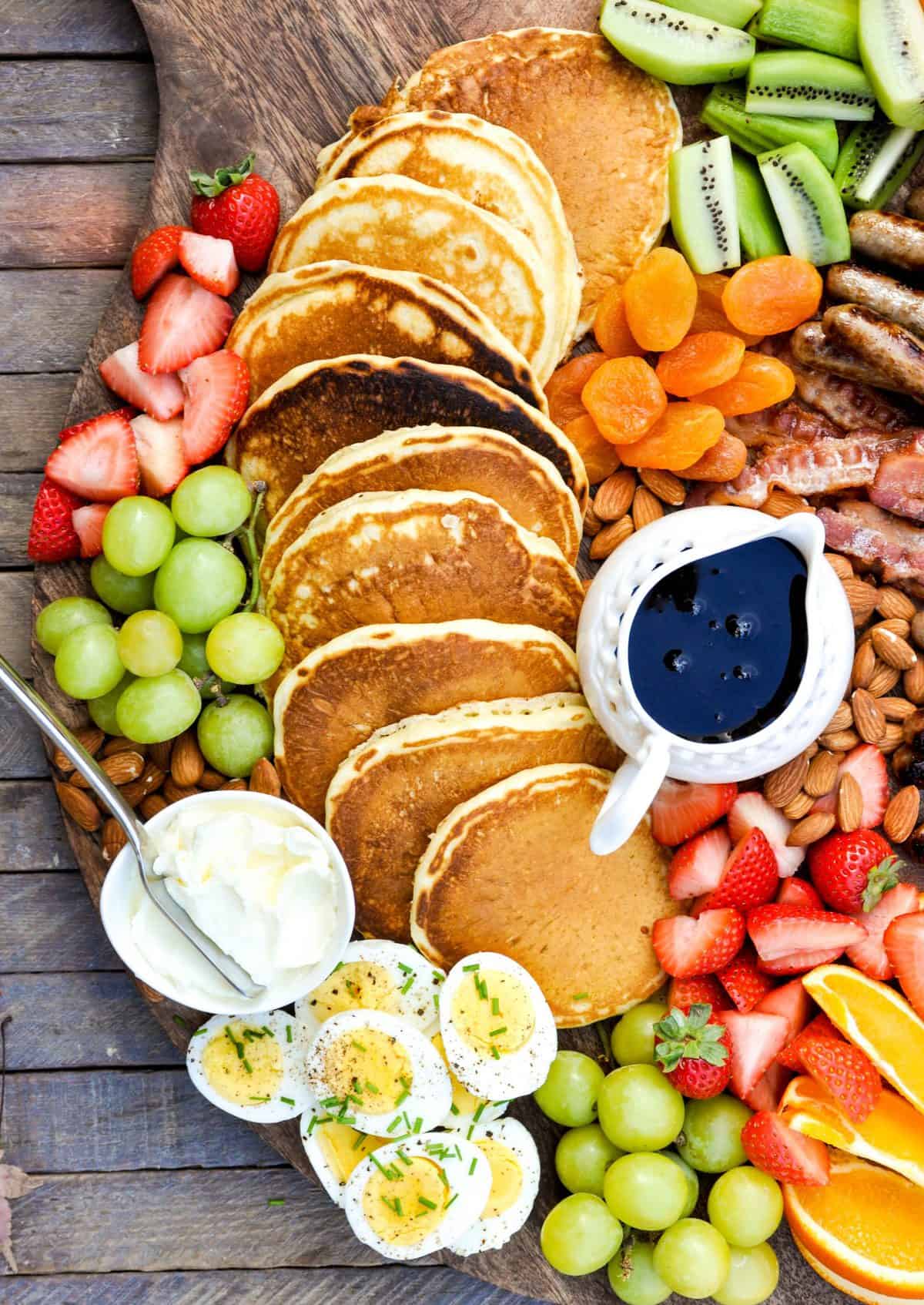 When you make this breakfast board, your guests can feel relaxed and graze while they open gifts, watch the game, or just chill by the fire.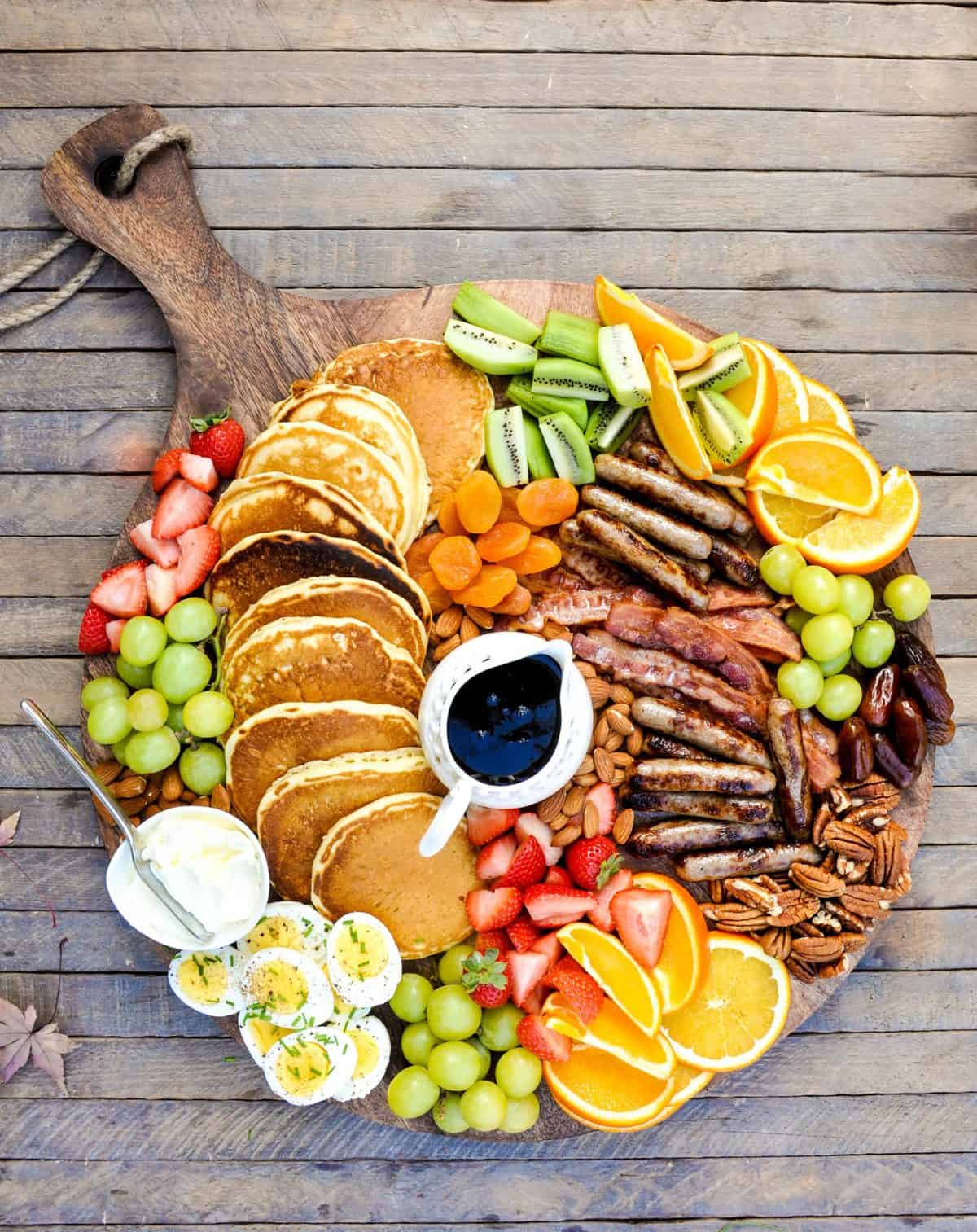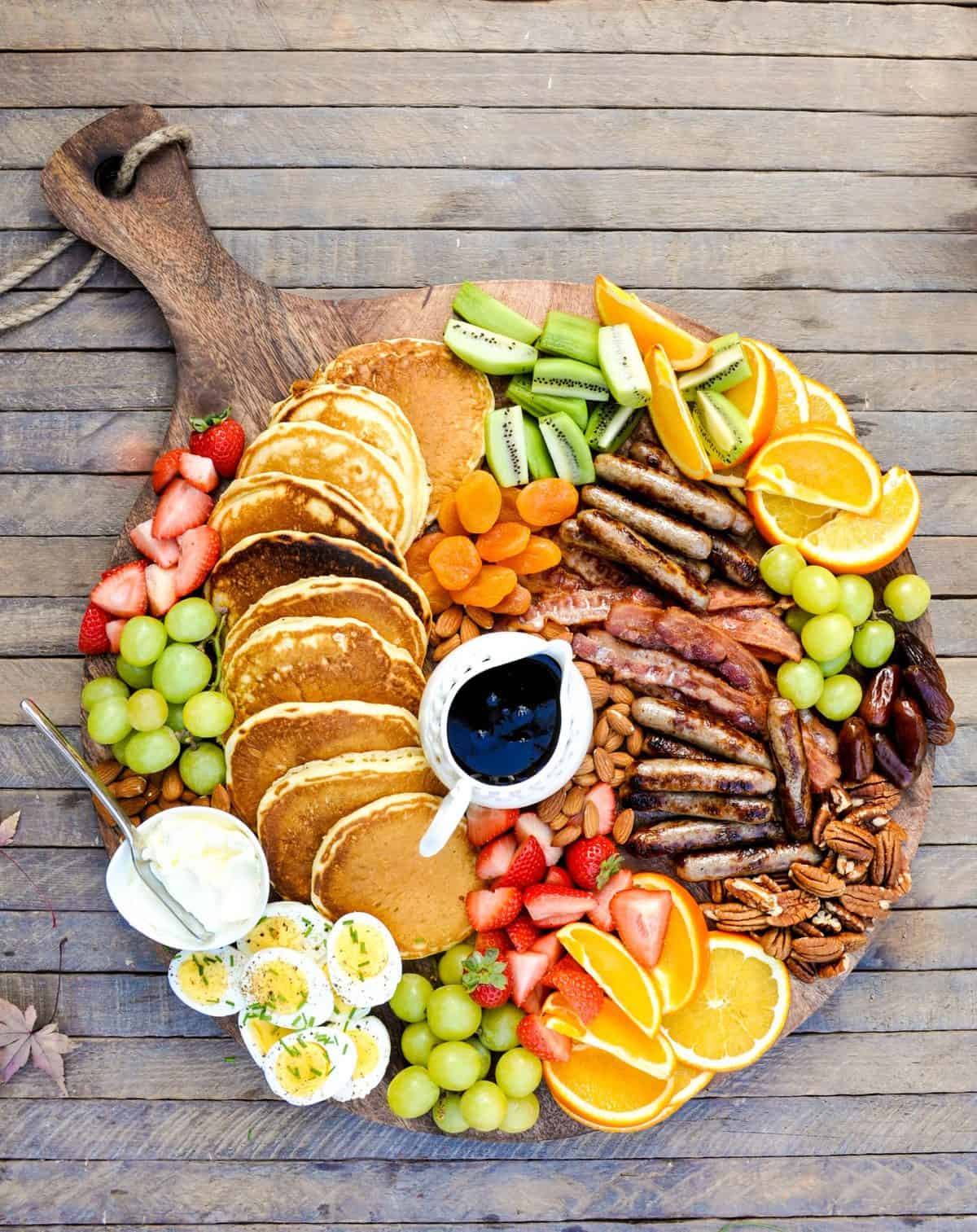 Our Holiday Breakfast Board is full of delicious California-grown produce like  citrus, strawberries, kiwi, dried fruit, and nuts, along with California eggs, homemade pancakes, sausage, and bacon.  This breakfast-inspired meal for the holidays really has it all!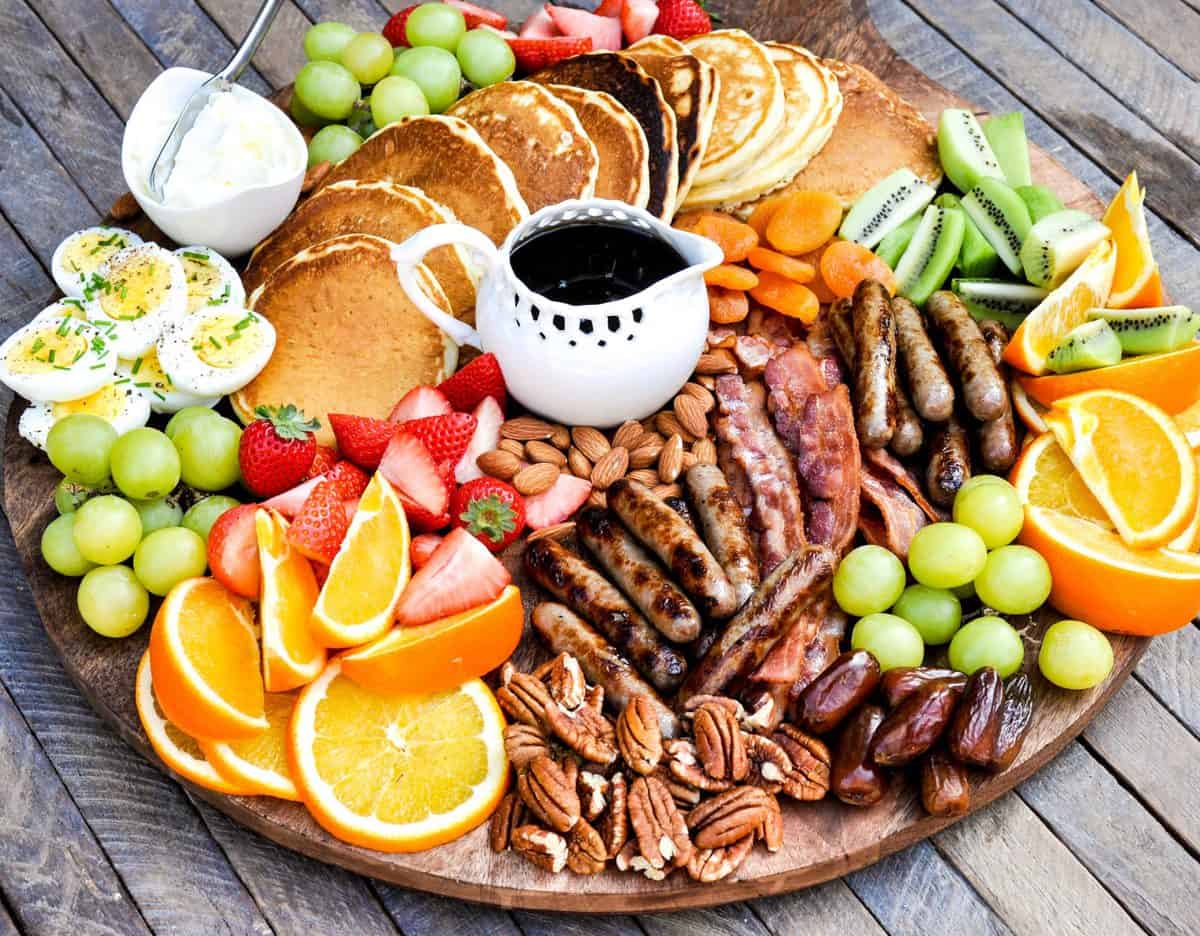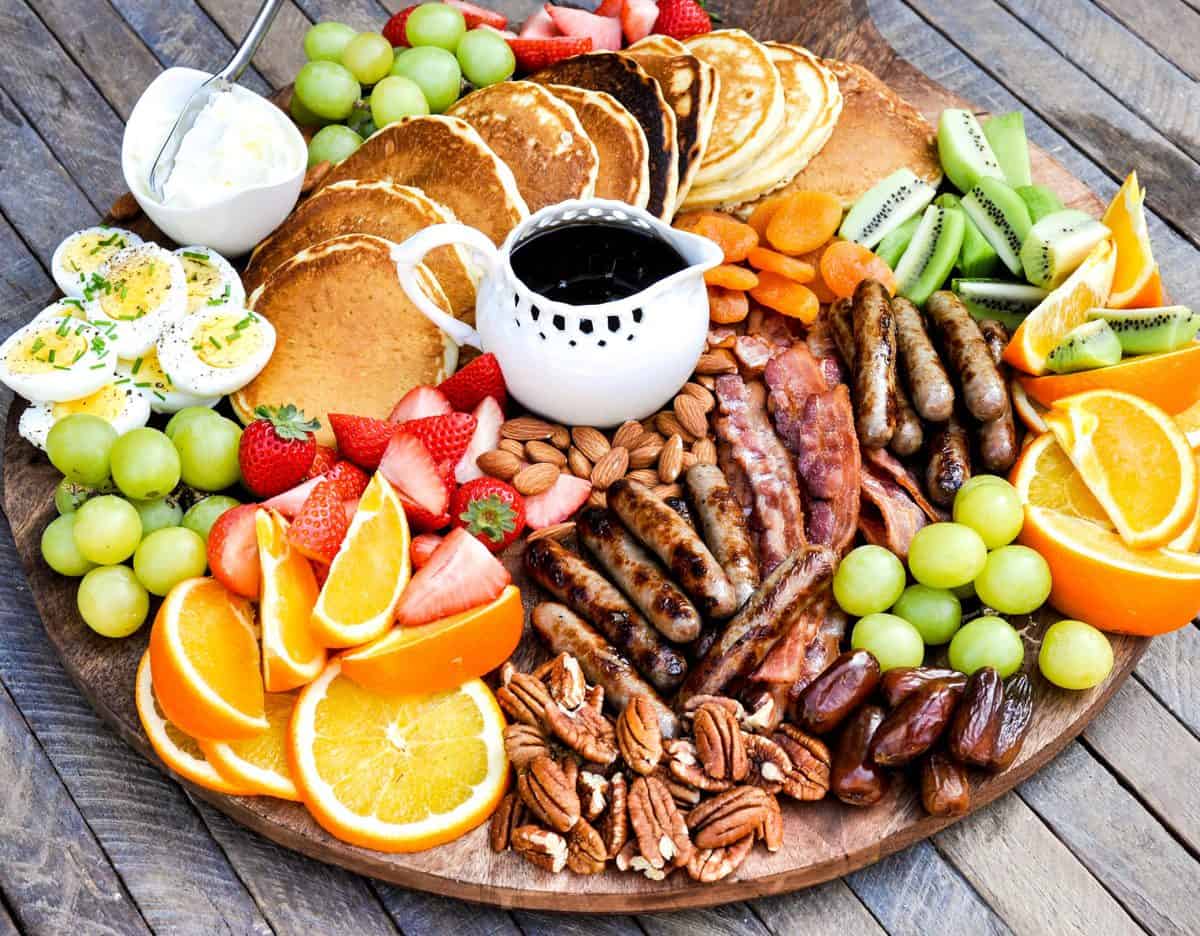 Your guests will not be wanting for anything!
Step by step how to build a Holiday Breakfast Board.
Grazing boards, cheese platters, and charcuterie trays are the most perfect meals for the holidays. For the most part you can build them in advance of your gathering. This means you can actually enjoy yourself when company arrives! What a concept. Plus, magnificent grazing boards like this one always bring the accolades.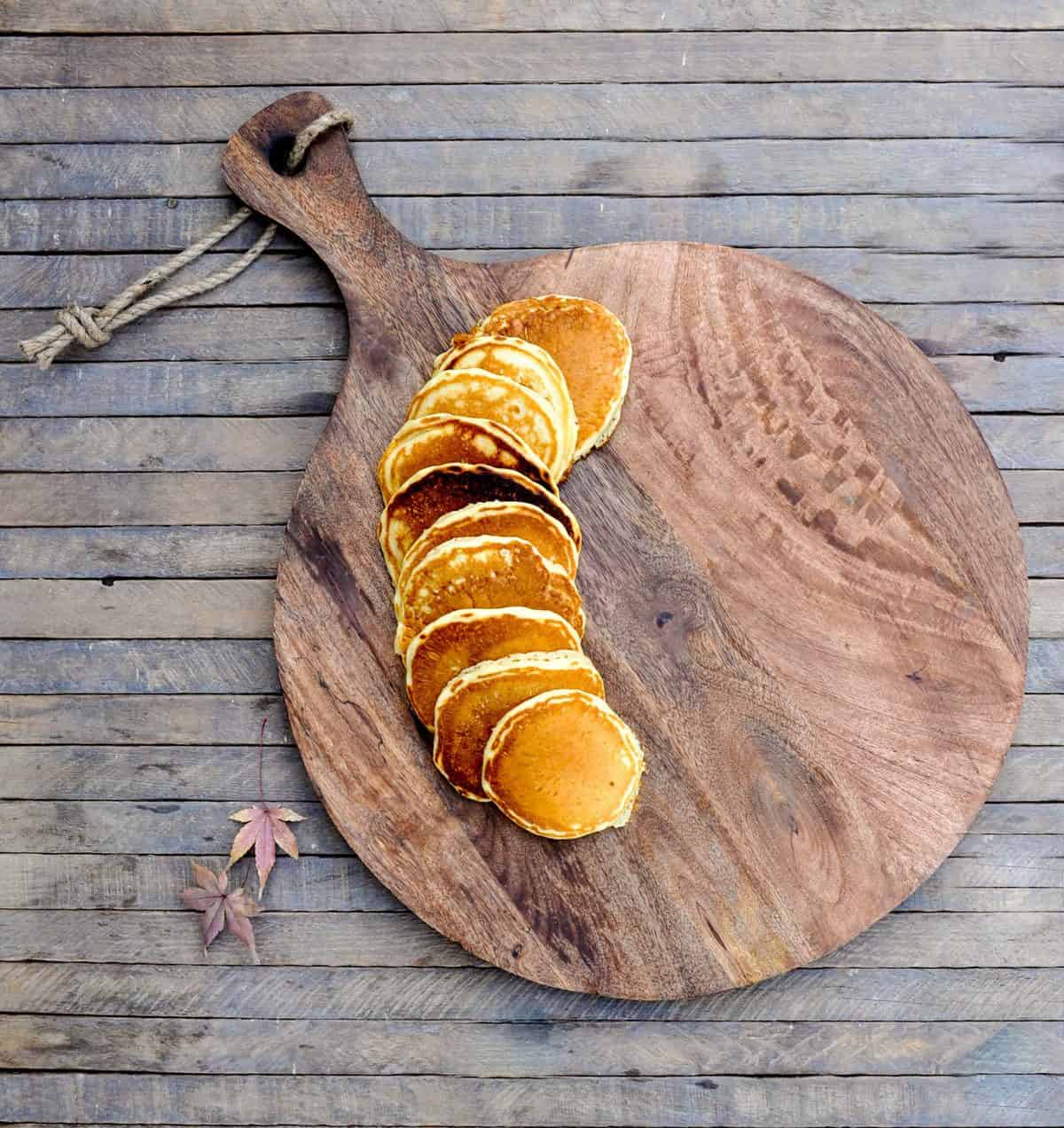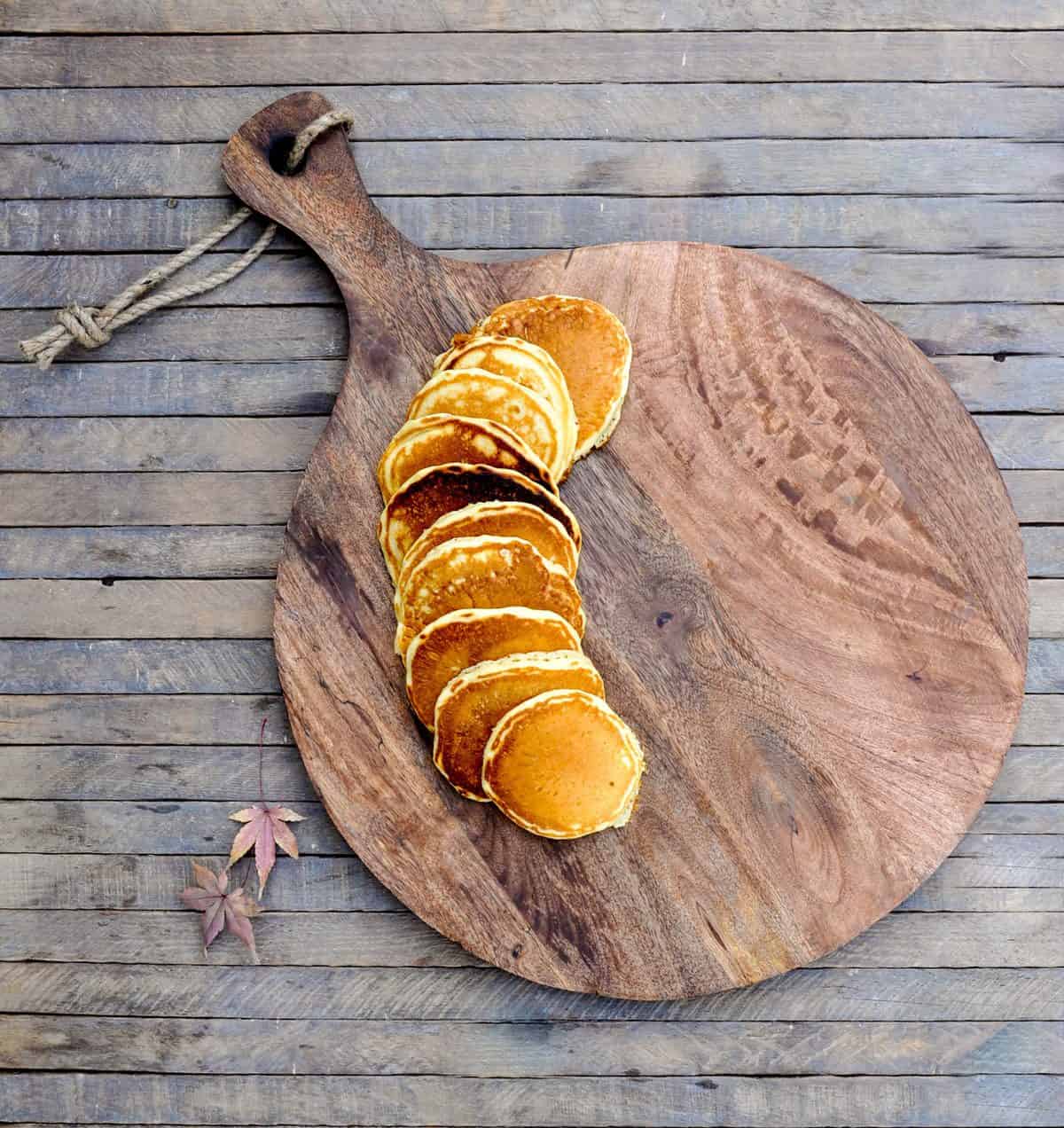 Step 1: Choose your board.
Square, round, rectangle – shape honestly doesn't matter. All that matters is that the board is large enough to hold enough food for all of your guests.
Once you choose the shape and size of your board you are free to start building!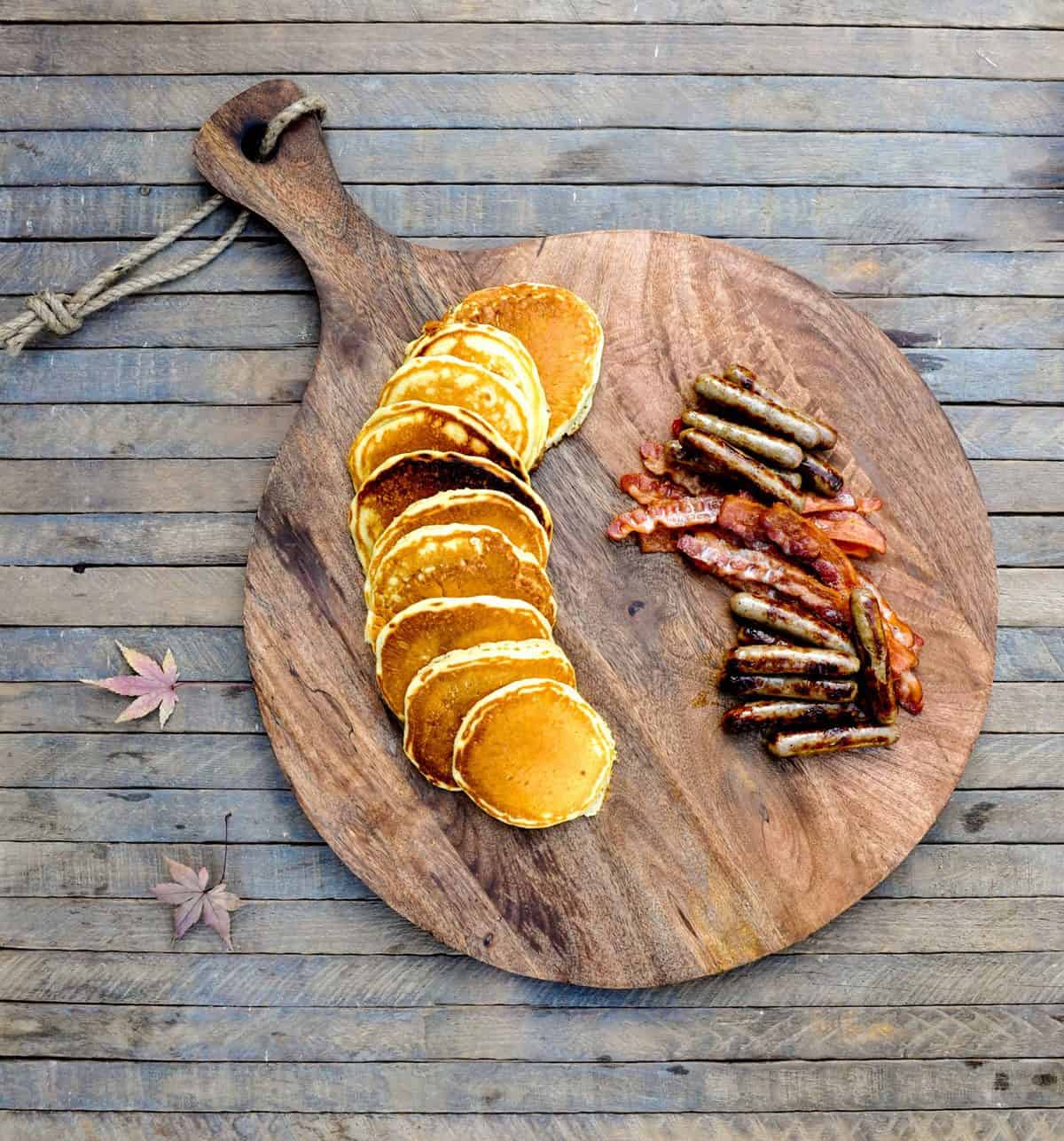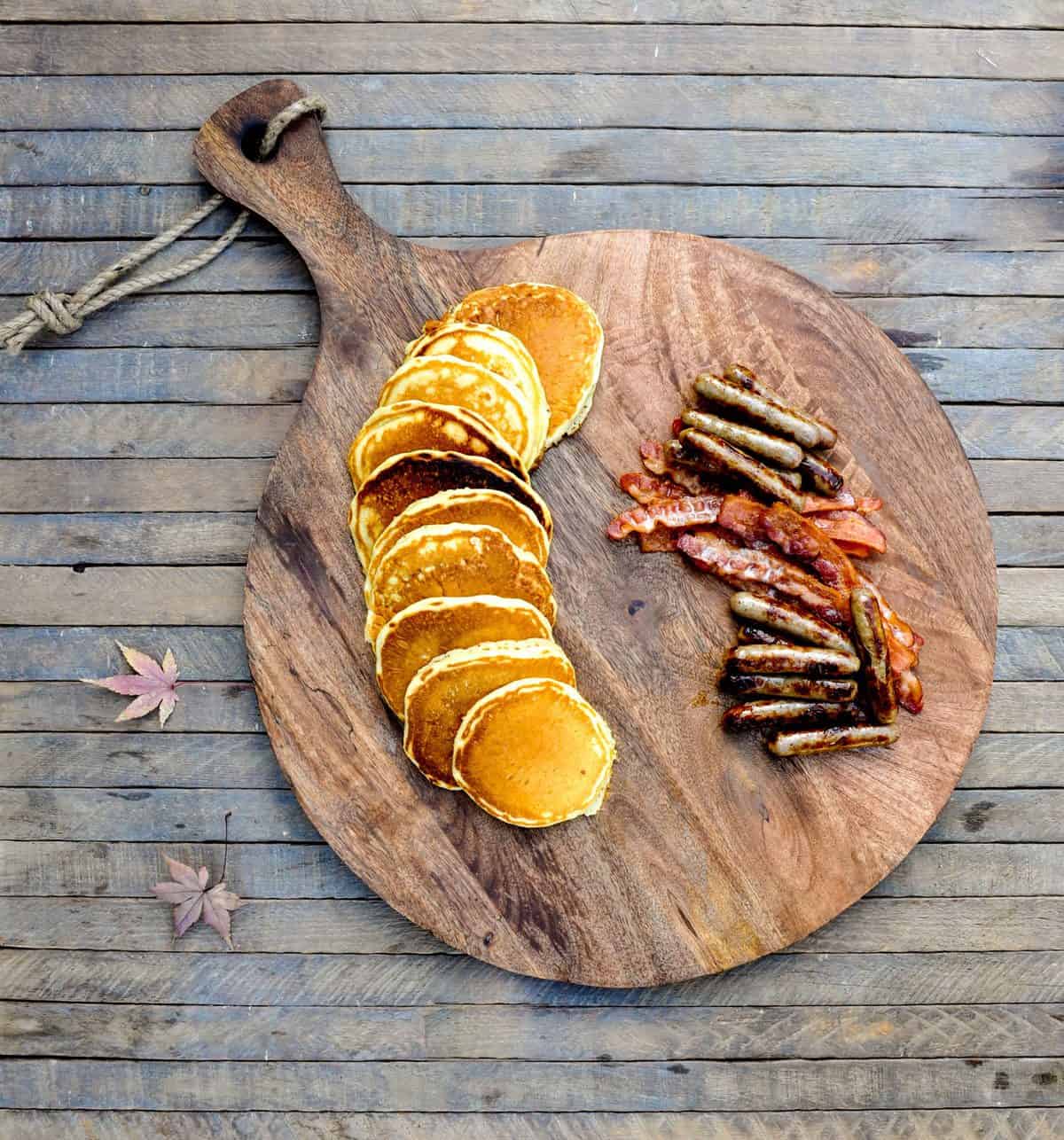 Step 2: Create an anchor element.
For this breakfast board, we chose to use pancakes, sausage, and bacon as anchors for the board. Creating large groupings of the same type of ingredients together.
This also serves a dual purpose – keeping items at similar temps. The bacon and sausage here are both freshly cooked. Placing them together will keep them warmer longer.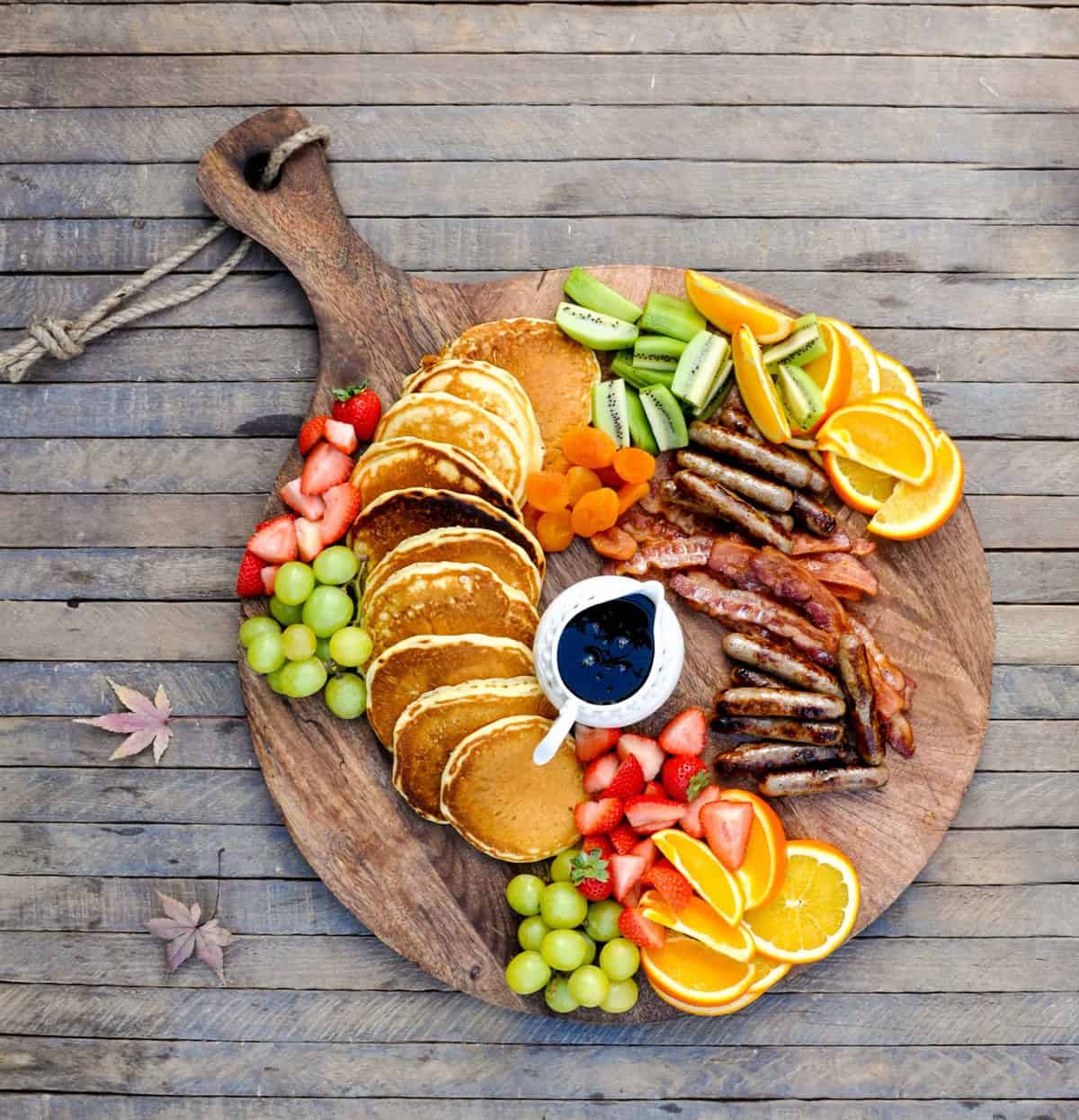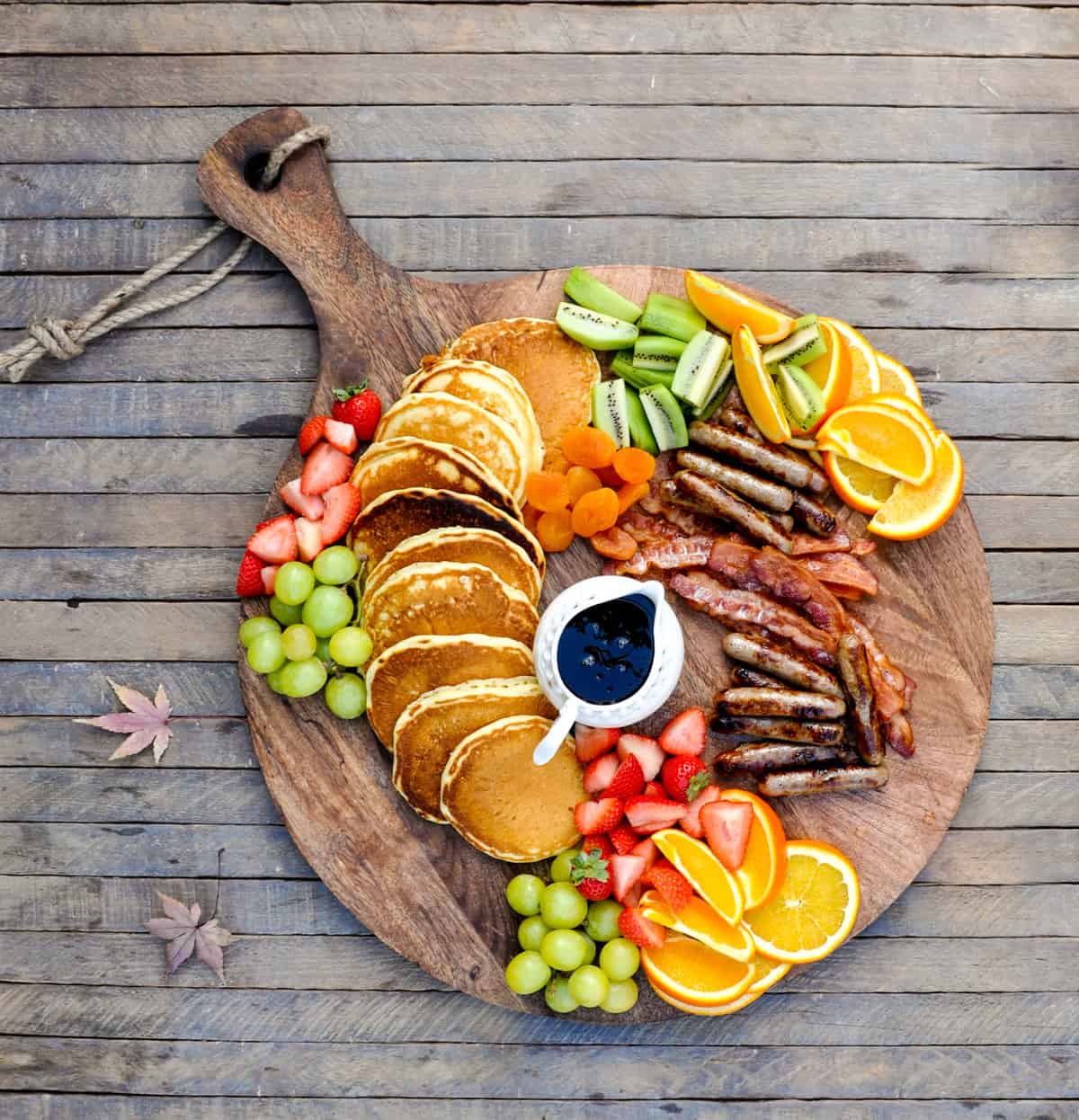 Step 3: Layer in elements of flavor and texture.
Now I layer on the fruit.  If you have large quantities of anything, it's best to break it up into two or three groupings spread around the board, as I did here for the grapes and citrus.
I also created a designated space on the board for a small pitcher of warm maple syrup.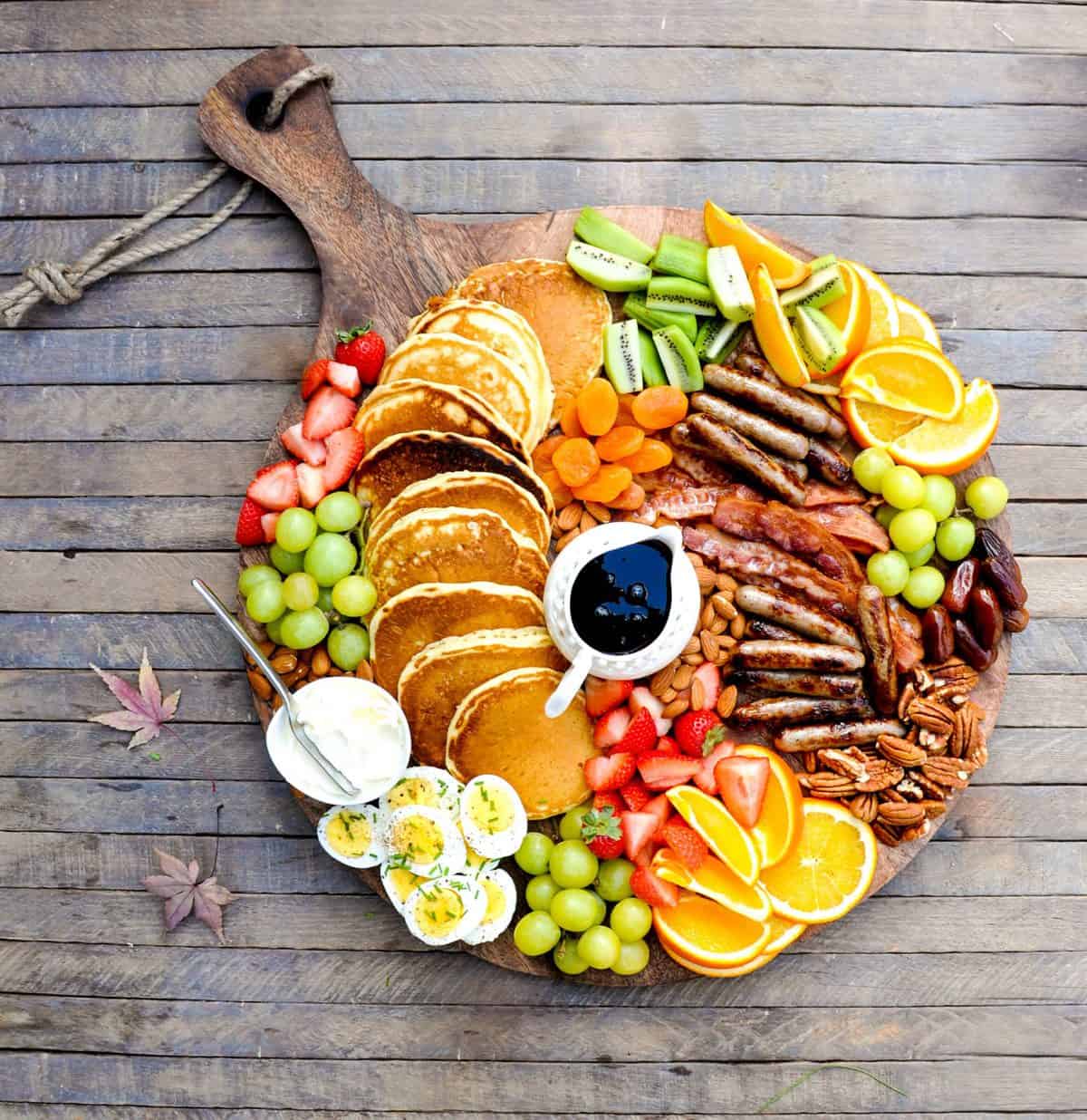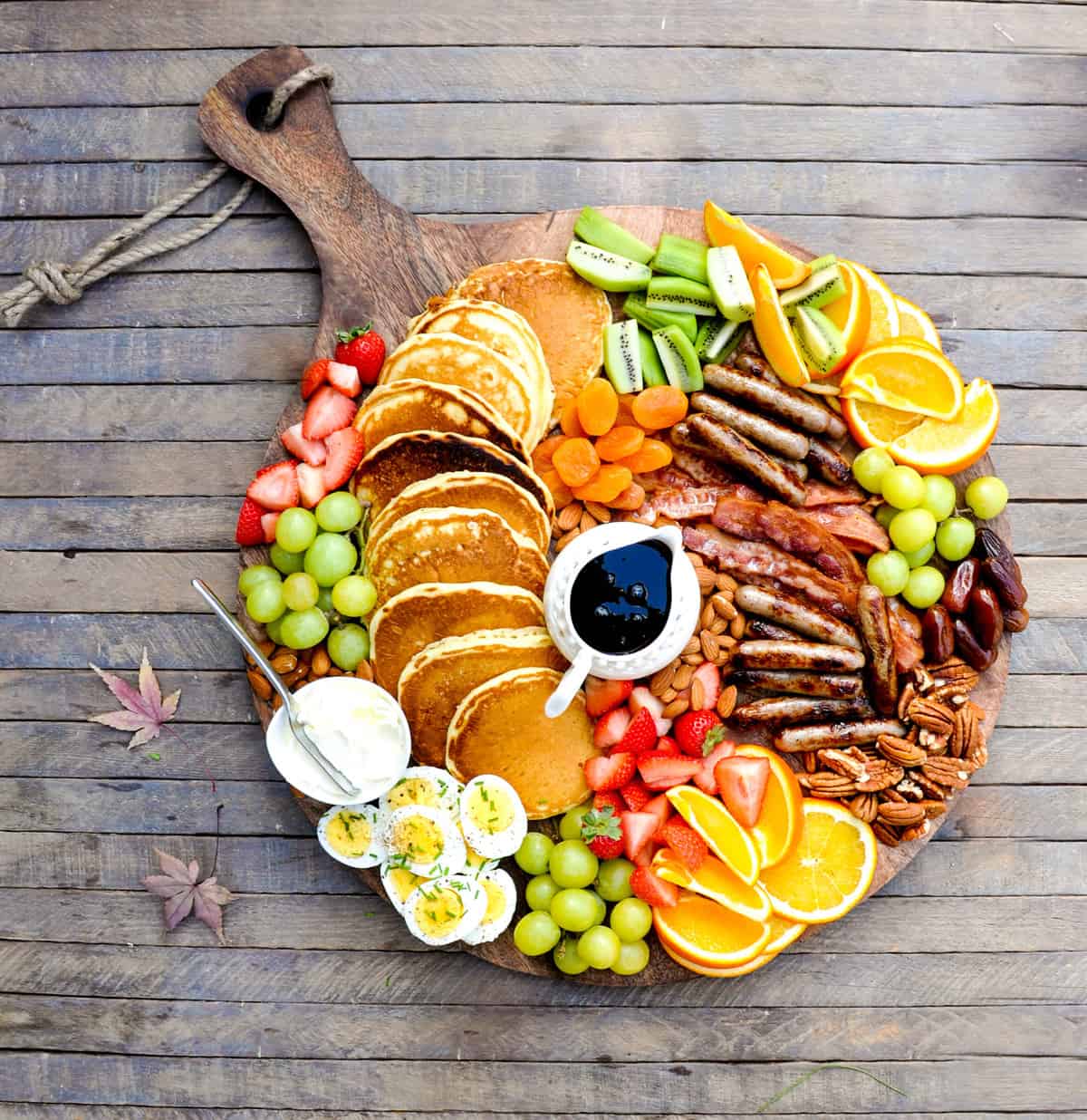 Step 4: Finishing touches.
Hard-boiled eggs, dried fruit, and toasted nuts are all great choices for filling in smaller areas of the board that has gaps.
Just look how beautiful this is! Now can you see how this is one of the most perfect meals for the holidays? It truly is a focal point of any table or buffet!
Need more ideas for out of the box meals for the holidays? Keep scrolling for a few of our favorites!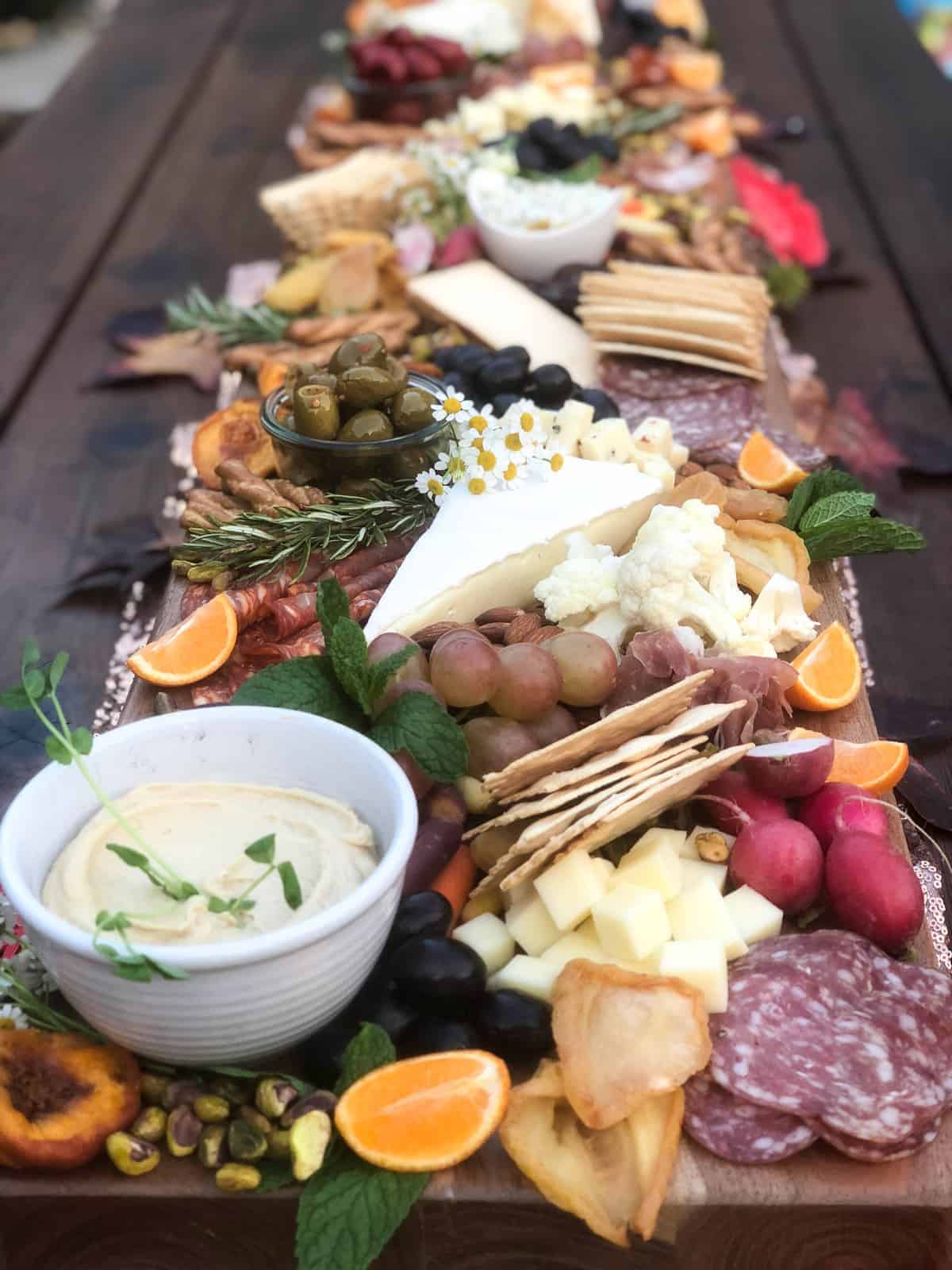 This epic grazing board is another example of meals for the holidays that are perfect for serving to a crowd.
This board is loaded with dried California figs, pears, peaches, almonds, pistachios, mandarins, grapes, and dates, along with several different salamis, and cheeses.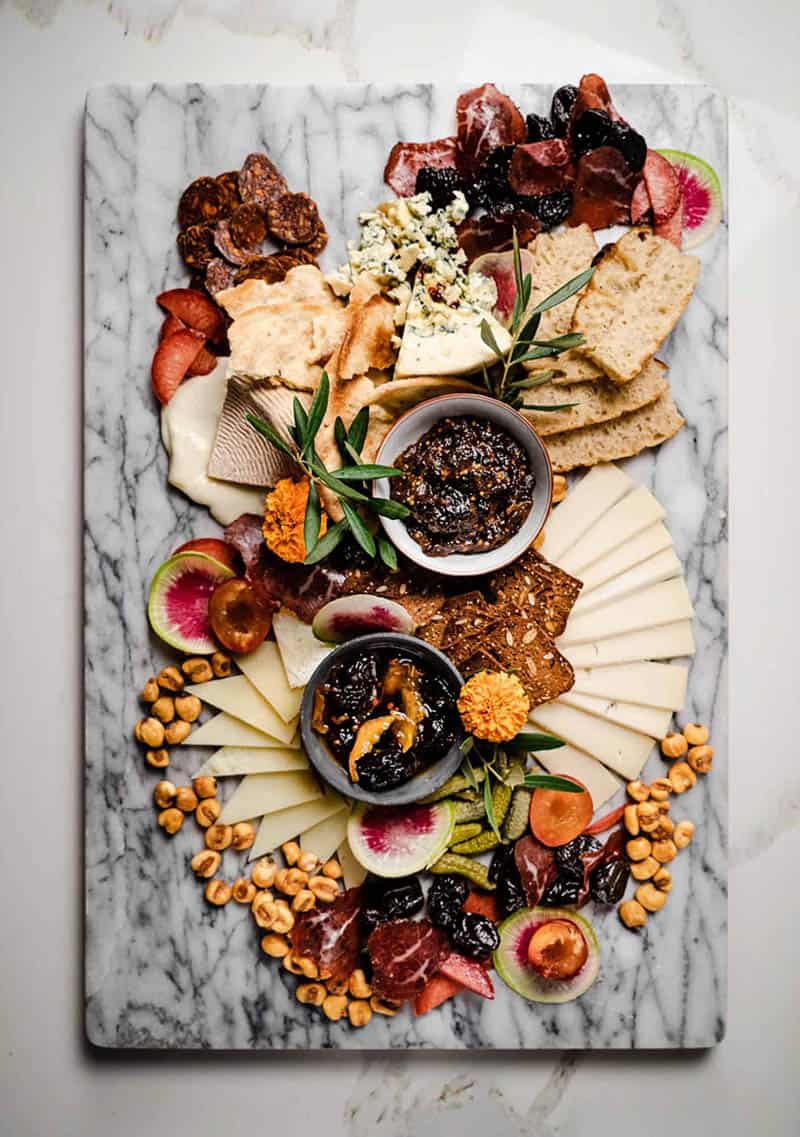 This cheese board from California Prunes is all about abundance. The tangy mostarda, deeply flavored whole prunes, and peppercorn black tea syrup all complement the salty, sweet, earthy, and savory elements on the board. Prepare to wow your tastebuds with this incredible charcuterie board created by Kat Turner, Chef Partner, Highly Likely Café, Los Angeles.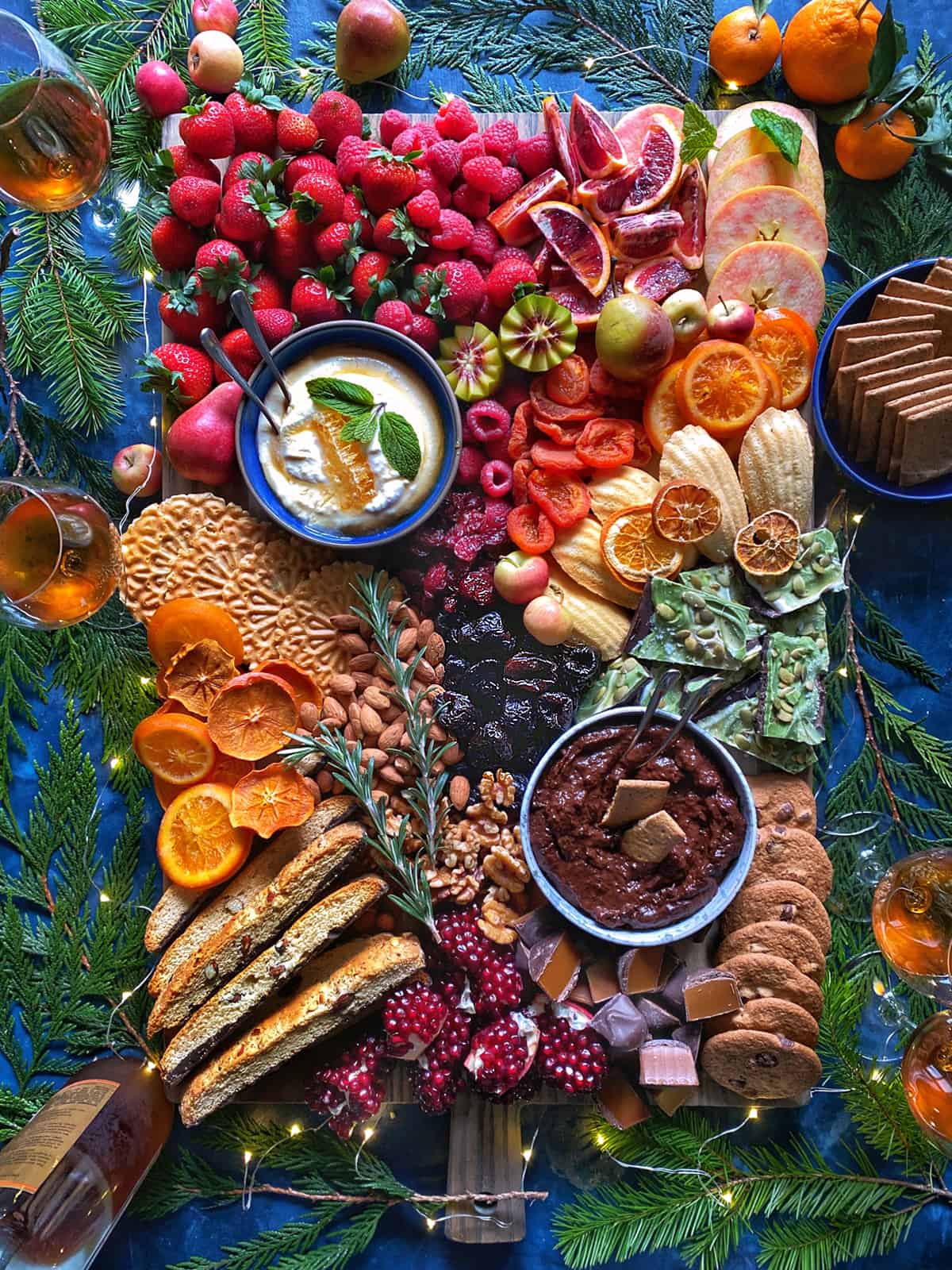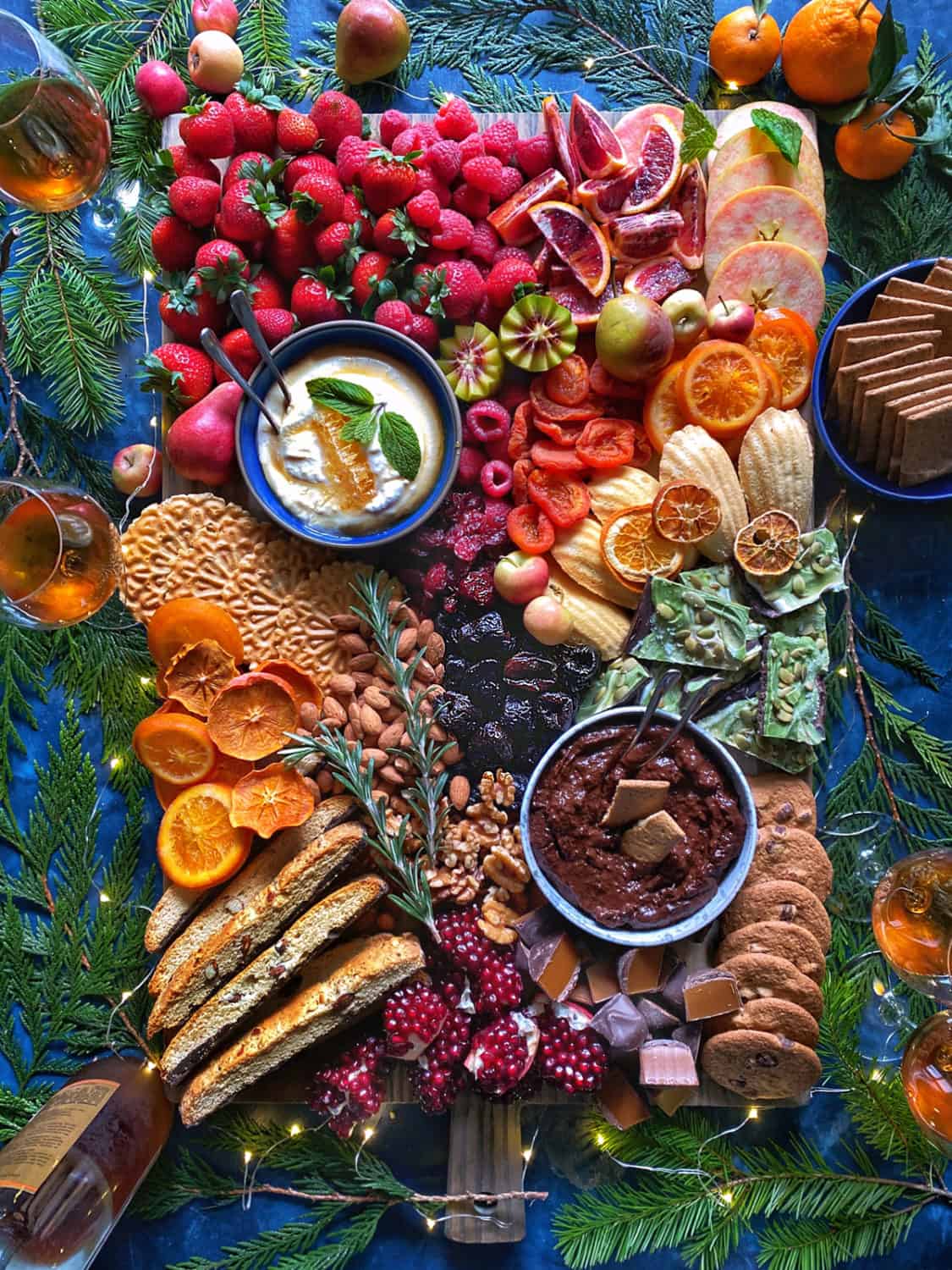 A Dessert Charcuterie Board like this one from The Delicious Life is in the Top 3, if not the #1 dessert that gets the highest "wow!" return for whatever investment of effort you put in.
You can bake brownies and cookies, make chocolate bark, and even whip up your own homemade chocolate dip, or you can make it easy on yourself and buy everything from the store.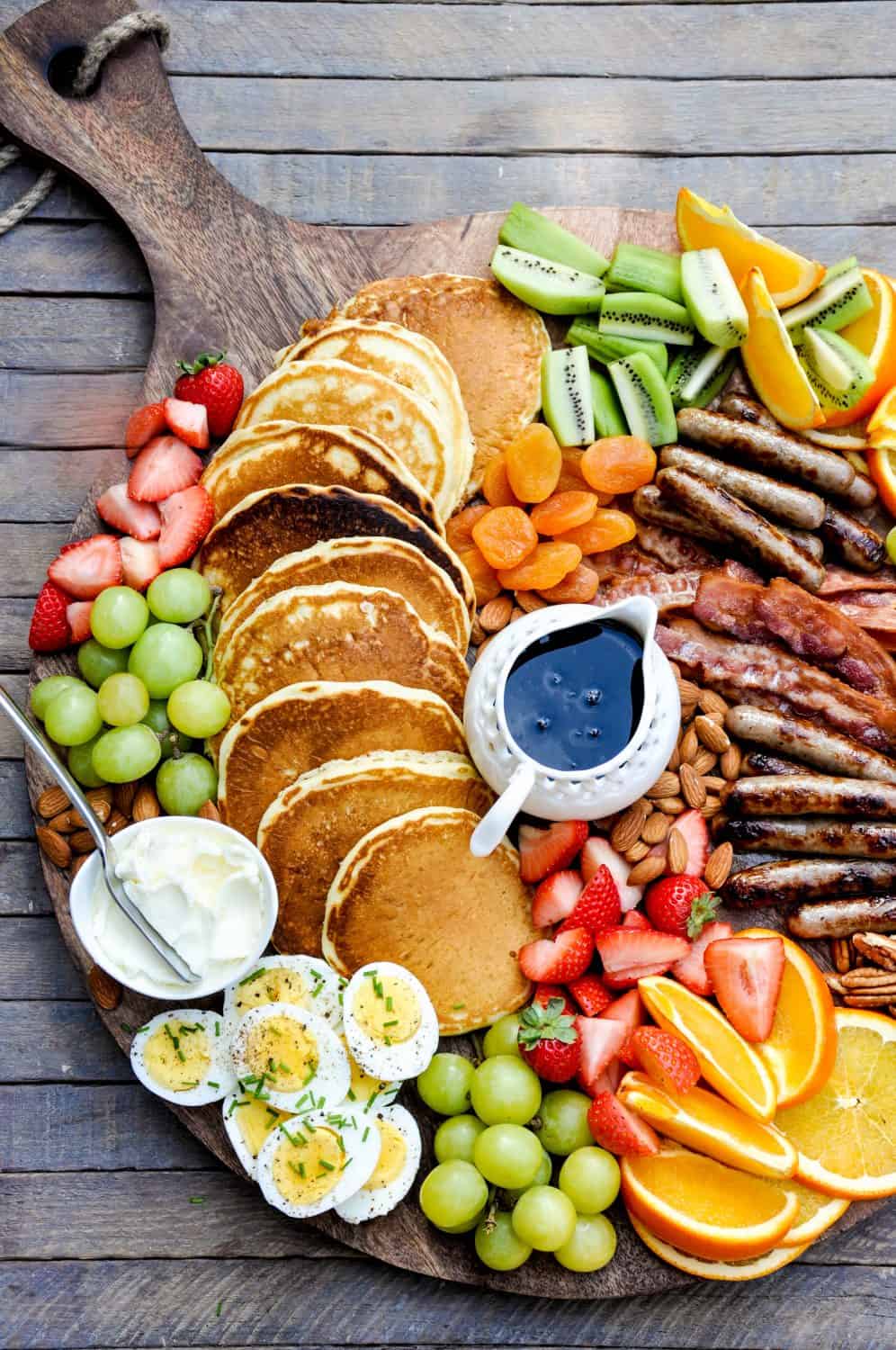 Make this Amazing Holiday Breakfast Board for your loved ones this holiday season!  They will love it and it is sure to become a holiday meal that they will remember for years to come.
DO YOU LOVE CREATING MEALS FORTHE HOLIDAYS? BE SURE TO SHARE YOUR CREATIONS WITH US BY SNAPPING A PIC AND TAGGING US ON SOCIAL USING #CAGROWN.
Craving more CA Grown goodness? Follow us on Pinterest for fresh and fabulous recipe inspiration!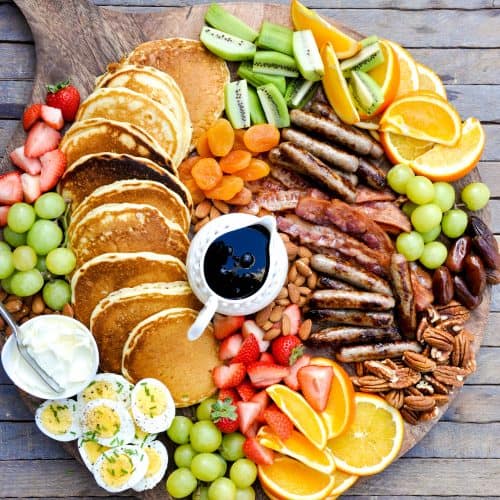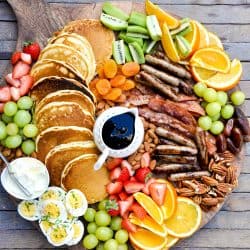 Breakfast Board
Loaded with everything breakfast, this board is the perfect way to serve breakfast at Christmas, New Year's morning, or any other winter celebration!
Ingredients
10-12 buttermilk pancakes, prepared
12-20 breakfast sausage links, cooked
12-20 pieces bacon, cooked
6 eggs, hard bolied, shelled and cut in half
assorted fruit, I used green grapes, oranges, strawberries and kiwi
assorted nuts, I used almonds and pecans
assorted dried fruit, I used apricots and dates
1 cup maple syrup
1/4 cup butter, softened
Instructions
Start by placing your pancakes on the board. It's best to fan them out in a crescent shape for visual aesthetics and to keep them warm

Next add the sausage and bacon. Layer them on top of each other to sustain their warmth and to keep protein together.

Pour the syrup into a pitcher and add the butter to a small bowl and add both containers to the board

Using your assorted fruit, place groups and clusters of the fruit together on the board, filling in large spaces on the board

Add the hard boiled eggs together on the board and sprinkle with salt and pepper. Stack them on top of each other to consesrve space

Your board should be pretty full by now, so next is to fill in the gaps with the nuts and dried fruit.

Lastly, fill in any remaining larger gaps with more fresh fruit
Nutrition
Calories: 404kcalCarbohydrates: 28gProtein: 15gFat: 25gSaturated Fat: 10gPolyunsaturated Fat: 3gMonounsaturated Fat: 10gTrans Fat: 0.3gCholesterol: 198mgSodium: 571mgPotassium: 306mgFiber: 0.02gSugar: 25gVitamin A: 411IUVitamin C: 0.3mgCalcium: 72mgIron: 1mg