Meet Frank Costa of Ocean View Flowers in Lompoc Valley, CA.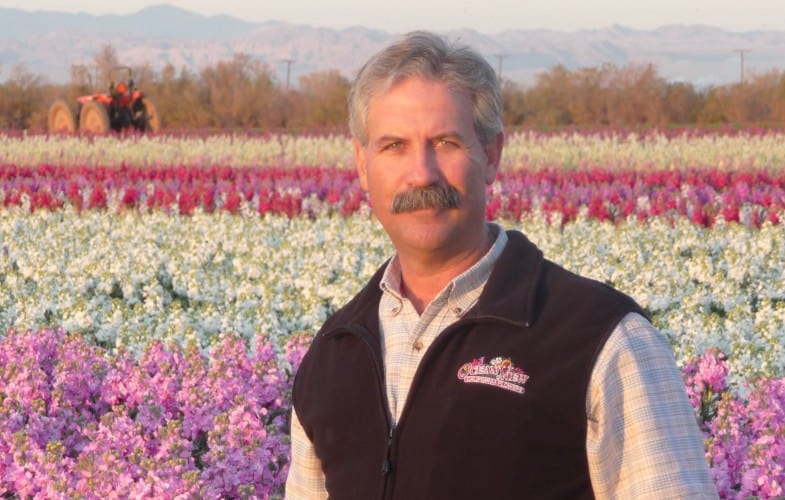 Meet Frank Costa, a flower farmer, hunter, and father from Lompoc Valley. Frank took time out of his busy schedule to chat with us about the farming industry and giving back to the community.
CA GROWN: What are you doing today?
Frank: We grow cut flowers. Delphinium, gladiolus and a whole host of other flowers. Roughly 15-20 varieties of cut flowers. And today, I am basically scheduling plantings, checking harvest, working on my seed crops, and talking to sales people. I don't actually sell flowers; I just grow them. I've got to have good people who do that!
CA GROWN: What is your favorite thing about farming?
Frank: The learning and the challenges. I think it is a really rewarding profession.
CA GROWN: How do you contribute to the community?
Frank: Basically we work with the local high school agriculture departments- the high schools here in Lompoc Valley, California and the Santa Maria Valley. We provide the schools with all the flowers they need for their projects. We work with Cal Poly and their programs as well. We try to make sure that everyone has all the flowers they need for any projects or any benefits they are doing. We try to take care of all of them.
CA GROWN: What drew you to farming?
Frank: I am a 4th generation California farmer on both sides of the family. I grew up farming cows, hay, and garbanzo beans. Then after college, I ended up growing lettuce, cauliflower, asparagus, zucchini and a whole host of vegetables. Then we had an opportunity at the ranch to grow some flowers. We had a gentleman working here with us who was doing a little project on the side and it kind of took off. I hate to say it this way, but flowers are just another plant. All plants like the same things; the right amount of water, the right amount of fertilizer, and the right amount of sunlight. It's just learning the peculiarities of each flower or crop. It was an accidental opportunity that brought me into flower farming. It was not a lifelong dream, but it all has worked out okay!
CA GROWN: What are your hobbies or pastimes when you are not farming?
Frank: I enjoy spending time with my family at the beach and hunting. I hunt deer and quail here locally on the ranch. I just really enjoy being in the hills more than anything else. I love the peace and quiet.
CA GROWN: What is your advice for anyone who wants to become a farmer?
Frank: Have an open mind and be willing to learn something from everyone. Everybody has something to offer if you are willing to learn.
You can learn more about Ocean View Flowers by visiting their website or by following them on Facebook , Twitter, and Instagram