Meet a Farmer: Lance Jackson of Jackson Farms in Kingsburg, CA.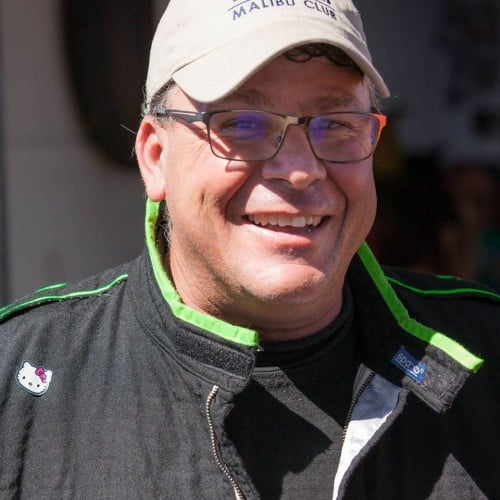 Meet Lance Jackson! He's a fruit farmer and member of the California Cling Peach Board by day, and a racecar driver by night!
CA GROWN: What are you doing today?
Lance: We are getting our vineyards ready for raisins, we are doing some summer pruning, and we just finished up the peach harvest.
CA GROWN: What do you grow?
Lance: We grow peaches, cherries, figs, grapes and make raisins.
CA GROWN: What is your favorite thing about farming?
Lance: Farming challenges me. I especially like that no two days are the same!
CA GROWN: How do you give back to the community?
Lance: I am on the local high school's ag advisory committee. I coach the tree pruning team (we won the State Championship this year), and I also coach football. We also work with the Future Farmers of America program (FFA). When their convention is in town, we have the kids come out and take a tour of the farm. Finally, I am involved in the California Cling Peach Board for the State of California.
CA GROWN: What drew you into the farming profession.
Lance: I was born into it. I am actually a third generation farmer in Kingsburg, Ca. Farming is something I have done since I could walk. Actually, I had spent some time in the construction industry and then came right back to farming about seven years ago. It's funny, when I was in the construction business, I would spend a lot of time talking about agriculture and farming. Now that I am back in farming, you will never hear me talk about construction. I guess I went back to farming and I never looked back!
CA GROWN: What are your hobbies or pastimes when you are not farming?
Lance: Auto-racing! I started working on race cars in 1985 and started driving them about 17 years ago. It seems like there are a lot of people who are connected to racing and agriculture – it's a cool universe. I spend the rest of my time with my wife and son. I've been married to my amazing wife for 23 years and we have one son who is a plant science major at Fresno State.
CA GROWN: What advice would you give to someone who wants to become a farmer?
Lance: I would tell them to get educated about the science of farming and not to be afraid of getting their boots dirty. If you don't want to walk around and play in the dirt, then this is not the business for you. My wife always teases me and says that the only difference between me, now and me, as a 5-year-old boy is that all my Tonka toys now have engines.